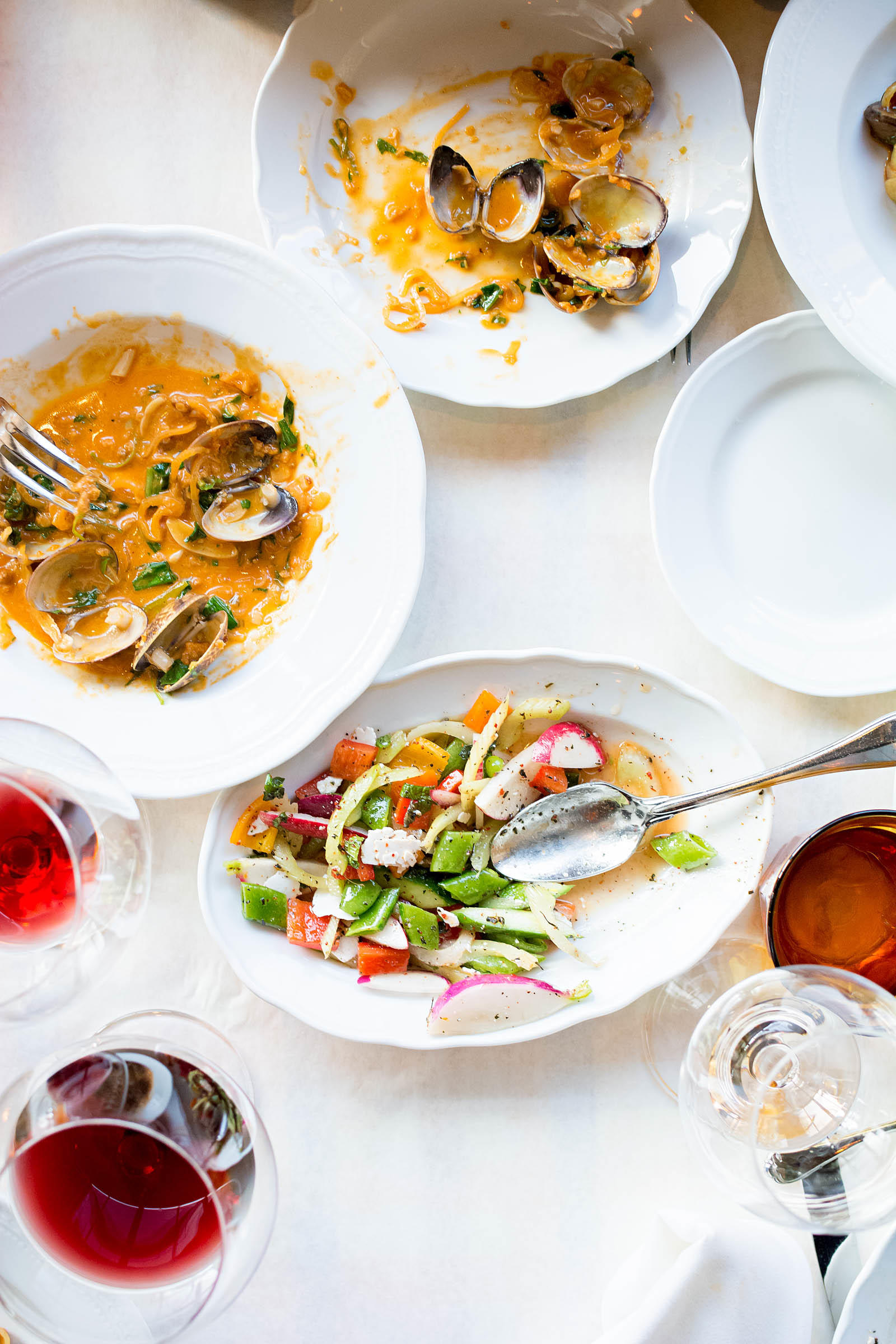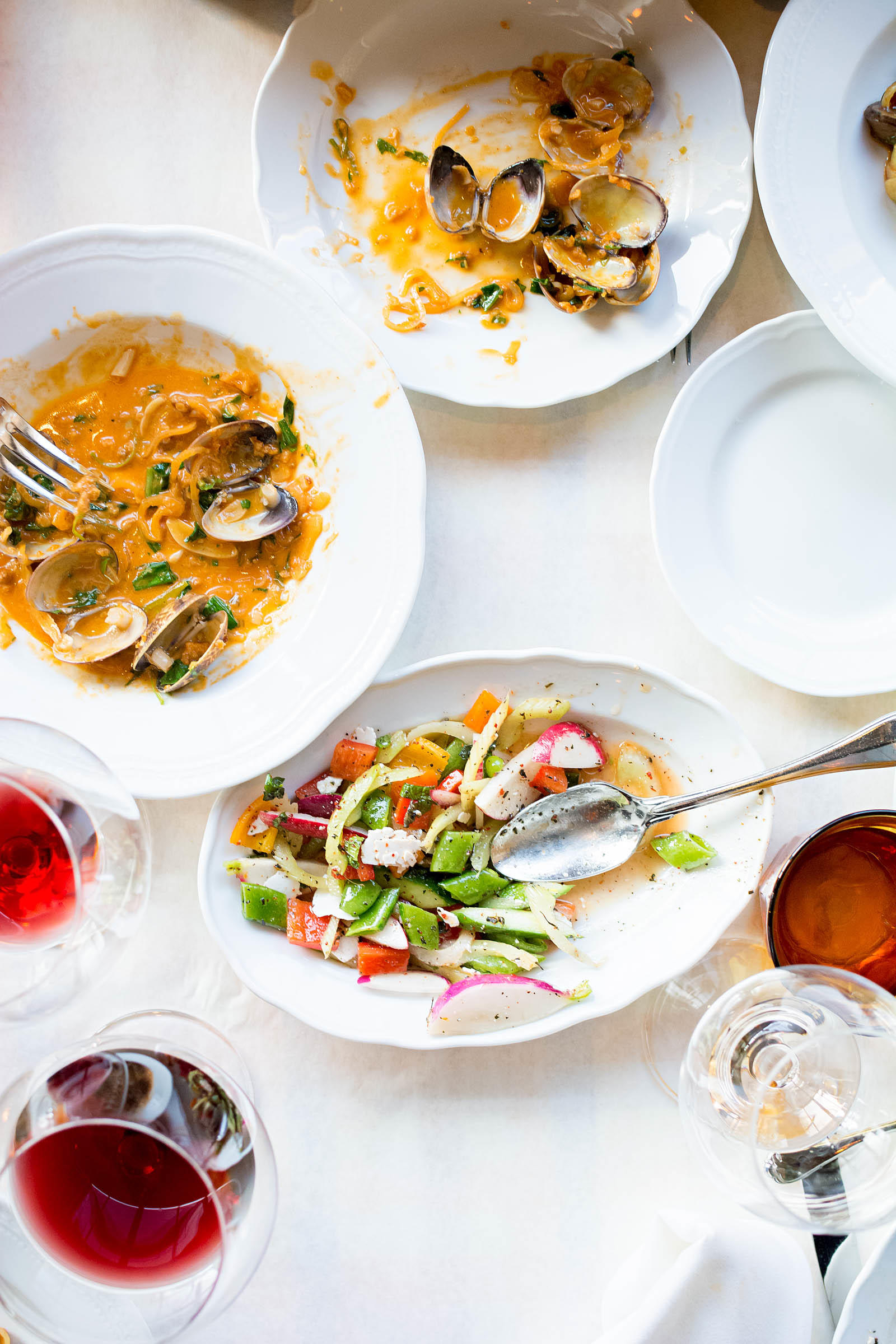 Over the years I've found that most people fall into two distinct categories: those who CARE about food and those who don't.
Naturally, I try not to judge people based on which side of the spectrum they fall on… but I have to admit, I LOVE meeting people who LOVE food as much as I do.
Many of my deepest and truest relationships began over a mutual love for food. And luckily for me, Chicago is positively mobbed with like-minded food-lovers ever-ready for culinary adventure. We do have one of the best restaurant scenes in the world (and the country's BEST burger), after all.
What can I say? I'm grateful each and every day to live in a city surrounded by so many like-minded people. I love going on food adventures but I especially love finally having a group of friends to go on them with!
And 2016 was truly a year of culinary adventures — from smoking cocktails to pale pink tea rooms to melting chocolate bombs to boozy slushies, I ate it ALL. And now I'm sharing the VERY BEST of the whole year. The most delicious, delectable, dynamic dishes I've consumed in the last twelve months…
The Best Things I Ate in 2016
One of my friends own this company and she's got me completely hooked on her nut blends. Well, obsessed really. They're delicious, healthy, and all the flavors are created with the gourmand in mind… what's not to love?
Pretty much everything at this cult-following Ann Arbor deli is worth face-diving into but I especially recommend their breakfast sandwiches and gourmet brownies (expensive but worth every penny!). I just wish they had a Zingerman's closer to Chicago…
Crunchy, crispy fried potatoes finished with a spicy aioli that'll have you wondering if you can honestly justify eating a side dish as your entrée.
Chicago may not be close to any oceans but I can always trust the oyster selection at GT Fish & Oyster to bring me as close to the flavors of the sea as possible. I always opt for their recommended West Coast oysters and am NEVER disappointed. SLURP!
But if don't feel like oysters, I almost always end up ordering this stunning lobster roll at GT. It's buttery, warm, and luxurious — unlike 99% of the lobster rolls you'll find in the Windy City. And it's served with some of the best house made pickled vegetables you can find.
Probably one of the only "fancy french toasts" I've ever liked, let alone loved. This one is saucy, sinful, and not too sweet. And you really can't beat the soaring 18th-floor view of Streeterville while you eat it.
And I mean everything. For three years running this delicious Gold Coast spot has been my favorite Chicago restaurant. I've eaten most things on the menu (their crudos are spectacular in summer) but my favorite dish is and probably always will be their Orecchiette pasta. Handmade pasta tossed in a light butter sauce with bigeye tuna sausage, broccoli rabe, and chile all finished with pecorino romano? It's heaven in a dish. I'm so addicted I have it at least once a month (not to mention ordering it on my birthday for two years running: 1 / 2).
The namesake breakfast at another of my favorite Chicago haunts, the Allis, is nothing short of spectacular. Smoked salmon and roasted tomatoes mingle with eggs and fresh avocado all served with toasted bread… what's not to love? Whenever I don't know where to go for brunch, I almost always end up here eating this delicious plate.
Speaking of spectacular brunch spots, just a few blocks away from the Allis is avec — one of the country's best restaurants. Full stop.
I've been eating here for the better part of a decade but only just tried their brunch this year. Finally. And it did NOT disappoint. The menu rotates with seasonal availabilities but they almost always have an avocado toast to try. Try it, face dive into, and send me a thank you card later once you wake up from your food coma.
Oh and don't forget to order the seasonal breakfast pizza at avec either. It's LIFE-CHANGING! So roasty and delicious, packed with plenty of flavors you can't find anywhere else. At least in Chicago.
Of all the recipes I've shared this year, I probably make this one the most. It's a super easy and spring-inspired take on the traditional avocado toast. And ridiculously inexpensive to make — one serving costs you less than 50 cents (even if you live in Chicago a.k.a. the land of expensive groceries).
No other restaurant in Chicago can boast authentic french pastries quite like The Kitchen. I love this restaurant for the sexy, industrial-meets-feminine vibe but even more so because the pastries actually taste EXACTLY like what I've eaten and swooned over in Paris.
It's hard to choose a favorite dish from this restaurant — each is stunningly presented and beautifully sourced (I'm addicted to their whole Chestnut Provisions line). But these light and bright, citrus-y crab cakes are a true hidden gem, especially since they're served with chipotle aïoli and puréed avocado.
One of the most beautifully reimagined desserts I've had in a long time. I'm not usually a fan of sticky toffee pudding since I find it WAY too sweet and filling but this mini-version has me converted. And just look at how beautifully it's presented!
By FAR my most popular recipe of 2016 — I've been so humbled by how many of my friends have made this dish themselves and LOVED it. And it's not hard to see why… it's the perfect non-filling-yet-ultra-flavorful healthy meal. The sort of dish you can whip up in less than 20 minutes (and yes that includes zucchini noodle prep time). Make it and see for yourself!
One of my favorite tartares in all of Chicago and certainly the prettiest. This dish literally melts in your mouth — enjoy it with a cocktail while you watch the boats sail down the Chicago River just below for the perfect, not-too-filling late lunch.
Green Tea Lattes at Sawada
Since I make most of my coffee and lattes at home with my Chemex, I don't really order drinks like this too often. But when I do it's always this delicious earthy latte at this cozy but hip coffee shop. Sip a latte here then climb down the stairs into Green Street Smoked Meats and stop for their amazing in-house smoked salmon!
I had this delicious mushroom dish back in May for the Infatuation Summer Guide dinner and have been dreaming of it ever since. I'm a huge fan of my husband's Truffle Mushroom Risotto and this felt like a lighter, fresher summer take on our family classic.
Okay, I admit it… I have a hard time finding a burrata I don't like. If I had my way, half this list would be burrata. But I won't because you don't need to read about 30 burrata dishes either.
That said this fresh tomato and basil take is just about as perfect as it gets. It's silky, creamy, and perfect for sharing. I love most things on the 3 Arts menu (get their perfect scrambled eggs and die happy) but this lovely appetizer is my favorite to share with a friend over a quick meal.
The ULTIMATE summer cocktail — well if you're like me and you love wine, slushies, AND ice cream. This is a delicious concoction I invented for Memorial Day this year that I've been slurping on ever since. It even made the top of Brit.co's Summer Wine Float list!
The perfect donut is an illusive thing — often so illusive that many believe it just doesn't exist anymore. But in a world of Dunkin' Donuts I've found one donut shop still making perfectly crunchy and sweet old-fashioned donuts. The kind you inevitably bulk buy and freeze so you never go without…
Oh wait, is that just me??
Head to the super tiny original Doughnut Vault, and undergo this Chicago right of passage as you try what is quite possibly one of the most perfect doughnuts ever conceived.
I love the Peninsula's desserts — their pastry team simply can't be beat. But give me a delicate puff pastry profiterole like this, jam it full with house made ice cream, and then douse it in chocolate sauce and you might as well knock my foodie heart over with a feather.
Large enough portion sizing to be a small entrée with all the creamy, crunchy, deliciousness you could ever want from a crudo. And perfect when paired with:
One of the best "unknown" pastries in Chicago — at least in my humble opinion. This is a lighter-than-air texture baked to perfection in muffin-format with a beautiful crust that's then doused in rich, dark chocolate. I love this muffin so much… I can almost never resist the urge to grab one of these from Beatrix's pastry counter even when I'm in a hurry.
My favorite summer pop-up restaurant offers the perfect summer menu of crudos, fresh vegetable platters, and lobster rolls all complimented with their boozy sno-cone menu. I've tried and would recommend them all but my favorite will probably always be the classic Rosé Sno-Cone. And not JUST because it's bright pink…
I developed this recipe for Williams-Sonoma using their killer deep fryer this past summer. It's certainly involves a lot of steps but is absolutely worth the trouble. Crispy fried, super-thin zucchini chips paired with perfect creamy feta dip and a tart roasted red pepper relish? This is pretty much the best crowd-pleaser appetizer I've yet devised and they disappear like CRAZY at parties.
Everything under the sun and then some. This spot has it all — especially when it comes to brunch. You can even get a legendary Small Cheval burger here… for brunch! Life doesn't get much better than that!
Whenever my friends and I can't agree on where to eat for brunch, I take them here. And watch as they excitedly pile up their plates at this endless gourmet buffet wondering how they'd never made it here for brunch before.
One of the best things I ate all summer and easily one of my favorite fish dishes in all of Chicago. It's the pickles and sauce that really make it unique. Best enjoyed with a negroni slushie on their killer patio in summer.
Fruity, fresh, and nutrient-packed. This super easy smoothie bowl with über-trendy açai is significantly cheaper to whip up at home and just as delicious. Not to mention Instagram-worthy.
Fried dough balls filled with lotus paste are one of those desserts that scares most Americans on first appearance. But believe me when I say you need to give this delicious dish a shot. Crispy, golden perfection with a not super-sweet filling that's the perfect finale to your Chinese noodle food feast.
Truffles, mushrooms, and eggs seriously form the best dipping sauce for toast points (or "soldiers" as the British would call them) ever conceived. This dish is made all the more delicious given that you can eat it with a 40th-floor view over the Thames in London. Next time I'm in London you have to believe I'll be back ordering this exact same dish for Sunday brunch.
I had plenty of delicious plates of fish & chips in London but this was the best. Probably because it comes with a gorgeous view of the Serpentine Lake in London's Hyde Park and endless orders of Pimm's Cups…
Again, everything. This nouveau, ultra-pink space offers some of the most delicious finger nibbles I've ever had the privilege of shoveling into my mouth (daintily… of course…). If you ever have the chance to go to London, DON'T dare miss out on this gem. Oh, and make sure you stop in the space-age pod-filled bathroom on your way out.
The absolute BEST meal I had in London was hands-down my sister's birthday dinner at Bob Bob Ricard. Not only does this swanky Soho spot have a 'Press for Champagne' button at every table (how did I LIVE without this in my life???) but it has this signature dessert. Which is single-handedly the sexiest dessert I've had all year.
And not just because I "pressed for champagne" WAY too many times…
You'll have to read the full post to see INSIDE this dessert though!
My family has been religiously frequenting this authentic, 100-year-old Cuban restaurant just outside of Tampa for the better part of my life. I LOVE everything on the menu… seriously, even the cuban bread they serve before the meal is life-changing. But this killer vegetarian black bean soup is the ultimate comfort food for me. I love to make black bean soup at home but it never manages to taste as good as this version. I can never fly into Tampa and not stop for this soup before driving to my grandmother's house. Ever.
This newly opened restaurant has some of the coolest, most innovative dishes I've tried all year. But these perfectly browned scallops with sunchokes are my absolute favorite. Try them with one of Baptiste's smoking cocktails when you want to feel really fancy.
A Christmas cookie classic you can make no matter what time of year it is. These delicious, buttery balls of pecan powdered sugar literally melt in your mouth and disappear in minutes. Make them and just TRY not to make these again. I DARE YOU!
What can I say? I've been coming to the Peninsula for afternoon tea for years and am never disappointed. Every flavor, texture, and combination you can imagine all served in one towering meal… with champagne. I look for any excuse to justify stopping here for afternoon tea, especially around the holidays.
Similar to the Pastrami Trout Tartine from Snaggletooth and yet somehow completely different. It's creamy and rich with such exciting texture. And seriously beautiful to behold. I could honestly face-dive into this toast each day, every day. Too bad it's only available for weekend brunches…
I discovered so many great and delicious dishes in 2016 — I can't wait to see what 2017 brings. Be sure to follow along with Bloglovin' to catch each and every new culinary adventure!