Vegas Travel Guide
The Best of Sin City
V.E.G.A.S.
The quintessential party city.
People either love it or hate it.
Elvis loved it.
My grandmother loved it.
My husband and I LOVE it.
And if you enjoy having fun, you'll love it too.
All the world's best restaurants, hotels, and wildest evenings start and end in Sin City. It's a city of tacky-meets-luxury... overindulgence coupled with kitsch.
Something you really can't find anywhere else in the world. At least on this scale.
And if you aren't JUST interested in a famous Vegas black-out bender, you're in luck! This guide is made for YOU. There's so many exciting, luxurious, inexpensive, and delicious places to explore, what are you waiting for?
From the iconic spots to the hidden ones, you're guaranteed to never be bored in Vegas.
Unless you don't leave your hotel room.
Which would be a huge shame, considering the fact that Vegas has no open-container laws. Who doesn't love sightseeing WITH a cocktail in-hand?

SPOTLIGHT ON:
---
Otherwise known as the Las Vegas graveyard.
This is where the flash-and-flare of Vegas is REALLY on display. This is where so many famous casino signs have found their final resting place. Like the Horseshoe sign or the Sahara. It's so cool to see them in person!
This is the one spot where you can truly see the history of this desert town all at once, in one colorful riot.
And while I think the excessive (and I do mean excessive) rules for photography and conduct are a turn-off, I do still think this spot is worth a visit. Even if it's just for the Instagram shots. Because how can you NOT get a good shot here?
When I was younger I never thought of Las Vegas as a "food city".
The land of endless buffets... check!
Nonstop candy and ice cream shops... check!
But actual gourmet food? No bueno.
But over the last 20 years the Vegas food scene has completely 180ed. It's gone from sad to swanky in the blink of an eye. The hottest restaurants from L.A. and NYC are all here. Every dish you've heard about, every amazing innovation can be found on a Vegas plate.
Don't have time to try Momofuku in NYC? Just try the one in Vegas instead!
But there are SO many amazing places to choose from... wouldn't it be a shame to waste your precious money and time on a spot that doesn't blow your socks off? Here are a few of my favorites to save you the trouble: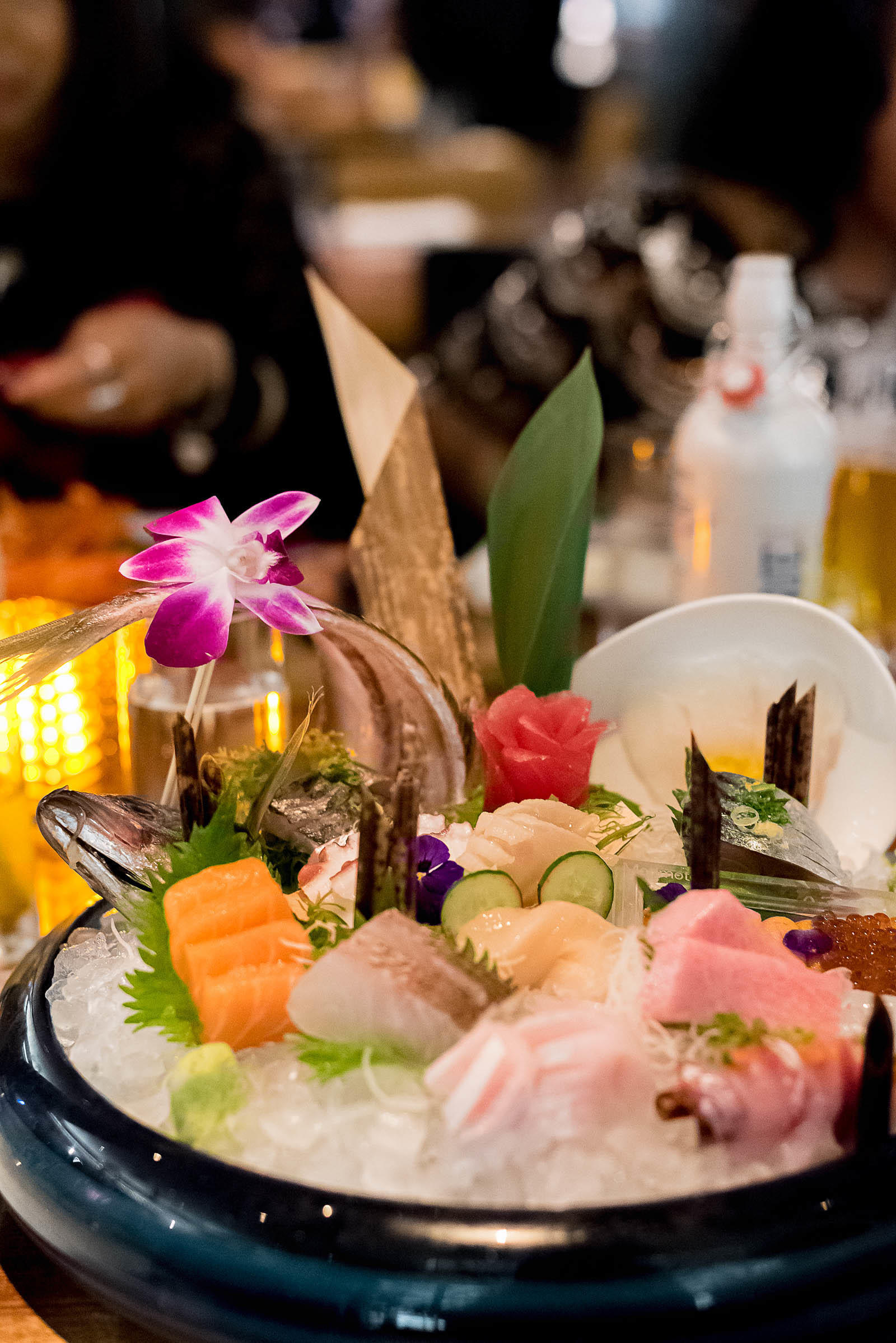 SPOTLIGHT ON:
---
Morimoto
Hubby and I have been fans of this Iron Chef spot for over a year now and every time we go, we have an unforgettable meal. The chef's selection of sushi is always delicious and beautifully presented but the toro tartare is by FAR our favorite thing on the menu.
Order it for a really unique experience -- where else can you play this much with your food?
Vegas itself is an easy destination. Once you set down your bags, the stress just melts away.
Most people split their time between excursions out of the city to Hoover Dam or the Kelso Dunes and spots along the Strip, downtown Las Vegas, and Fremont Street.
Like most tourist hot spots, transportation is easy and convenient here. Taxis, Ubers, Rental Cars, and some public transit in the form of buses and trams are available.
There are also free cars to various spots (like strip clubs) so be careful when you're offered a free ride!
McCarran Airport is an easy airport to fly in and out of. Security is quick and the airport itself is only a 10-minute drive from the Strip.
You're also allowed to gamble which means you can kill flight delays with time at the slots (or a last-minute massage? This airport really does have everything).
Over the years I've shared so many of our adventures in Vegas here on the blog.
Here are some of my favorite posts:
10 Of My Favorite Things To Do in Vegas
"Man, I really like Vegas."
-- Elvis Presley