One particularly rainy, gloomy day Hubby and I were in desperate need of a pick-me-up.
And it is a truth universally acknowledged that nothing picks you up like a little lunchtime drinking and photogenic food.
But on such a rainy day Hubby and I really needed a cozy spot in a convenient location (don't get me wrong, I love exploring new neighborhoods… just not in the pouring rain).
I'd heard rumors about a modern spot in River North serving up some quirky, New American food and, after reading Infatuation's glowing review, Hubby and I knew exactly where we wanted to go.
Bernie's Lunch & Supper.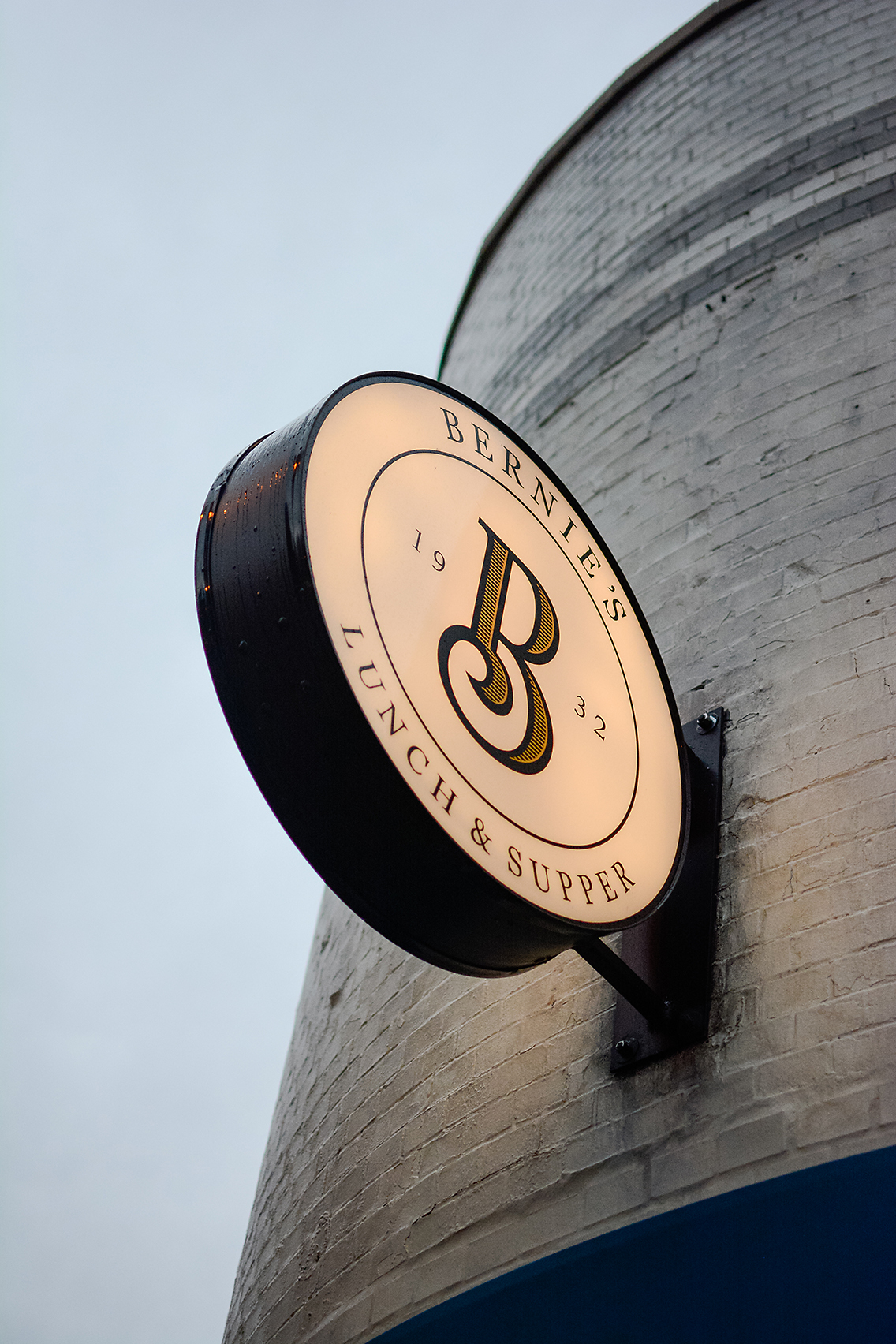 Bernie's is one of those experiences that feels truly unique from the start.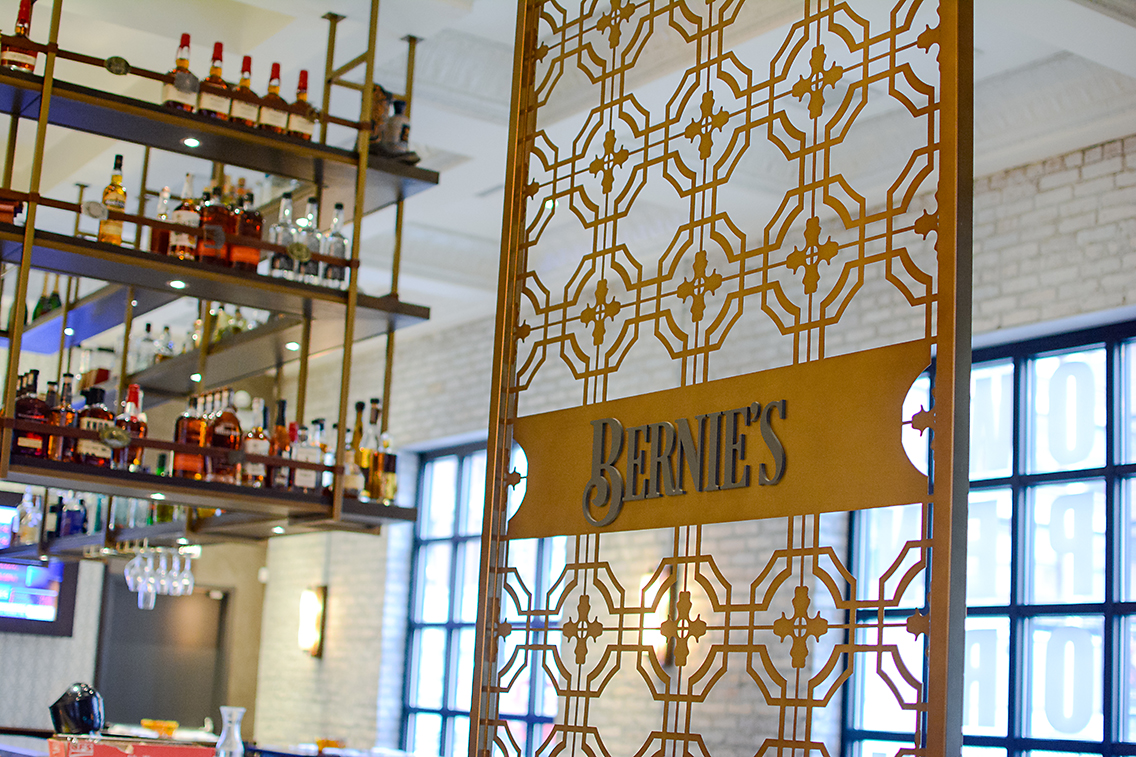 The decor is light and modern with plenty of brass detailing, white brick walls, and large blue velvet booths.
It's a casual space but one built on foundations of luxury and comfort — my favorite type!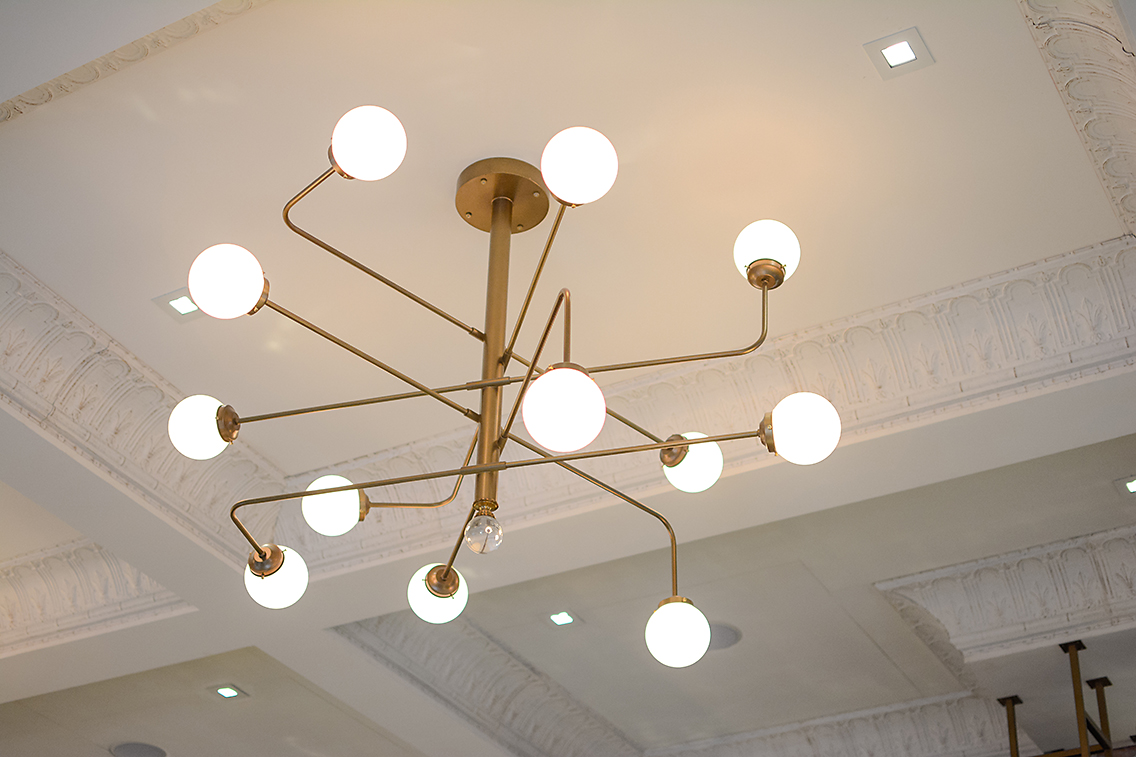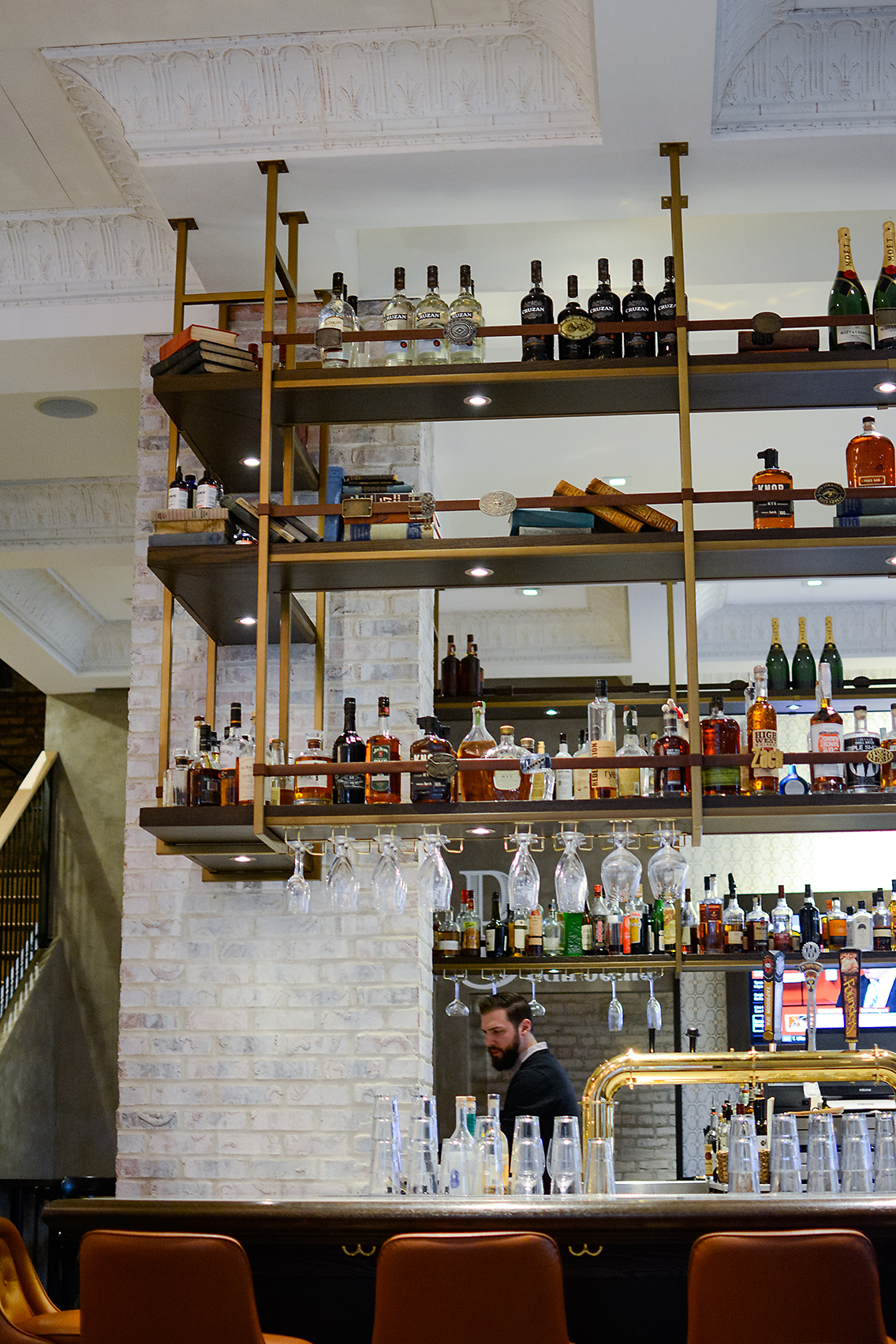 The bar itself is stunning as well, with plenty of vintage books peeking through the booze bottles off the brass shelves.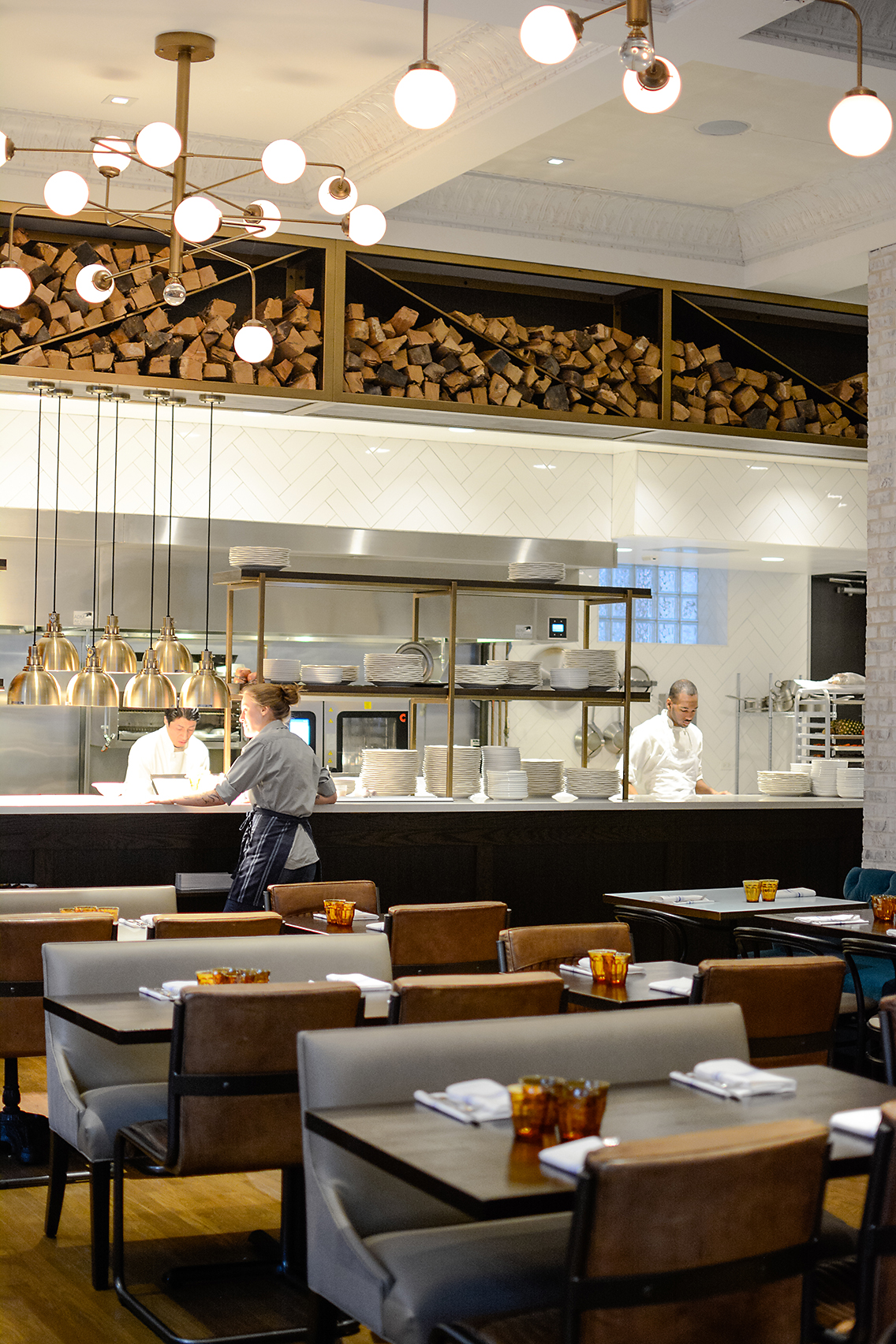 Isn't it just so chic and cozy?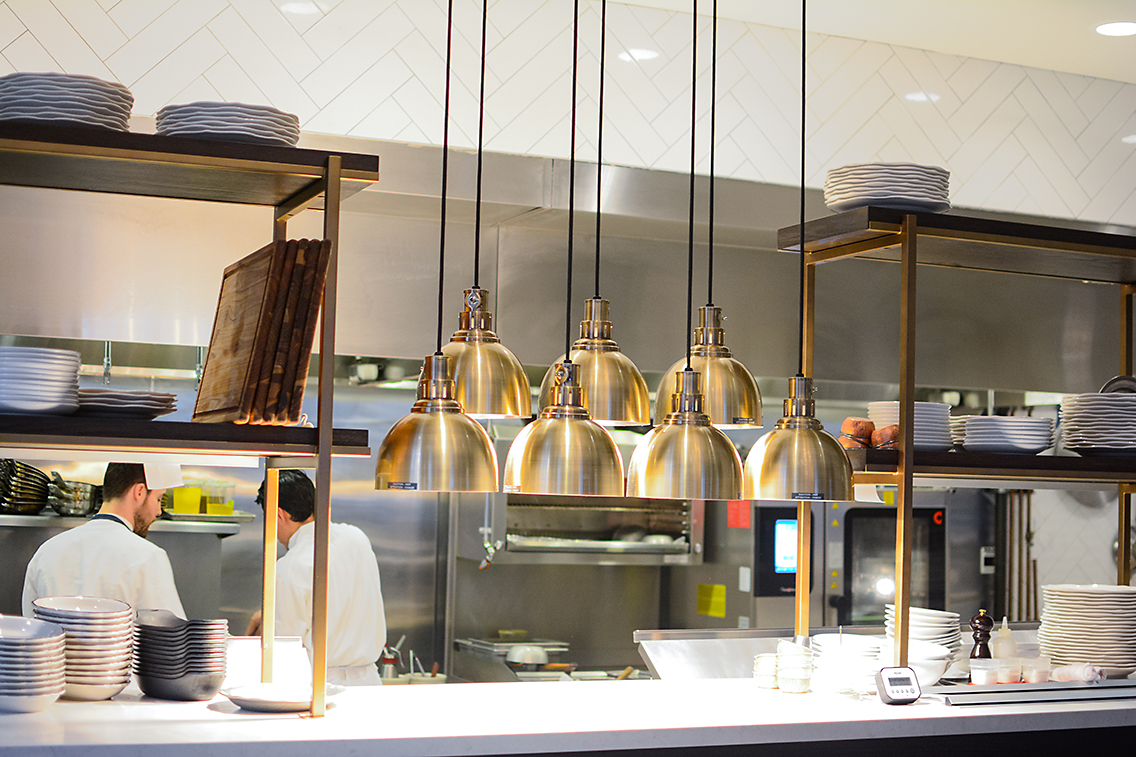 It's the sort of beautiful space that feels as comfy as a library but with food… lots and lots of epically delicious food.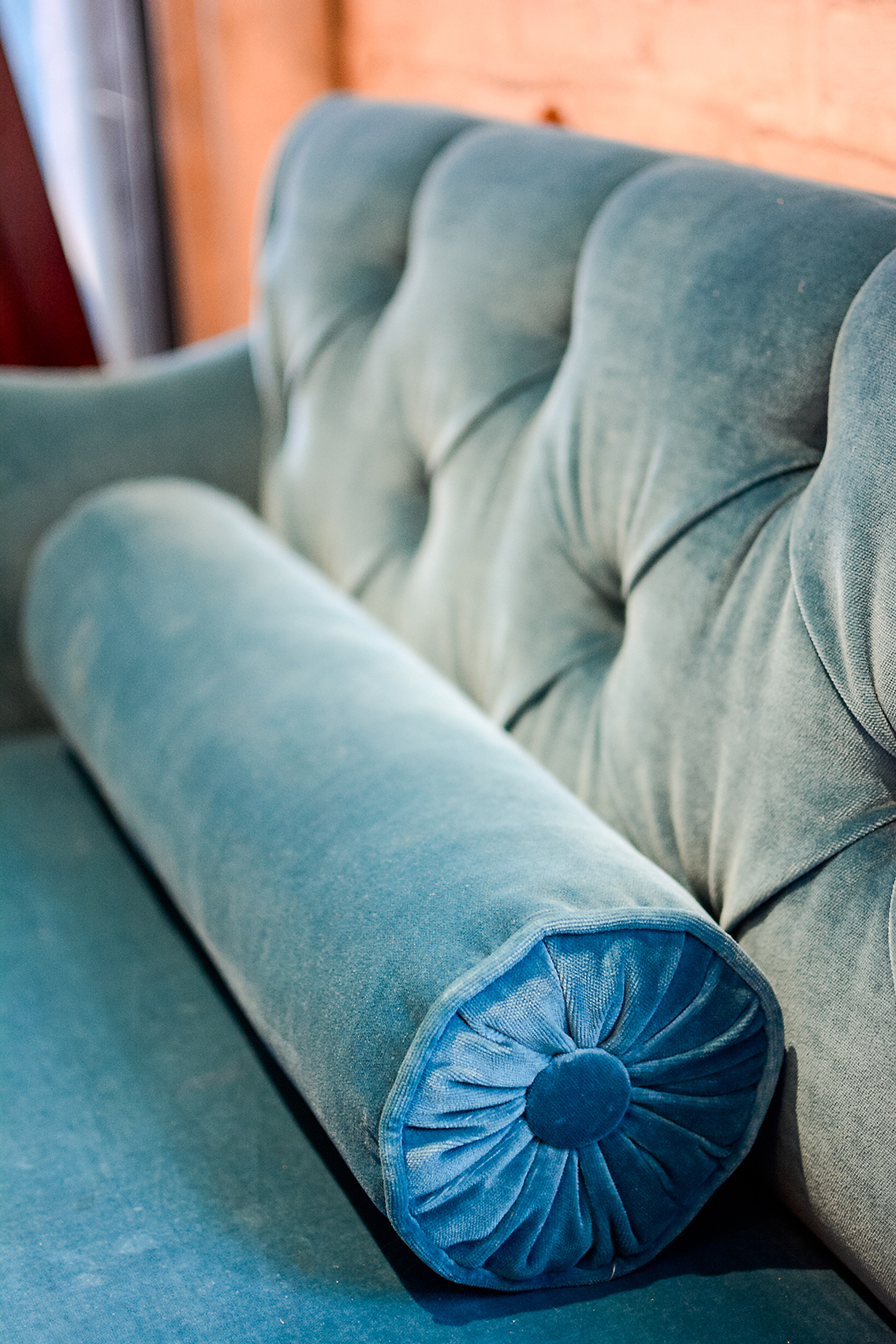 AND enormous blue velvet booths to curl into. Don't you just want to snuggle up here on a rainy day, have a cocktail, and people watch?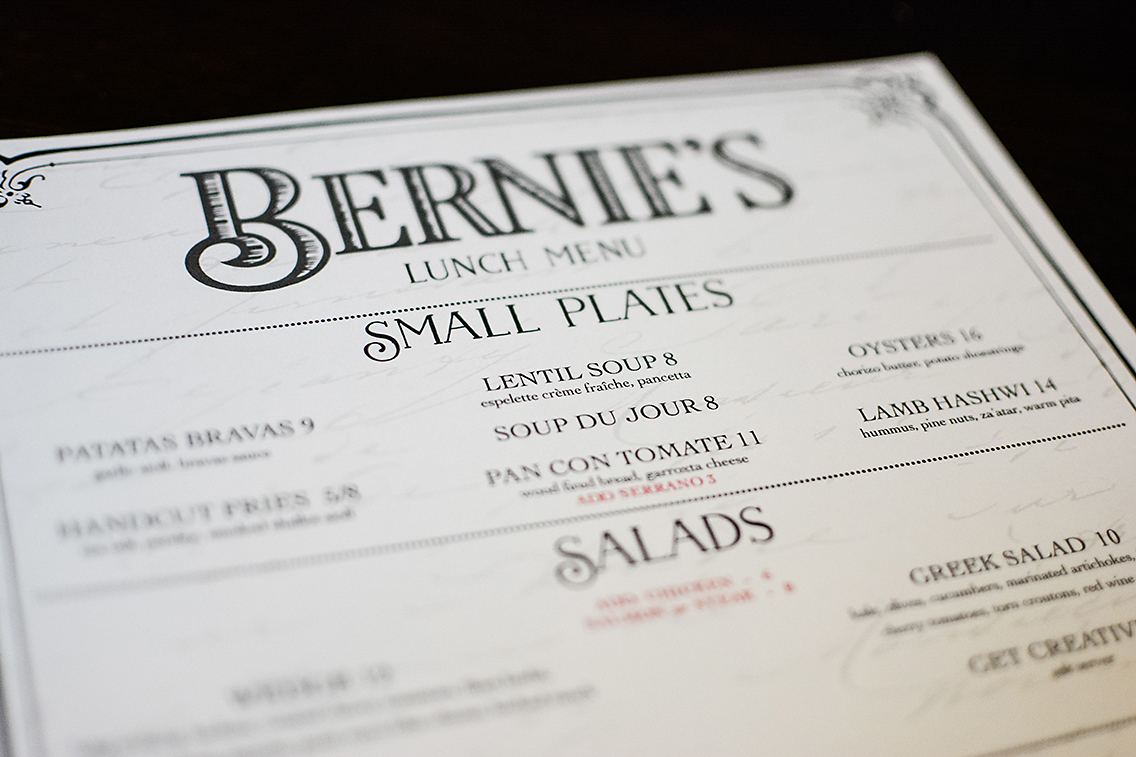 Oh, sorry, I'm getting ahead of myself…
Bernie's may have a small lunch menu but it packs a serious flavor punch.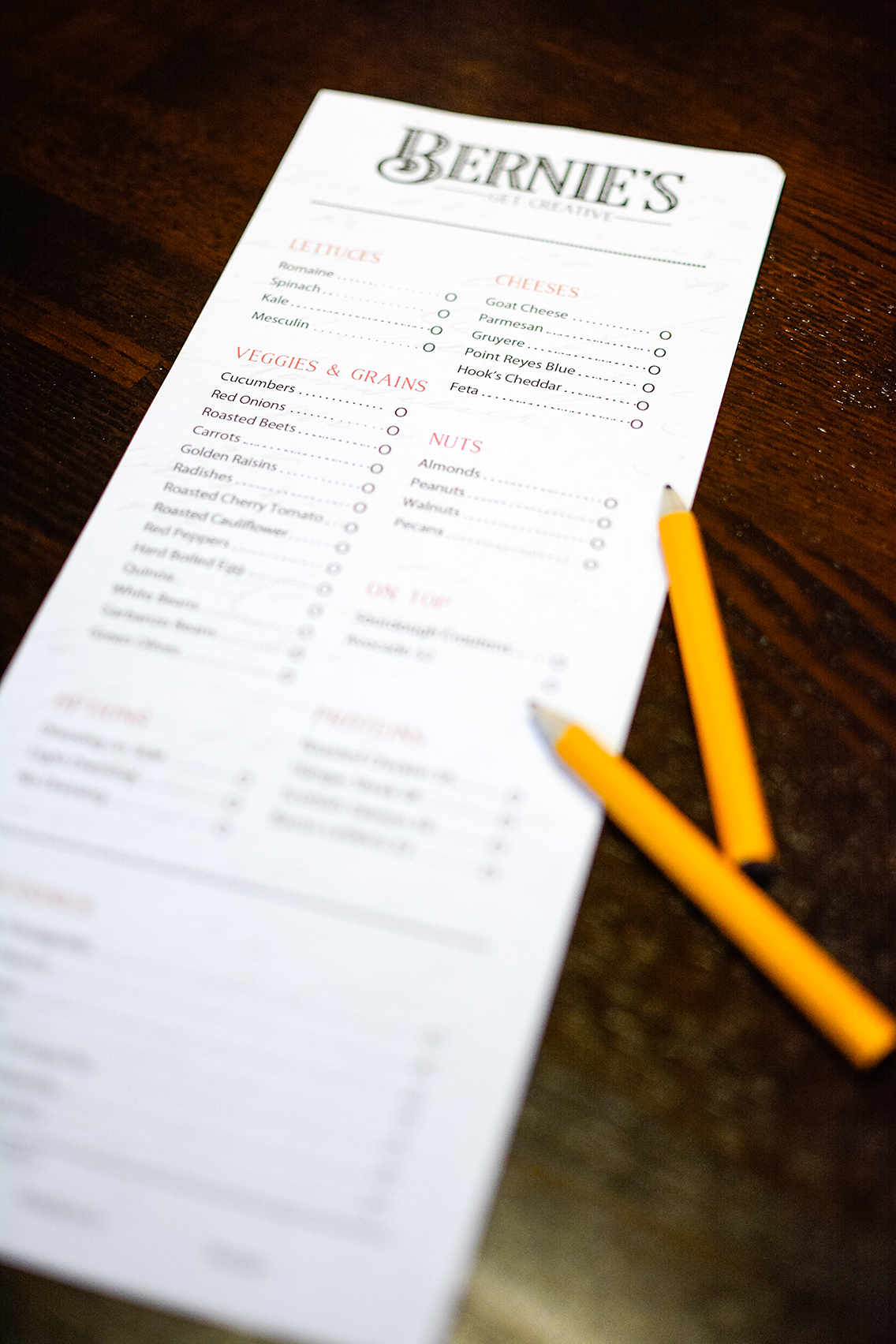 And their 'Get Creative' salad option is so fun! You build your own salad from the ground up adding in all sorts of vegetables, grains, nuts, proteins, and cheese to customize it to your taste.
It's a really unique and clever idea — you could easily eat here for lunch everyday for a year and not try every possible combination!
Talk about customization!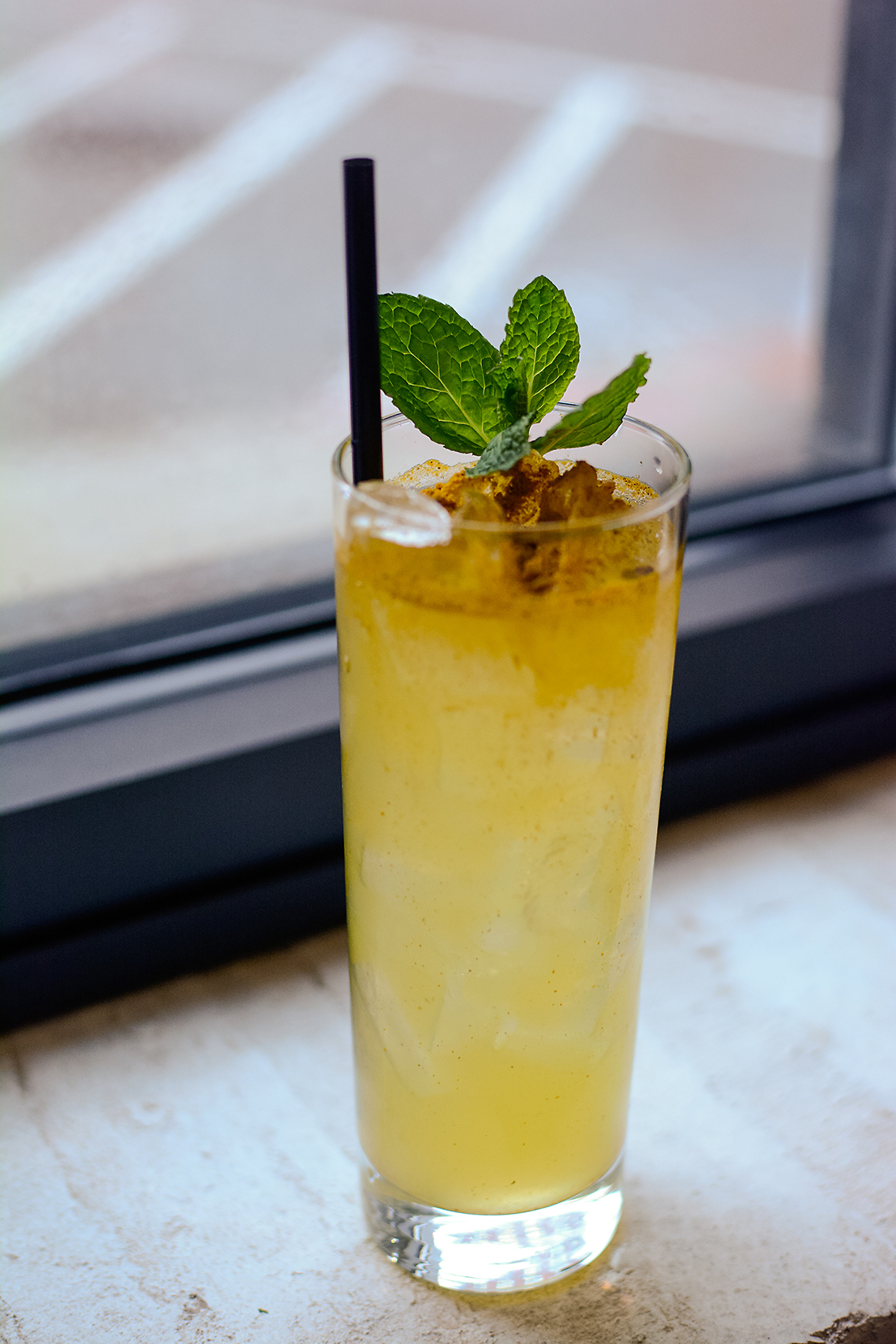 But Hubby and I needed our pick-me-ups so…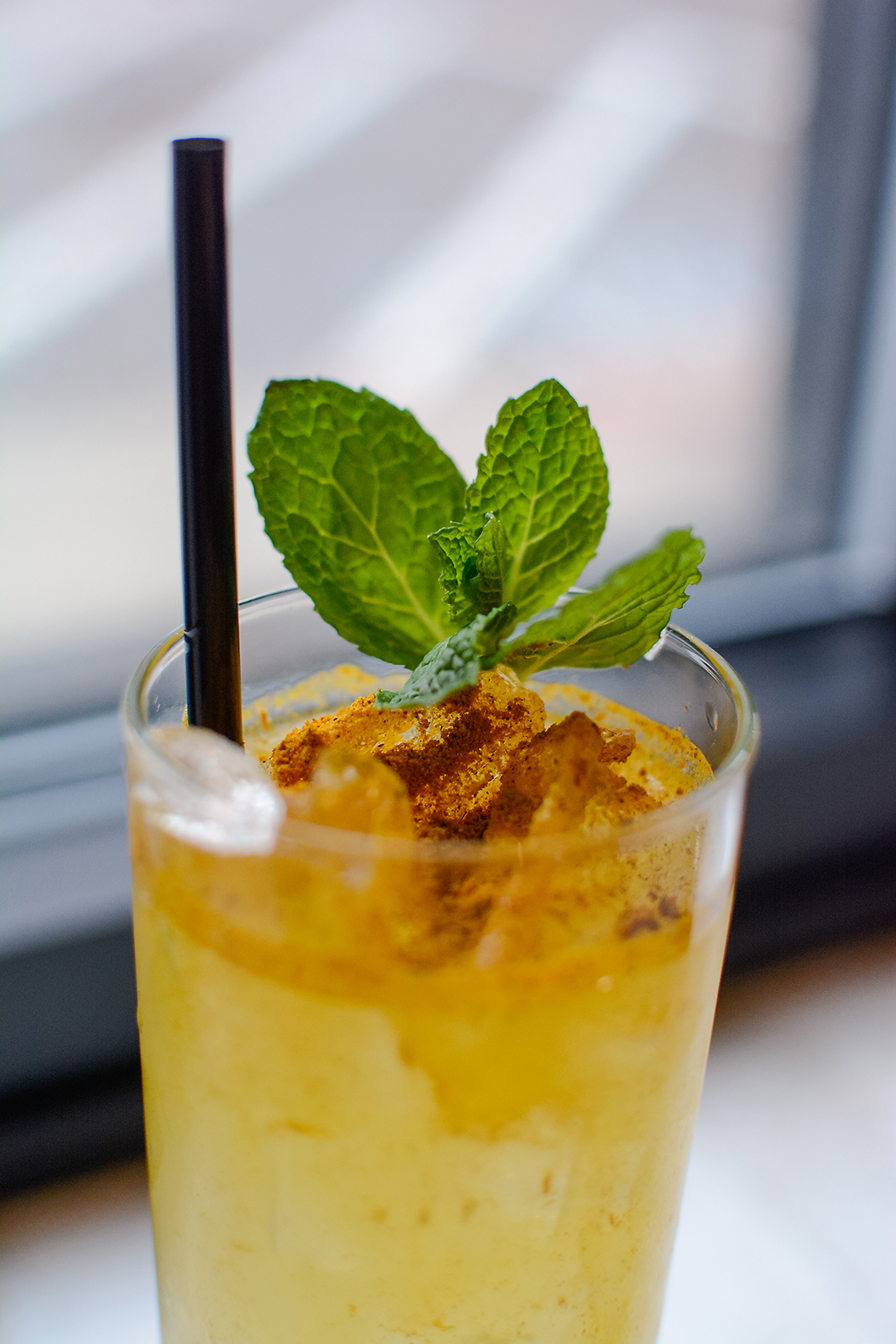 we started out with some necessary liquid courage. I tried this stunning Vorfreude of Old Cockney Gin, Jalapeno Mezcal, Mango, Ginger, Saffron Lime, Mint, and Curry.
Yes, curry.
Just like my favorite sweet potato cocktail at Presidio!
This was a bright mango gin concoction that had a spicy, zingy finish. And, while you might worry that so many flavors could ruin your palate for lunch, the balance of spices definitely whetted my appetite more than destroyed it.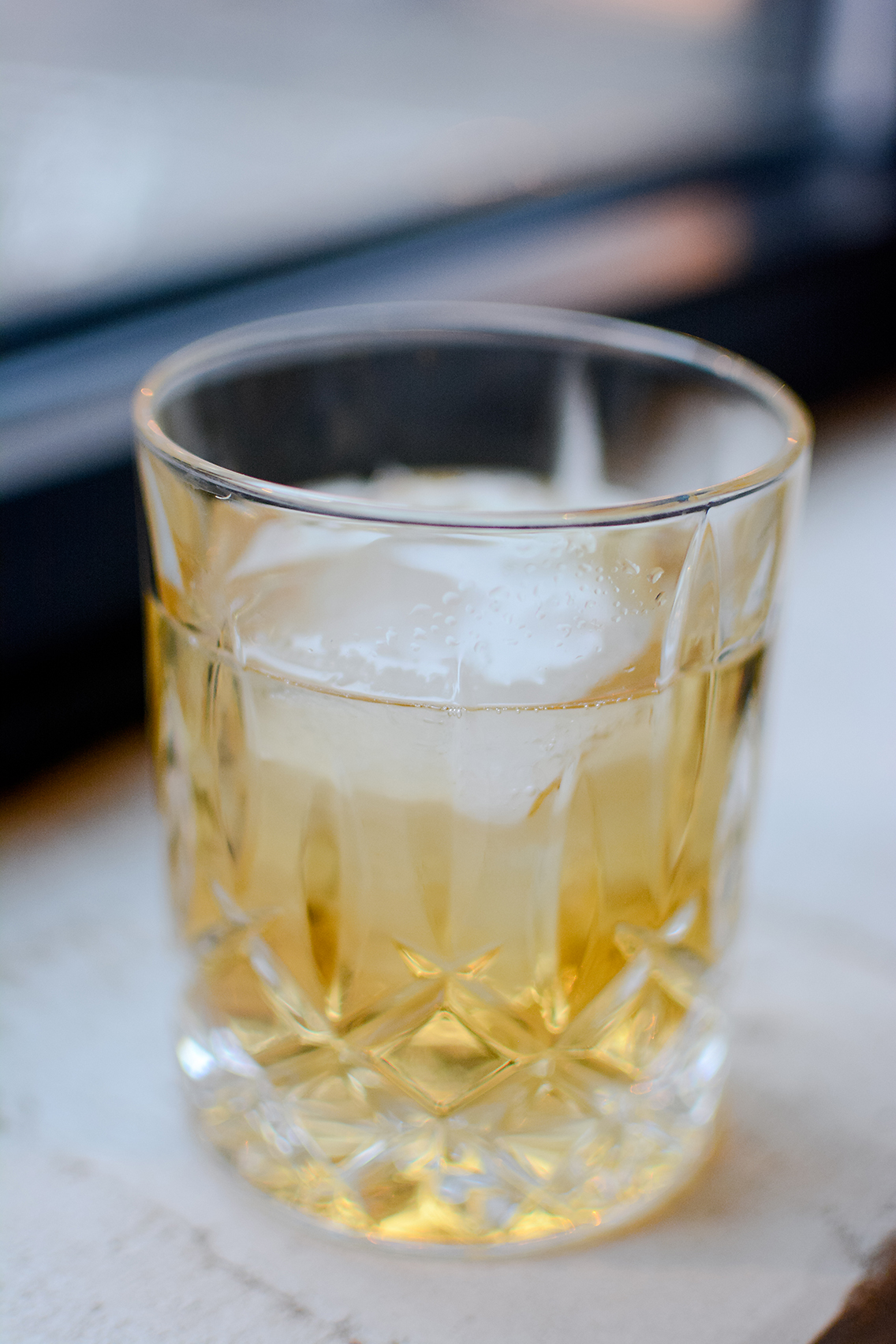 Hubby went a more traditional route, ordering this Saudade of Angel's Envy Bourbon, Copper & Kings Unaged Apple Brandy Rose, Angostura, Rose, Angostura, and Tobacco.
Smoky, fruity, and presented without frills in a classic highball. Don Draper would be proud.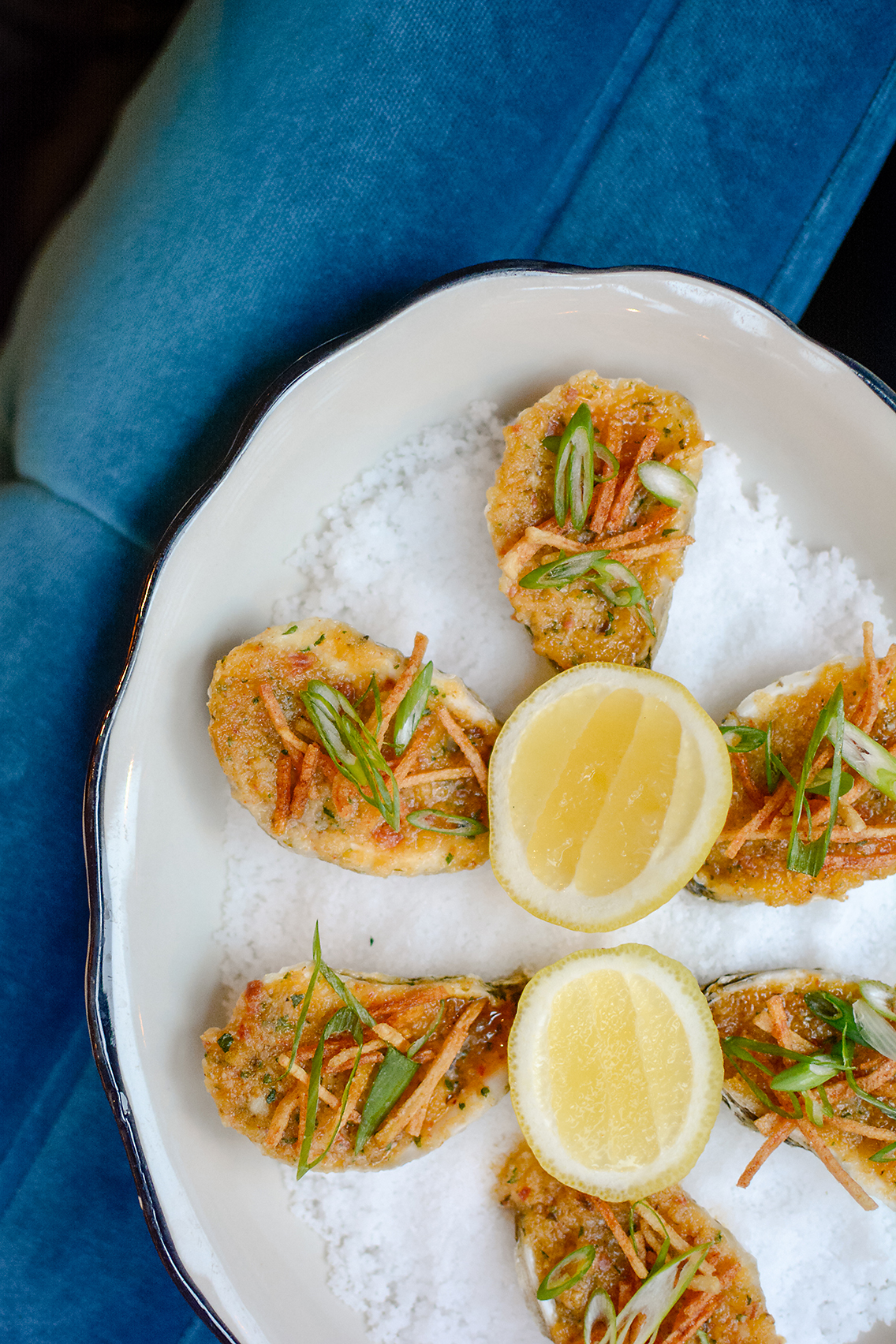 For a starter we opted for Bernie's innovative take on roasted oysters.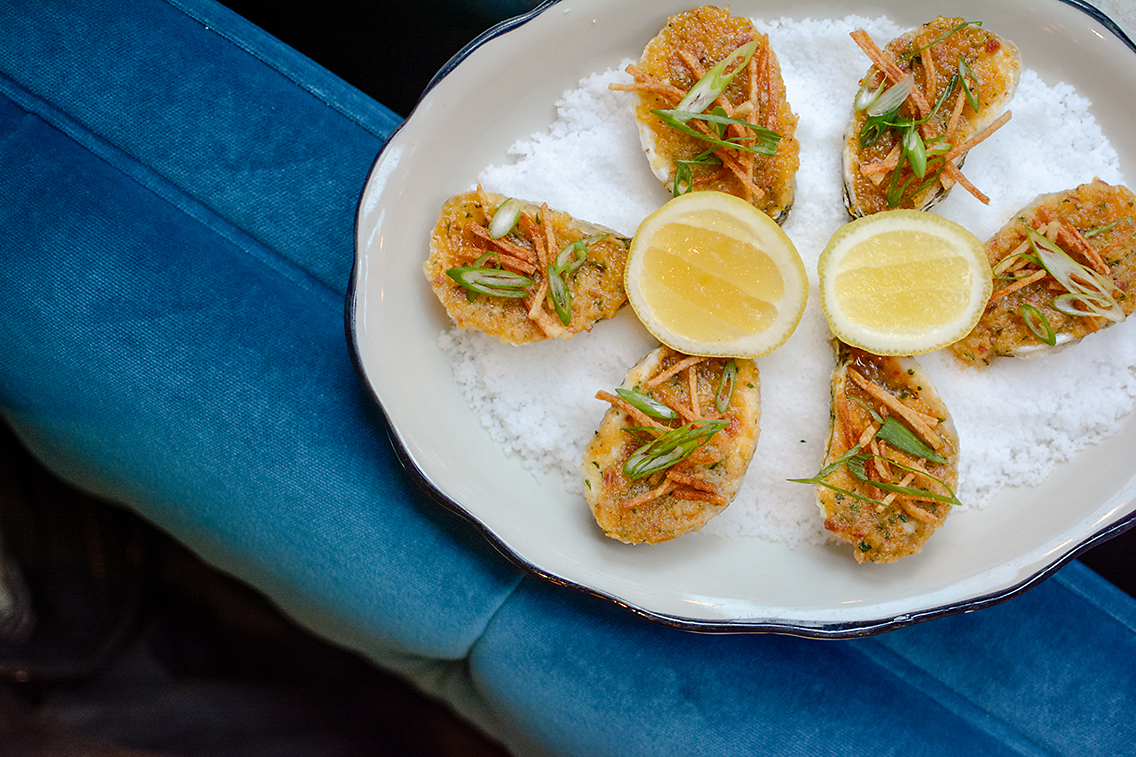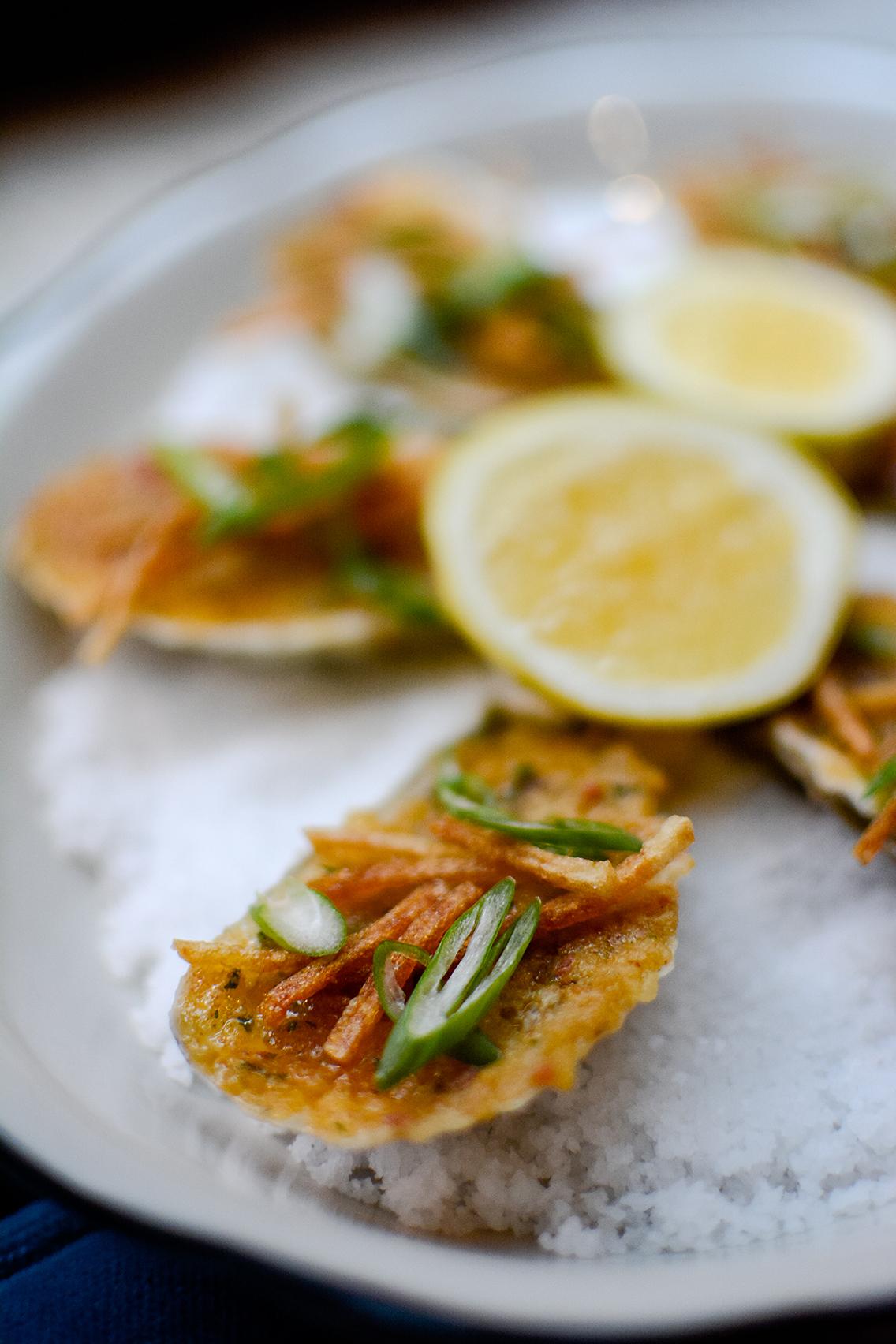 Made with chorizo butter and potato shoestrings, these are rich in flavor, crunchy in texture and ever so addicting.
These oysters are a Bernie's signature dish for good reason! Especially on a cold, blustery winters day. It's easy to see how these top must-eat lists all over Chicago — they really are so unique and flavorful!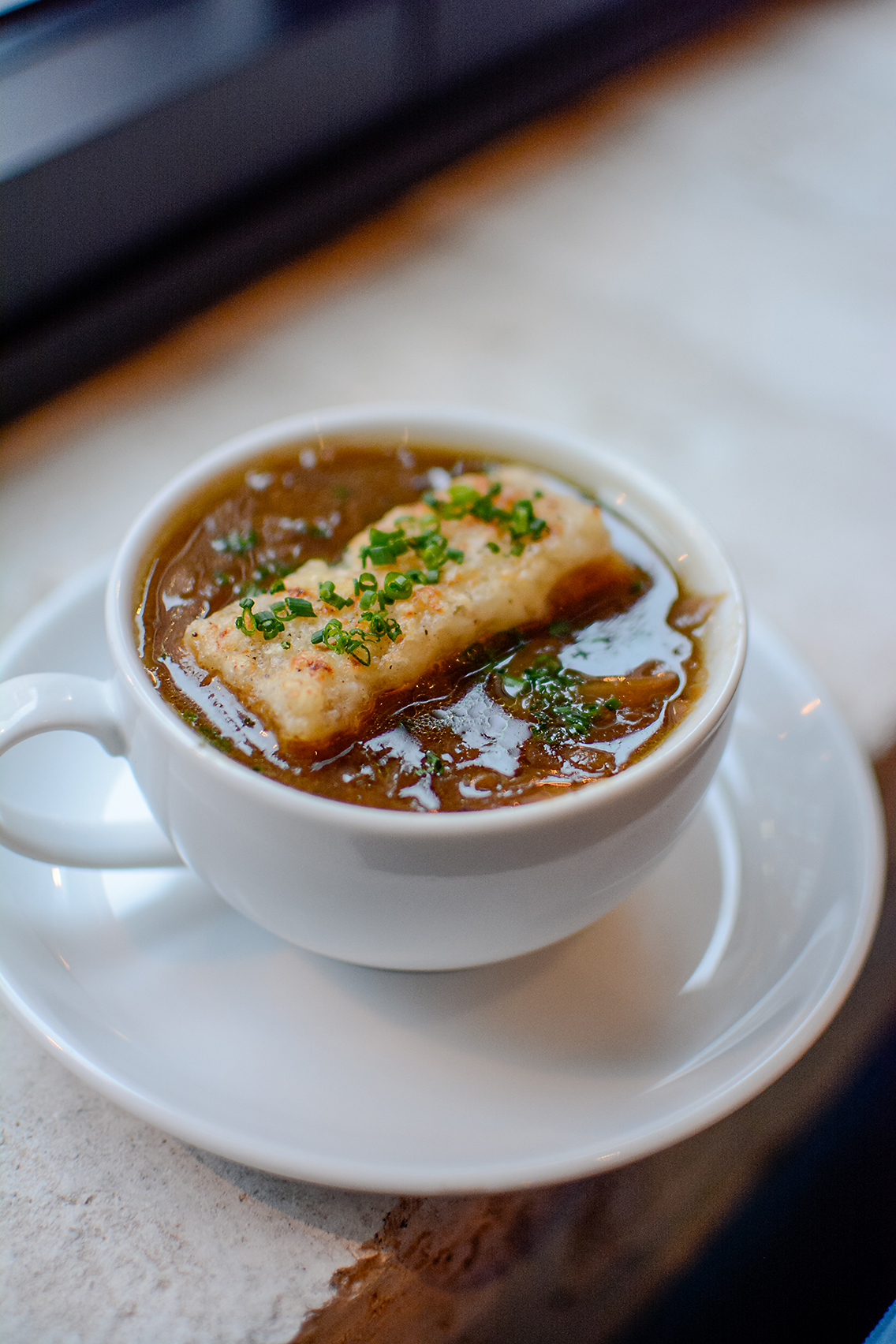 For our next course we moved on to two warming bowls of rich soup: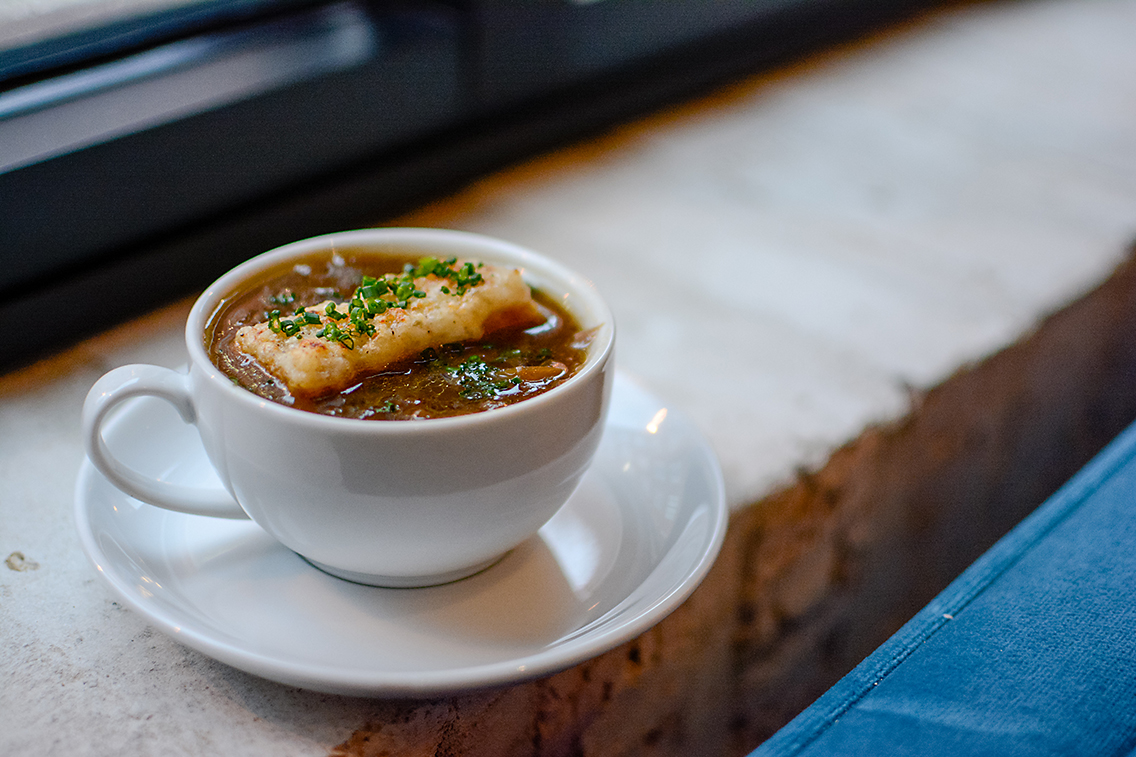 A traditional French Onion Soup served in the cutest little tea cup,
and this Mediterranean classic of Lentil Soup topped with espelette crème fraîche and pancetta.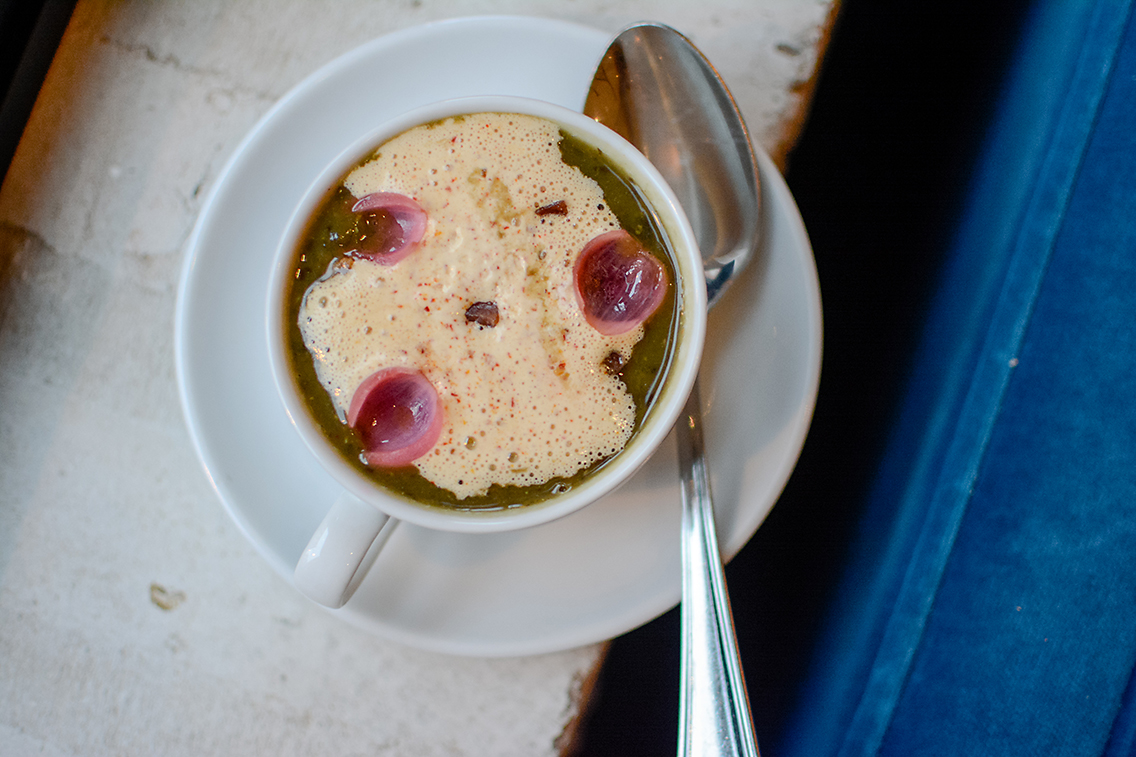 Am I the only one who craves soup on a rainy day? This lentil soup especially hit the spot and the pickled pearl onion garnish certainly made it one of the prettiest soups I've shot too.
Cold weather comfort food given a delicious new makeover. And again served in the cutest tea-cup (which begs the question: why can't all soups be served in tea-cups?).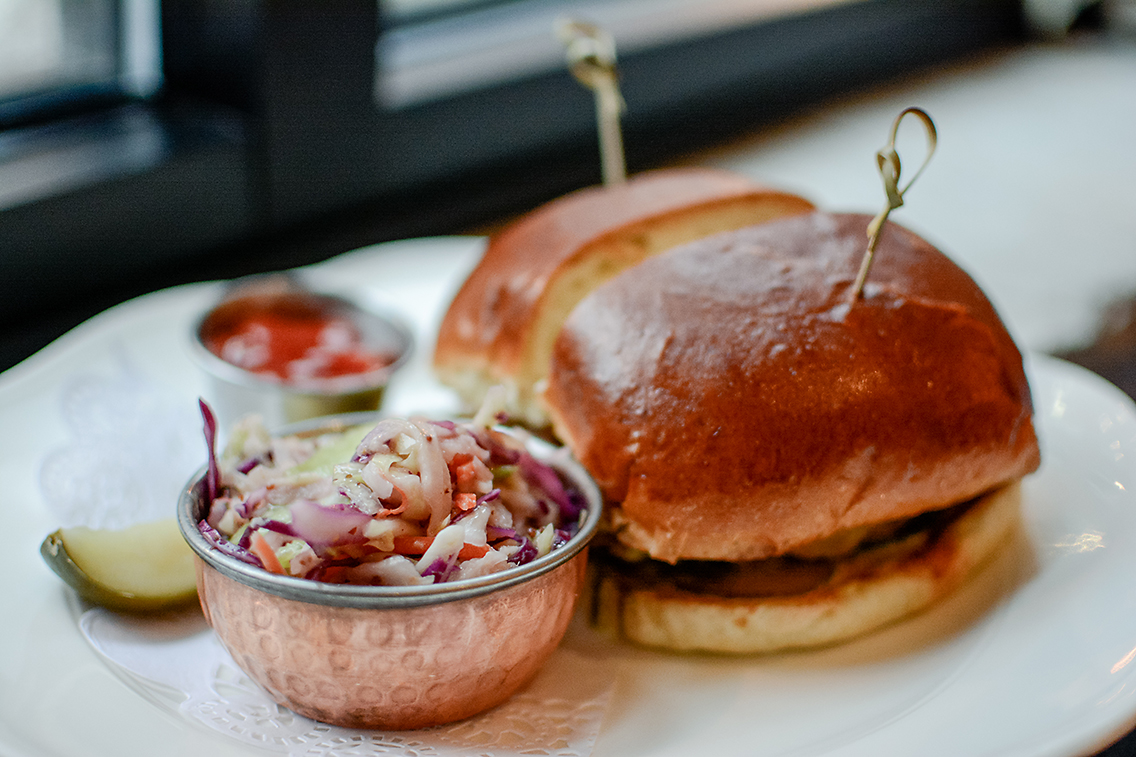 Then our entrées arrived!
Hubby opted for this enormous (and photogenic) Bernie's Cheeseburger…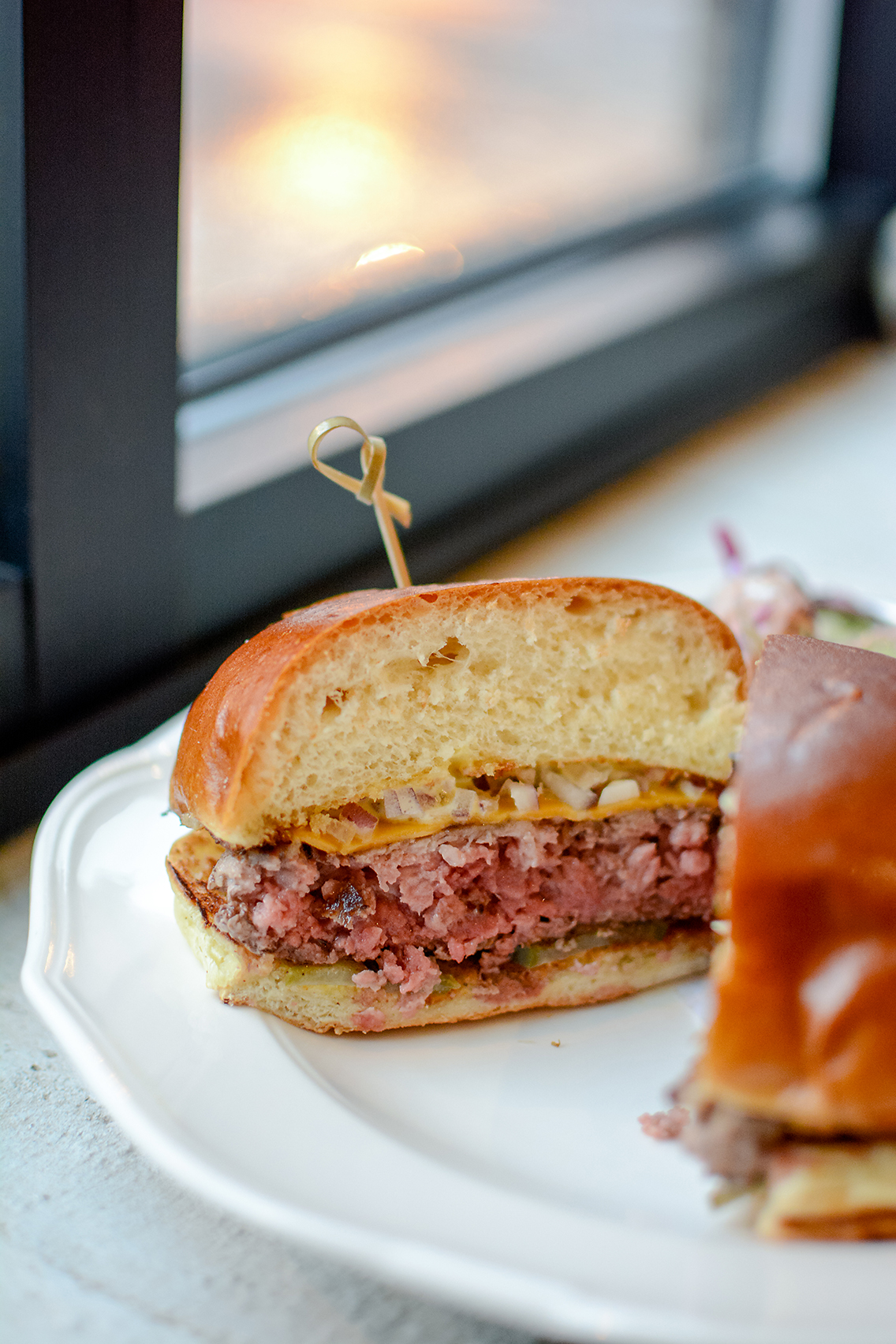 Made with a house grind that has chopped onions seared right into the patty itself and topped with dill pickles, aioli, and onion red cabbage slaw, this is one of the most unique burgers Hubby has had all year.
And I've never actually seen him enjoy a side of slaw with his burger before this one. I'm assuming it was good since he ate every last bite before I even had a chance to try it…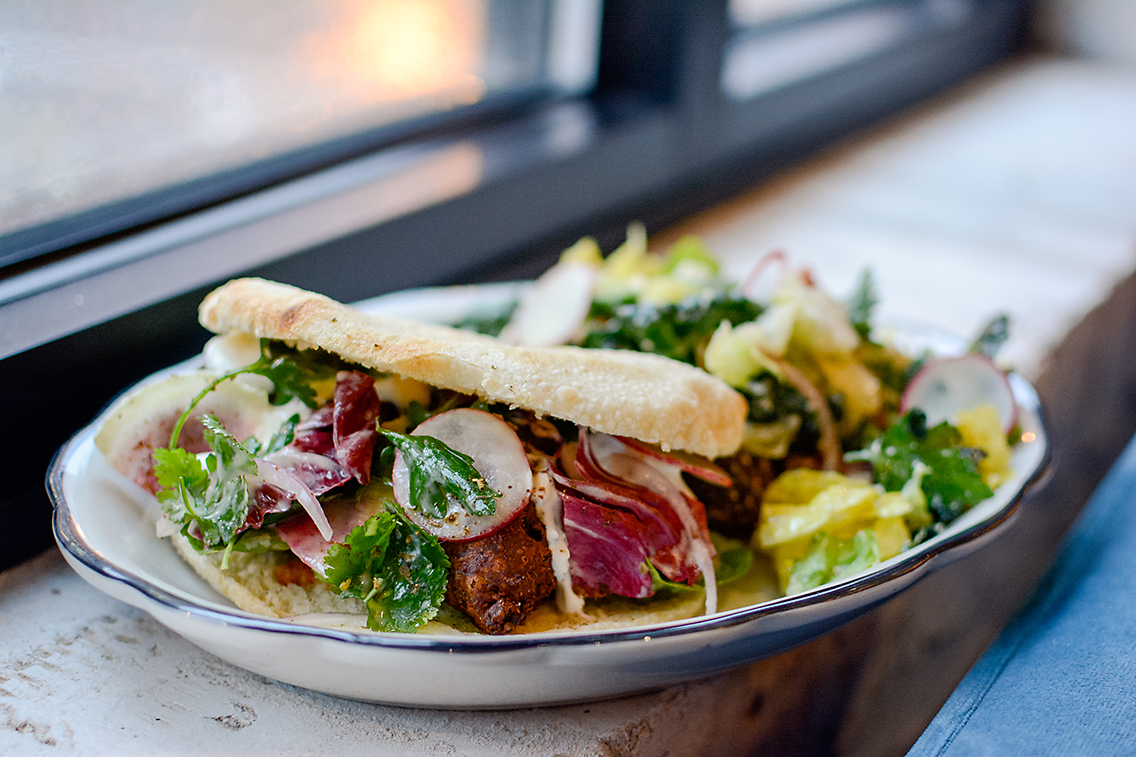 But the truth is I really didn't mind that he didn't share since I had plenty of food to reckon with myself…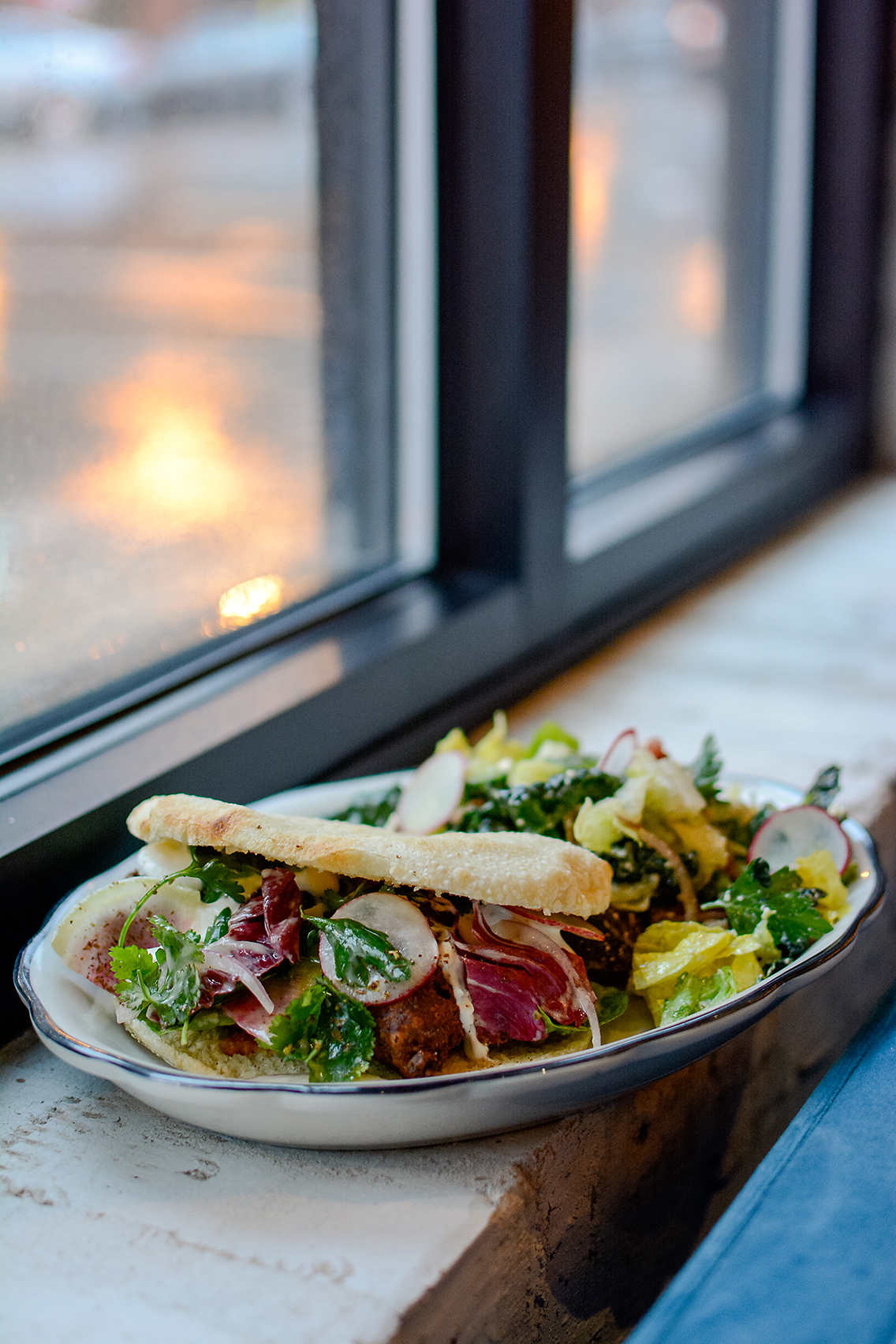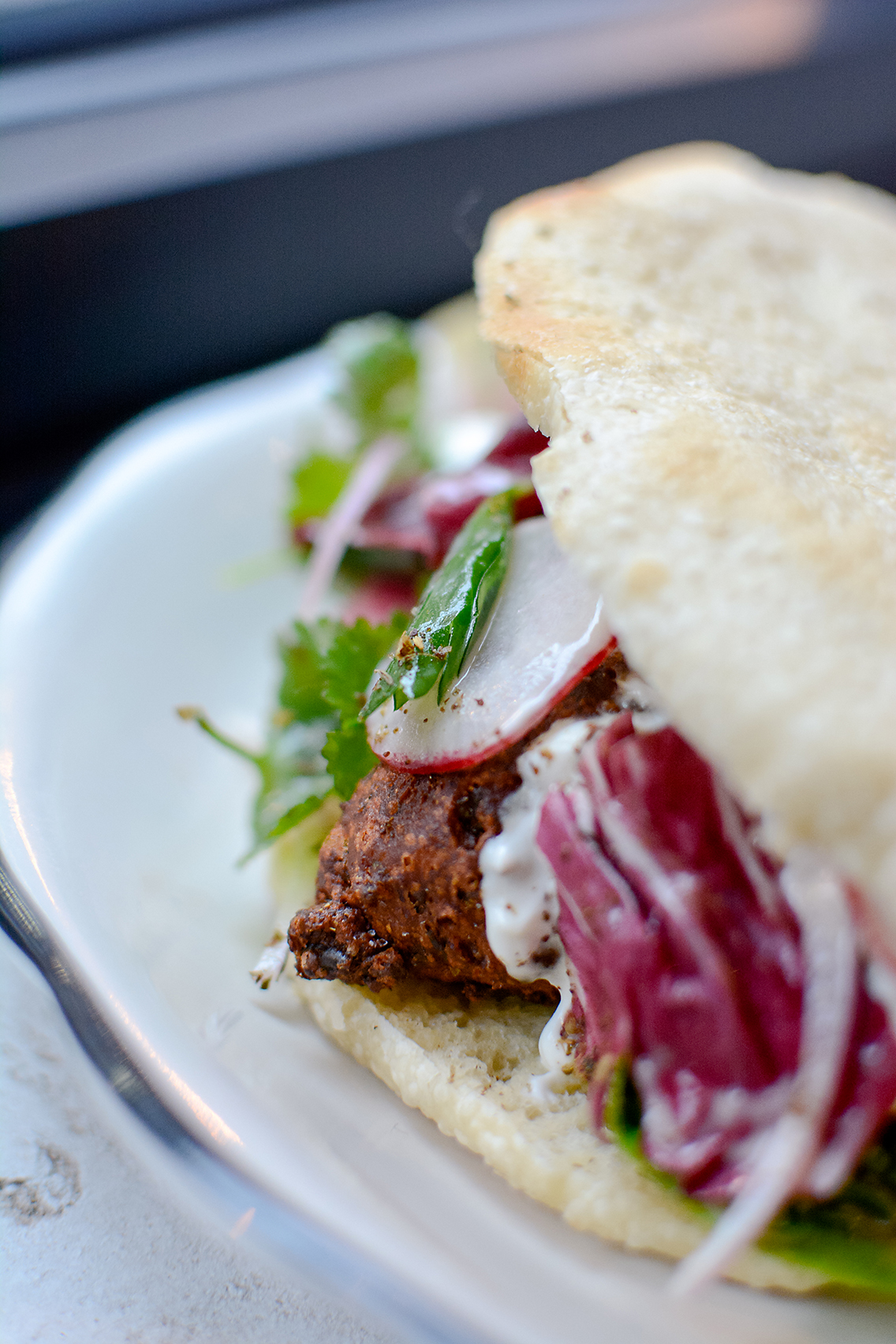 I ended up ordering this whopper of a Falafel Sandwich with smoked feta yogurt, pickled eggplant, and tahini on a warm pita.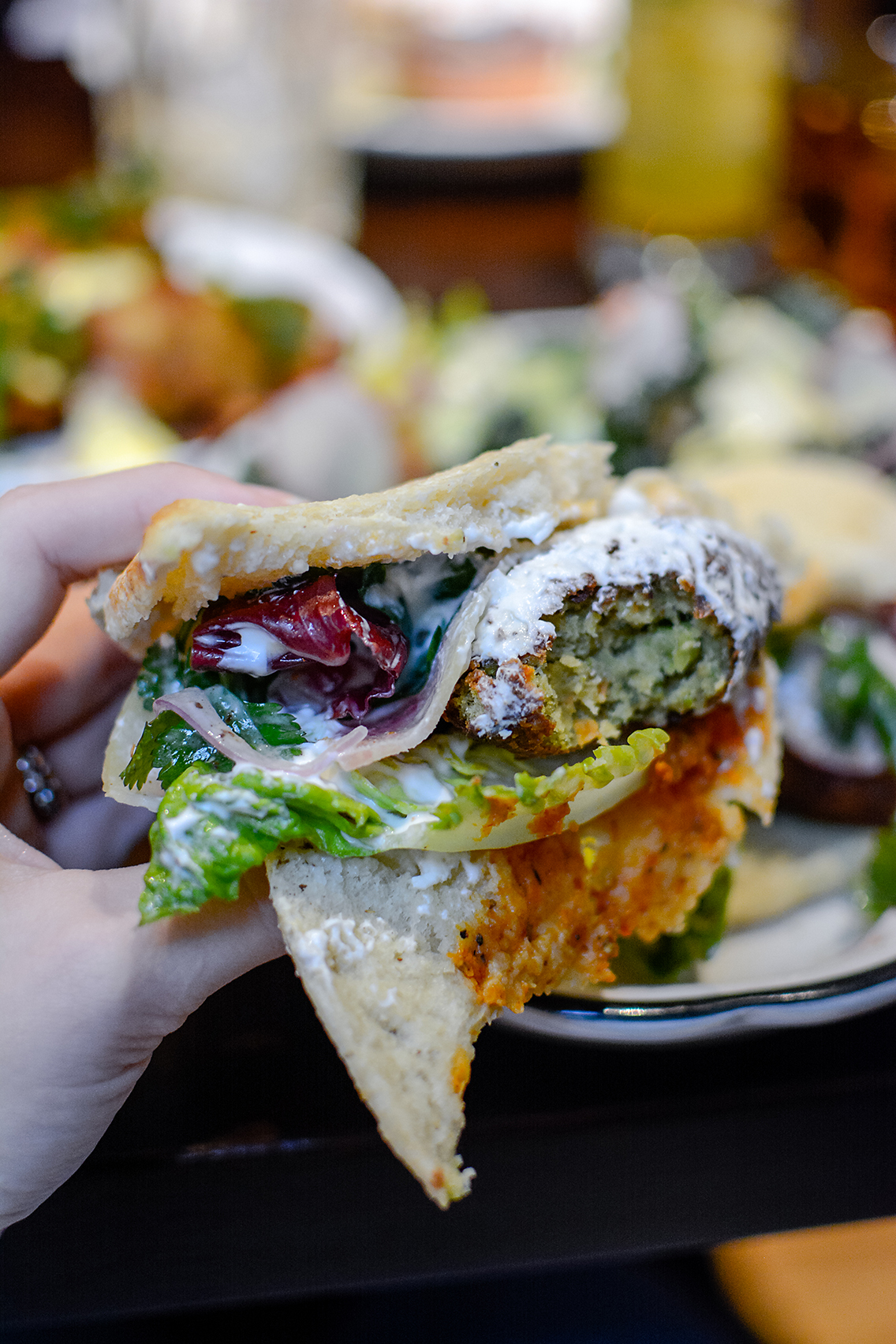 Each bite was positively delicious — saucy and messy in all the right ways! With mega crunch from the falafel and freshness from all the herbs and vegetables.
It may be vegetarian but don't dare underestimate the flavor punch of this monster sandwich. You'll be missing out on one of the best lunch sandwiches I've ever discovered! Oh and the side salad it's served with will blow your socks off too — even if it sounds like it won't. Since Bernie's uses super-fresh herbs and vegetables in everything, even simple lettuce leaves are brought to a whole new gourmet level here.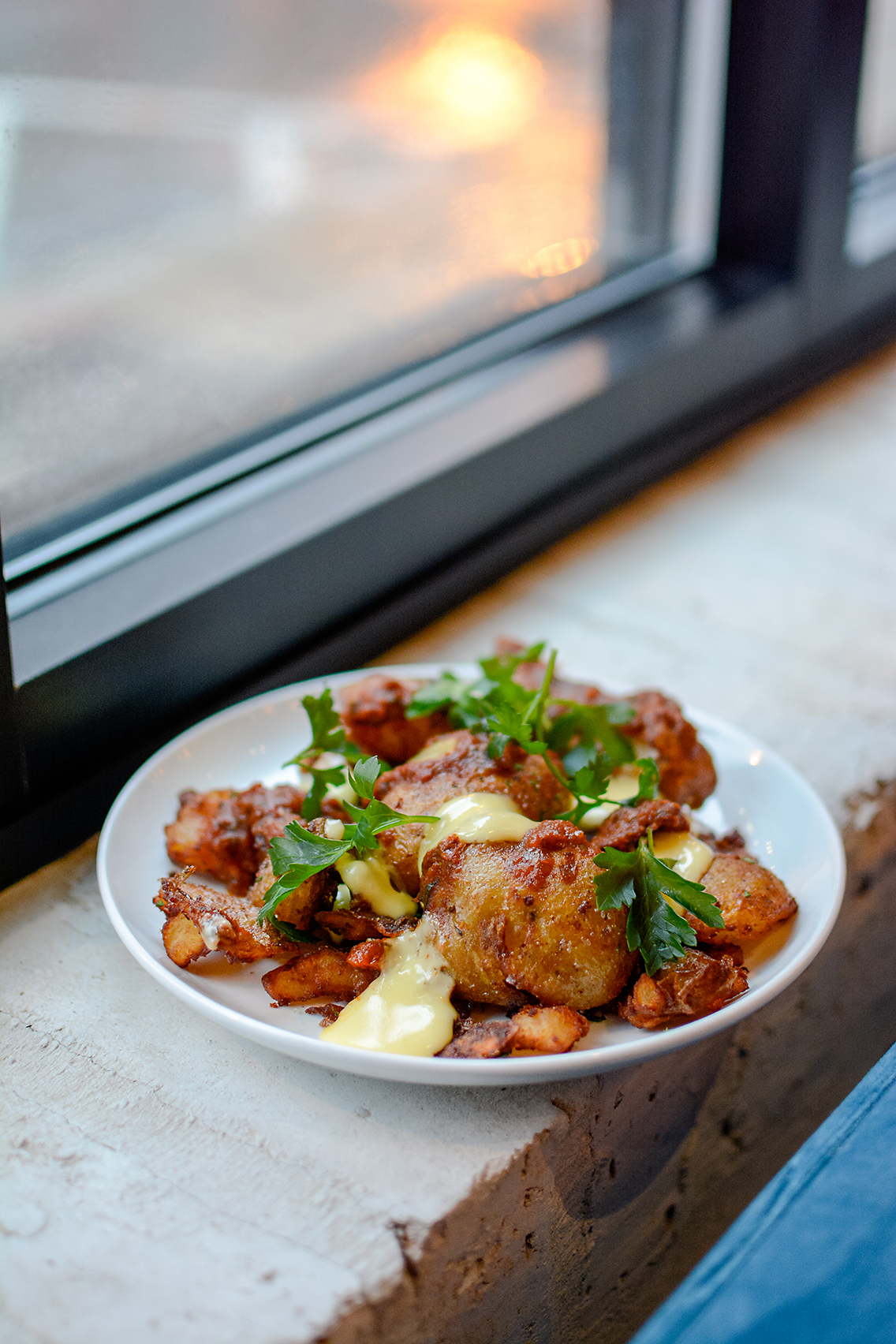 And just for good measure, Hubby and I ordered another of Bernie's signature dishes on the side…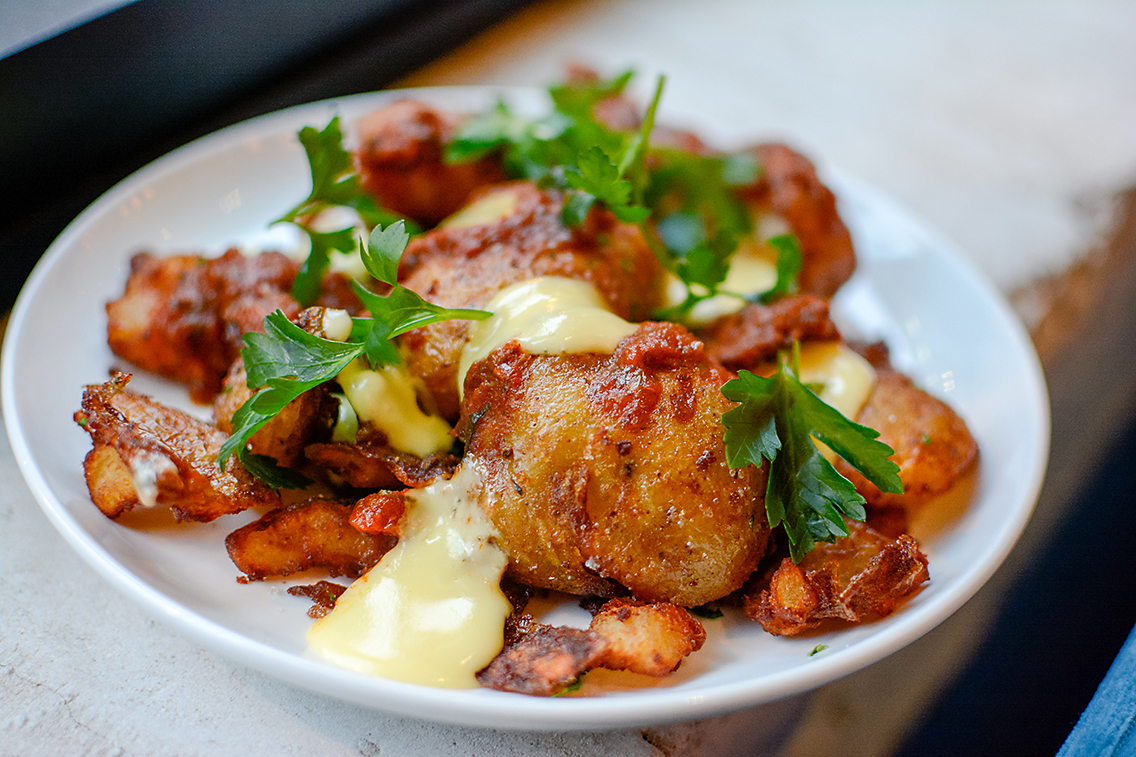 these sinfully crunchy Patatas Bravas with garlic aioli and bravas sauce. Crispy fried potatoes served in a zingy creamy sauce that feels comforting and yet upscale at the same time.
I just want to face dive right into it! Don't you?
If you're looking for a quirky yet chic space turning out some of the most interesting and innovative dishes River North has seen in years, look no further than Bernie's.
Just promise you'll take me with when you go, will you? Writing this post has given me all sorts of crazy hunger for another mega falafel sandwich. And more patatas bravas. And lentil soup. And roasted oysters. And…
Disclosure: I received a complimentary meal to facilitate this post. Review and all opinions are my own.