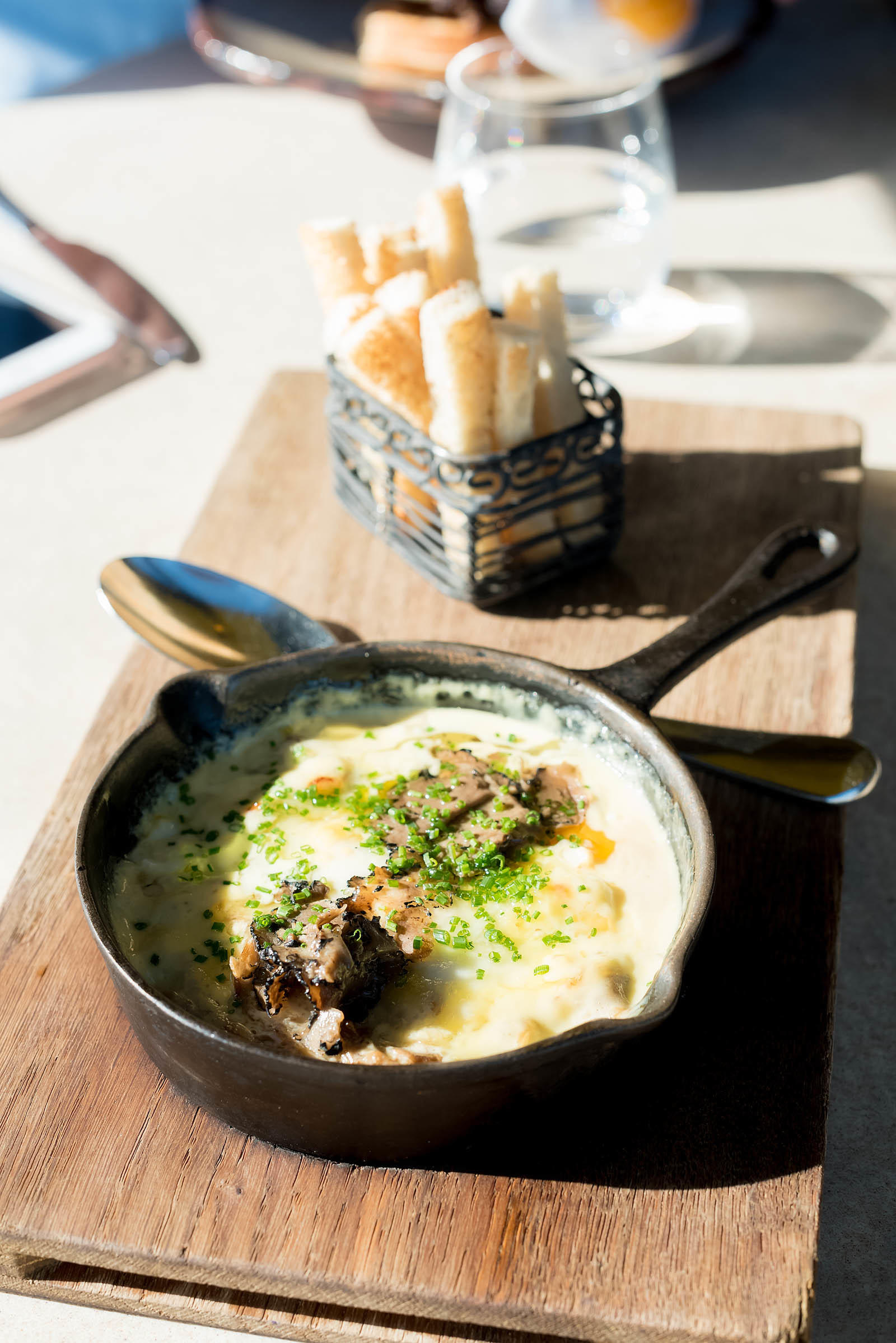 As a food adventurer at heart, I can't seem to stop myself from wanting to voraciously explore any city I find myself in for the very best meals I can devour.
(Remember when I went to NYC for 36 hours and — admittedly — consumed more than 4,000 calories in that short time? Thank goodness I compensated by walking 40,000 steps too…)
Well, while I wasn't planning on trying to jam in EVERY spot on my London restaurant list during our family visit two weeks ago, I was determined to hit a few key spots (like Sketch and Bob Bob Ricard).
But when I heard there was a delicious brunch 40-stories above London with a magnificent view of the Thames, the Tower of London, and Tower Bridge itself, I knew exactly where my first true London brunch experience would be.
I mean, how could I dare pass up the opportunity to investigate a spot called Duck & Waffle?
Would you expect anything less from a die-hard brunch lover like me?
So the very first Sunday we were in London, my family and I ascended 40 floors up Heron Tower for one of sunniest brunches you'll find in all of London!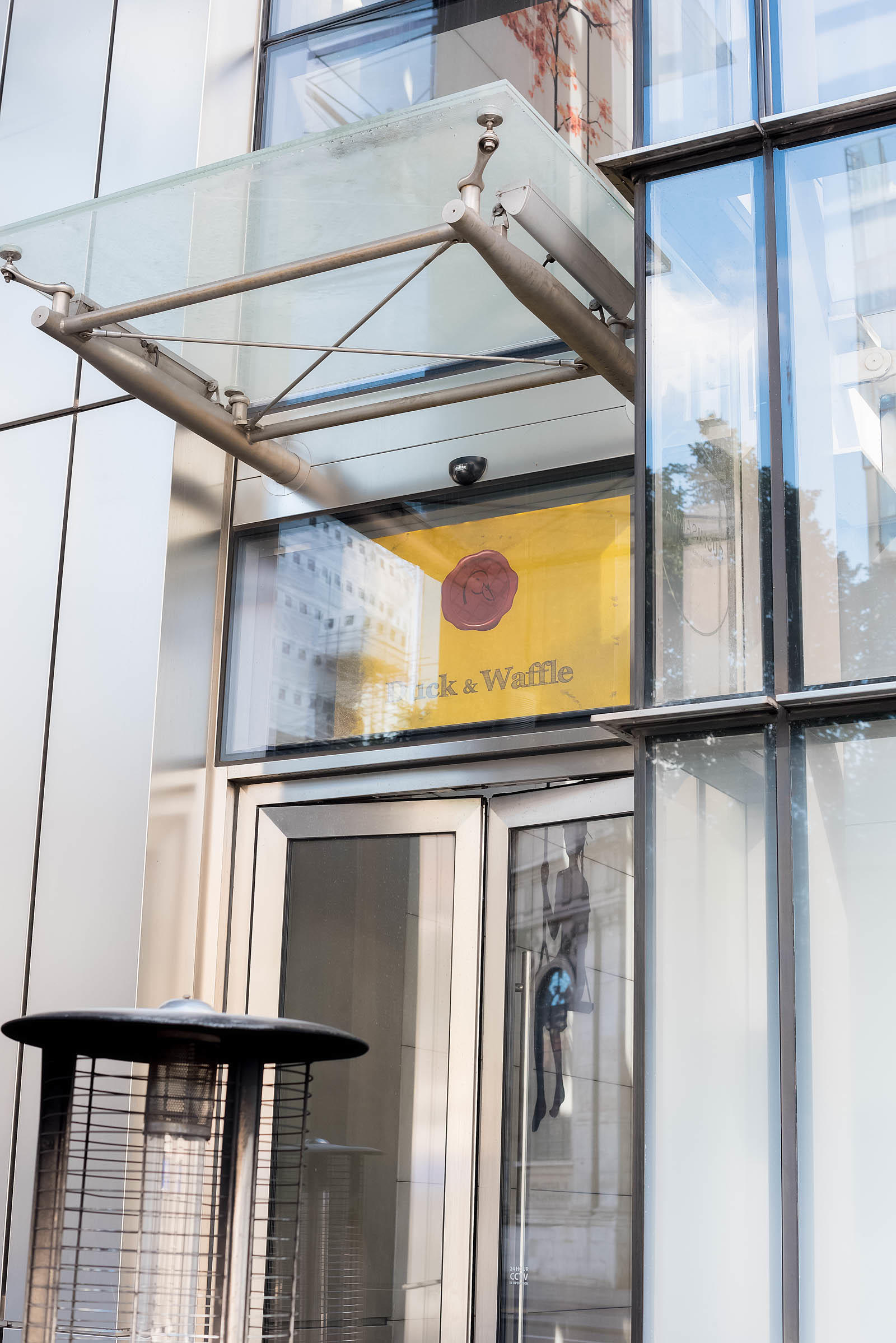 Duck & Waffle has their own private, dedicated glass elevator overlooking the western view of London that reaches the 40th floor in just under 40 seconds.
40 seconds! It was easily one of the fastest elevators I've ever rode on.
(I'll pathetically admit this ride was my least favorite part of the experience — I'm terrified of heights… or rather of dropping from them. Thankfully Hubby held my hand while I shut my eyes and recorded the view on his phone so I could watch it later.)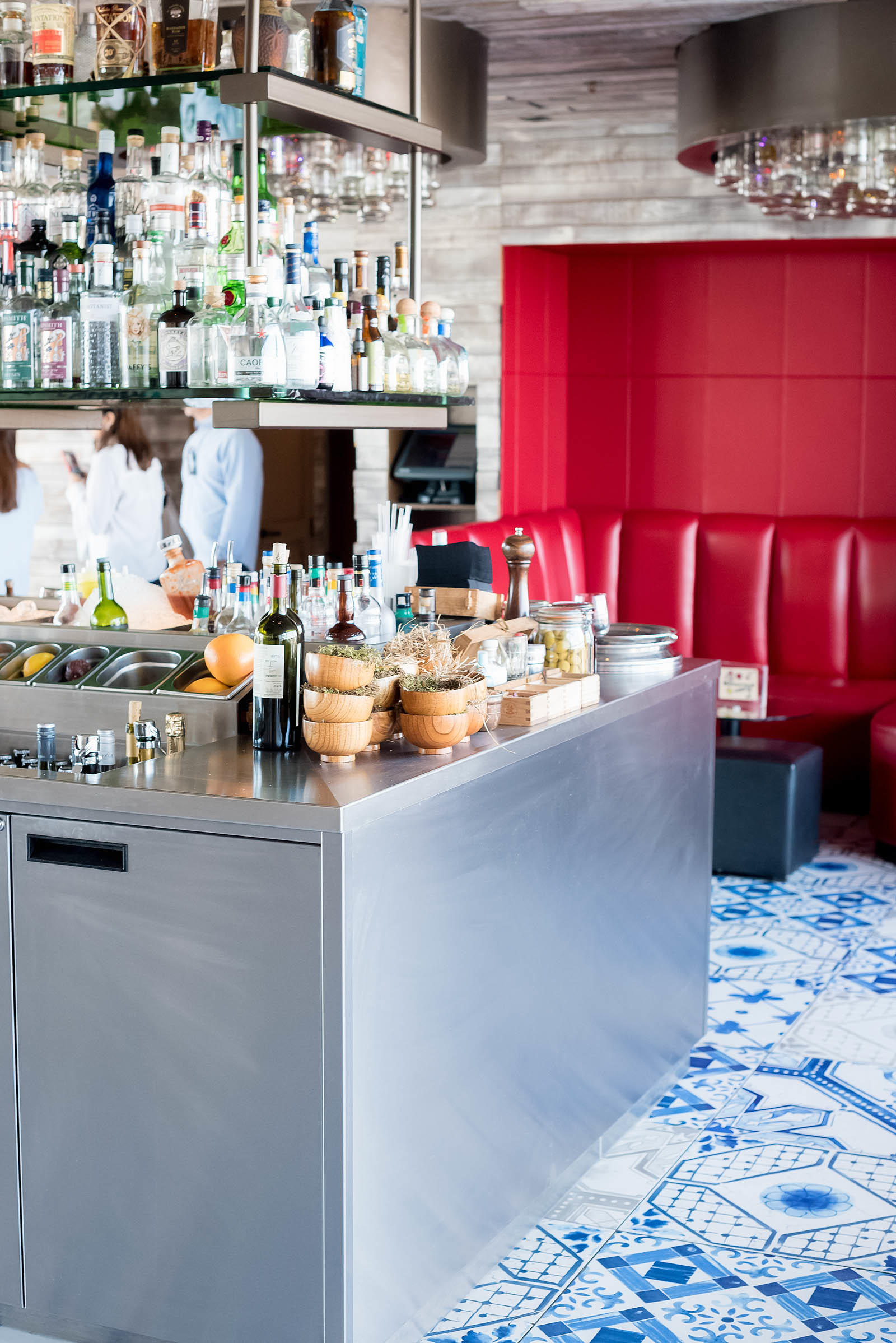 Once you step off the elevator (with an embarrassing sigh of relief if you're anything like me…) you find yourself in this nouveau chic bar area filled with red couches, delftware-inspired floor tiles, and every type of liquor you could ever want.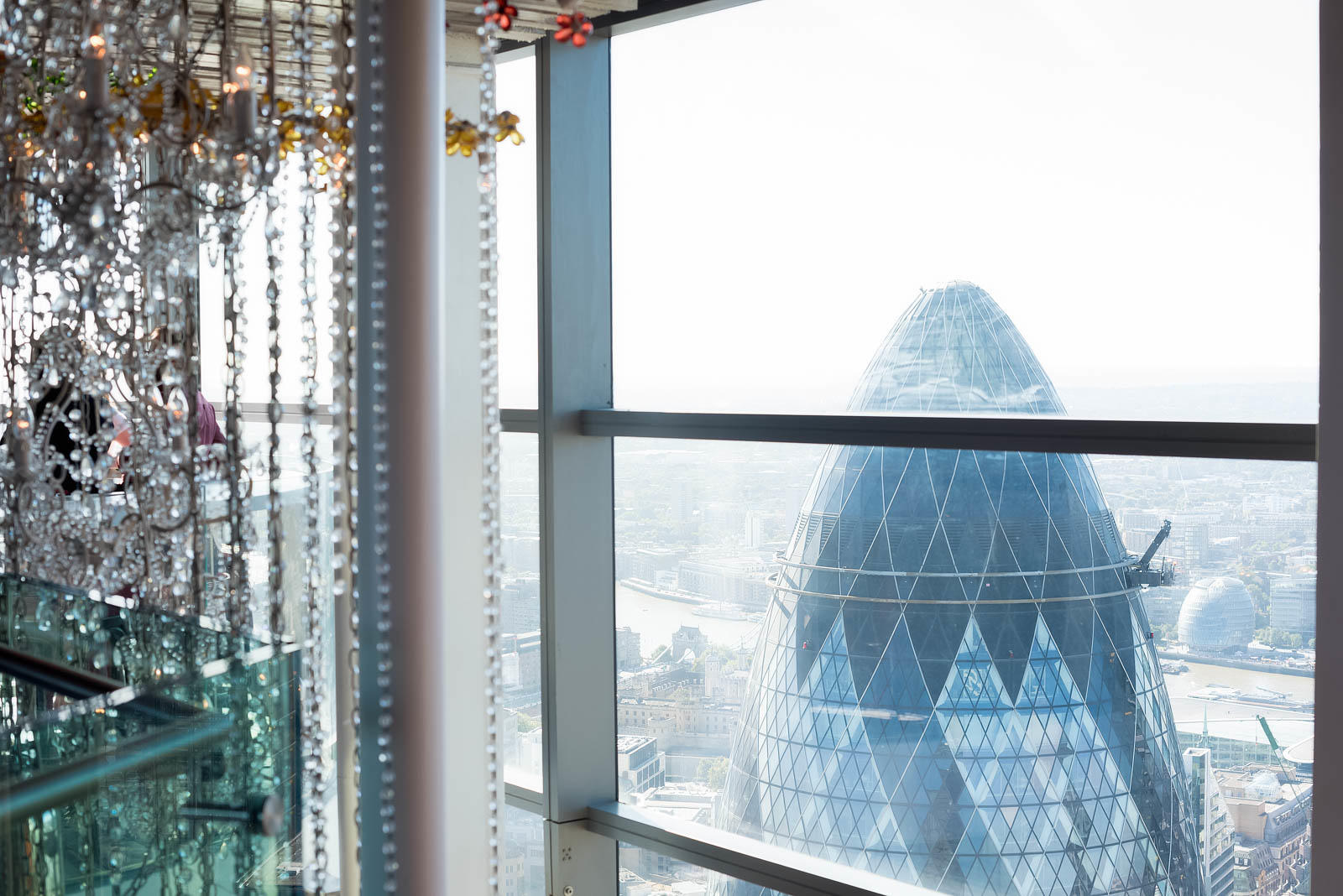 And just outside the south windows you'll get a front-row view of London's famous Gherkin building.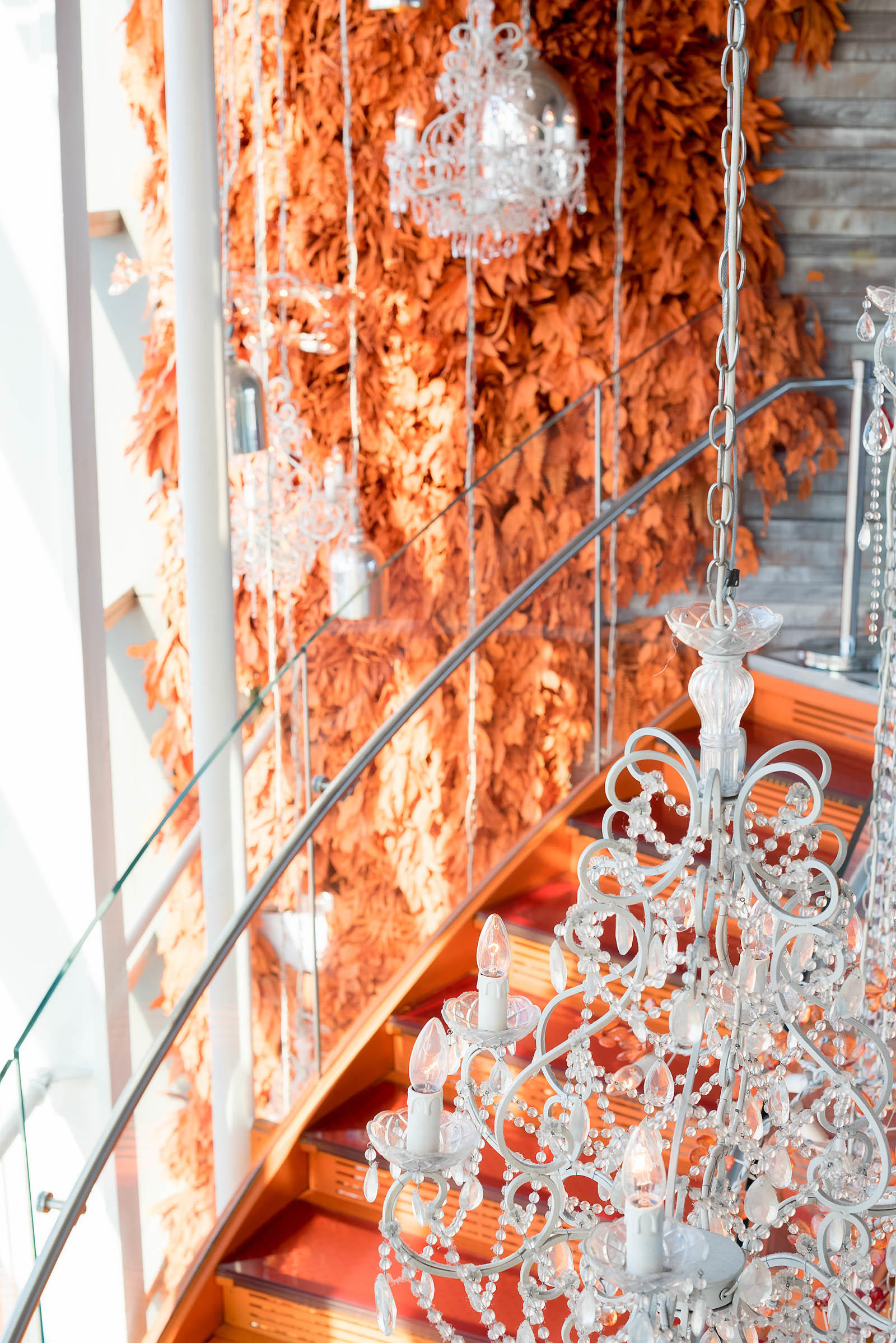 But the bar area, with its stunning chandeliers and crystal chains makes for an impressive scene too.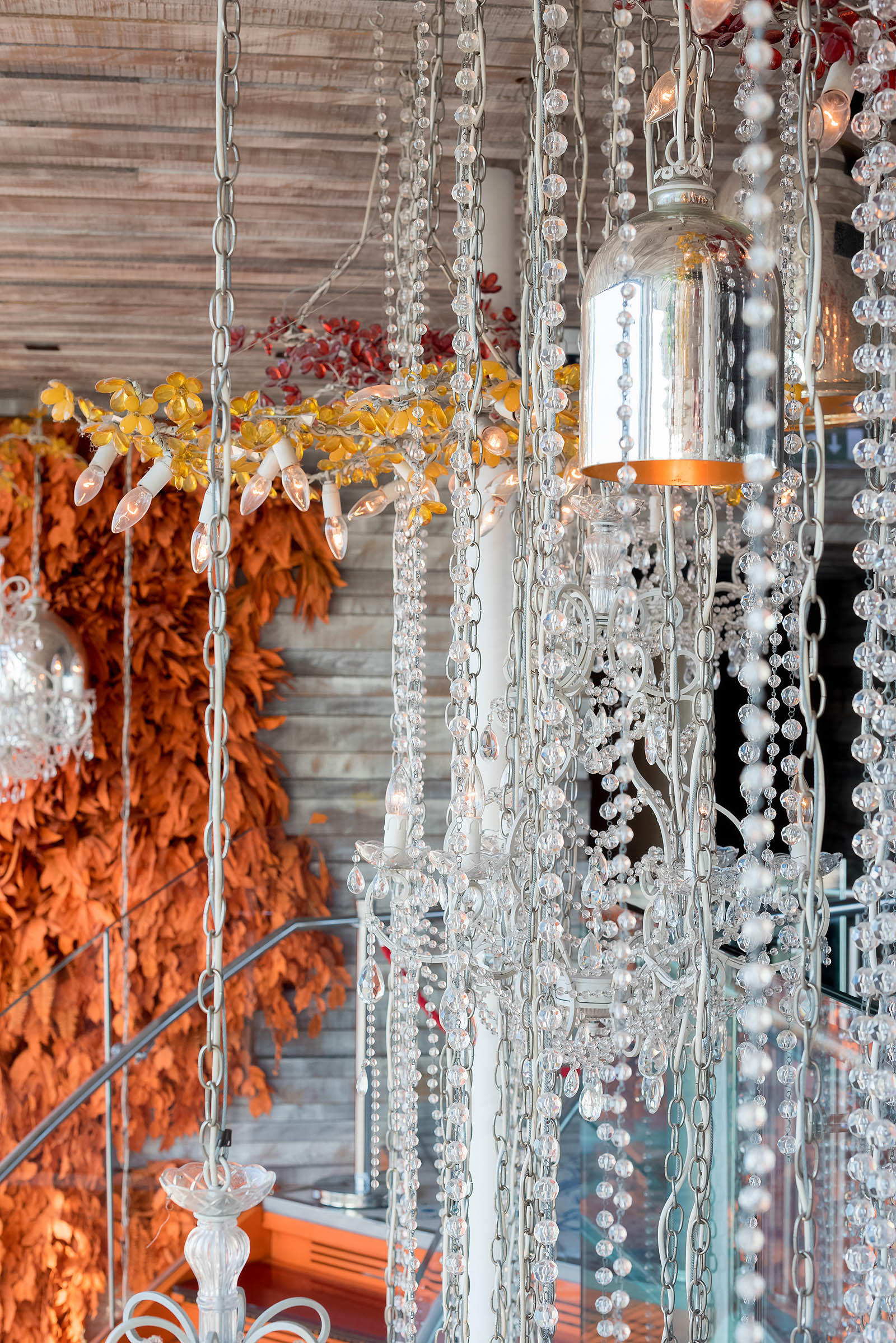 Isn't it so lovely and opulent?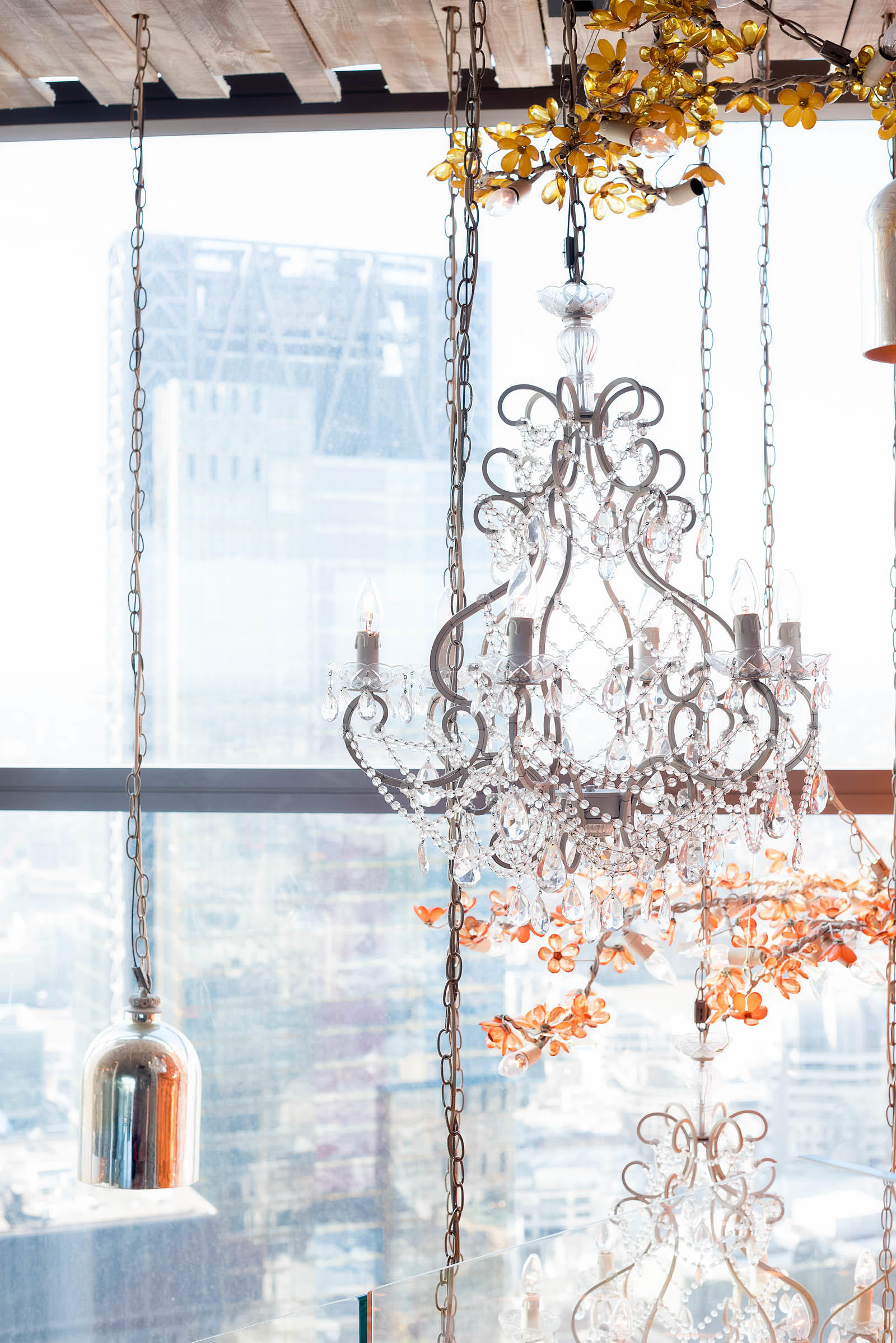 I can imagine at night this bar area is even more beautiful with all the lamps lit and the downtown area aglow below.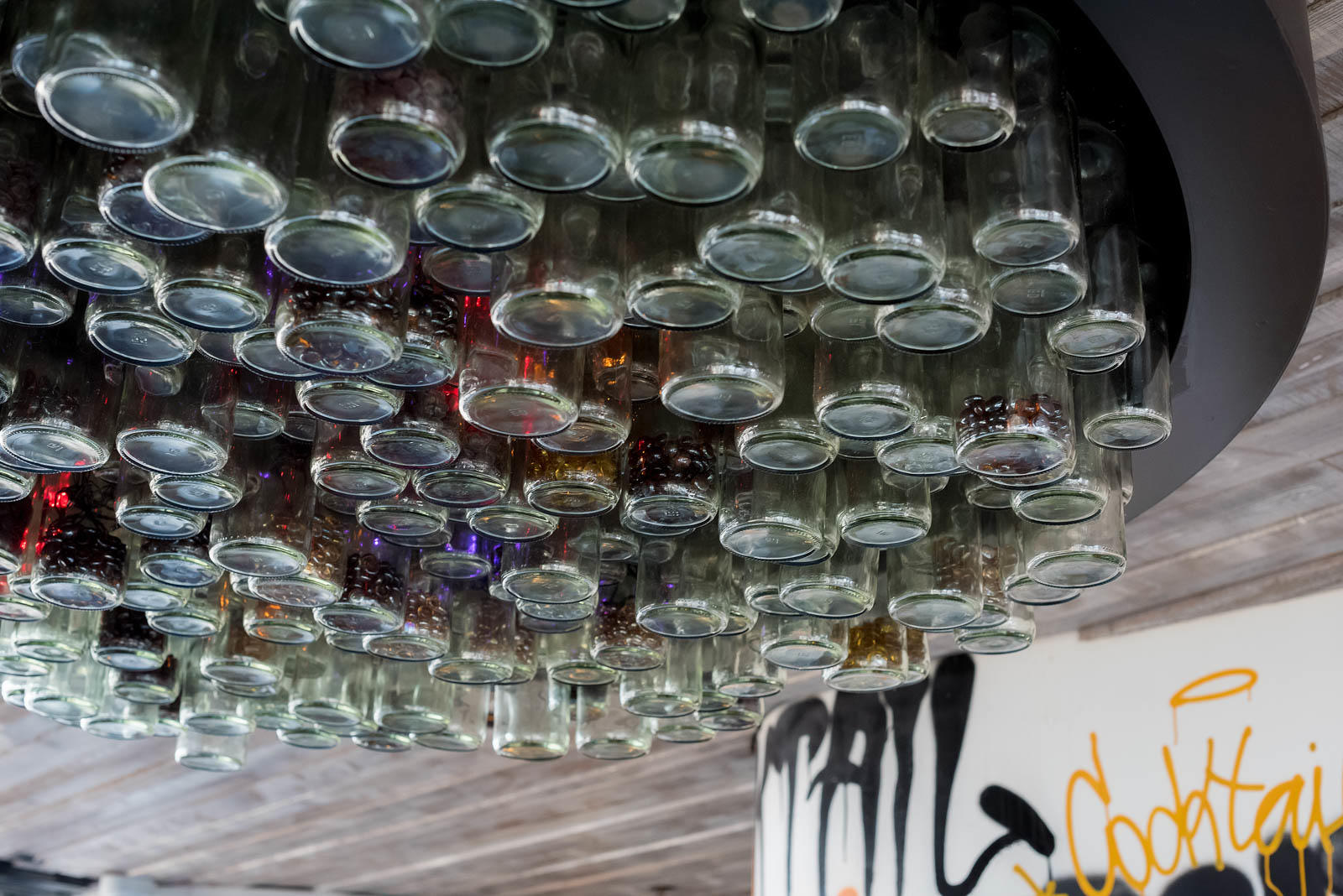 My Mom was especially smitten with this clever bottle bottom light fixture above us too.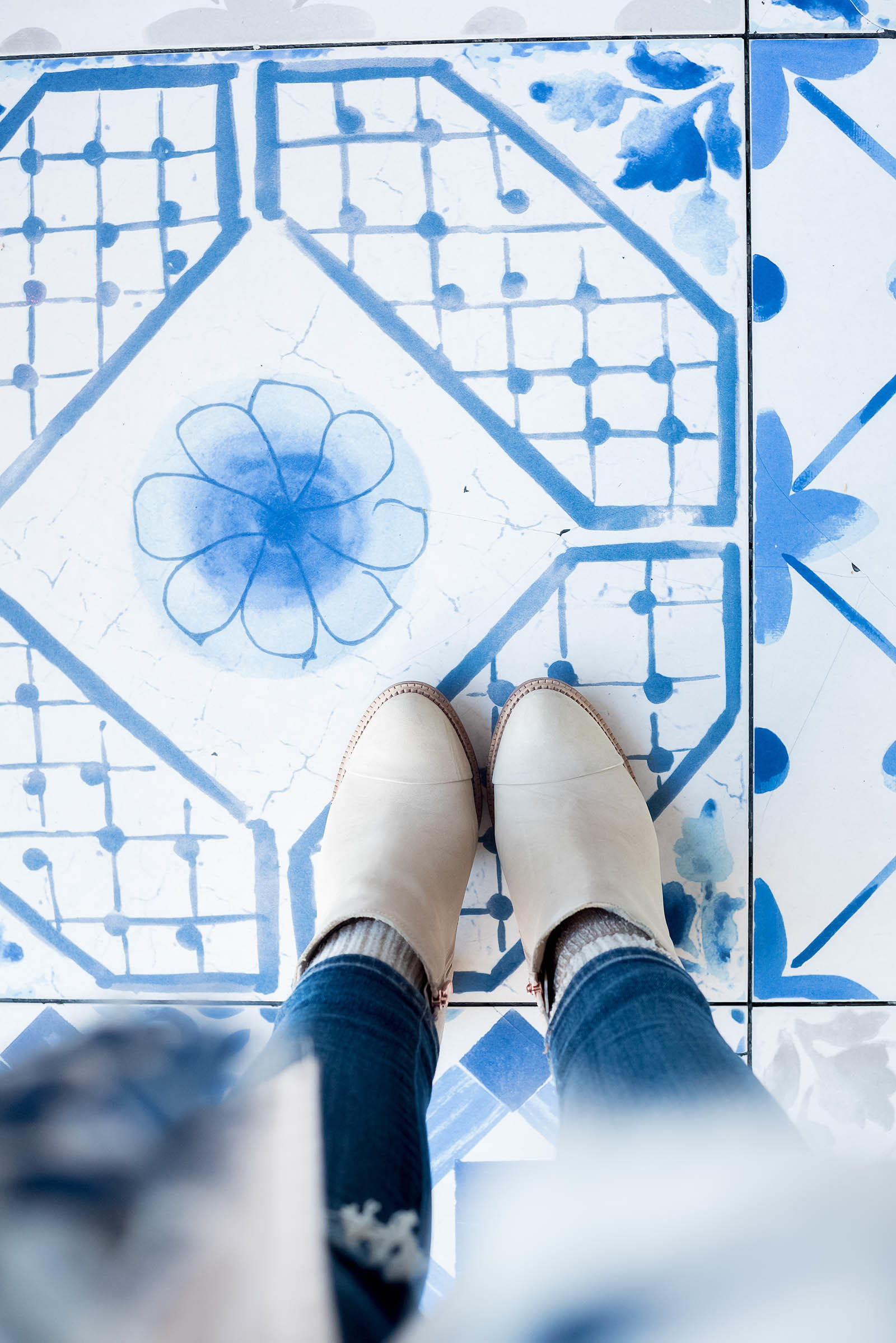 While my delftware-loving heart fell head-over-heels for the beautifully tiled floors.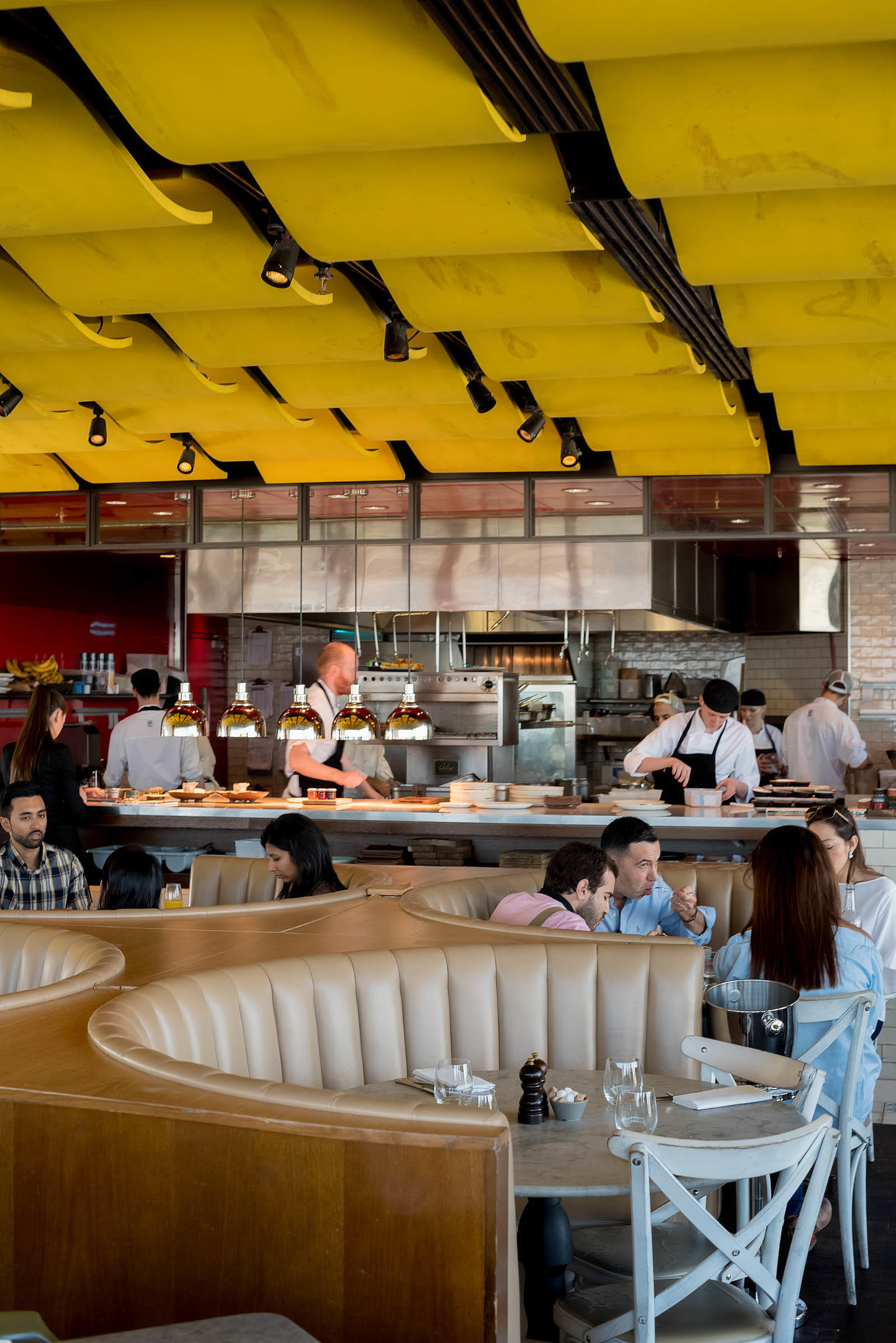 The restaurant itself is covered in floor-to-ceiling windows on THREE sides, offering a spectacular view to the east, north, and west…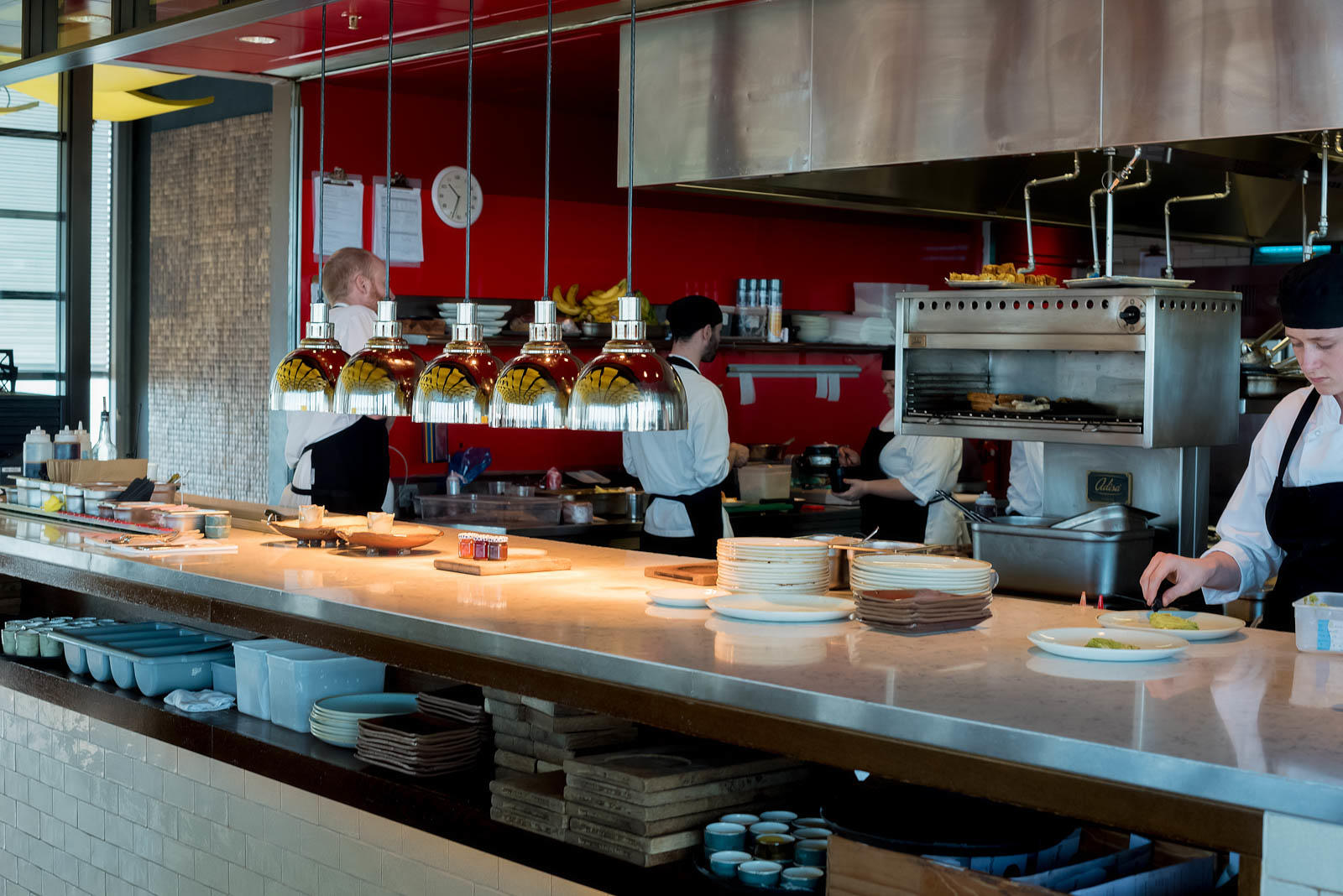 as well as a delicious view of the open kitchen to the south!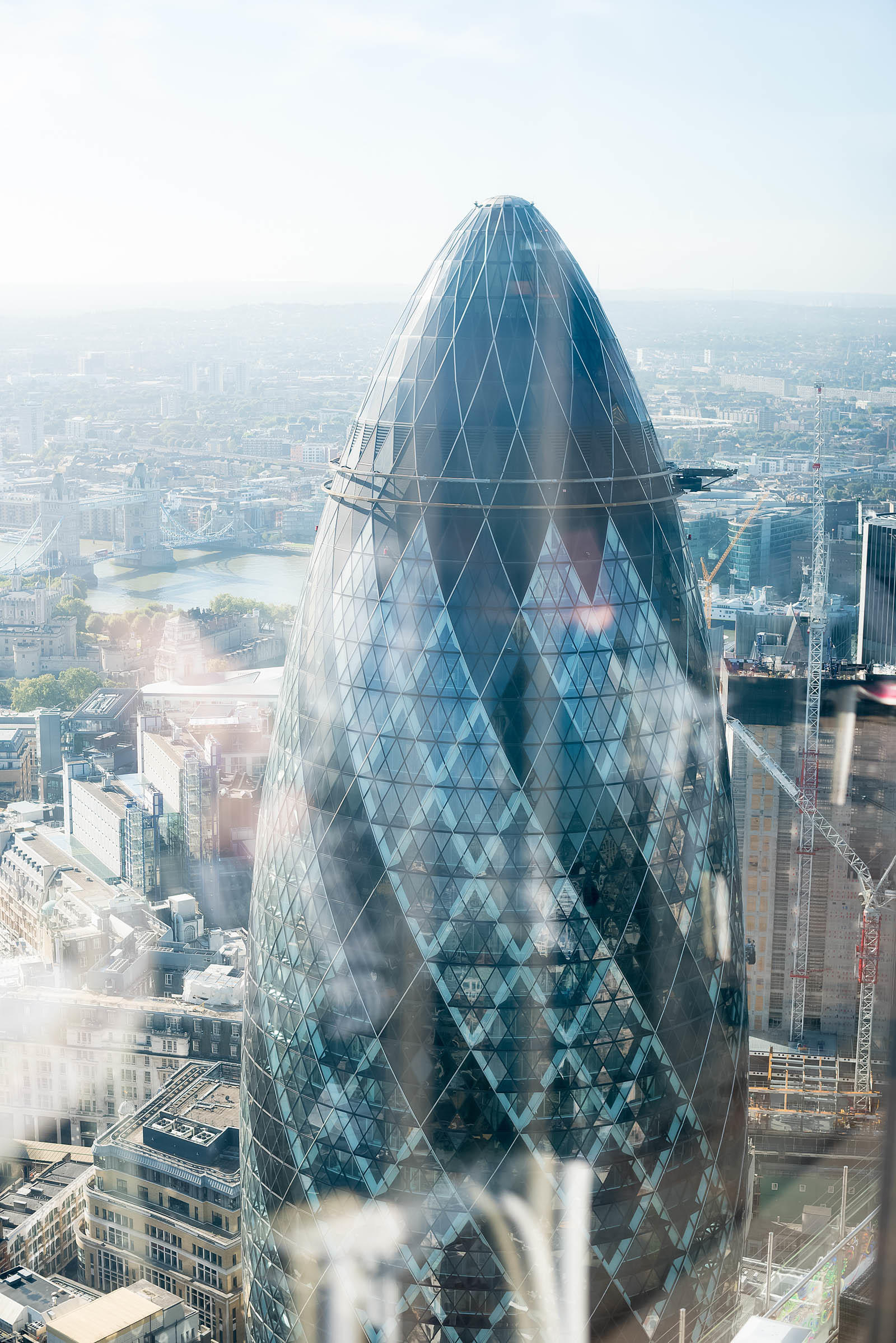 We were lucky enough to snag the very best table in the entire restaurant for our brunch — the far northeast corner with a stunning direct view of the Gherkin…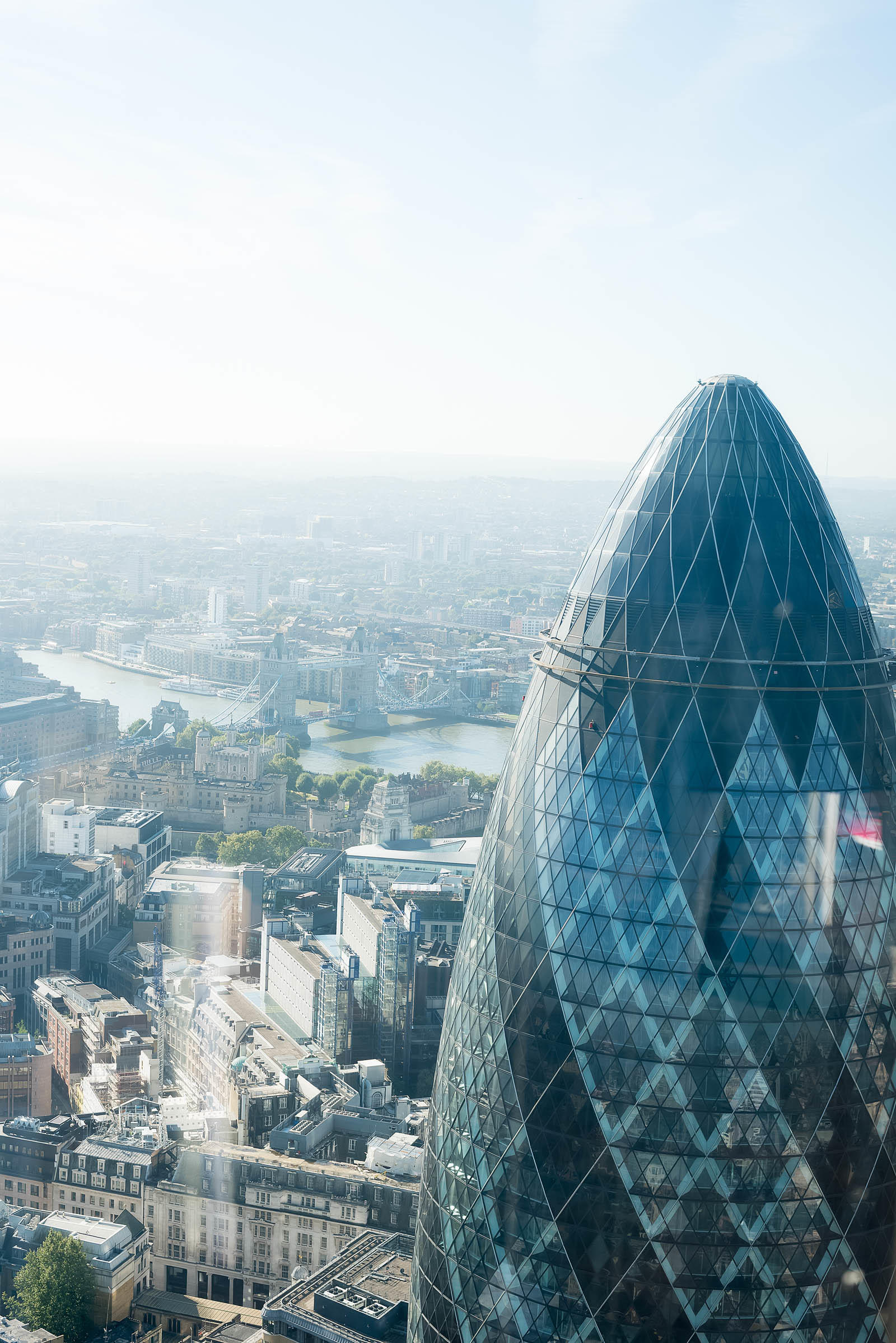 as well as the Tower of London (the large castle-complex to the left of the Gherkin along the Thames)…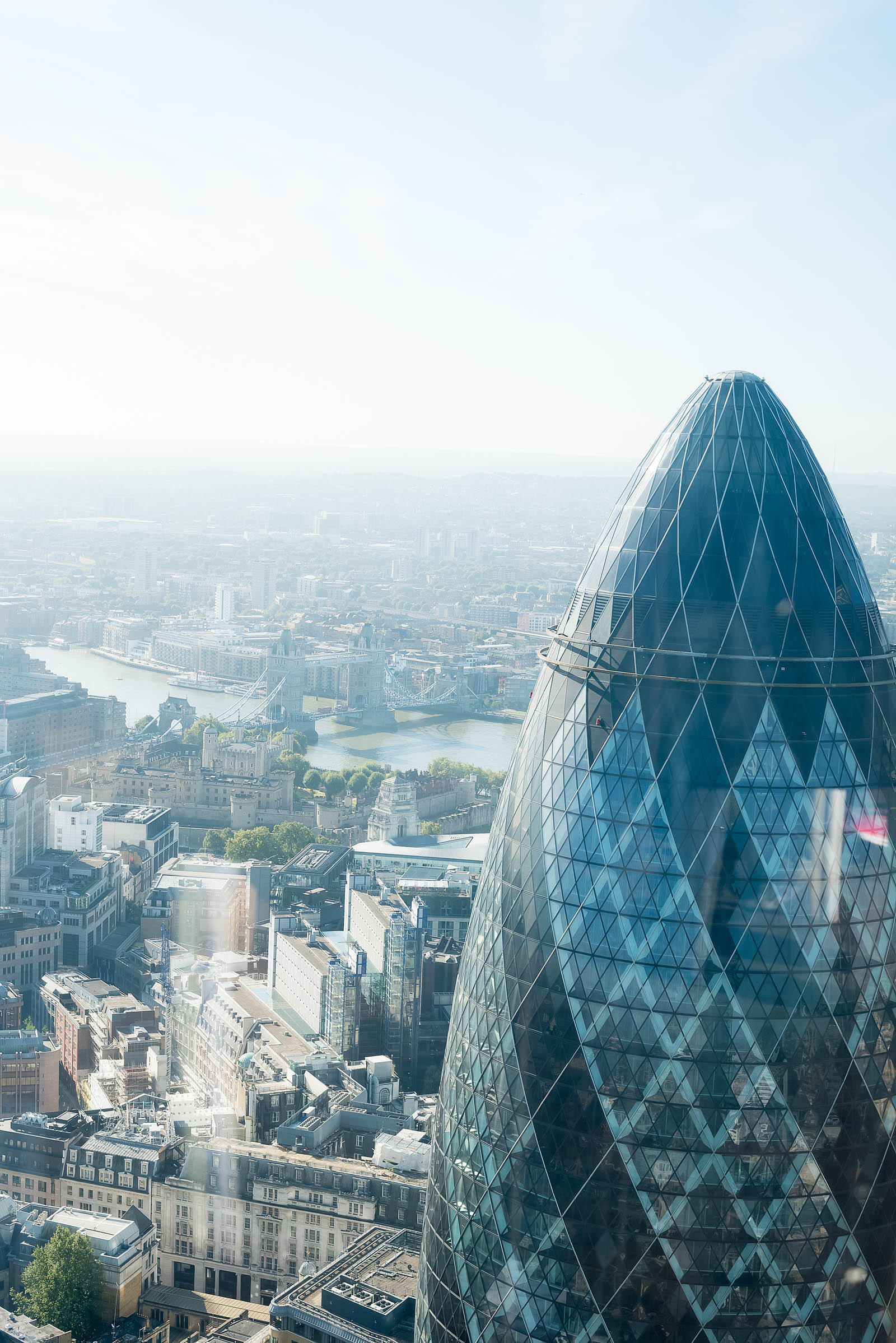 and, of course, Tower Bridge beyond.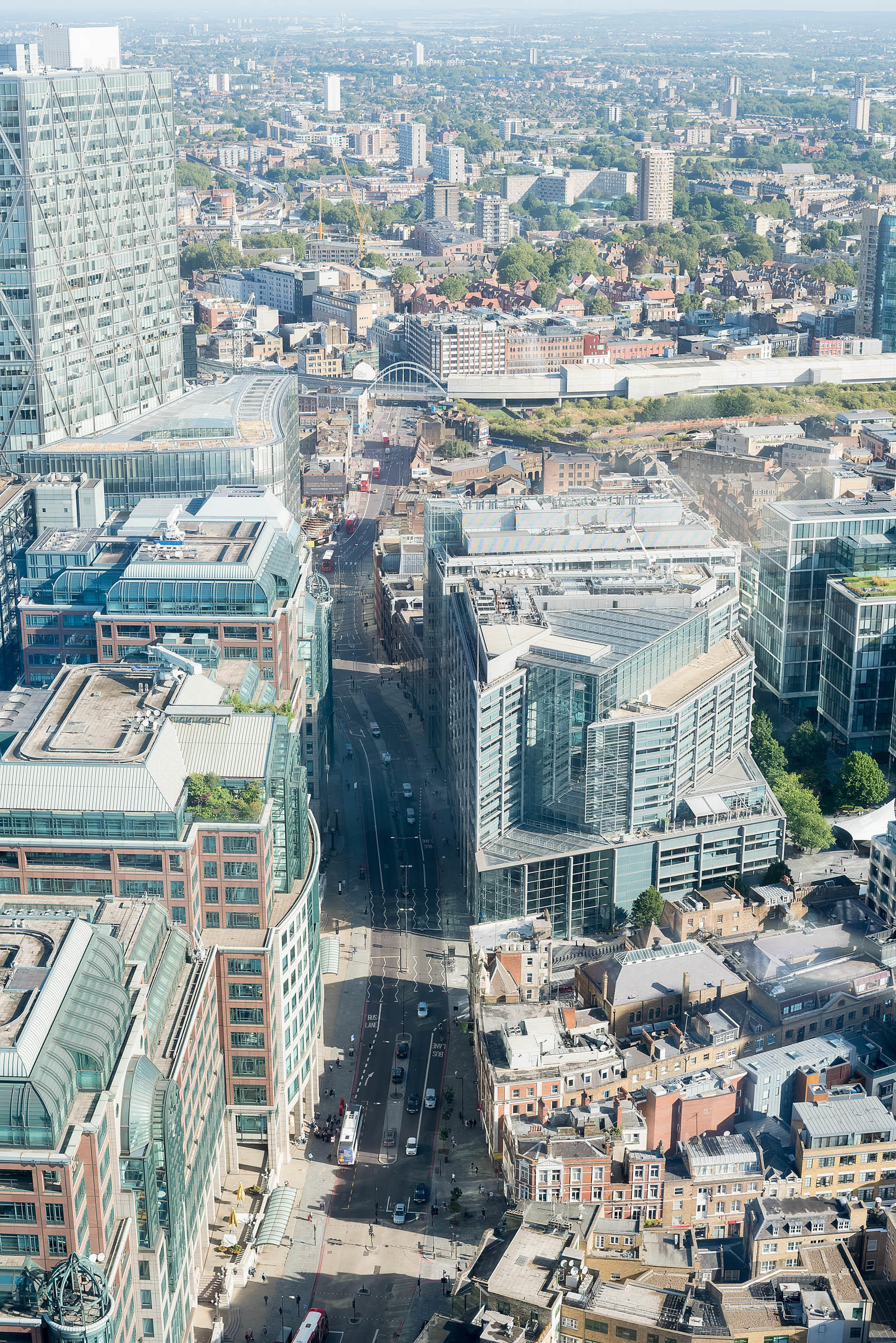 Most of the window seating is for two-person parties only so we were lucky to snag the only window-view for 3 people. This shot was literally taken from my brunch seat — I simply turned around and shot down!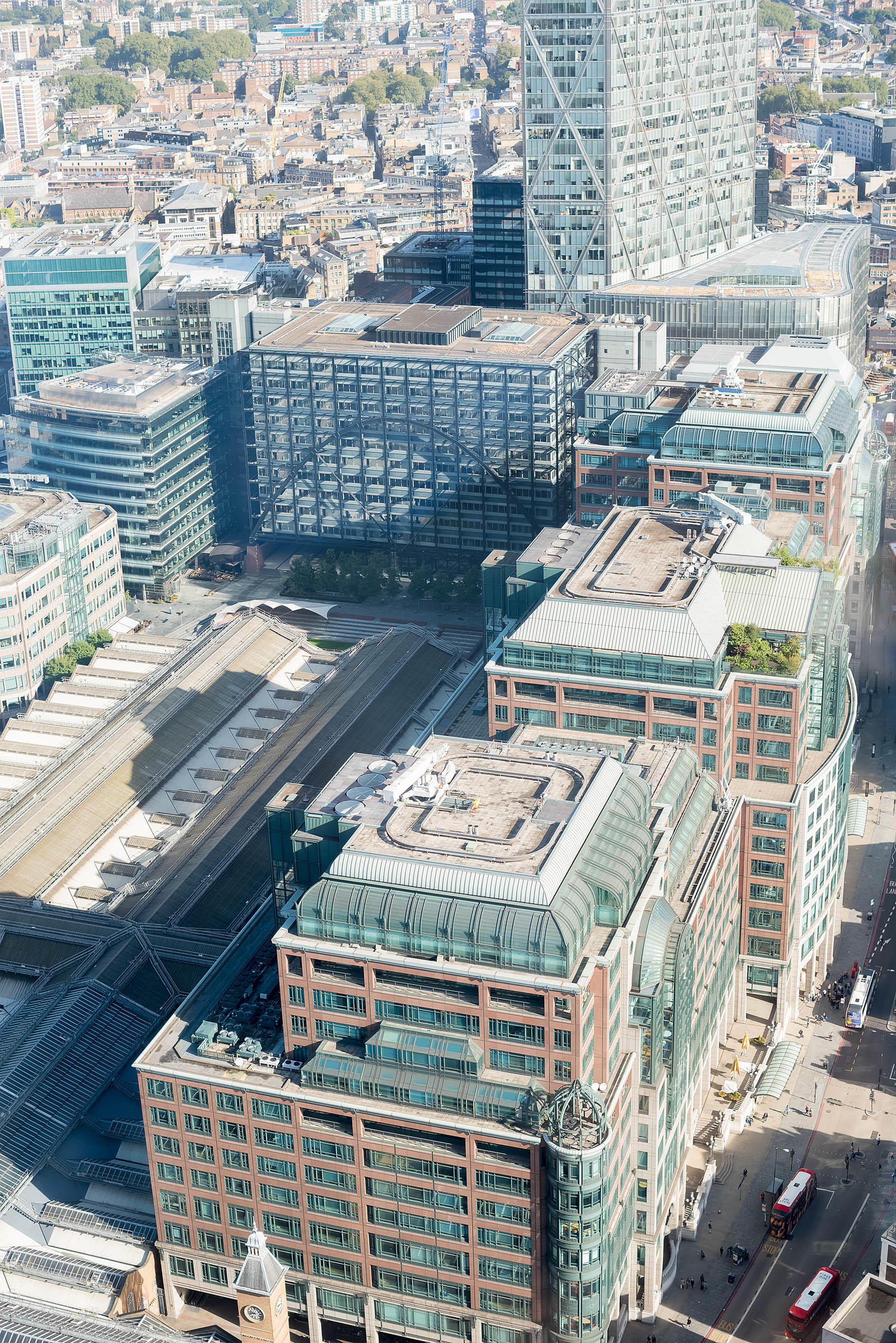 While it was pretty intimidating for me to sit so close to the edge of the building, it was still worth every minute of discomfort if only to see London from such a unique perspective!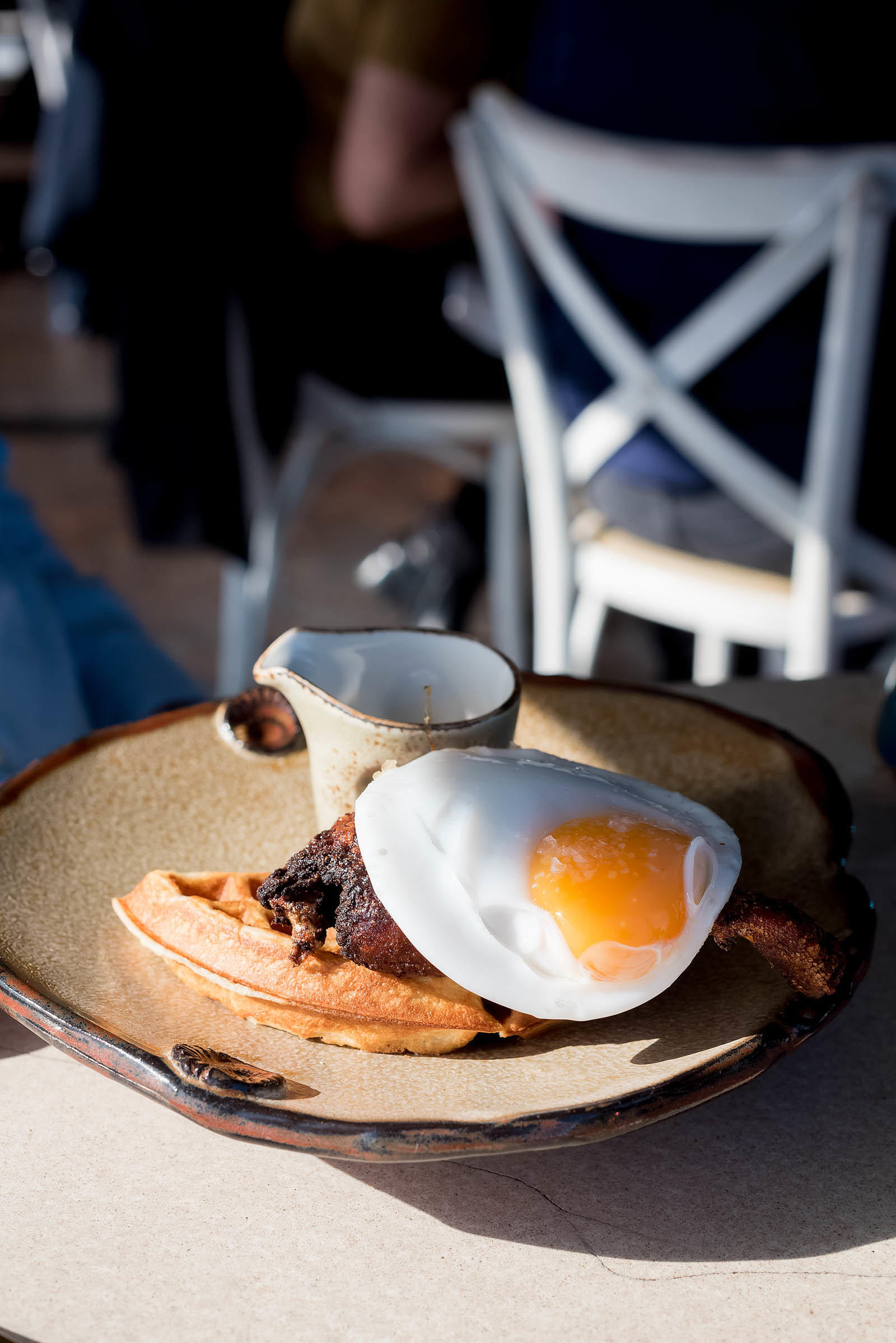 Now onto the BEST part… the BRUNCH!
Since duck and waffles are two of my husbands favorite foods, he naturally ordered Duck and Waffle's specialty… Duck & Waffles.
A crispy duck leg confit, fried duck egg, and mustard maple syrup to drizzle all over the waffle. He was in HEAVEN!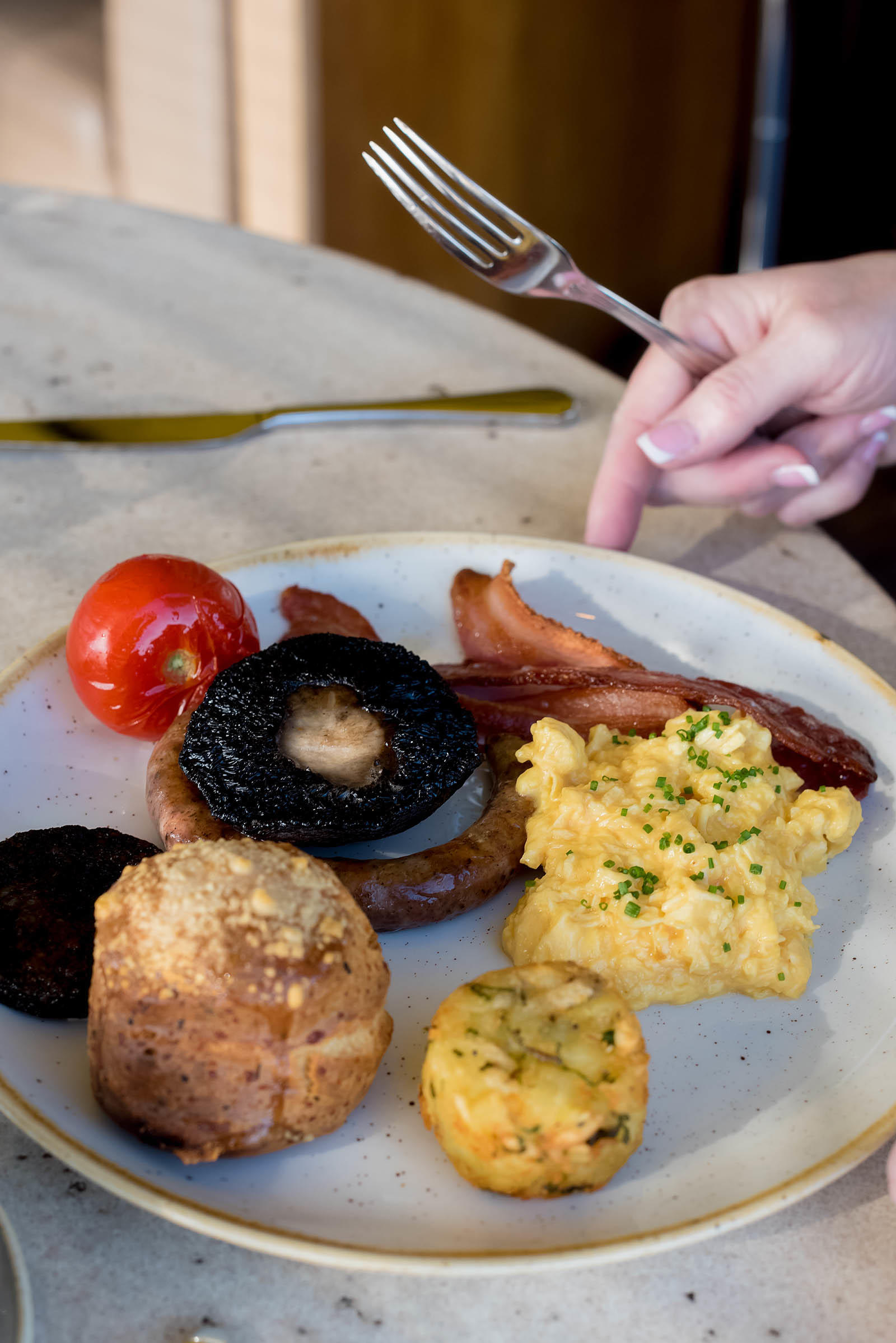 While my Mom couldn't stop herself from taking the opportunity to order her very first Full English Breakfast.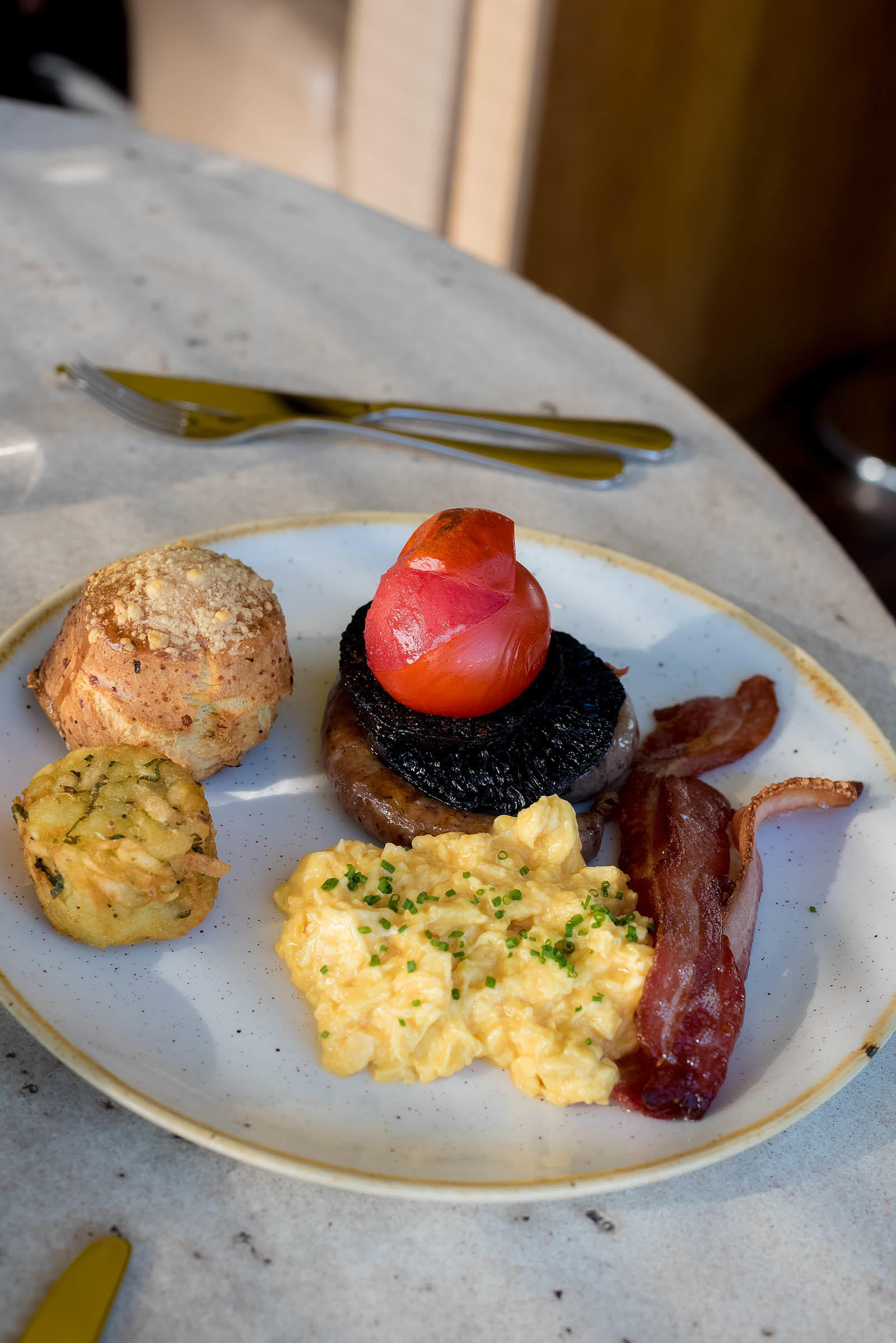 Duck & Waffle's take, dubbed the "House Breakfast", includes Lincolnshire sausage, eggs, dry cured bacon, grilled tomato, mushroom, hash browns, Scottish black pudding, and a cheddar buttermilk scone.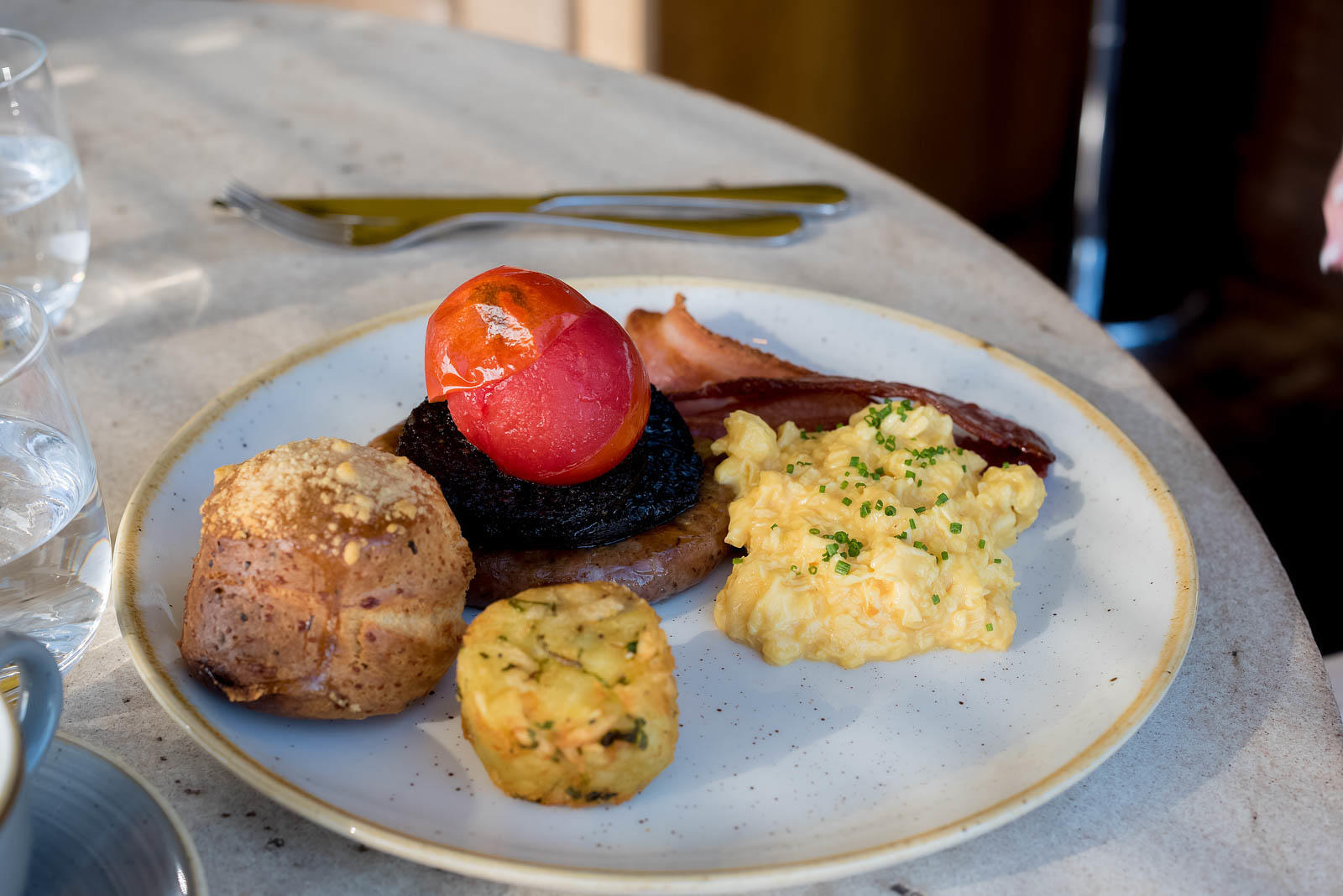 It was a spectacular sampler and a great introduction to british breakfast foods for my Mom.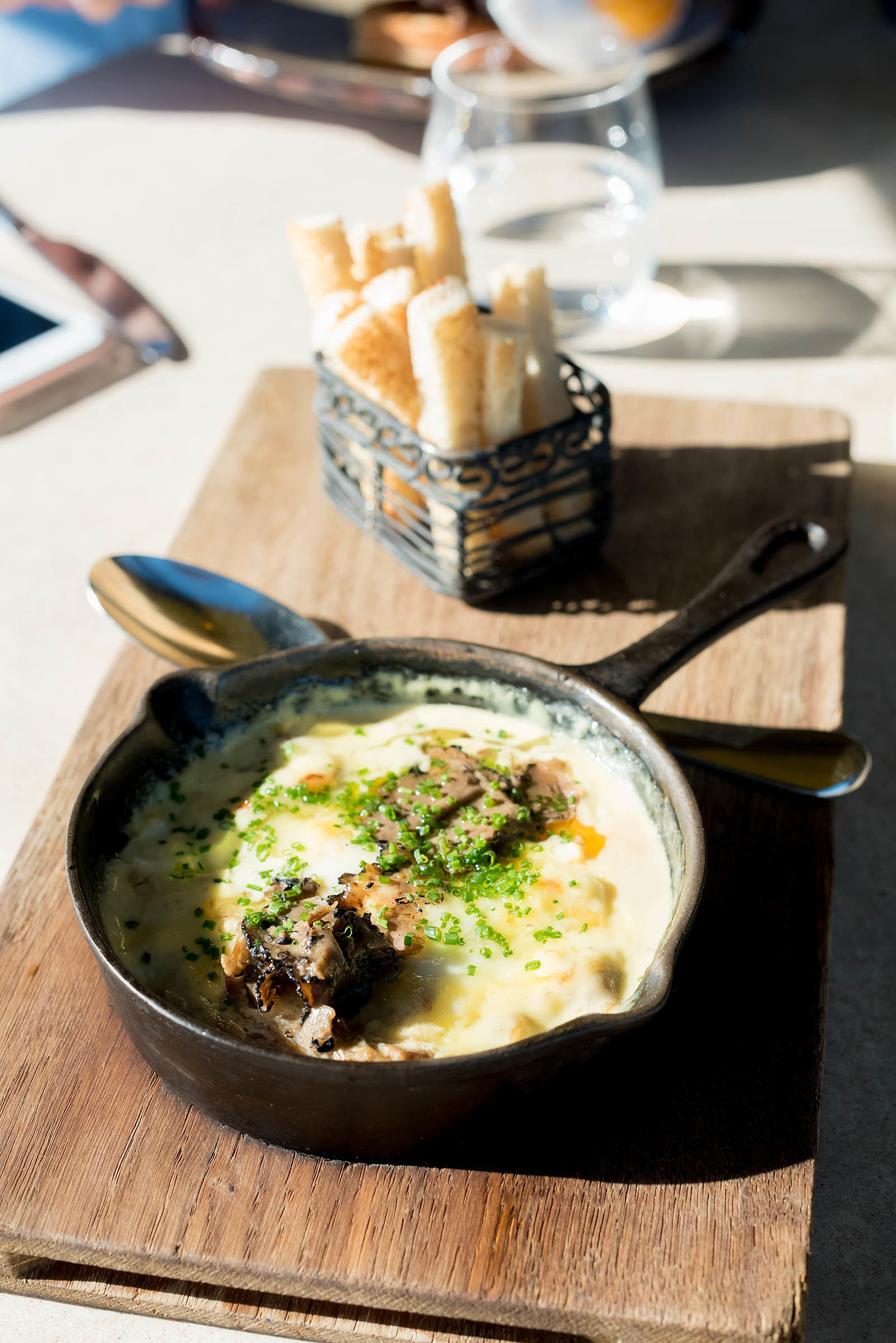 I ended up ordering the Duck Egg en Cocotte.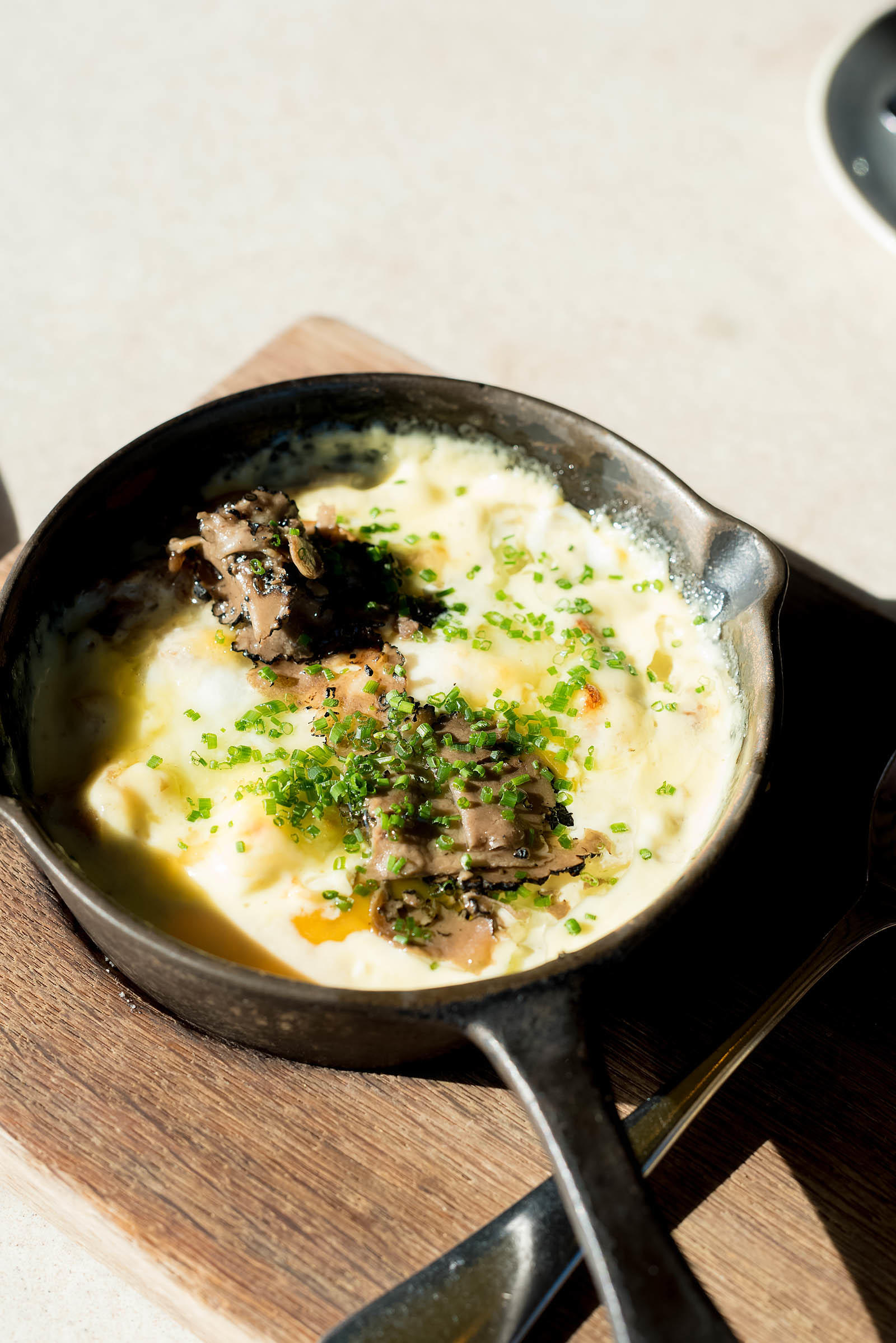 Which was a beautiful skillet of baked eggs with wild mushrooms, Gruyere, and truffle all served with toast "soldiers" for dipping.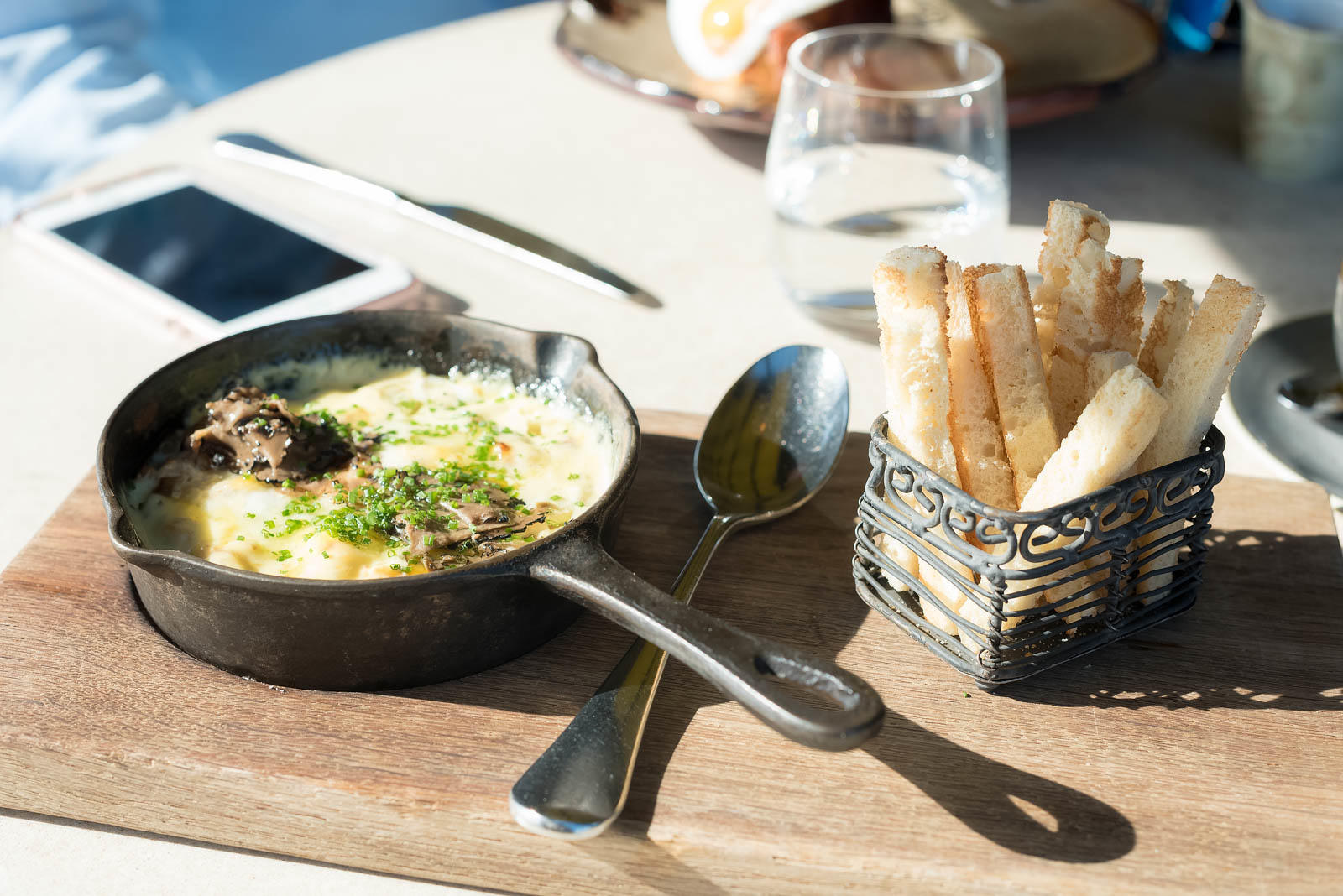 The smell alone was worth the trip! And the taste even more so!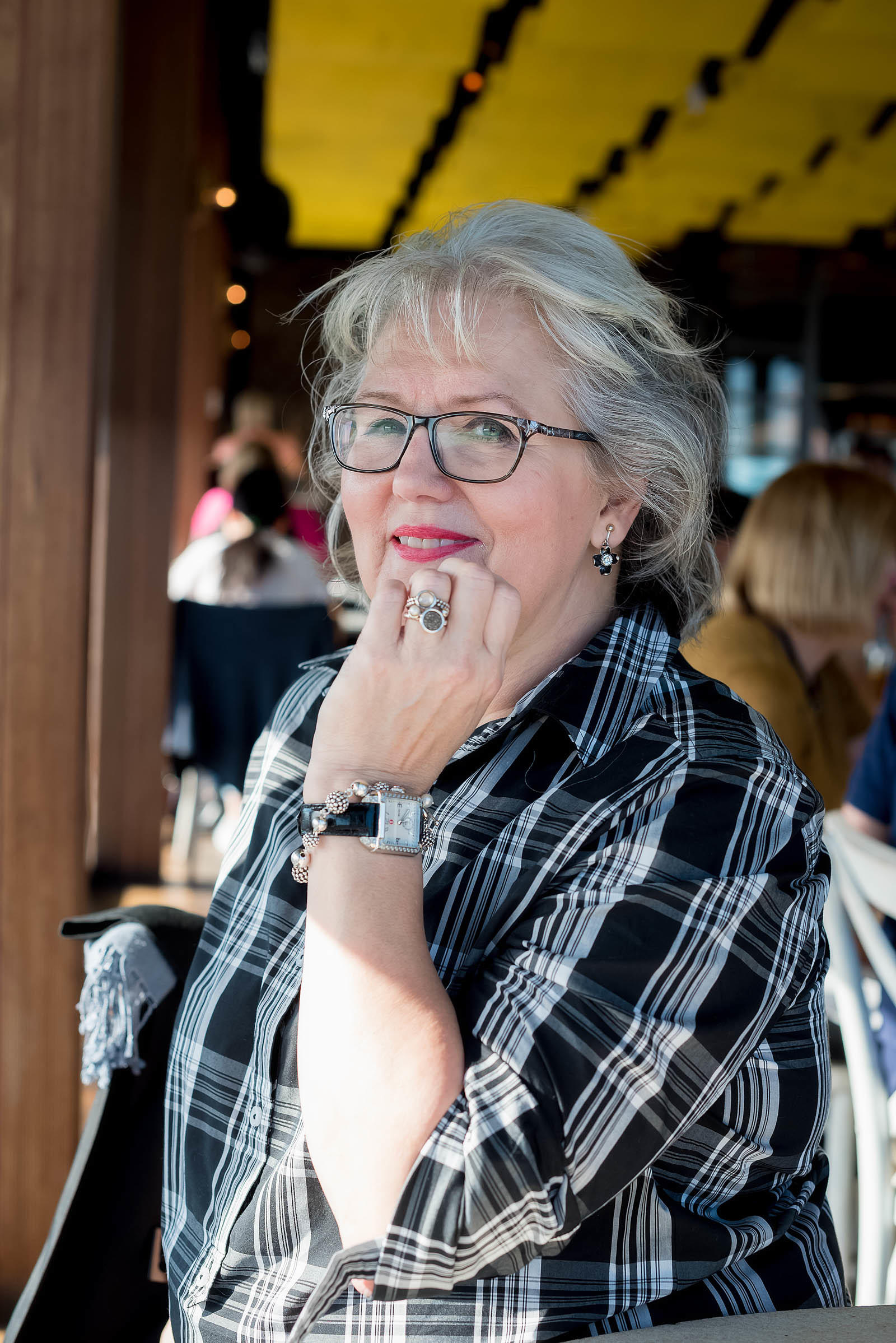 What a brunch to launch our week-long London adventures with — my Mom especially loved it.
For a perfect London itinerary, stop by here for brunch (or breakfast, lunch, or dinner since it's open 24/7), soak in the delicious view and nosh, then head over to the Tower of London for the day!