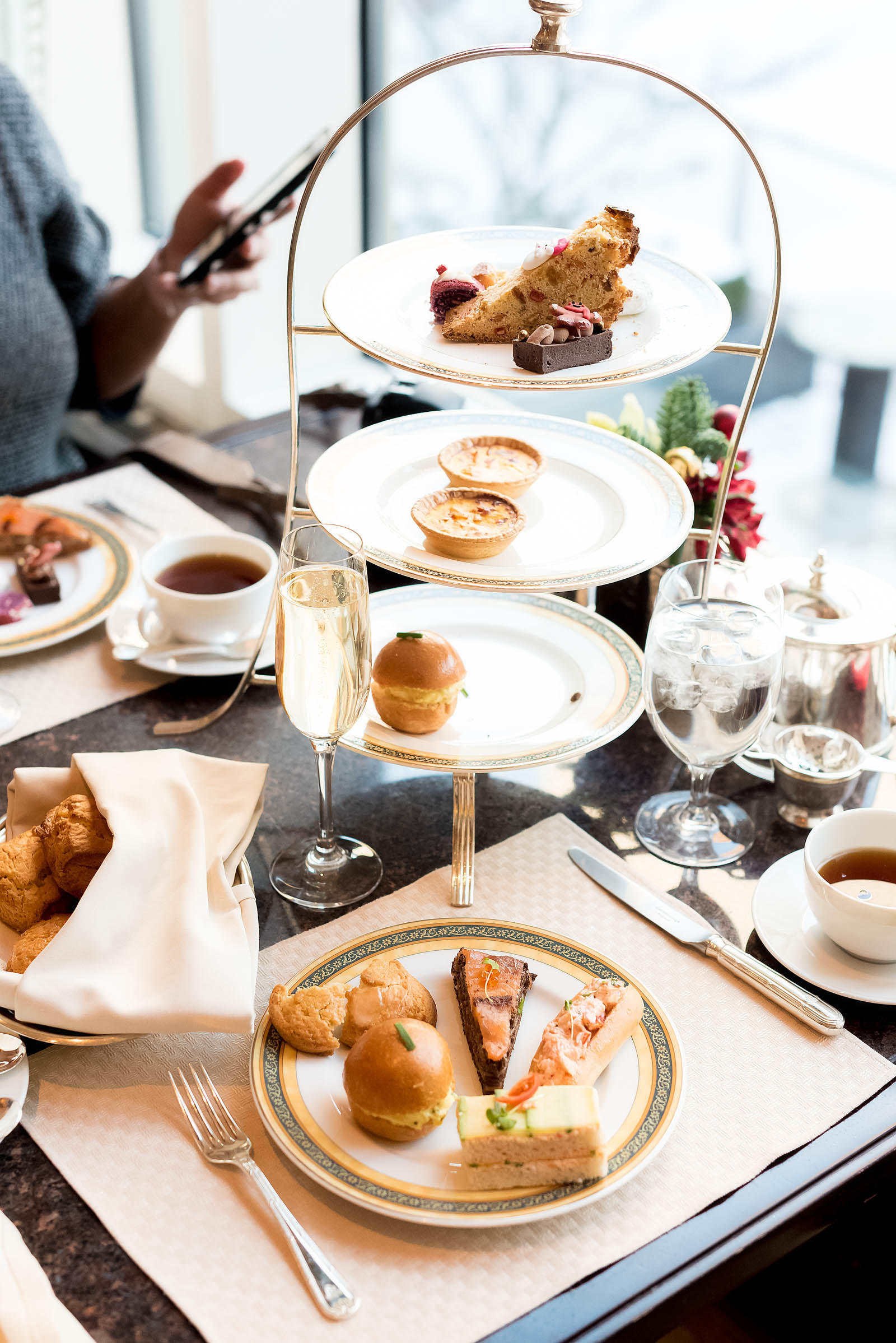 Of all the holiday traditions I look forward to in December, stopping for a festive spot of afternoon tea is my absolute favorite.
I love afternoon tea on principle. The first thing I booked when we took our trip to London last September was at least one EPIC afternoon tea service.
I just love afternoon tea.
LOVE it.
But I love the ritual all the MORE during the holidays. Especially here in Chicago — so many of the beautiful hotels and restaurants put a fun, festive-spin on their traditional afternoon tea offerings.
And some, like the Peninsula, have turned their holiday tea into a true holiday experience. An unforgettable experience involving visits from Santa, ice rinks above Michigan Avenue, and carolers serenading you wherever you go.
The sort of experience that has you coming back year after year…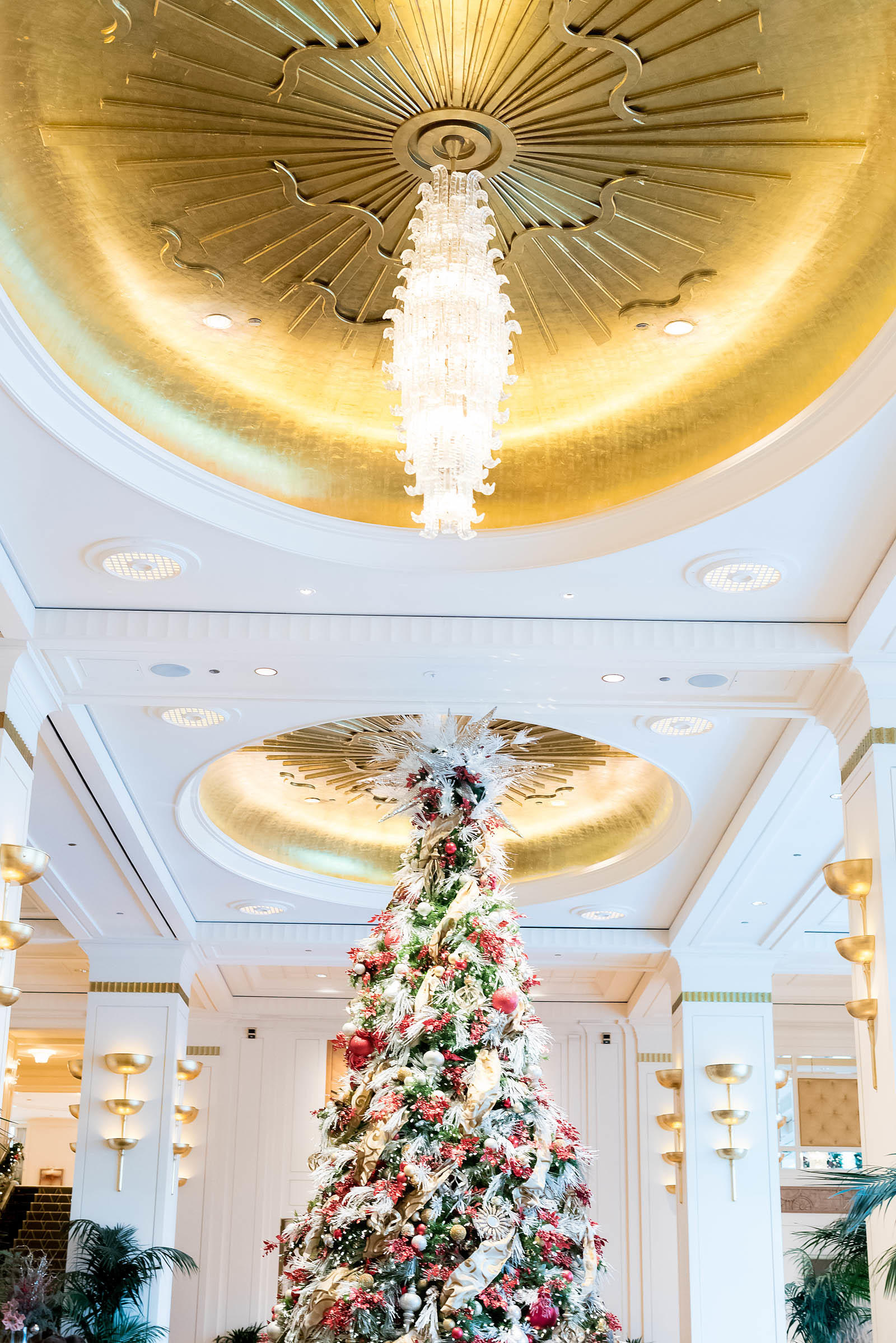 For the past five years I've always made sure to come to the Peninsula for afternoon tea around the holidays (2015 and 2014 are on the blog). But even if you don't stay for tea, their magnificent Lobby tree alone is worth the trip!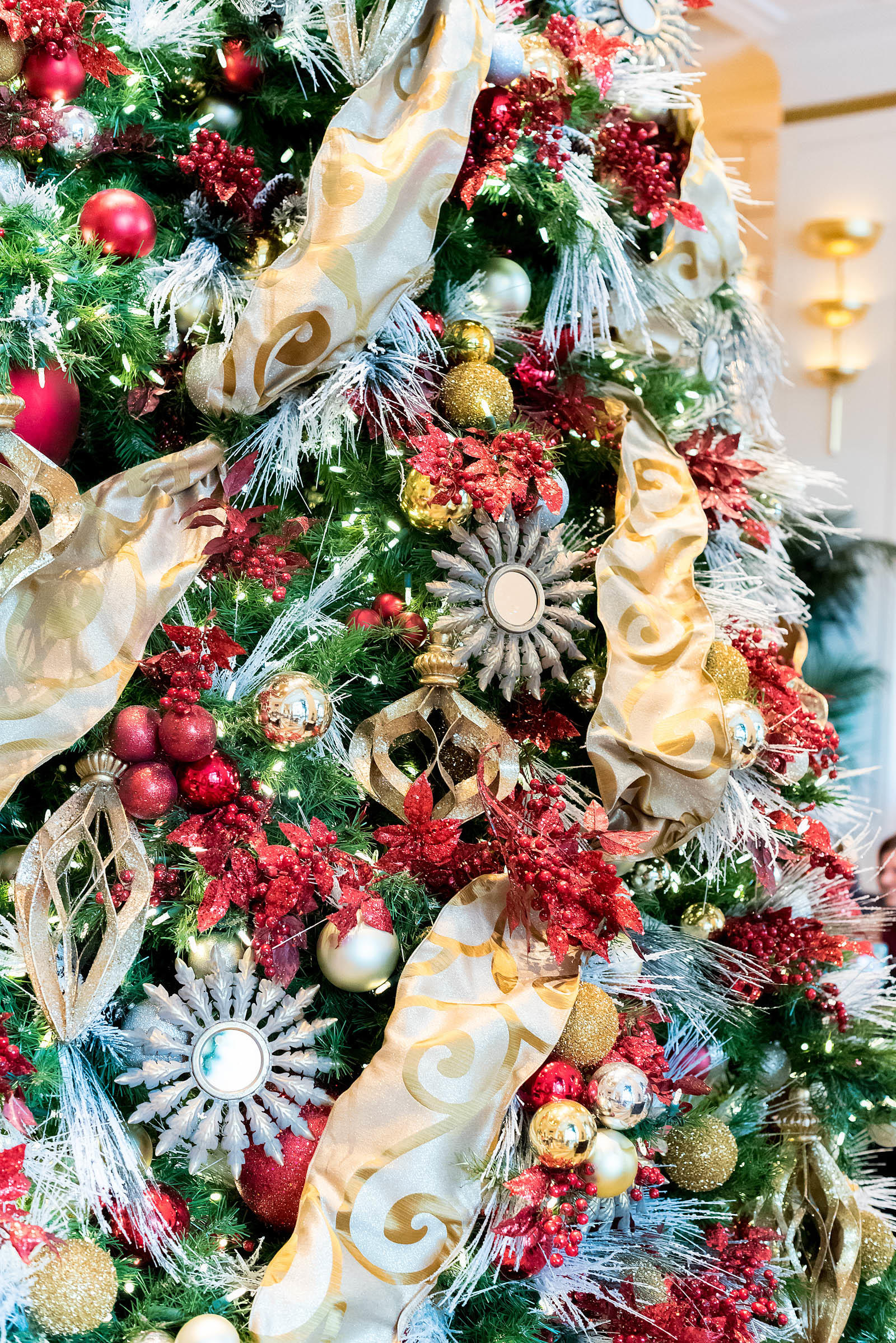 Isn't it stunning?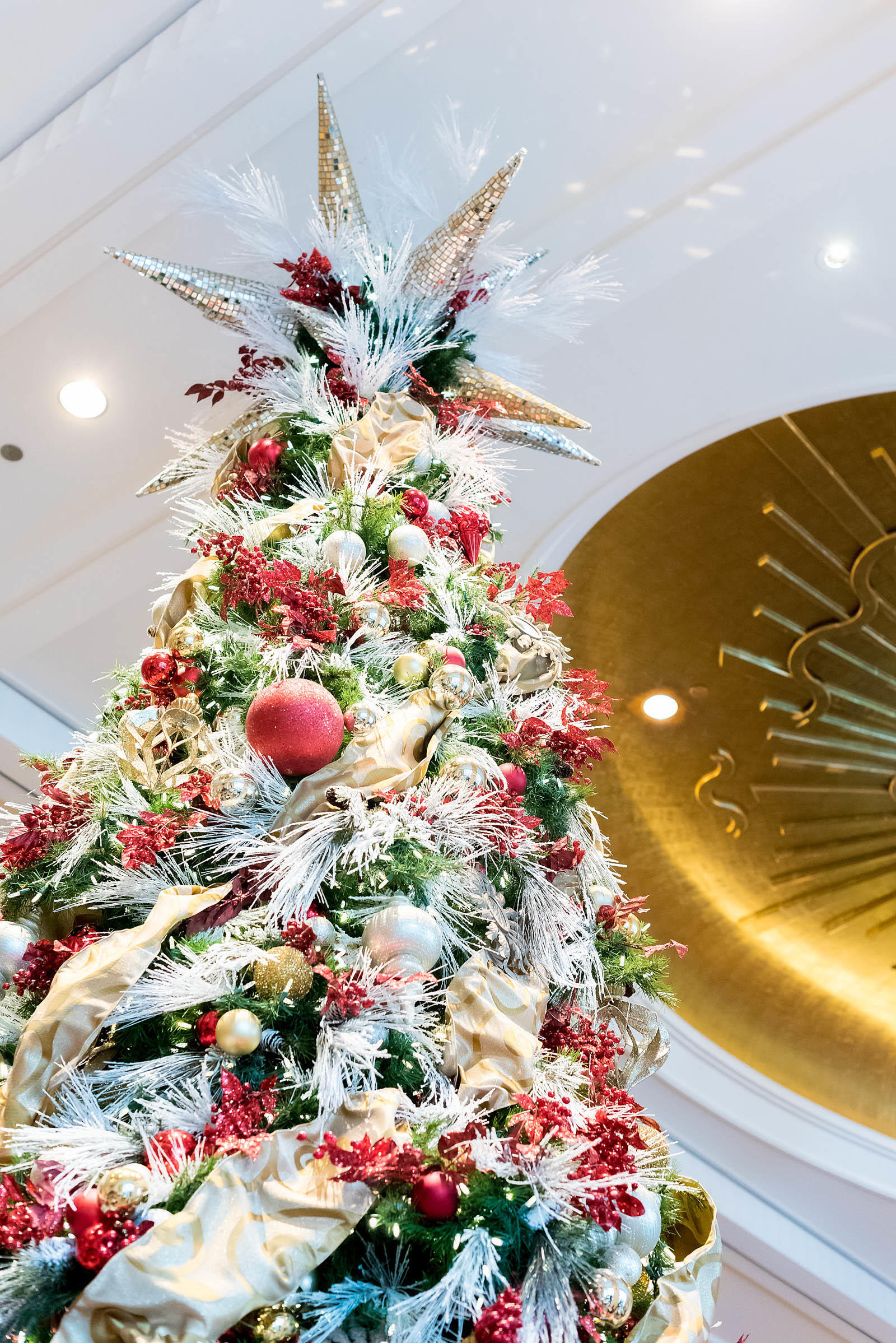 I loved this year's lush snowy silver, gold, and red decorations.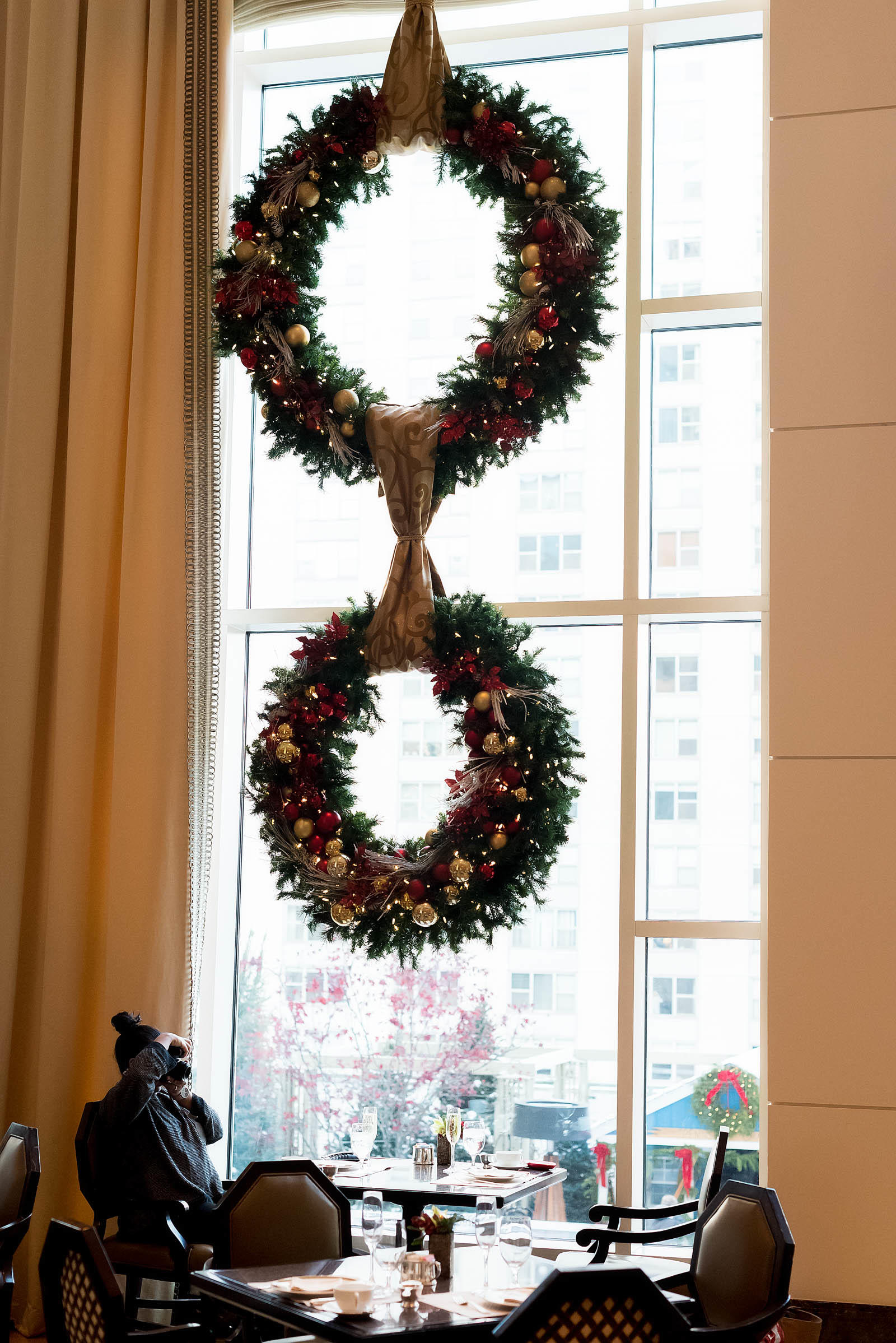 This year my close friend Rachel joined me at the Peninsula — we have so much fun shooting together and have always wanted to do an afternoon tea shoot together.
First, we choose a lovely seat right by the window overlooking the 8th-floor ice rooftop ice rink.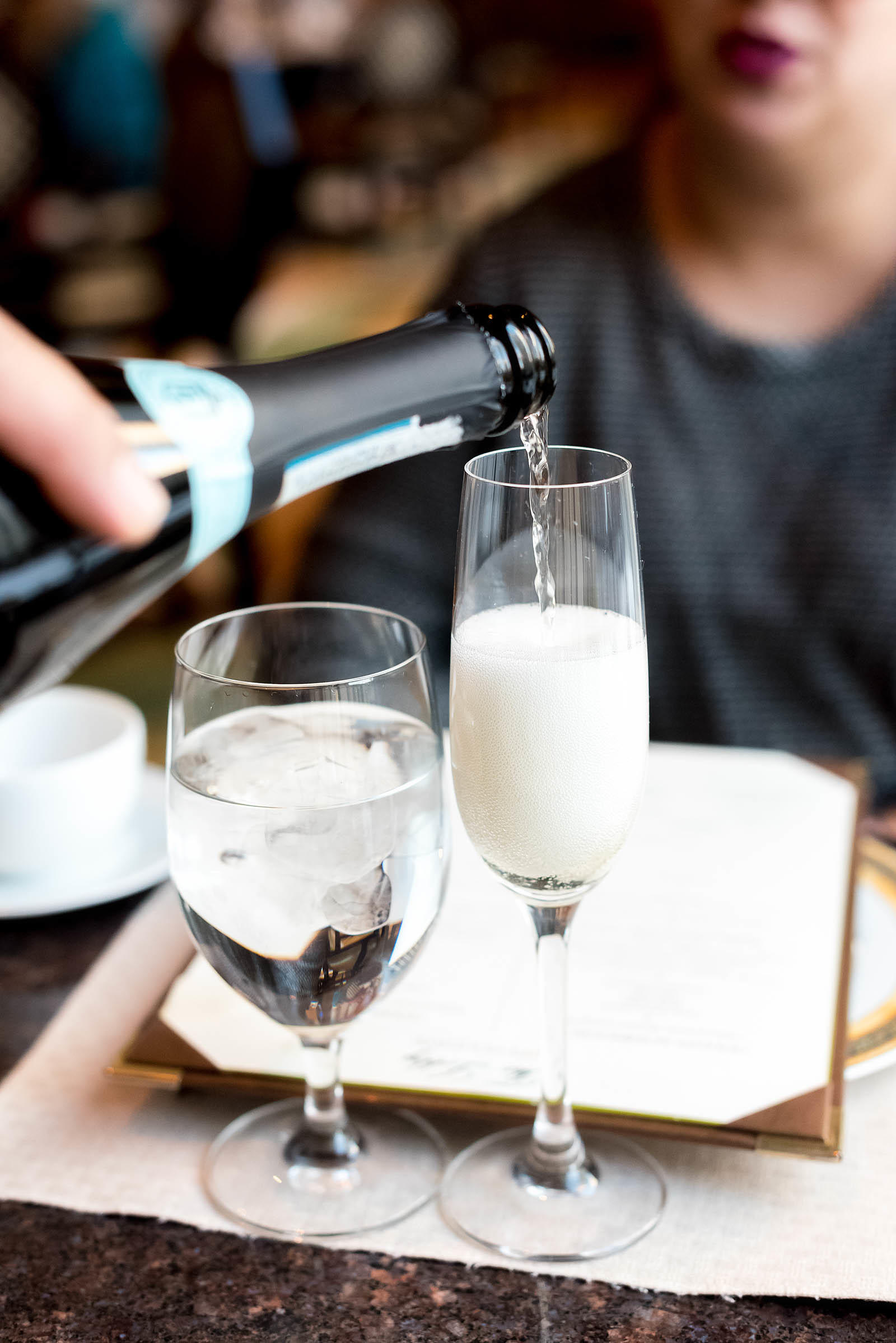 Then we ordered some bubbly.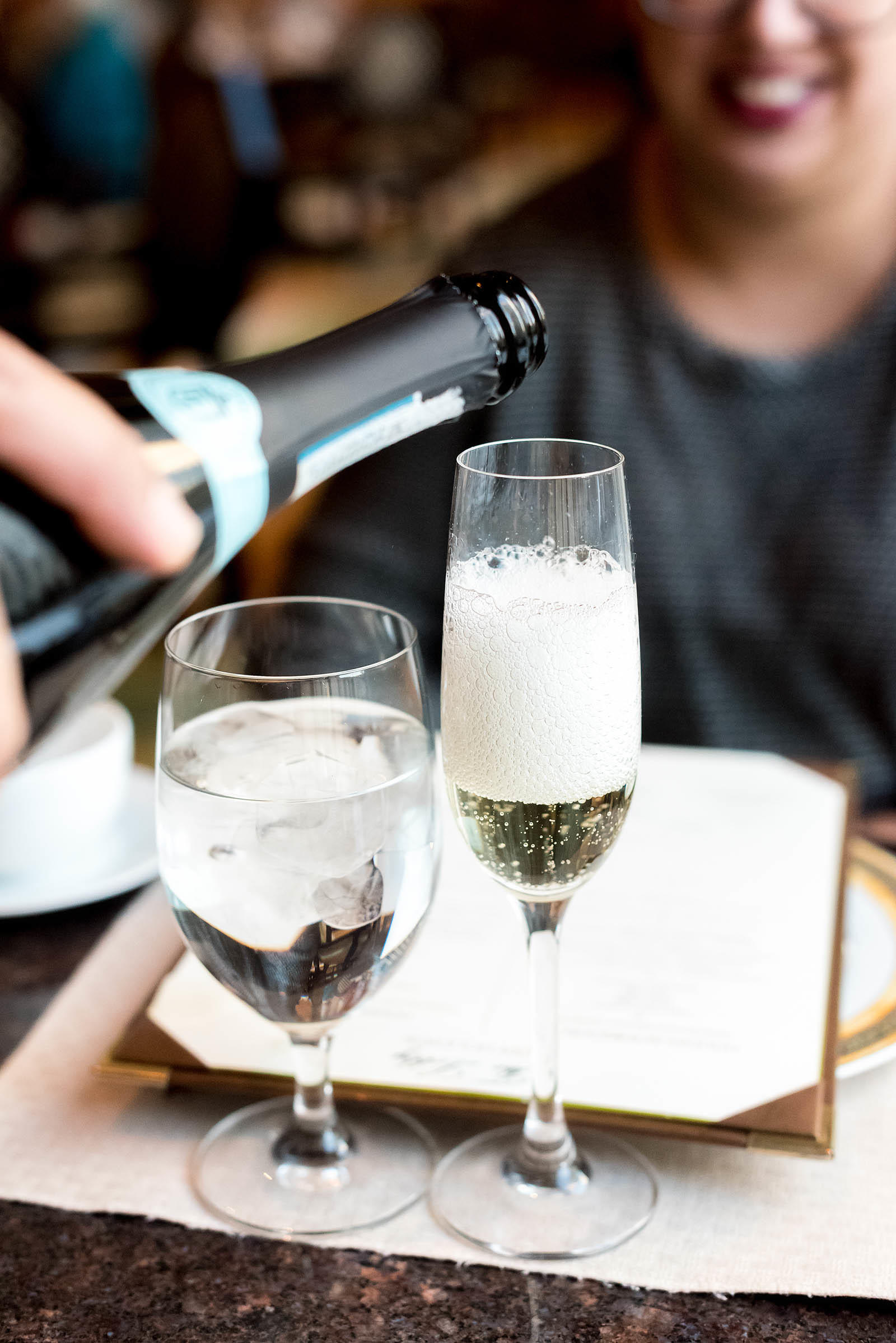 Obviously.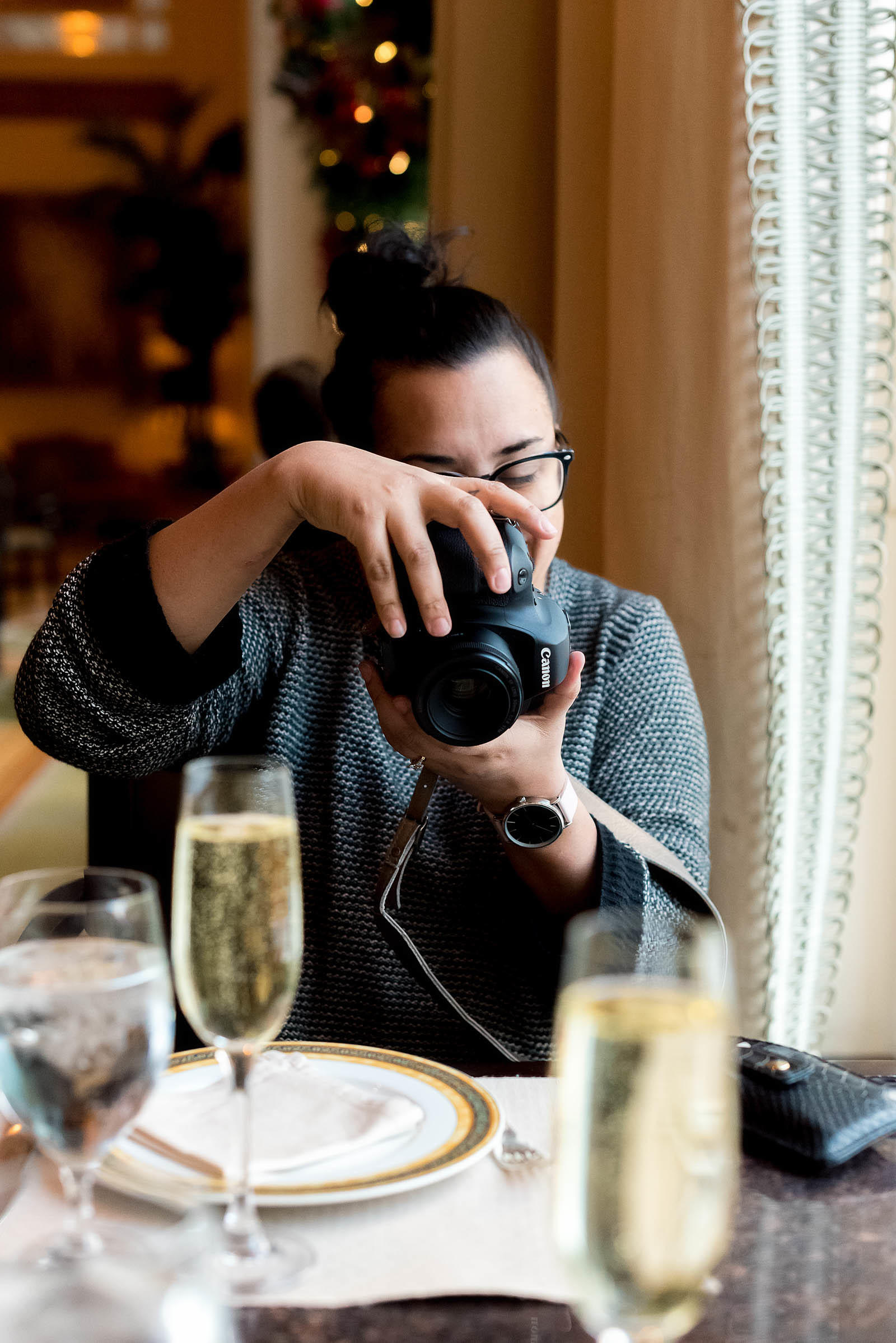 Then shot the bubbly.
Again, obviously.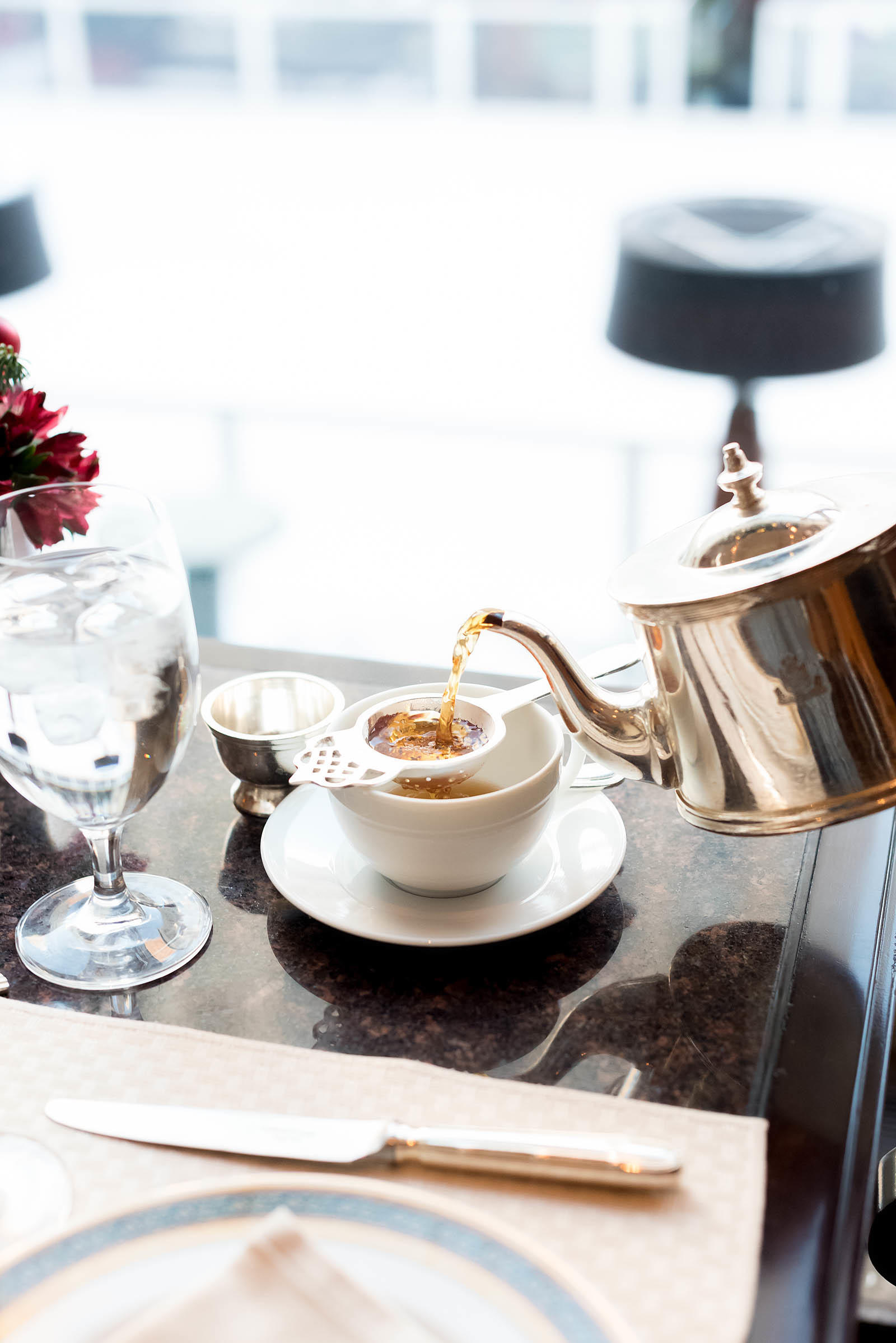 Then we were served our tea!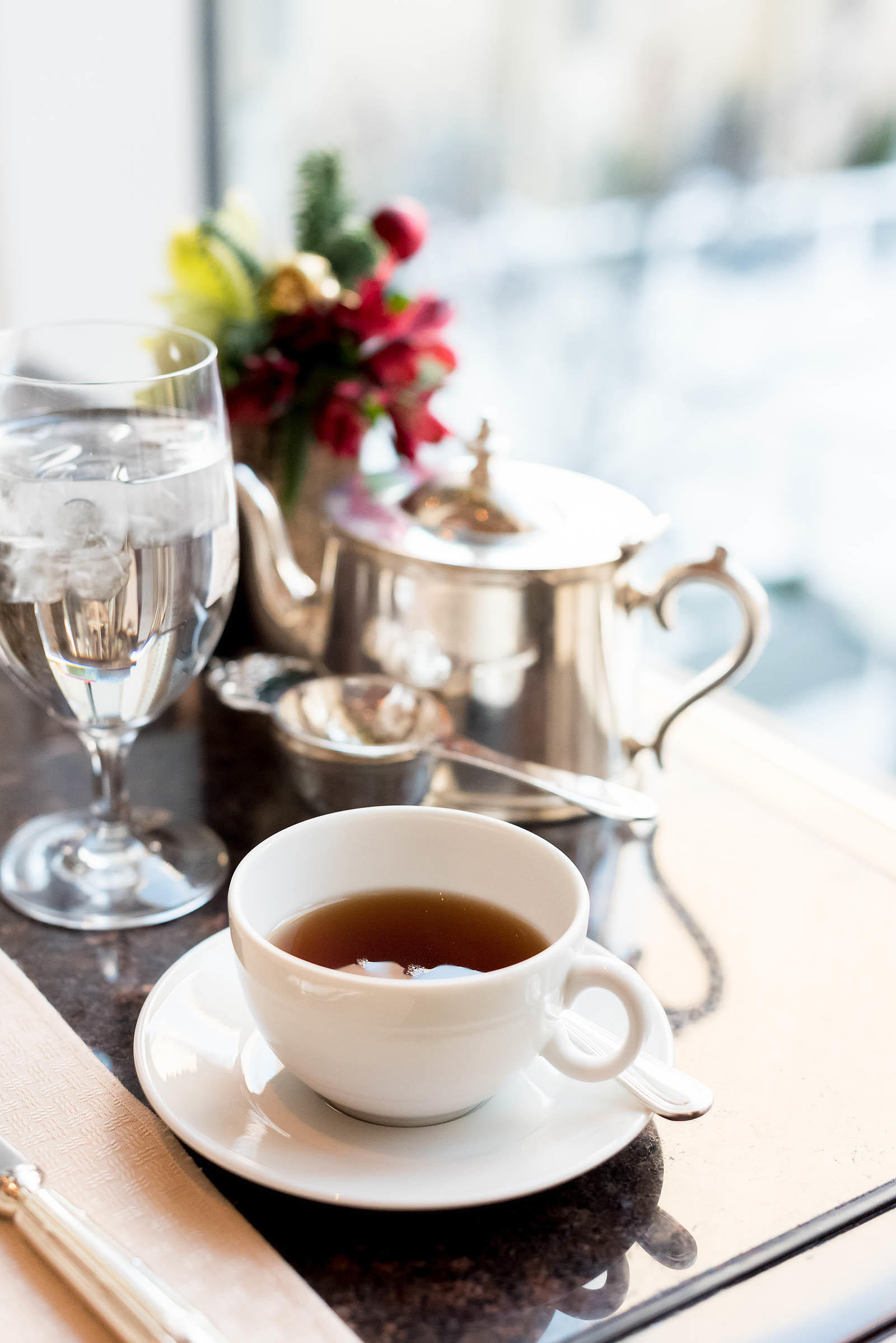 Fragrant Orange Jasmine Black Tea for me.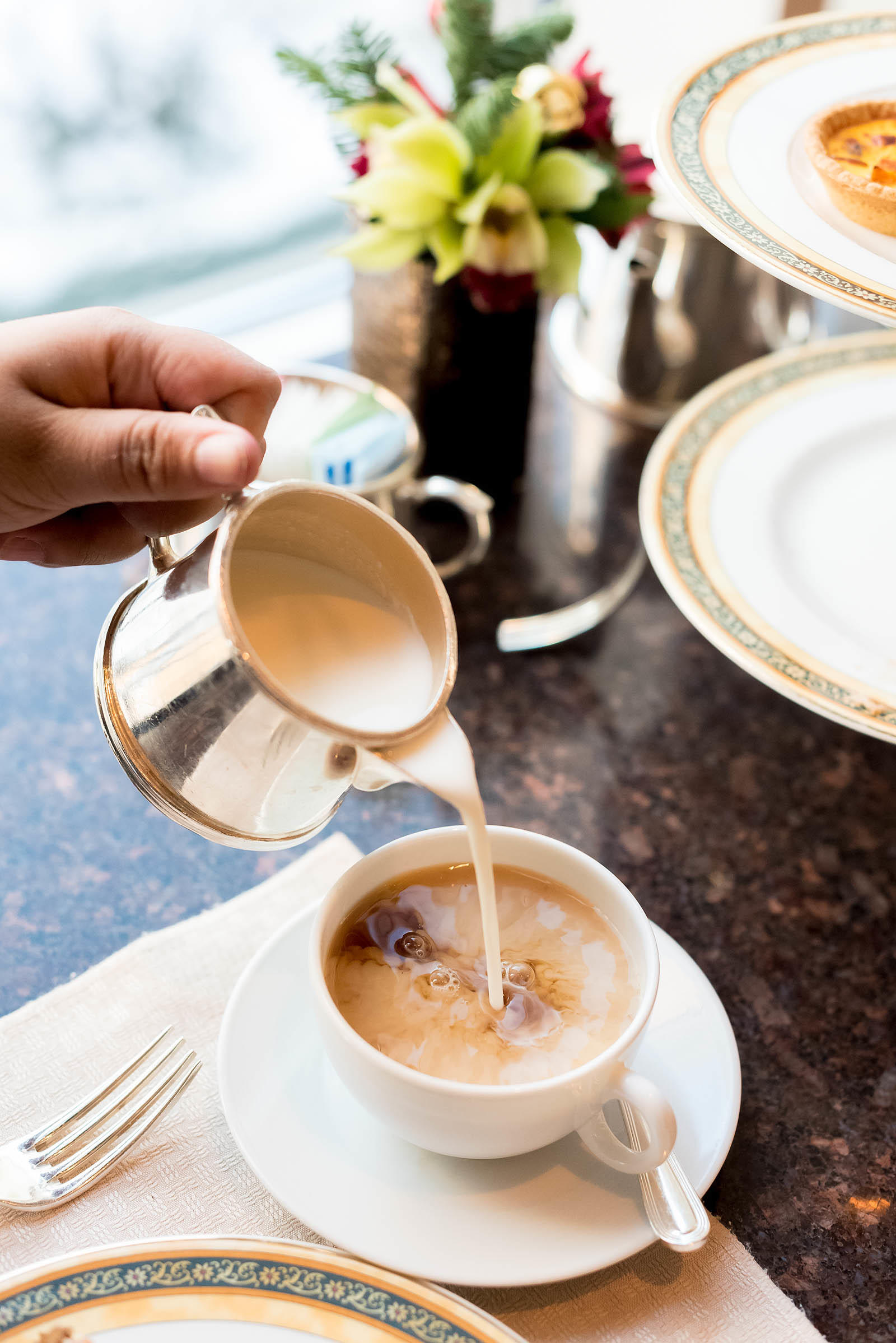 And organic Earl Grey with cream for Rachel.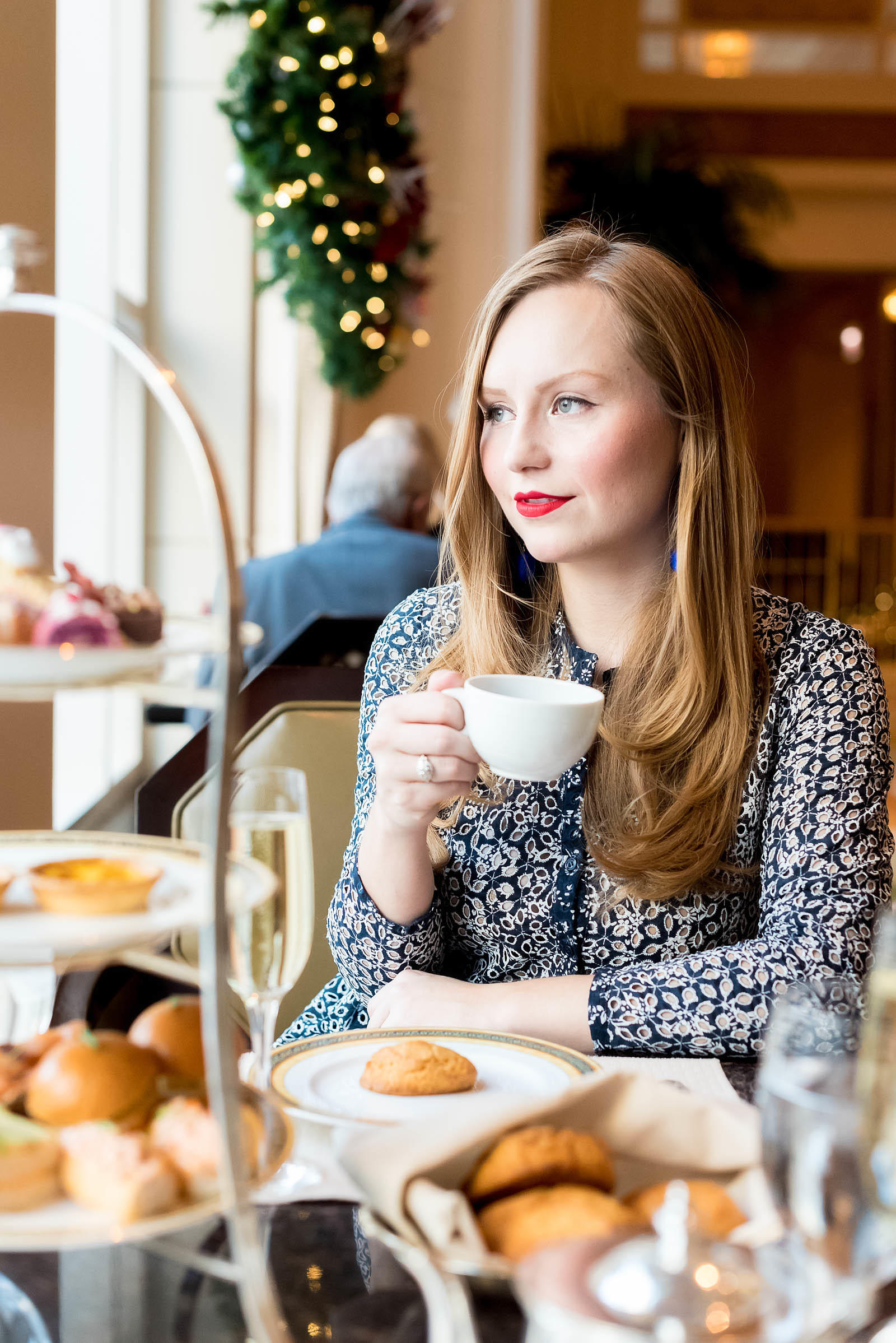 We sipped our tea daintily.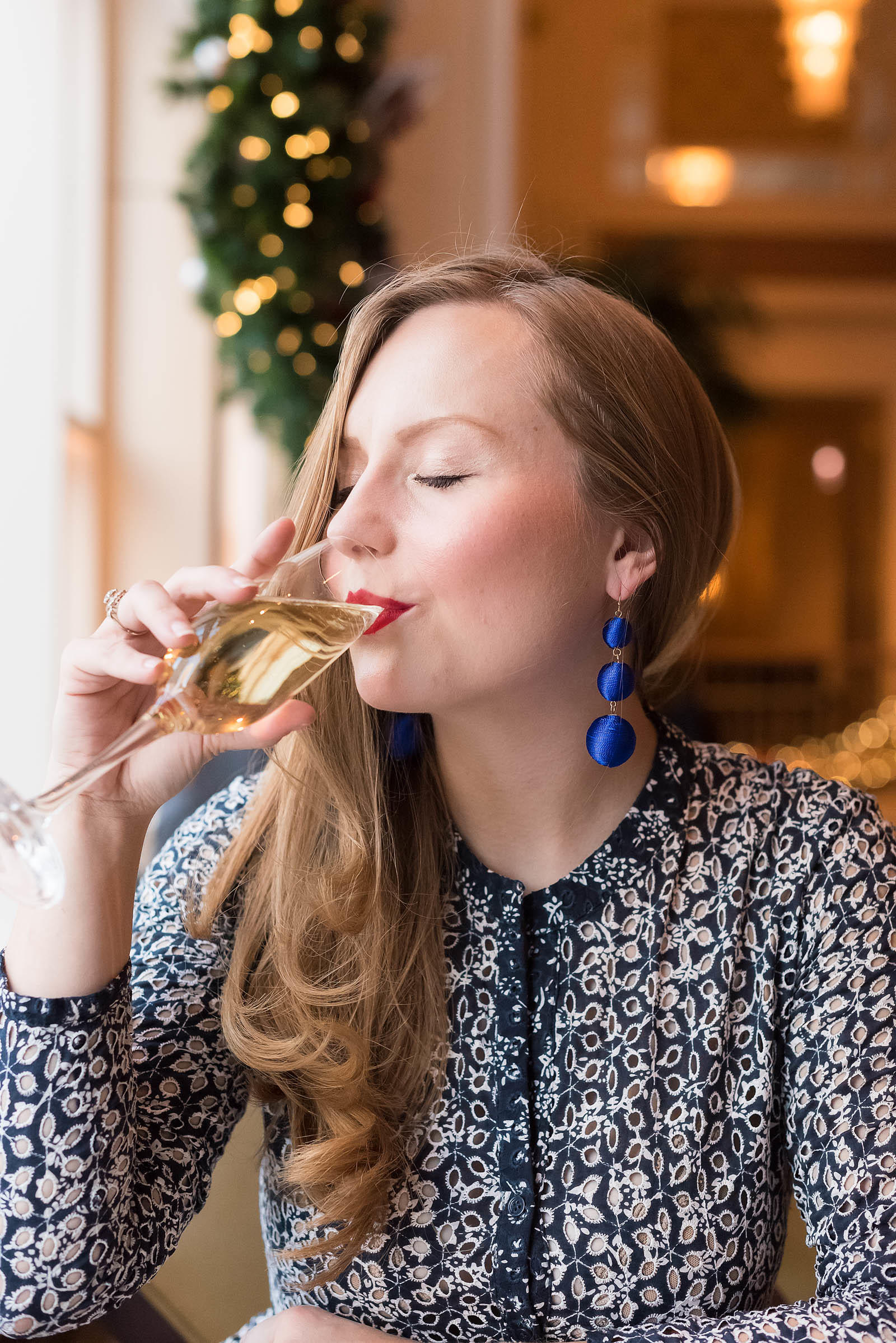 But may have been a little less refined as we slurped down our bubbly…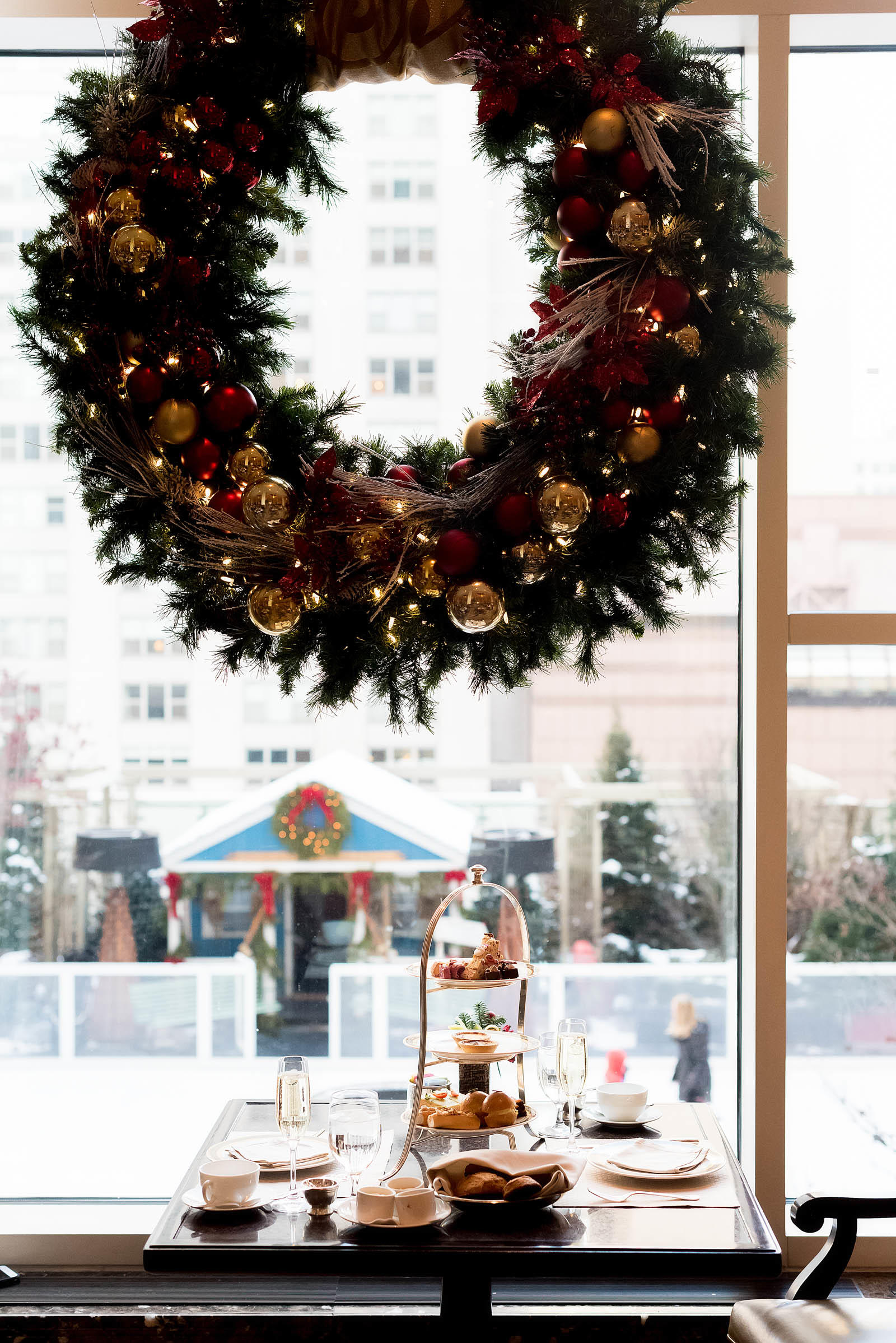 Luckily before we managed to get too much bubbly down, our food arrived!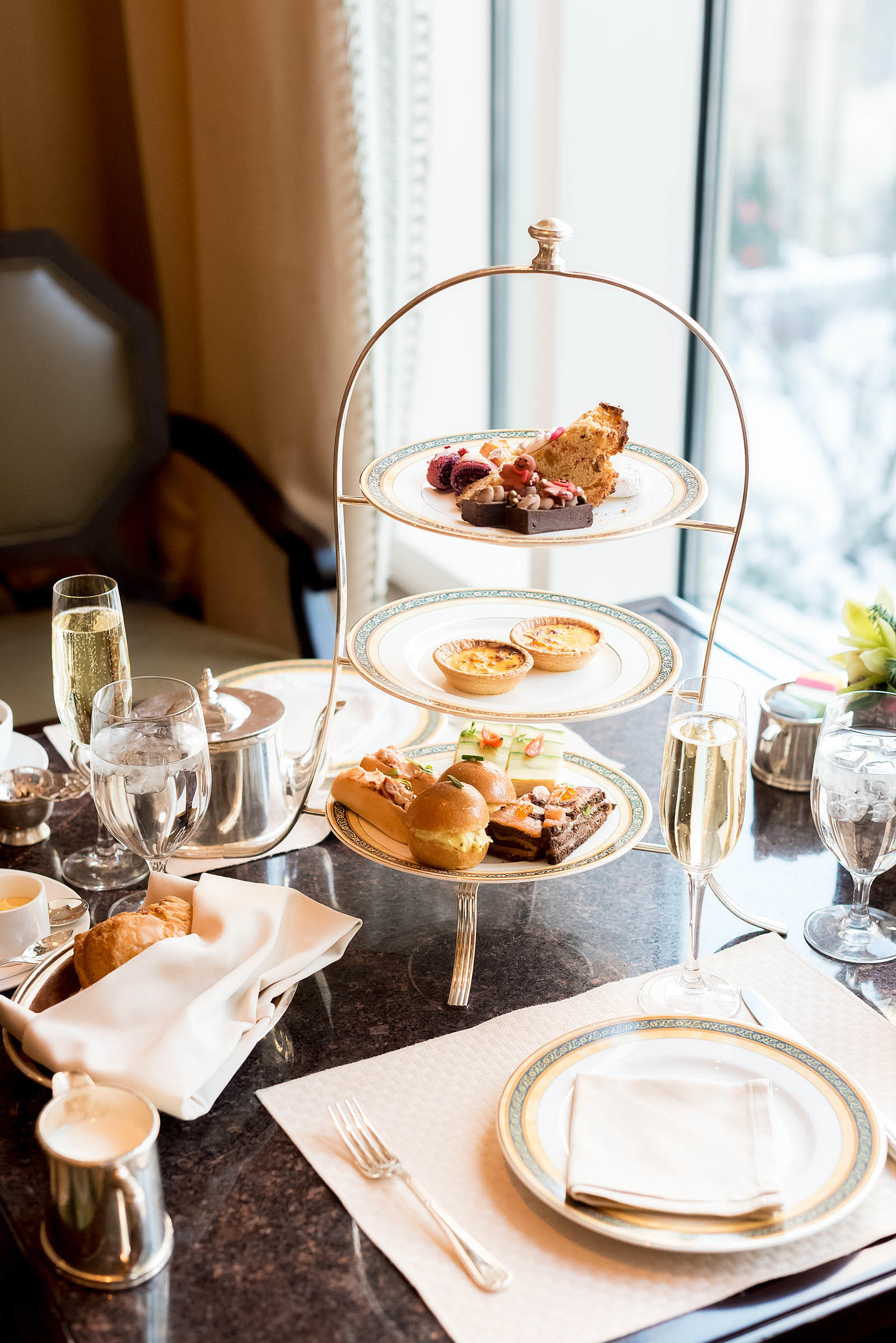 Nothing gets an afternoon tea-lover like me more excited than a beautiful spread like this!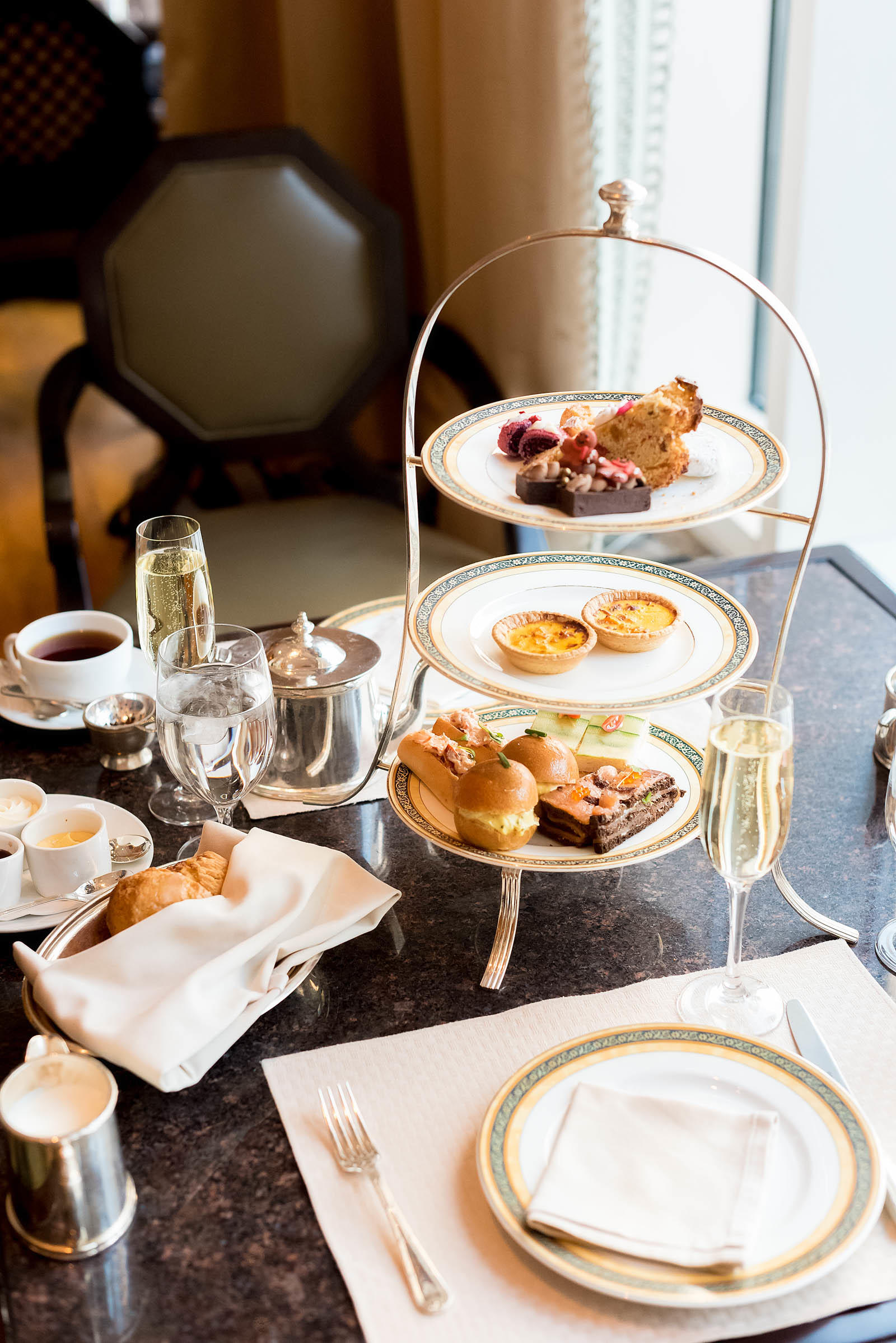 Whenever someone tells me they're afraid they'll leave an afternoon tea service hungry, I always have to laugh.
I mean, just look at the amount of food they serve at the Peninsula! My favorite part is that they'll always serve you extra savory sandwiches and scones if you want more too.
And there are some delicious options to choose from…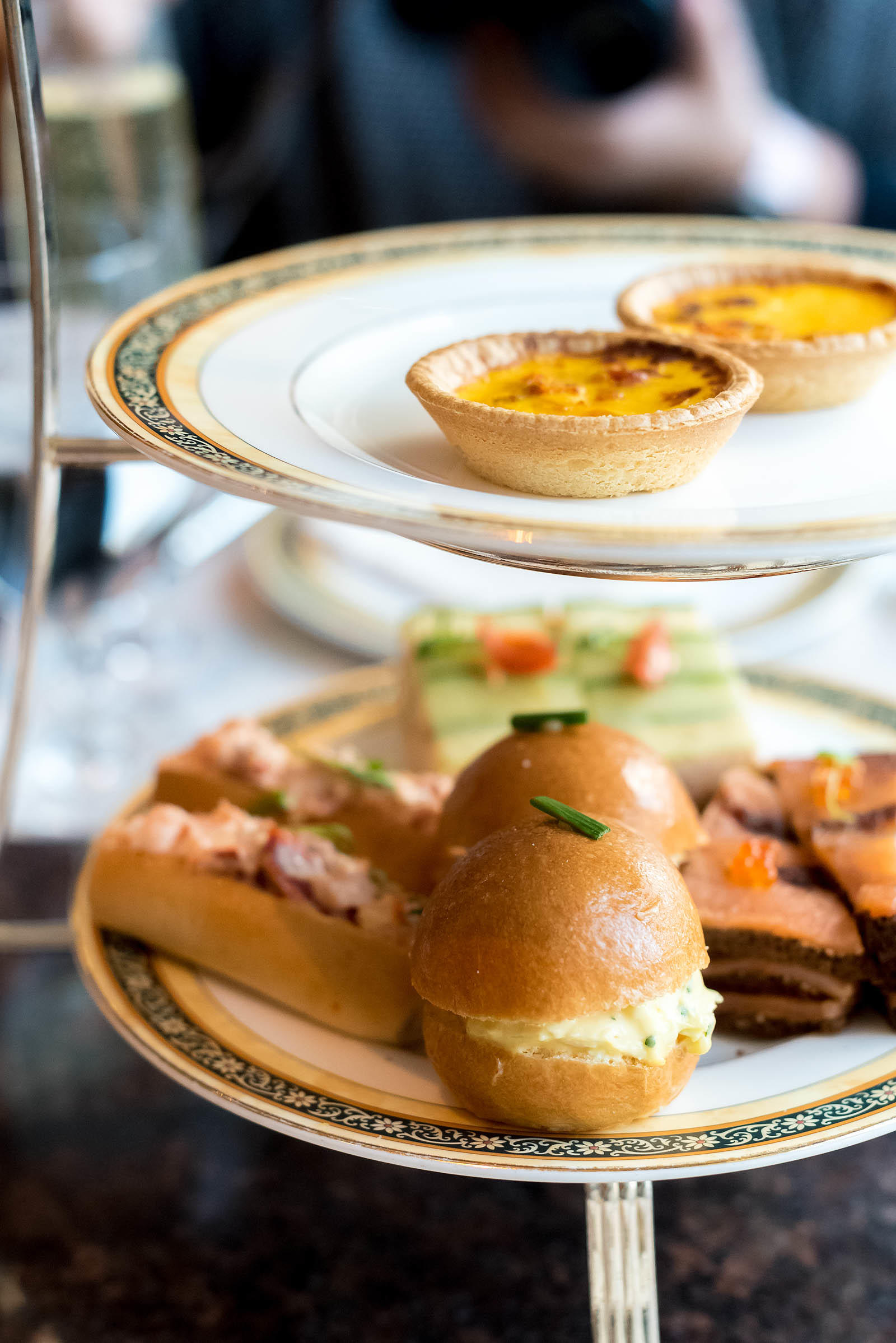 Like this buttery Egg Salad Sandwich with celery, chive, and parsley served on a brioche bun.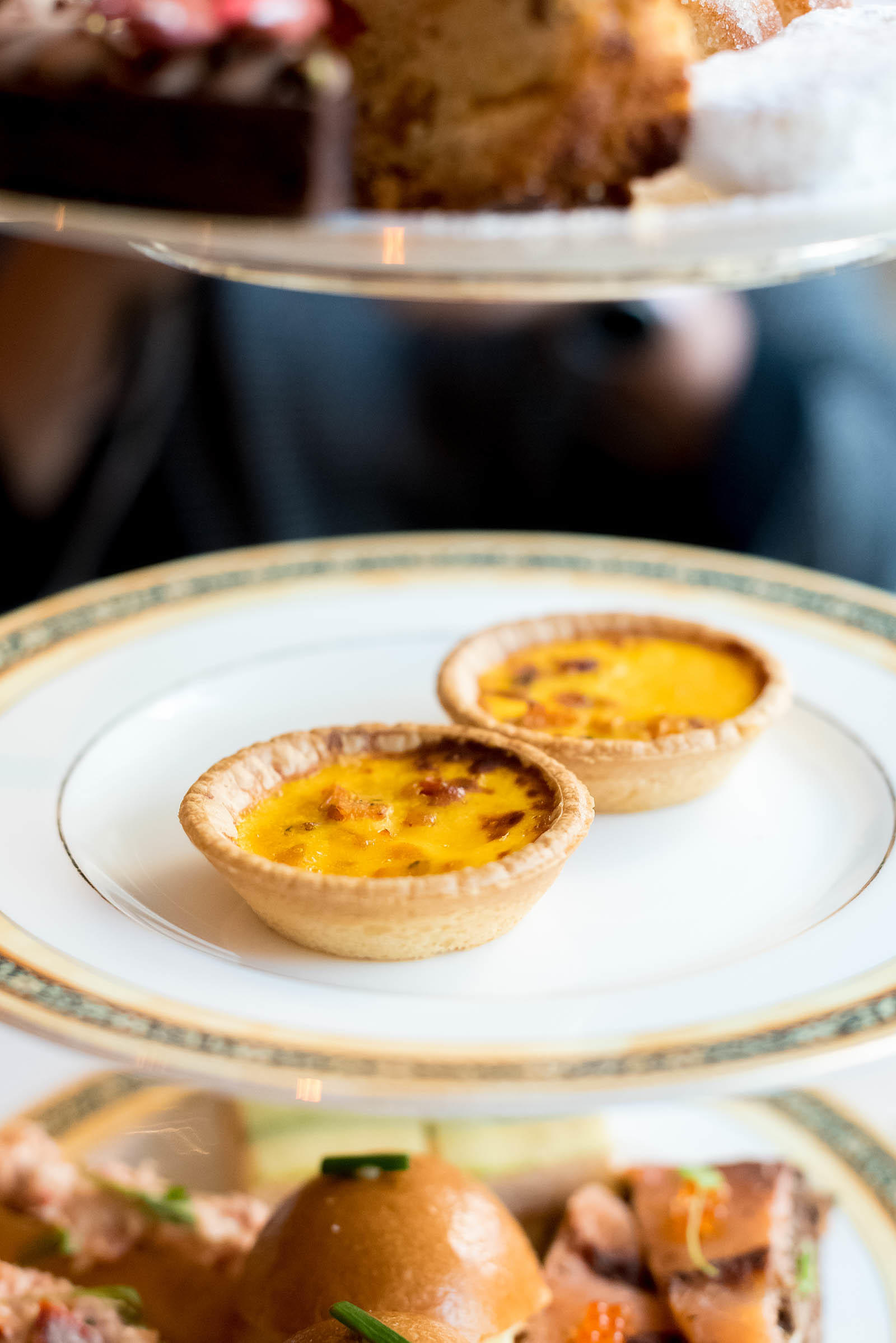 Or this Sage & Butternut Roasted Squash Pie with truffle.
Or these Smoked Salmon Sandwiches made with pastrami smoked salmon, chive cream cheese, and caviar on pumpernickel.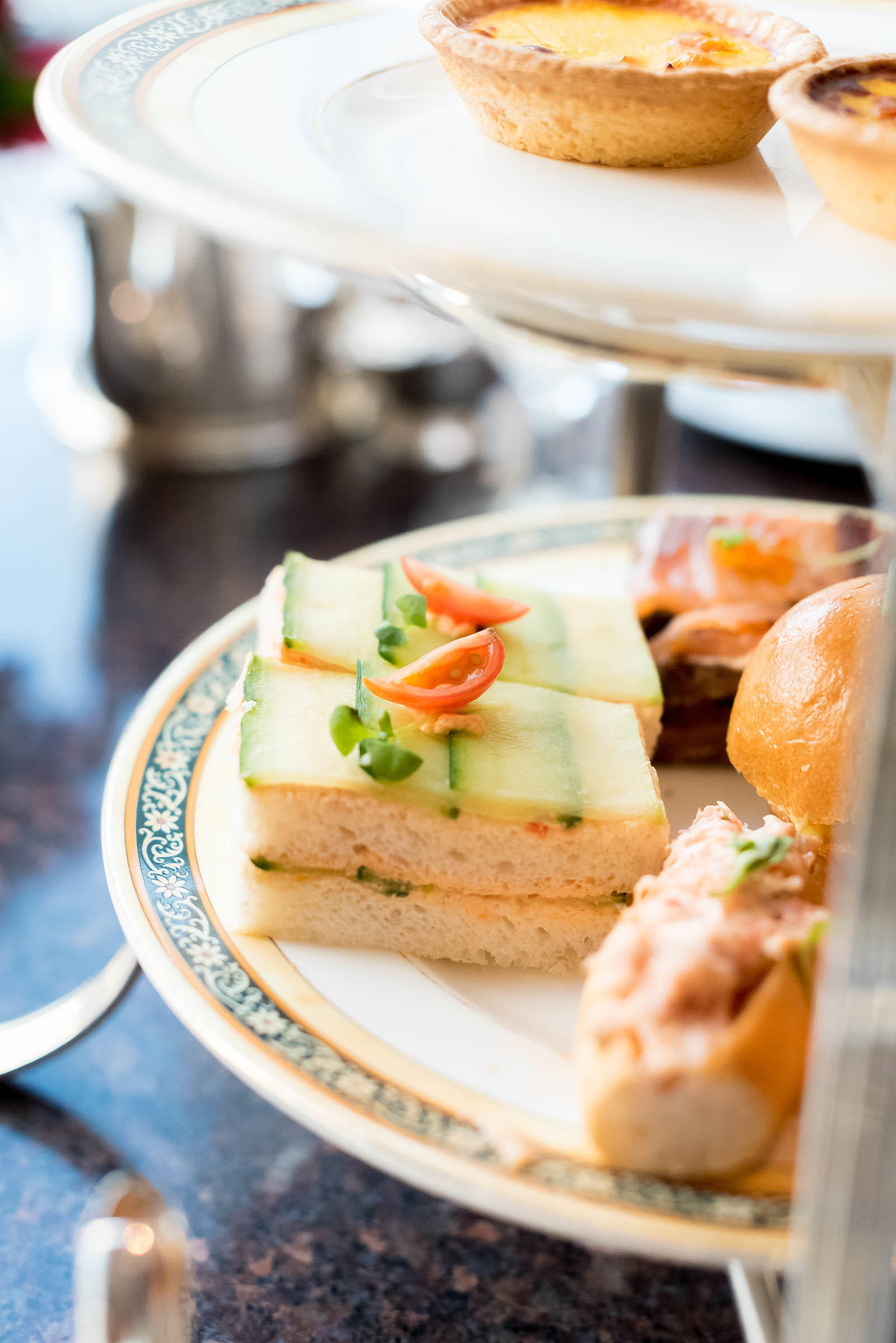 Or this delicate Cucumber Sandwich with sun-dried tomato cream cheese and micro basil on white pullman bread.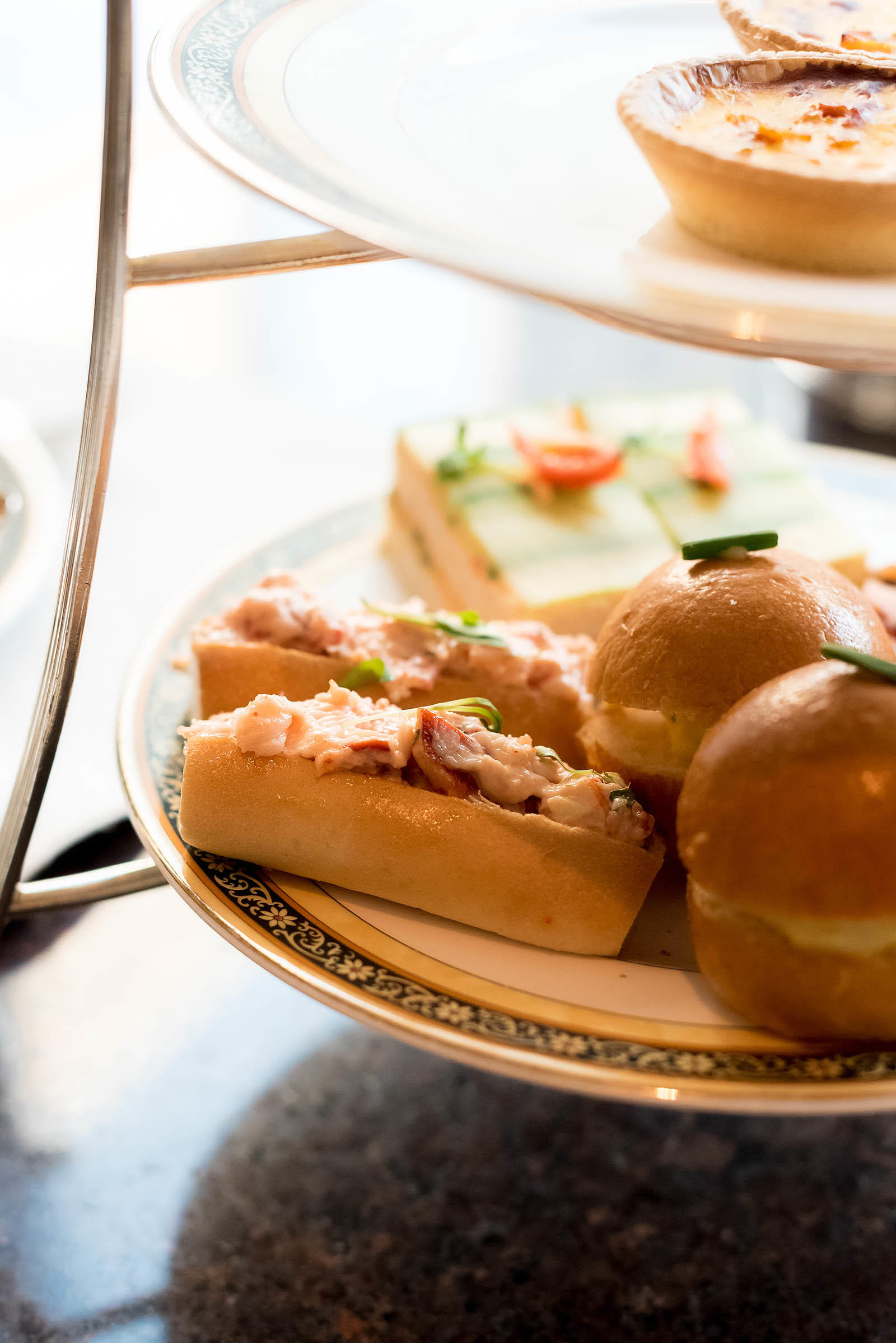 Or, finally, this sinful Tarragon Lobster Salad with ginger, cilantro, and orange zest on a petit brioche bun.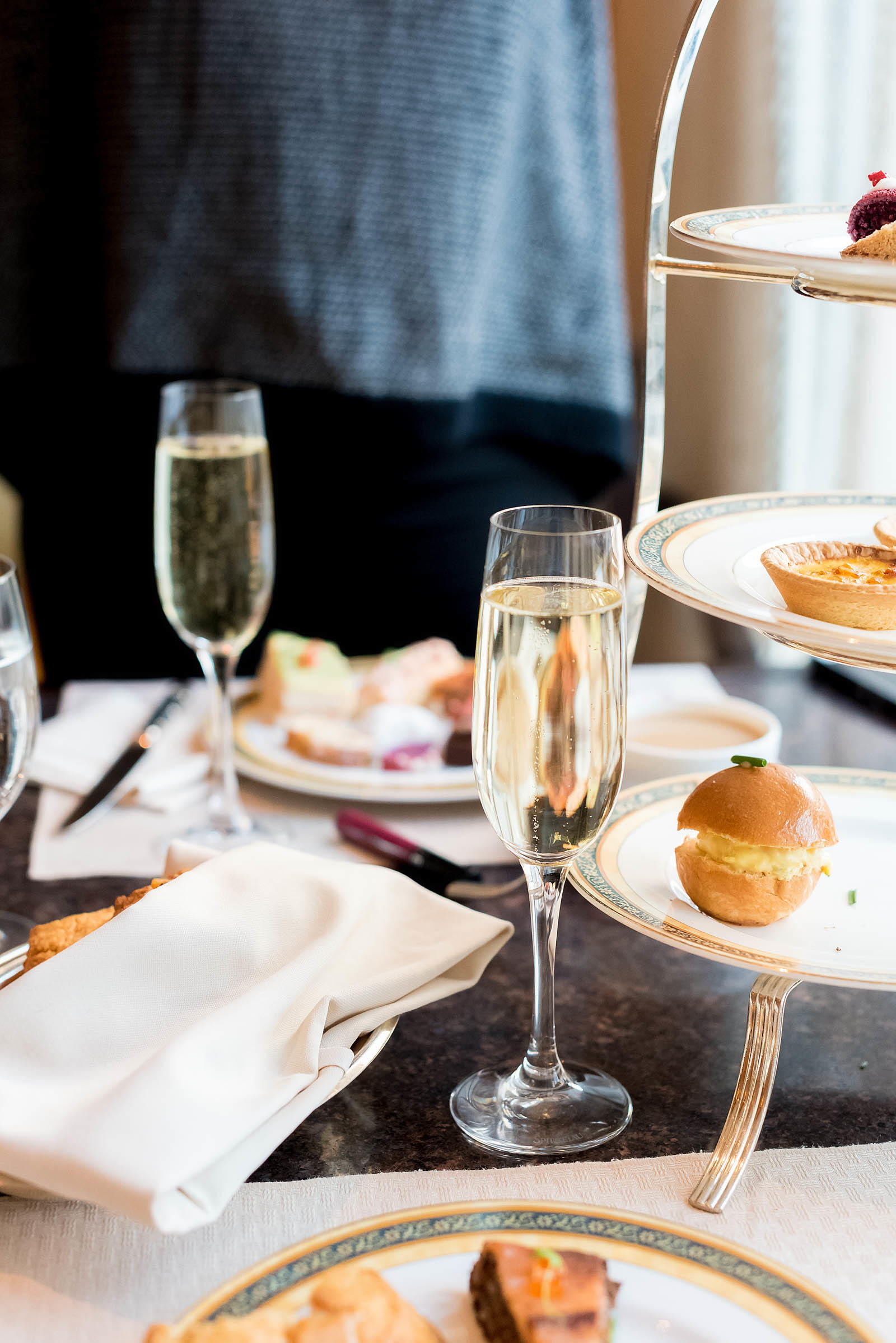 Which Rachel and I had a hard time shooting since all we really wanted to do was eat.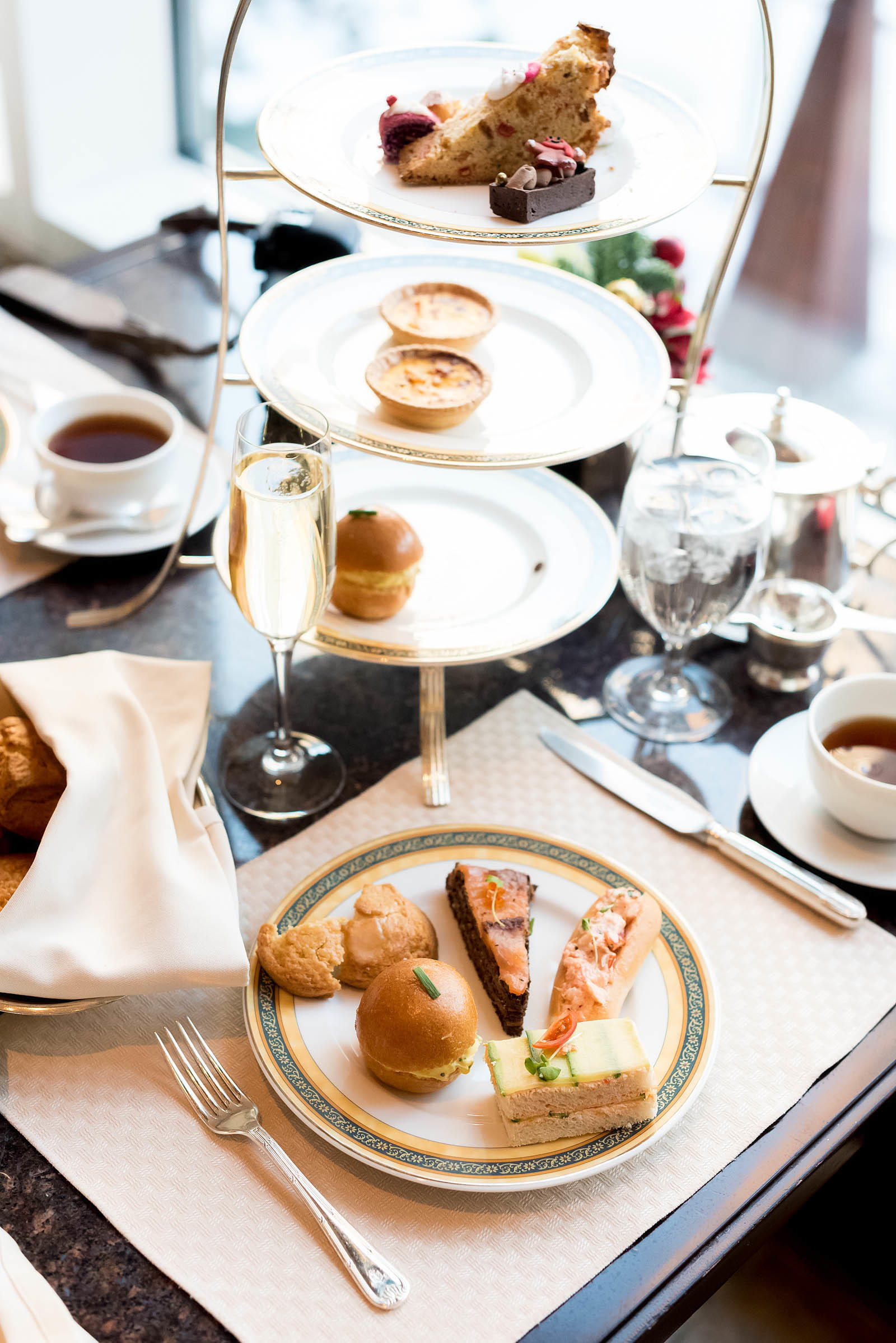 But, trust me, we managed to eat it ALL!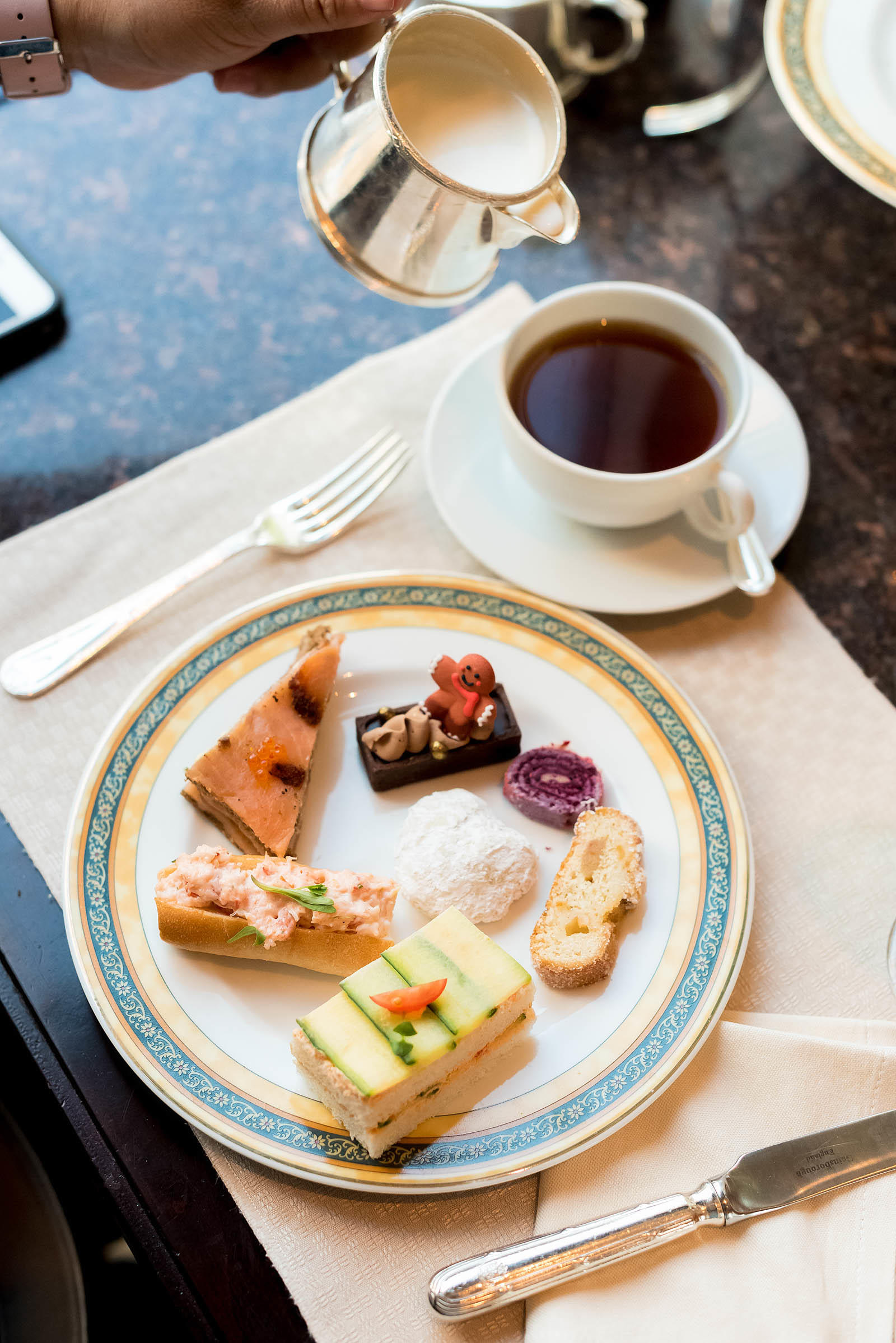 After serving ourselves a fresh pour of hot tea, of course.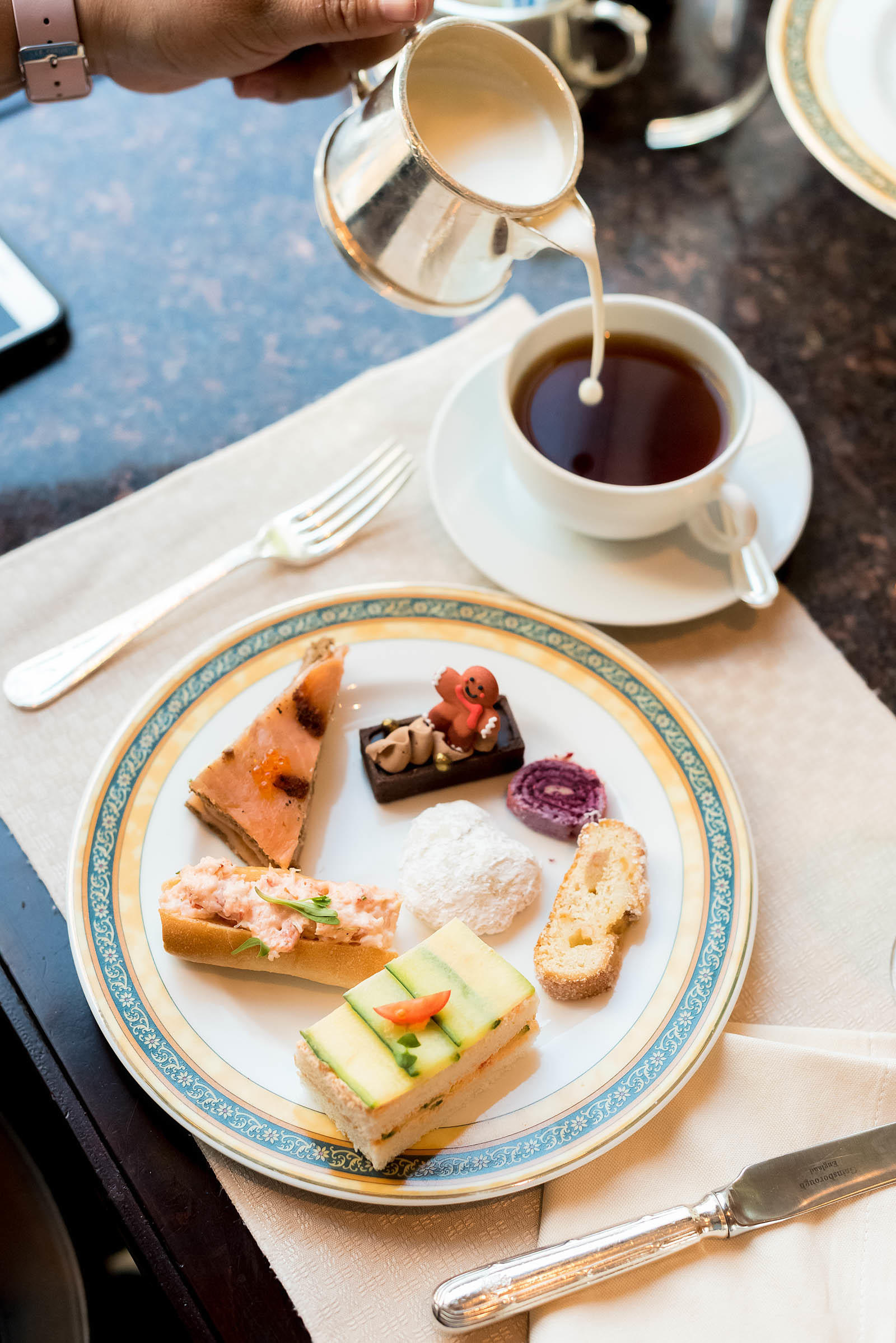 With cream for Rachel.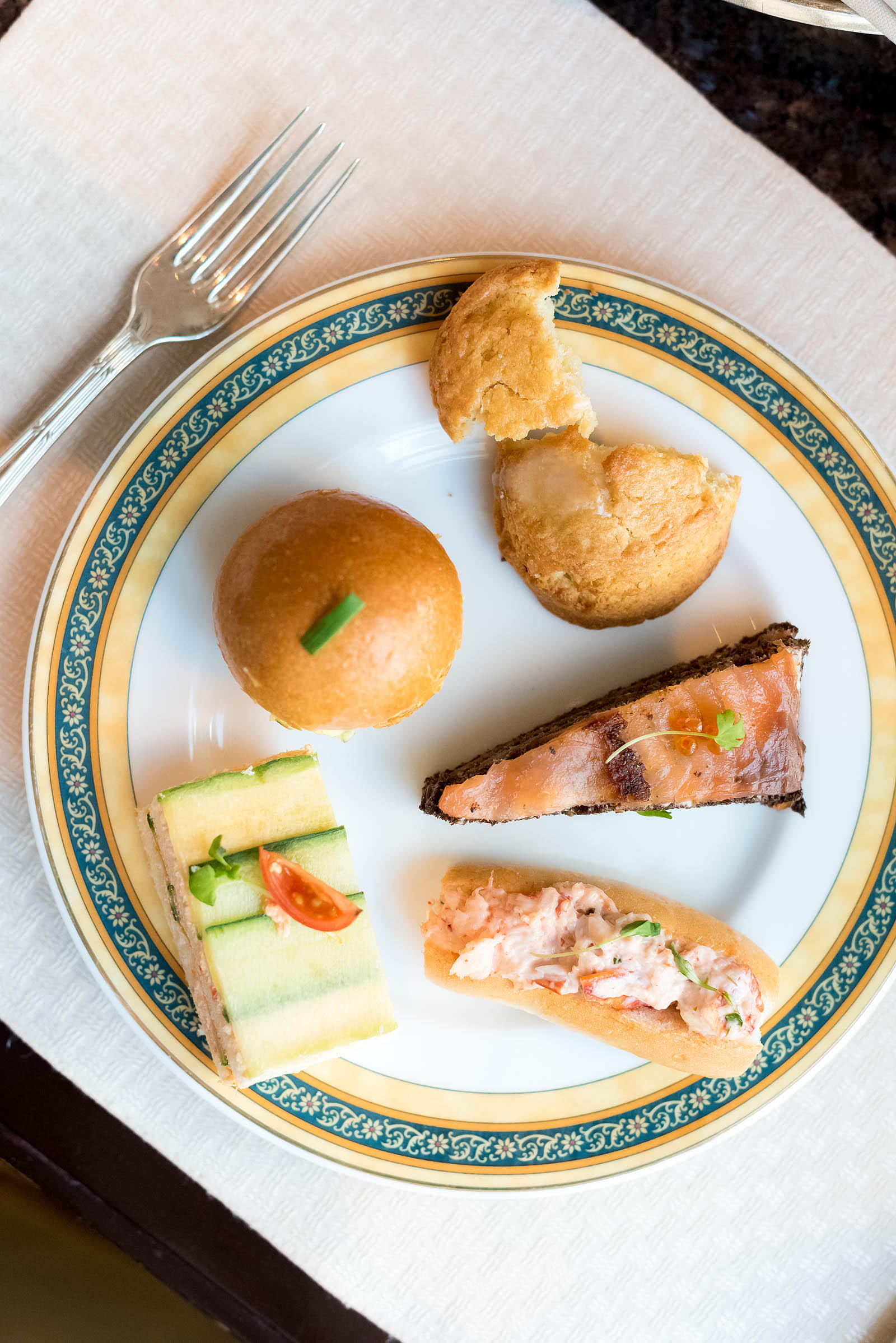 Don't these sandwiches make a delicious sight?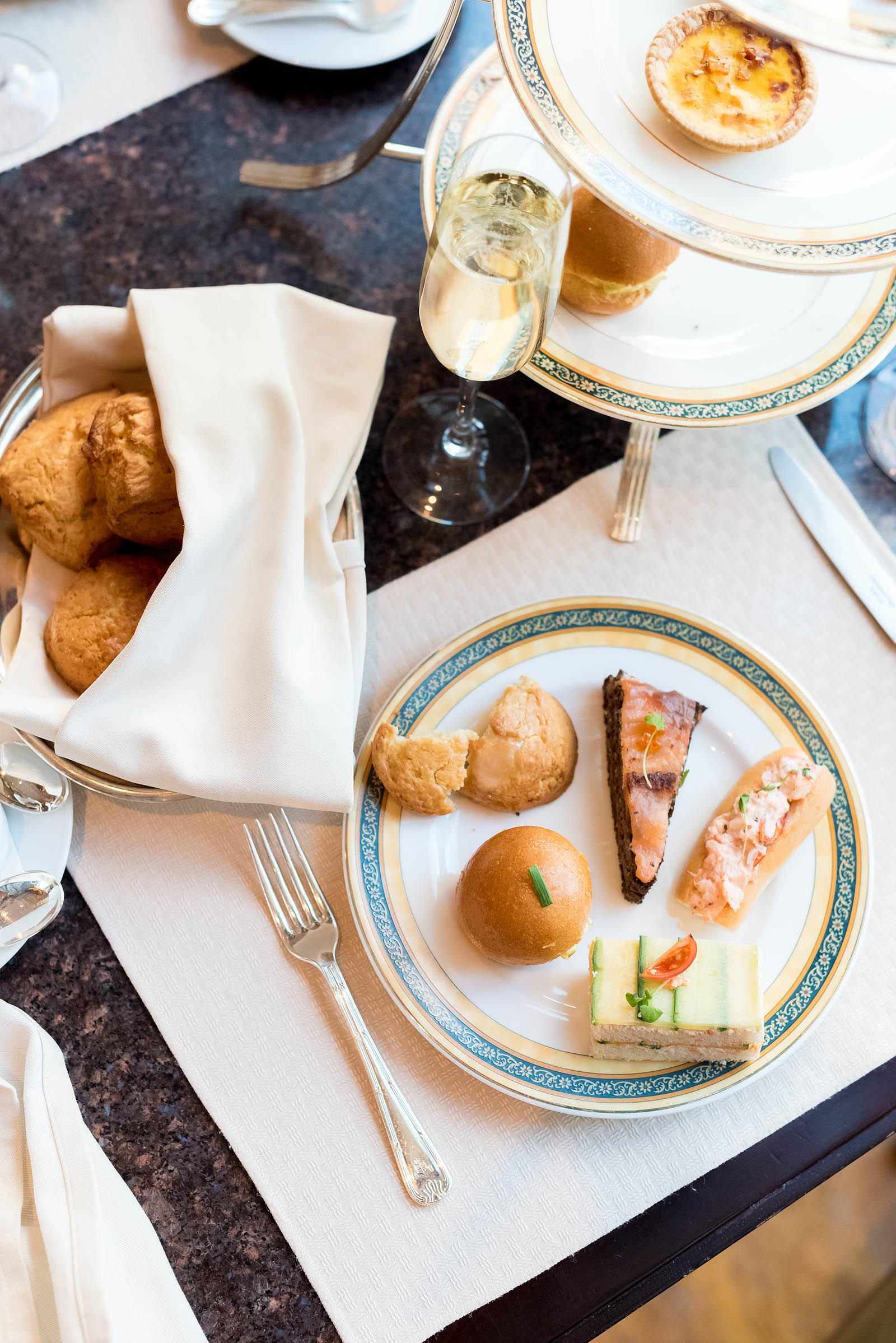 Just writing about them is making my stomach grumble.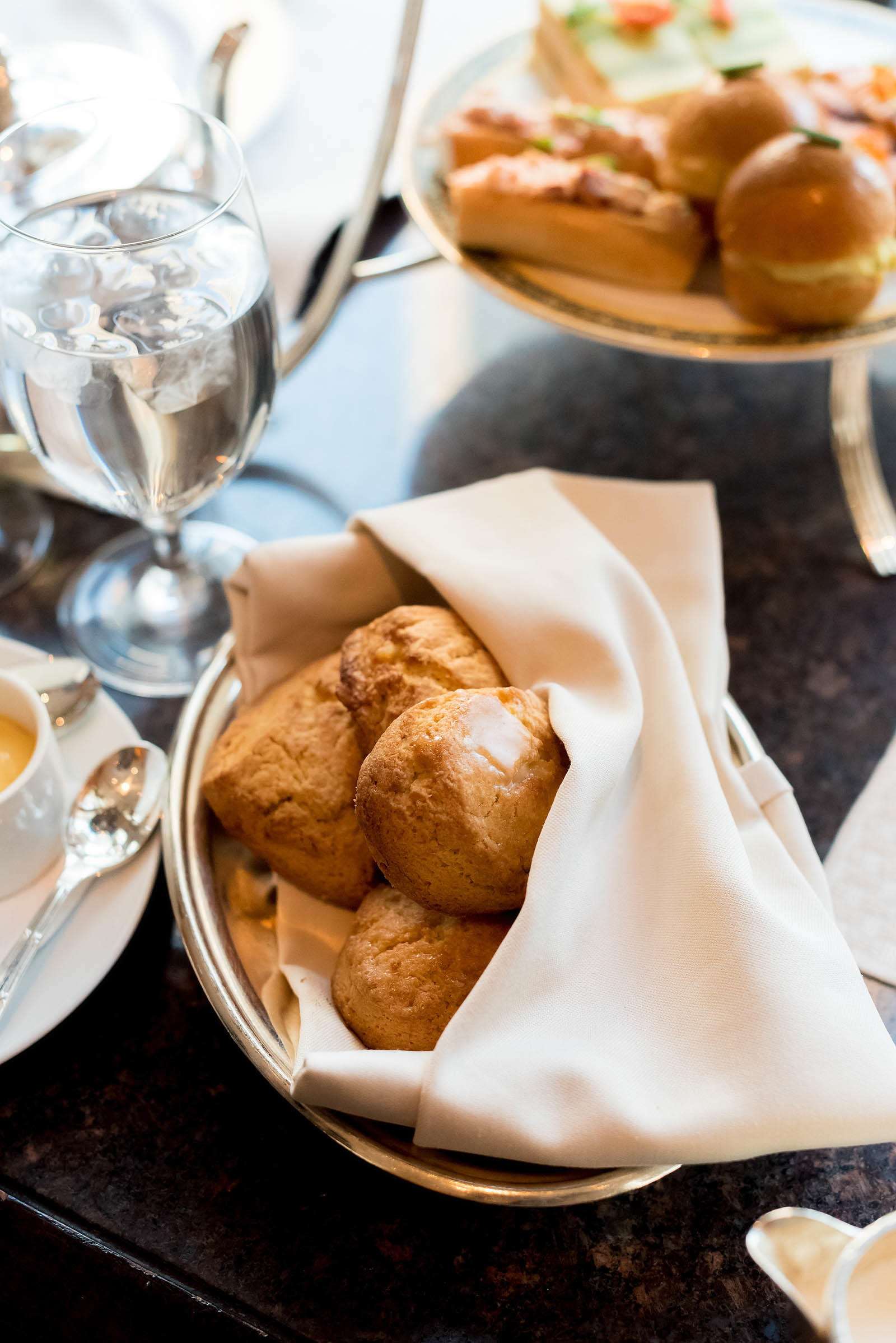 But no afternoon tea is complete without scones and the Peninsula has some delicious ones to nibble on along with your sandwiches. For holiday tea, they serve both a traditional scone and a Golden Mandarin Orange one.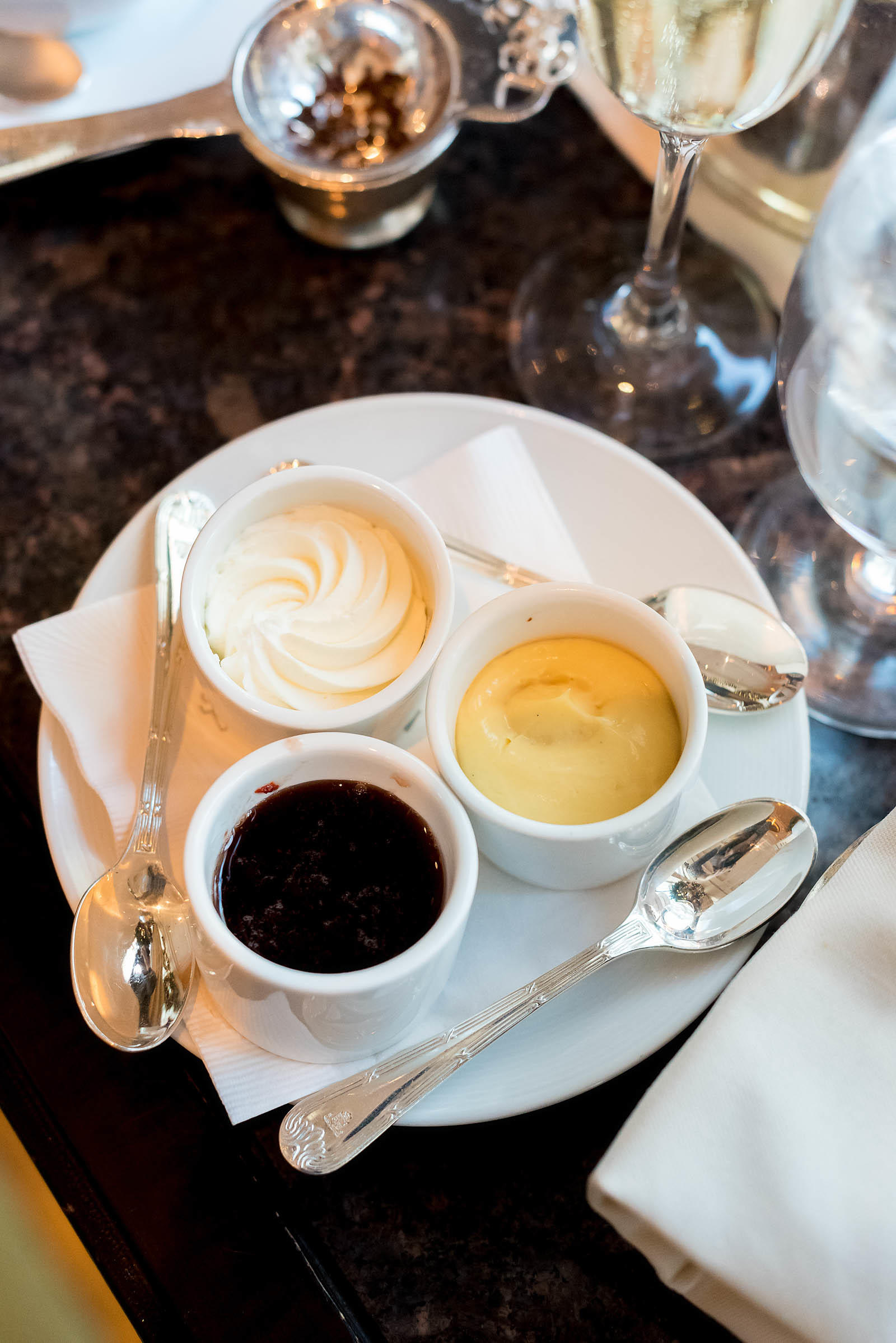 With the traditional accompaniments of jam, curd, and cream, obviously.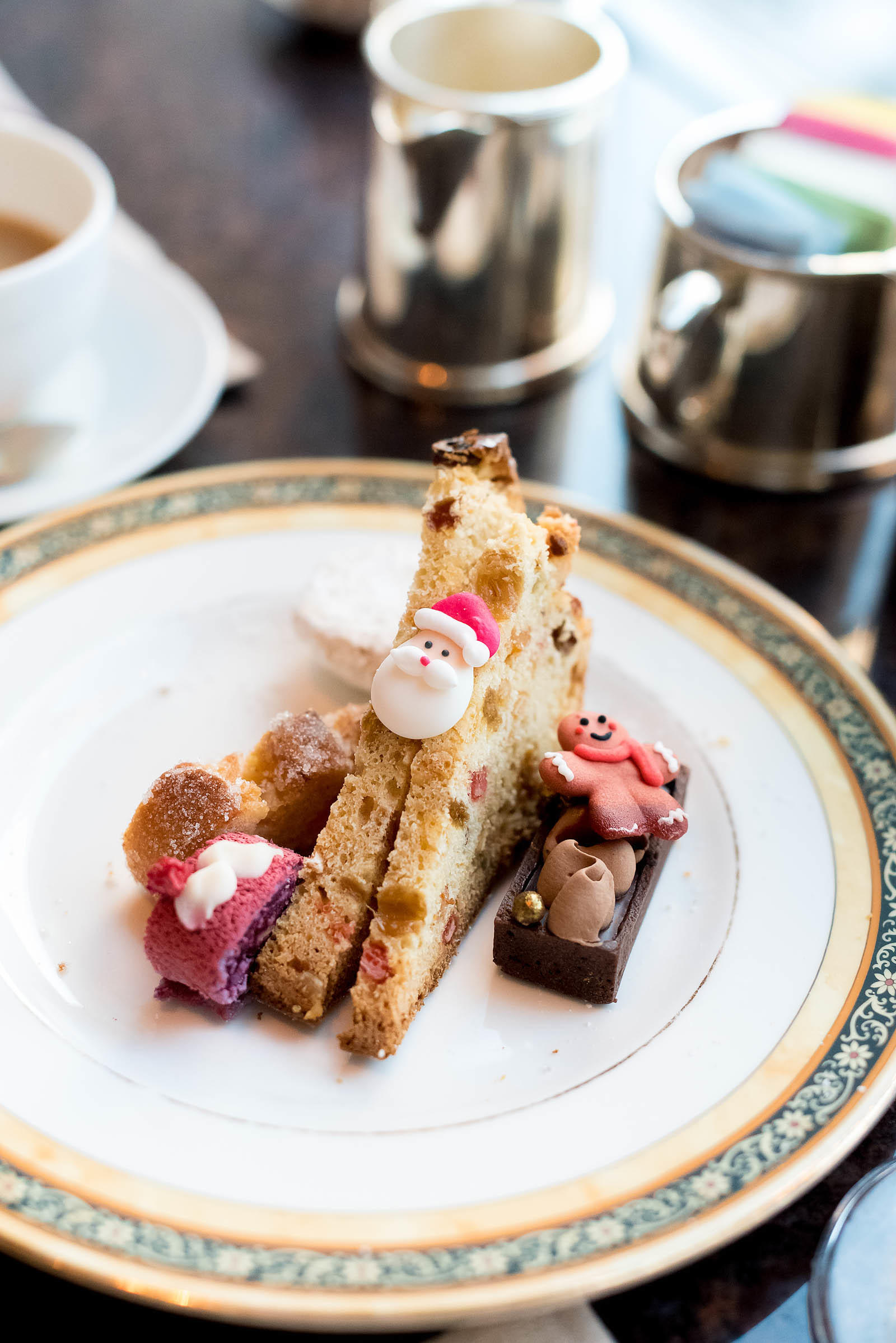 Once you've had your fill of savories, then you can move onto the sexiest part of afternoon tea: the desserts!
The Peninsula Holiday Tea includes a traditional fruit cake, a classic stollen slice, a nutty cookie (very similar to my grandmother's pecan snowballs!),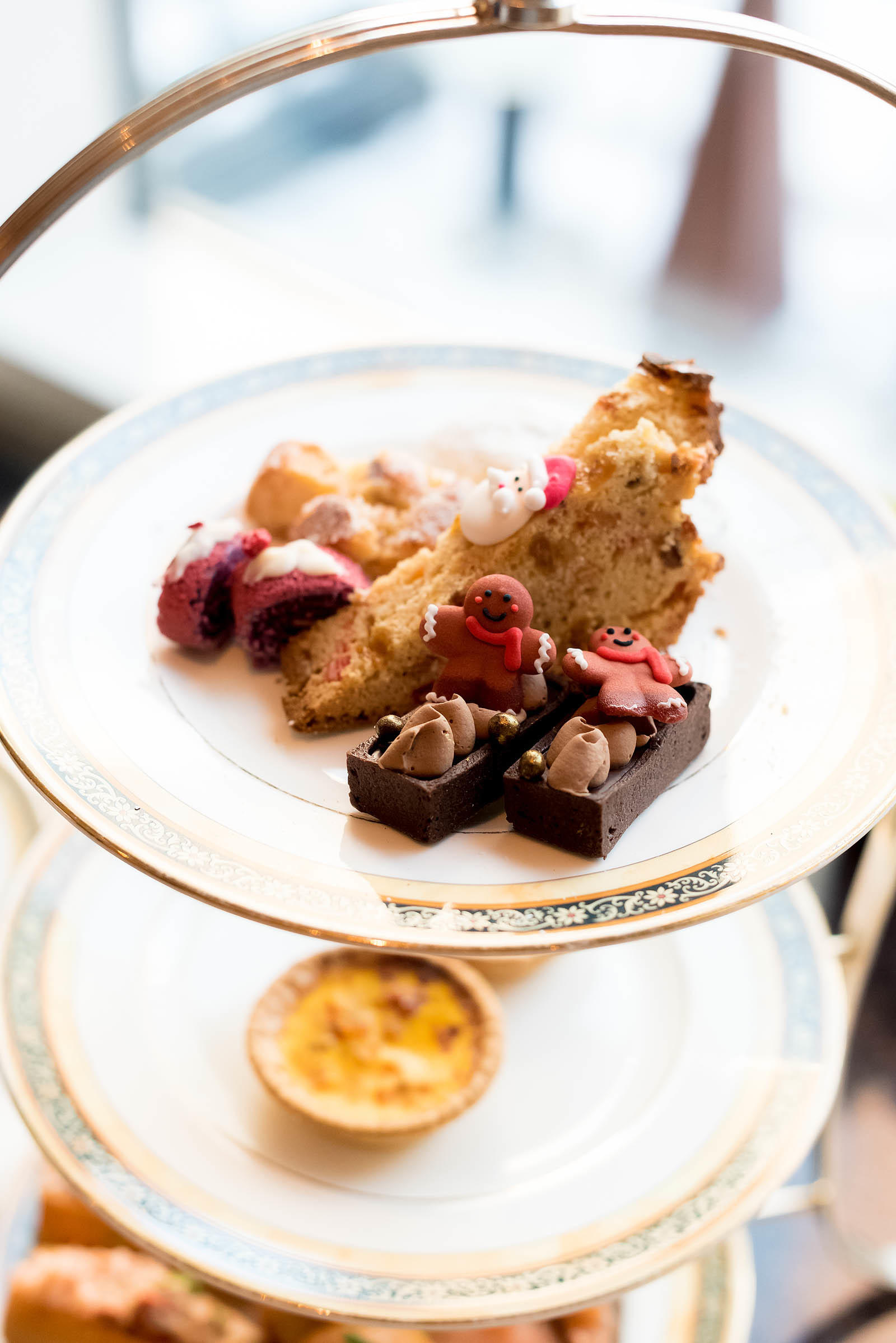 a Cassis Chestnut Bûche, and a Chocolate Crumble Tart.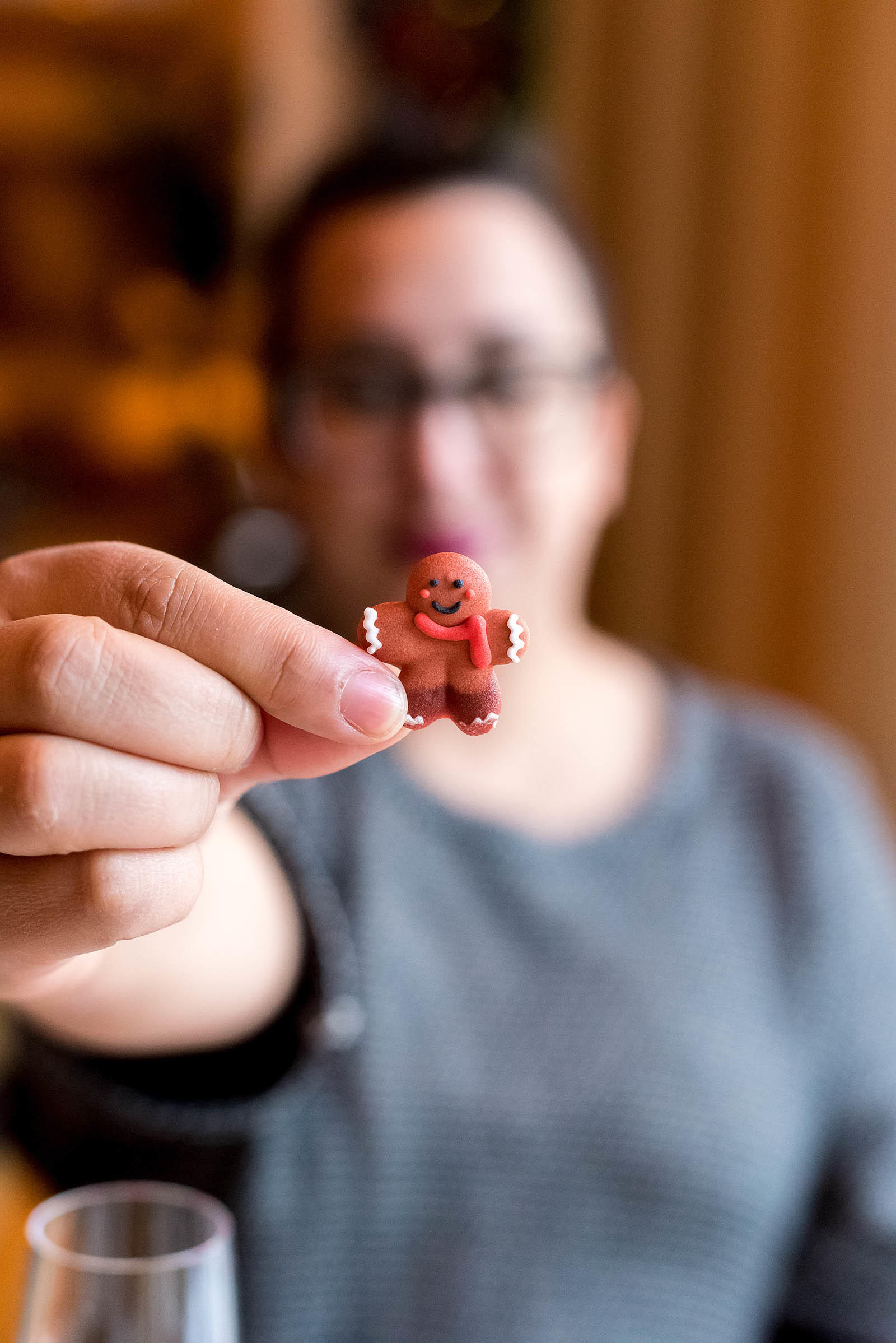 All decorated to delicate festive perfection!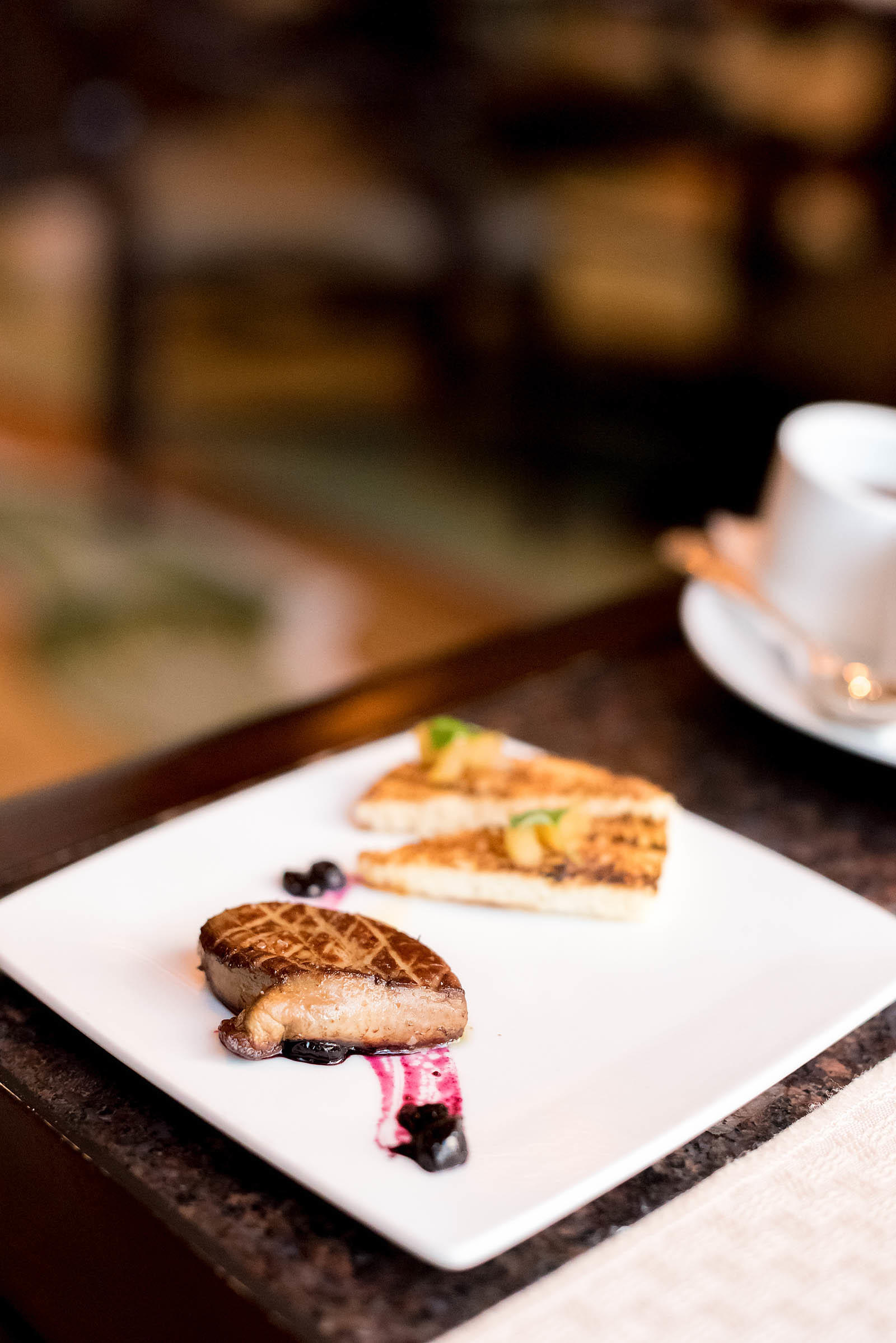 But this year the Peninsula has introduced a new addition to their holiday tea experience. Well actually TWO new additions.
If you opt to try the Peninsula's new Holiday "Royal" Tea offering, you'll be served two very special dishes along with the usual afternoon tea service.
The first is this stunning Seared Fois Gras with St. Germaine apple compote and huckleberry gastriques.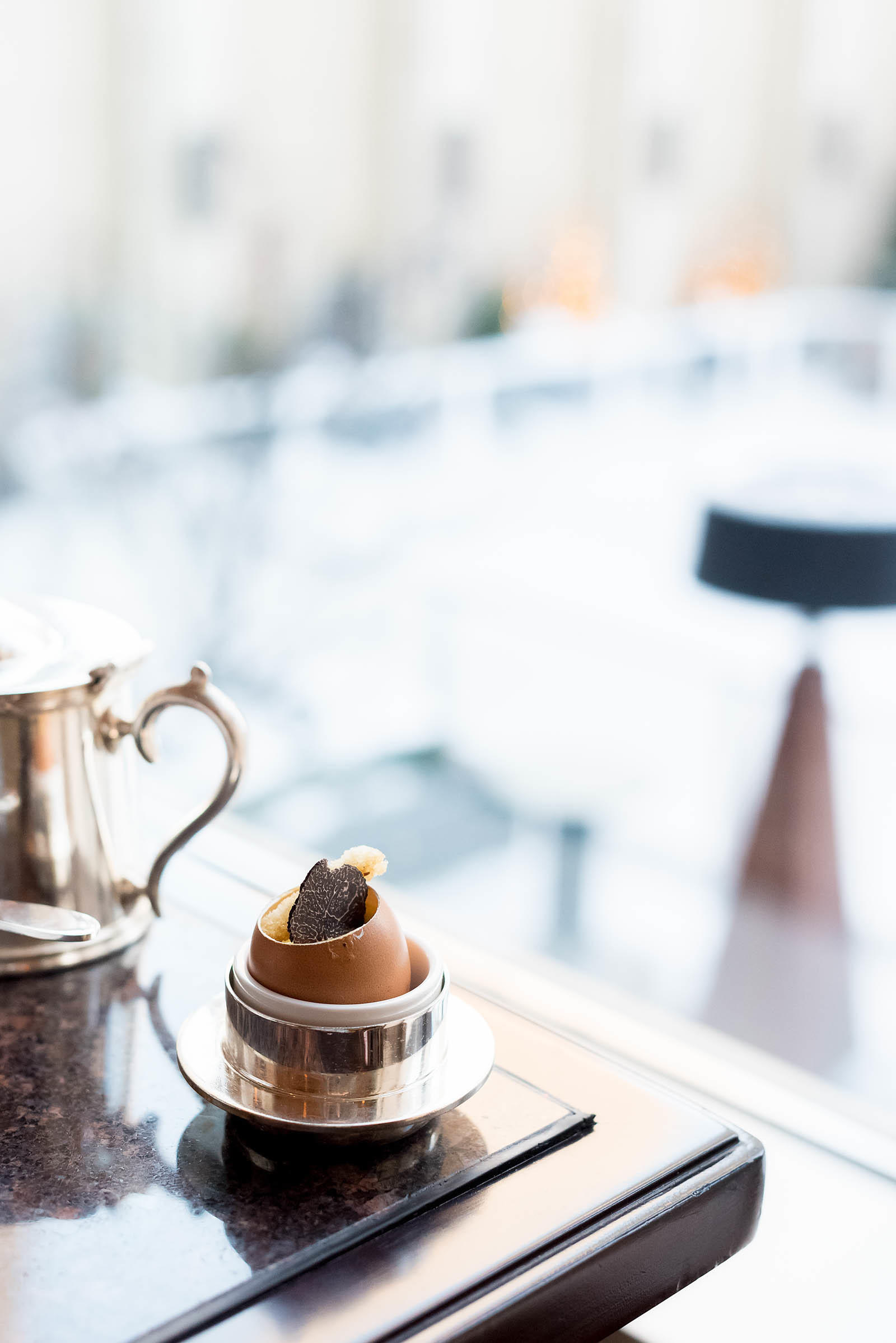 And the second was my absolute favorite dish of them all — Truffle Scrambled Eggs served in their shell.
Served with a petite spoon and a buttery toast sliver, these scrambled eggs are so delicate but so fun and flavorful to scoop out and eat.
Ohhhh, how I love the smell of truffled eggs!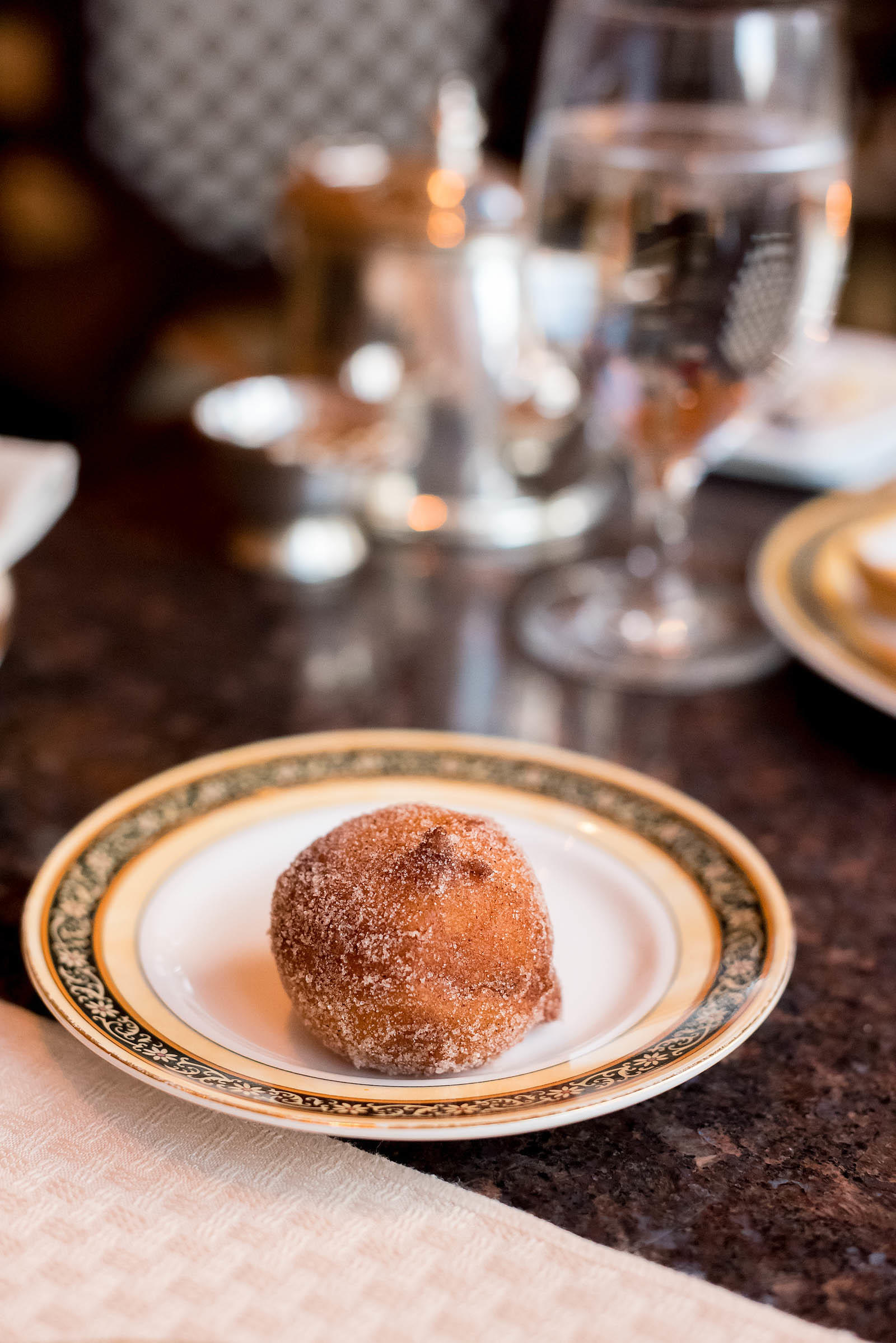 And, as if that wasn't enough food, the Peninsula always brings around a fresh pastry at the end of the meal like this lovely sugar-coated donut to finish the experience with.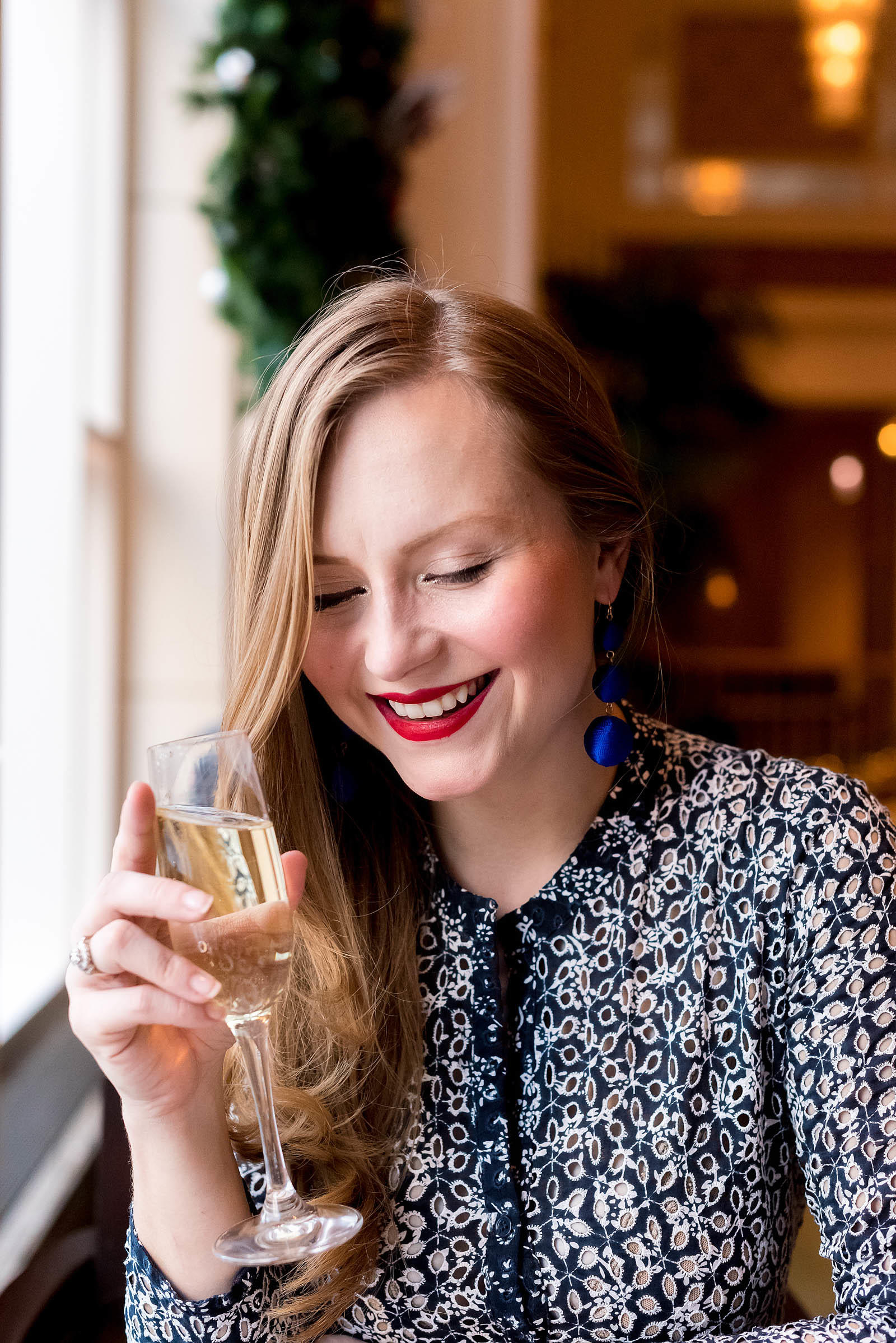 Bubbly, gourmet bites, and EXTRA dessert? All with a seriously festive spin?
Do you see why I come here year after year?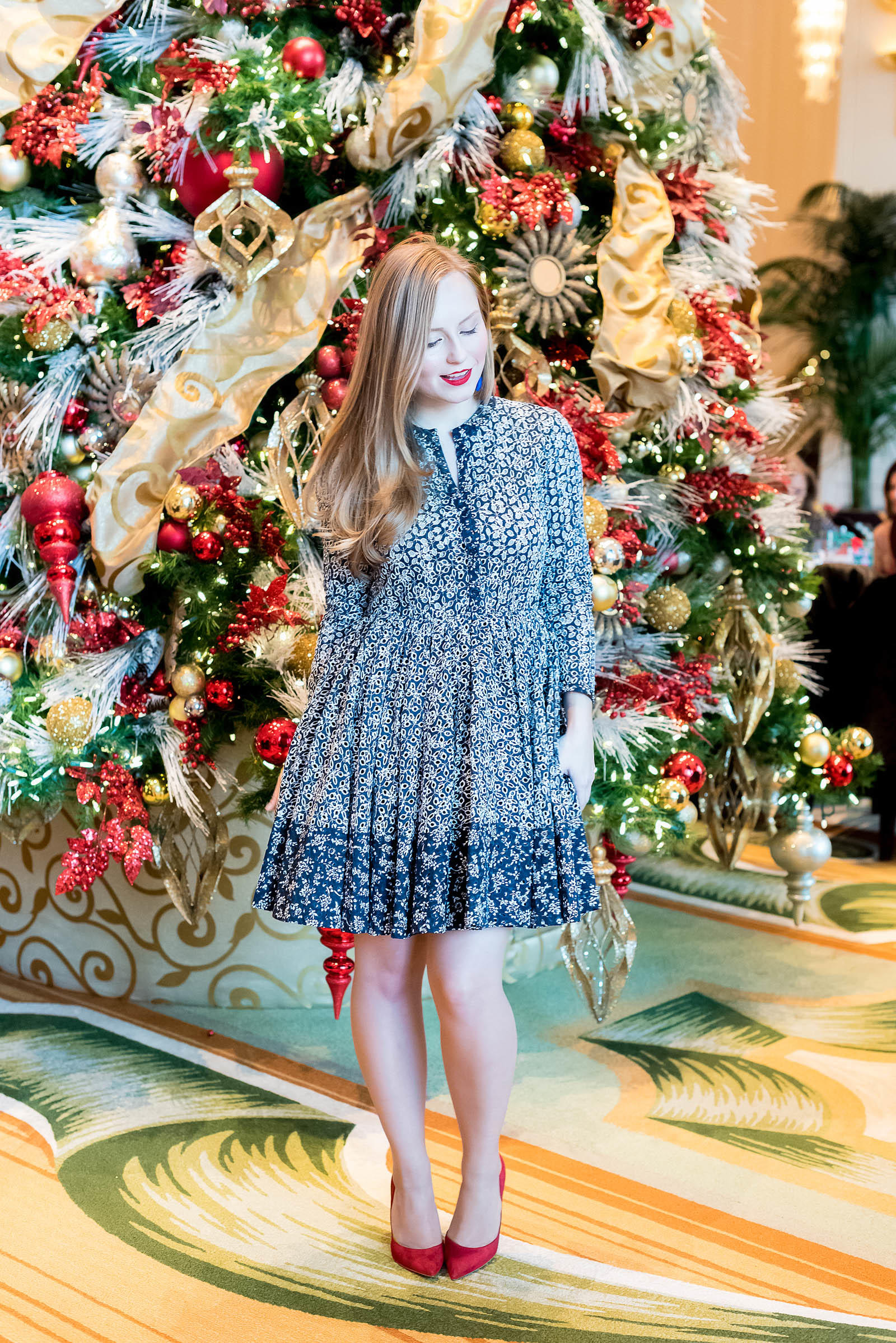 Just don't forget to take a photo in front of the beautiful tree while you're there!
SHOP THE LOOK:
Dress – Maje (similar) || Pumps – Gianvito Rossi (similar) || Earrings – c/o Bauble Bar || Lips – Stila in 'Beso'
Dressing for the holidays can be a challenge.
For Christmas, I almost always opt for a bold red lip, a classic pair of red pumps, and a really great dress. Bonus point if the dress has a busy print like this one to help hide any stains that might happen during bubbly-infused holiday meals.
(Hey, what can I say? I'm a klutz who's ruined many beautiful dresses around the holidays…)
Add some statement jewelry like a luxe necklace or these gorgeous ornament-inspired earrings and you're ready to go!

And before you leave the Peninsula, make sure to stop by their legendary Sky Rink for a quick skate (or maybe just a Bailey's coffee next to the ice rink)!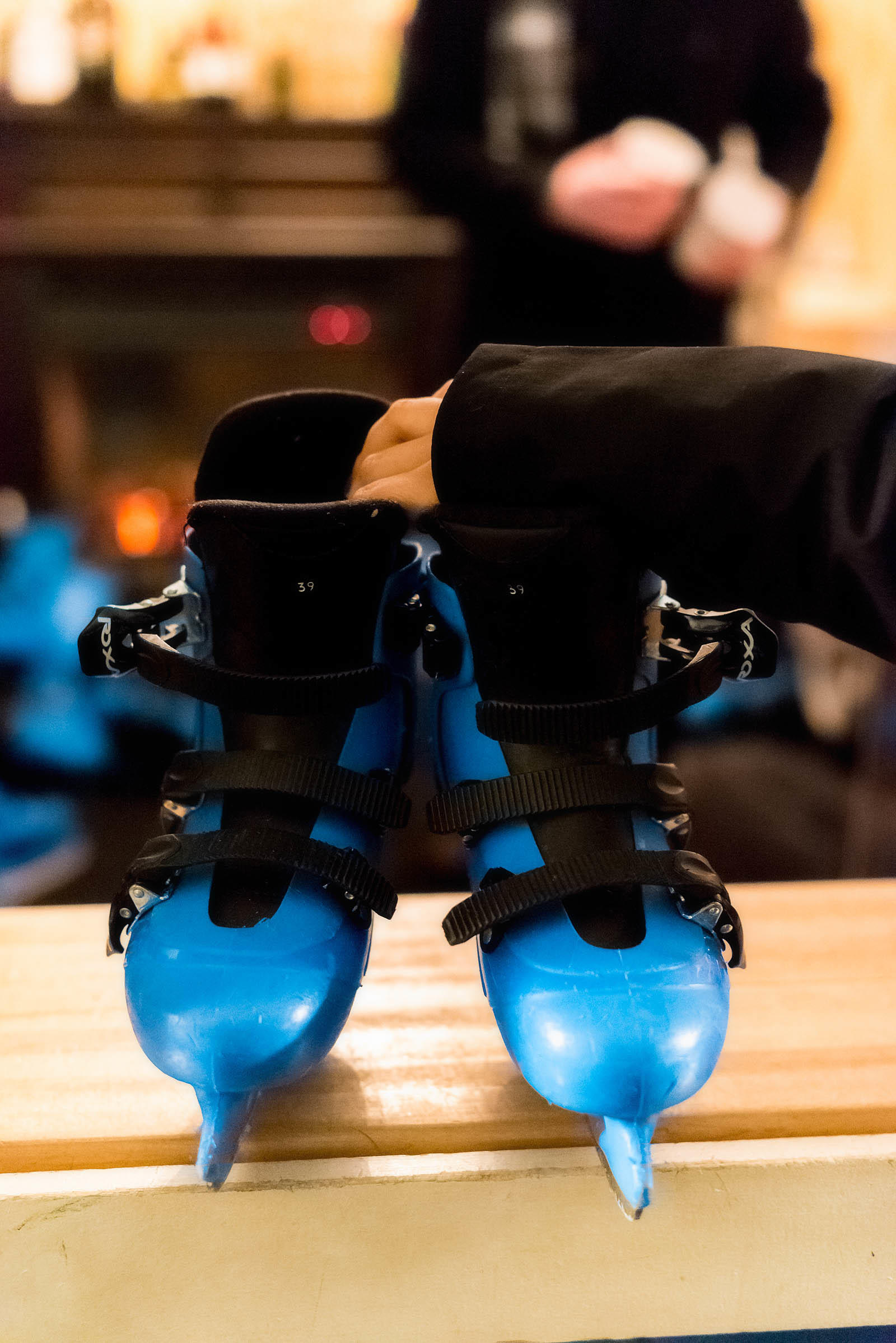 Grab your skates from their winter chalet…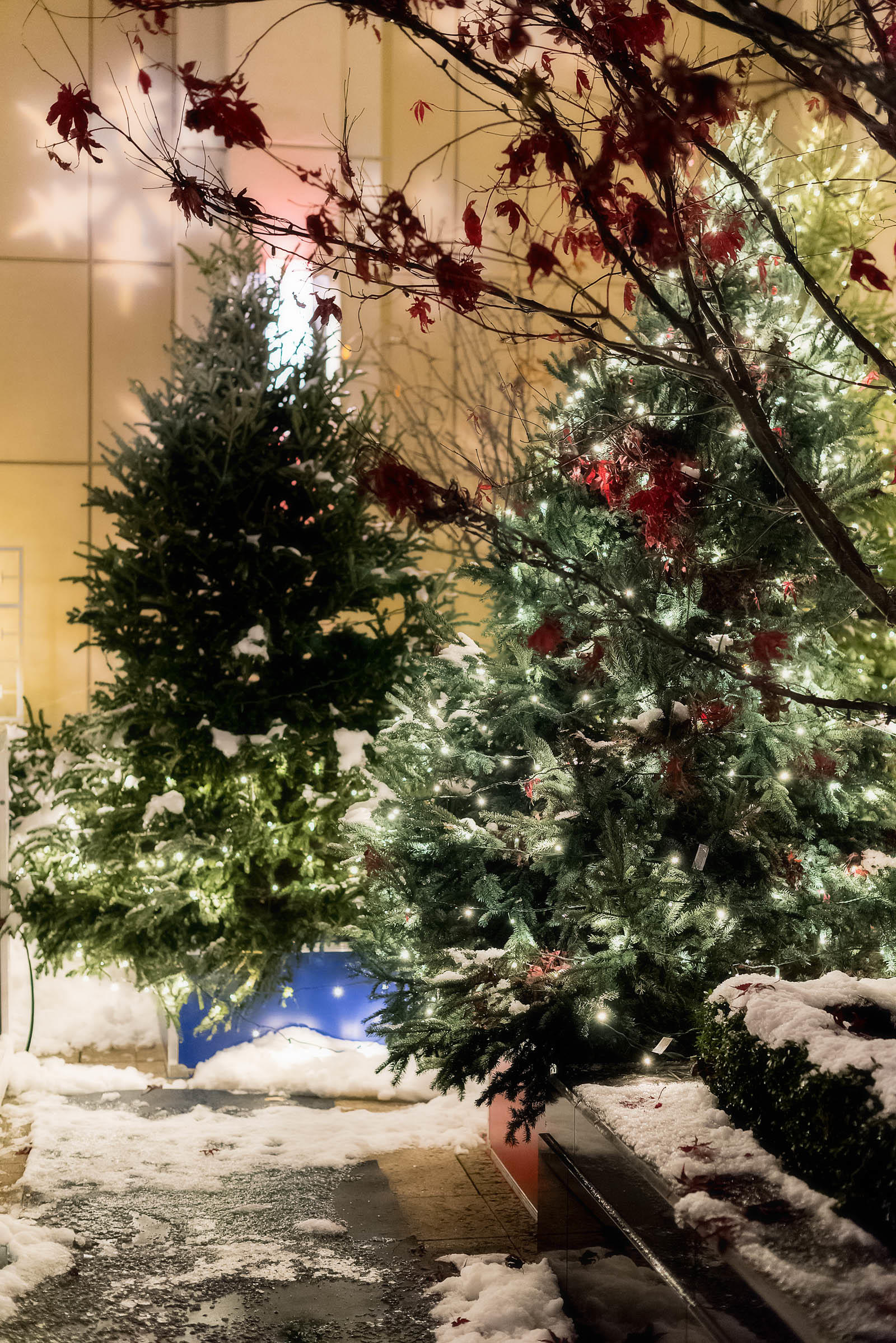 Walk past all the beautifully decorated trees…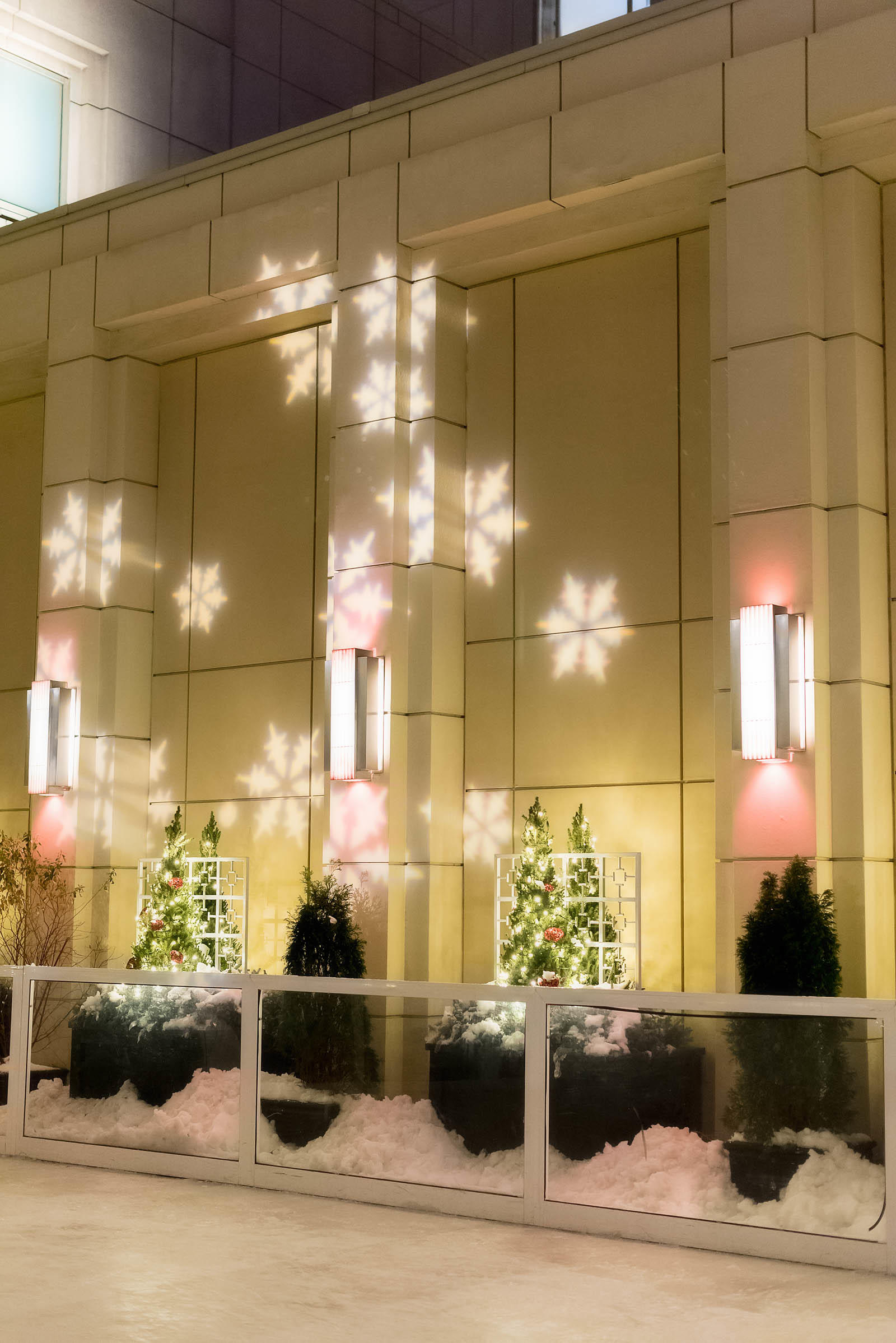 And step onto the ice rink!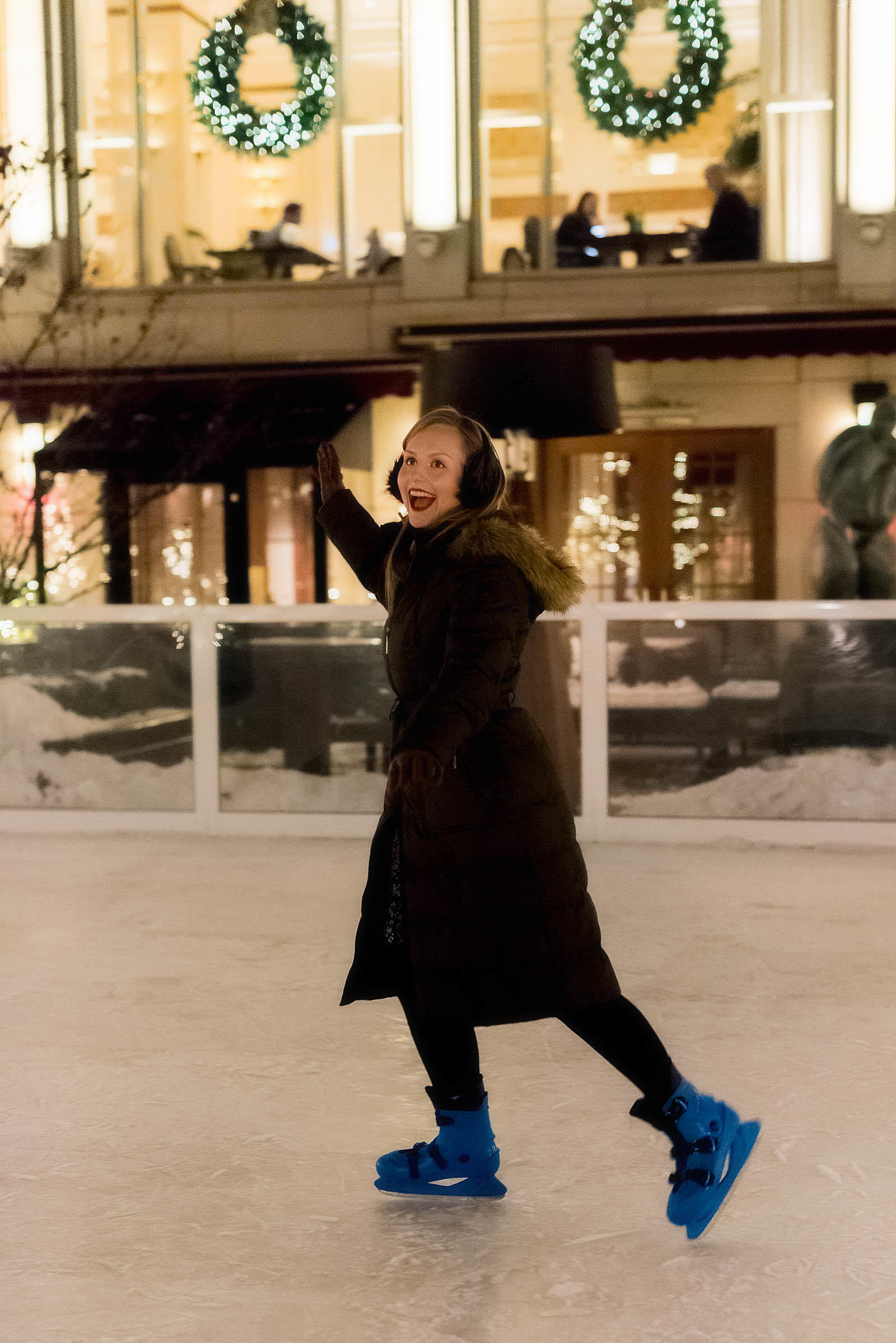 (Graceful skating NOT included…)
Just make sure to wear a puffer coat since it gets chilly on the ice!
There is one place I come to year after year for an incredible holiday experience unlike any other… the Peninsula. The holidays wouldn't be complete without at least one meal under that magnificent Christmas tree!
Disclosure: Thank you to the wonderful team at the Peninsula for partnering with me on today's post! As always all opinions are 100% my own.