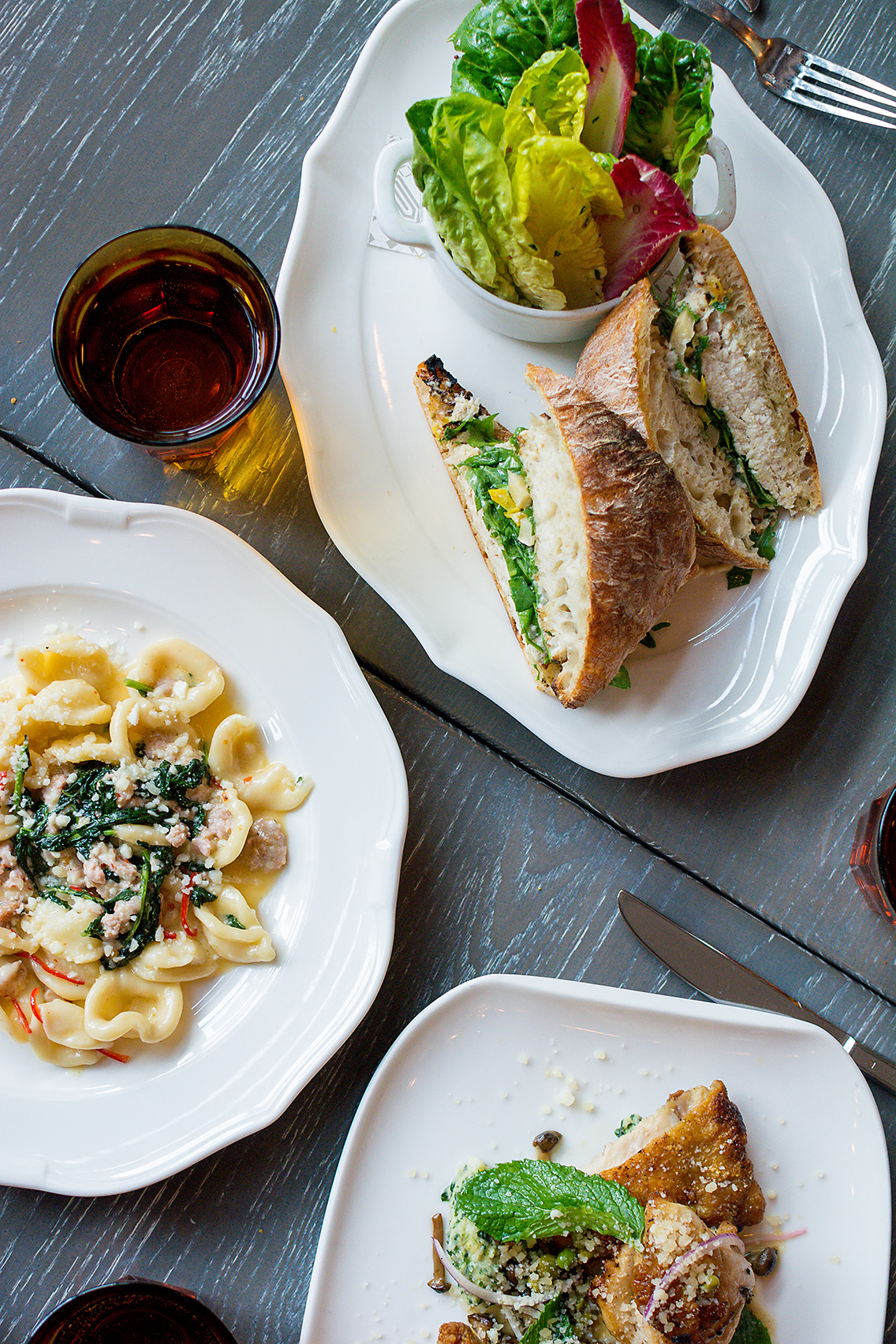 I say it loudly and I say it often — Chicago is a city of GREAT restaurants.
Just one deliciously innovative concept after the next.
You might even go so far as to say the Windy City is a perfect mecca for foodies like me — just as many interesting options as you'll find in NYC and L.A. but at 70% the price.
Yup, it's good to be a Chicago foodie.
But of all the restaurants I've met and fallen in love with on my foodie journey, there's one space I go back to time AND time AND time again. One single restaurant I can't seem to ever stay away from for more than two weeks at a clip and that the mere mention of can start my mouth-watering.
One Chicago restaurant that's earned my culinary fidelity and perpetual loyalty (not to mention most of my paychecks) — Nico Osteria.
Tucked in the stunning Thompson Hotel right in the heart of the Gold Coast, this restaurant is the sort of space you'll arrive at skeptically and leave positively smitten with. Managed by the same group that manages many of Chicago's most famous restaurants (Dove's Luncheonette, Big Star, avec) this is one sleekly run Italian osteria.
I actually love it so much, it's where I went for my birthday lunch back in August!
What can I say? I'm hopelessly addicted.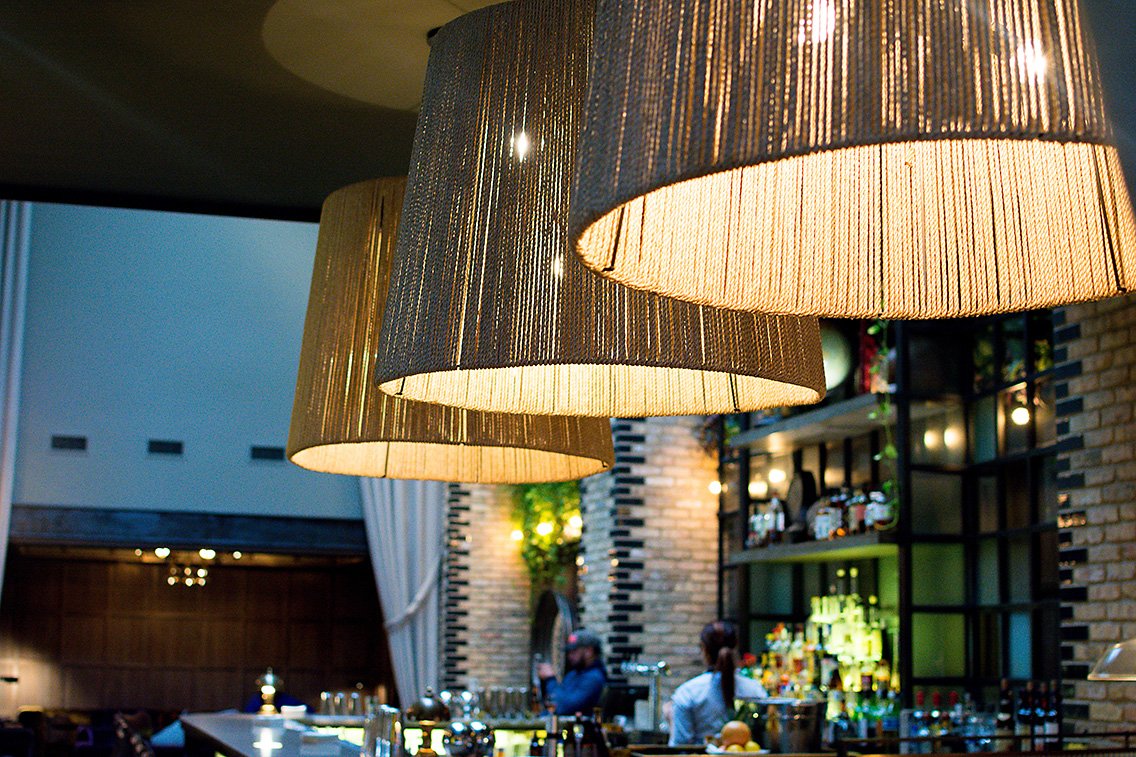 So when Rachel and Nycole mentioned to Sandy and I that they'd never been, we leapt at the chance to show them the stunning space, and — more importantly — to introduce them to the Nico's incredibly addicting food!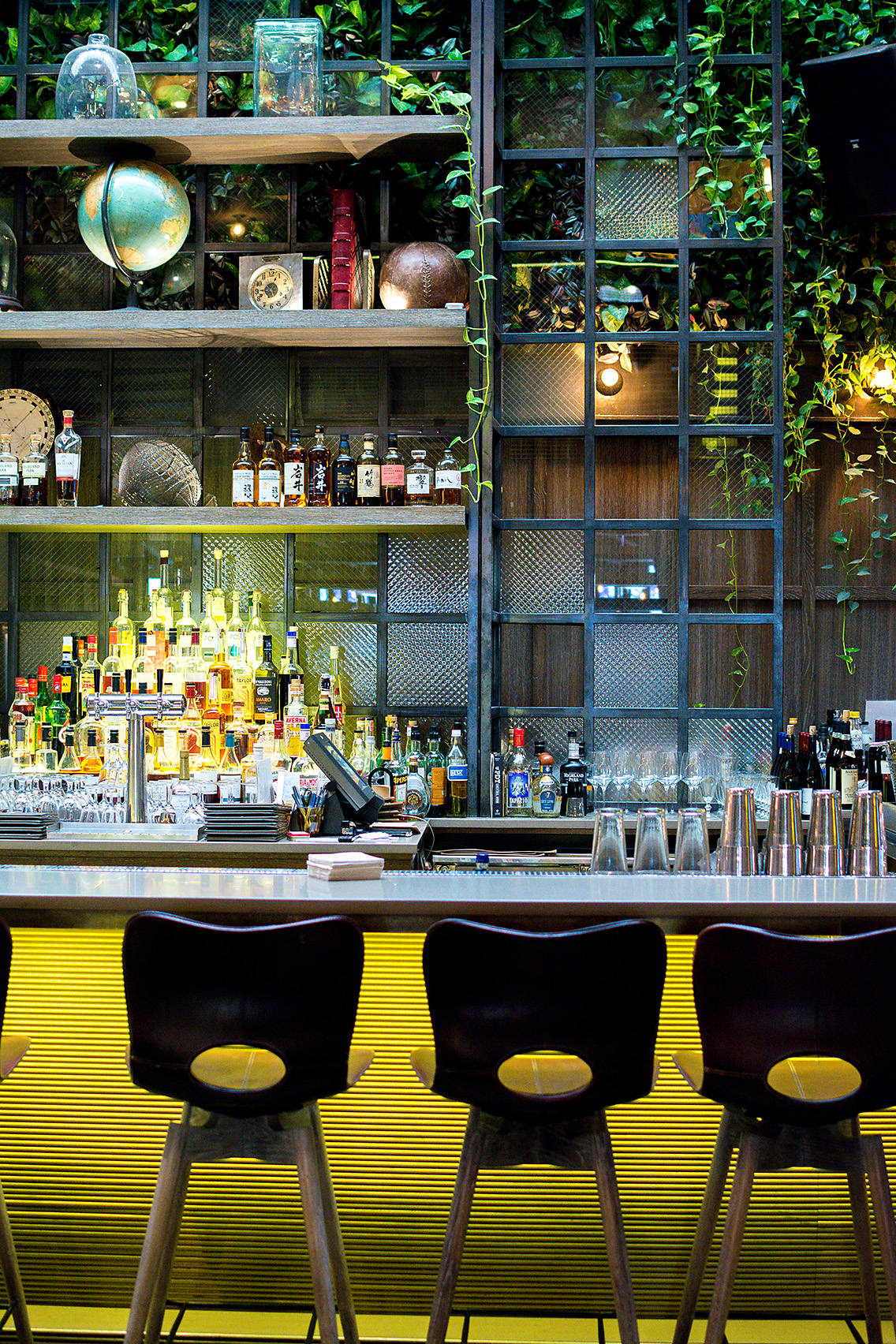 Now — Reason #1 I love Nico so much? MAJOR interior design inspiration.
I mean just look at this space!
I seriously want my entire home to look just like this restaurant. Complete with an enormous plant wall, tons of plush velvet chaises, charming brass knickknacks, and plenty of witty books tucked into the chic-yet-bohemian decor.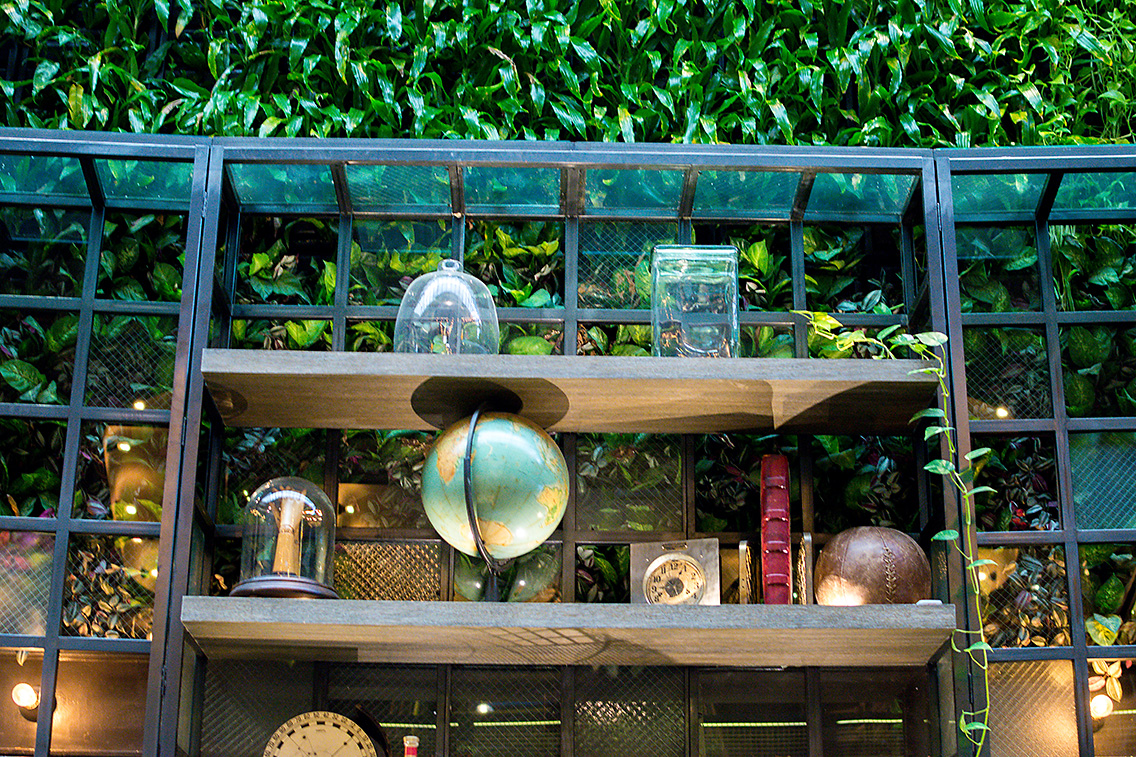 But truthfully everything in Nico is photogenic, even the bathroom floors: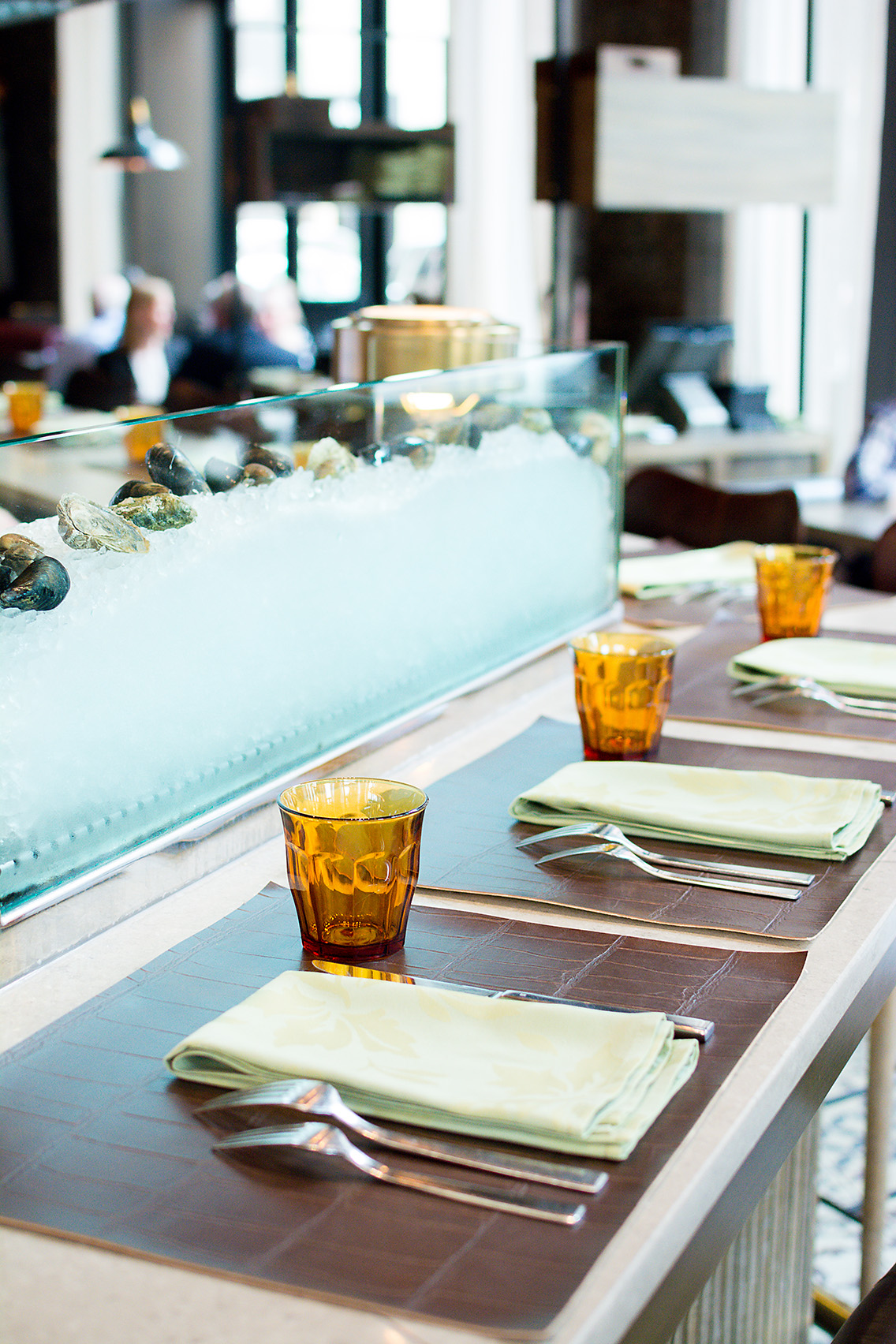 The restaurant itself is open and spacious with plenty of beautiful light flooding through the floor-to-ceiling windows.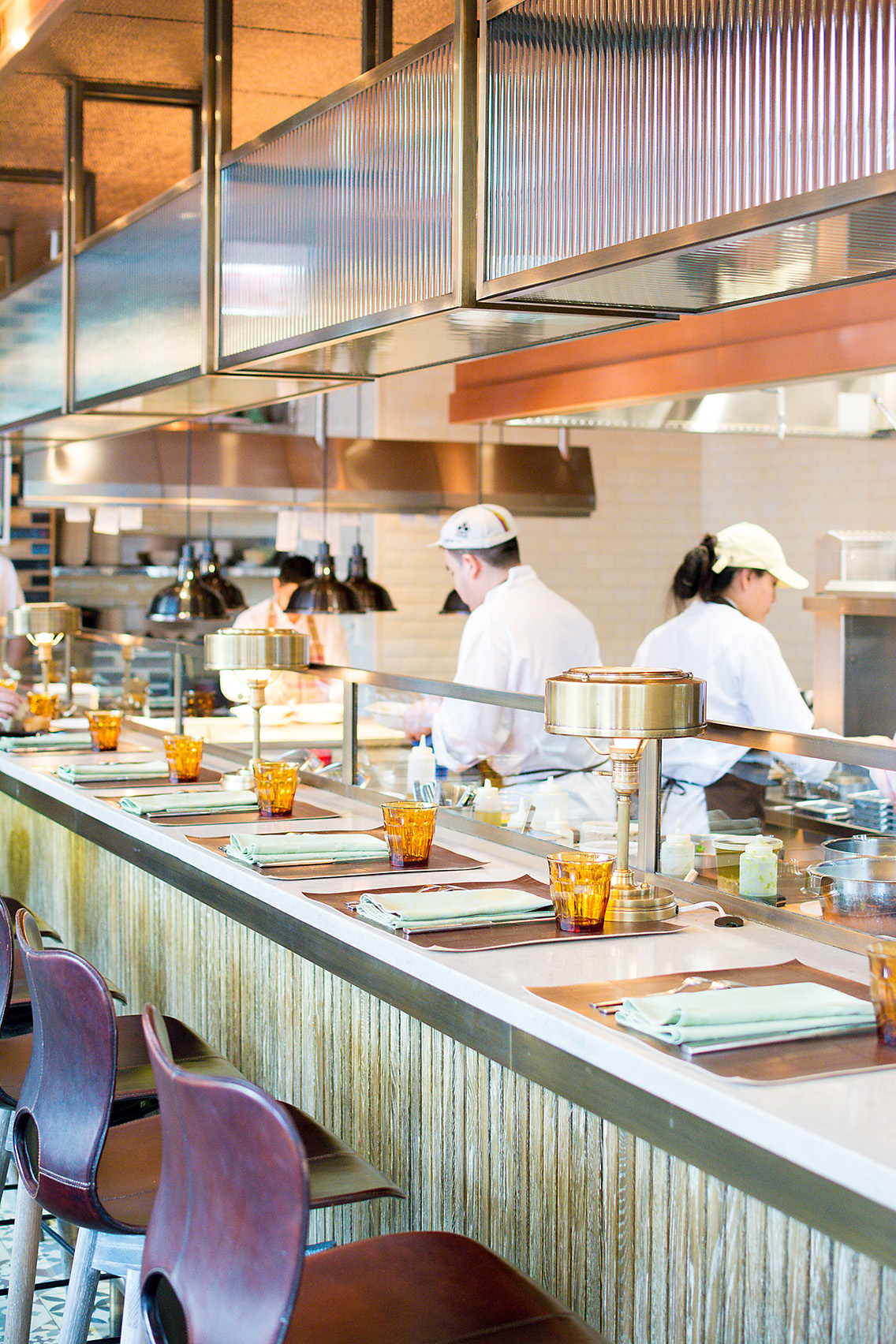 It's such a lively, happy place for me!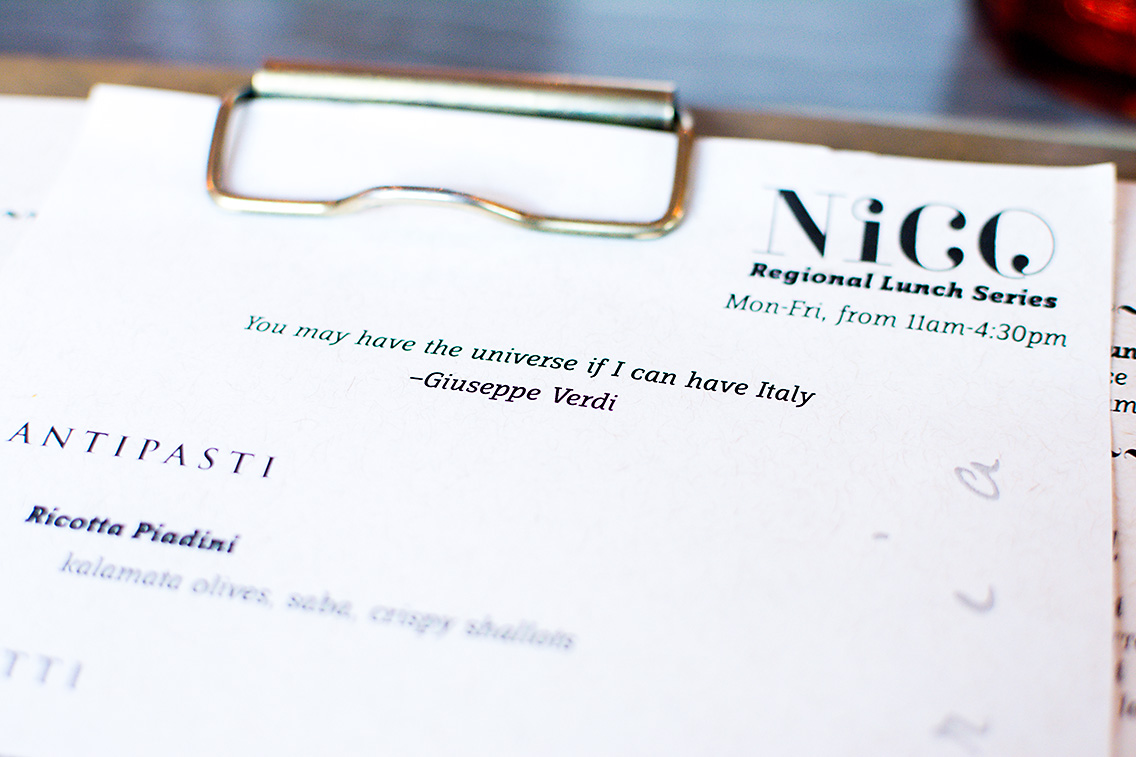 Once Rachel, Nycole, Sandy and I were seated, we quickly looked over the menu, made our selections and waited impatiently for our food to arrive!
Okay, I may have been the only impatient one but only because Rachel and Nycole did not know what was about to arrive.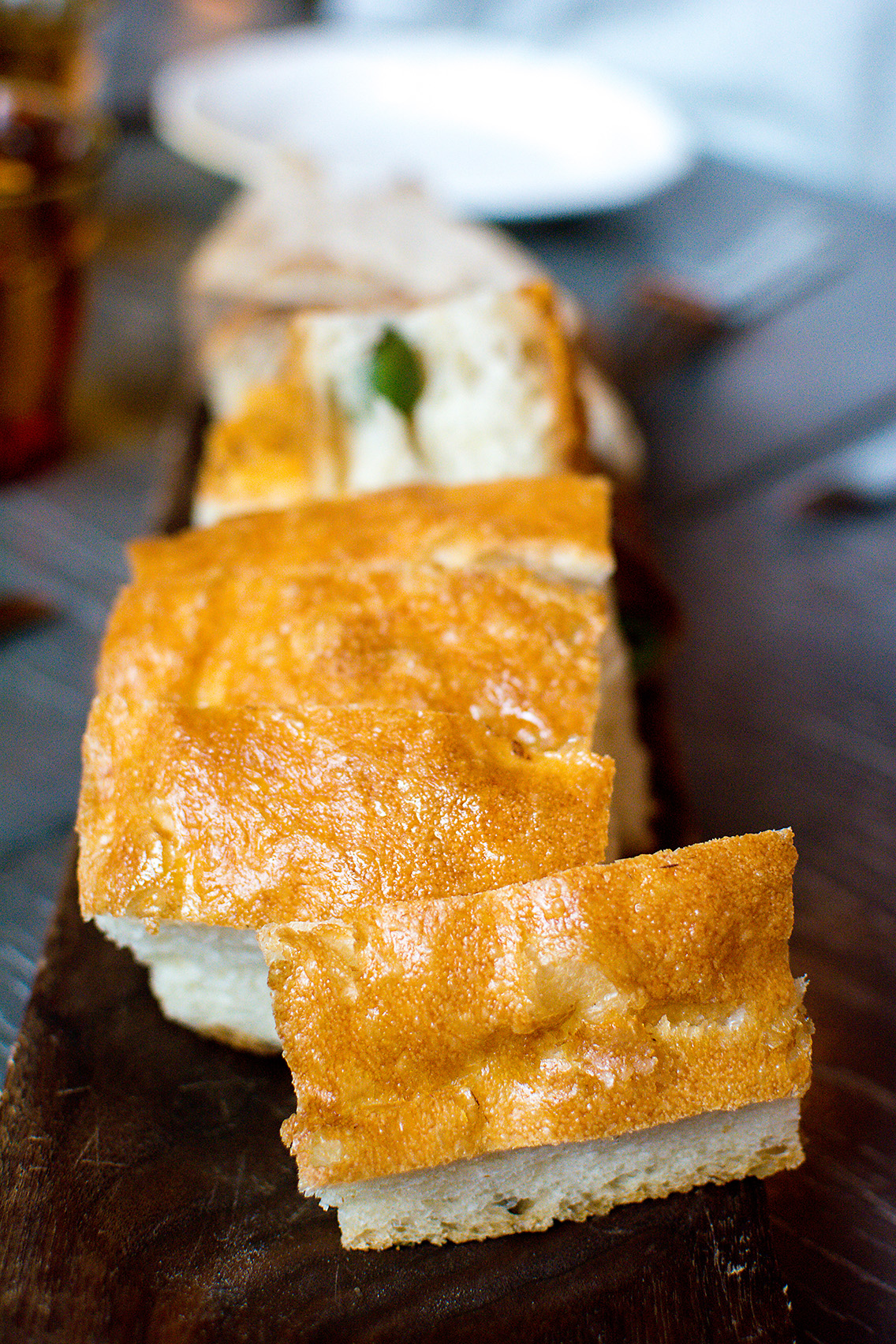 First up — Nico's delicious bread selection.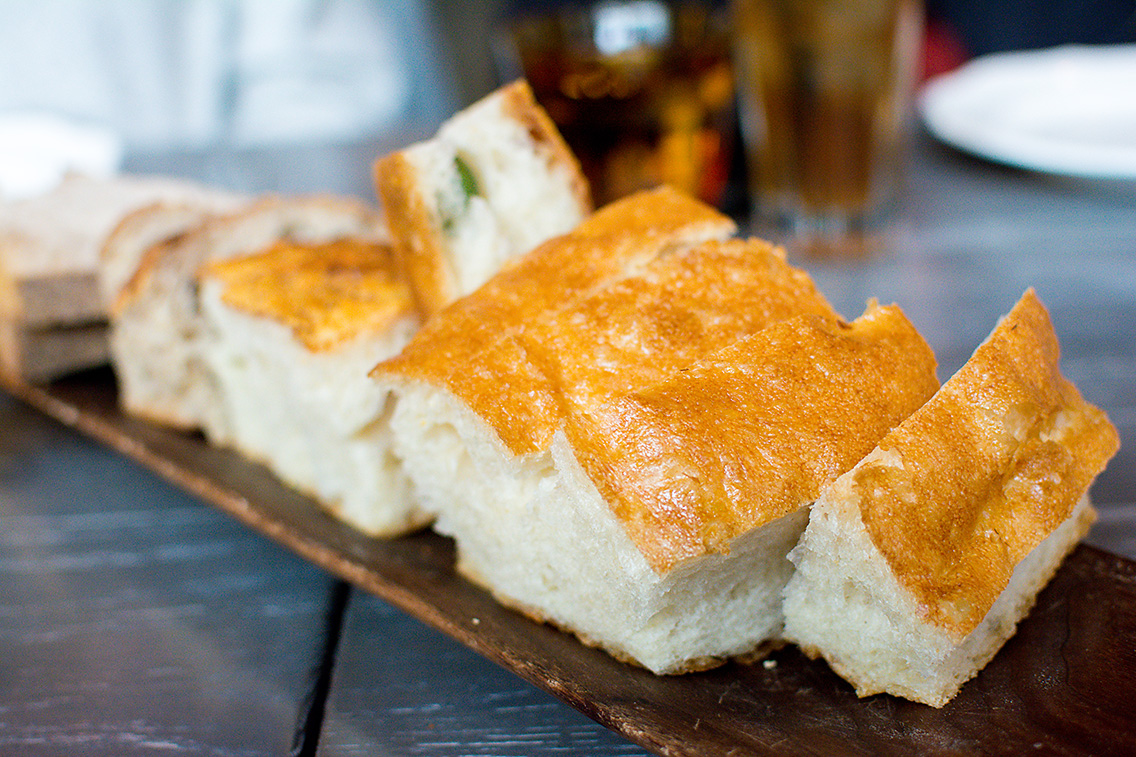 I especially love their soft white bread with whole green olives baked inside! Dip it in olive oil for a truly blissful combination.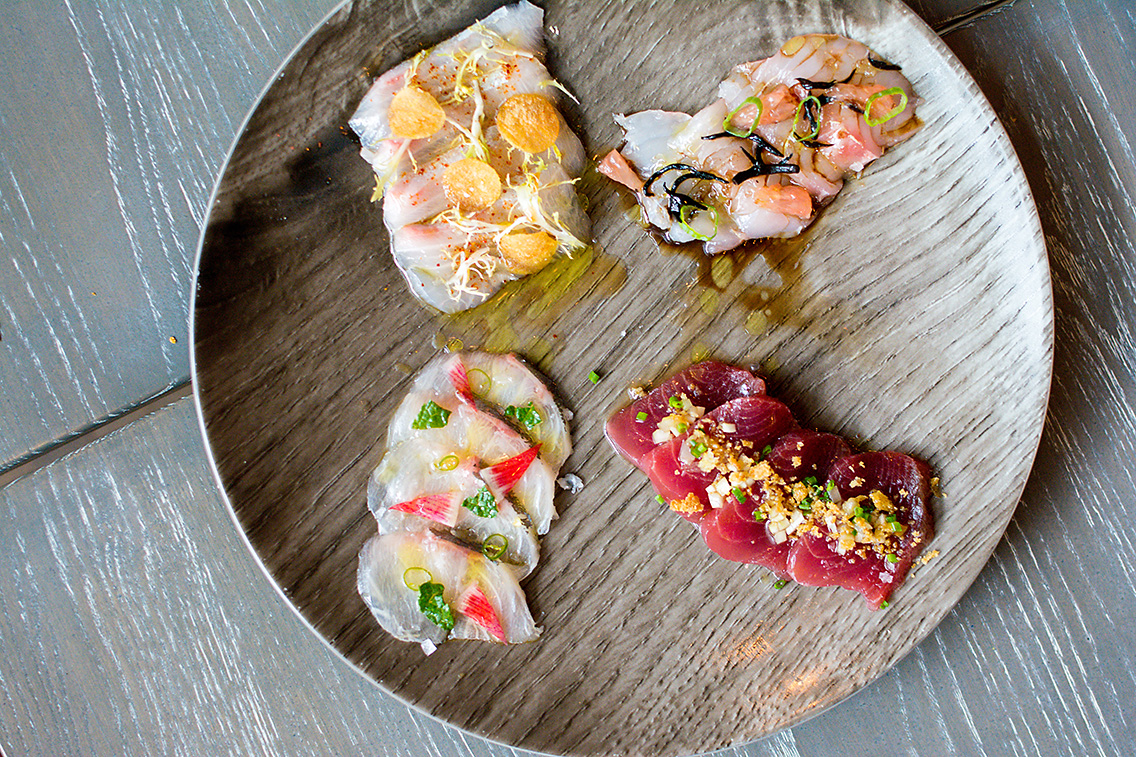 Then our Chef's Selection of Crudo arrived.
The stunning selection included Wild Striped Bass, Kanpachi, Striped Jack, and Bigeye Tuna.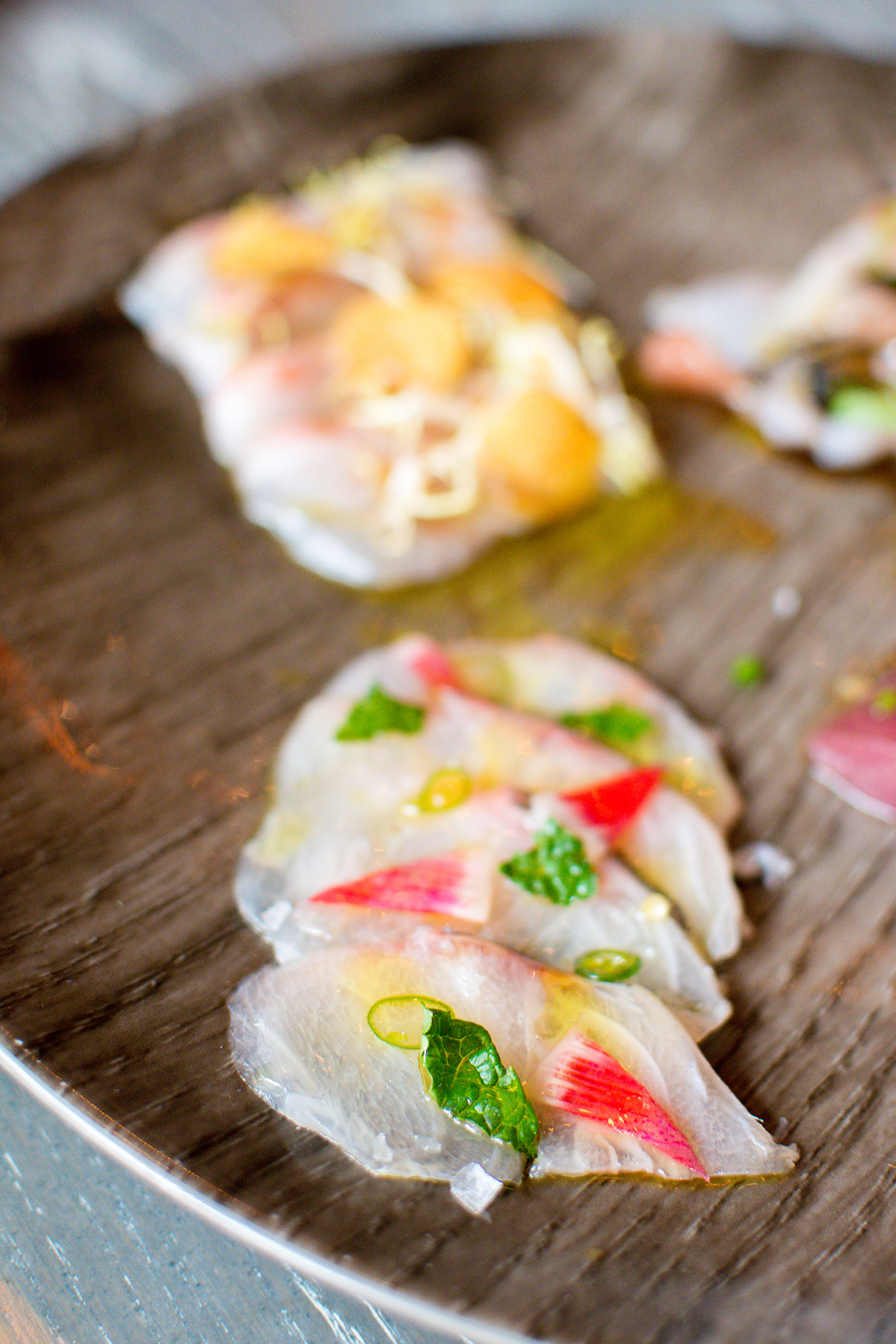 Isn't this presentation THE definition of spectacular simplicity?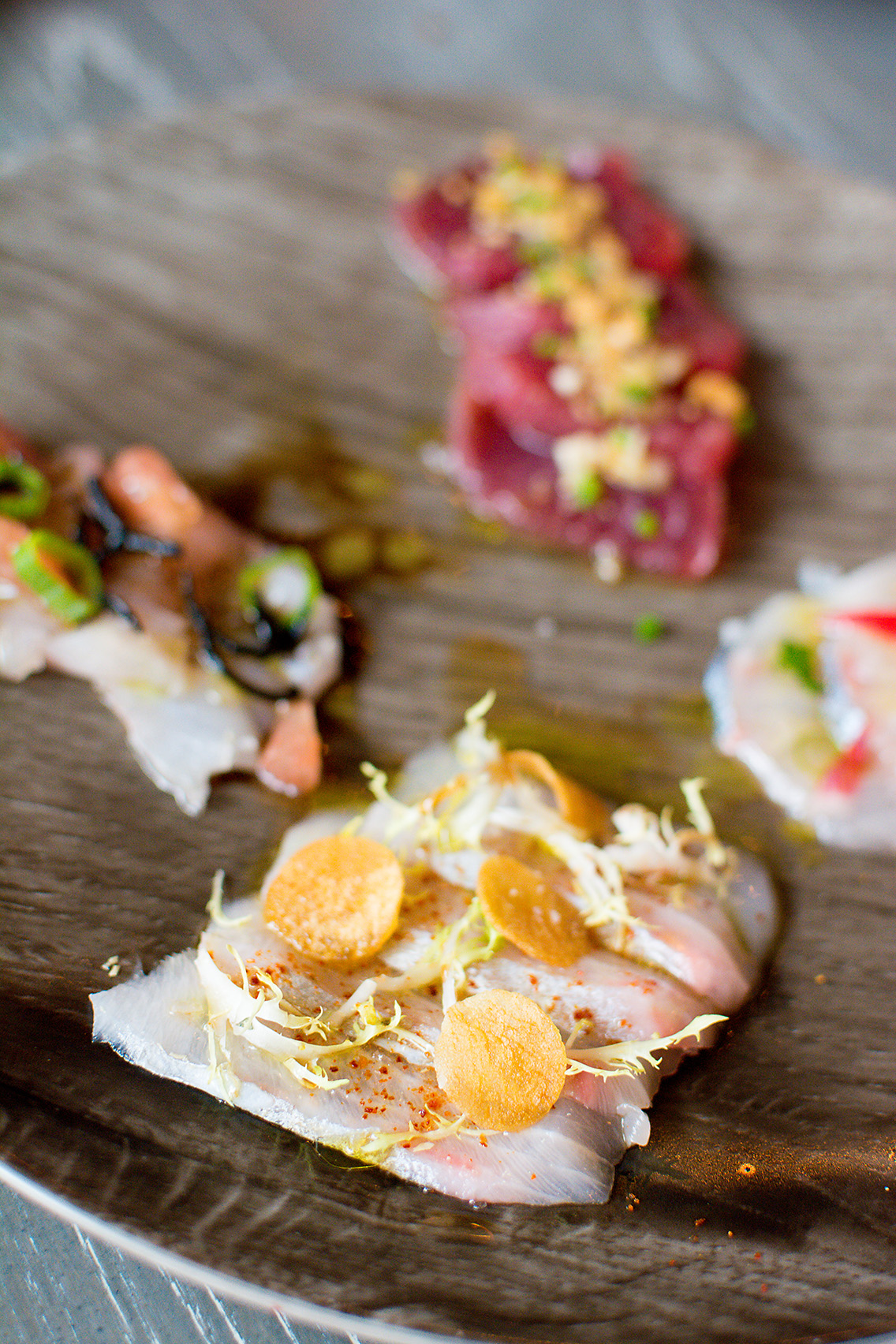 Each crudo dish was masterfully executed too, melting in your mouth like all good crudos should.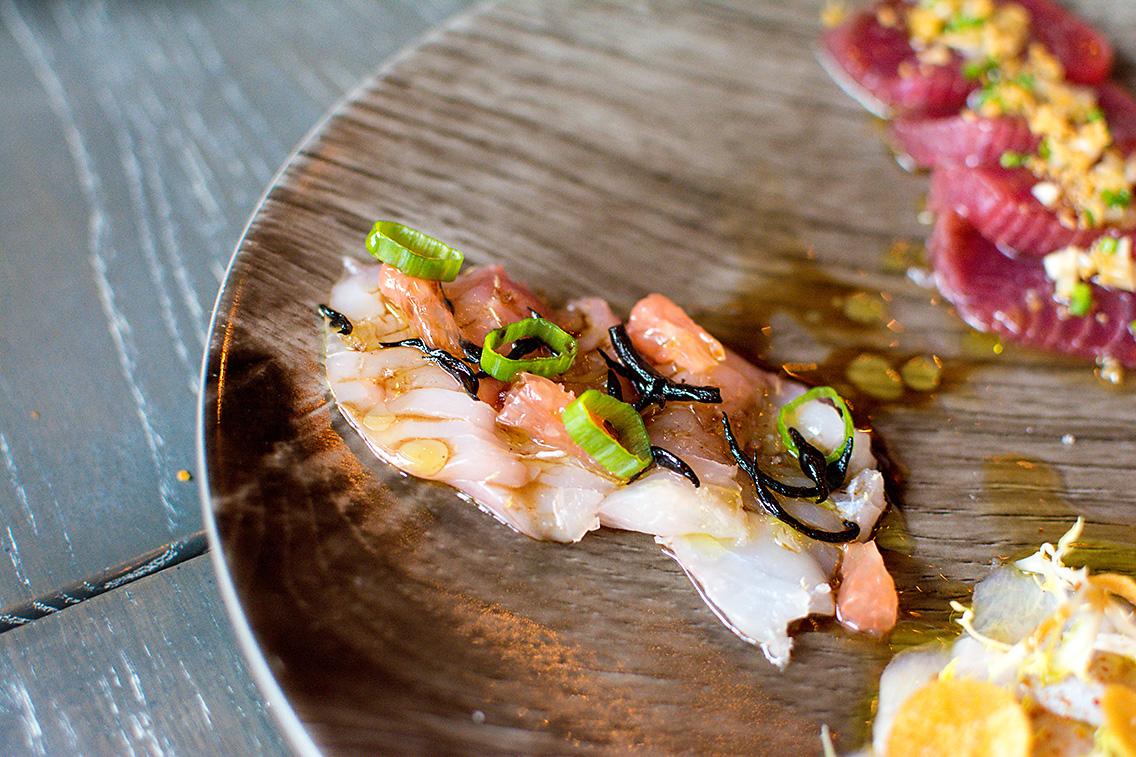 And so, so beautiful to behold!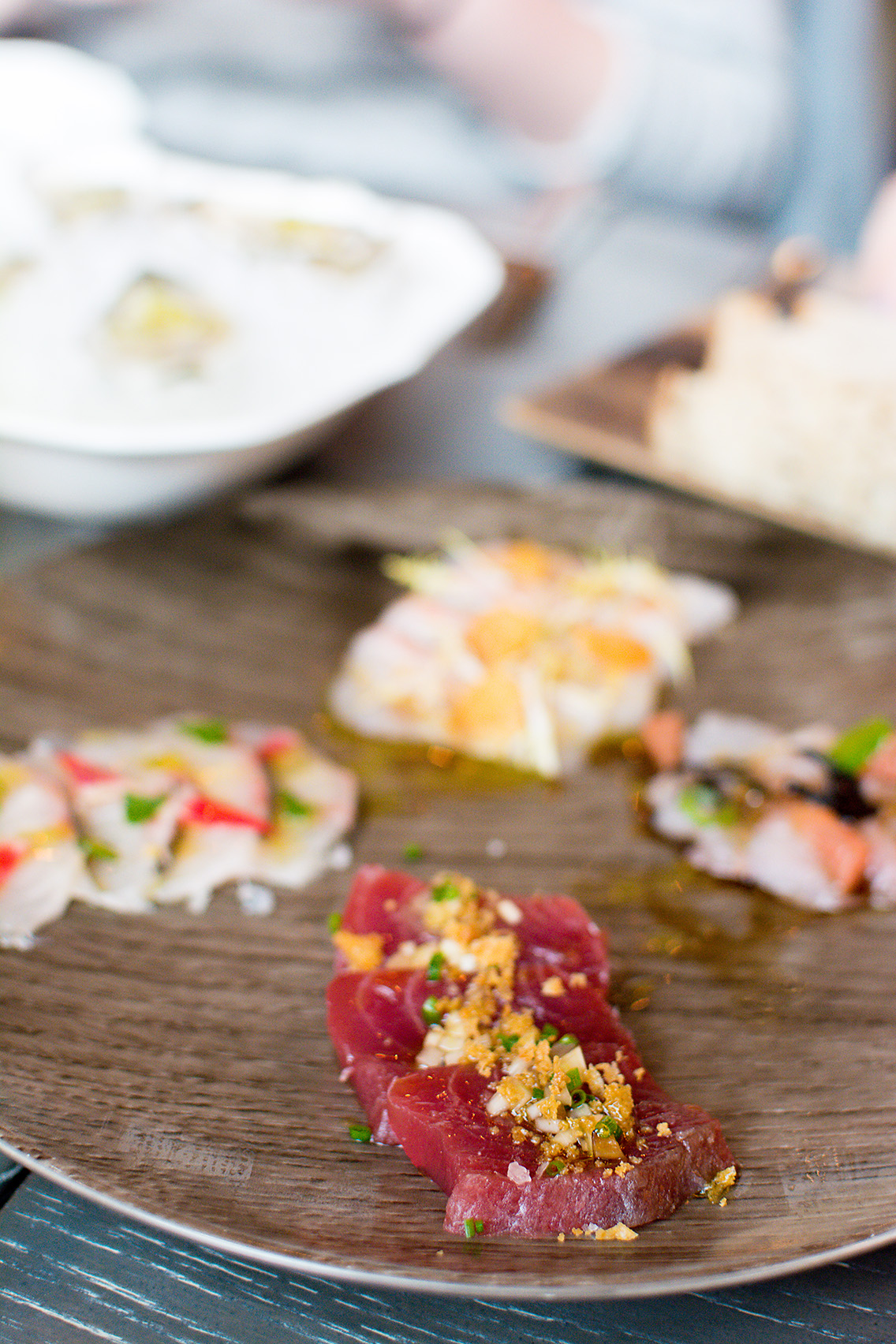 Each was delicious but my ultimate favorite almost always ends up being the Bigeye Tuna — it's so deliciously meaty yet fresh!

And you can't have crudo at Nico without fresh oysters. It's just not rational.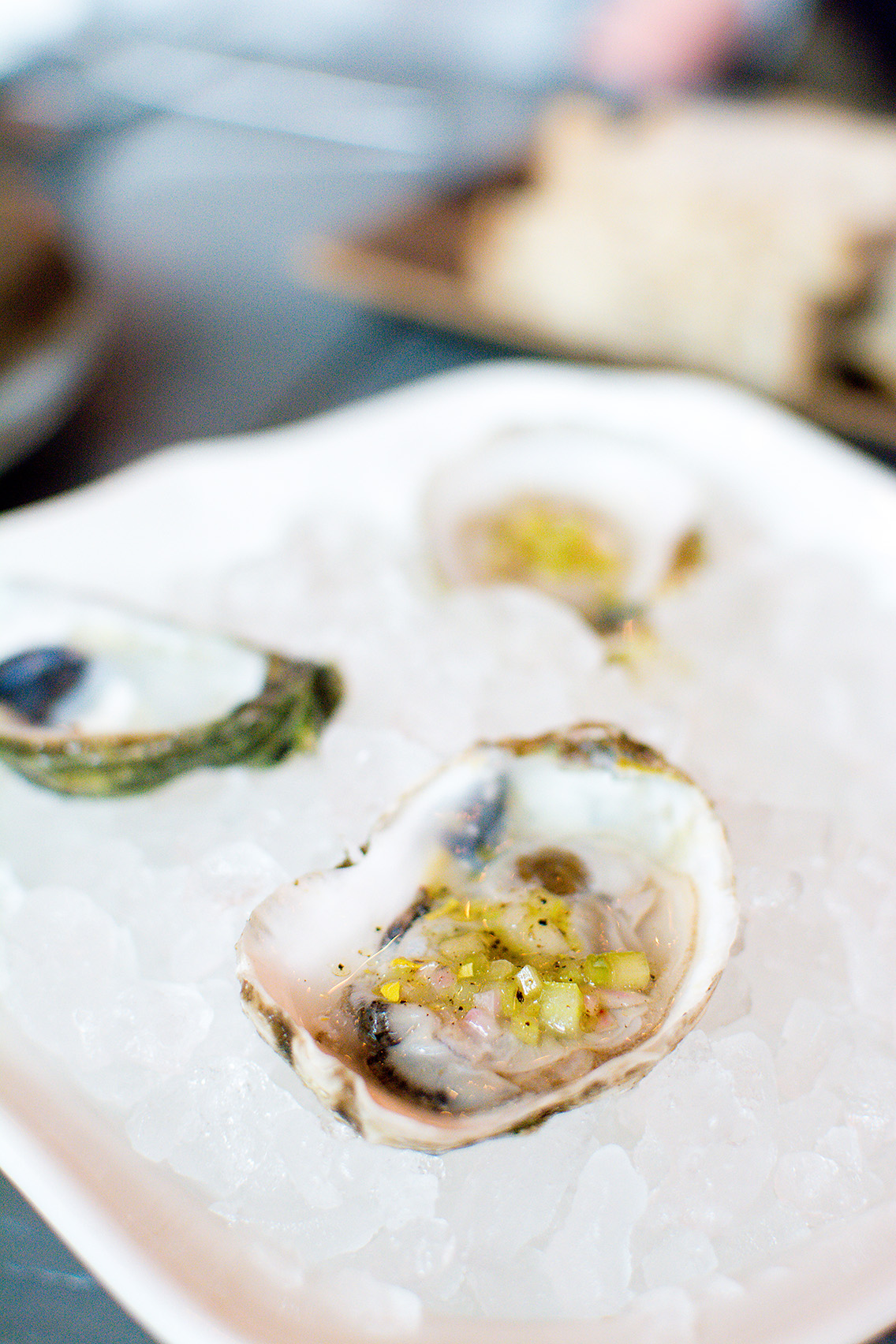 So we each slurped a Puffer's Wellfleet Oyster with celery garnish too.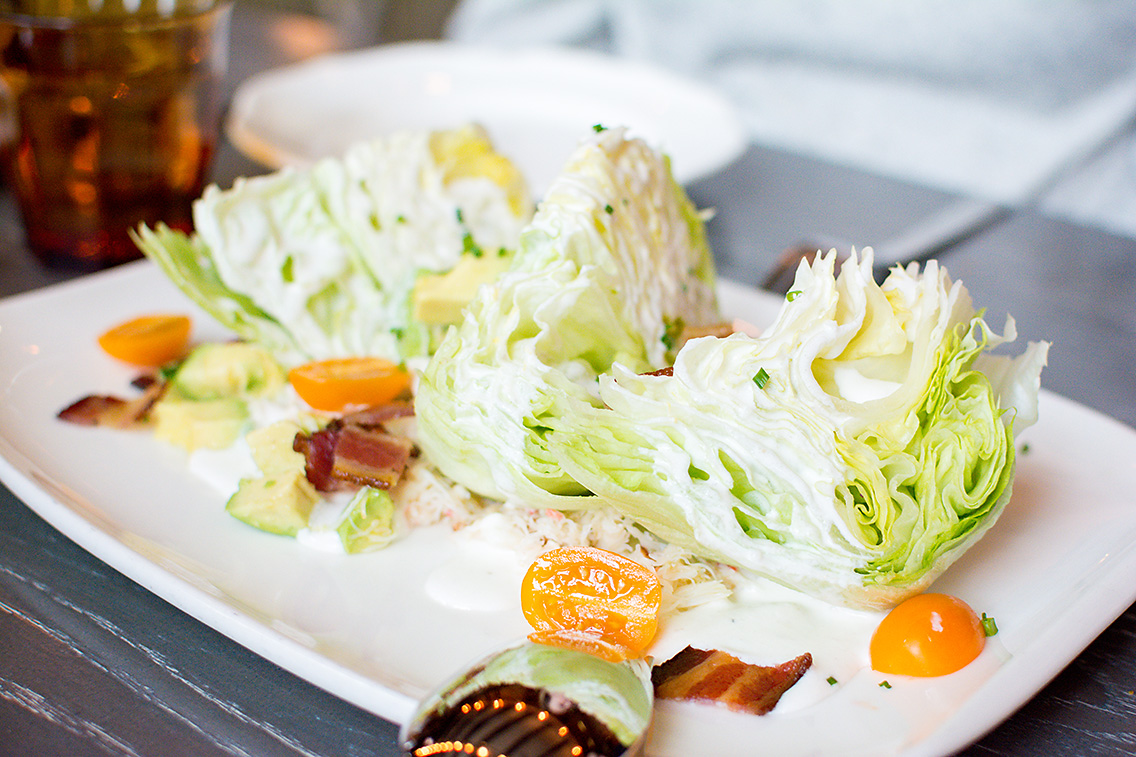 For our next course we started with Nico's Wedge Salad.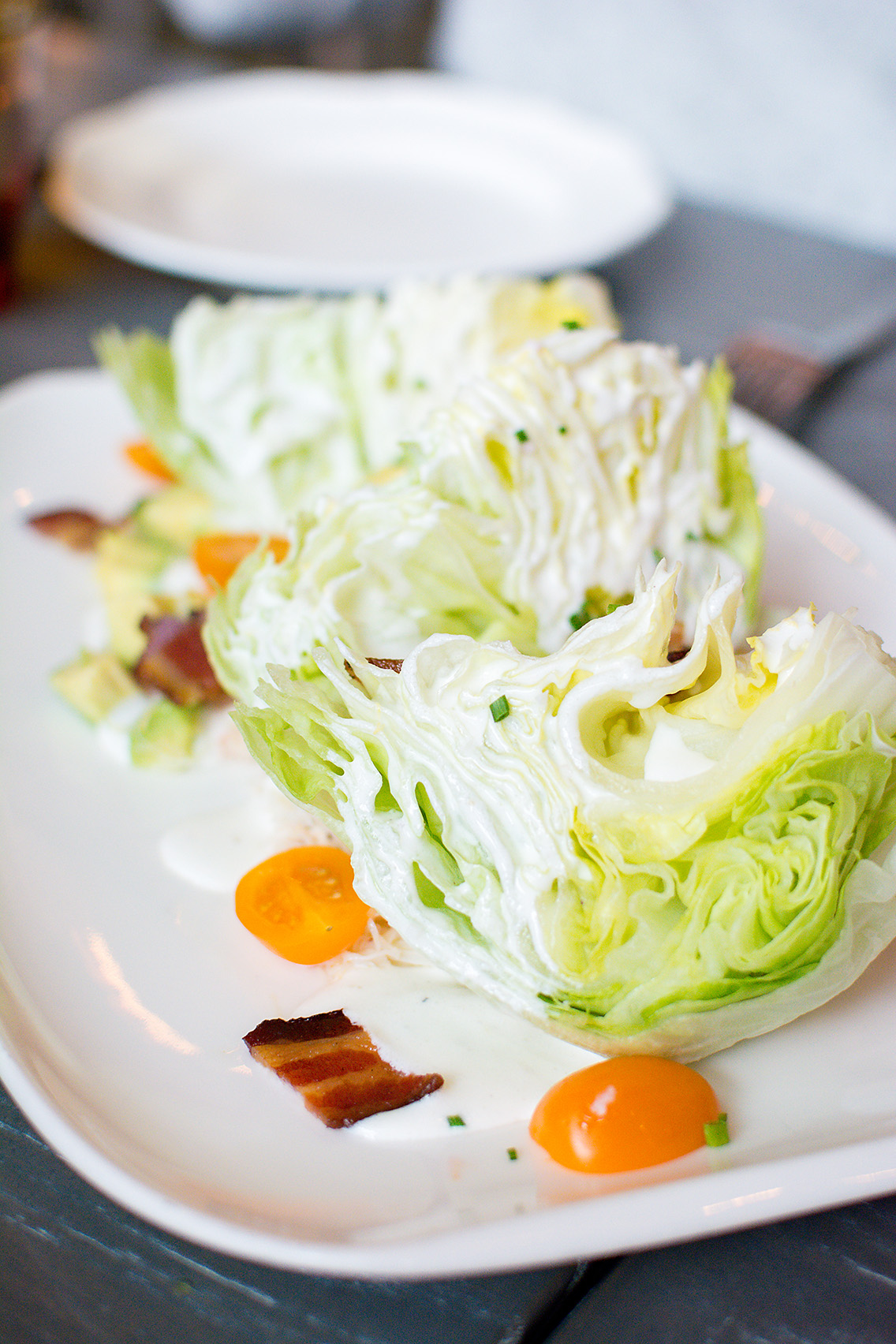 Beautiful lettuce wedges perched atop shredded dungeness crab and garnished with bacon, avocado, and a delicate buttermilk dressing.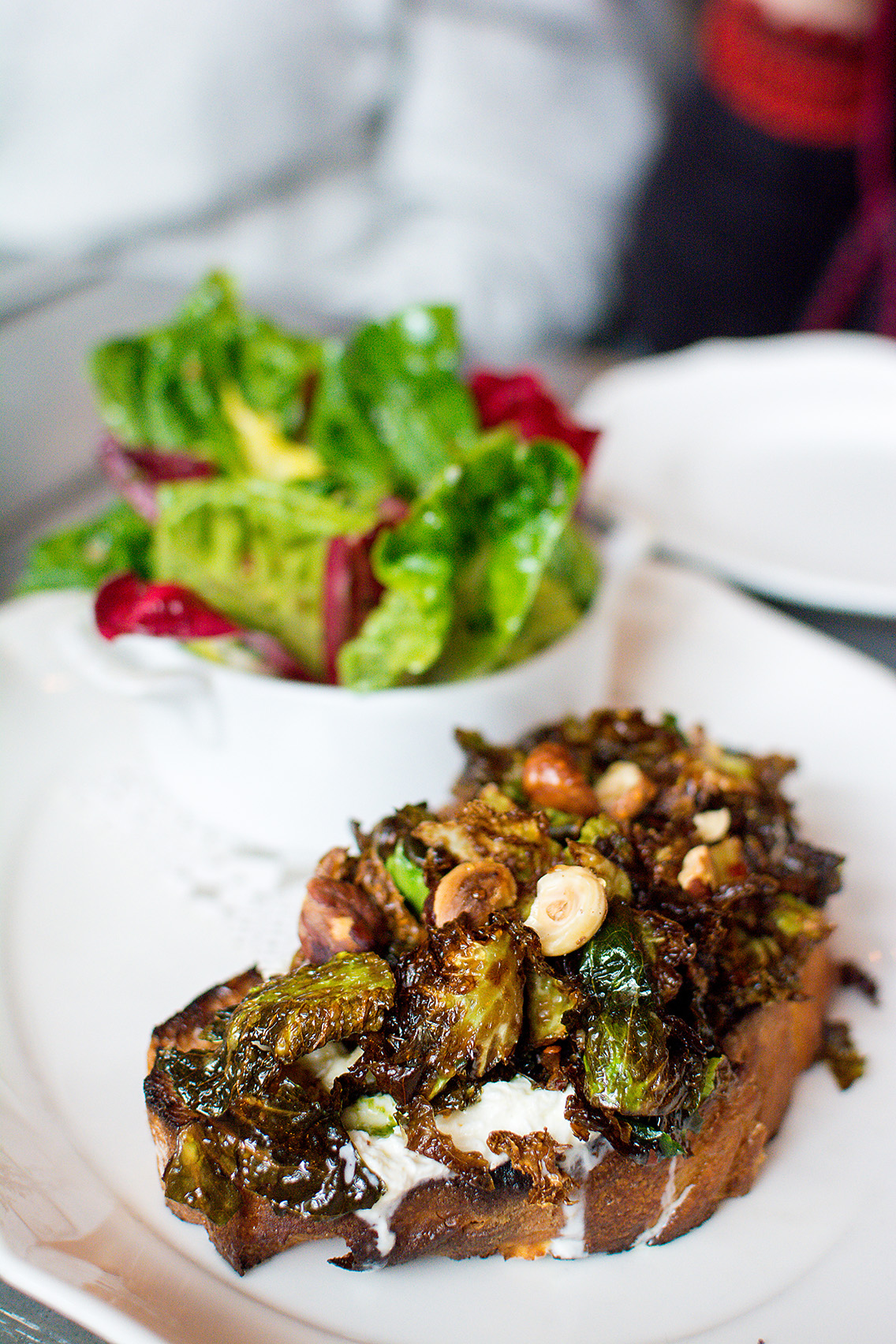 As well as one of Nico's most popular dishes, the Brussels Sprout Bruschetta with stracciatella cheese, lemon honey, and trufflebert hazelnuts.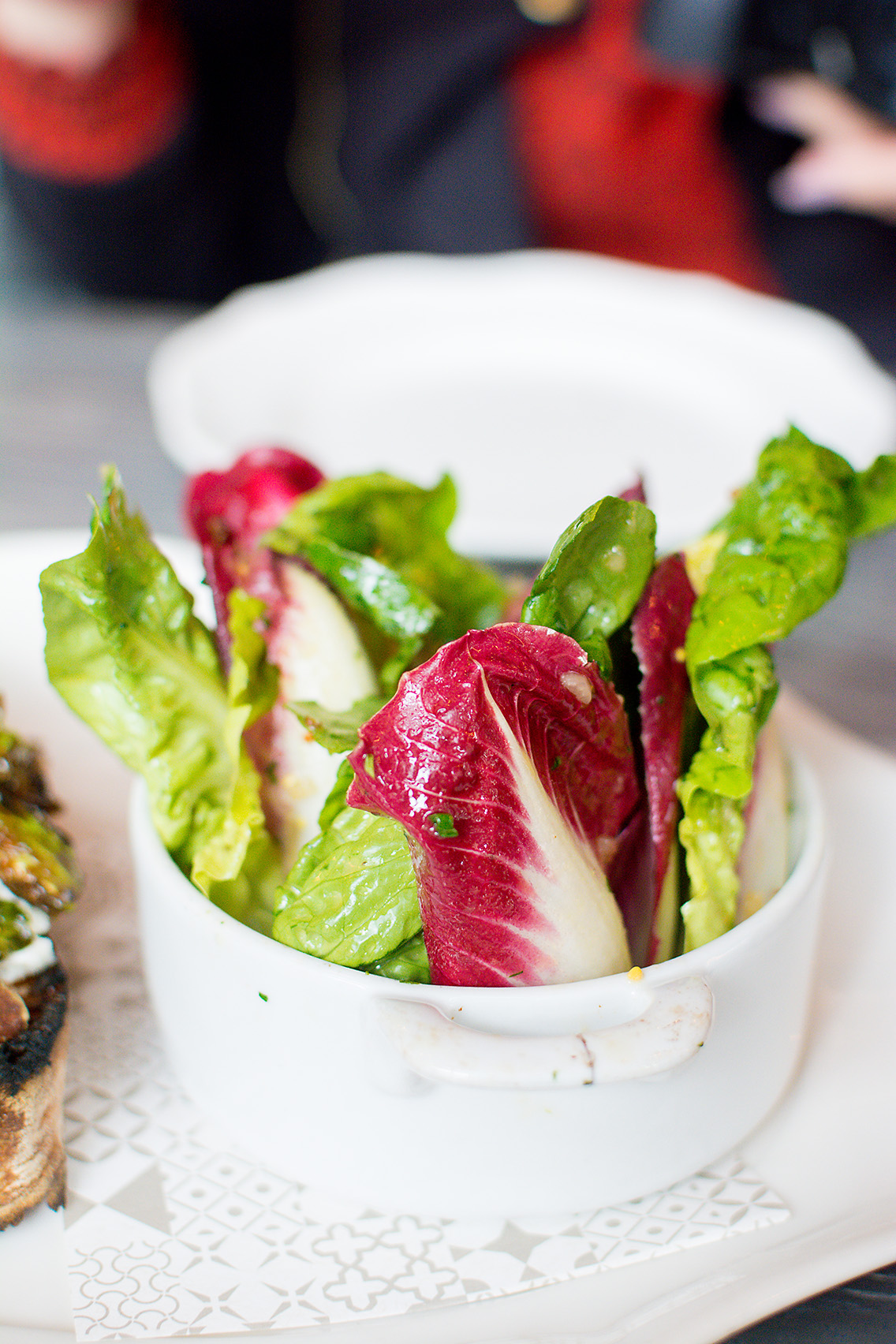 Served with a really beautiful side salad.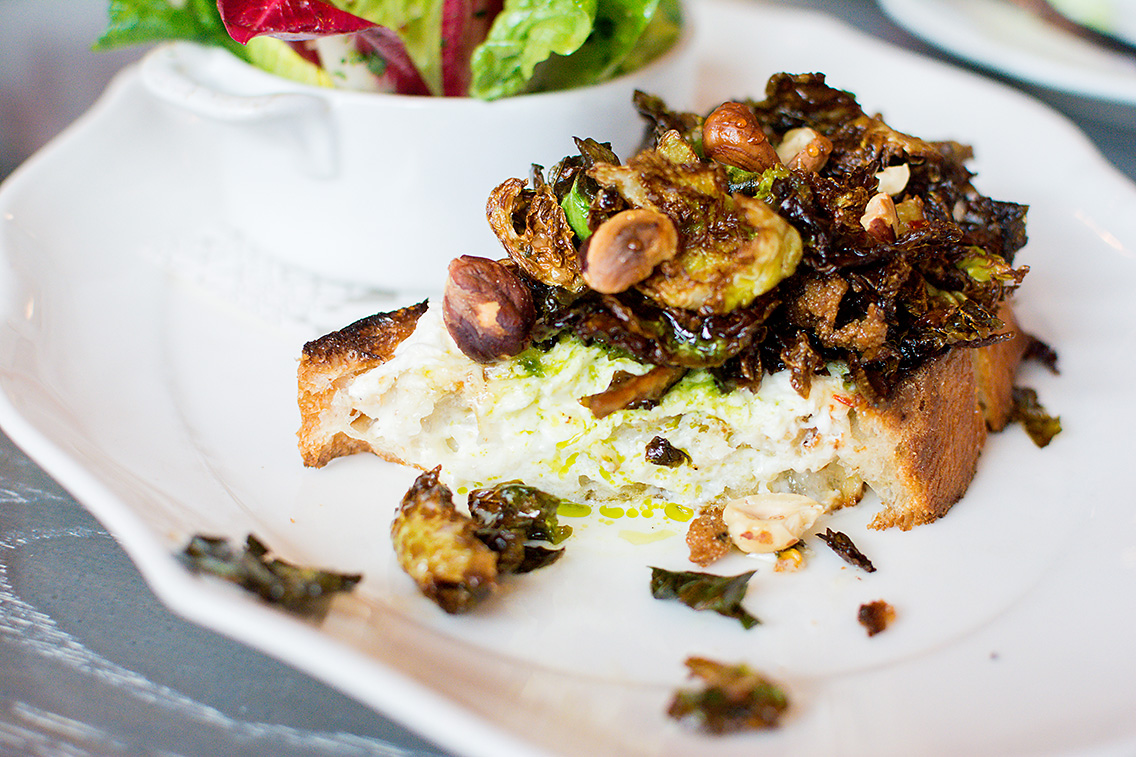 Now I hear what you're thinking — cheese, honey, and truffled hazelnuts mixed with charred brussel sprouts? Ummmm, what?
I'll be the first to admit it sounds weird no matter how you put it.
But this combination will quite literally blow you away. It's creamy, sweet, crunchy, charred bliss in a bite. It tastes like the freshness of the Italian countryside coupled with the sophistication of the Gold Coat neighborhood Nico resides in — a charming fusion of delicious flavors and innovative textures.
Order it and see for yourself!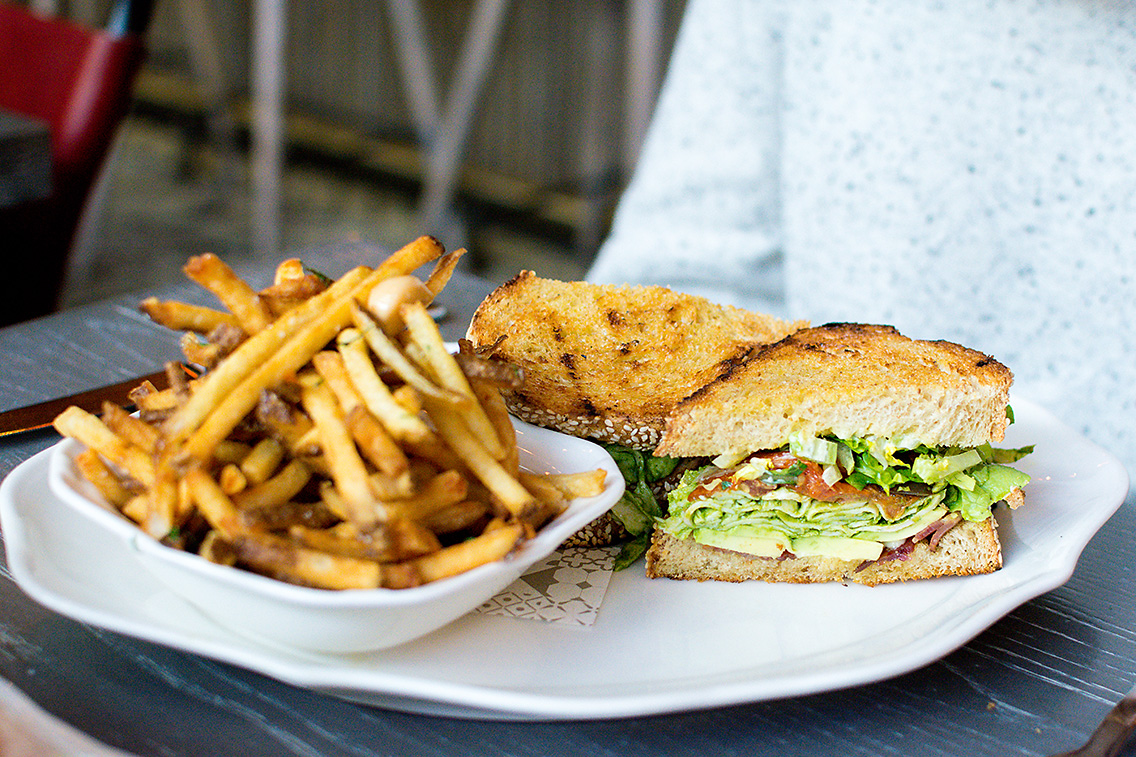 Next up came our entrées!
Sandy ordered this classic Chicken Pesto Club Sandwich on semolina bread with bacon, tomato, avocado, and grilled red onion.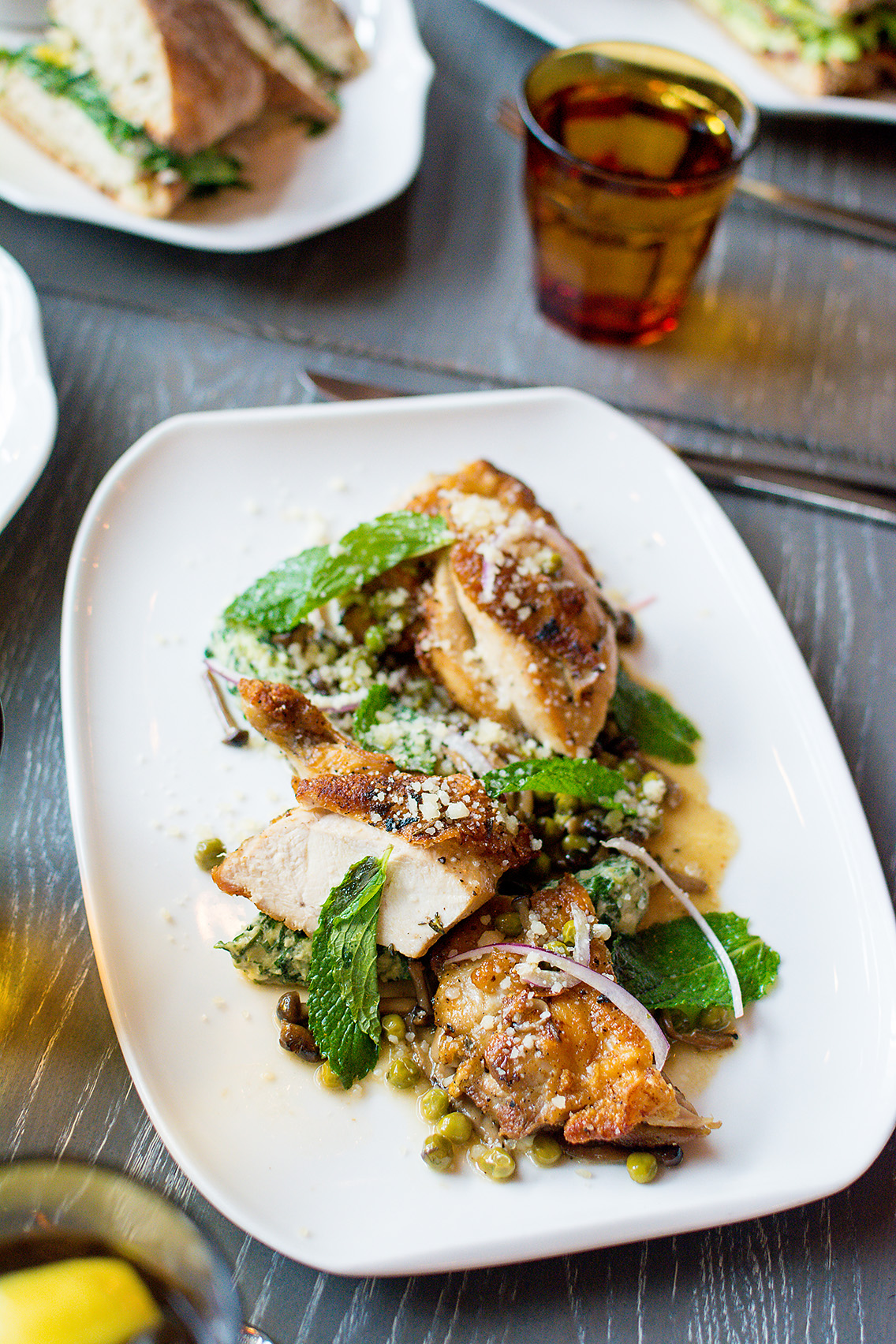 While Nycole opted for the Crispy Heritage Chicken.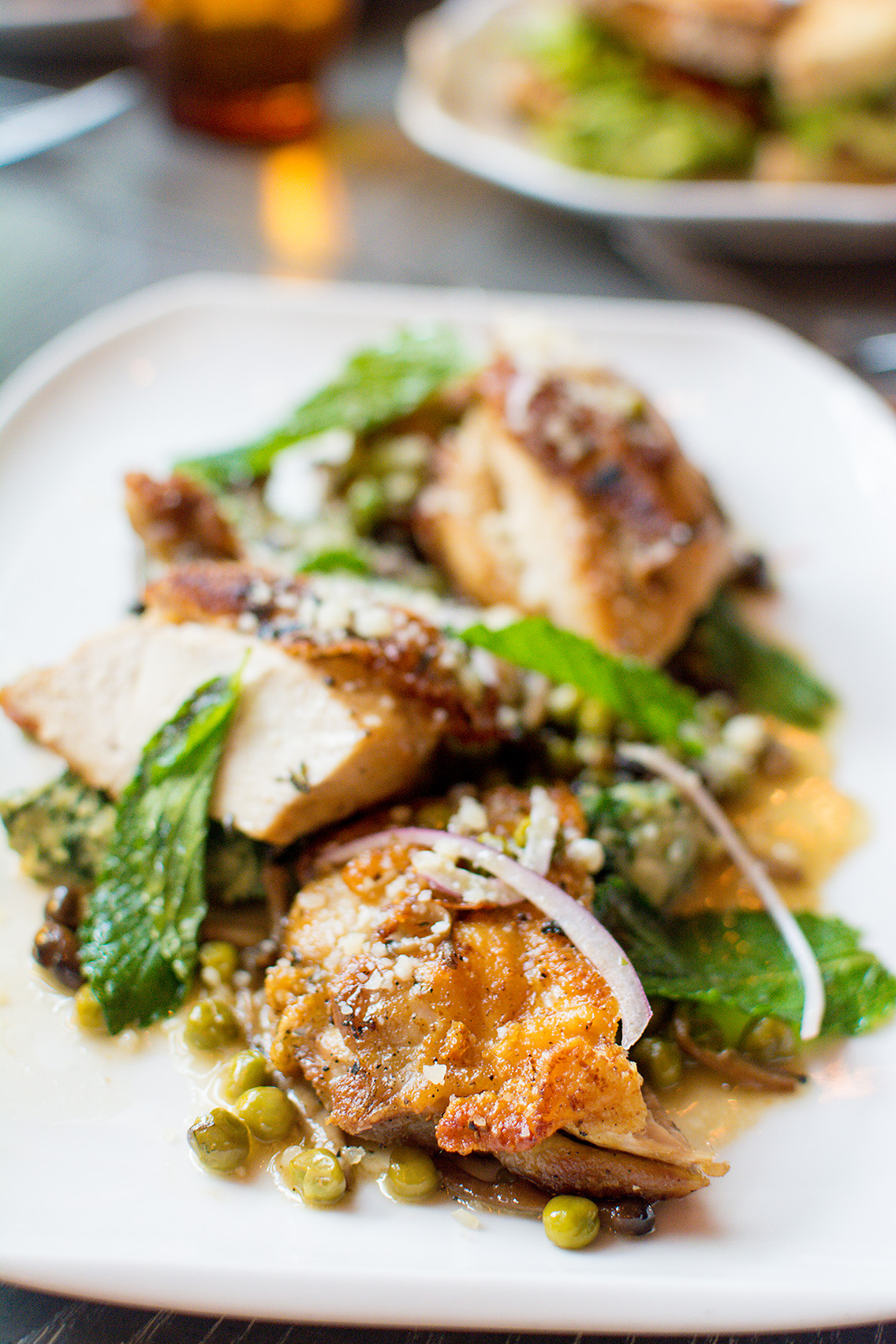 Served with spinach-ricotta gnocchi, roasted mushrooms, and peas, this is one seriously comforting chicken dish.
And so, so beautiful to photograph!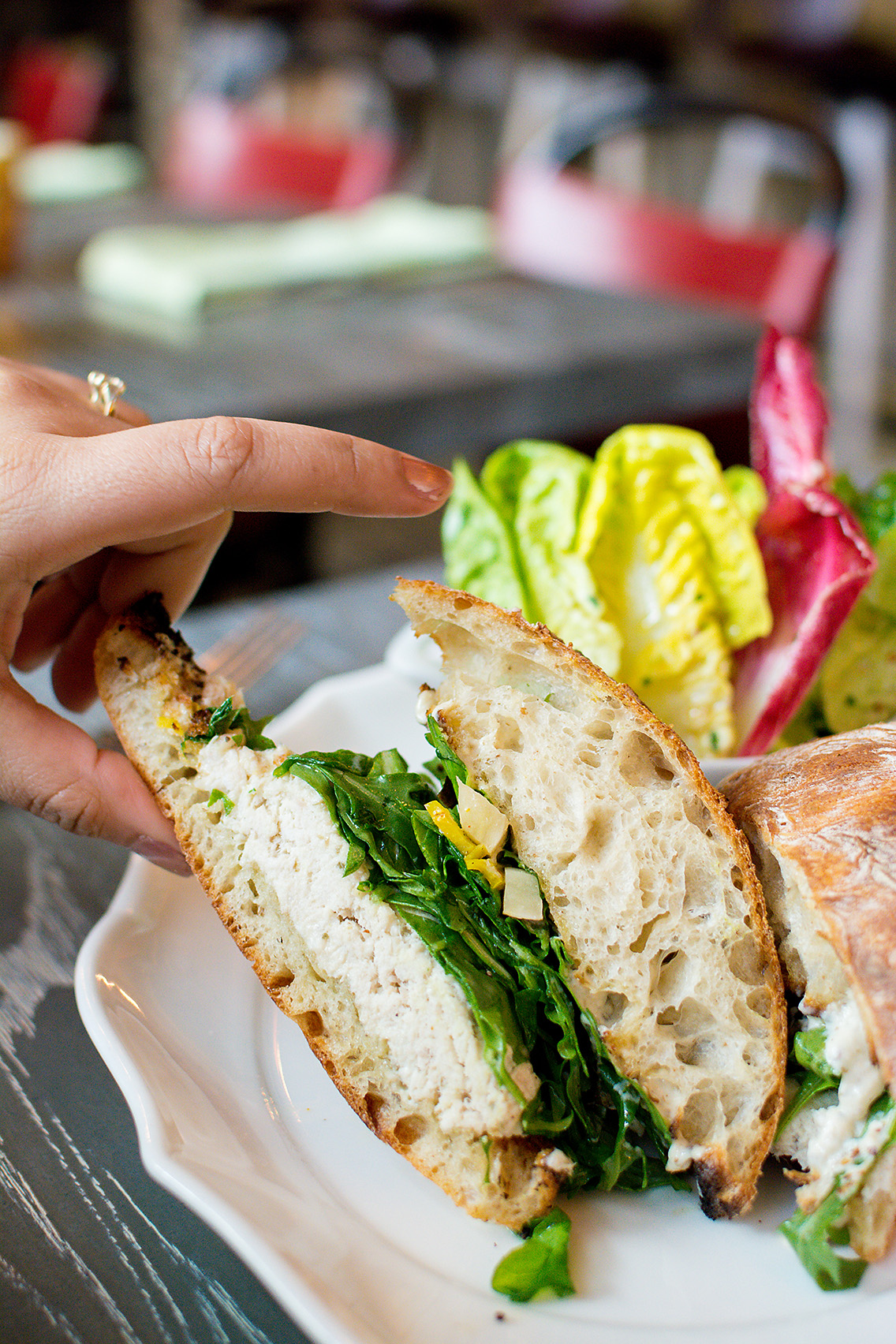 Rachel chose the Tuna Autostrada Sandwich on foccaccia with roasted fennel, arugula, pickled lemon, and tonnato.

It's easily the most gourmet tuna sandwich you'll ever eat — the freshness of the tuna alone will floor you!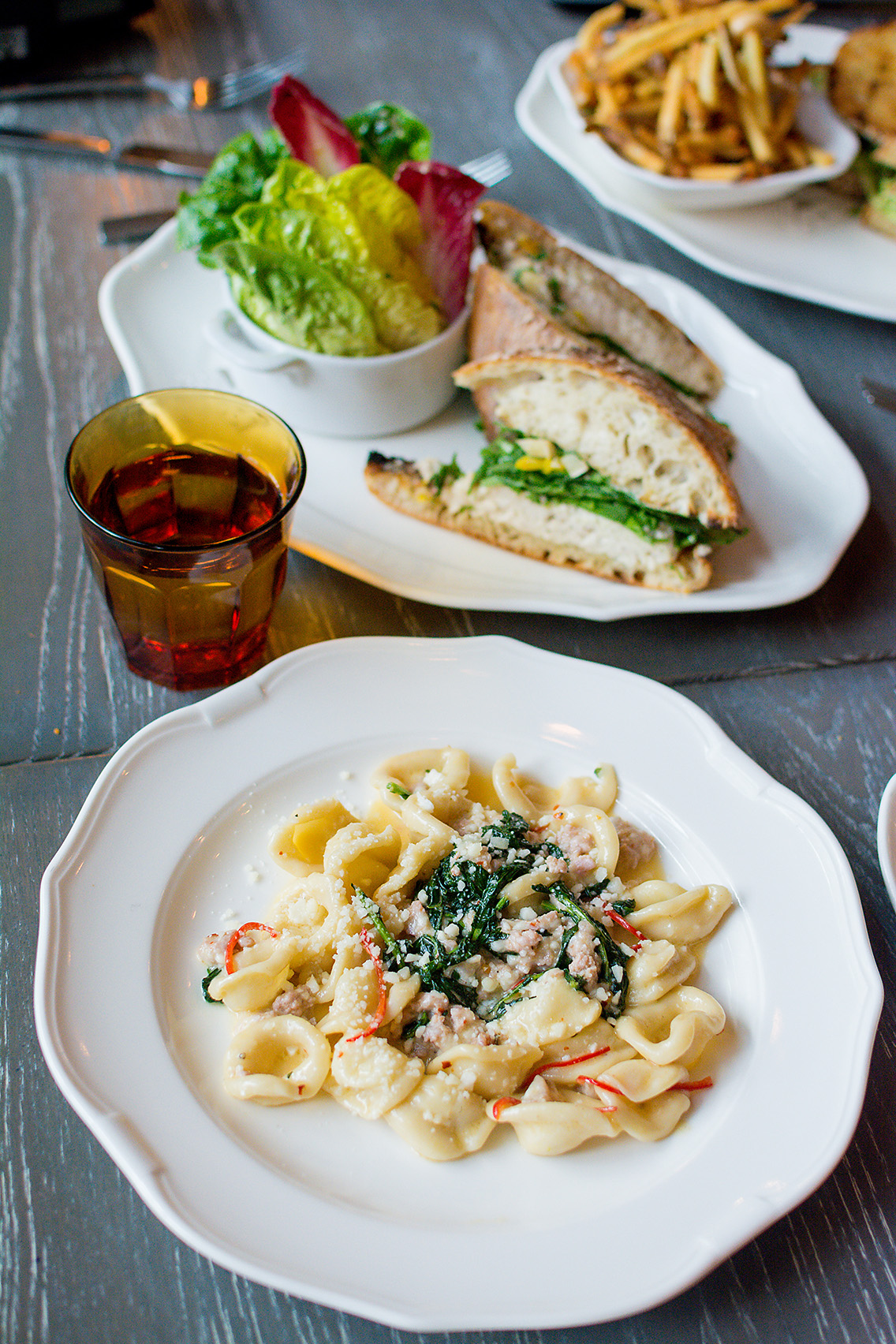 But for me, there's only one dish to order at Nico.
ONLY ONE!
Despite the fact that I go back time and time again, I (embarrassingly — despite being a self-defined food investigator) always order THE EXACT SAME THING.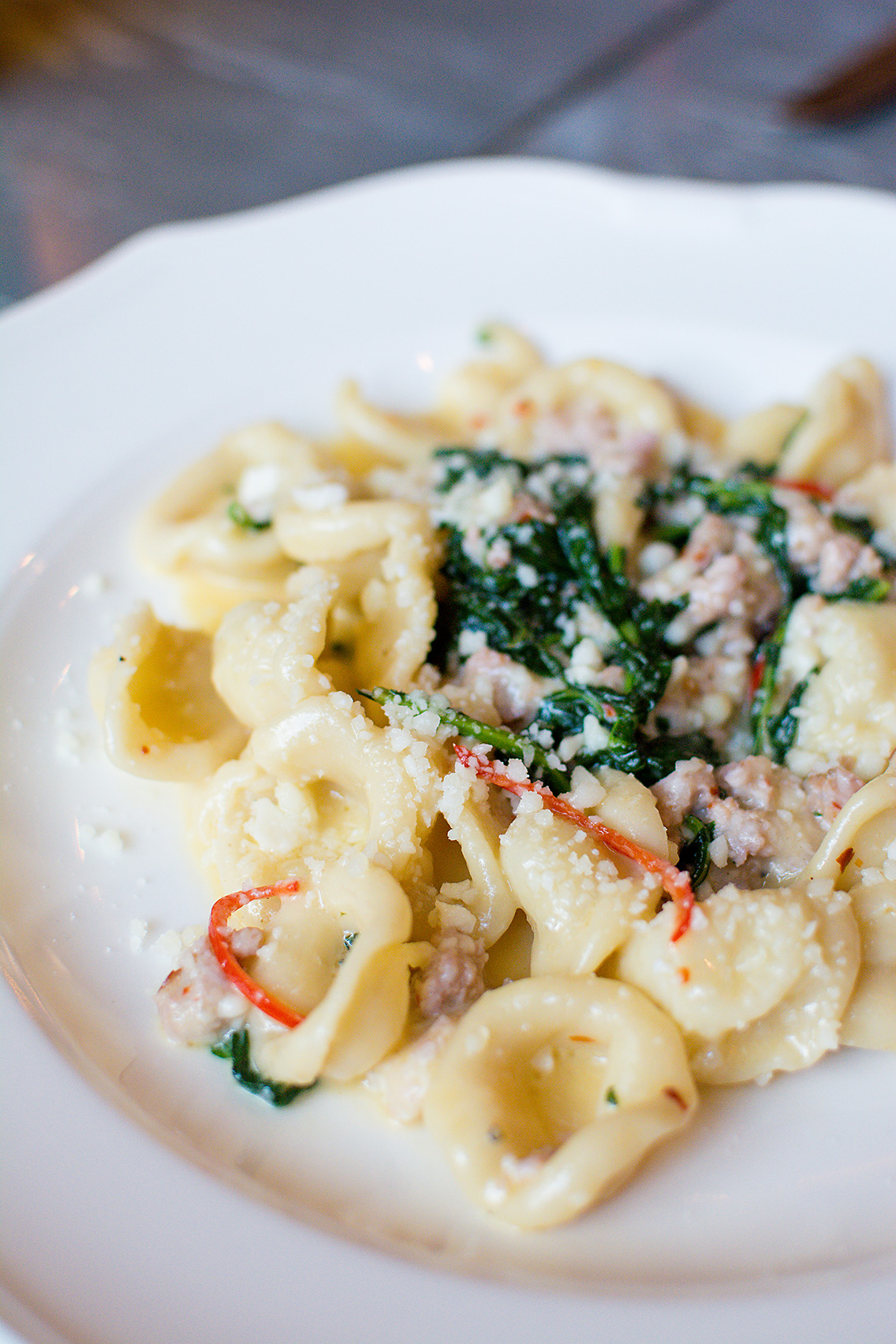 I always order Nico's Orecchiette pasta with bigeye tuna sausage, broccoli rabe, and chile all finished with pecorino romano.
Yup, you read that right — bigeye tuna sausage. Covered in the most heavenly butter sauce rounded out with a subtle layer of heat from the chilis. All with a delicate crunch from the broccoli rabe.
There's something about the soft, salty, spicy flavors that gets me every time.
It's divine, sinful, and yet not completely overdone. It's yet another simple dish that feels simply magnificent in its execution. And watching the pasta being shaped on Nico's Instagram has only fueled my love for this dish:
I could happily eat this dish until the day I died. And probably would if I could justify the expense (but let's be honest, I'll blow my budget on handbags first).
I've debating trying my hand at recreating this dish at home but (and I don't say this lightly) it feels almost blasphemous to attempt to improve on perfection.
Because everything about this dish is utter perfection.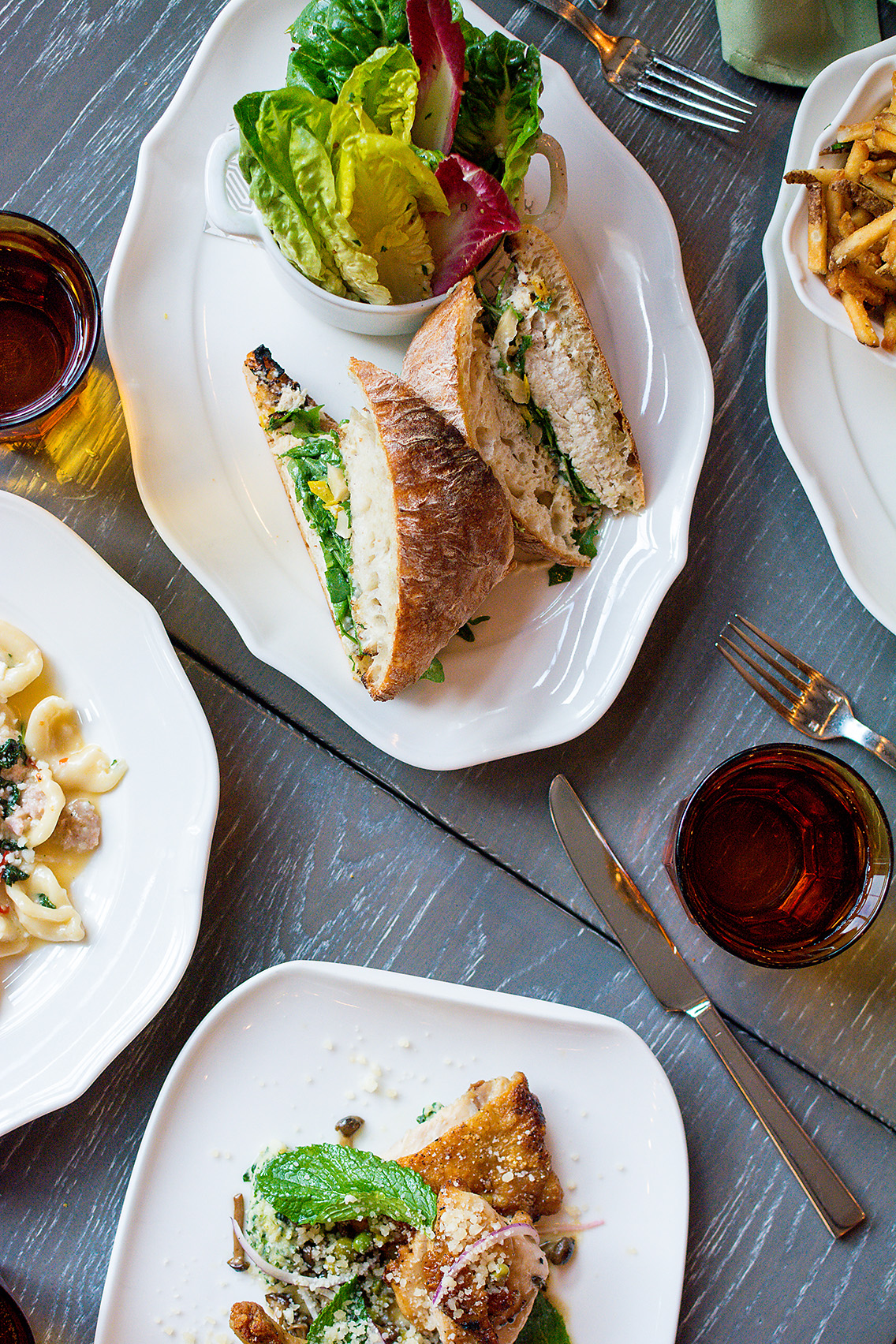 But no good meal should end without a dessert — especially at Nico Osteria.

So obviously we ordered half the dessert menu.
How could we not?
Nico's selection is always a beautiful blend of classic flavors given a modernist makeover!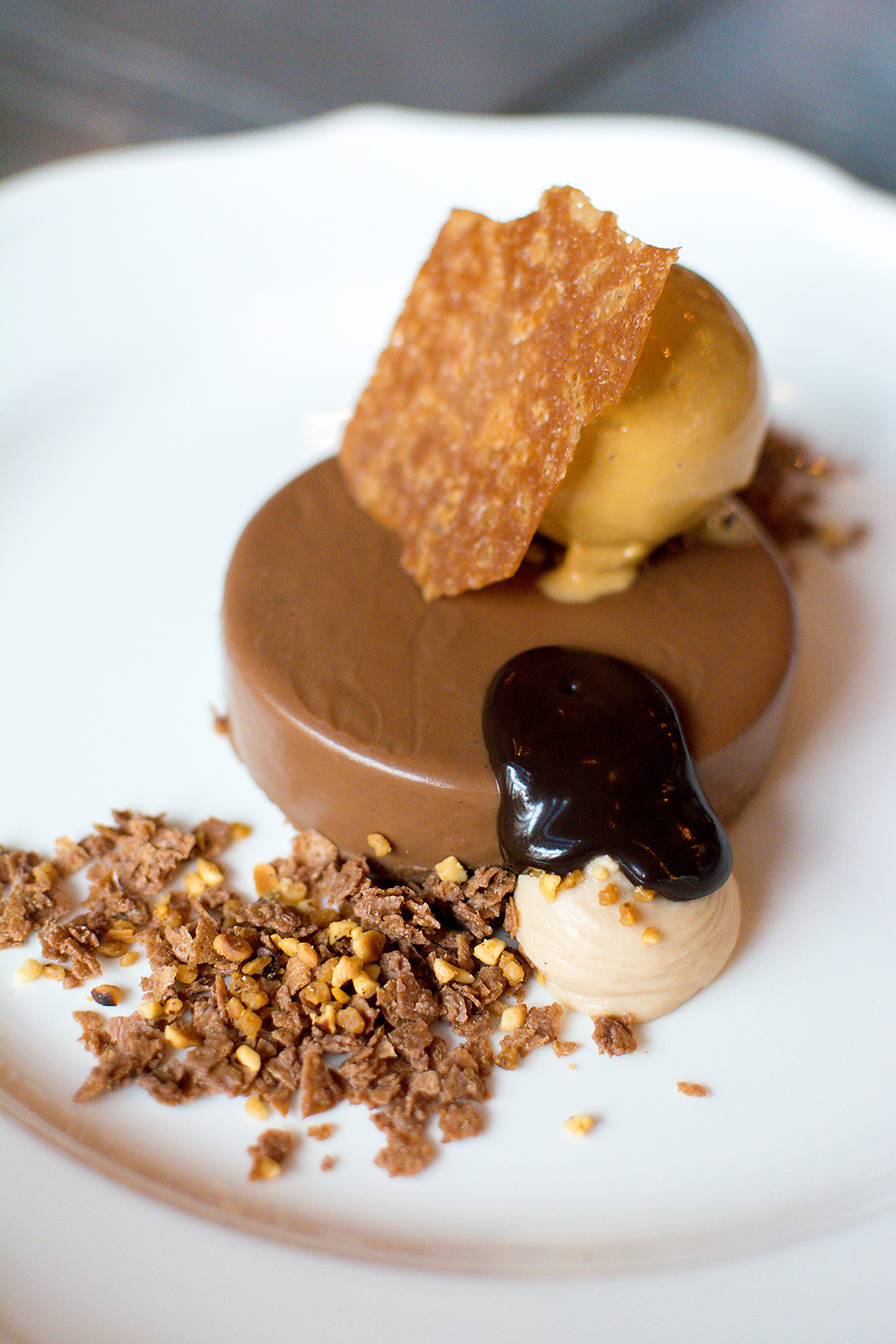 Like this decadent Warm Flourless Chocolate Torta with candied hazelnuts, frozen torrone, creme fraiche, and hazelnut gelato.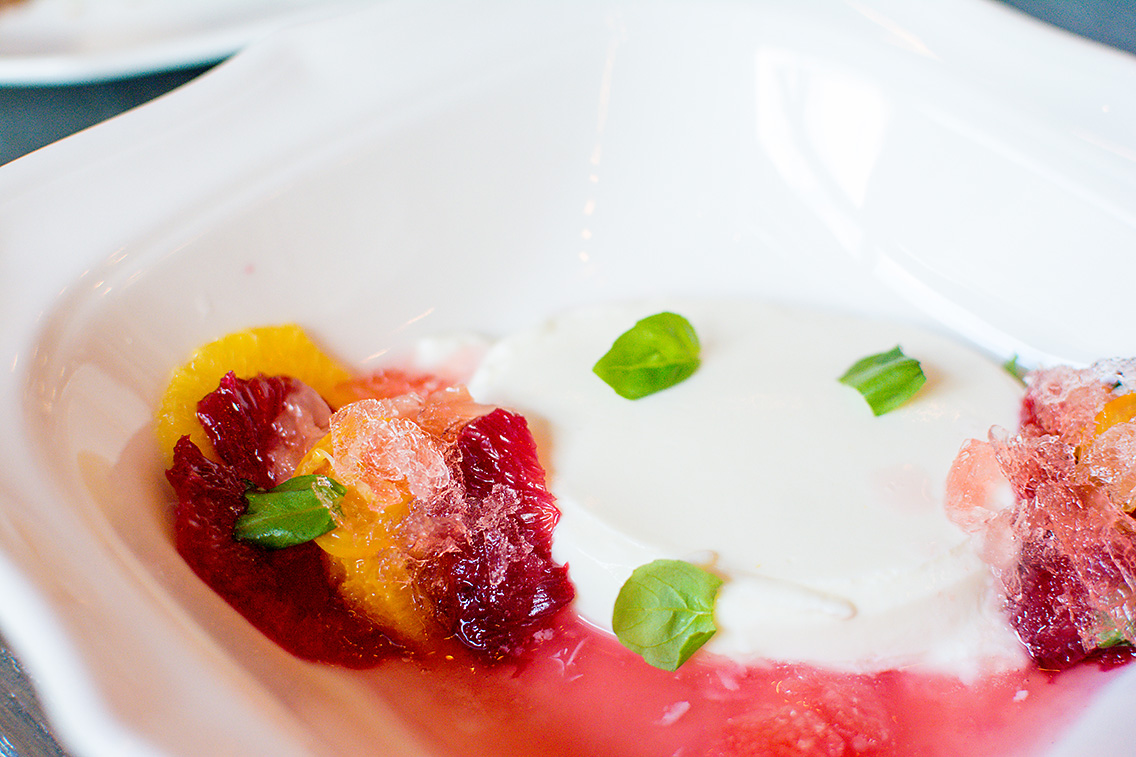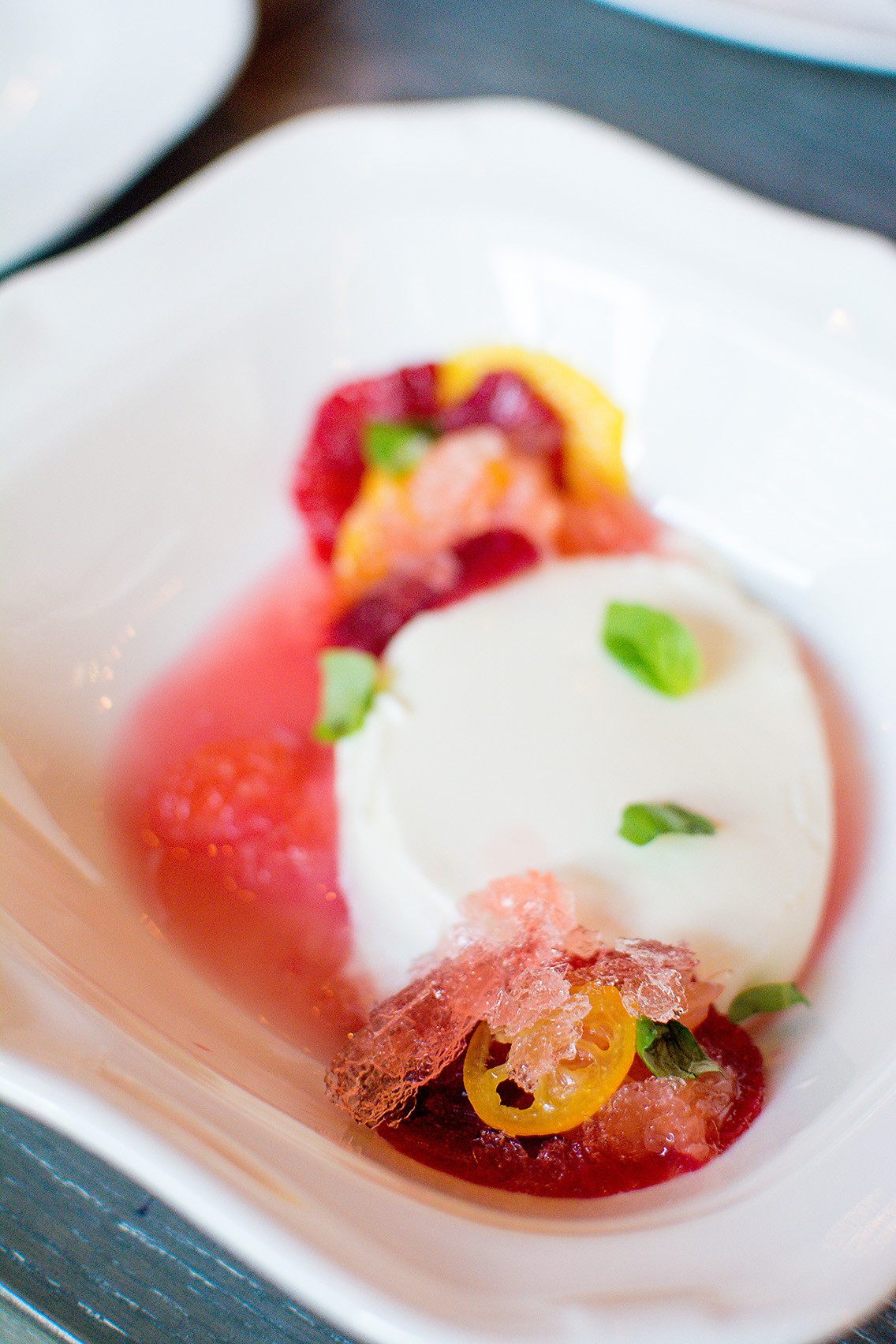 Or this distinctive Meyer Lemon Panna Cotta with citrus, grapefruit agrodolce, basil, and Campari granita.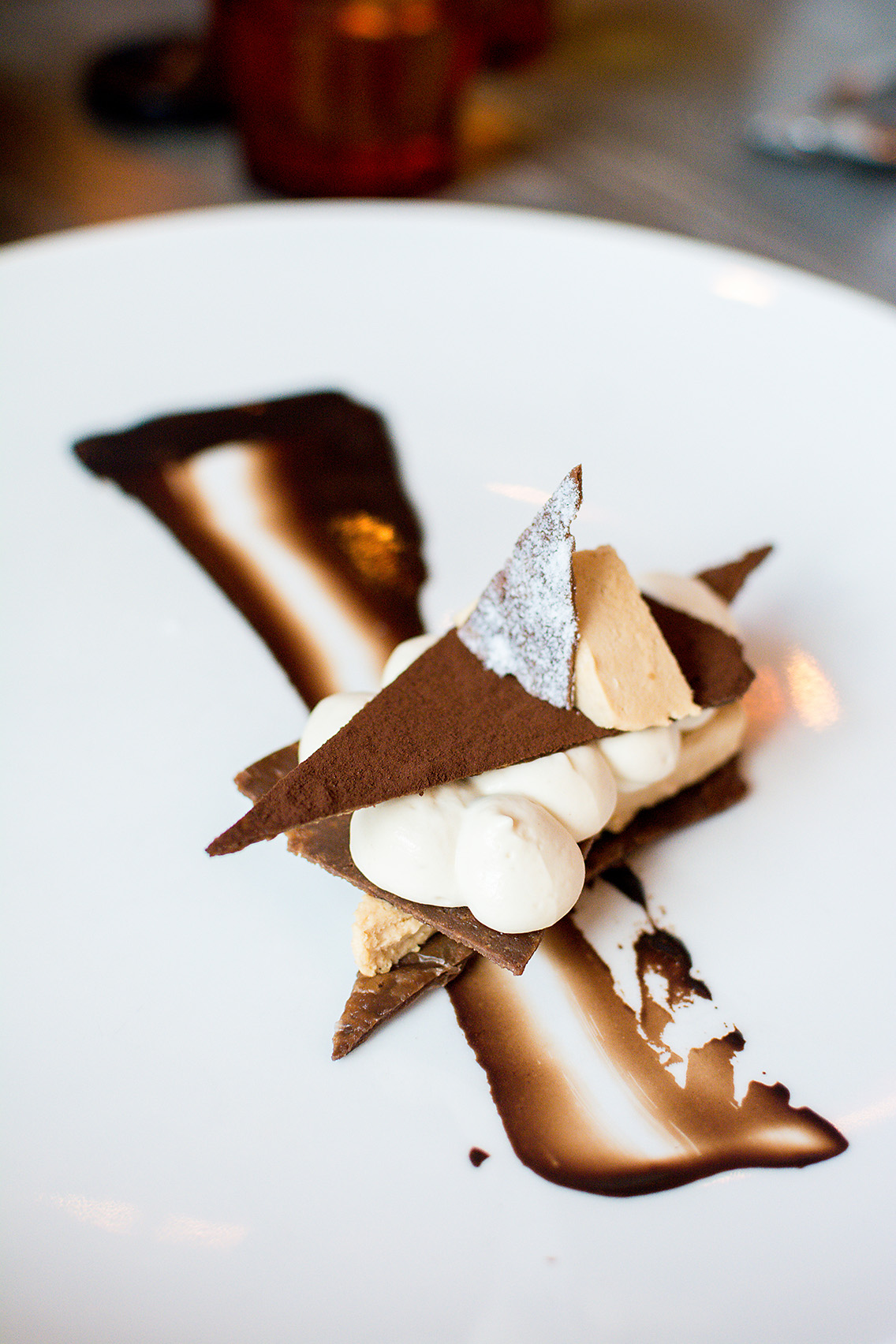 And this beautiful Tiramisu with chocolate puff pastry, coffee semi-freddo, and mirto in a cocoa grappa sauce. It's far prettier than the tiramisu Nico served this summer — almost architectural in its presentation — and even more fun to messily dive into and devour.
Nico is the sort of place you'll try out of curiosity and fall INSTANTLY in love with. Everything from the stunning decor to the incredible flavor combinations to the rustic-meets-Gold Coat vibe will woe you with its ingenuity.
If you're looking for respite from the chaos of the Gold Coast neighborhood, why not pop into Nico Osteria and transport yourself to the tranquil Italian countryside? Oh, and don't mind me if I'm sitting at the table next to you ordering my 1,036th plate of Orecchiette. I promise not to proclaim my love for Nico TOO loudly…
Disclosure: I received a complimentary meal to facilitate this post. Review and all opinions are my own.