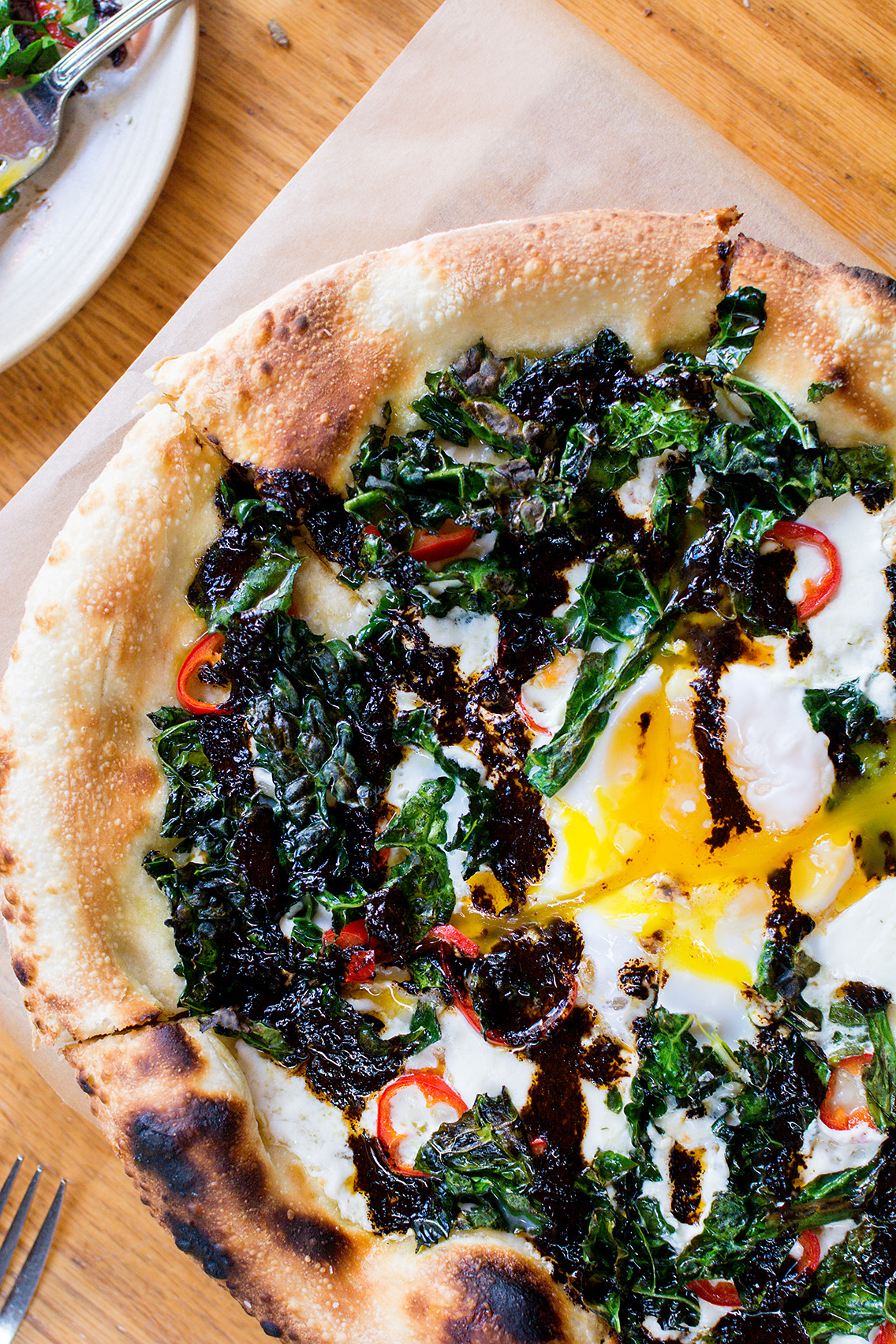 When I first moved to Chicago after college I knew NOTHING about the restaurant scene here. Mind you this was 6 years ago when Instagram had barely surfaced and the amateur Chicago foodie scene was just a quiet echo of the massive community it is now (wow, do I feel old!).
But — by a stroke of luck — one of my very first networking dinners was held at legendary West Loop eatery, avec.
Consistently rated one of the best restaurants in the city (THE BEST restaurant if you ask me), avec is the sort of dining experience that ruins you for all others. Served family-style at long communal tables, dish after enchanting dish will explode your palate with flavors you'd never have even imagined together.
It's the sort of restaurant others attempt to emulate and fail at time and time again. I mean, avec PUT bacon-wrapped medjool dates on the Chicago map! If there's a big food trend hitting Chicago, you can bet it was probably born in the avec kitchen.
This isn't an imitation people — avec is the REAL deal.
And after my very first meal there all those years ago, I was hooked.
You might even say this was the restaurant that truly ignited the foodie in me. It's the sort of spot I happily pronounce things like "life is split into two parts: before having avec's "deluxe" focaccia with taleggio cheese, ricotta, and truffle oil… and after".
And it's true. One magical avec bite and even the most cynical heart can be transformed into a foodie one!
So being the self-professed brunch snob I am, I just knew my first avec post here on the blog HAD to be their brunch. Because it's quite literally the best brunch I've had in Chicago. FULL STOP.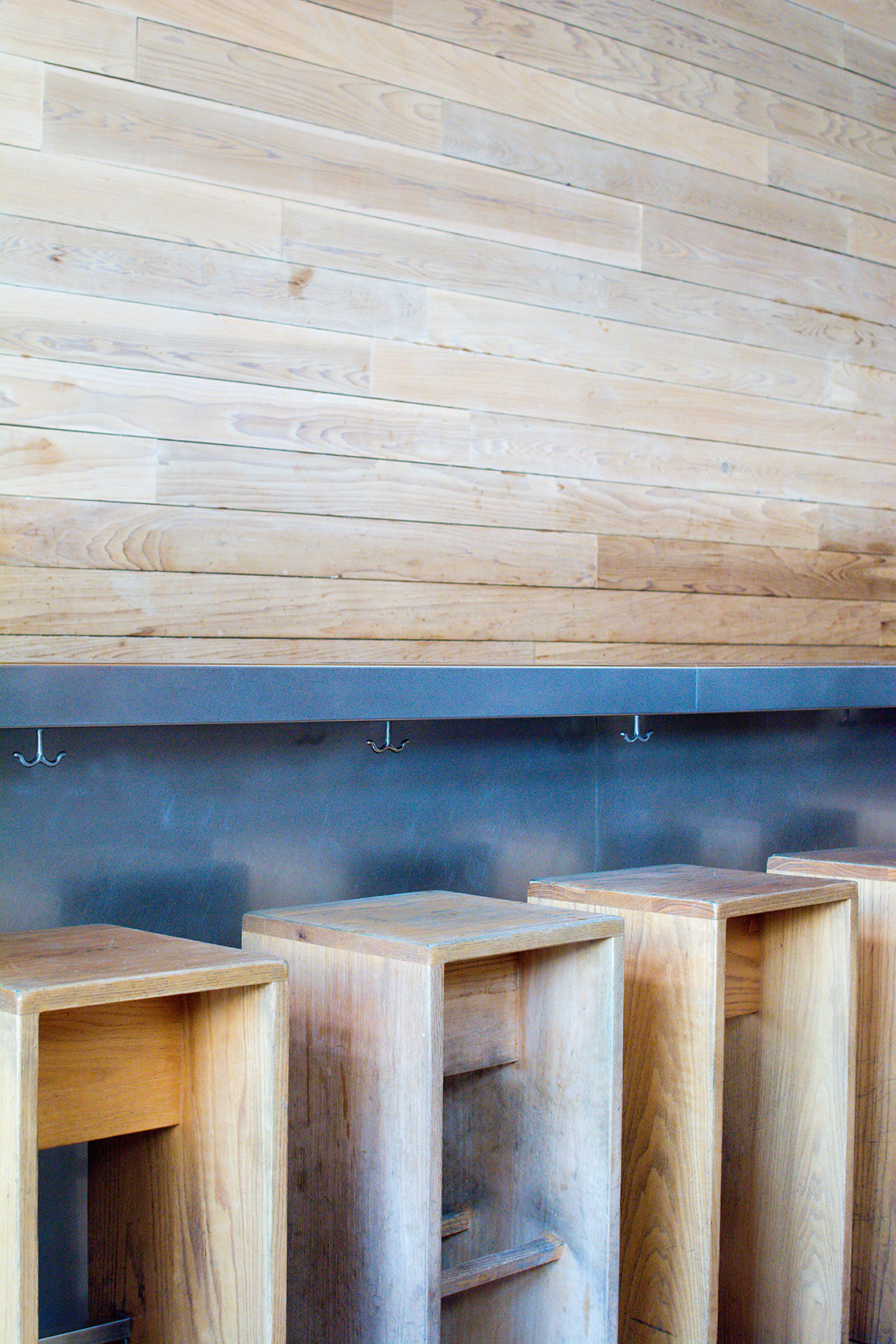 avec's decor is absolutely no frills — just a tiny, wood-filled space with no decoration beyond the insanely delicious smells pouring from the kitchen.
It's almost like the space itself is a blank canvas for the food — a simple space that allows the exquisite dishes to paint the culinary experience for you with NO DISTRACTIONS.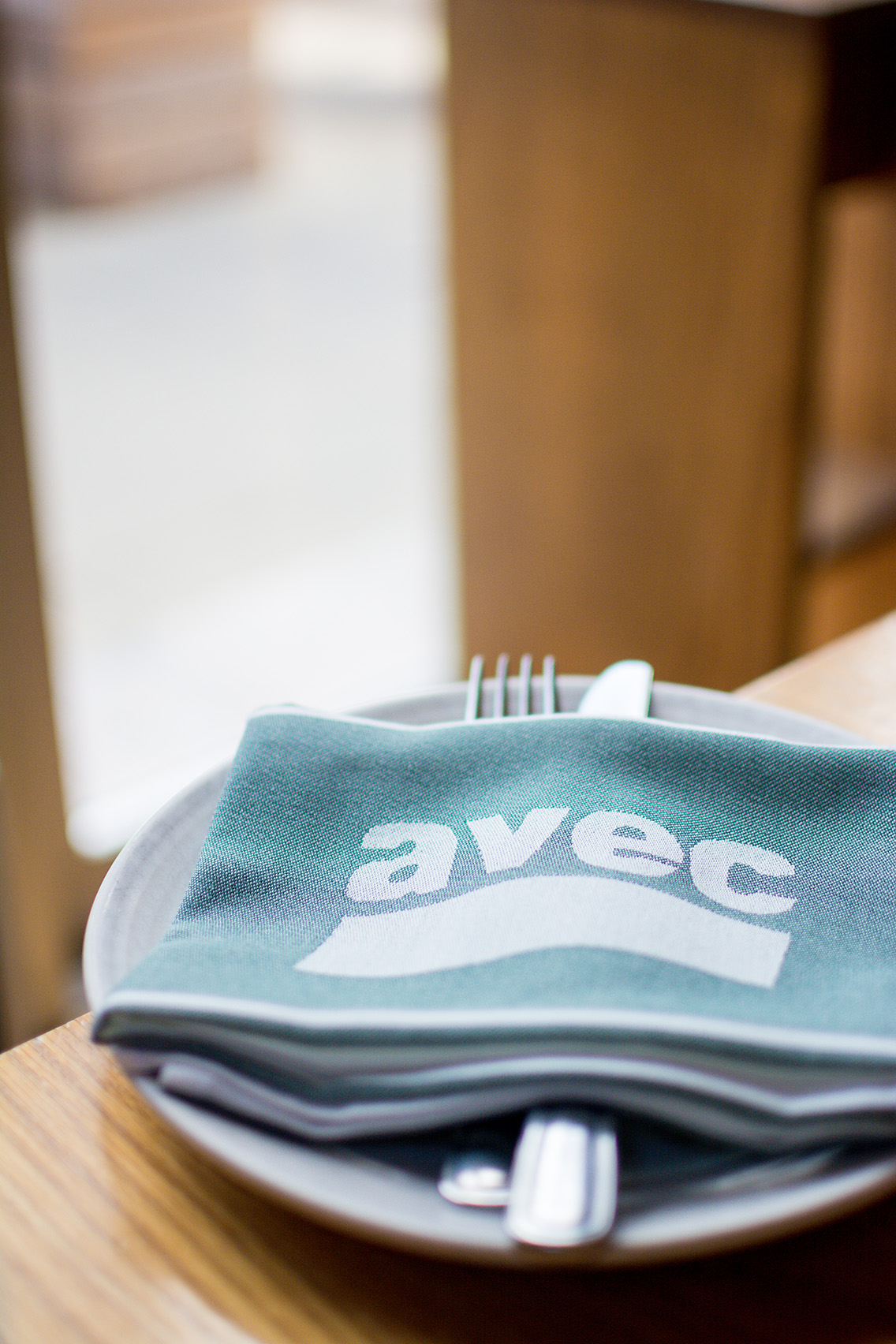 Because don't be fooled, this spot is ALL about the food.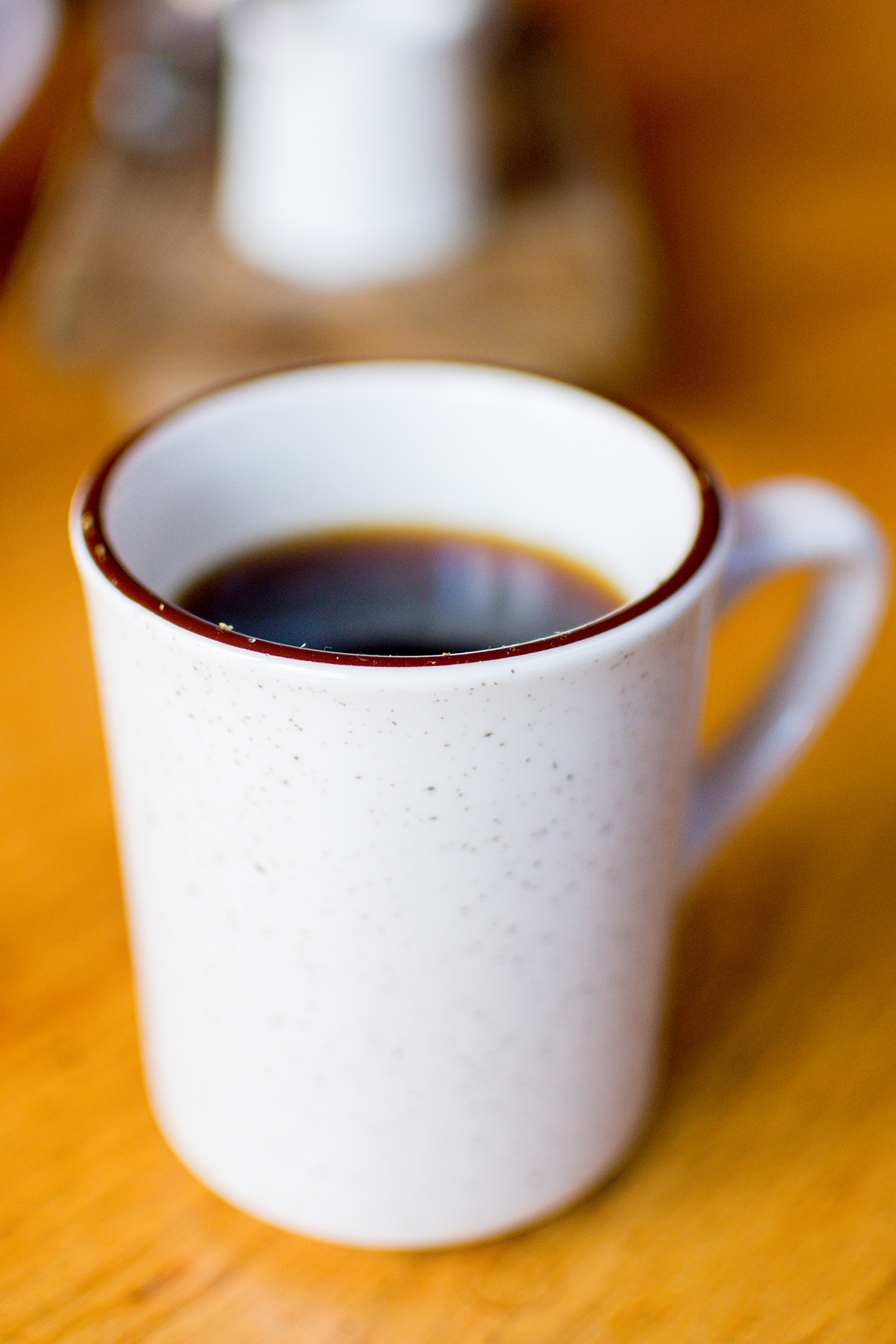 All good brunches MUST start with good coffee, obviously.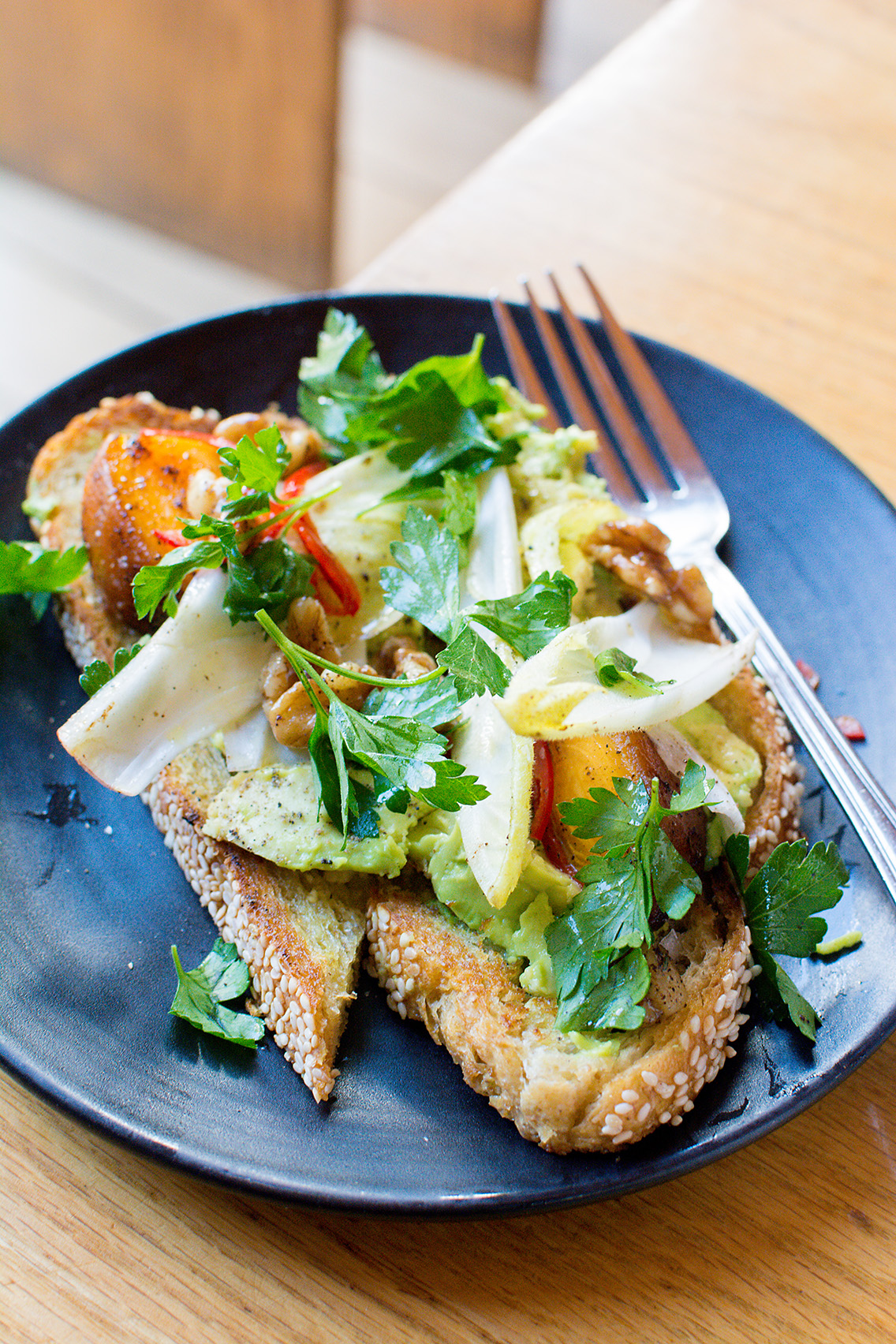 Easily one of my favorite avec brunch dishes is their unique take on Avocado Toast.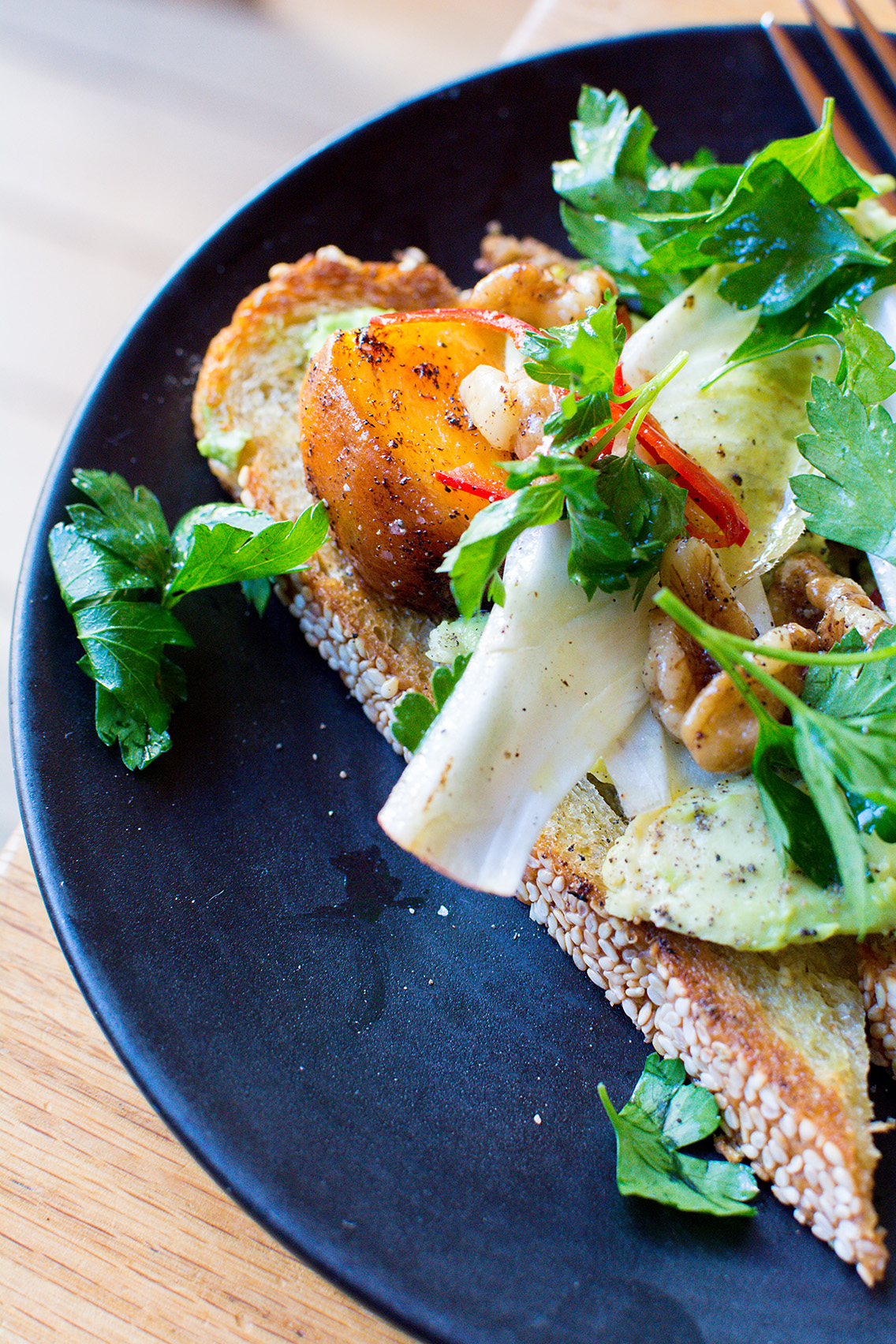 Creamy avocado smashed onto pugliese bread and topped with endive, smoked persimmons and walnuts.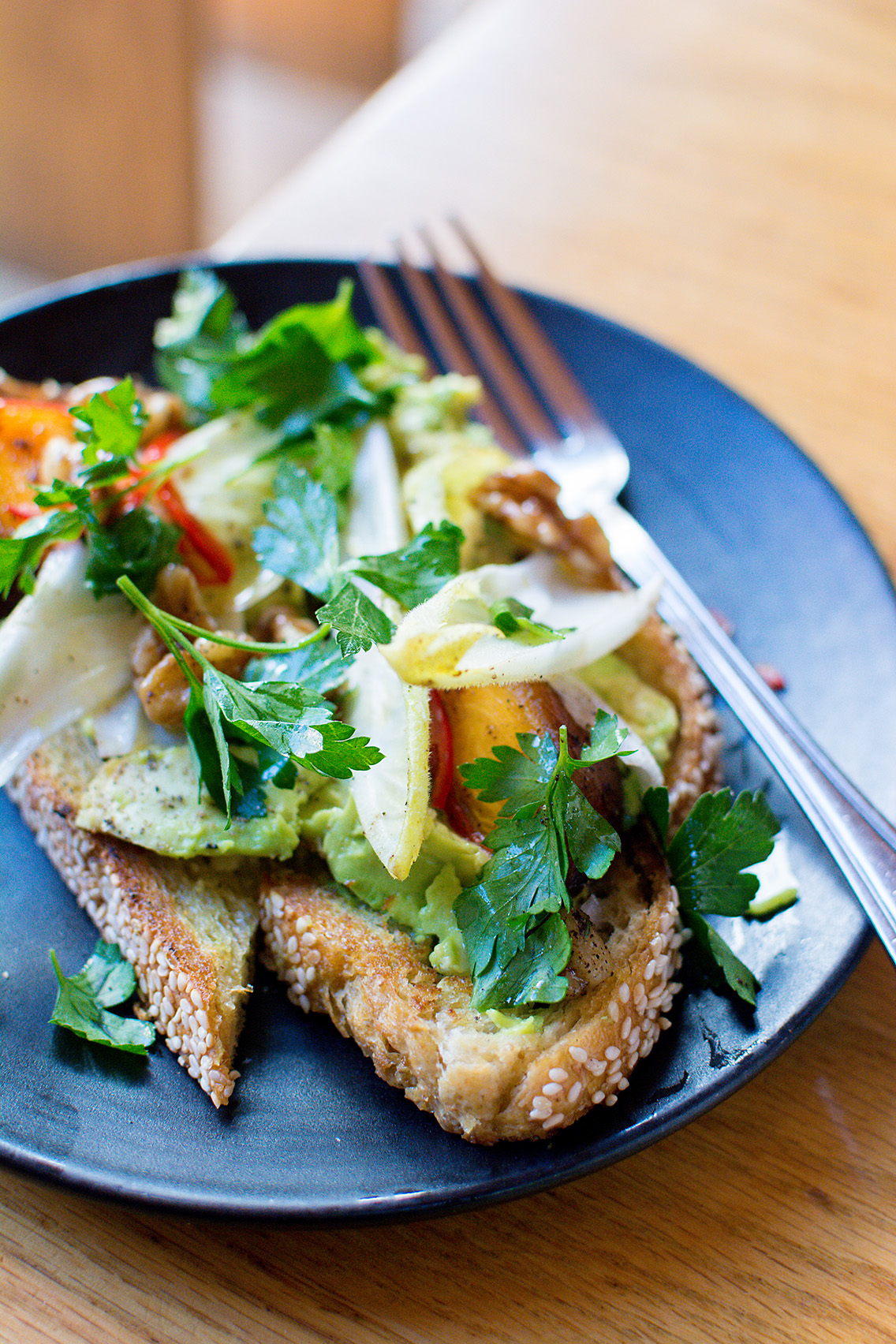 The dynamic range of flavors in this toast make it SO different from any others I've tried here in Chicago. The persimmons add a delicate moist smoky edge to each bite and the crunch from the walnuts keeps the texture from becoming TOO uniform.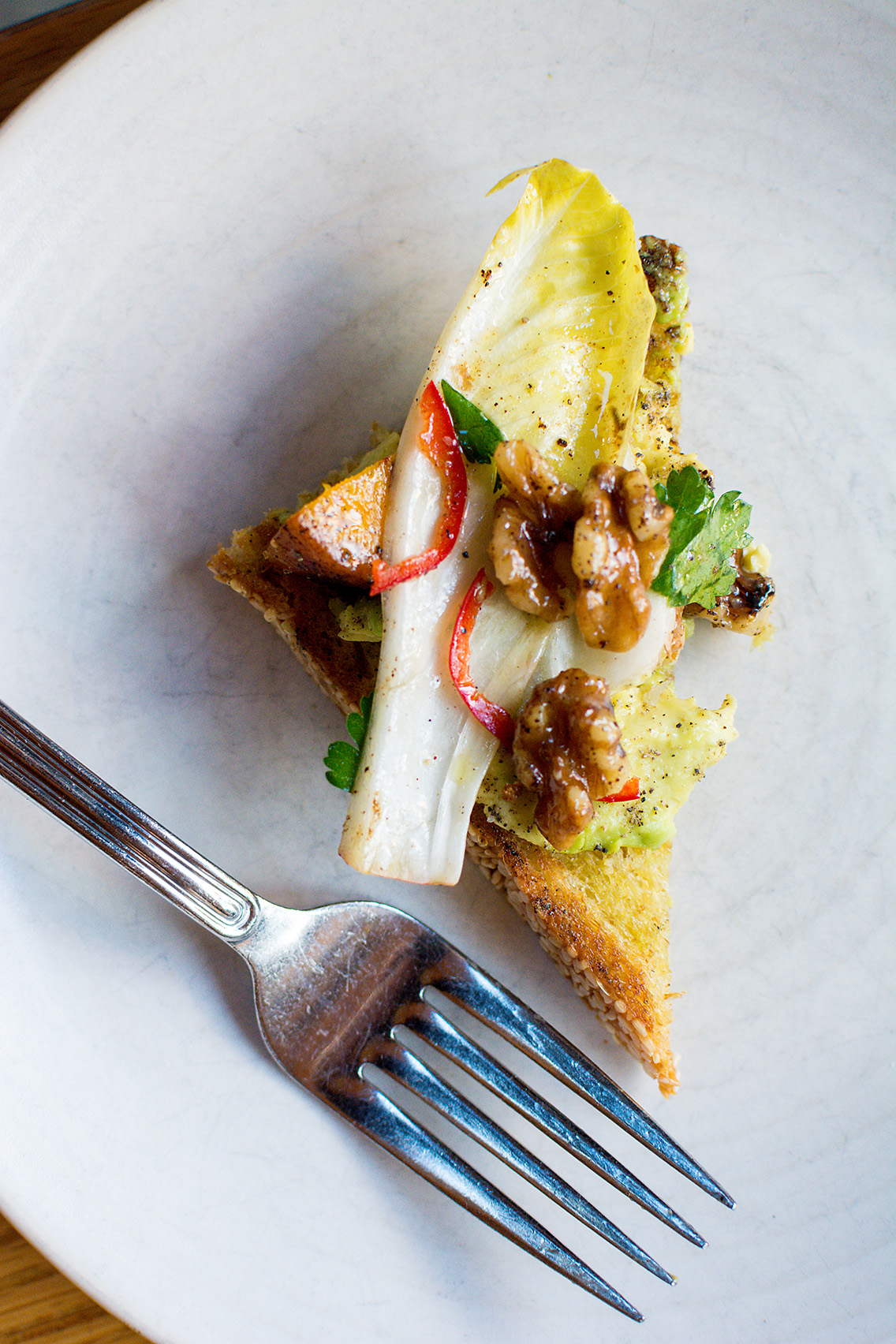 One bite and you'll be hooked too.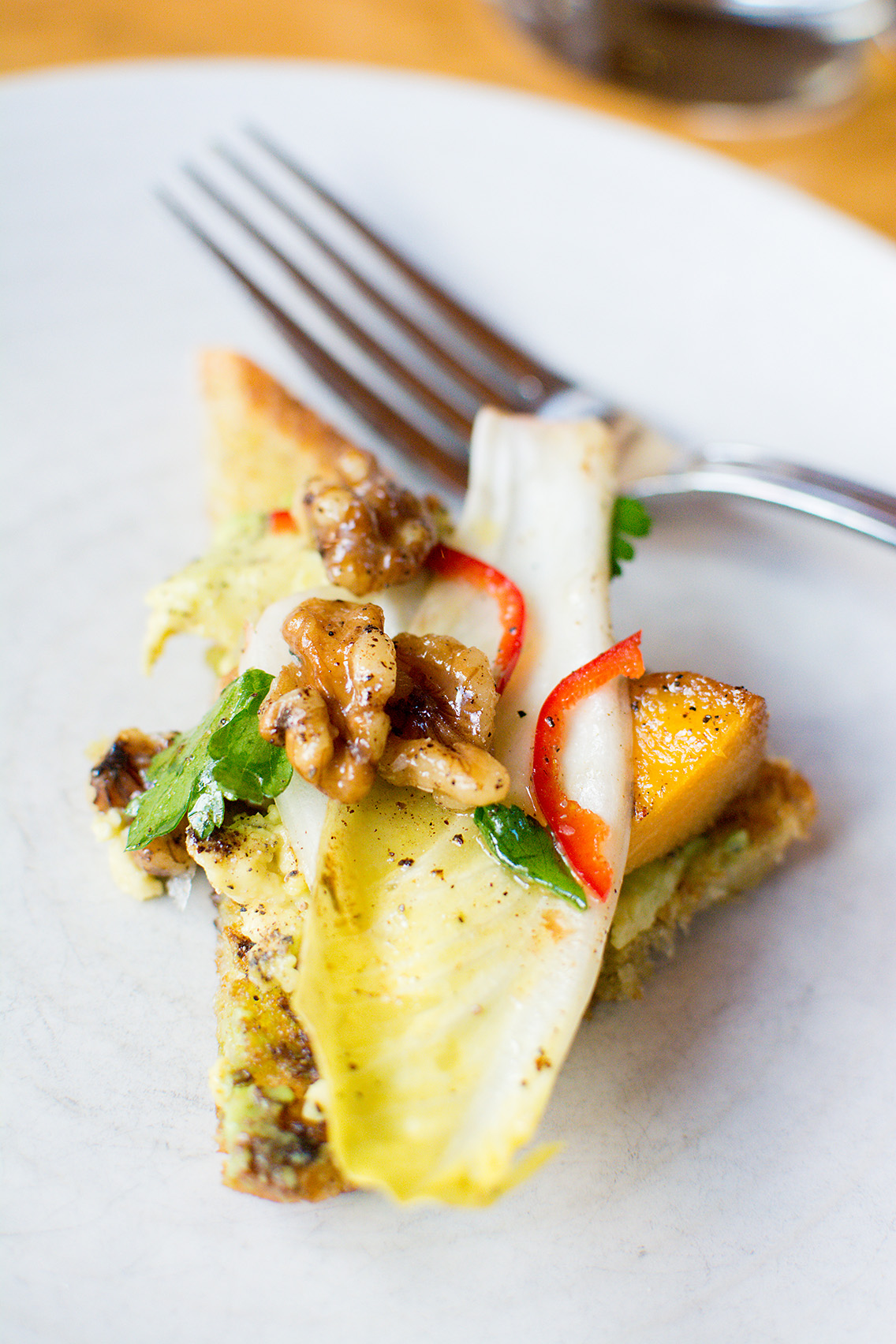 It's the sort of combination you couldn't ever find anywhere BUT avec.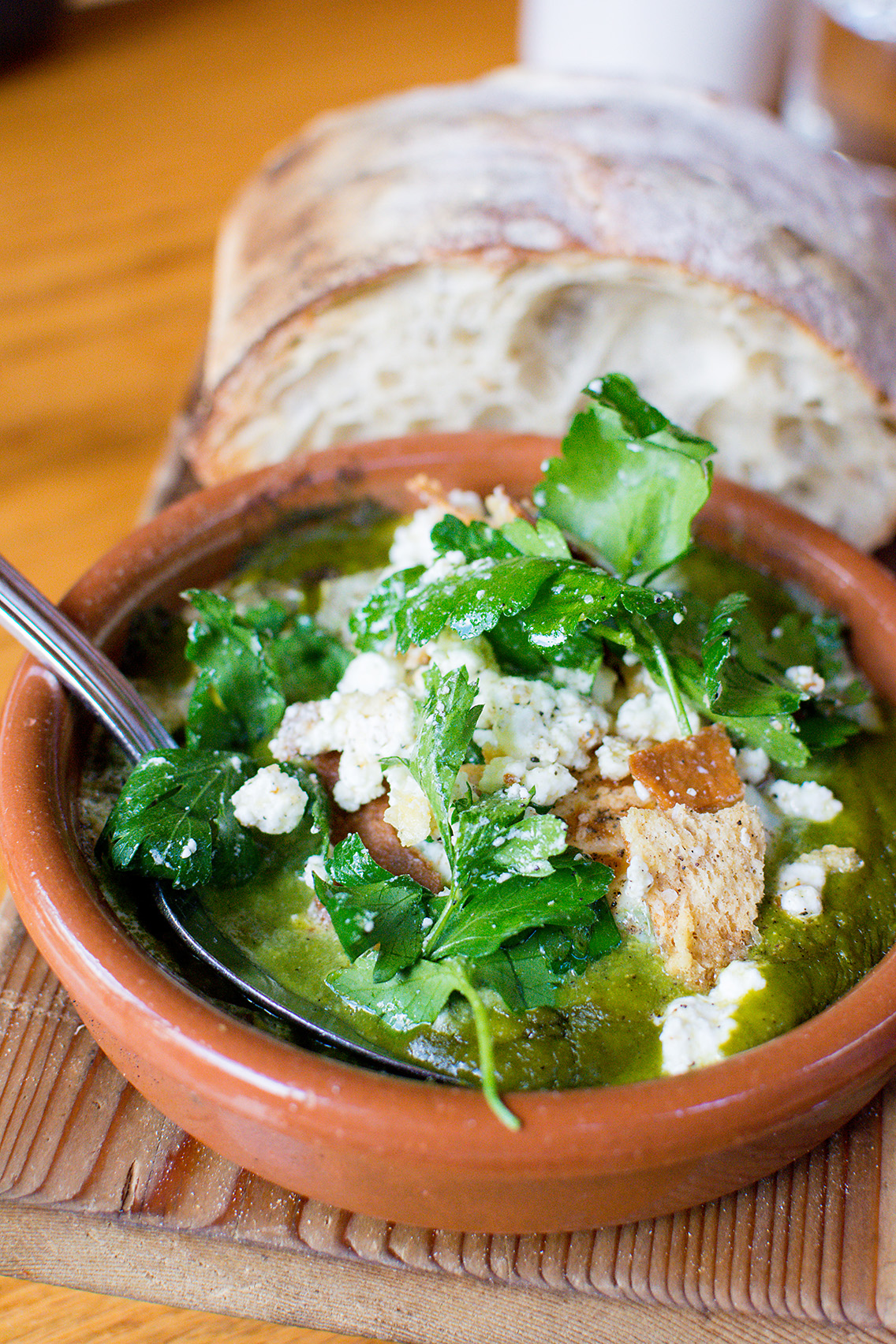 Another delicious (and vegetarian!) favorite is avec's über-flavorful take on baked eggs.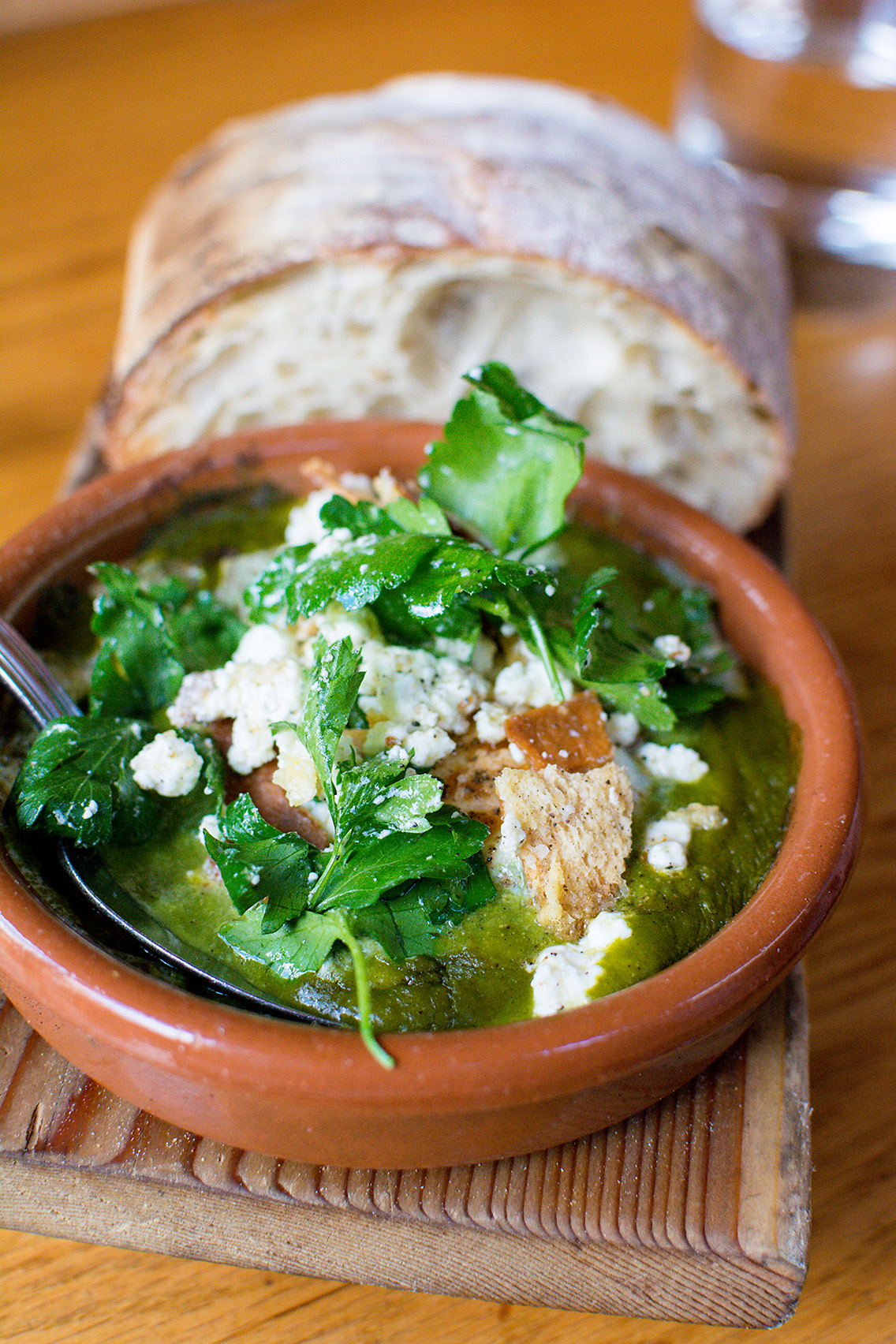 This is the Baked Egg Shakshuka with tomatillo, kale, chickpeas, feta cheese, and crispy foccacia.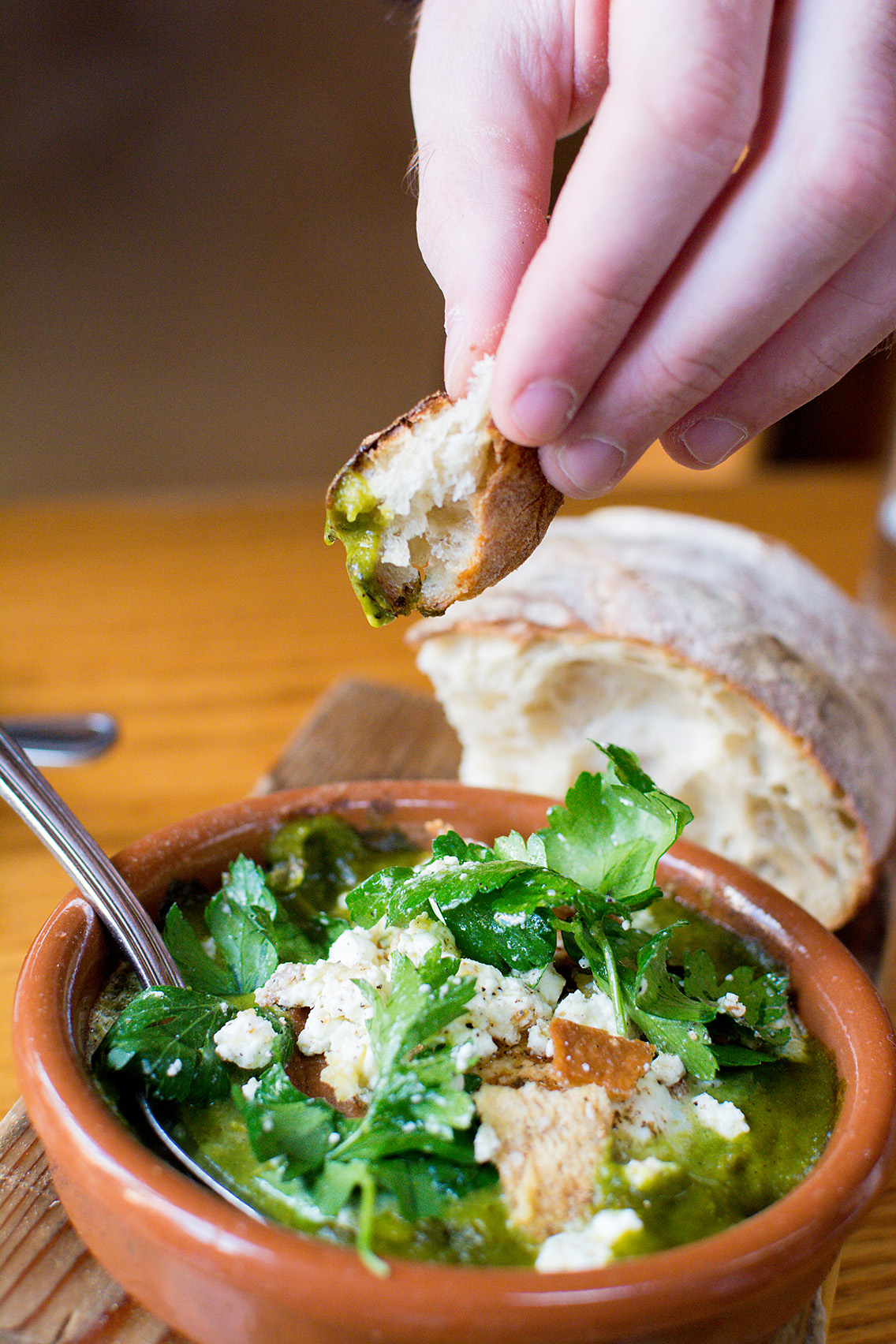 This may be the most addictive shakshuka I've ever had (but I'm a sucker for anything with tomatillo). The kale, chickpeas, and feta give this dish a tangy, Mediterranean edge that's so good I've been known to fight over the last drops like a toddler.
If you love Mexican and Greek cuisines, you'll love the fusion of flavors in this dish. It's rich, robust, and mind-blowingly addictive. At least in my humble opinion.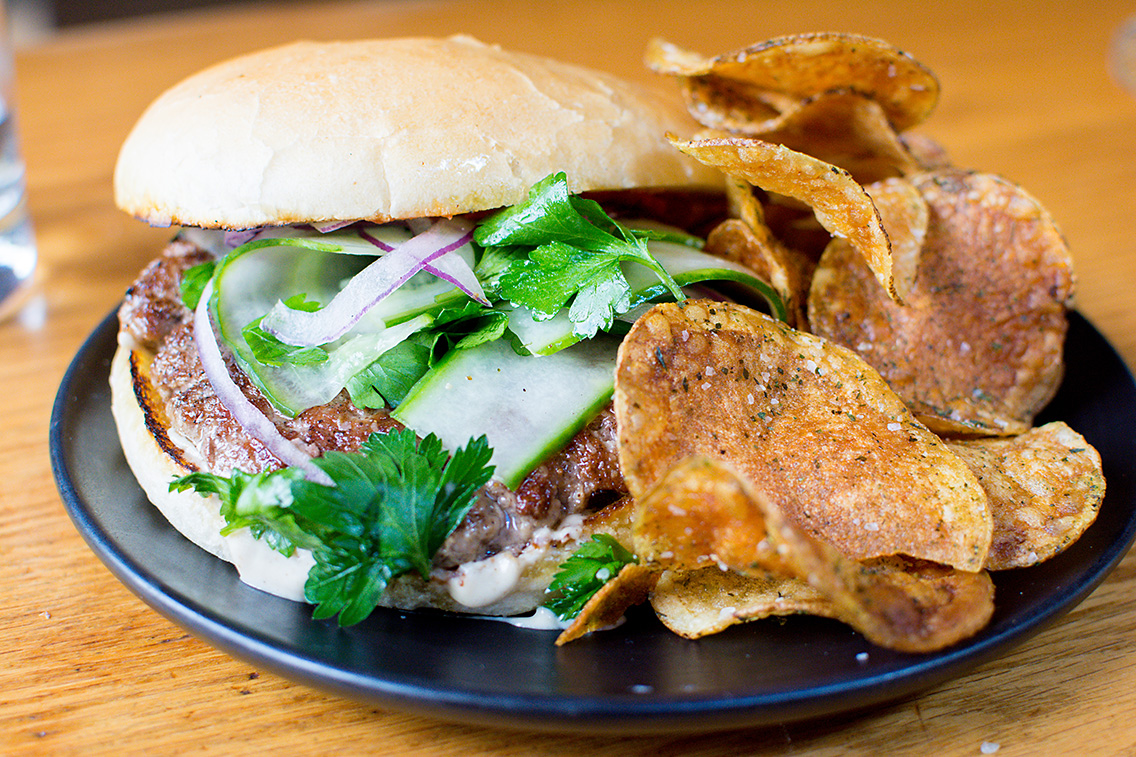 One of Hubby's favorite brunch dishes has to be avec's Lamb Burger.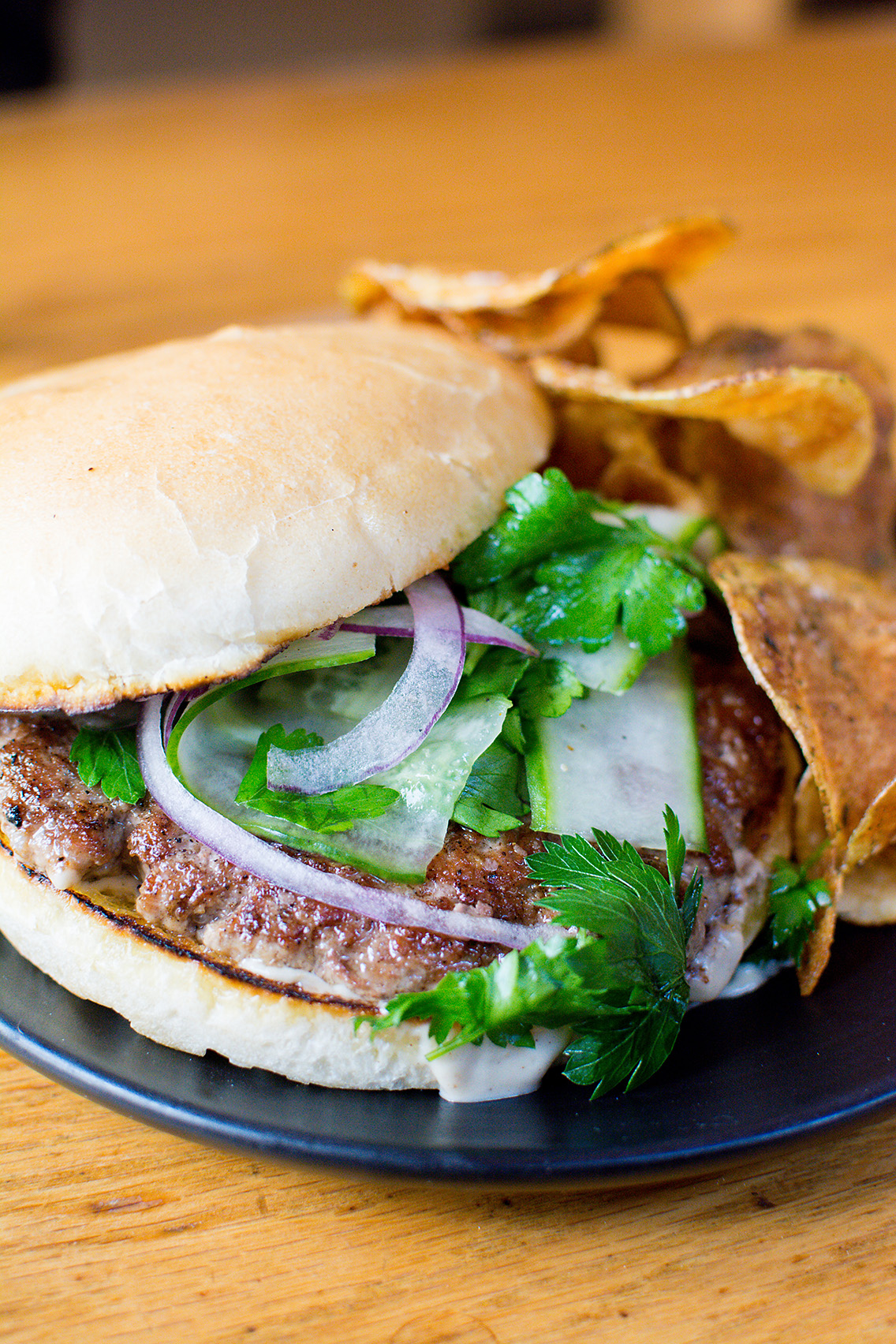 Served with berbere spiced tomato jam, tahini yogurt, cucumber, and mint, this is one juicy burger constructed to perfection.
The crunch from the toppings and the bright flavors all work really well for a brunch burger too (can I get a hallelujah for a brunch burger that doesn't just slap a fried egg on top and call it a "brunch burger"?).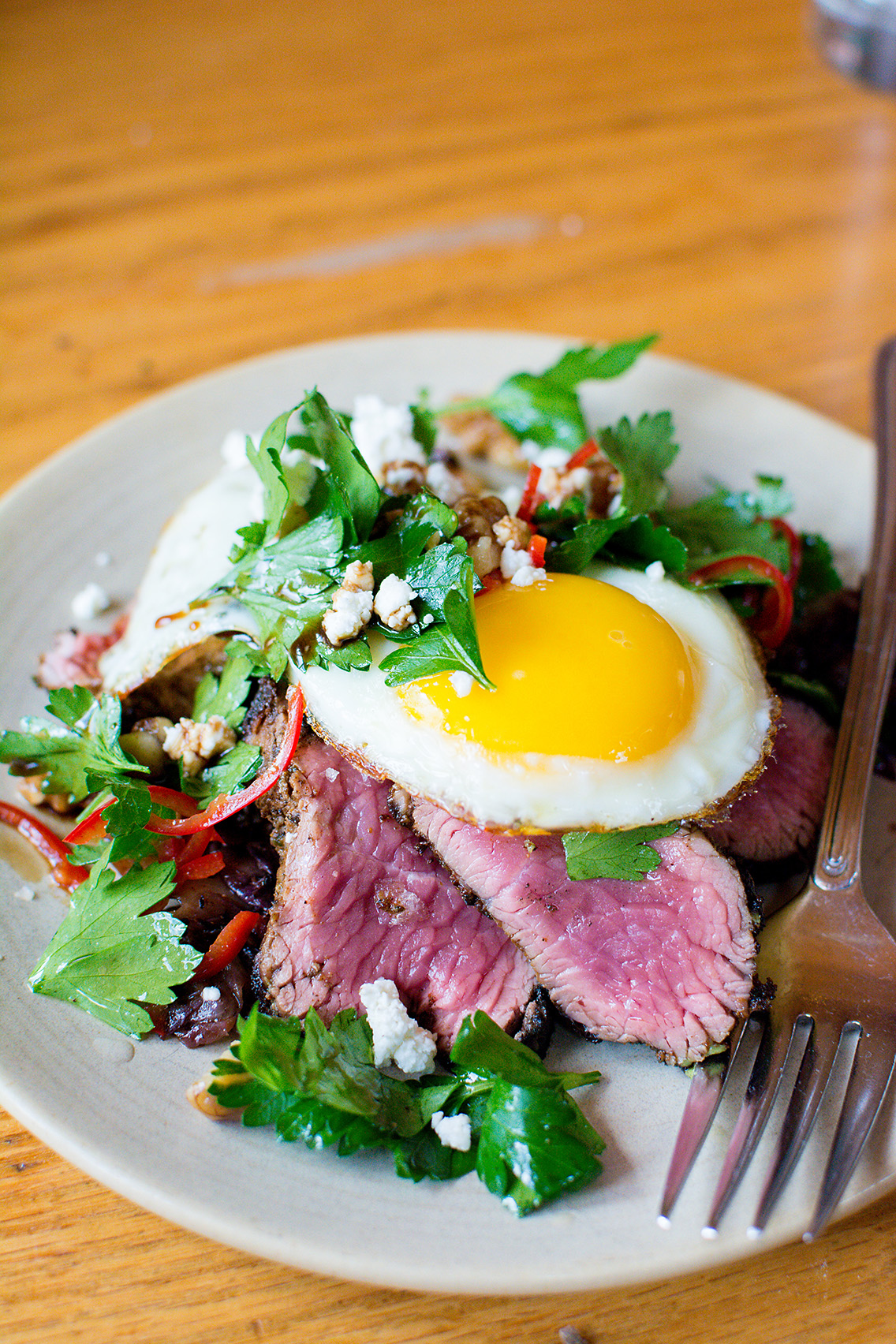 Another crowd-pleasing dish that Hubby especially loves is avec's Hanger Steak.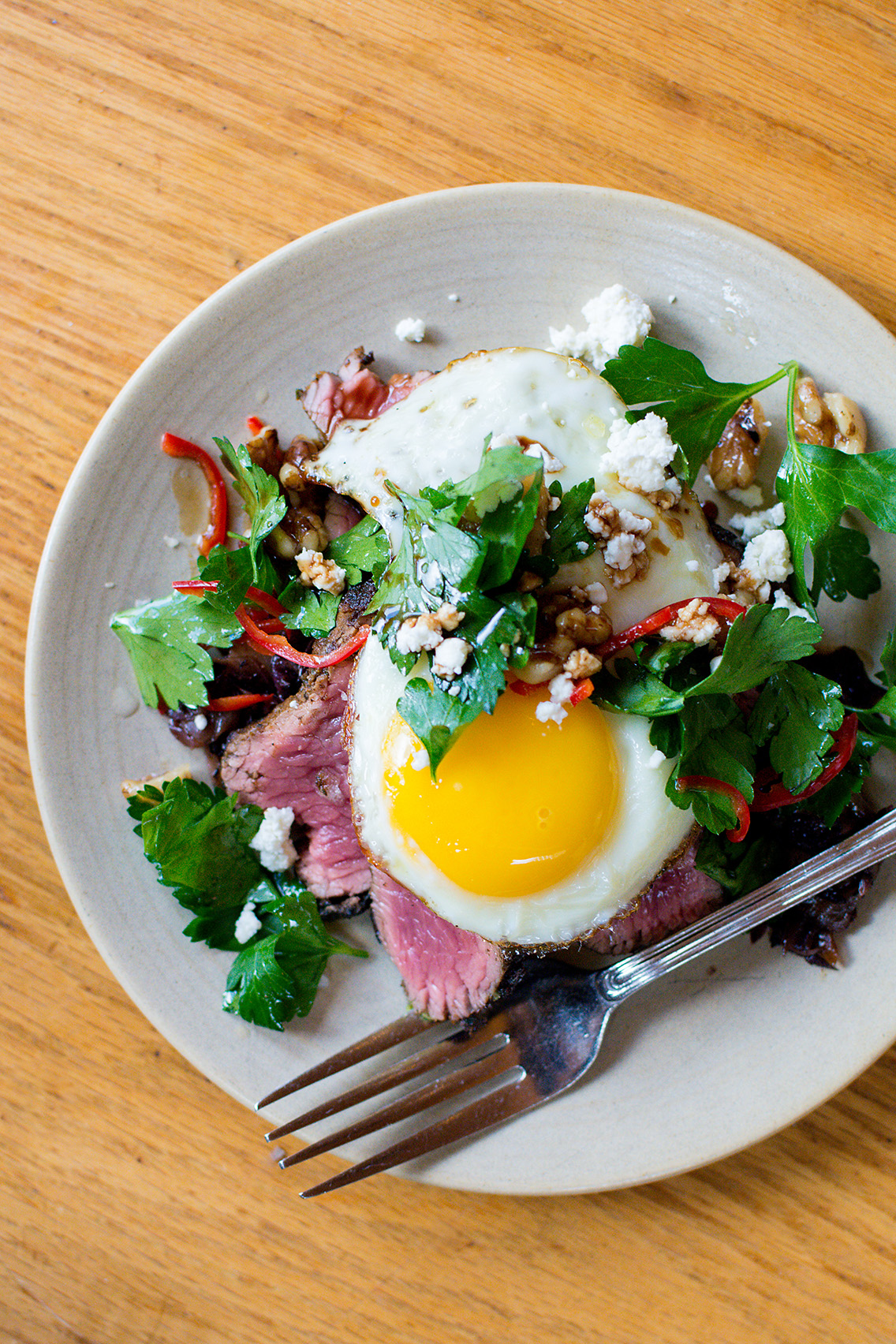 Served with a fried egg on top, charred radicchio, walnuts and feta cheese, this isn't your mother's traditional steak and eggs. The vibrant flavor boost from the Mediterranean elements give this dish so much energy!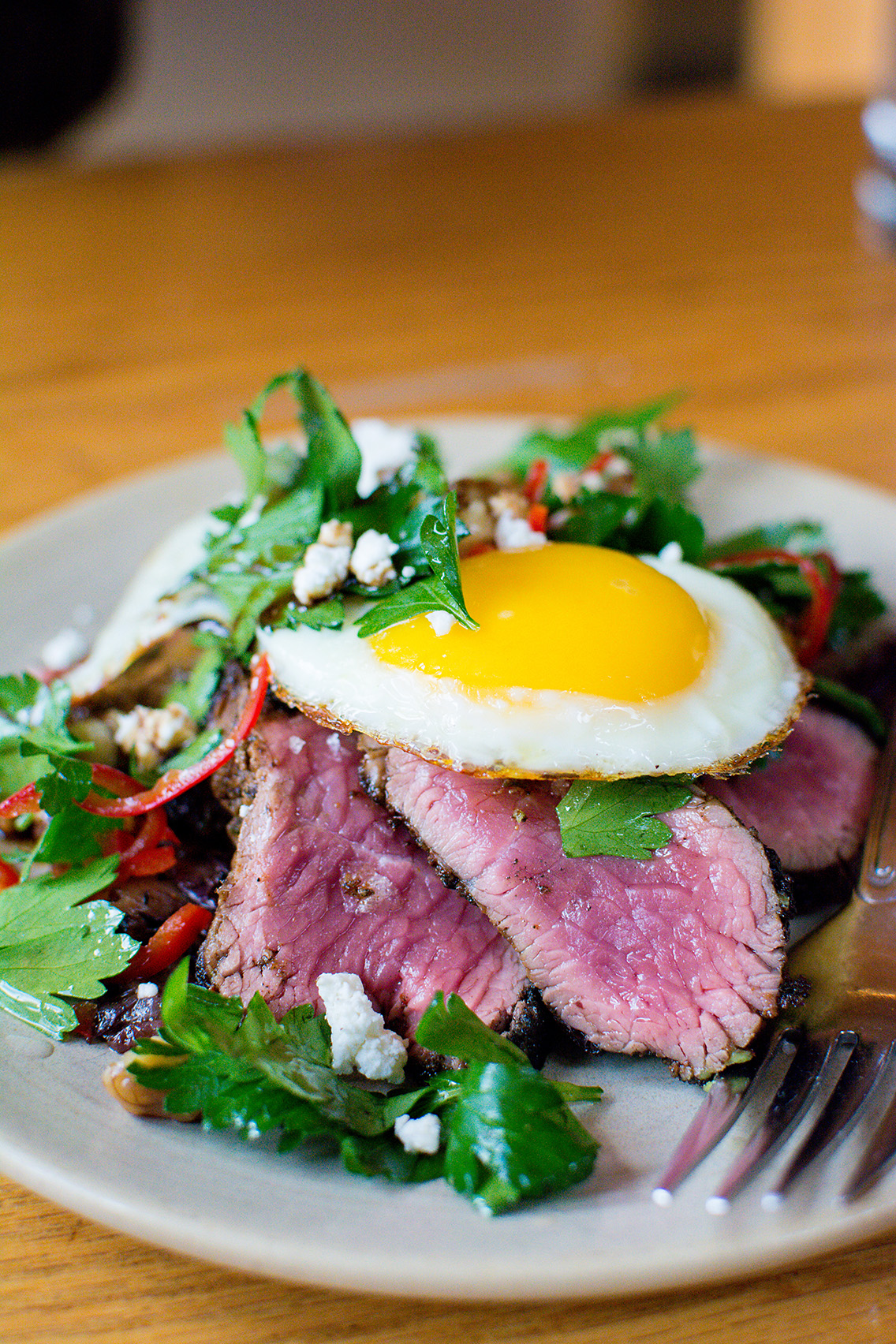 And it's really beautiful to shoot too.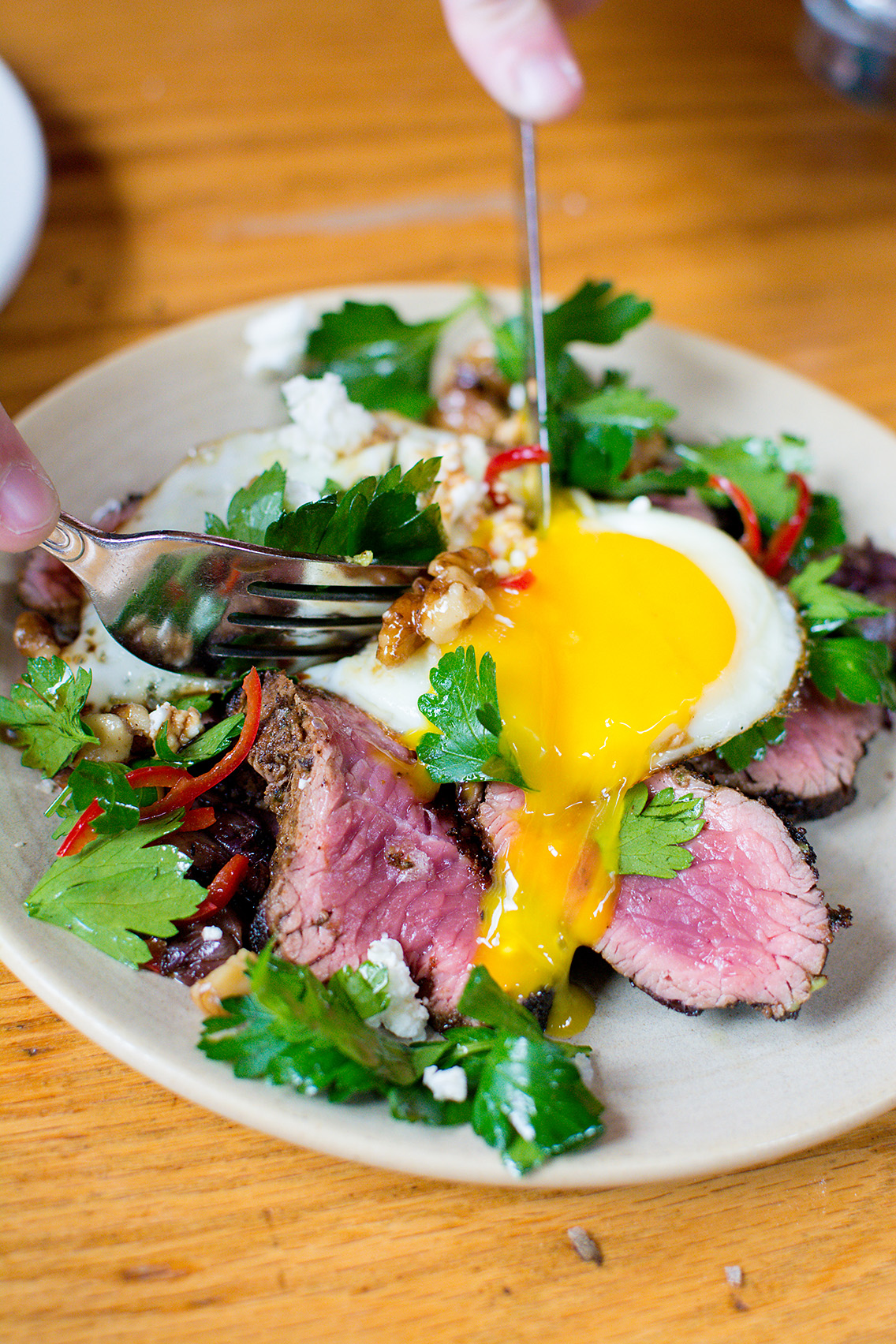 (#eggporn — every good brunch needs some!).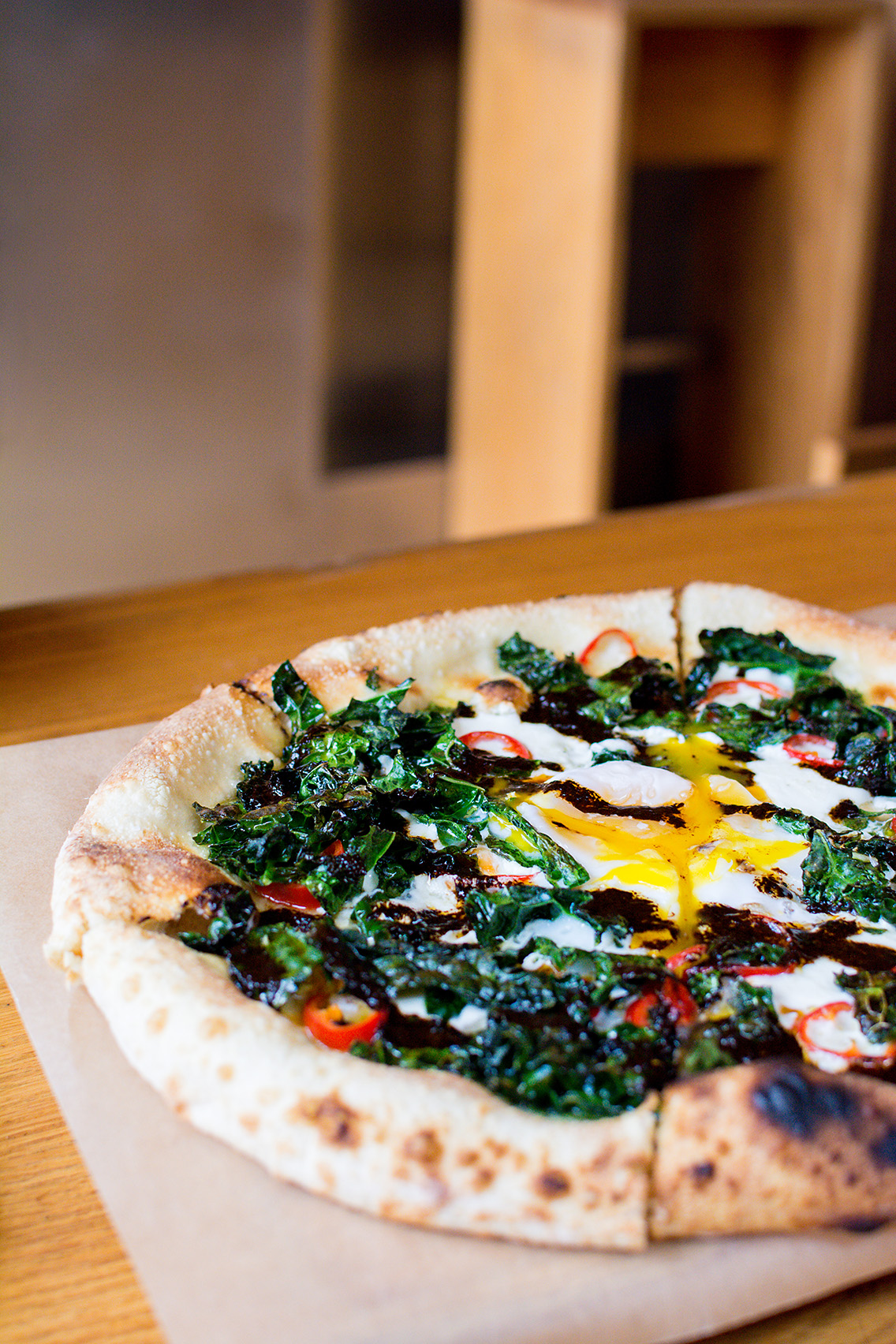 Speaking of #eggporn… avec just so happens to have the sexiest egg-topped breakfast pizza I've EVER had and you NEED to know about it.
Because until two weeks ago, I didn't. And now that I do it'll be hard for me to ever eat anywhere else for brunch. Ever.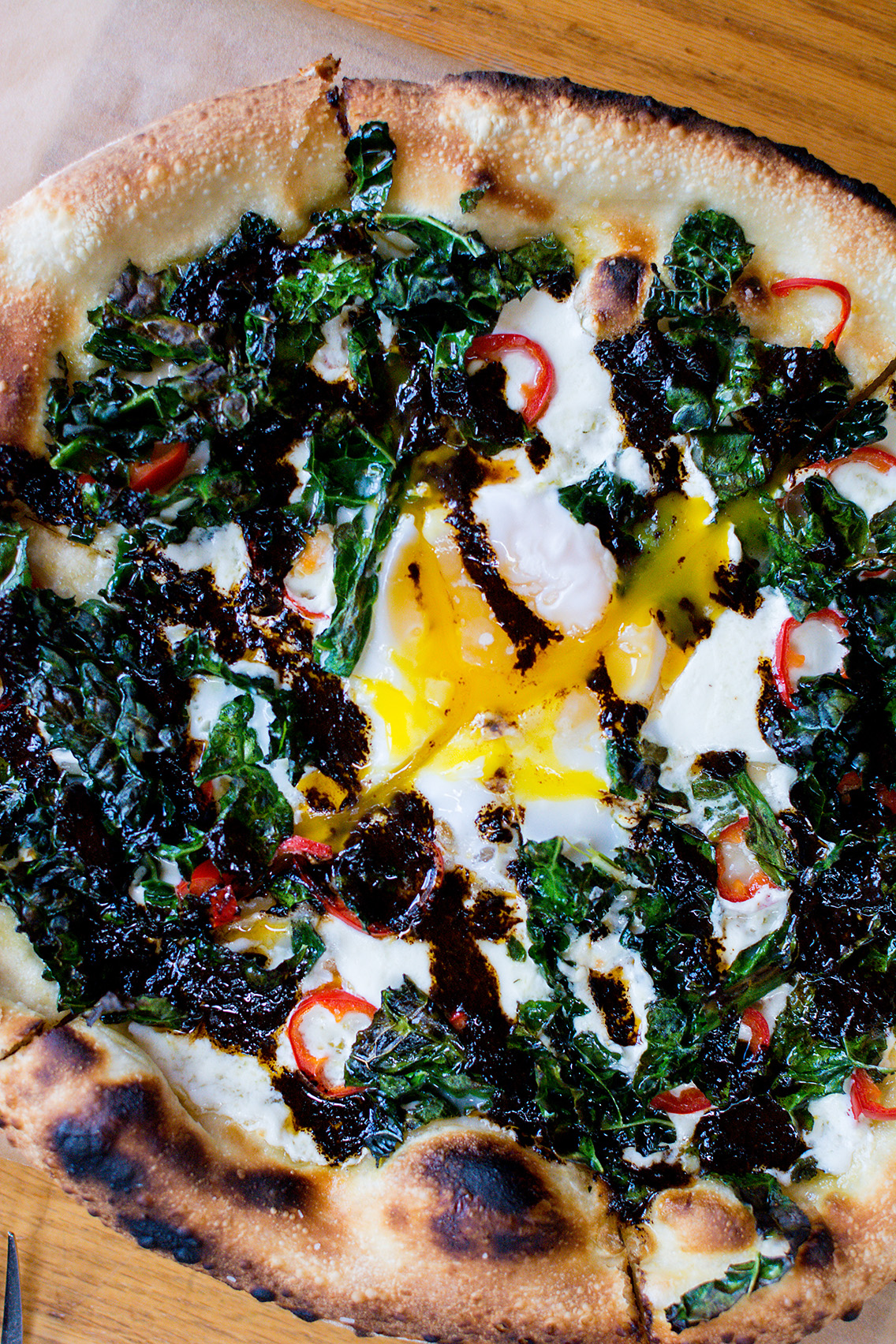 Just LOOK at it. This is quite literally my favorite brunch dish in all of Chicago right now. Just thinking about it is making my mouth-water uncontrollably.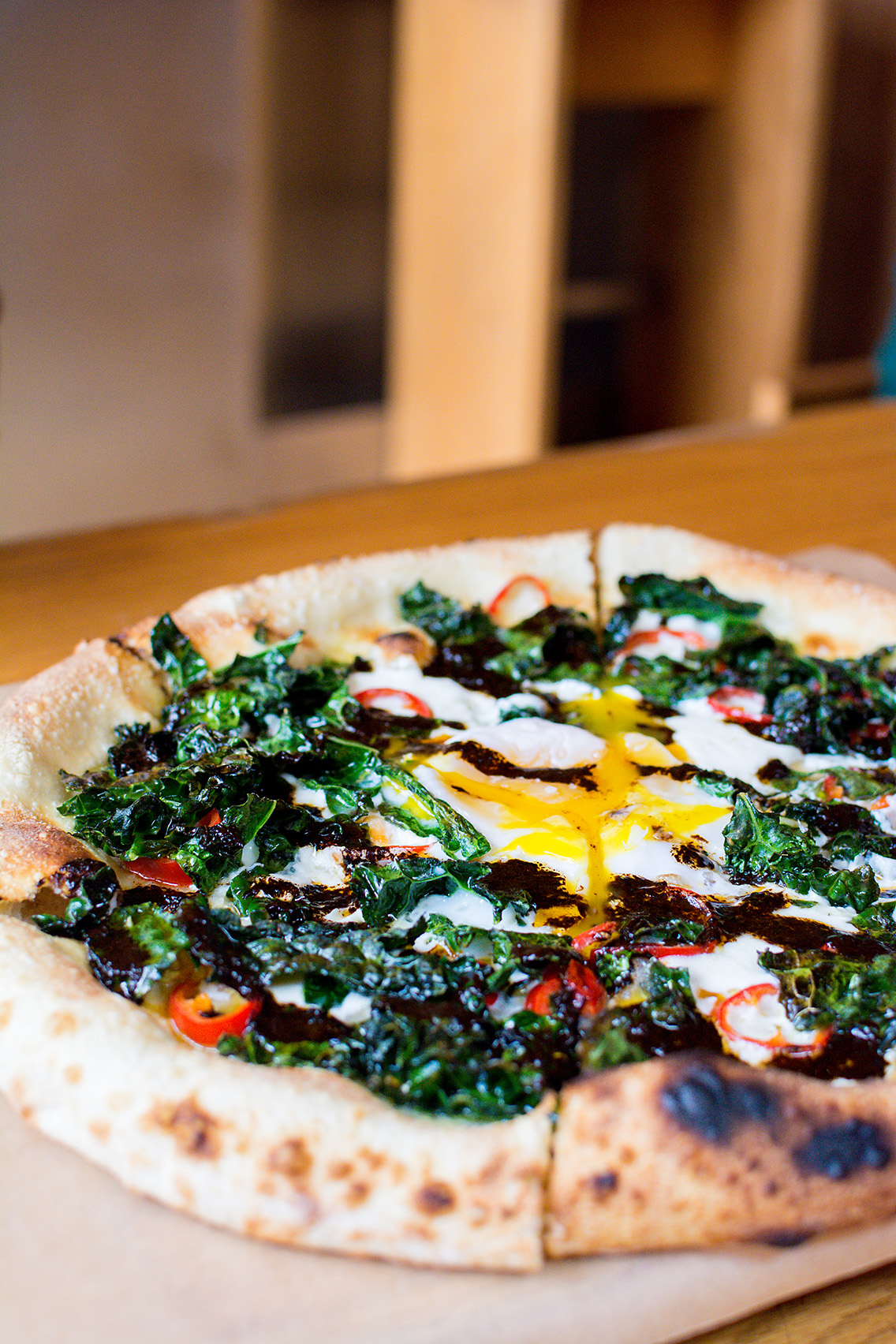 This is avec's Duck Egg Pizza with pickled chilies, mozzarella cheese, charred greens, and black garlic.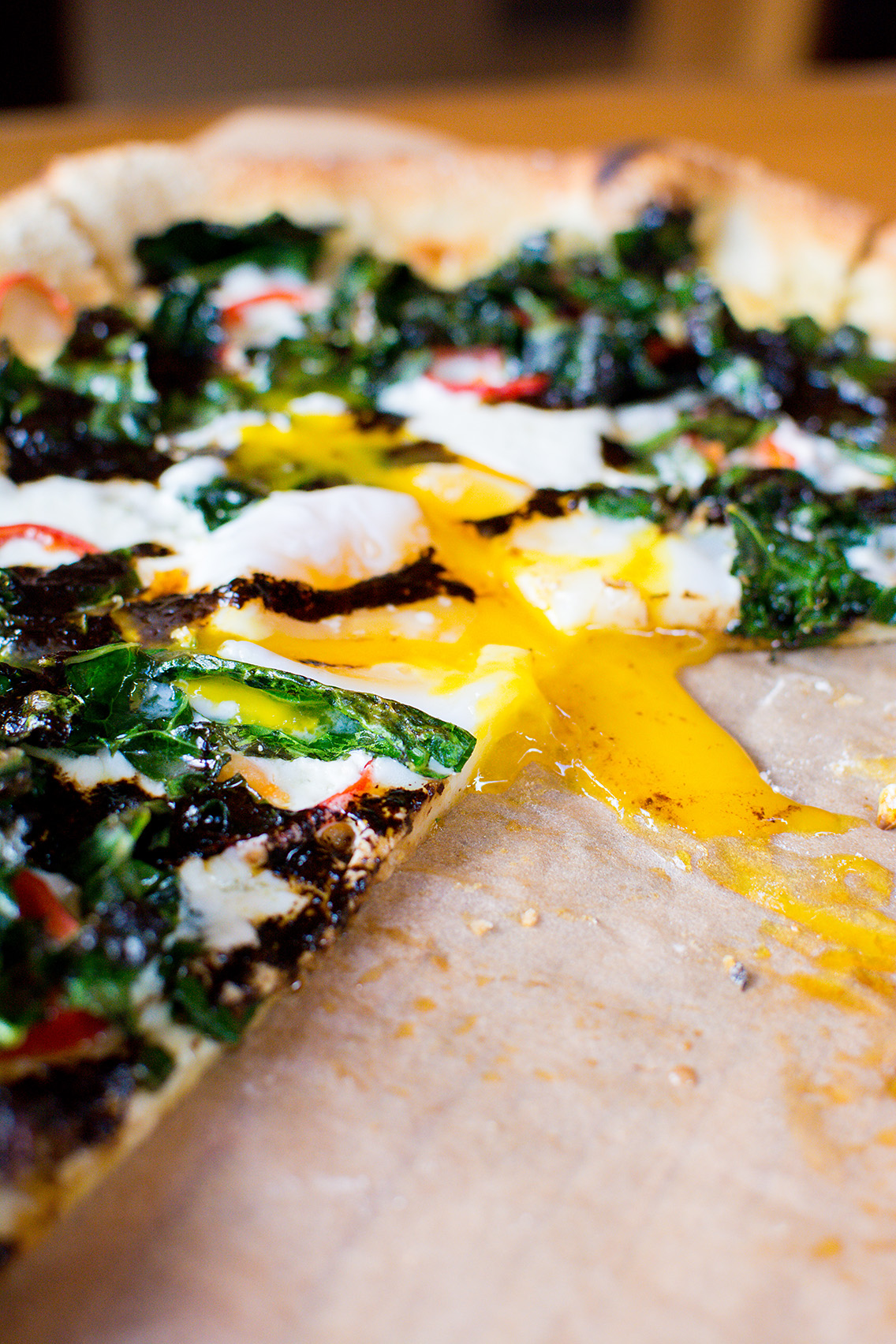 Robust charred greens mingling with the soft duck egg, the bright chilies, and the beautiful crust to make one of the most spectacular single bites I've ever put in my mouth.
This dish literally makes me so happy that I feel like it deserves to be the 11th on this list.
Yup, it's THAT good.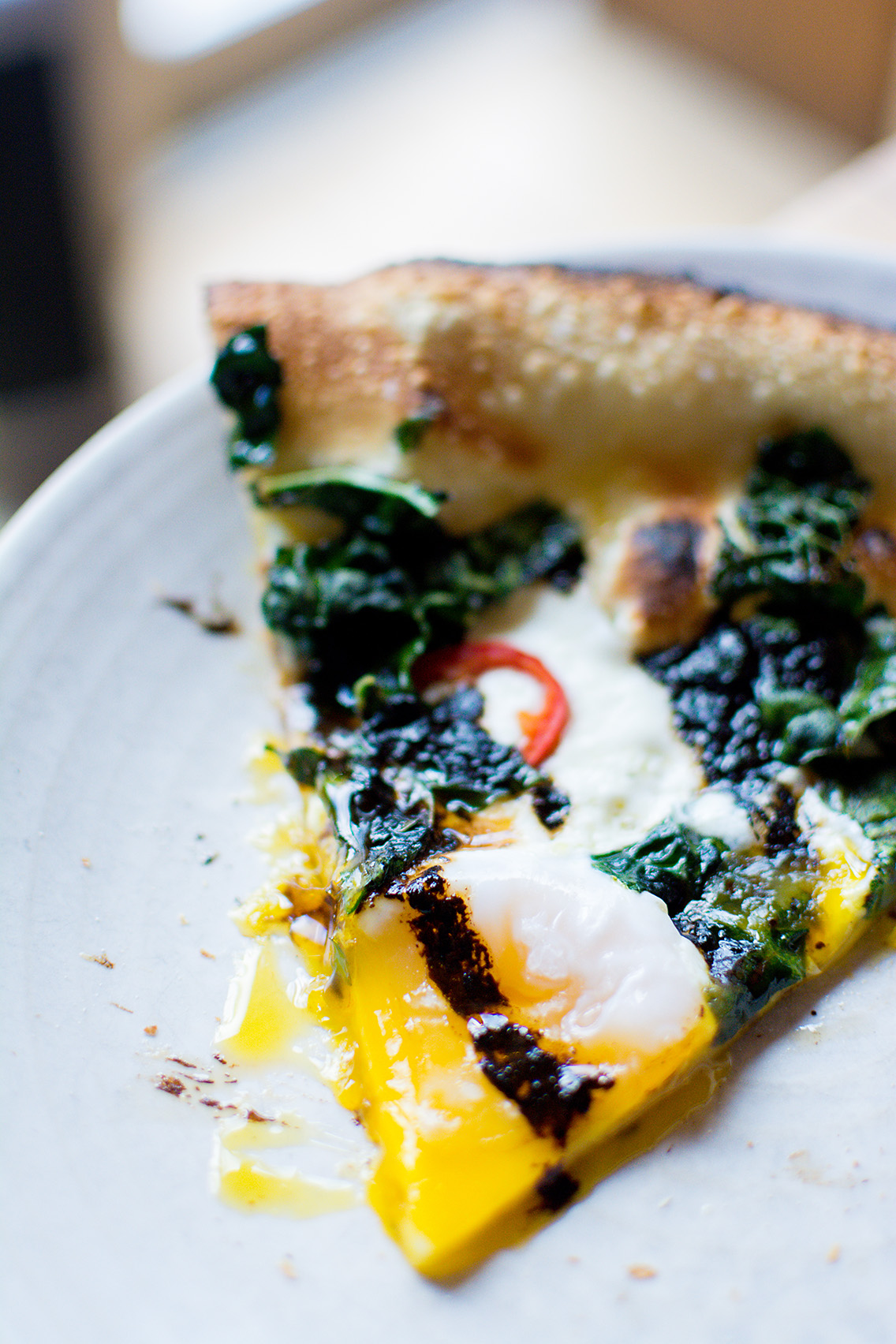 I'll be the first to admit that I have a MAJOR soft-spot for avec. It was my very first foodie restaurant crush. The first restaurant to introduce me to so many of my absolute favorite foods.
No place can turn a simple side dish of vegetables into a stunning masterpiece like avec. No place can convert my picky husband into a foodie like avec. No place calls me back to it time and time again FOR YEARS like avec.
Because the truth is, in Chicago, there NO dining experience quite like it. Especially for Sunday brunch service.