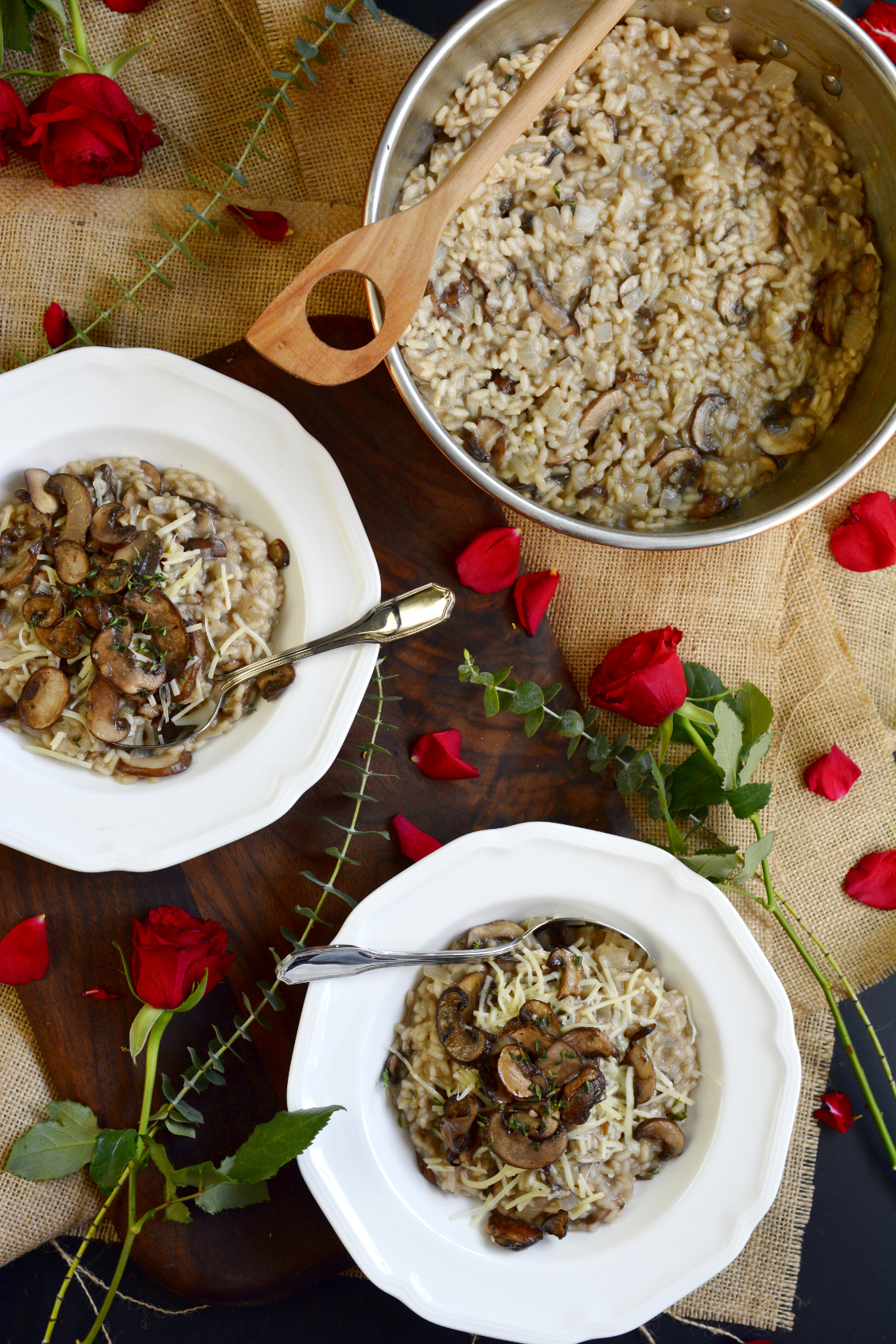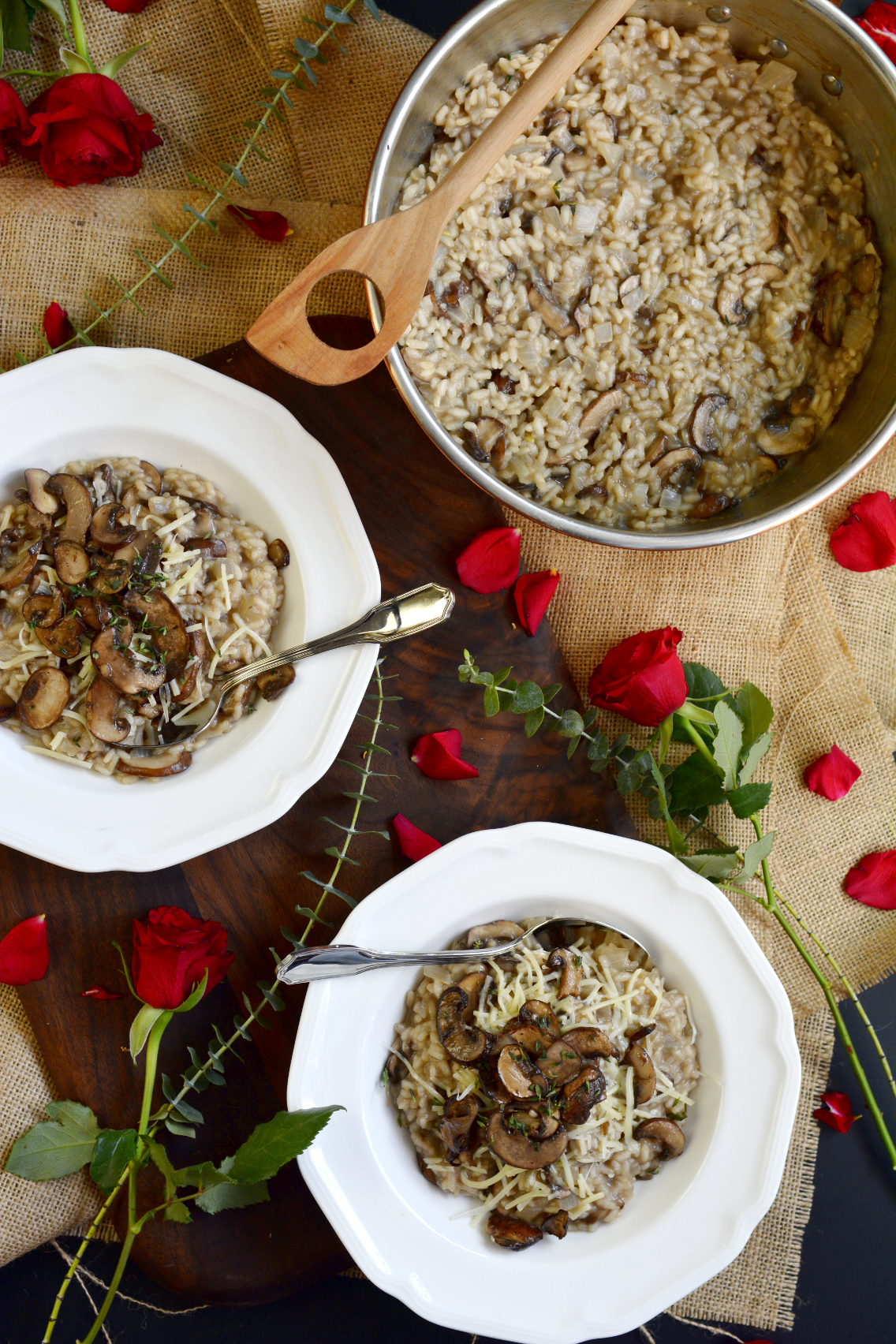 Hubby and I love to make risotto together. In fact, it's one of the most romantic things we make for dinner. We each take turns stirring the rice while the other ladles in the broth and inevitably we end up with a delicious meal and some of our most cherished memories together. We love the ritual so much one of the first things we added to our wedding registry years ago was this copper risotto pan.
While many of you will be dining at fancy restaurants for Valentine's Day, some of you, like H and I, no doubt prefer to forgo the crowds and instead enjoy a gourmet meal at home. This Black Truffle Mushroom Risotto recipe is the perfect luxurious dinner for Valentine's Day and is so much fun to make together! It's a recipe of Hubby and I's own creation, developed after years of passionate risotto making and I know the complex flavors and sinful silkiness of the risotto itself will entrance you!
Risotto really is the perfect Valentine's Day meal — it requires three burners on the stove and constant attention but, if you do it with your significant other, the labor is both fun and deliciously rewarding.
Risotto is often referred to as "soupy rice" so it's really important to get the textures and consistency right while cooking. The most important element to a good risotto is using the right rice — Hubby always uses arborio. The arborio rice creates a creamy sauce with the mushroom broth that should spread beautifully, almost like lava, when plated. The best trick Hubby and I discovered to build this perfect risotto consistency is to first soak the rice for just a minute or two in the mushroom broth to release the starch before beginning any of the cooking steps. Then we can toast the rice to bring out a smooth nuttiness in the risotto without losing that precious, spreadable consistency. In my hurry to photograph the ingredients for this post I forgot this step and my risotto ended up slightly lumpier than it should.
Learn from my mistake and remember to soak your rice!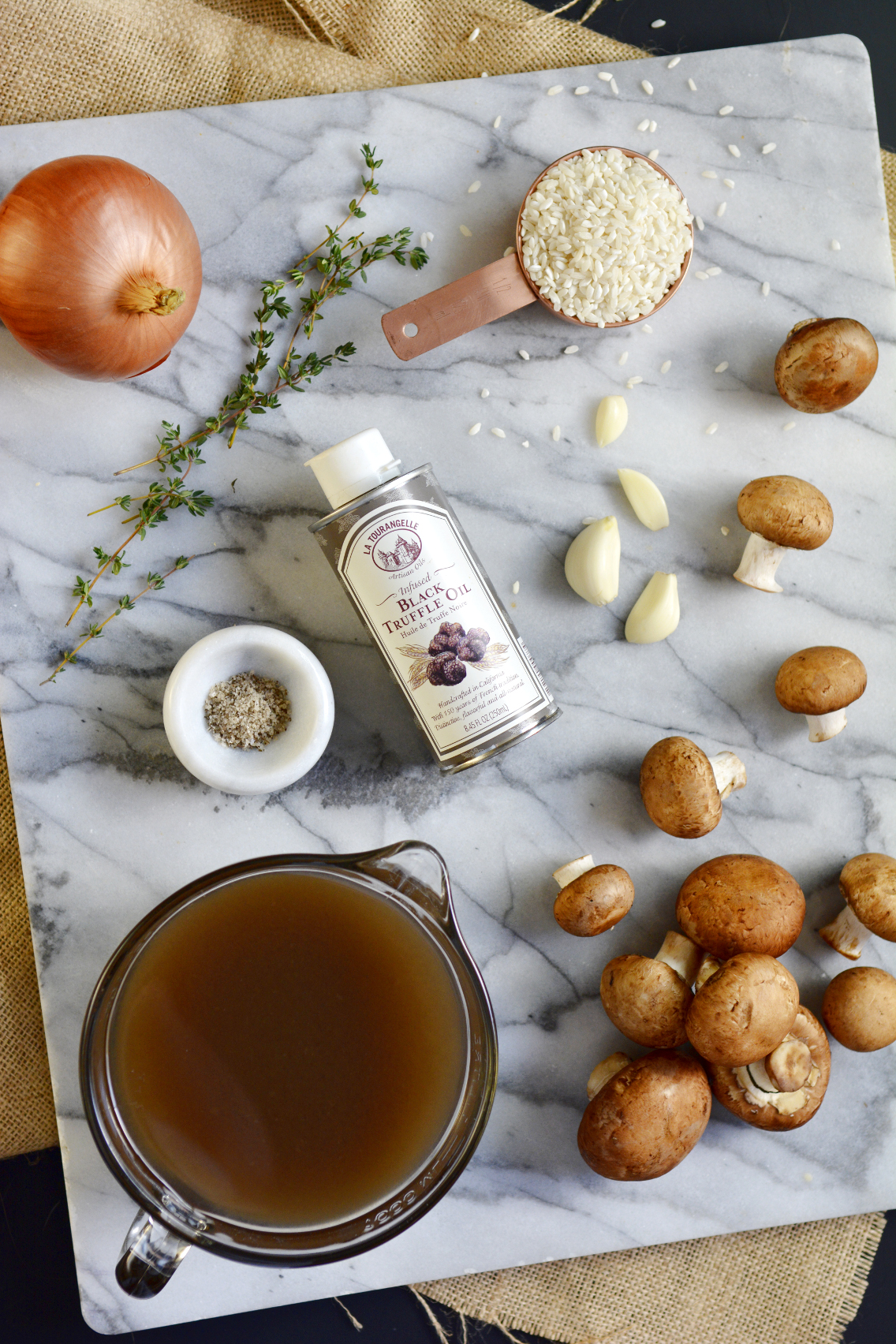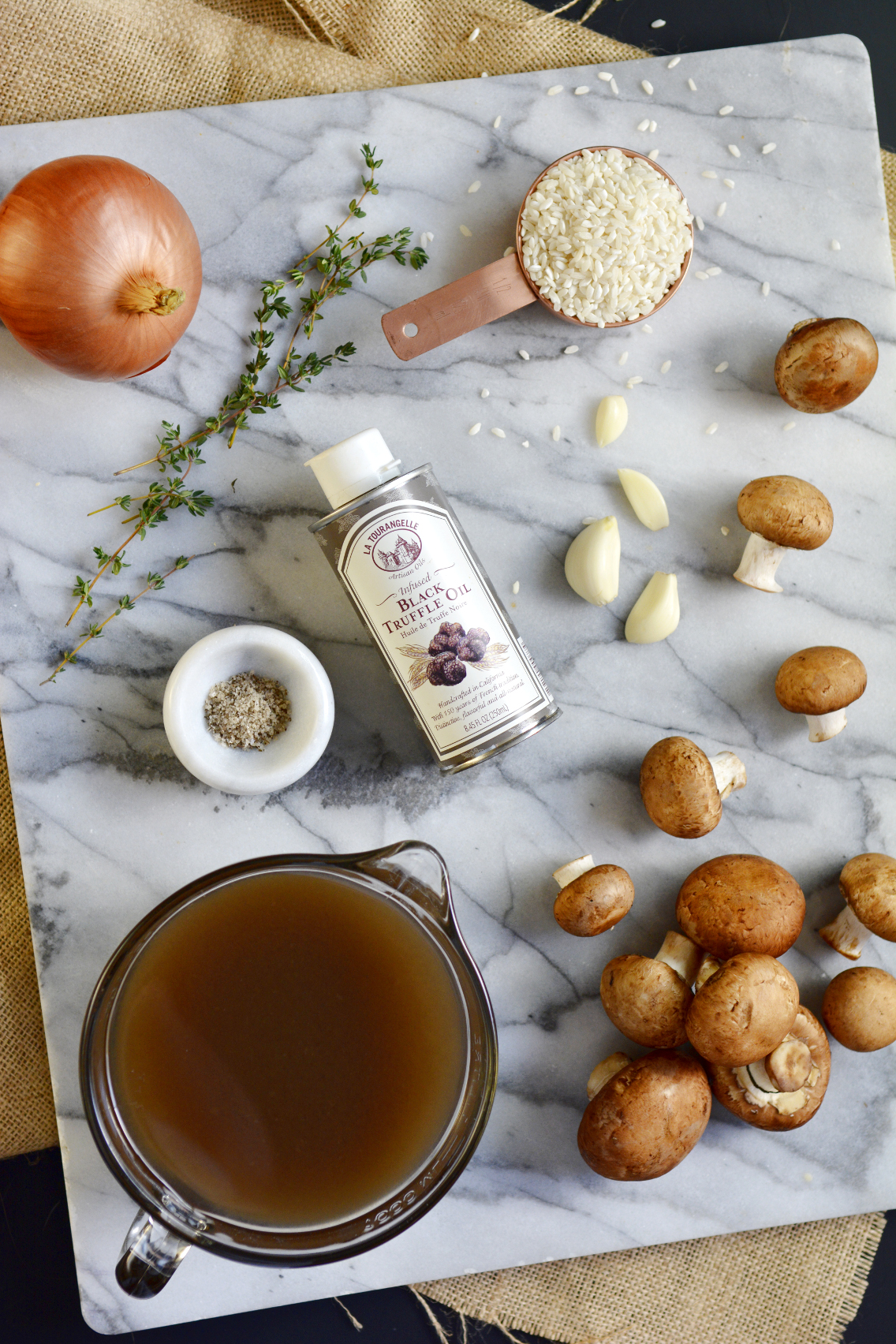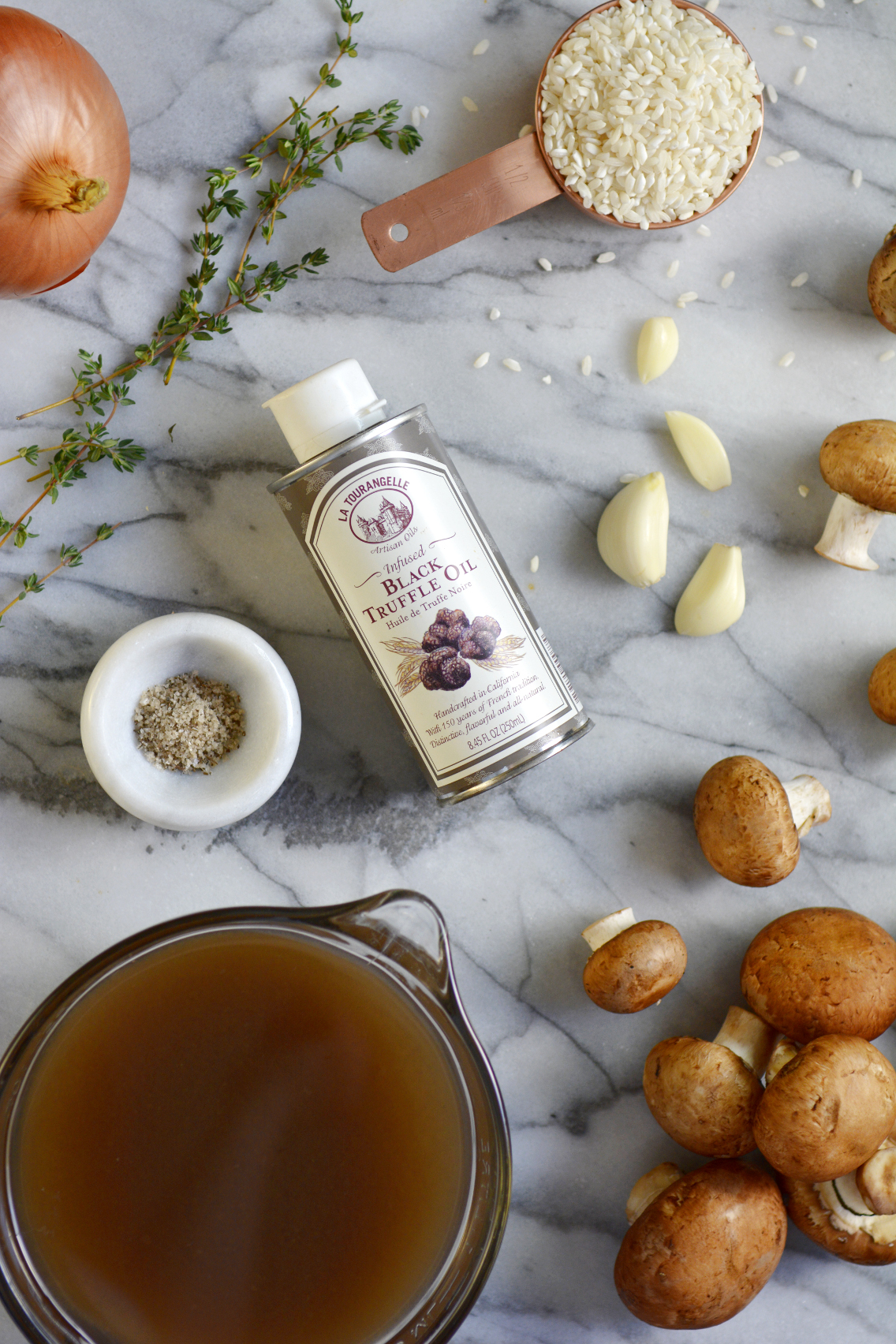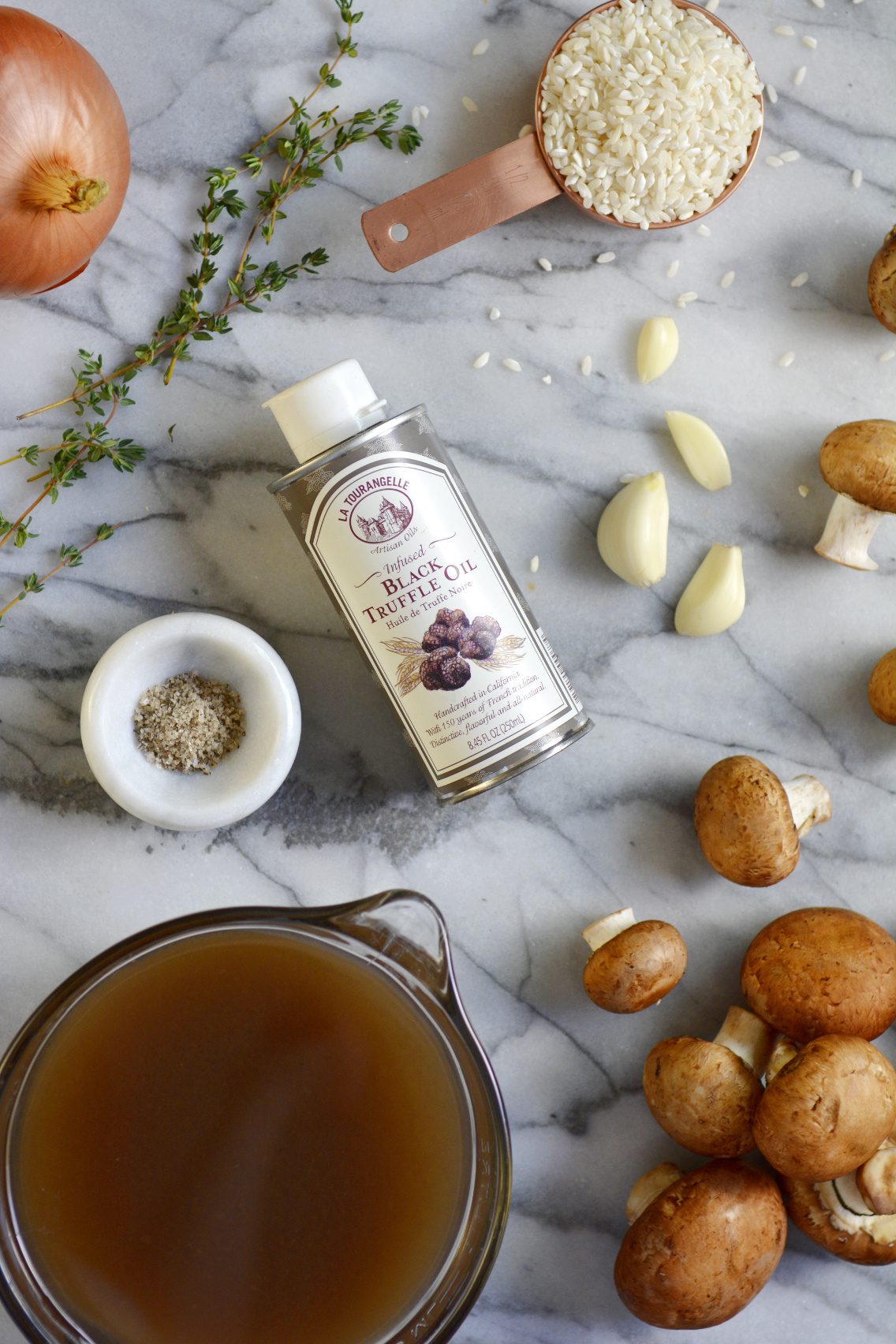 Black Truffle Mushroom Risotto
Makes 6 – 10 servings
2 Cups Arborio Rice
48 oz Mushroom Broth
16 oz White Wine of Choice
3 – 4 Garlic Cloves
2 lbs Baby Bella Mushrooms, Thinly Sliced
1 Small Onion
6 Tbsp Unsalted Butter
1 Tbsp Black Truffle Oil (available here if you can't find it in stores)
Handful of Fresh Thyme
Salt & Pepper
Parmesan, for garnish
Soak rice in a mesh strainer in broth for a few short minutes before beginning. As I mentioned earlier, you'll need three burners for this recipe but don't let that intimidate you — the process is a lot of fun to do with a loved one! Start your broth in a saucepan on a back burner and bring to a low boil, then reduce heat and keep under a simmer. Set out your risotto pan (or any stock pot with a substantial lip) and a large sauté pan on your front two burners. Add 2 Tbsp butter to the risotto pan and add your rice once melted. Toast the rice for a few minutes, stirring often. Next add the wine to the rice and stir until absorbed. Add your first cup of broth and, again, stir until absorbed. Repeat this process of adding one cup of broth and stirring until absorbed until the rice is properly cooked (you may not use all of the broth). The entire process should take about 20 – 30 minutes so don't rush!
While preparing the risotto (again, this is why this is best prepared with two people), melt the remaining 4 Tbsp of butter over medium-low in the sauté pan. Add the garlic and sauté until fragrant, about one minute. Next add all the mushrooms, stirring to coat. Sauté for about ten minutes then add the black truffle oil and thyme, stir, and cook for an additional three minutes. Once the risotto has reached the desired consistency, add half the sautéed mushrooms to it, stirring to incorporate. You can stir in some parmesan cheese here too if you'd like!
To serve, spoon into shallow bowls and garnish with parmesan cheese, reserved sautéed mushrooms and some additional fresh thyme. Enjoy!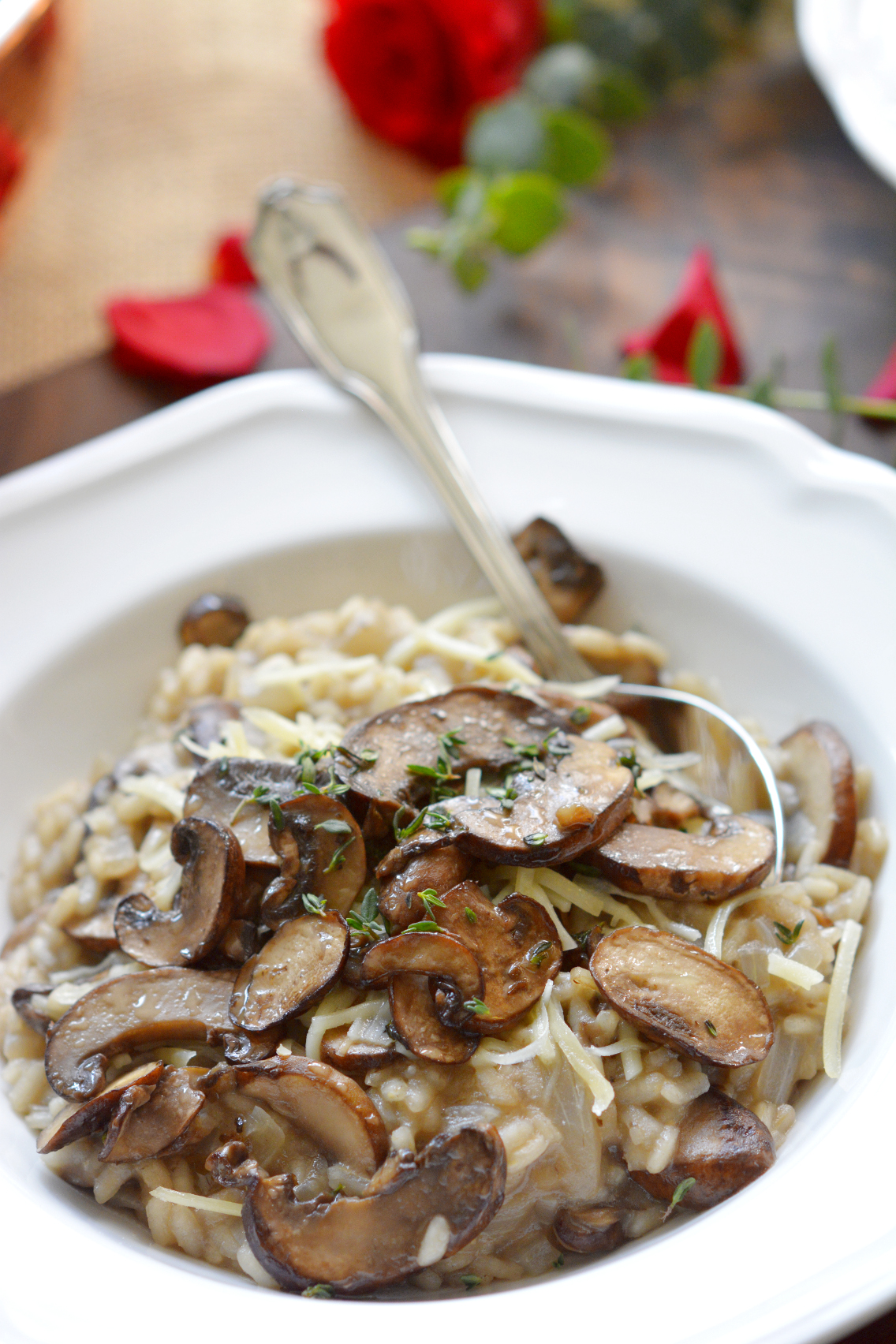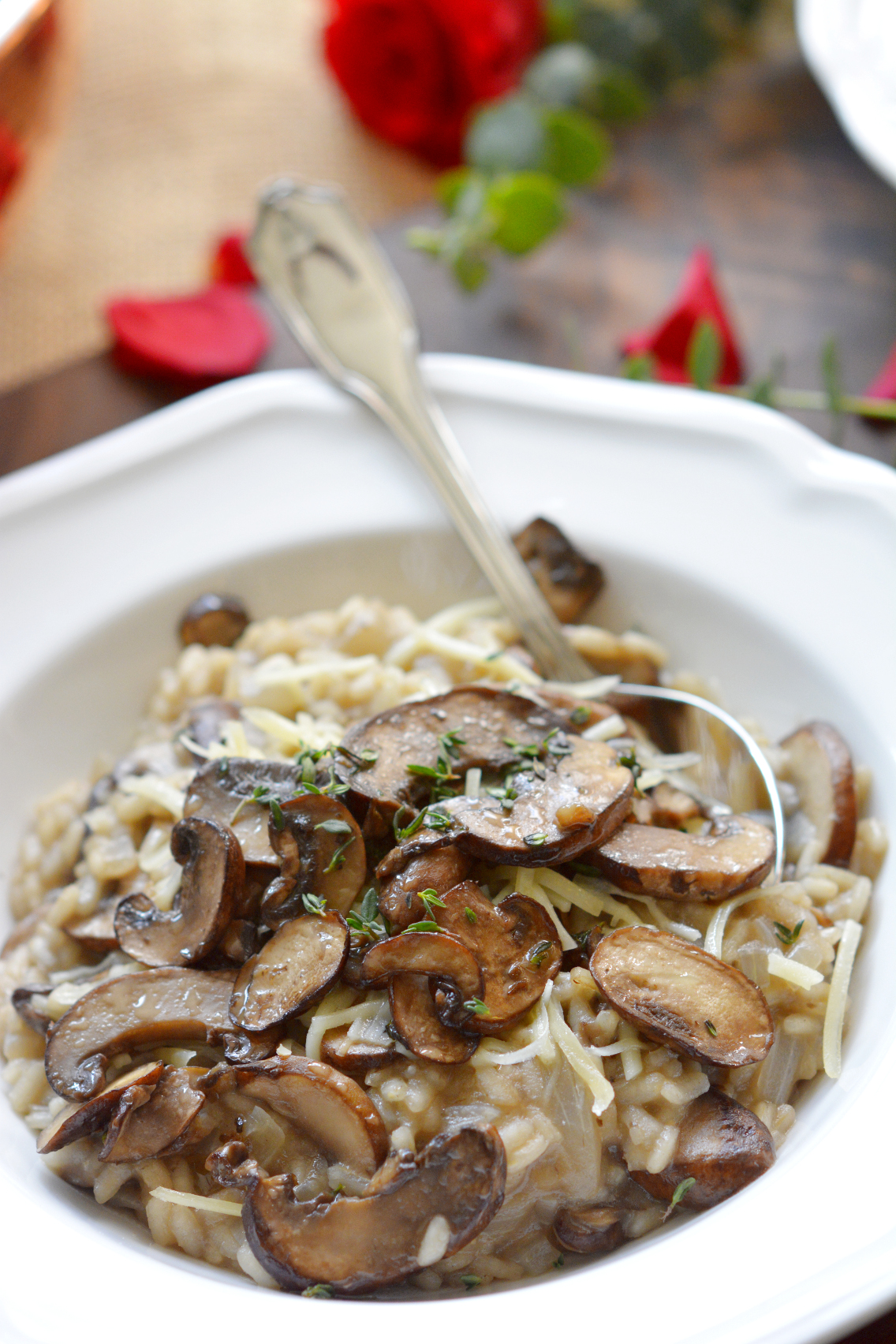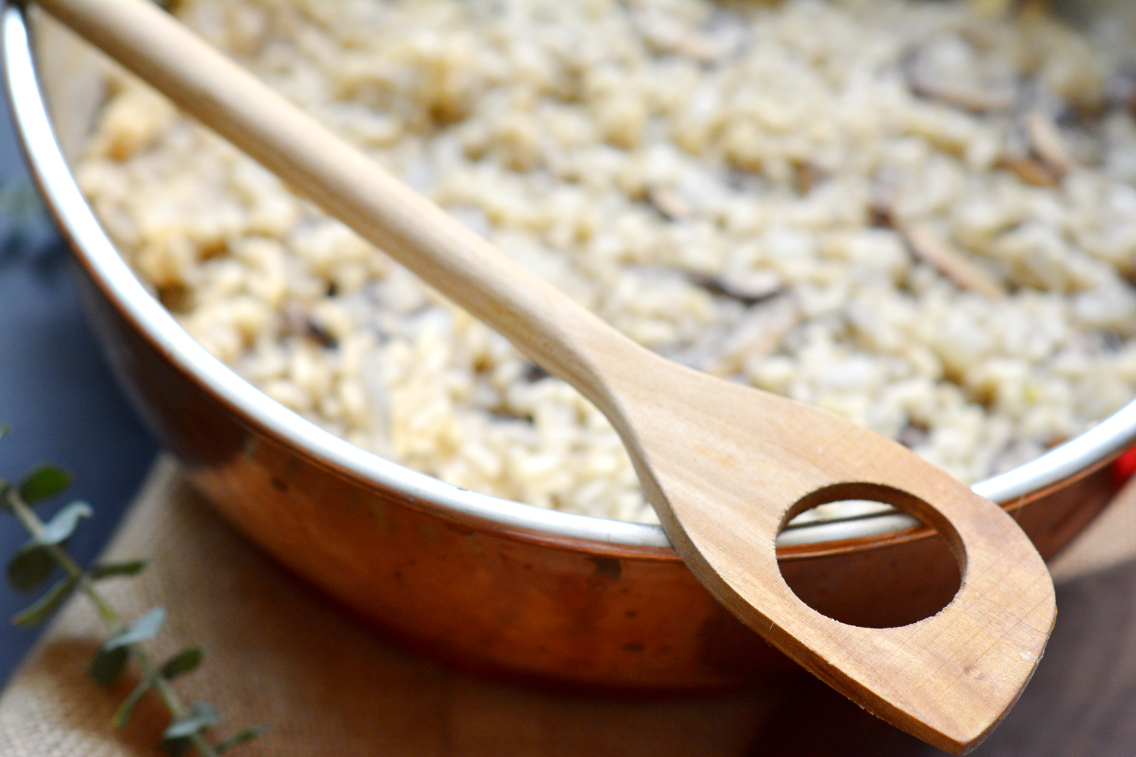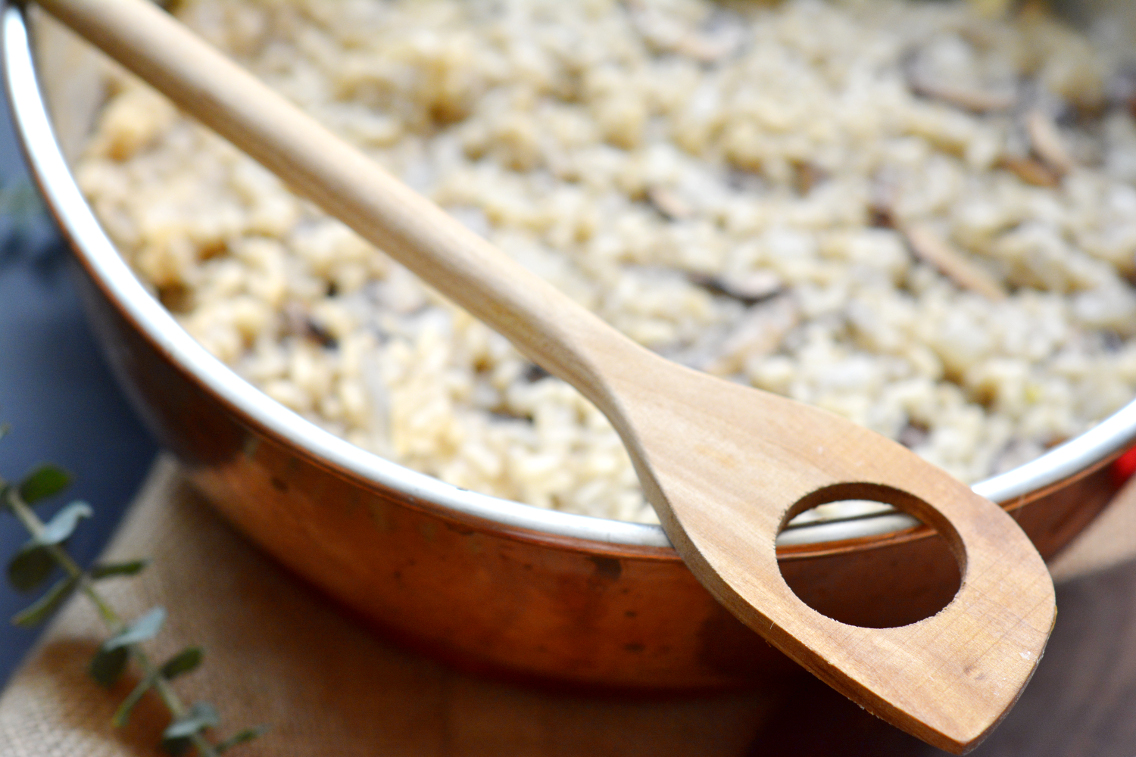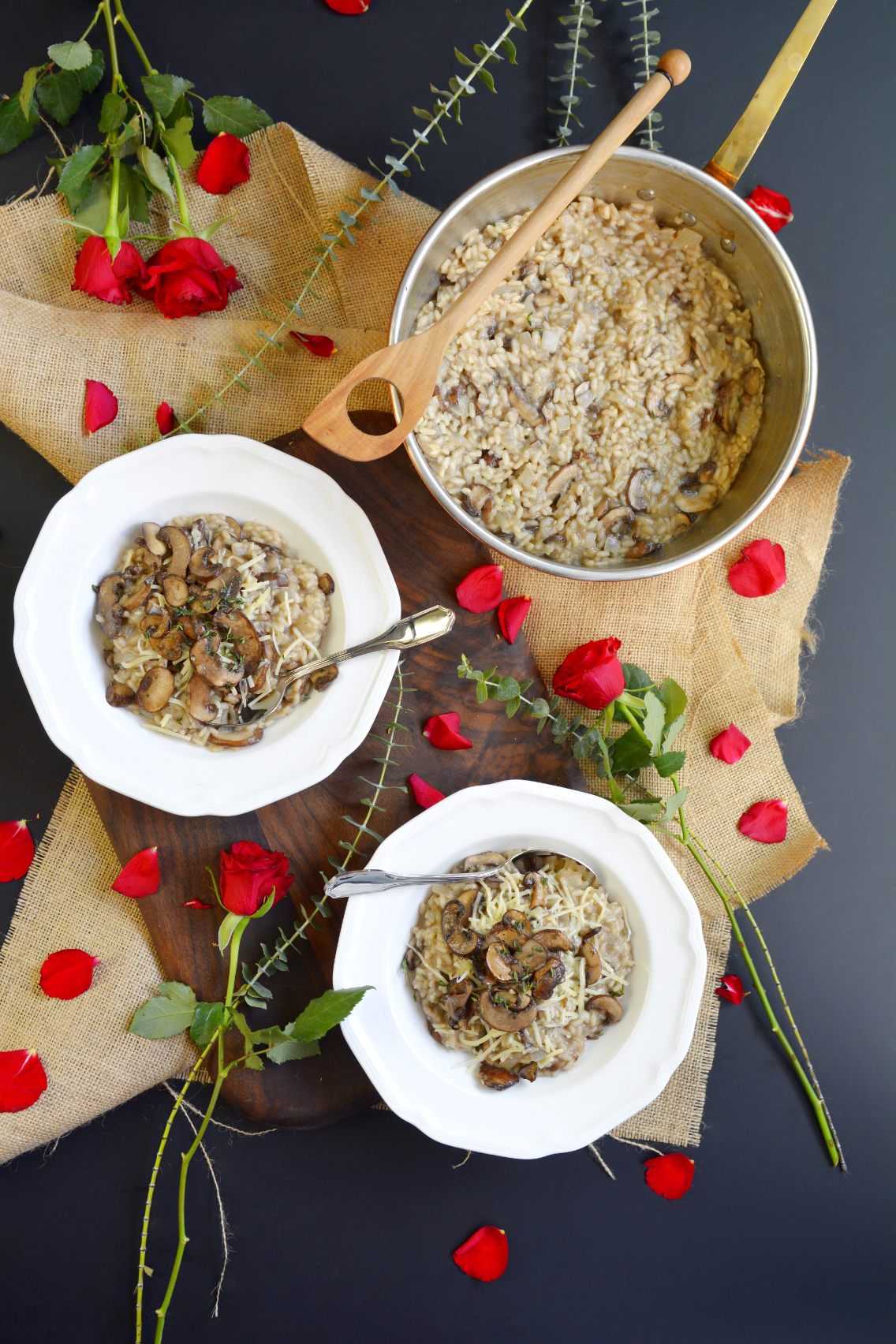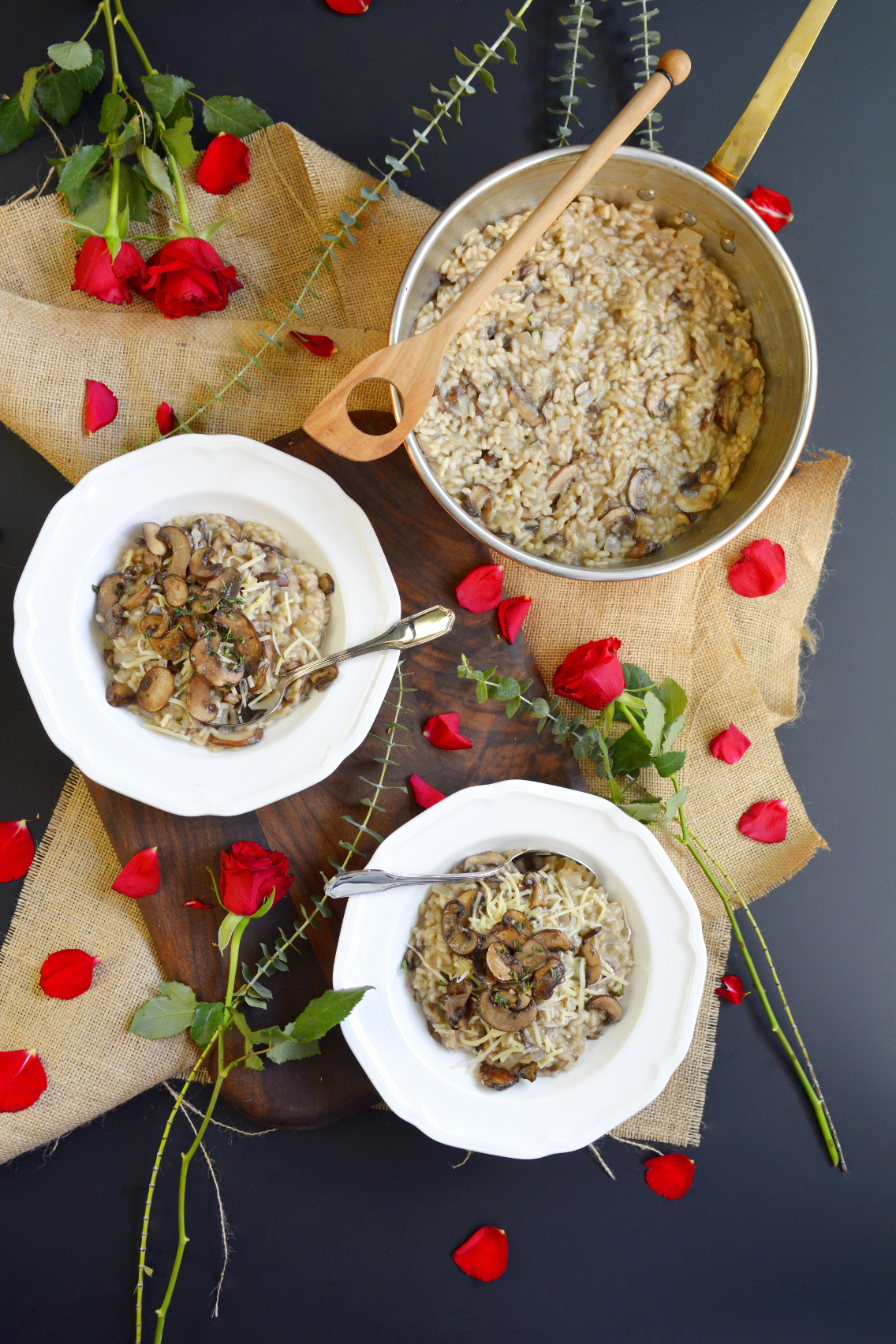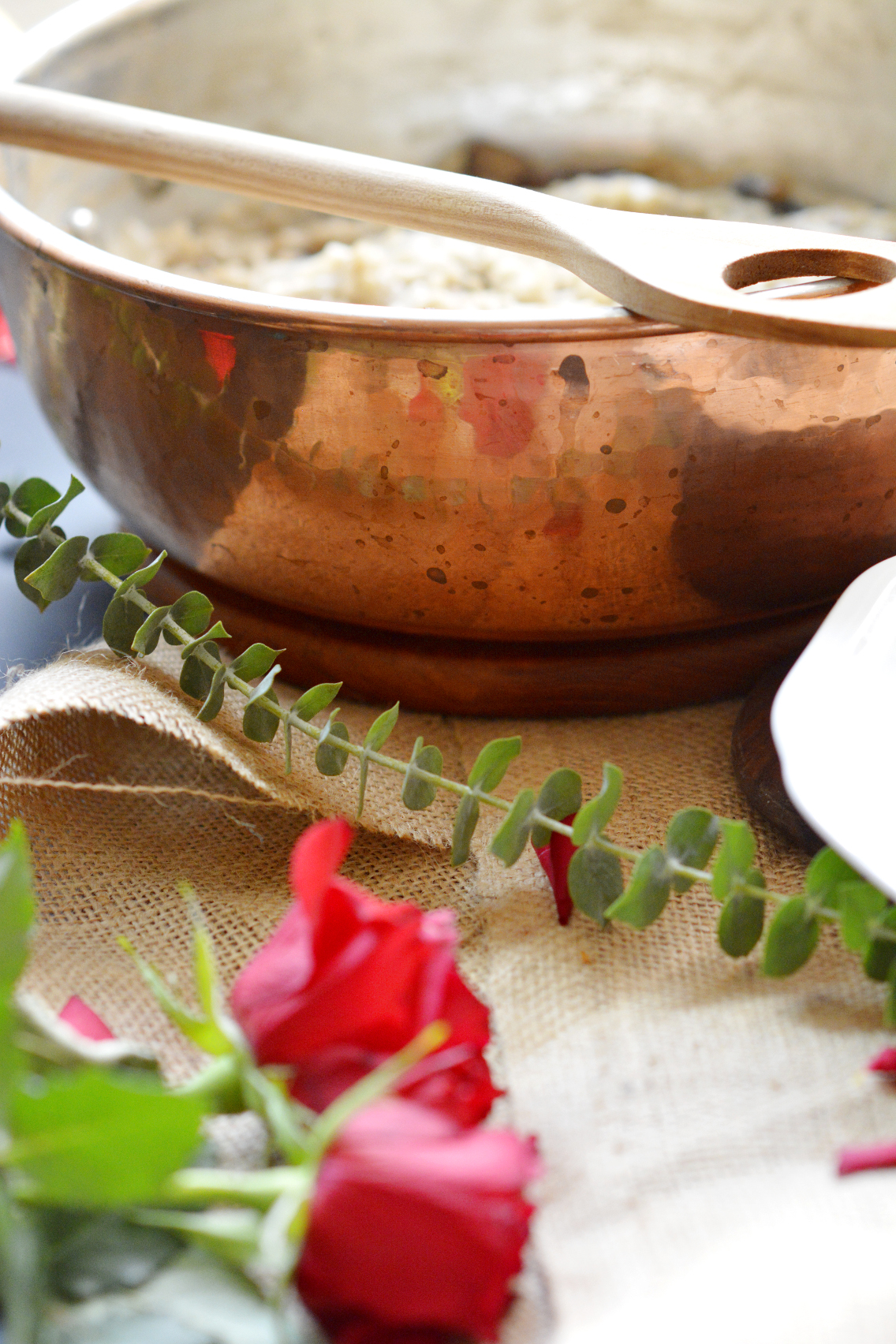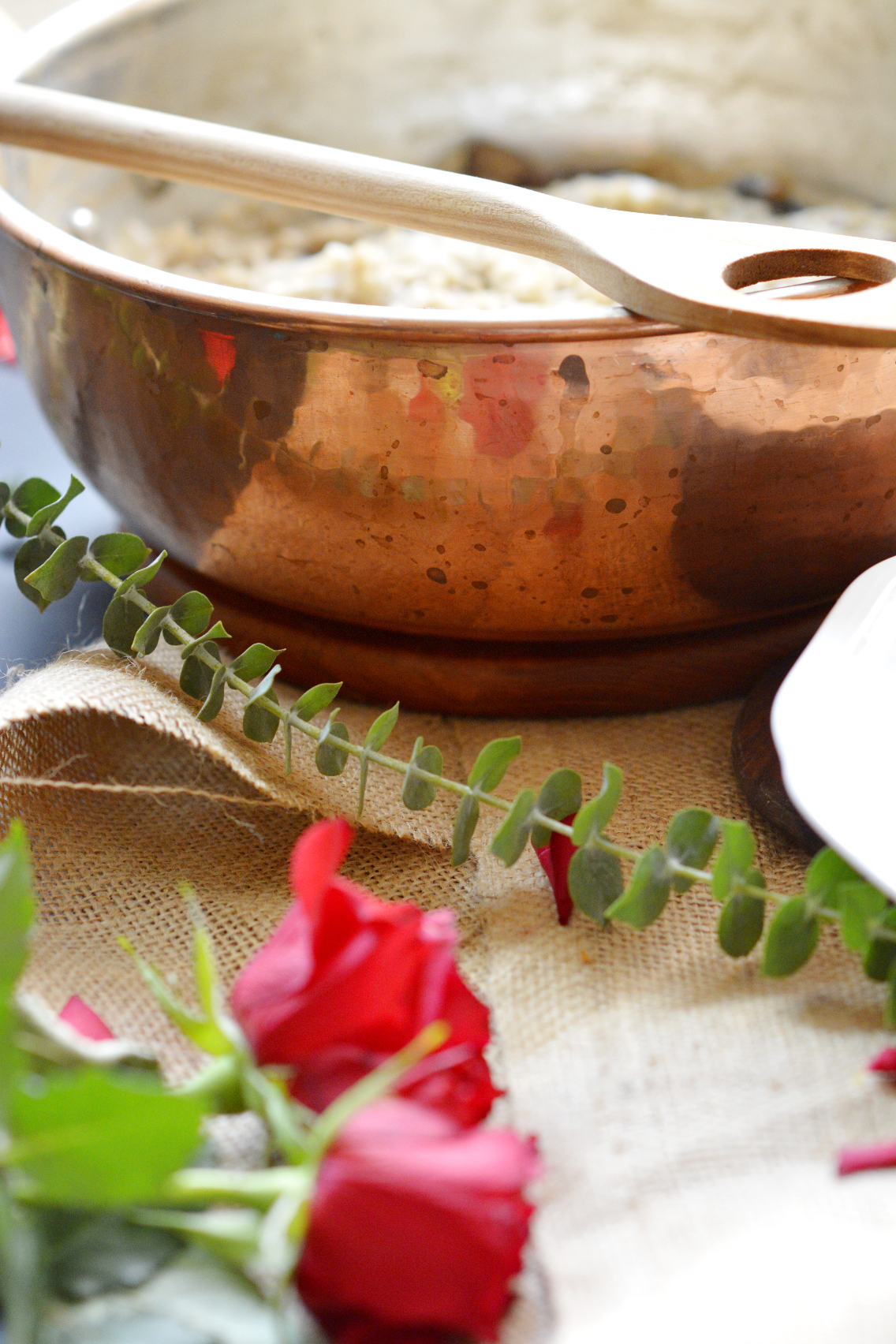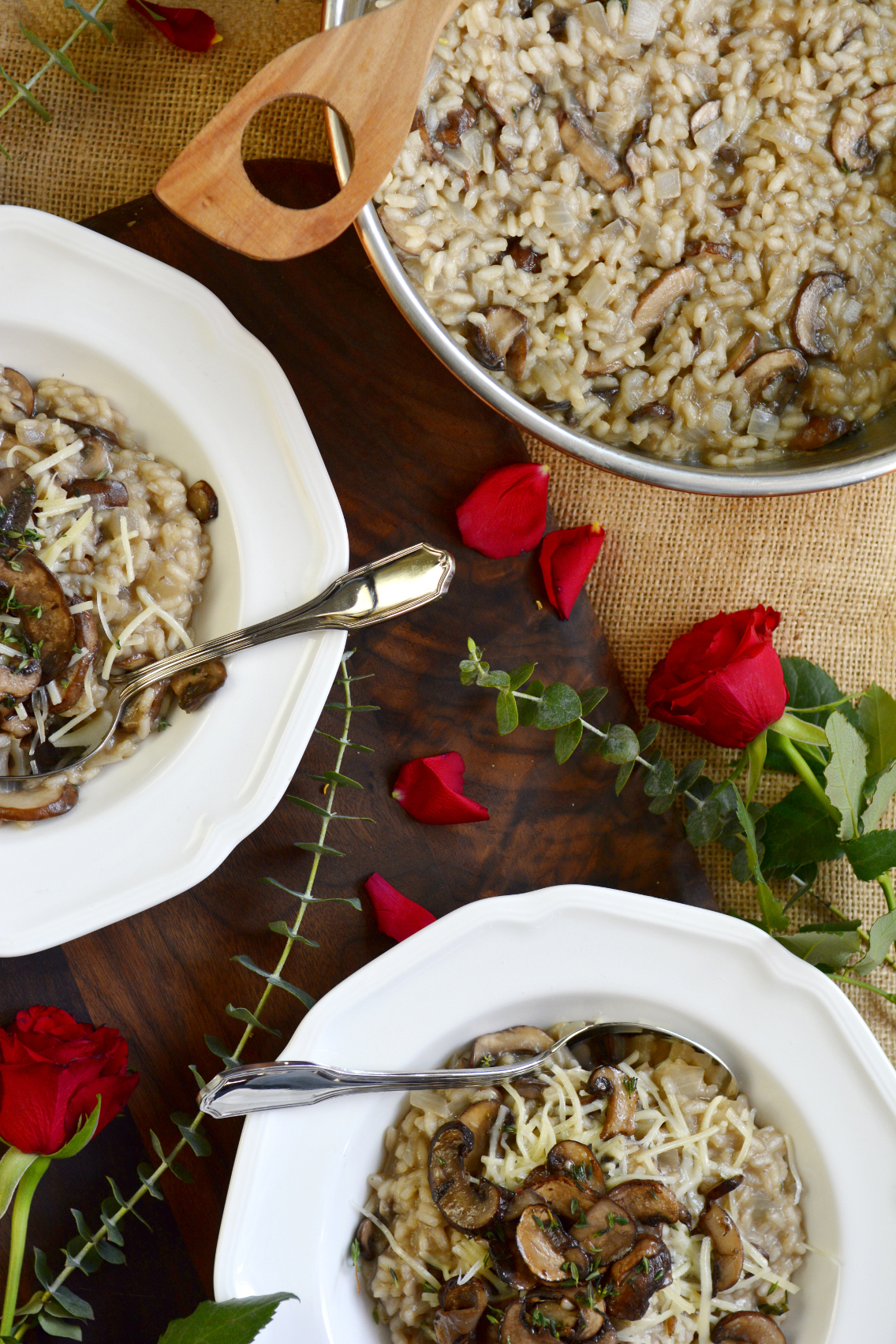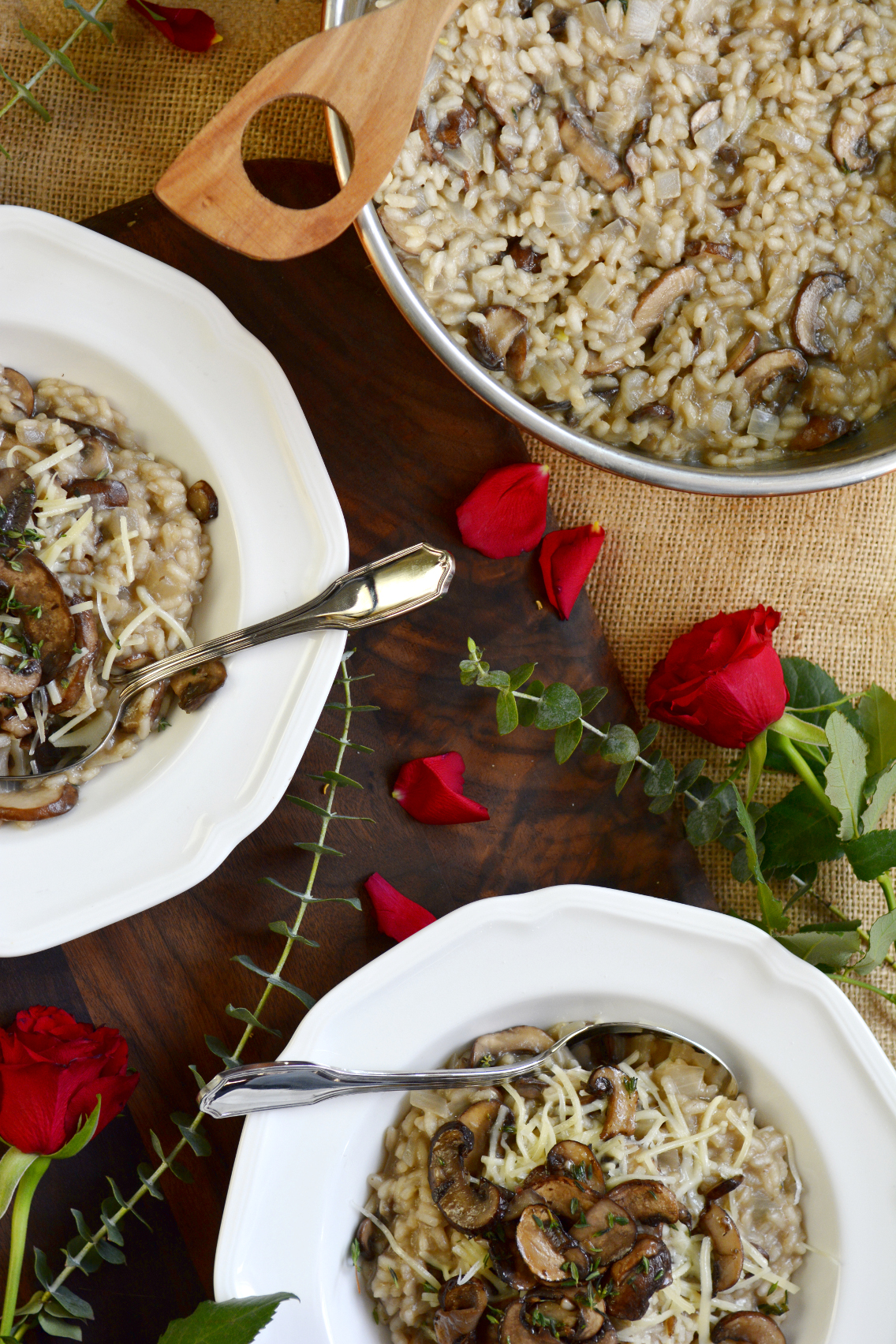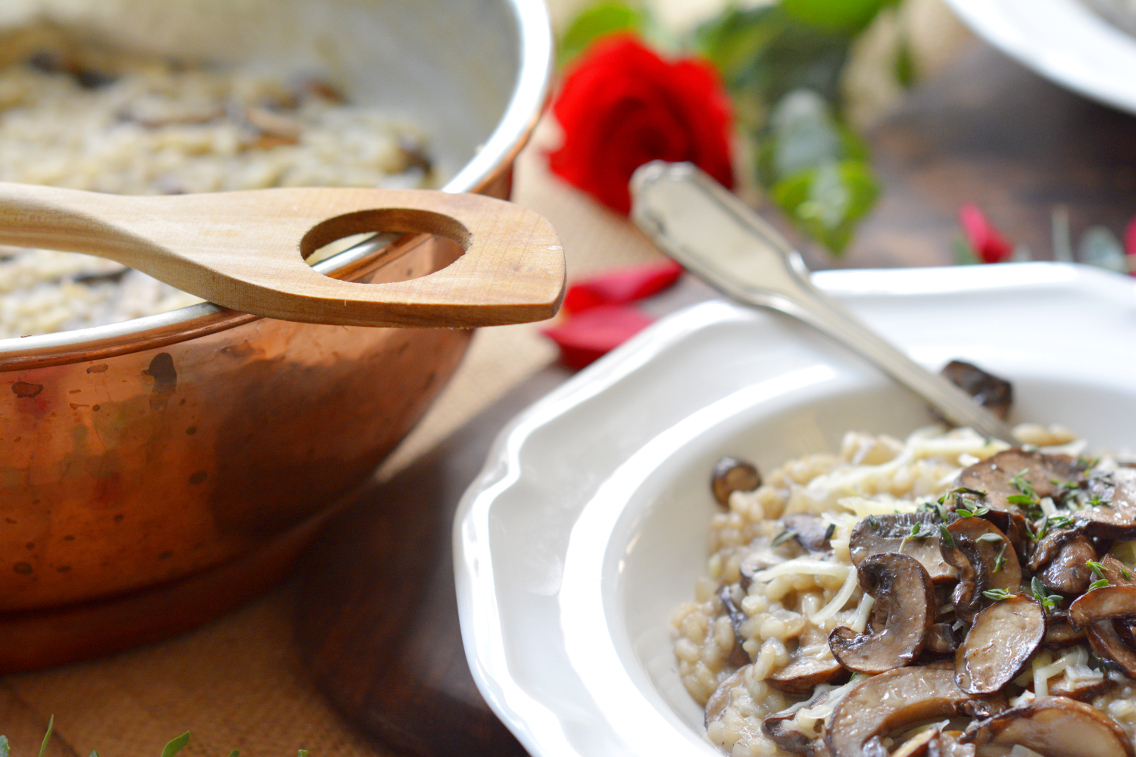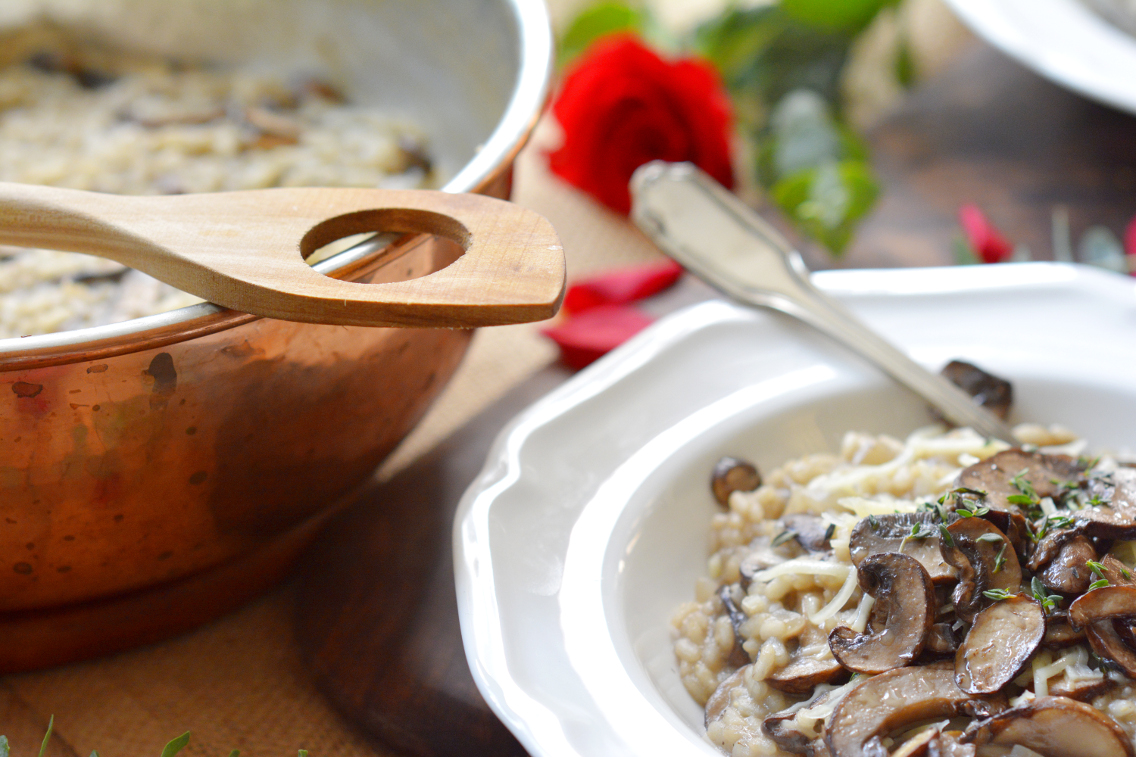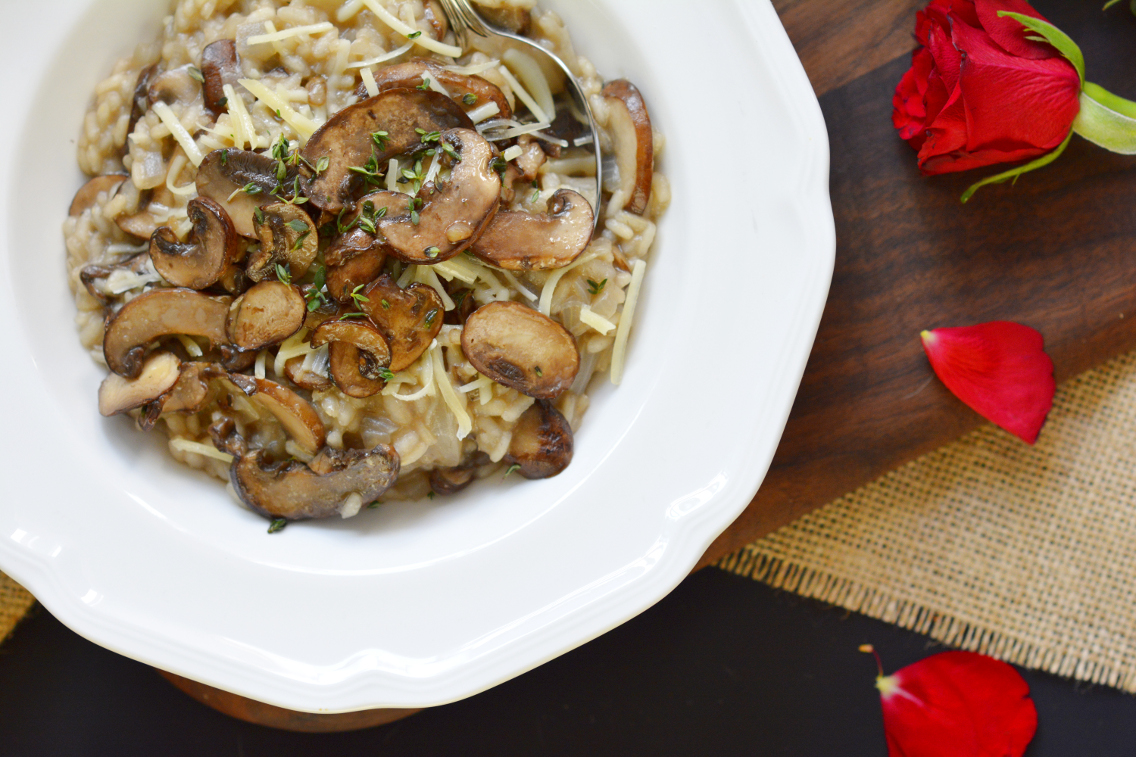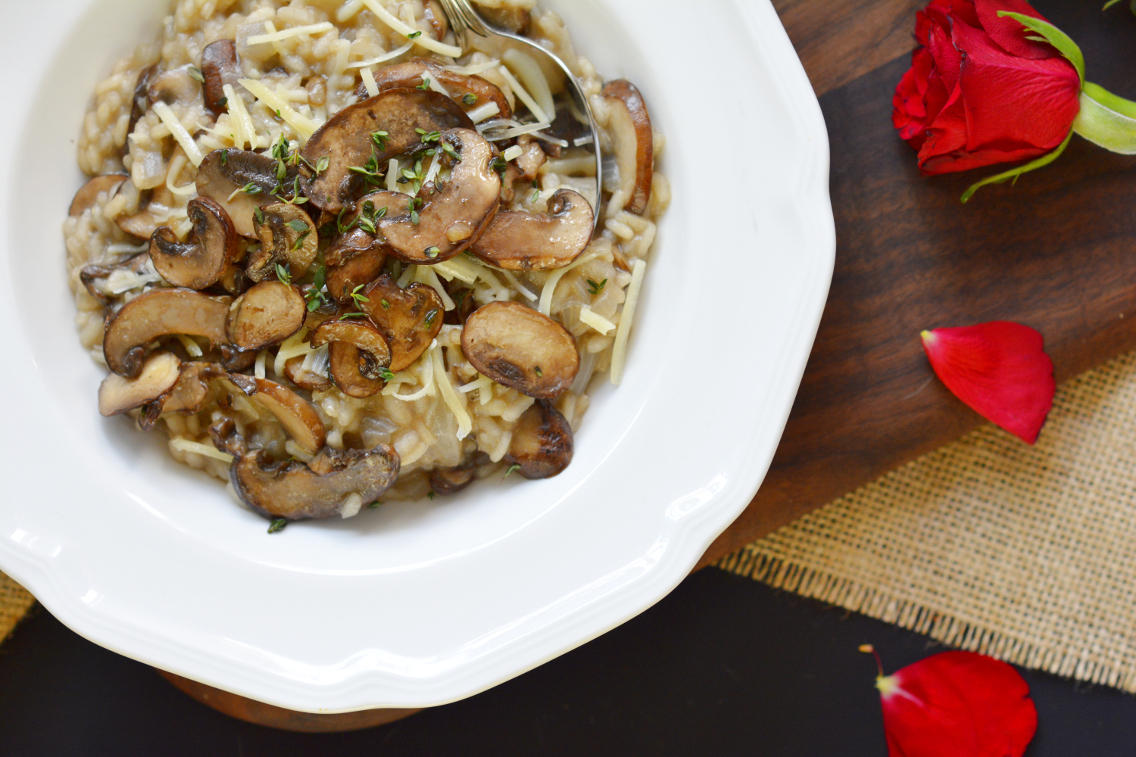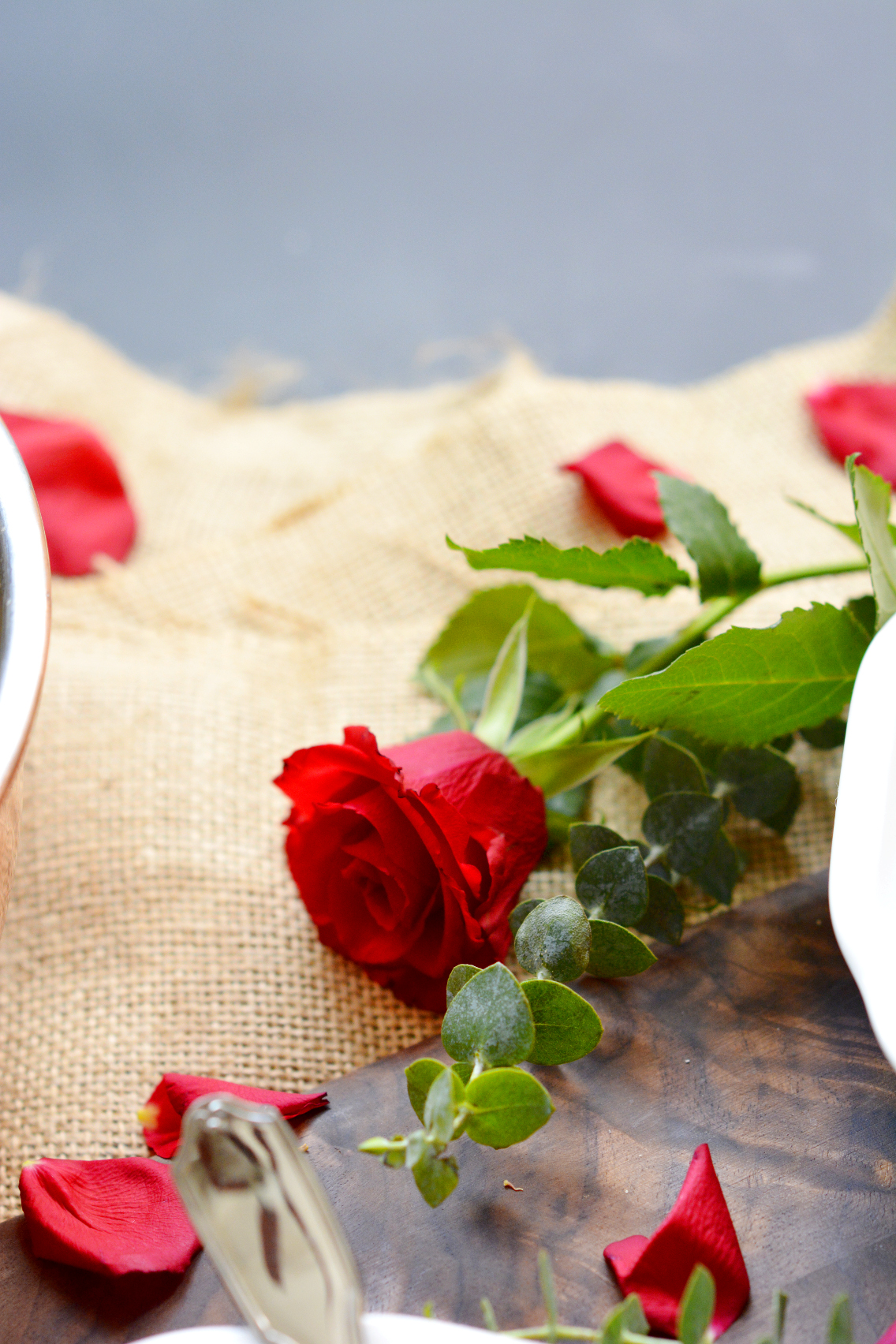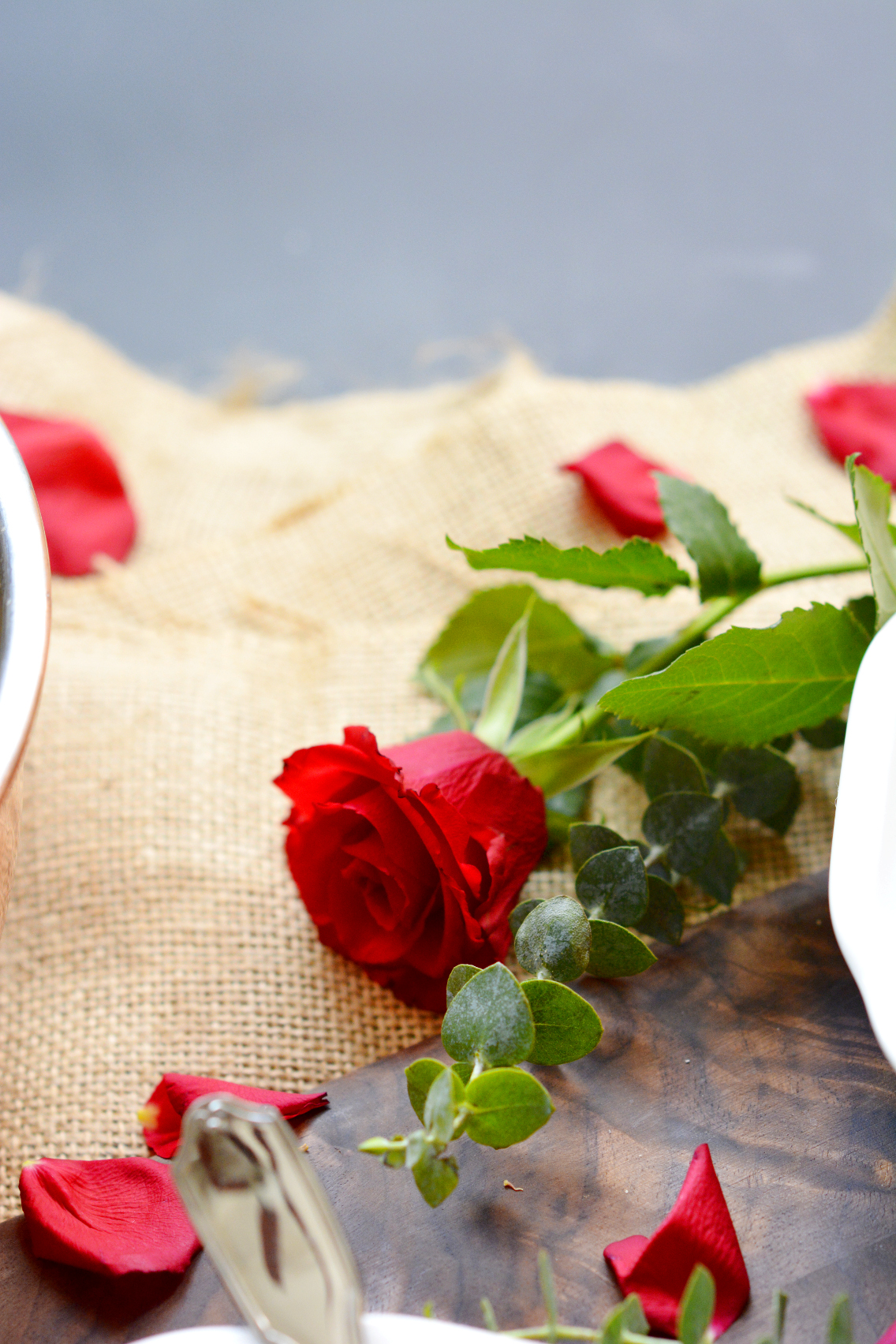 Share your Black Truffle Mushroom Risotto with #SedBona on Twitter and Instagram!
Happy Valentine's Day!