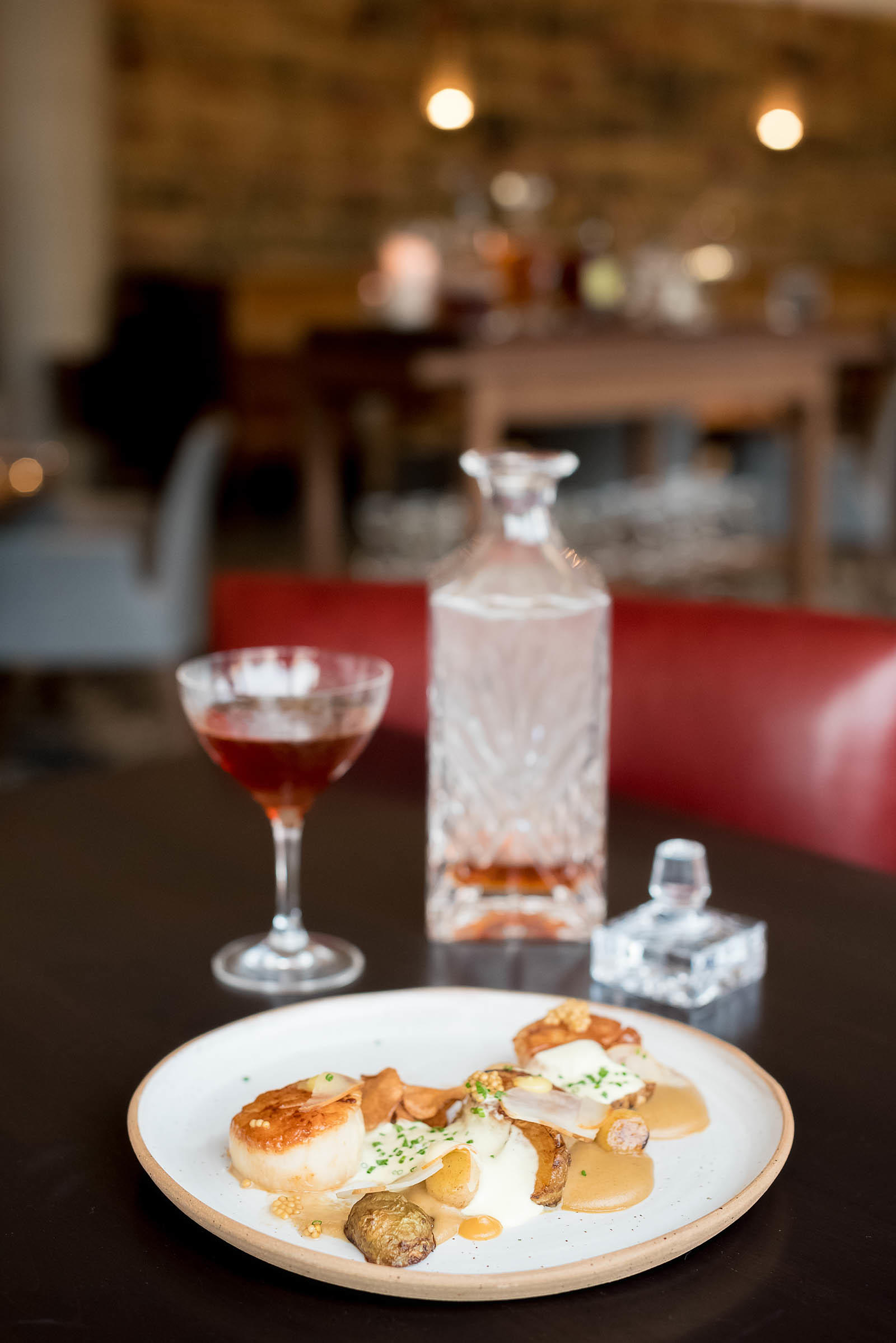 Truthfully, I really am the sort of person who gets excited about new restaurant openings — there's always something new and cool to try in Chicago and I really LOVE that! But I'm not usually the person who HAS to try the "new spot" the first week it's open. Or the second week. Or even the third week.
I'm excited for new openings. I really am. But never seem desperate to try them immediately. I always figure a new restaurant needs a few weeks to work out the kinks in service and menu.
But two weeks ago when the new Conrad Hotel opened just off Michigan Avenue, I had the chance to be one of the very first to check out their new restaurant…
And for once I'm really EXCITED to be one of the first to try it because — wow — if this restaurant suffers from any "first weeks kinks", I have yet to find them…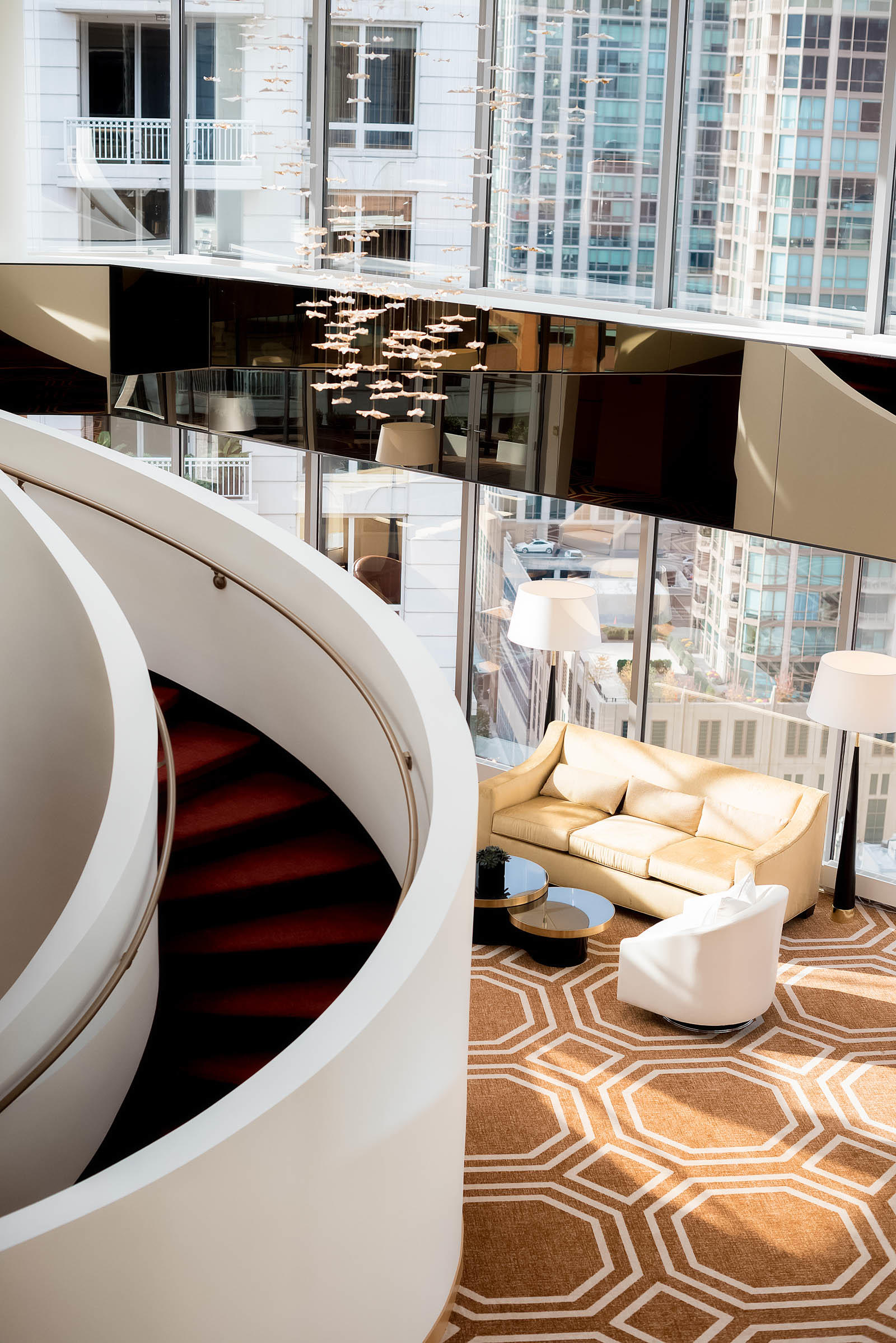 Located next to the posh 20th floor Lobby of the newly opened hotel, the view alone will take your breath-away before you even enter the restaurant.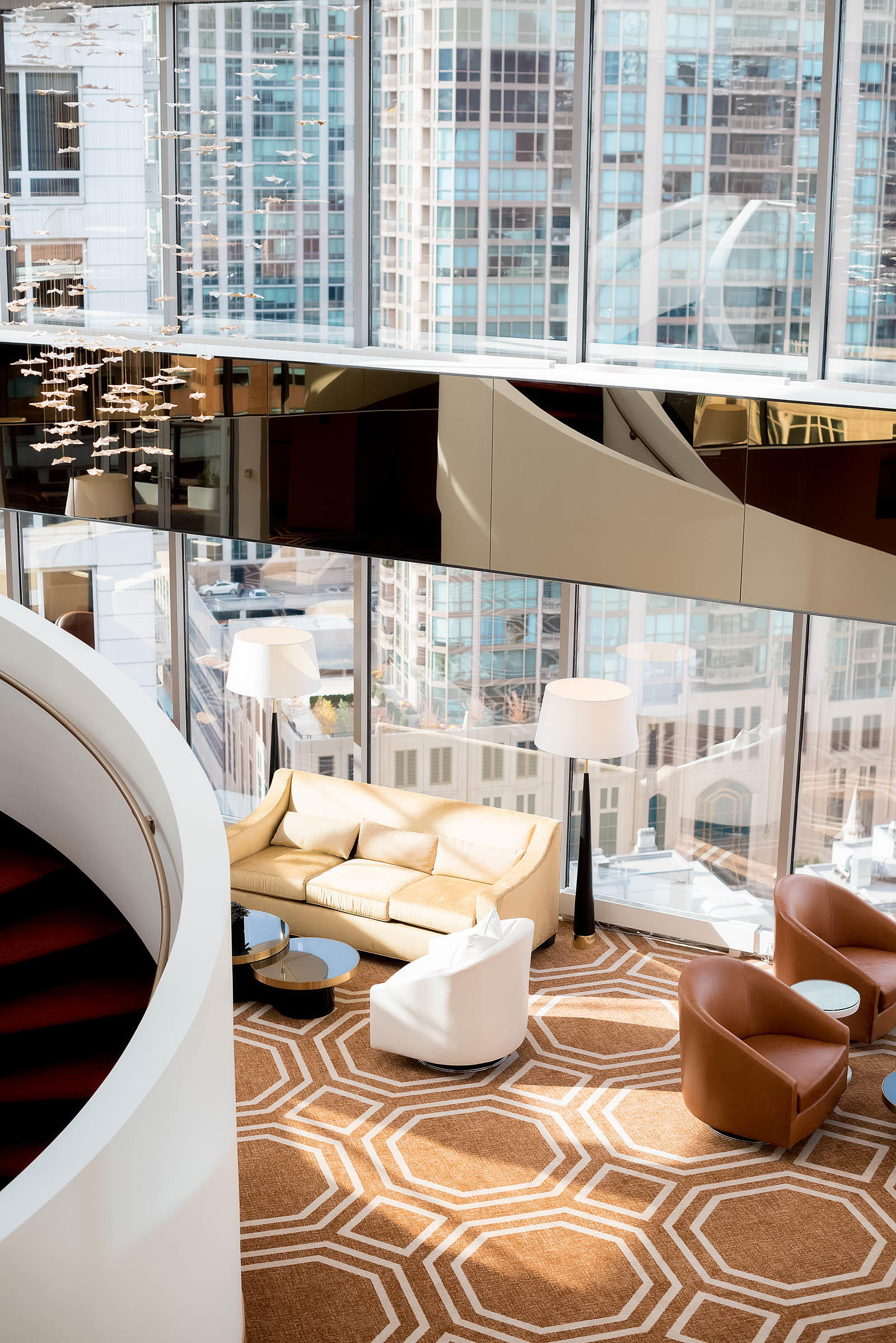 And the Lobby couldn't be more spectacular with its mid-modern decor, especially drenched in early afternoon sunshine.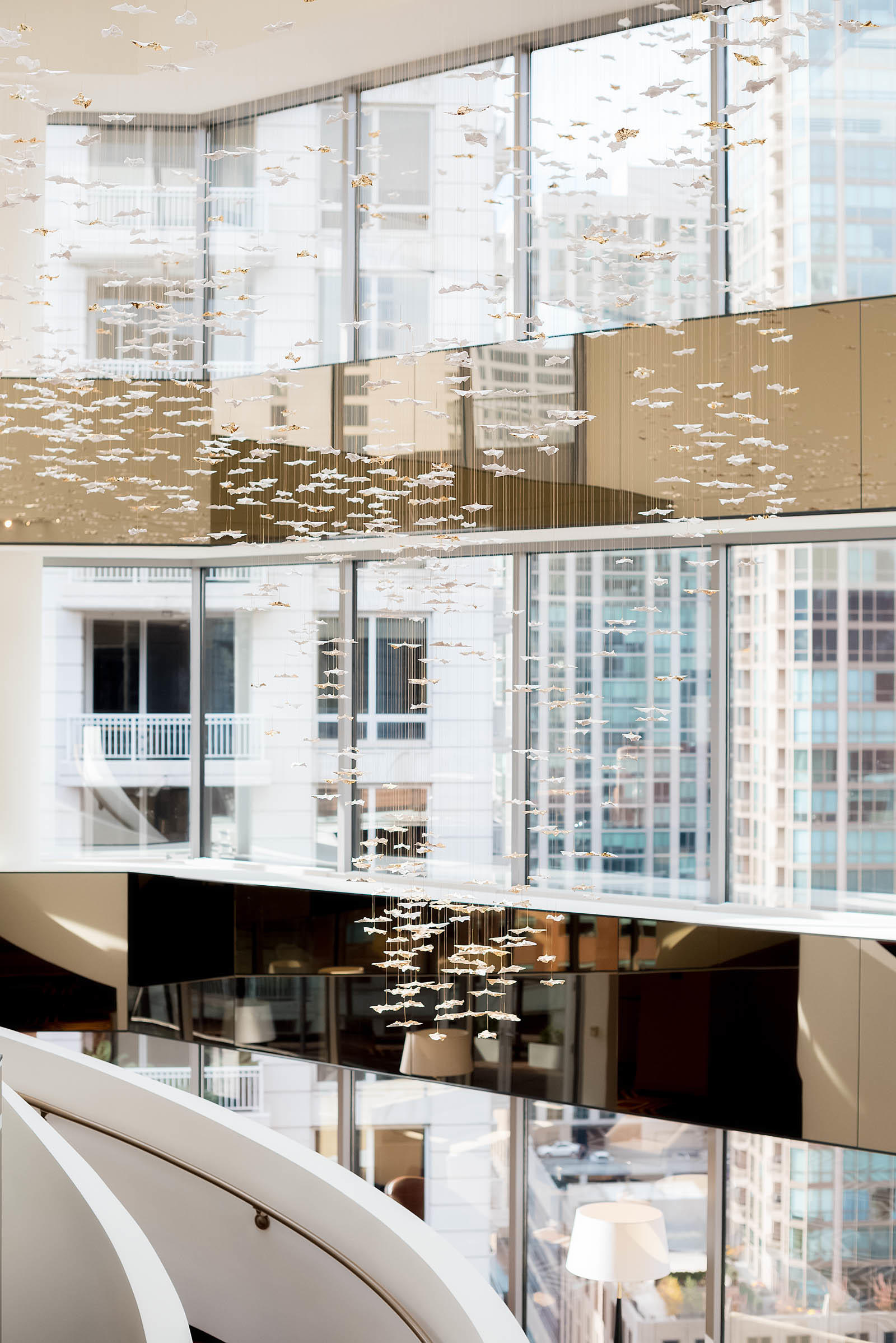 Not to mention this truly masterful hanging sculpture that I just know I'll be itching to shoot each time I come in.
Talk about an Instagram-worthy spot!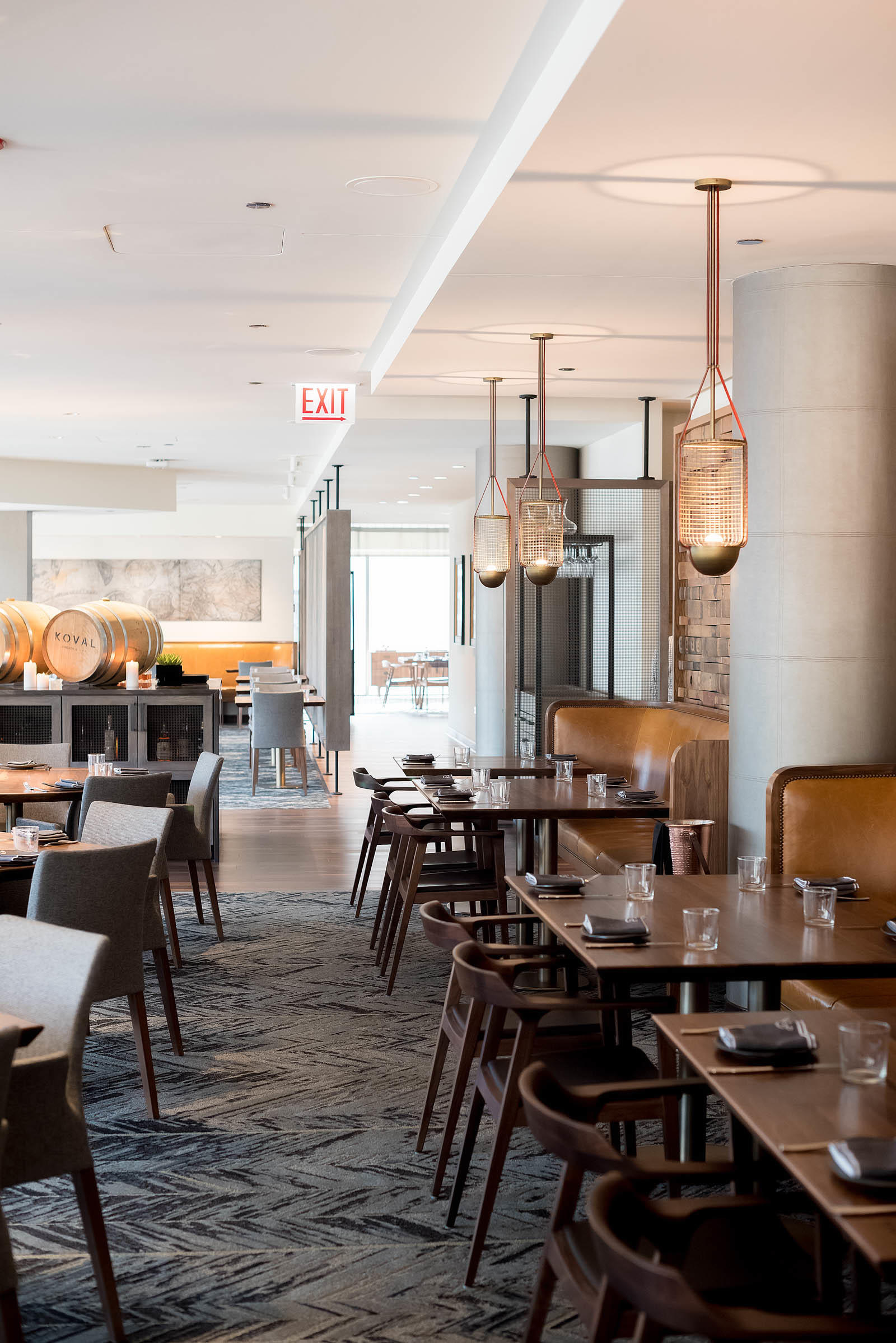 Once you enter Baptiste & Bottle, the darker space feels like the kind of cozy yet cool spot you'll happily sink into after a day spent shopping the length of Michigan Avenue, bustling several floors below.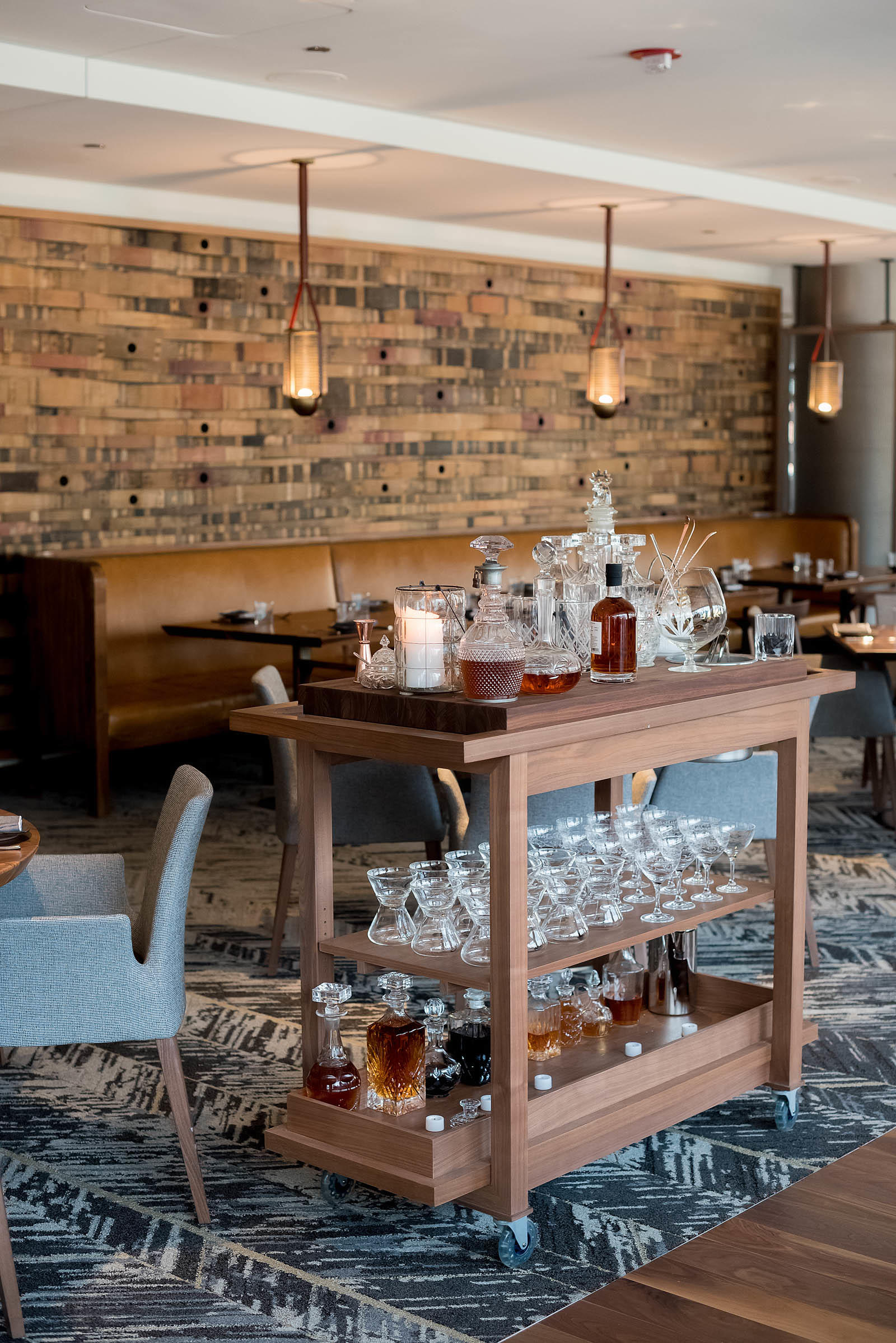 I found their spectacular bar cart covered in gorgeous crystal decanters of all shapes and sizes particularly exciting (and just wait until you see the cocktails they make from on it!).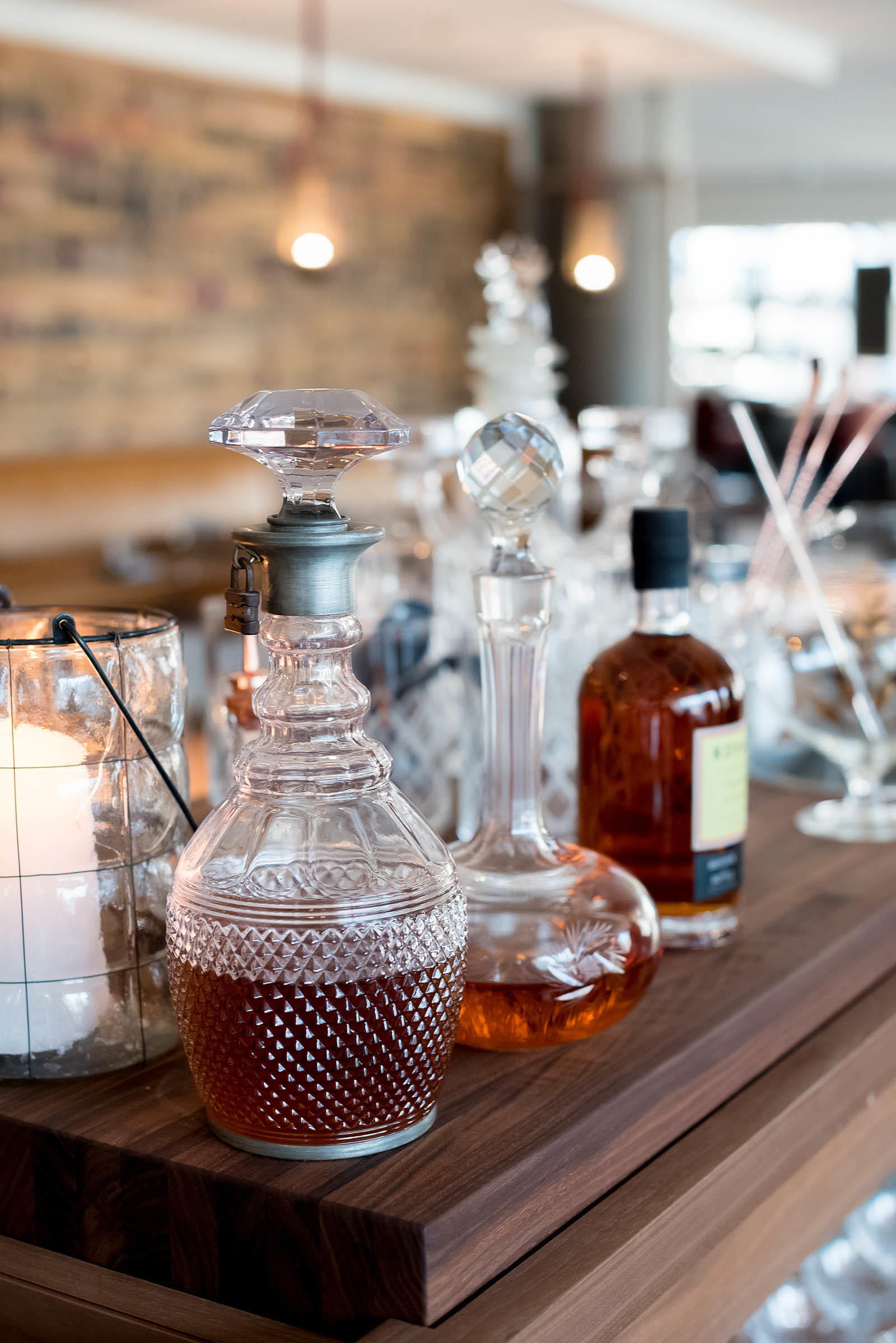 I really appreciate a restaurant that puts so much thought into the little touches like these crystal decanters.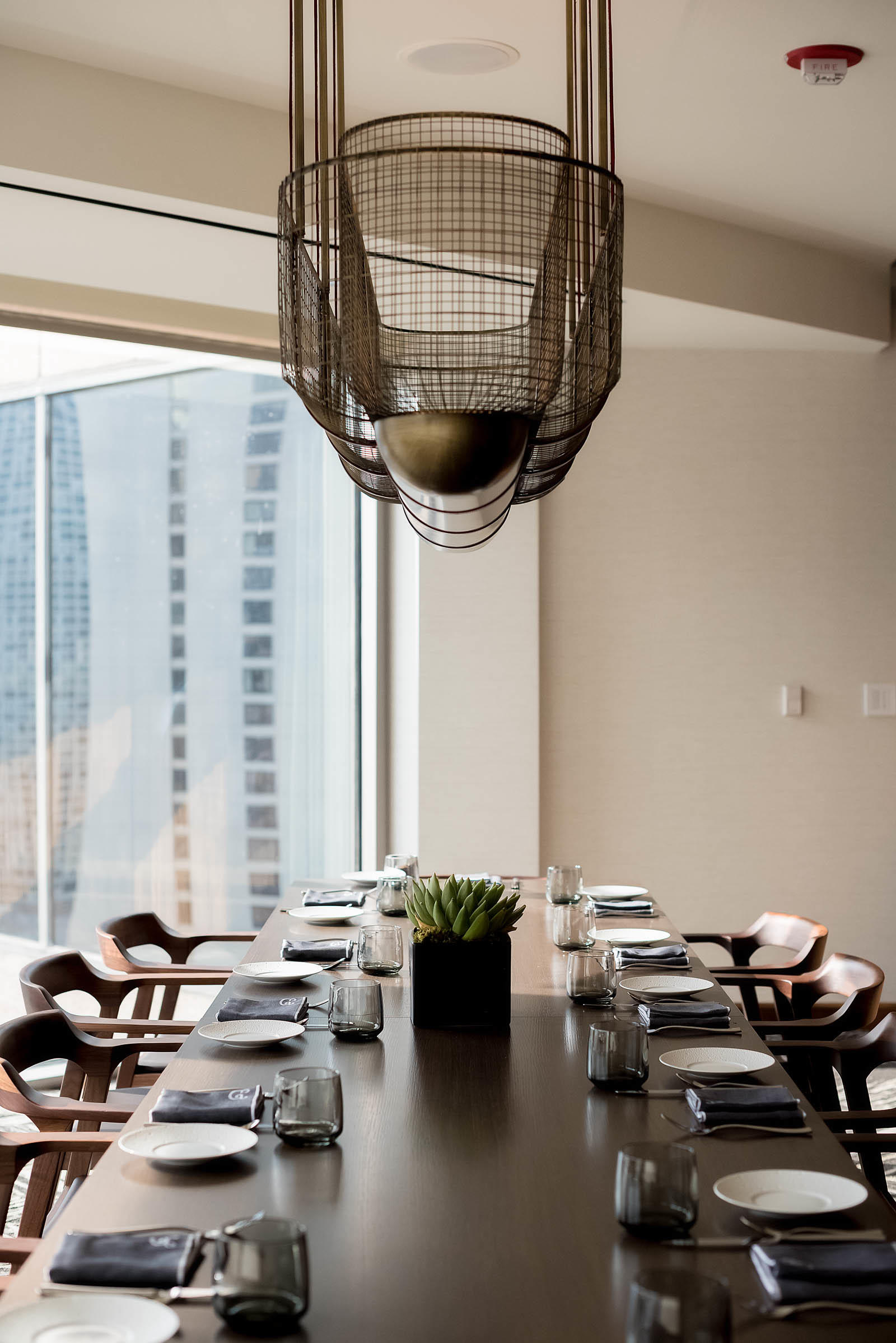 The restaurant even has a lovely private back room with a stunning, south-facing view!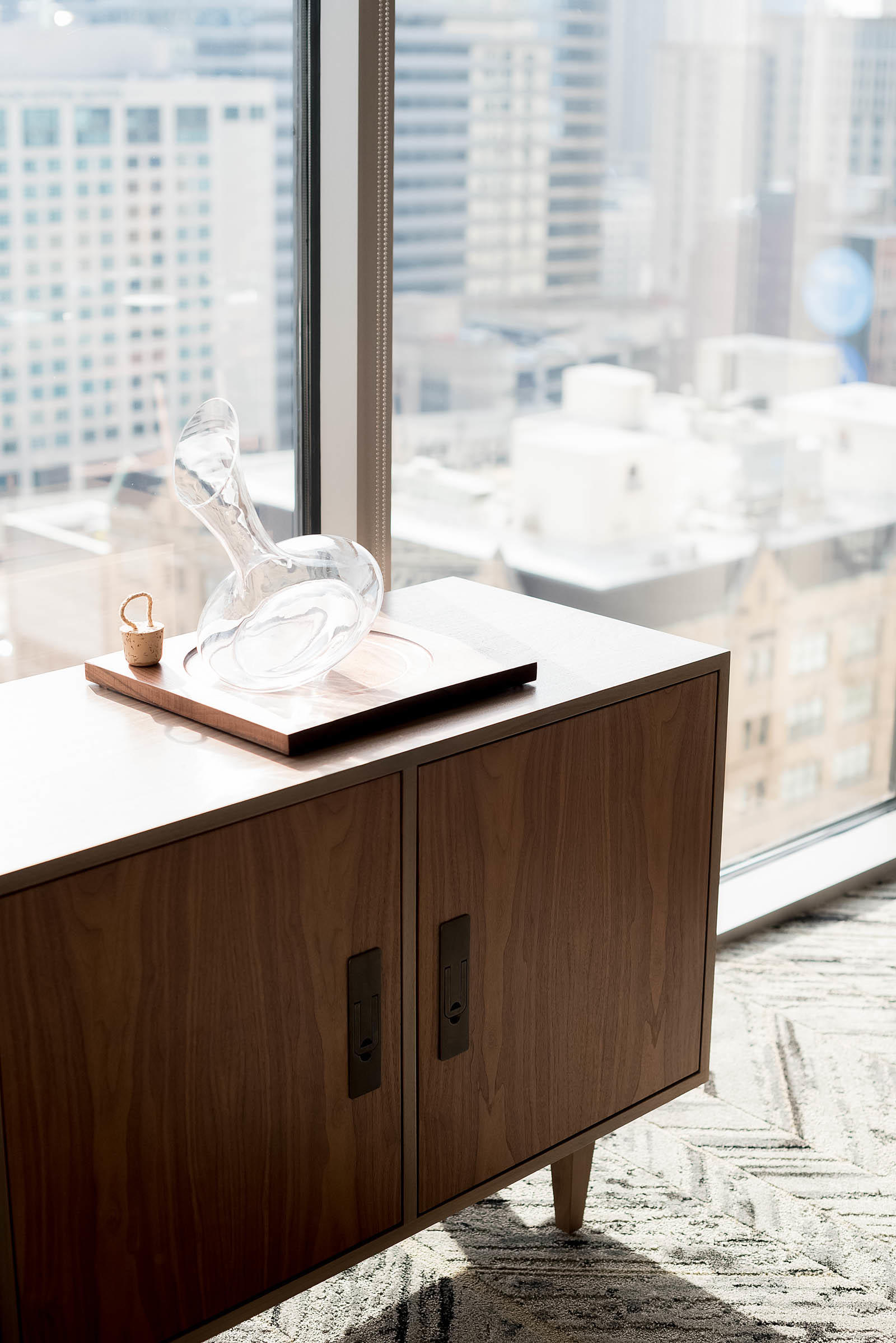 And plenty of signature, mid-modern finishes.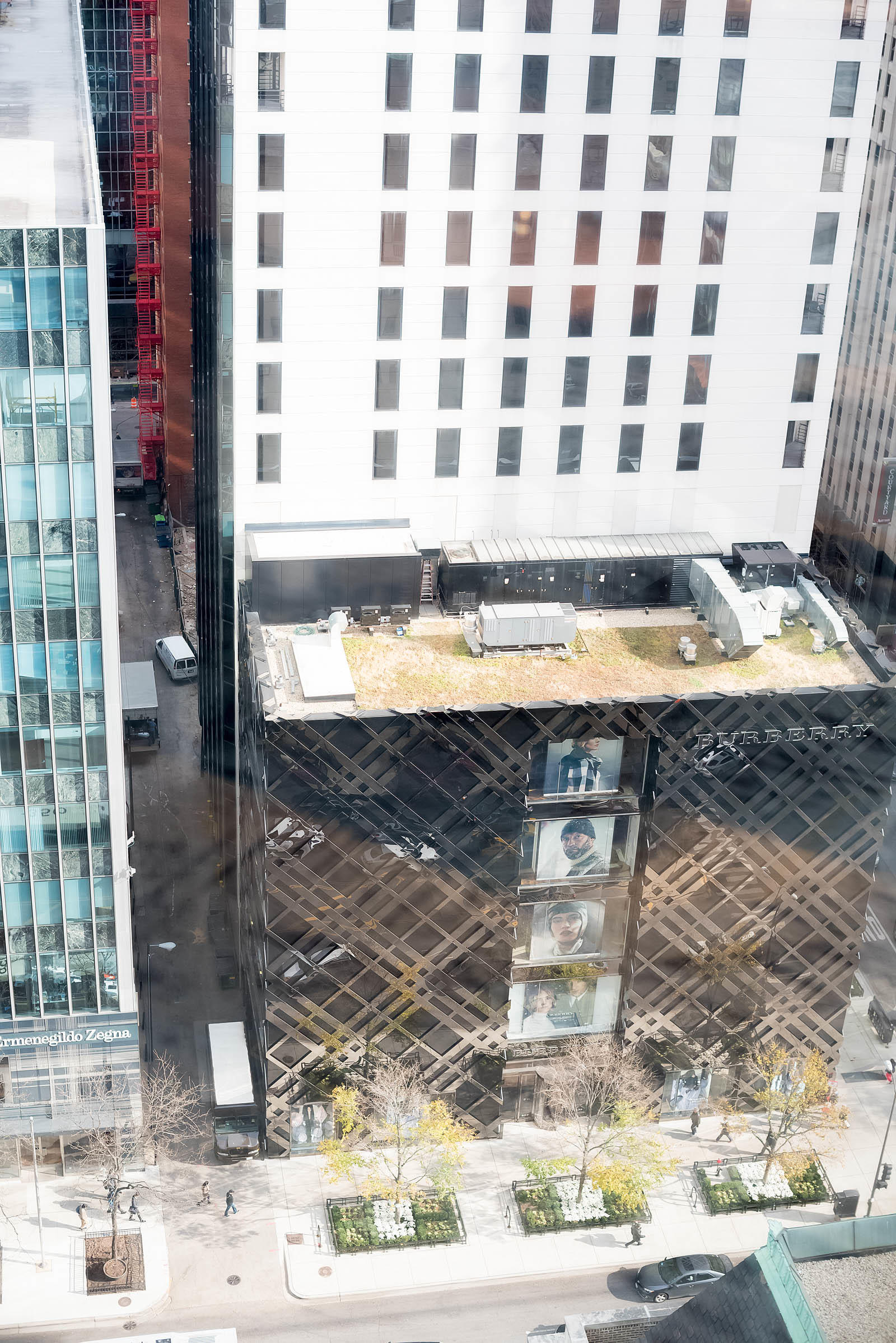 Once you sit down you can really take in the view below — we sat right above the entrance to the Burberry store on Michigan Avenue!
It really doesn't get any better than that.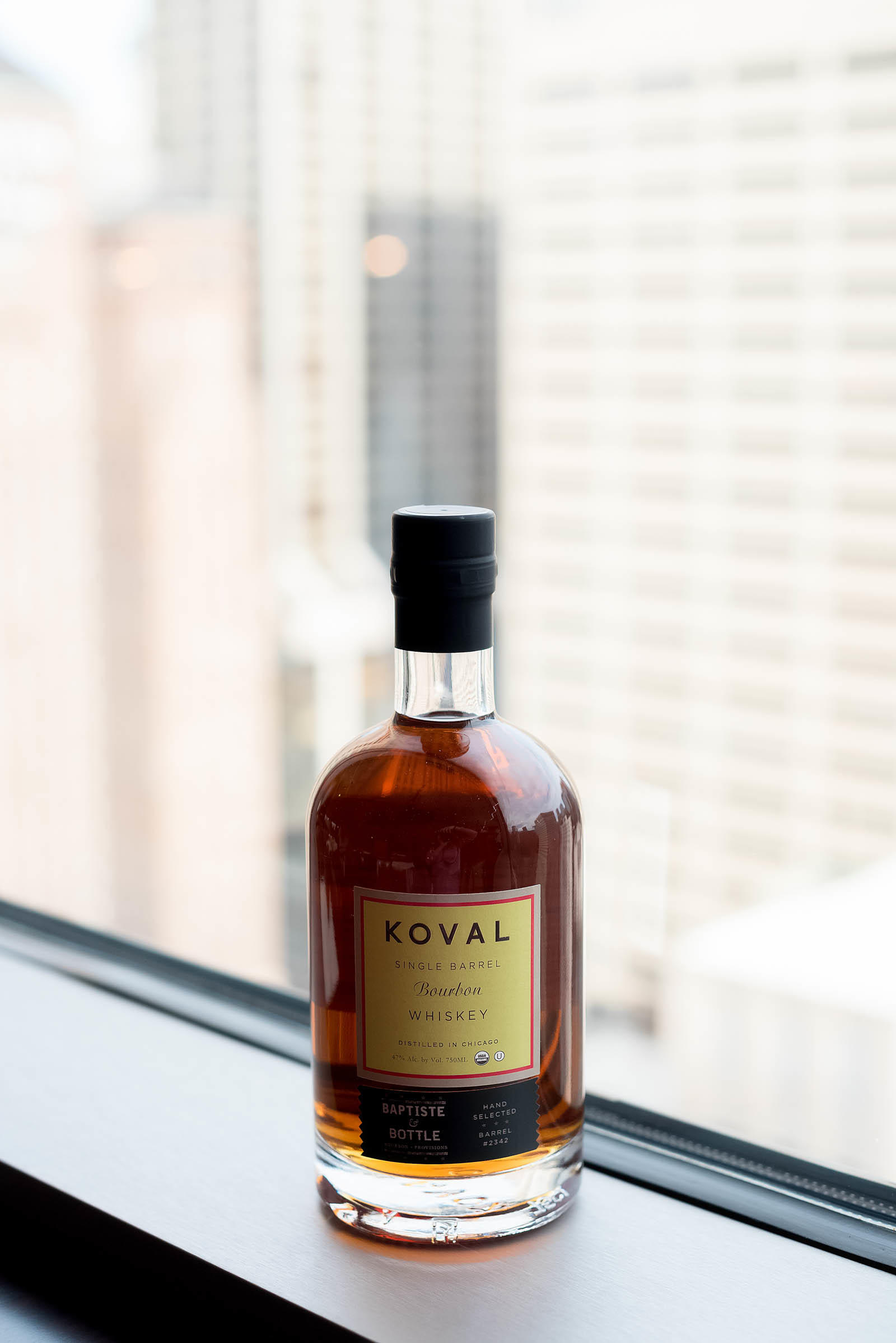 One of the first things you need to know about Baptiste & Bottle is that they take their whiskey VERY seriously. So seriously, one could say they see it more as art than drink.
As Mark Twain says, "Too much of anything is bad, but too much good whiskey is barely enough."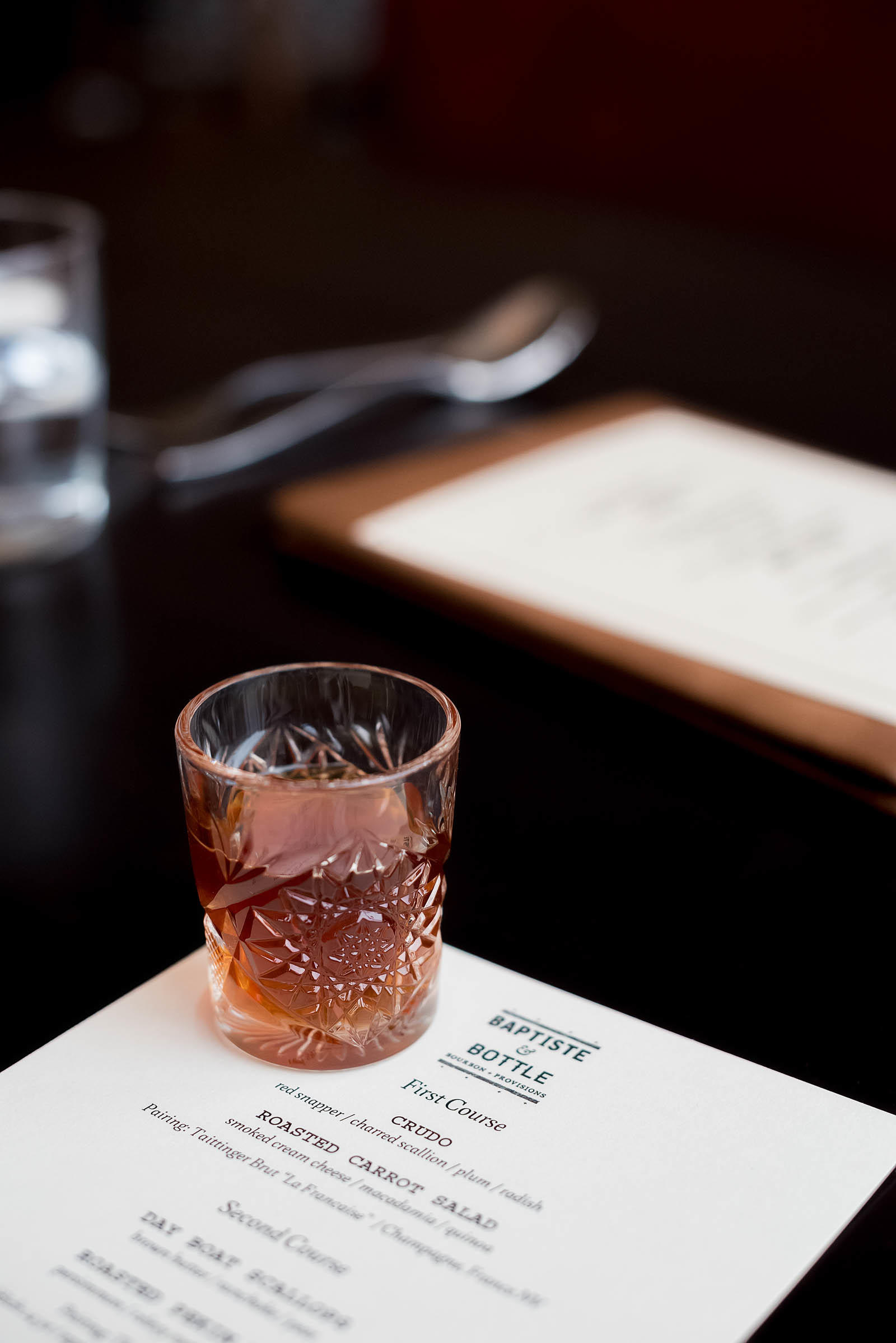 Being inspired so heavily by bourbon, we naturally started with a shot of bourbon to "awaken the taste buds".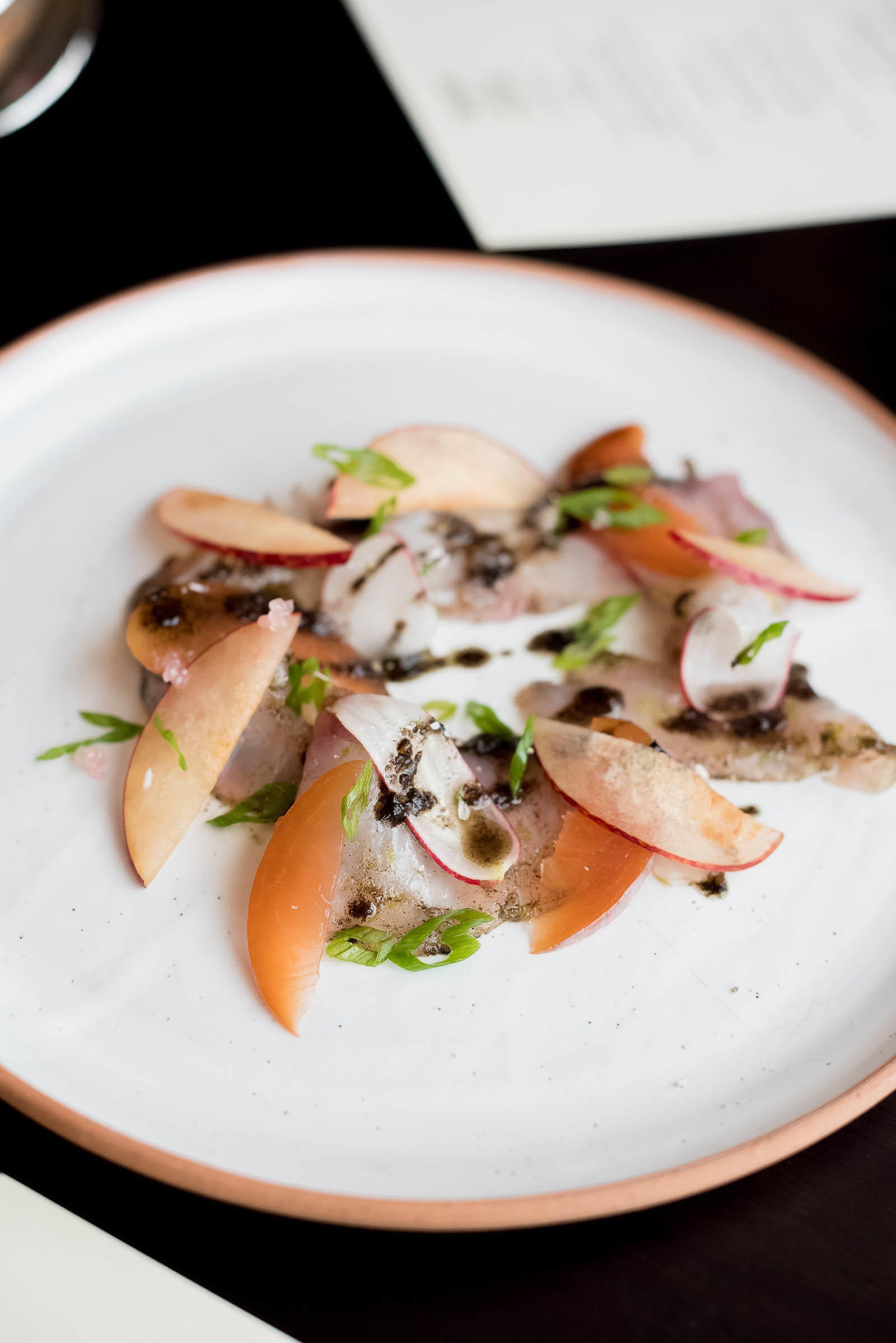 Which paired nicely with this first course of beautifully presented crudo…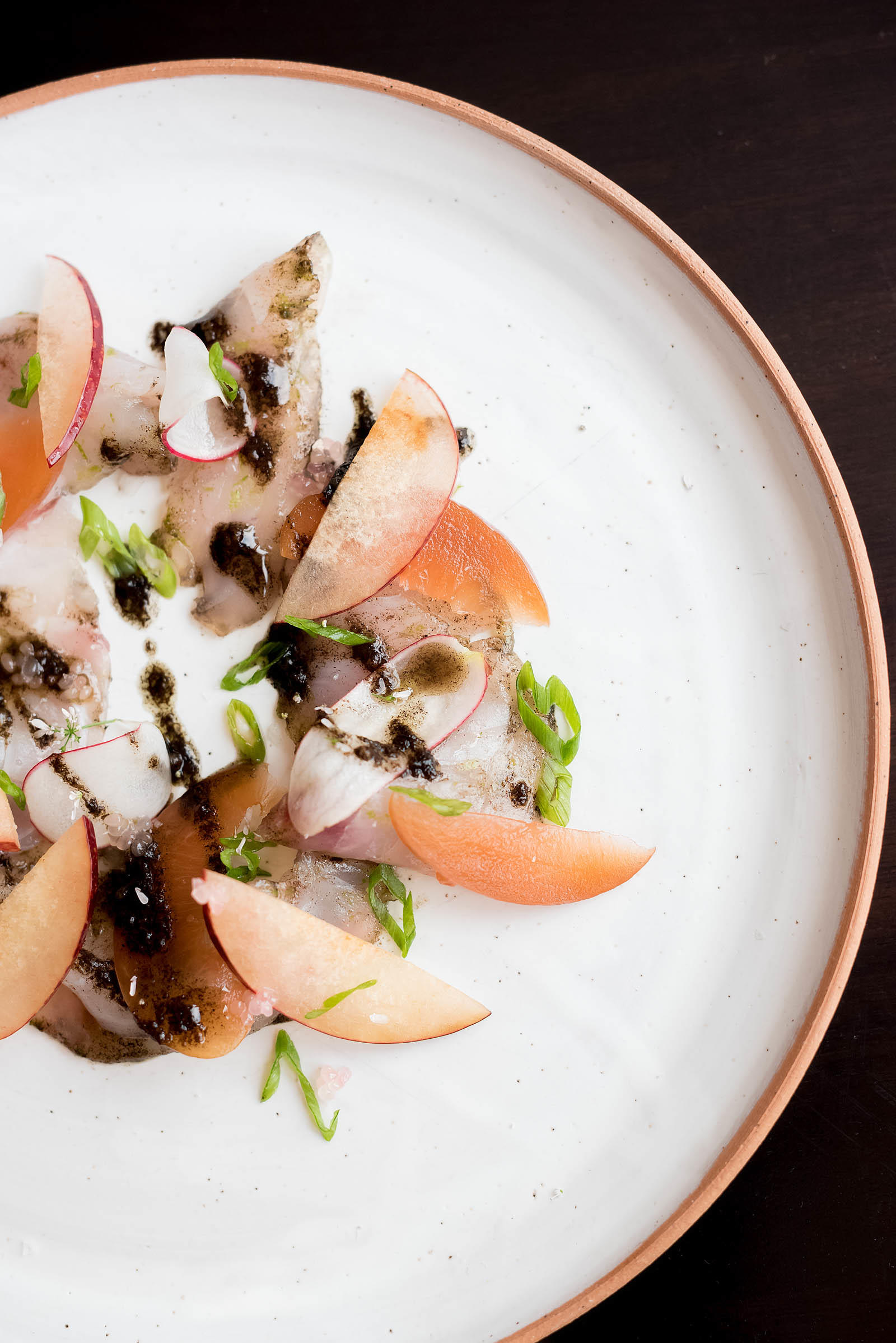 Simply prepared market fish with charred scallion, plums, and shaved radishes that made for such a light and bright start to our meal.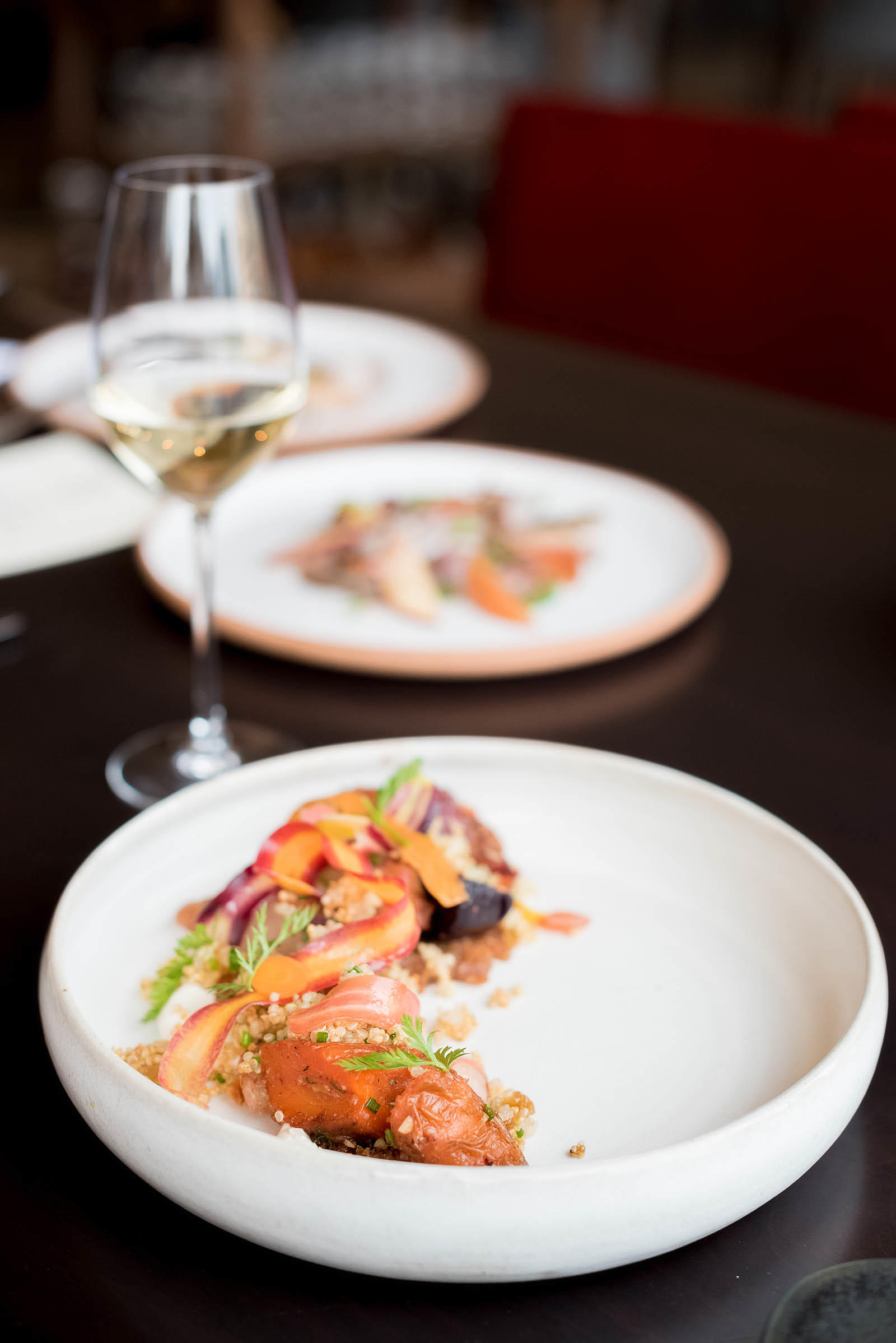 But then our next course arrived… the BEST dish we tried the whole lunch!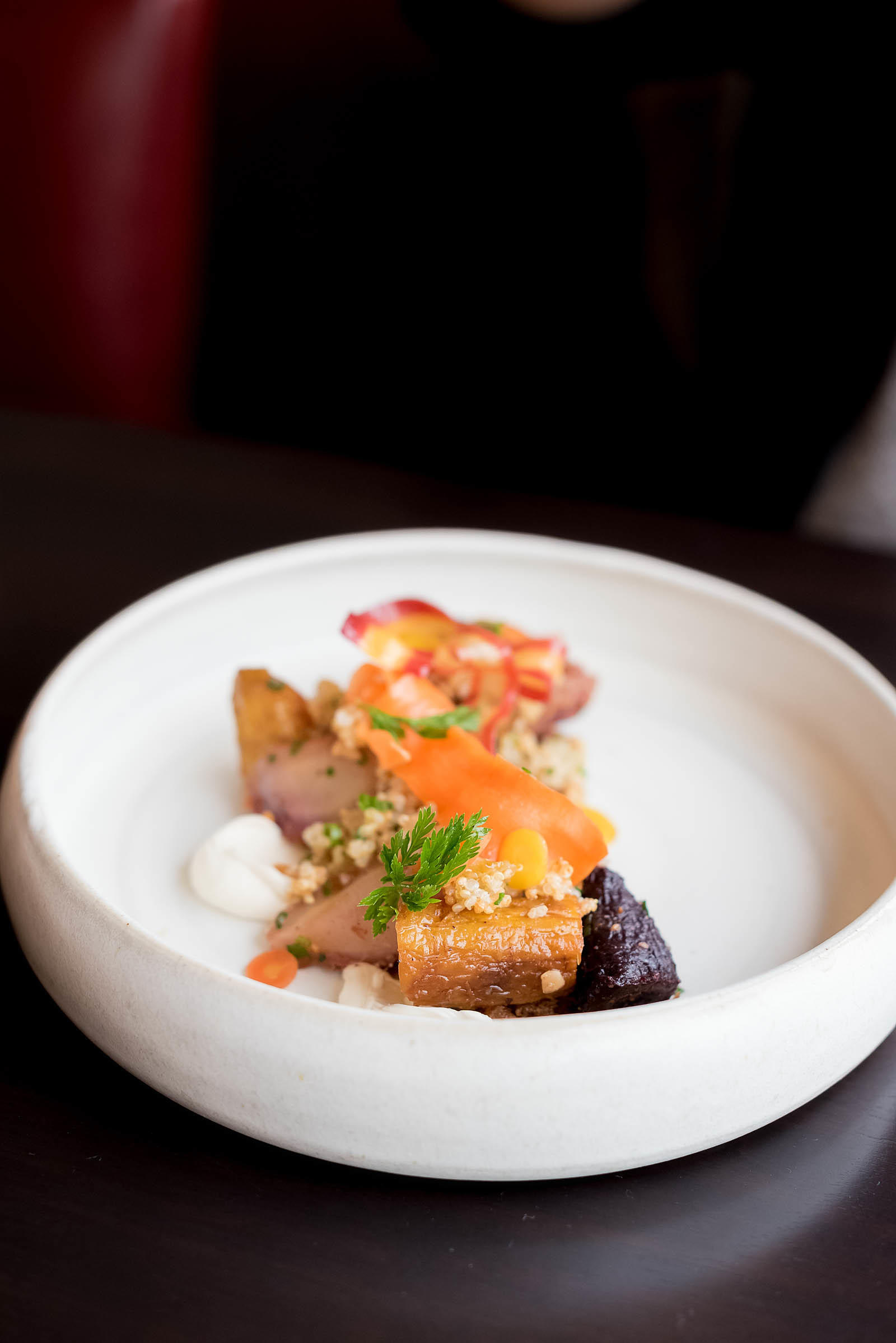 A dish primarily composed of… wait for it… CARROTS!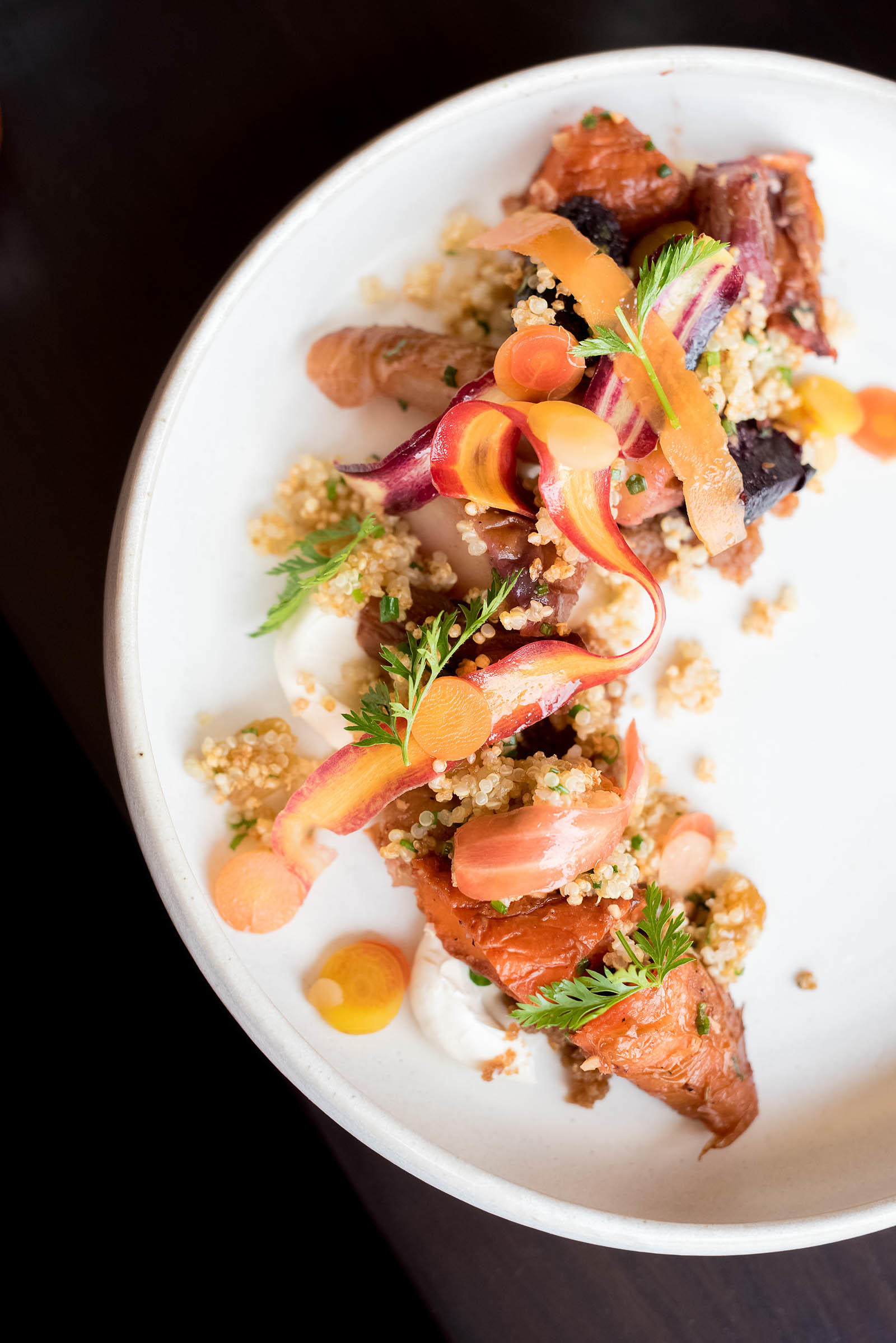 This Roasted Carrot Salad with smoked cheese, macadamia nut butter, and quinoa is anything but the boring vegetable salad you may be imagining!
This salad is a spectacular explosion of textures and flavors. I swear I've never loved carrots more… and I'm not the sort of person who really loves carrots to begin with.
If you order nothing else on your first visit, order THIS.
(I promise you'll be thanking me!)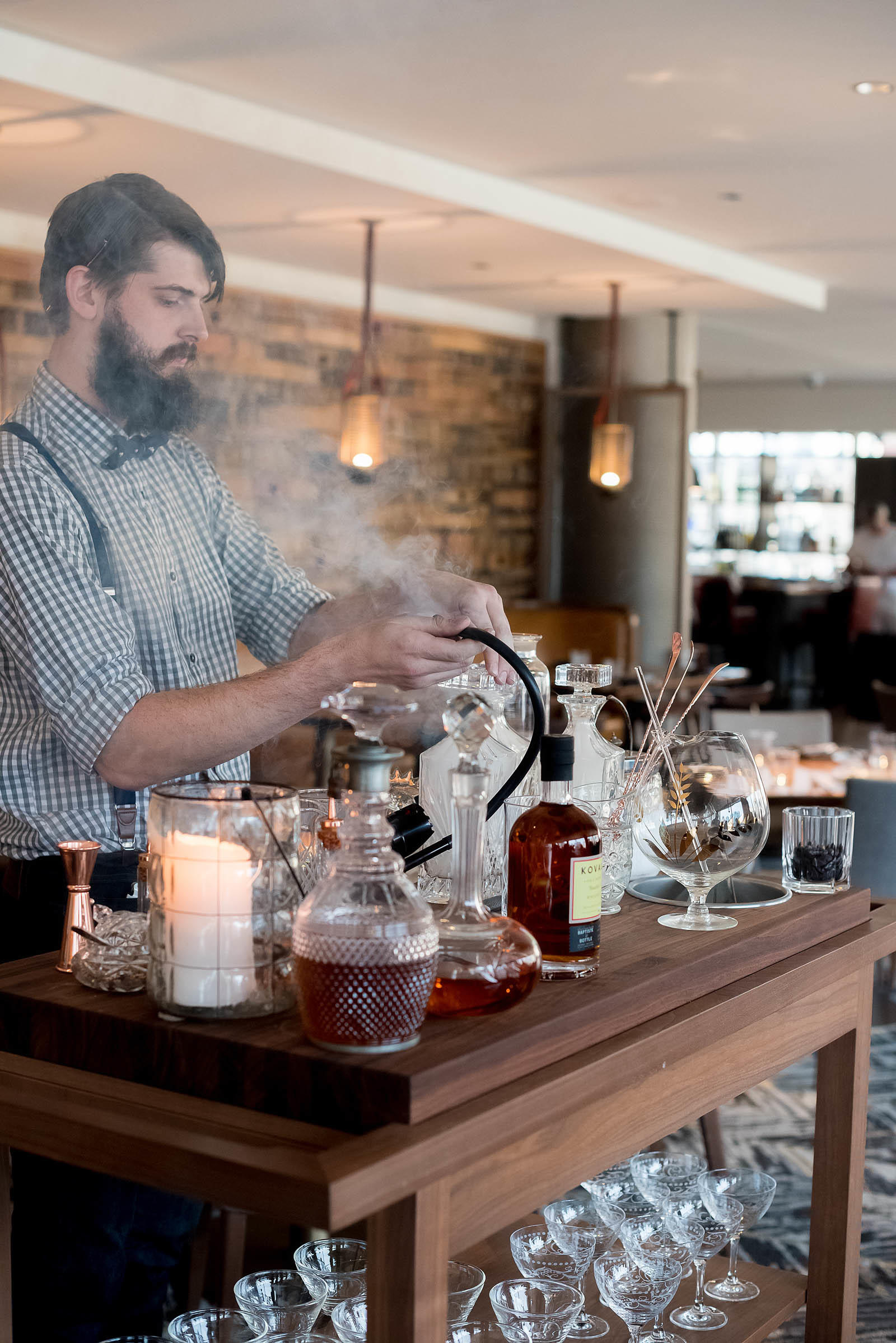 Next up came our first cocktail presentation complete with smoking gun!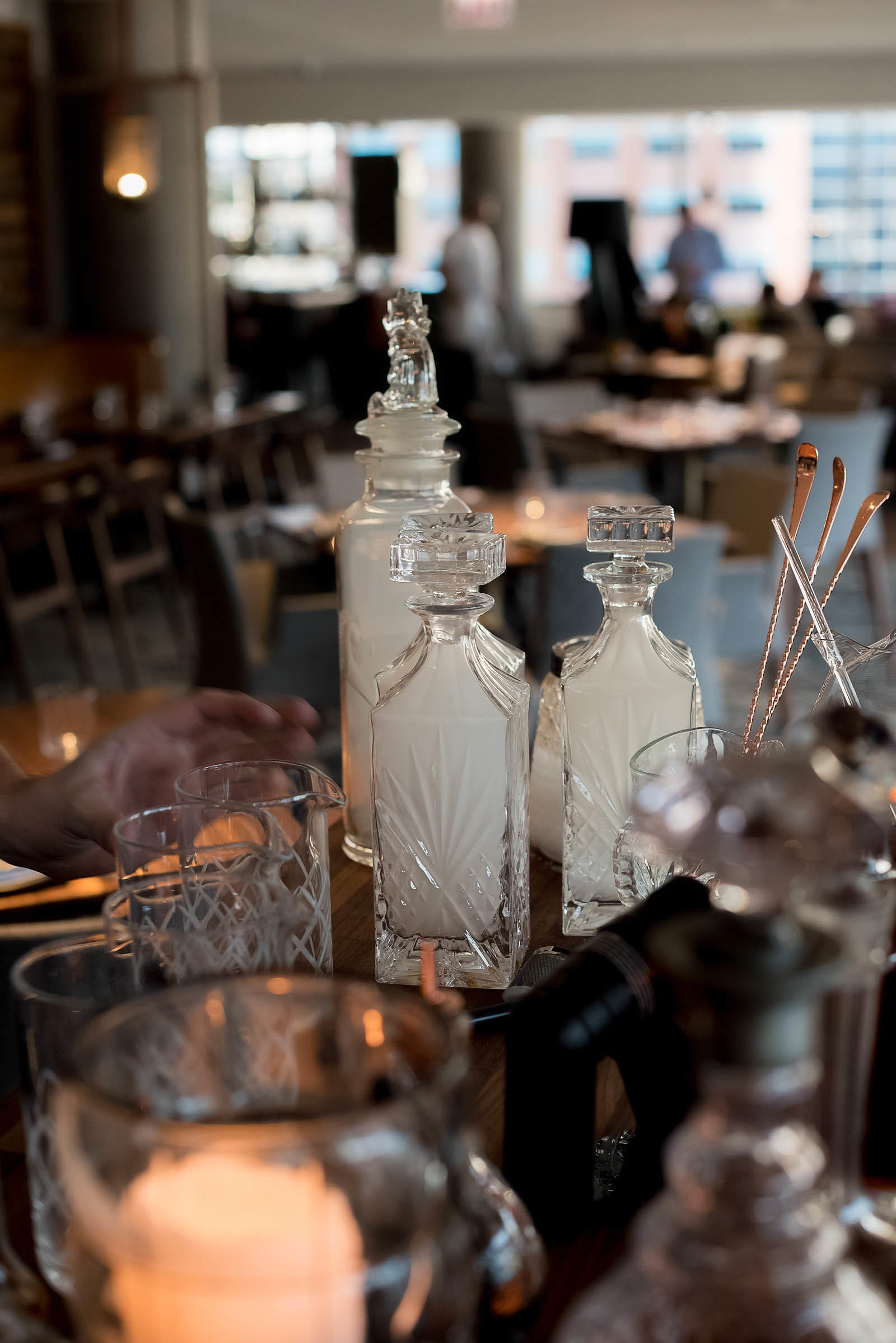 Decanters were filled with beautifully scented smoke then set aside, ready for the cocktails to be assembled.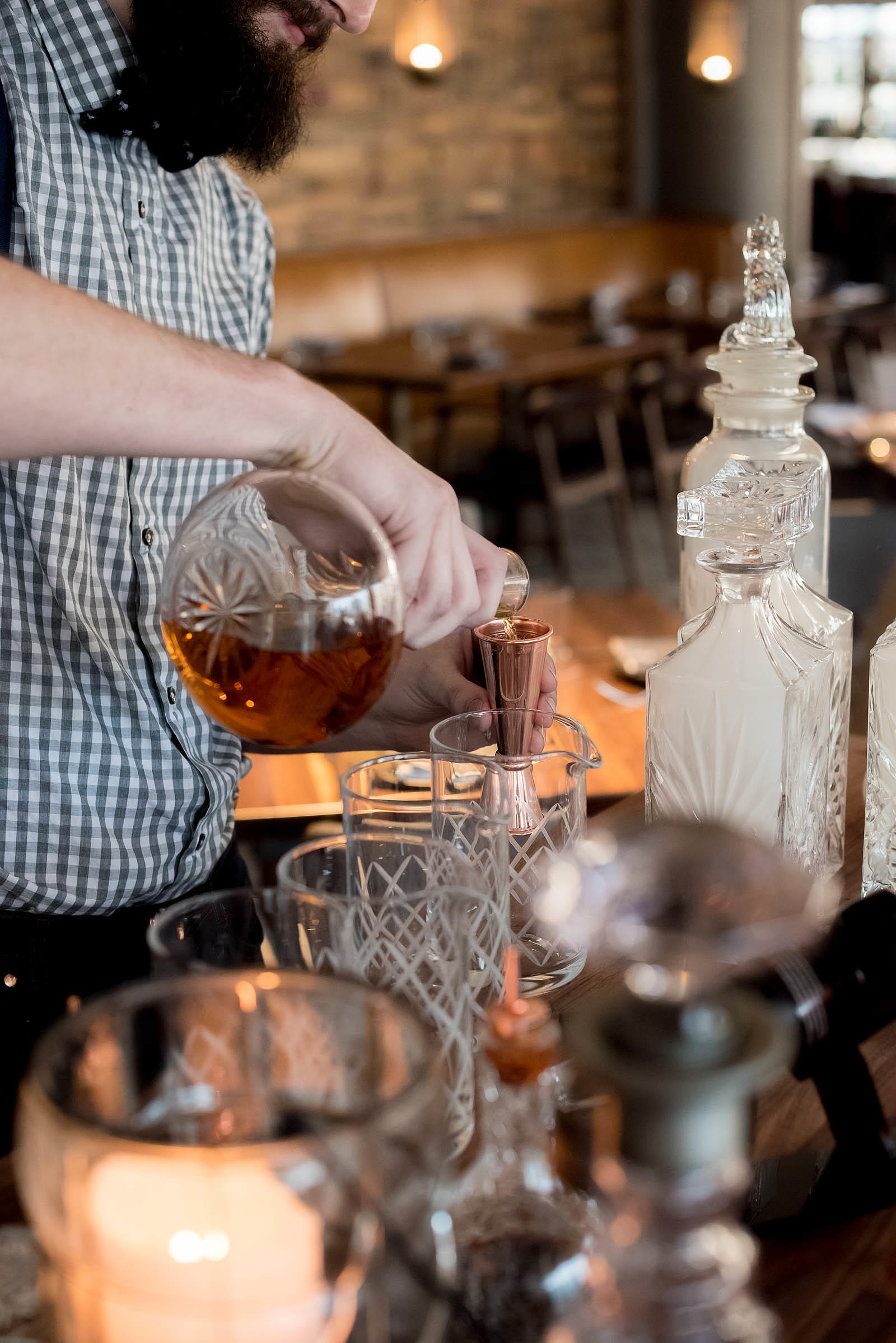 Our bartender expertly began mixing…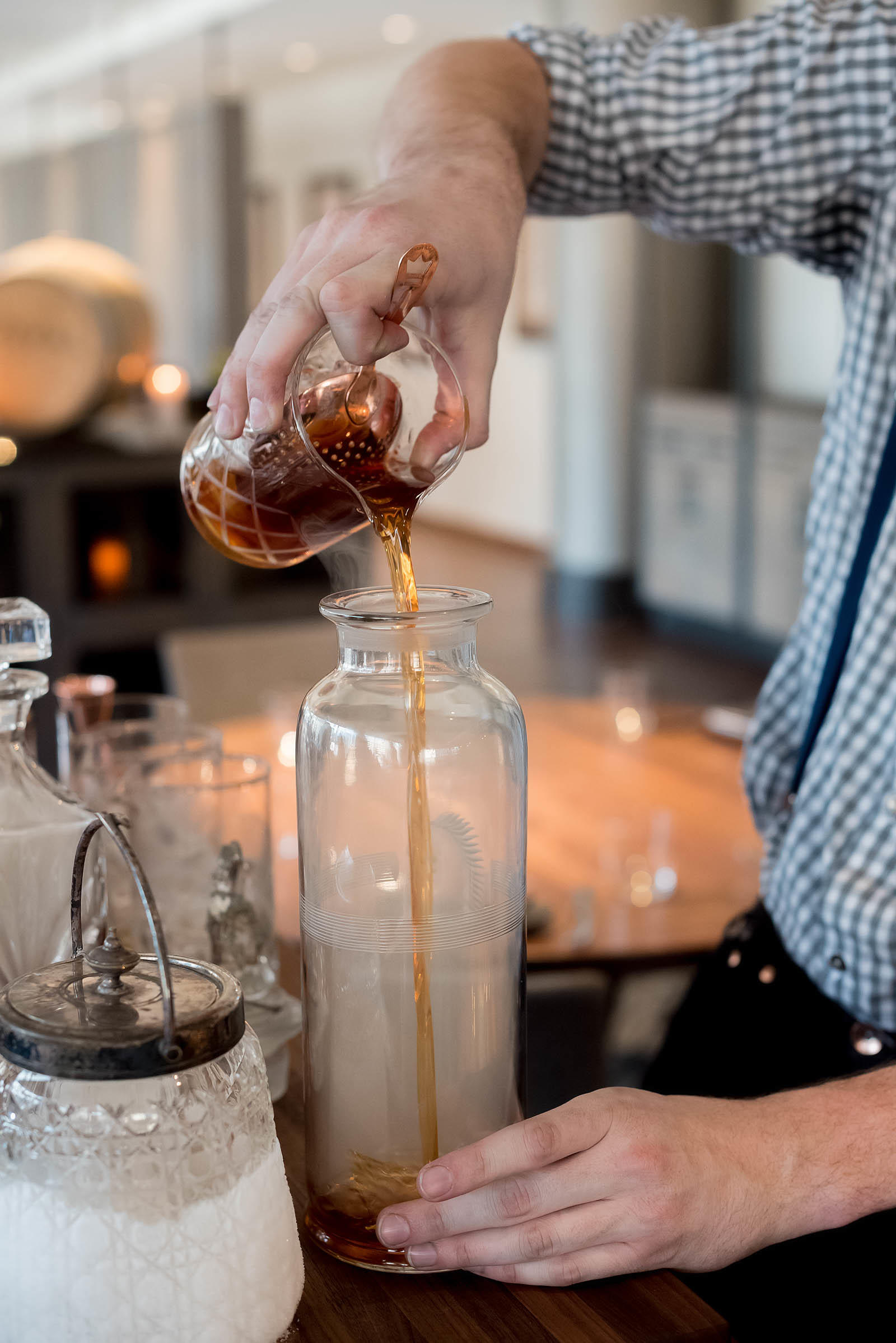 then slowly added in the mixture to one of the smoky carafes, shook it up, then…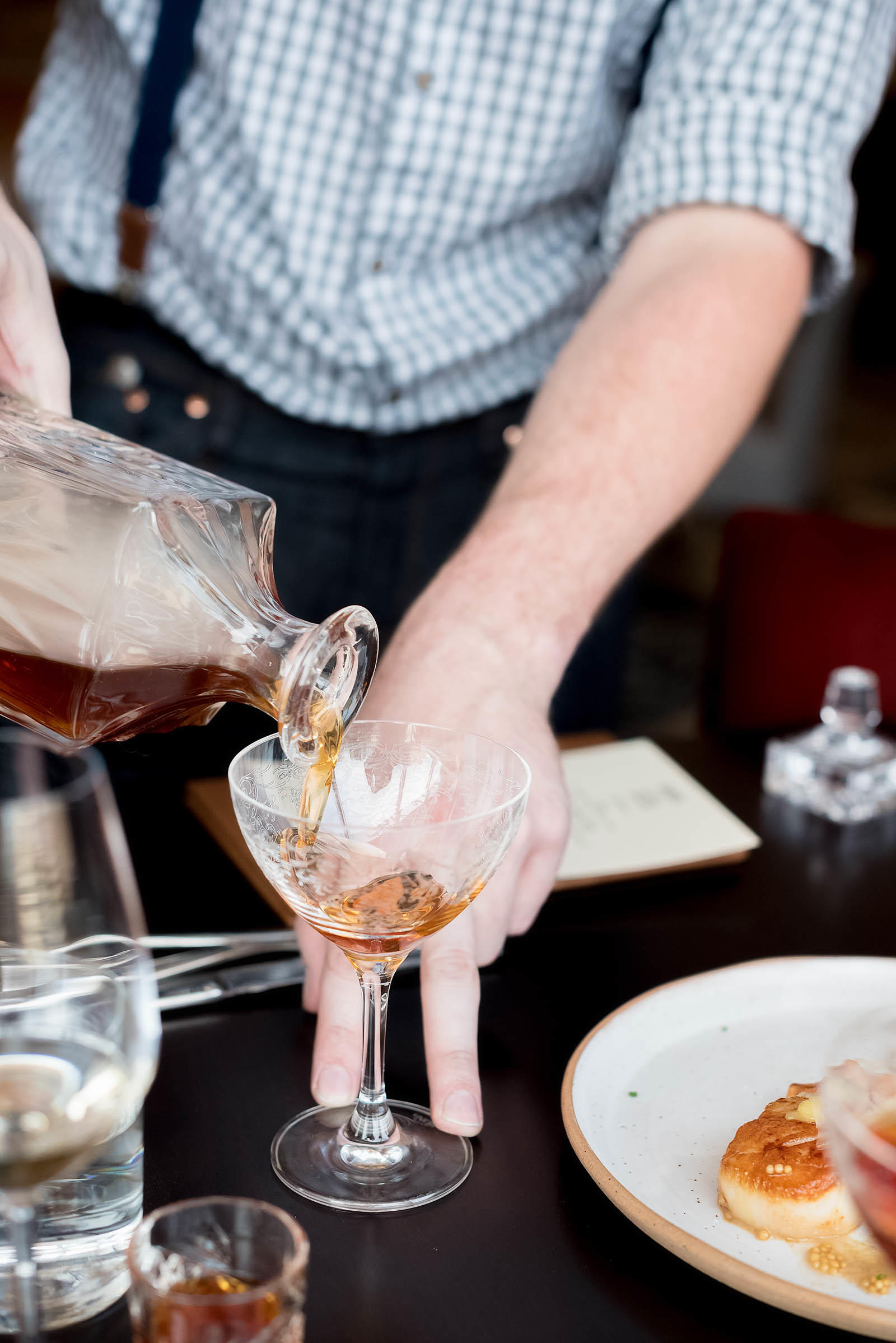 served each one tableside.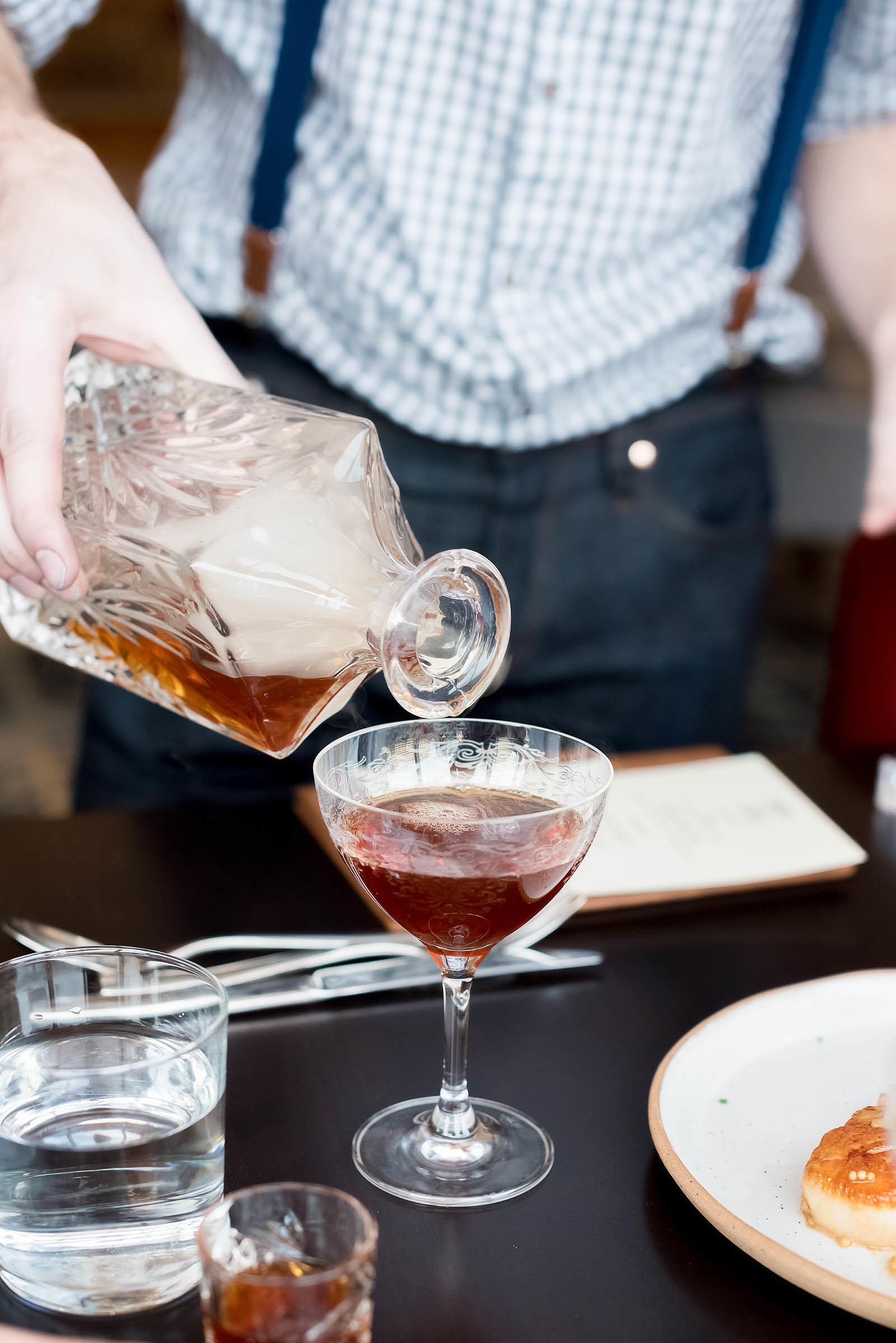 The whole ritual, aromas and all, made this one of the most unique cocktails I've ever seen prepared!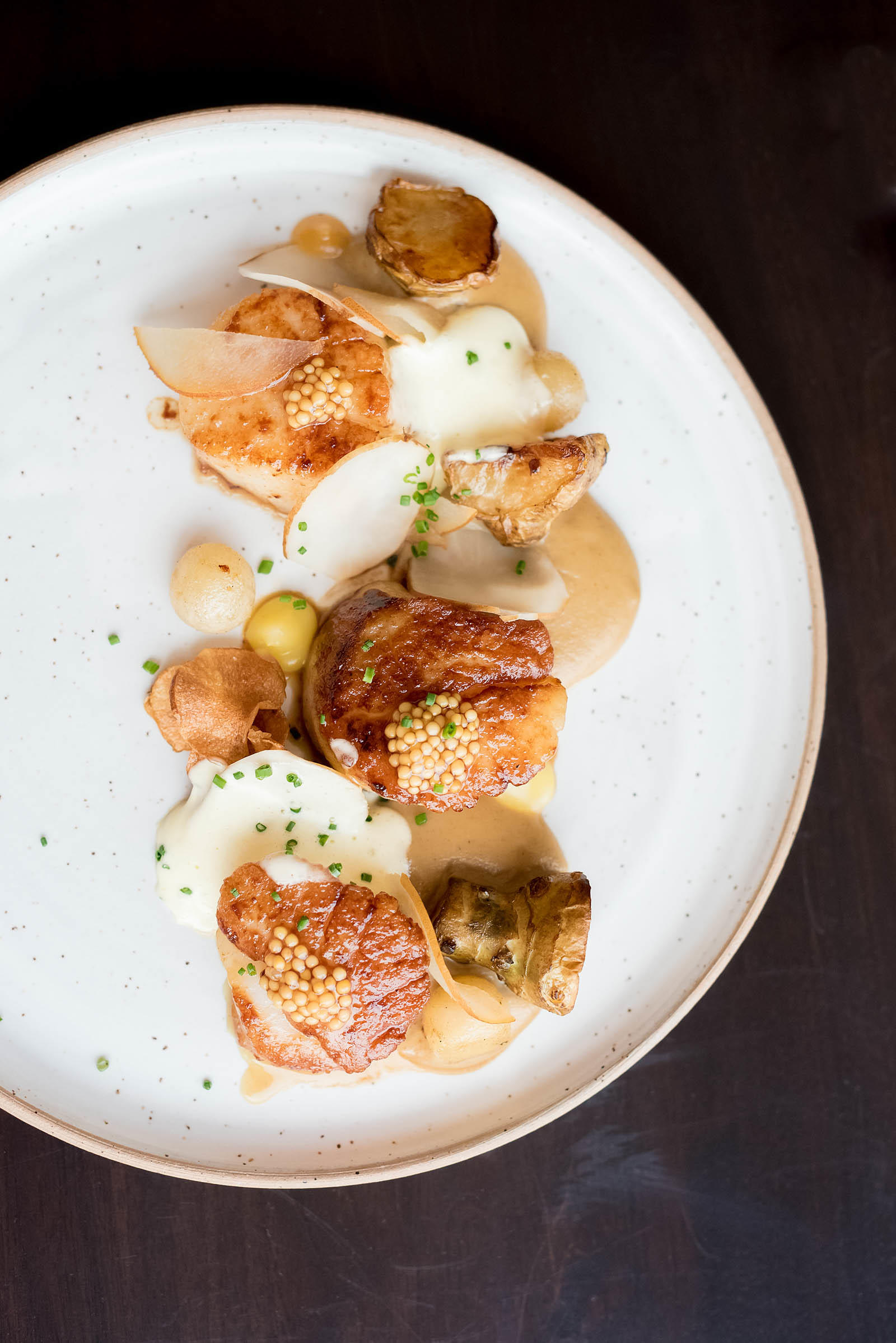 And it paired beautifully with our next course of plump, perfectly browned scallops.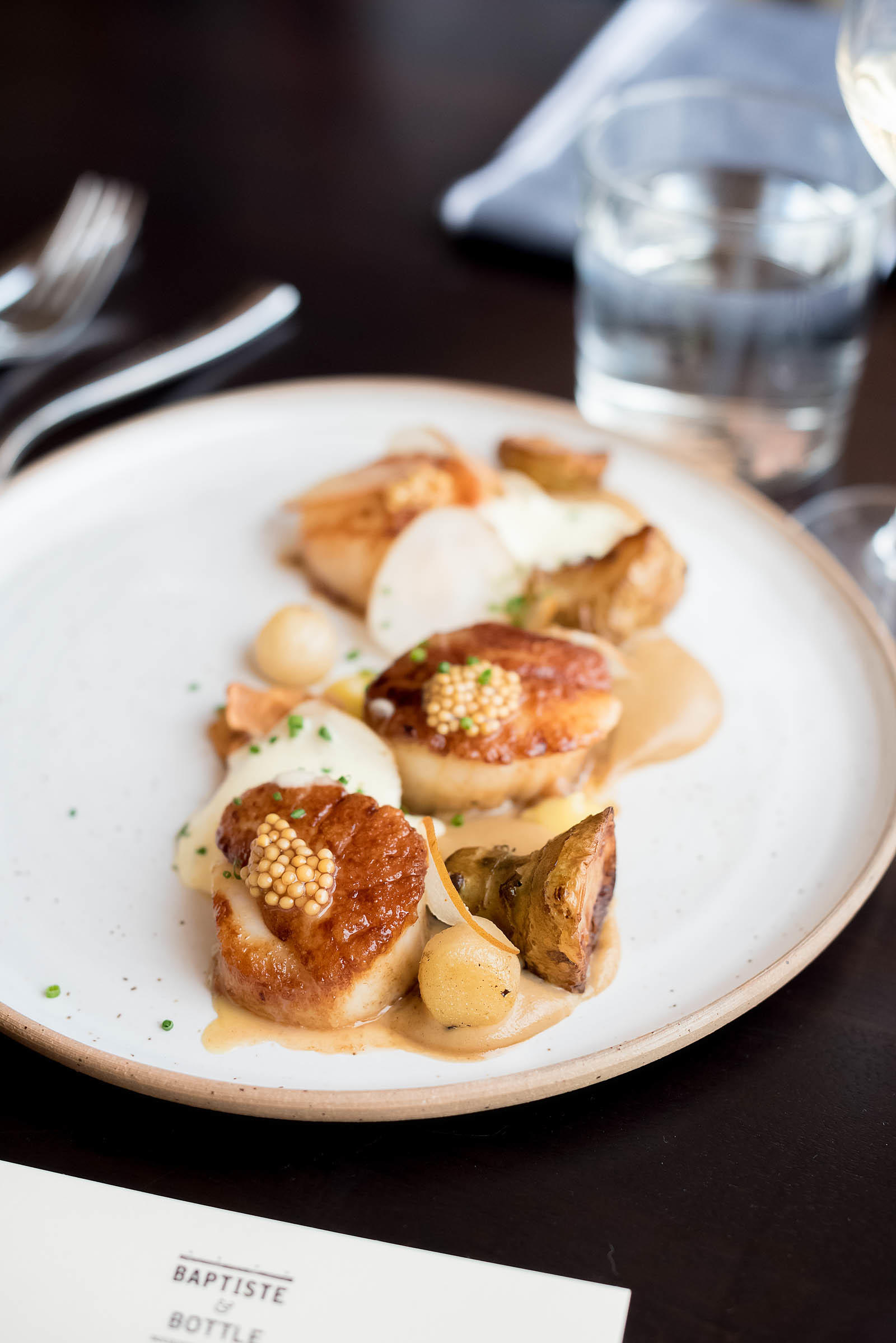 Served with brown butter, sunchokes, and pears, much like the roasted carrot salad, this dish was an explosion of textures and beautiful flavors.
These scallops somehow manage to meld the rich flavors of fall and winter in a way that feels light and fresh, not heavy.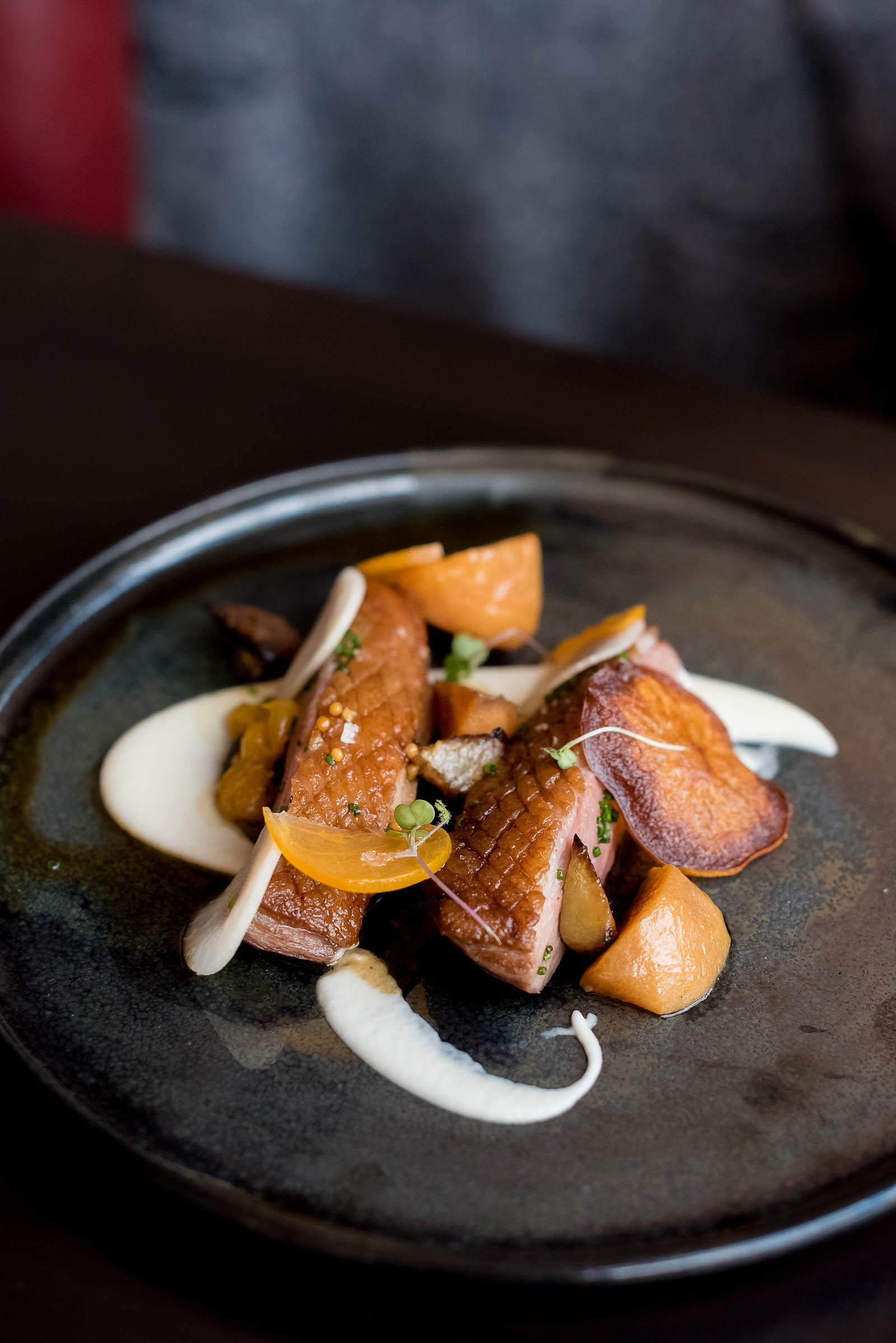 And it made for a beautiful compliment to this stunning Roasted Pekin Duck with persimmon, celery root, and gooseberry we swooned over as well.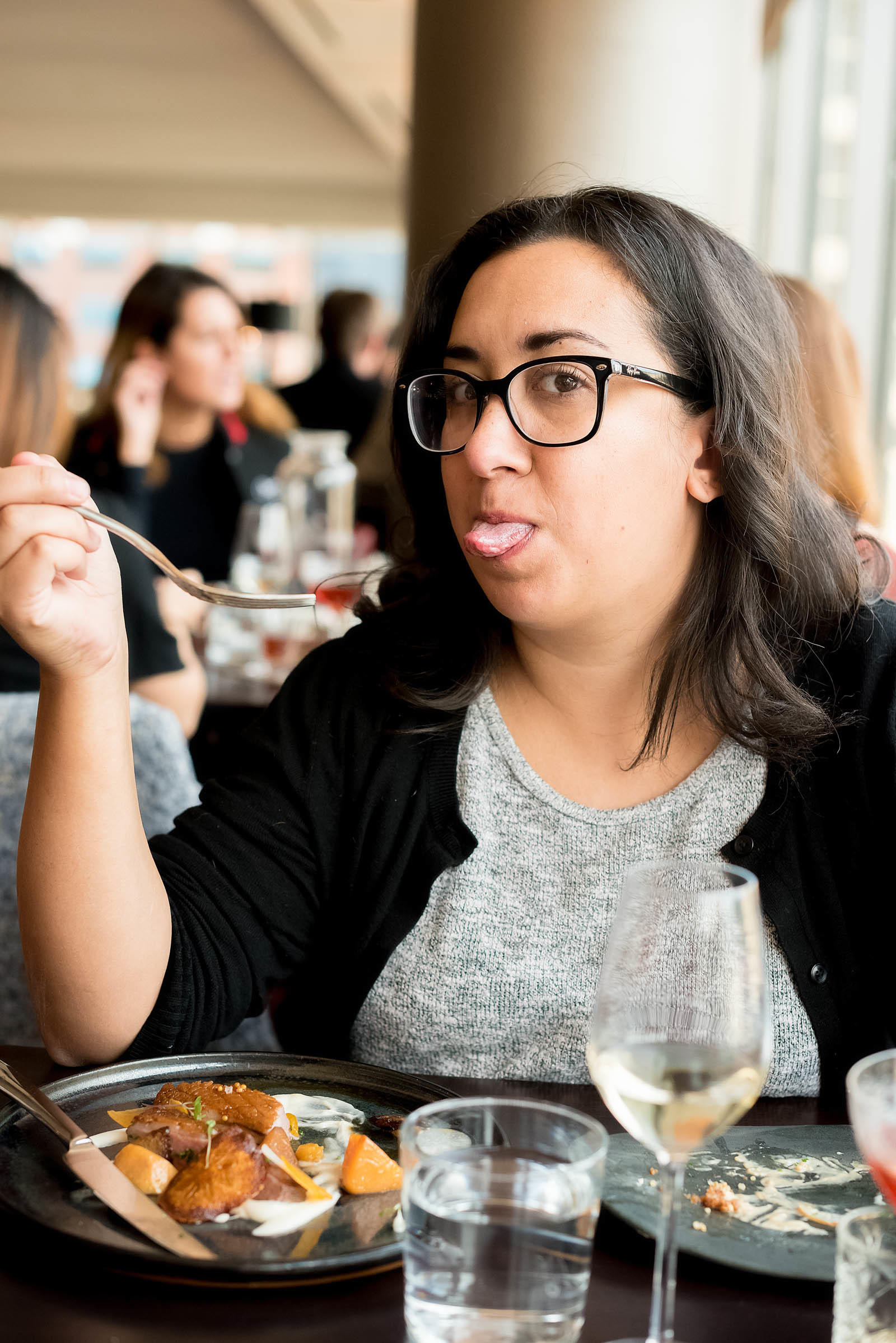 Say hello to my sexy date Rachel! I swear we always have SO MUCH fun when we have lunch together. After all, it's important not to take yourself too seriously while you dine, right?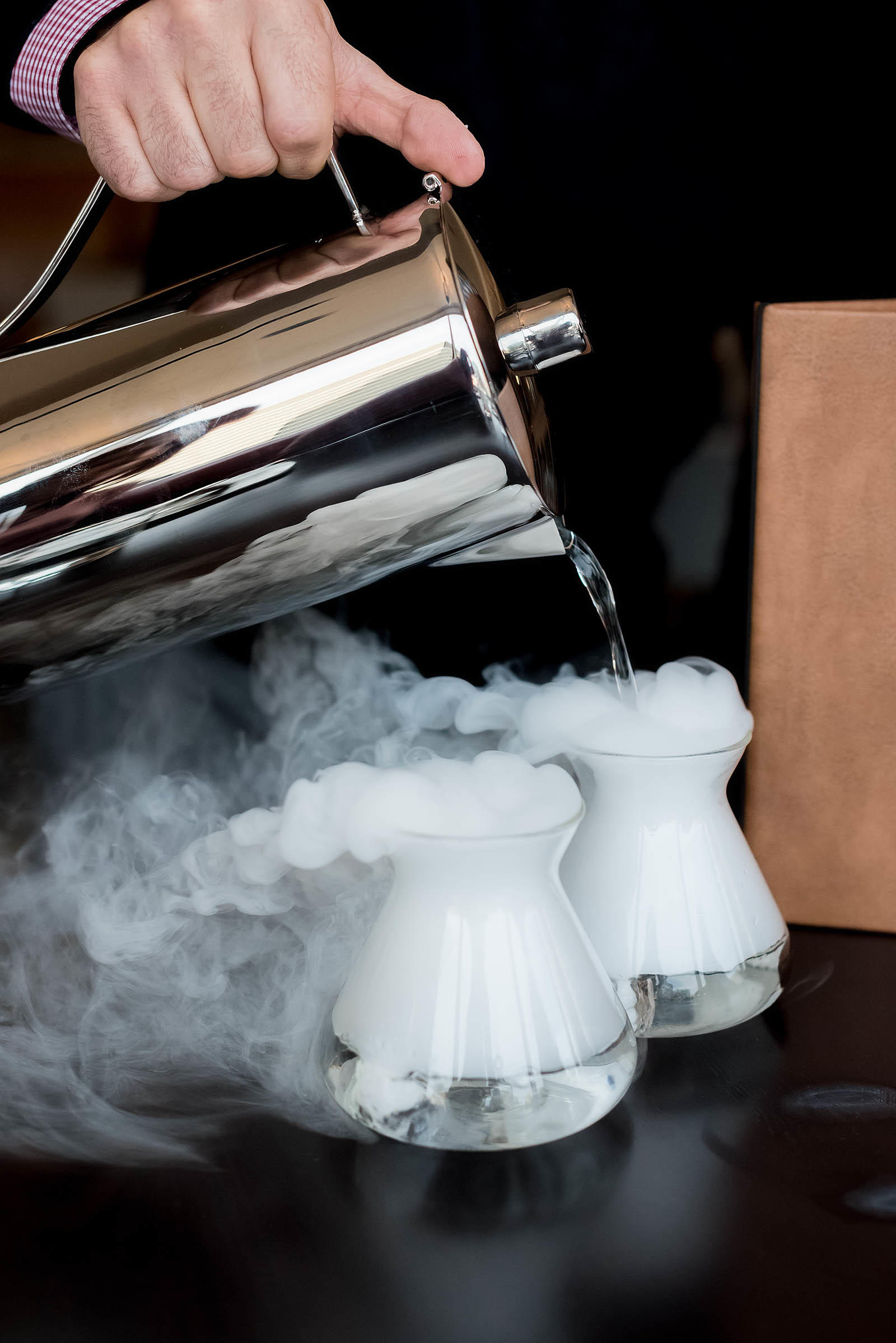 Before our next course we were served our second cocktail — a cocktail that just so happened to be the coolest, most photogenic cocktails I've ever had.
PERIOD.
First we get a little fog going…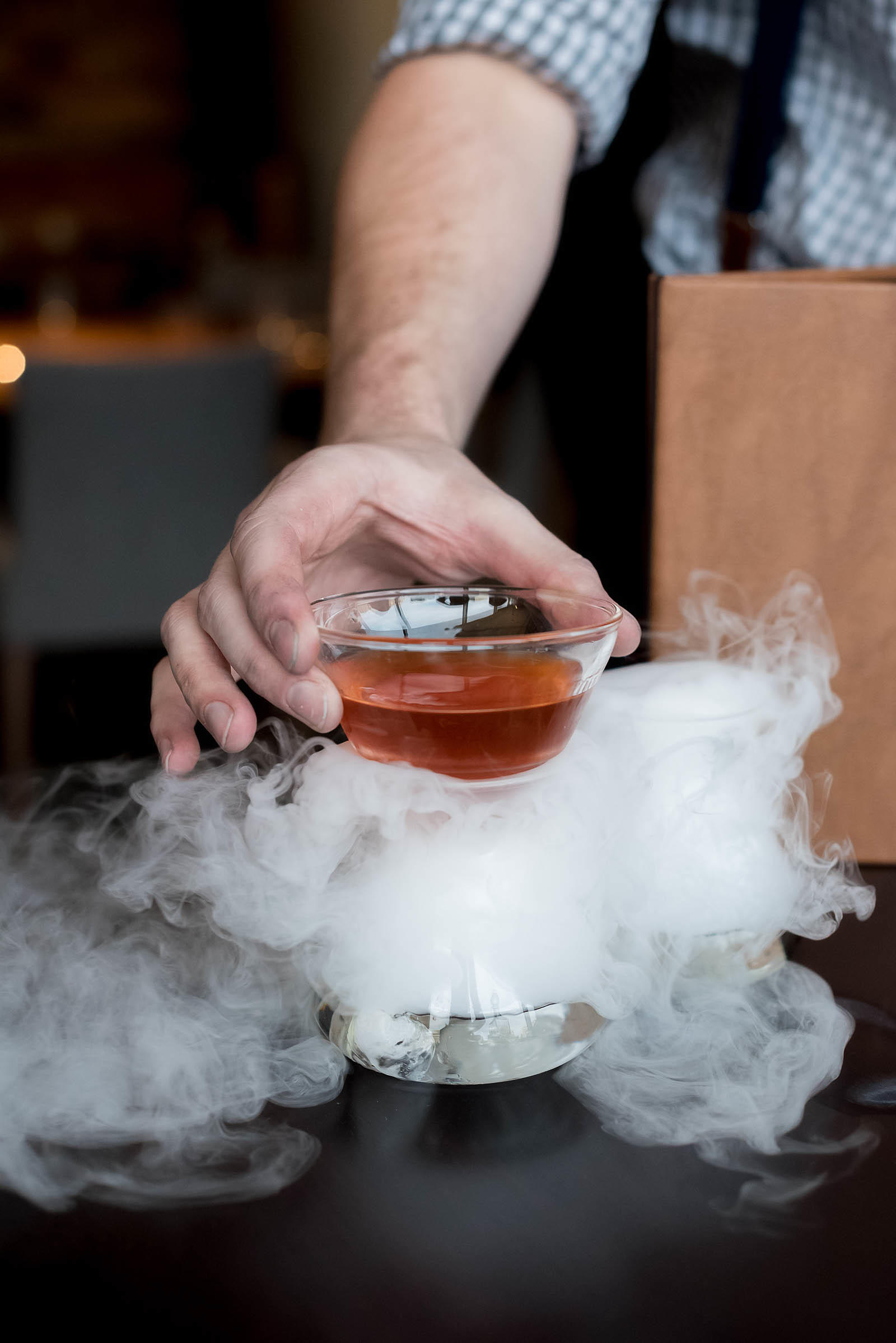 Then serve the cocktail on top…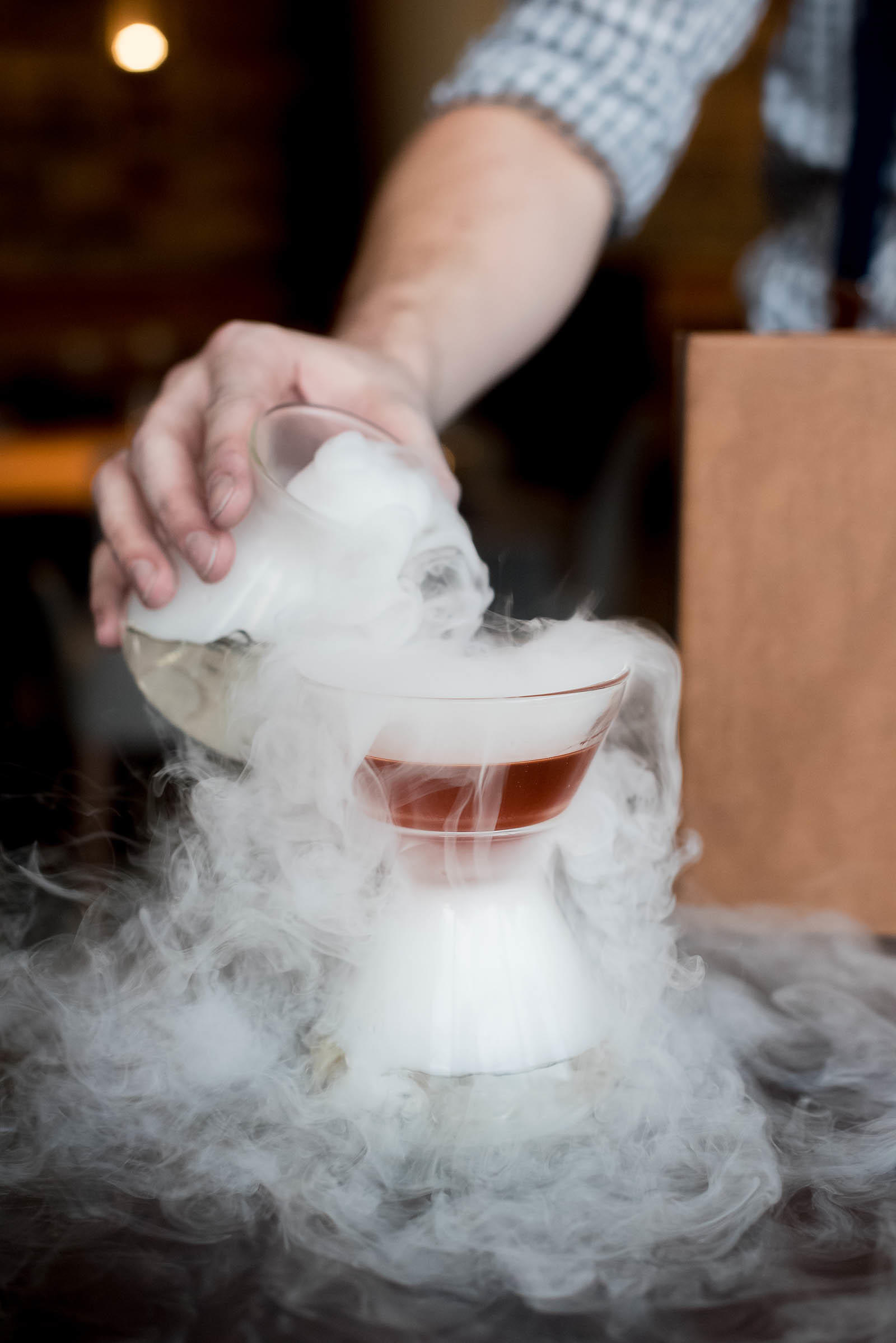 then add more fog on top!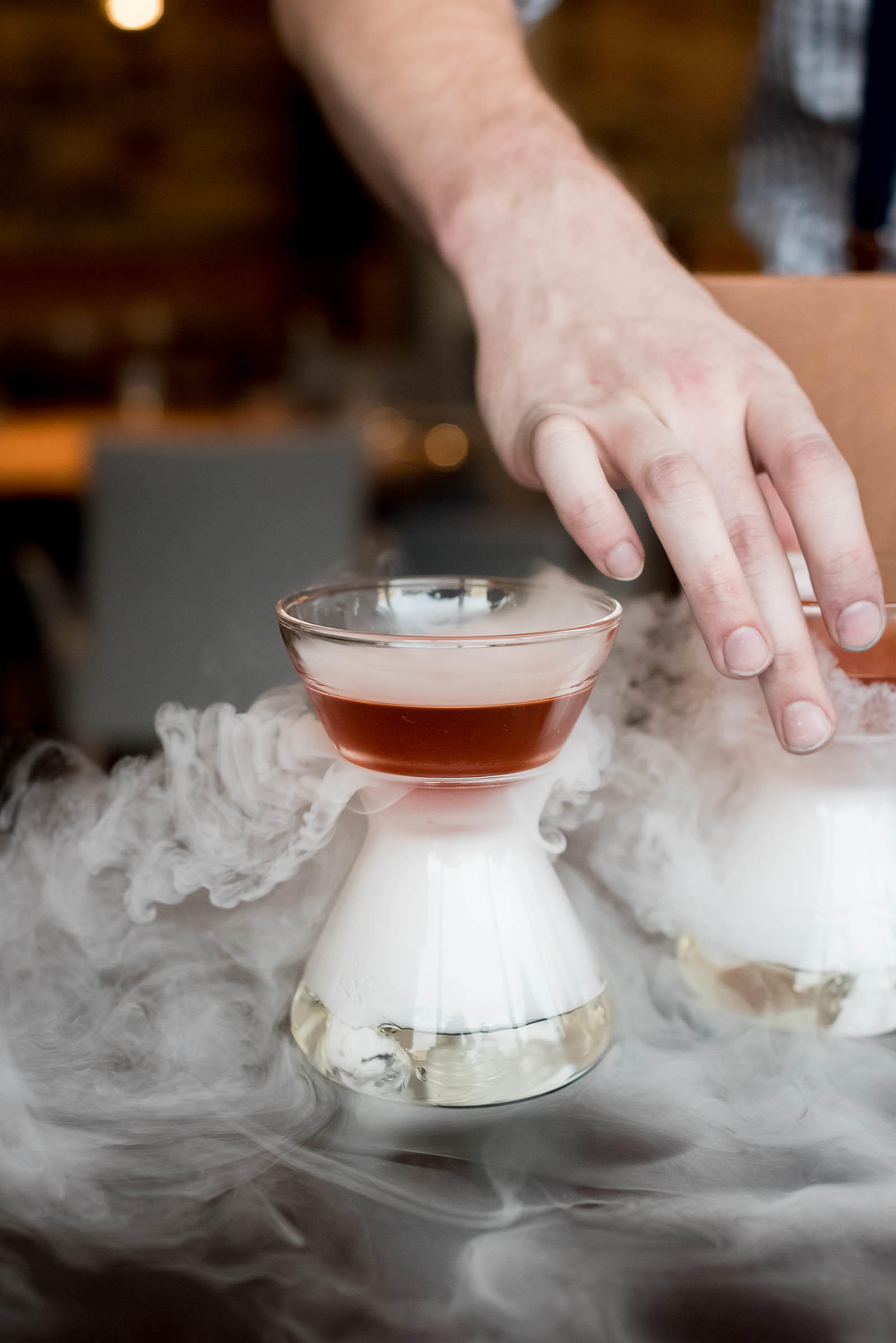 I mean seriously, do cocktails GET cooler than this??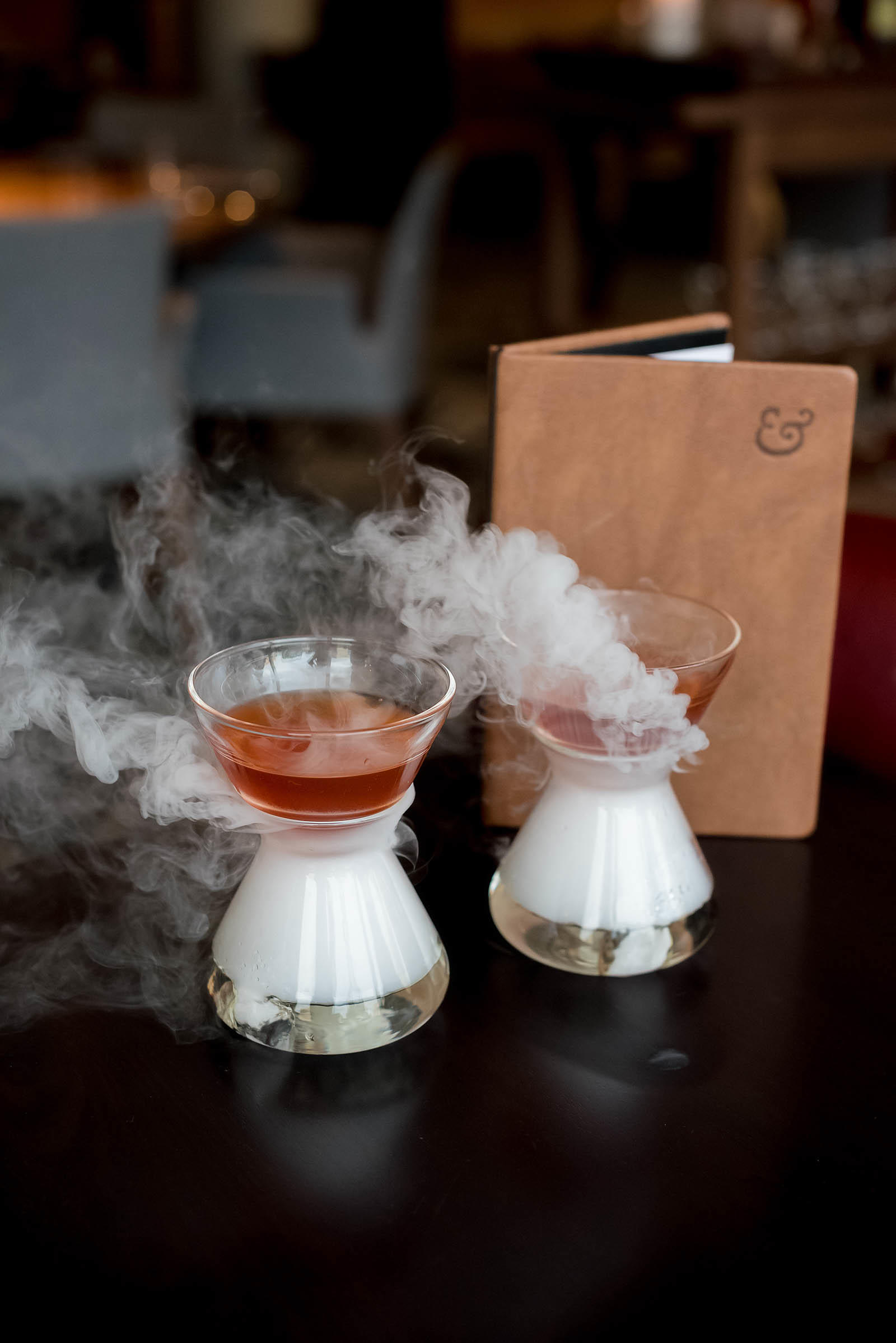 I really can't wait to take Hubby here for a date night if only for him to see these stunning cocktails in person!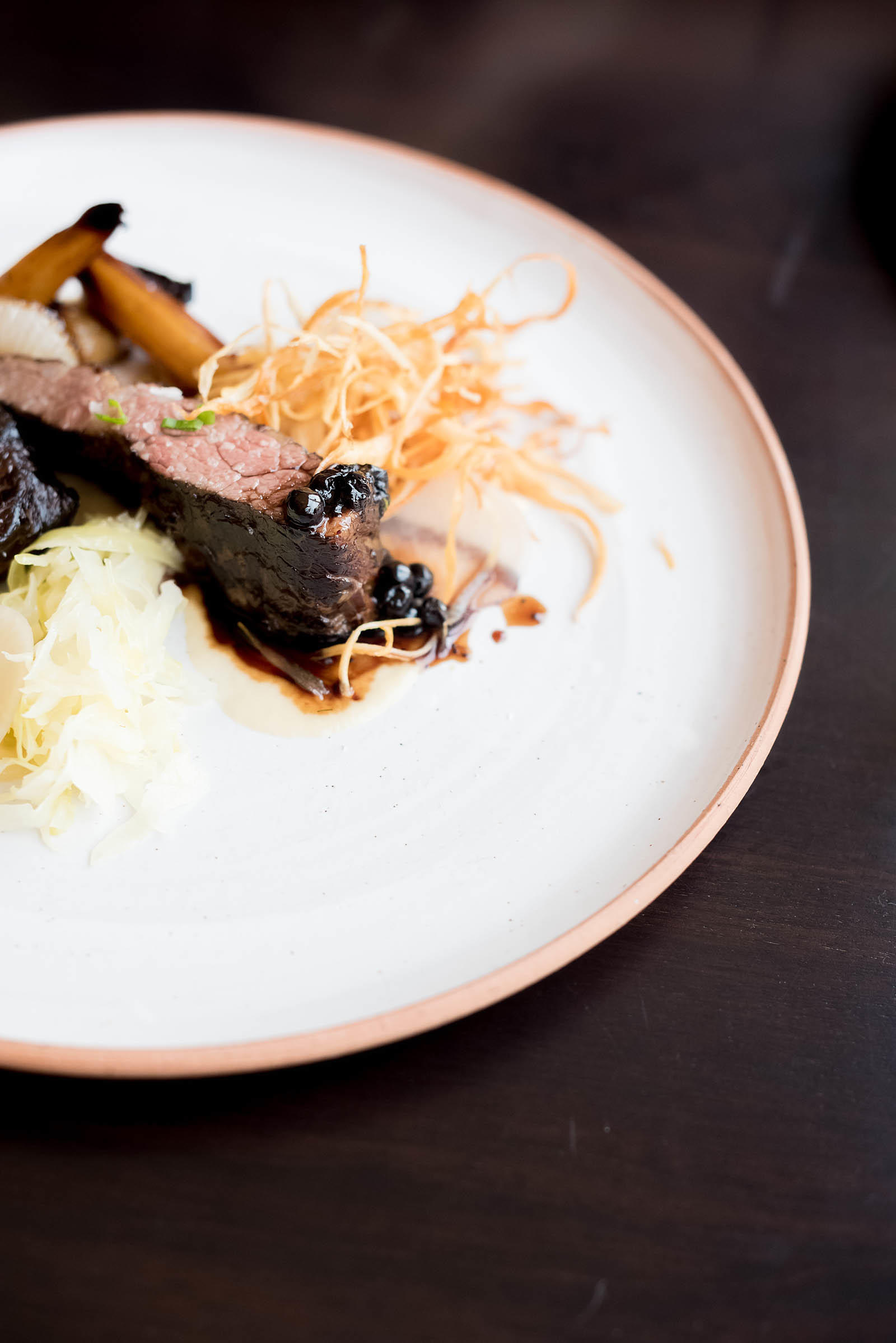 Next up (can you believe how many courses we tried??), came this stunner.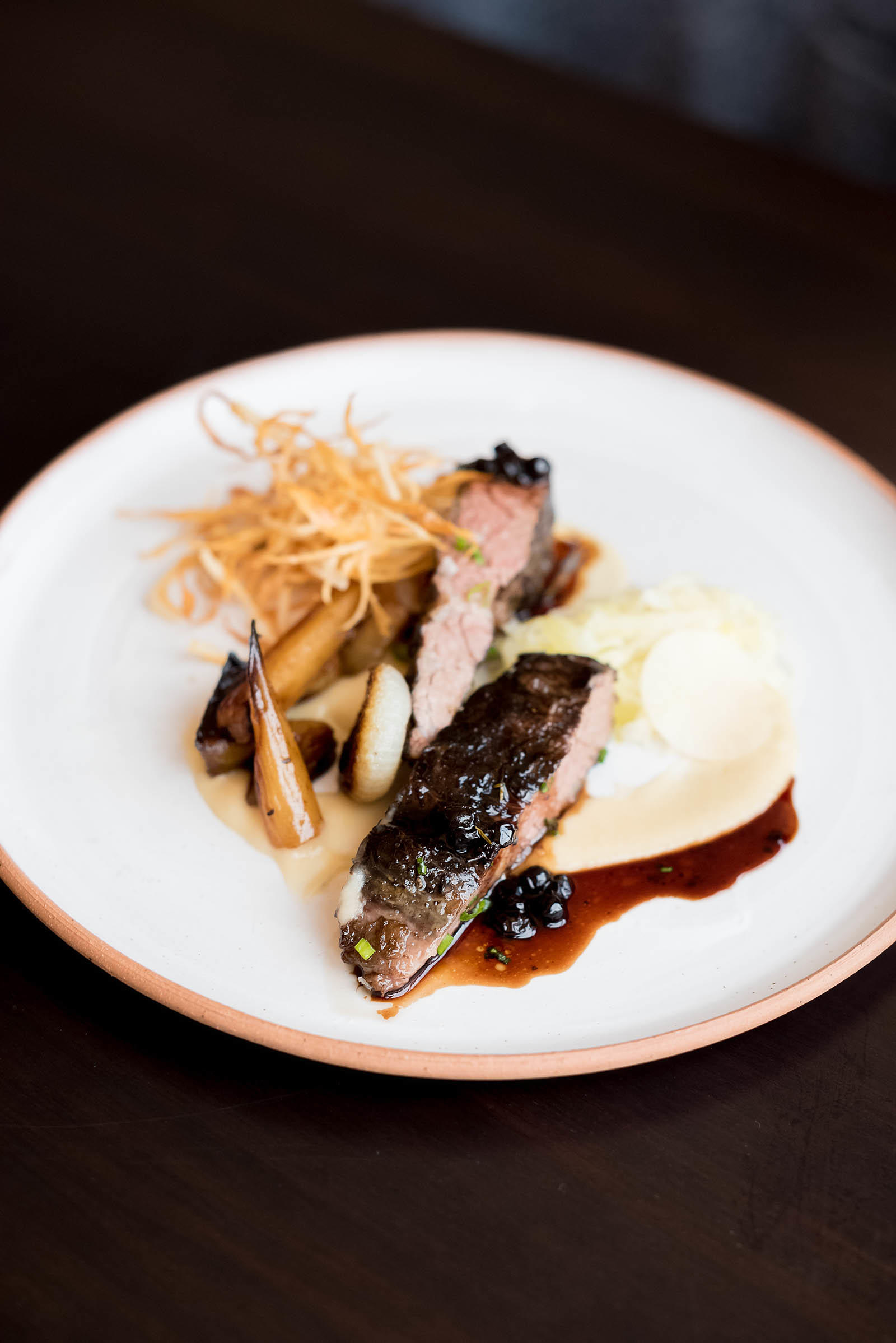 A 48-Hour Beef Shortrib with caramalized cabbage, salsify, and huckleberries. So rich and delicious!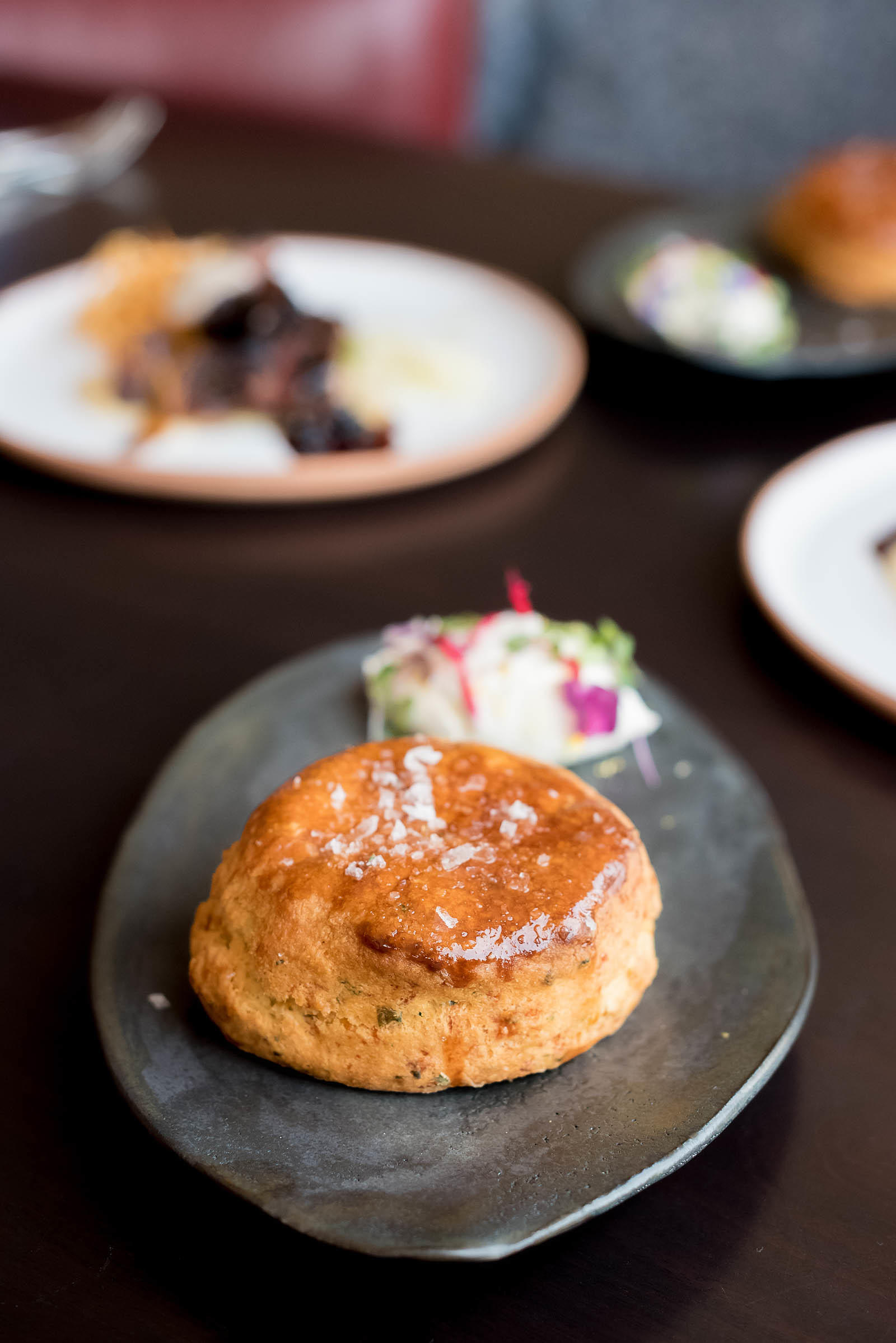 Especially when served with this stunning Herb Biscuit!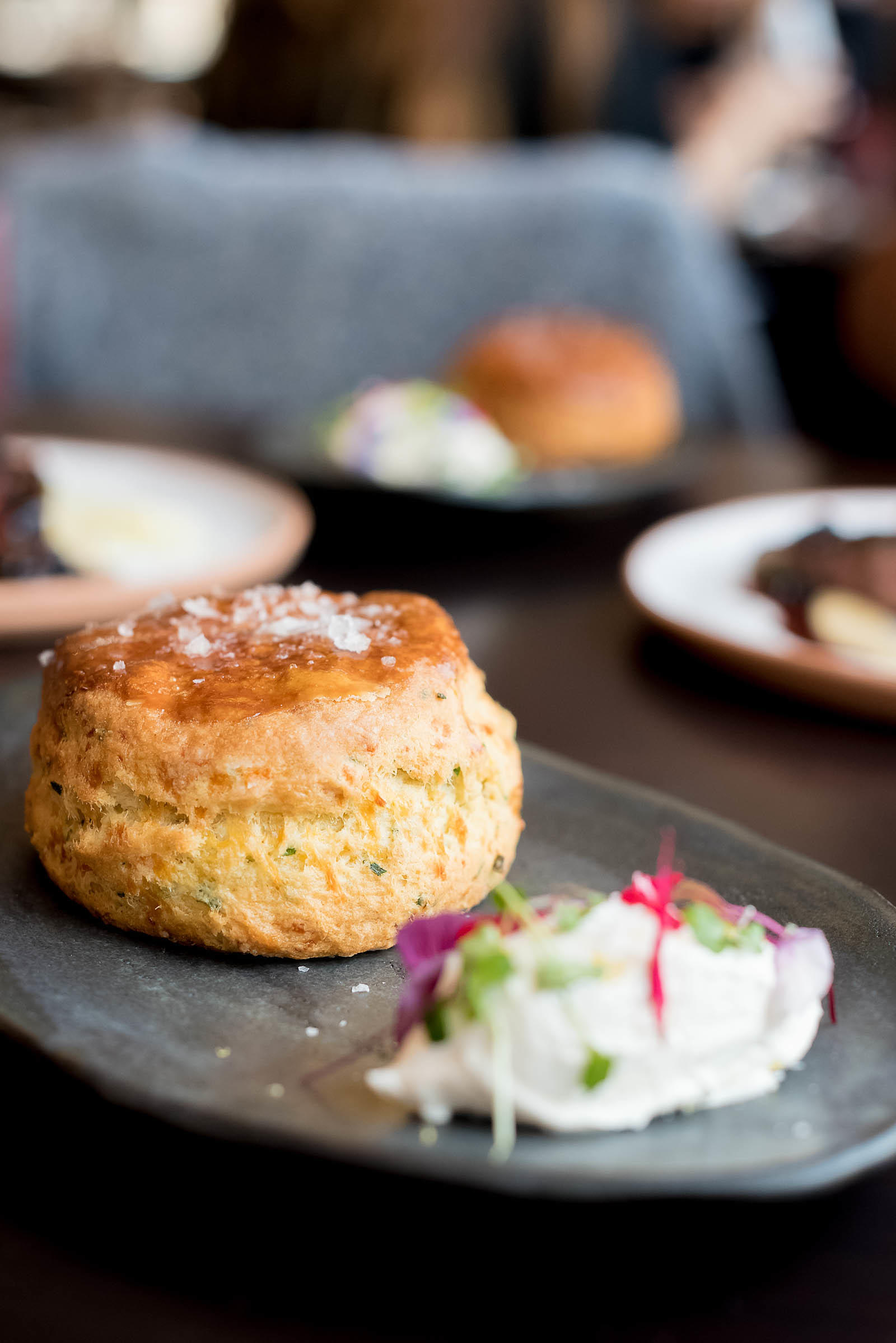 One of the lightest, fluffiest, and most sophisticated biscuits I've yet tried.
The sort of biscuit I may or may not have wanted to double up my order on…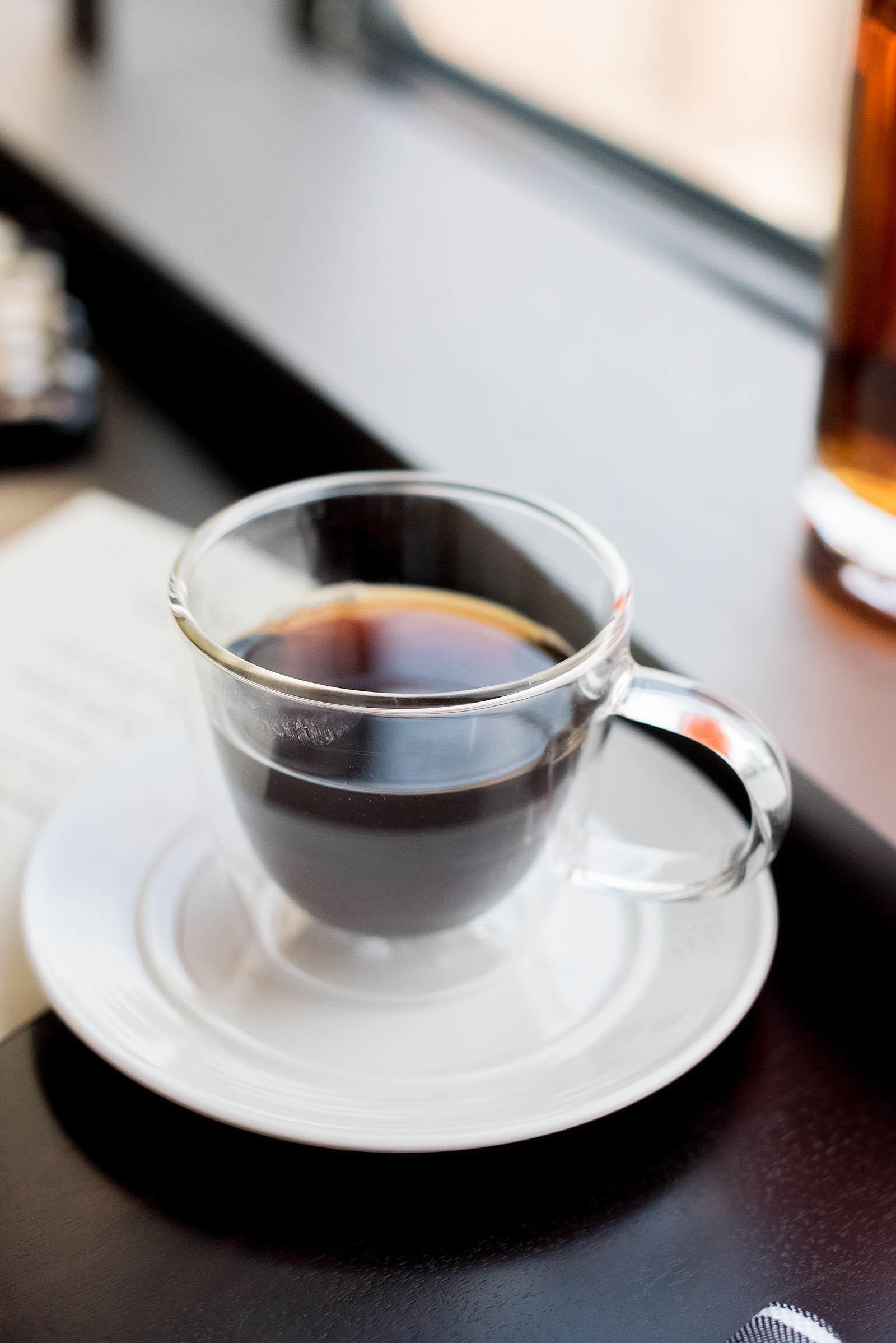 Luckily I was distracted from my desire for carb-overloading with a delicious cup of coffee and…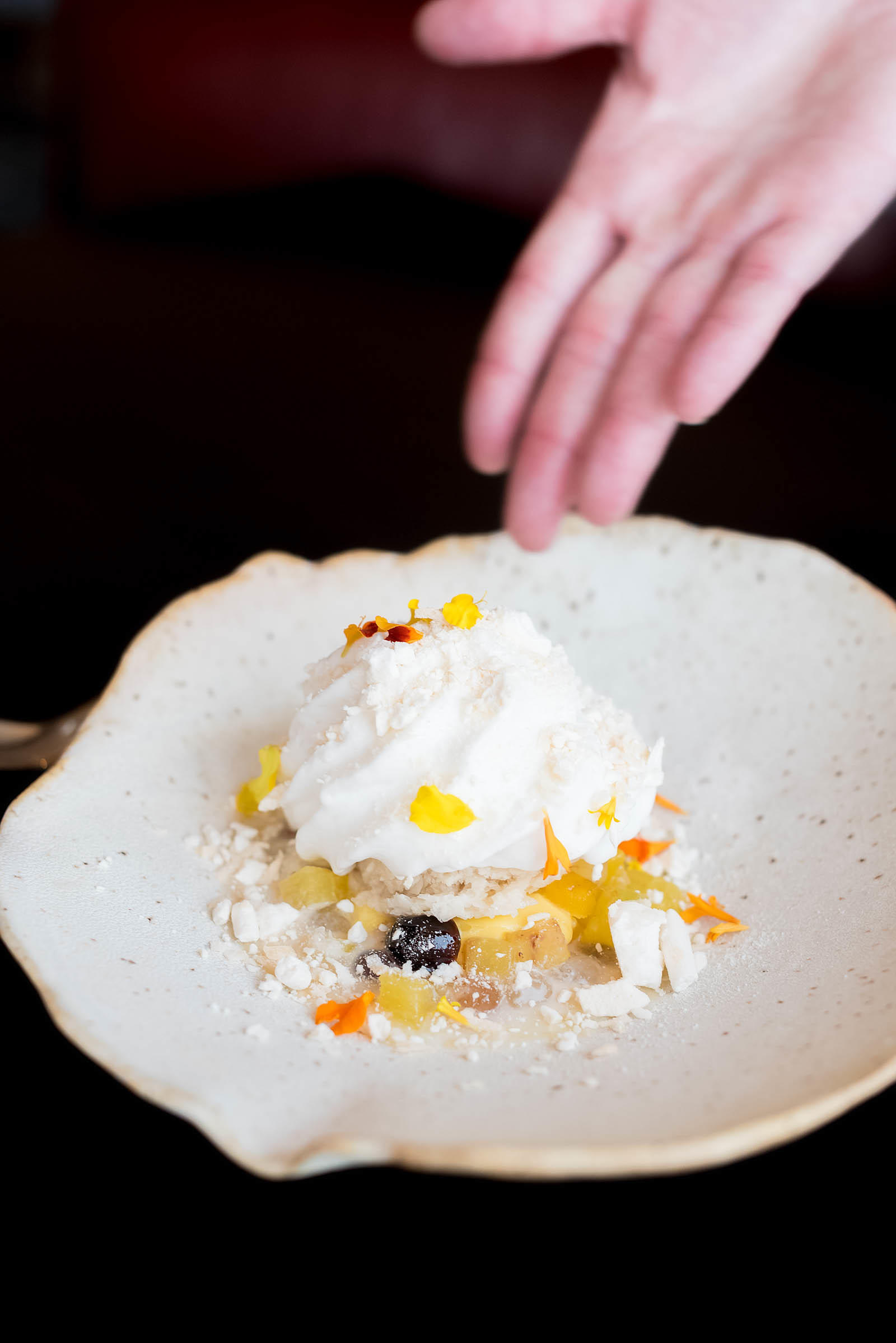 This beautiful dessert!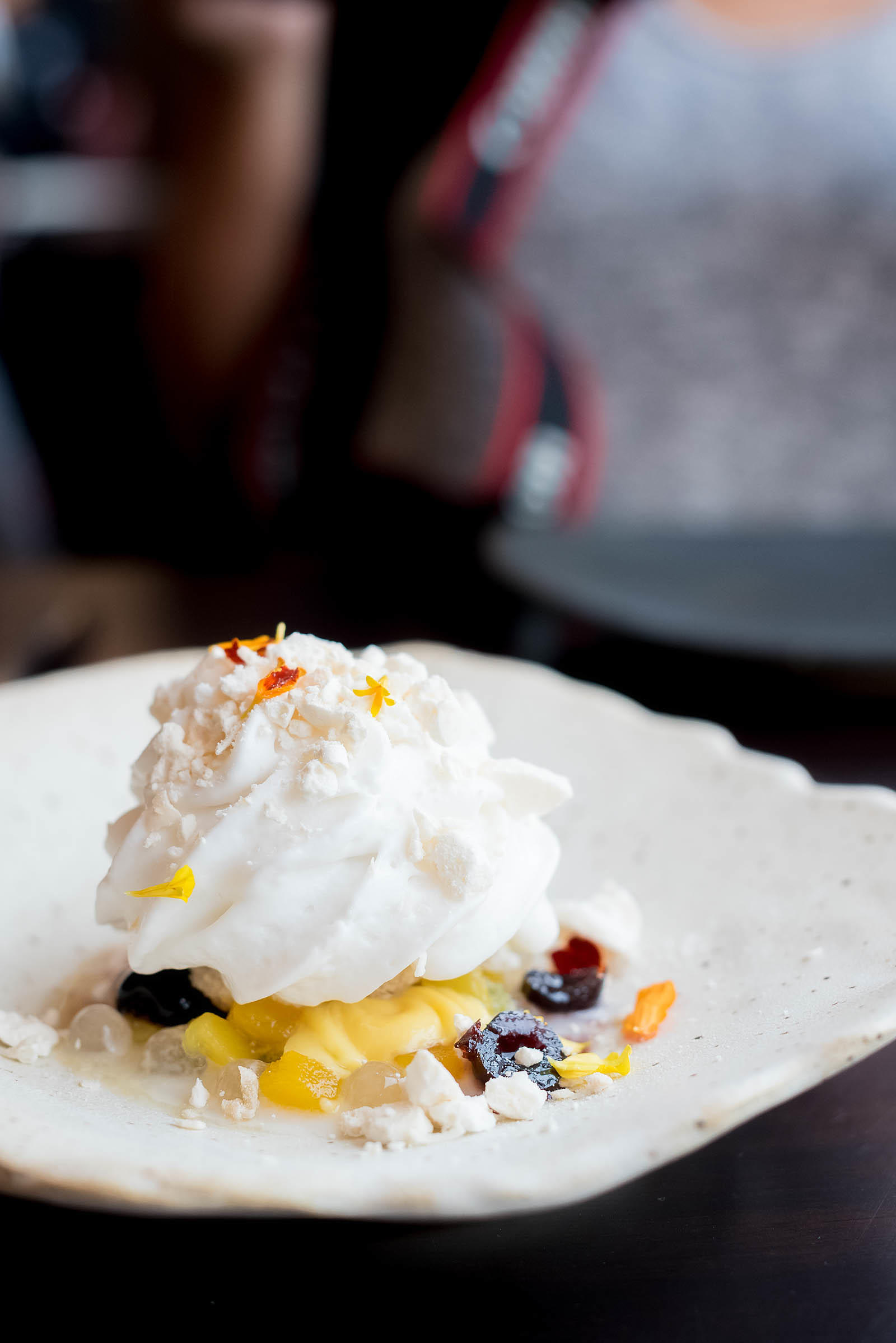 A sophisticated, modern take on the mid-century favorite… Ambrosia!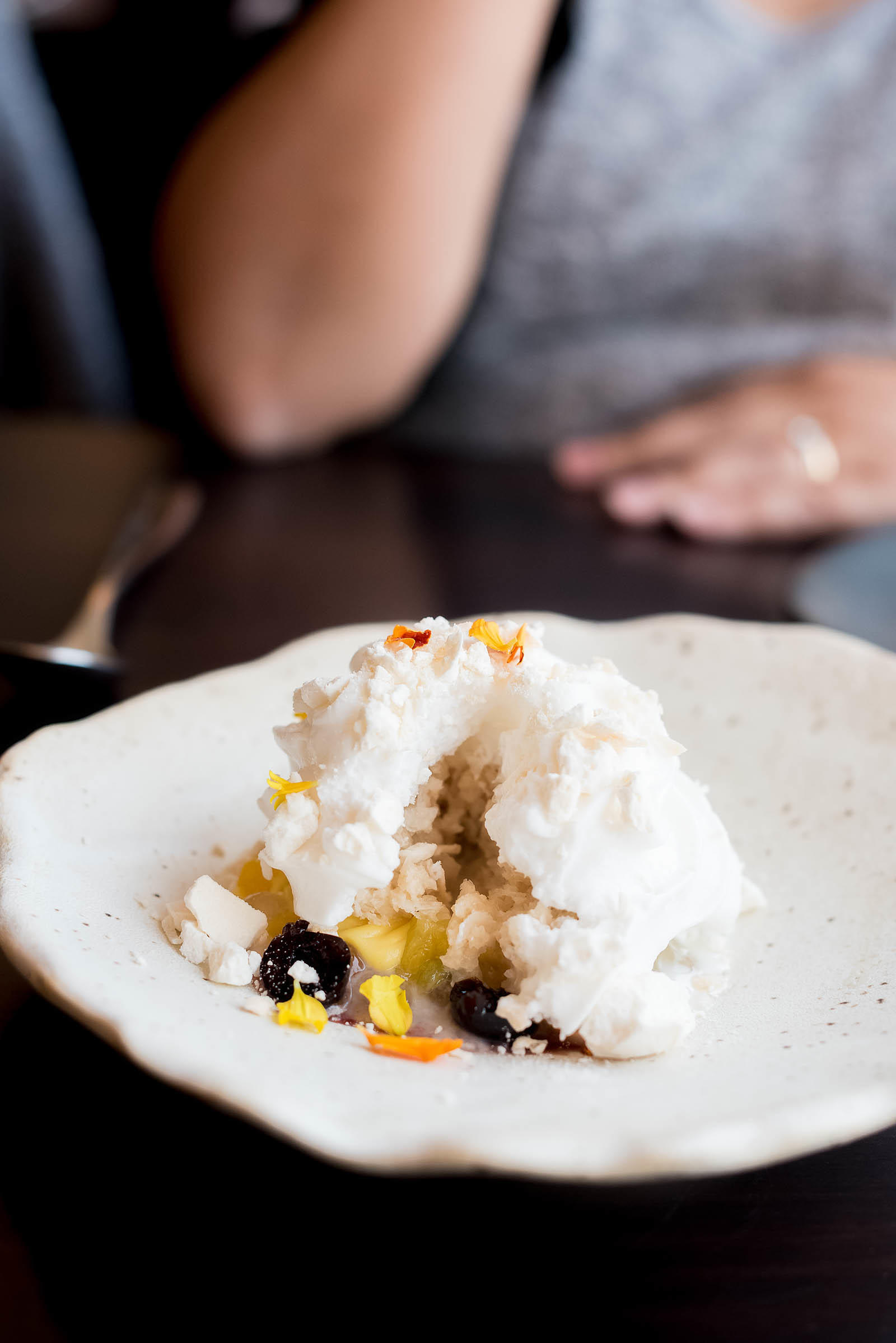 The creamy filling, crunchy meringue, and zesty citrus notes converted me over — this is anything but your grandmother's favorite geriatric dessert!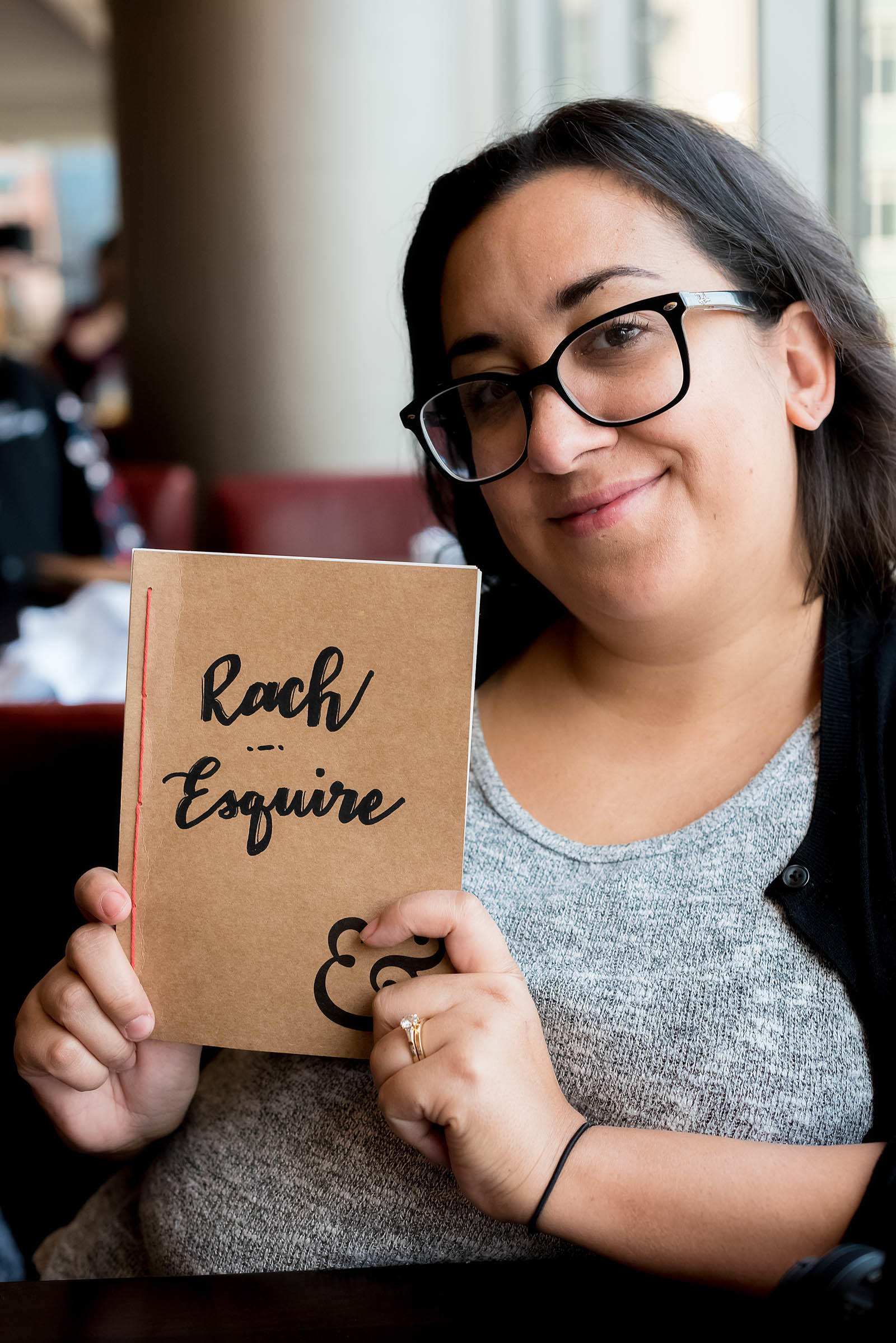 We were even given customized recipe books to take home with us after our meal so we could recreate our B&B experience whenever we wanted! How cool is that?
Everything about Baptiste & Bottle, from the view to the service to the cocktails to the dishes (especially that carrot salad!), wowed me. And, after all the restaurants I've tried in my time, I promise you I don't say WOW lightly.
While there are plenty of delicious restaurants opening all over Chicago this fall, Baptiste & Bottle is the one you HAVE to add to your list. Especially if you love a gourmet spot geared towards "real people" serving real food given an artistic-yet-approachable makeover.
Trust me, you WON'T be disappointed. Just perhaps a little tipsy…
Disclosure: I received a complimentary meal to facilitate this post. Review and all opinions are my own.