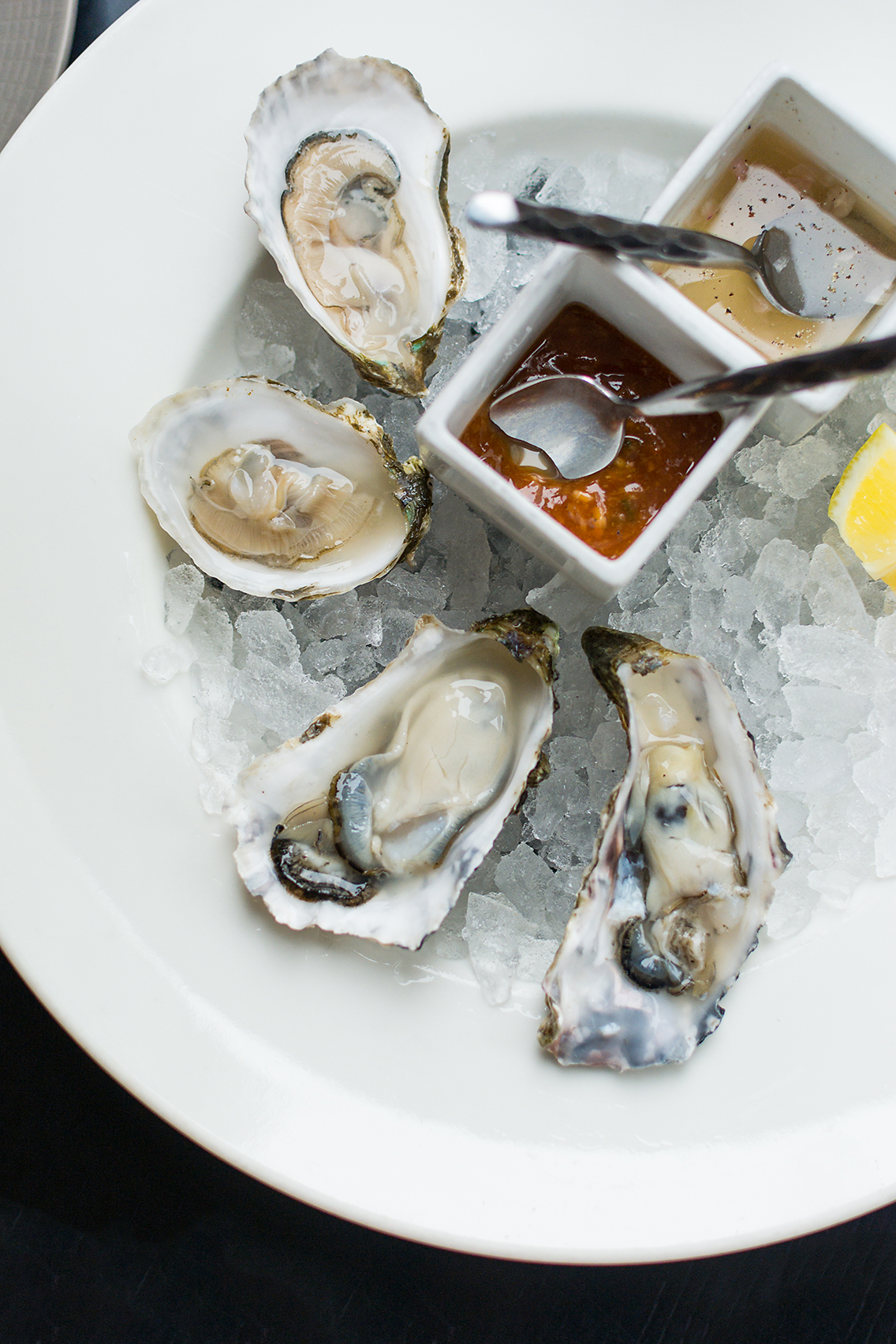 Being in the Midwest, Chicago isn't really known for its seafood.
Actually you might go so far as to say we don't really "get" seafood (philosophically, at least…).
Yes, we have the Great Lakes and their many aquatic inhabitants.
And yes, we are a city of seriously stellar restaurants.
But most of the time seafood is a forgotten option, laid to the wayside of the steakhouse-obsessed meat-and-potato-loving Midwestern palette. I can't tell you how many times I've eaten over-cooked lobster, improperly shelled crab, or a beautiful fish filet doused in so much sauce I was left questioning whether or not I'd actually eaten a protein of some kind at all.
But, as irony and fate would have it, I just so happen to LIVE in the Midwest AND love seafood.
Like, seriously love seafood.
I pine. I coo. I adore. I obsess. Give me oysters, a meaty crab cake, a bowl of lobster bisque, and a rare seared Wahoo filet and I might as well be putty in your hands. P-U-T-T-Y!
But I live in Chicago.
And as far as I'm concerned, when I'm jonesing for a serious seafood fix, there's only one place to go…
Travel + Leisure names it one of the top 20 seafood restaurants to visit in America and with good reason — its life-changing coastal-worthy seafood IN the Midwest. Deliciousness? Check! Novelty? Check!
Ok, let's dive in! [pun intended!]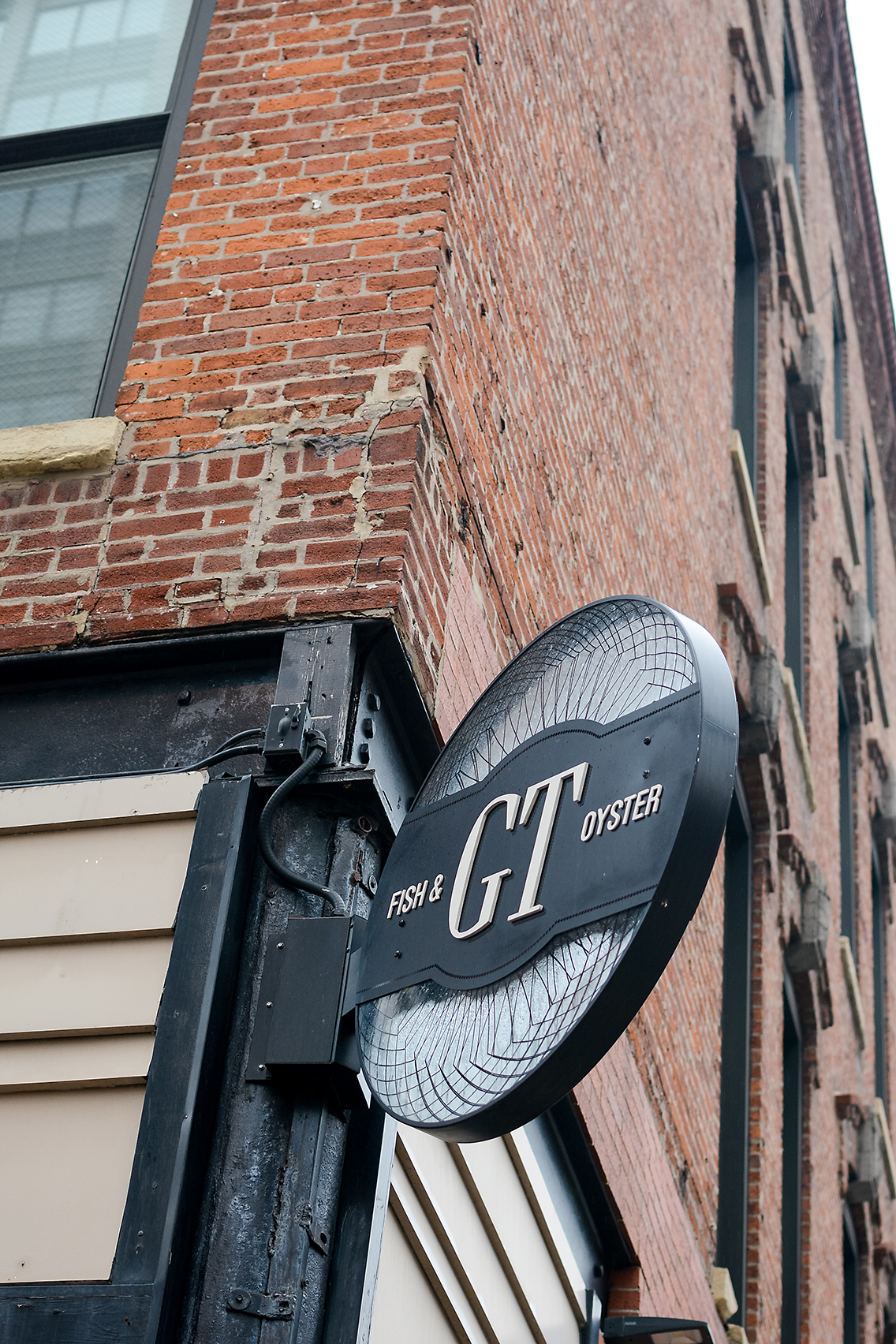 I first went to this industrial-meets-nautical-chic space during Restaurant Week last year. And fell madly, madly in love.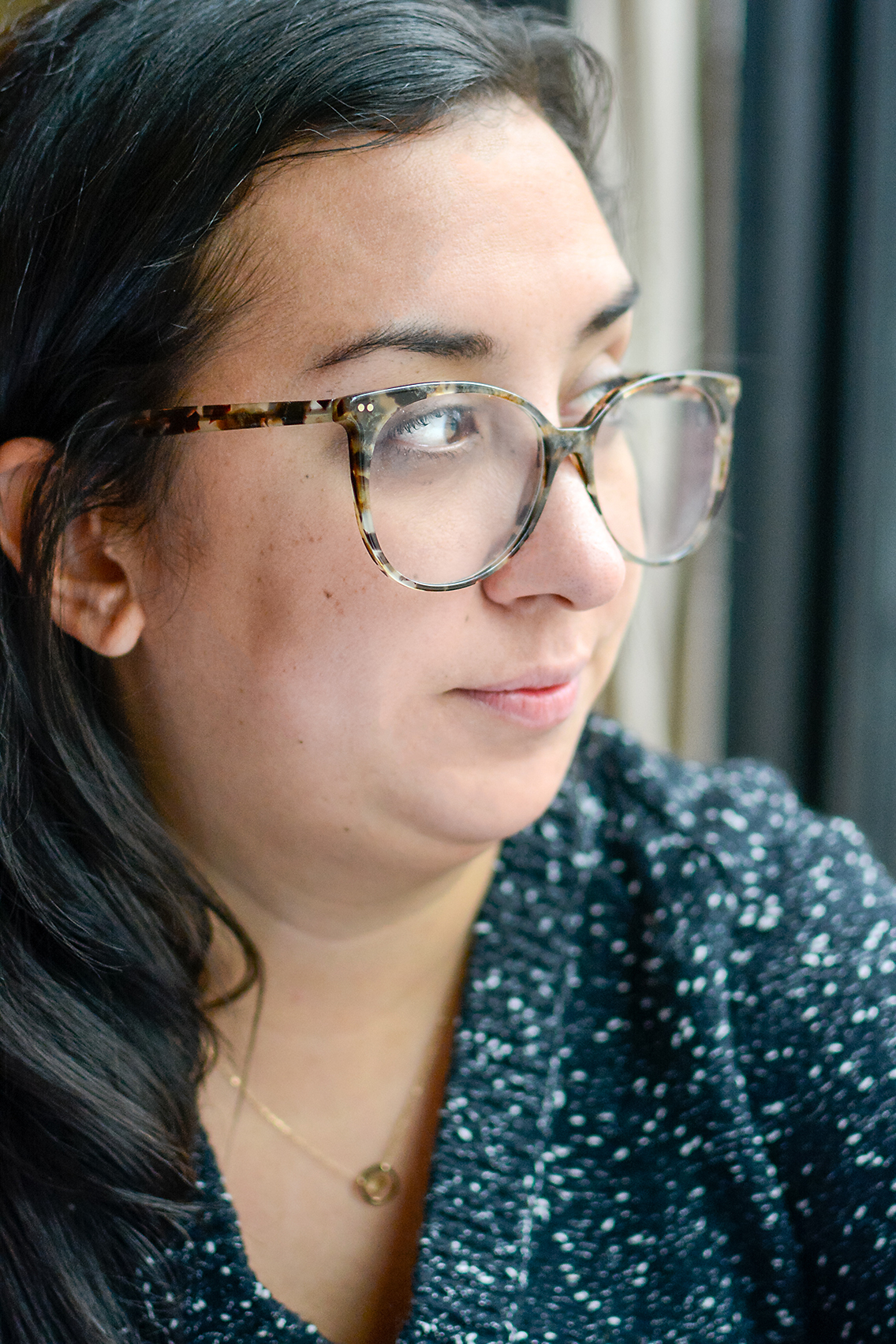 So when my dear friend Rachel mentioned she'd never been to GT, I knew I had to take her for her first visit!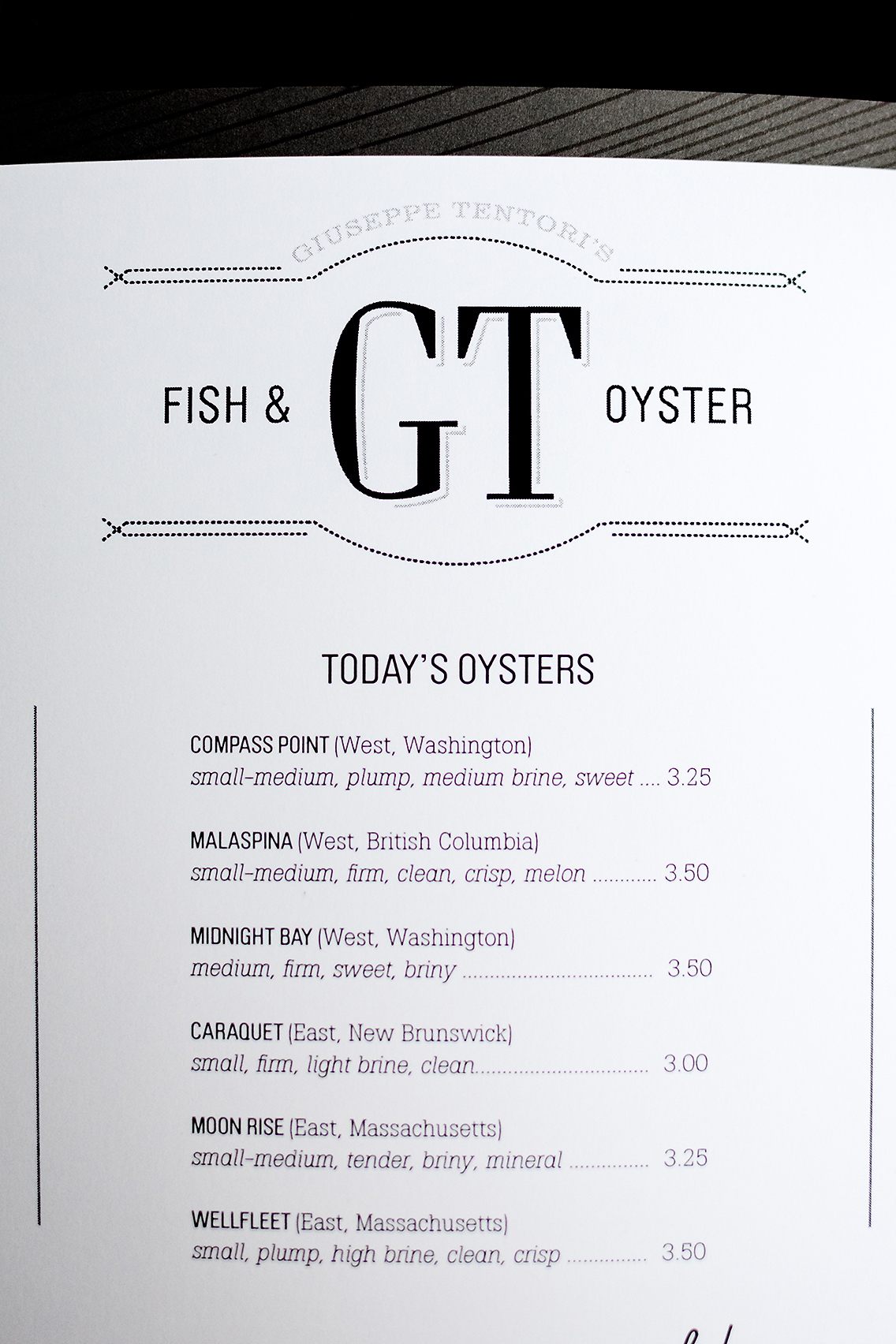 We went for lunch on a dreary, rainy day. Their lunch menu is simple and ALL about the seafood with a large oyster menu dominating the page.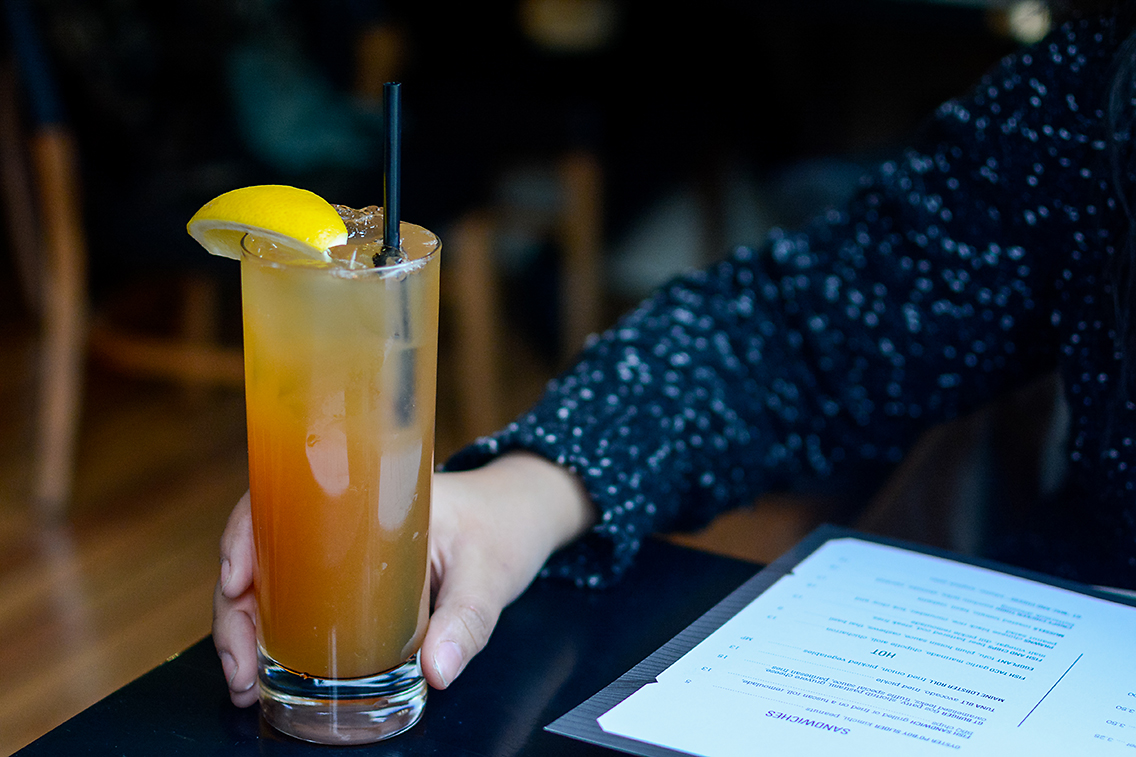 Rachel started out with this clever booze-free Autumn Palmer of cider, tea, ginger beer, and lemon. Delicious, spicy, and refreshing!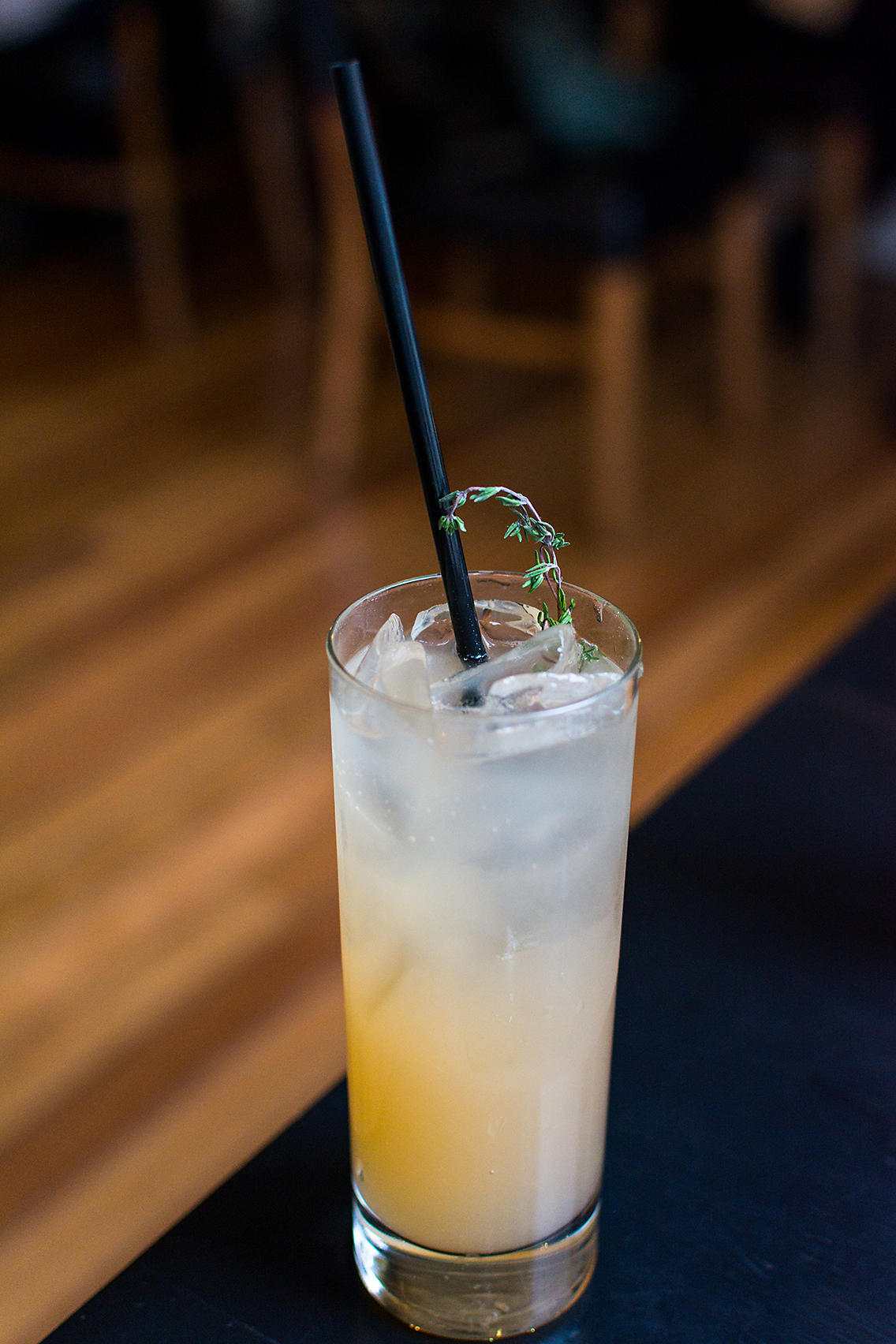 While I opted for the equally clever booze-free Doin' Thyme soda of grapefruit, thyme, and ginger beer. So light and bright for a winter lunch!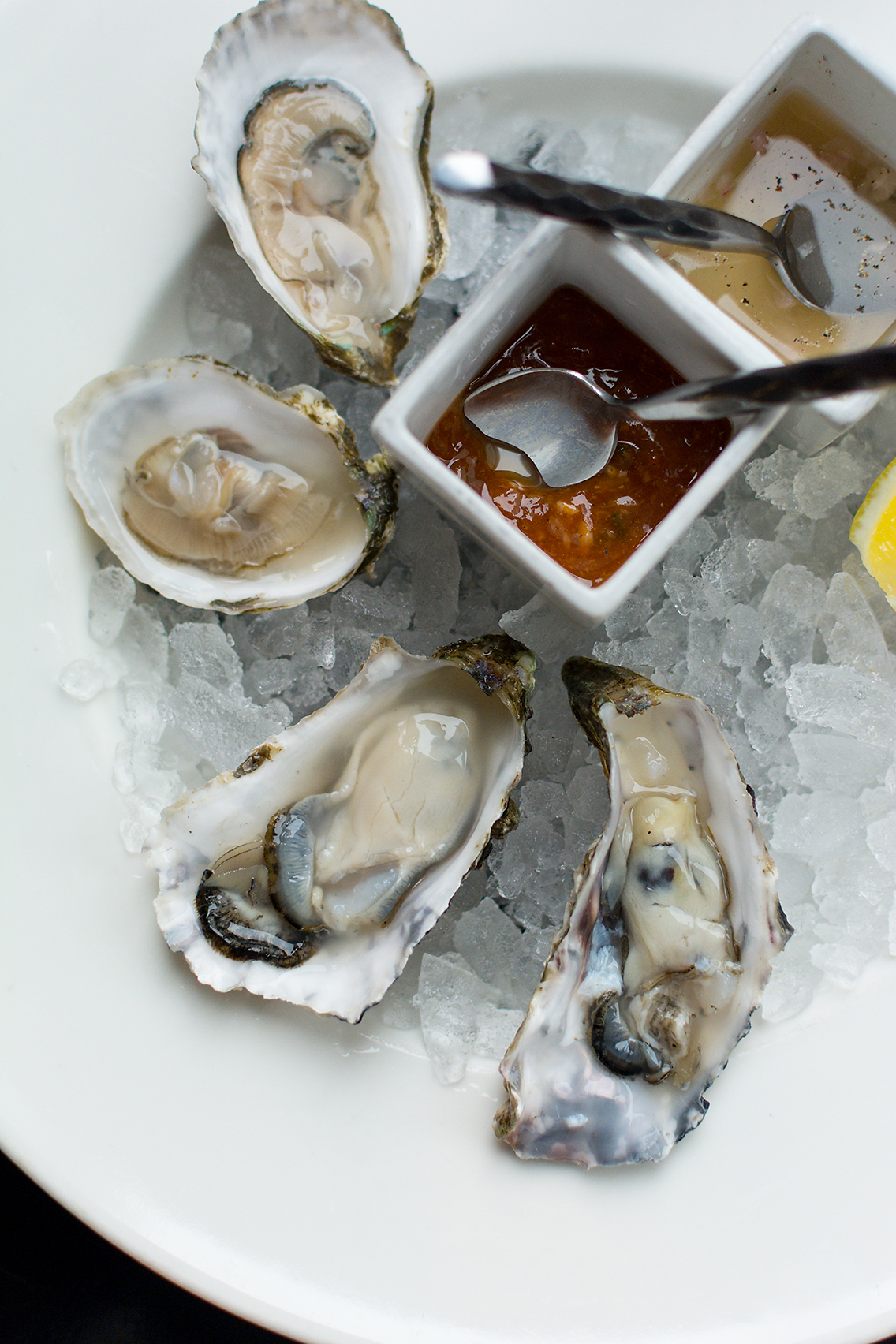 Naturally we started out with a mixture of East and West Coast oysters (I prefer the West while PA-born Rachel prefers the East meaning we never fight over who gets which!).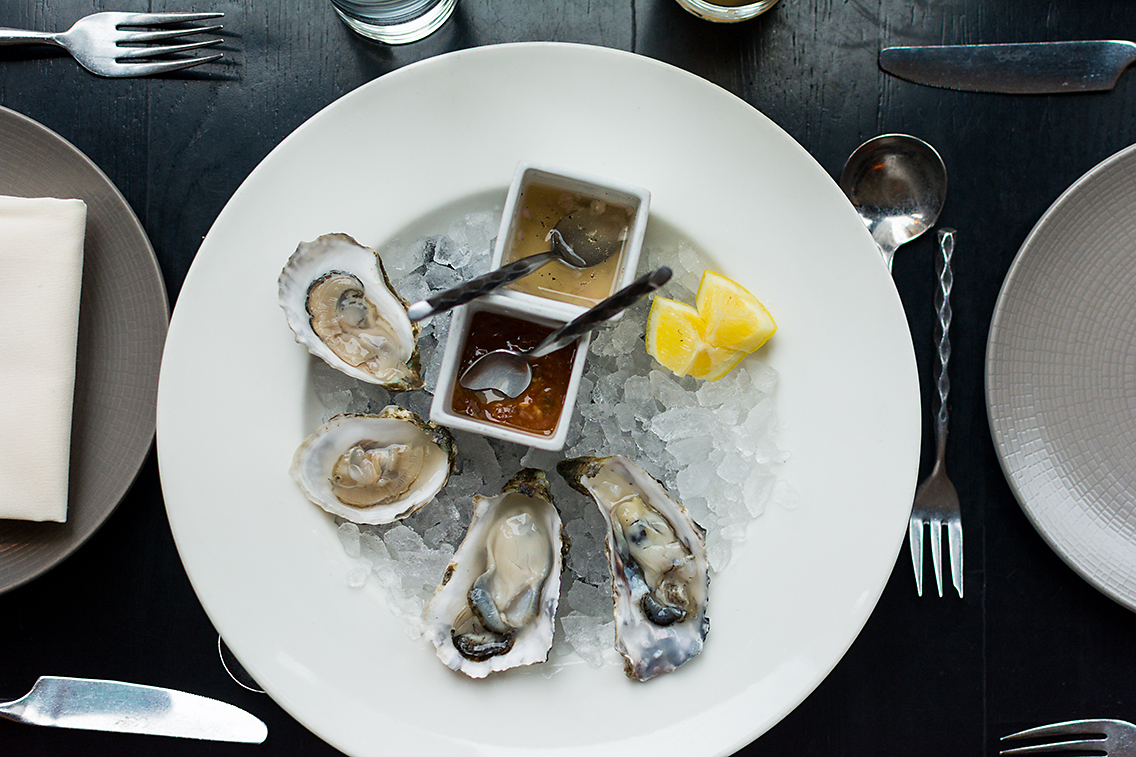 Hello, Lovelies!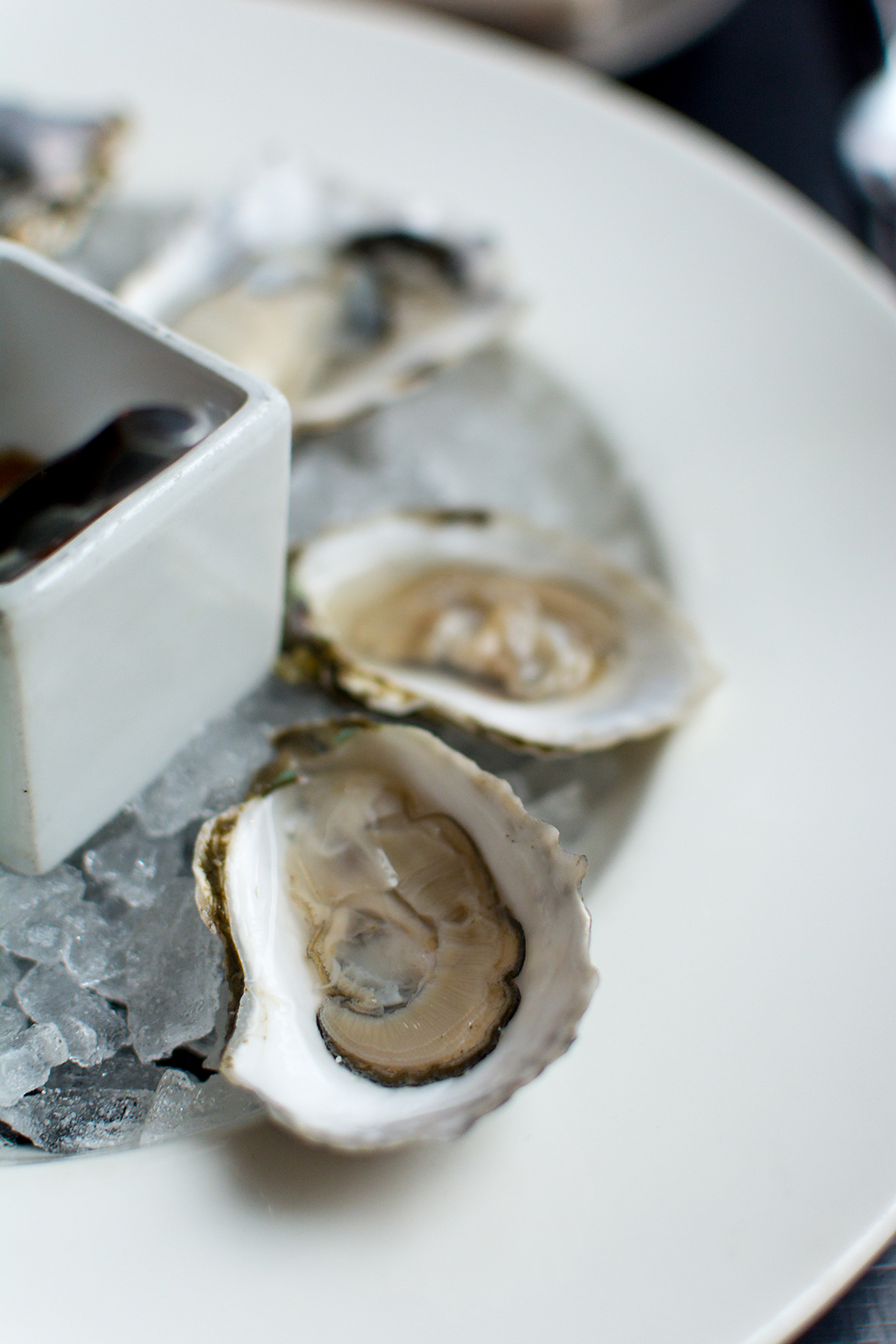 Served with a simple presentation of house-made sauces on ice, these oysters had us positively drooling while we were shooting.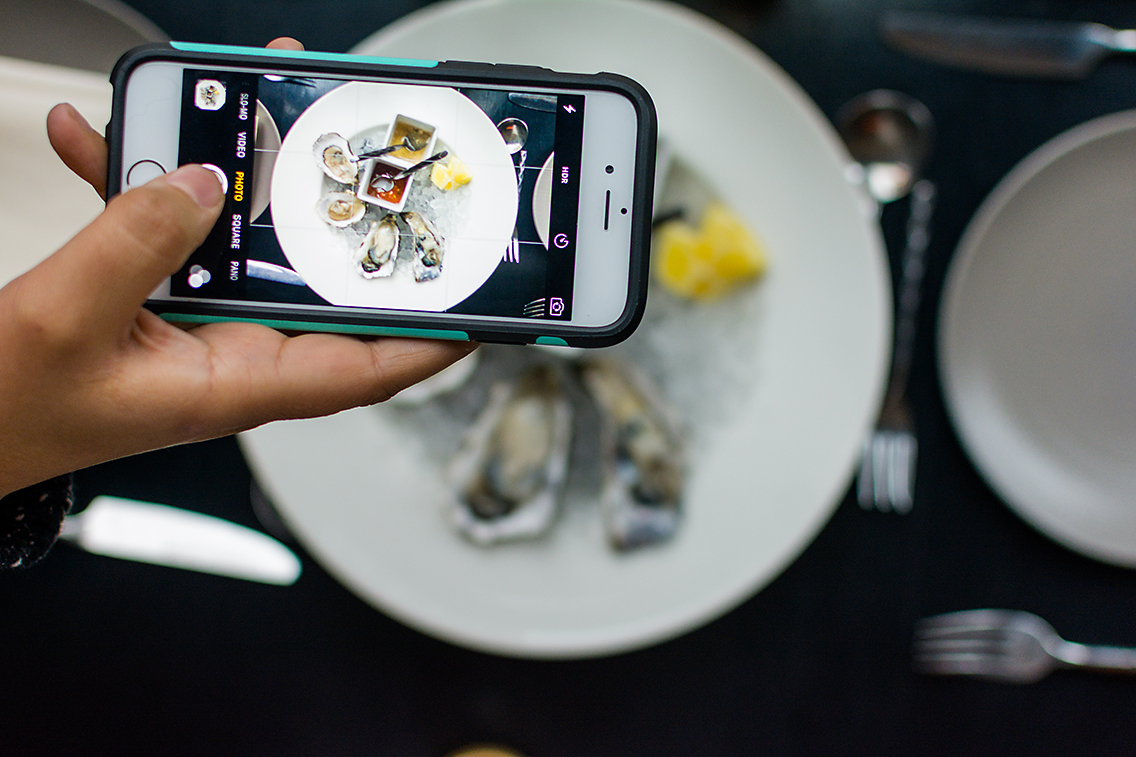 Because obviously you have to Instagram such perfect oysters, amiright?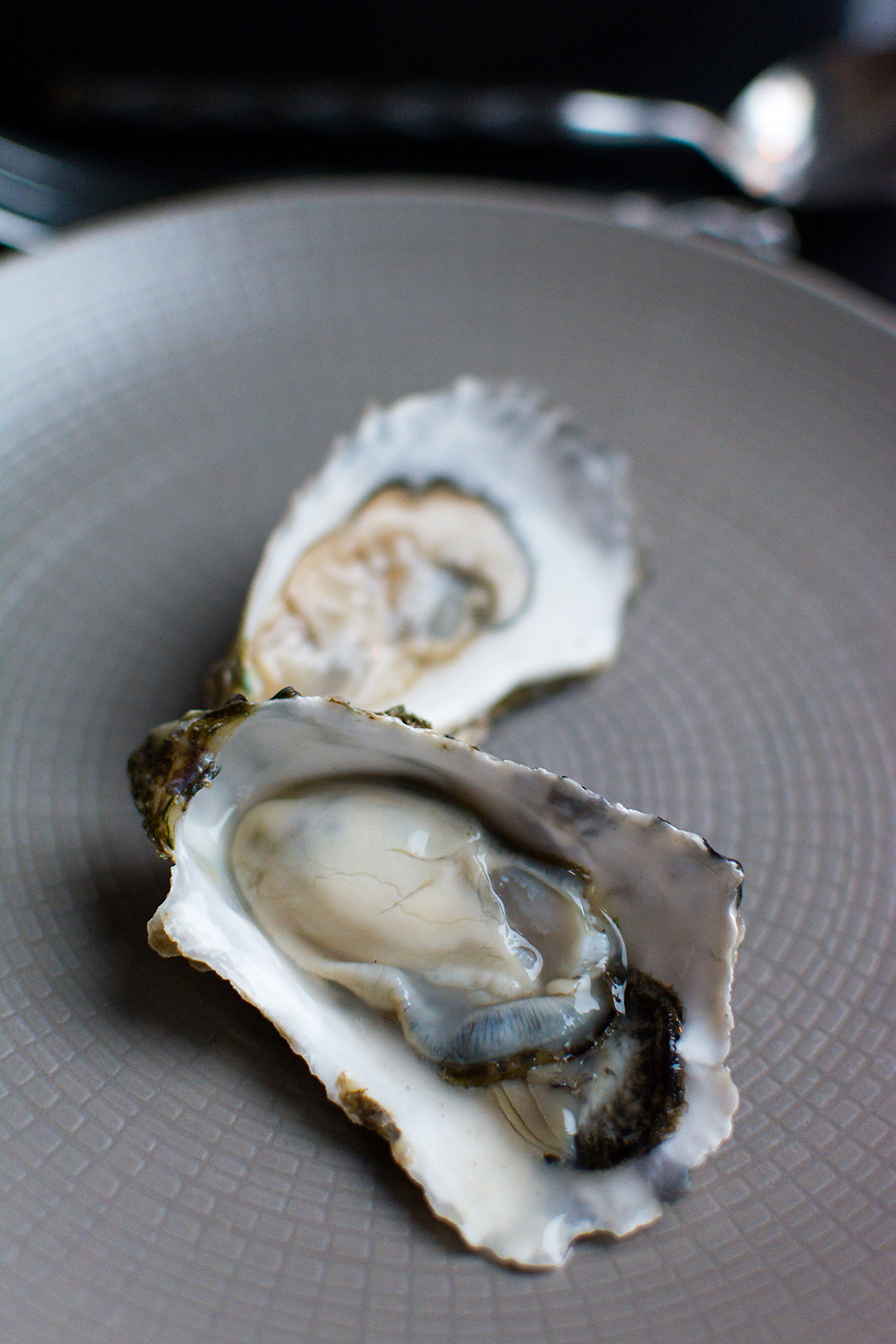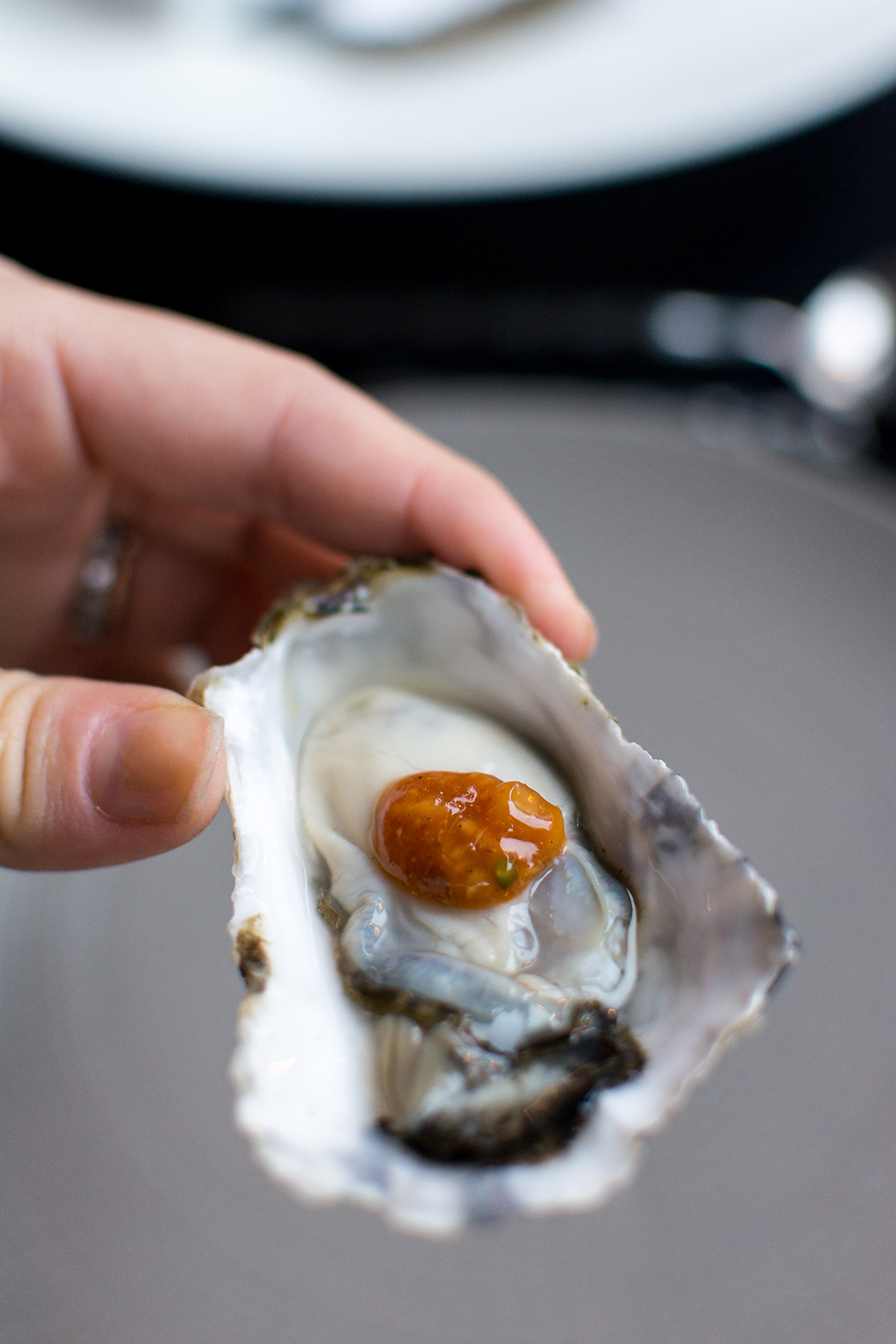 Down them with a touch of GT's homemade cocktail sauce and mignonette and you'll almost forget the ocean is thousands of miles away!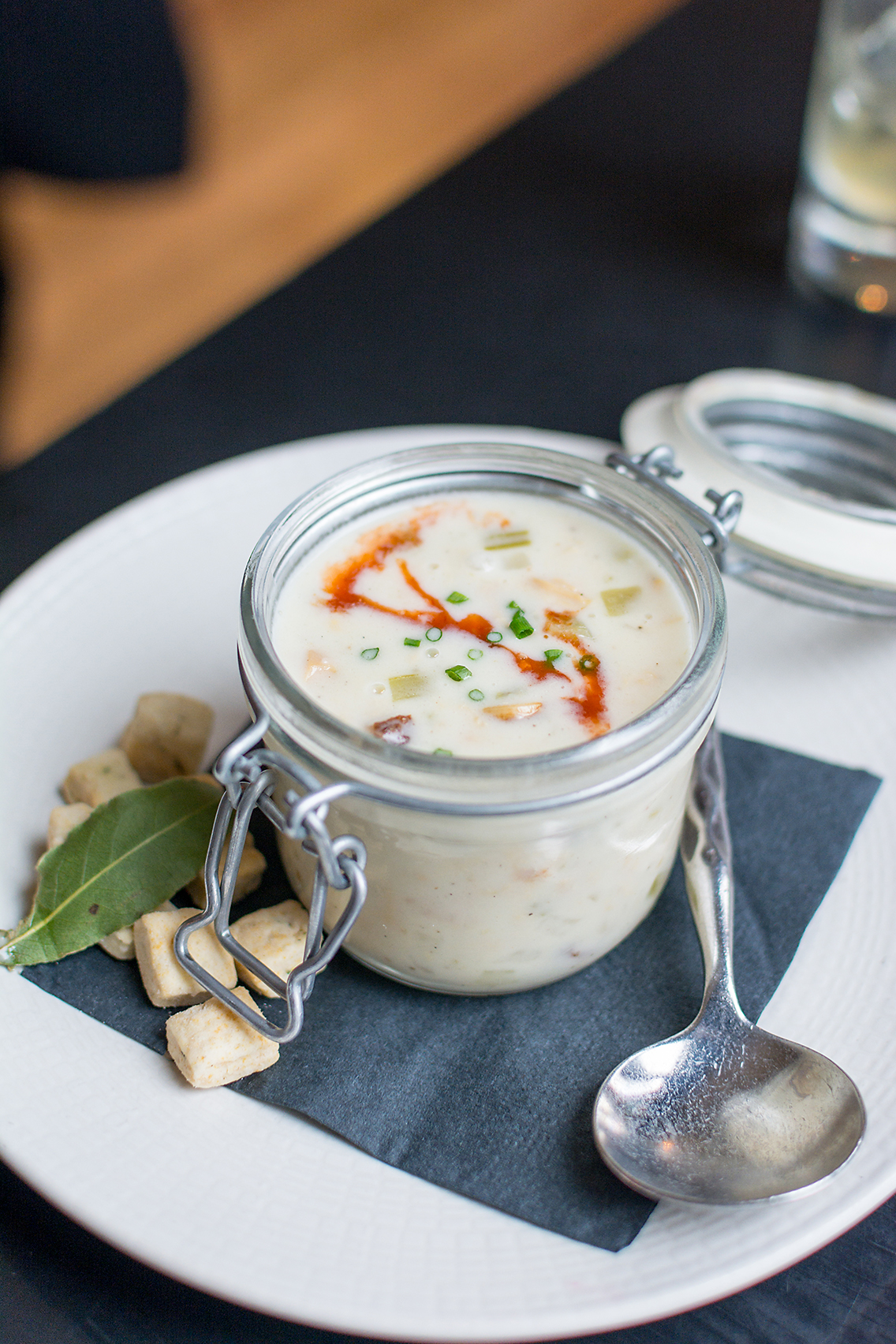 But wet weather calls for soup too and GT has some stellar options.
I ordered my very favorite GT soup, their classic Clam Chowder with nueske's bacon and house-made oyster crackers. This is HANDS DOWN the BEST clam chowder I've had in the Midwest. PERIOD.
It's so good and so very coastal you can practically feel the spray of the sea on your skin. Creamy, rich, and stuffed with meaty clams, potatoes, and celery? It's classic comfort food in a gourmet guise. And it's basically what I want to eat any day the temperature drops below 50 degrees… which is basically half the year here in Chicago.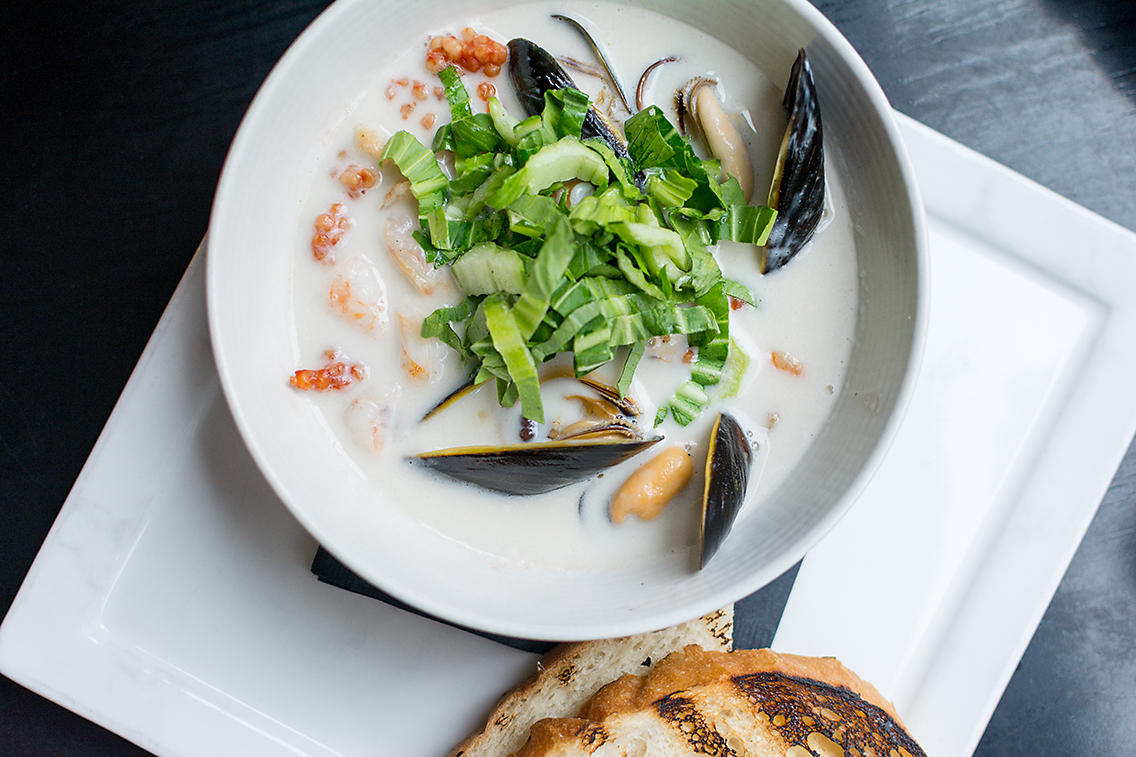 But when I saw Rachel's beautiful order, I almost regretted my own order…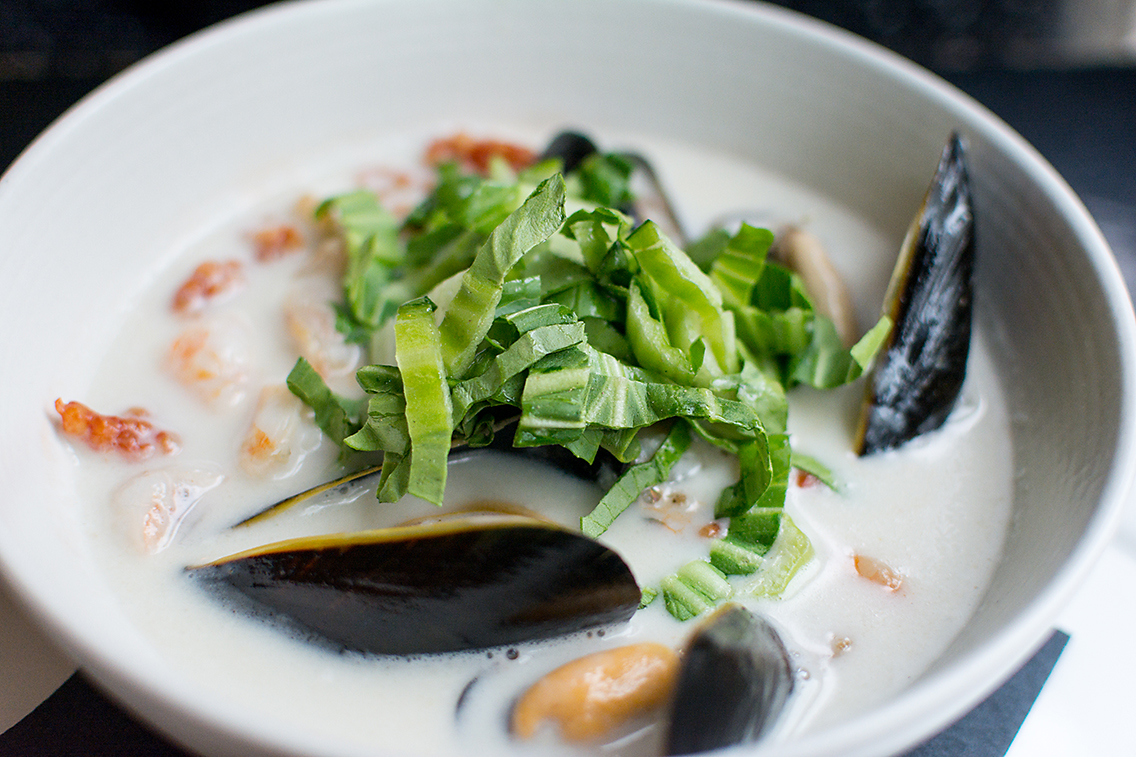 Rachel ordered the Thai Coconut Soup with shrimp, mussels, and tomato couscous. Fragrant and in a creamy broth designed to warm your very soul, this is the sort of seafood soup that will ruin you for all others.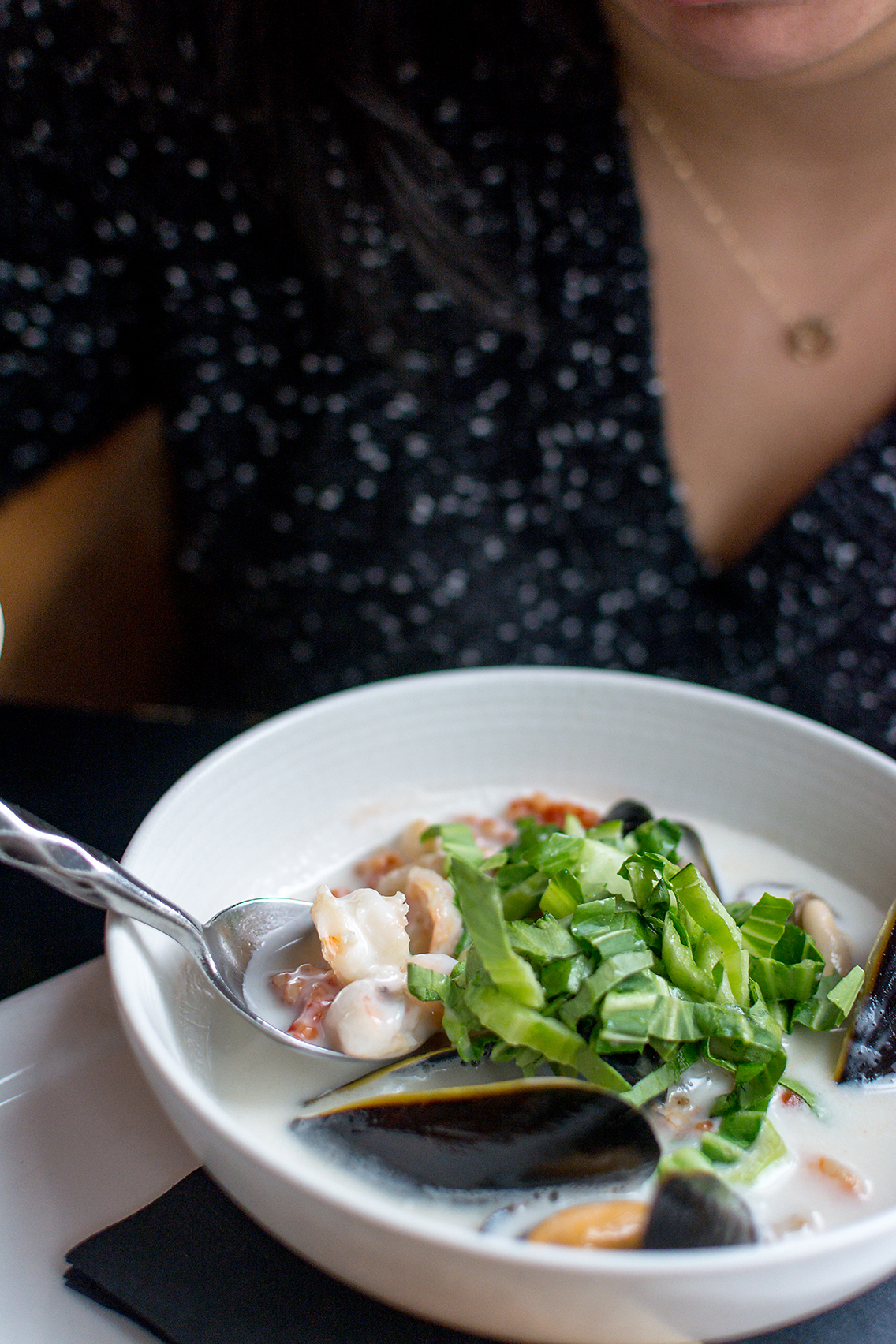 I mean, it's so stinkin' good! Like stick-your-face-in-and-lick-the-bottom-of-the-bowl good. Coconut and seafood are a marriage made in heaven to begin with but the freshness and sophistication of this version takes that relationship and morphs it into something positively symbiotic. Something magical.
Just order it.
Even if you don't like thai soups!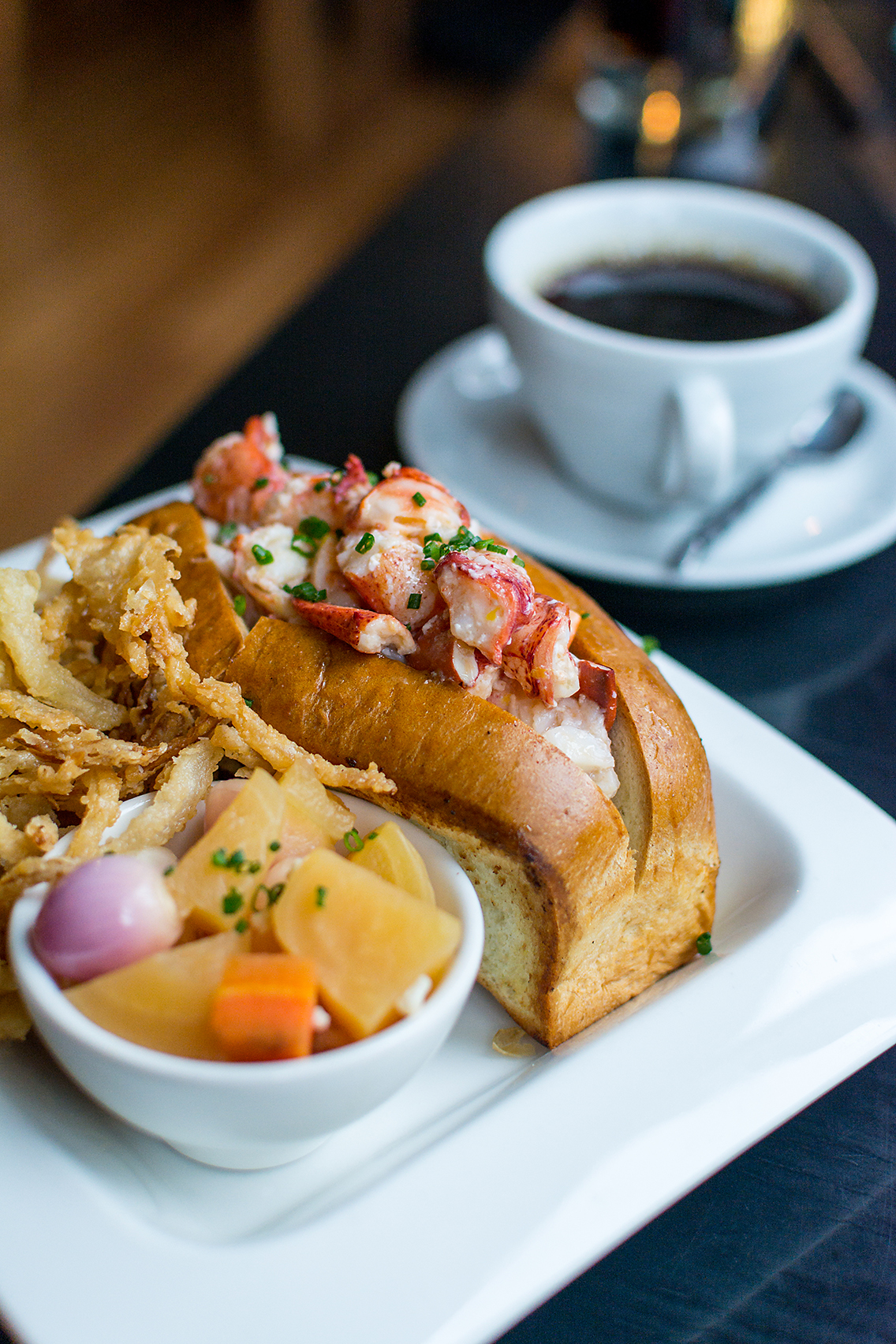 After gorging ourselves on soup we scrambled to find room in our bellies for our stunning entrées.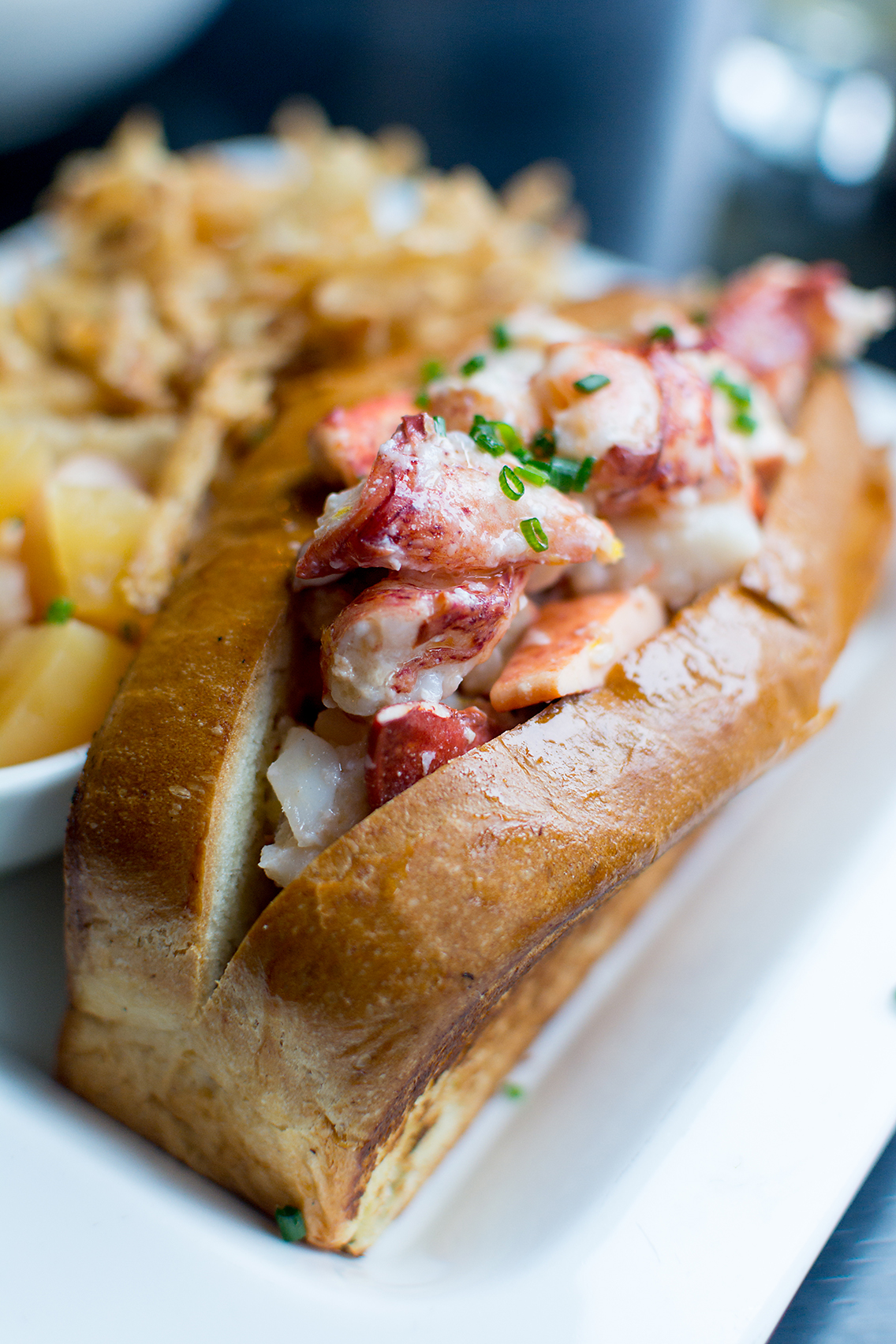 If you're a seafood-lover like me, you'll inevitably be drawn to the entire GT menu but if lobster rolls are your thing, this one will KNOCK YOUR SOCKS OFF. Served with fried onion strings and housemade pickled vegetables, this Maine Lobster Roll is undoubtedly one of the juiciest, meatiest, and most decadent to be found anywhere.
I mean just look at it!
I Instagrammed a photo while Rachel and I were still at lunch and it quickly became my most-liked photo this month being regrammed by Choose Chicago, Chicago Food Authority, and Fab Foods Chicago too.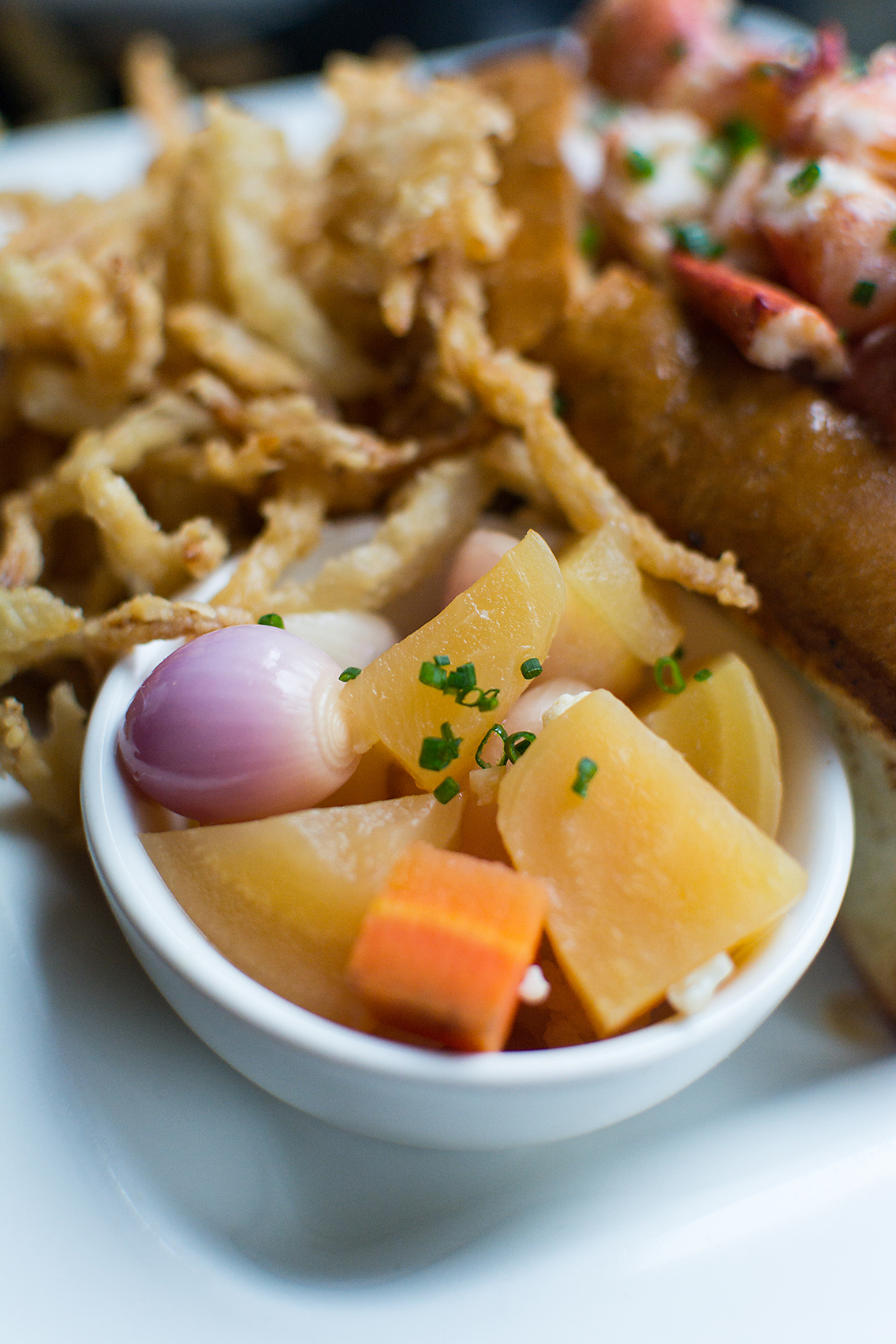 And they may not seem like anything special but the sides this roll is served with are just as addicting. These pickled vegetables are tart and juicy, with a delicious brininess to counter-balance such a carb-heavy plate.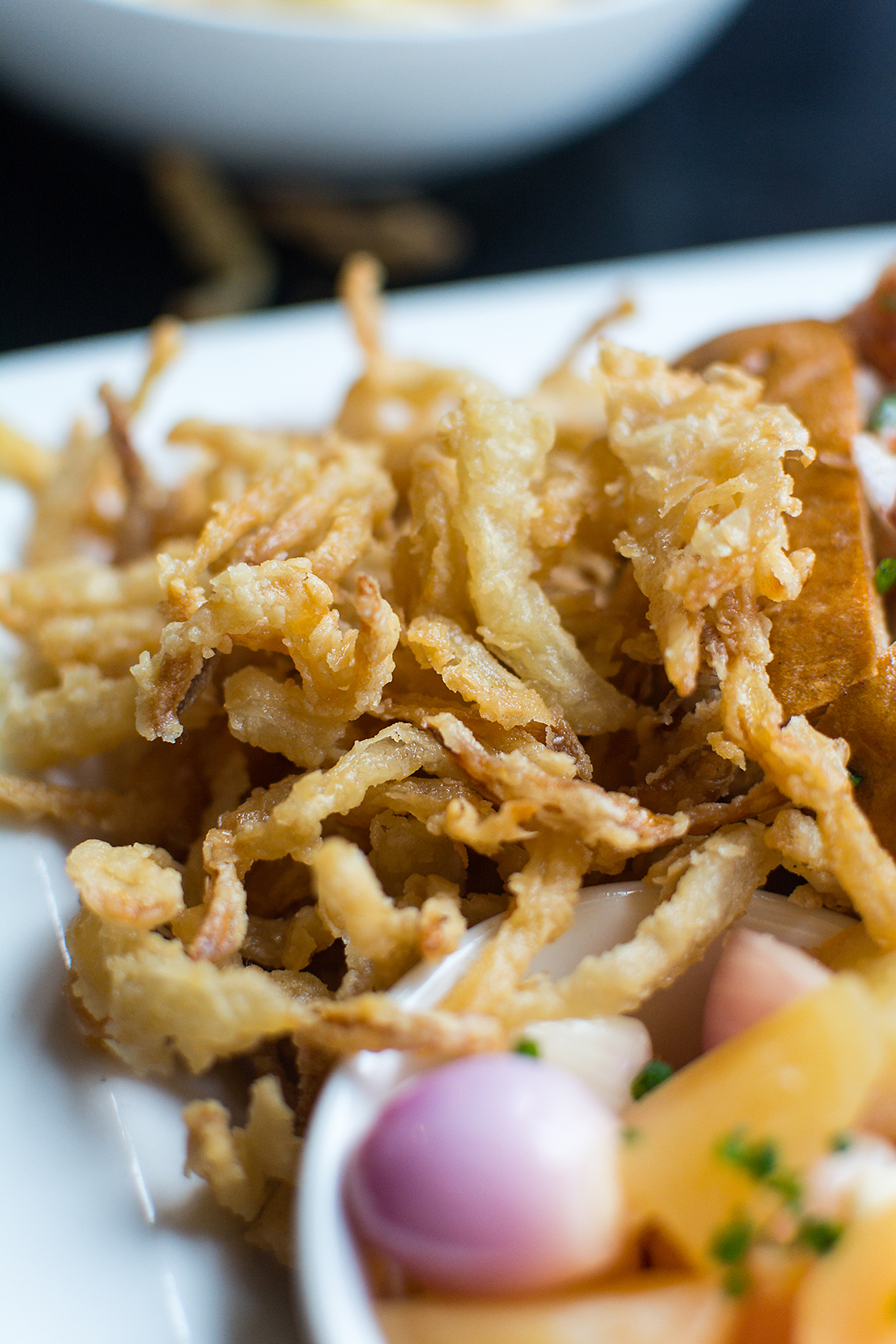 And ohhhhh these onion strings.
So crunchy, flaky, and obsession-worthy. And so much better than french fries!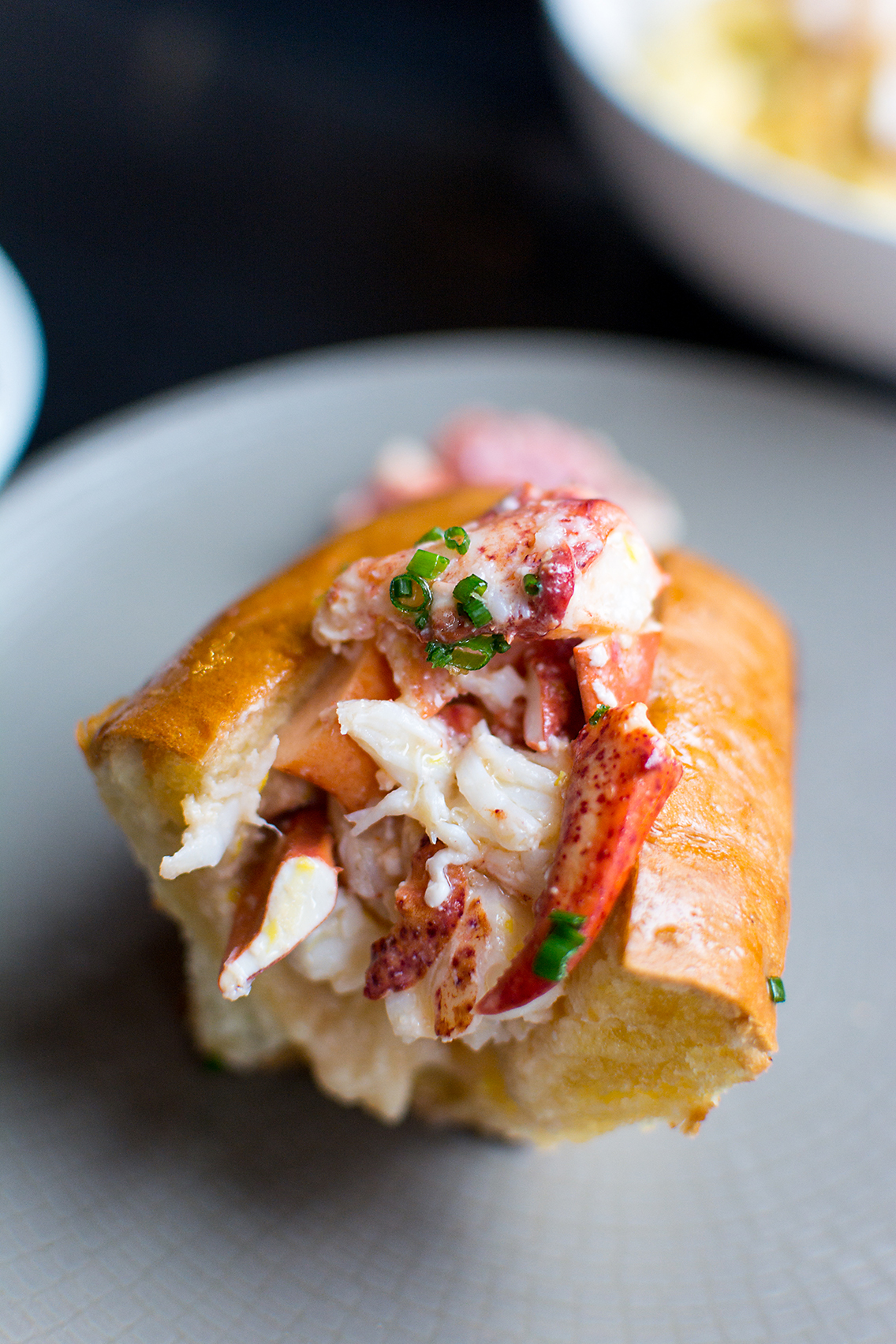 Care for a bite?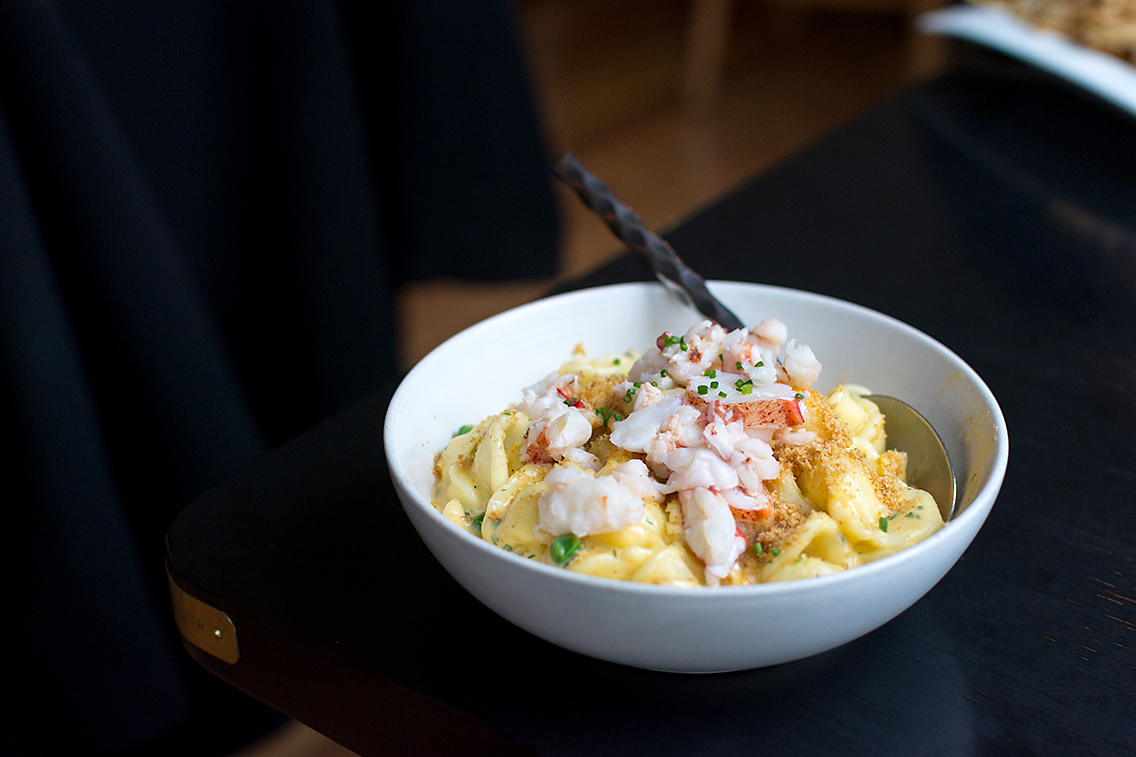 You're going to want a bite of this dish too…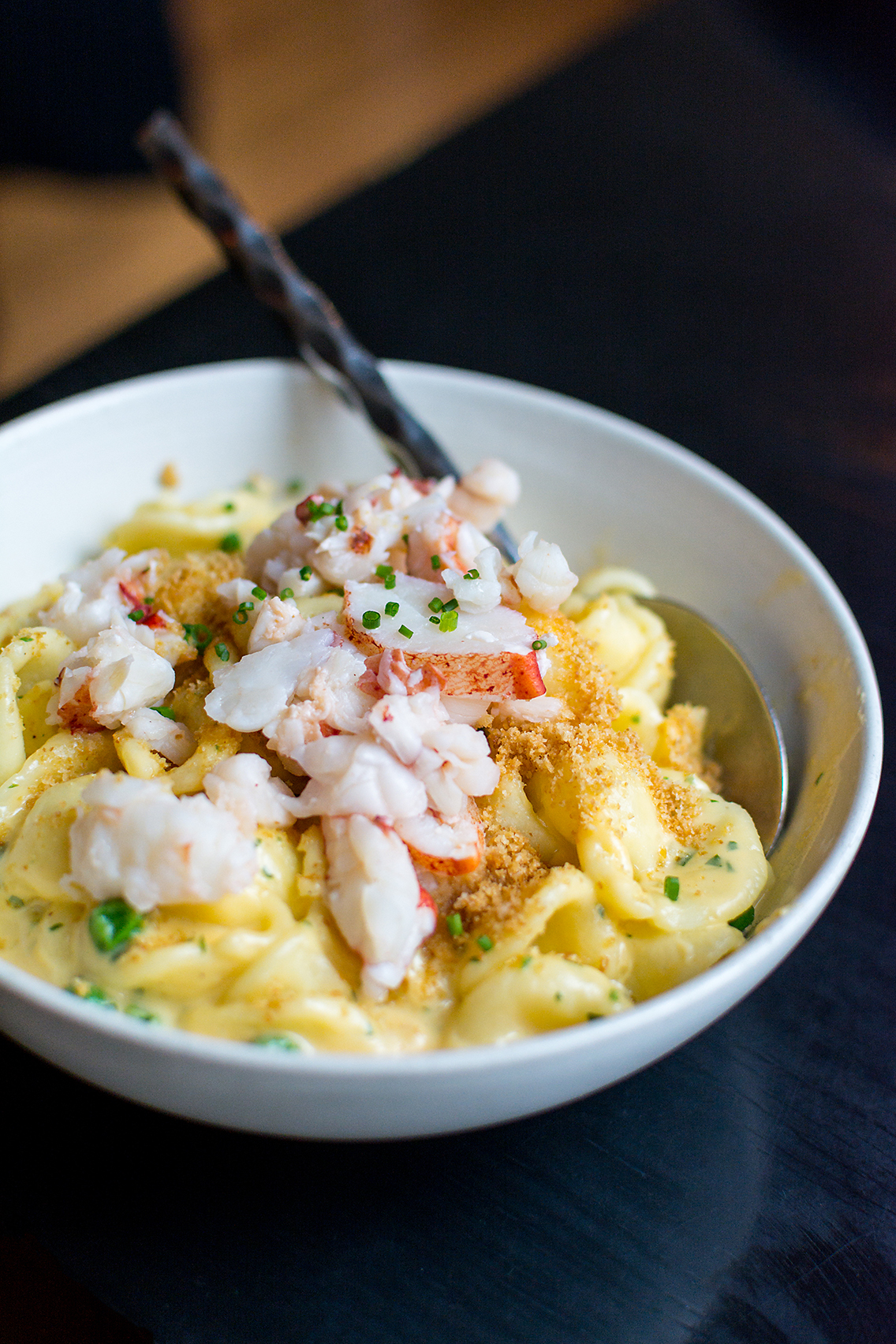 This is GT's signature "Mac and Cheese" with lobster and english peas. A giant, heaping, cheesy bowl of comforting lobster mac? I mean, can I have this for lunch every day? Pretty please?
This is a classic dish executed in such a simple, memorable way. It's the sort of mac and cheese that'll haunt your dreams for weeks and will inevitably lead you to order other lobster macs in Chicago in hopes of recreating this exact experience. Learn from my mistake — there's no replacement for a GT Lobster Mac.
Other lobster macs will leave you with that sour ting of disappointment. Order the original. Only the original. And please let me face dive in when your order comes…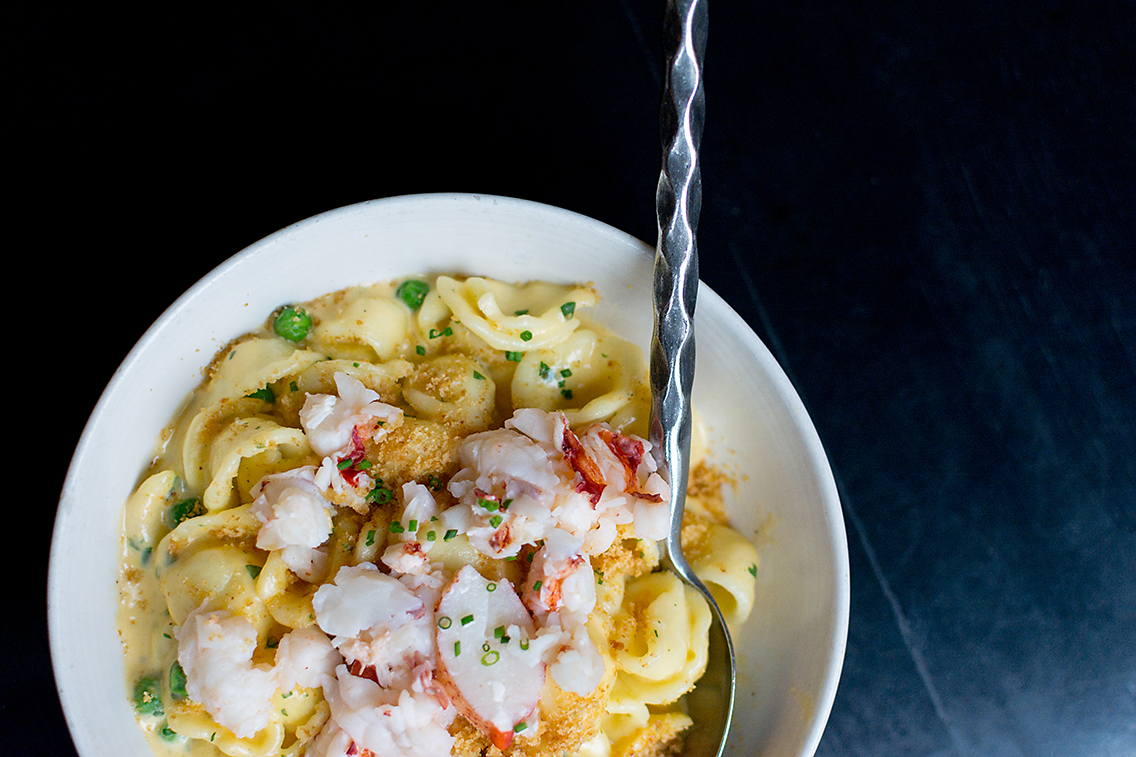 Because if there's any mac and cheese in Chicago worth face diving into, it's GT's.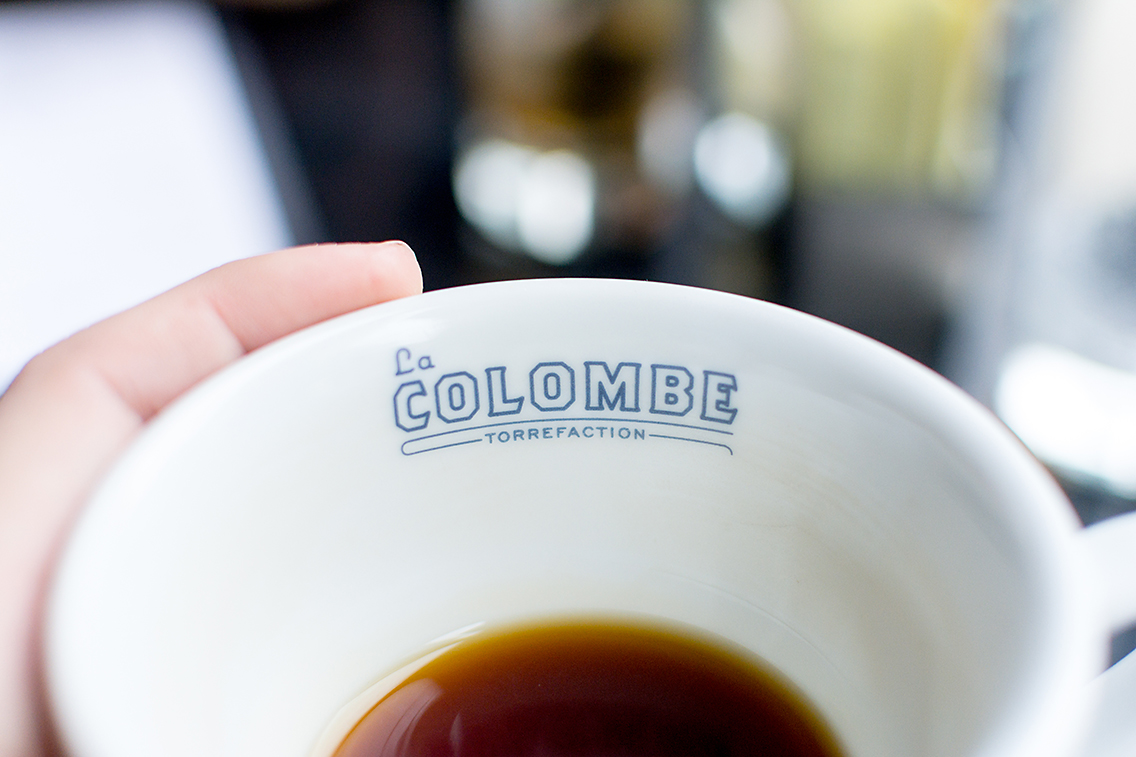 After our massive entrées and subsequent food babies we didn't dare want to look at the dessert menu. We just wanted to sip our coffees while we waited to regain the ability to walk after our feast.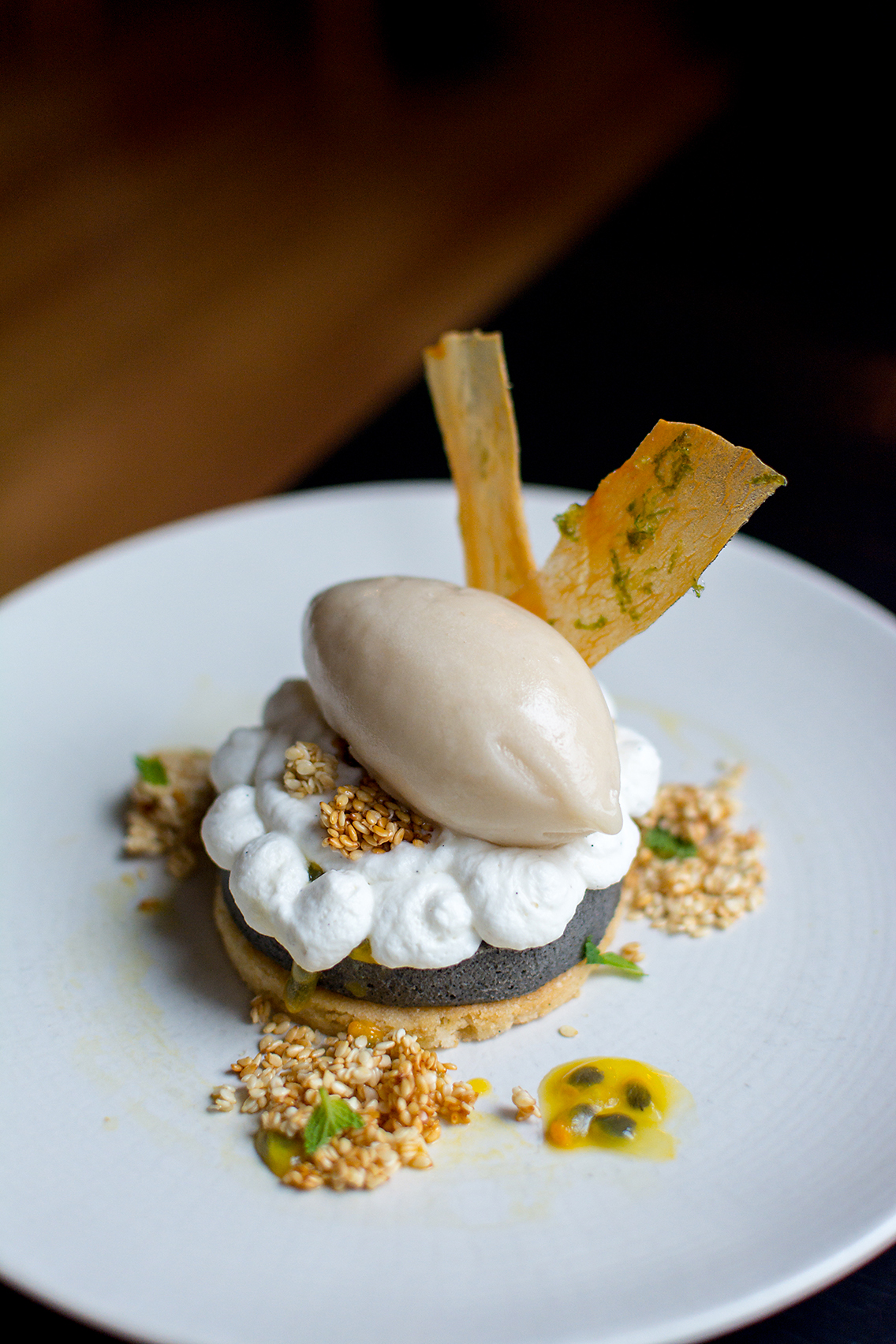 But our server convinced us to give GT's newest dessert a try (the moment she mentioned how photogenic it was, we couldn't resist despite our respective stomach aches).
This is GT's Black Sesame Cheesecake with cashew shortbread, passion fruit, papaya chips, and banana sorbet.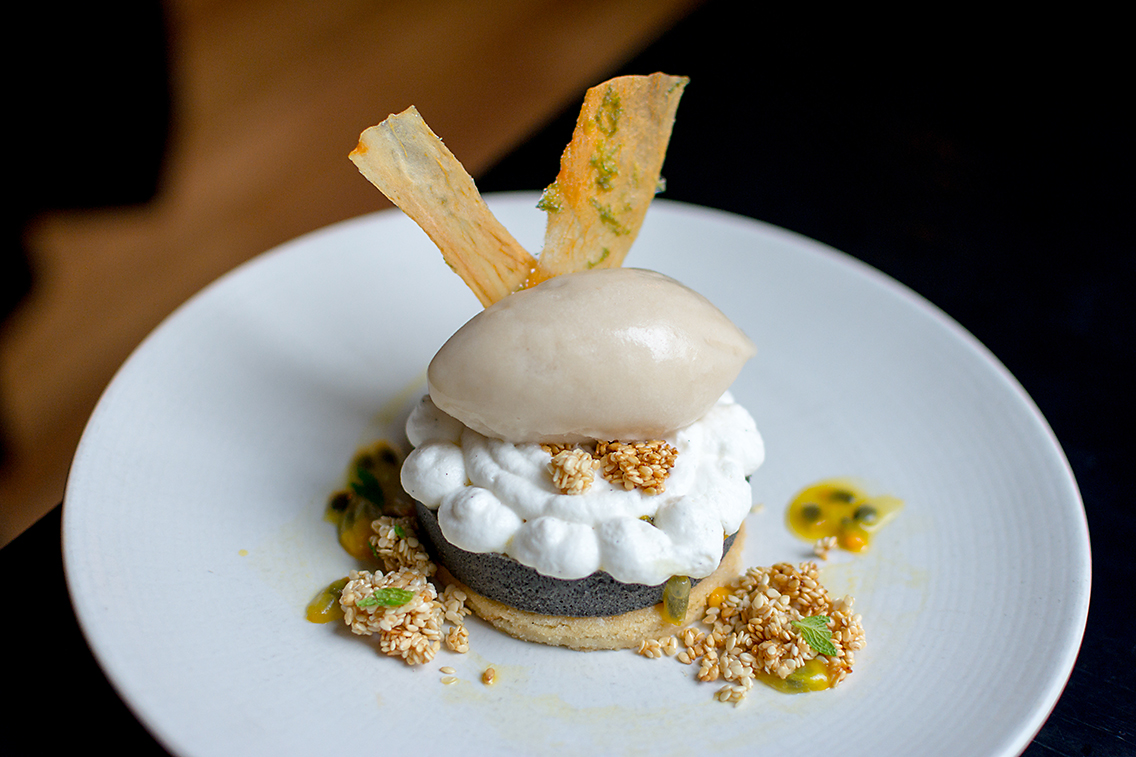 Easily one of the most savory desserts I've ever had, this is the sort of innovative concoction that first put GT on the Chicago map.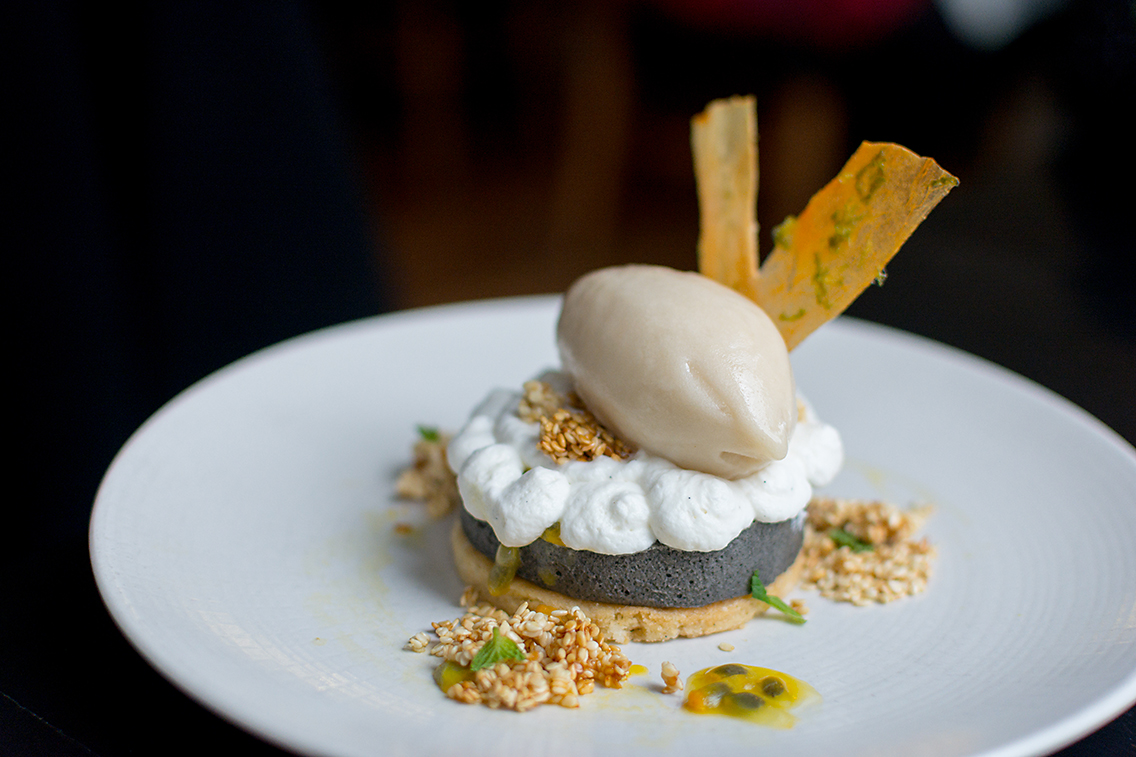 The black sesame cheesecake has a toasted creaminess that works well with the crunch of the cashew crust and the silkiness of the banana sorbet. And the small punch of passionfruit cuts through it all, lending a delicate sourness to each bite.
It's positively magical.
Just like everything at GT.
Few restaurants have ever captured my heart like GT — now I just need to make my way over to FINALLY try their brunch (rumored to be one of the best in the city). If it's anything like their lunch, there's a strong possibility I may just pull up a stool at the oyster bar, set up camp, and NEVER LEAVE.
Disclosure: I received a complimentary meal to facilitate this post. Review and all opinions are my own.