Despite the fact that I've been traveling a lot this year (well, for me), most of it hasn't been for pleasure.
So when the Visit Finland invited me and a marvelous group of bloggers to Lapland in the Arctic Circle to follow in the footsteps of the Bachelor finale episodes this season, I just about fell over myself. I'd always wanted to travel to a wintery destination (Alaska was too green to count) and the possibility of seeing and shooting the Northern Lights was too good to pass up. Bucket List-worthy, really!
I knew next to nothing about Finland before this trip but over the course of just five short days, I've fallen madly in love with the scenery, culture, and pace of Arctic Lapland. And after this post, I DARE you not to fall just as madly in love with it as I have!
Finland may not be top of your travel list but it absolutely should be (and not just because Bloomberg named it the #2 travel destination in the world for 2017!). It's a country of immense forests, kind people, delicious food AND just so happens to be celebrating its 100th year of independence this year too. Just watch the final episodes of this season of the Bachelor to truly appreciate what a stunning, special place it is.
Lapland — the northern-most state in Finland — is another world unto itself. It may be an easy 1.5 hour flight from Helsinki but it feels like stepping into the Nordic past. Miles and miles of unmolested forests, rolling hills, and more reindeer than permanent residents in most towns! It's one of the world's last true great wildernesses and is something you truly have to see to believe.
And while this city girl really didn't know what to expect from such a rural trip, I'm left missing the quiet, the solitude, the natural beauty, and the endless seas of pristine snow now that I've returned back to reality.
So while I know today's post is a VERY long one, give it a thorough read. I doubt I'll be sharing a destination quite so magical and quite so special here for some time to come!

5 Days in Arctic Lapland
---
How to Get There
Consistently rated one of the world's safest airlines, I doubt most of you have had the opportunity to fly with this Finnish airline. But MAN are you missing out! We flew business class to Helsinki from NYC and were positively pampered the whole route. Everything from the multi-page dinner menu (complete with extensive wine selection) to the seats that completely reclined into beds and had built-in massagers to the Marimekko designed amenities (and extra Clarins lotions in case you forgot your in-flight skincare essentials), spoiled us completely. We arrived in Helsinki awake and refreshed as opposed to cramped, exhausted and jet-lagged.
Before this trip I'd never flown to Europe via business class but I'll be honest, it's going to be hard to go back to economy after this!
---
Where to Stay
Before heading to Lapland, I really had no idea what a vacation destination it was and the crazy cool hotels we visited have me positively itching to go back and explore more! Everything from eco-friendly pod-designed treehouses, to chalets with private saunas, to hotels made ENTIRELY of snow can be found here.

Located in one of Lapland's northern-most towns, Hotel Riekonlinna is everything you'd want in a European ski resort. It's cozy, located right next to vast national parks, and has a Lapland Safari office right in the hotel so you can outfit yourself in snowsuits, skis, or whatever else you'll need before heading out.
We only stayed in these charming chalets for one night but everything from the amazing two-floor nordic designs to the built-in saunas had us swooning. I'll be honest — the fluffy, cozy beds in these charming little ski chalets gave me the best nights rest I had on the entire trip!
We didn't actually spend a night here but we had lunch and a private time in the lakeside sauna and it was undoubtedly my favorite stop on the trip. Located on a secluded lake not far from our next hotel (the one we stayed in the very same night), this cabin is beautiful, charming, and very Finnish in nature. And this is the same lake Nick and Raven had their ice-skating date on in the last Bachelor episode!
The Bear's Lodge is a charming hotel with a series of adorable log cabins located around the property. While filming in Rovaniemi back in November, the entire crew for the Bachelor stayed at this hotel and I'll be honest — I'm quite jealous they got to have more than a one night's stay at this charming spot.
This brand-new, ultra-modern "treehouse" inspired hotel of eco-friendly pods was the coolest hotel we stopped at BY FAR. All the individual treehouse pods face north so you can glimpse the Norther Lights from your bed and the hotel itself has already won numerous awards and noted praise including its place on the 50 of the World's Most Unusual Hotels list.

Our last night in Finland was spent at the most magical of hotels though — Hotel Vartiosaari. Located on its own private island, our group literally had the entire hotel to ourselves that night. Our cabins were cozy with chic, open Nordic decor. And it was here, on our very last night, that we FINALLY saw the Northern Lights!
---
What to Do
Lapland is very much an arctic climate so take advantage of all the great ways you can actively enjoy a winter destination — dog sledding, snowmobiling, skiing, and more can all be found here in this winter wonderland.

Cross Country Skiing
I'll be the first to admit I dreaded this activity. I don't remember much about cross-country skiing in elementary and middle school apart from how much I disliked it.
That said this activity ended up being a lot of fun. It's a great way to see lots of natural scenery and to experience it in a truly Finnish way. And it made for a great ice-breaking activity on our first afternoon in Finland since we all bonded over just how pathetic we are on skis.
Snowshoeing
Snowshoeing is a lot easier of an activity than cross-country skiing but you still get to enjoy all of Finland's winter landscapes in a very Finnish way. I'd highly recommend opting for showshoeing if skiing makes you too nervous!
Dog Sledding
My favorite activity by FAR but maybe that's just because I was missing my own pugs so badly by day three when we finally headed out to dog sledding. The power the huskies had while pulling us through the snowy forests was amazing and so exhilarating!
The best part? Cuddling with a young dog sled puppy after!
Definitely a MUST-DO when you visit Lapland.
Snowmobiling
If you crave crazy fast speeds and vast landscapes to race over, then snowmobiling is the perfect activity for you! The snowmobiles take some getting used to (steering in deep snow is certainly an adventure in itself) but the exhilaration you feel as the winter forest zooms by is NOT to be missed.
The Finnish Sauna Ritual
The Finns take their sauna experiences VERY seriously. There's an average of one sauna per household in Finland and many Finnish cultural rituals require time in the sauna. In true Finnish tradition we showered, sat in the warm sauna for 10 minutes, then ran out onto the adjacent snowy lake and dunked into a hole cut through the ice called an avanto. We were all petrified at the thought of this activity but in the end we all LOVED it. You repeat the sauna, ice dunk process as much as you want — after the first cold dunk you hardly even feel it and can stand in the snow easily in just a swimsuit. And you skin positively glows after!
Of all the activities we scheduled, I dreaded this the most and ended up liking it almost as much as dog sledding (it would have been a perfect afternoon if we could have cuddled with husky puppies after the sauna)!
Rovaniemi is Santa Claus' official home and you can come visit him here year-round! We had the opportunity to have a private audience with Kris Kringle himself and then were able to send off postcards to family at home with Santa's official post office stamp.
Take a Reindeer Ride
I'll be honest — I knew next to nothing about reindeers before this trip but now they're one of my favorite animals. While reindeers don't generally like to be touched, they're adorable to watch and so much fun to have pull you around in the snow in a sleigh. And since they lose their antlers every year (reindeer antlers are the fastest growing tissue found in mammals in the world!), their antlers become a really beautiful decoration tool you'll see all over Lapland.
We all came home with a reindeer antler souvenir to remember Lapland with!
Snow Tubing
Adrenaline junkies may find this activity tame after snowmobiling (though they can really get some air under your tube when pushing you down the slope), but we all had a blast tubing down this twisted ice slide at Santa Claus Village. Snow tubing is WAY more fun than water tubing and something you really can only do in a place like Finland.
Cozying by a Warm Fire
Cozying by a warm fire is almost as much of a Finnish tradition as sauna. At least in winter. Warming, robust fires can be found all over and make for such a comfy way to warm up in the frost.
I swear there's nothing quite as cozy as a roaring fire to warm-up next to after an exhilarating snowmobiling ride!
---
What to See
There is so much to see in Lapland, we couldn't possibly fit it all into our trip (despite how hard we tried). Everything from the endless forests to the stunning Northern Lights to an entire hotel made of snow were well-worth the trip to see!
The Northern Lights
Years ago I remember asking my photographer father (who scuba dived and shot the Great Barrier Reef during his photography career) what he'd always wanted to shoot.
He replied, as many photographers would, with "the Northern Lights".
Unfortunately he passed away in 2010 without ever having shot them and this trip became my opportunity to fulfill his dream both for him and for myself. Every night of our trip we watched out for the Northern Lights — they're viewable almost 200 days out of every year in Lapland! But by the last night we were discouraged — we'd had more clear nights than cloudy ones and still no Northern Lights. As we sat around a campfire eating delicious Finnish chocolates, I decided to set up my travel tripod and get my camera ready incase the Northern Lights showed up. While I was test shooting, I saw a stark strip of green in the photos peeking through the forest! You couldn't see them at all with your eyes but the camera and my 20-second exposure saw them!
If you come to Lapland for one reason, make it to see the Northern Lights. I'm eager to head back to shoot as much of this beautiful, natural wonder as possible!
The Untamed Wilderness
Finland is primarily forests… and not just any forests — vast wildernesses that stretch as far as you can see in every direction. Lapland's wild, natural pace is soothing, breath-taking, and truly therapeutic (especially if you practice the Japanese art of forest bathing).
The Arctic Circle Line
At Santa Claus Village you'll also see another important wonder — the official line of the Arctic Circle! Step underneath and you can literally have one foot in the arctic and one foot outside.
Nordic Decor
Most Americans are at least somewhat familiar with nordic design and decor thanks to mega-chain Ikea. But authentic, rustic Nordic decor is a unique sight unto itself. We saw some truly inspiring spaces on our trip through Lapland, complete with plenty of furs, pinecone motifs, and reindeer antler chandeliers!
Step Inside an Ice World
We were lucky enough to visit Snowman World while in Santa Claus Village and the stunning ice hotel, bar and restaurant was one of the most unusual things I've ever witnessed. I'd always heard about hotels made of ice but actually stepping in one was such an amazing experience and truly breath-taking. I mean the restaurant has chandeliers hanging from the icy walls… does it get more romantic than that?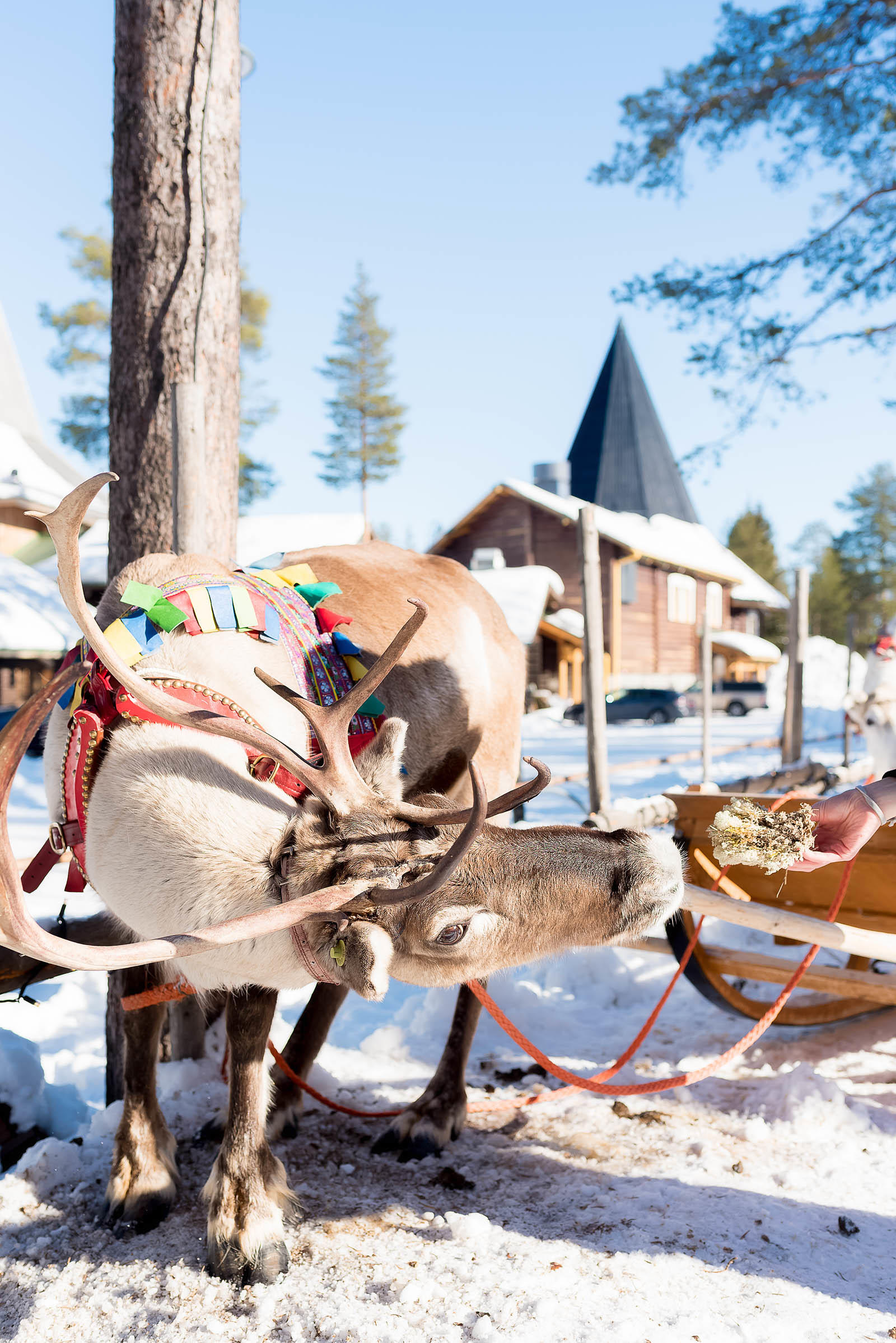 Lichen, a sure sign of the purity of the air quality of Finland (which has some of the cleanest air in the world), cannot grow in heavily polluted areas. It also makes up a bulk of a reindeer's diet in winter so is vital for their survival during the arctic winters. Since most of us live in climates where this lichen couldn't survive, enjoy seeing it grow and flourish in such a clean, unpolluted habitat.
Signs of Finland's Independence Centennial Celebration
This year Finland celebrates its 100th birthday as an independent nation and hints and signs of the celebrations to come are everywhere in Lapland if you look for them. Even a quick stop in a cafe can lead to pastries covered in Finnish flags! If you have the chance to visit Finland in 2017, be sure to join in the centennial celebrations!
---
What to Eat
Food in Finland is very nordic in nature with plenty of breads (especially rye), vegetables, seafood, reindeer (yes, seriously!), and TONS of dishes with berries. Warming dishes like soups, hot berry juice, and warming teas are a culinary necessity in the arctic climate and found EVERYWHERE.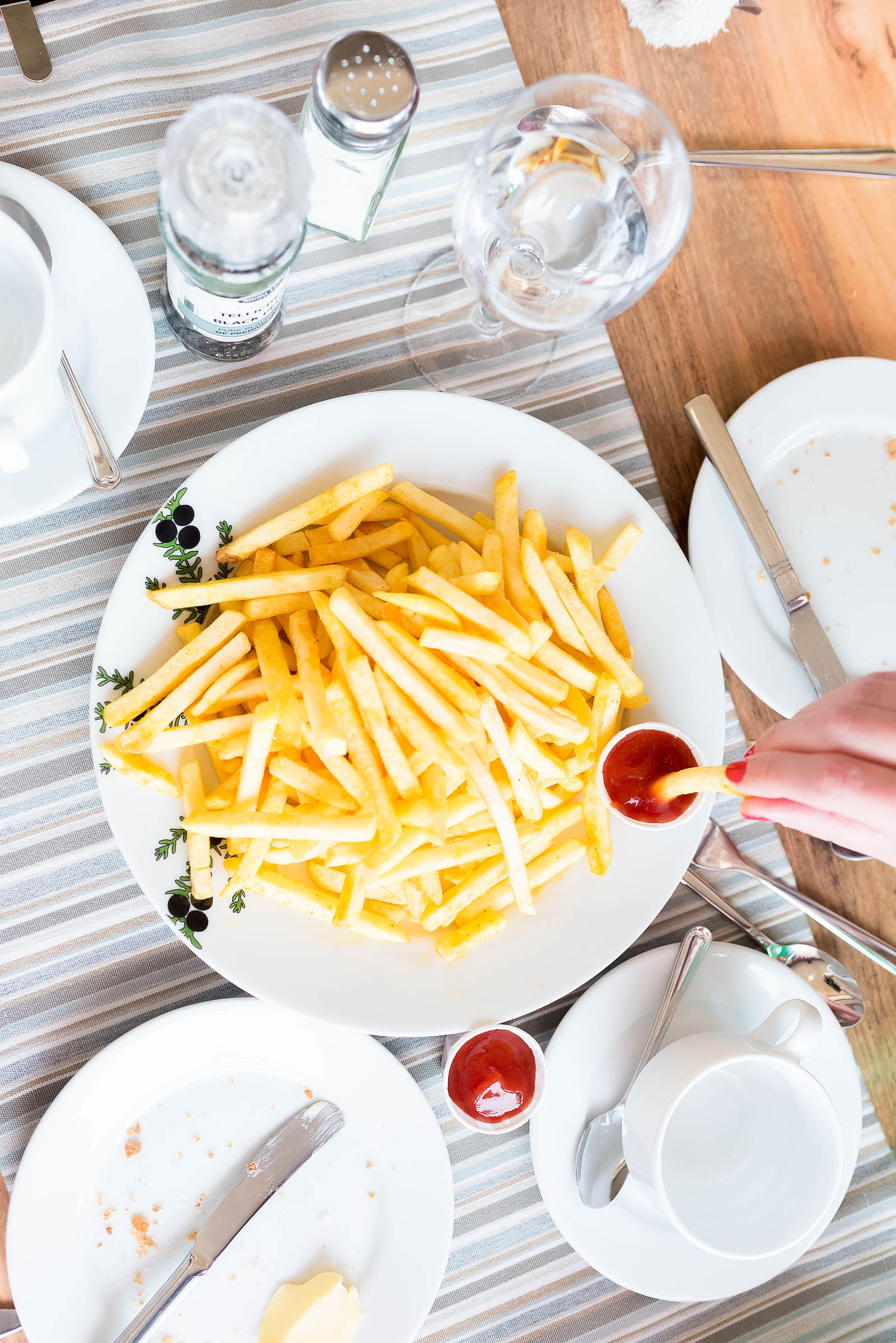 French Fries
Okay, I love french fries everywhere in Europe so this one isn't at ALL specific to Finland. But french fries across the pond just taste BETTER. They're crisper, tastier, and often coated in a zingy spice (at least at the places we ordered them in Lapland). And they made a great hangover cure the morning after St. Patrick's Day!
Lots of Soup
Don't go to Lapland if you don't enjoy soup because piping hot bowls are served EVERYWHERE. From small ski cafés to fancy rooftop restaurants you couldn't escape soup if you wanted to. Soups of all kinds from traditional Salmon Soup (called Lohikeitto) to robust beet soups, garlick-y vegetable soups, and — my personal favorite — creamy mushroom soups can be found here.
Personally I LOVE soup so I thoroughly enjoyed warming up from our daily activities with a new bowl of soup everyday!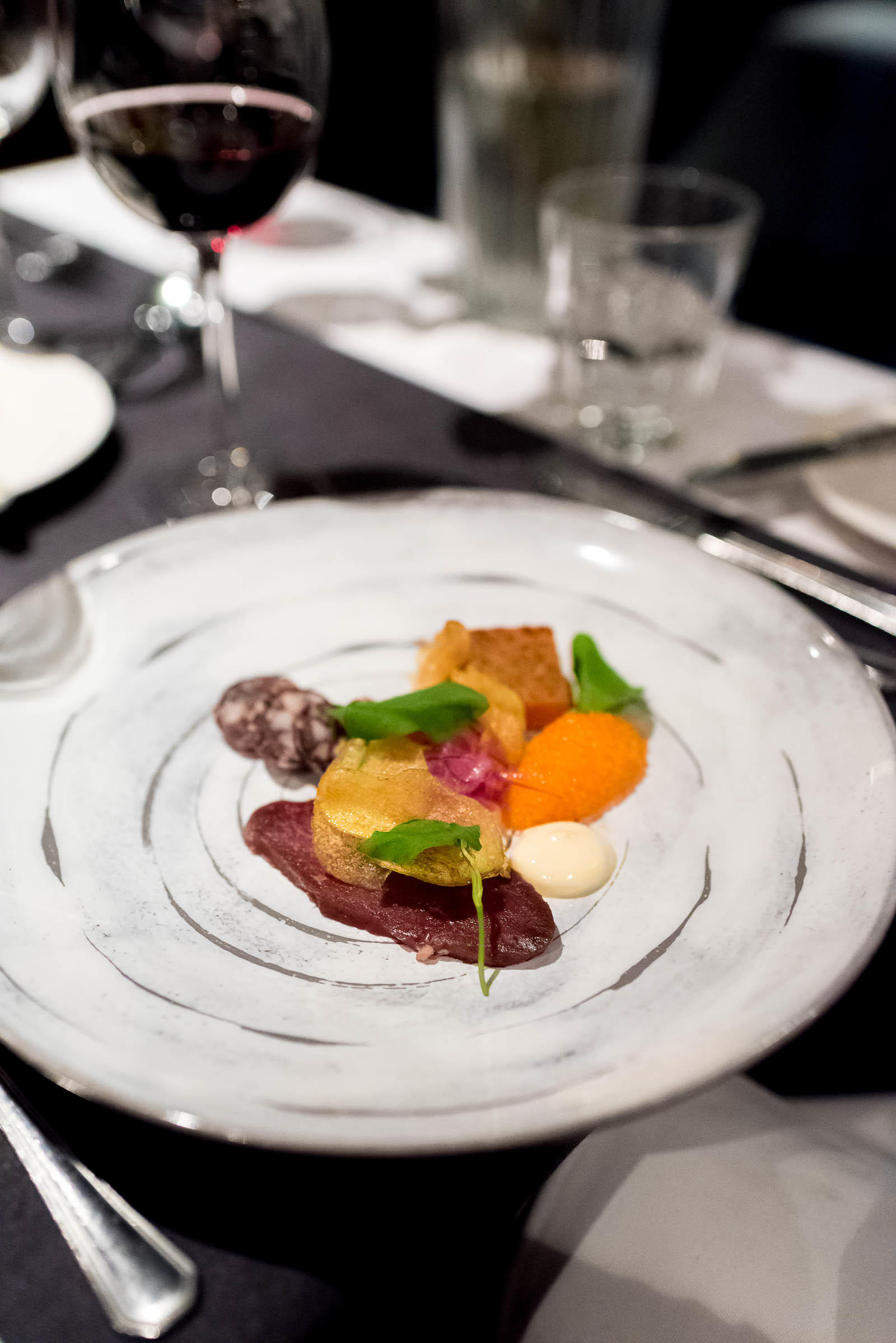 Reindeer
Reindeer is an expensive delicacy in Lapland and was served at every single one of our fancier meals. Reindeer can be served carpaccio-style, in sausages, or sautéed in a pan like a steak. Generally I opted for fish on this trip for most of my meals (reindeer are just so CUTE in person) but I did try a small nibble and was surprised at the silky texture and fresh flavor.
When in Lapland, am I right?
Hot Berry Juice
One of the most surprising culinary discoveries we made in Finland was just how much the Lappish Finns LOVE hot berry juice. We had it while skiing, snowshoeing, sleigh riding with reindeer, dog sledding, snowmobiling… pretty much every time we took a break, we had hot berry juice to drink.
Generally a mixture of grape juice, raspberry juice, and several local berries including lingonberries, we were all smitten with the delicious flavor and restorative aspects hot berry juice has. Best enjoyed in a traditional kupilka cup.
Finnish Candies
Finns love their candy — boxes of all sorts of varieties from chocolate-filled hard candies (Fazer Marianne Chocolate Filled Mint Candies became my personal favorite) to more exotic options like salted licorice were EVERYWHERE. And ridiculously hard to resist.
A Wide Variety of Fish
Not at all surprising given just how much cold-water coastline Finland boasts but fish dishes are EVERYWHERE in Lapland. Each fish dish we tried from Salmon to Arctic Char to Grouper and beyond was spectacularly fresh, beautifully flavorful, and VERY nordic in preparation.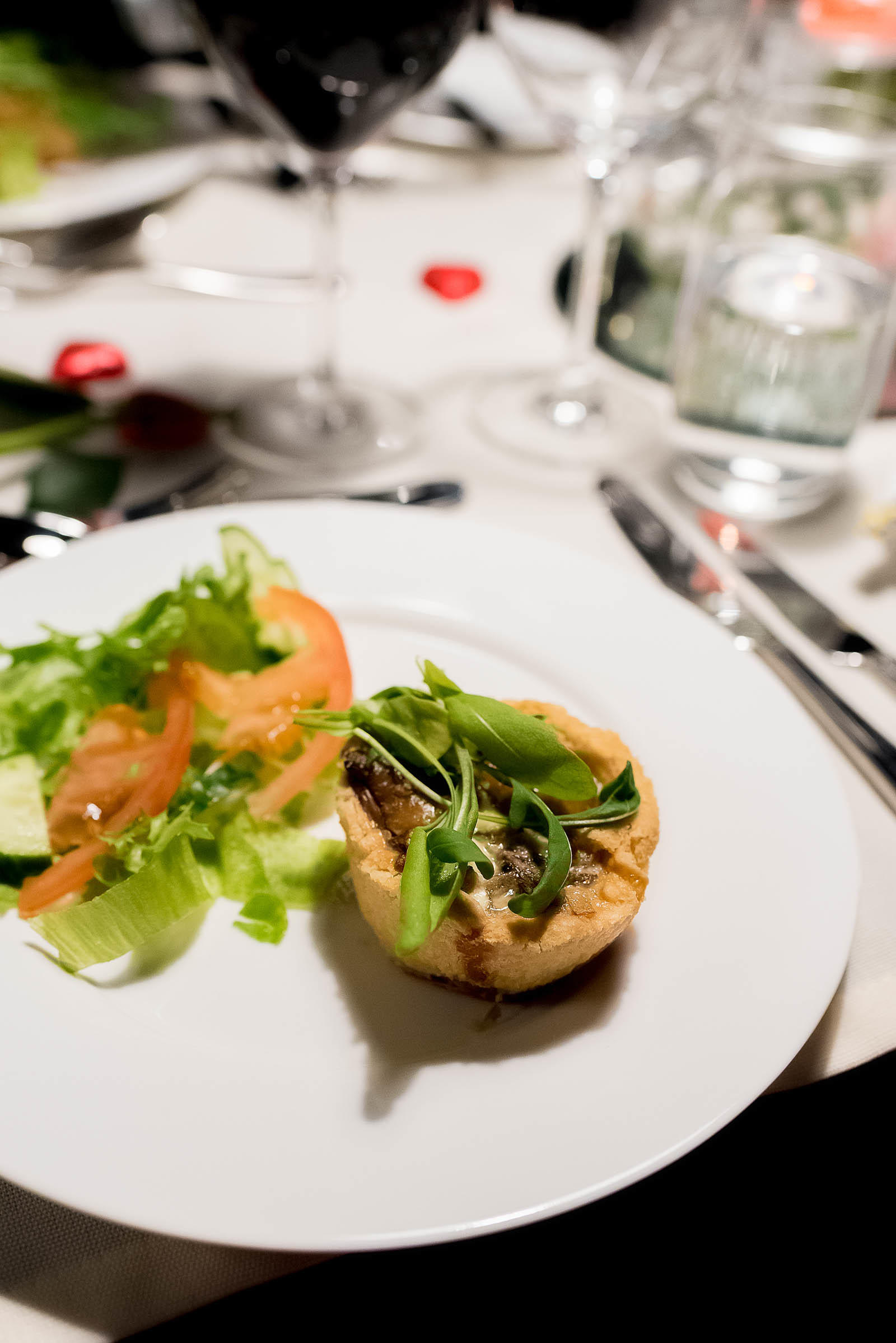 Mushrooms
If you follow me on Instagram than you undoubtedly know how obsessed I am with mushrooms. I LOVE anything with mushrooms in it! And mushroom dishes are EVERYWHERE in Lapland — it's a mushroom-lover's heaven! Everything from mushroom soups to mushrooms served with all sorts of entrées to these stunning mushroom tarts at Hotel Vartiosaari our last night had me swooning.
But I'll be forever sad I did NOT get to try Korvasienimuhennos (#39 on this list of must-try Finnish foods) because it literally translates to Mushroom Stew! Next time, right?
Bread
Bread is a staple of the Finnish diet and you'll find TONS of bread varieties everywhere you go. It's served with every meal without fail! Indulge in all the delicious varieties, especially the wide array of rye breads available, for a truly Finnish culinary experience.
Vodka Shots at an Ice Bar
Do yourself a favor and visit at least one ice bar. We were lucky enough to sample shots of various Lappish vodkas at Snowman World and I have to say, espresso vodka taste TEN TIMES better out of an ice shot glass!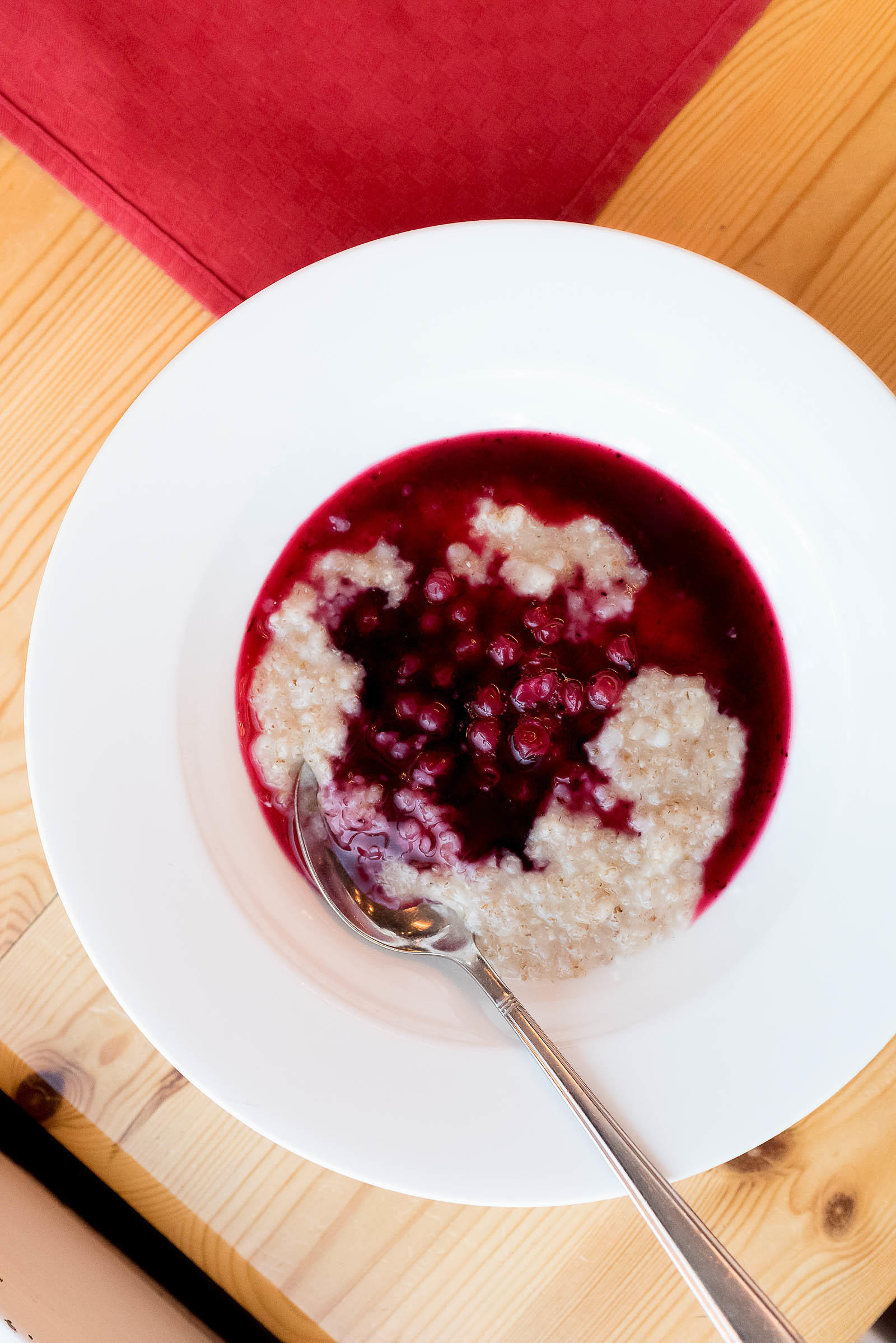 Porridge
A nordic staple that you'll see served at almost every Finnish breakfast. I typically don't eat a lot of oatmeal at home (I'm half Southern so I tend to prefer grits) but I found myself really enjoying a steaming bowl of porridge each morning. Especially when it's covered in blueberry syrup and fresh lingonberries!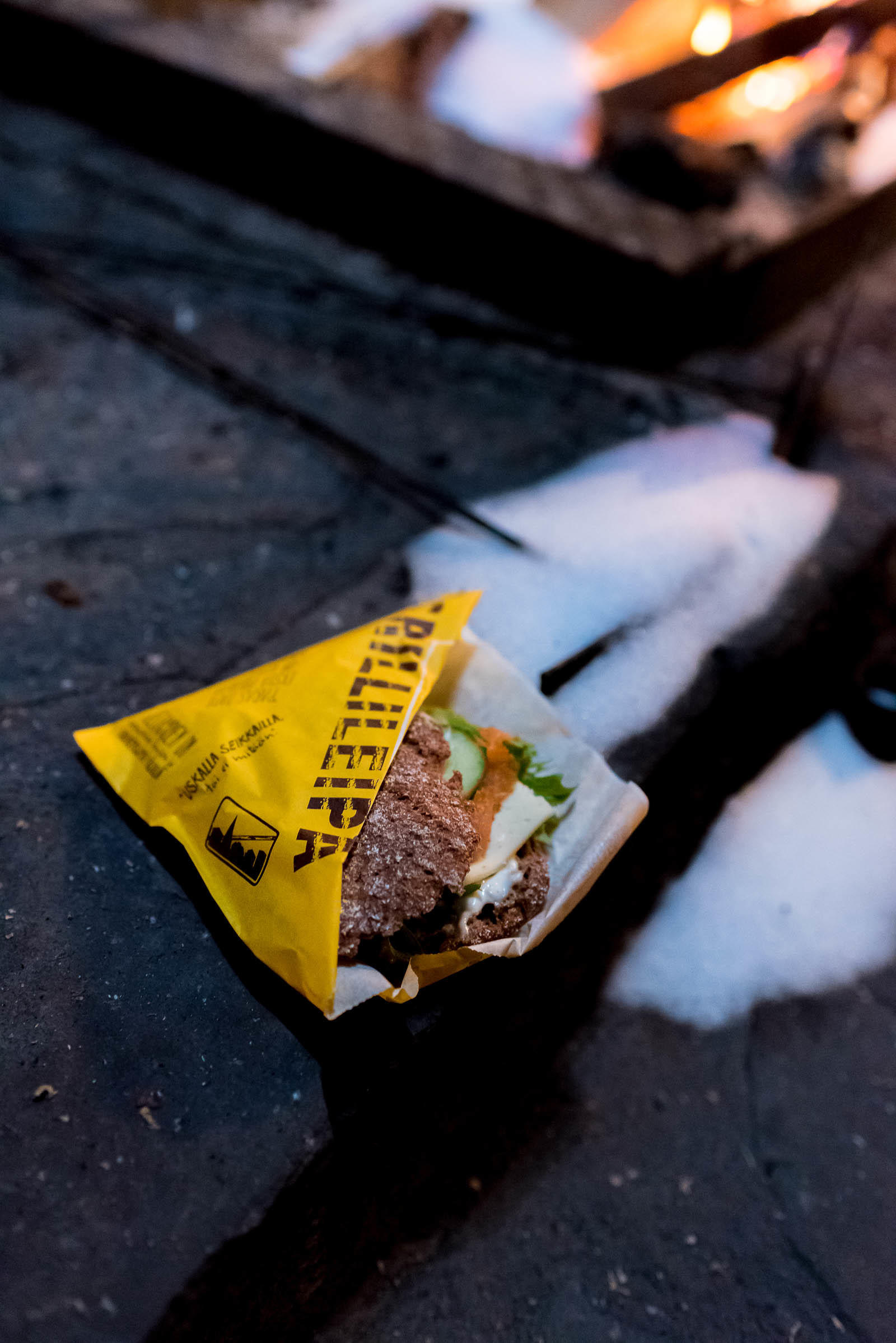 Sandwiches
Typical of most northern European countries, the Finns love a good sandwich. Fresh sandwiches made with traditional Finnish rye breads and stuffed with beautifully smoked salmon and traditional cheeses completely won my heart — I wish I could grab one of these for lunch everyday!
All Things Berry
Berries are literally everywhere. They're served at every meal, with desserts, drinks, and always at breakfast. And it's easy to understand why — Finland has some of the freshest, richest flavored berries I've ever eaten! I fell madly in love with lingonberries especially on this trip and found myself piling them on my breakfast, no matter what it was, every morning.
Oh and don't even get me started on some of the spectacular berry desserts we had like Berry Cheesecake, Lemon Cake with Berry Sauce, Berry Sorbet…
Karjalanpiirakka
It doesn't get more Finnish for breakfast than these pastries made of rice porridge in a rye crust. They are certainly an acquired taste and rather bland without butter or berries on top, but make an effort to try this traditional pastry at least once on your trip in order to really embrace the Finnish culinary traditions!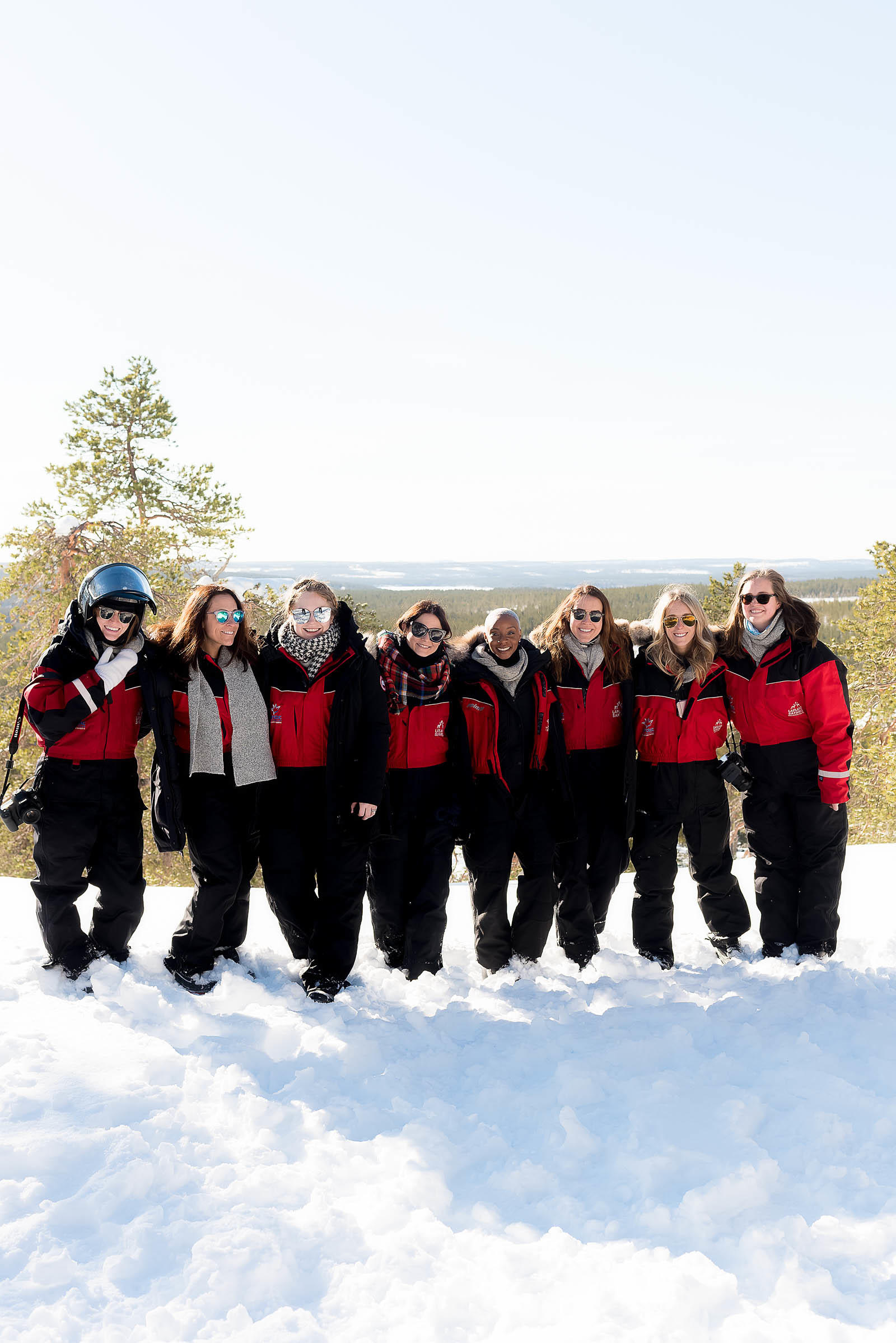 A huge thank you to my fellow bloggers on the trip Carly, Dana, Blake, Mackenzie, Katie, and especially Jenn (who tirelessly organized every little detail of our Lapland adventure).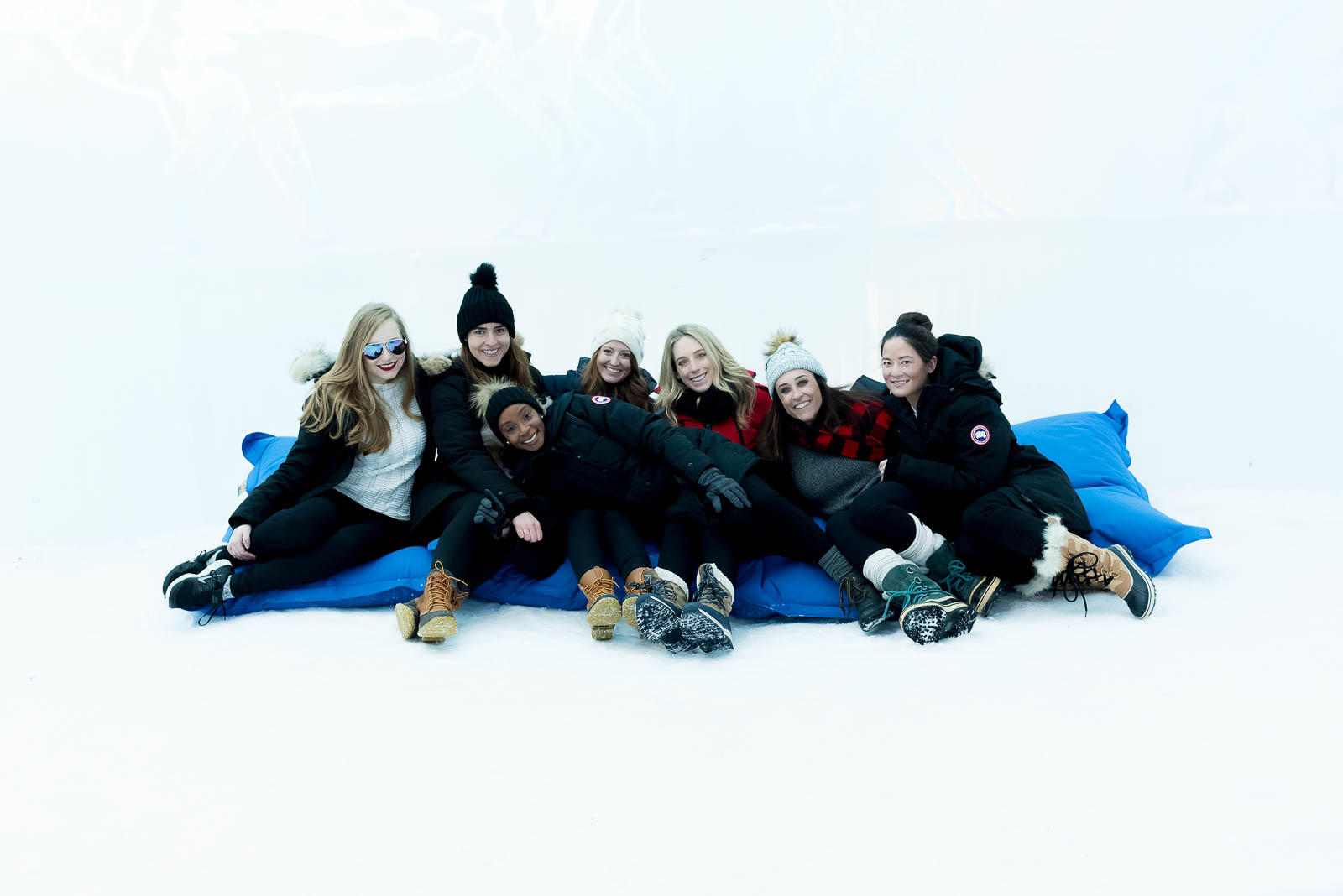 What a fun group to experience such a magical place with (be sure to read all their recaps from the trip too!).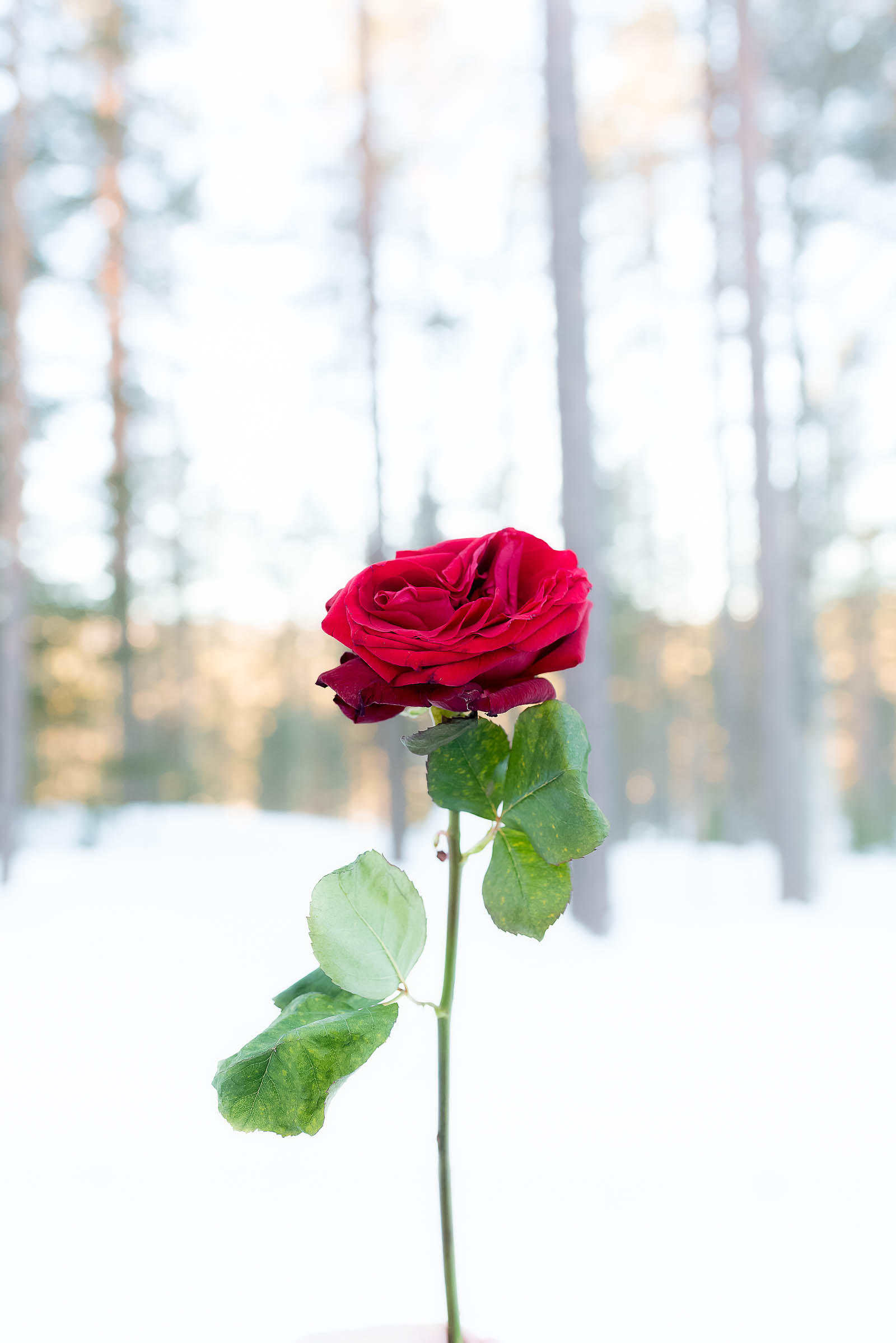 This trip proved to be one of the most incredible, beautiful experiences of my life. Just checking "Shoot the Northern Lights" off both mine and my father's bucket list is something I will be unfailingly grateful for for decades.
Thank you so much Visit Finland for sharing your beautiful country with us and for showing us one of the most wildly breath-taking places I know I'll ever see.
Disclosure: I received a complimentary trip to Finland to facilitate this post. Review and all opinions are ALWAYS my own.