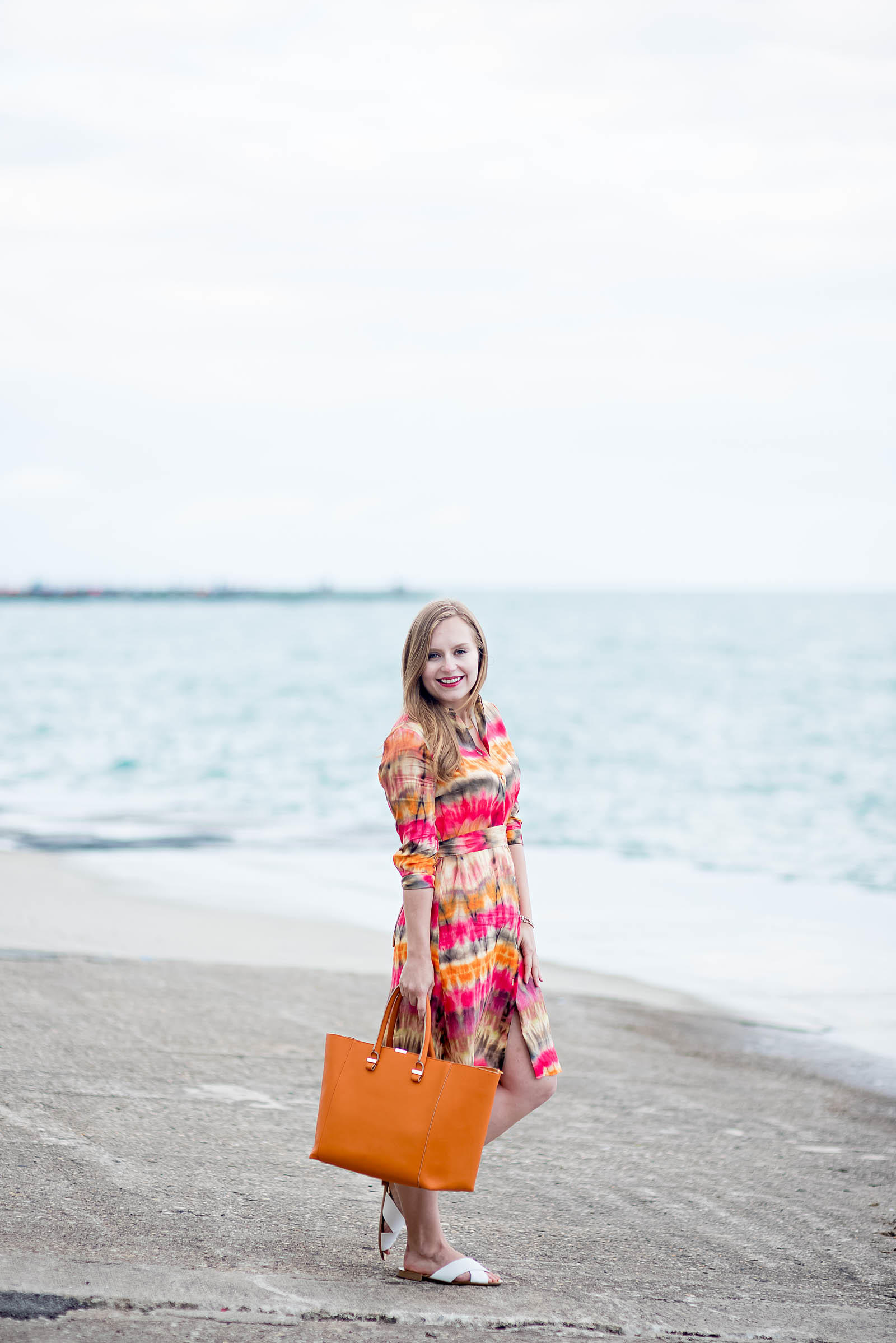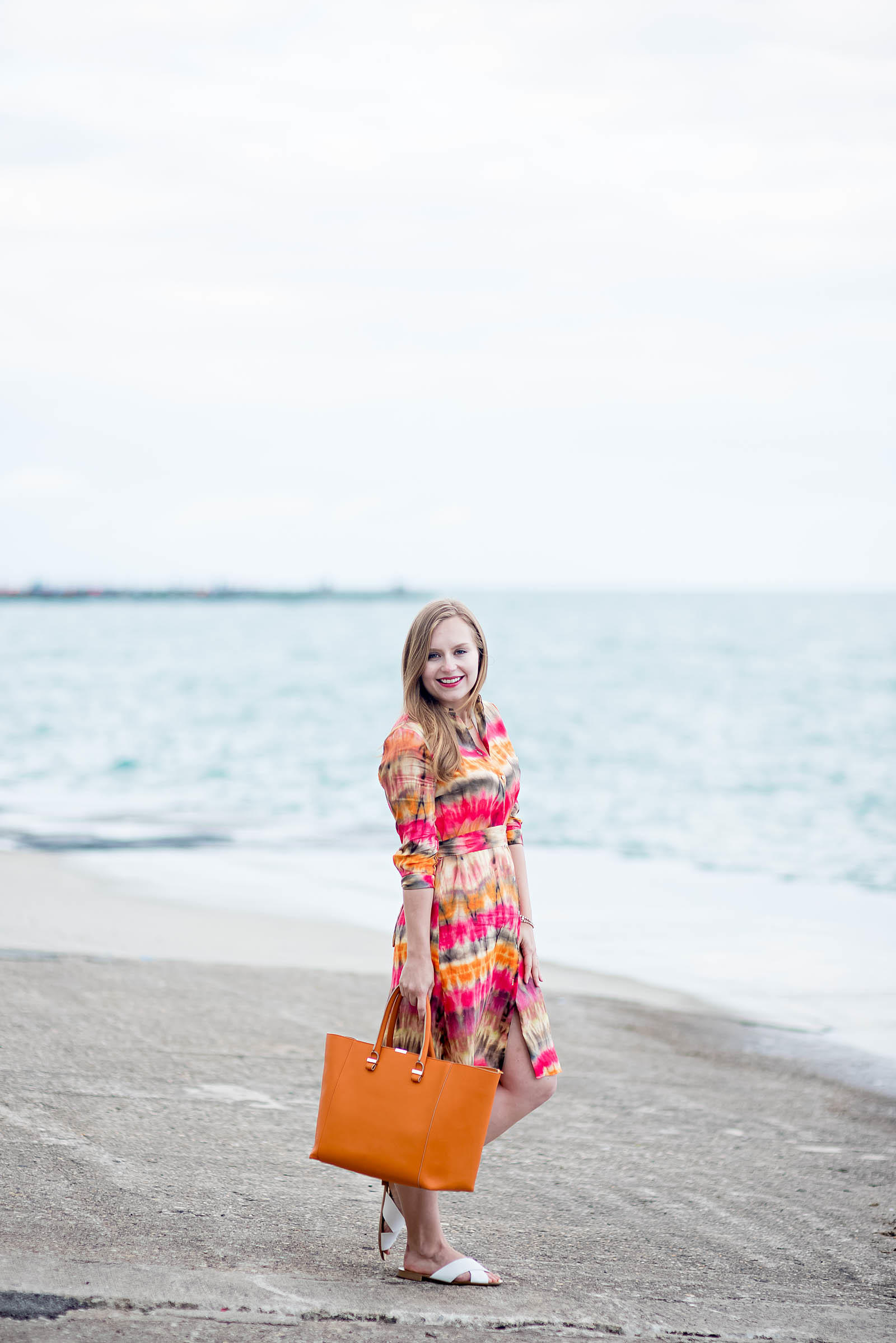 I often say it loud and proud: there's NOTHING like summertime in Chicago.
Chicago is beautiful in spring and fall, don't get me wrong. But there's nothing like the life and energy the city has in summer. And there's SO MUCH to do (5 of my favorite summer activities) and so little time to do it in.
That's why summer is the season I rely on wardrobe essentials for the most. I'm often running around like crazy from one shoot to another, one event to the next, and, as a style blogger, I know I need to look put-together for it ALL (even on days when I'm running on 5 or less hours of sleep).
Summer wardrobe essentials are my life shortcut. Using my favorite 15 summer items I can throw together countless chic summer outfits in a matter of minutes. I mean, it's summer! I don't have time to waste planning my outfits when there's so much fun to be having! Essentials keep me put together with little-to-no-effort. SUMMER WIN!
I mean, feeling cool and composed during this busy season in a matter of minutes leaves so much more time for slurping Rosé Slushie Floats, don't you agree?
15 Summer Wardrobe Essentials01. Walkable Wedges
The ultimate summer shoe for those of us unwilling to wear flats all the time. I walk SO MUCH in summer — I do my best to walk to every single one of my shoots and to take advantage of the fact that I live so close to so many amazing things. But as a petite-woman I often feel underdressed and frumpy in flats, especially when it comes to evening events.
So wedges are my footwear go-to this time of year. They're far easier to navigate than traditional pumps and a lot harder to accidentally damage on a jagged sidewalk 10,000 steps away from home. And even the tallest wedges can be surprisingly comfortable! I especially love ones with ankle straps to help prevent my foot from slipping around inside.
02. The Wear-Everywhere Play Dress
Day-to-night, beach-to-balcony cocktails, this is the dress you'll live in all summer. I always opt for an inexpensive one since summer is the season I'm most likely to abuse my clothing in. And a play dress in a bright color can be especially flattering.
The key to finding your right summer play dress is choosing a breathable fabric with a flattering silhouette for your figure. Breathability is key in the hot summer humidity and if you find a dress that really suits your body, you'll NEVER want to take it off. I probably wear this little yellow number of mine from H&M once a week — it's my go-to when I need to wear something appropriate for both work AND play.
03. Oversized Sunglasses
Summer means sunshine. Which makes it such a hard season for people like me who are hilariously light-sensitive. And if you work outside a lot like I do, it becomes even more of an issue trying to not spend June – August squinting.
I need sunnies that really BLOCK out the hot, beating sunshine.
Thank heavens for oversized sunglasses! Pick up a few pairs or rent them (have you subscribed to Ditto yet? It's a Netflix-style designer sunglasses subscription service with 100s of options to choose from. Use my code 'StewSunnies' to get your first month FREE!). That way you won't get bored with wearing the same pair over and over again.
Looking to take it up a notch? Look for a pair with polarization to improve your vision in the harsh sunlight AND protect your eyes.
04. White Jeans
A spring essential that's a perfect summer essential too! White jeans are so insanely versatile — they can be dressed up or down, worn day or night, and work well with all sorts of styles. Not to mention they're a lot cooler to wear than darker wash jeans!
Pro Tip: Invest in one nice pair of white jeans, like my J Brands. It'll hurt to put so much money down on a pair of jeans but you'll use them every year non-stop. And if you're worried about ruining your white jeans, don't be. I'm pretty much the world's biggest klutz and I have yet to make a stain on these that I haven't been able to remove entirely.
05. A Bright Tote
The perfect POP of color to bring even the simplest outfit to life. A bright tote IS the summer accessory you won't stop using! AND one that won't be out-dated next summer.
Find one roomy enough to carry all your daily essentials and you'll carry it all-day, everyday. I especially love (and am obsessed with) my obnoxiously orange Victoria Beckham tote because the clever inner buckling allows me to "cinch" in the bag to create multiple looks. If you're going to save for months for a bag, it might as well be one you can use multiple ways, right?
But there are plenty of bright tote options for every budget so take some time to find one in a color that will compliment the most pieces in your wardrobe. It'll make getting out-the-door in the mornings a breeze!


06. Cork Pumps
The perfect neutral pump when only a pump will do. Cork pumps are just as versatile and slimming as nude pumps but in a texture that's oh-so-appropriate for summer heat. Plus the cork print hides any knicks and dings you might get on them walking around.
Pro Tip: find a cork pump that compliments your skin-tone (many can be too tan for my pale coloring)! It'll elongate your legs and work with just about any outfit you can imagine.
07. Palm Prints
My favorite print for summer!
Palm prints are easy, breezy, sexy, and especially great for pet owners since the busy pattern helps mask any hitchhiking pet hairs (thanks, Apollo!).
Invest in one nice palm dress and wear it to DEATH. I've had this gorgeous Issa London one since 2012 and wear it endlessly every summer (and while visiting the Mayan Ruins of Tulum in January). Because I invested in such a beautiful, silk-blend fabric, the gentle draping of this dress has lasted perfectly despite how much I constantly abuse this dress — people can't ever believe me when I tell them how old this dress is!
08. Sun Hat
Another essential for everyone but especially for people who are as light-sensitive as I am. Sun hats keep the rays out of your eyes and can help add a serious infusion of style to even the most basic outfit.
I always recommend buying inexpensive hats despite how many cute designer options there are available right now (looking at you, Eugenia Kim). That way you don't feel guilty squishing it into your carry-on, leaving it in a cab, or watching it blow away during a rough gust of wind.
09. The Flowy Summer Maxi
Yet another piece that you can wear everywhere to everything.
Who doesn't love a good maxi dress?
Flowy maxi dresses can be so elegant and yet comfortable in high heat (and they're a lot more modest than many other dress styles available on the market these days). Pick one with a flowy silhouette in a breathable fabric and wear it to your next patio dinner.
Pro Tip: Look for one with some embellishing or embroidery and you won't even need jewelry to complete your look!
10. White Blouse
Summer's best layering piece! White blouses add an appropriate brightness to any outfit so layer a white blouse with everything from shorts to jeans to skirts. They are so versatile — I even use mine as a bathing suit cover-up!
But as opposed to white jeans, I tend to prefer budget white blouses since retailers like H&M and Forever 21 have so many silhouettes and gorgeous options that won't break the bank.
11. Beach Tote
The BEST kind of tote there is — a beach tote! Carry all your beachside essentials like sunscreen, oversized sunglasses, a towel, and maybe even some shoreside libations with you all while looking chic.
Pro Tip: Make sure you buy something you won't mind getting dirty and sandy! This bag is meant to be a workhorse so invest in a hearty fabric like raffia or canvas that'll hold it's shape after multiple beach visits.
12. Slip-On Sandals
Another essential you'll be using nonstop! Slip these sandals on for long dog walks in the summer heat, impromptu visits to the beach, or just whenever you want to feel comfortable yet collected.
Slip-on sandals are surprisingly versatile — I take mine day-to-night frequently. Pick a pair in a bright summer neutral like my white pair and you can easily wear them anywhere!
13. The Striped Shirtdress
My personal summer wardrobe staple. Whenever I don't know what to wear, I wear a striped shirtdress (I have SO MANY!).
They're easy to throw on quickly, versatile enough to work for day or night, and usually made of a comfortable cotton fabric that'll keep you cool in the summer heat and humidity (especially here in the Midwest).
Pro Tip: find striped shirtdresses that are flattering to your figure and that have some interesting design elements to keep the look summery instead of "corporate" — like the fun ruffle on the hem of my Thakoon Addition dress.
14. Lace-Up Flats
Another spring wardrobe essential that carries beautifully over to summer! Lace-up flats are still having a serious moment right now so I'm still living in this chic Topshop pair I bought last summer.
Lace-up flats are an easy way to add polish to just about outfit and are seriously versatile, working for all sorts of events and occasions. One big bonus is the laces offer your customization with the fit of the shoe so if you happen to have really wide, Hobbit-esque feet like I do, you can adjust them to feel comfortable!
And the laces offer built-in breeziness in the heat! Yet another summer win!
15. Off-the-Shoulder Everything
Sexy yet not-too-revealing. Easy to wear in heavy heat. And generally made from comfy fabrics perfect for summer? Off-the-shoulder tops and dresses really are the most versatile summer wardrobe essential.
It's easy to see why they've become so popular over the last three years. They're so flattering on the neckline!
This summer there are some especially gorgeous options available so take your time to find an OFS silhouette that really flatters you (and be careful that you don't pick something with too much volume — it could swallow your frame, especially if you're petite). I've even been folding my favorite off-the-shoulder dress into a top to give me so many more wardrobe options from just one piece.
You'd be amazed at how versatile one off-the-shoulder dress or blouse can be!
What Summer Wardrobe Essentials Do You Rely On?