Last week I told you about my family's enormous obsession with Florida's oldest continuously operating restaurant and the oldest Spanish restaurant in the United States, the Columbia. But one post can't possibly do justice to this spectacular little restaurant so here is Part 2!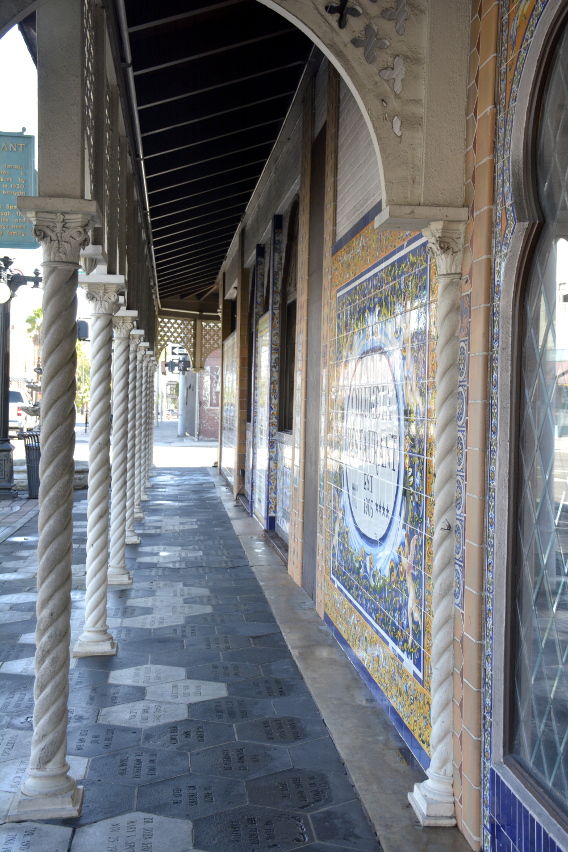 Anytime my sister and I visit our grandmother in Florida, we can always depend on eating at least two meals at the Columbia.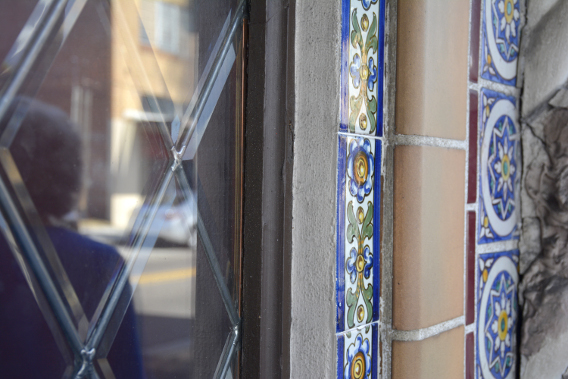 The atmosphere really is spectacular and the outside of this historic building is just dripping in heavenly Spanish mosaic tiles.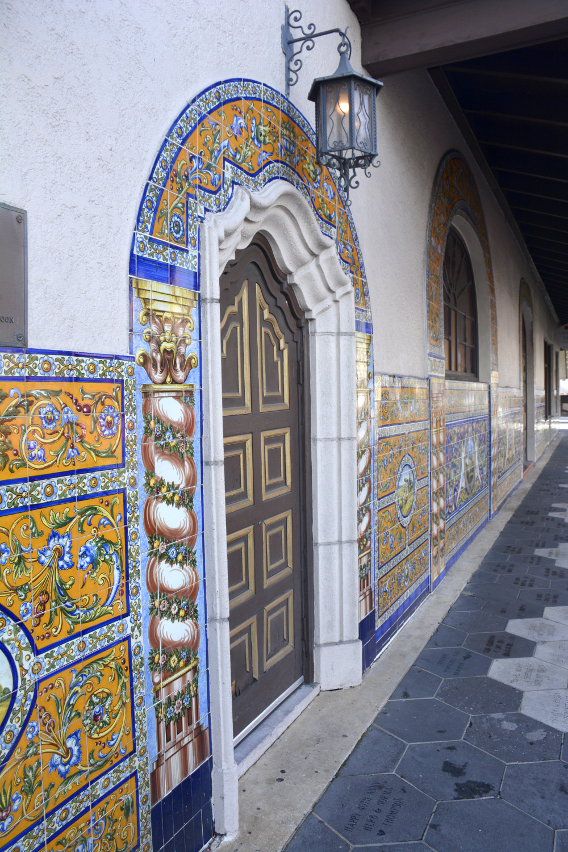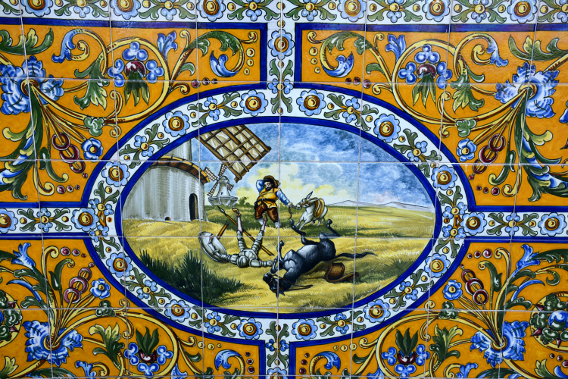 The craftsmanship and colors will take your breath away!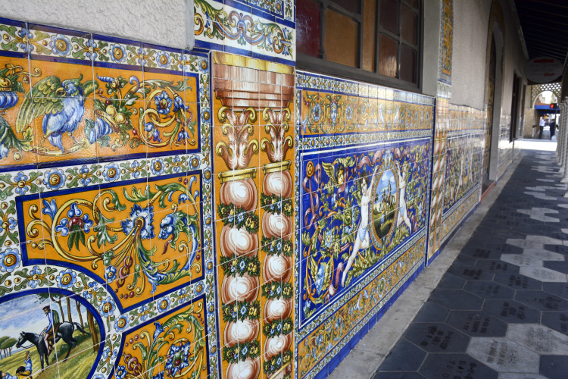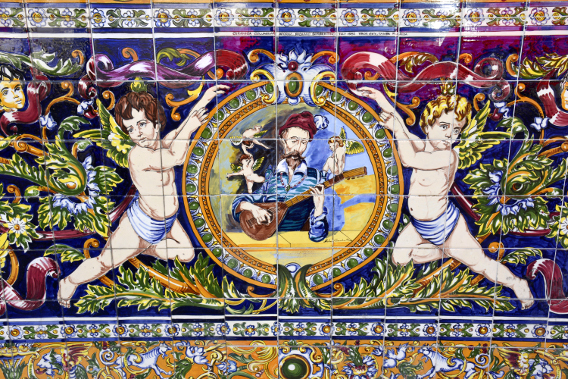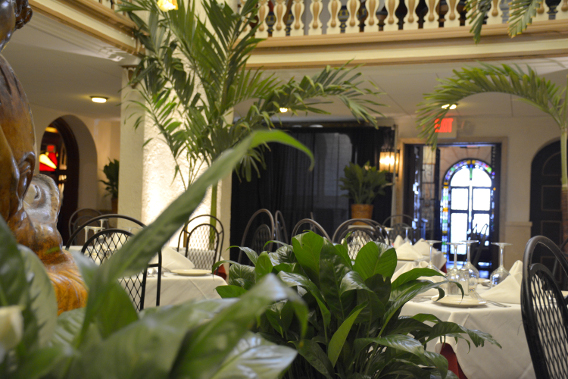 Once inside the restaurant, we asked to be seated in the patio room (my grandmother's favorite) and were lucky enough to snag one of the coveted tables surrounding the central fountain.
The sugar packet containers on each table are even made in the same style as the Spanish tiles!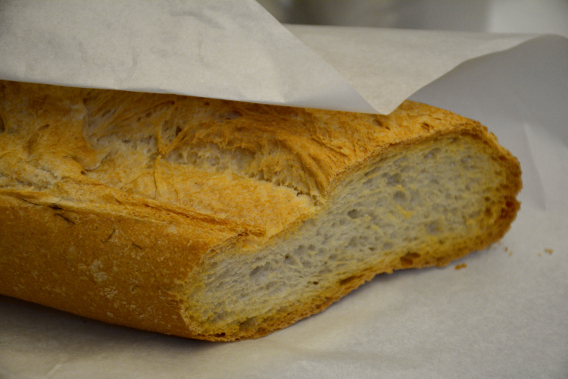 Naturally during our lunch we consumed copious amounts of freshly baked, flakey Cuban bread.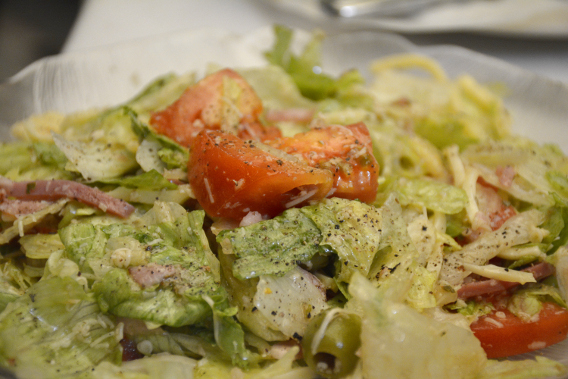 My grandmother and sister started their meals with (what else?) the Columbia's 1905 Salad (discussed at length in Part One).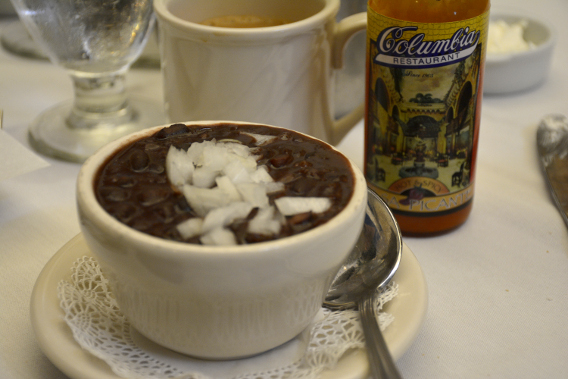 I opted instead for another one of my favorite starters: the Cuban Black Bean Soup. Frijoles negros prepared from the Columbia Restaurant's family recipe served on a bed of white rice. The flavors are outstanding (not to mention completely vegetarian) but adding a dash of the Columbia's house hot sauce takes this soup to a whole new level of culinary nirvana. The recipe for this classic Cuban dish is in the Columbia's cookbook and is well-worth the effort to recreate at home.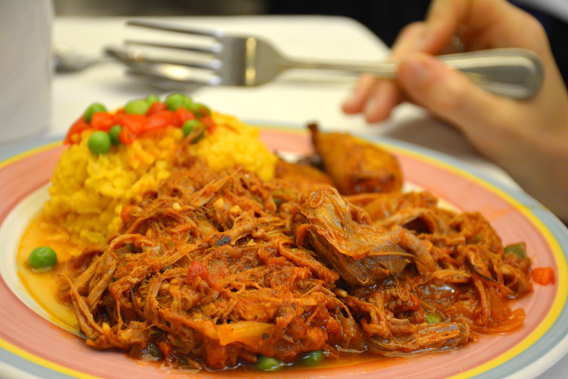 My sister ordered a dish very dear to our hearts: the Ropa Vieja. It was our late father's favorite and one that she often orders in his memory. Originally introduced to Cuba by the Spanish sailors, the name translates as "old clothes" because of its appearance. Shredded beef sautéed and simmered with onions, green peppers and tomatoes and served with yellow rice and plantains. A classic dish of Cuban comfort food!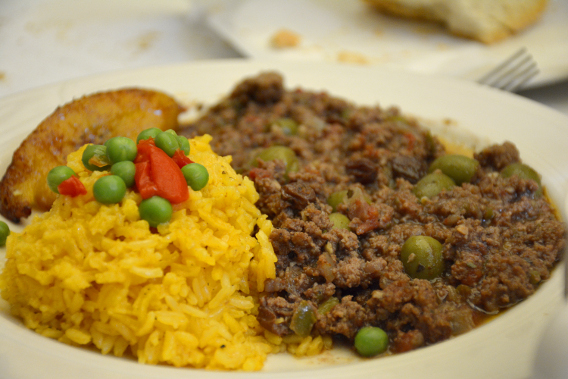 My grandmother was so happy with the new dish she tried on our first visit that week that she felt brave and ordered another new dish: the Picadillo Criollo. Considered a family favorite at the Columbia, this family-recipe consists of ground beef braised with onions, green peppers, olives, raisins and capers. She loved it and enjoyed the leftovers for dinner that night as well.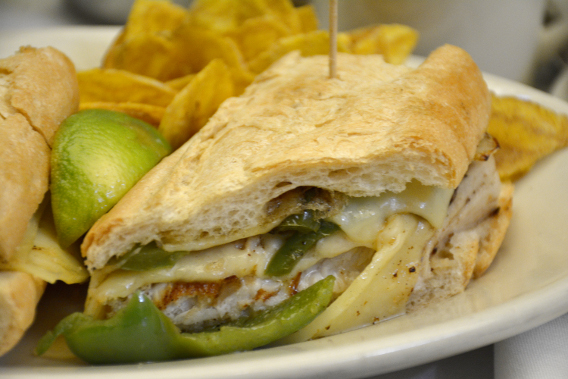 As far as Cuban food goes, it doesn't get more deliciously cliché than a Cuban sandwich. But the Columbia (while also offering a traditional Cuban), has their own unique take on this popular sandwich: the Mahi Mahi Cubana. Dubbed "the best fish sandwich north of Havana", this whopper is packed with grilled mahi-mahi and topped with sautéed onions, mushrooms and green peppers. Then everything is all smothered in cheese on a Cuban bread loaf. Uh… only one word: WOAH! Ooey, gooey cheese dripping over the grilled fish — does it get any better than this? I highly recommend squeezing a generous amount of lime over the fish as the bright citrus flavor makes this sandwich sing a sweet, Cuban lullaby of "eat me and die happy".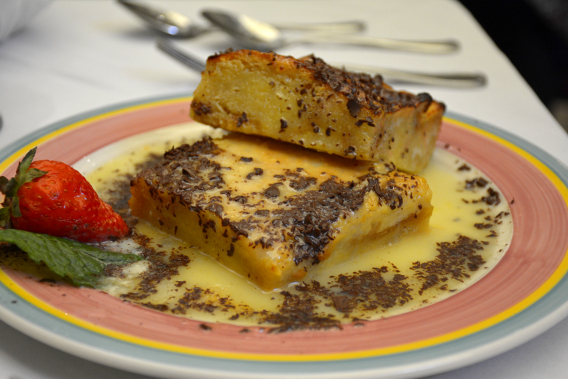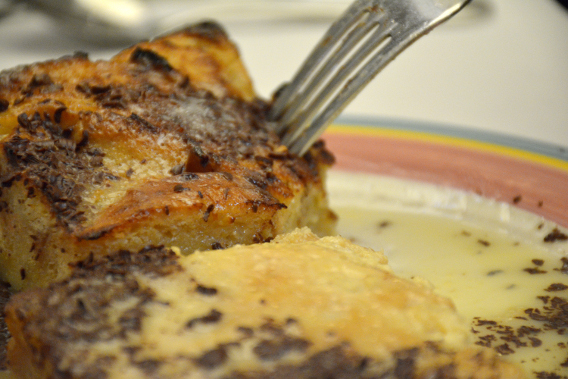 At most restaurants, after as much food as we had that lunch I would have forgone the dessert, but not at the Columbia. Dessert here is absolutely required in our family! My sister ordered her favorite: the white chocolate bread pudding! Made with white chocolate, Le Segunda Central Bakery Cuban Bread (the same served at the beginning of every meal and in my Cubana sandwich), milk and eggs all topped with Don Casimiro Classic Silver rum sauce. This dessert is richly decadent and while the portions are enormous, it's the type of dessert you really won't want to share.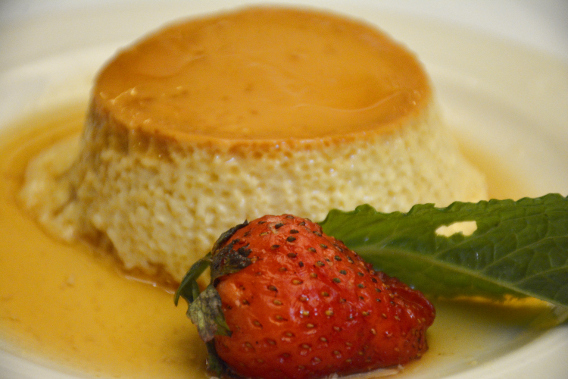 Surprise, surprise! My grandmother ordered her favorite dessert of spanish flan!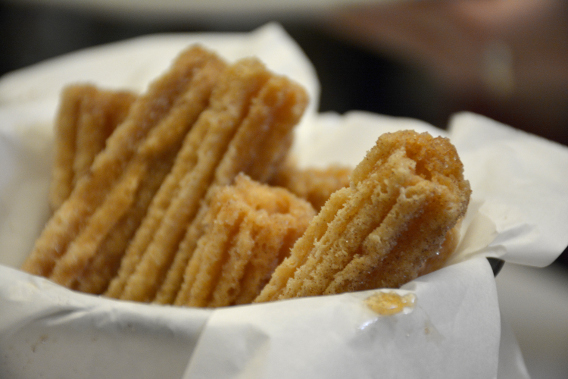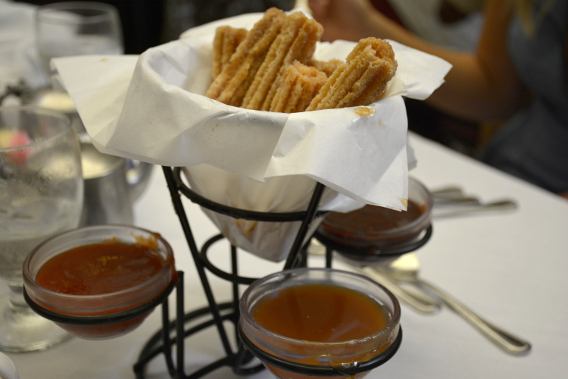 Since my last trip to Florida the Columbia had added a few new additions to their dessert menu (including the guava turnover I ordered on our previous visit) and I wanted to try another new creation. Ultimately I ordered the Columbia's Churros 'Tres Amigos': golden brown Spanish churros dusted in cinnamon sugar and served with three dipping sauces of rich chocolate, warm caramel and bright guava. Of the three the guava sauce was the surprising winner with the fruity dip nicely complimenting the cinnamon in each churro.

You haven't had a churro until you've had one dunked in guava sauce!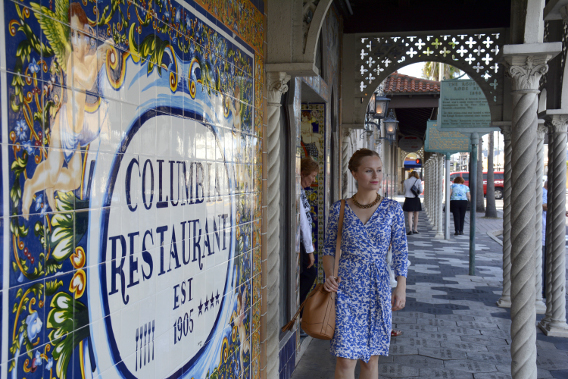 For our second Columbia lunch of the week, I tried to emulate the beautiful Spanish aesthetic with this chinoiserie print wrap dress.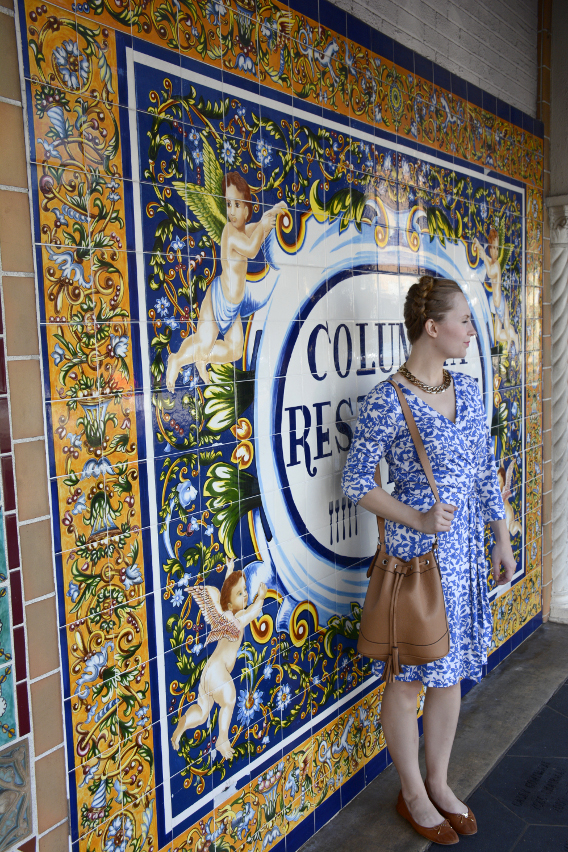 Dress – Diane von Furstenberg 'Jeanne' Wrap Dress (similar here and here)
Flats – Sam Edelman 'Felicia' in 'Saddle Leather' (here, seriously the comfiest flats I own)
Bucket Bag – Old Navy (under $30! Darker color here)
Necklace – Zara (seen previously here and here)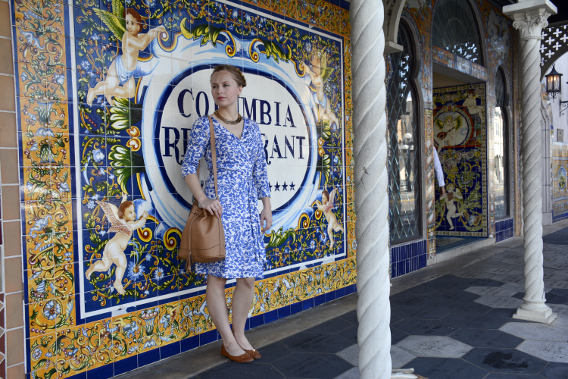 Do I blend in well enough with the mosaic tiles?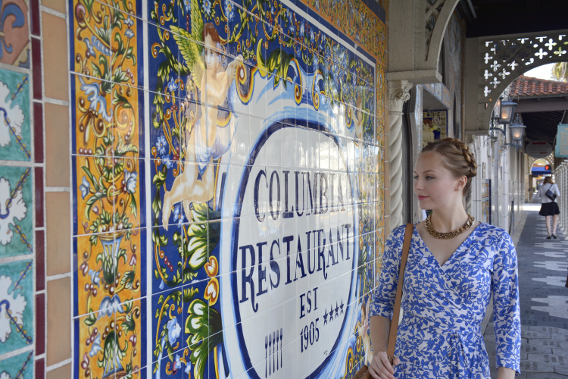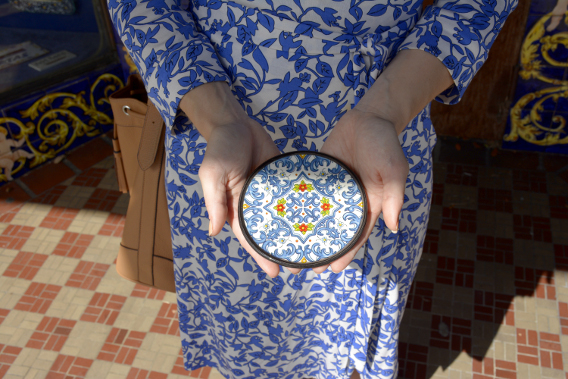 After our meal we stopped in the gift shop and I picked up this little platter for our kitchen. Talk about matching your souvenirs to your outfit, right? #accidentalcoincidence
If you find yourself in Tampa looking for a life-changing meal, the Columbia is an ABSOLUTE MUST!