New York Travel Guide
The Best of the Big Apple
There's really no place like New York.
NYC.
Otherwise known as the center of the world.
The vibrancy, the fierceness, the passion, the endless entertainment... it's truly the sort of city you could spend a lifetime exploring. And not even come CLOSE to conquering.
You'll find the world's best restaurants, museums, architecture, tourist "sights" (like the Statue of Liberty!), and shopping all in this one city. On one single island.
Welcome to...
the Big Apple!
I almost feel like it's easier to ask "what can't you do in New York?". Regardless of how epic/popular/boutique/off-the-beaten-path/cliché you want to be, there are PLENTY of options to choose from.
New York is just brimming with adventures and possibilities!
Everything from the obvious like the Statue of Liberty to the inspiring like The Met Museum to the casual walk down The High Line.
There's always something to do in NYC!
SPOTLIGHT ON:
---
Seasonal Attractions in NYC
NYC is amazing regardless of the time of year you're visiting but it's an especially amazing place to visit for seasonal attractions.
My favorites include:
New York Fashion Week (each September & February)
The Veuve Clicquot Polo Classic
The Christmas Season (Shopping on 5th Avenue!)
New York has just about anything you could want to eat all in one place.
Anything you crave, anytime you crave it...
No matter how obscure the cuisine, or how unique the preparation...
If you can't find it in New York City, you can't find it anywhere.
NYC is home to some of the world's -- not just the country's -- best restaurants. And for good reason. It's world's hottest food scene AND the most diverse. Here are a few of the spots I always hit up whenever I'm in the Big Apple!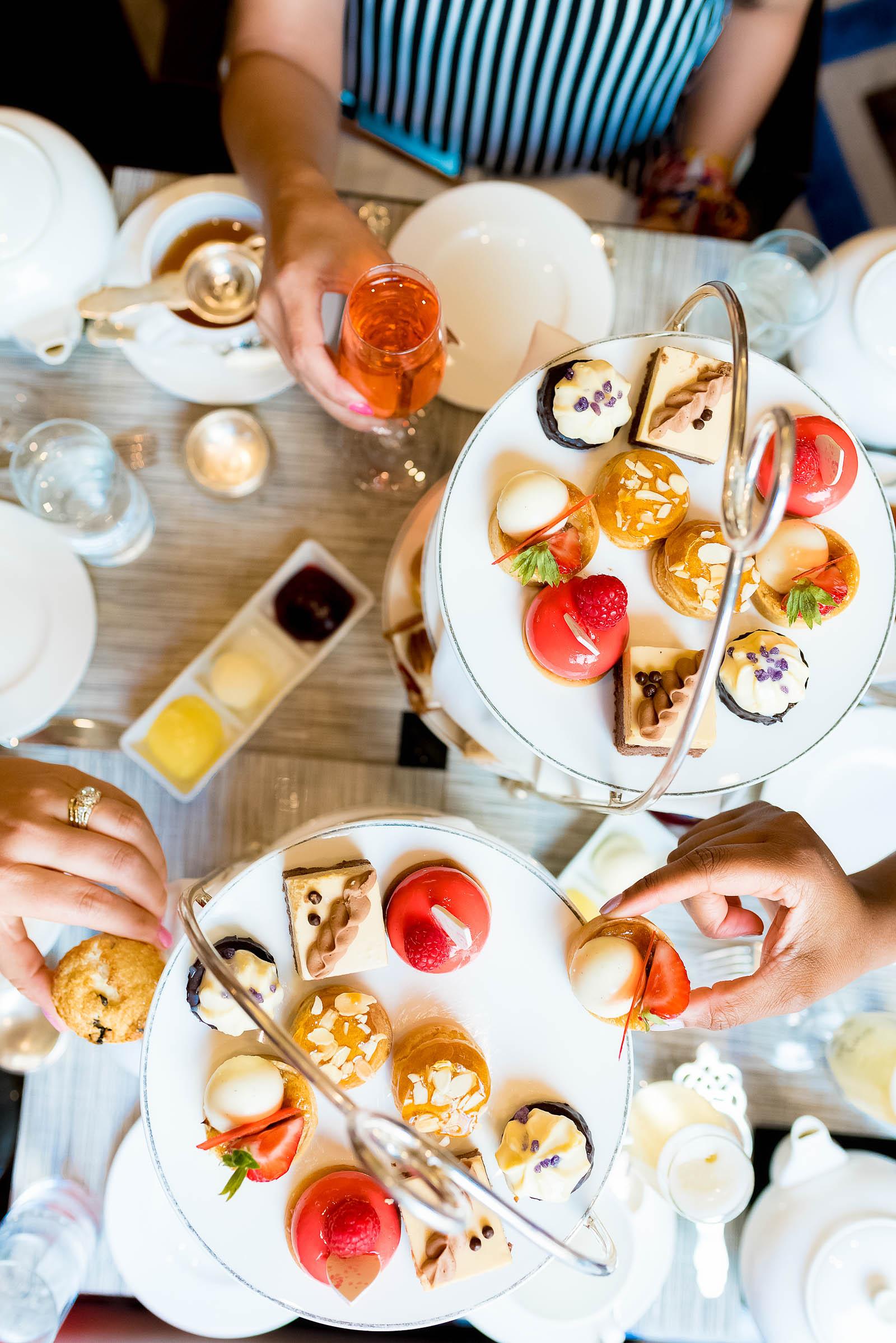 SPOTLIGHT ON:
---
Afternoon Tea at the Peninsula NYC
Looking for a refined way to enjoy NYC? Afternoon tea at the historic Peninsula is a truly incredible experience. Everything from the finger sandwiches to the divine dessert selection and the fresh, warm scones will take your breath away.
NYC is notoriously difficult to navigate. Traffic is horrendous, public transit useful but confusing to first-time visitors, and wild weather swings all make NYC quite a challenge.
But if you travel there prepared (especially for quick weather shifts) and with some patience, it's worth every bit of the trouble!
Like most large cities, NYC has plenty of options to choose from when it comes to getting around. There's always a bright yellow cab to take you where you want to go. Otherwise there are Ubers, the Subway, buses, bicycling, and -- my personal favorite -- walking.
NYC is lucky enough to have THREE airports servicing the city. LaGuardia is notoriously hideous and tiny but close to the city. JFK can be very crowded and expensive to fly into but has a convenient train you can take right into Manhattan which can help bypass traffic. Newark is west of Manhattan and also has a fast, convenient train right into Manhattan.
Since Hubby works a lot in NYC I've had the opportunity to travel to the Big Apple quite a bit since I began blogging. And it's inevitably led to quite a few blog posts about my adventures!
Here's a short selection of my personal favorites:
10 Of My Favorite Things To Do in NYC
"One belongs to New York instantly, one belongs to it as much in five minutes as in five years."
-- Tom Wolfe