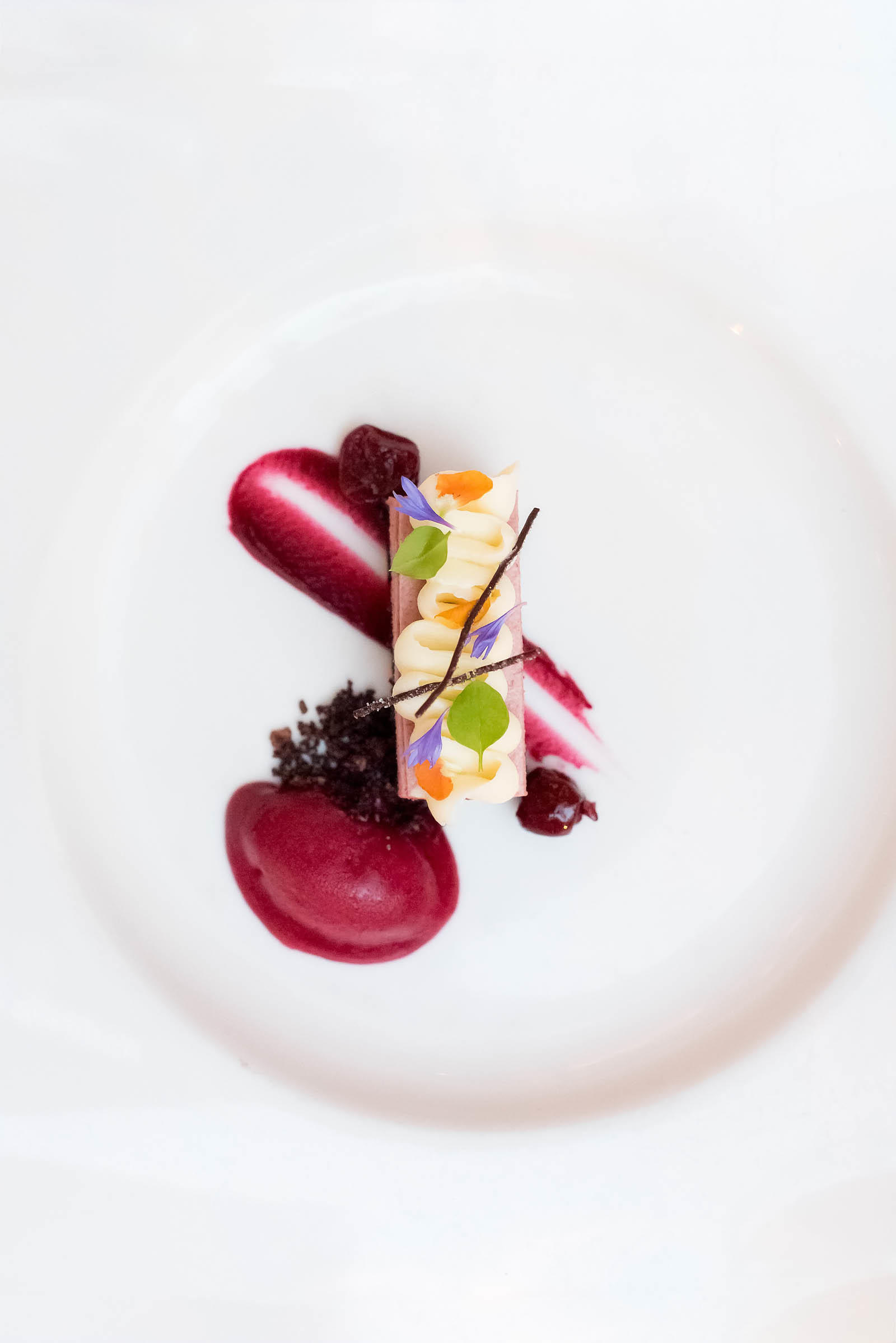 When it comes to exquisite French cuisine in Chicago, few restaurants can possibly hope to rival Café des Architectes.
Located in the Sofitel Hotel just off the Magnificent Mile and mere steps away from the luxurious shopping corridor of Oak Street, you can't possibly miss this impressive landmark, if only for it's incredibly beautiful and unique façade: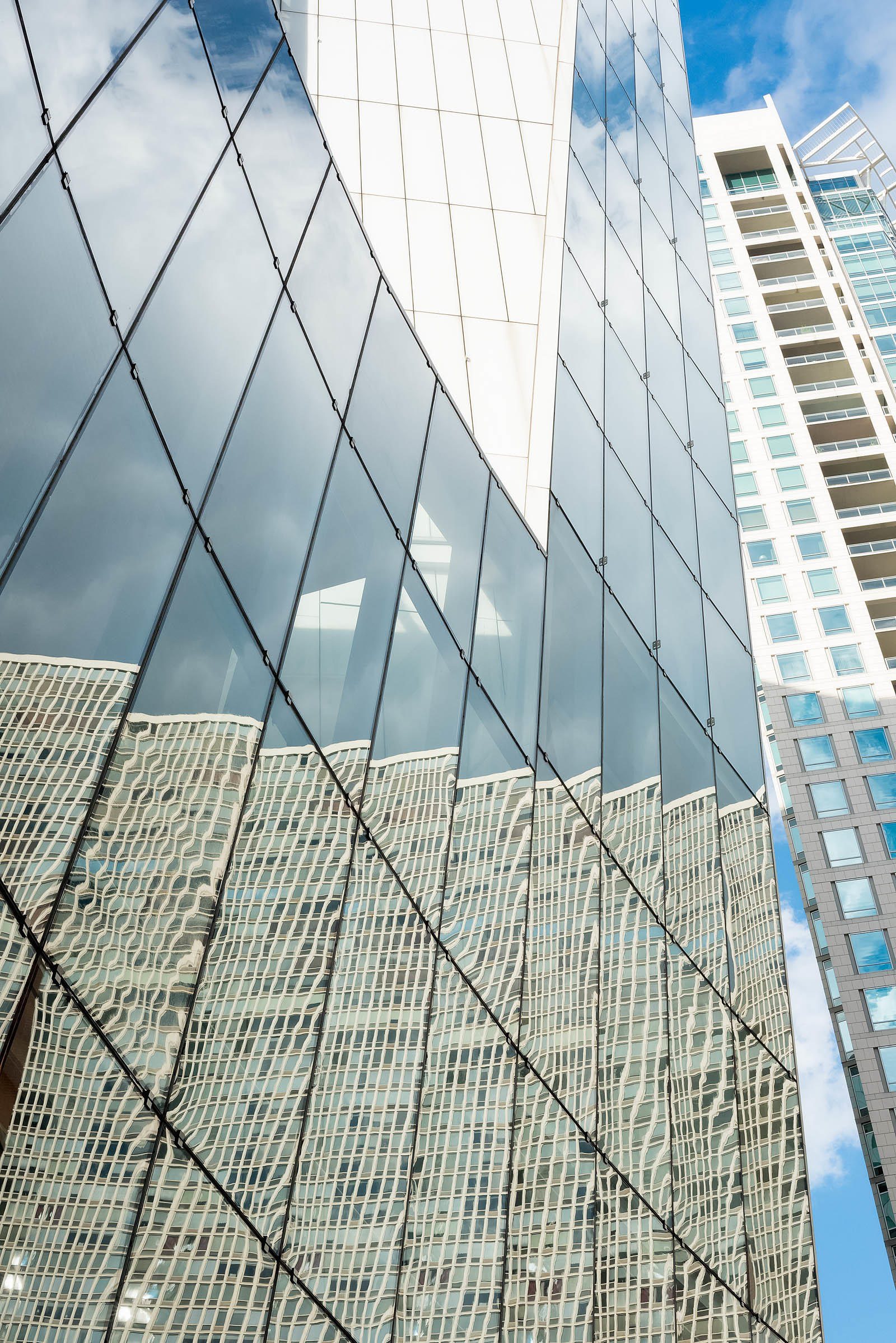 With its stunning mirrored shape and modern reflections, it's a fresh break from so many of the more traditional hotels off the Magnificent Mile just a stones throw away.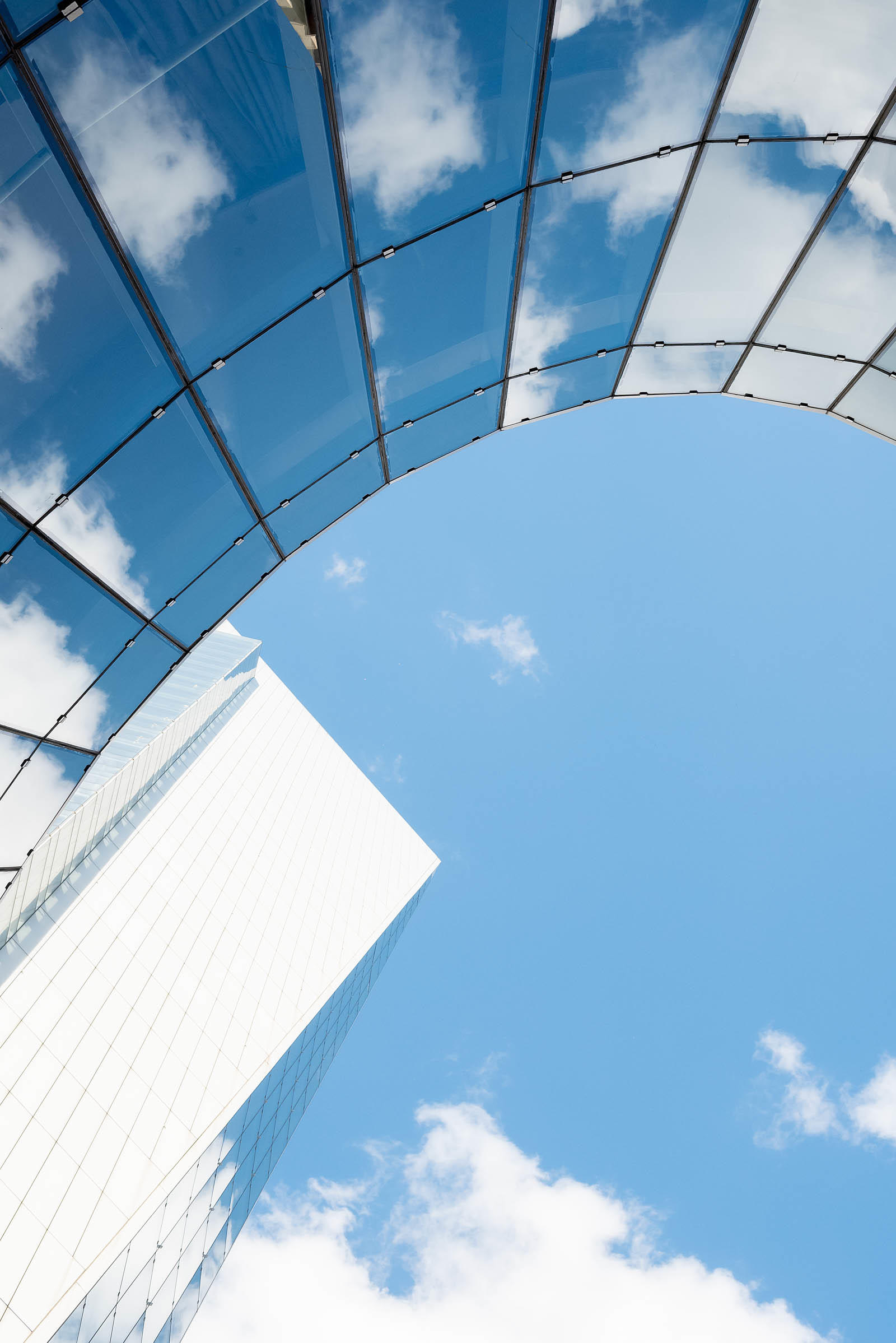 And the Café des Architectes patio offers a stunning soaring view of the entire building, making it one of my favorite patios in all of Chicago!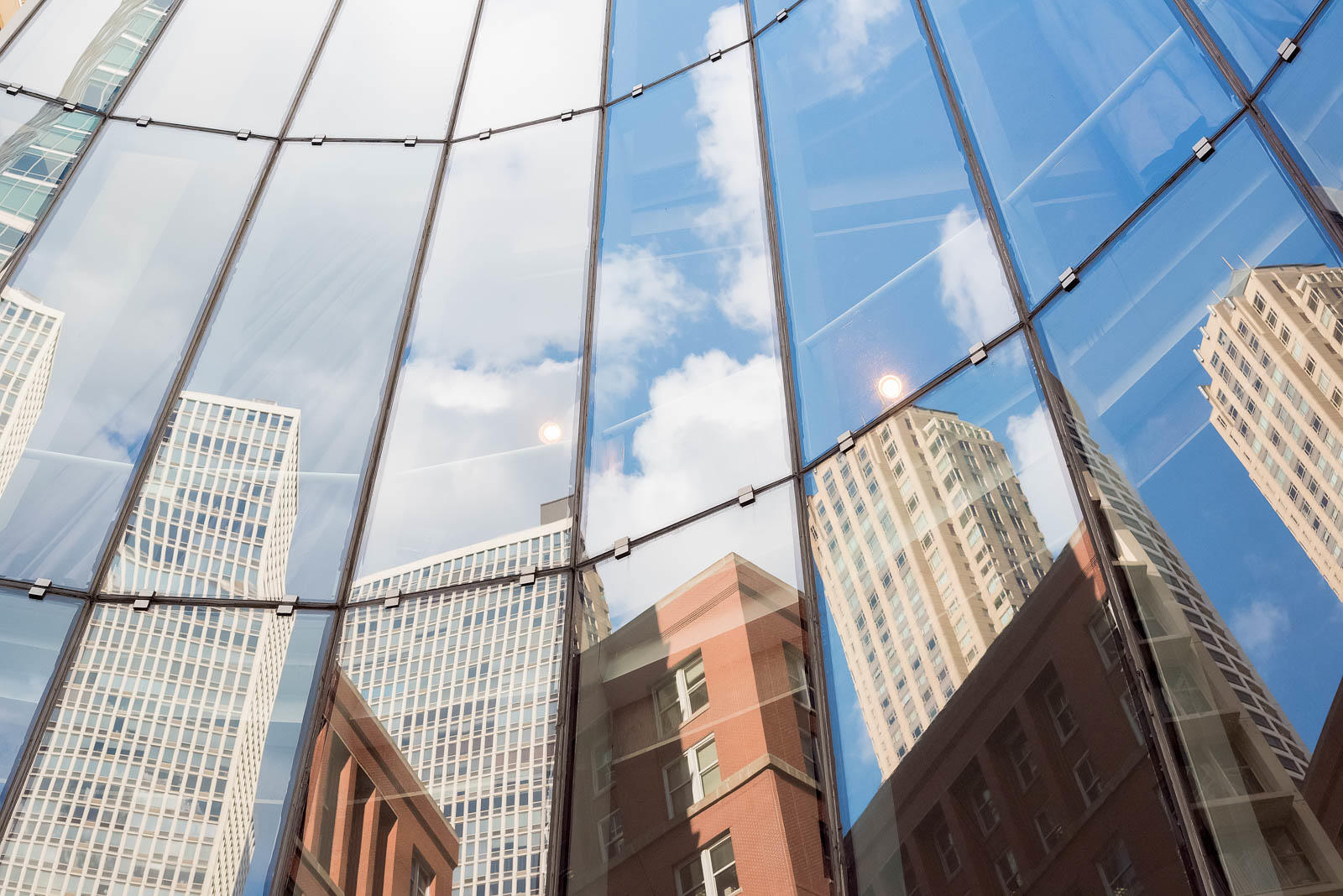 And certainly one of the prettiest patios to shoot on a beautiful summer evening!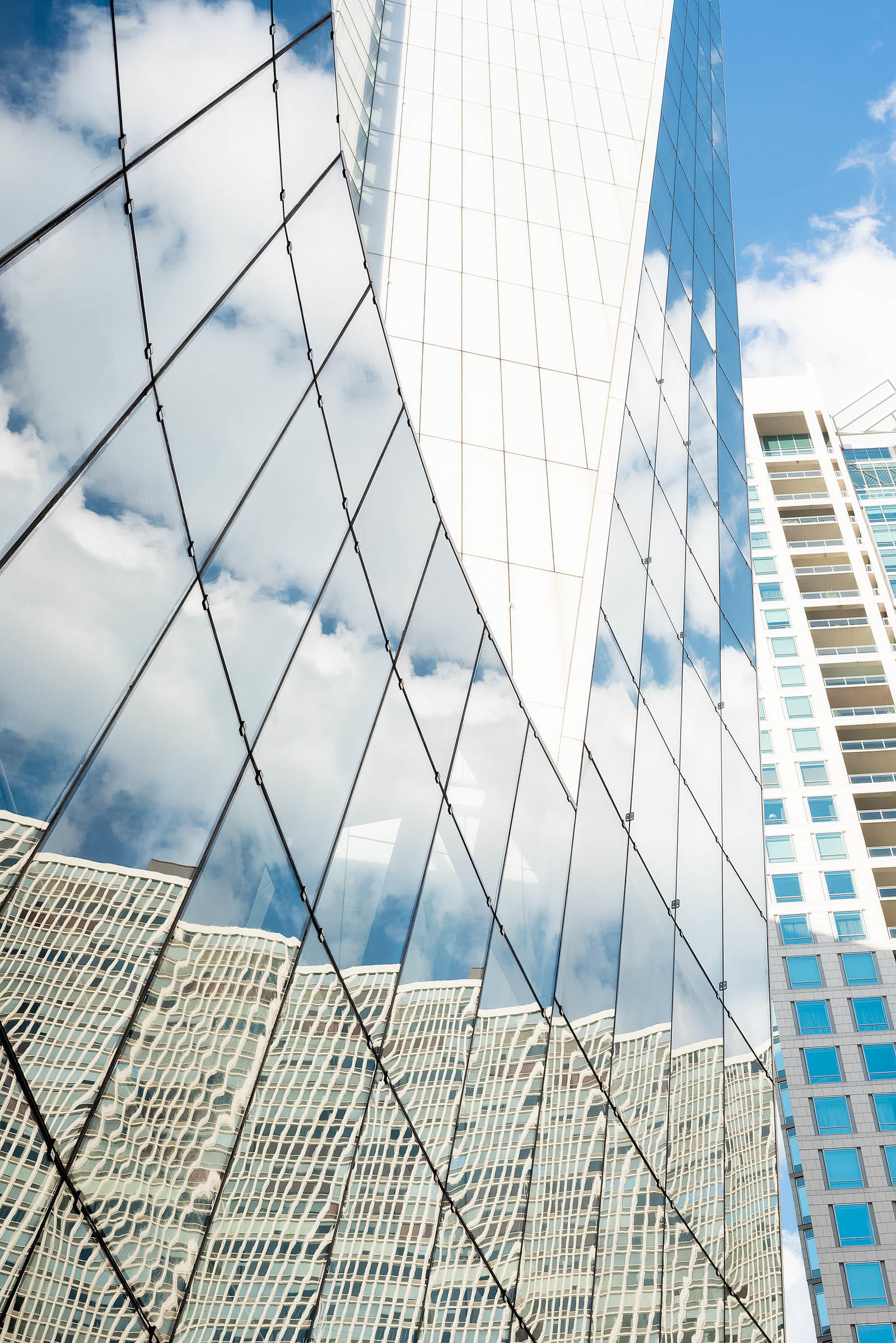 Wouldn't you agree?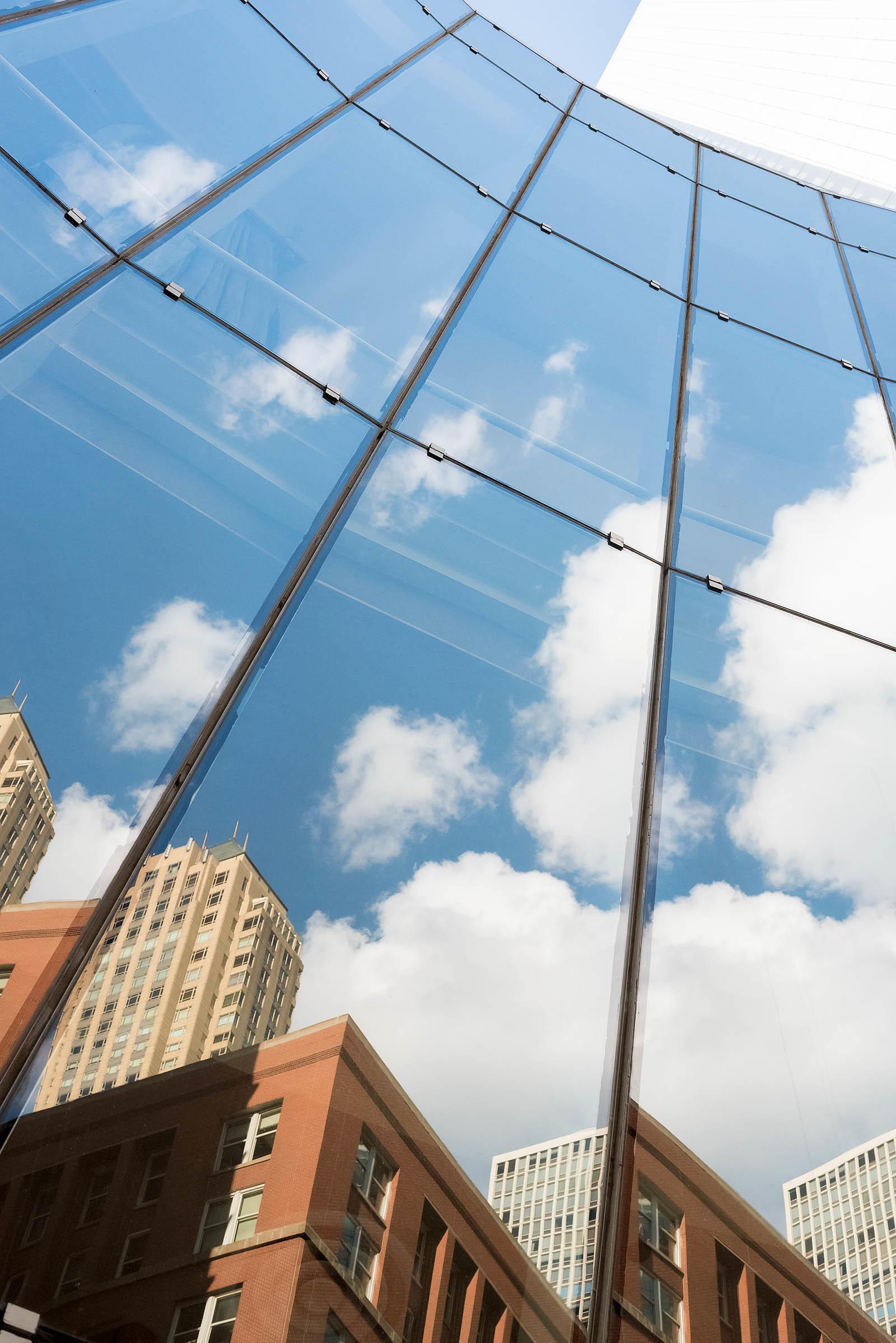 Where else in Chicago can you find a spectacular French meal with a view like this??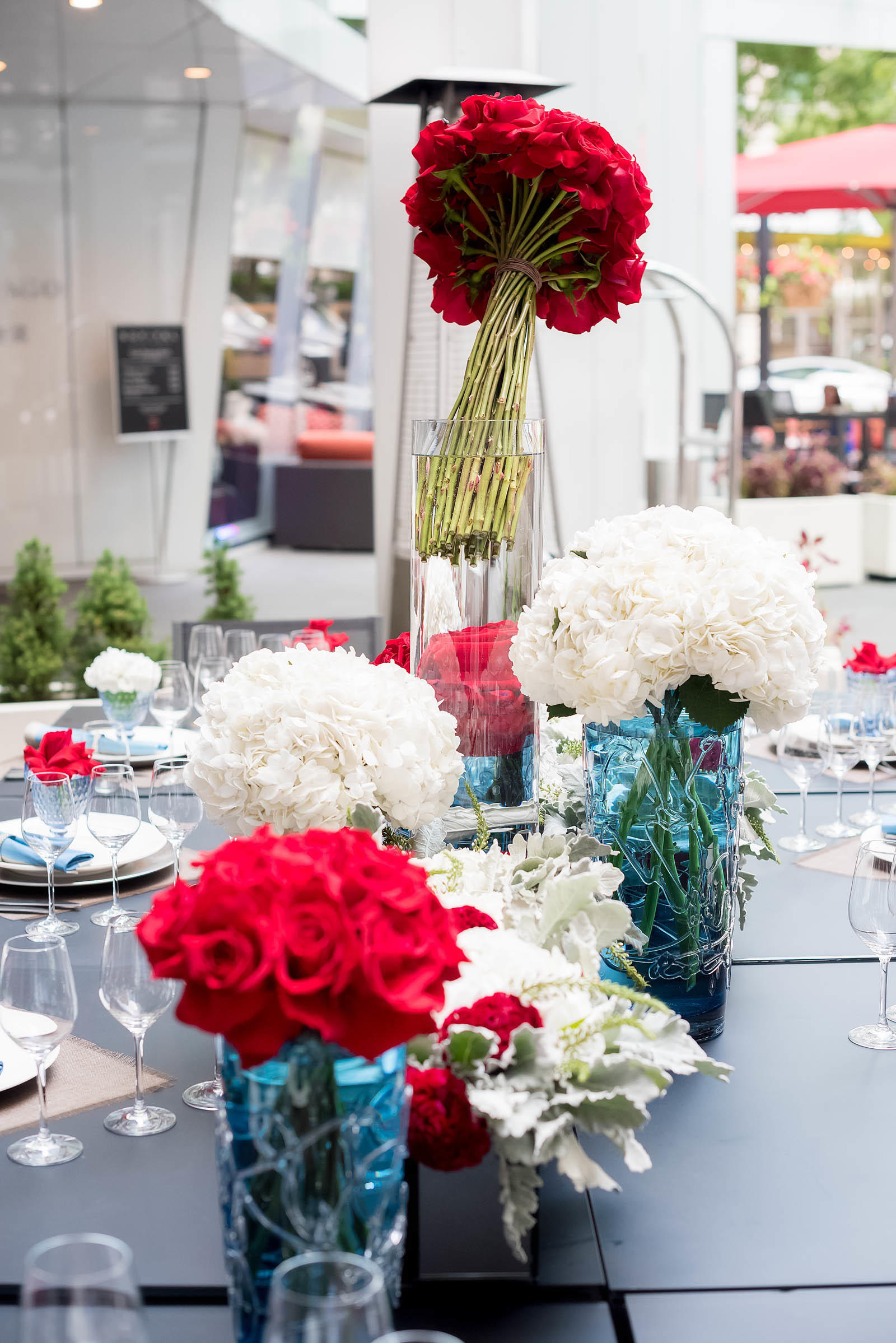 And knowing how much I adore Café des Architectes, you had to know I jumped at the invitation to attend their intimate Bastille Day Celebration Dinner last month — a meal so beautiful and perfect it may be THE best meal I've ever had in Chicago, and certainly the most spectacular of my summer!
And today I'm finally sharing it with you!
Are you ready for perfection?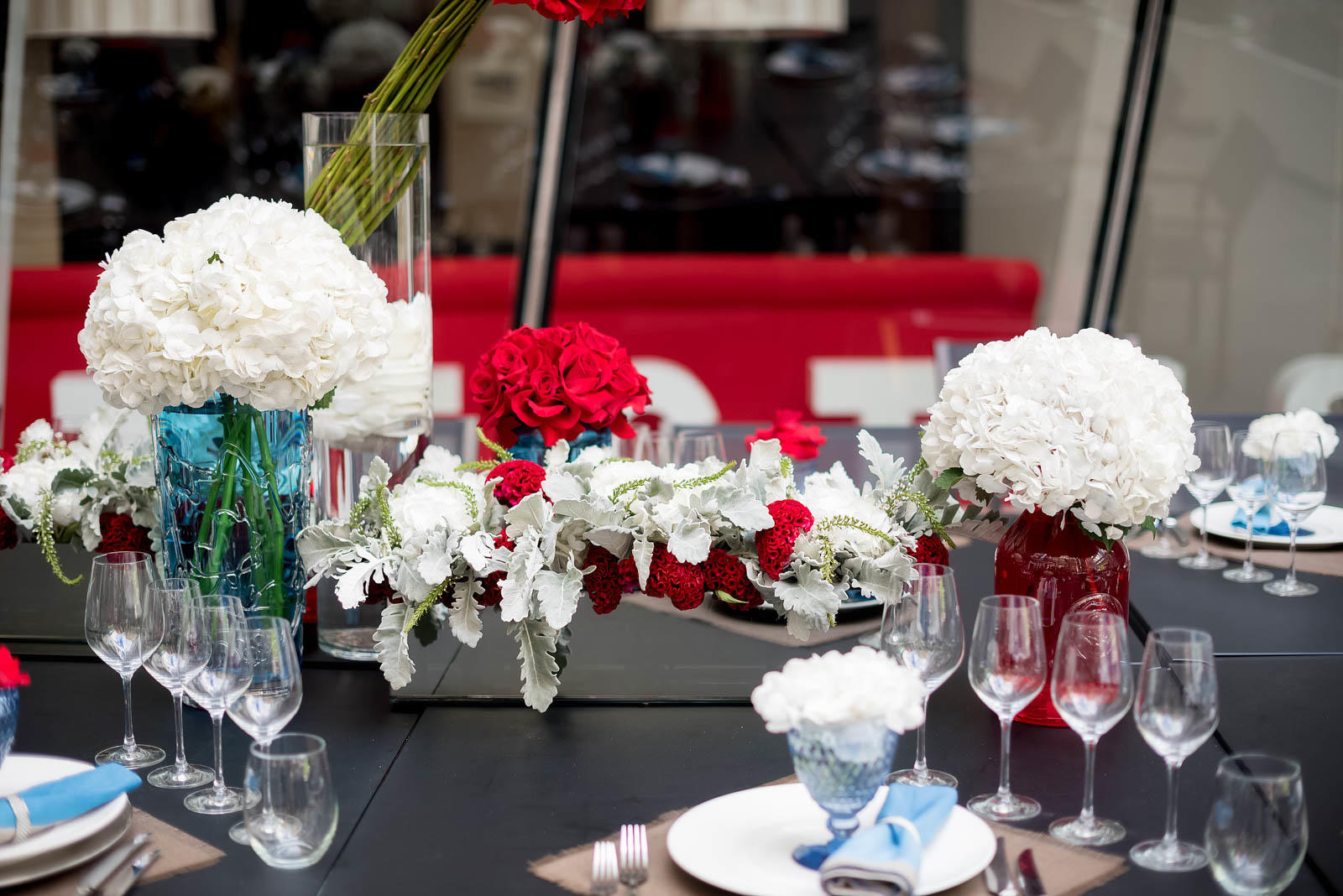 Starting with this stunning red, white, and blue tablescape designed by Bloomingdale's in honor of the french flag.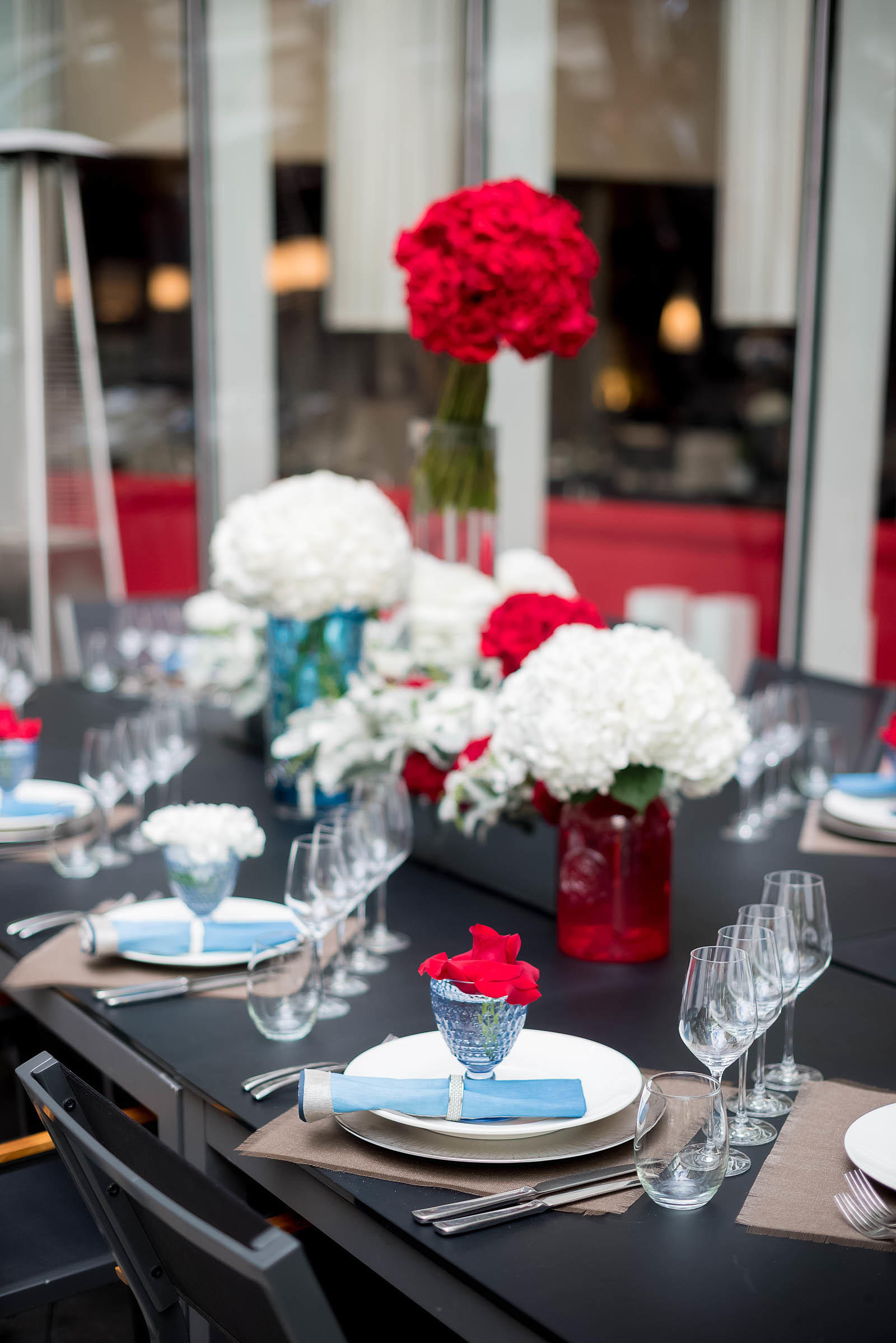 I don't think I've ever seen a more lush place setting!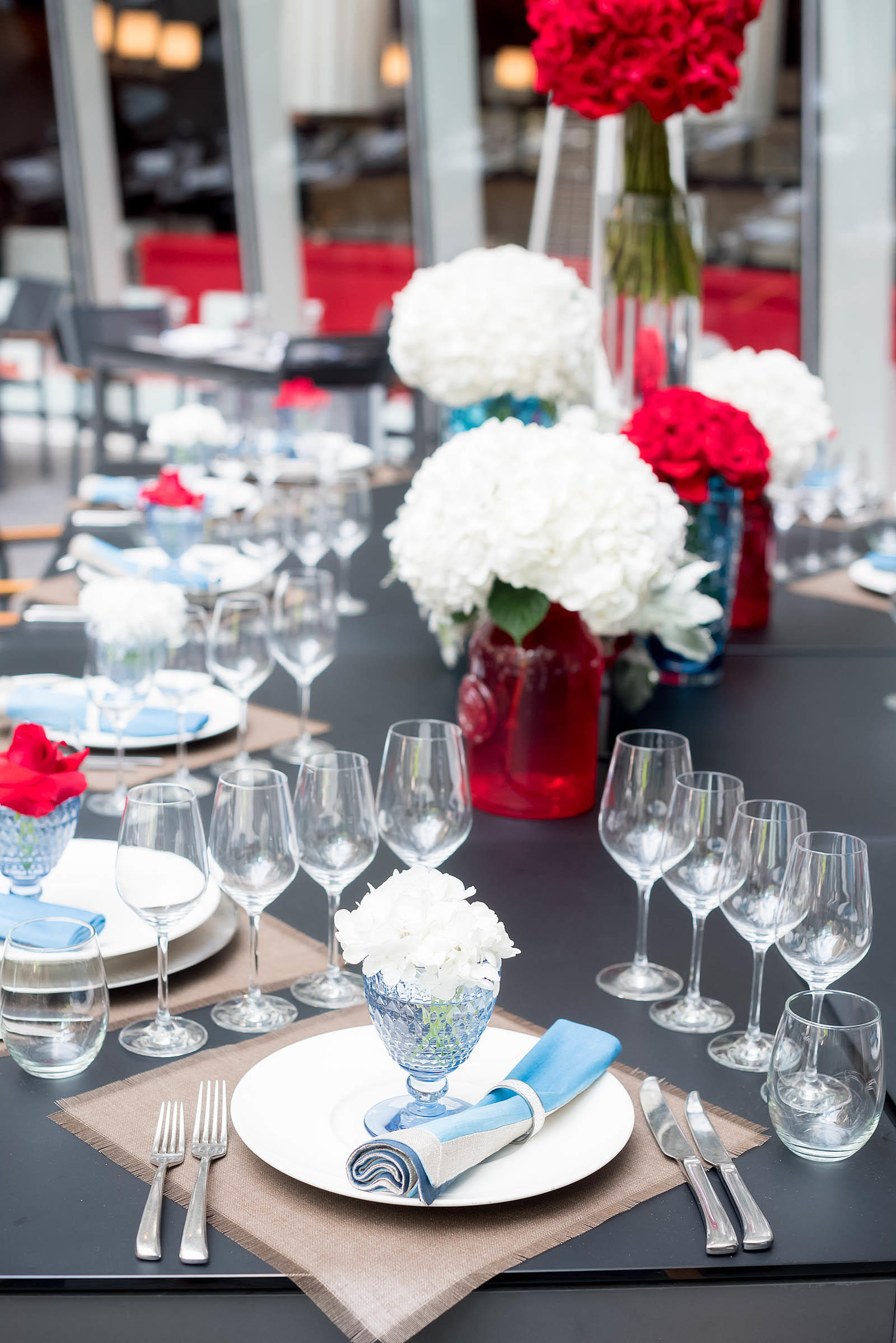 Or a more welcome one!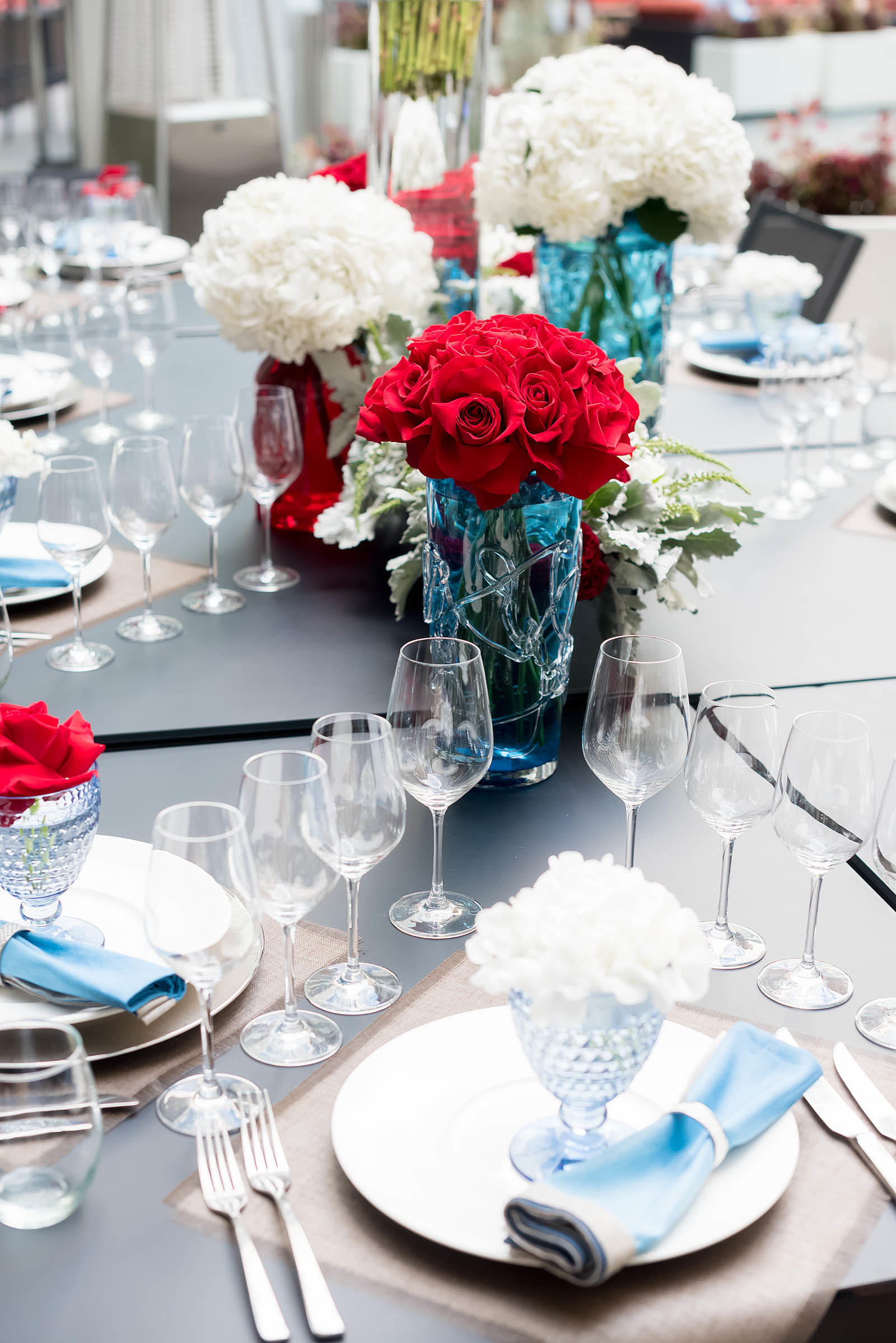 Vive la France!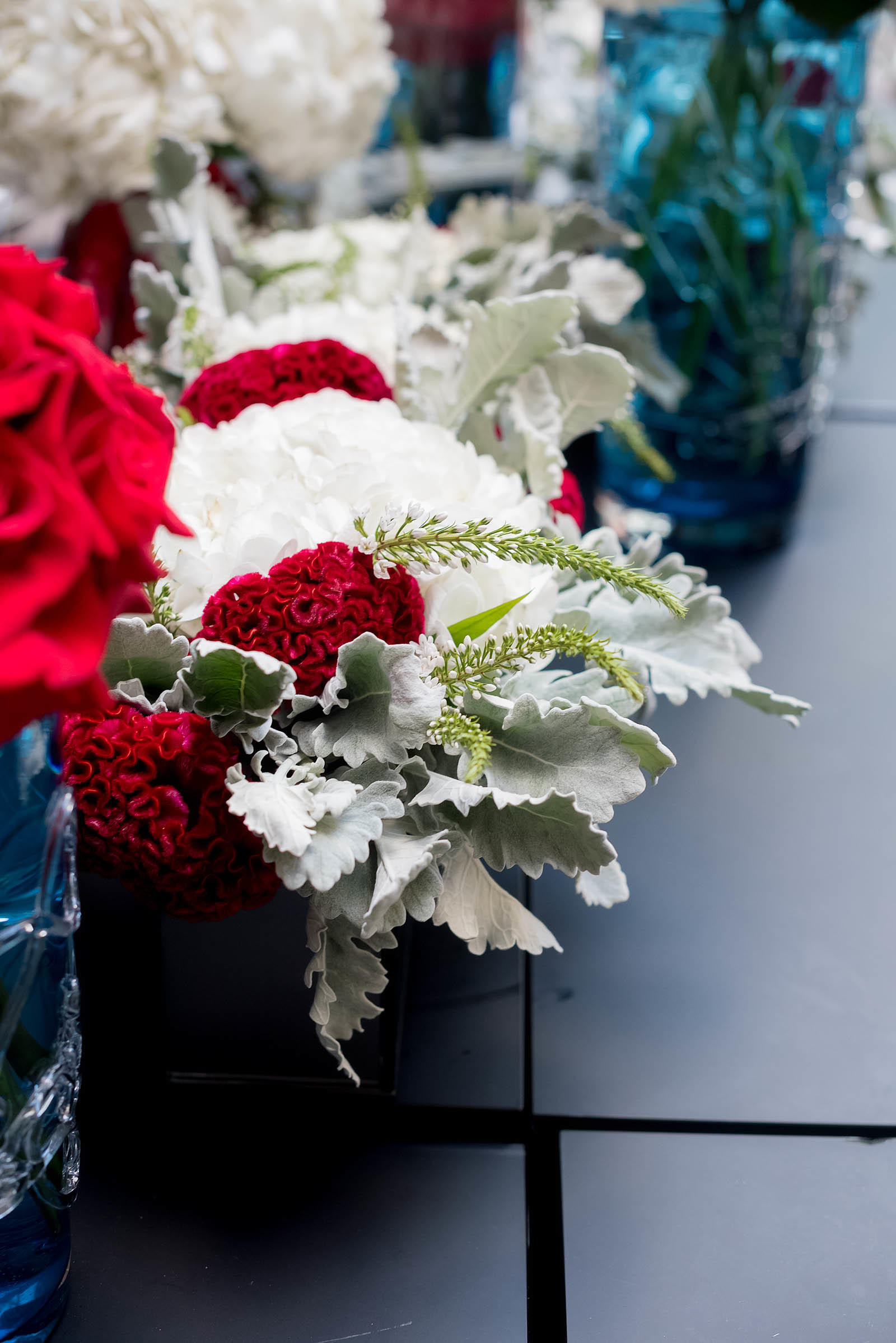 The floral arrangements from Surroundings by Colin were particularly entrancing — especially their "architectural" arrangement which so beautifully complimented the Sofitel building itself.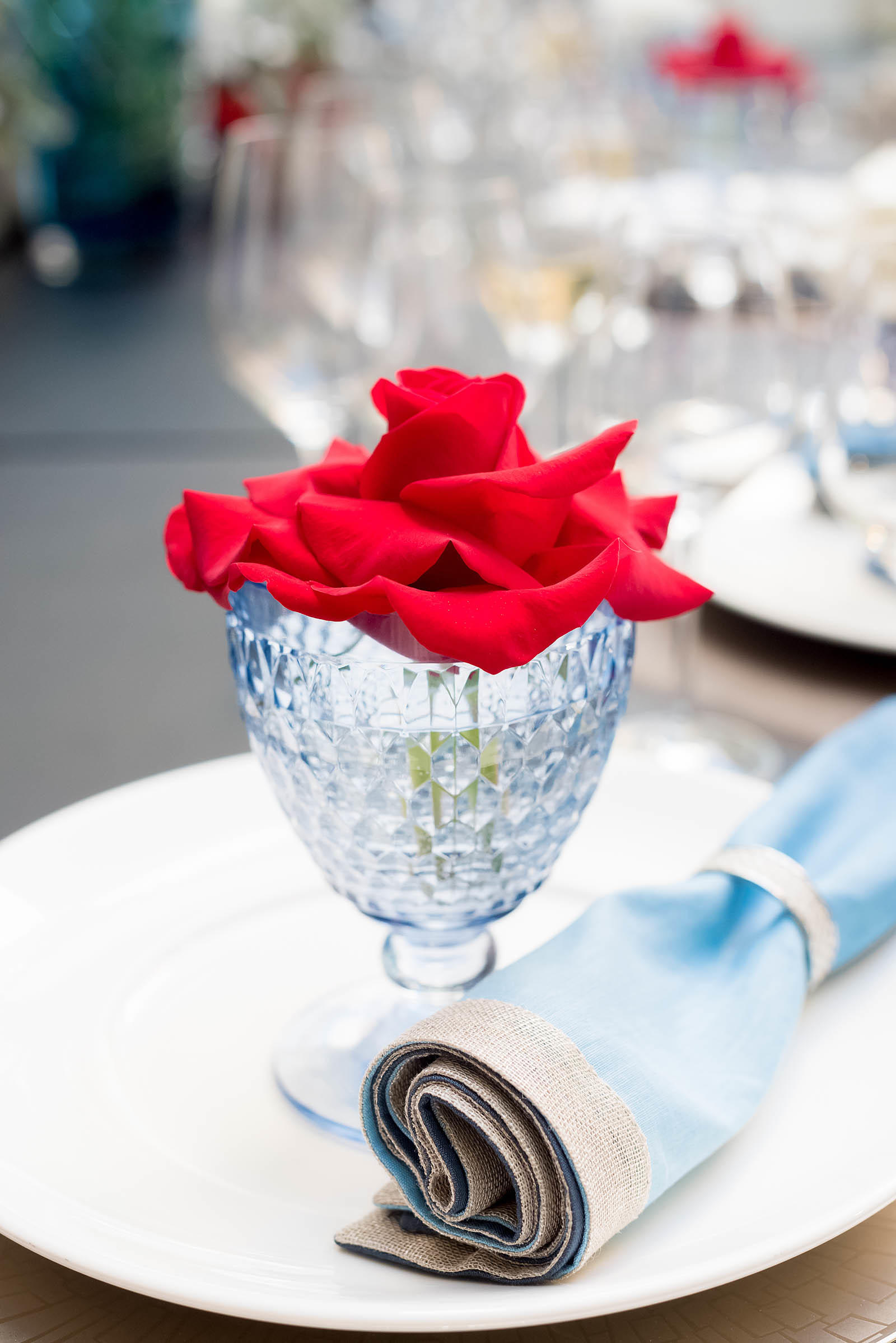 Not to mention the lush arrangements at each place setting!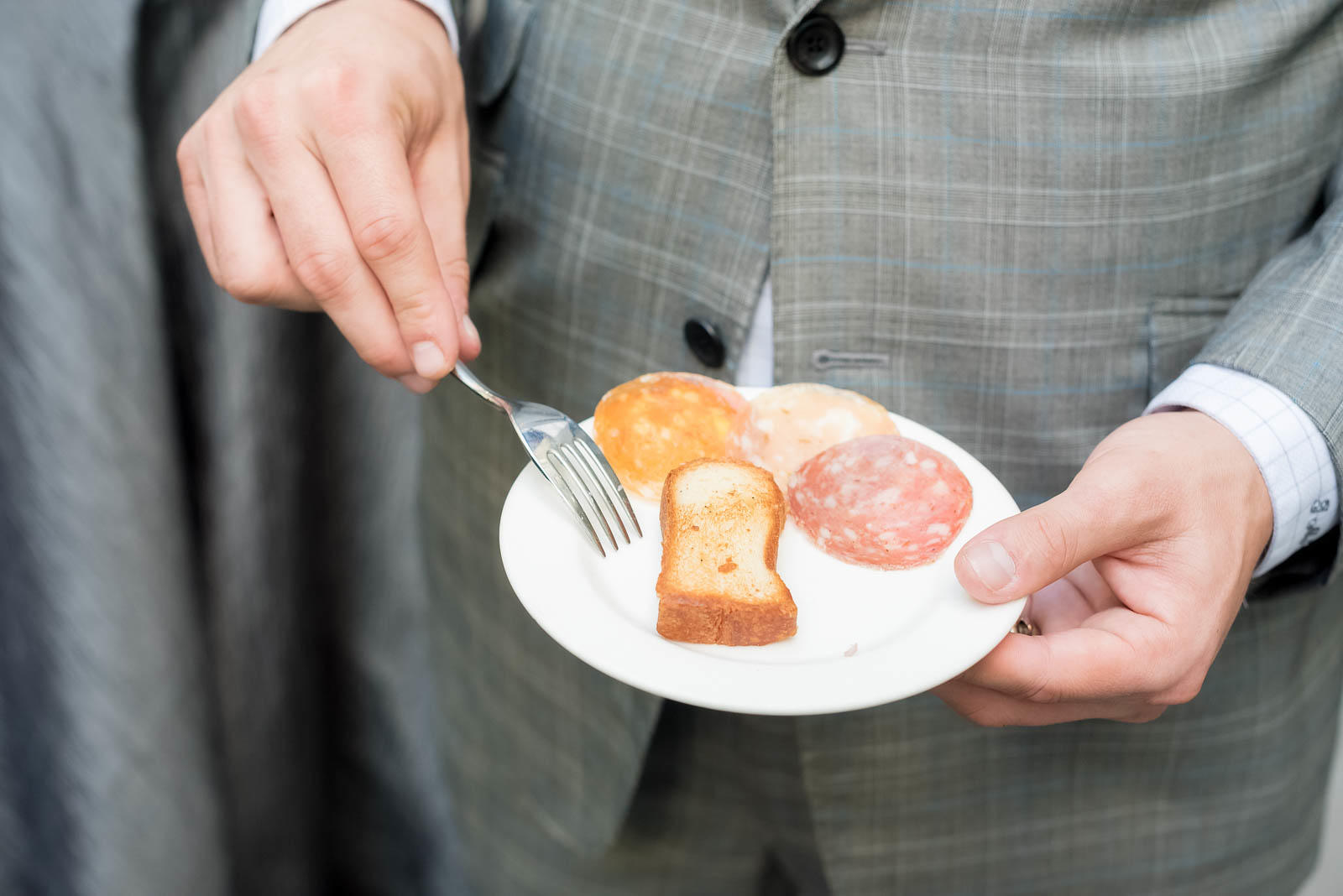 Dinner began with a delicious serving of charcuterie from Chestnut Provisions which Hubby leapt at, having been addicted to their housemade meats ever since diving into this basket last Christmas (can you blame him?).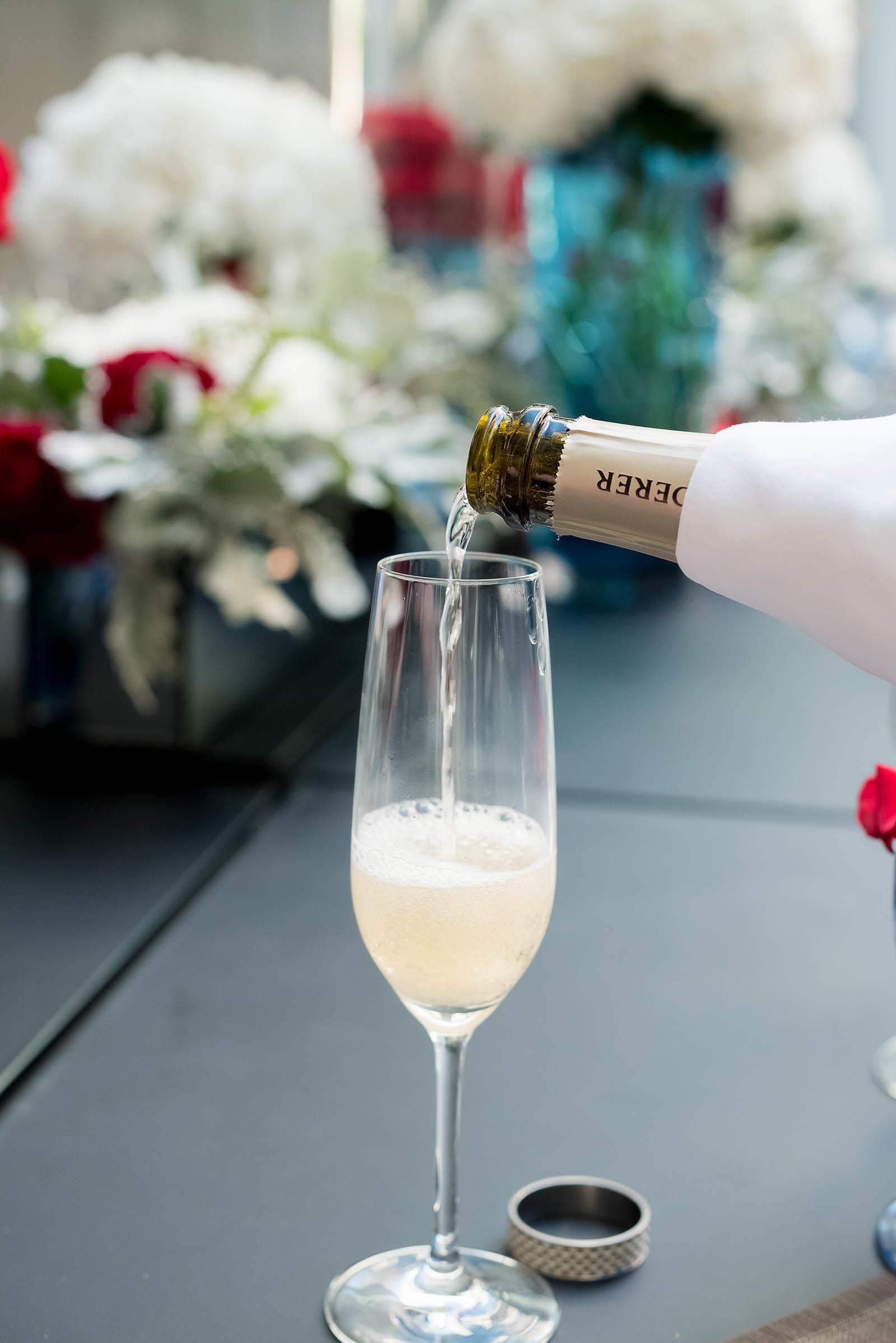 Once we were seated the true feast began. Starting with a little glass of bubbly!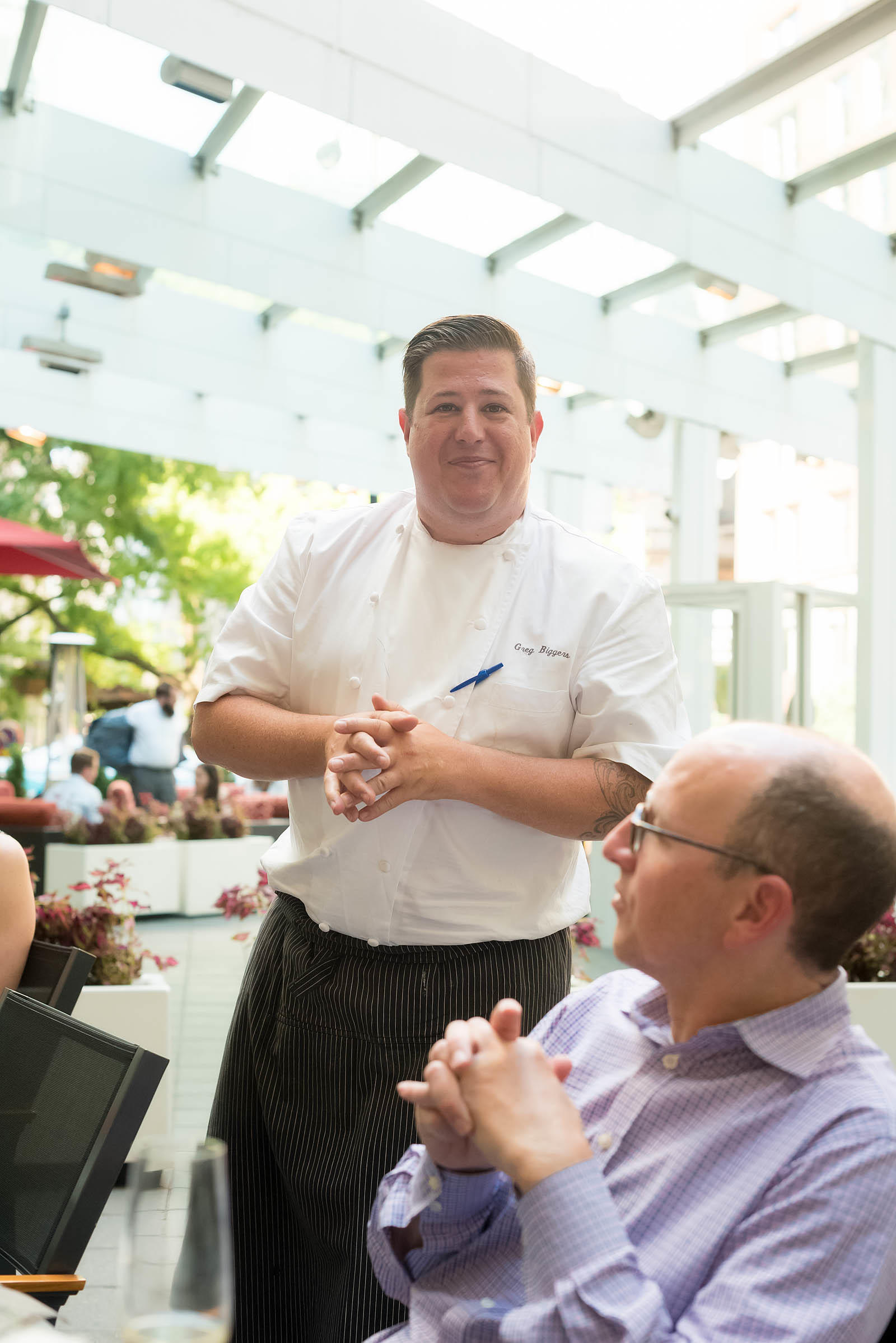 Executive Chef Greg Biggers introduced our meal and the impressive array of dishes we would be trying — one of the most impressive elements being that Sofitel is the only Chicago hotel to have a dairy license to produce and cave-age its cheese ON PREMISE. See why I adore their food so much?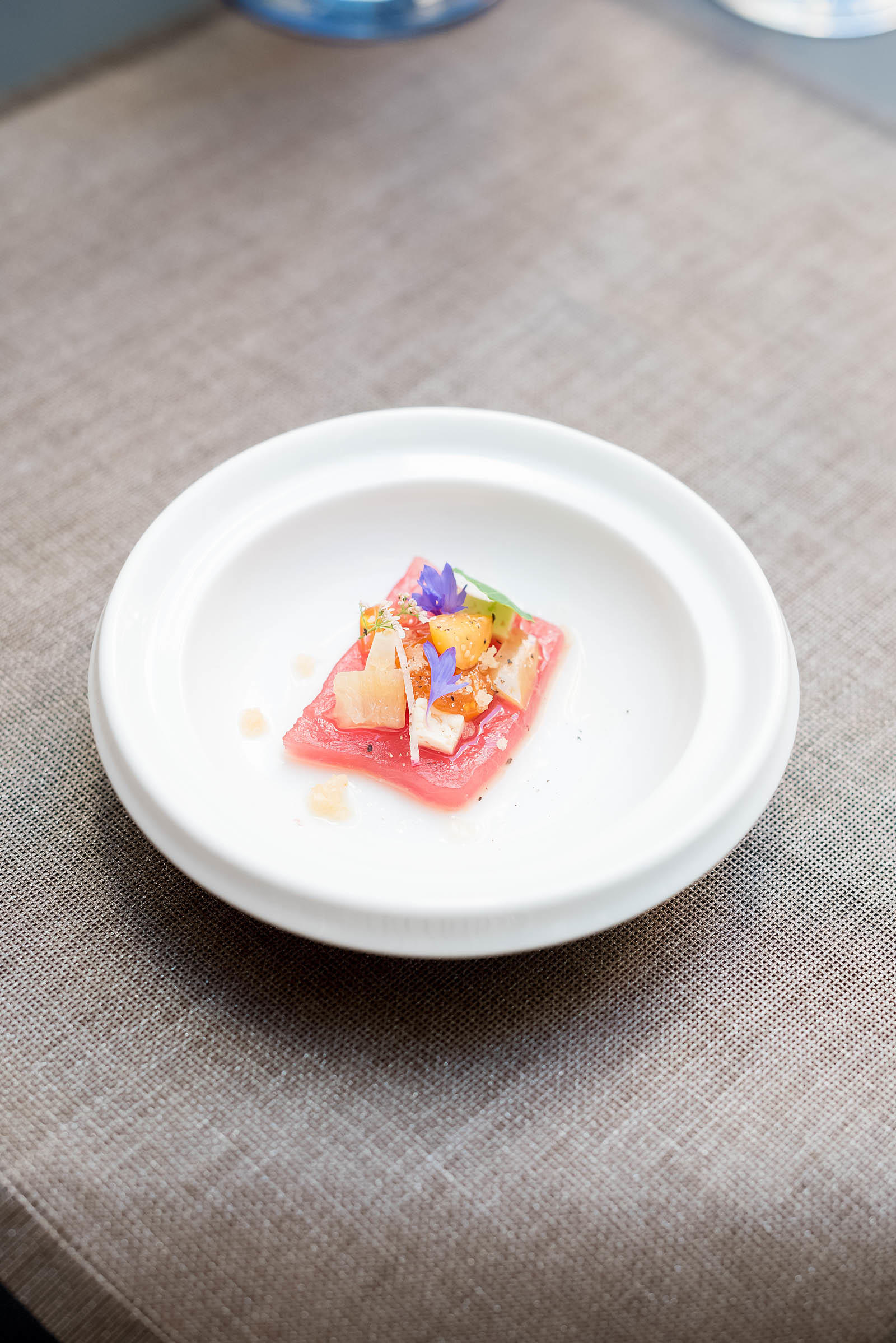 Our first course was this beautiful plated Tuna Sashimi with gooseberry jam, grapefruit-wasabi cream, and pickled peppers.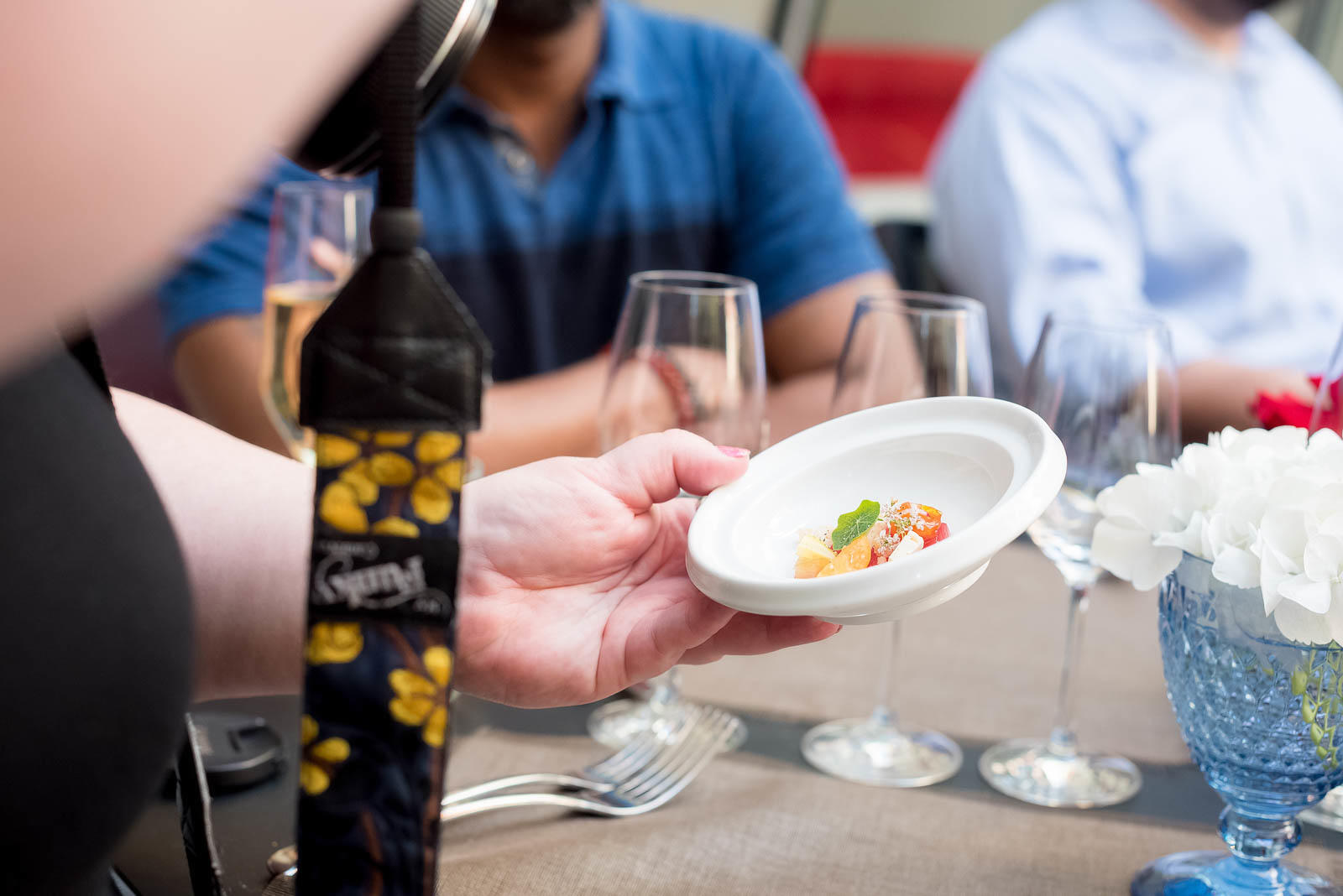 Which Starr and I both shot furiously — can you blame us? It looked just like a magnificent little sashimi garden! And tasted even more spectacular, especially with the tart bite of gooseberries balancing out the silky fish.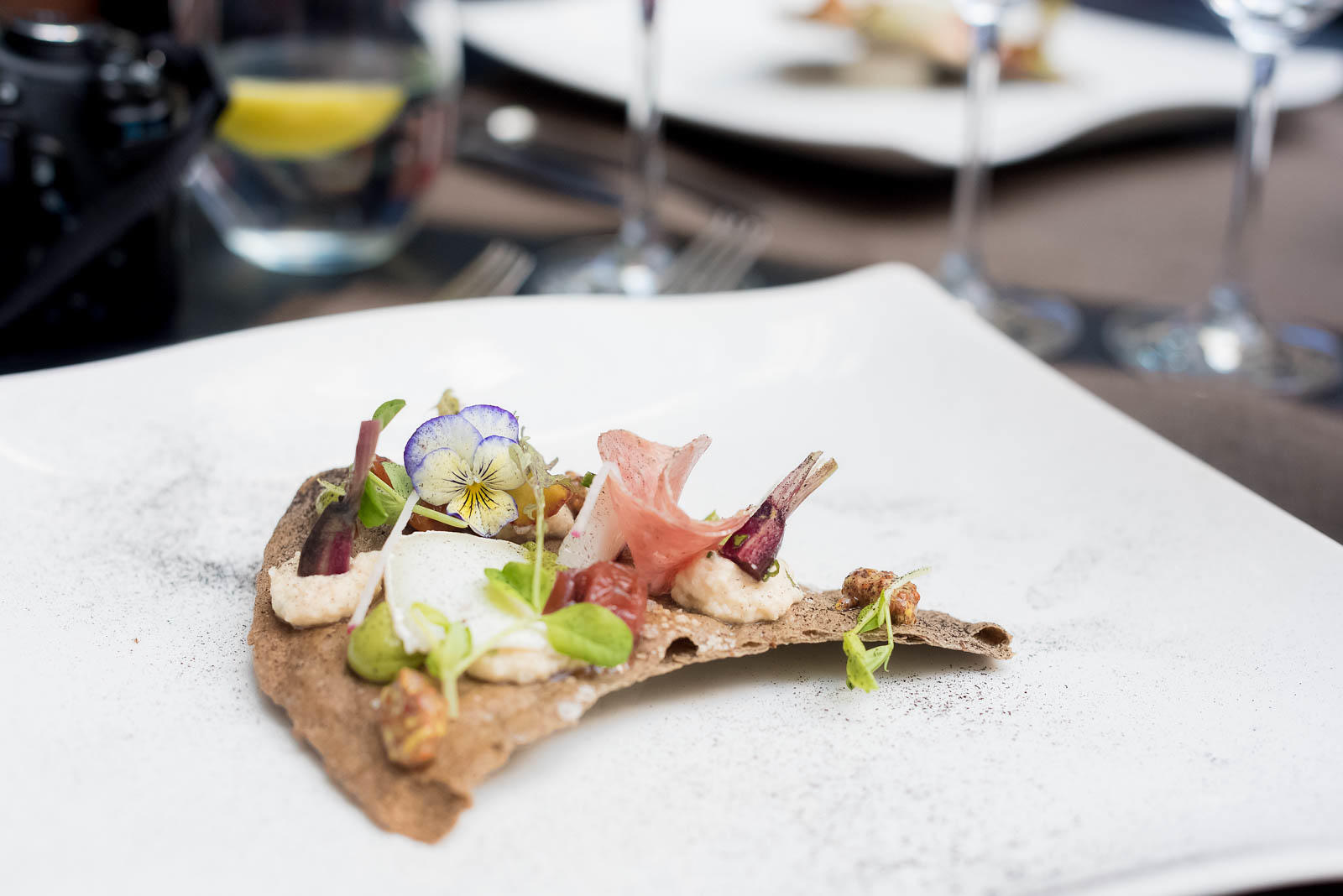 As if the sashimi garden weren't enough, our next course was a beautiful mixture of flowers, charcuterie, and…. CHEESE!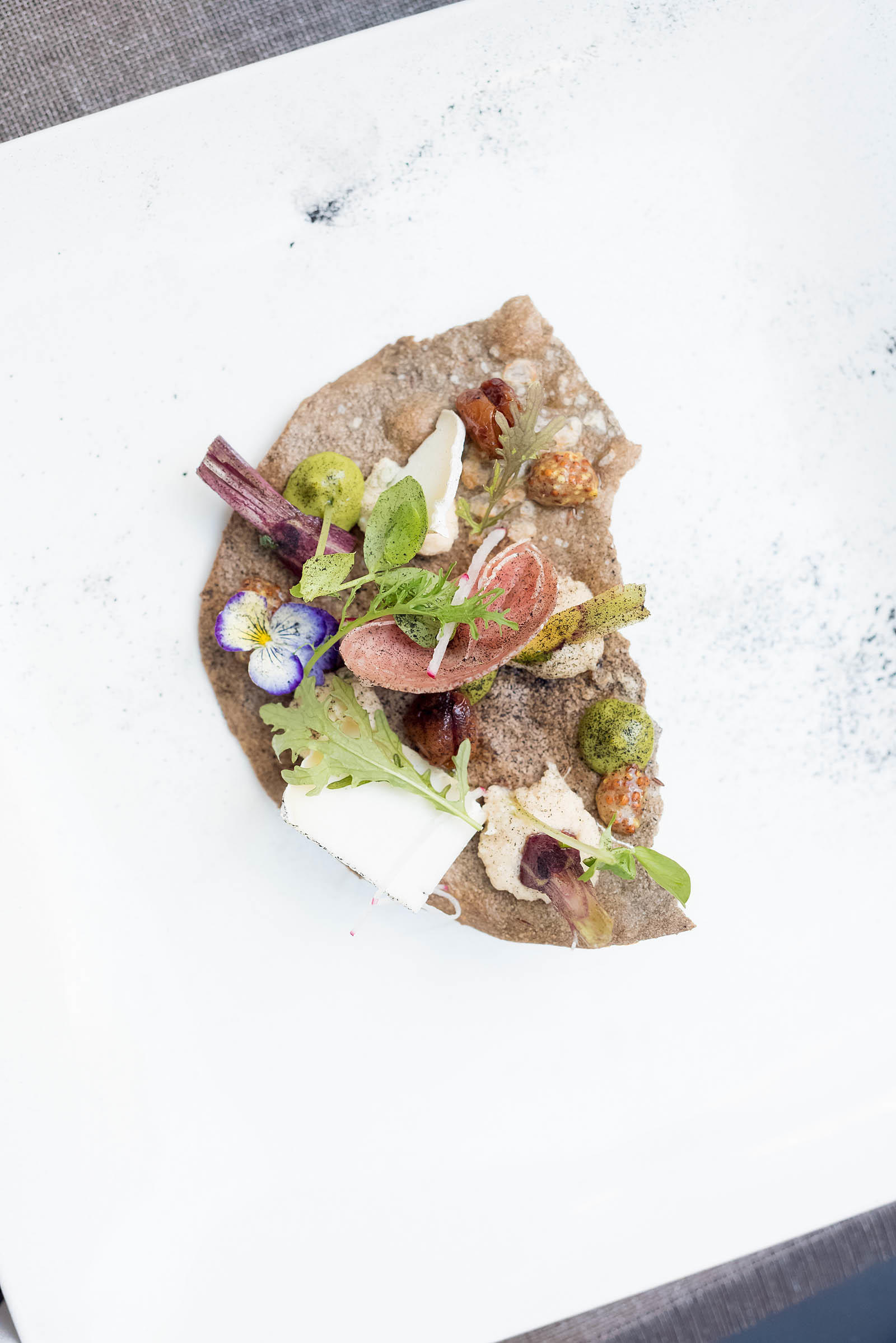 This is Café des Architectes' Baby Summer Vegetable Salad served on a caraway cracker with lamb salami and chèvre. The chèvre was particularly magnificent mixed in with the housemade mustards and pickled vegetables!
Have you ever seen a more beautiful cracker?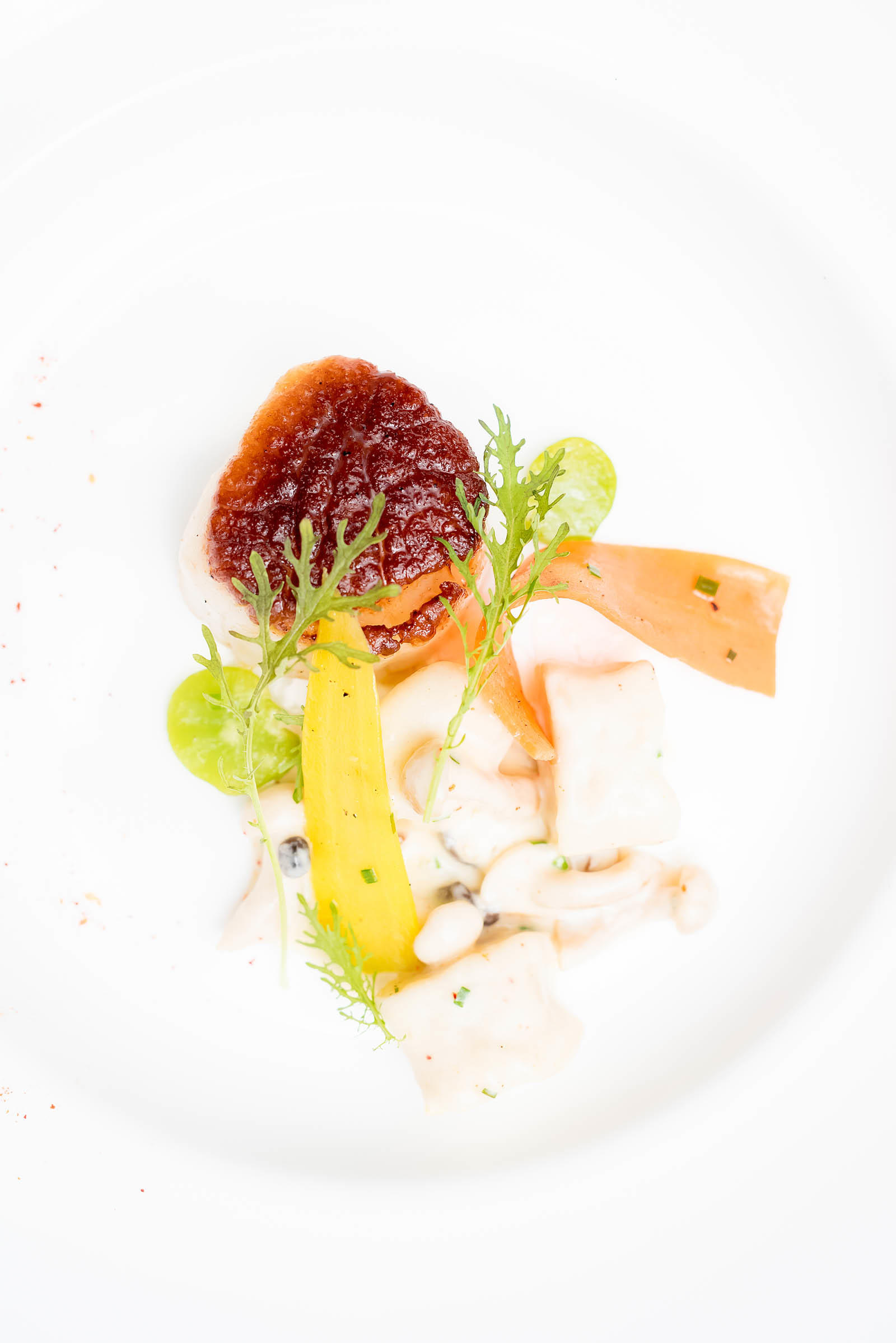 Our third course continued the fresh, garden theme with a slightly heavier profile to prepare us for the entrées.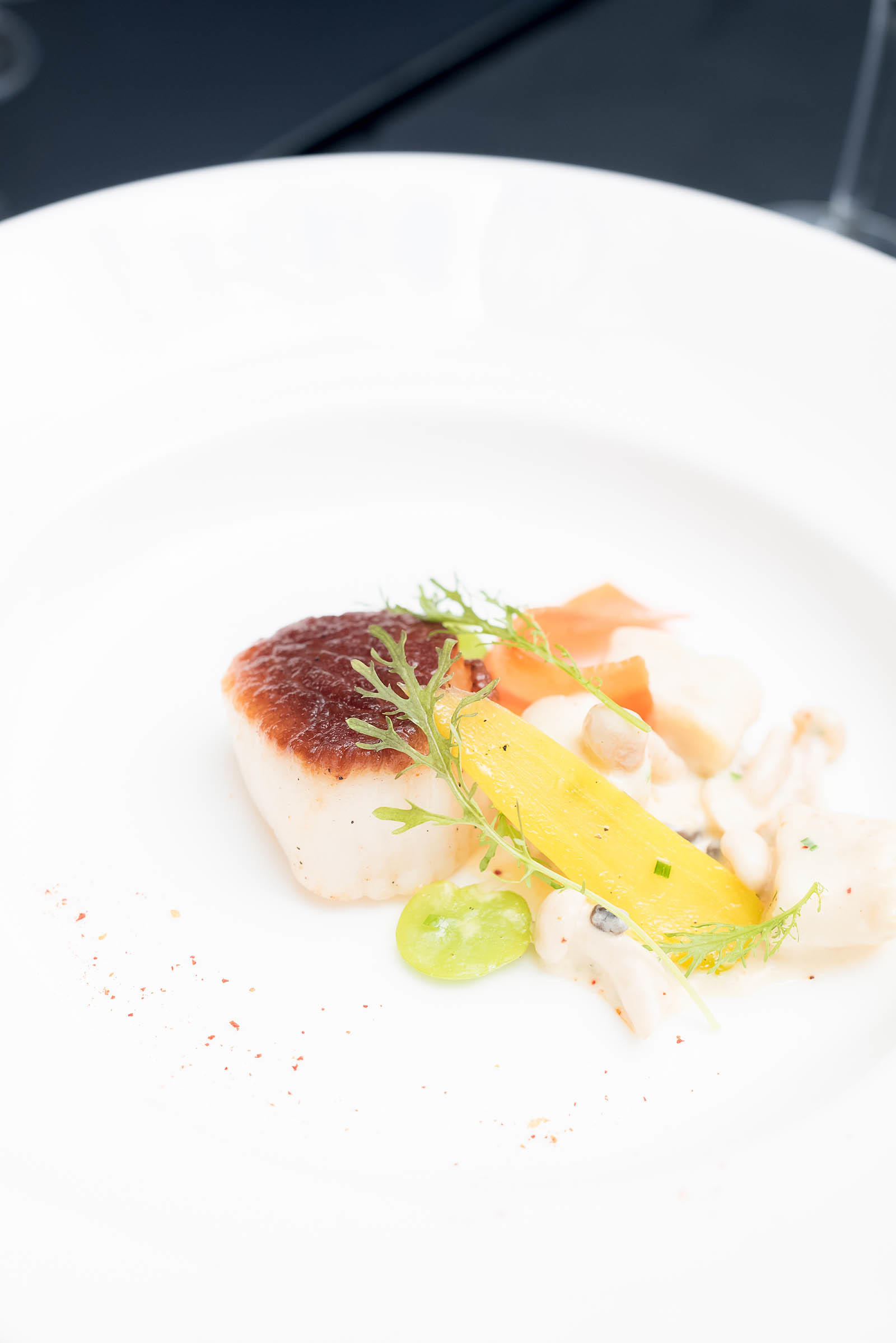 A beautiful Seared Scallop with ricotta gnocchi, charcuterie cream, and fava beans that just melted in your mouth.

But the next course may very well have been my absolute favorite!
Can you guess what it is looking at it? Well, besides guessing that it's a work of true culinary art?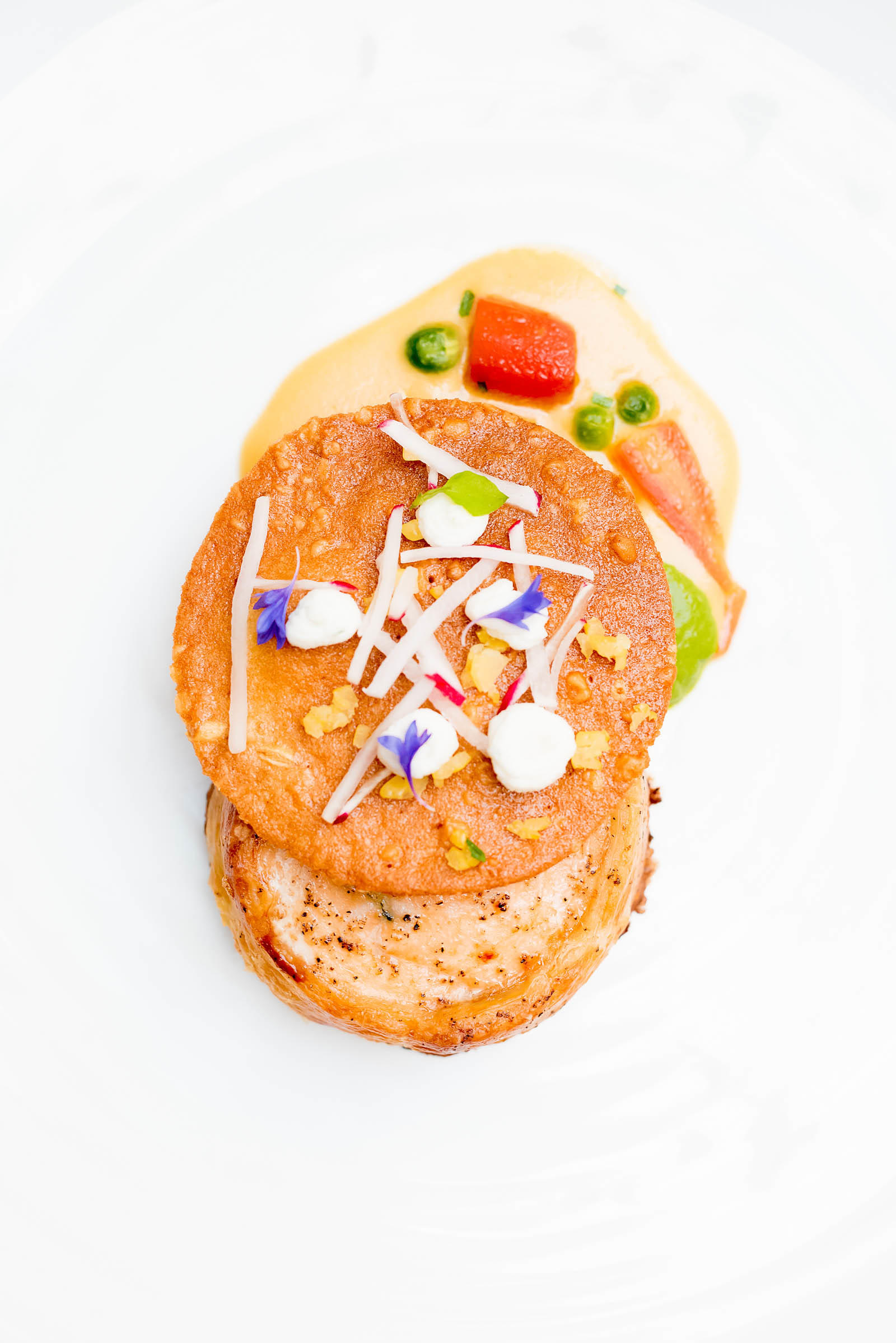 This is Chef Biggers' Wild Salmon en Croute with pine nuts, asparagus purée, and spring vegetables.
Very similar in flavor to my own recipe for Salmon Wellington but far more luxurious and beautiful to behold. Not to mention masterful in its preparation (especially compared to my Salmon Wellington!).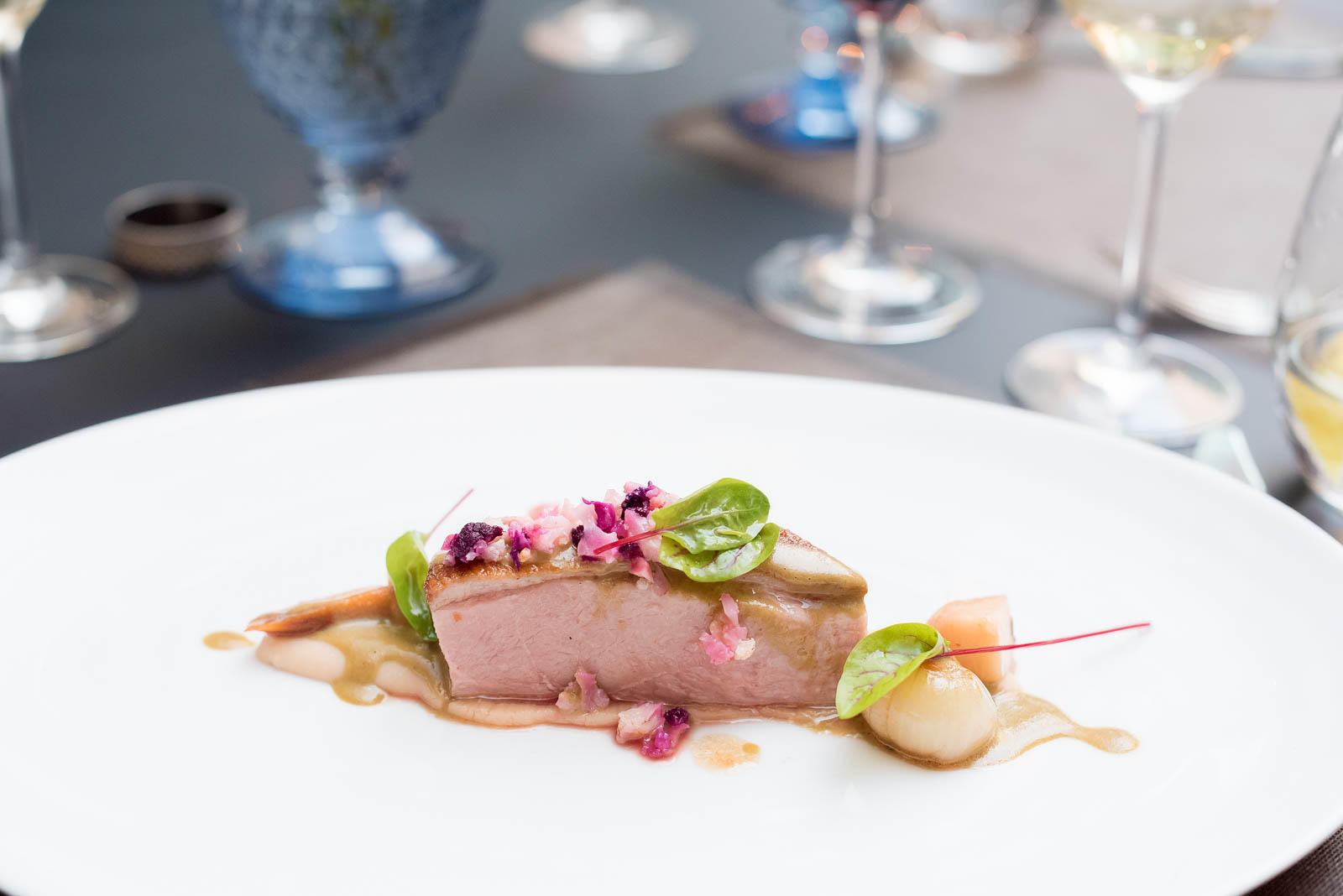 Our next course was Hubby's favorite of the night!
And if you're a duck-lover like him you'll undoubtedly have loved this final entrée the most too!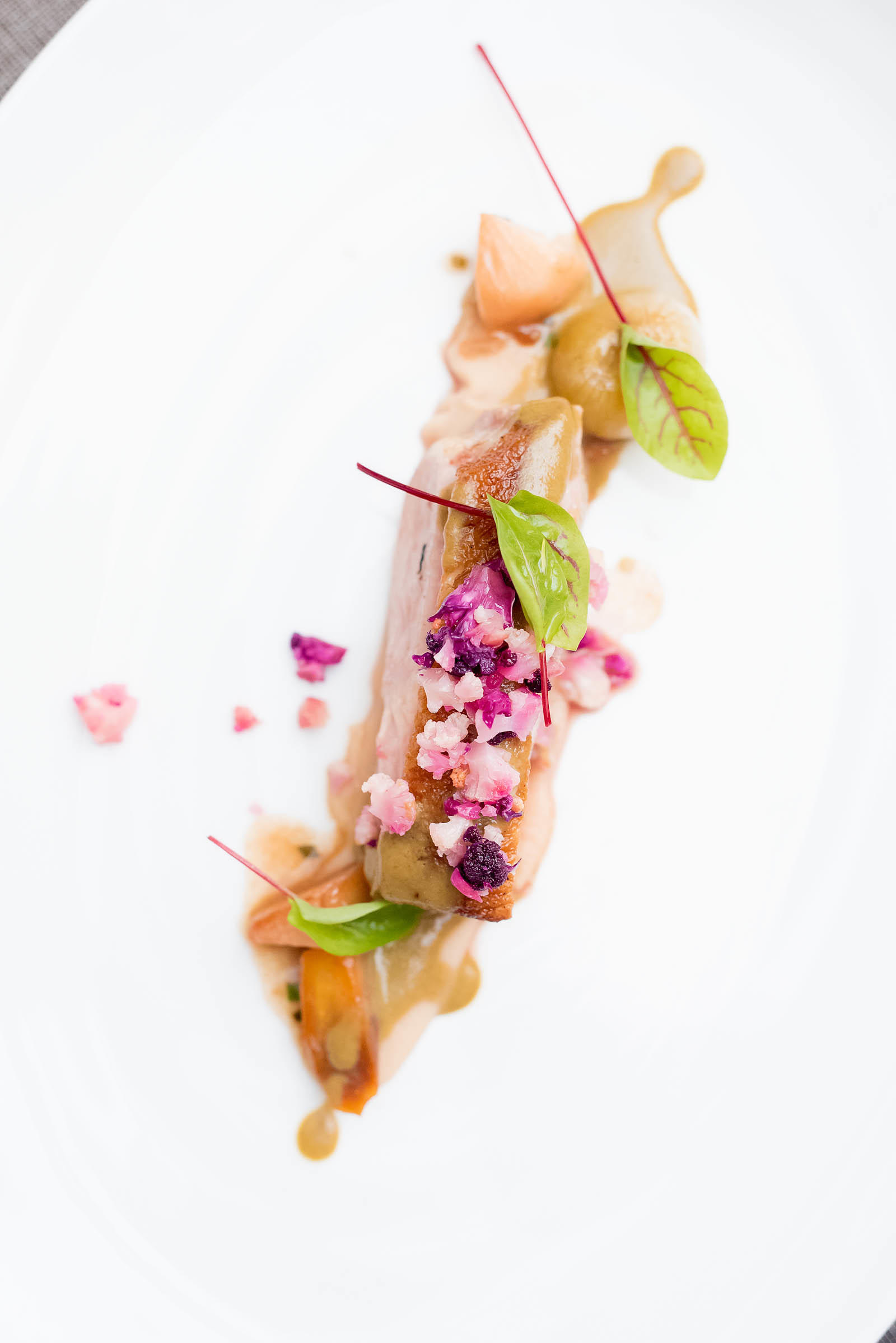 This is the Maple Duck Breast with green mole, cauliflower relish, and white bean purée. Spicy, rich, and balanced with the slightly tart cauliflower relish? Hubby was in HEAVEN!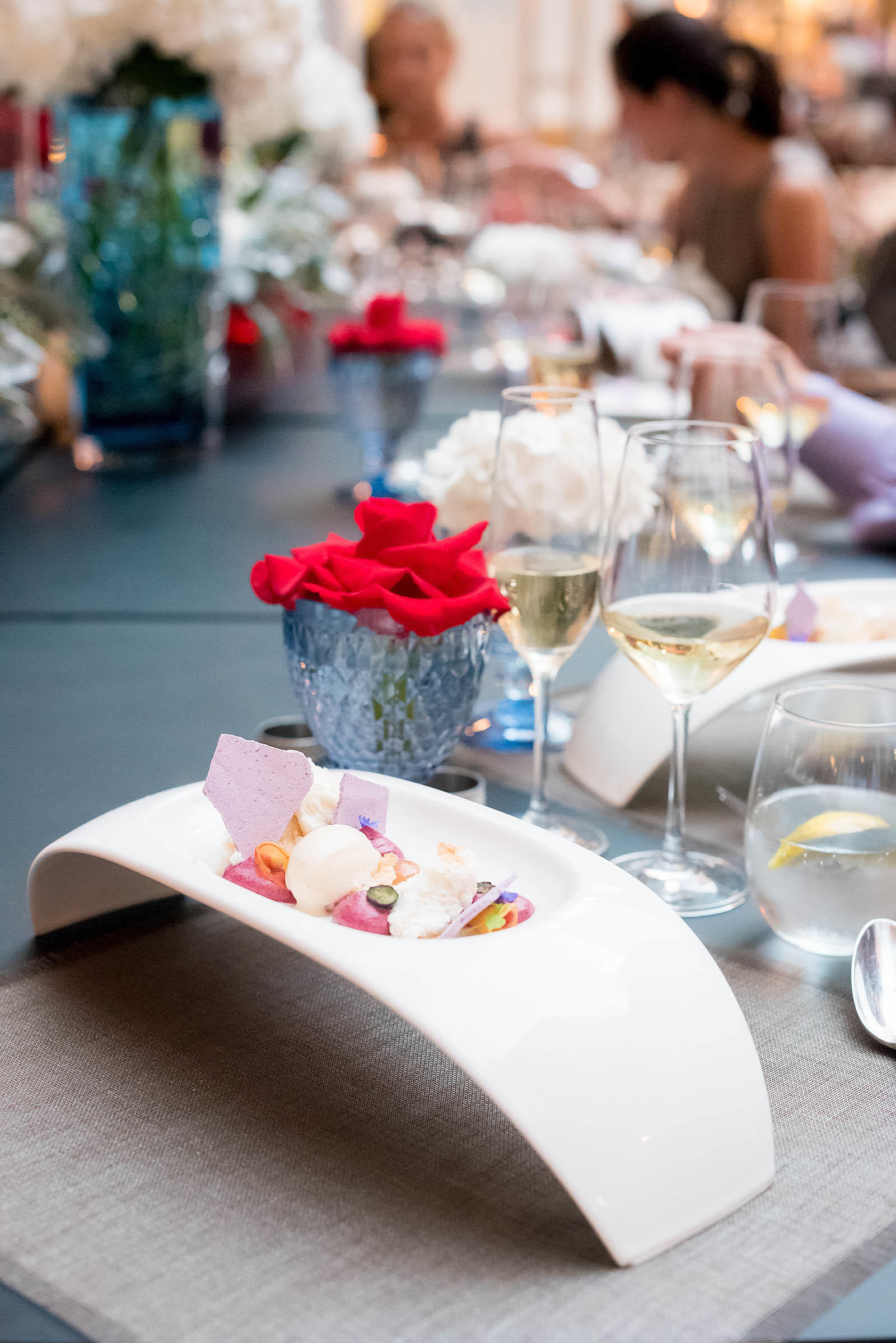 Now everyone knows that all fine meals simply MUST end with dessert, but especially the French!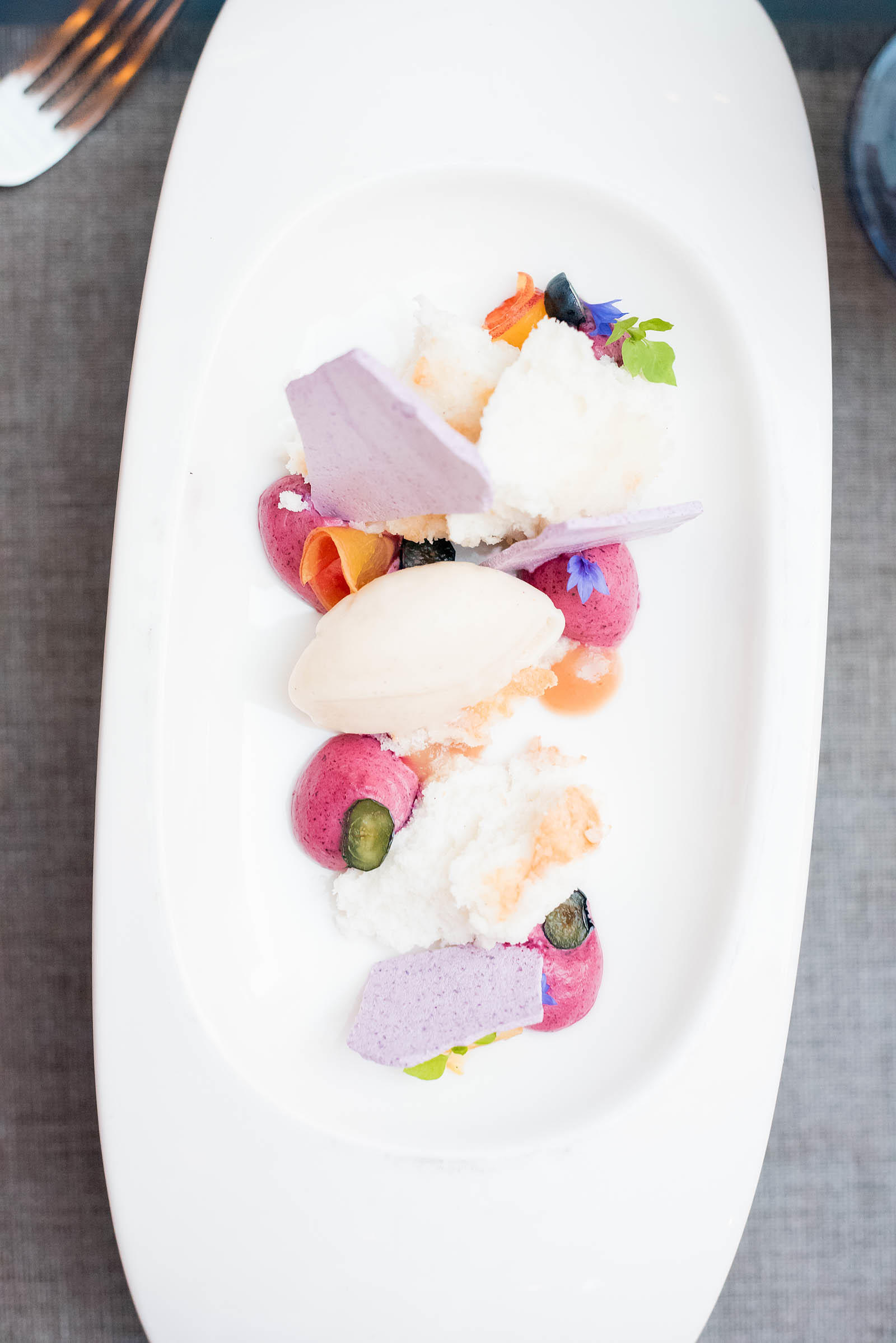 But I'm guessing you've never seen a dessert quite like this one before!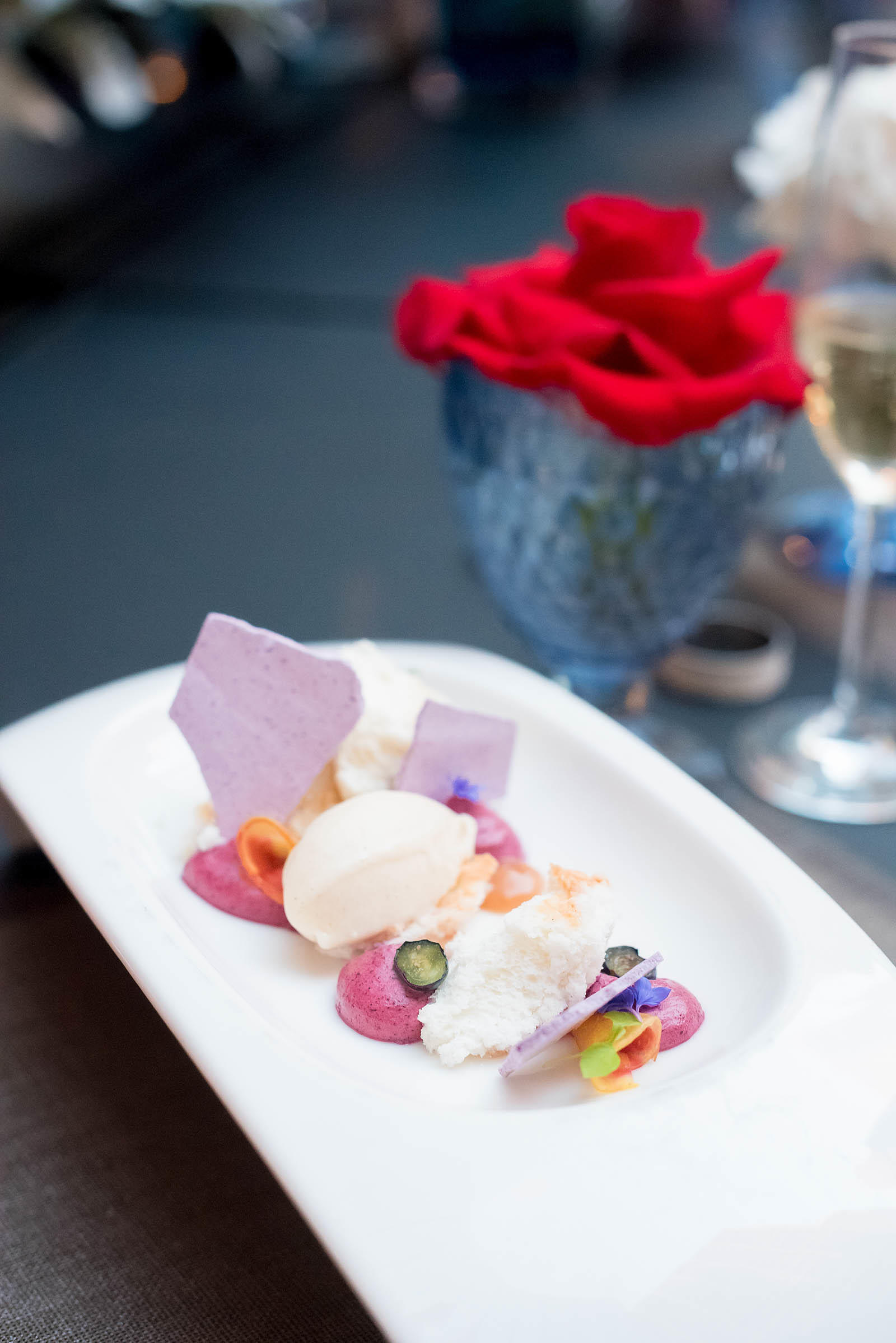 This is Café des Architectes' spin on Angel Food Cake with compressed peaches, blueberry crème fraîche, and peach sherbet. And it made for one of the most refreshing and bright mixtures of sweet summer flavors I've ever had the privilege of tasting.
To be honest, I've really struggled when it comes to describing this dessert — not only were the blueberry and peach flavors positively delicious but there was something truly unique about the textures of this plate, a beautiful mixture of light cakes, creamy sherbet, and almost crunchy elements balanced with juicy bites of blueberries.
Believe me when I say this is truly one of the most spectacular desserts I've EVER had. But the sort of dessert you really need to try for yourself to understand!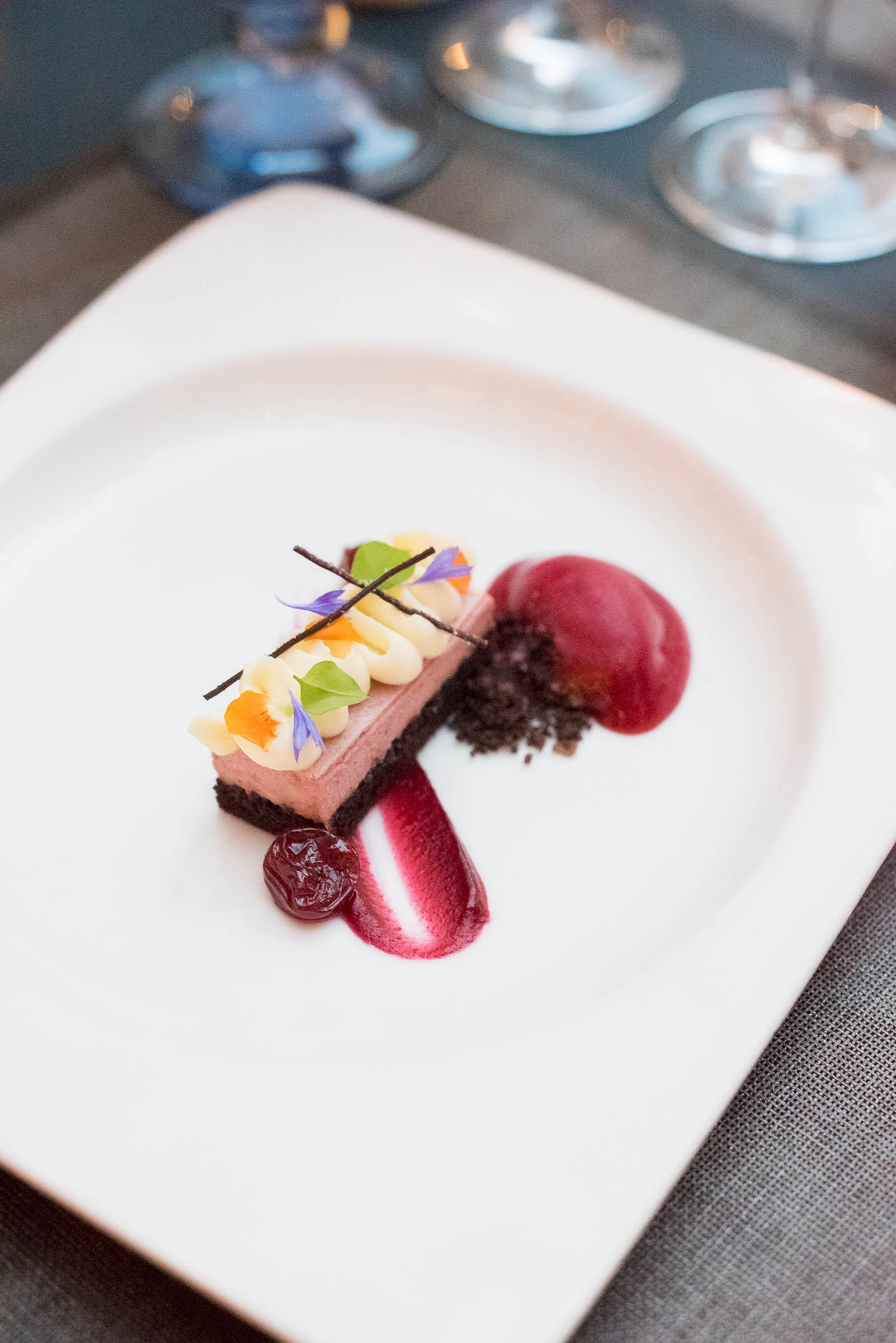 But one perfect dessert couldn't possibly be enough for a Bastille Day celebration!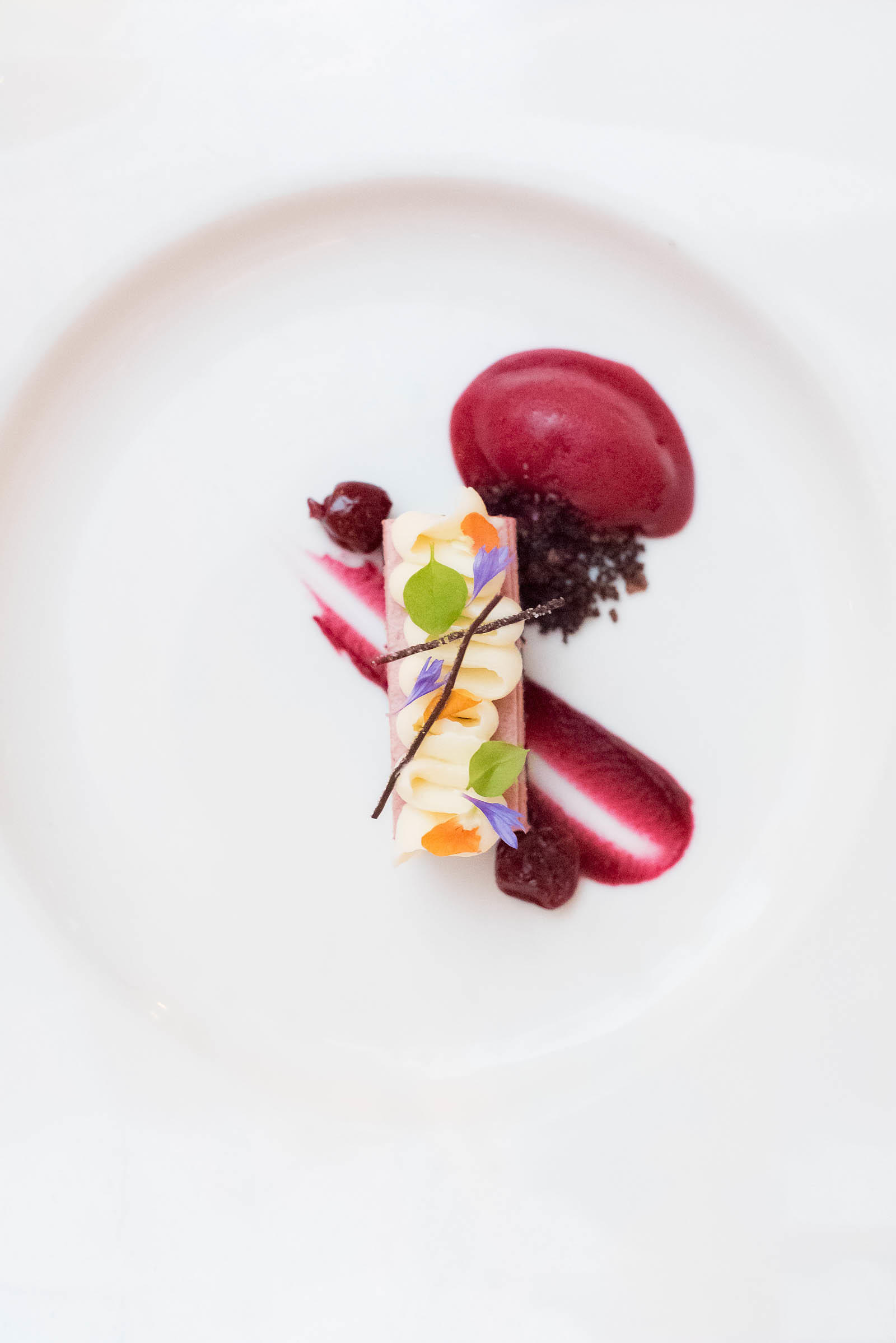 Our next dessert course was this stunning White Chocolate Cherry Torte composed of chocolate cake, chocolate streusel, and cherry sorbet. A beautiful play on the traditional cherry and chocolate combination!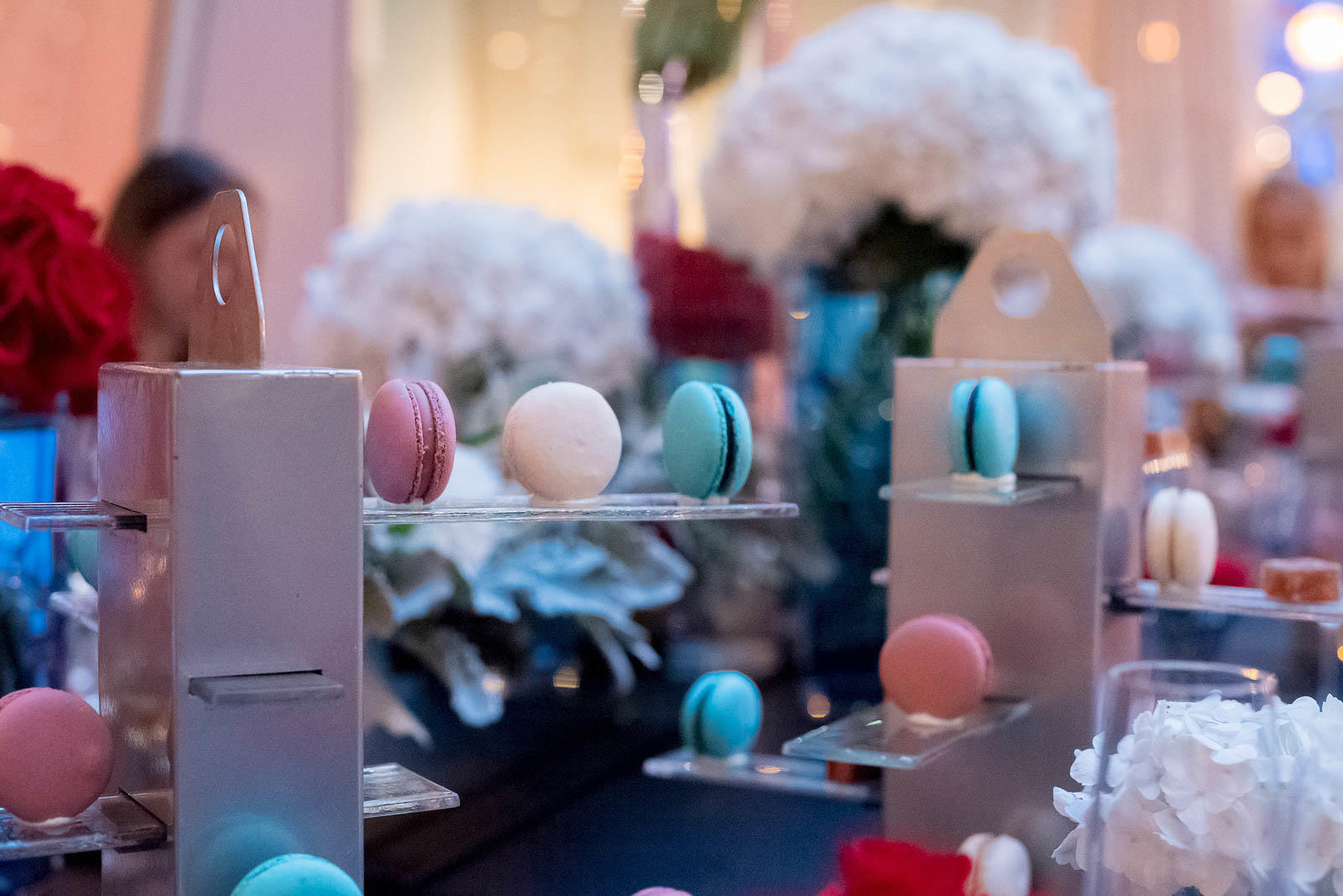 We finished our meal with a final course of red, white, and blue macarons, petite jellies, and exquisite chocolates.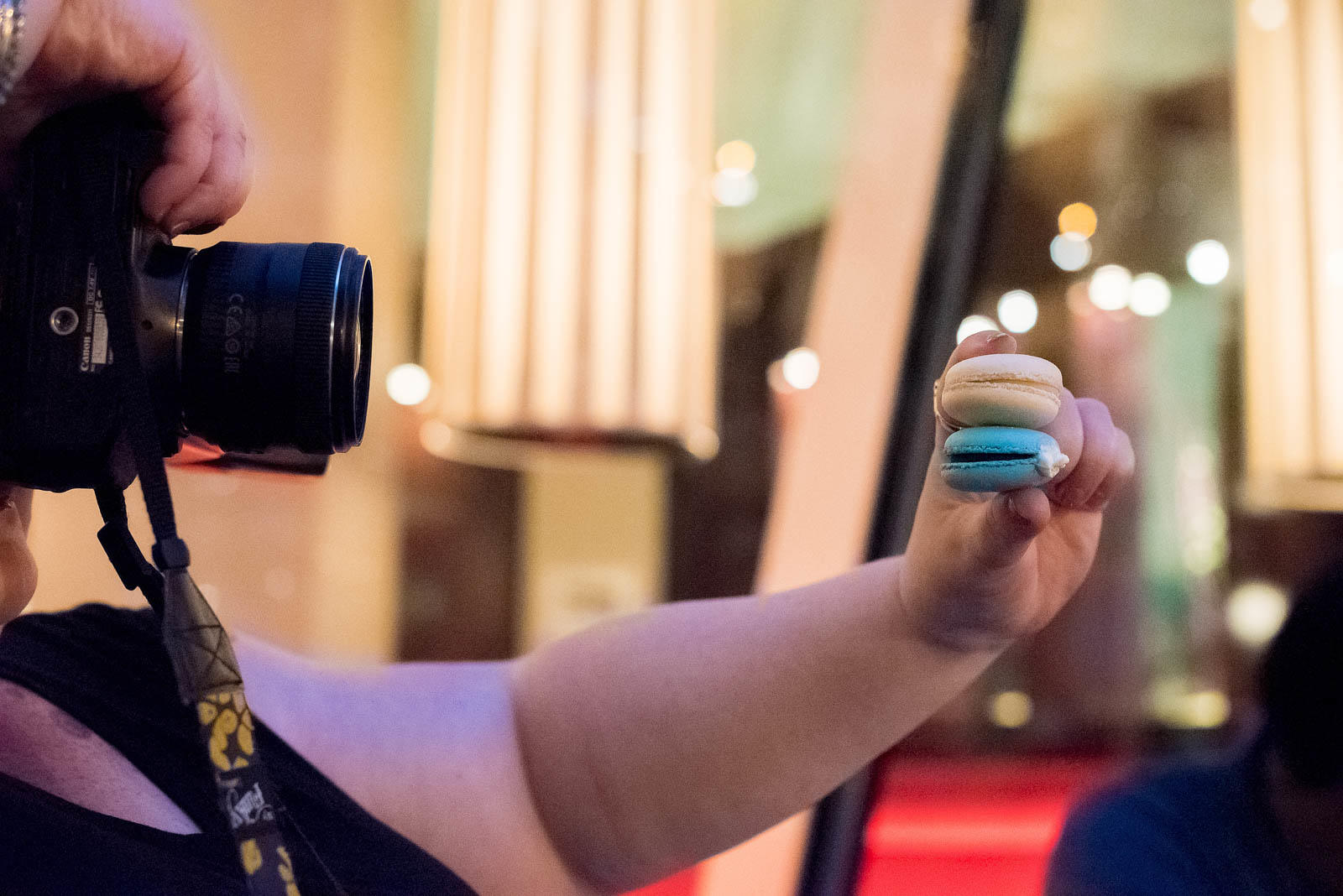 Which Starr and I naturally couldn't stop shooting, despite the fact that, by then, the sun had set on our truly perfect meal.
Thank you so much Sofitel for hosting such a spectacular meal — the delicious memories will live on for me for many, many years to come! And I am especially grateful to have taken home some of the beautiful floral arrangements which I put to good use the very next day: