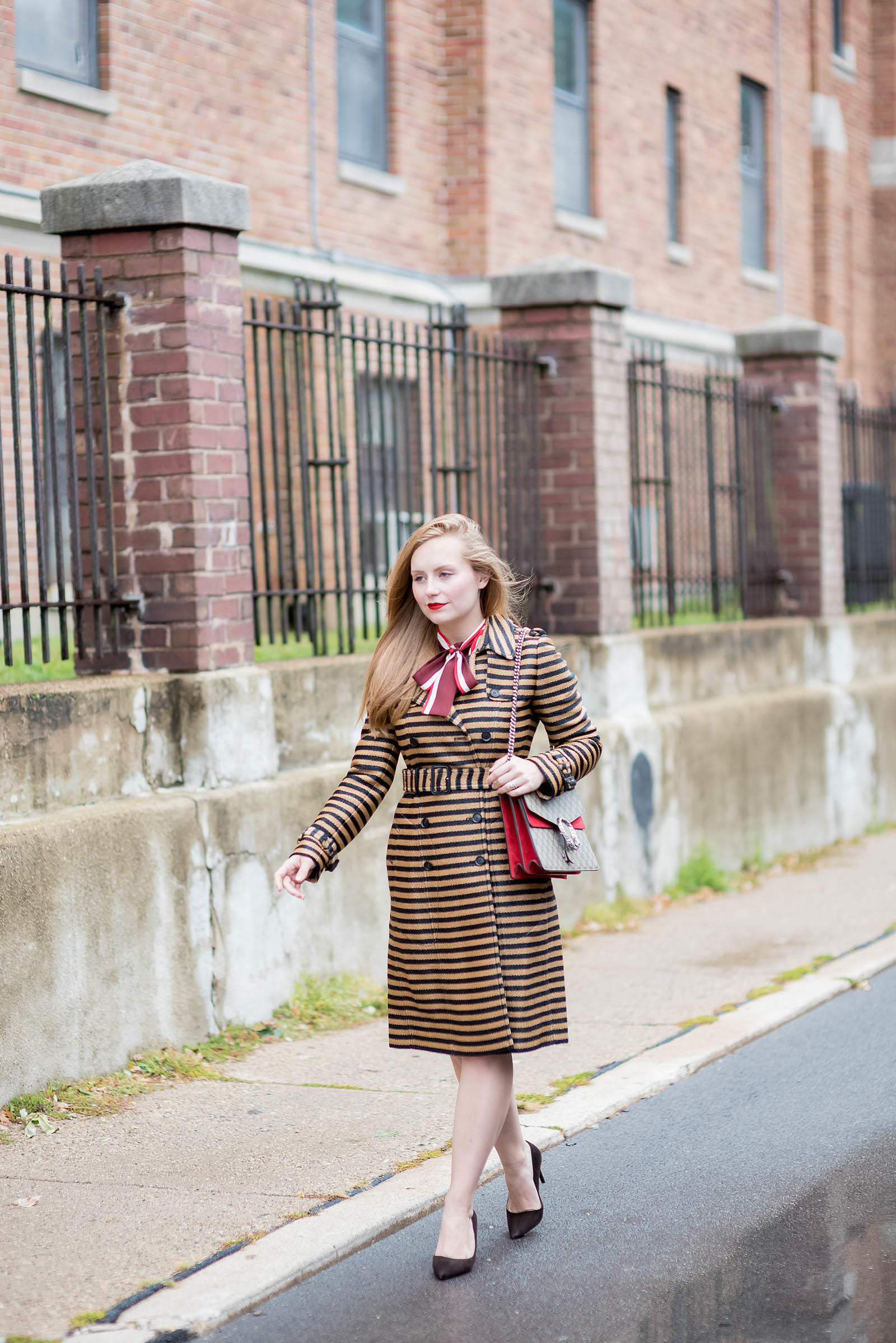 Well, time to fess up.
Time to admit the earnest truth…
I'm yet another autumn-obsessed blogger just itching to shoot and share all things cozy, crisp, and pumpkin-filled this month!
Give me all the chunky knits, warm boots, and hot apple ciders you have!
But while it may technically be autumn here in Chicago, it doesn't exactly feel like it yet.
As I hinted at in this post, "autumn" doesn't really arrive in Chicago until at least October. And usually mid-October.
But loving autumn the way I do, I'm struggling to restrain myself from frantically whipping out all the cozy knits in my closet and wearing them all at once, RIGHT NOW, just to prove to myself its "fall".
I won't.
But I really want to.
So in lieu of dying of heat-stroke from a chunky knit fall-induced overdose, I'm sharing the five outfit formulas I'll be wearing all fall long. I wore these looks religiously last autumn and — with the help of a few chic updates — will undoubtedly be wearing them until THIS December too!
5 of My Favorite Autumn Outfits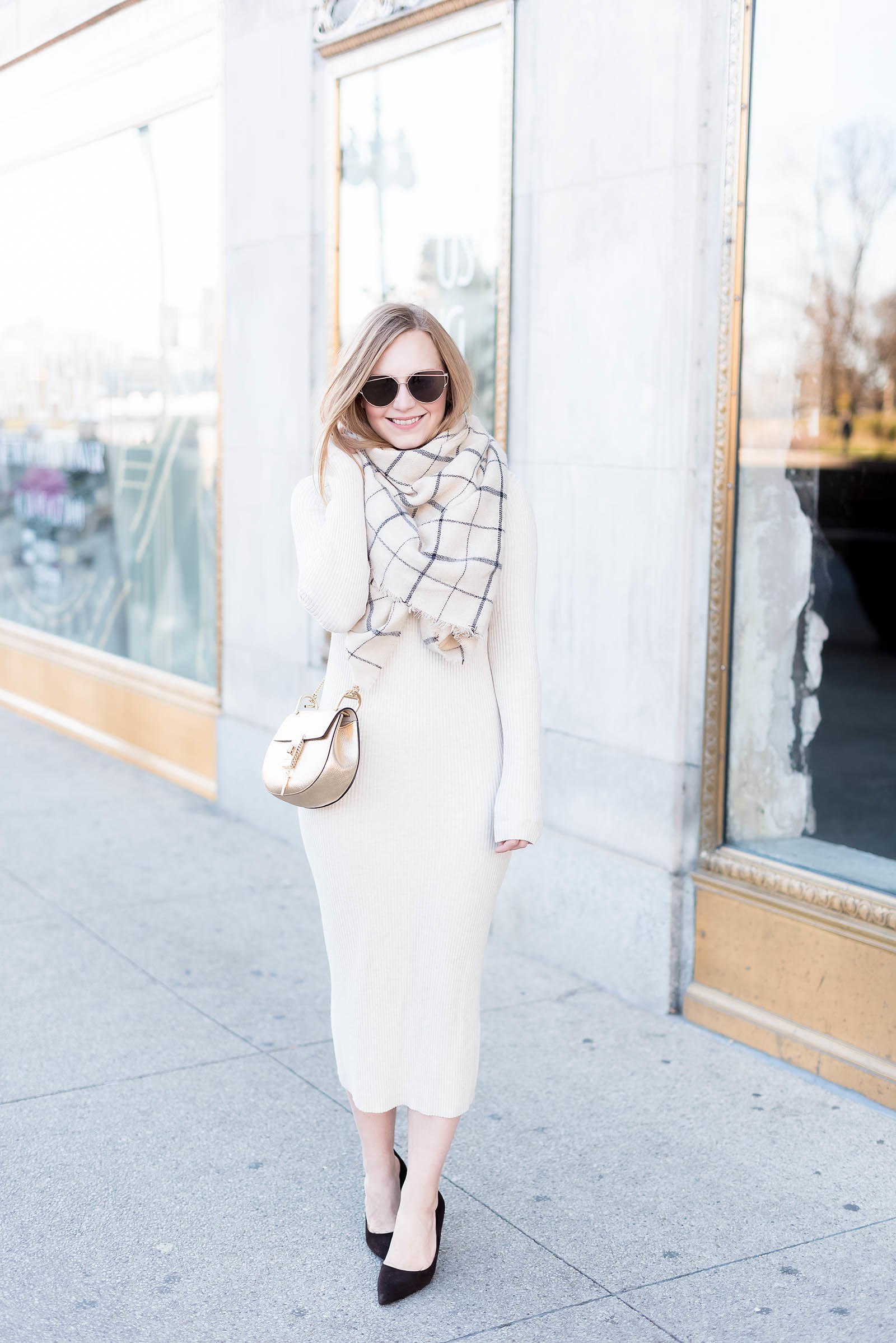 1. Sweater Dress + Oversized Scarf + Crossbody Bag
Pretty much my go-to fall combination and certainly one of the most comfortable outfits you can wear! Grab an easy sweater dress (a cozy one with stretch), an oversized scarf, and a great crossbody bag and POOF you have an outfit. Pair it with heels and I promise no one will know it feels like you're wearing pajamas.
I wore this combination last year for my "actually easy Thanksgiving outfit" and plan on repeating it plenty again this year.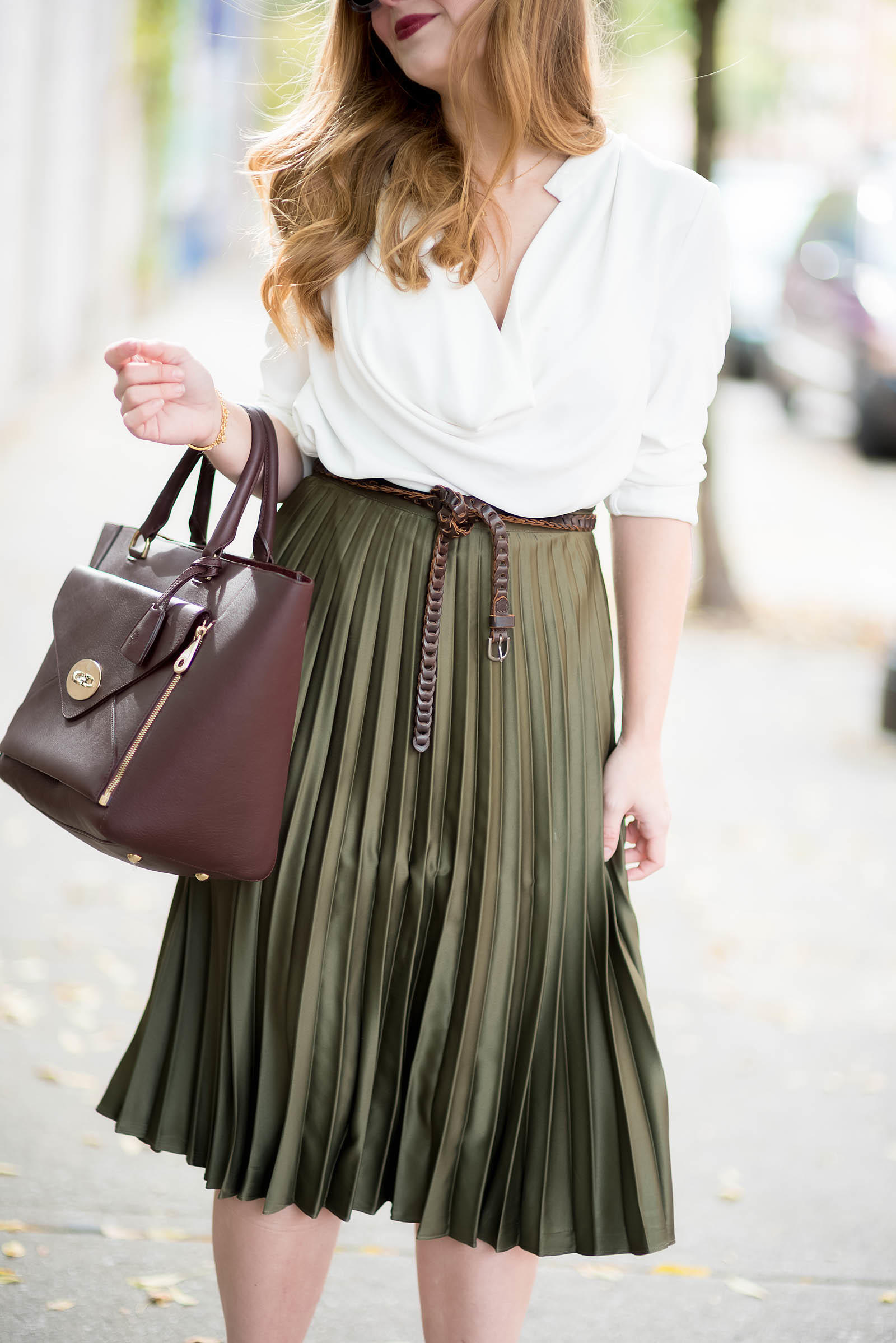 2. Pleated Skirt + Breezy Blouse
This is a playful combination that's perfect for those "summer-y" fall days when you don't need a coat!
A pleated skirt and blouse is once of the most classic outfit combinations, but done in dark, moody colors and you instantly have the perfect not-so-fall fall outfit. And it just so happens to be a flattering combination on just about every body type!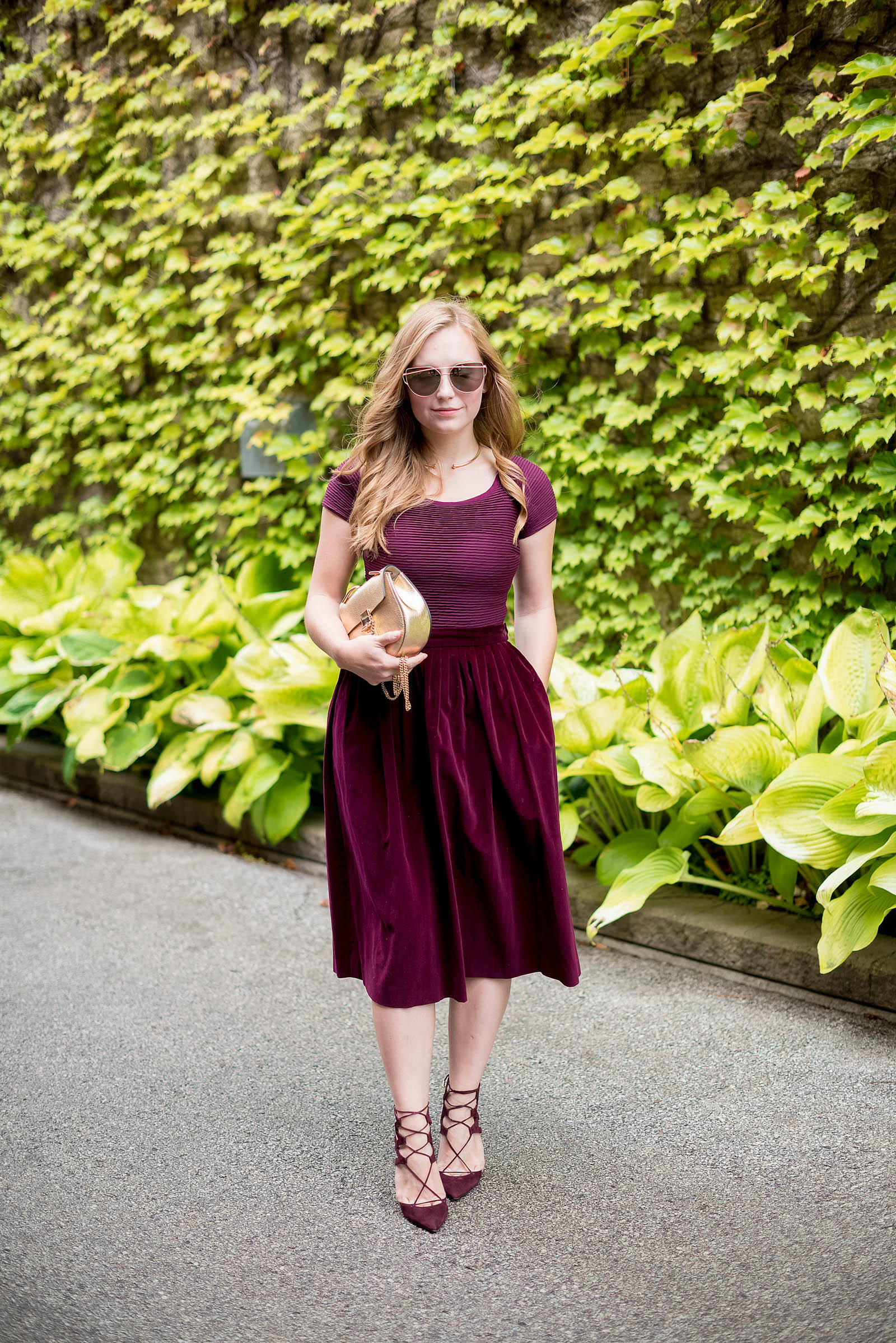 3. Head-to-Toe Monochrome
We saw head-to-toe monochrome ALL over NYFW earlier this month. Head-to-toe red, head-to-toe green — I'll happily take it all. It's such an easy yet chic way to embrace vibrant color for fall!
Last year I share a two-part series on how to wear monochrome — read part one and part two to get started! Right now I'm loving all red looks, all blush looks, head-to-toe burgundy, green, and any and all all-navy looks. But I suspect a head-to-toe yellow or mustard gold look would be pretty fabulous too!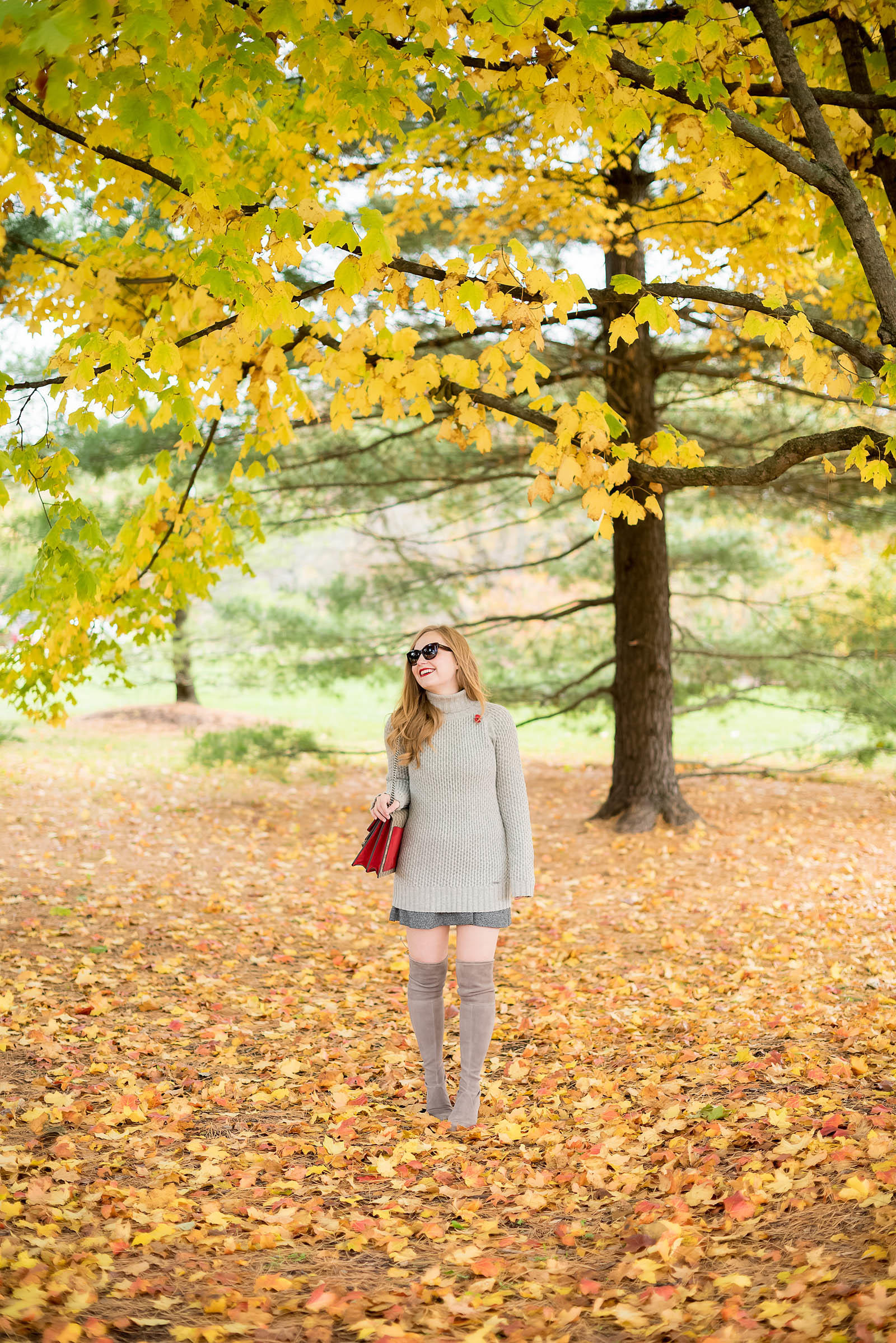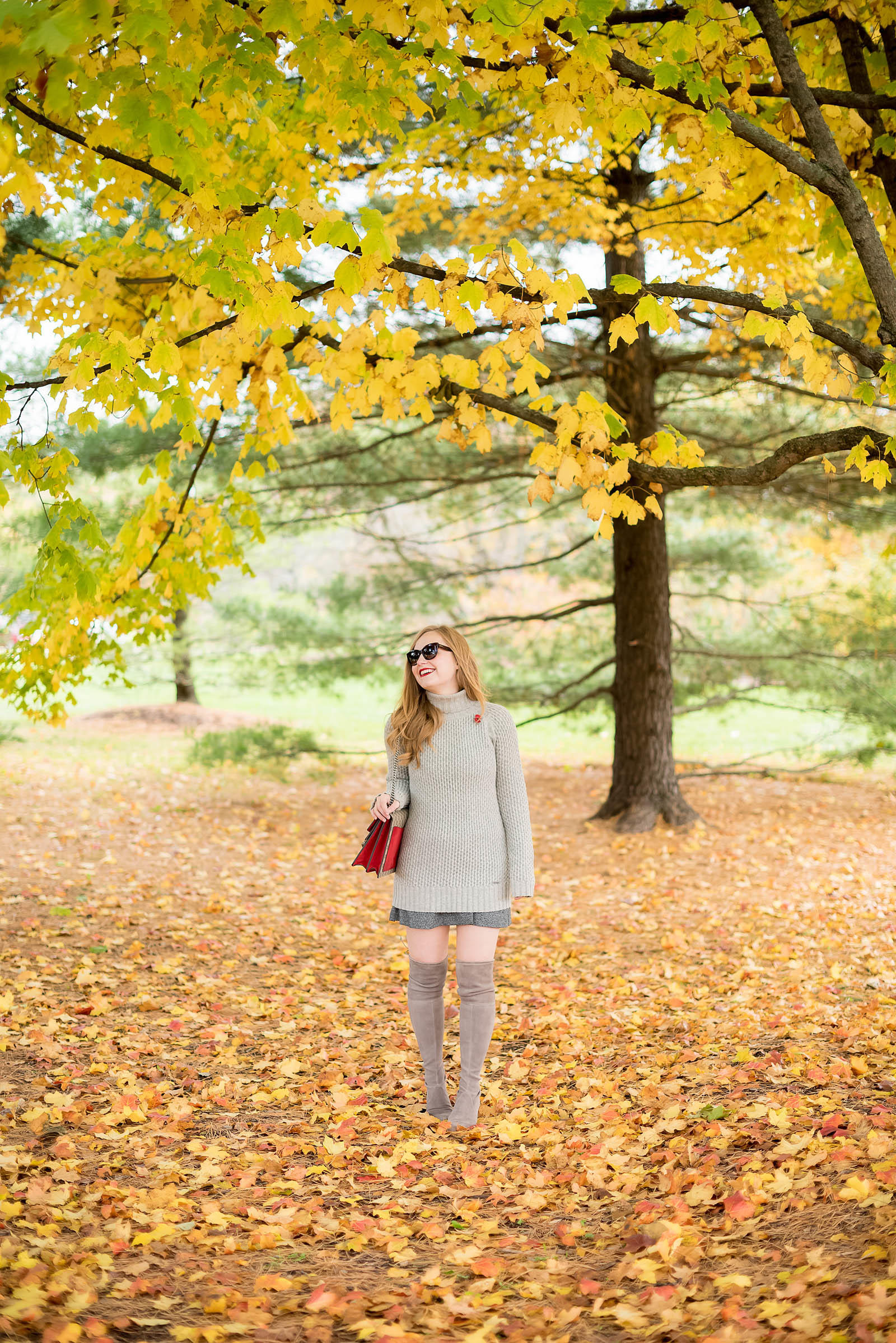 4. Over-the-Knee Boots + Chunky Sweater + Tweed Skirt
When I think of an outfit that really encapsulates fall for me, it's this combination.
Fall is the time when we can finally bust out our boots, our sweaters, and our coats. But it's often not cold enough to wear them all. This combination is the perfect combination of chic and cozy AND gives me a great opportunity to wear my skirts for the last time until spring!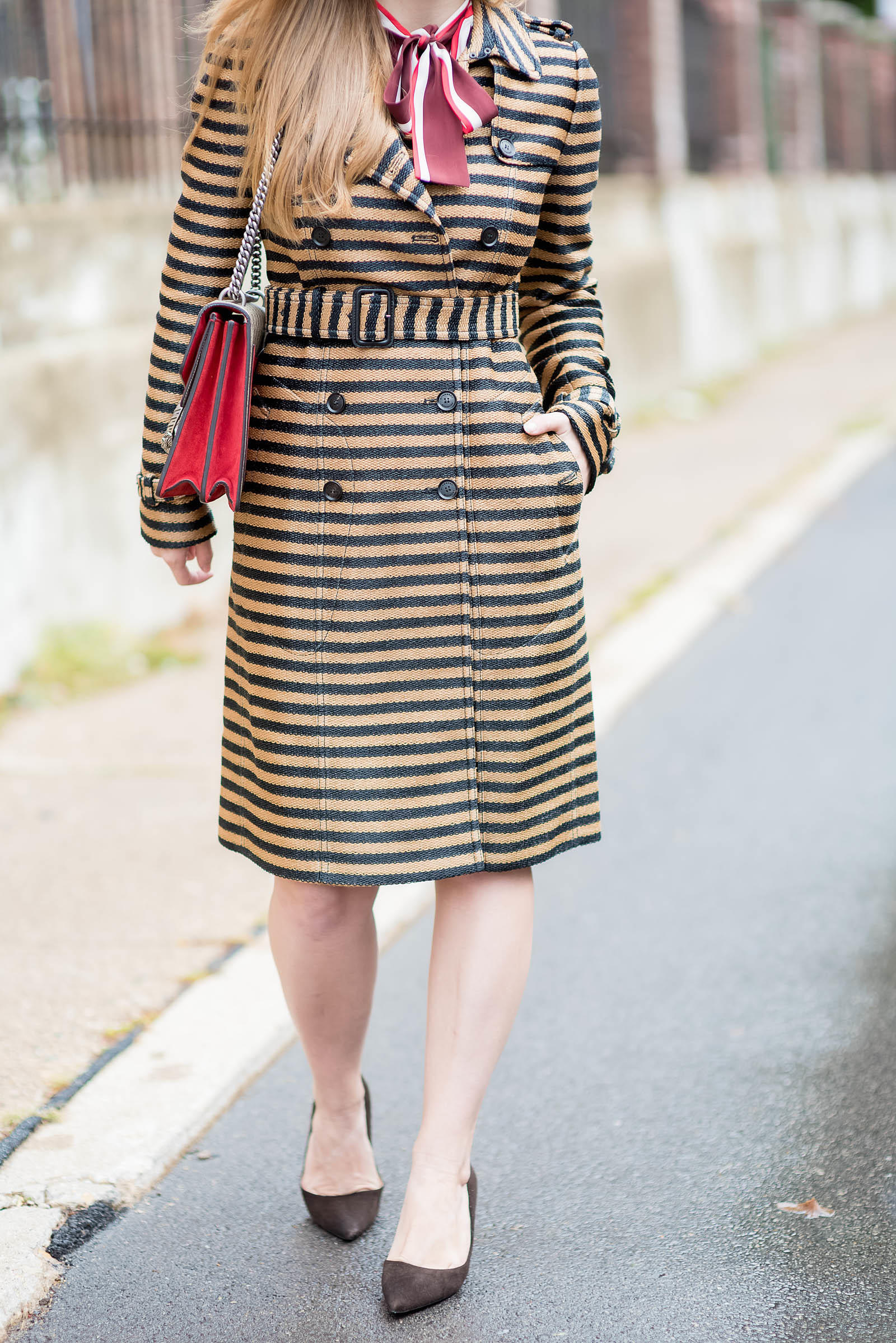 5. Bold Statement Coat + Bow-Tie Blouse
A chic ensemble for those chillier days that usually settle in the second and third weeks of October. I love pairing a visually striking coat with a feminine blouse as an easy outfit formula.
And there are so many great statement coats hitting the market this fall! I rounded up a few of my favorites in my NYFW trends post if you're looking for something really wild.
---
A Few New Fall Favorites
I always like to remix and rewear my favorite wardrobe pieces year after year. But I also like to keep my closet fresh with a few investments each season. Here are a few pieces I've been eyeing to add to my closet this autumn.