Now that I've been blogging my outfits ALL around Chicago for well over two years now, I feel like I'm finally getting a real grasp on things.
I feel like I've finally found my blogging groove.
My blogging mojo.
Suddenly, after years of struggle I feel like my outfit posts are becoming A LOT easier than ever before. Maybe it's because I get to shoot so many amazing clients around Chicago… for my job. Maybe it's because I just shoot SO MUCH every week (generally logging AT LEAST 1k in photos per week and counting). Or maybe it's just because I've been doing this whole "shooting outfits" thing for long enough.
But the other day I realized just how much I've learned these last two+ years. Outfit shoots have become almost an automatic process for me. And over the years I've become partial to particular locations, using them over and over again to tell the aesthetic narrative I want here at Sed Bona. So isn't it time I shared a few of my absolute favorites with you? The spots I go to time and time again for intriguing, interesting locations to tell my style stories at.
So without further ado here are…
15 of My Favorite Chicago Shooting Locations
1. The Museum Campus
(Located just off Lake Shore Drive at Roosevelt)
For most of my life I've LOVED the museum campus. Down by the Field Museum and the Adler Planetarium right on the shore of Lake Michigan you'll find beautiful architecture, skyline views, AND great exhibits all in one place. And it makes for one hell-of-a shooting location too. Park here and just take in all the options! The Museum Campus can easily get SO many different moods and looks done within steps of one another. Stand in front of the Field Museum, walk along the Lake by the Aquarium, stand with your back to the city skyline by the Planetarium, or shoot the gorgeous Field Museum steps. Even a simple walk along the lakefront with yield some beautiful shots. There's no shortage of large, epic, opulent spaces to shoot here!
Since I have a love affair with European architecture this spot will always be one of my favorites to shoot at if only because it feels so very European in nature!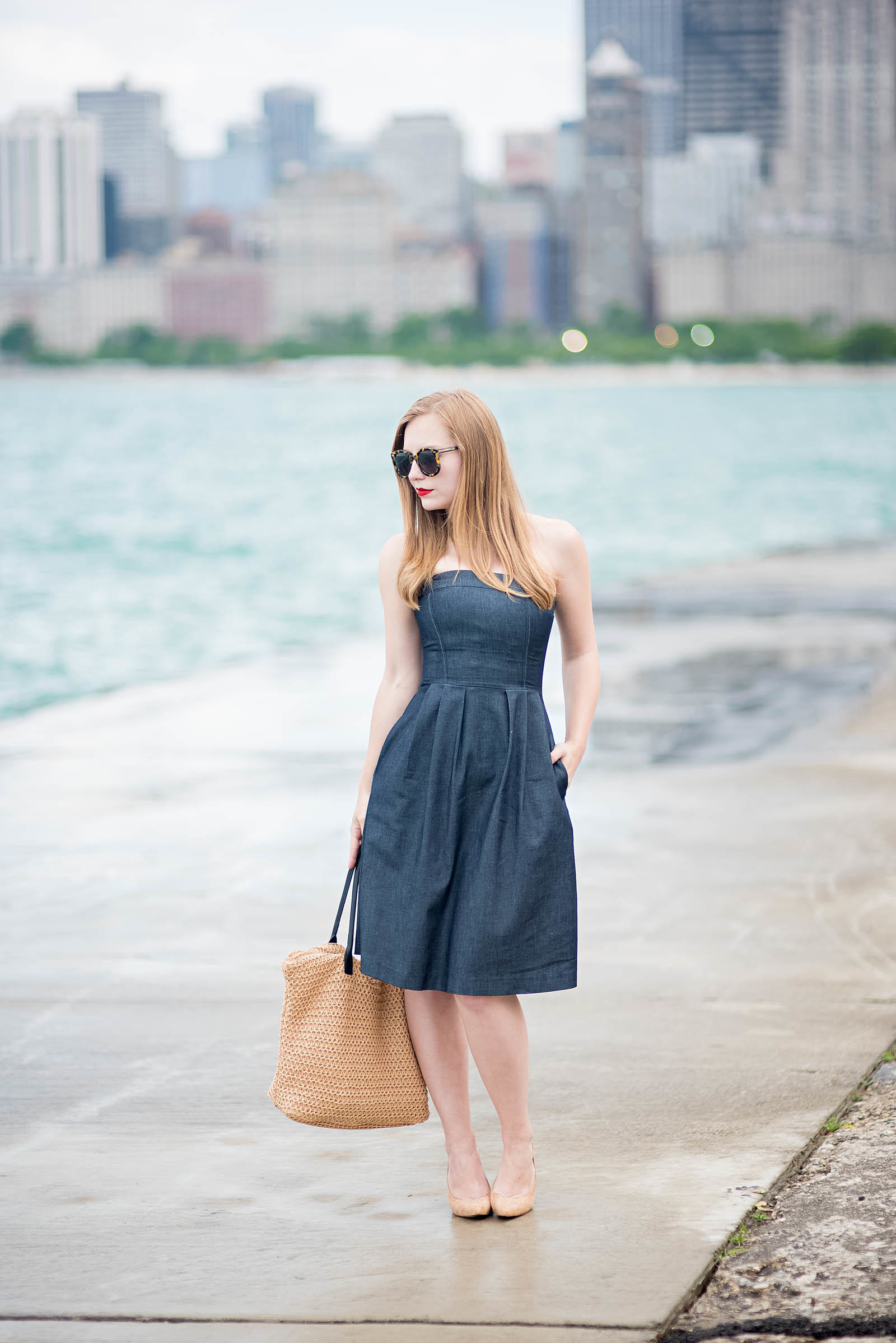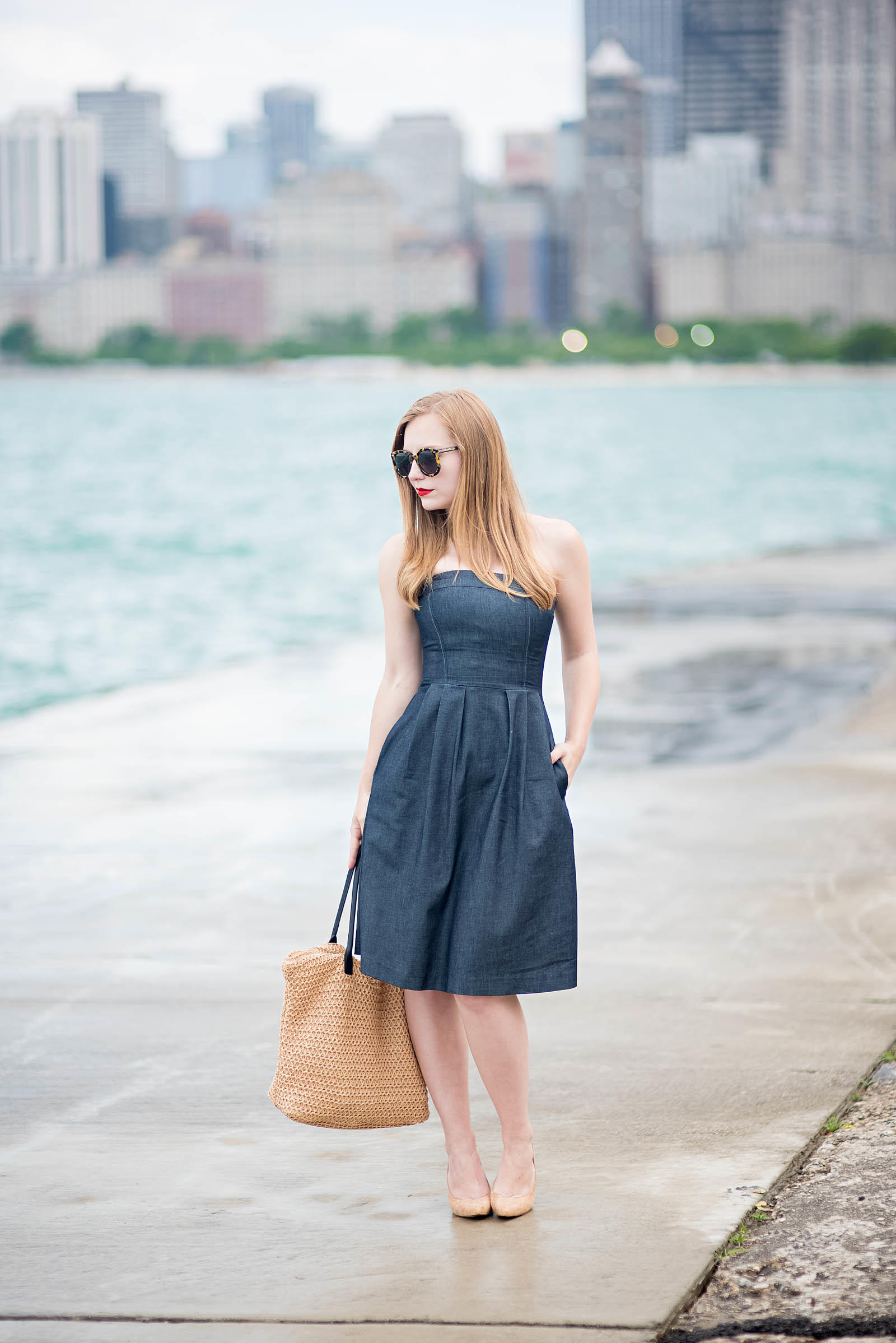 2. North Avenue Beach
(Located at North Avenue and Lake Shore Drive)
Maybe it's because I've always lived close to this legendary Lake Michigan beach but I never grow tired of shooting at North Avenue Beach. Even in winter (where you can quite literally freeze your butt off!). There's a beautiful lighthouse to shoot in the summer morning sun, a lovely skyline to shoot along the waterfront to the south, and plenty of sandy spots for an extra-beachy look too.
Head here when you want to celebrate Chicago's unique architecture AND beautiful position on Lake Michigan.
3. The Drake
(Located at East Lake Shore Drive & Michigan Avenue)
The Drake is easily one of Chicago's most beautiful and luxurious hotels (and home to our Michigan Avenue Chanel store!). Along the north face of the building you'll find one of my favorite shooting locations too — a gorgeous sidewalk with beautiful light bouncing off the lake directly to the north. I stumbled across this spot shooting with a client years ago and loved the minimal opulence the slight gilding on the walls adds to any shoot. It's a beautiful space to shoot year-round (even in the freezing cold) but especially in summer when they have so many marvelous potters of flowers on display!
4. The Chicago Riverwalk
(Located along the Chicago River next to Wacker Drive between Columbus & Orleans)
One of my favorite tourist spots to visit year-round. And especially to shoot at. Even in winter.
The large-scale architecture under the bridges makes for a stunning backdrop as do the winding riverside steps, Marina Towers, and beautiful reflections in the Chicago River itself. It's a little inconvenient of a spot to park at since it's not actually along any roads but it's well-worth the hassle!
And it's another one of those great spaces you can shoot so many different ways to suit your mood.
5. The Art Institute
(Located at Michigan Avenue & Adams)
Easily one of the most beautiful spaces in the entire city. There are beautiful gardens to the south and to the north of the Art Institute that make spectacular backdrops — each side has a very distinctive feel to it. But heck, even the entrance stairs make a great shooting spot.
I shoot here a lot (in the garden and on the walkways). It's hard not too. Just stepping onto the Art Institute campus feels like stepping into another, more magical world. If I had to shoot at one location for the rest of my life it'd undoubtedly be here.
6. The Honeycomb
(Located near Café Brauer at 2021 North Stockton Drive)
Lincoln Park's most iconic spot, except for maybe Lincoln Park Zoo itself.
This honeycomb structure was one of the first shooting locations I ever shot at, back when I used to drag my tripod and camera remote out in order to shoot myself.
The sculpture is so striking, it's really hard not to get a good shot at it. And it makes for such a cool, minimal backdrop no matter the time of year — a perfect spot for those who are new to photography and looking for a place that's fun and easy to shoot.
7. West Loop (Murals & Alleyways)
(Located on Green Street south of Randolph)
There are some truly spectacular, urban alleys and spaces in the West Loop, not to mention bright murals. Think alleys with twinkling lights and vintage brick. And lots of killer slices of lighting to play around with.
It's a romantic spot in a very urban, edgy way. If you're looking for a space that feels distinctly "Chicago" without being cliché, head here.
8. The Cloud Gate & Millennium Park
(Located at 11 North Michigan Avenue)
The Cloud Gate is one of the coolest pieces of public sculpture ever installed… at least in my humble opinion. And one of the 5 Tourist Spots Worth Visiting in Chicago. This massive, mirrored bean-like piece has some of the most beautiful reflections of Chicago, making it a marvelous place to shoot no matter the time of year.
But definitely make a plan to stop by there to shoot sometime in spring — the blooming trees around the Cloud Gate are particularly magical and led to one of my all-time favorite backdrops of last year too.
9. Morton Arboretum & the Chicago Botanic Gardens
(Located in Lisle, IL and Highland Park, IL respectively)
Sometimes even a city girl like me craves the country. So while neither of these locations are technically in Chicago, I'll classify them as still in "Chicagoland" and therefore easy and fair game for Chicago bloggers. I grew up near the Morton Arboretum and took many natural photography classes there in my youth with my father. It's always been a very special place for me. And especially beautiful to shoot in autumn when the foliage becomes magnificent.
But the Chicago Botanic Gardens can be just as magical with their japanese gardens, english gardens, and rows of flowering trees near fields of daffodils in the spring. For two years running now Anna and I have made a pilgrimage every spring here because it's just so photogenic.
10. Along the 606
(Located along Bloomingdale Avenue in Wicker Park)
One of Chicago's newest urban marvels is the 606, an abandoned railway track turned elevated pedestrian walkway complete with lush greenery in summer. It's a wonderful place to ride your bike, go for a run, walk to dog at, or just shoot lovely views of the city from. But shooting alongside the 606 has quickly become one of my favorite shooting spots too.
It's massive walls easily create visual depth and a beautiful urban-meets-nature vibe I find myself returning to time and time again.
11. Flamingo Mural
(Located at West Ohio Street & North Wells Street)
Designed by Andrew Ghrist & JC Rivera for the Flamingo Rum Club, this is one of Chicago's newest and most exciting murals. I've actually only shot one outfit here myself (from this past summer that I have YET to post yet… oops) but I bring a lot of clients here because the vibrant colors and wild motif make it such a fun backdrop for just about anything.
Not to mention refreshingly summer-y during the dark gray winter months.
12. Alleys of Old Town
(Located north of North Avenue between Wells Street and Halsted Street)
Perhaps it's because I've ALWAYS lived in Old Town. It's the neighborhood I moved to when I first migrated to the city. And, in my opinion, is the BEST neighborhood in the entire city to live in. I live walking distance from North Avenue Beach, Second City, Alinea (frequently listed as one of Chicago's BEST restaurants), and the far-less-busy North Avenue Apple Store (go to the Michigan Avenue store at your own peril…). It's a great location with tons of genuine character. Not to mention oodles of fabulous and unique old architecture. I've lived here for close to 8 years now and am still discovering new and exciting little streets.
And everyone in Old Town takes their gardens VERY seriously so it's especially beautiful to shoot in the green summer months. And don't forgot to stop by for the Old Town Art Fair in June!
13. Pink Anthropologie Wall
(Located at North Avenue and Fremont Street)
Who doesn't love a strikingly simple pink wall? Since it's close to home, I use this location A LOT. It's one of those spaces that just makes your outfit look so pretty and happy.
And another great location to remember during the drab winter months when your outfits could use an infusion of color. I come here regularly for shoots but especially around Valentine's Day in February since the pink gives off such a romantic vibe.
14. Aon Center
(Located at East Randolph Street & North Columbus Drive)
I don't shoot this location nearly as much as I'd like too but mainly because it can be a tricky one. Since the Aon Center is a massive corporate building during weekdays it can be BUSY. Swarms of suits just rushing around and all.
So the only time you really can shoot this building is on weekends in the mornings when it's quiet, calm, and getting some gorgeous glowing light off the lake to the east. But it's one of the largest minimal buildings I've found in Chicago so perfect for when I really want some large-scale, clean, and EPIC shots.
15. Ikram
(Located at 15 East Huron Street)
Ok, so I've only shot one outfit at this location. But it's easily one of my most-pinned looks, partly due to its prominence in this post Catherine did last year (which I was so humbled to be featured in!). But how can a red lipstick-loving girl like me NOT love a massive bright red wall to shoot at?
You have to believe I'll be back here shooting very soon. Maybe after I'm done saving for these gorgeous pumps…
Where are some of your favorite outfit shooting locations around Chicago?
Not in Chicago? Check out my list for the 10 outfit locations you can find just about anywhere!
And check out this post's SEQUEL: