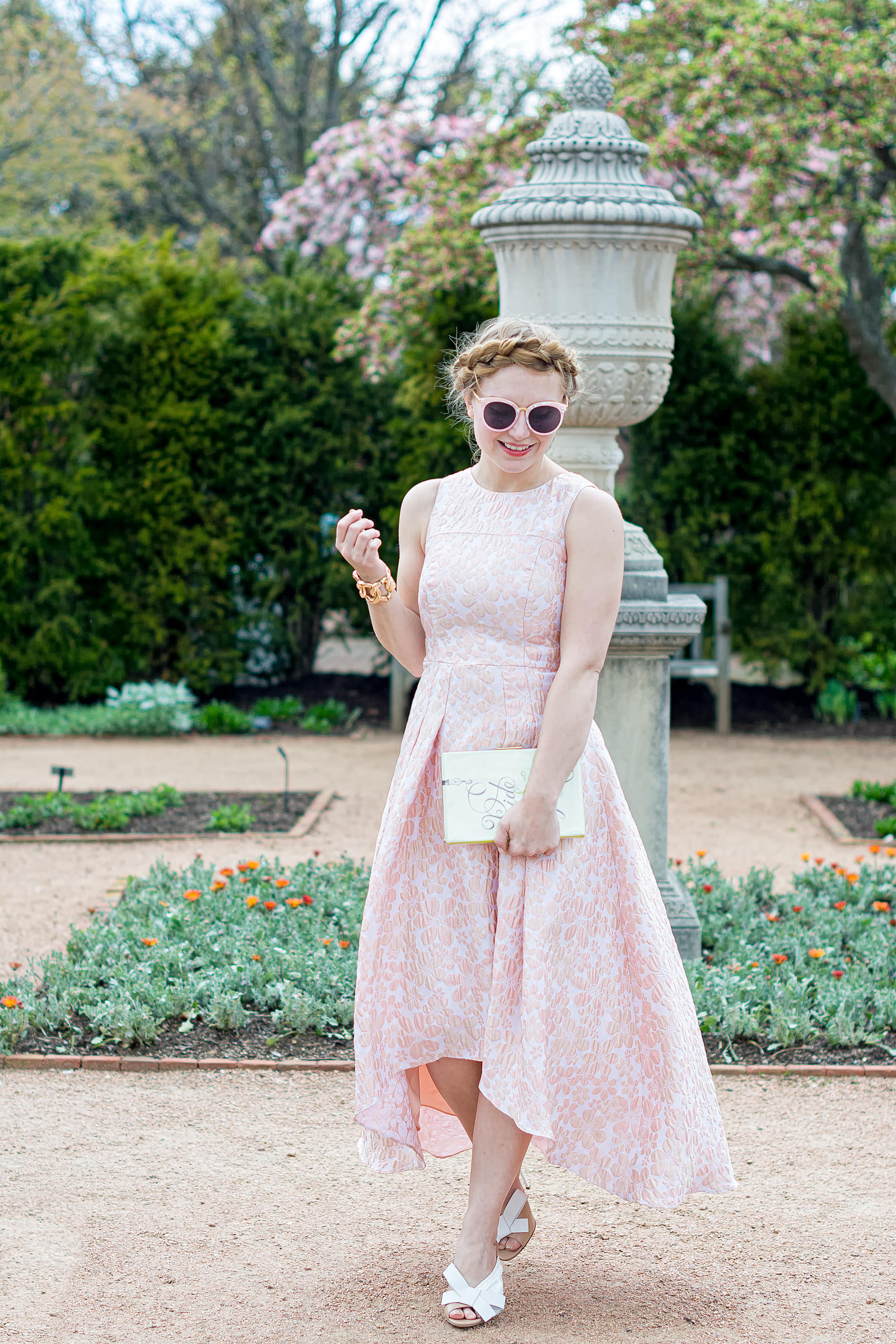 "As you walk down the fairway of life you must smell the roses, for you only get to play one round."
Dress – c/o Shoshanna via Rent the Runway (to rent, to buy: 1 / 2) || Mules – Miu Miu (as pumps, as flats) || Clutch – Kate Spade || Sunglasses – Forever 21 || Cuff – Forever 21 || Lips – YSL 'Volupté' Tint-in-Oil No. 7 'Crush Me Orange' || Nails – Nails Inc. x Victoria, Victoria Beckham in Bamboo White || Hair – DreamDry
Photos courtesy of beautiful blogger Anna
These days I've been making a sincere effort to just enjoy life.
To stop and smell the roses a bit.
Life is so short.
Too short, in many cases.
It can be easy to lose focus. To get distracted. To think that having thousands of Instagram followers matters in the long-term. To think that answering that next email is gravely important.
But, after losing my father at 22, I've learned a lot about HOW people remember you when you're gone. And I promise they won't remember your Instagram following, they won't remember your perfect email response.
They'll remember the little things. They'll remember your voice, your kindness, the warmth you made them feel. The way you made them smile.
People remember HOW you make them feel longer than anything. And lately I've been seeing so much cruelty and selfishness here in the "influencer" community of Chicago that I've just stopped. I've stopped going to most events (unless they're run by close friends), I've stopped interacting with poisonous personalities (deep down I suspect they're such cruel people because of serious insecurities anyways), and I've started focusing all my energy on the people and work I love.
I'm even escaping the city to get away into nature more. To return to the things that lift me up instead of bring me down. As Eleanor Roosevelt so eloquently puts it, "great minds discuss ideas; average minds discuss events; small minds discuss people."
We have so little time here on Earth — don't waste it with small minds. Spend it with great ones.