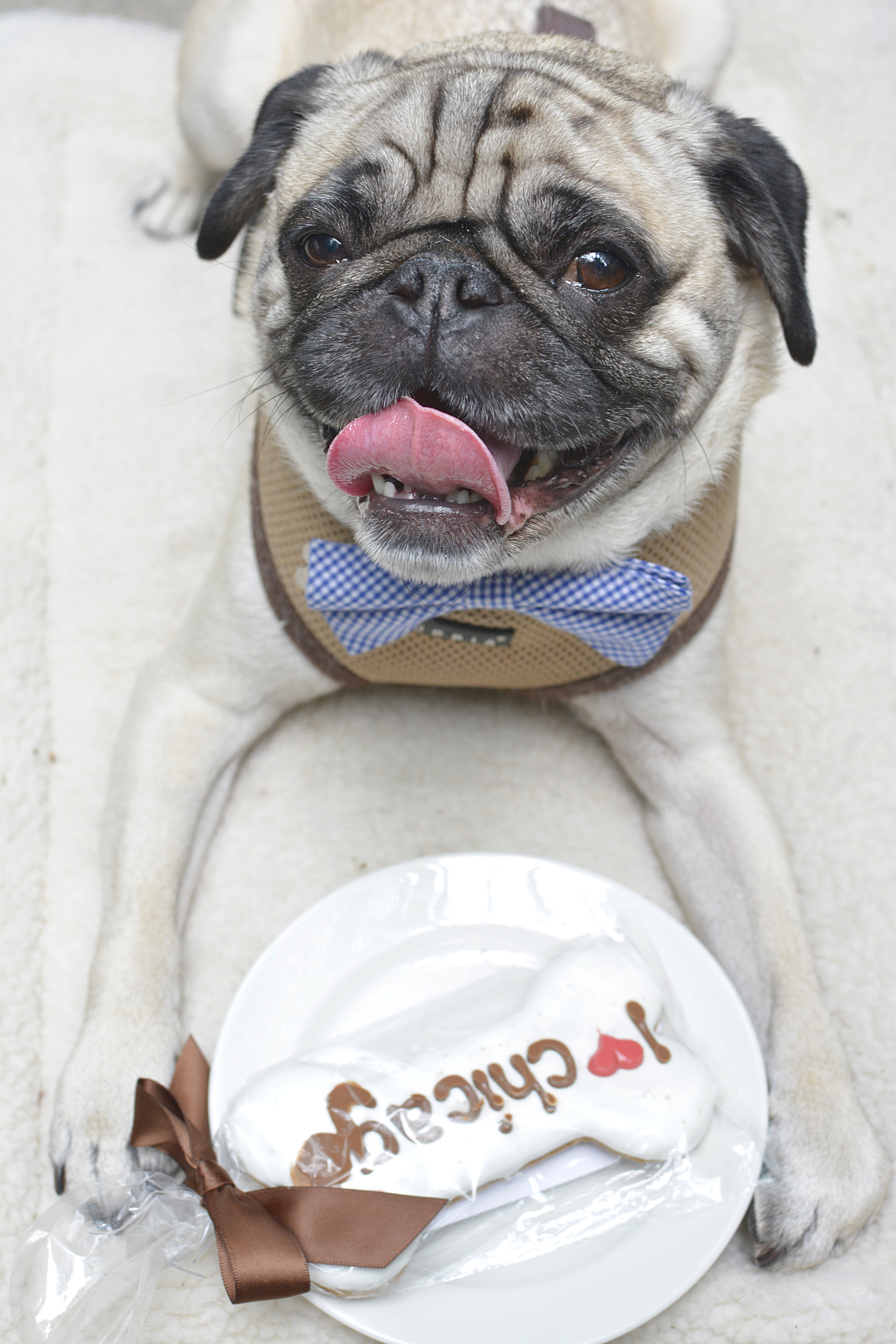 Winter is hard on our pugs Apollo & Johnny — months of being cooped up in the house with fewer distractions and exciting smells than in summer robs them of their playful spirit and makes them quite lazy.
Chiberia makes us all quite miserable.
So by nature, Chicagoans pour out of their homes en masse to enjoy any beautiful weather we have in the summer. But by now you all know that most days, I just want to hang with my dog and that often means any time we want to eat out, we have to leave our fur babies behind.
It's hard to find a patio with seriously delicious food that even permits dogs, let alone caters to them.
Until now!
Welcome to freestyle food + drink's dog-friendly summer patio.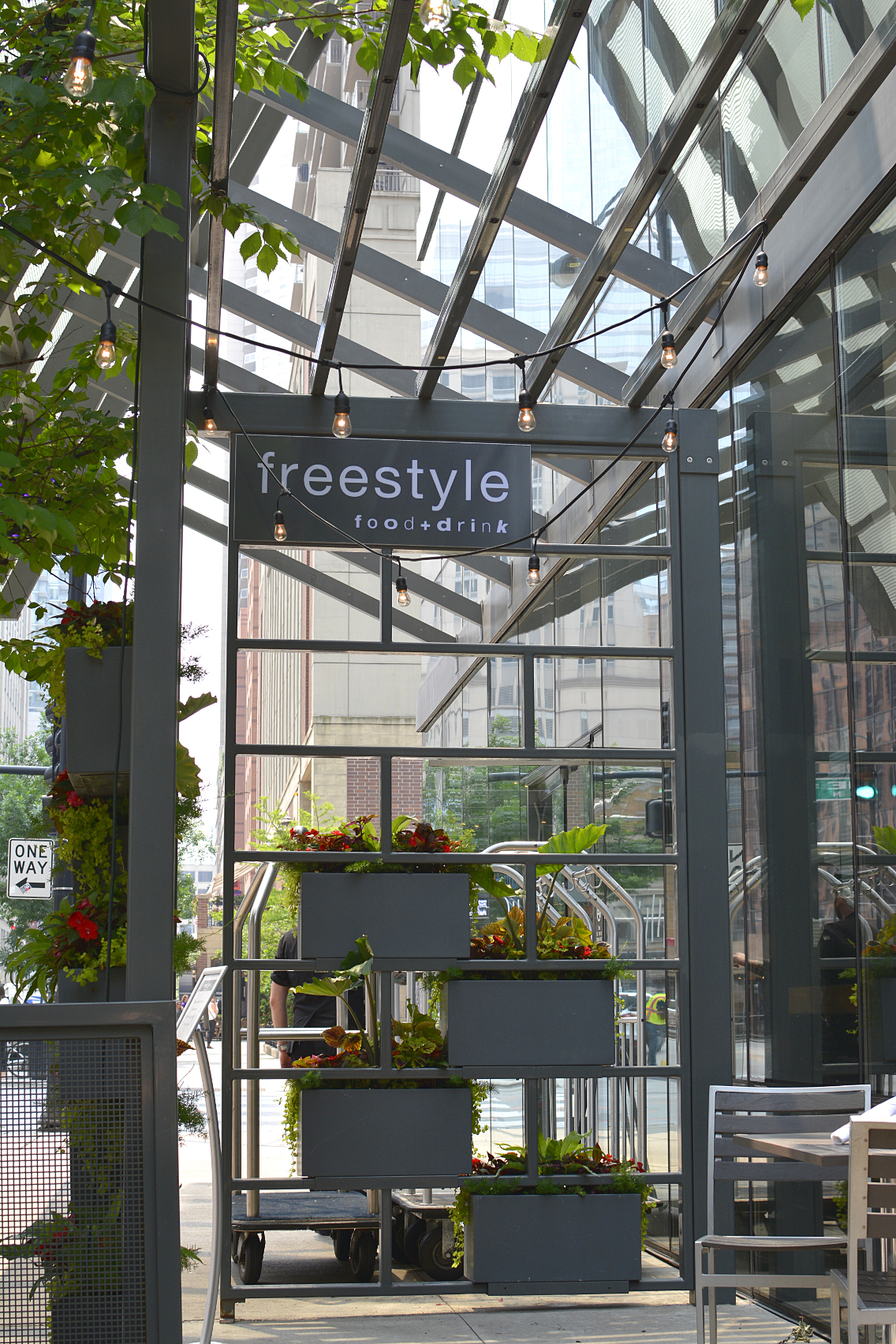 Located on the first floor of the Dana Hotel (where I attended the Simply Stylist conference last July), it's a swanky space filled with warm sunshine, enthusiastic staff (who love to give puppy cuddles), and plenty of delicious food.
So on a warm and sunny afternoon I met up with Starr for a pug-filled patio luncheon of true foodie proportions.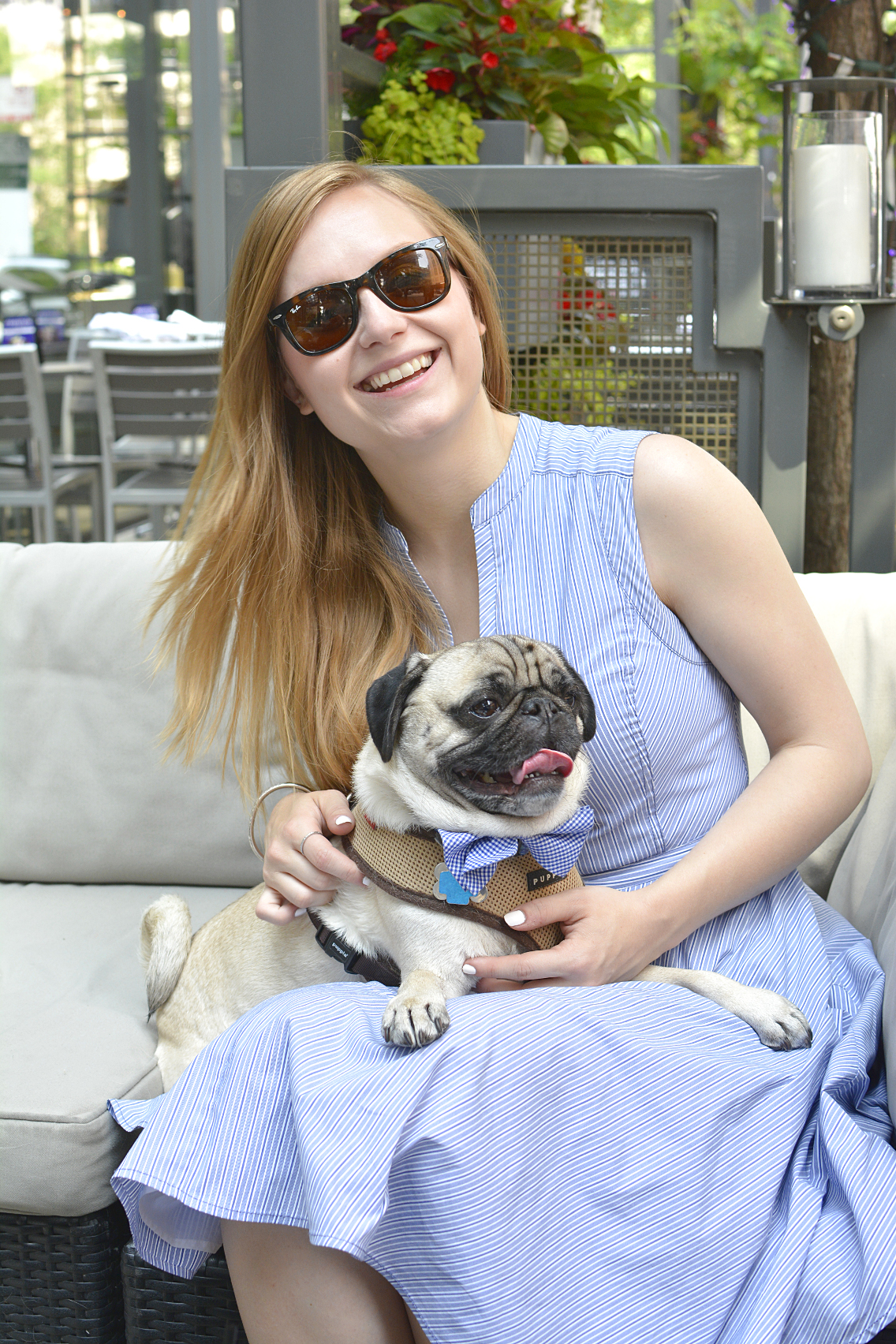 For our first blog "lunch date", Apollo and I decided to step up our game and coordinate our outfits — doesn't he look adorable in his little bowtie? My dress details can be found here.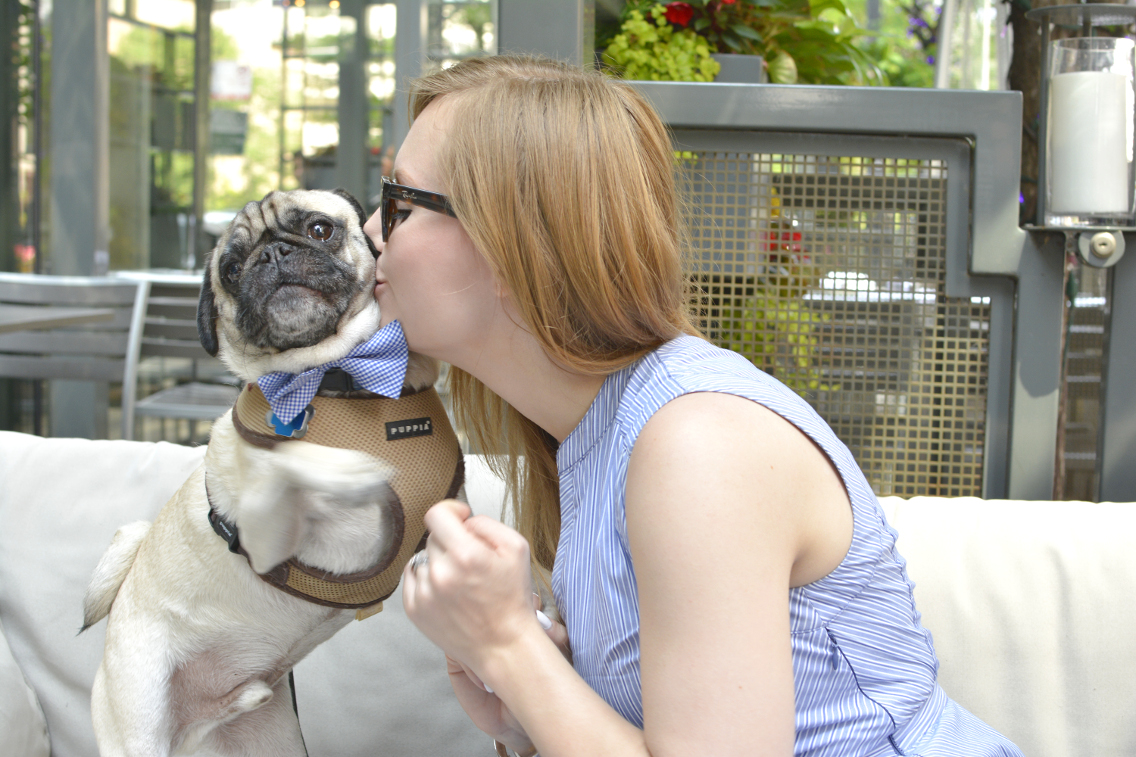 MOMMMMMMMMMM!
Don't kiss me in public!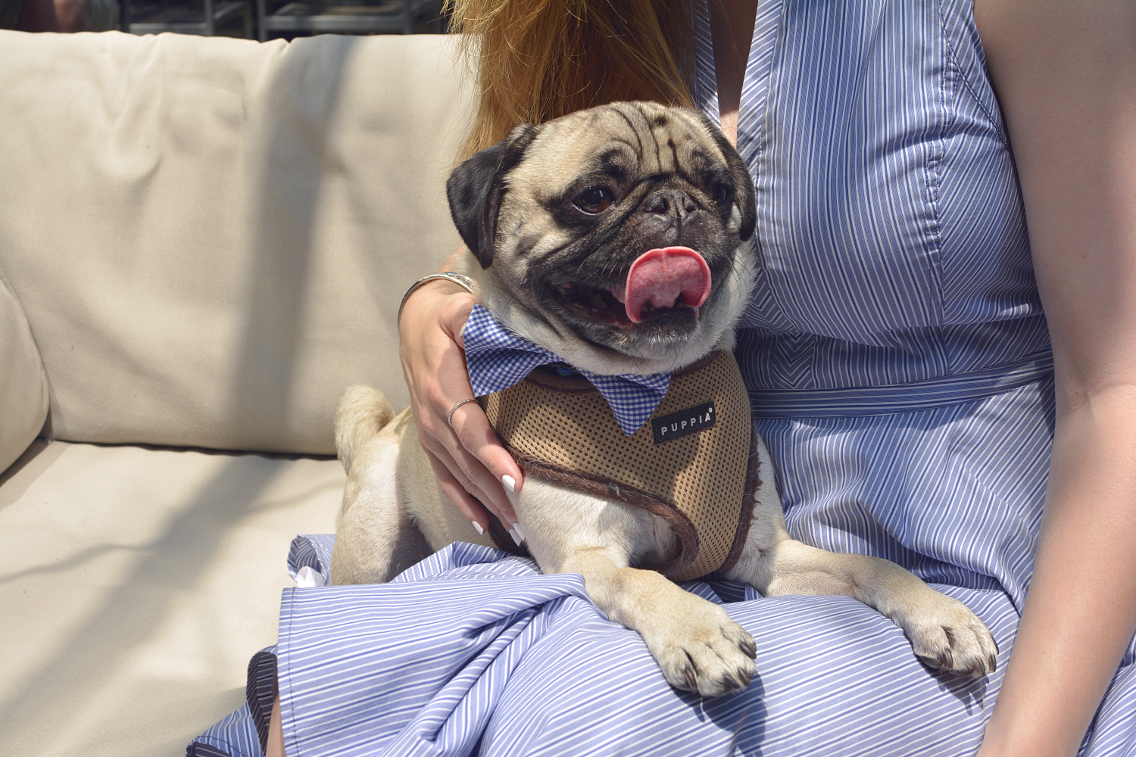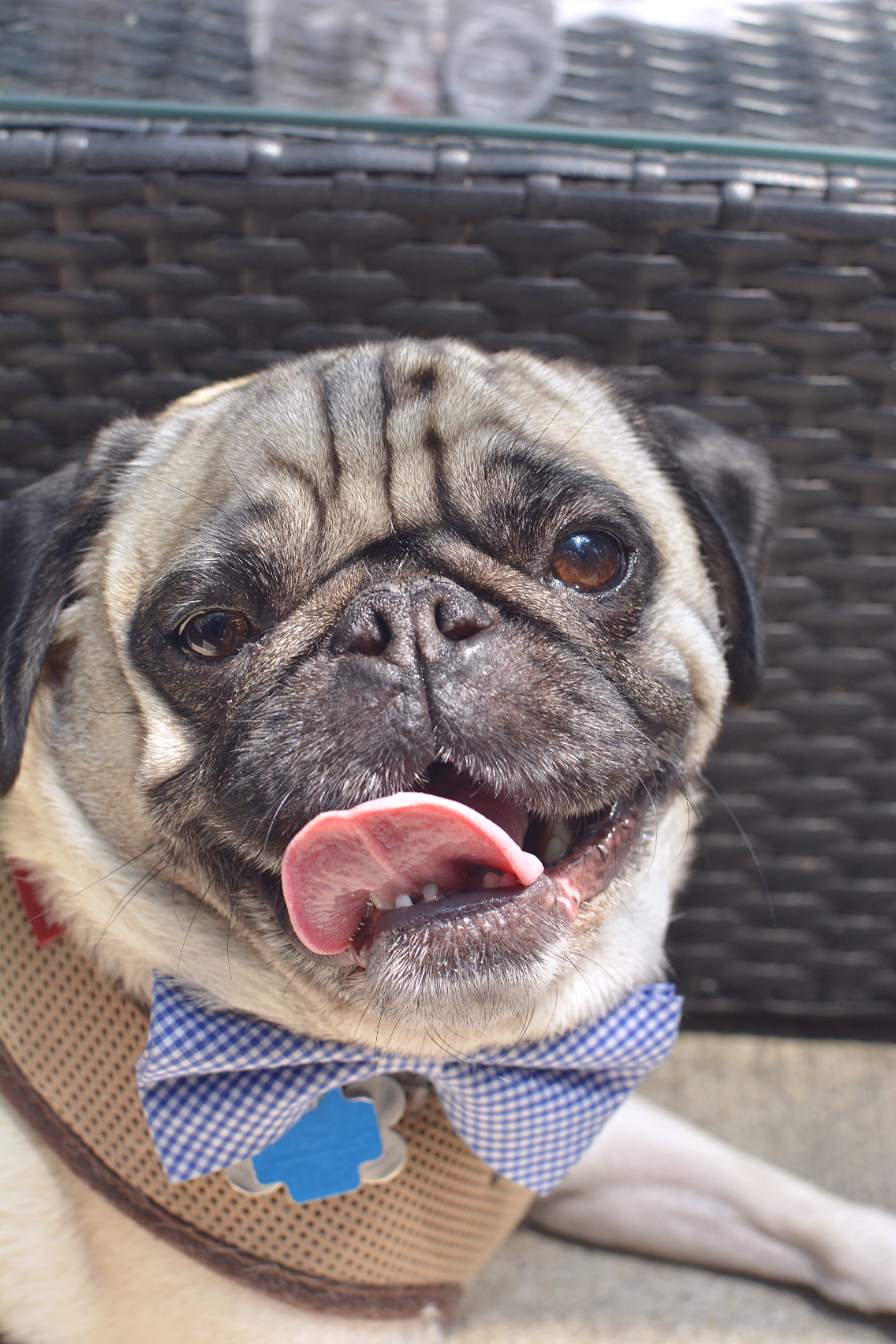 Apollo was very excited for his al fresco adventure!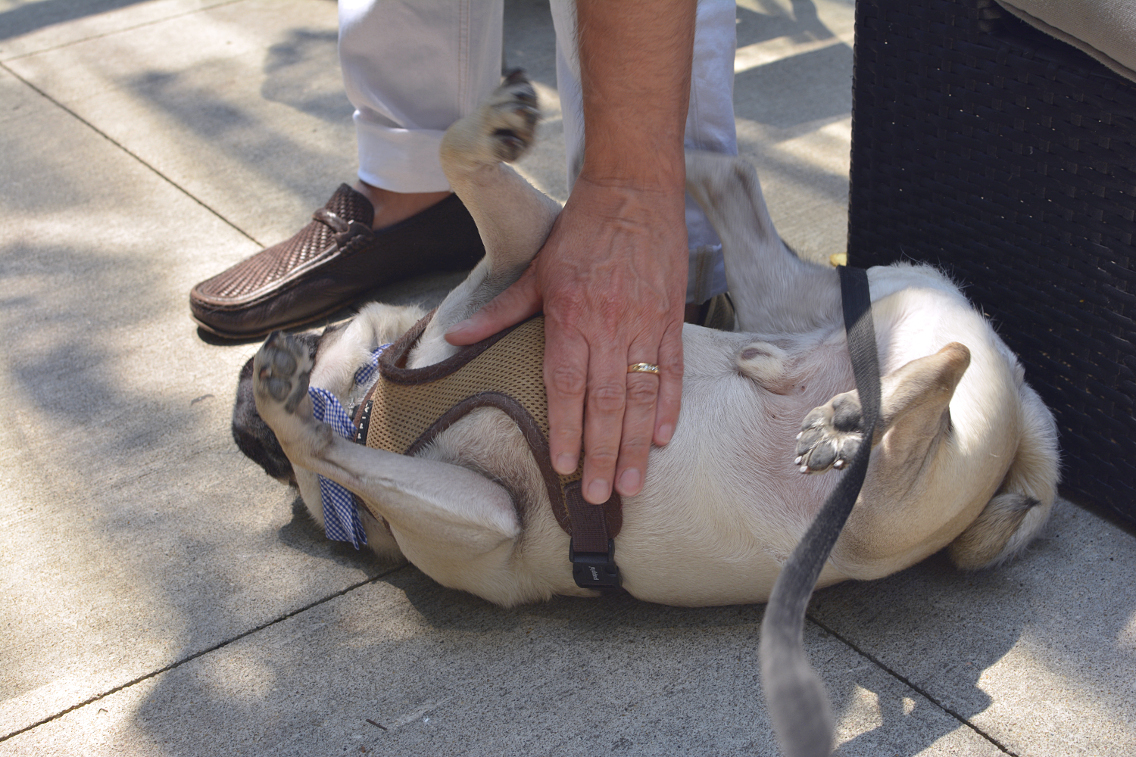 Especially because he is such an attention whore!
He absolutely loved all the belly rubs and cuddles he got from every. single. stranger who walked by. #Hammingitup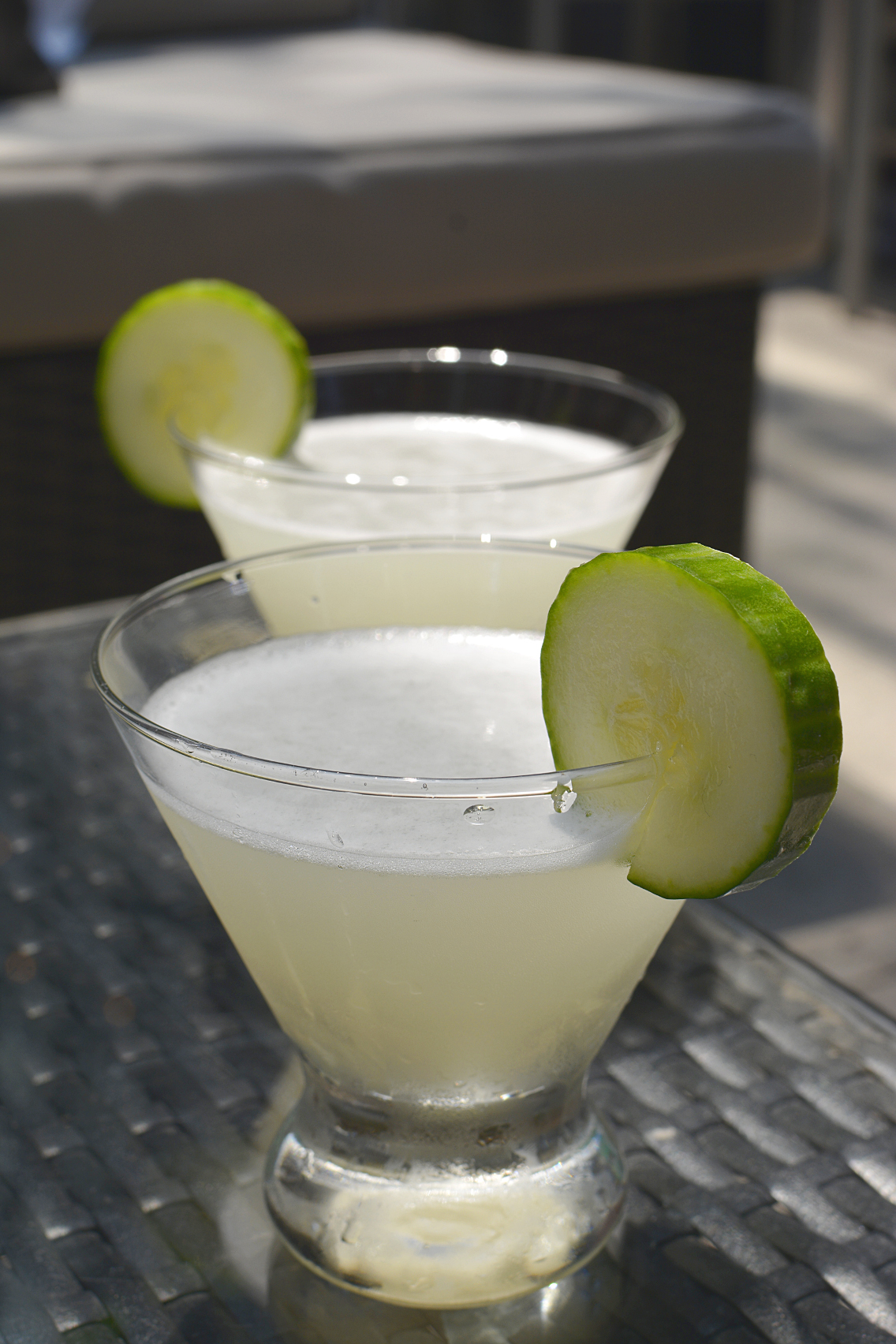 Since it finally felt like summer out, Starr and I decided to order one of the most quintessential summer cocktails: the Cucumbertini! Effen cucumber vodka, cointreau and lime juice — simple, cooling, and refreshing!
The freestyle staff also brought out a giant bowl of ice water for Apollo which he dove into the moment they set it down.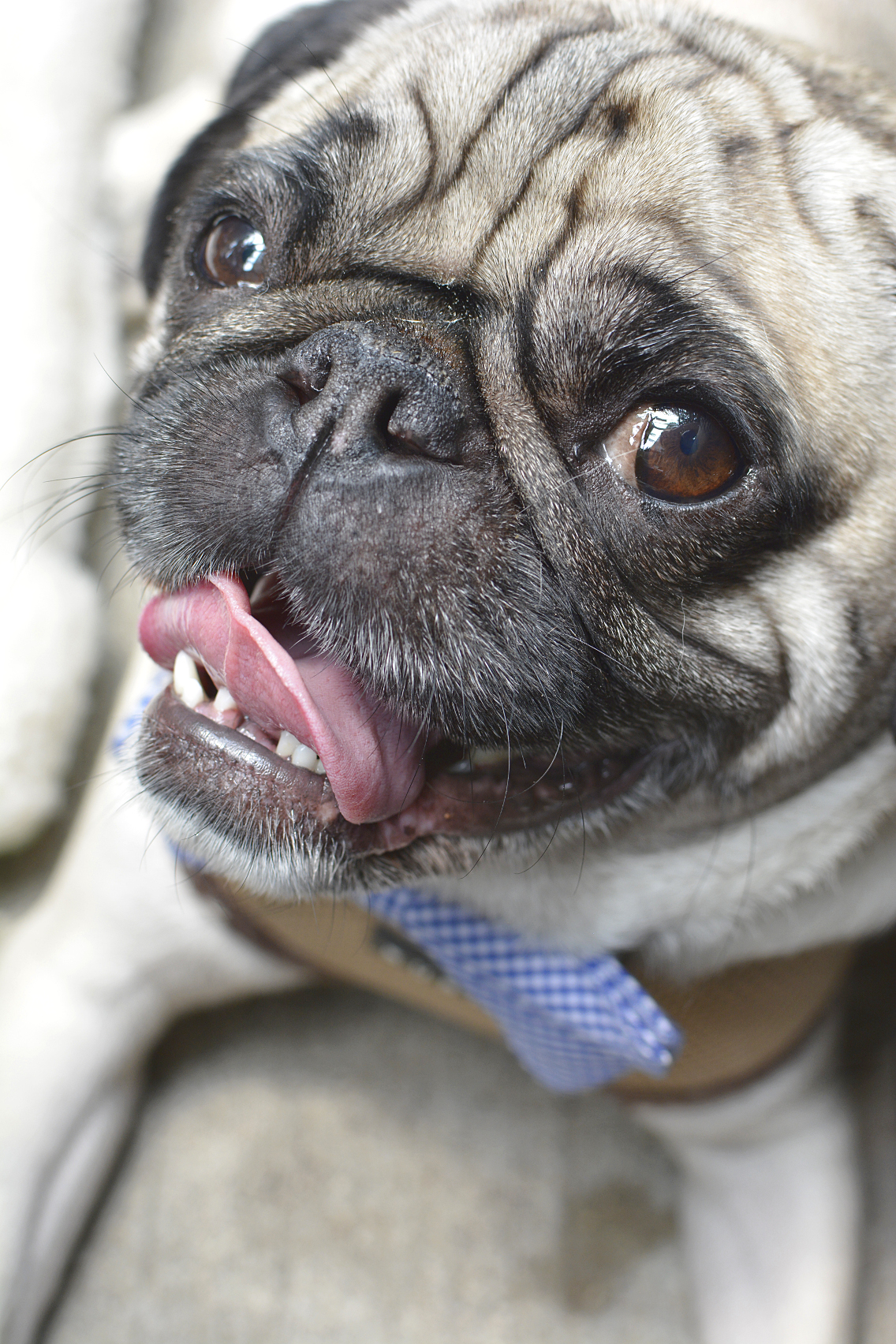 Apollo just loved getting out of the house to be pampered!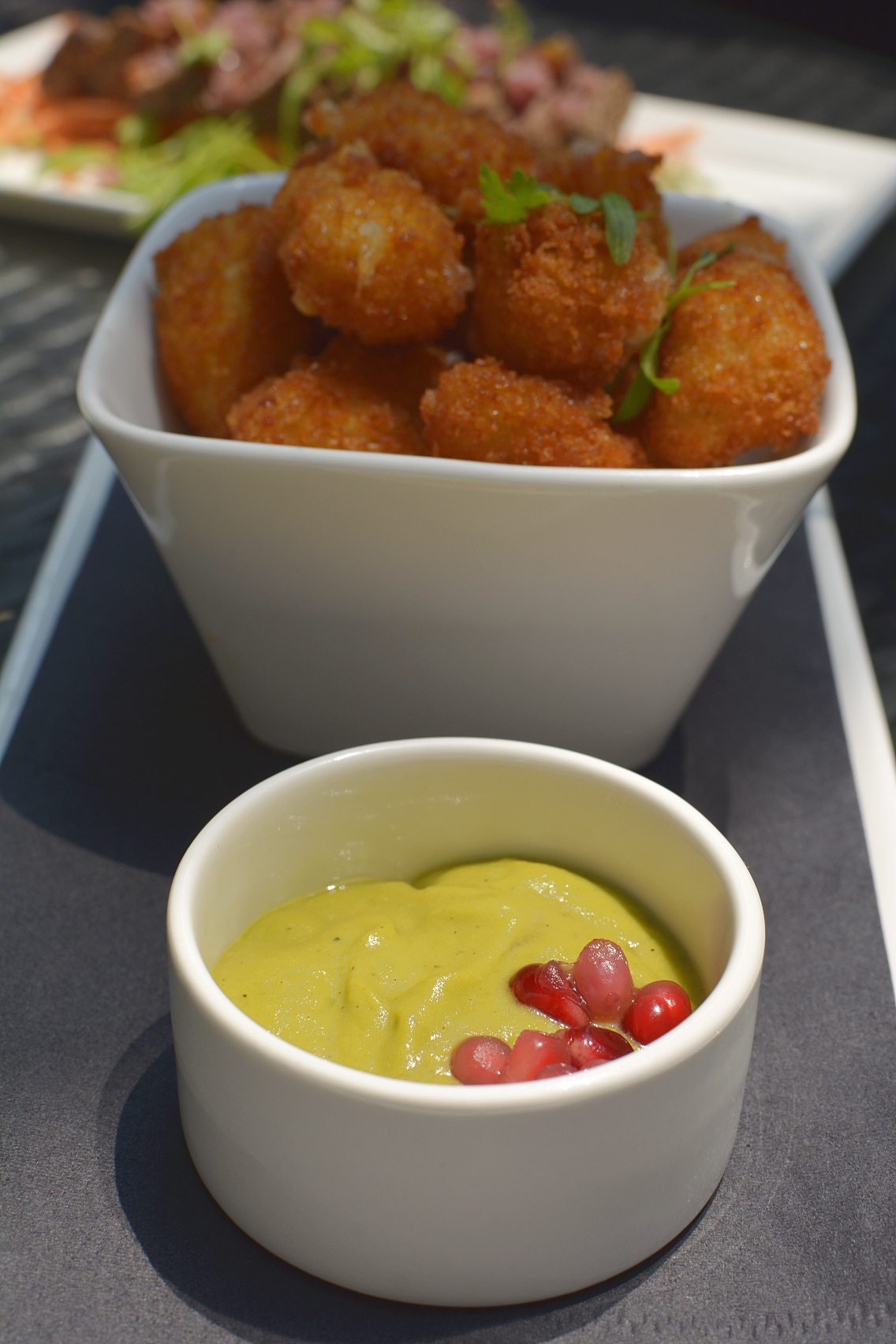 Being two women who both went to college in Wisconsin, Starr and I both know (and staunchly believe) that cheese curds are one of life's most delicious pleasures. So naturally we started with an order of freestyle's Crispy Cheddar Cheese Curds with roasted poblano pepper cream and pomegranate seeds.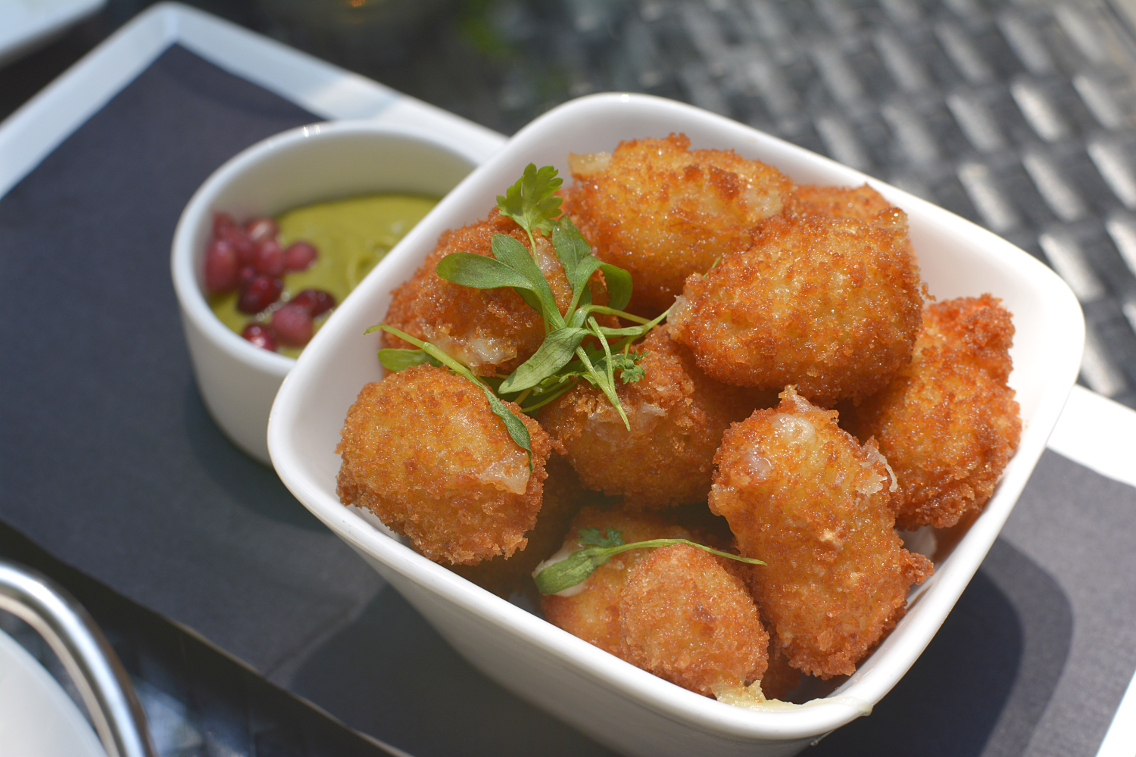 Ever since I've moved to Chicago I've been pretty consistently disappointed with any order of cheese curds I try. I can't tell you how many times I've tried to bite into a fried cheese curd only to find air inside.
It's so upsetting to those of us who know the true magic of a beautifully executed cheese curd.
freestyle has thankfully cured my curd-frustration with these delicious golden nuggets. Crispy on the outside with oozing cheese on the inside all paired with a cooling, innovative dipping sauce? I'll take another order, please!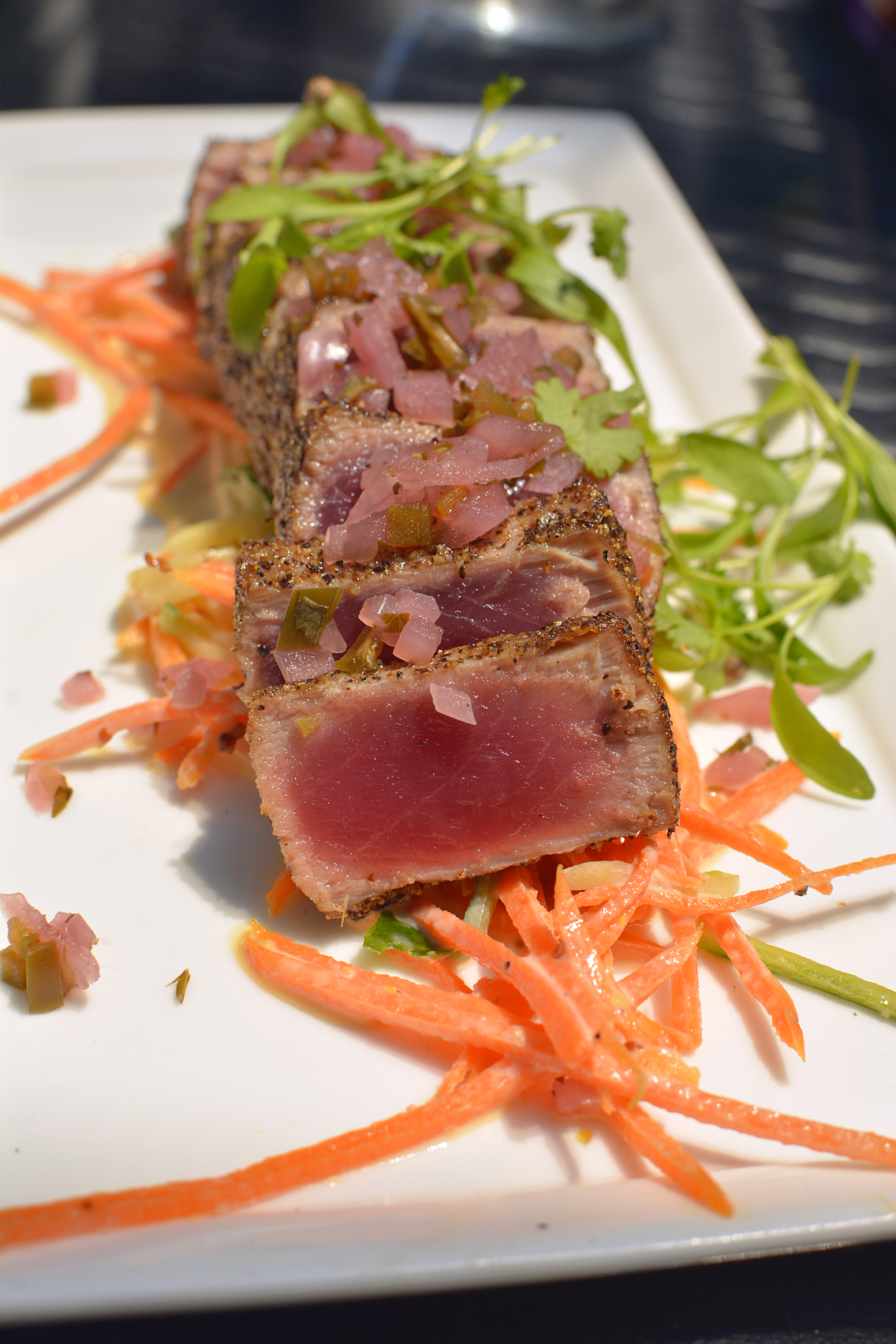 But luckily Starr and I restrained ourselves from dining only on cheese curds and instead moved on to this delicious Seared Pepper Crusted Tuna. Served with chayotte slaw and jalapeño relish, this delicately seared fish was the perfect balance of spicy and savory.
Next, it was Apollo's turn to enjoy a some delicious #foodporn!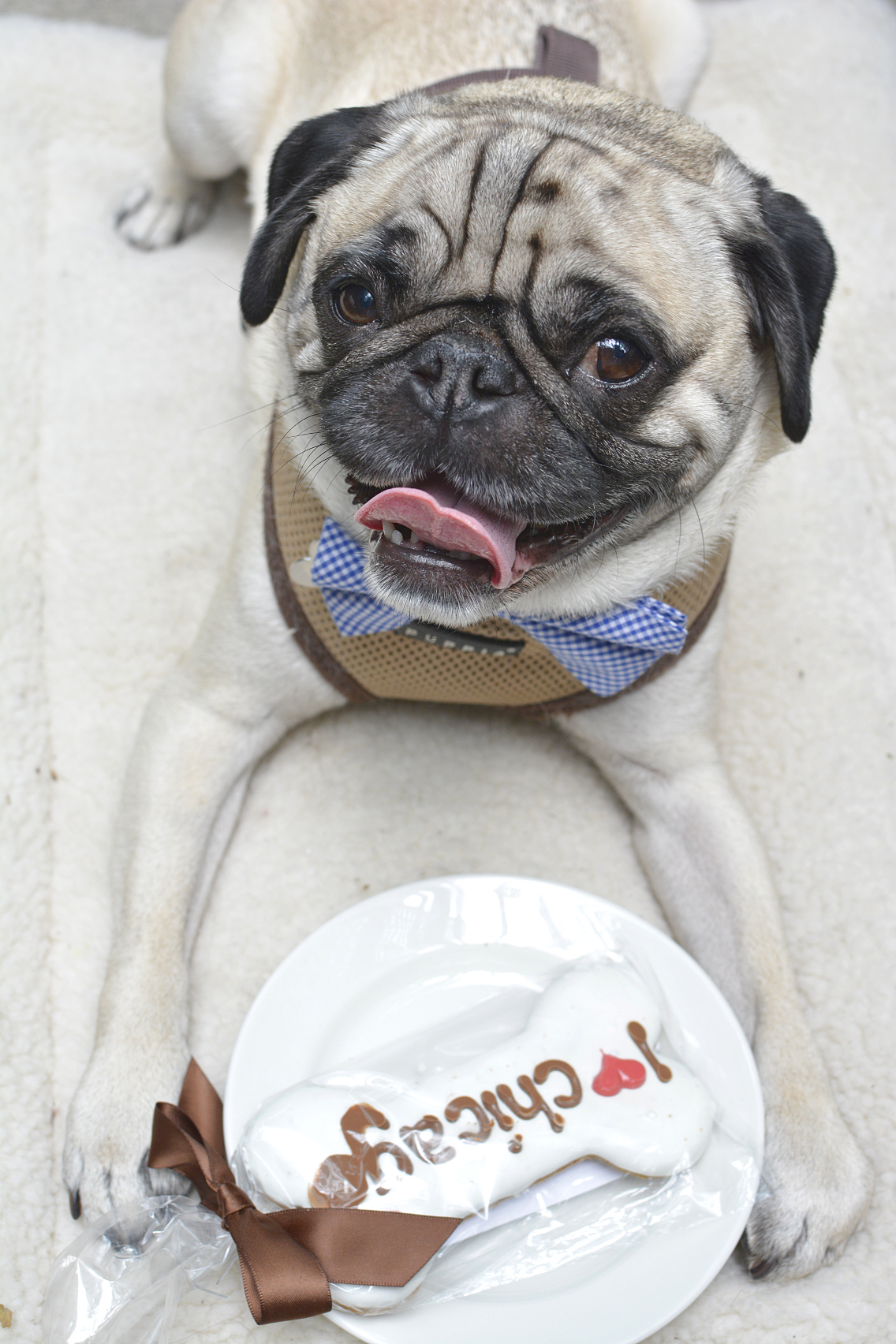 As part of freestyle's pet patio package ($10), all canine cuties receive a plush bed to lounge on and a special custom treat from Tails in the City in addition to as much ice water as they'd like and a hilarious amount of attention from the staff!
I have never EVER seen Apollo so happy! He wanted to dive right into his Chicago-themed treat!

*SNIFF*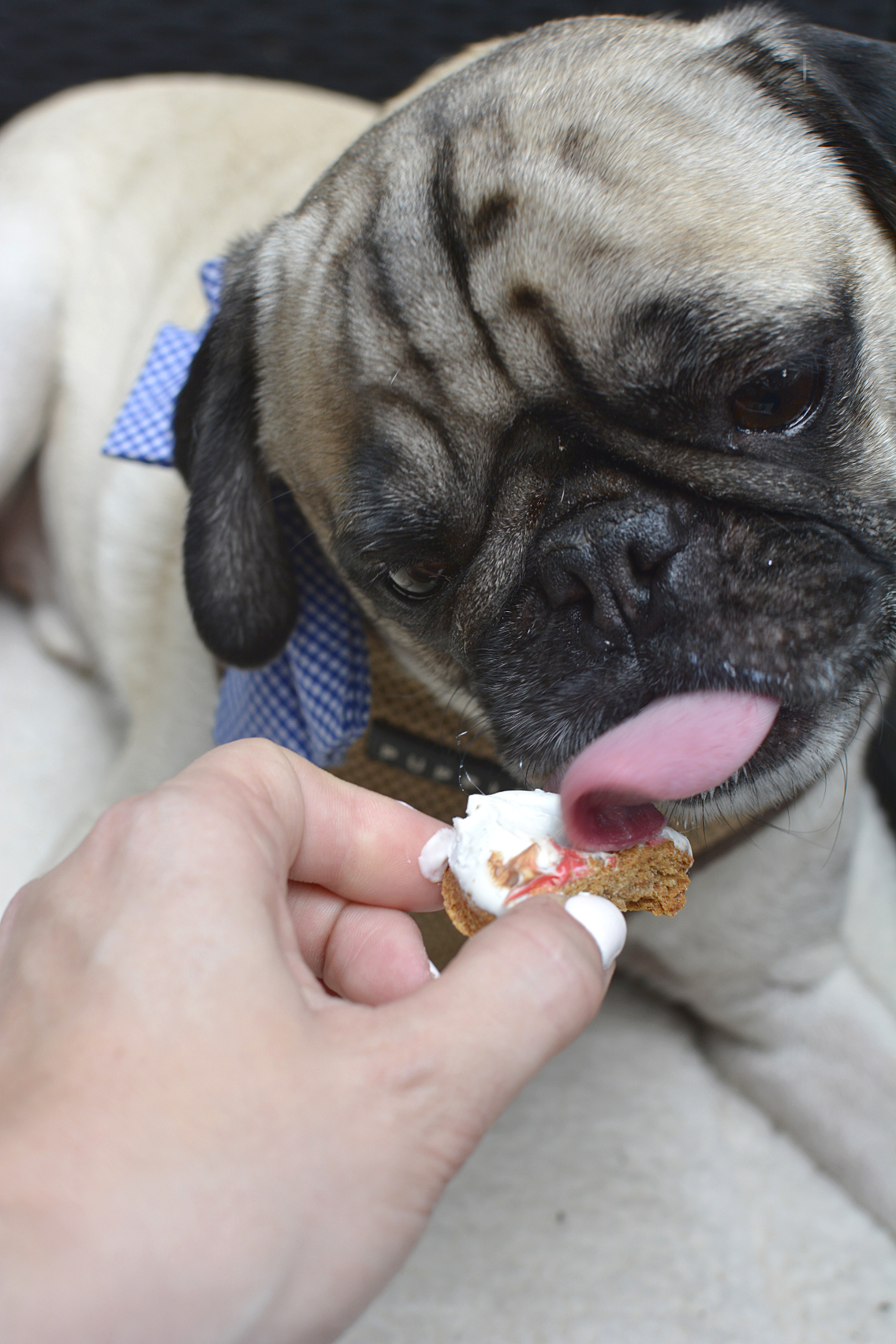 *LICK*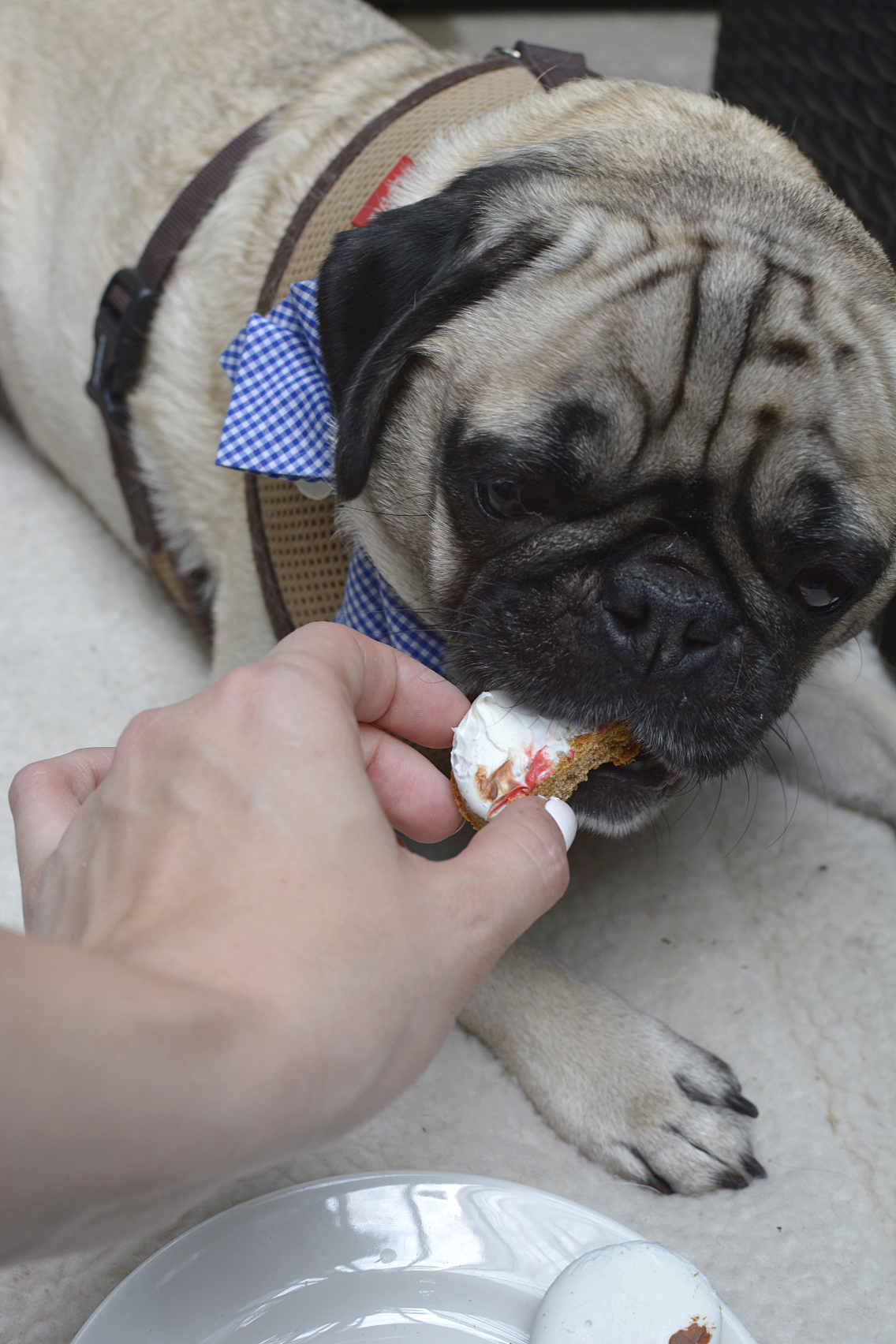 *CHOMP*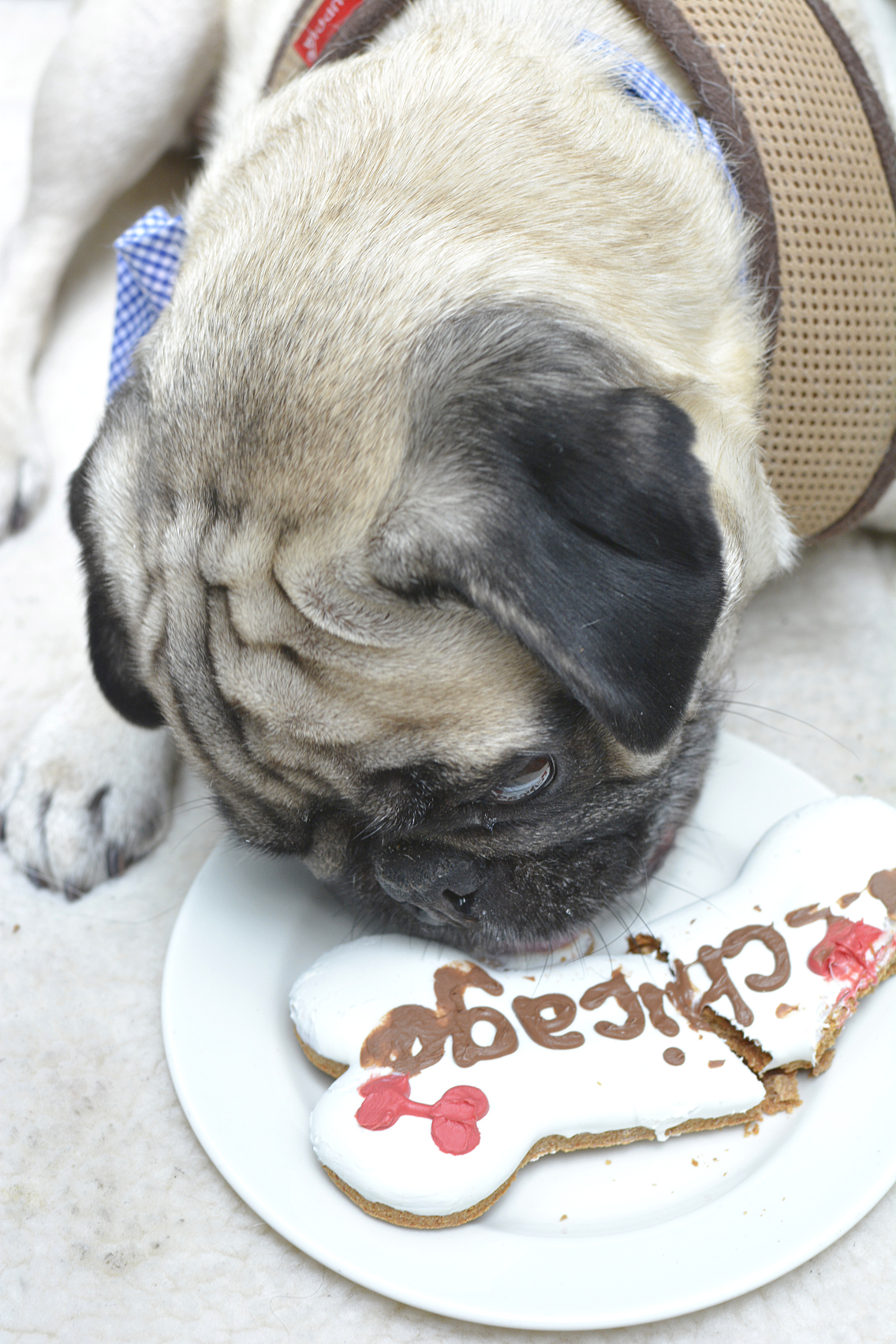 Apollo proceeded to devour his enormous treat in-between marathon rounds of cuddles from everyone within a 30 foot radius. Absolutely everyone within a 30 food radius.
Because if there's one thing a pug knows, it's that you need to work a room and spread the canine love as much as you possibly can. The more people you meet, the more cuddles you get!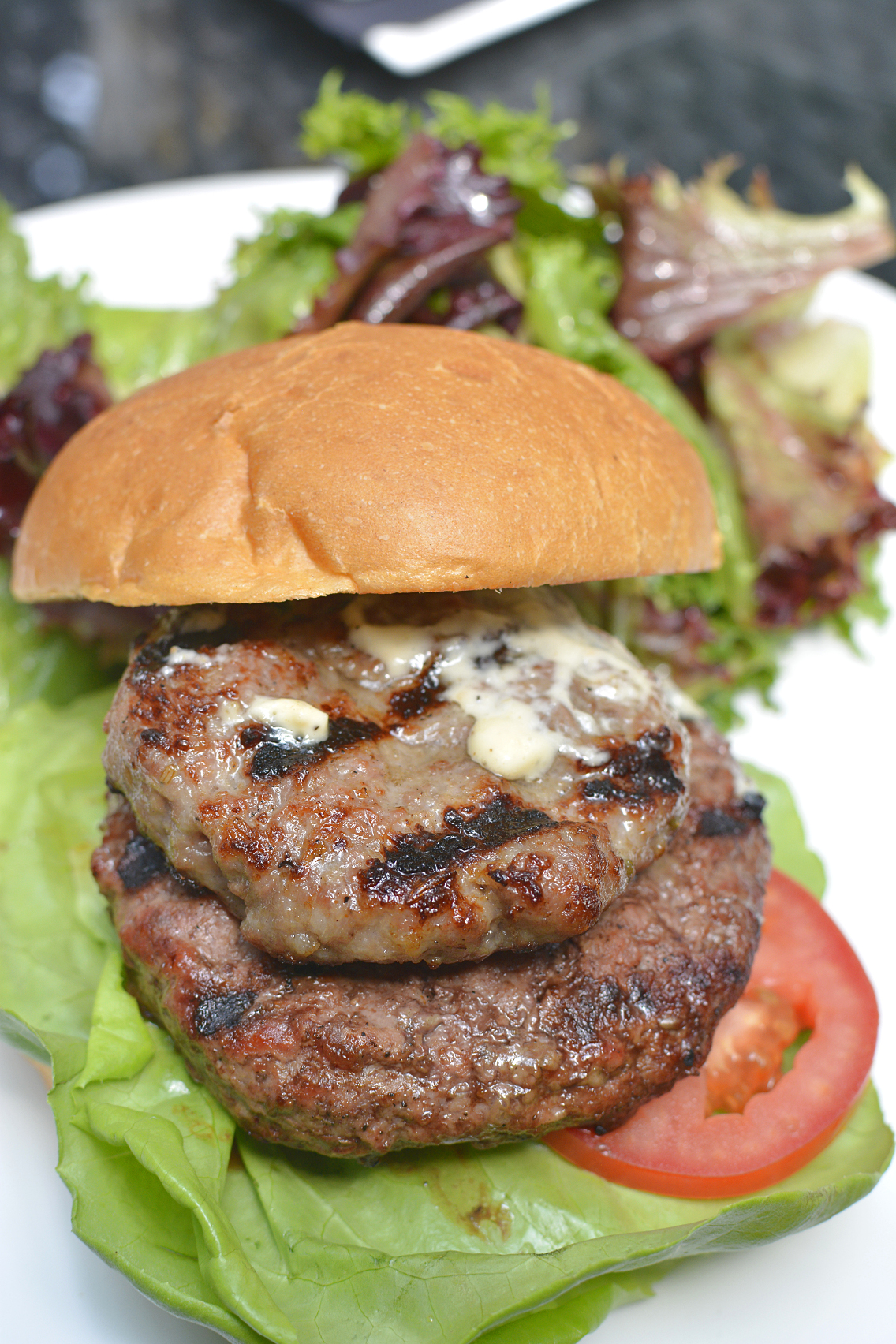 Meanwhile, Starr and I dove right into our own entrées!
Starr opted for this insane double-decker freestyle burger. Prime beef and italian sausage patties on a toasted egg bun with butter lettuce, sliced tomato and horseradish aioli. Apollo was pretty jealous (after finishing off his gourmet treat) and sat RIGHT NEXT to Starr throughout her entire meal, just in case she had any leftovers to share.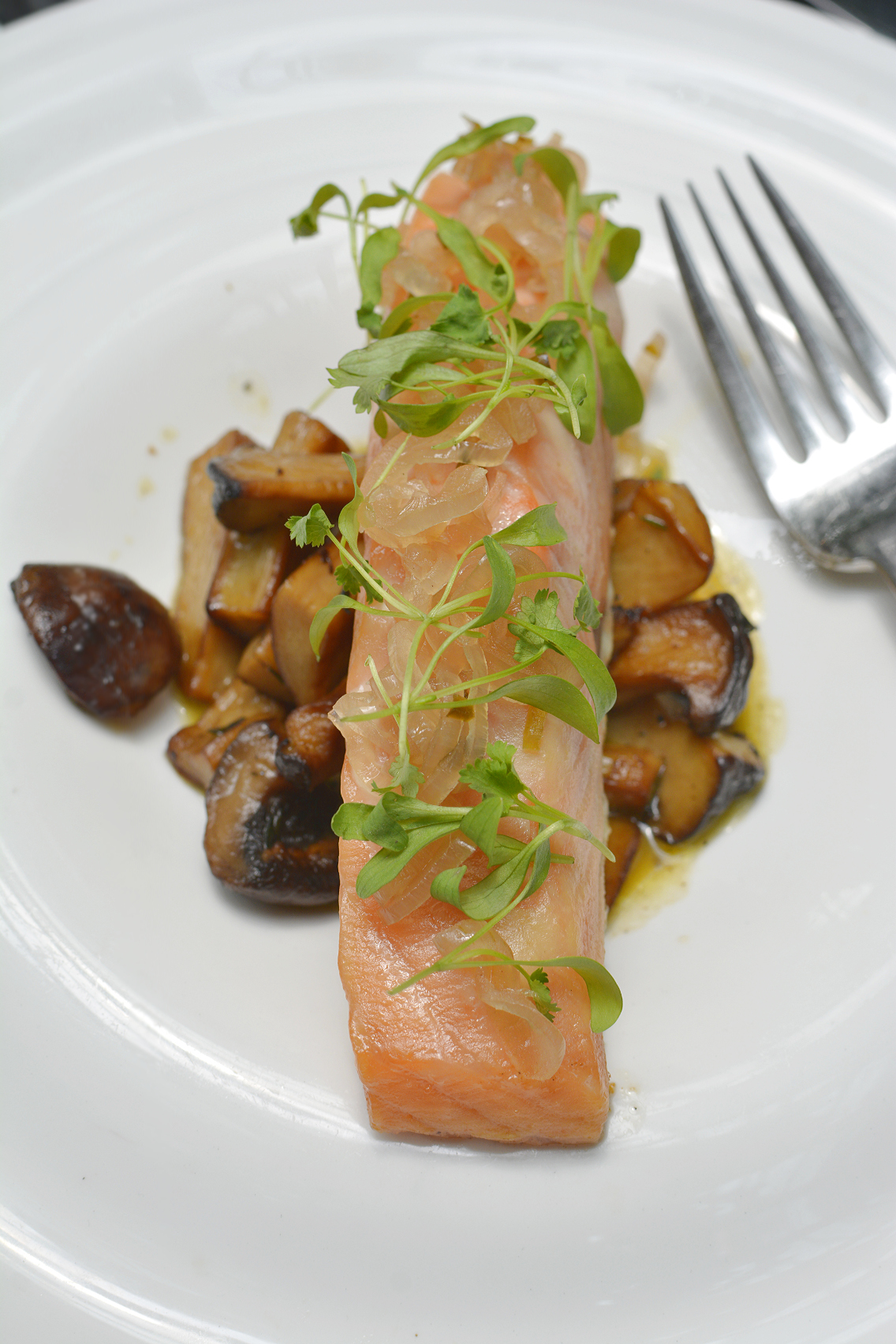 I opted for this stunning plate of Grilled Salmon served with soy bean glaze, roasted mushrooms and pickled shallots.
Now, I love the combination of pickled onions with salmon — the sour, brininess of the onions beautifully compliments the buttery texture in the salmon lending a pleasing burst of tart flavor to the sweetness of the fish.
But adding in the asian glaze and roasted mushrooms took this favorite combination to a whole new level! Savory yet sweet, tart yet mild… mmmmmm, I'm drooling just thinking about this combination!

But being the truffle fry lovers that Starr and I are (ahem, remember our obsession with them at Freds?), we couldn't pass up an opportunity to indulge in freestyle's offering. Seasoned with garlic truffle oil, parmesan, and chopped parsley, these are crispy on the outside, soft on the inside with the skin left on. My favorite!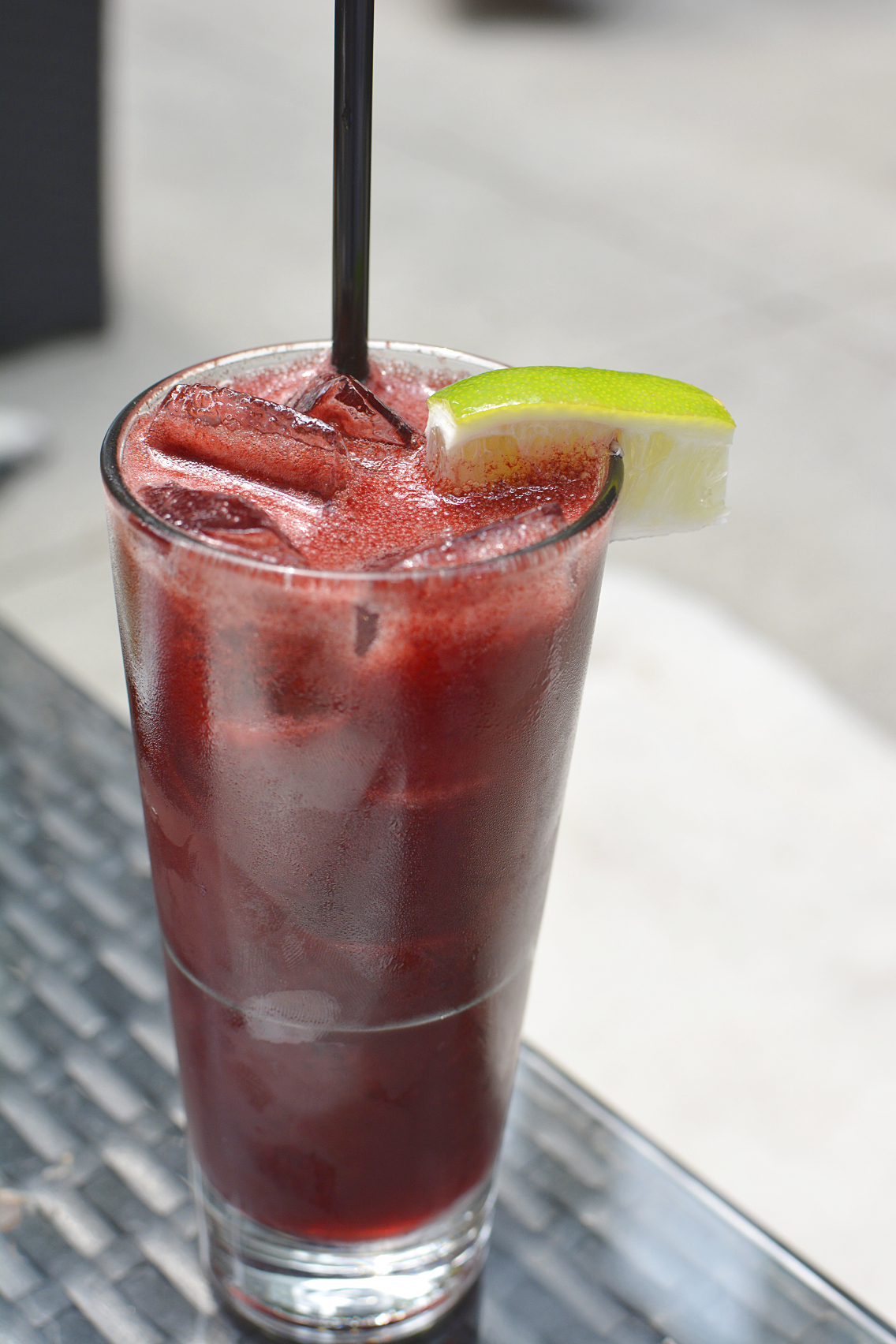 After our meal I ordered this brightly flavored Blackberry Basil Spritzer. Broker's gin, muddled basil and lime, and blackberry puree topped with ginger ale? OMG! What a delicious gin cocktail to ring in the summer season with. And so refreshing on a hot day!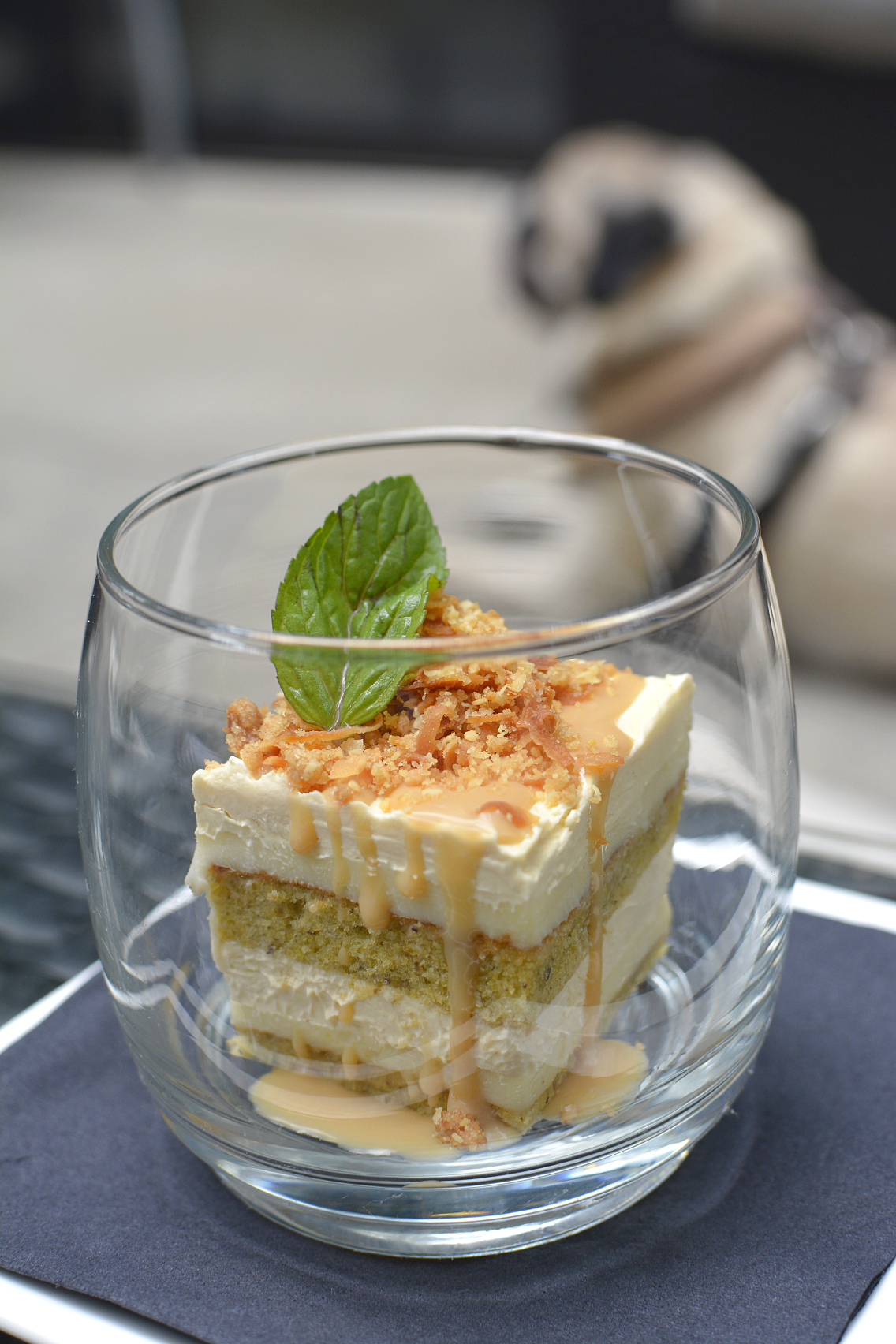 But by now you should have known Starr and I would order dessert too and freestyle's options all sounded seriously dangerous.
It was sooo hard to choose!
But ultimately we chose the two most photogenic offerings. This is freestyle's delicious take on an Opera Cake. Layers of pistachio cake, green tea, and dulce de leche mousse enrobed in a sweet glaze and all served in the cutest glass (perfect for keeping Apollo's sniffing nose out of the mousse!).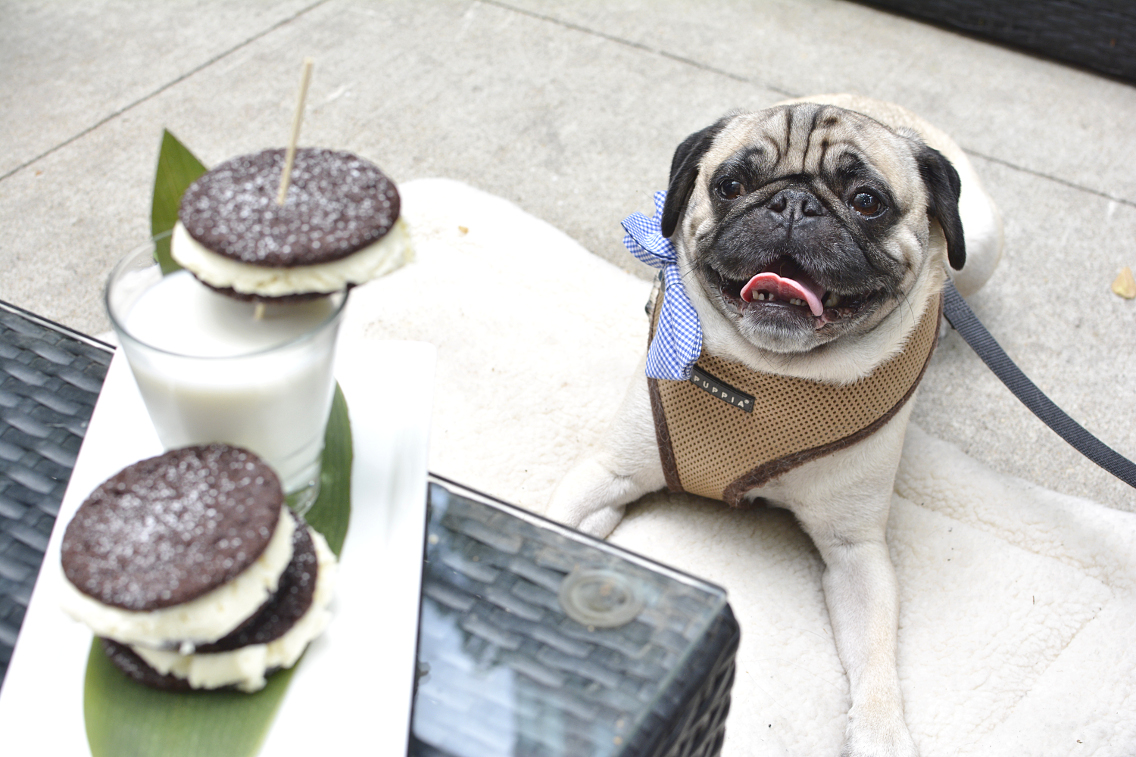 But he got a whole lot more interested once this dessert came to the table…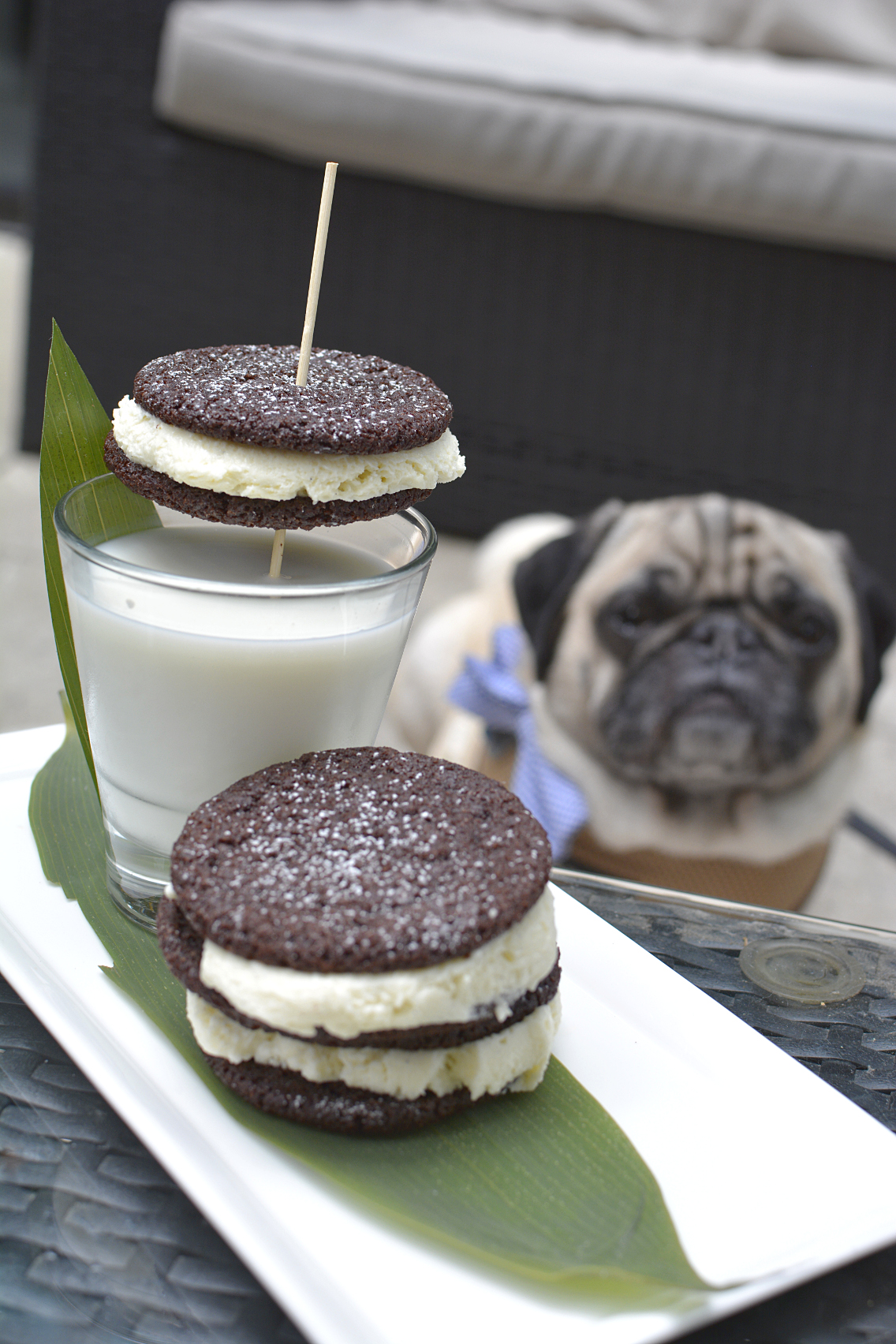 This is freestyle's nod to childhood nostalgia all glammed up! This is their Oreos & Milk!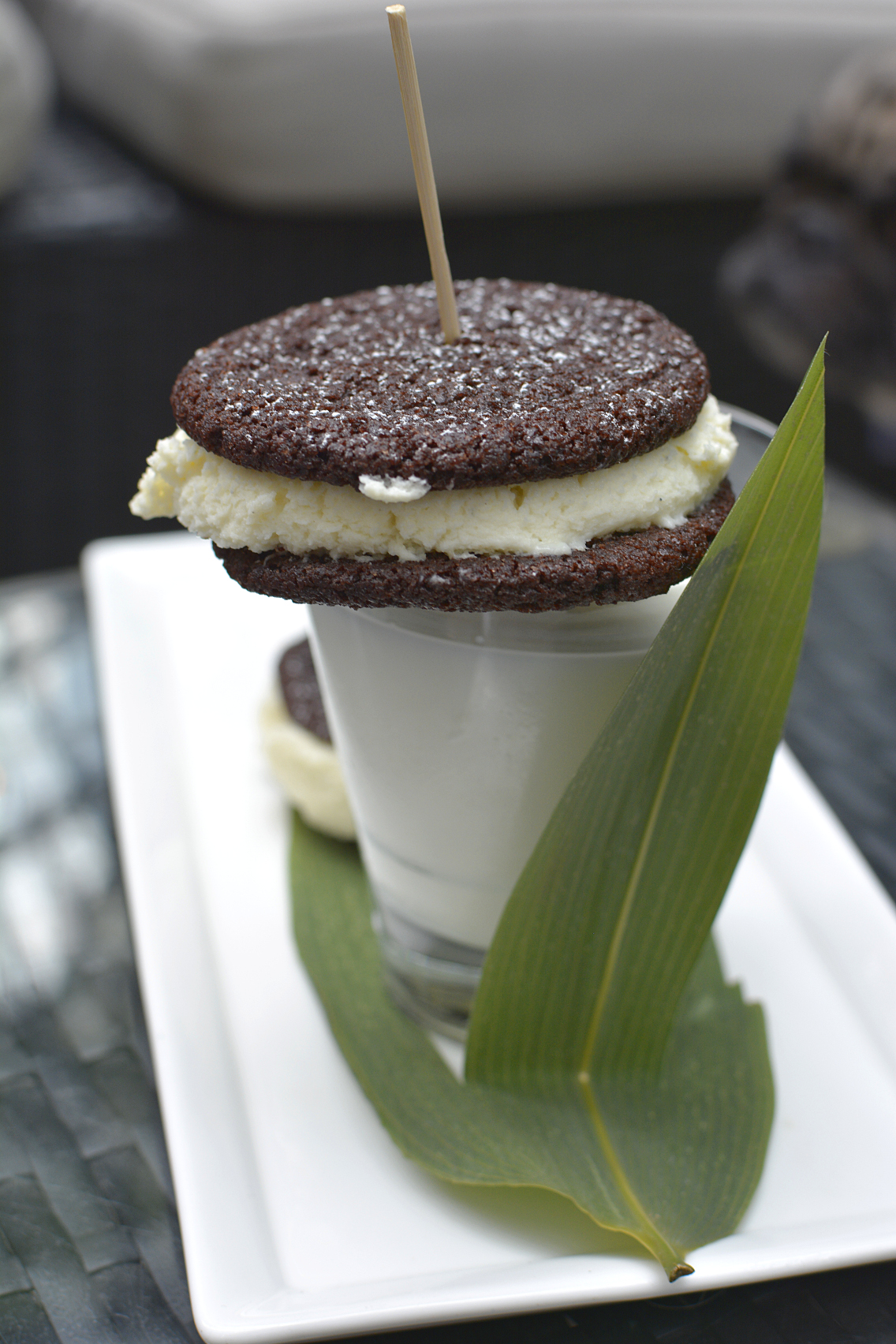 Three HUGE double chocolate oreos filled with white chocolate mousse and served with ice-cold milk. It's a childhood favorite made haute!!!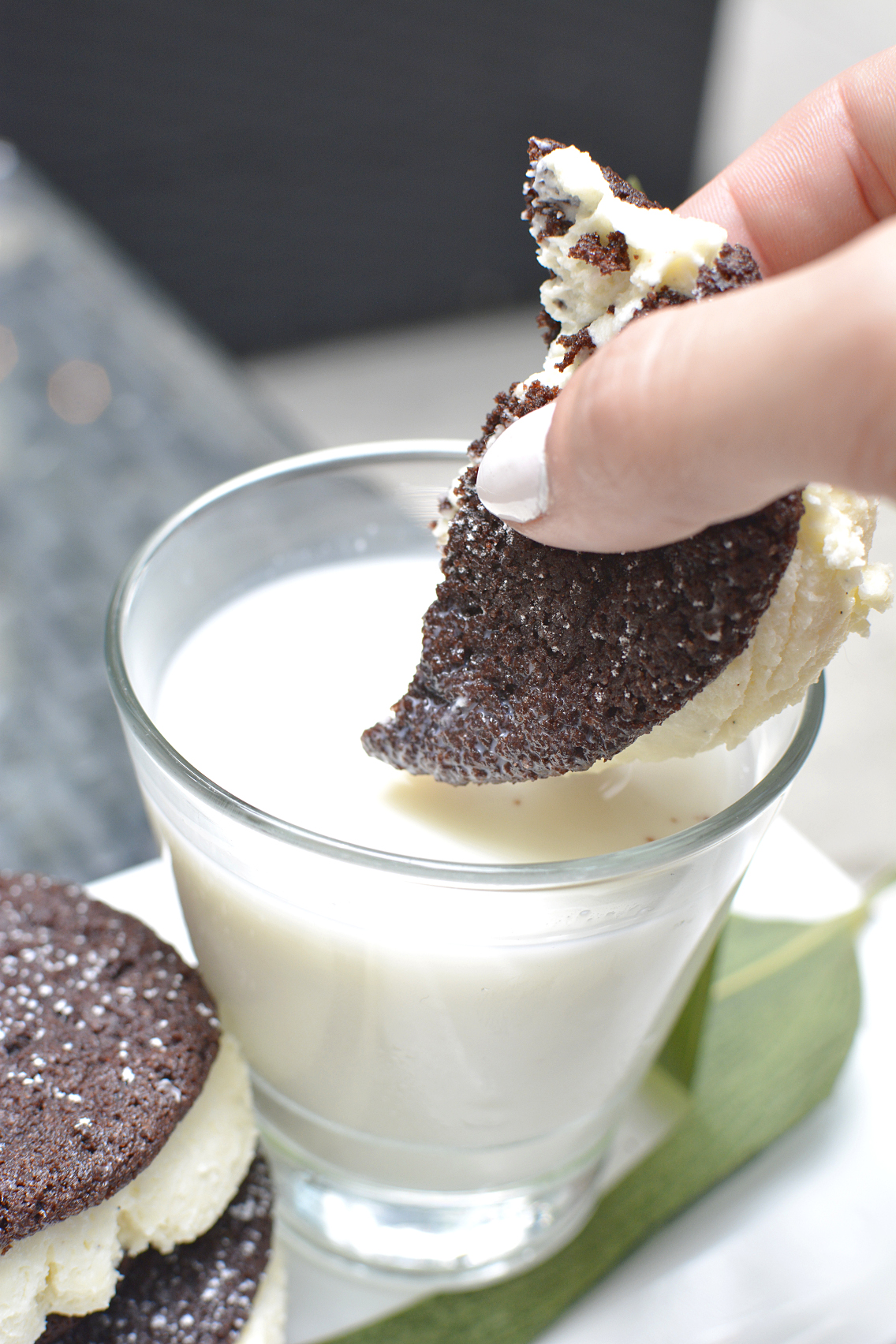 I had forgotten how satisfying dunking a cookie in milk was, but dunking a gourmet cookie in milk? It's the kind of pleasure every adult needs to revisit again and again!
Are you on the hunt for a cozy spot that caters to your canine counterpart all while offering a serious variety of gourmet plates to please pretty much every palate? Look no further, freestyle has you and your fur baby covered!
Check out Starr's post on our lunch date too!
Disclosure: I received a complimentary meal to facilitate this post. Review and all opinions are my own.