BY FAR my most popular post of 2017 (written in 2017 that is), was my 15 Of My Favorite Chicago Shooting Locations post.
SO many of you discover my little blog through that post! And so many of you have reached out to tell me how helpful it's been to you.
As a professional photographer, I swear I spend my life looking for new shooting locations.
And Chicago is one helluvah playground for a photographer like me.
It really is a gorgeous city.
Known for its architecture.
And famous public art pieces.
And for the lively character each neighborhood in Chicago has, despite being so different from one another.
Shooting Chicago is one of the most fun and rewarding things, and there's never any shortage of exciting, new places to shoot. So without further ado, here are 15 MORE of my favorite shooting locations in Chicago…
15 MORE Of My Favorite Chicago Shooting Locations
---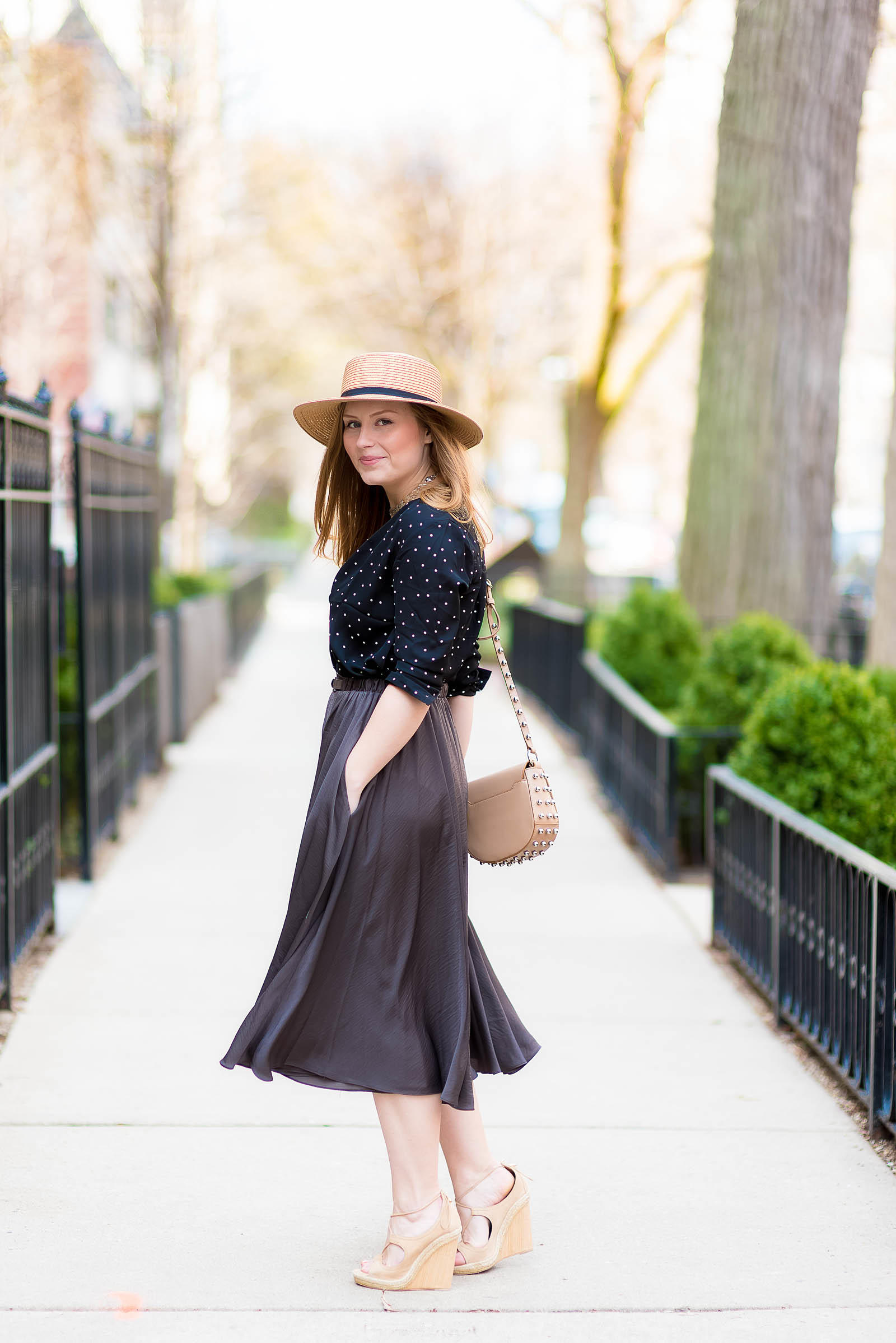 1. The Streets of the Gold Coast
(The Streets Between North & Division and Clark & Lake Shore Drive)
Those who've been to the Gold Coast know what a stunning little part of the city it is.
Magnificent, elegant mansions. Tiny streets with beautiful gardens and foliage. Stunning decorations during any holiday. And one of my favorite restaurants tucked between the mansions all make this one of my go-tos when it comes to shooting.
You can easily shoot multiple looks within a few blocks of one another (like this, this or this) and get COMPLETELY different shots. What more can you ask for from a shoot location?
2. The Piers & Harbors Along Lake Michigan
(Located All Along Lake Michigan)
The city has MANY, MANY piers and harbors.
Of all shapes and sizes (with all shapes and sizes of boats too). And all with some KILLER views of the city and our beautiful lake.
They make one helluvah shooting location when you're willing to brave the crazy winds off the lake.
Head to your closest pier (or head to Diversey if you want my favorite pier in Chicago) for when you need a fresh, summery feel in your shots.
Even if you're shooting on an overcast day…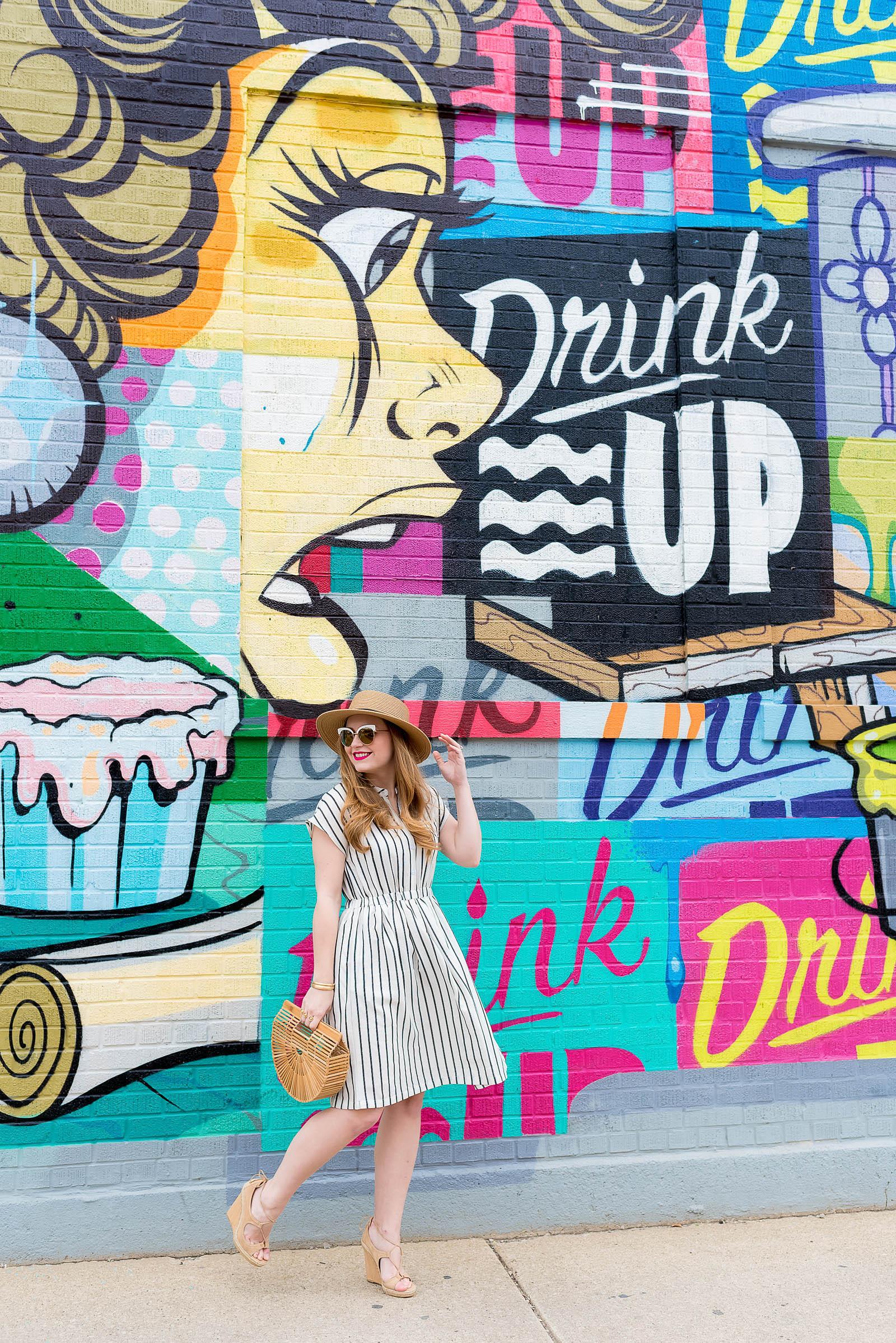 3. The 'Drink Up' WATAAHWALL Project Mural
(175 N. Racine Ave in the West Loop)
This is easily one of Chicago's prettiest murals and most photogenic. The graphic, comic-like aesthetic is playful, colorful, and so much fun to shoot.
I recommend trying to shoot this west-facing wall in the mornings so you won't get any harsh sunlight ruining the mural or your look.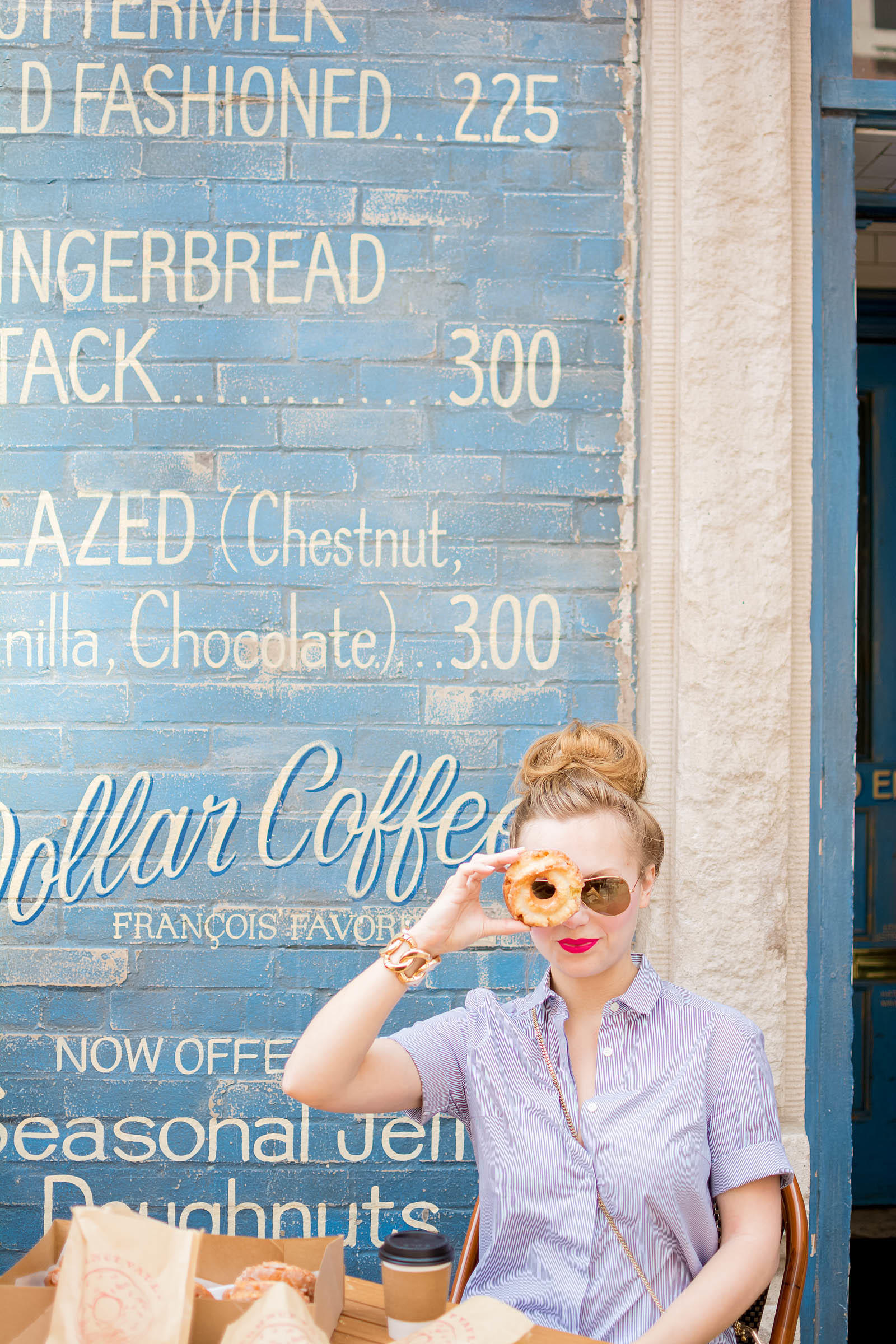 4. Doughnut Vault
(401 N. Franklin in River North)
My favorite doughnut in Chicago also makes for a fun shooting location (just be sure to buy some doughnuts as a thank you!)… Doughnut Vault!
This charming, old-world meets hip city shop is a beautifully blue place to shoot AND fuel up at.
I recommend trying to shoot here in summer when it's warm and you can sit outside with your coffee and doughnuts without freezing.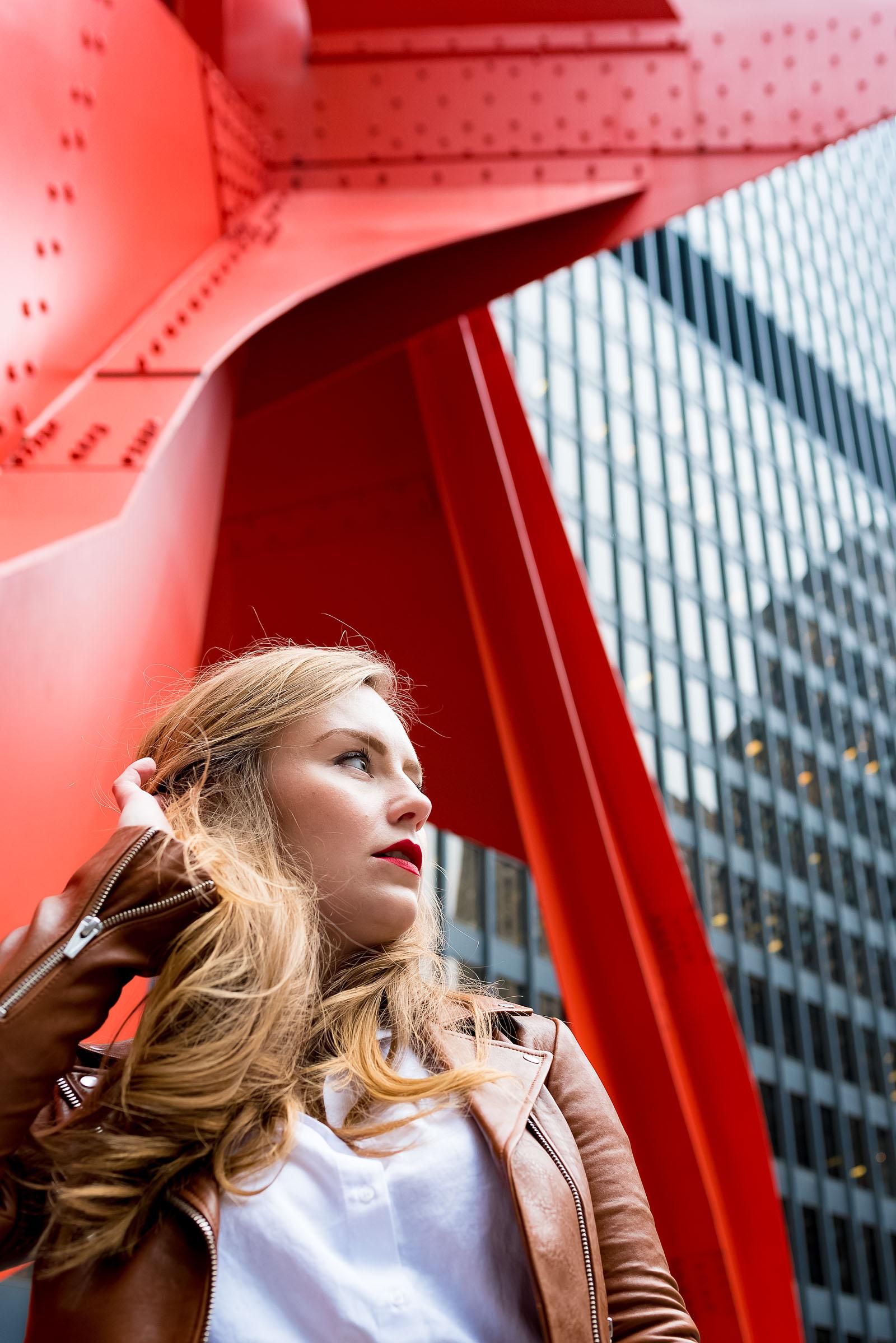 (50 W. Adams in the Loop)
Chicago is known for its public art the world over and one of the city's most famous pieces — the Cloud Gate — was on my original favorite shooting locations list.
But this older and yet no-less-stunning piece right outside the federal buildings in the Loop is certainly worth checking out.
For one, it is RARELY busy, even on weekdays, so you can usually get epic shots without a single photo-bomber. Meaning, you pretty much get this stunning piece of Chicago history all to yourself. And two, the bright red hue and swooping lines makes for such a vibrant background during the drab winter months!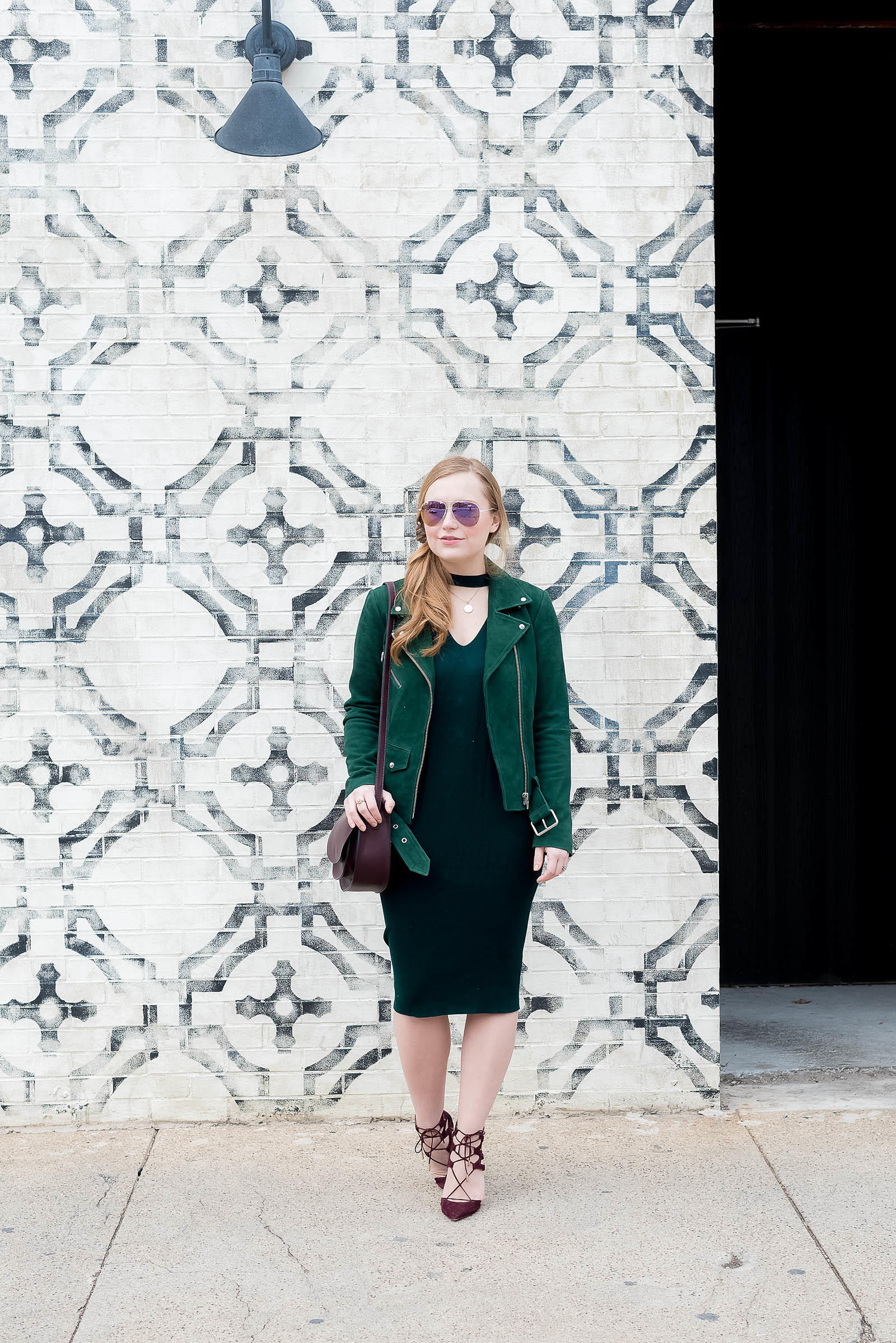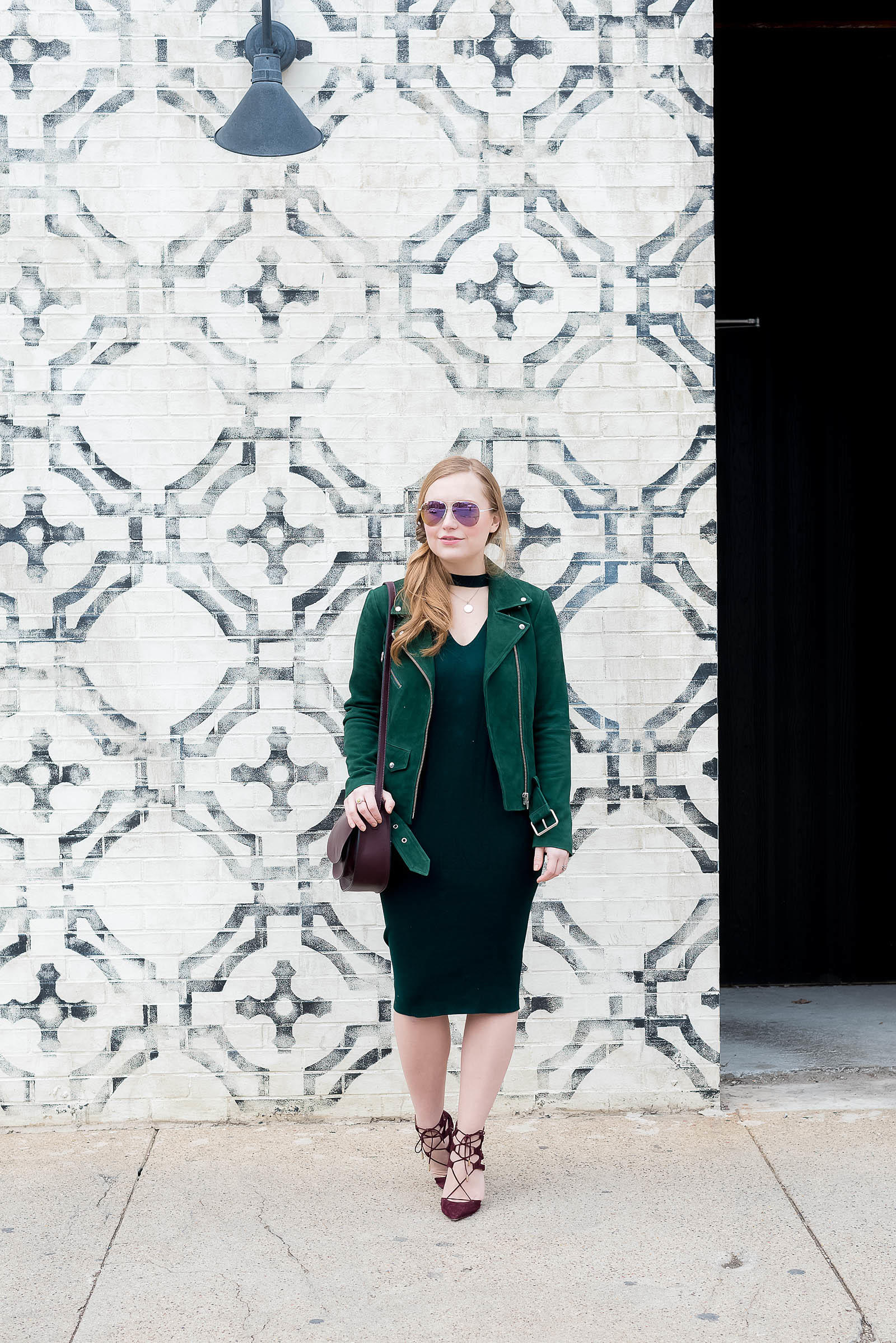 6. Bernie's Lunch and Supper
(660 N. Orleans in River North)
One of my favorite Chicago restaurants also has one of the coolest monochrome walls I've ever seen! This Bernie's wall is a perennial favorite among Chicago fashion bloggers (the fact that you can have a killer meal here after doesn't hurt either).
When you're looking for a striking, busy-but-not-too-busy white printed wall that works anytime of the year, head to Bernie's.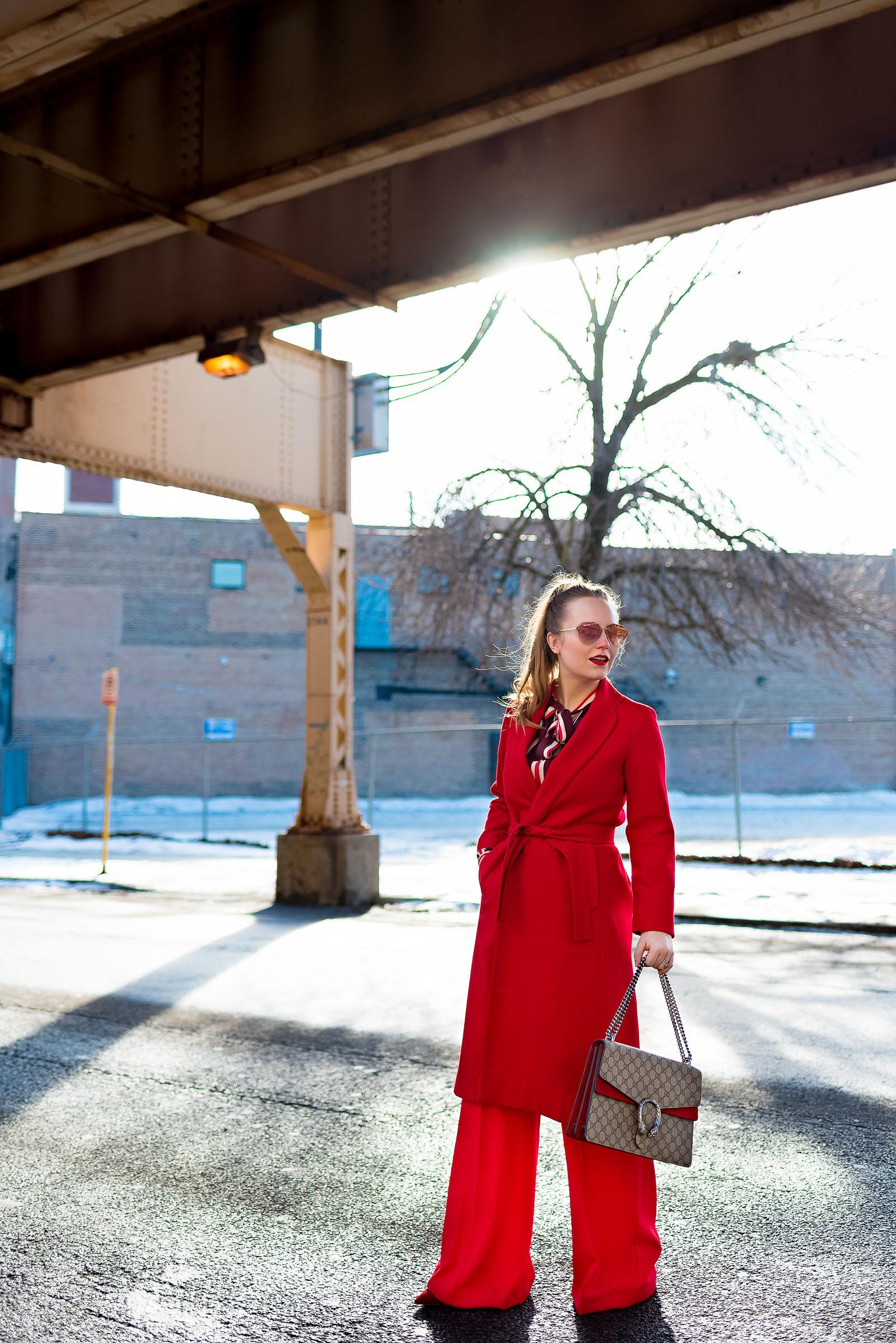 7. Under the El Tracks
(Located All Throughout the City)
Can you think of anything more truly, quintessentially Chicago than the El? Our "elevated subway"?
The El has always been a distinctive part of Chicago and plays a huge role in our city's culture (not to mention Chicago movies like Blues Brothers), so why not make it part of our story too?
I love shooting under El tracks throughout the year — in summer you can get some amazing shadows on the slices through the tracks and in winter you can get a very needed pop of yellow in your shots… Win, Win!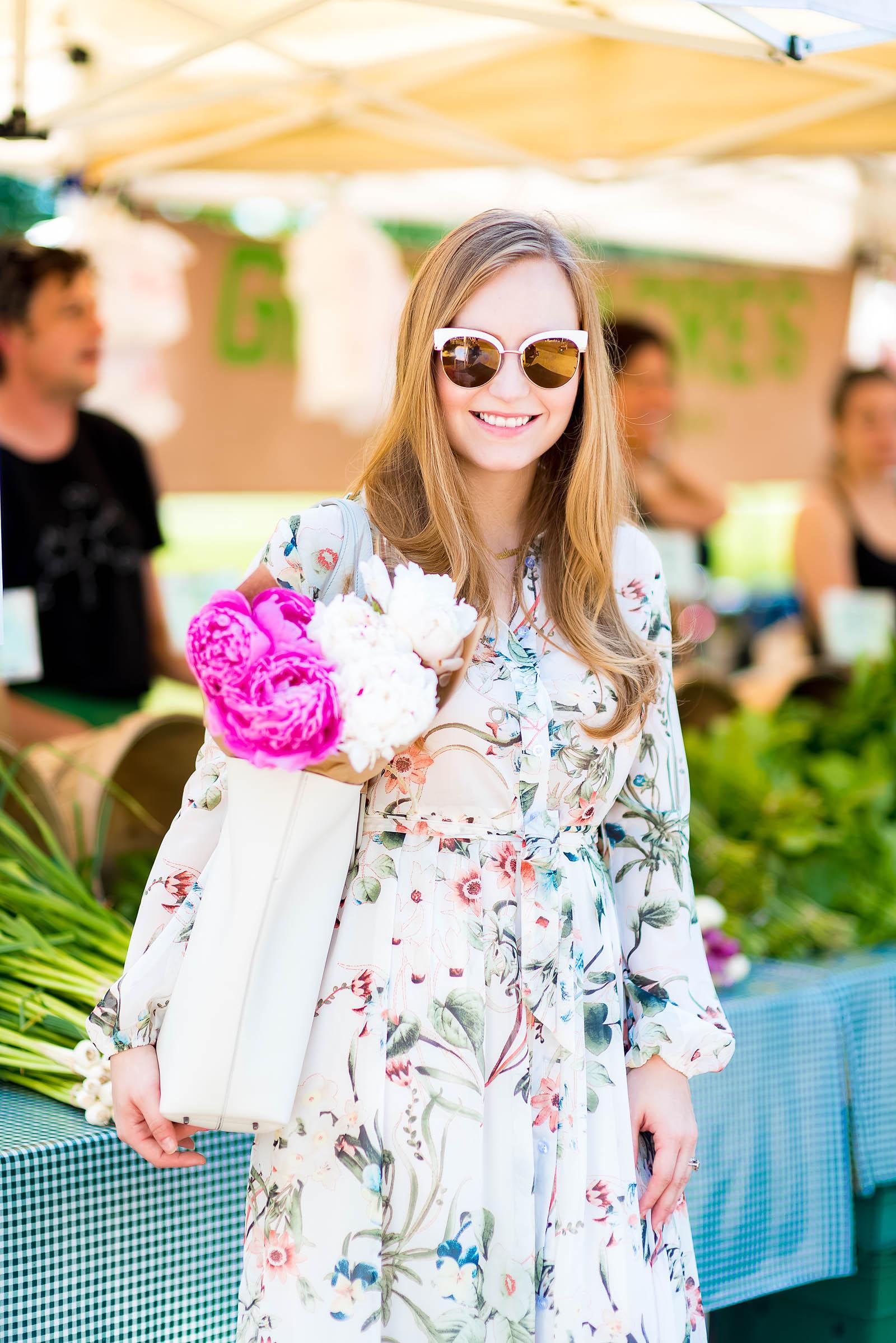 8. The Green City Market
(In Lincoln Park right by 1800 N. Clark)
The Green City Farmer's Market is one of my favorite Chicago pastimes. I've been going for well-over a decade now and look forward to it each and every summer.
The Market is only open on Saturdays and Wednesdays during the warmer months and can get crowded around lunch time. I would recommend shooting on a Wednesday if you can as weekends can be quite busy with people and shooting can be difficult.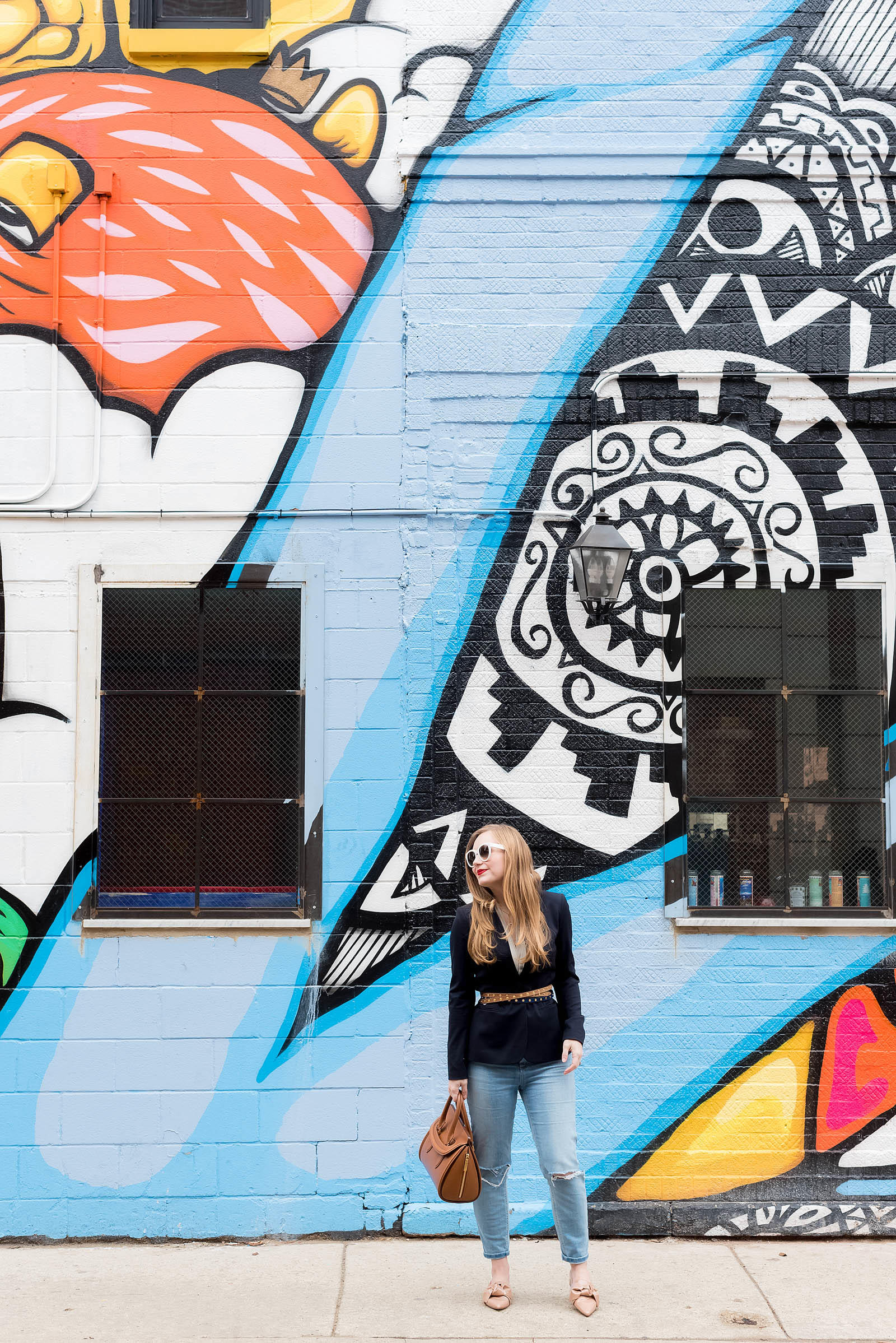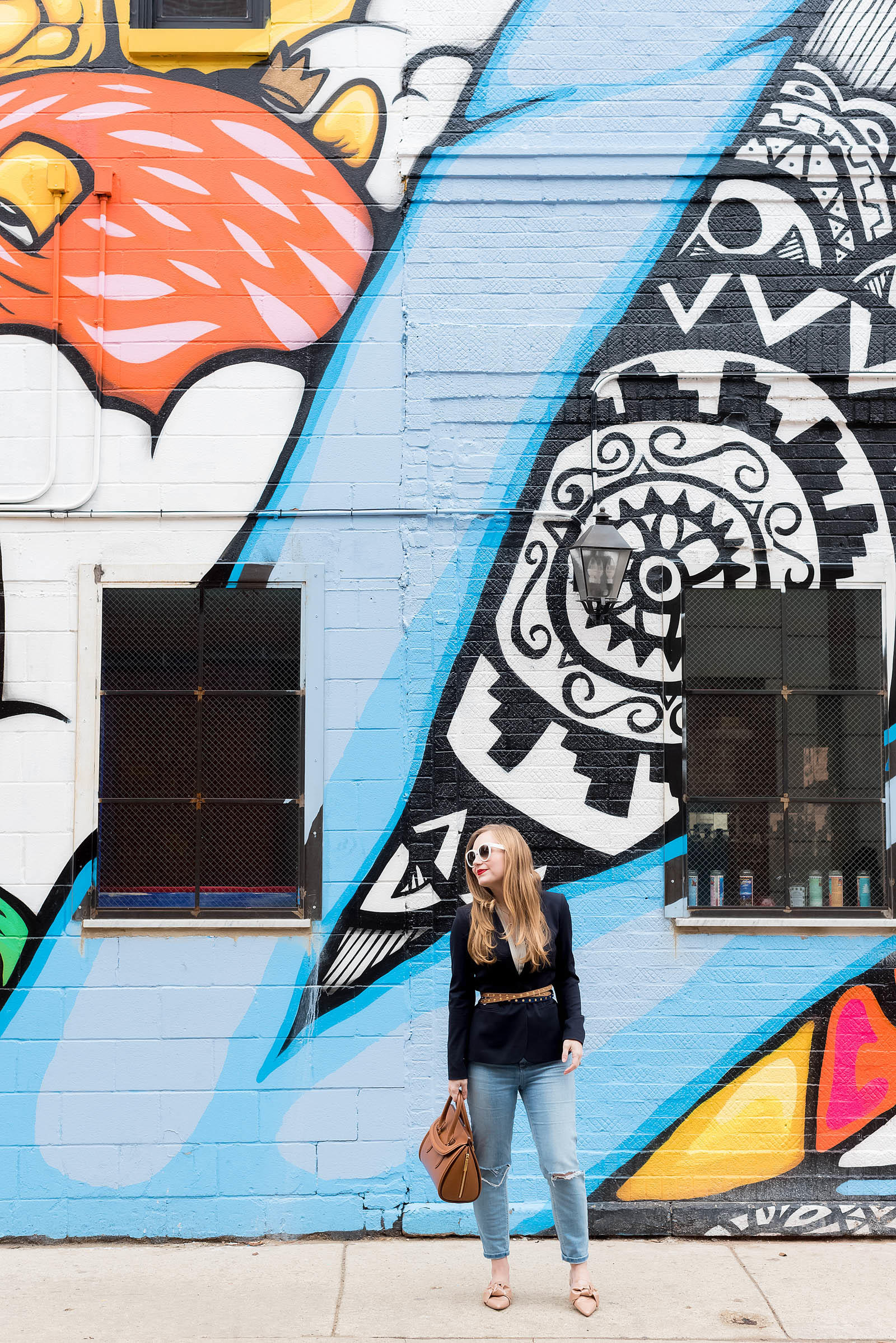 9. Broken English
(1400 N. Wells in Old Town)
I've lived in Old Town for the better part of a decade now (9 years next month!) and while I wouldn't want to live in any other neighborhood, I have to admit that mine can be a little sleepy at times.
Maybe sleepy isn't the right word. Maybe subdued is…
But regardless, when Broken English opened their vibrant neon colored doors a little over a year and a half ago, Old Town got its first taste of a true fiesta of color and culture.
I just adore this wall.
The colors and prints make it so interesting to shoot — just be sure to go on a cloudy day as the mural is south-facing and ruined by direct sunlight.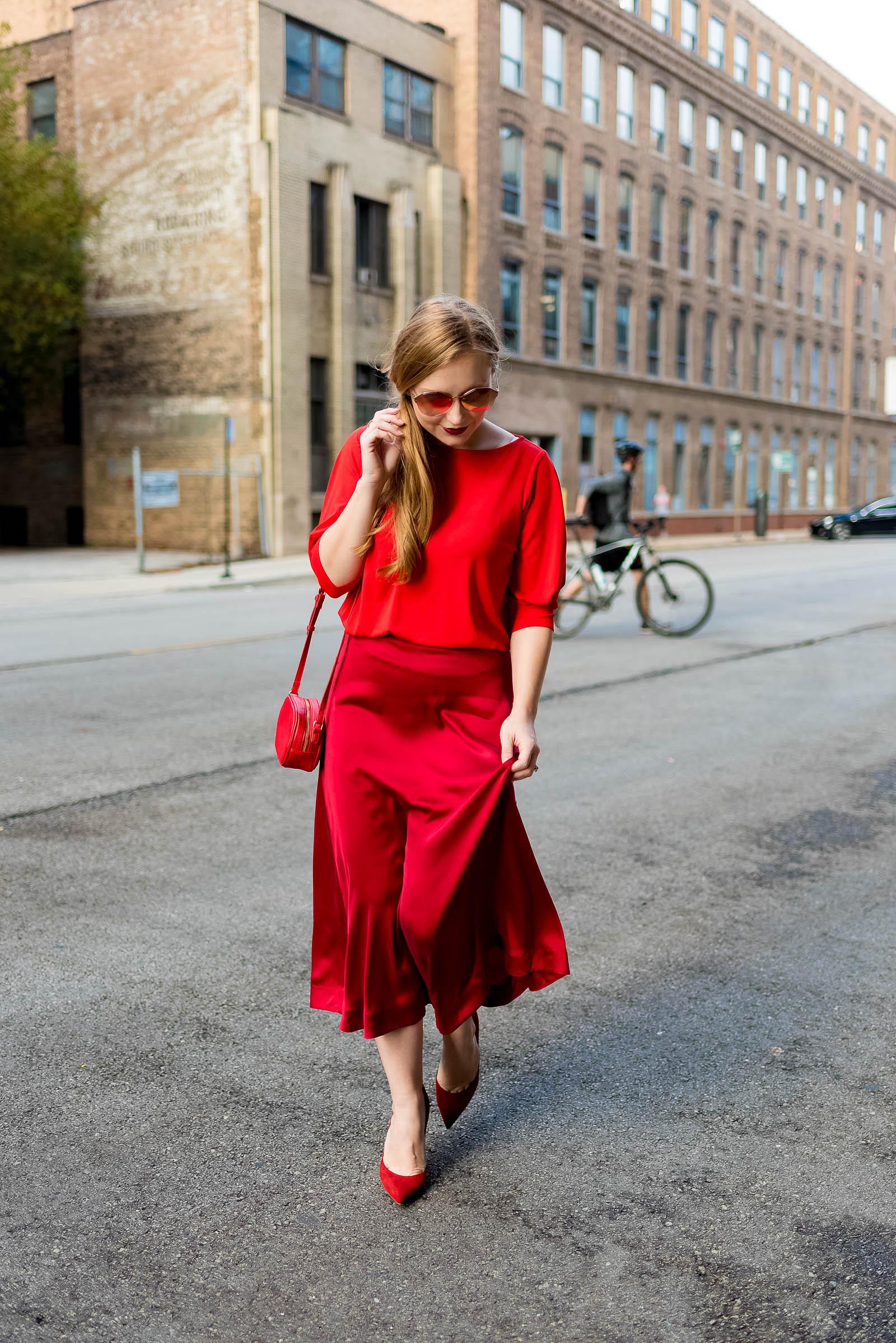 10. Quieter Streets of River North
(The Streets between the River & Orleans and Chicago & Grand in River North)
I've had a lot of friends live in this quieter area of River North over the years and can immediately see why they love it.
It's industrial and urban but in this really beautiful, city way. There are some really stunning streets to shoot on with very little traffic to worry about too.
I recommend shooting here at golden hour in the afternoons as the sunlight pours between the buildings in a very magical way.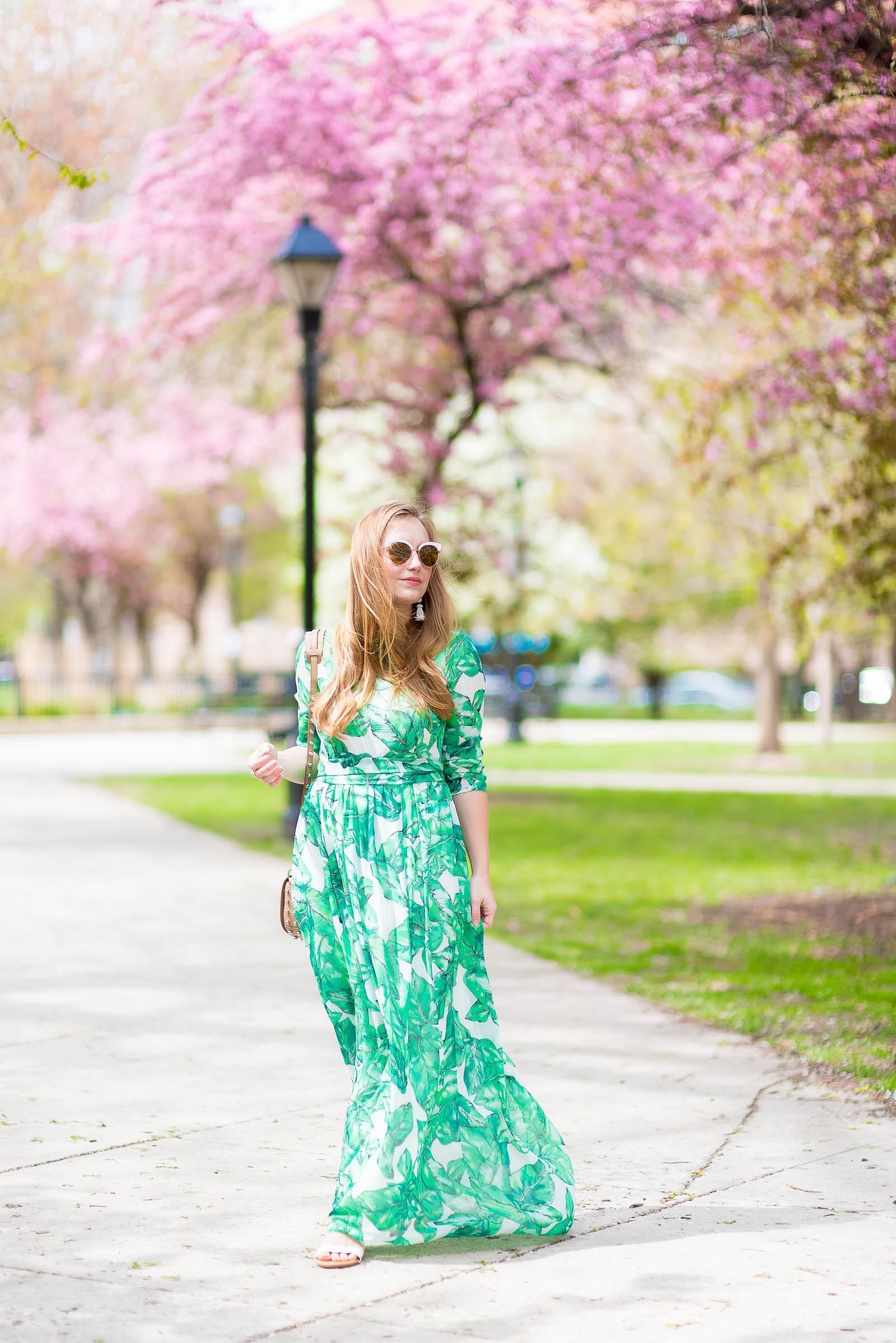 11. Washington Square Park
(901 N. Clark Street in the Gold Coast)
This lovely park is located just a few blocks from the hustle and bustle of Michigan Avenue and feels like stepping into another world.
Located right in front of the beautiful Newberry Library building, this park is a lovely, lush spot to shoot when you don't feel like shooting something bigger (like Lincoln Park). Street parking near this park is cheaper too!
I would especially recommend shooting here during the flowering spring months — the entire park is covered in blooms!
12. The Honeycomb
(Located in Lincoln Park not far from Cafe Brauer)
Technically this is called the People's Gas Education Pavilion but I don't know ANYONE who calls it that. To us locals, this is just the honeycomb, one of Chicago's most beautiful public structures.
I've shot here a lot over the years (1 / 2 / 3) and never tire of it. The warm wood and repeating natural pattern make a striking backdrop for just about any kind of shoot — especially ones you want to scream 'CHICAGO!' without being TOO cliché.
13. Parson's Chicken & Fish
(2952 W. Armitage Near Logan Square)
In summer, without a doubt one of my favorite places to shoot is Parson's! And since it also happens to be one of my favorite places to eat, this spot is a no-brainer for me when the temperatures rise.
Parson's has one of the city's best patios. It's made even chicer by their abundance of red and white striped umbrellas and white picnic tables in back. Not to mention their ping-pong table! If you're looking for a location that SCREAMS fun, look no further.
I love shooting here on a hot day then slurping a few frozen negroni slushies after…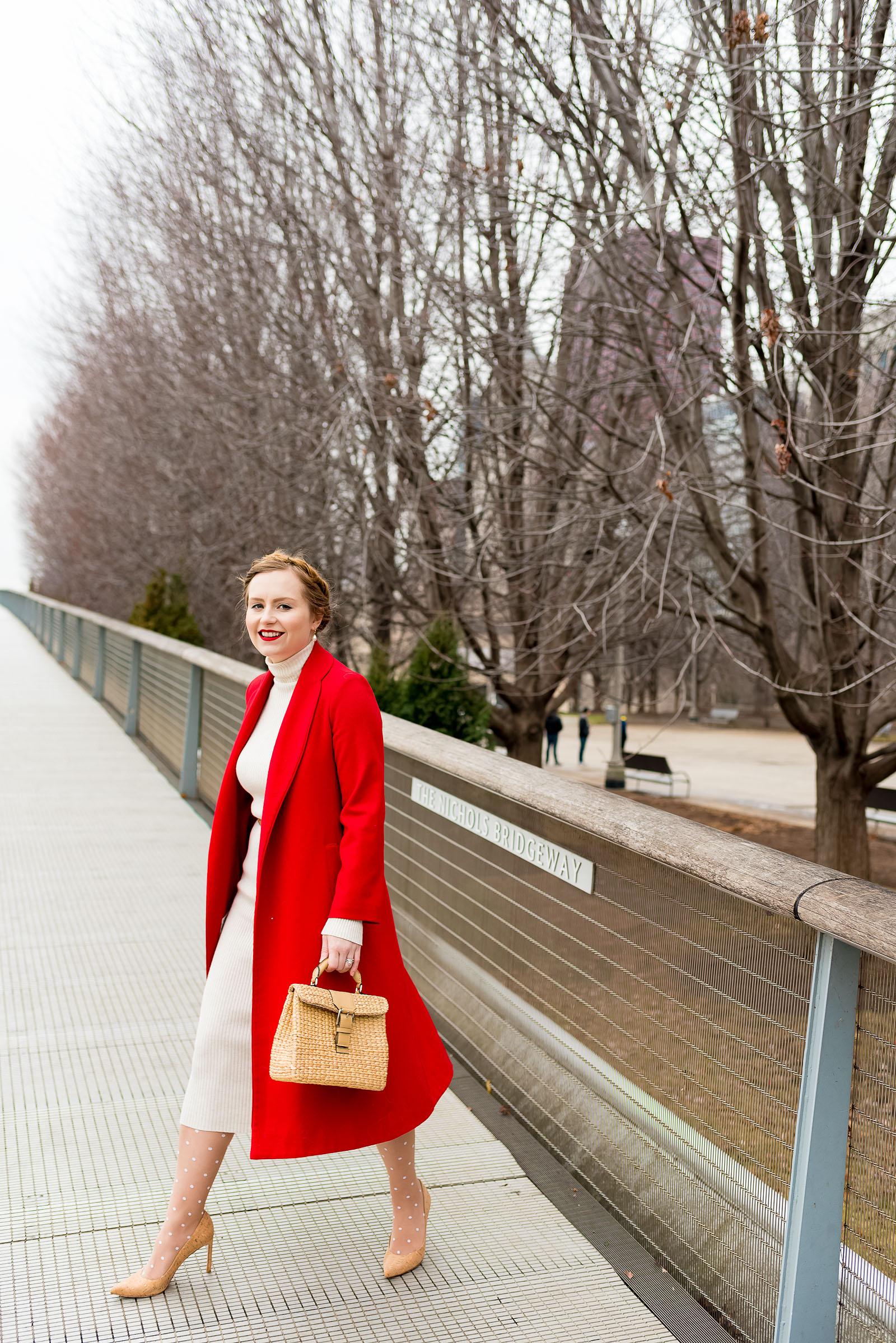 14. The Nicholas Bridgeway
(Located in Millennium Park Near the Jay Pritzker Pavilion)
This bridge was installed when the Art Institute (another one of my favorite shooting locations) remodeled their Modern Wing. The ramp leads up to their second-story entrance but because of its length and location, makes for one of the coolest ramps in all of Chicago. So modern and sleek, even during the gray winter months.
Walk up further and you can get some cool shots of the whole city too!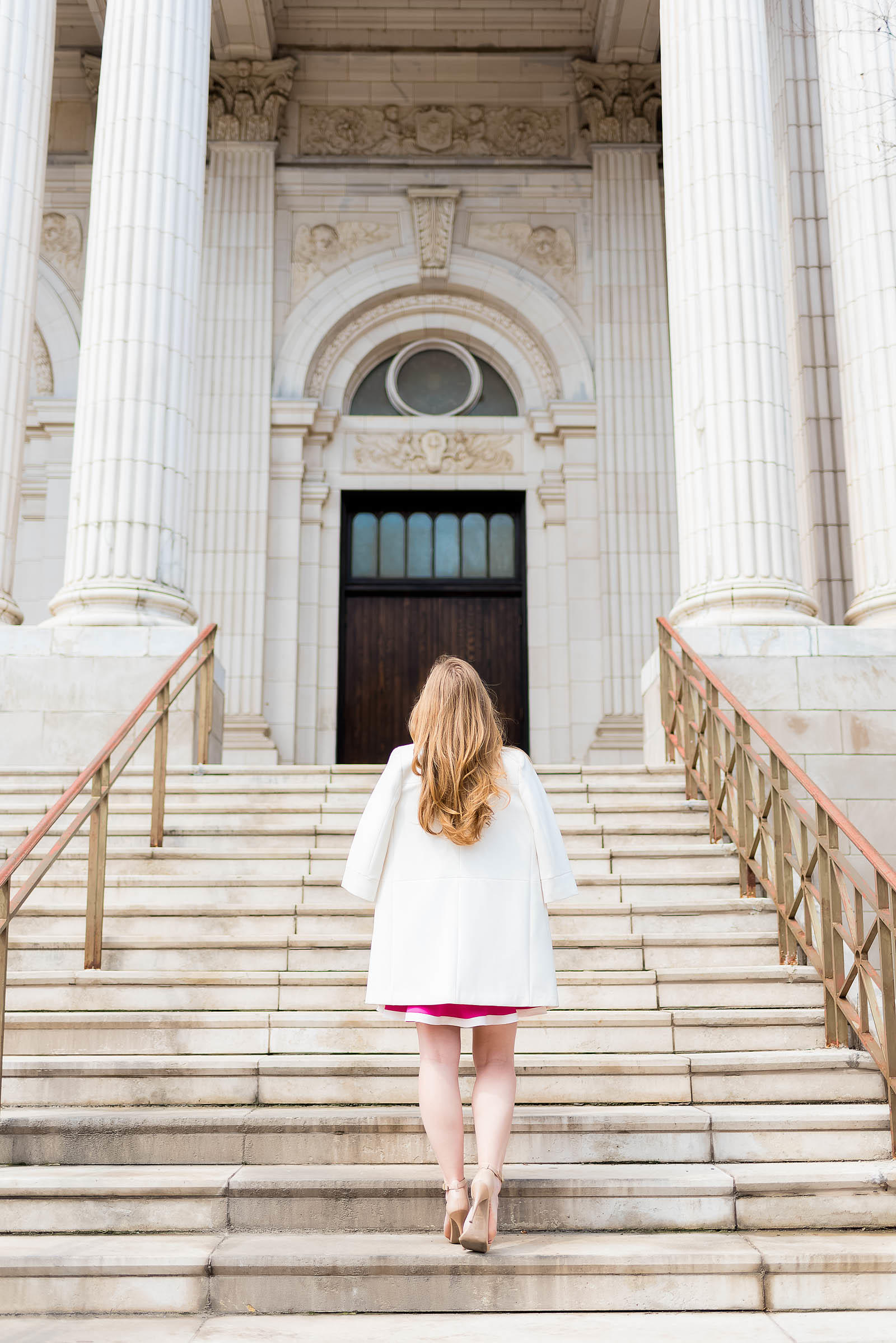 15. St. Mary of the Angels
(located at 1850 N. Hermitage)
On a personal note, I have hesitations about sharing this location as it is a church. An active church. And I would never mean to spoil that or ruin anyones religious experience by suggesting people shoot outfit photos here so publicly. However I've been shooting here for years and have never gotten anything but smiles from the staff. And, seeing as the main entrance is no longer used (I've never seen the doors opened once), I truly felt like this deserved a spot on this list. I just love this beautiful church so much!
St. Mary's is a stunningly beautiful building not far from one of my other favorite shooting locations, the 606 and offers so many interesting perspectives to shoot. I particularly love their epic stairs and the impressive columns at the entrance!
What are some of your favorite Chicago shooting locations?
Be sure to check out my original list too!