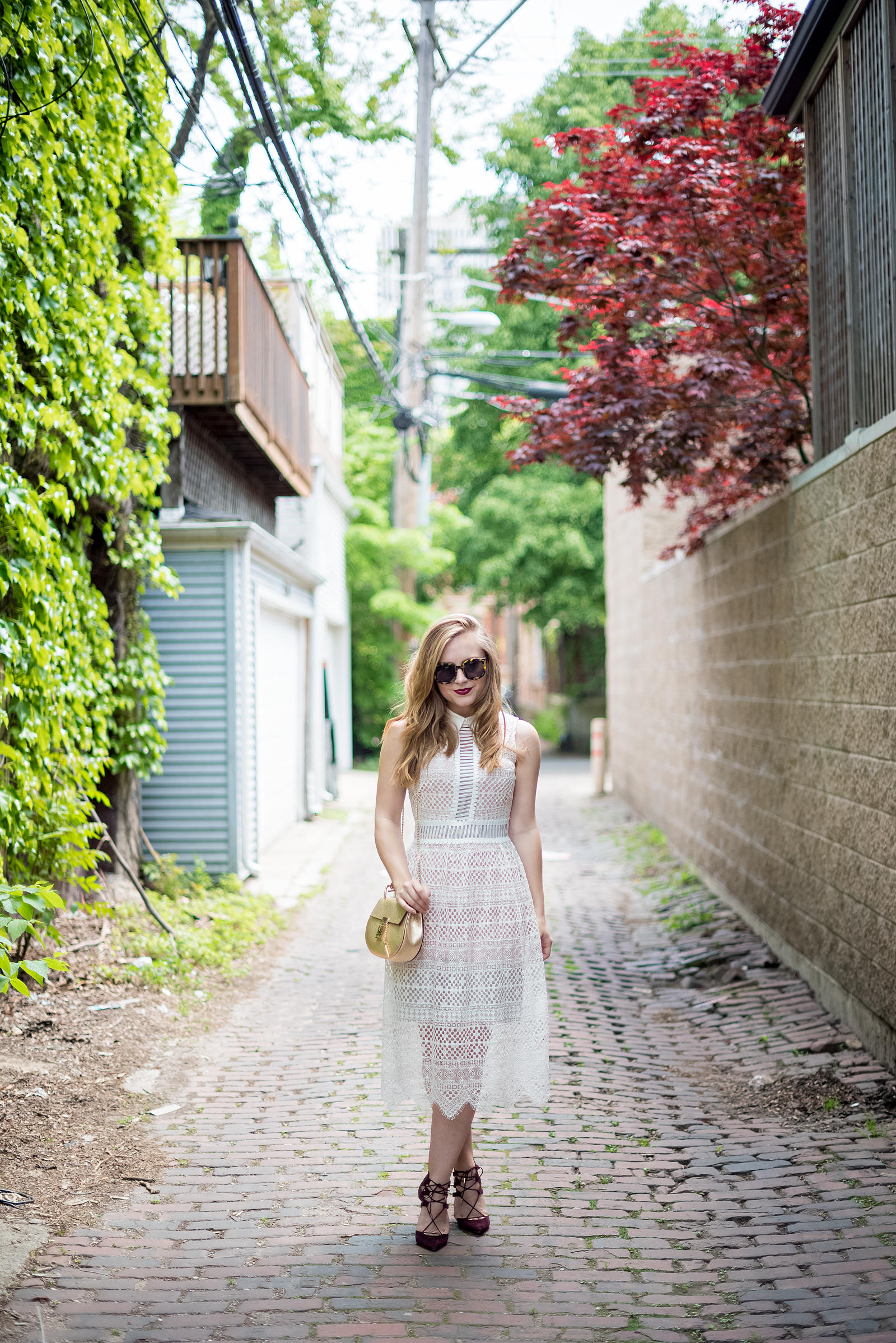 "One forges one's style on the terrible anvil of daily deadlines."
Dress – Asos || Bag – Chloé Mini 'Drew' (budget options: 1 / 2) || Pumps – Aquazzura Belgravia (in black) || Sunglasses – Karen Walker c/o Ditto (get your first month free with code 'StewSunnies') || Nails – Christian Louboutin in 'Just Nothing' || Hair – c/o Jordan at Dennis Bartholomei || Make-Up – c/o Jenna
Photos courtesy of blogger Heidi
Did everyone have a great Memorial Day weekend? We couldn't have asked for more perfect weather here in Chicago — the sun was shining and the city was ALIVE with celebrations and happiness.
I think it's safe to say summer is HERE!
Which means it's time to unveil my Summer Shop! I've curated a little boutique of all the pieces I'm loving this summer — everything from wear-everywhere white jeans to breezy dresses to quirky swimsuit cover-ups. All the necessities for the fun, hot, humid, crazy, busy, memorable season ahead!
This Asos lace dress is my absolute favorite piece in the entire shop and, for less than $130, it's probably going to be one of yours too! So far I've worn it only twice but can say that this dress is EASILY the one I've received the most compliments on. Except perhaps my wedding dress! It's a beautiful, weighted lace (similar in design to Self-Portrait dresses but with softer lace and a more modest cut) and lined in a beautiful blush fabric instead of a more traditional nude. It's such an easy and classic statement piece — I know I'll be wearing it all summer long!
And with the arrival of summer, I've also snagged a pair of these enormous Karen Walker Super Duper sunglasses to stay chic and squint-free in the sunshine! I got them through Ditto, a Netflix-style designer sunglasses subscription service that Heidi has been raving to me about for weeks! Basically for $24 a month you get to choose from 1.000s of designer sunglasses, keep your favorite pair as long as you want and then return them when you want new shades! How easy is that? It's a no-brainer for someone like me who hates to invest in expensive sunglasses since I can't ever seem to commit to just one design — I prefer to have plenty of options when it comes to my shades!
Interested in trying Ditto yourself? Use my 'StewSunnies' code to get your first month free! And be sure to let me know what you think!