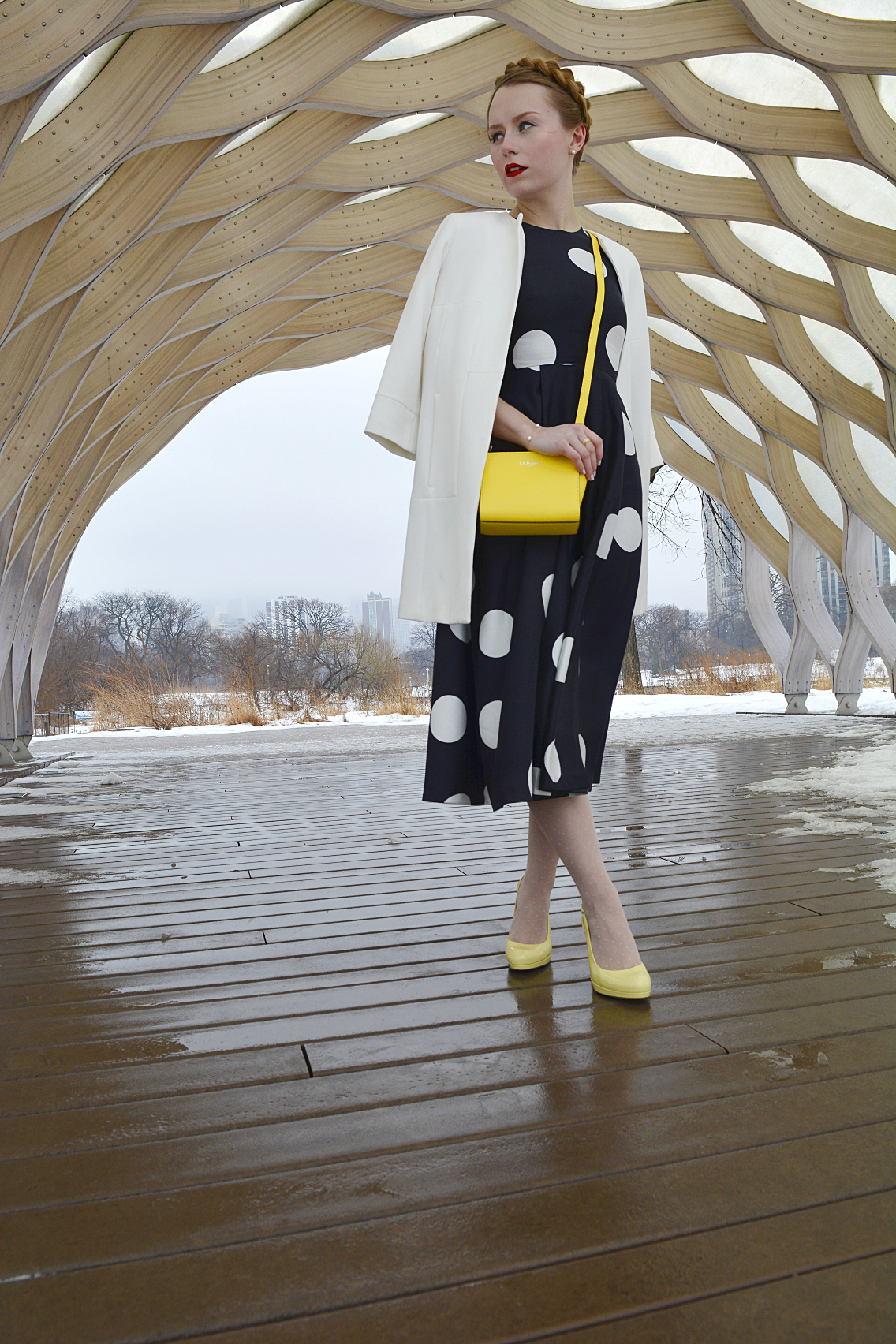 Of all the clothing brands I own, I love my L.K. Bennett pieces the most. In total, the brand probably makes up about 25% of my entire wardrobe and I return to them season after season religiously because of their superior quality and feminine designs brimming with personality.
Their pieces are certainly "closet investments" with their luxurious prices but every one of their designs is truly made to LAST. The versatility and longevity I get out of every single one of my L.K. Bennett dresses (like this one and this one) has brought the cost-per-wear down to mere cents on some of my older pieces.
Their Sledge pumps have single-handedly proved to me that even girls with awkwardly wide feet (ahem, yours truly) can feel elegant AND stable in a pair of pumps. I love my red pair so much, I wore them on my wedding day for 14 straight hours without a single blister.
And I've already told you (twice) how my L.K. Bennett shearling coat has single-handedly saved me from our record-breaking cold temperatures these past two #Chiberia winters.
I return to the brand time and time again because their pieces integrate so beautifully into my existing wardrobe and perform so well, even under the most brutal abuse. As the years have gone by I've been consistently impressed with the performance of my oldest pieces, which has only grown my obsession more!
So when I saw L.K. Bennett's new spring line, complete with the most darling polka-dot pieces and bright, cheerful accessories, I knew I would be in a "spot" of trouble… [pun intended]!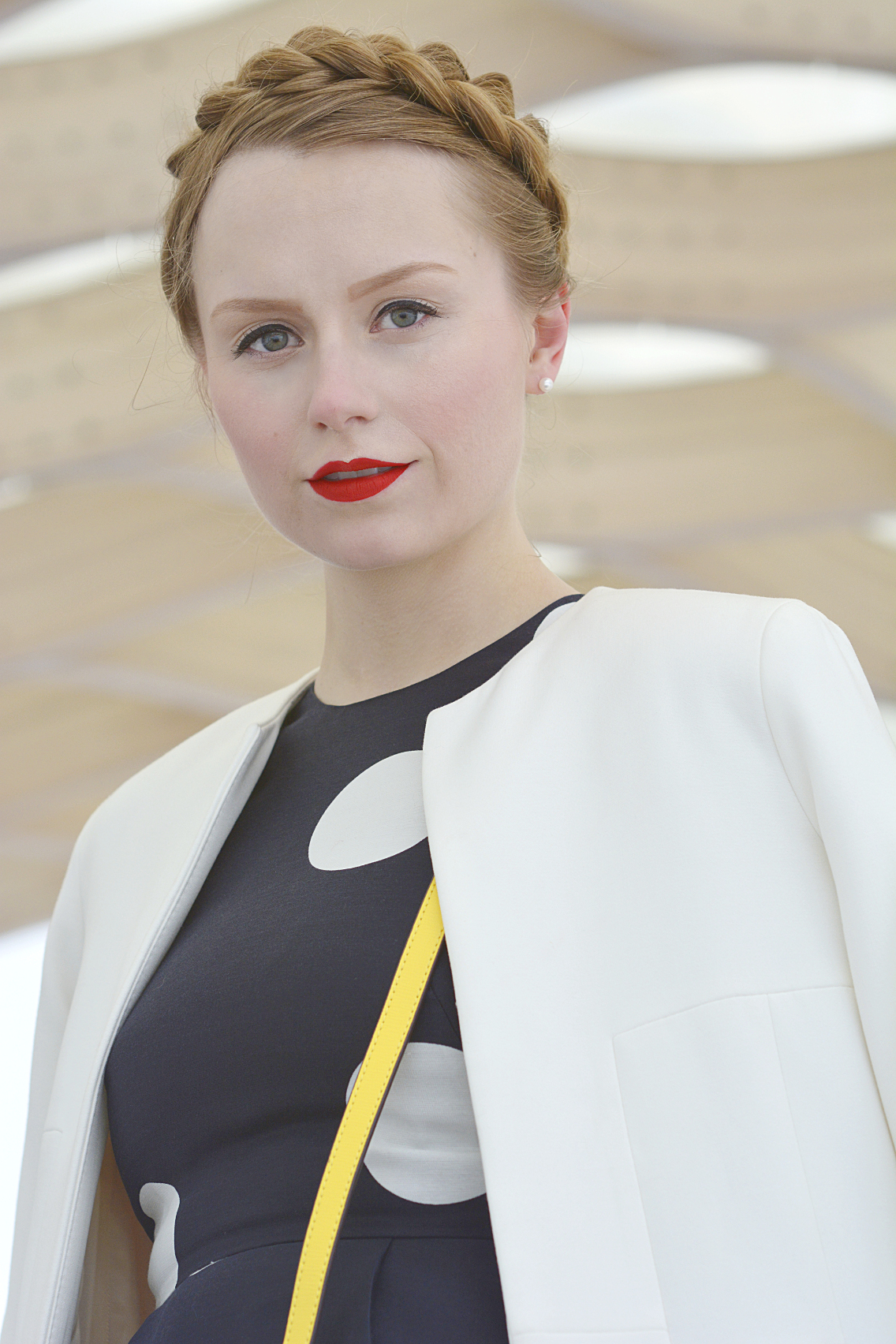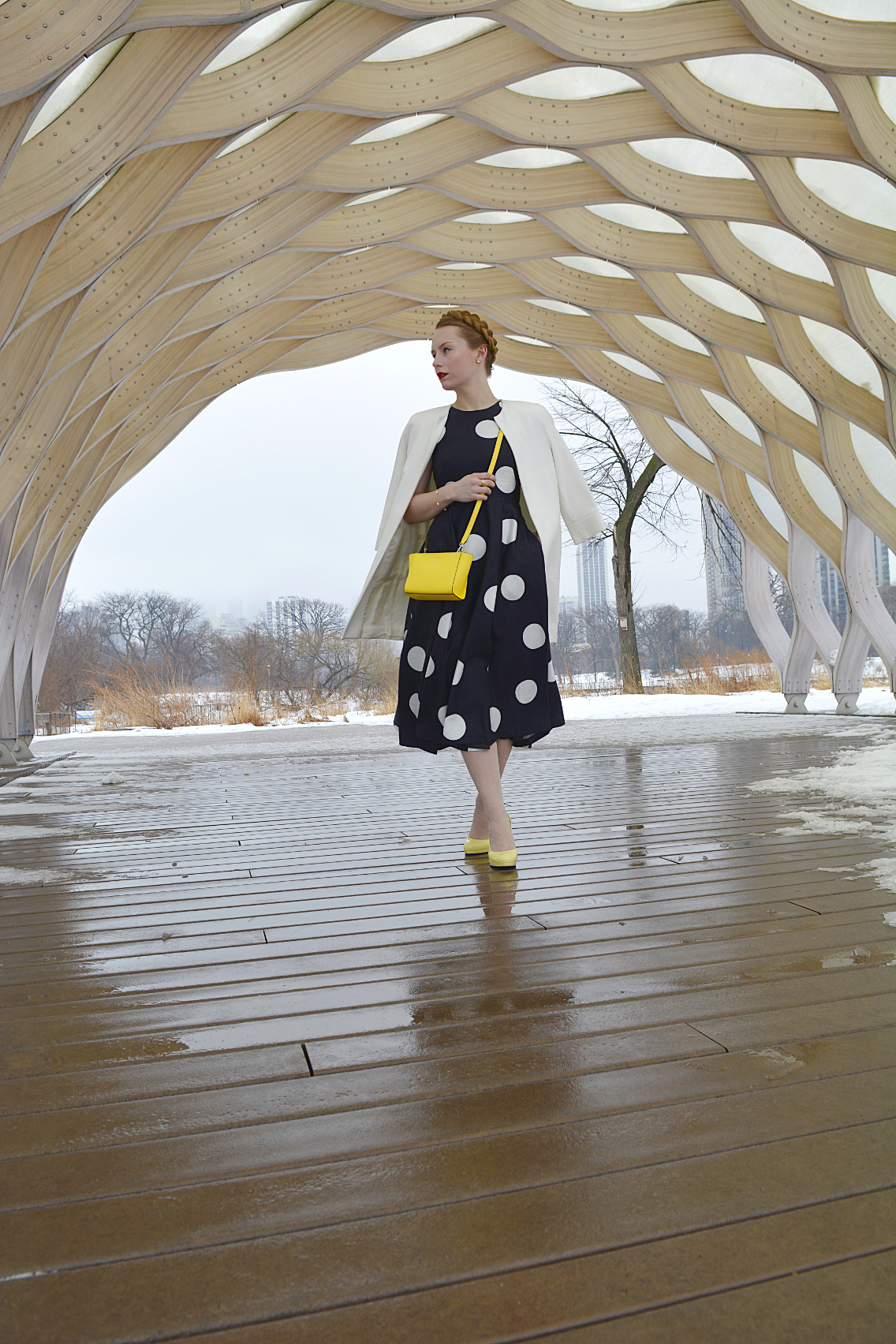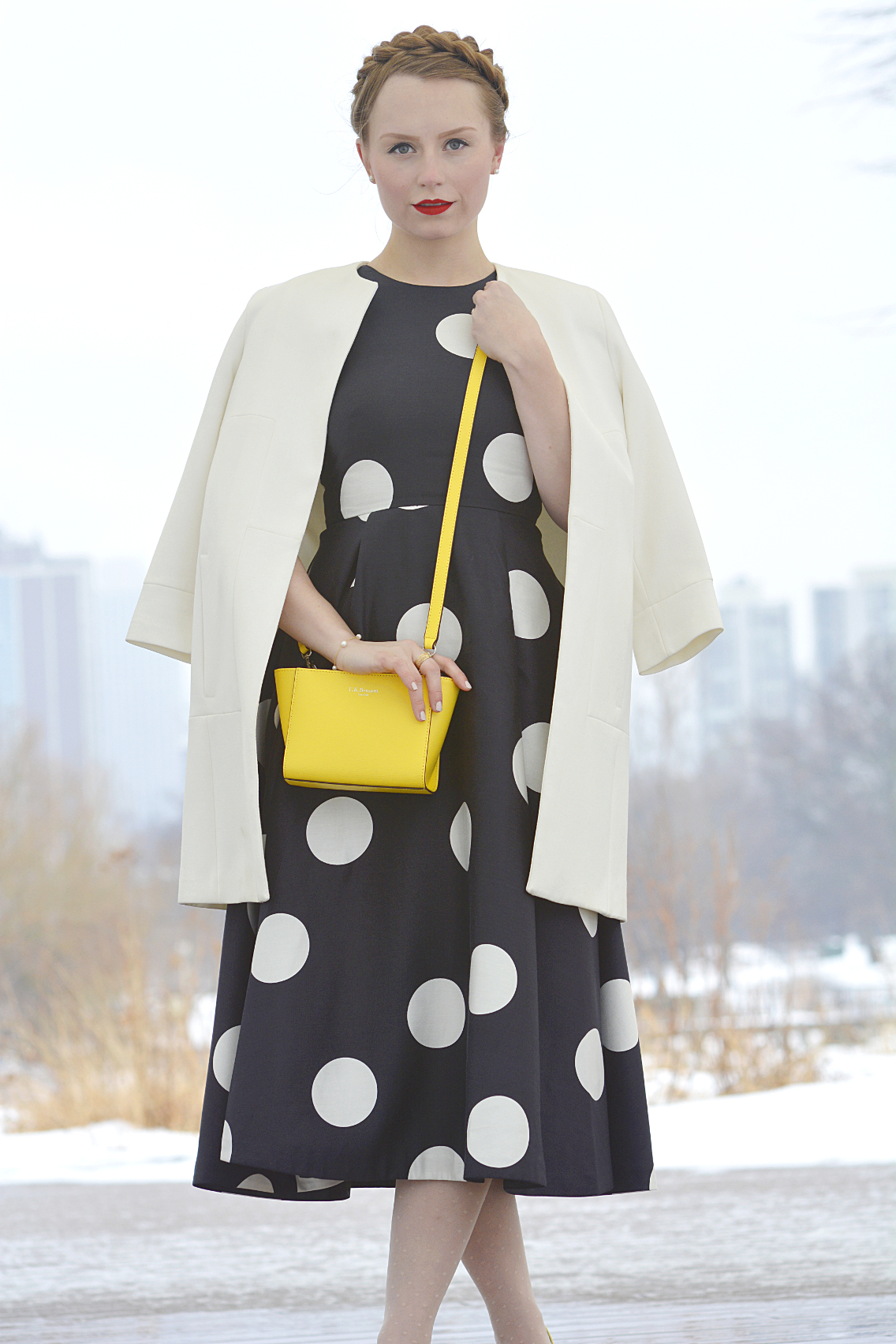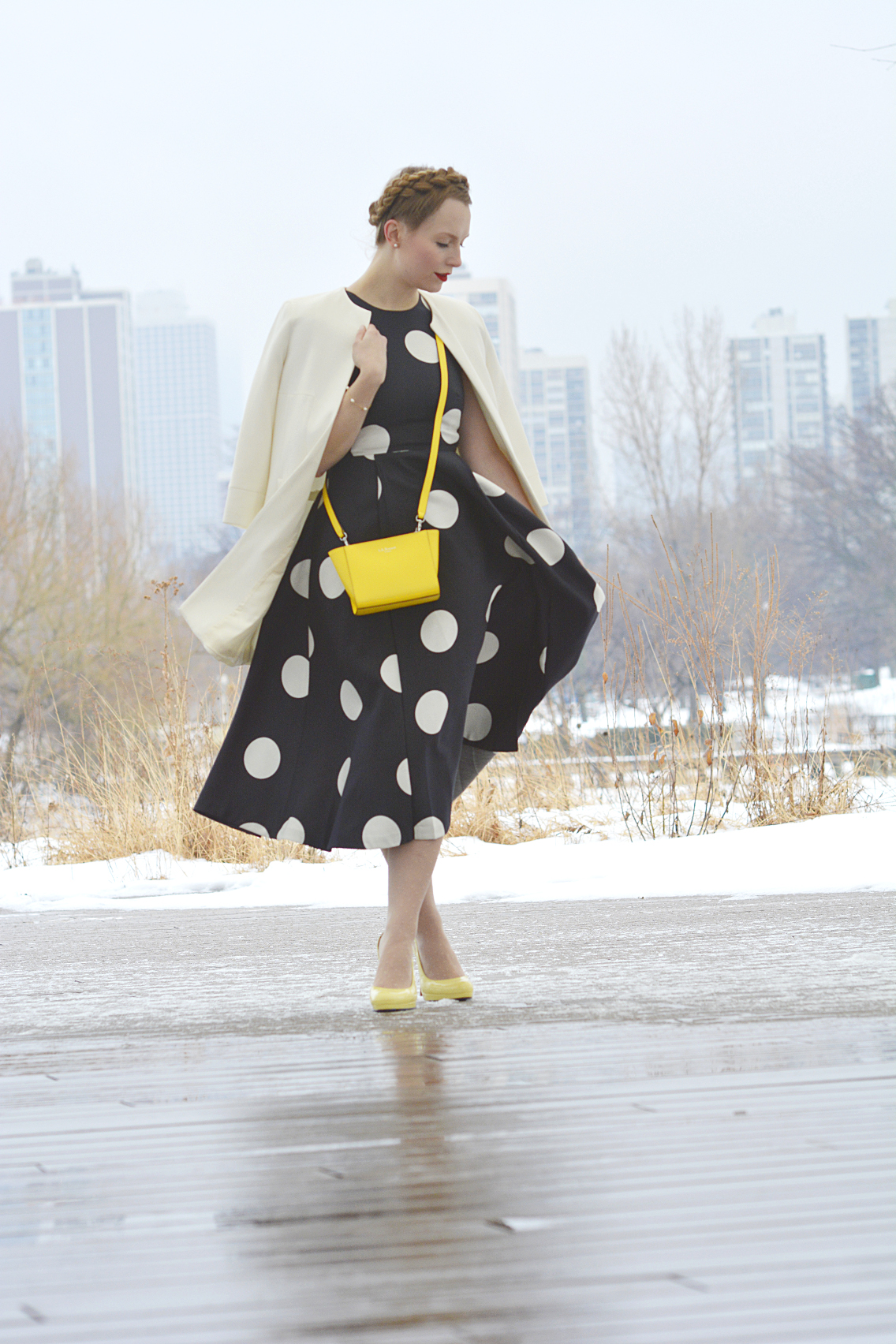 I mean, how much fun is this stunning dress?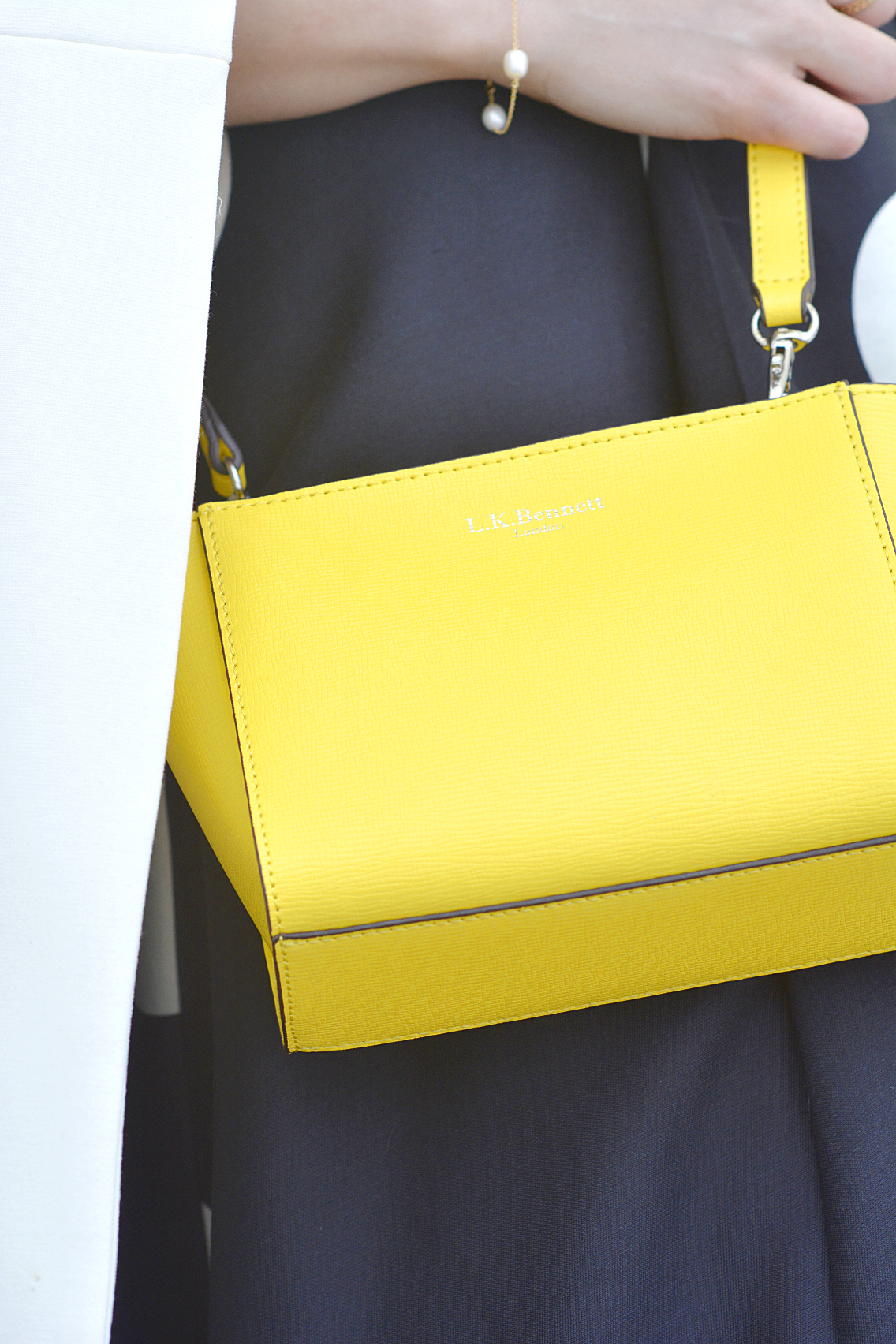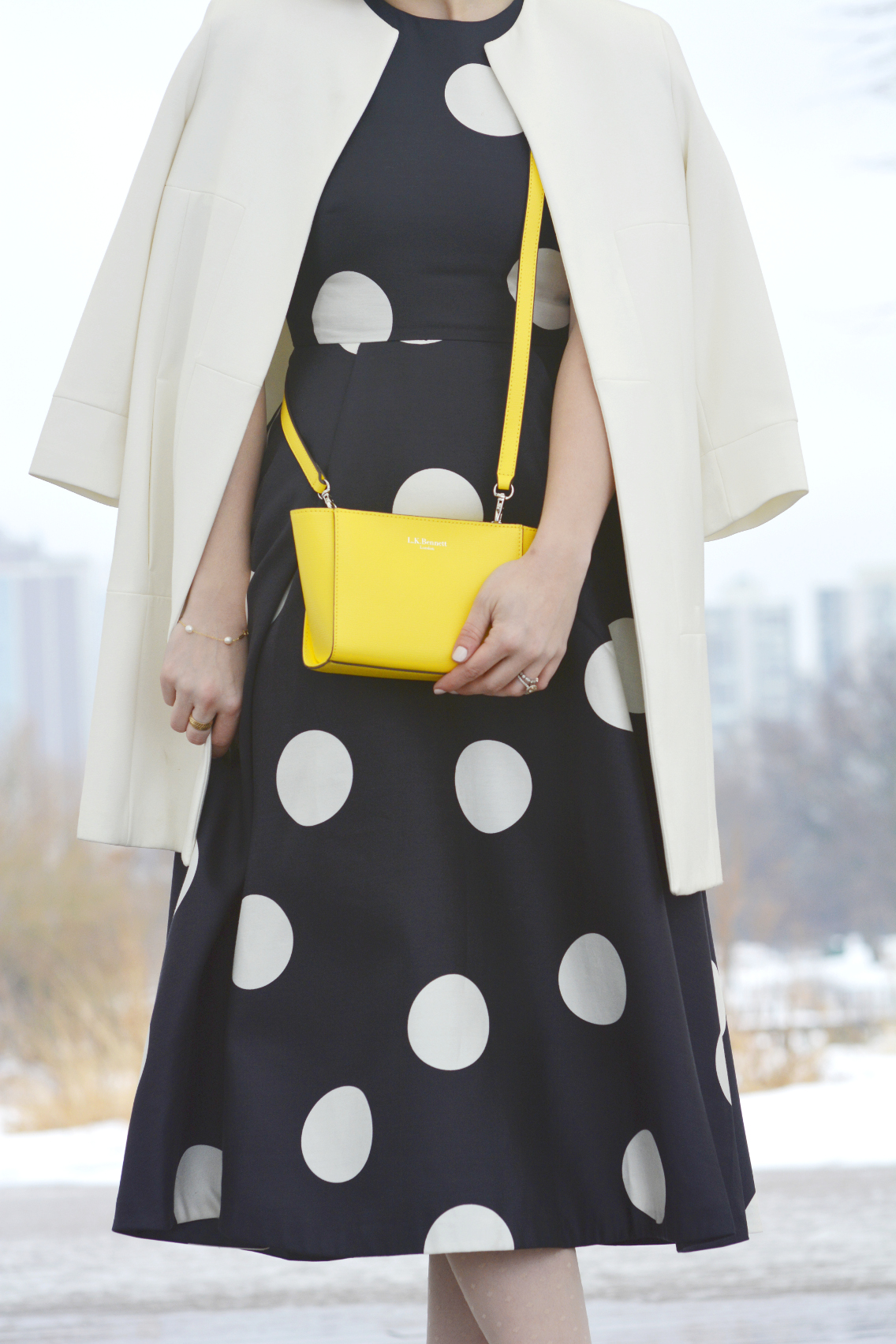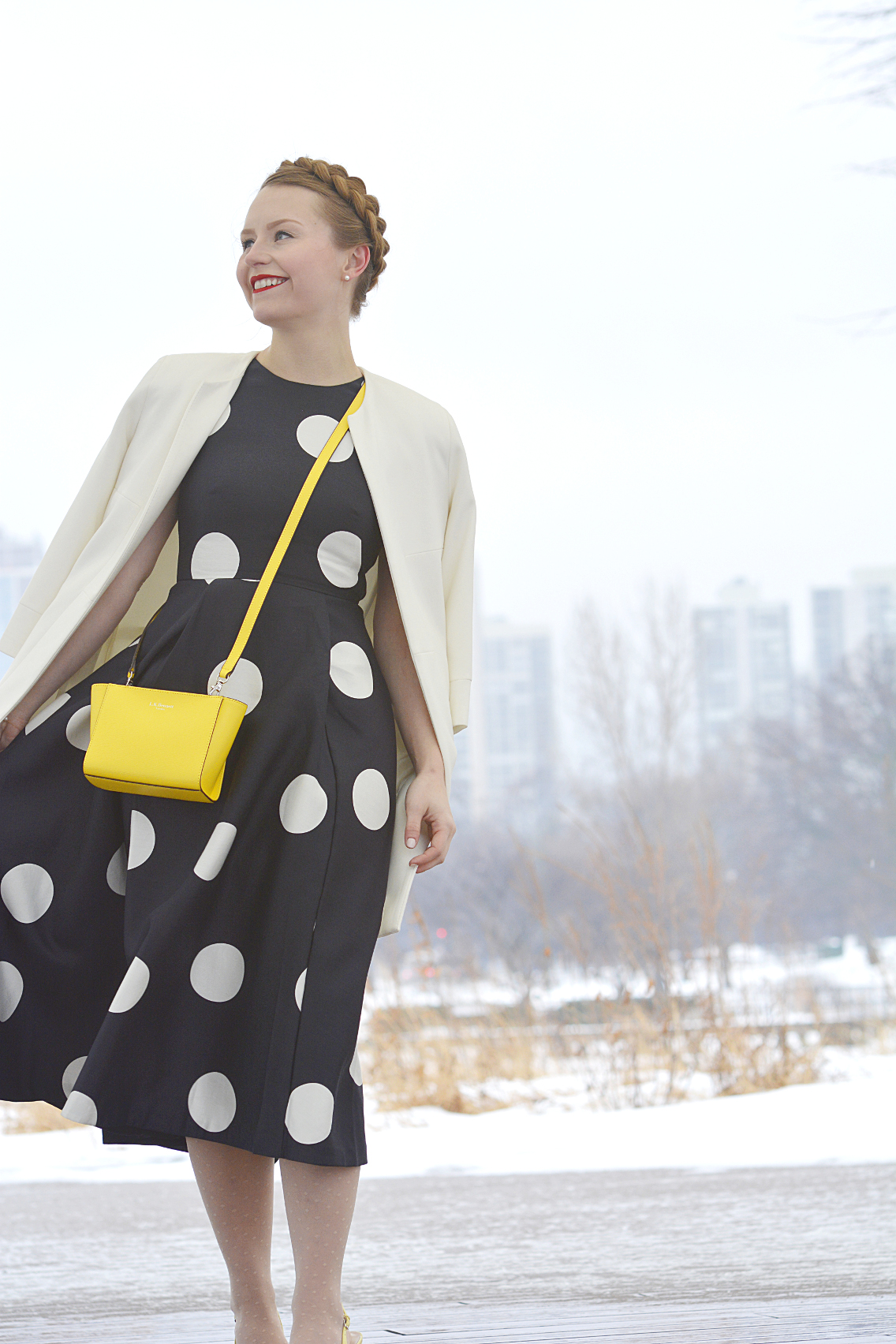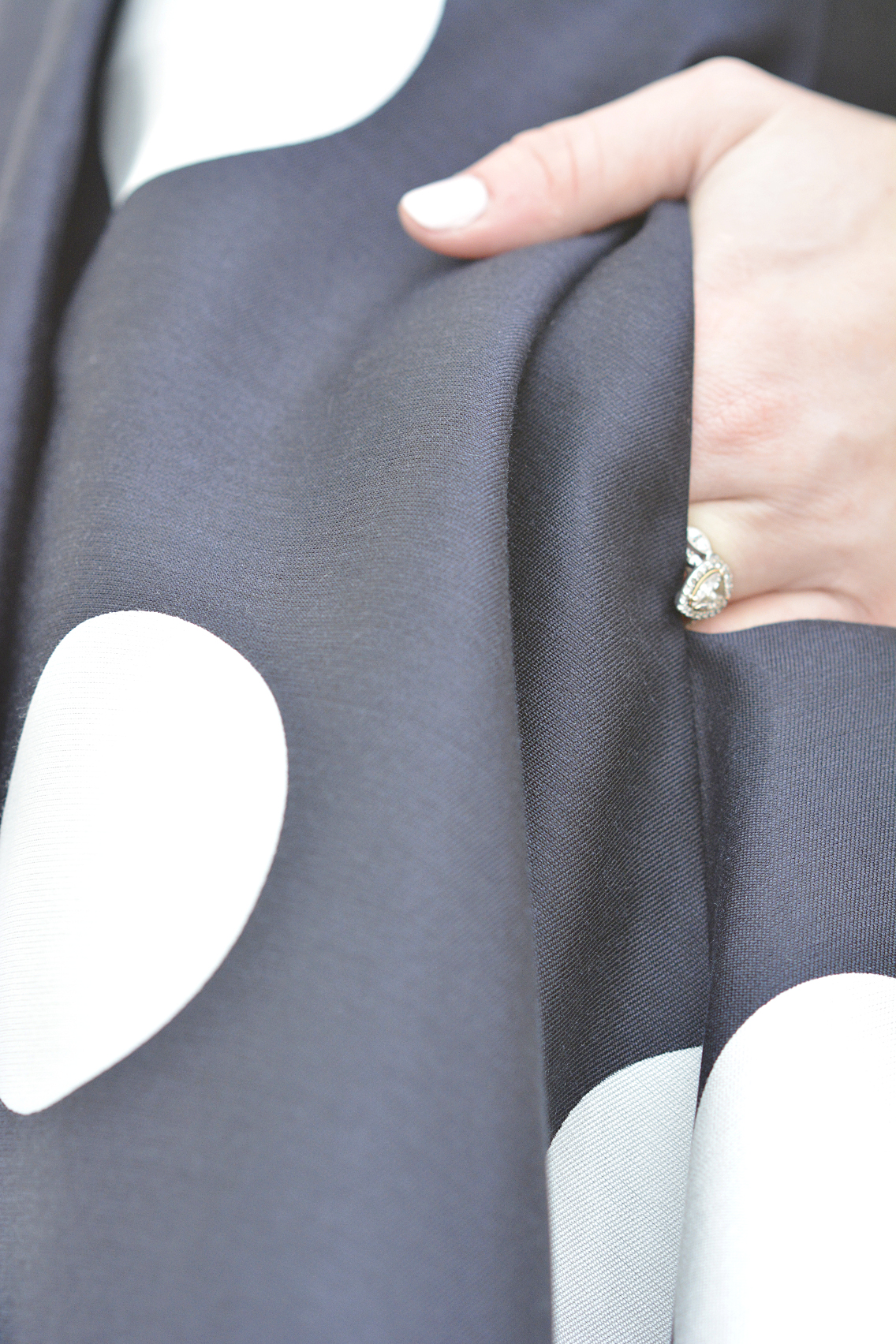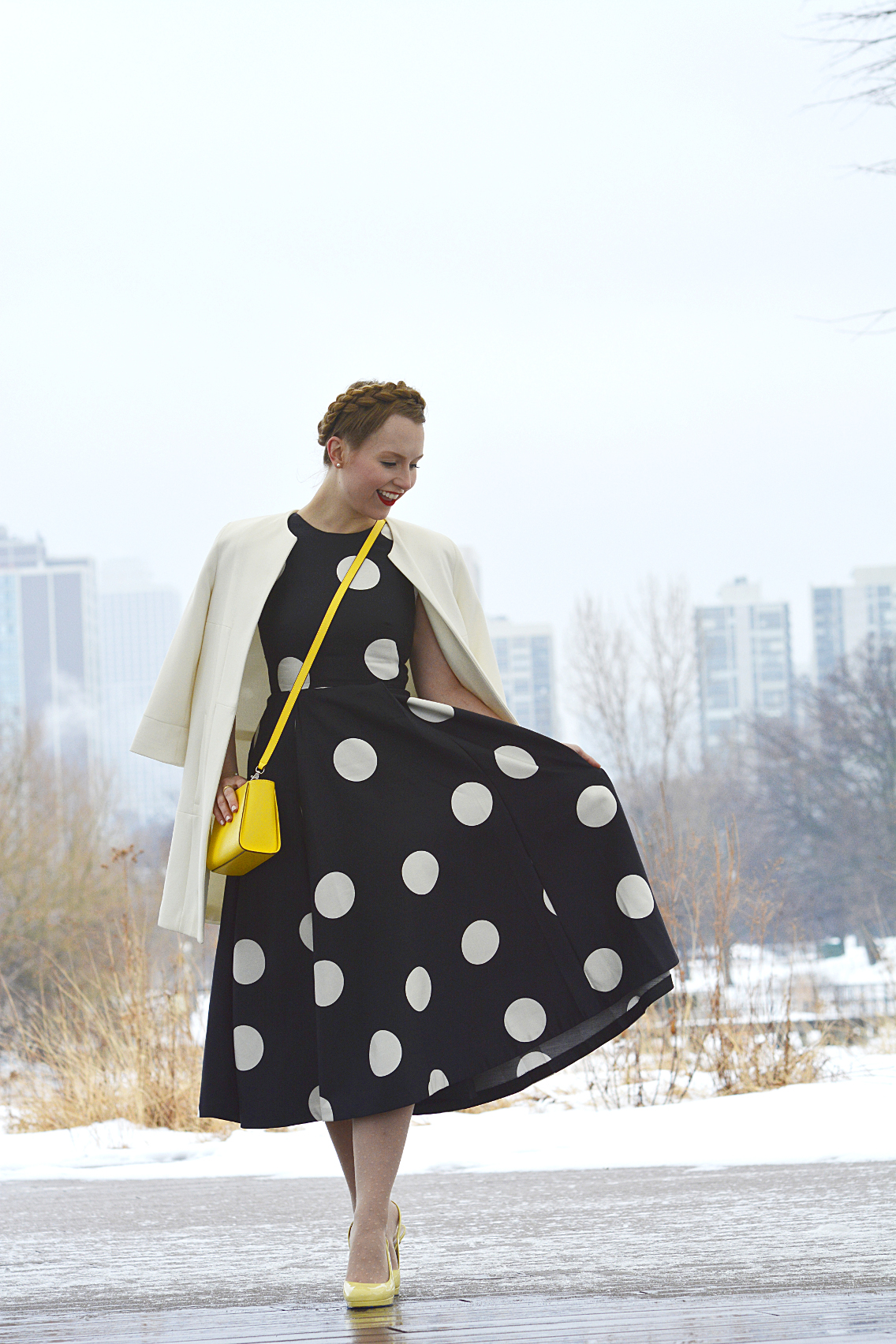 I loved swirling it around and watching how elegantly the fabric moved in the wind.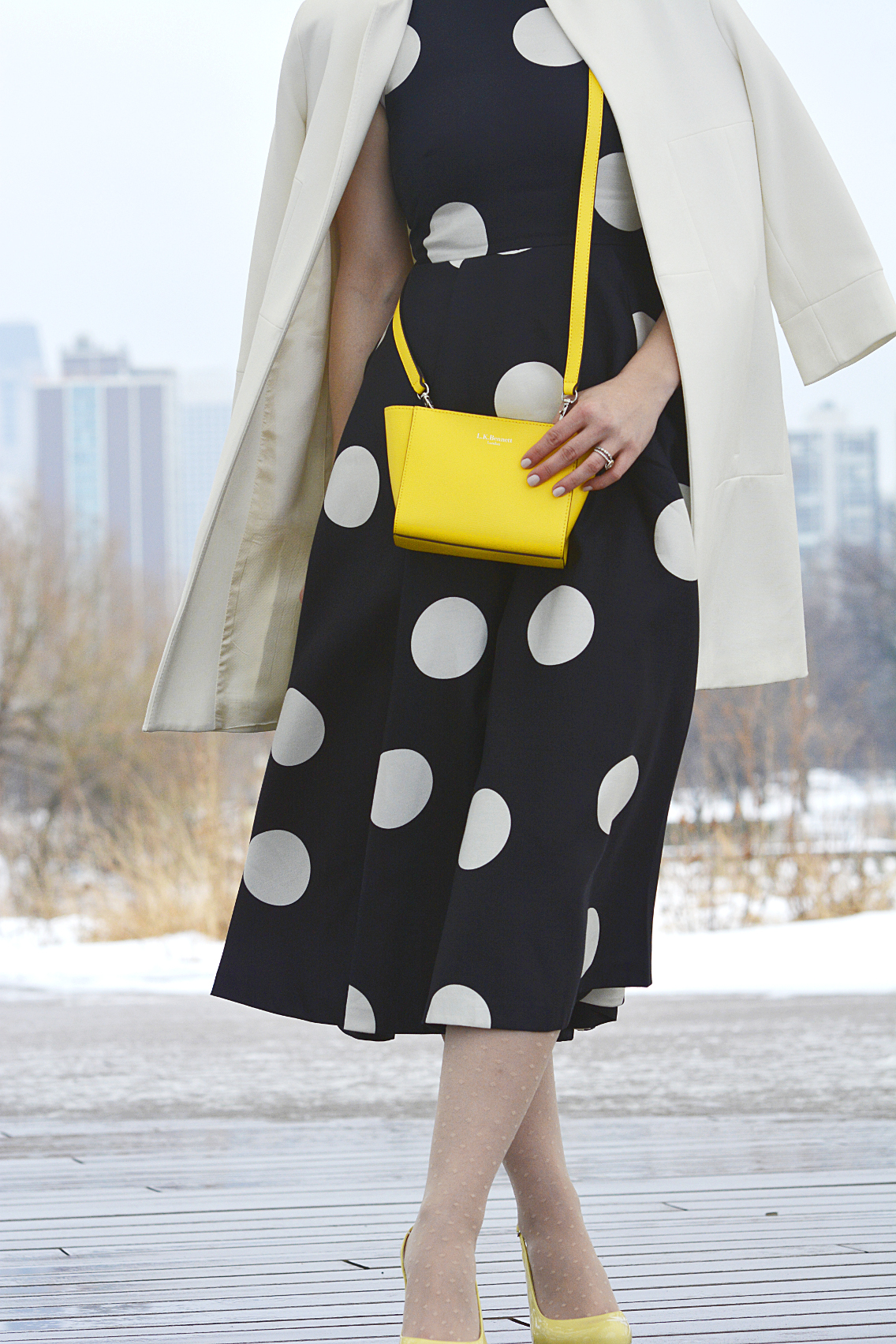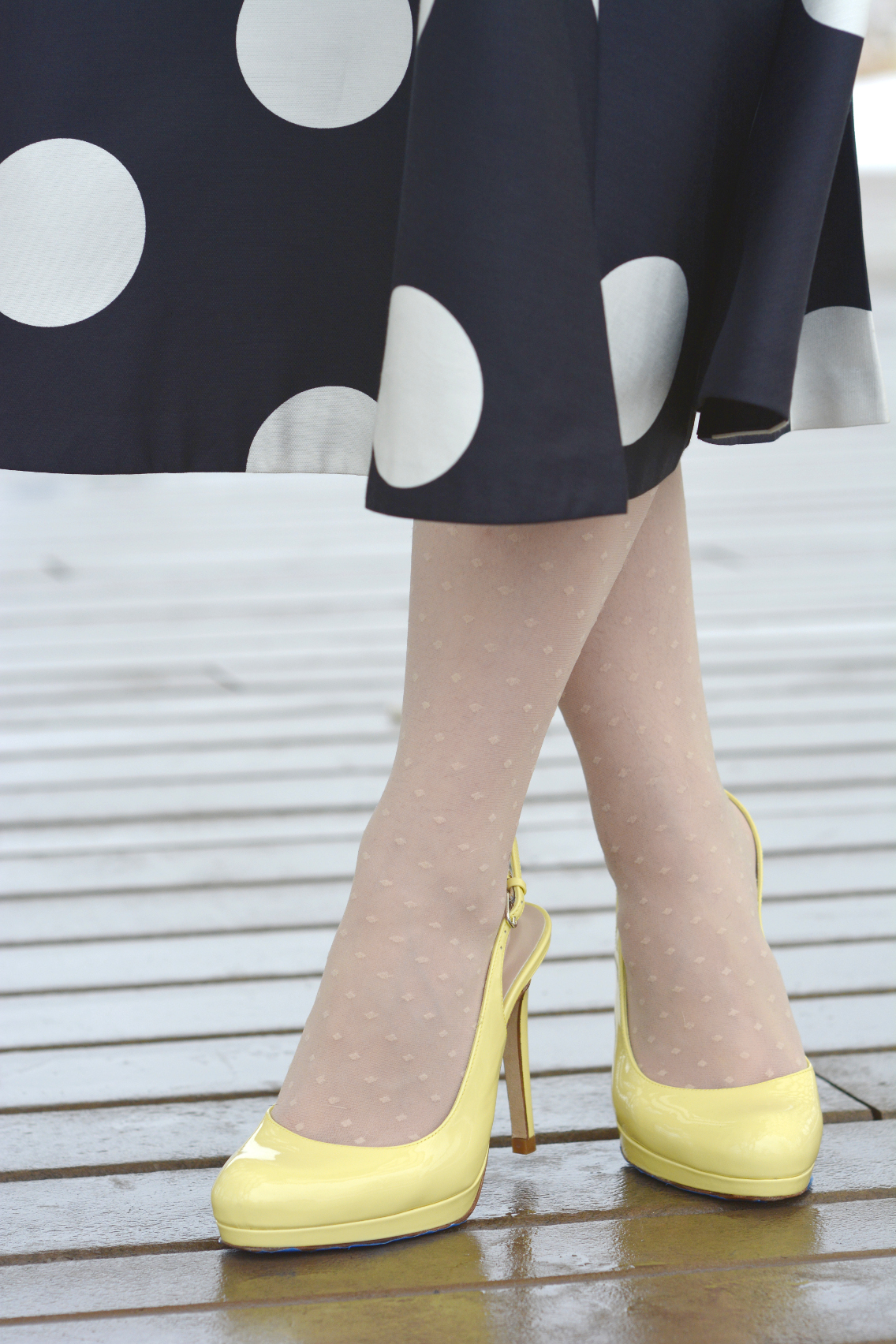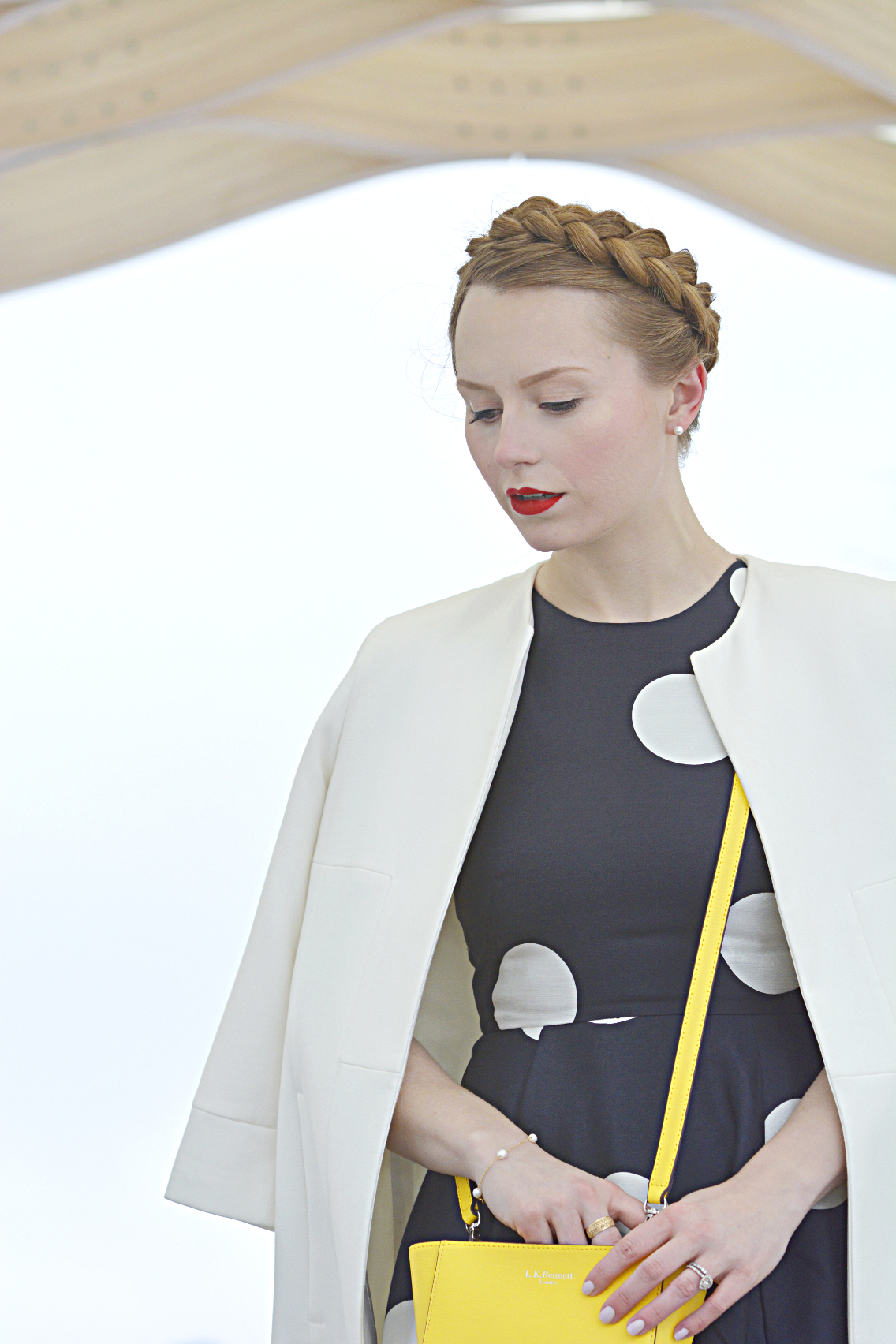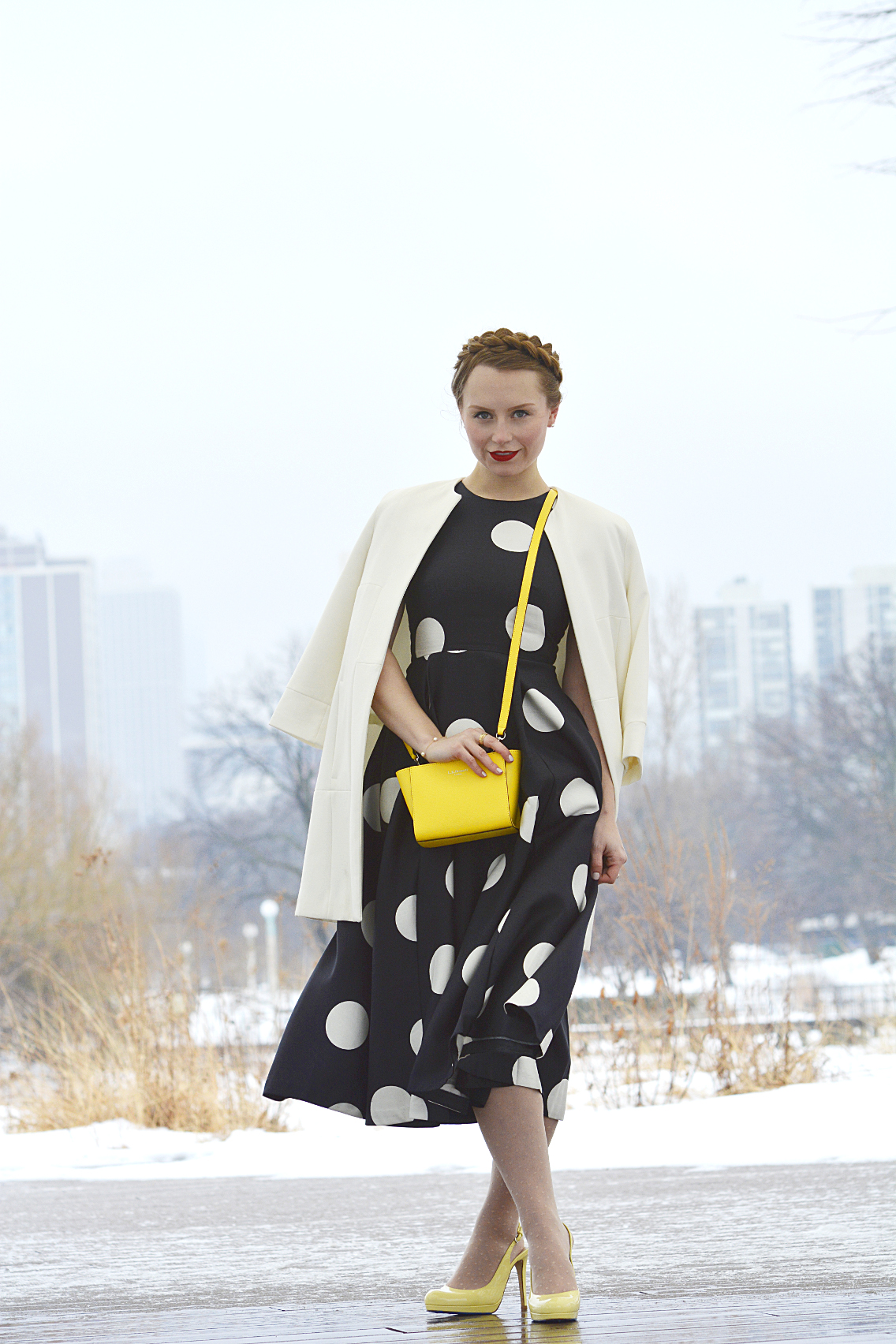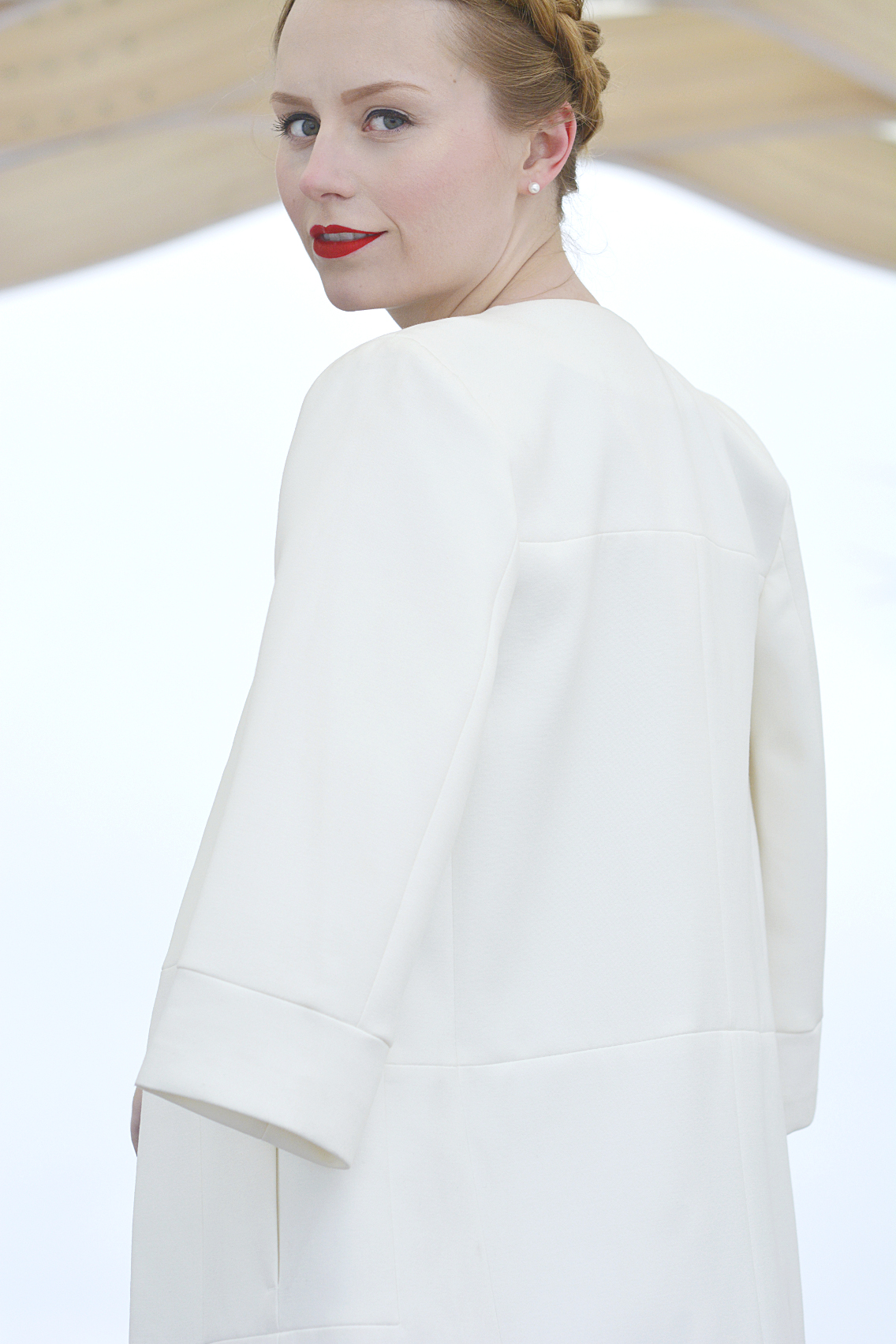 SHOP THE LOOK:
Dress – LK Bennett 'Luchia' (similar) || Coat – Zara A-Line in White (similar) || Purse – LK Bennett 'Kaylee' || Heels – LK Bennett 'Clemmie' || Tights – Nordstrom || Jewelry – Tiffany & Co (here and here) and an antique gold ring inherited from my Grandmother || Lips – Stila in 'Beso' || Braid – c/o DreamDry || Nails – Nails Inc. x Victoria, Victoria Beckham in Bamboo White
Yellow accessories are going to be everywhere this spring, as they elevate just about every outfit and infuse drab winter wardrobes with a much-needed dose of sunshine — making these pumps (an update on my beloved Sledges) and this bag the perfect accessories to take you through to summer.
And no prints are more fun to wear as the temperatures rise than polka dots and gingham — both are so classically feminine for spring! To keep traditional prints fresh and on-trend, opt for pieces like this voluminous dress that play with pattern proportions. The enormous polka dots make a bold statement while still remaining elegant and appropriate for just about anything. And did I mention this dress has pockets?
L.K. Bennett's entire Spring 2015 collection unites current trends with an English countryside twist of beautiful "ladylike florals, voluminous midi skirts, dramatic prints, bold colors and subtle spring hues." It's a collection that's both feminine and innovative (I especially love the modern cut of this dress) and the designs are positively stunning! If you're looking for timeless spring pieces that are relevant now and will be for years to come, look no further than L.K. Bennett!**Many thanks go out to Faber Orosco, Associate Manager and Sam Uhl, Manager at Chicago's L.K. Bennett store who assisted me in styling this look from their spring collection. I would also like to thank stylist Anthony over at DreamDry for styling my first crown braid (which lasted three days!).**