Chicago has always been my home. It IS home.
And while I've certainly thought about moving… especially moving somewhere without sub-freezing winters… the thought of living anywhere else just feels so wrong.
Chicago is one of those cities I always tell people they have to SEE to BELIEVE. I don't think I've ever heard someone say they didn't love it after visiting. But ironically, most people just don't understand what we're all about — I'm always met with groans when I tell people to visit the Windy City.
Which absolutely breaks my heart since Chicago is — in many ways — one of the coolest cities you'll find on any continent. EVEN during our sub-freezing winters…
We're a city of hidden surprises, after all! A city of some amazing activities not found anywhere else. And while some of them aren't worth a visit, many of the most tourist-y Chicago spots are tourist-y for a VERY good reason… they're true Chicago experiences! So when Expedia.com asked me to share an insider's opinion on the BEST Chicago has to offer, I leapt at the chance! Here are five of my absolute favorites — the places I always bring visitors to first so they can experience "quintessential Chicago".
5 Chicago Tourist Spots Worth Visiting
1. The Skydeck
The first way to see Chicago is — of course — on top of what was once (and for most of my life) the tallest building in the world, Willis Tower. Visit the gorgeous Skydeck viewing area on the 103rd floor and step out onto the terrifying glass "Ledge" for the BEST Chicago photo opportunity you can find.
You're guaranteed to be filled with awe at what a beautiful skyline Chicago has (even if you're terrified of heights like I am!). And where else can you get an Instagram shot like this:
Pro Tip: Crowds are busiest on weekends so go during off-hours on weekdays to ensure you can get all the shots you want to take! And don't be discouraged if the weather is rough — some of the best shots I've ever seen taken on the Ledge were taken on gloomy, foggy days!
2. Navy Pier
Your one-stop-shop for pretty much everything "Chicago", cliché and not. Navy Pier is where you'll find the beautiful Shakespeare Theatre, the newly re-opened all-weather Ferris Wheel, all sorts of Lake Michigan cruises, and even an iMax Theatre (where I just so happened to see several of the Harry Potter movies years ago).
Enjoy lunch at one of the many restaurants, wander through the beautiful Crystal Gardens, and snag some beautiful shots of the Chicago skyline from the pier itself. And don't forget to do it all while munching on a bag of Chicago-mix Garrett's popcorn!
Pro Tip: Enjoy a true bite of Chicago flavor by stopping and slurping down an original Rainbow Cone ice cream — Navy Pier is only the 2nd location for this legendary Chicago dessert-spot and a lot easier to get to than it's 1st location on the south side. Five layers of delicious ice cream mixed in a way you can ONLY find in Chicago? THIS is the ice cream cone you'll remember eating for the rest. of. your. life.
3. The Art Institute
Ah, the Art Institute. I spent DAYS of my childhood exploring this museum's secrets and STILL am finding new and exciting exhibitions. And it's no wonder — this museum is one of the country's oldest and largest (the 2nd largest after the Met), and is consistently voted the WORLD'S BEST MUSEUM (it actually WON in 2014).
One day there and you'll easily understand why. This museum will spoil you for all others. Original works from Monet, Seurat, Picasso, and O'Keefe mingle happily with thousands of beautiful artifacts from all around the world. There's literally an exhibition for everyone at this museum.
Pro Tip: Make sure you budget at least two hours for the museum's newest modern art wing — you'll find some of the coolest rotating exhibitions here (plenty of which are VERY Instagram-friendly). And before you leave be sure to sneak downstairs for the miniature period Thorne Rooms… you're inner doll-house lover will oohh and aahh over these tiny historical rooms.
4. The Chicago Riverwalk
For the last two years, Chicago has become SO much cooler than it ever was before.
Why?
Because now we have the Riverwalk! Chicagoans everywhere are finally able to take SERIOUS advantage of our famous riverfront with our city's newest urban marvel. It's easily one of the coolest places to appreciate being a Chicagoan. A long stretch of pedestrian-only walkways along the river filled with gorgeous architectural marvels? How did we live without this??
In the summer months you can snag a glass of wine at City Winery and watch the boats sail by. In the winter months you can get away from the crazy noise and traffic of the city all around just by stepping down the steps.
Pro Tip: Bring your camera — the Chicago Riverwalk is one of my all-time favorite shooting locations. I'm always bringing clients here for photo sessions, not to mention shooting myself here many times (1 / 2 / 3). There are some great spots to choose from including a glorious wall of pedestrian stairs, and a huge metallic, tunnel of modernism underneath the old Chicago River Bridges.
5. Millennium Park's Cloud Gate
Probably my favorite piece of public art EVER.
This glorious metallic "bean-like" sculpture will take your breath away. It was one of the first Chicago places I ever shot for the blog!
And wow is this sculpture ever fun to shoot. As a photographer I appreciate the unique effects such a reflective surface offers — it never matters when I come to visit, the Cloud Gate (aptly nicknamed "the Bean") always makes for such a beautiful sight.
I can think of no piece of Chicago art that's more synonymous with the Windy City! And the ultimate spot to snag a great Chicago selfie while you're visiting.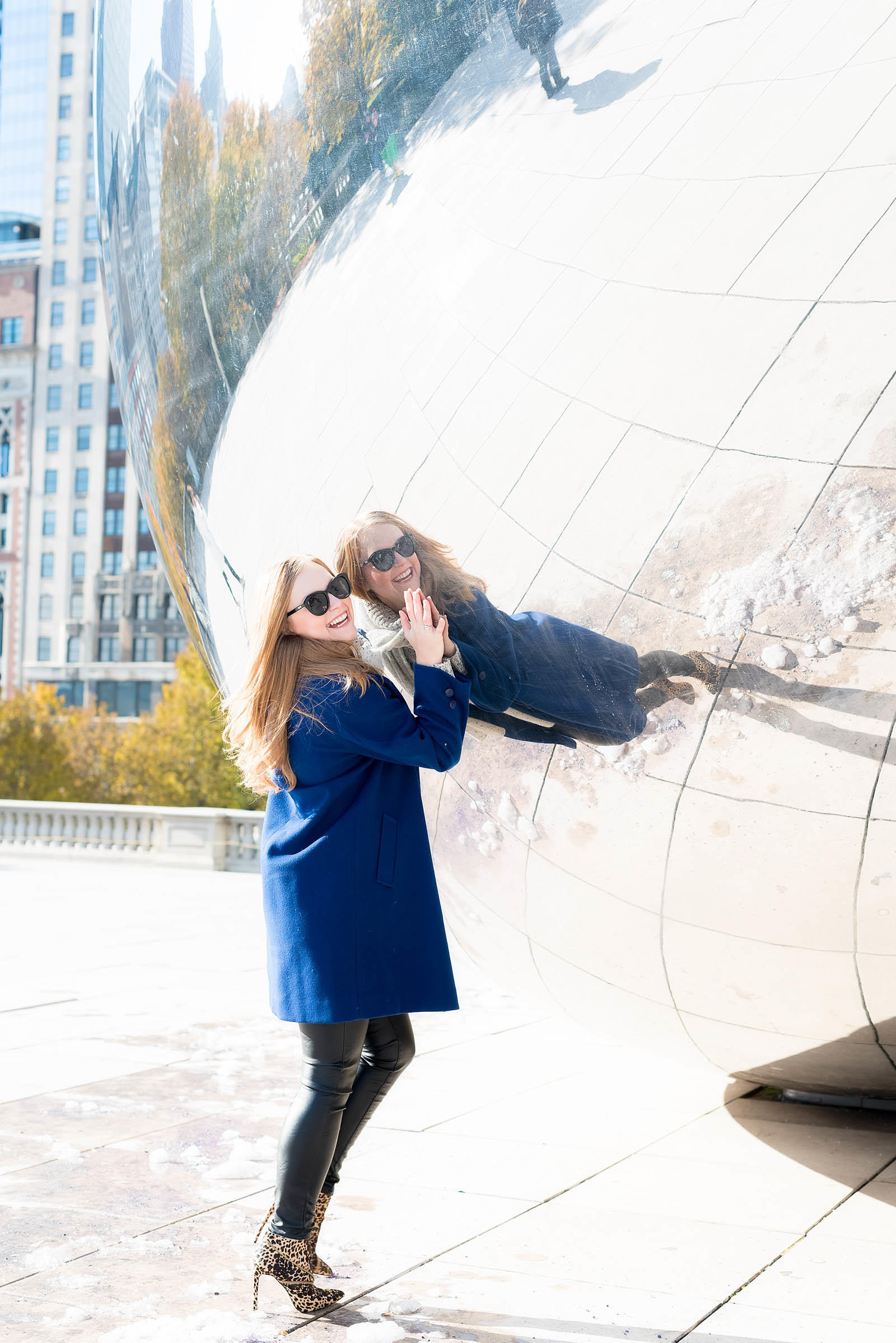 Pro Tip: Visit the Cloud Gate during a winter snow storm to snag some of the coolest photos you'll ever take — the way snow drips off this sculpture is absolutely magical.
Disclosure: Thank you to Expedia for collaborating on today's post on my beloved home town! As always all opinions are 100% my own.