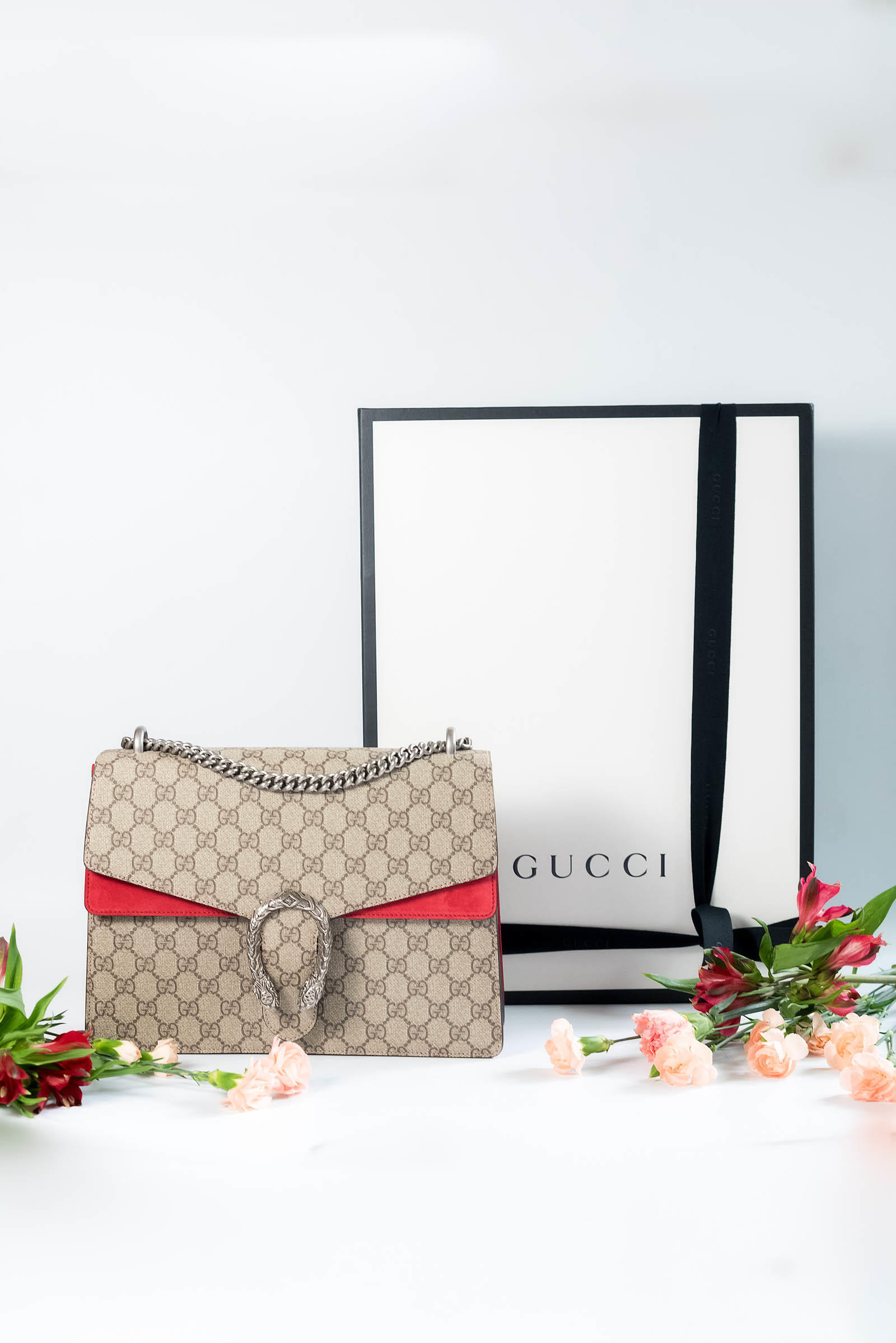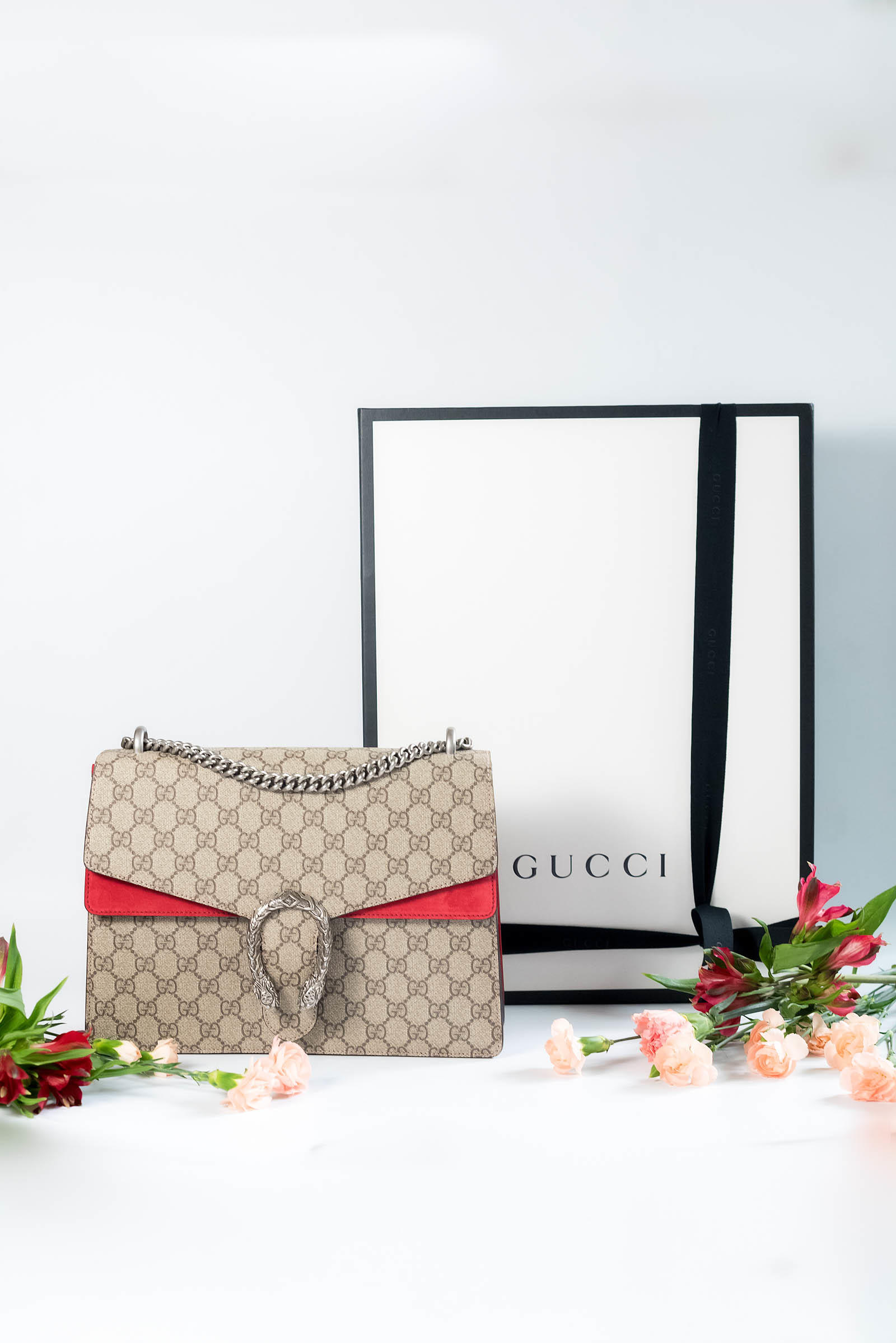 There are few decisions I take more seriously than my wardrobe investments.
Especially my handbag investments.
Think about it:
One good, designer bag can last you DECADES and can be the foundation not only for endless ensembles but for your personal style as a whole — it's not a decision I recommend you take lightly. The last thing you want is to shell out months of hard-earned savings on a bag that constantly needs maintenance or that'll feel out-dated in a year or two. Or — worst still — something that doesn't feel like "you", even if it did back when you bought it.
It can be nerve-wrecking to try to predict what wardrobe investments you'll actually use and that you'll get a stellar "pay-per-wear" value out of. It seems like such a waste to spend $1.5k on a bag you won't use for 10+ years… at least to me.
But get your designer bag decision RIGHT and the options are endless.
One good designer bag can turn even the most inexpensive outfits into chic ensembles others will race to copy. It'll travel with you. Work with you. And handle abuse with luxurious ease because they are designed to LAST.
(Disclaimer: Always remember that designer bags are not created equal and quality can vary widely from designer to designer. Never skimp on doing research before you buy! I spend a lot of time on the Purse Blog Forums before deciding on a design and color).
And, if you're anything like me, it can take you AGES to decide on a design…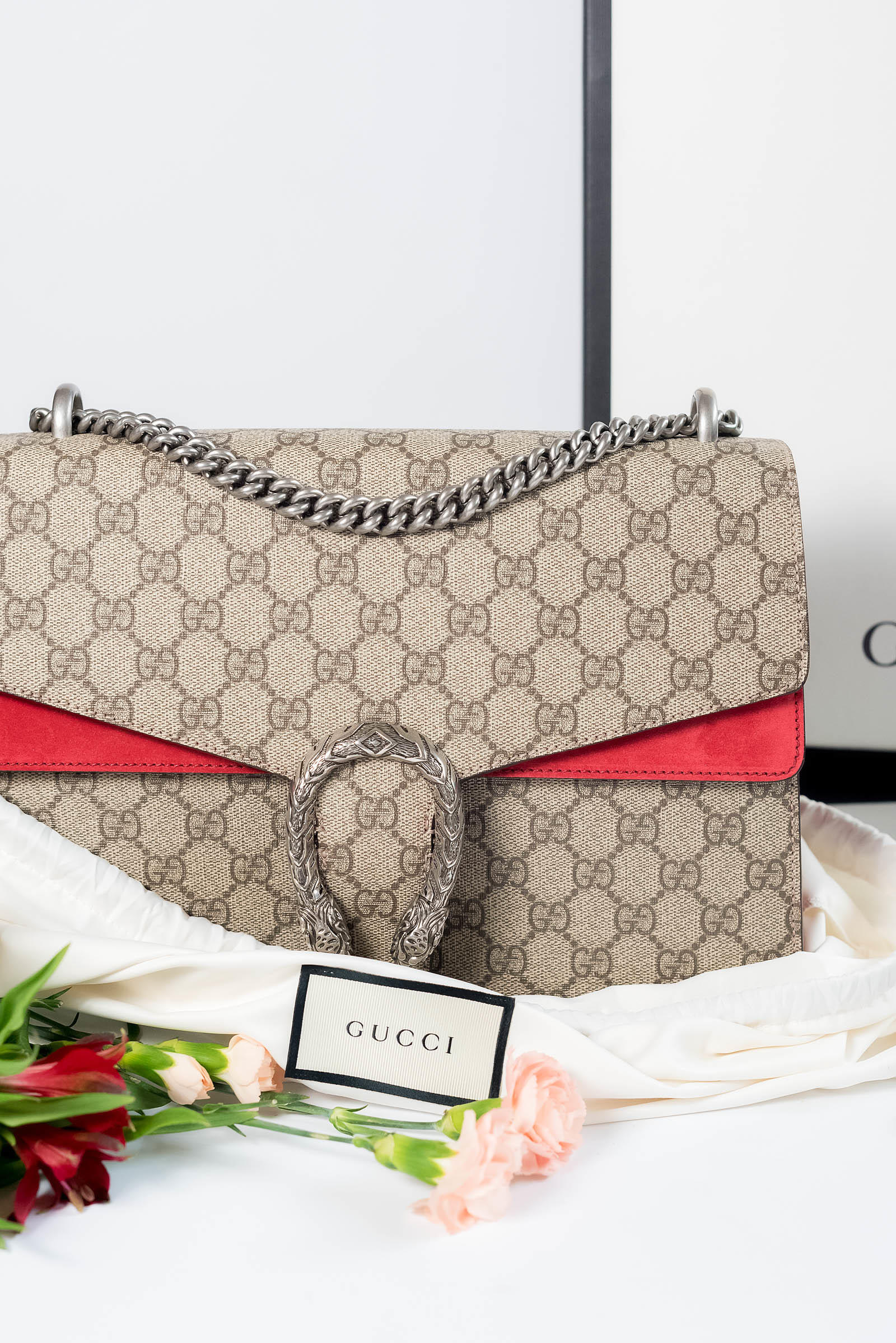 Almost exactly a year ago the Gucci Dionysus started popping up all over from NYFW to Paris and beyond.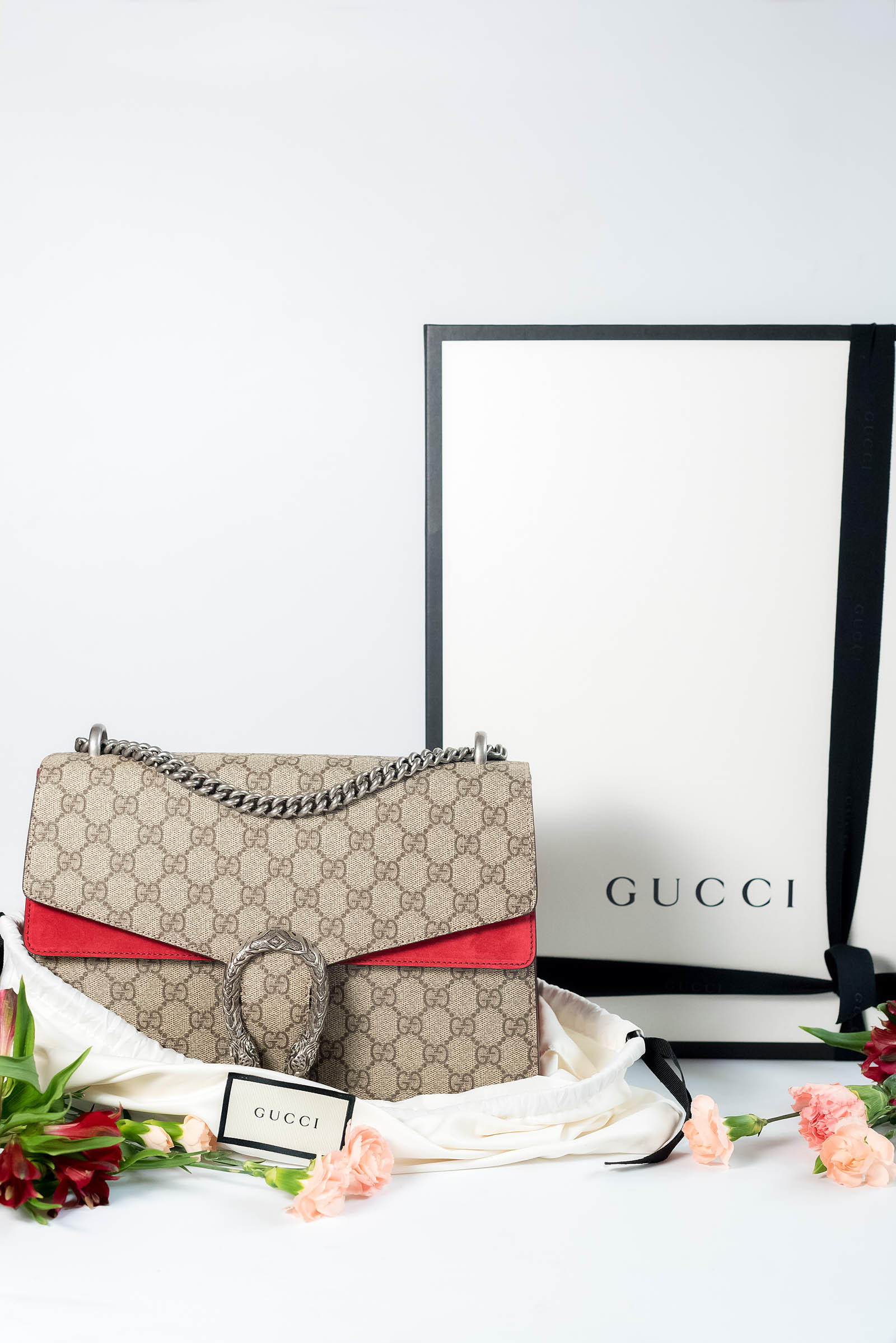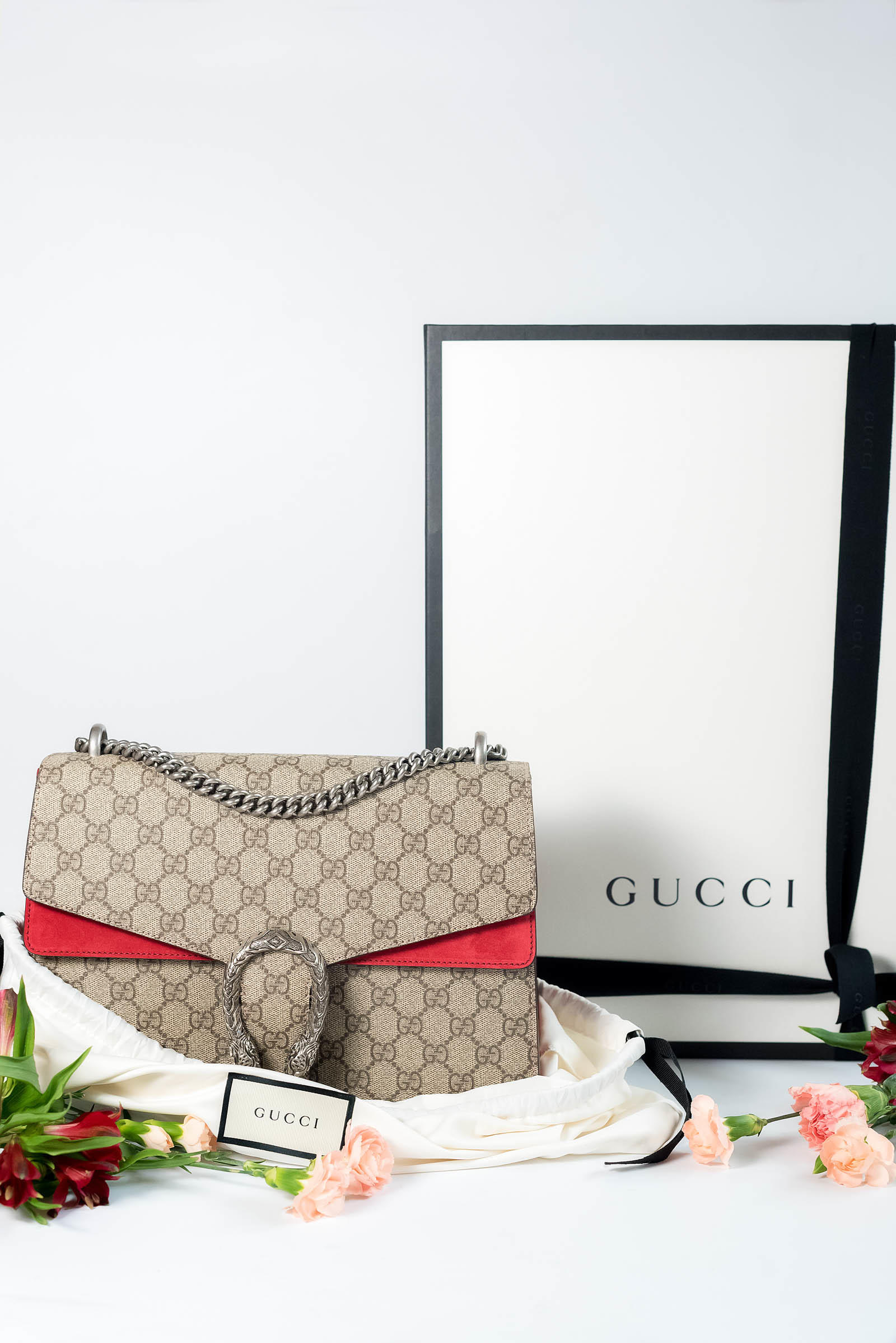 One of the first — now heralded — designs from Gucci's new, eclectic creative director Alessandro Michele, this bag is a decided shift from so many other designs on the market.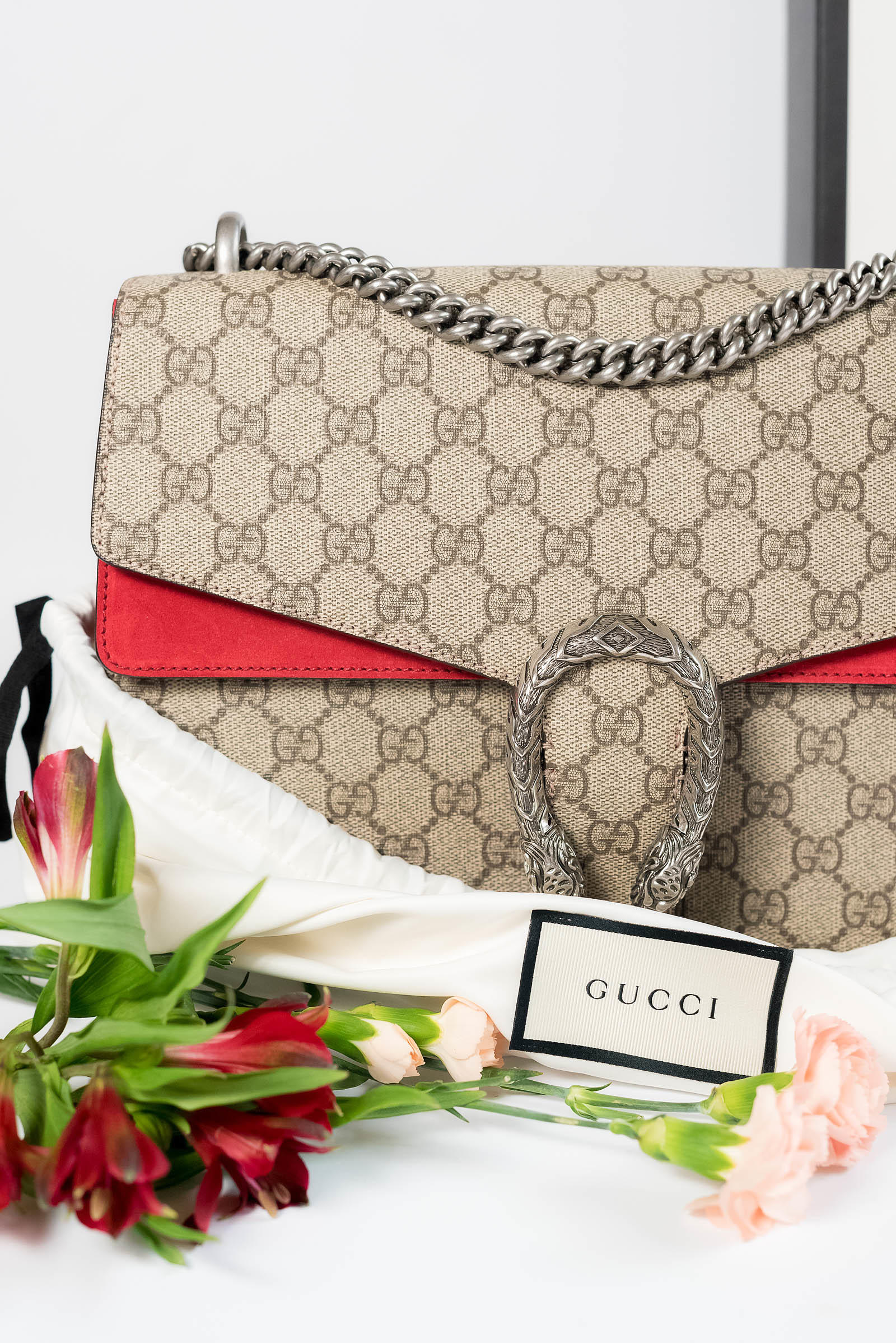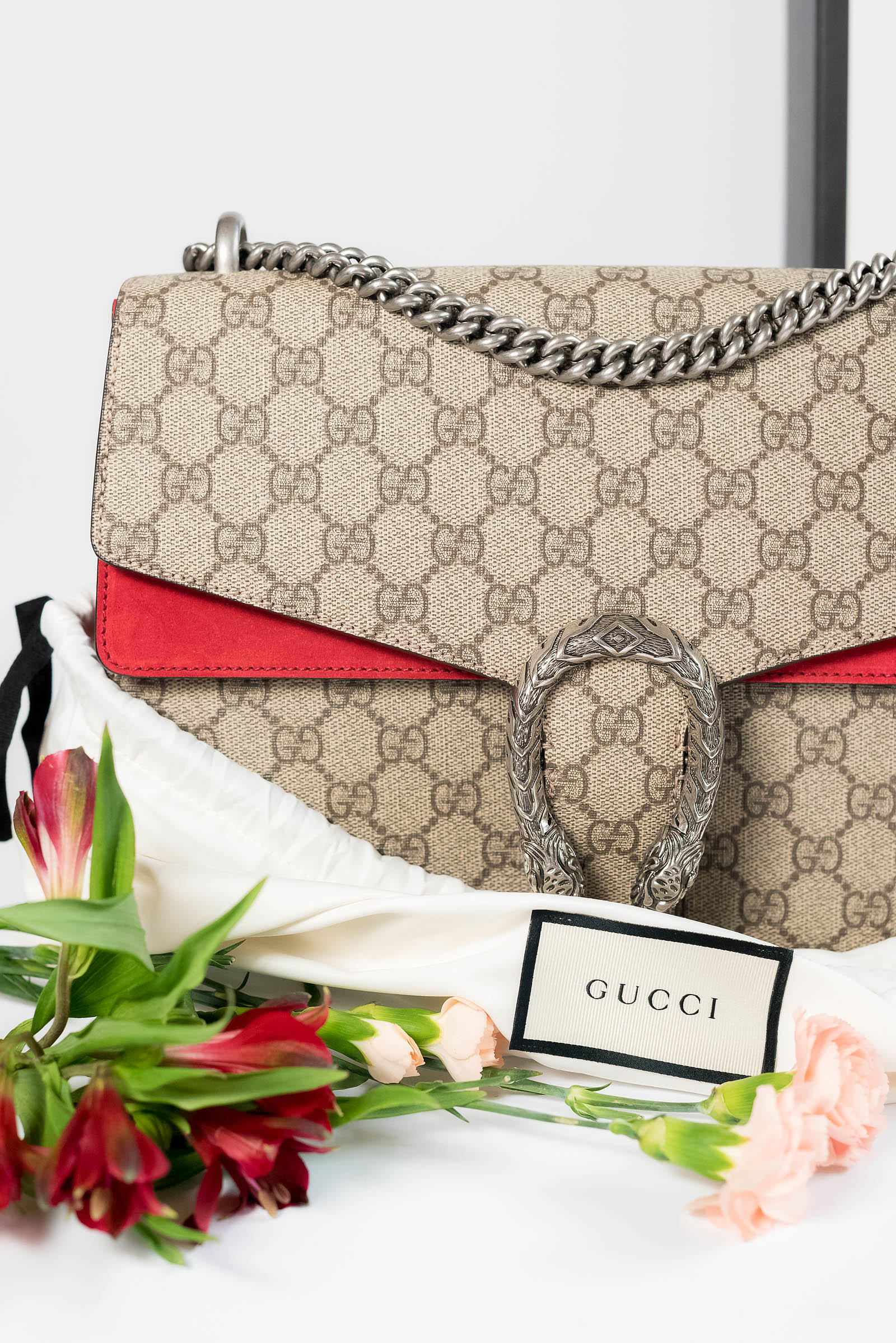 With a structure and size similar to Chanel's Boy Bag (down to its weighty but not uncomfortable chain strap), this bag costs less than HALF the price of the Chanel — a refreshing break from so many of the luxury bag brands that keep amping up their prices every. single. season (I'm looking at you Louis Vuitton!).
Now don't get me wrong, this bag is still a MAJOR investment. But compared to the Chanel Boy Bag, it's actually an attainable one!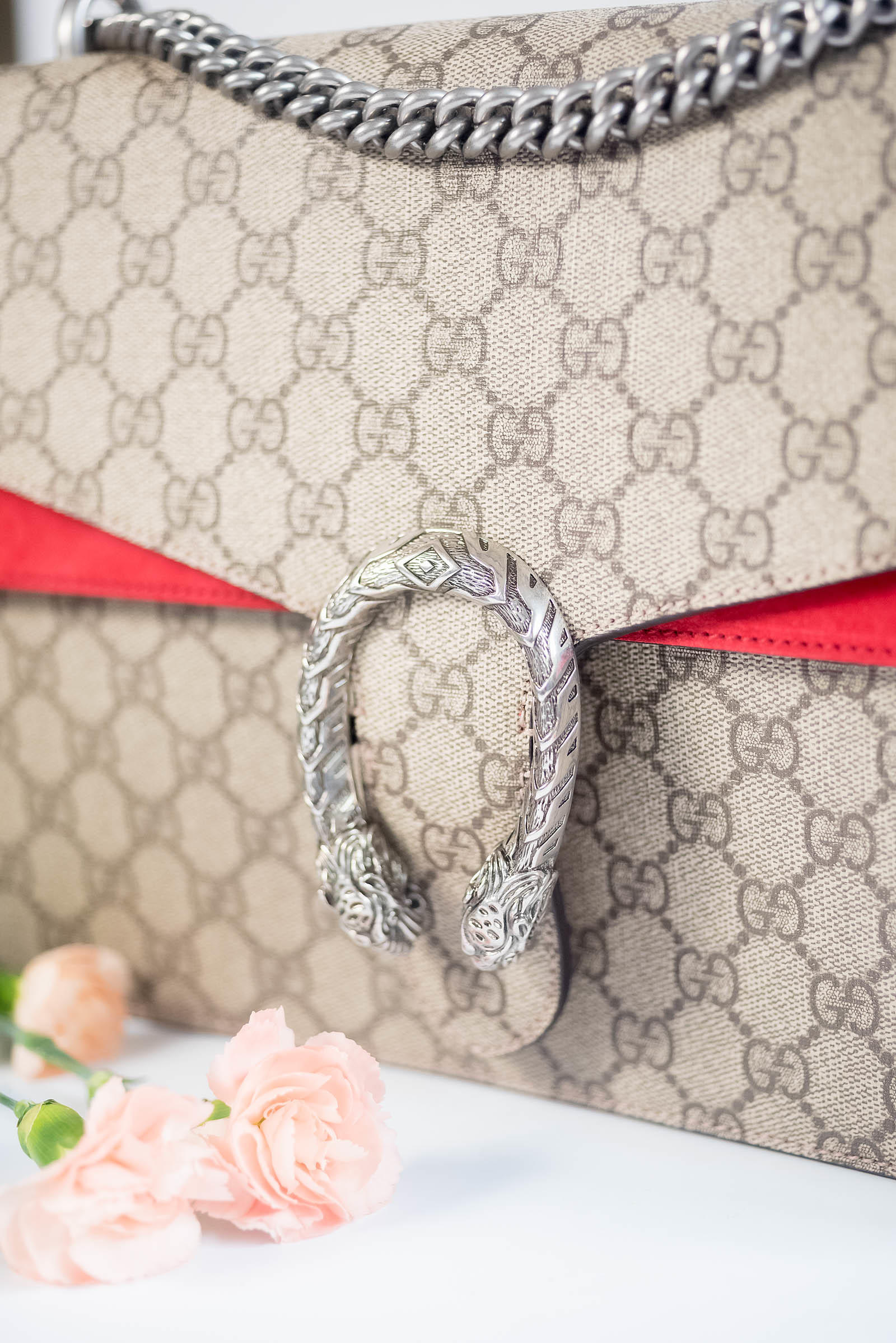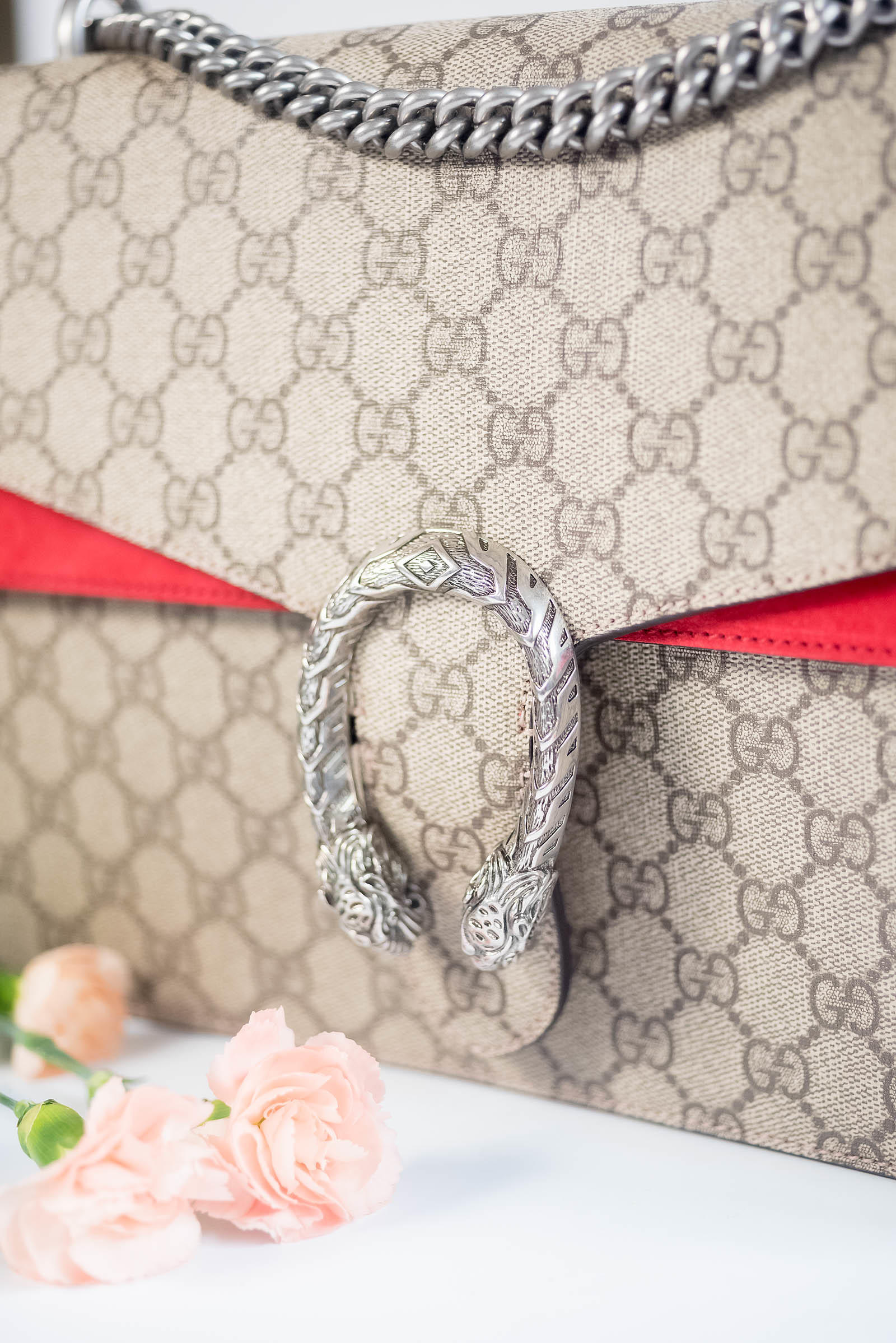 Inspired by the Greek God Dionysus (God of Wine and Fertility), the front buckle is composed of two tigers heads commemorating Dionysus' transformation into a tiger in order to cross a river (now called the Tigris) and save a nymph.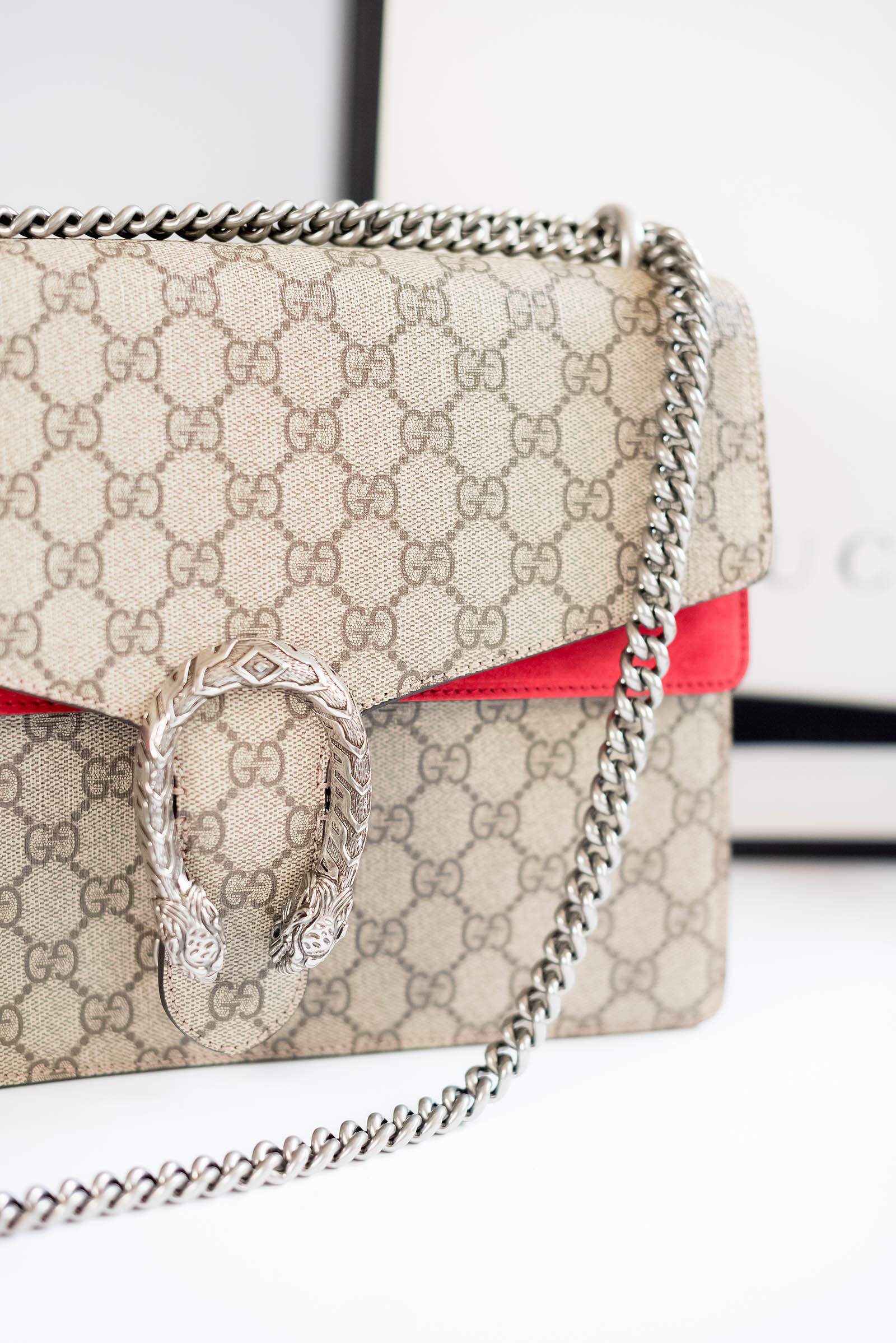 Structurally this bag is one of the most beautiful bags I've ever seen in person.
The pewter chain and front buckle are a beautiful hue that catches the light as you move. Last year when I first saw this bag I loved it but didn't obsess over it… I mean, I did have another major bag crush at the time (still do…).
But then I started seeing this bag on Pinterest…
And I began pinning it to my Style Inspiration board…
A lot…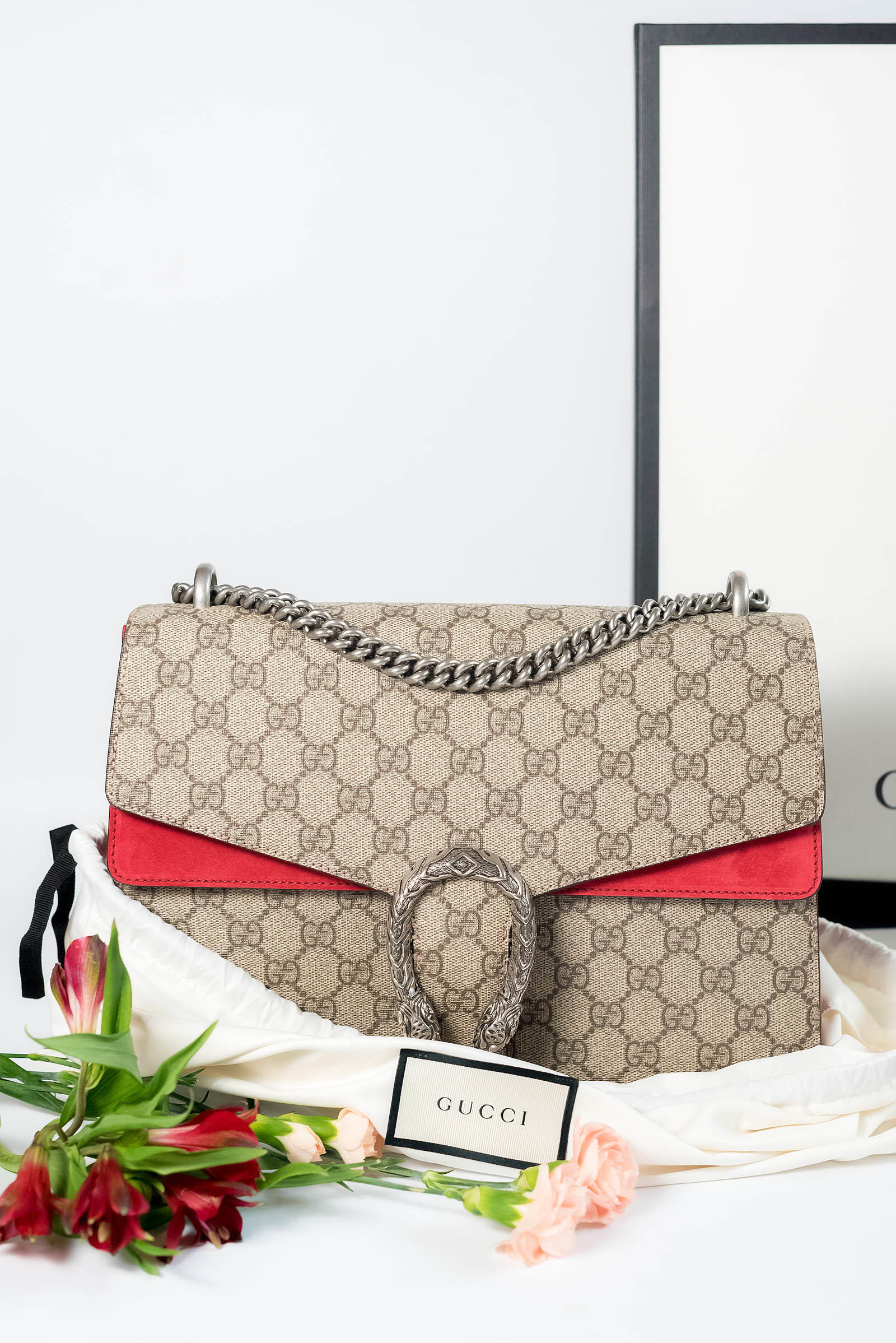 Why?
Because this is one of the most stunningly photogenic bags I've ever laid eyes on. I've never seen a bag come to life so much on camera! Everything from the pewter details, to the luxe layers, to the accordion pleats just BEG to be photographed. My first outfit post with my Dionysus is case-in-point.
The photographer in me couldn't resist this bag…
And neither could the fashion blogger in me…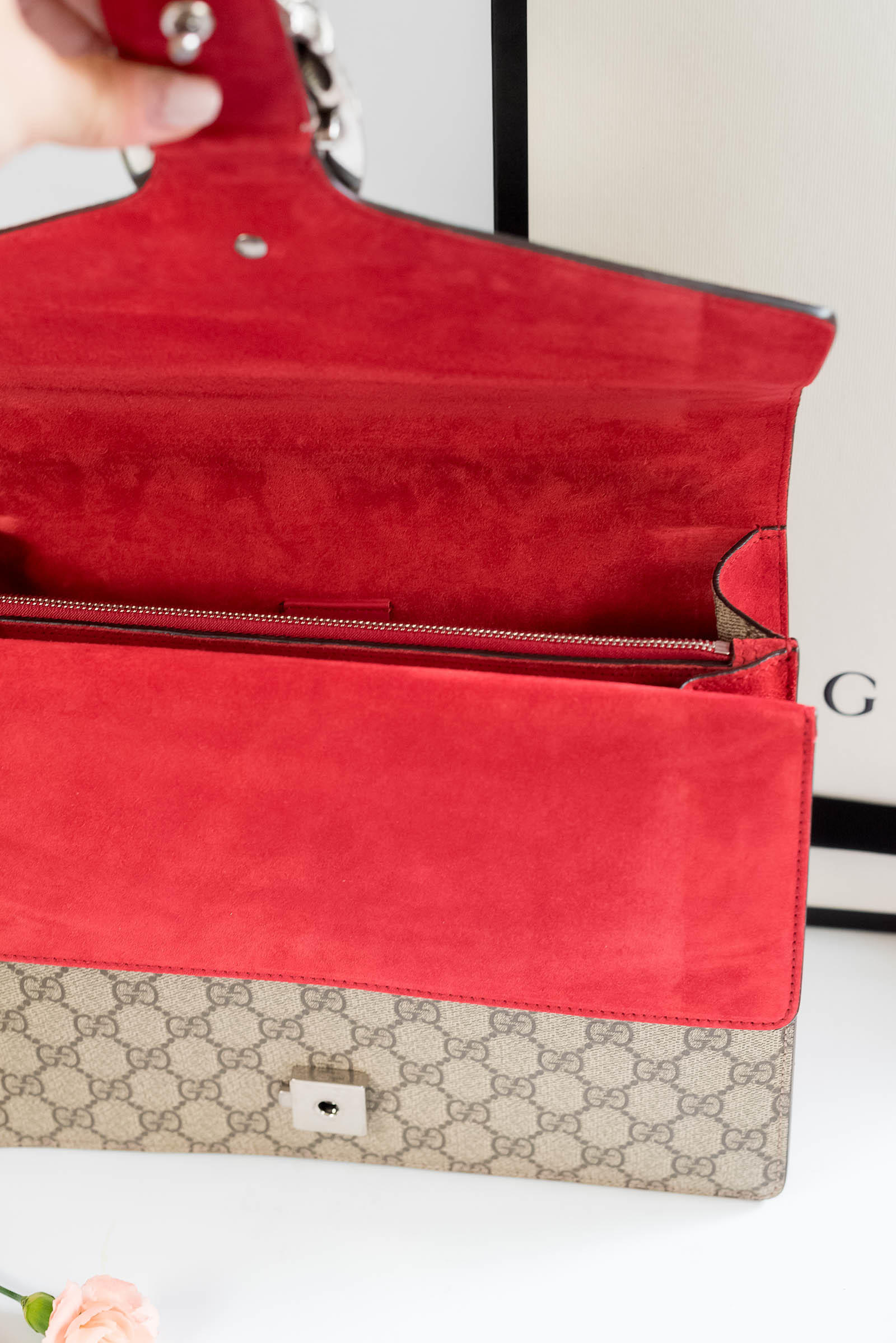 But this bag is also surprisingly practical (though please always remember to waterproof any suede components to protect them from damage!).
In order to open the clasp, you need to release a hidden push-button on the side. It will only open if the button is pressed and the flap is lifted at the same time. Otherwise the flap will remain locked in place. I really appreciated this unique feature when we wandered the busy streets of London. I had a lot more confidence knowing my things were safely locked away from pickpockets.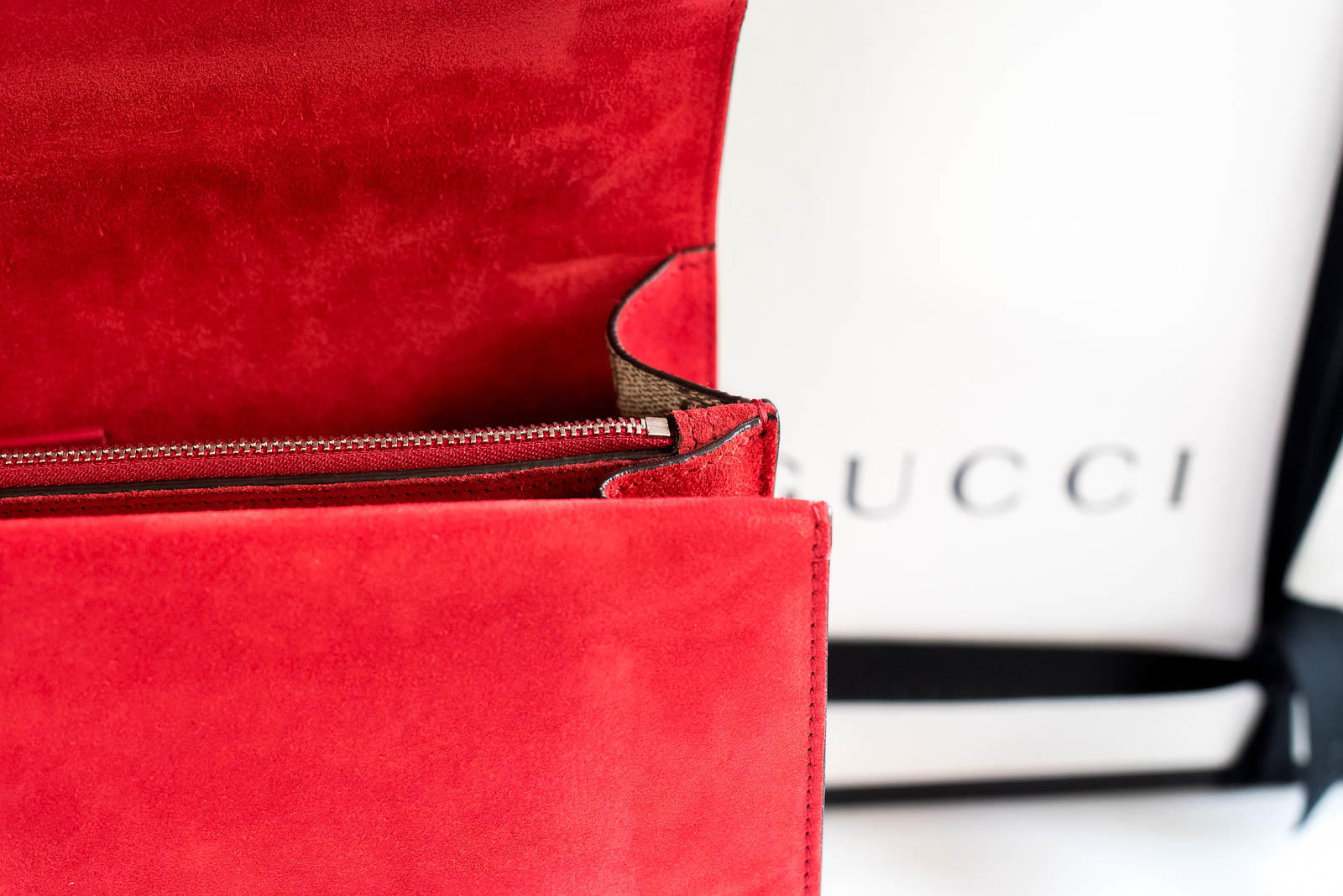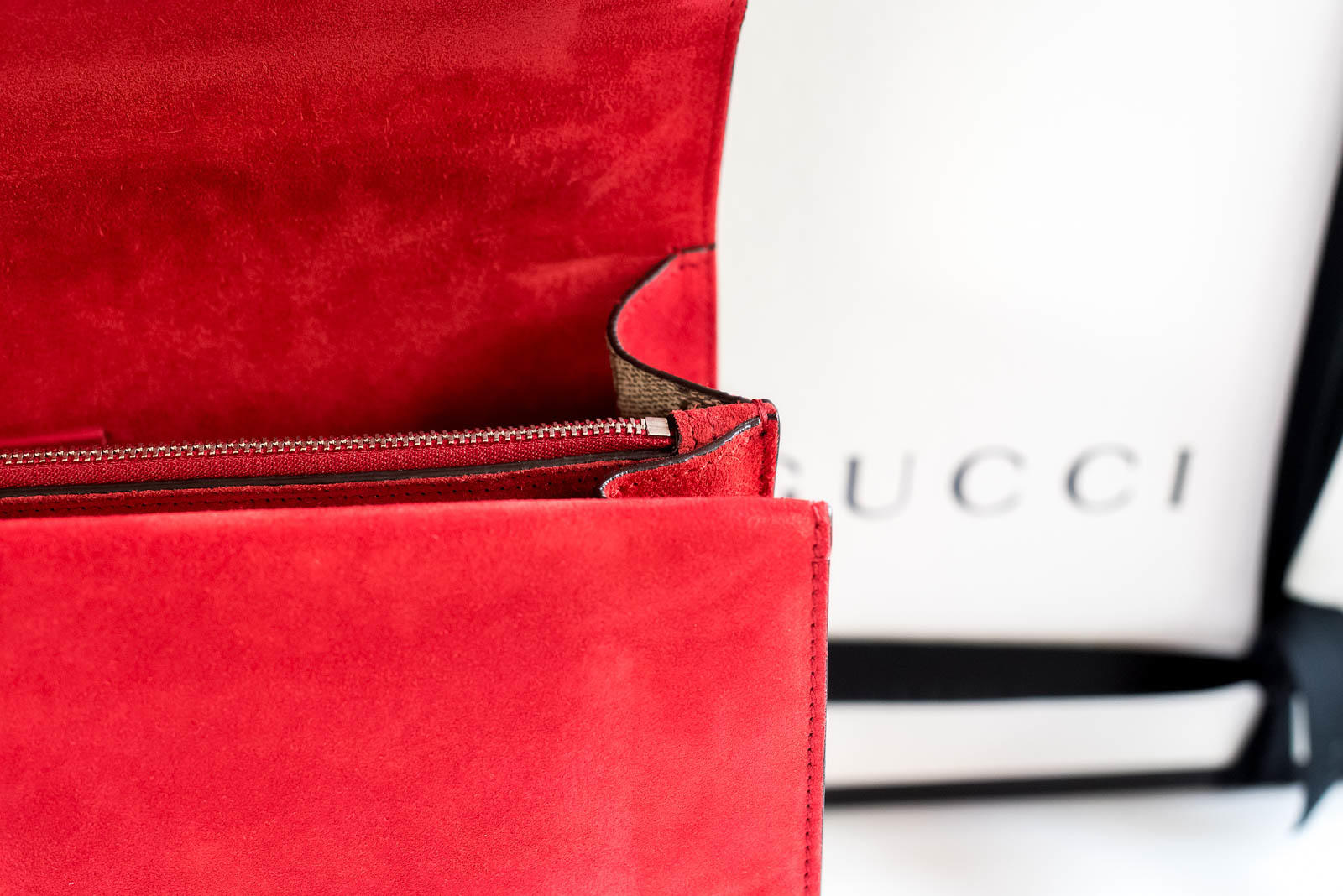 Inside there are three main compartments, two large spaces for bulky items like wallets and keys, and a smaller zippered compartment in the center that was perfect for slipping my passport into while we were abroad earlier this month.
This bag also has an exterior pocket on the back perfect for holding an iPhone. I love that I don't need to actually open my bag to grab my phone! It also features a clever hidden front pocket most people don't even see until I show them. If you lift up the front suede flap, you'll find one final thin compartment to stash secrets into!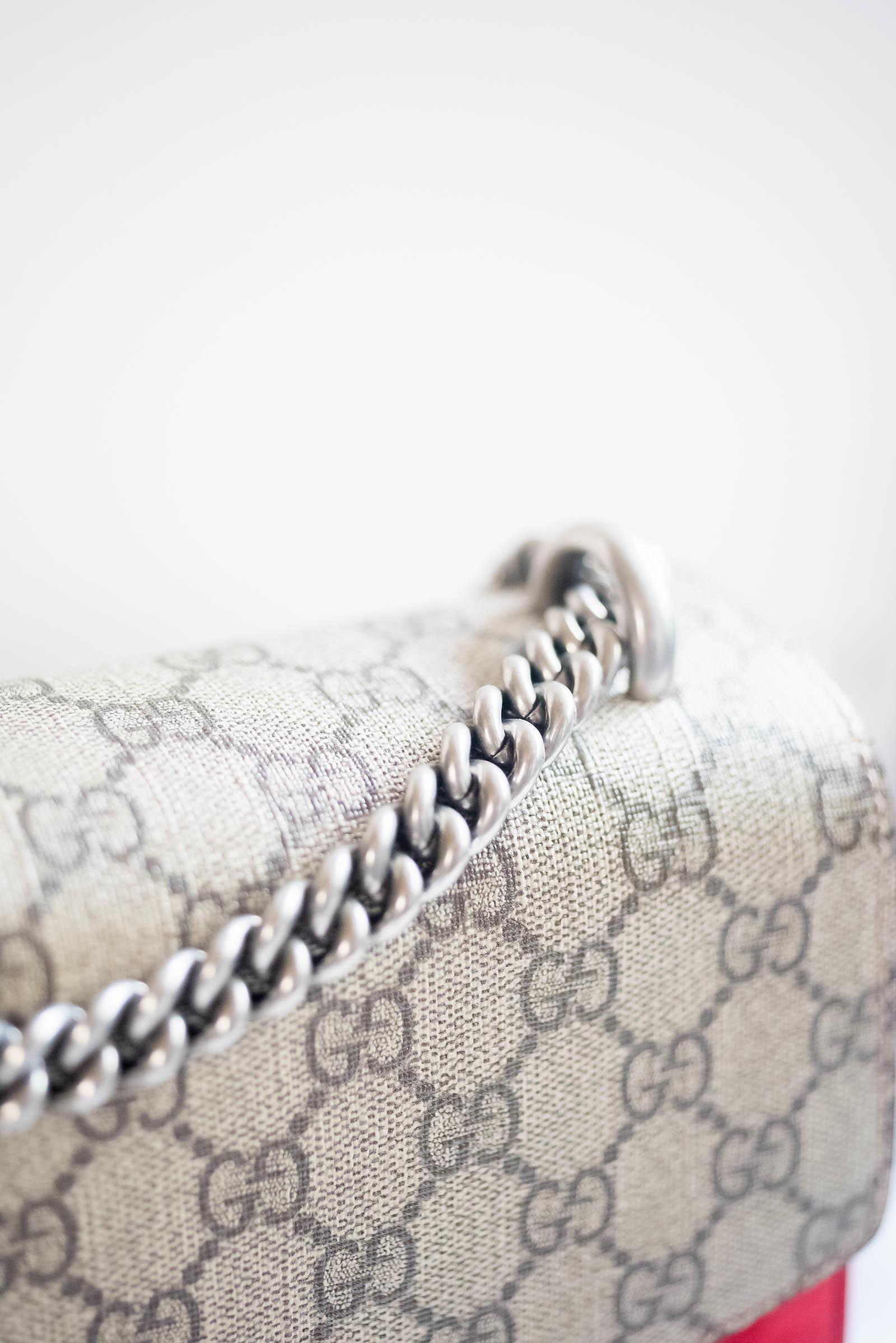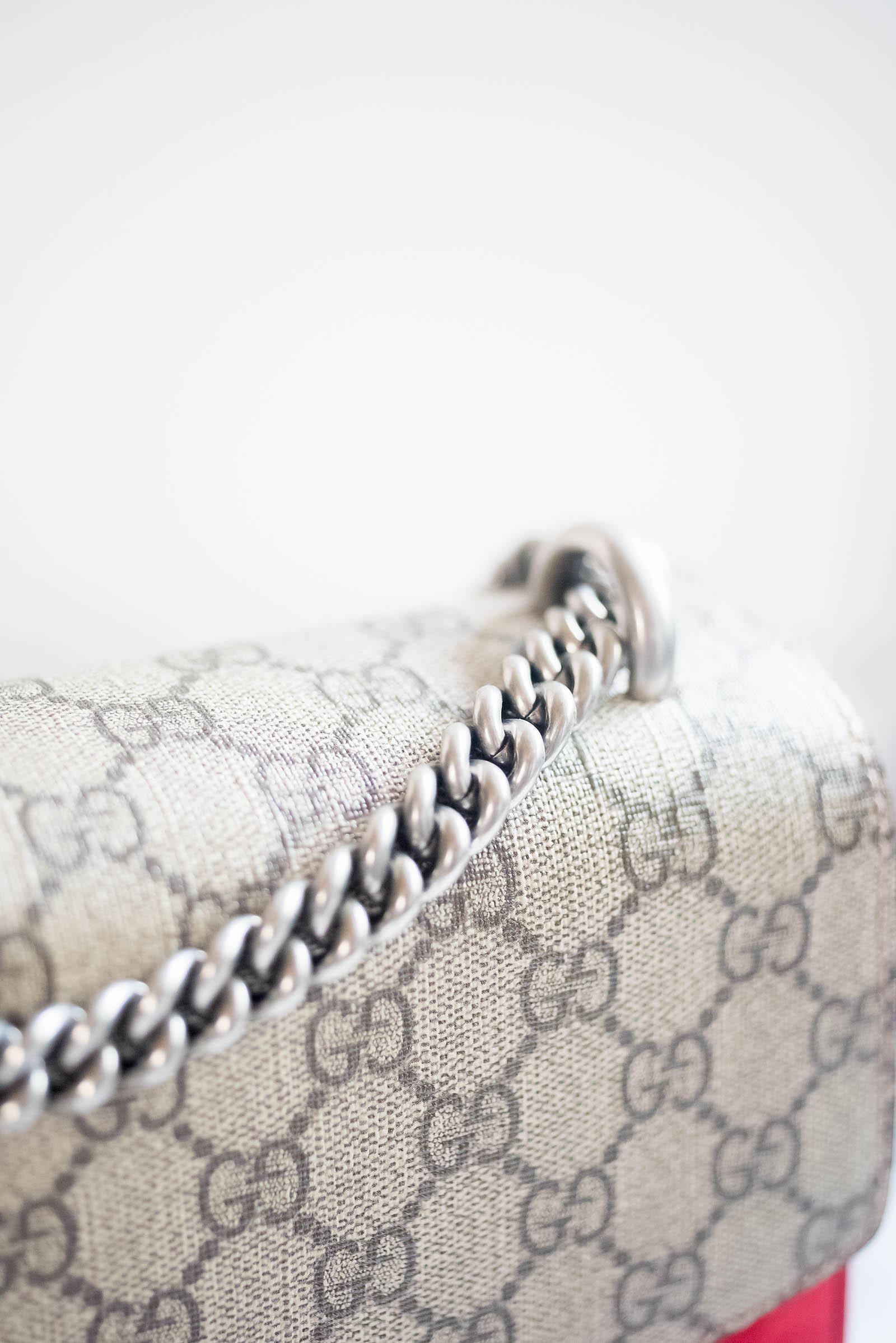 After I saved my pennies for months and finally caved and invested in my own Dionysus, the question I was asked most by friends and readers was about the chain strap: is it comfortable?
I'm a huge fan of chain straps — personally I think they look more luxurious and polished than leather straps. Almost like a adding a piece of jewelry AND a purse. And I'm already used to wearing them.
But even I'll admit I was scared of this chain strap.
The Gucci Dionysus isn't a ridiculously heavy bag on its own but add in your daily essentials and I worried the chain would bite into my shoulder (especially if I wore something strapless!). But while we were in London the temperature was in the 90s for at least 2 of the days making a bare-shouldered blouse very necessary. So I held my breath and prayed that I wouldn't curse the bag by the end of the day.
But I honestly didn't mind the chain strap at all! Even on my bare shoulders. For 9+ hours. In the heat. With no air-conditioning in sight. I figure if the Dionysus can pass that test than I can earnestly recommend the chain strap to you.
But again that's my opinion.
The design of the Dionysus' chain strap also lends great versatility to it! It's adjustable which means it can be worn as a long shoulder bag (or even a crossbody) or doubled up as a handbag or even a shorter shoulder bag. The versatility of the chain REALLY makes this bag an exciting investment for me. It's like having three bags in one!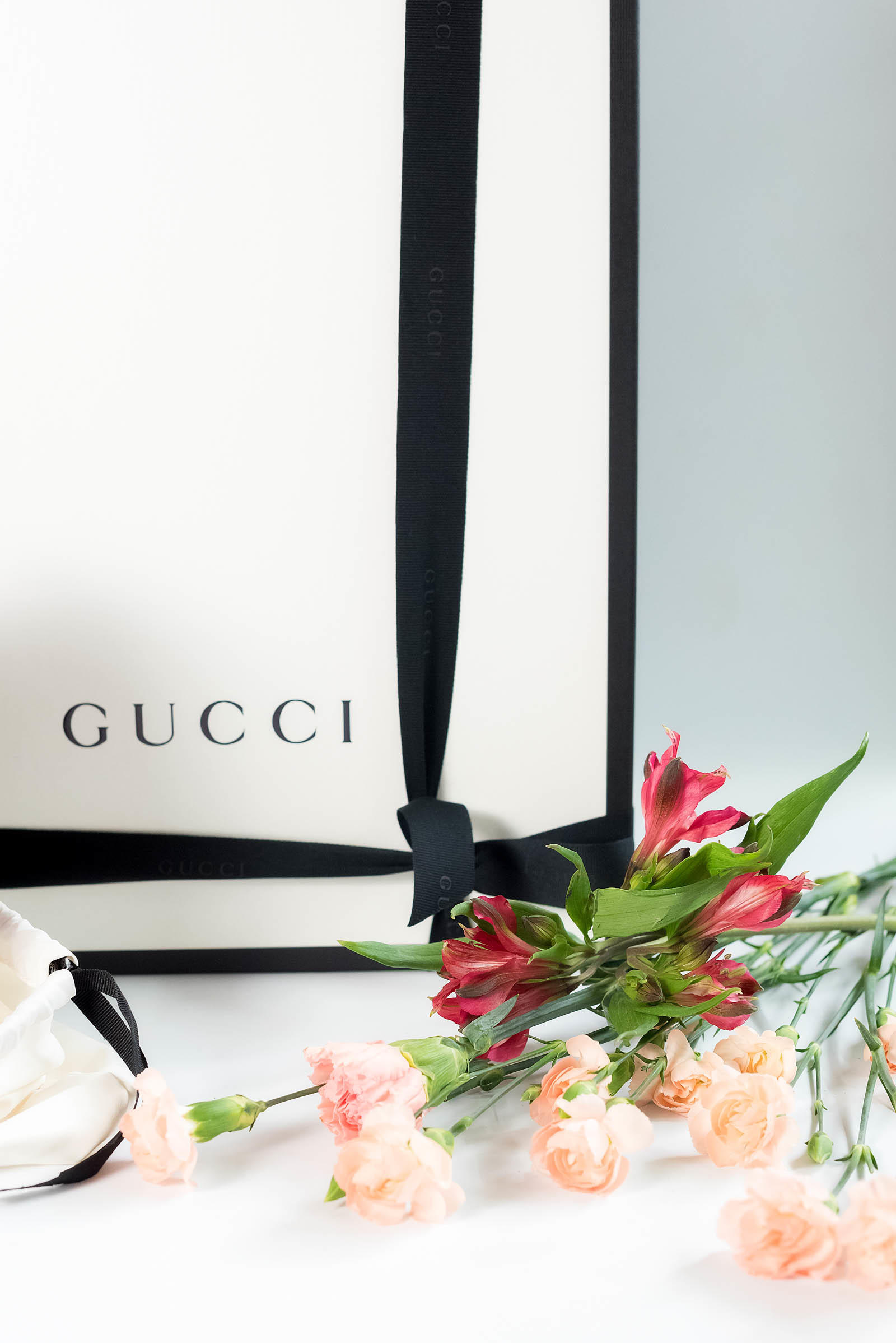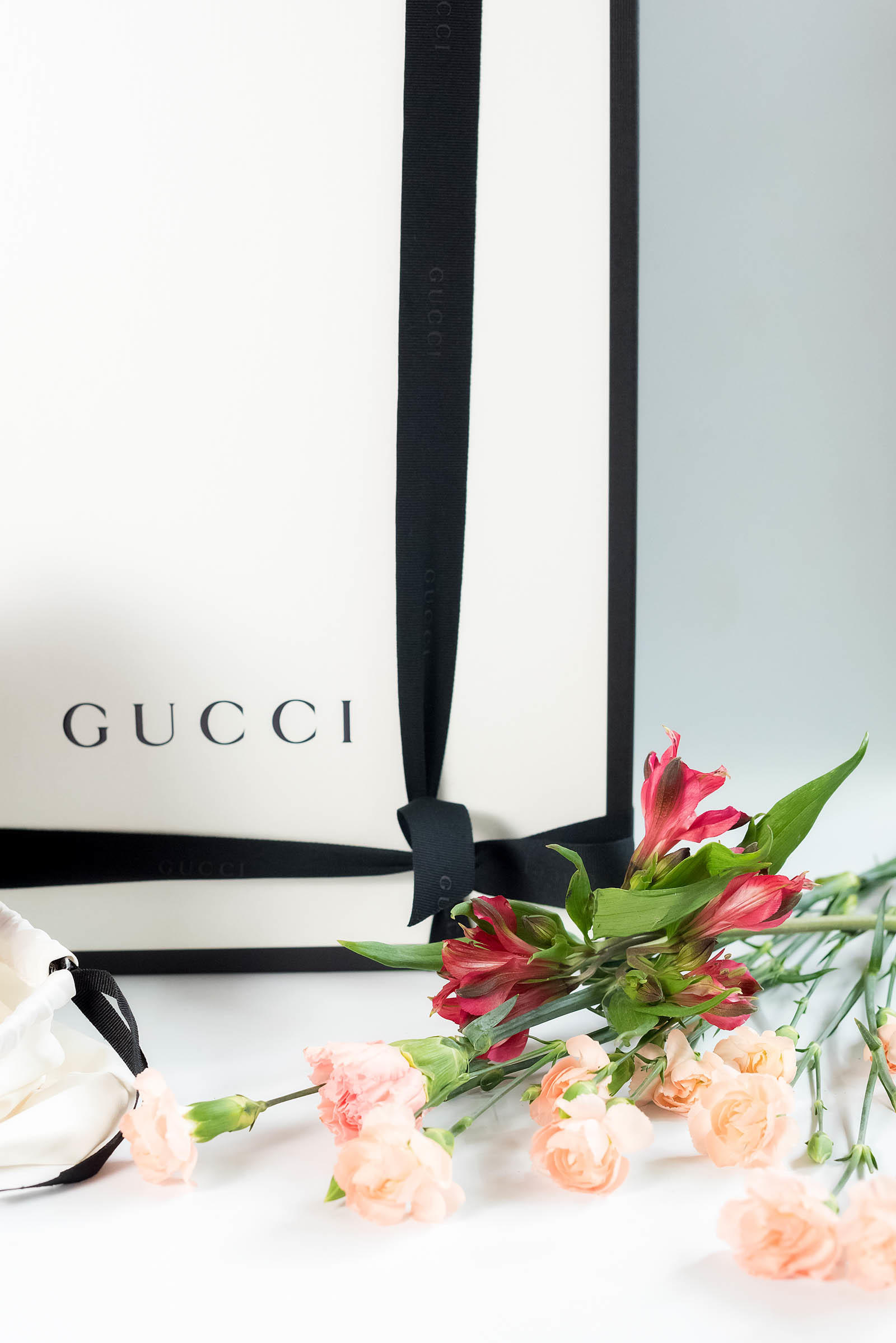 But let's go ahead an ask the expert, shall we?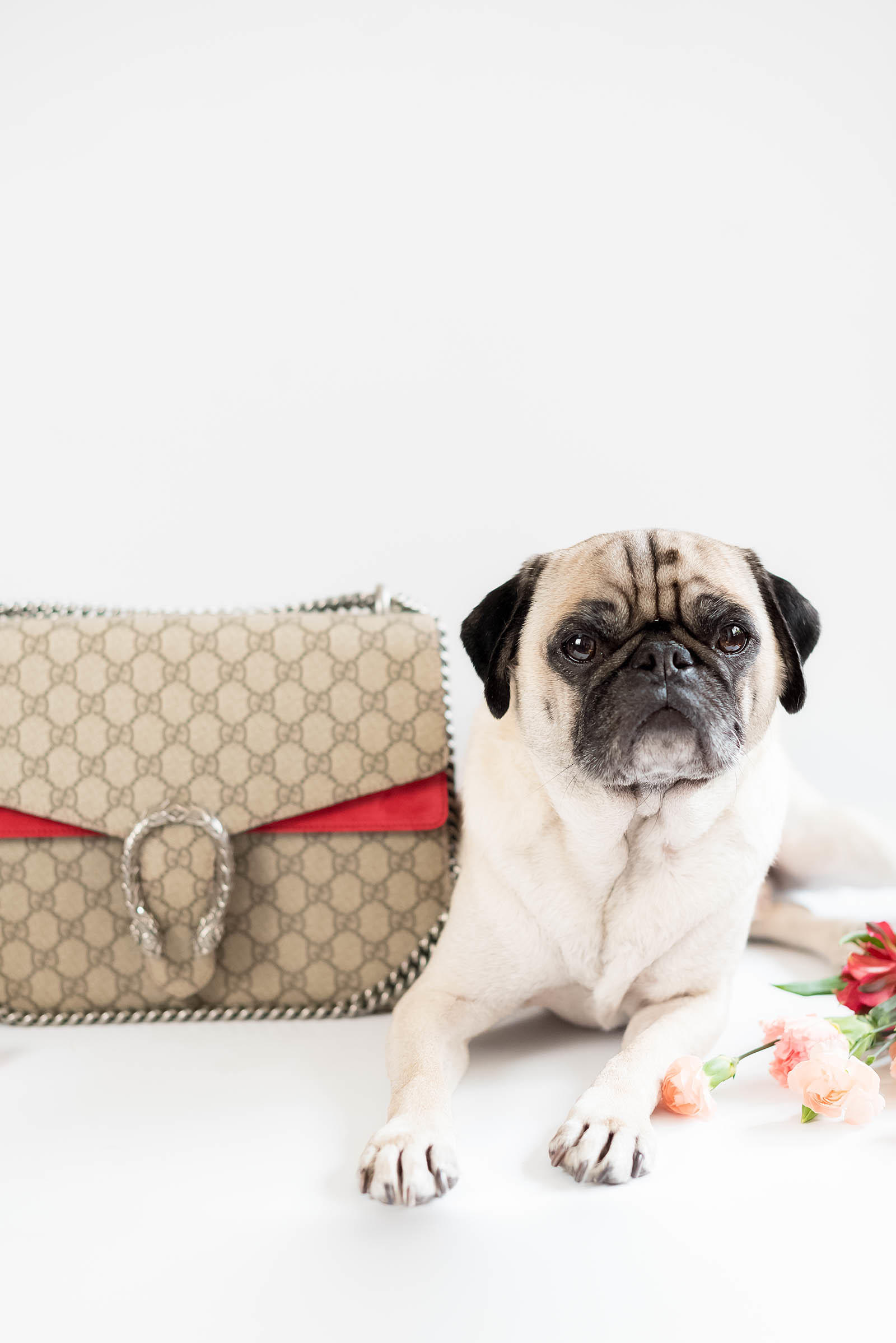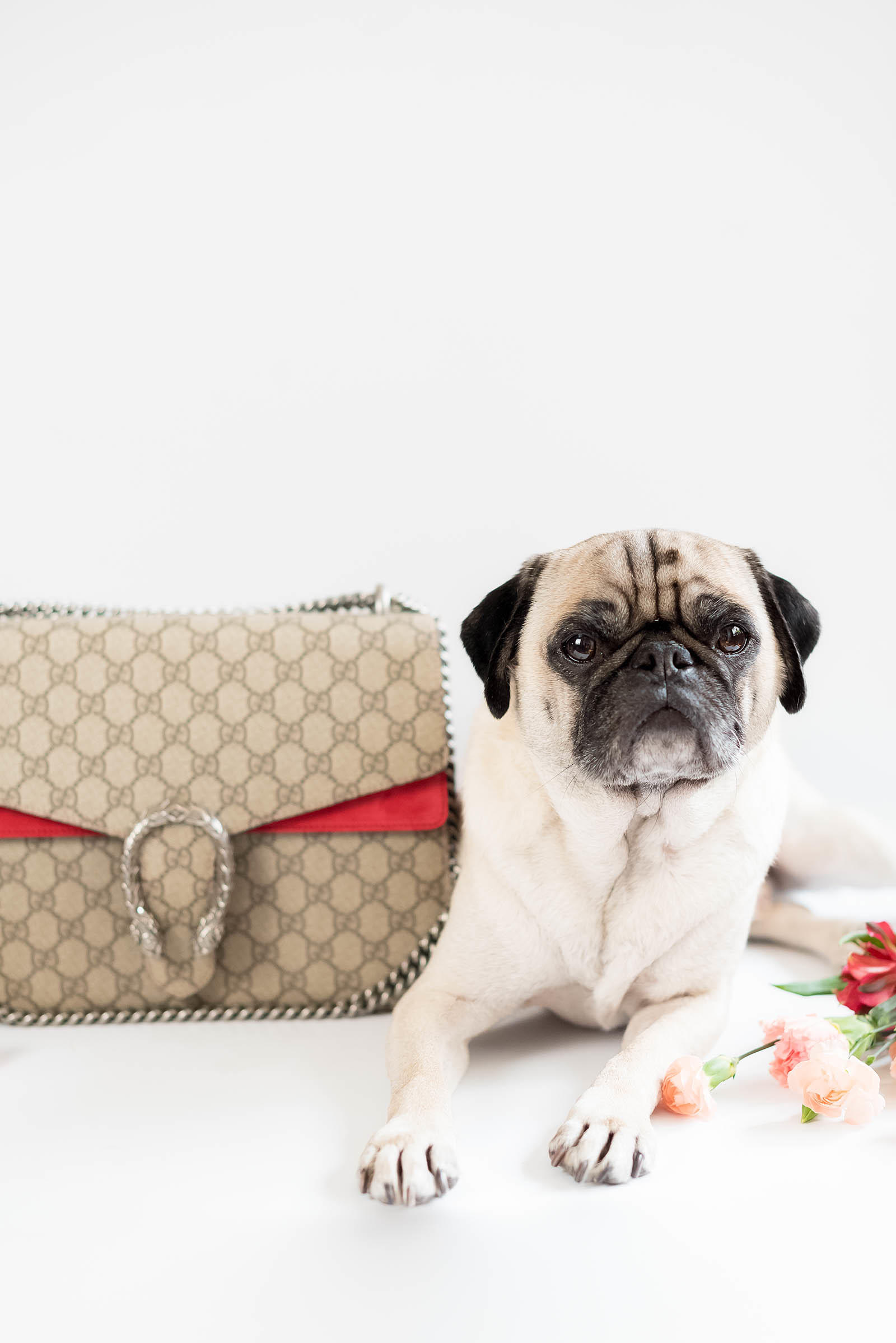 Loving my pug Apollo like I do, I just had to get his approval before I decided to keep the Dionysus.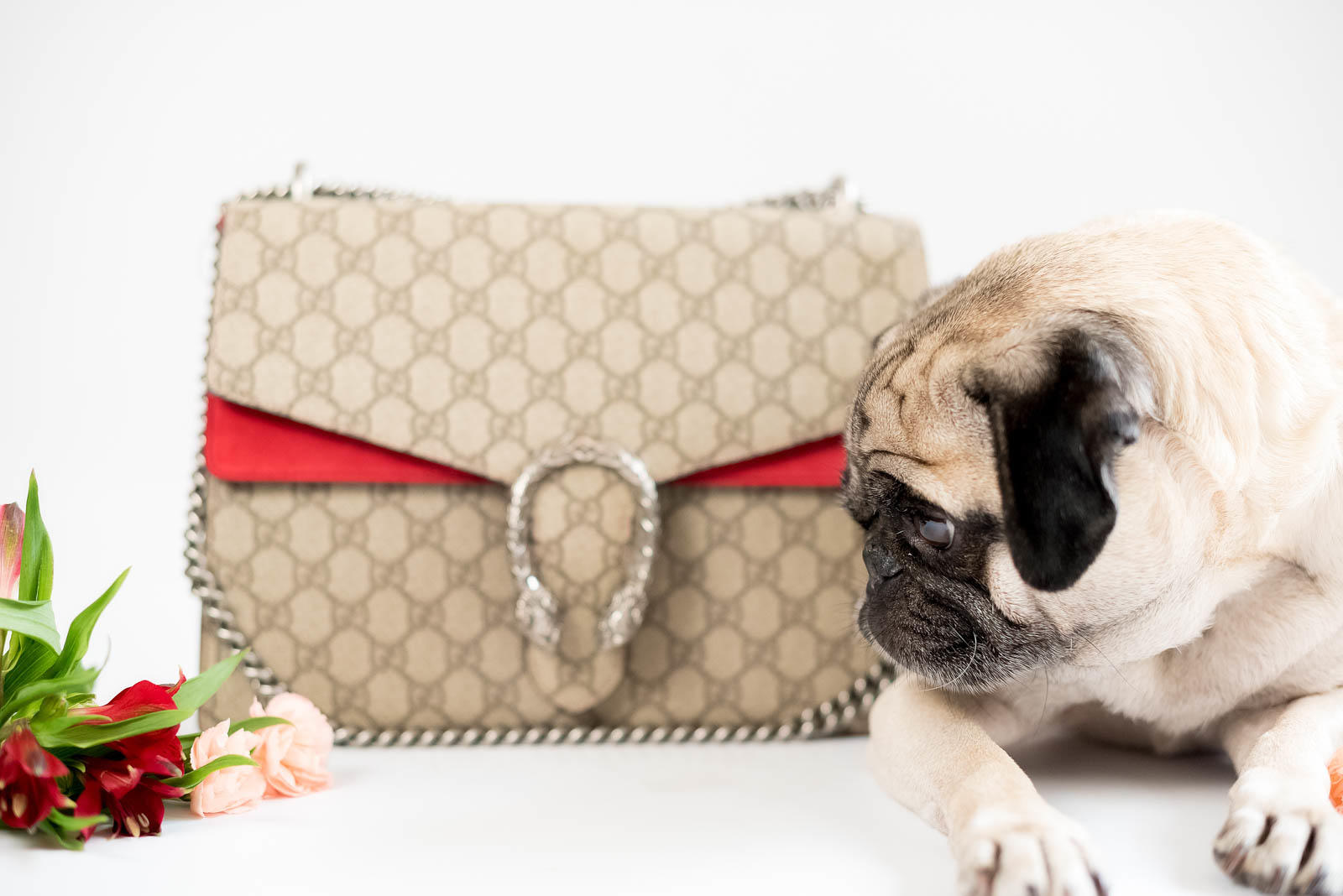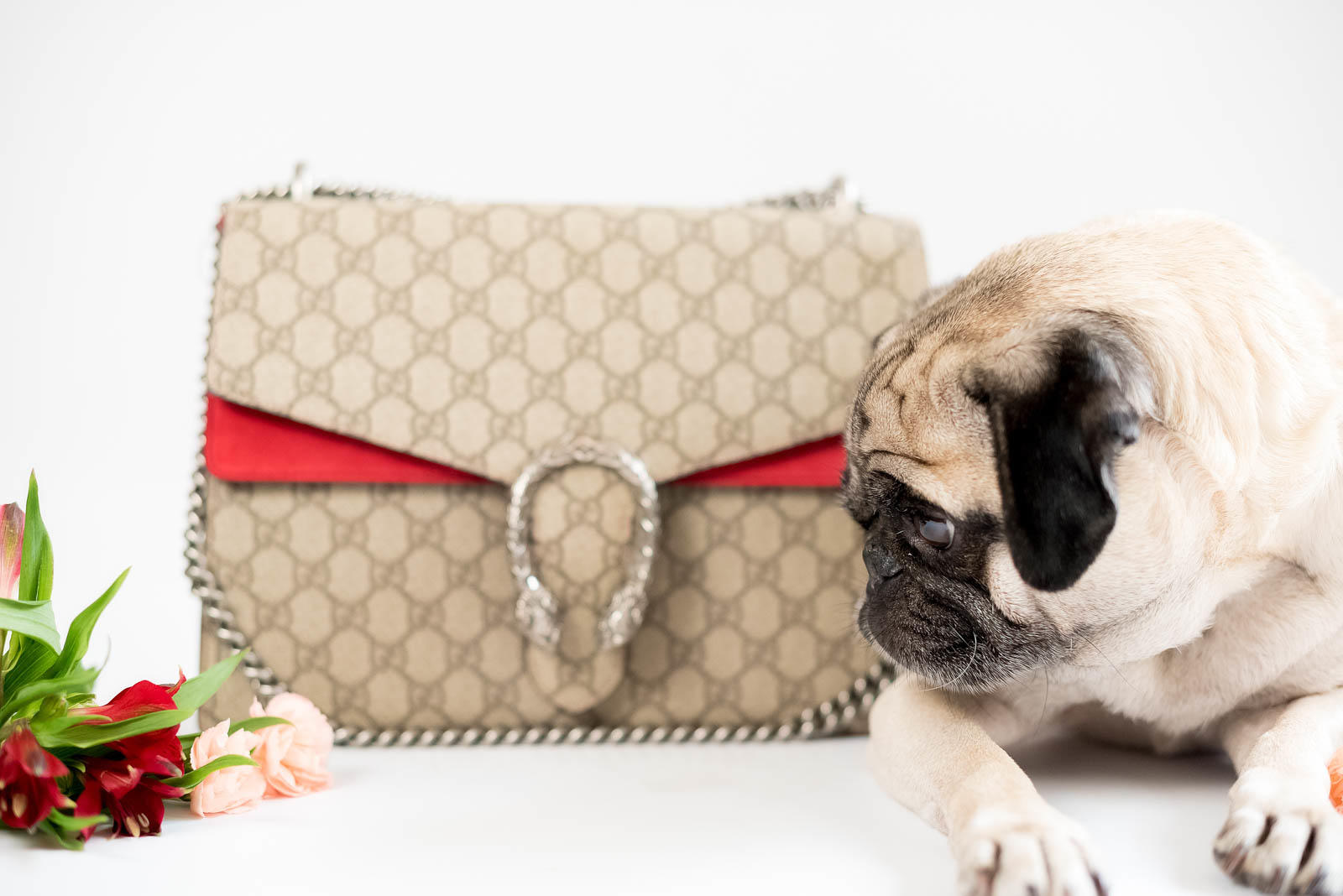 He inspected it carefully and gave it a good solid sniff…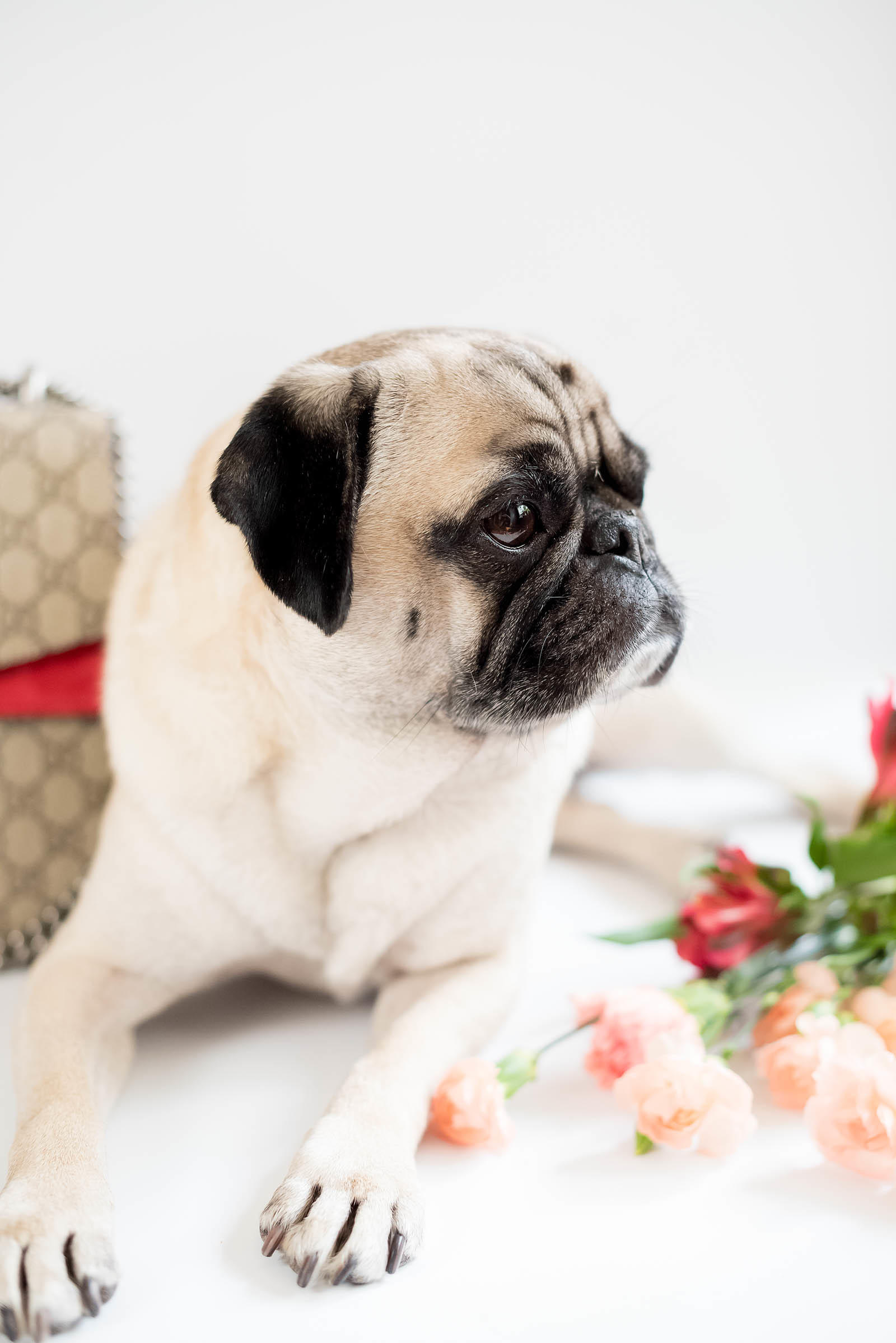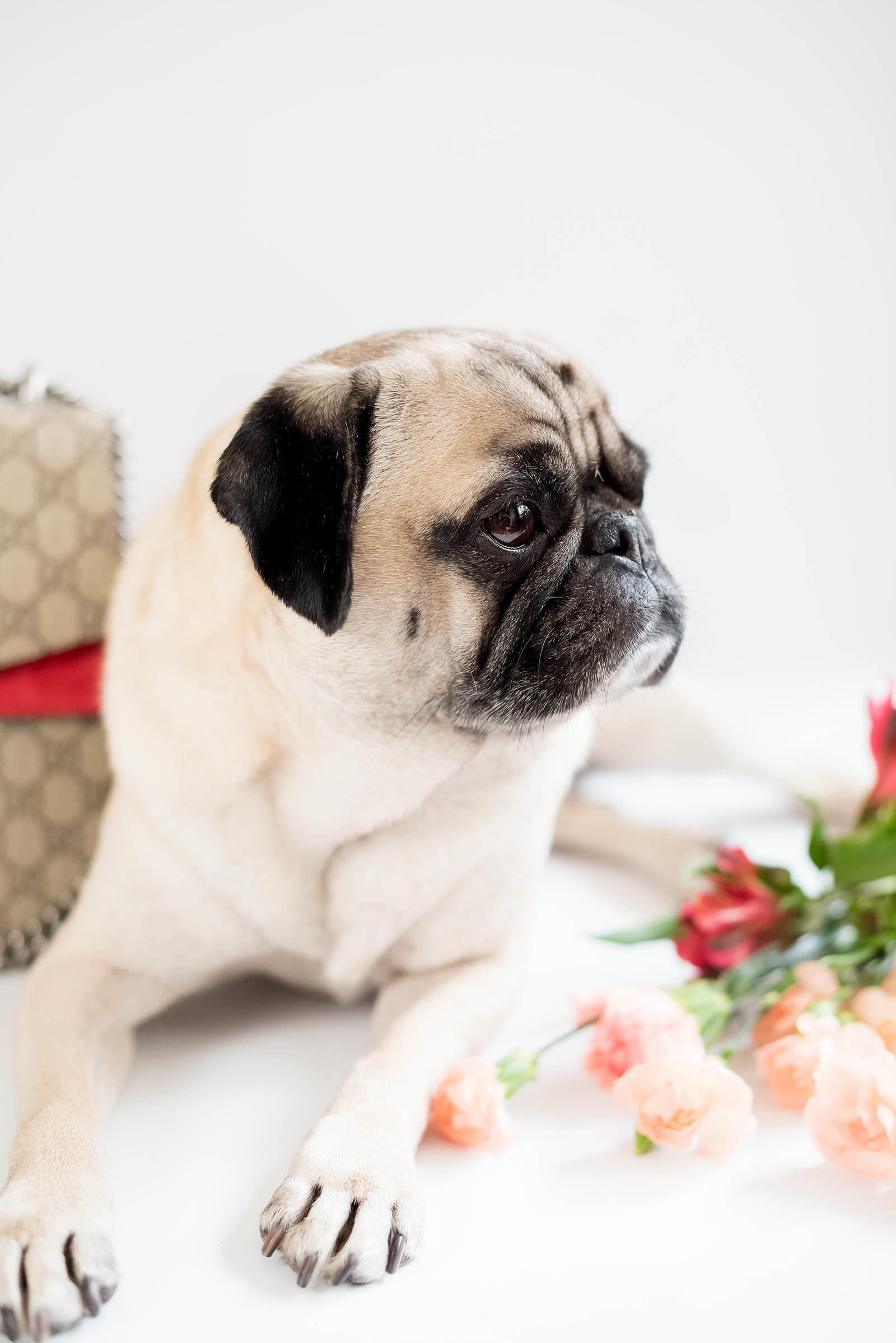 Thought about it…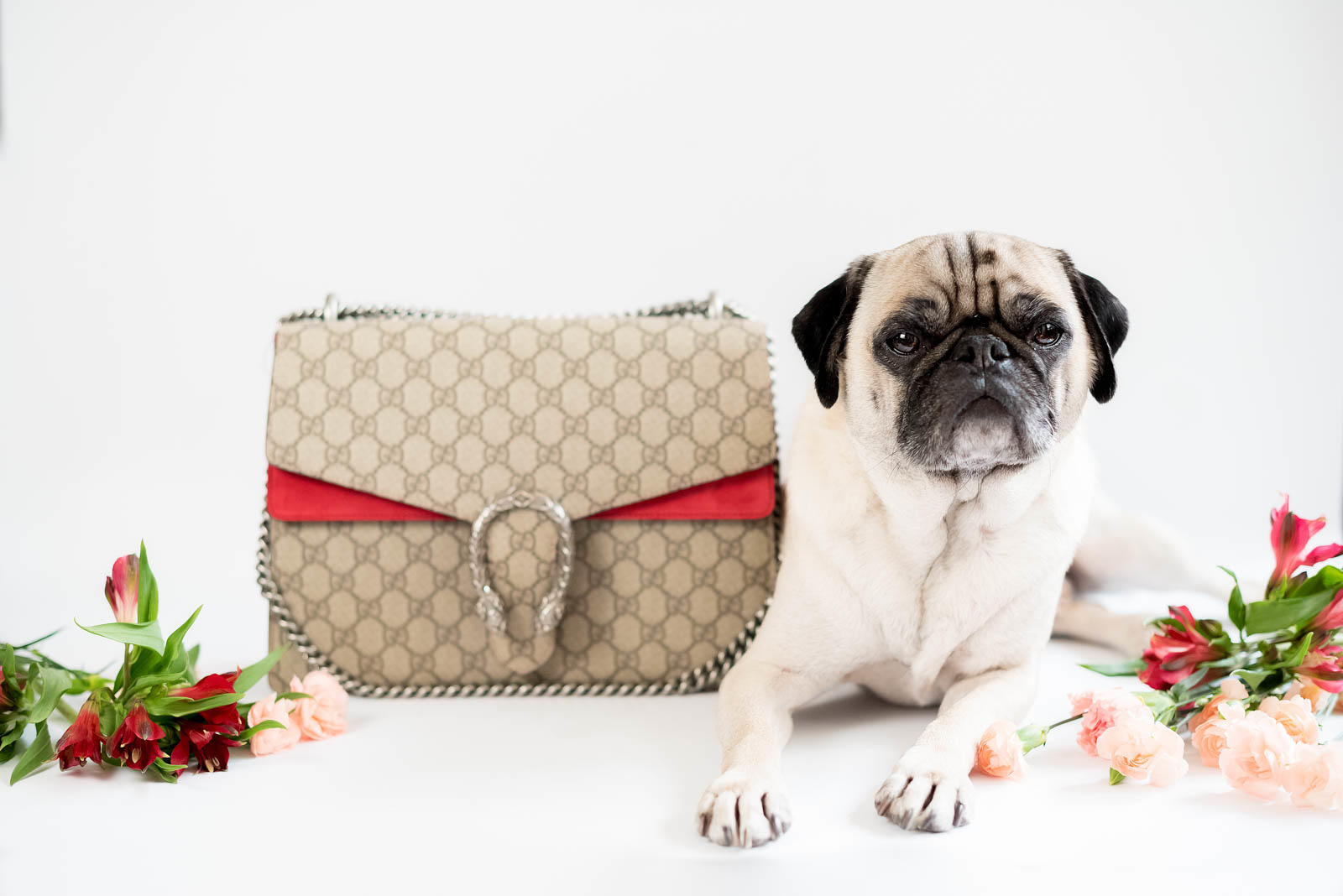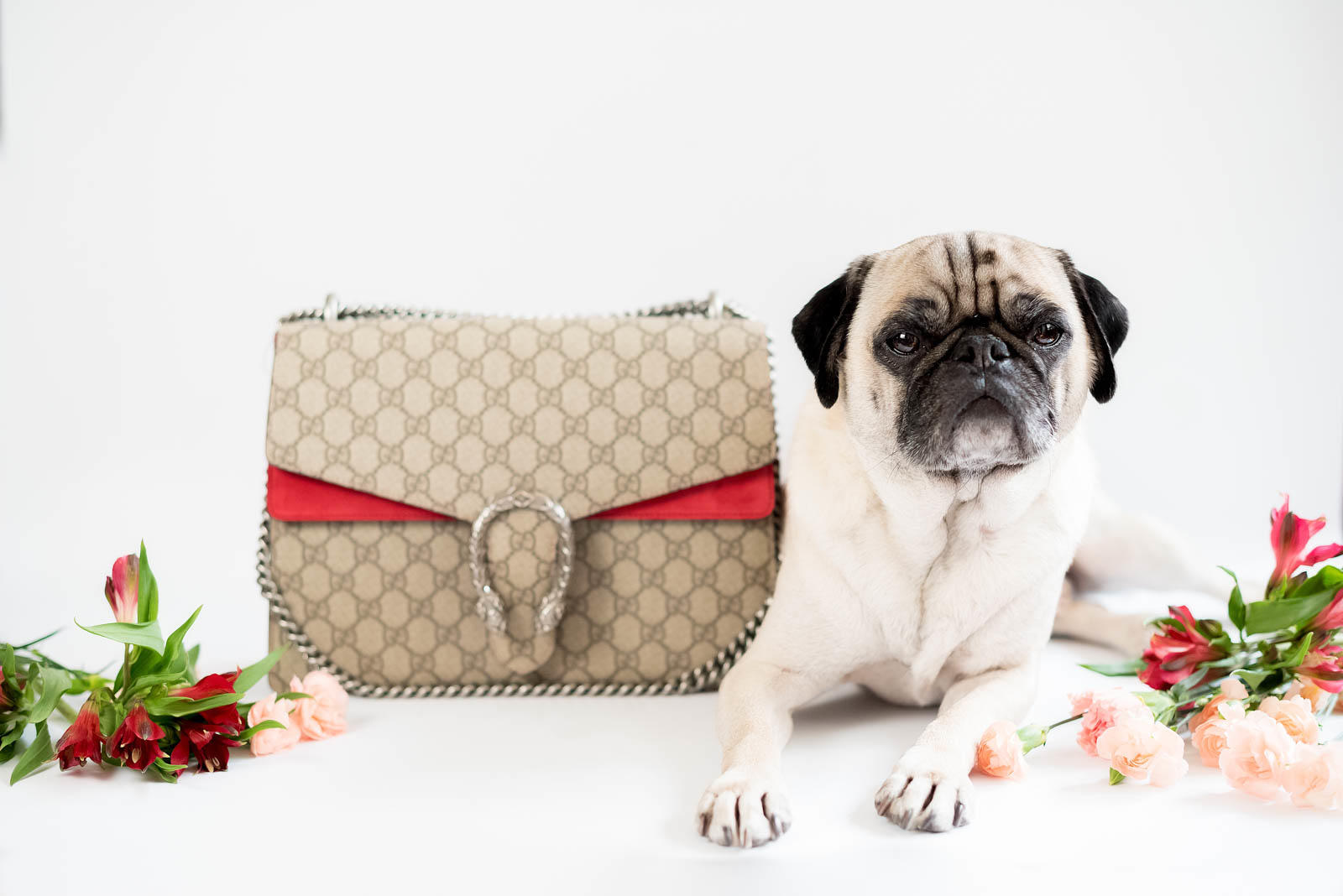 Before declaring his complete approval!
Nothing like a "pug-approved" designer bag to make you feel confident about your handbag investment, right?

What do you think of the Gucci Dionysus? Is it a wardrobe investment you'd make too?