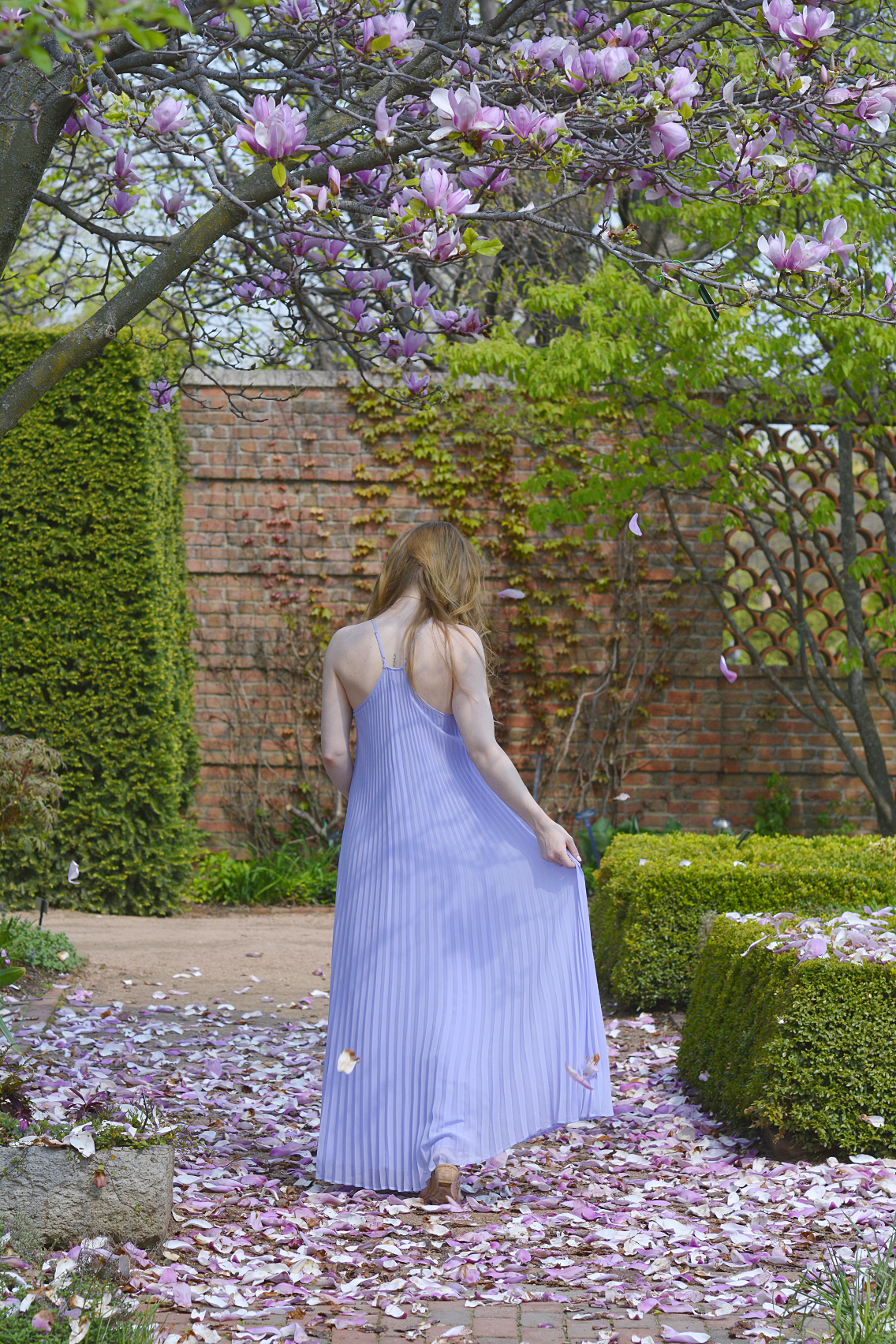 (Original Post)
Spring is easily the hardest season to dress for here in the Midwest. One day gusts of Chiberia winds strike, the next torrential downpours soak you to the bone, and the next sunny summer-esque warmth fills you with hope.
Schizophrenia doesn't even begin to cover it.
It's a serious rollercoaster ride of weather extremes. And wow does that ever make planning your wardrobe hard! Needing to keep everything from winter parkas to silk blouses to wellies and sandals at my disposal can make my closet feel a LITTLE over-packed.
Luckily, as a native Chicagoan, I'm genetically designed to deal with complicated weather…
Ha ha, well, not really. I just like to joke that I am.
But I HAVE experienced so many erratic seasonal changes year after year that I've learned a few tricks along the way.
The simple truth is if you have a few key pieces in your wardrobe you can still conquer this wonky spring weather practically and stylishly — you may even trick yourself into enthusiastically embracing this complicated season!
14 Spring Wardrobe Essentials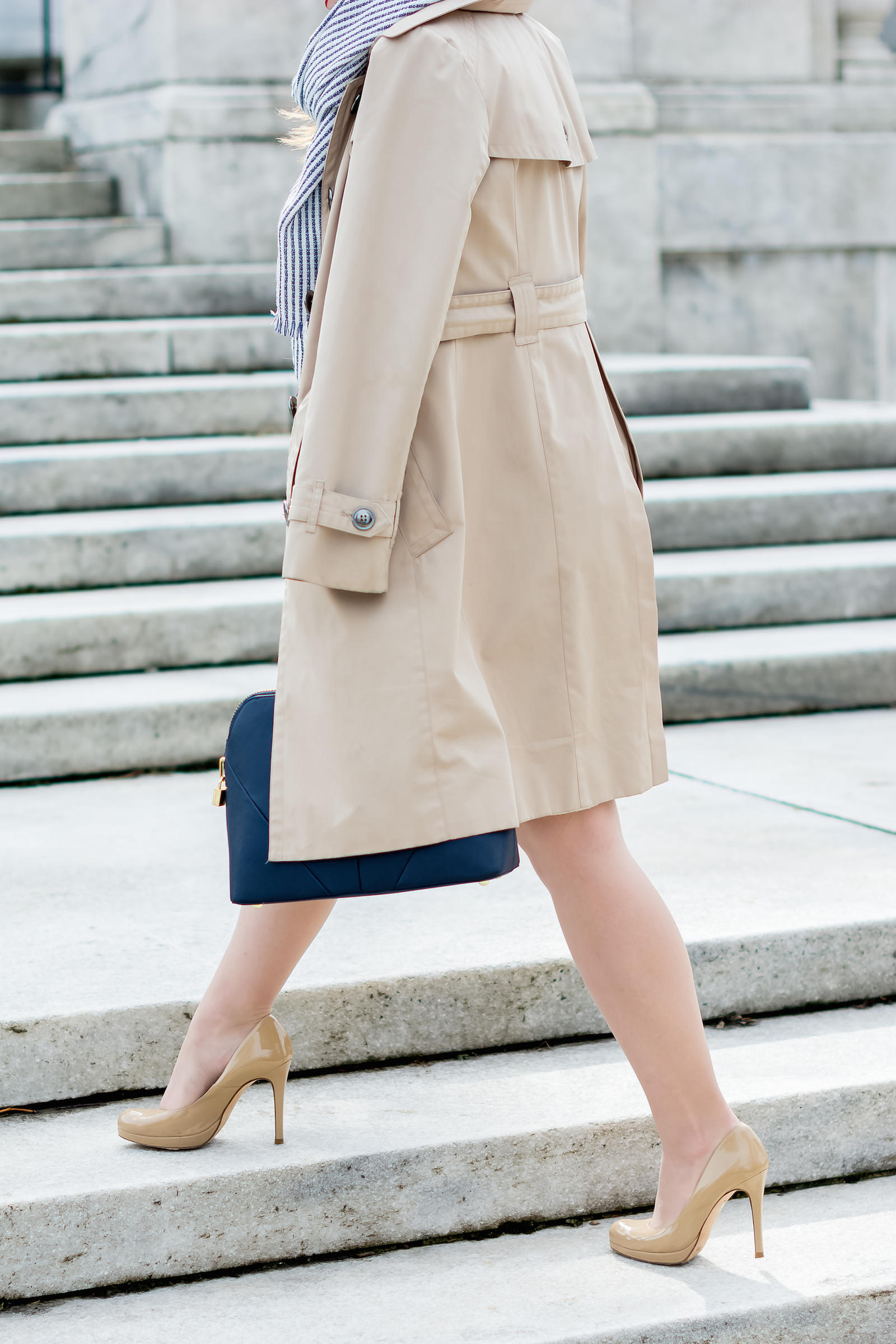 01. The Trench Coat
(Original Post)
The ULTIMATE wardrobe investment for this wonky spring weather. Trench coats are timeless, genderless, perpetually stylish, and ridiculously practical. Originally designed and issued for military use, trench coats have thankfully expanded beyond their original M.O. to become one of the chicest ways to stay warm and dry in spring.
They come in a multitude of silhouettes, colors, and fabrics. Since I'm large-chested I most often opt for single-breasted designs with a flattering a-line shape but I do love all the more modern designs that have been popping up these last few years too. Cropped trenches are especially having a moment.
Pro Tip: My favorite trench coat has a removable wool lining making it an appropriate choice from March to October. If you can, look for a coat with versatility in its practicality — I love ones with plenty of removable features like hoods, fur, wool-linings, or zip-off arms that allow the trench to become a vest. One coat suddenly performs the function of six!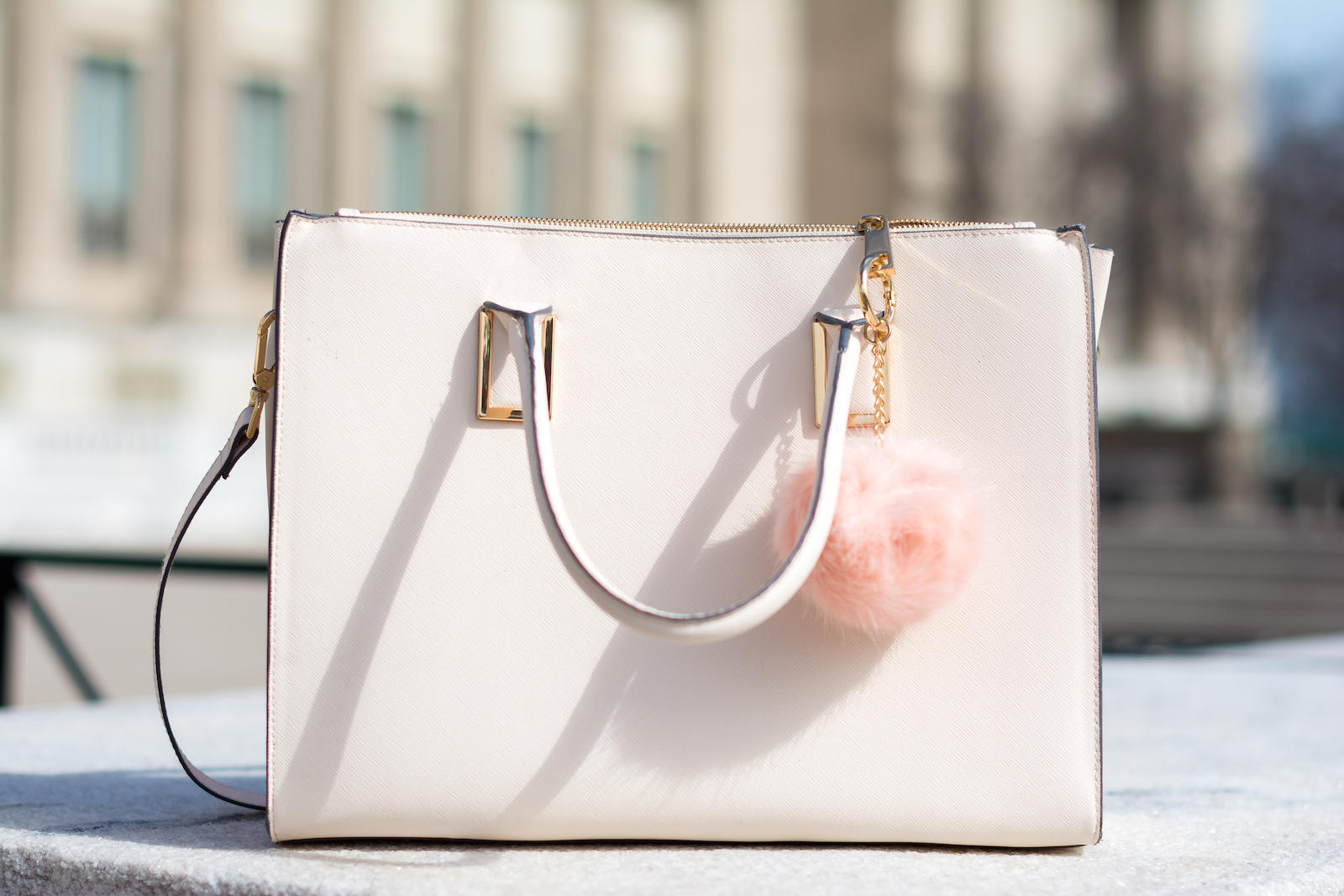 02. Blush Tote
(Original Post)
When Pantone announced Pink Quartz as Color of the Year, I couldn't have been more excited. Blush pink may just be one of the most flattering hues ever and it just so happens to be my go-to in spring.
It adds such a refreshing pop of pastel to a dark winter wardrobe!
By far the easiest way to infuse your wardrobe with spring-y pink is with a chic tote. Stylishly complimenting most outfits, the blush tote is such an easily forgotten wardrobe essential. It's almost a neutral but with enough pastel loveliness to evoke the changing seasons in a way that feels chic and timeless. Especially when you complement it with an adorable pink pom!
My favorite blush tote is a massive bag that easily carries all of my camera gear for under $40 — and after carrying it everywhere for over 14 months it STILL looks brand new! See what I carry inside in my Winter What's In My Bag post too.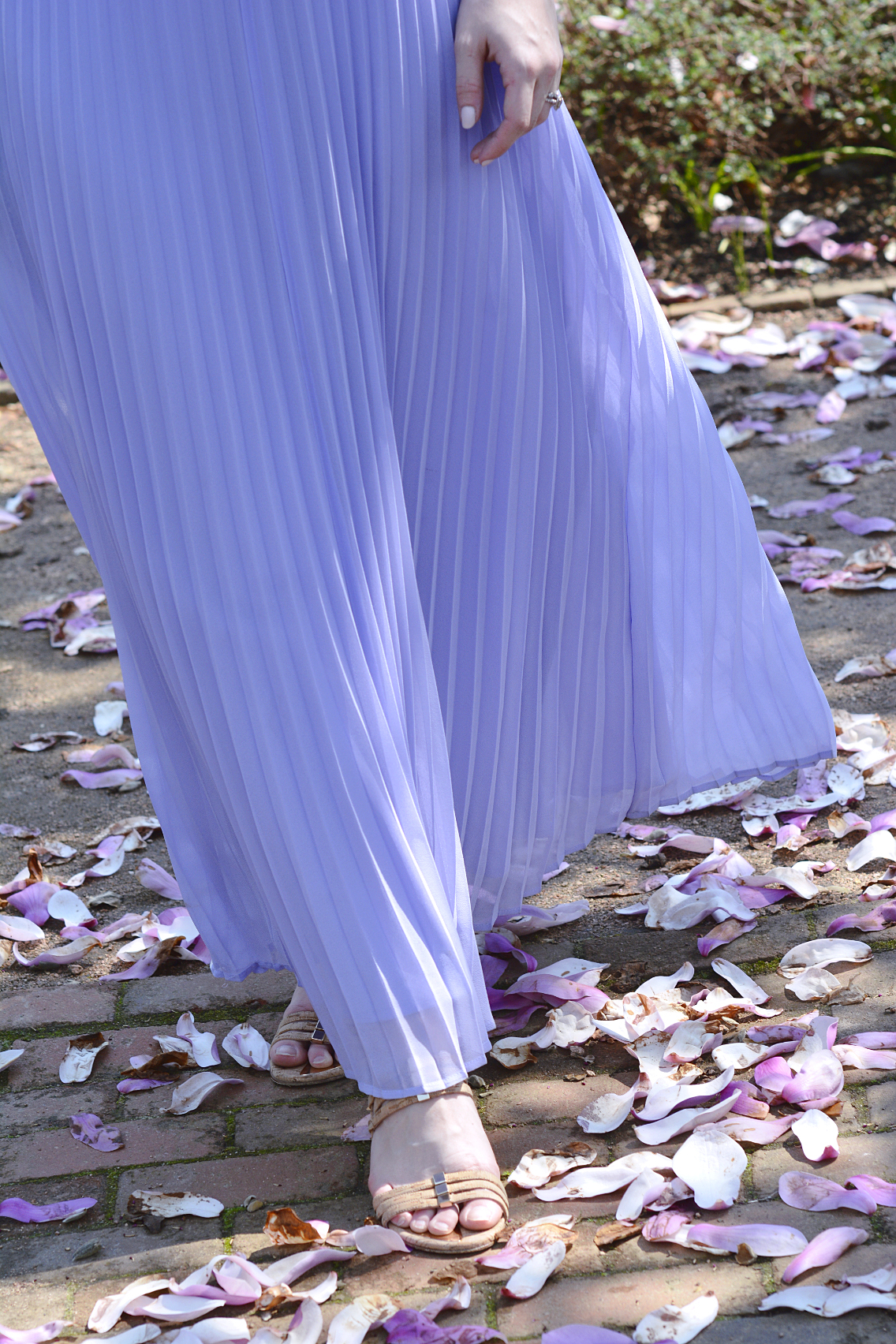 03. The Pleated Maxi Dress
(Original Post)
The Pleated Maxi Dress is one of the easiest dresses you can own. It is both elegant and casual at the same time — I like to think of it as the [secretly] lazy girl's statement dress. I mean, wearing a pleated maxi dress looks so deliberately chic and yet takes less than 10 seconds to throw on. I call that a wardrobe win.
And, after all the bulky layers of winter, a simple dress like this one is wardrobe freedom incarnate! Maxi dresses offer so much movement and lightness for spring, you'll be amazed at just how much wearing one improves your mood.
I've had this purple one for years and still wear it religiously every spring. Because it's such a statement piece, I can't remember a single time I've worn this dress and not been stopped multiple times by strangers wanting to know where to buy their own. Yup, it's THAT chic. And people are always surprised when they realize what an easy and versatile option a maxi dress like this one is! I bring this dress on so many trips (like our January trip to the Riviera Maya) because it packs beautifully too — the trick with pleated clothing is to roll them on a diagonal tightly enough so it winds itself into a knot you can throw into your suitcase. Just unwind it when you unpack. Chic and easy!
Pro Tip: On cold days, you can even layer fleece-lined leggings underneath and no one will know!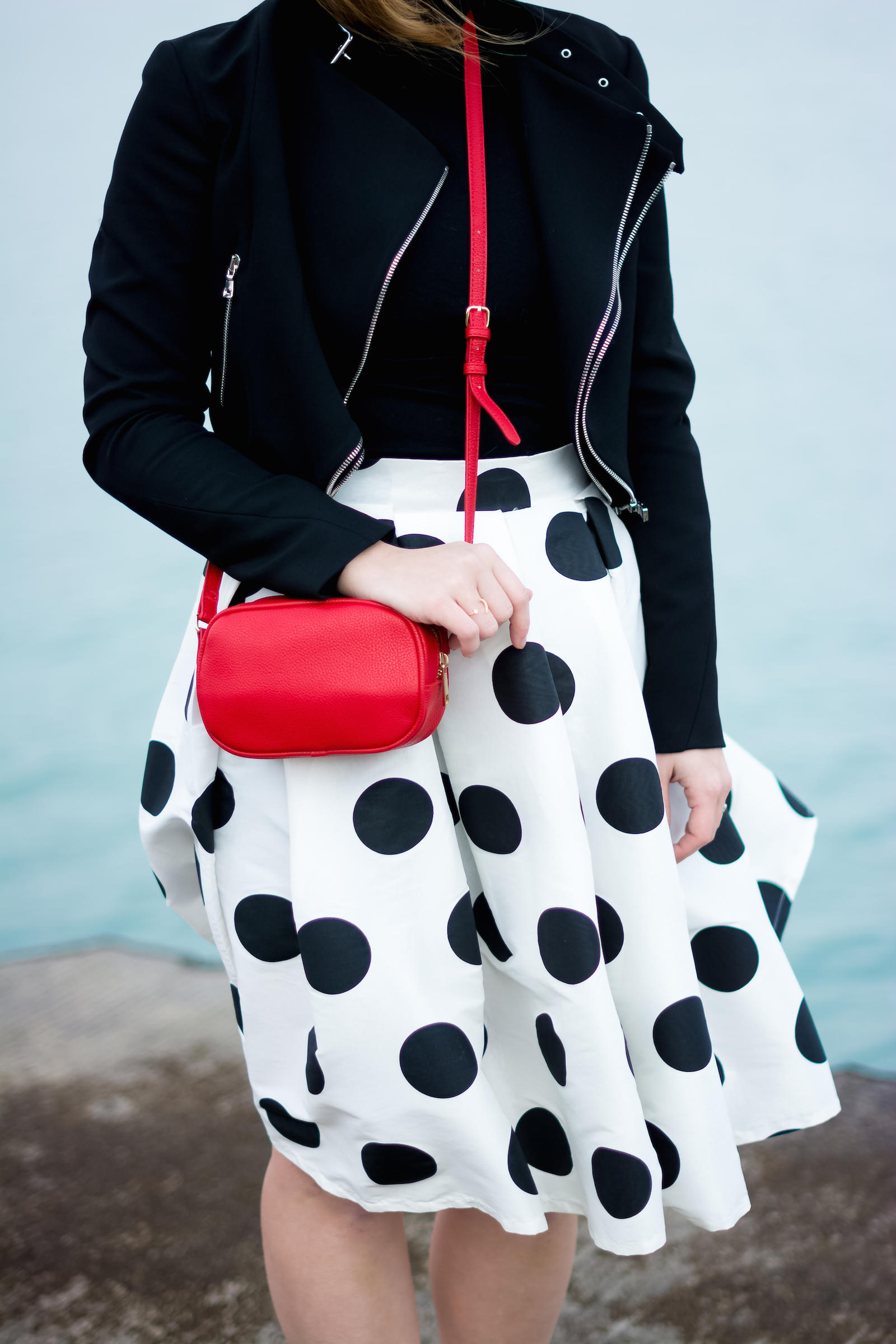 04. Polka Dot Anything
(Original Post)
And I really mean anything!
I like to think of polka dots as the quintessential spring print (along with timeless gingham). It's the perfect optimistic, quirky print for all this changing weather. Let's face it, adding a graphic POP of spots to your look is such an easy but FUN way to embrace spring.
Whether its subtle dots on your tights, a full-on polka dot midi dress, or a dramatic skirt like this killer one from T&J Designs, you can't NOT have fun in polka dots.
And isn't that what spring wardrobes are all about? Rebirthing from our boring, monotonous winter wardrobes by donning prints that infuse us with new life and new excitements? And how can you not feel revived in polka dots?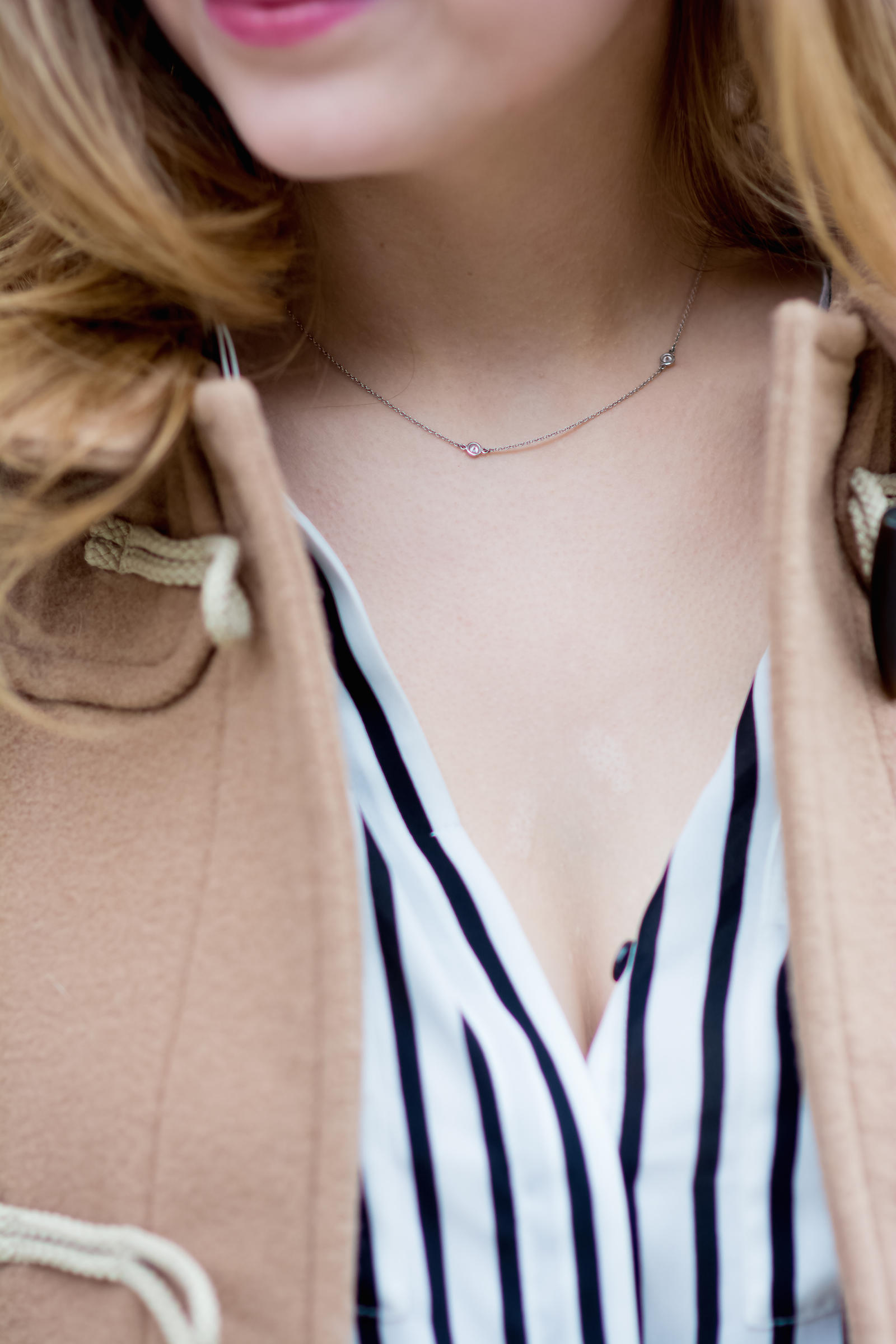 05. The Understatement Necklace
(Original Post)
No, I didn't say statement necklace, I said UNDERSTATEMENT necklace.
This unappreciated accessory has long been a favorite of mine. There's something so luxurious about just the hint of sparkle and interest an understatement necklace has. I seriously couldn't be happier that they're finally trending this spring.
Being petite and curvy, "statement" jewelry tends to swallow my frame, especially on camera — and for years that's all anyone wore. But delicate jewelry can be just as impactful, especially in spring when we shed the heaviness of winter and opt for the lightest pieces we can tolerate simply because we CAN.
Pro Tip: Consider buying a personalized necklace à la Carrie Bradshaw — I had mine done with my Instagram handle since I go to so many events that require name tags these days. It works like a charm (pun intended!) and is a lot gentler on my clothing than those sticky name tags.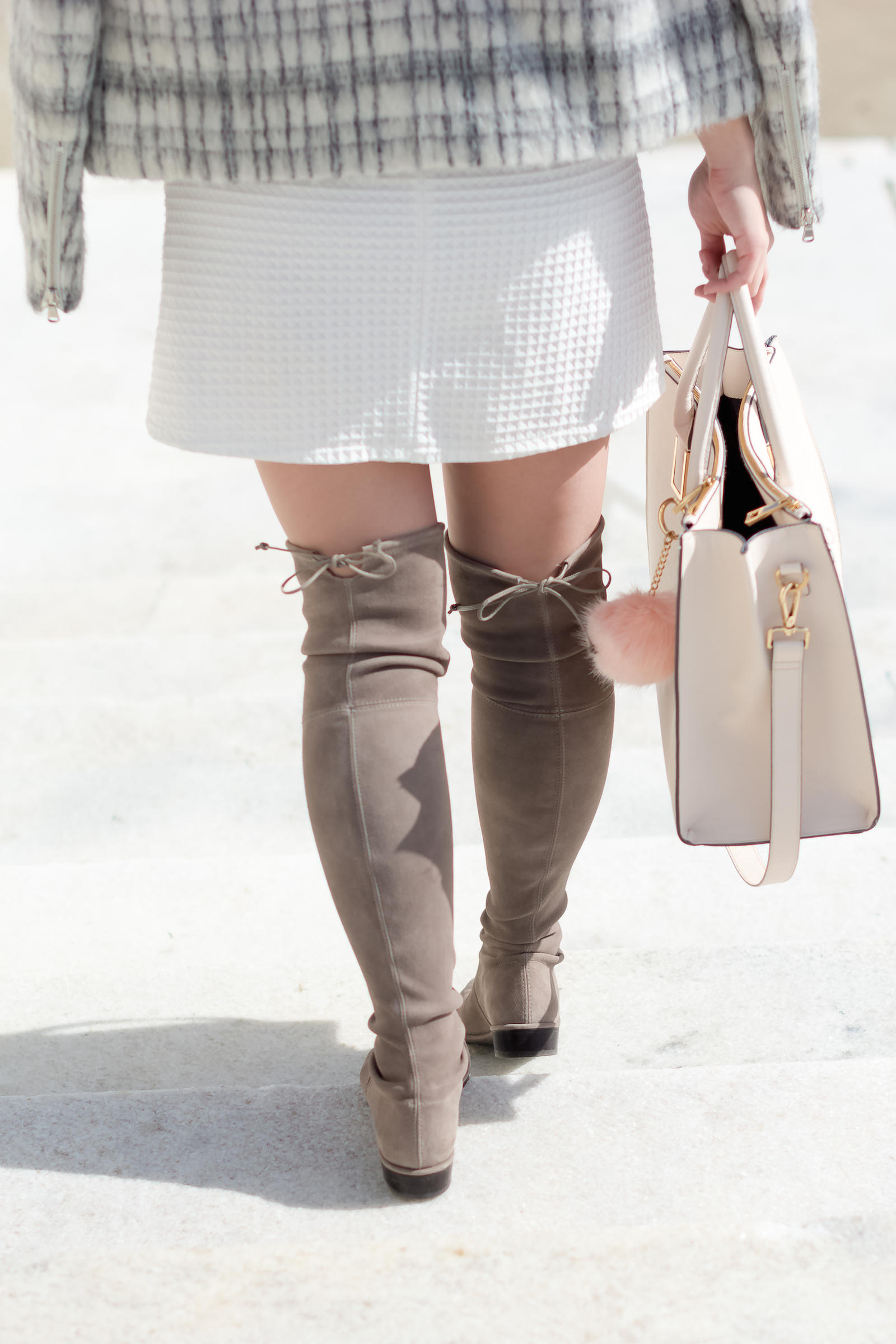 06. Over-The-Knee Boots
(Original Post)
Over-the-Knee boots are the ultimate cold-weather transition piece for both spring AND fall. Their design and functionality are sheer genius! Because of their long-length, they're practically pants but WARMER and they allow you to put all those flirty spring skirts and dresses to good use, even on chilly days.
I love my Stuart Weitzman Lowlands and certainly recommend them if you have the budget. The inside is lined with silk making them magically easy to get on and off all while withstanding plenty of daily abuse (I wore mine while waiting in line for a cronut at Dominique Ansel and give them complete credit for keeping me warm for so long on a frosty morning). However I've seen some pretty fantastic budget options too (like this pair blogger Heidi wore) and have included them in the round-up below.
Pro Tip: Spray your boots with a silicone water shield to ensure that they won't get damaged in a surprise rain storm!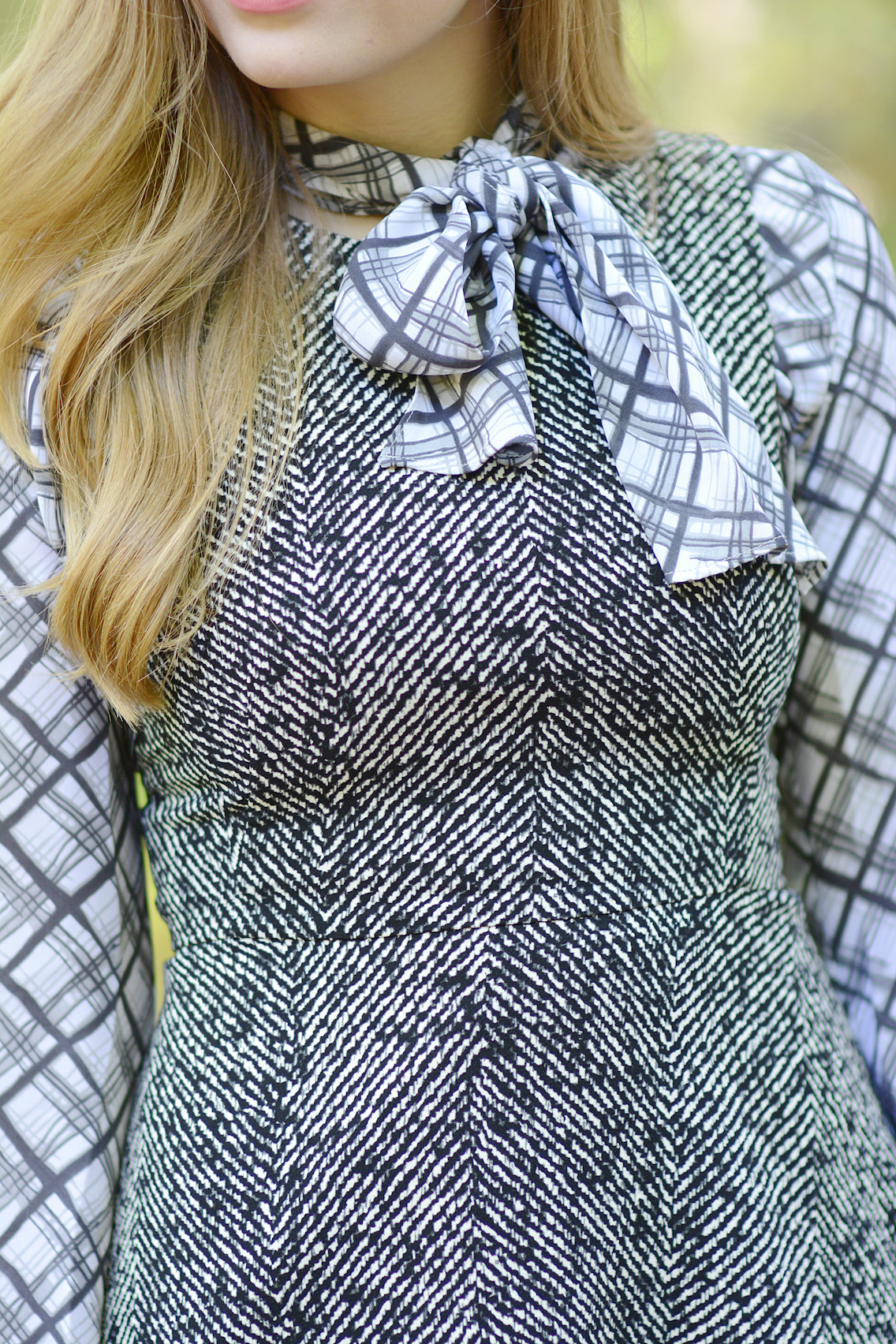 07. The Bow-Tie Blouse
(Original Post)
Do you crave femininity and softness in spring?
I certainly do!
One of the most playful and feminine pieces you can add to your spring wardrobe is a simple bow-tie blouse. My beloved Nana wore them constantly regardless of the season and I'm so thrilled this vintage style is finding its way back to the runway. A peek of a bow coming out from under some layers adds just the right touch of softness, kissing just about any look with a genteel finish. These blouses are elegant, refined, and classic BUT when remixed with more masculine pieces can lend such a surprising contrast to spring outfits too.
Pro Tip: Not interested in investing in a full-on bow-tie blouse? Why not try a tying on your own bow to a shirt you already have? I've included a few below!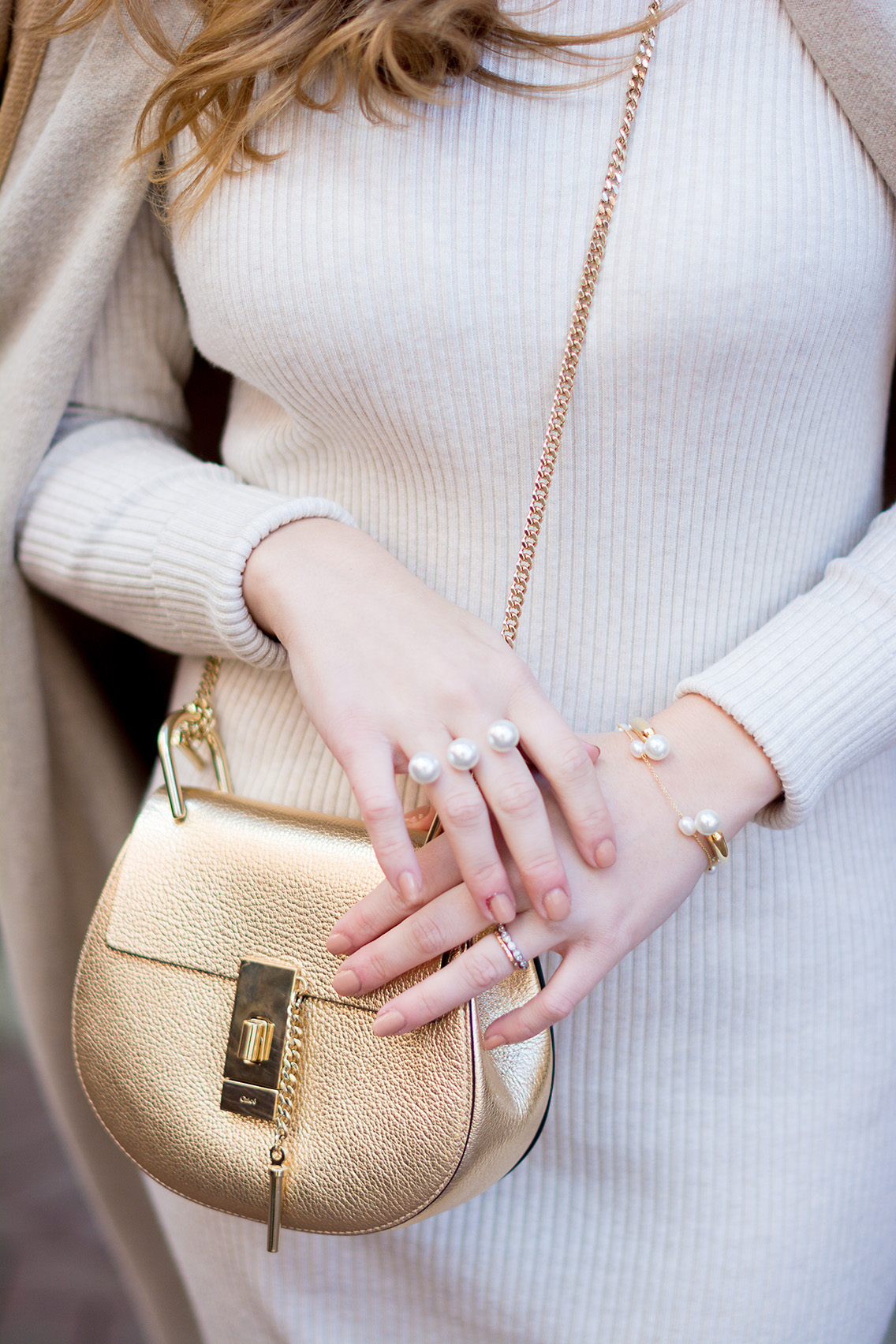 08. The Crossbody Bag
(Original Post)
Preferably in an on-trend metallic finish.
Crossbody bags are the ultimate choice for spring's quirky weather. Truth is, I always opt to use a crossbody bag during seasonal shifts. The hands-free design comes in really handy if only because it inherently means you can use TWO hands to brace your umbrella against the wind/rain that will inevitably come out of nowhere.
Crossbody bags are a great size for carrying essentials without weighing you down… yet another way to enjoy a rebirth from the weight of winter! And because they come in so many fun colors, finishes, and shapes, you can literally transform the simplest outfit into a smashing one with just by layering one on.
My favorite crossbody bag would have to be the über-trendy Chloé 'Drew' bag which I fell in love with after Anna brought hers to our fall picnic last October. I saved for quite a while for my stunning gold version and genuinely feel like it was worth every penny but I've included plenty of budget-friendly options below too.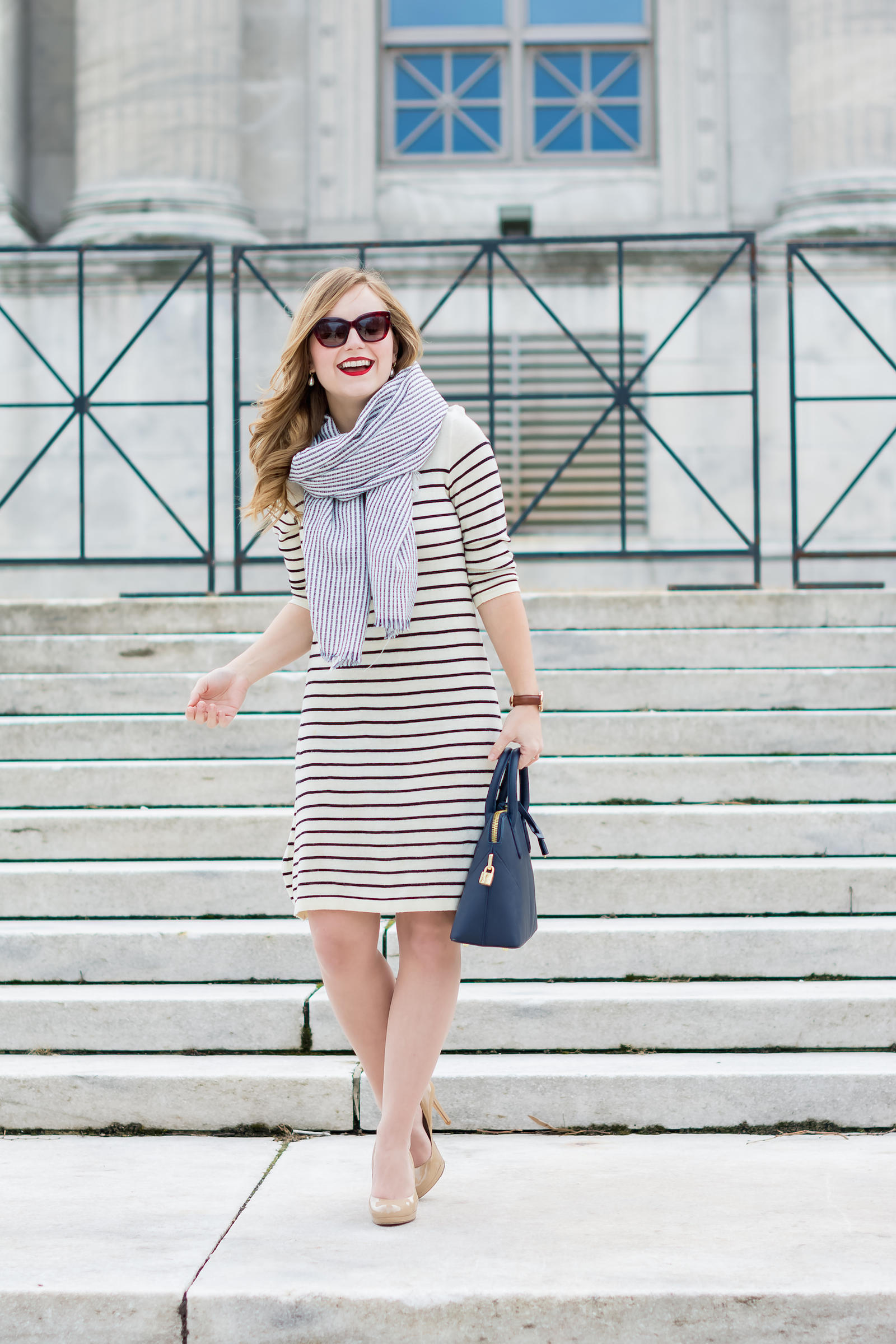 09. Breton Stripes
(Original Post)
Have you heard? Spring IS Breton Stripe Season!
Breton stripes are the ultimate spring wardrobe classic, infusing most looks with a casual je ne sais quoi of French chic. Flattering on almost every body type and available at ALL price points (I've honestly seen breton stripe tees for less than $3), this print is THE CLASSIC. The one that'll stay relevant in your closet long after your flatforms have fallen forgotten to the back.
Breton stripes are also INSANELY easy to style, adding a visual playfulness to anything from jeans, to florals, leathers, navy blazers… you name it! They go with everything.
Not sure which to choose? I always recommend my Boden breton stripe tees. They've been a staple in my closet for years, looking as new today as the day I bought them (and have been life-savers to travel with, like on our cruise to Alaska in September 2014).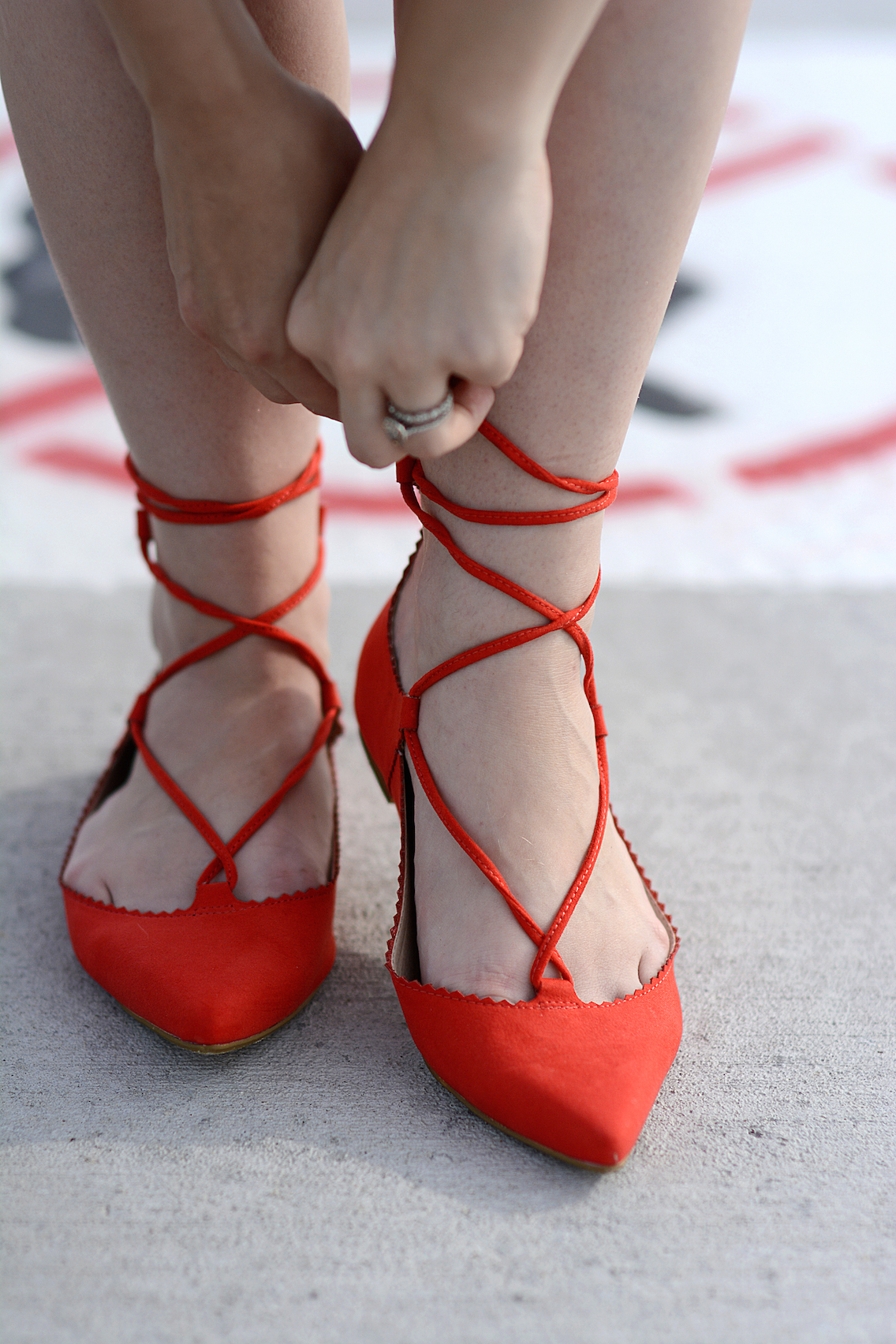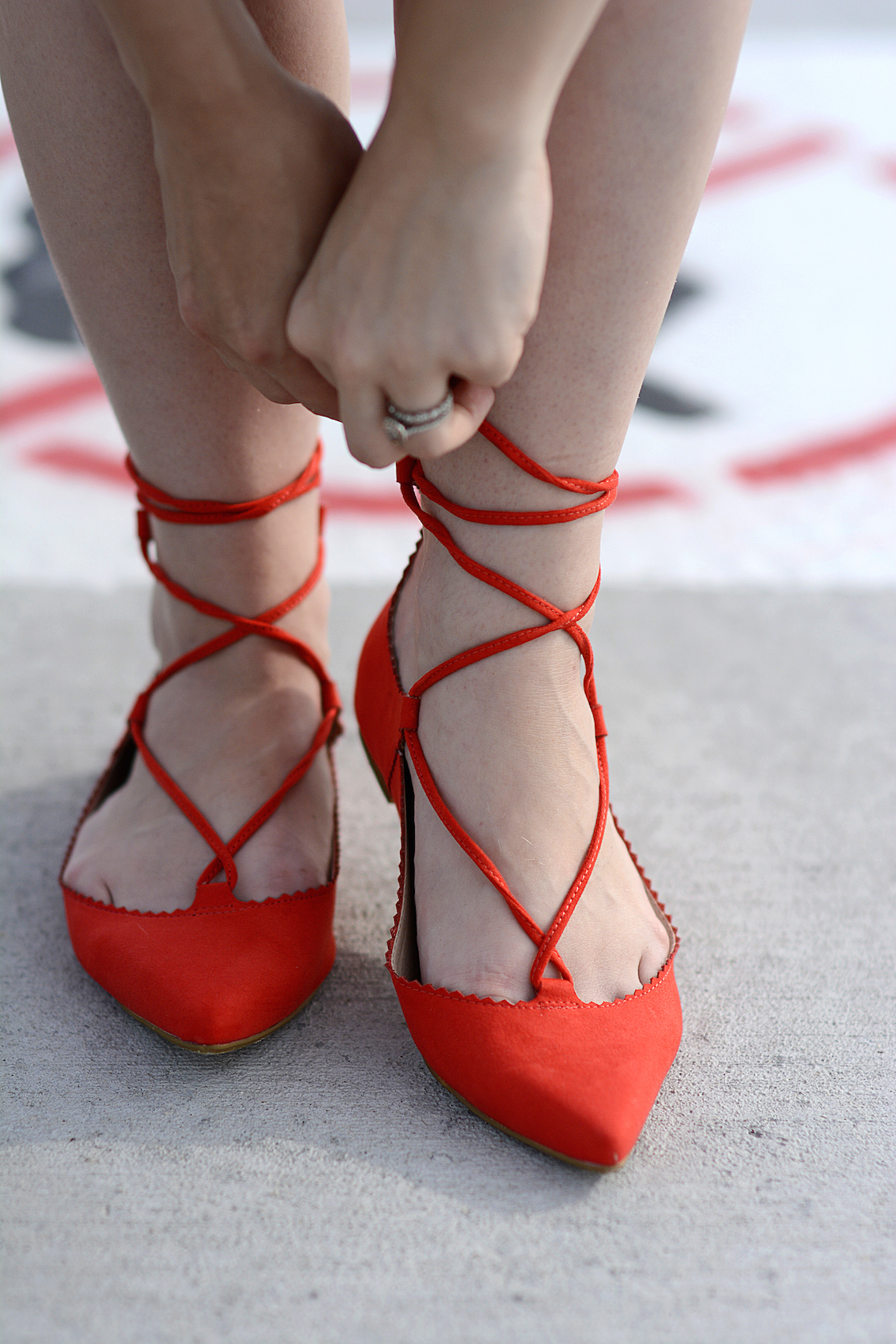 10. Lace-Up Flats
(Original Post)
If you're already tired of lace-up flats you're going to be seriously out of luck. This year you can't get away from this stunning silhouette.
Lace-up Flats are EVERYWHERE!
These flats are probably the trendiest thing on this list and with good reason — their customizable fit (thanks to the practical laces) make them comfortable and yet super chic. When you can go bootless, these are the transformational shoe you'll reach for time and time again. They make even the simplest outfit so much more interesting. You could probably even style these with a pair of gym leggings and still look chic.
I love a lace-up flat in a pop of color like these red ones from Topshop I bought last summer. Without a doubt these are the shoes I get asked about the most by strangers and why not? They're the sort of silhouette and style that works for just about anyone.
No wonder they are trending so hard right now!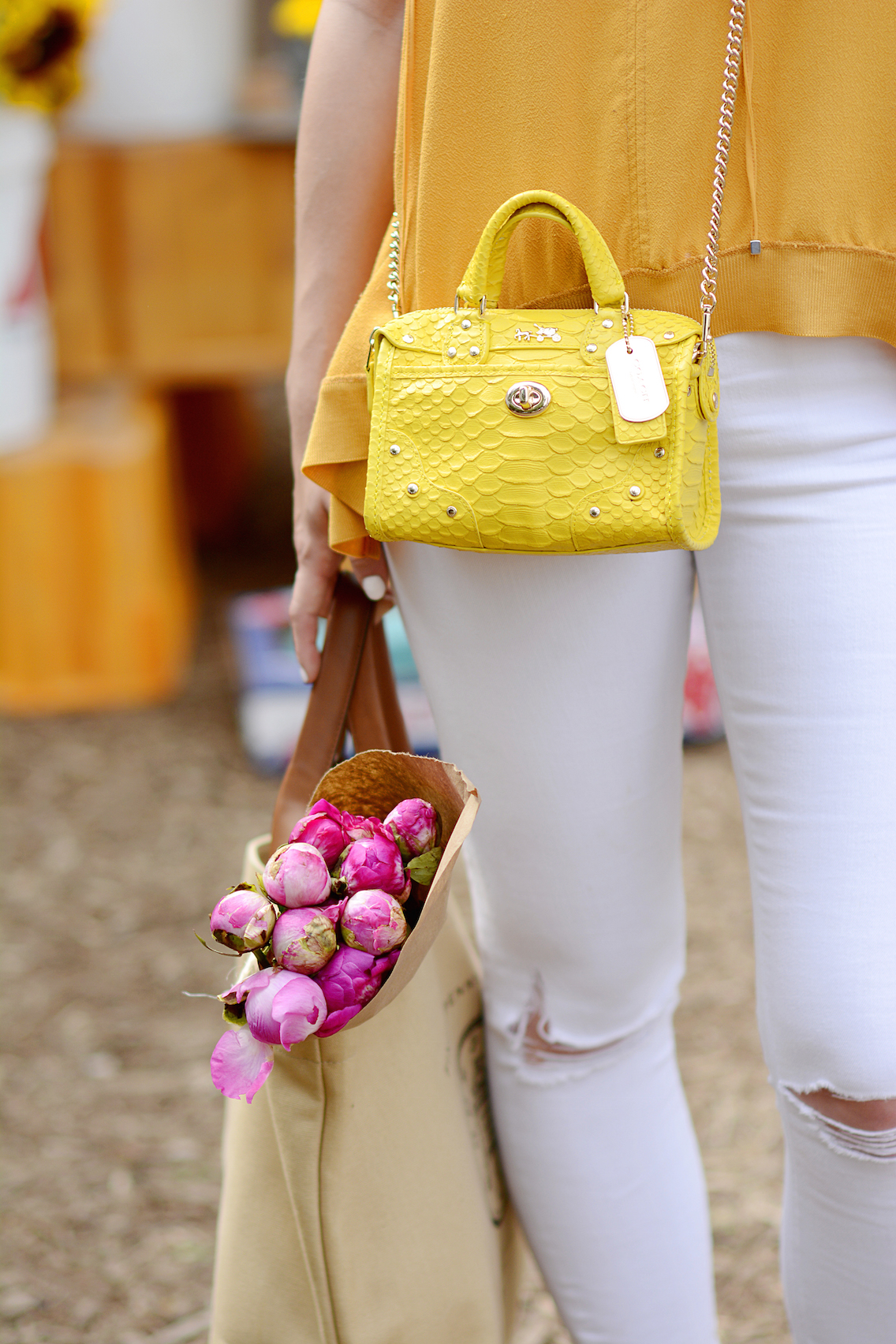 11. White Jeans
(Original Post)
As someone who has had curvy thighs all their life, I was terrified at the thought of white jeans for years. YEARS!
And yet despite my endless searching, I struggled to find a lighter alternative to my dark denim staples. I'd always wanting a clean neutral pant to brighten up my spring looks.
And then I finally tried white jeans. What on earth had I been waiting for?
Yes, white is the sort of hue that really can accentuate wider areas on the body but what that really means is that you need to be picky.
Be vigilant! Find the right fit and cut for your body. Mine is a cropped silhouette (for my petite height) with a high-waist to help elongate my legs and detract from my curvier thighs. Yes, black is more slimming than white but white isn't nearly as unflattering as I feared it would be. It's the perfect way to lighten dark winter looks — especially when a sneaky March snow storm hits!
Pro Tip: Opt for an inexpensive pair like mine from Asos if you're prone to clumsiness — it saves you so much heartbreak when you inevitably spill Merlot all over them. #knowthyself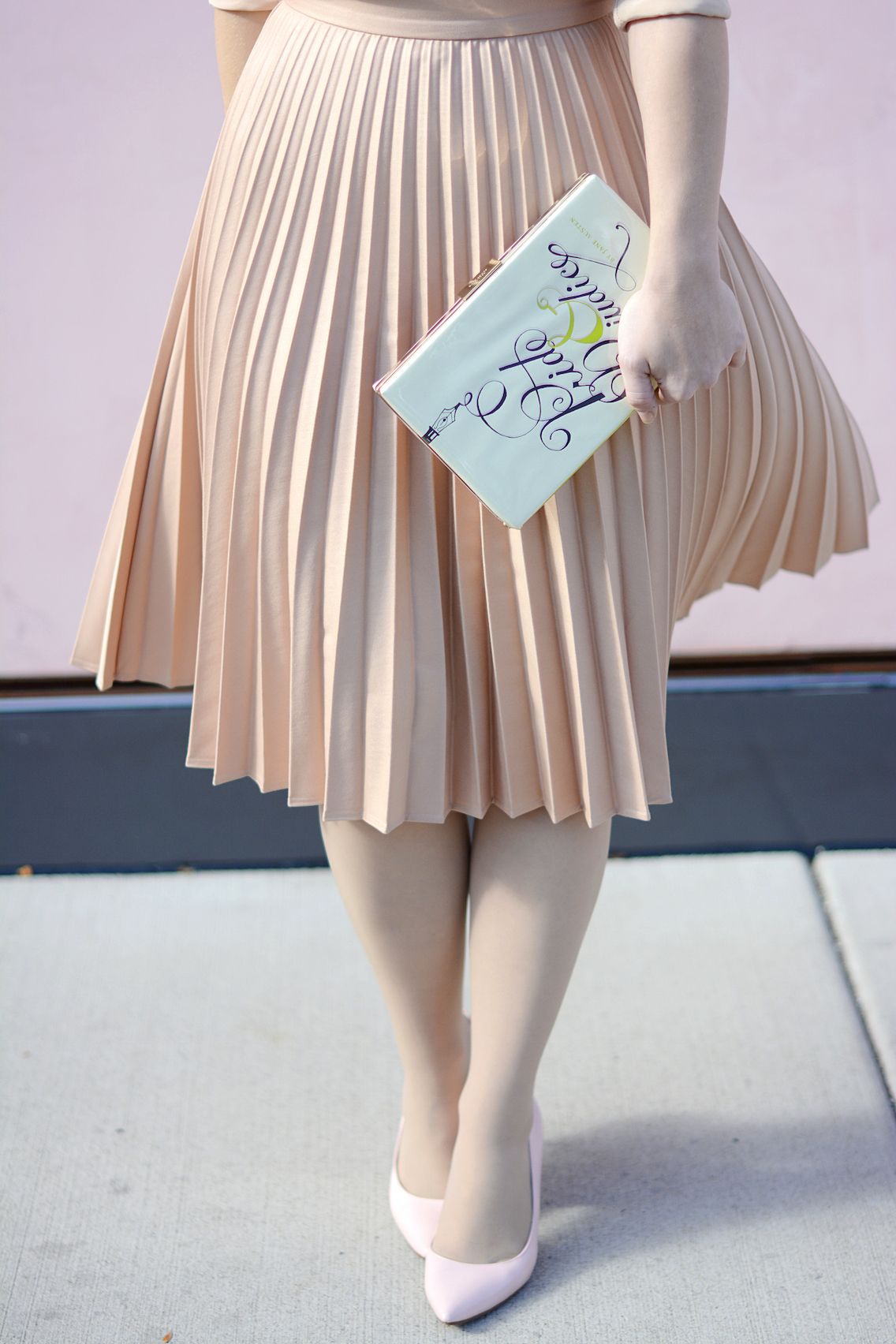 12. The Pleated Midi Skirt
(Original Post)
Similar to the pleated maxi dress, the pleated midi skirt is the definition of spring flirtiness in a wardrobe staple. It's romantic and uninhibiting, softening outfits with its memorizing movement and gentle impact. But it's playful enough to be a sexy skirt too, despite its modest length.
Pleated midi skirts pair well with everything from breton stripe tees, to leather bodices, lending a necessary dose of understated femininity for spring to all sorts of styles.
I've had this Zara blush version for years and just invested in this lovely blue number too. Of all the skirts I own in my closet, I'd say my pleated midi skirts are the ones I'll wear the most and use the longest.
No question!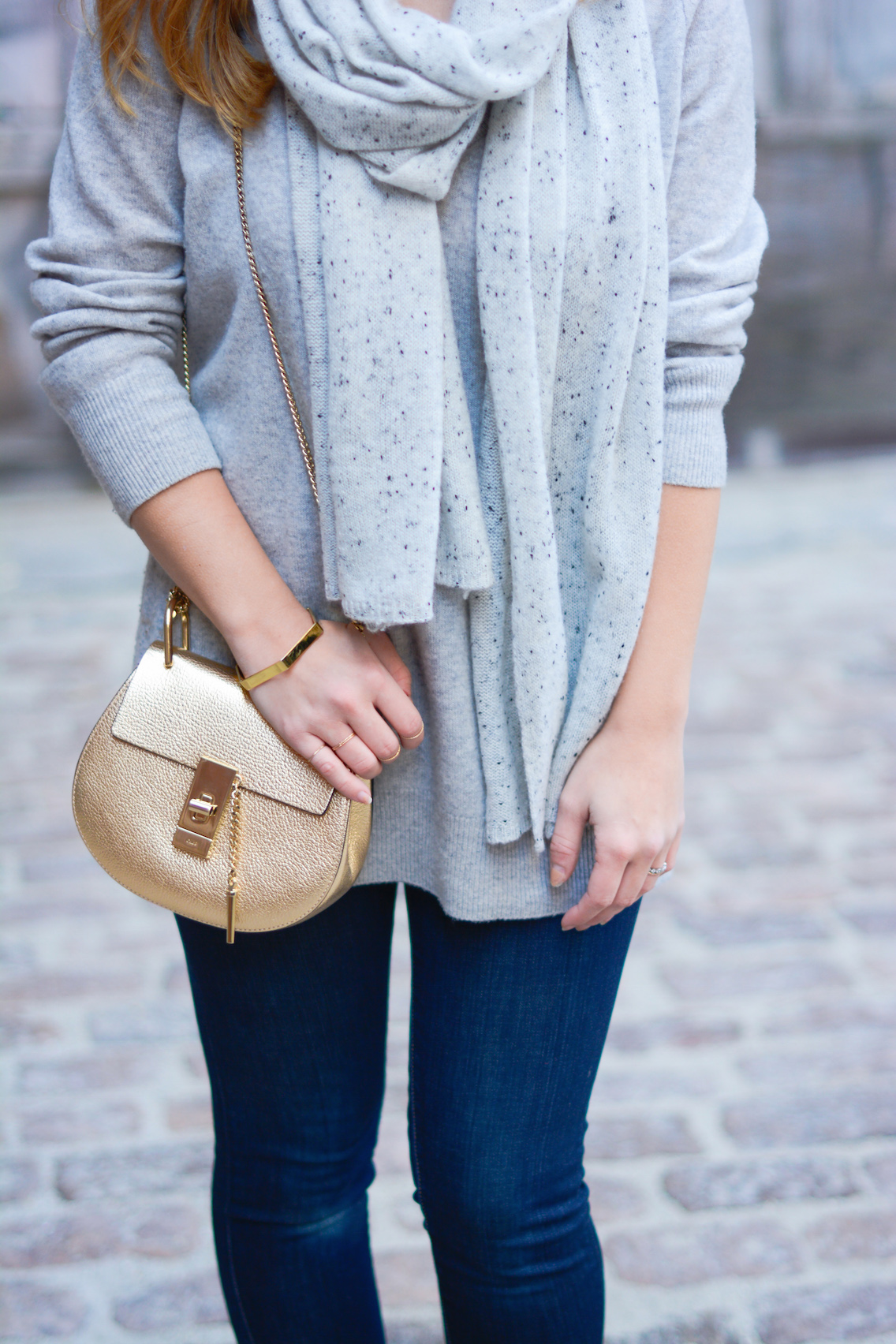 13. The Easy Cashmere Sweater
(Original Post)
Another practical spring wardrobe necessity!
Though it may feel like summer some days, don't be fooled. We still have a long way to go before you can ditch the sweaters entirely and pack them up for next fall. And nothing feels more luxurious to layer with when you'd rather be sans layers than a cashmere sweater.
If you can, buy ONE nice cashmere sweater and wear it endlessly. Pair it with flirty skirts for a look thats casual but still pretty. Wear it with jeans. Wear it to bed. This very well may be the most versatile wardrobe piece you'll ever buy if only because you'll practically LIVE in it every. single. day.
My favorite cashmere sweaters are from Equipment — I always buy up a few sizes too to ensure I have a cozy, loose silhouette to snuggle in. Who doesn't love a chic wardrobe addition that ends up feeling like you're wearing pajamas? Yet another wardrobe win!
Pro Tip: when it begins to pill, use this to keep it looking new.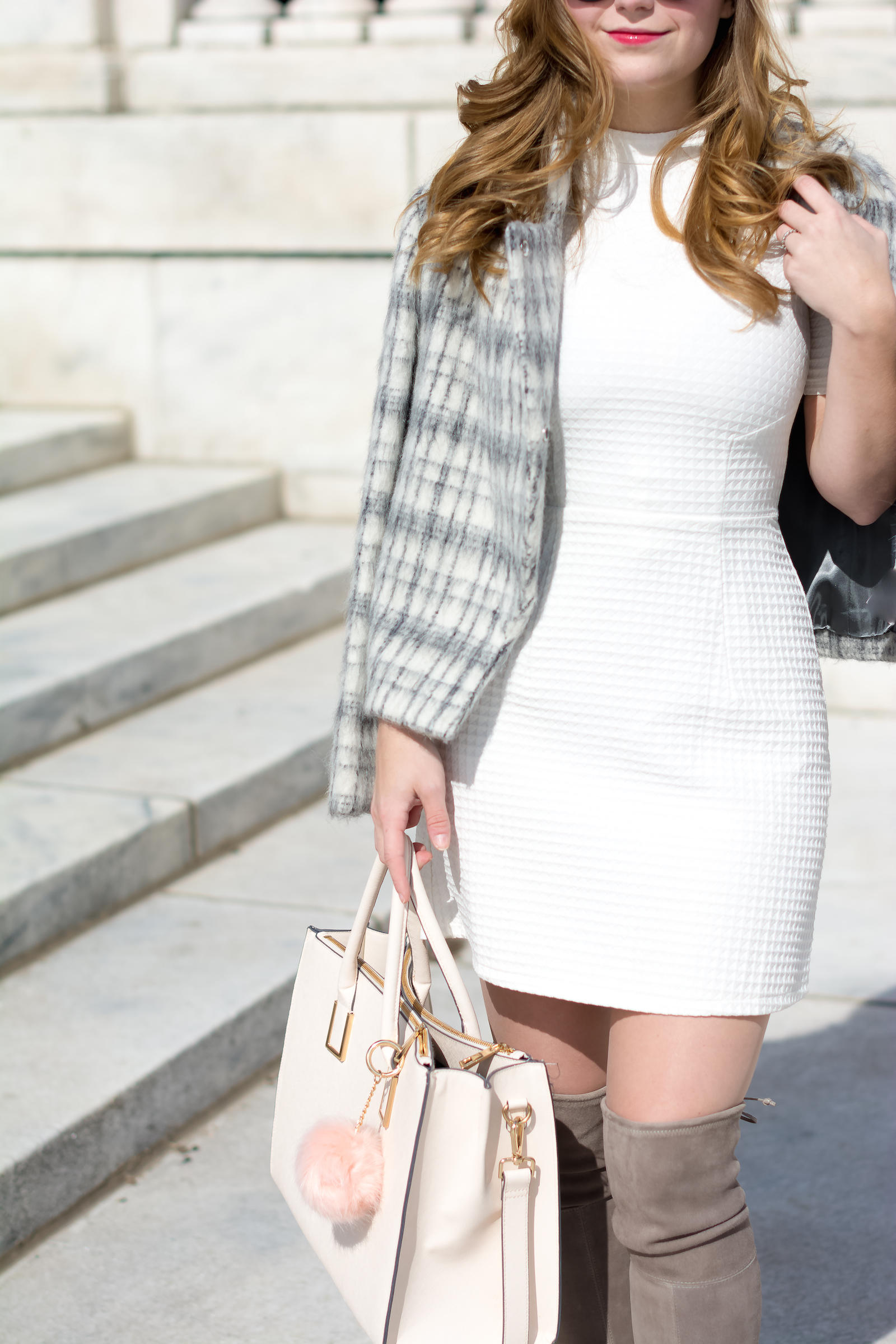 14. The Little White Dress
(Original Post)
And last but not least, the mainstay of my spring wardrobe — the Little White Dress.
Far less heralded than it's cousin the Little Black Dress, the LWD is underestimated WAY too often, despite offering so much versatility in spring.
Much like white jeans, the LWD freshens up a drap winter wardrobe with a clean, simple aesthetic. It's a bright, fresh neutral to match all sorts of styles. One LWD can morph into so many different looks just by a change of jacket, a switch of accessories, or a different shoe silhouette.
And it's enough of a classic to be a summer, autumn, and winter wardrobe essential too!
Pro Tip: Remix this with a few other spring essentials like OTK boots and a blush tote for a really pretty spring look that's still practical on chilly days.
What Spring Wardrobe Essentials do you rely on every year?