Every season I love to change-up my routine and my daily essentials, adapting them to suit the weather and my own lifestyle. Spring brings a beautiful lightness to the Windy City and nothing compliments that more than a wardrobe of easy, bright pieces. While usually in spring I find myself hoarding an enormous tote full of everything from my compact umbrella to notebooks to extra battery chargers, this spring I've opted for something completely different: a grab 'n go style packed with minimal necessities.
A compact bag means I carry less. It feels like some sort of wardrobe retaliation for the heavy layers and bulky bags of winter and I have to say, I am really loving it! I do usually carry around my umbrella for the inevitable surprise rain storm on top of what is listed below, but oddly carrying less with me every day actually somehow makes me feel more prepared for what that day might bring. Not to mention less stressed.
What I'm carrying in my bag, Spring 2015 Edition: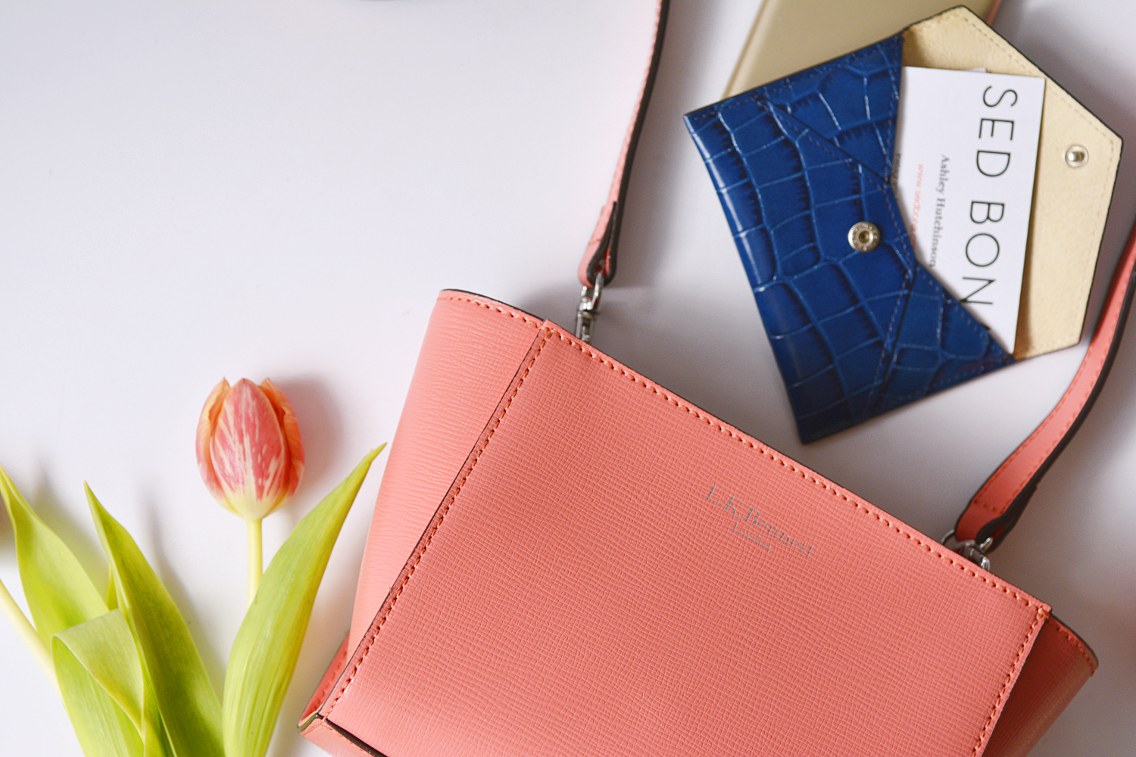 LK Bennett 'Kaylee' Crossbody Bag in Popsicle (here)
First up — the bag. This little number is the perfect sherbet colored grab 'n go, with the pop of almost coral-almost pastel pairing with virtually any outfit. I wear this bag when I'm off-duty, I wear it when I'm in a rainstorm, I wear it for the evening. I love how versatile the classic shape is and the grained leather wears like a dream! The yellow version is a pretty stunning spring piece too.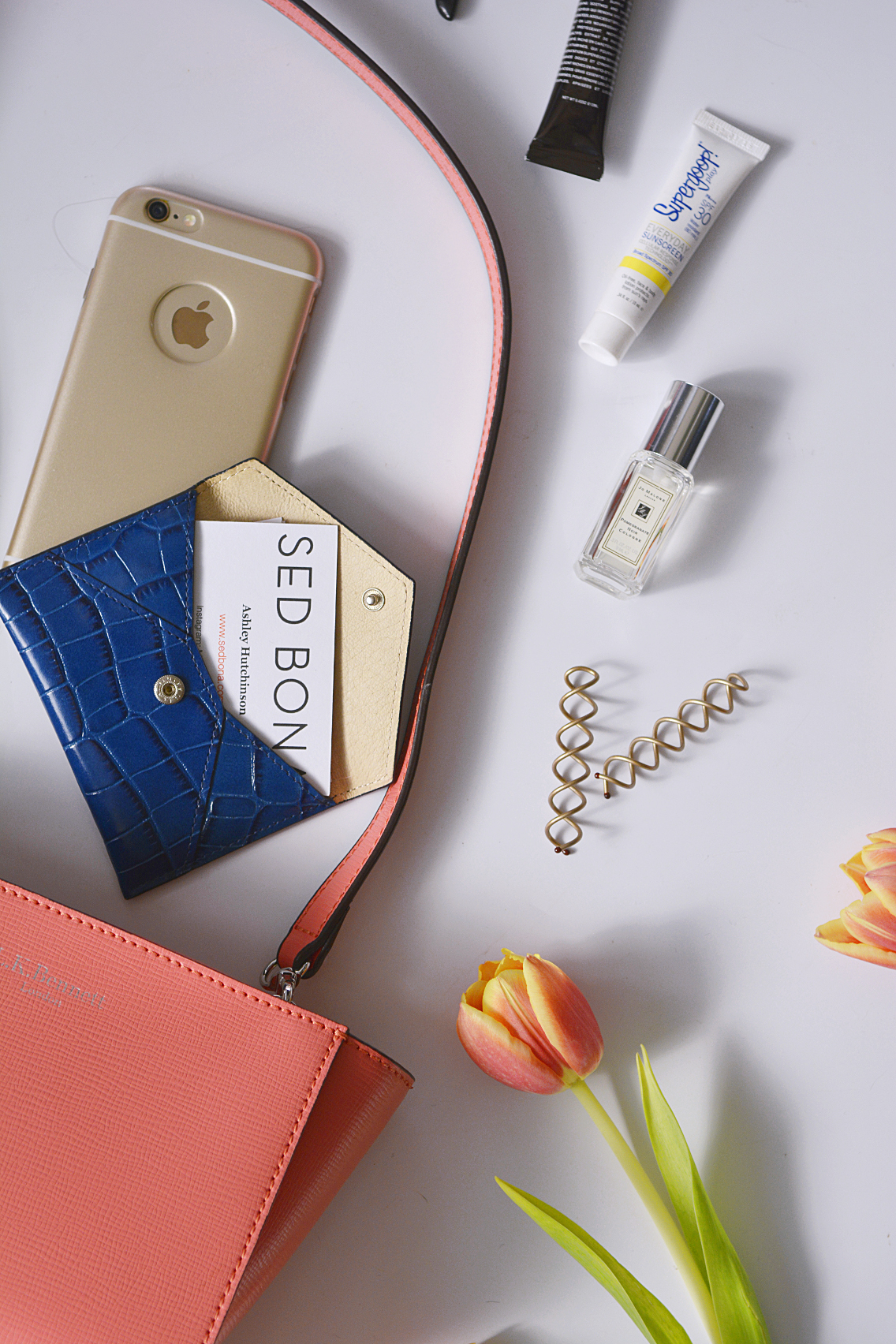 Apple iPhone 6 (here)
With as much as I use and love my DSLR camera, it can be a pain to lug around everywhere. Since the arrival of spring I've been letting myself take a break from the heavy equipment to rediscover my appreciation for the camera on this phone. It's crisp, clear and quick. While I still prefer the shots I get on my DSLR (and the beauty created from some of my favorite lenses), this updated iPhone is perfect for snapping on-the-go. I'm glad I didn't get an iPhone 6 Plus though — I've already shattered this screen once due to the size of the redesign.
Gigi New York Business Card Holder in Cobalt (similar here)
These last few weeks have been hectic — packed with events, networking meetings, lunches, dinners, tasting parties. Everything you can think of! So carrying around my business cards is almost second-nature these days. No one wants to hand-write their information down if they don't have to. It looks sloppy and can be easily misread! And typing in your information into someone's phone doesn't come off as professional either. A clear and concise business card looks clean and capable, especially when pulled out of an attractive case. I love this bright blue holder from Gigi since it's small enough to tote around everywhere and always makes me feel ready for any potential business collaborations that may come my way.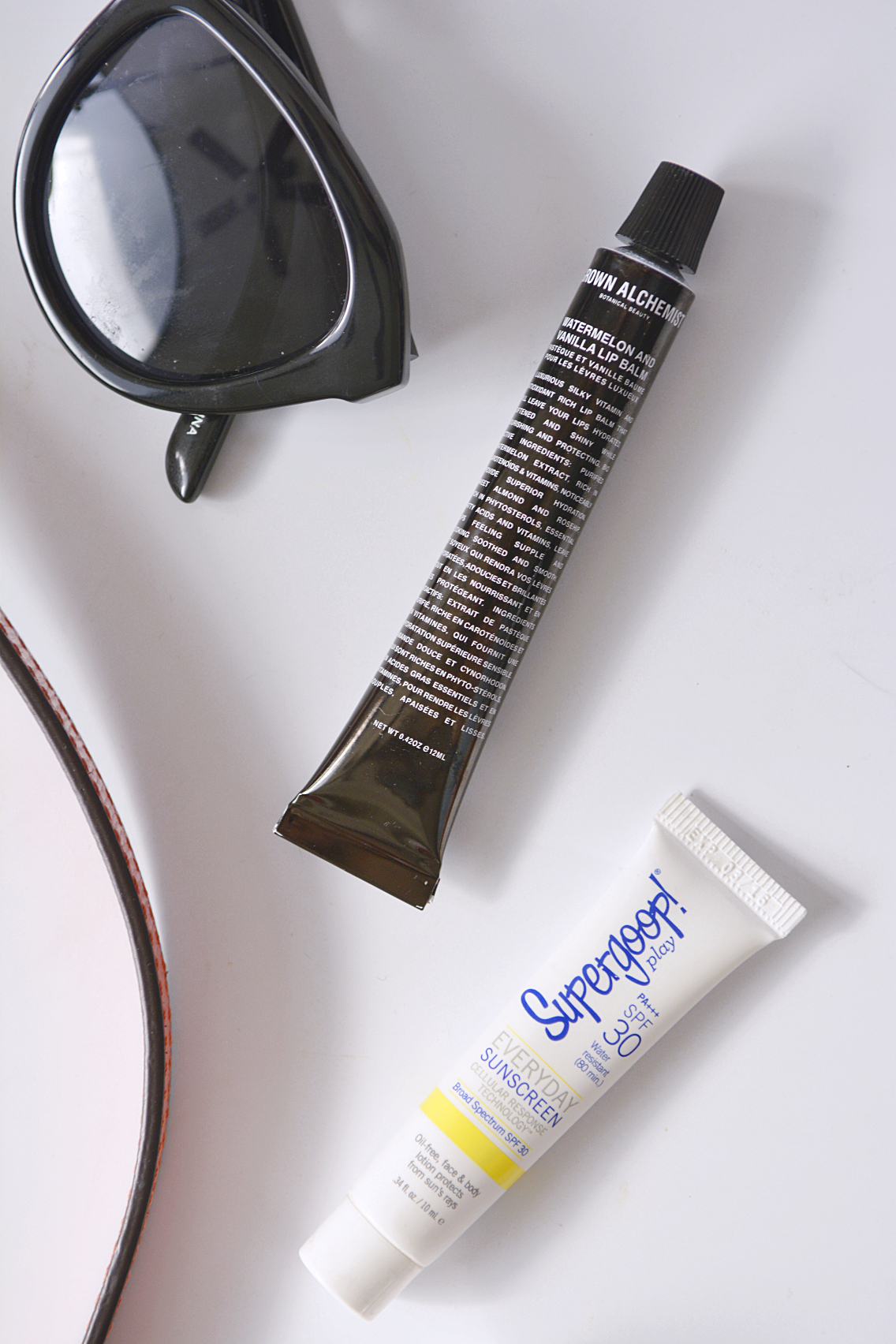 Le Specs 'Peach Pit' Cat-Eye Sunglasses in Black (here)
Same sunglasses as last season, same reasons. They're elegant, versatile and comfortable. Impressively scratch-resistant and one of the cheapest pairs of designer cat-eye sunglasses on the market!
Grown Alchemist Watermelon & Vanilla Lip Balm (waitlist here)
Replacing my favorite Dr.Lipp balm with this lighter, "spring-approved" formula. This is a cult favorite thanks to its über-chic minimalist packaging and its unique scent, reminiscent of the Lip Smackers of youth but with a very adult upgrade. It's ultra-moisturizing and made with real watermelon-seed oil and vanillin, not artificial flavorings. My one qualm: the packaging. I feel like I've lost at least 10% of the contents due to the fact that the balm literally squirts out every time you take the cap off for almost the first month. Annoying and almost a deal-breaker but I finally made it through to that magical level of balm that keeps it in the tube now. And now I can't get enough of it!
Supergoop Sunscreen SPF 30 (here)
Wrinkles and sun-damage are constantly on my mind. With my ghostly pale, sensitive skin, I need to protect it as much as I can, especially in spring when my time outside triples. That means slathering on an SPF 50 before I go out every morning and carrying a travel tube of SPF 30 to reapply as necessary. If you spend your spring and summer months on as many rooftops as I have, you learn how important sun protection is just before sunset too! I never assume that going to an evening event means I can skimp on the sunscreen. This little travel tube means I never have to suffer through sunburn, even when carrying a tiny bag!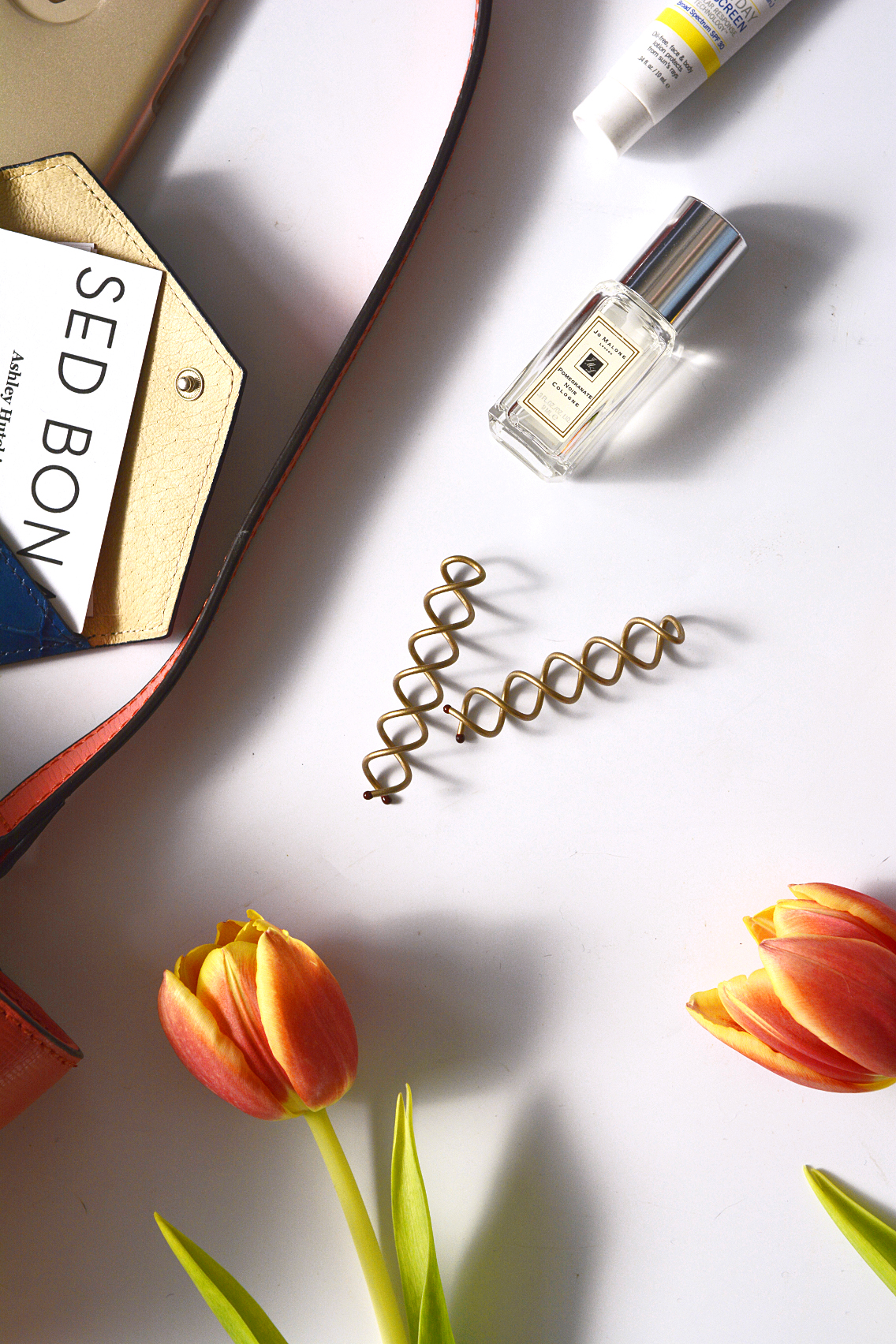 Jo Malone 'Pomegranate Noir' (part of my Jo Malone obsession, available here)
Not my favorite scent for spring per se (I love the limited edition White Lilac & Rhubarb most this time of year), this little bottle was a free sample with a previous order and I love being able to carry a musky yet juicy scent around to spritz on. Jo Malone usually gives small travel bottles with purchases for email subscribers every few weeks — the small but ample size is a great way to stay prepared for anything! Now if only they would bottle White Lilac & Rhubarb in a small carrying size…
Goody Style Spin Pins (here)
A necessity as the temps begin to rise here in Chicago. I screw these in to hold together a top knot or to create a simple chignon on the run. Easy and strong enough to hold up my enormous mane of hair, and more professional looking than a simple hair tie. If you haven't ever used these, I highly recommend trying them!
Not pictured?
My umbrella (the same I used back in autumn) which I usually just carry around on my wrist and my small Bobbi Brown concealer pen (mentioned at length in my winter post).