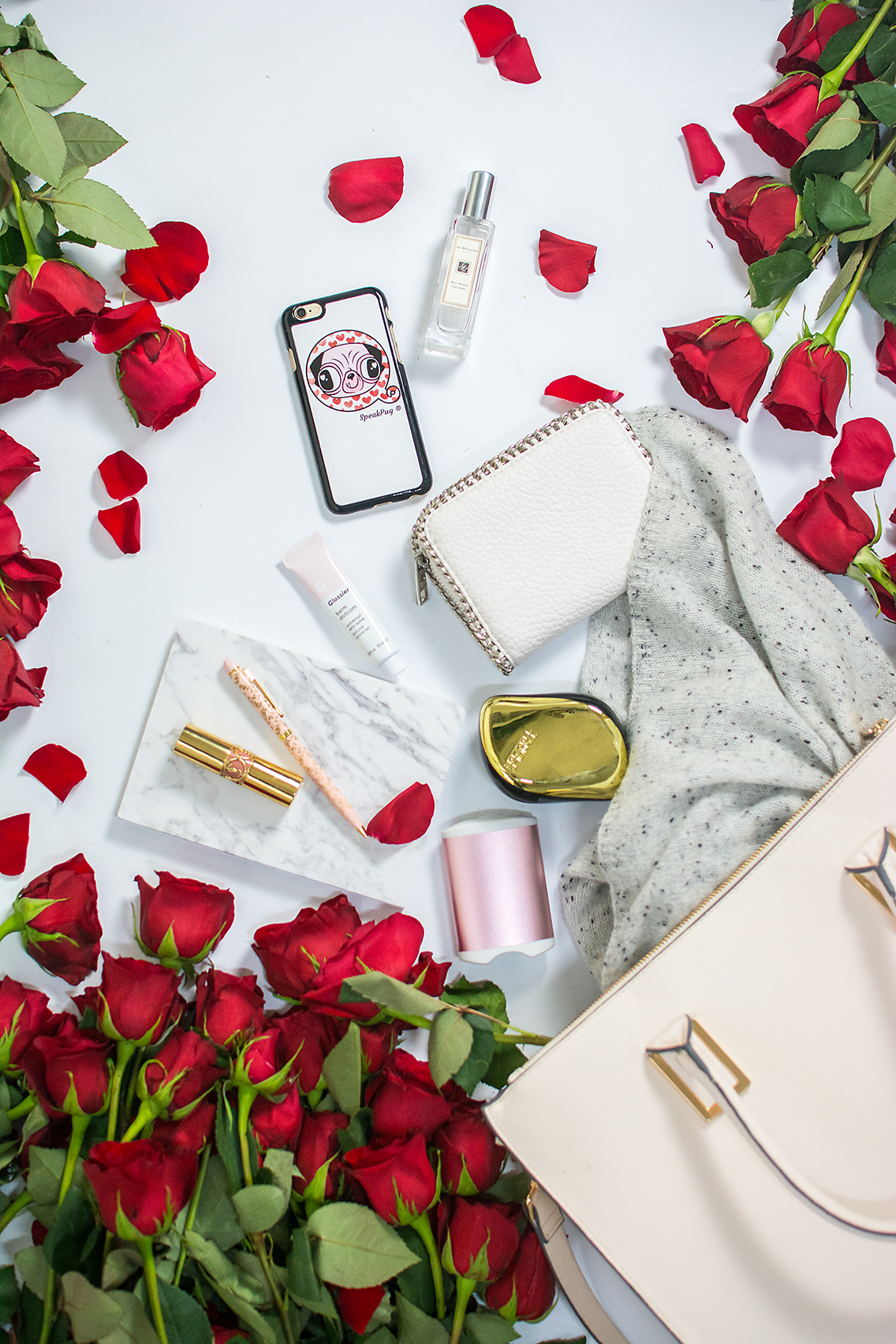 Despite the fact that — even during Leap Year — February is the shortest the month of the year, in many ways it always feels like the longest. Especially here in the Midwest.
The days are short and dark. There's a damp, lingering chill that seeps down to your very bones, freezing you from the inside out. It's really cold. It's really snowy. It's seriously gross.
Let's face it, winter is the roughest time to be in the Midwest (most of us do our best to escape when we can). And being someone who always like to be prepared, slushy winters require me to lug around a little more than my usual autumn or summer necessities. Here's what I rely on to get me through the long, dark days:
What's In My Bag || Winter 2016 Edition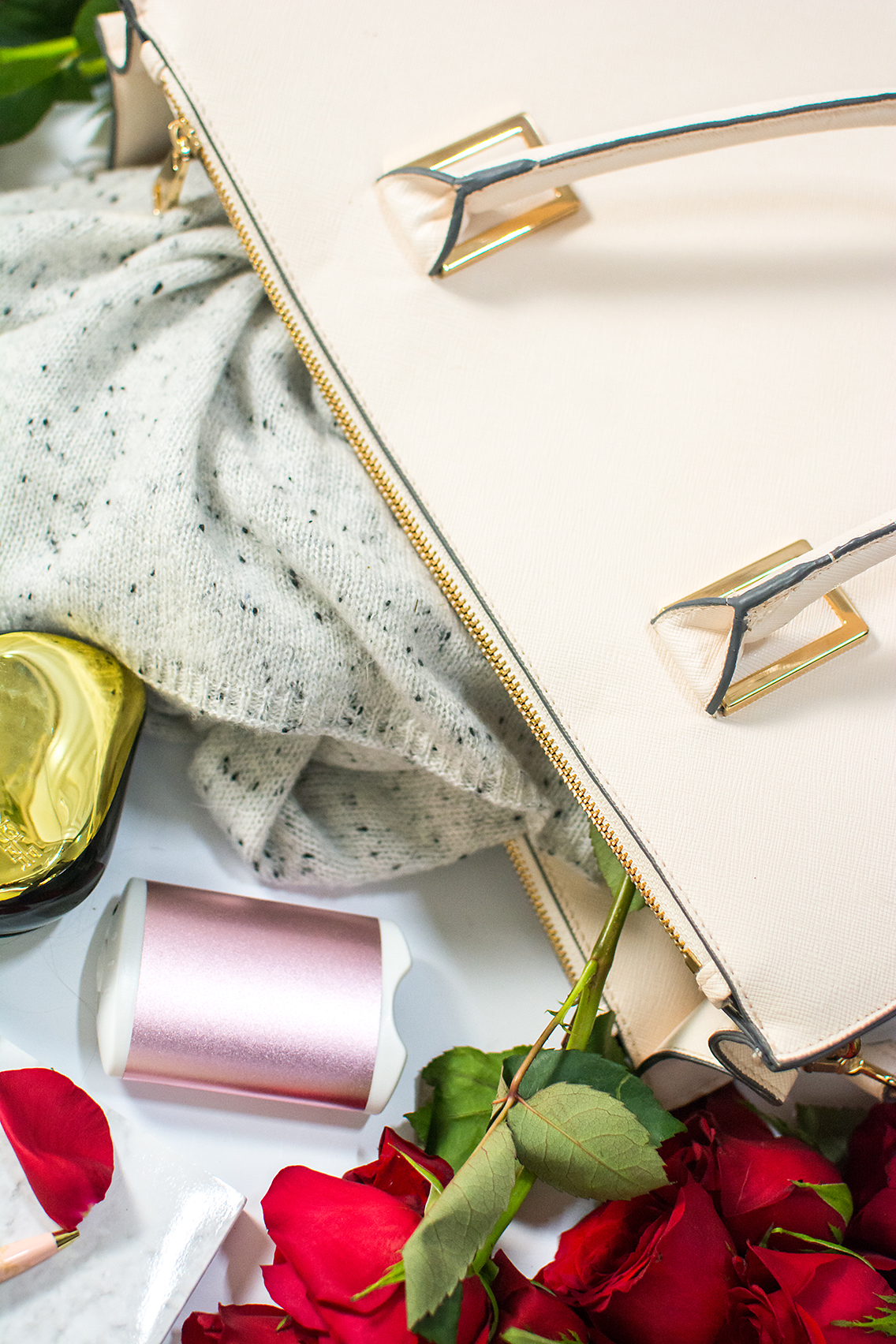 H&M Blush Tote
I've had this sturdy, inexpensive tote since last winter. I expected (for the price) that this tote wouldn't last the season, especially the way I abuse my bags. But it looks almost brand new a year later, making it my favorite winter tote this year and the one I always seem to grab in a hurry. The bright blush color lightens and compliments my dark typical winter uniform nicely. And this hue just so happens to be 2016's Color of the Year making it a trendy choice too. Especially if I clip on a furry pink pom.
I love the size and versatility of this bag in winter. It's enormous but light and pretty enough not to swallow my petite frame. It's got quite a few organizational compartments too making it super practical to boot. Plus, at this price, you don't have to worry about the winter sludge destroying your latest wardrobe investment — that's why I always carry inexpensive totes in winter.
Any bag that can hold all my winter essentials without making me look bulky and miserable is worthwhile but especially one at this price point!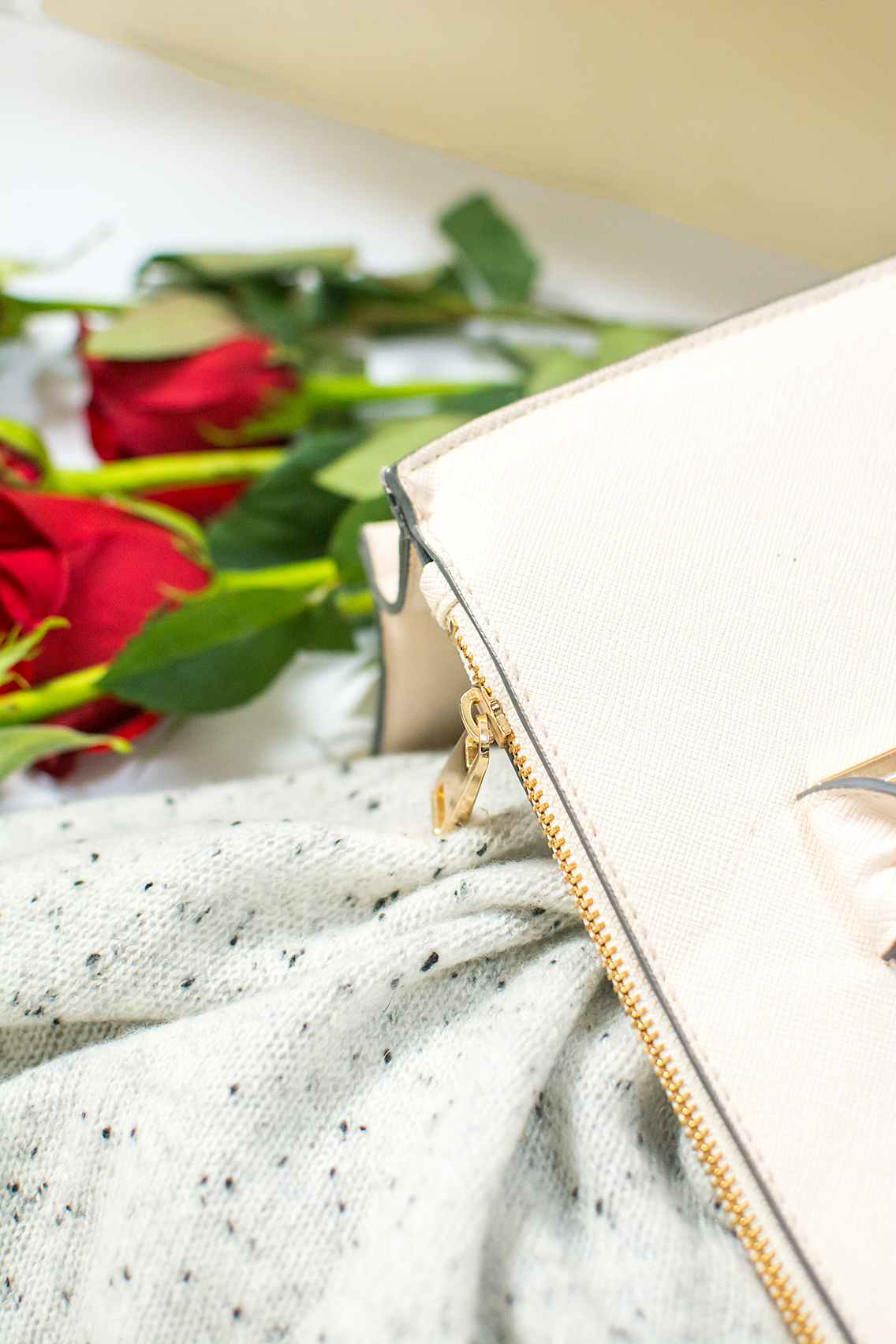 Club Monaco Cashmere Scarf (similar)
This year winter has been tricky. Some days it's been down-right balmy (well for February) and others remind us that Chiberia is here to stay until the end of March at least. I love carrying around a light knit cashmere scarf to layer on as necessary. I use it as a shawl when I'm chilled inside, a scarf to bundle under when I'm out, and even occasionally as a quick backdrop for photos on the run.
Club Monaco makes some of the best scarves — they don't pill quickly, they wash well, and they come in all sorts of textured neutral shades making them versatile too. Snag one during one of their winter sales so the cashmere investment won't break the bank.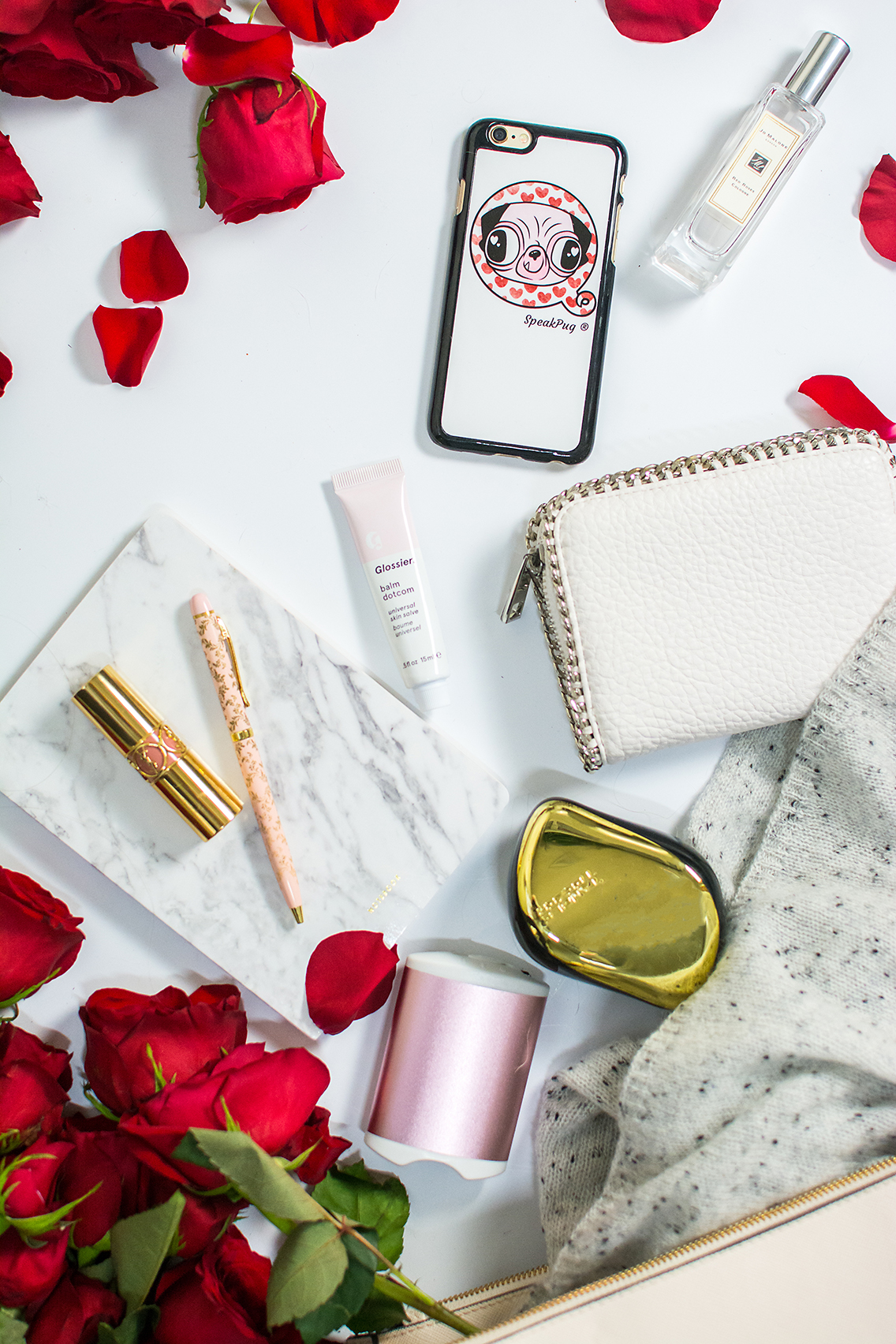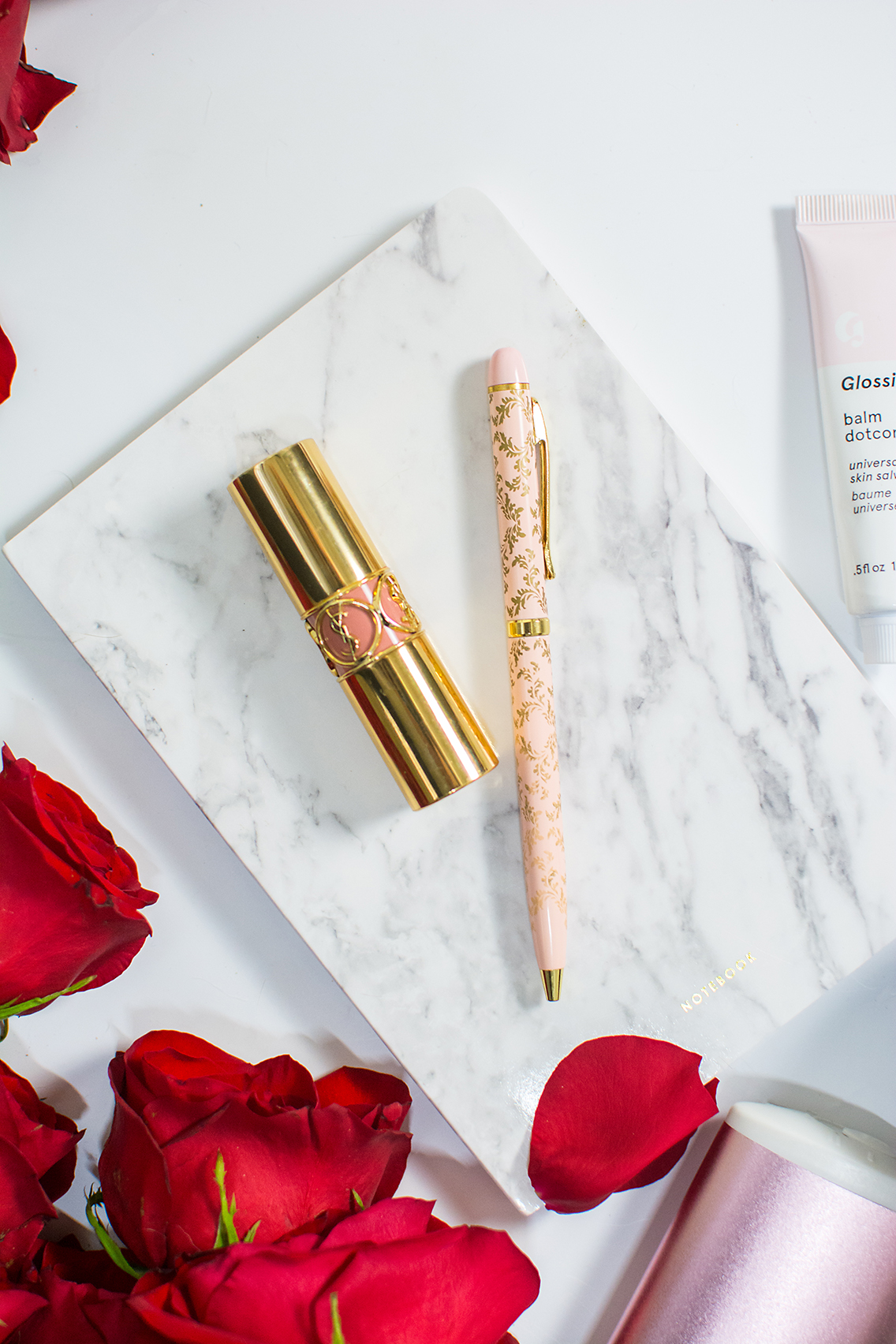 Poketo Marble Notebook (in Black)
You know I always like to carry around notebooks (especially my beloved Smythsons) and winter is no different. When I saw this gorgeous Poketo marble notebook, I couldn't resist! Who doesn't love a touch of marble in their day-to-day? It's a larger notebook than I usually tote around but it's perfect for sketching and jotting down ideas on the run.
Yes, I know I have a phone for that but — at least for me — there's something so necessary about writing my ideas down on physical paper. It's so old-school. So elegant. So intentional. Especially when I can write them with this lovely pink pen from the Langham too.
YSL Beauty Rouge Volupté in No. 01 'Nude Beige'
If you've been reading Sed Bona for a while then you're probably sick of hearing about this lipstick. I've been carrying it in my bag since last summer and don't intend to stop anytime soon. As a pale girl (#ProudtobePale), nude lipsticks were something I avoided like the plague (much like bright red lipsticks). Every formula I tried seemed to turn chalky and sickly on my skin. Once I thought I found a nude lipstick that worked but after having four separate people ask me if I had the flu, I gave up.
Until this nude.
As I told you last quarter, "one swipe of this magically flattering hue [and you'll be hopelessly] addicted". It's a creamy formula that doesn't settle into cracks or lines and even moisturizes a bit (though not as much as the tint-in-oil). The hue has enough pink and purple in it to prevent it from blending directly with your skin, instead illuminating it in a really subtle and timeless way. I have a tube of this on hand always because it works for any adventure and any occasion.
All hail the all-purpose lip wear!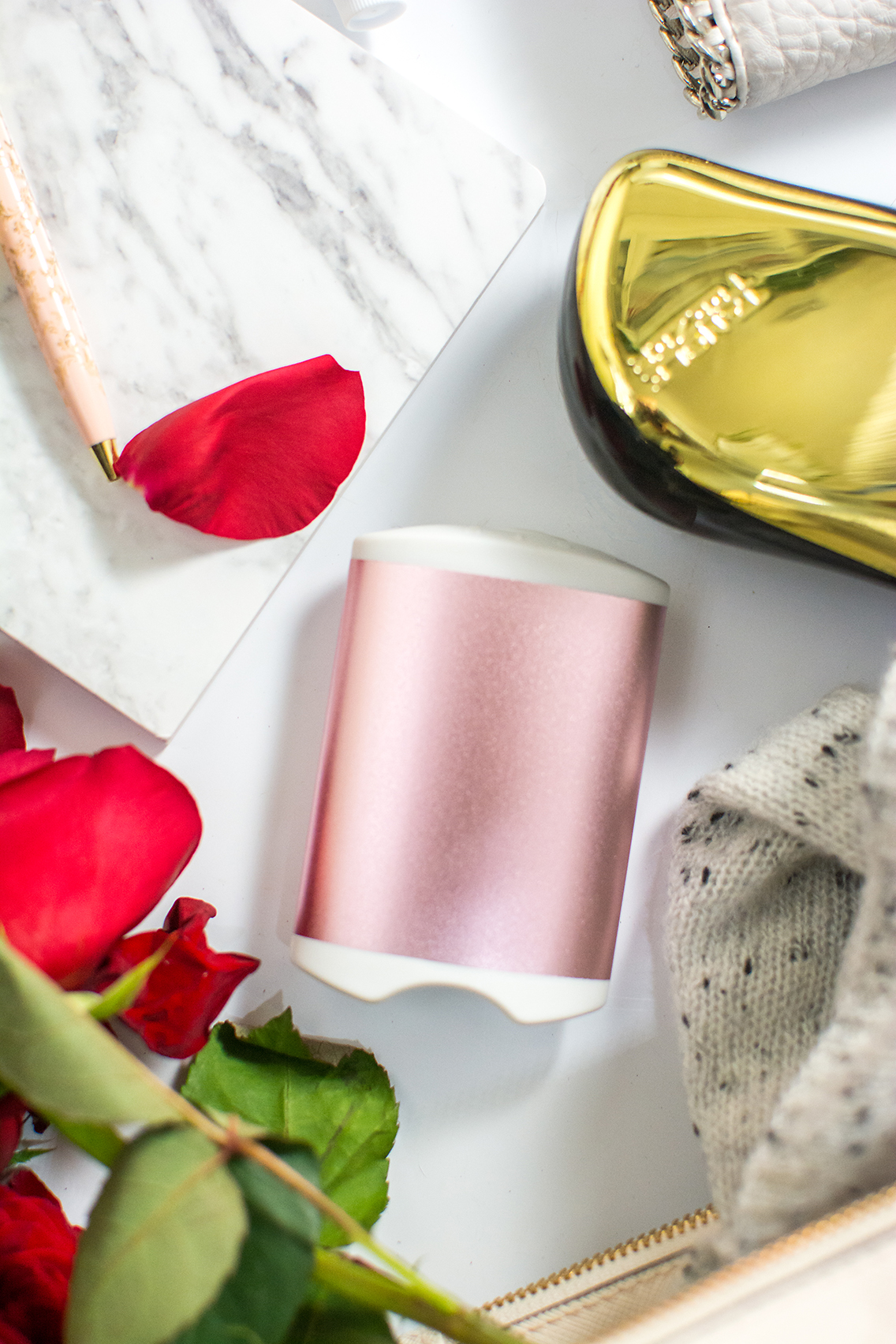 EnergyFlux Rechargeable Hand Warmer
Let me guess… you've never heard of a rechargeable hand warmer, have you? Ha! Neither had I until last winter but now I don't know how I'd live without one.
A little bit of back story:
I know most people think of blogging as a superficial endeavour that requires very little effort and even less time. But the truth is, blogging is a SERIOUS undertaking. Especially in winter! You would not believe some of the extreme weather I've shot in just to get an outfit post. And there's really nothing worse than having your camera jam up in the freezing cold while you're standing on the icy shores of Lake Michigan, wind viciously whipping around you, as you anxiously try to thaw your fingers enough to actually fix the camera. Not that that's happened or anything…
So after last winter I decided to get smart for my shoots THIS winter. I ordered this hand warmer after hearing from several photographer friends what a life-saver it was. See, while some photographers have the magical ability to wear gloves and shoot, unfortunately I am not one of those lucky ones. I can't control the camera AND wear gloves at the same time. And, generally from January to April, that means my fingers FREEZE and eventually I get so cold I just have. to. stop. shooting. Which kills me because I don't mind freezing as long as I get "the shot".
This hand warmer is a game-changer. Let me say that again louder… a GAME-CHANGER!! It's small, just a little larger than an altoids tin but man will this little box warm you up. I stuff it into my coat pocket during shoots and periodically rub it all over my fingers to keep them warm. And once I'm done I just plug it in to recharge it for my next shoot.
So easy, so simple, so smart to have.
If the winter chill hits you as hard as it hits me than a rechargeable hand warmer will be your newest winter essential. It's certainly become mine!

Tangle Teazer Hair Brush
I have a massive amount of long, undyed hair. I often wake up with a nest of knots and tangles everywhere and it used to take me FOREVER to brush it out every morning.
Until this simple little brush.
Small and easy-to-hold, this brush can swipe through the nastiest hair knots as if they were butter. It makes my hair shiny, silky, and smooth ALL without damaging my hair through vigorous brushing. It really is the ultimate long-hair brush.
And it's the perfect bag essential for any bloggers out there! See I shoot most of my outfits while I'm out and about working. I just find a cute location, snap some photos of whatever I'm wearing, and move on to my next project. So having a brush in my bag at all times is a LIFE-SAVER. You never know when the wind will whip around and turn your mane into a mangled mess. Having a little brush to smooth things out saves me hours of photoshopping out awkward strands of hair!
Forever 21 Faux Leather Wallet
I've been on the lookout for a great white wallet but, being practical in nature, I knew I didn't want to spend a fortune on one. I mean, expensive white leather and me? That's undoubtedly a recipe for disaster and heartache.
So when I saw this stunning little chain-linked wallet for under $15, I knew I'd completed my search. The chic, Stella McCartney-esque vibe feels modern and fresh while the interior is large enough to hold all my cards and my iPhone easily. Plus the whole thing fits in my mini Chloé Drew bag too unlike most of my other wallets.
And since this wallet is so inexpensive, I won't feel nearly as guilty when I inevitably ruin it as I would have if I'd invested in a more expensive white wallet.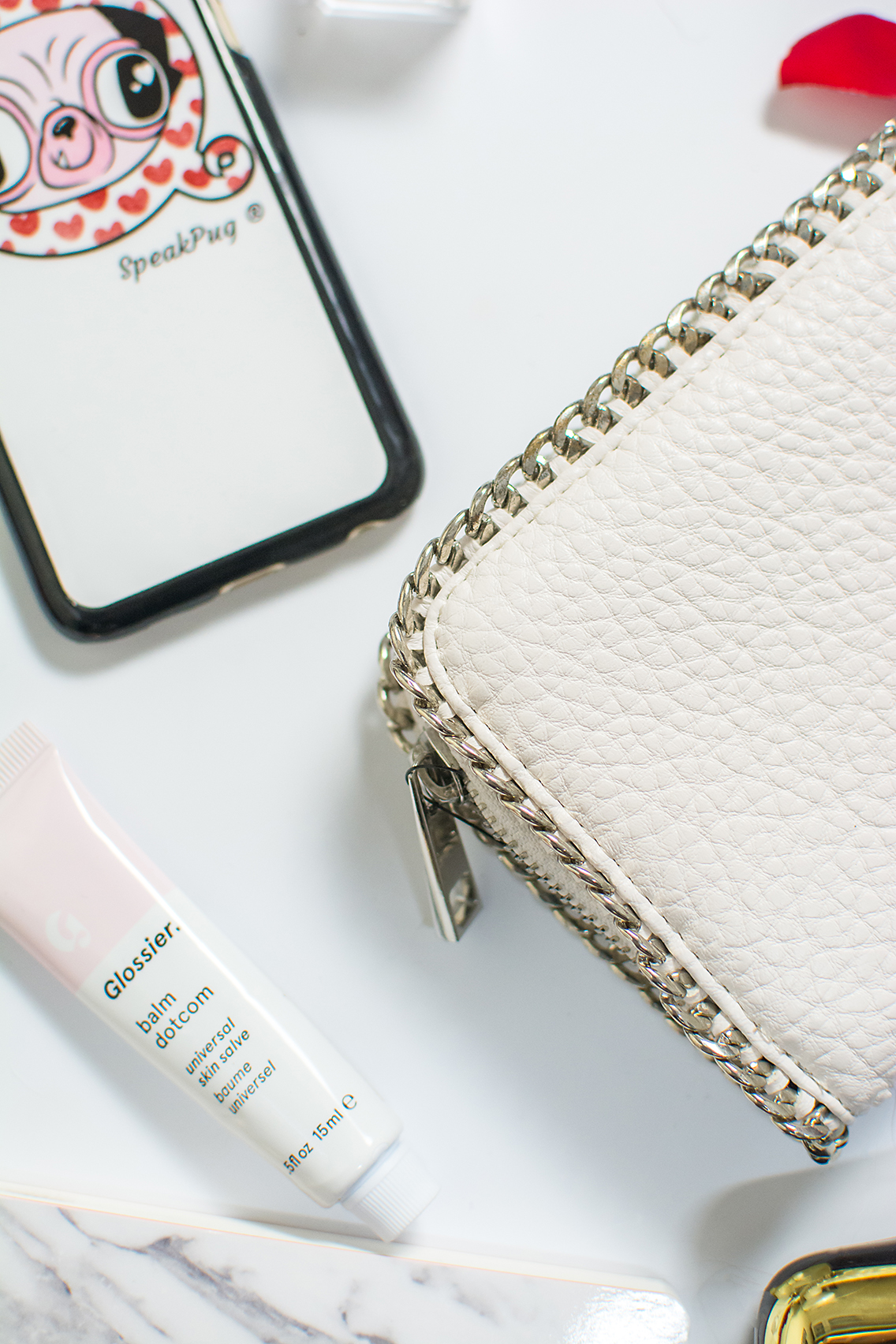 SpeakPug iPhone Case
Who doesn't need a cute phone case in their bag? My favorite right now is this adorable and quirky (ON SALE!) case from SpeakPug. I've followed and supported the SpeakPug Instagram since it launched well over a year ago and was so excited when they launched a line of products too. I mean, this has to be obvious right? Don't I speak pug practically every day? There are so many reasons why life is better with a pug and I love having an iPhone case that gives me the opportunity to share my affection for the breed everywhere I go.
My Gucci Pug keychain also works well in this capacity, helping my advertise my "crazy pug lady" status to the world through my accessories. #pugwin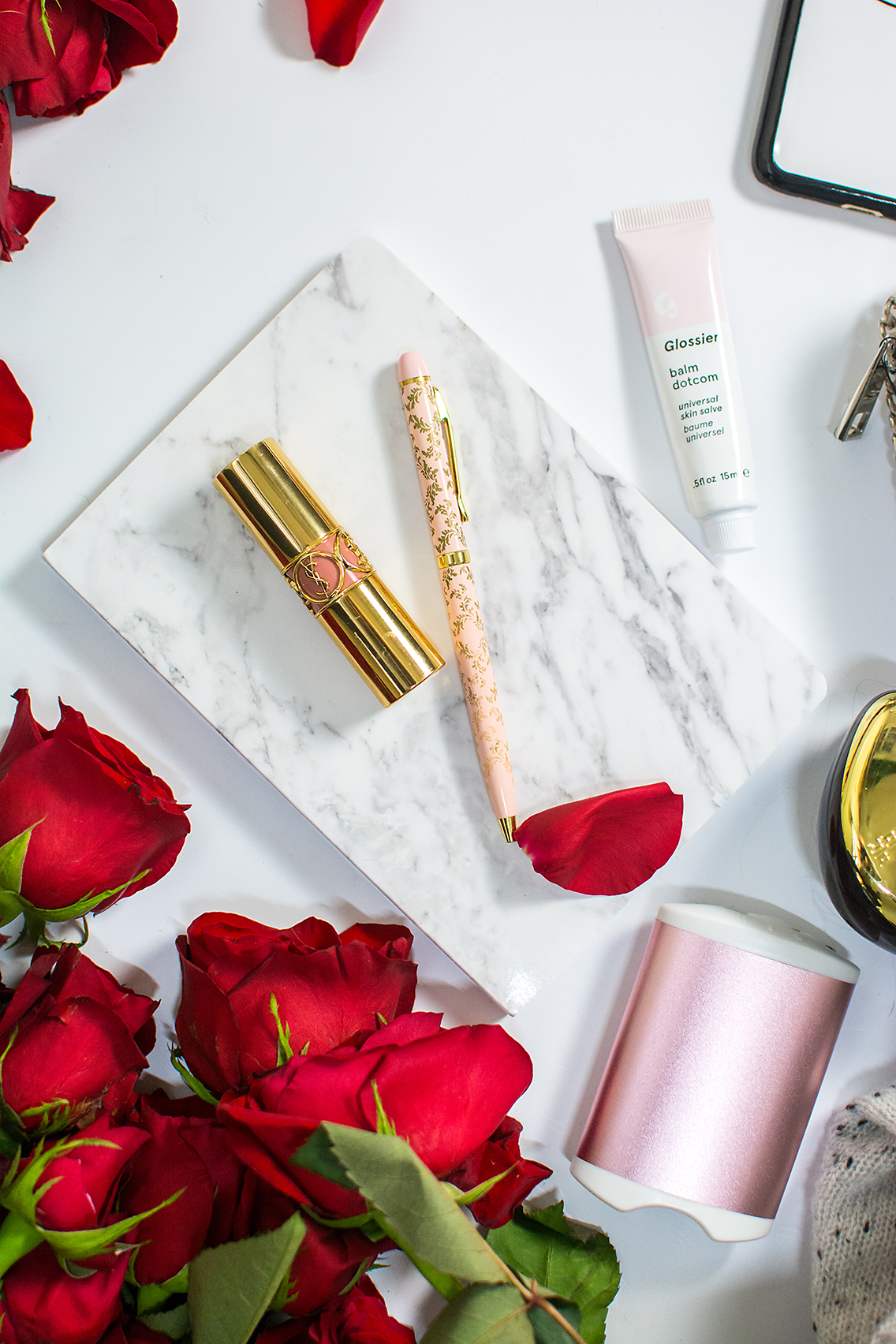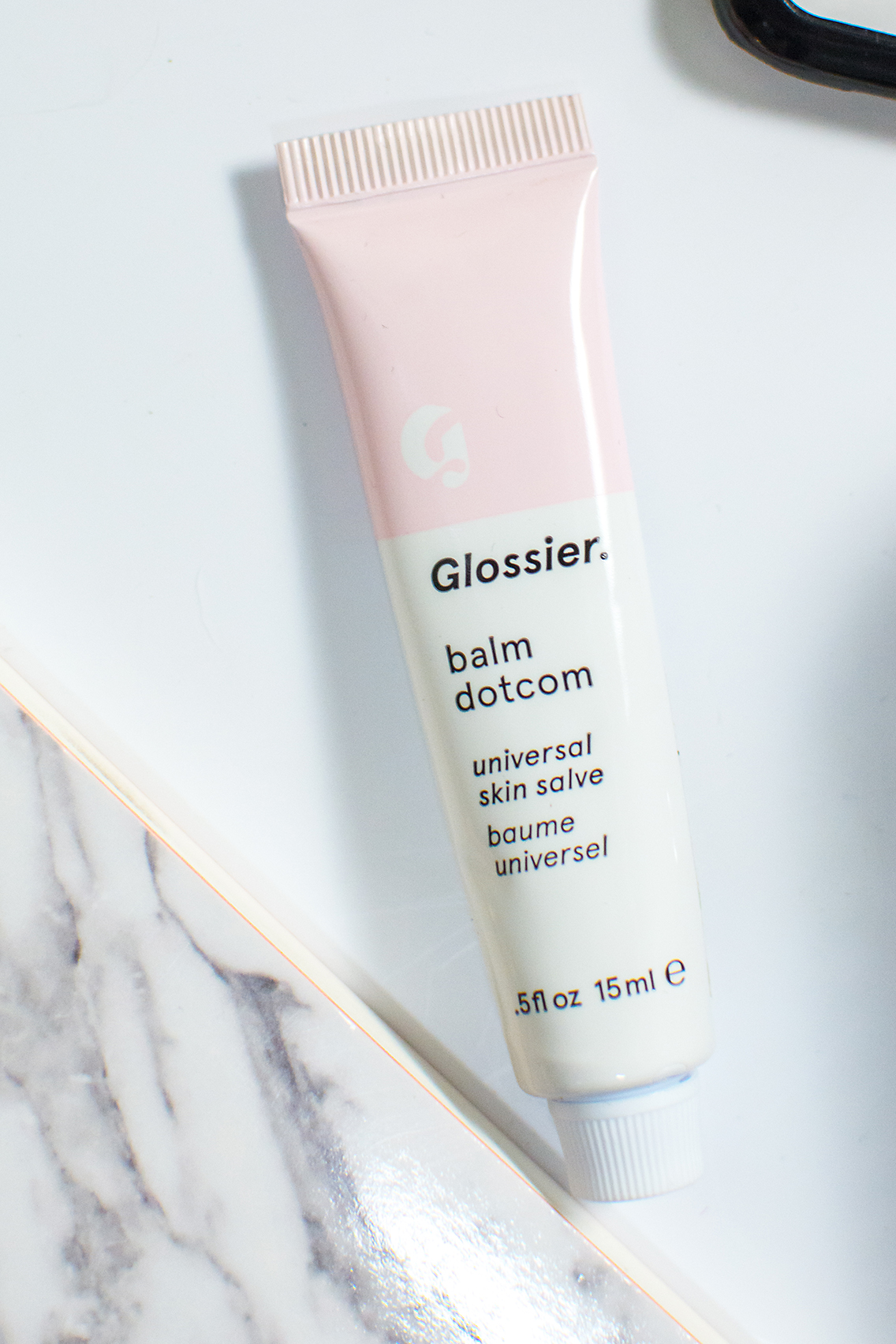 Glossier Balm DotCom
Yet another product that long-time Sed Bona readers may be sick of hearing about, this lip balm has to be the end-all-be-all for winter hydration. I use it on my lips, cuticles, and elbows. I blend it into my foundation on sub-zero temperature days for extra moisture. I stick tubes in every winter coat pocket and in every bag so I am never left without it. And since I always have a tube, most of my friends have tried and become hooked on this cult formula too.
As I said in autumn, "the consistency is smooth without being sticky [and moisturizing] for hours". It's the tube I grab no matter where I'm going or what I'm doing. If you invest in only one moisture product this winter, make it a tube of this!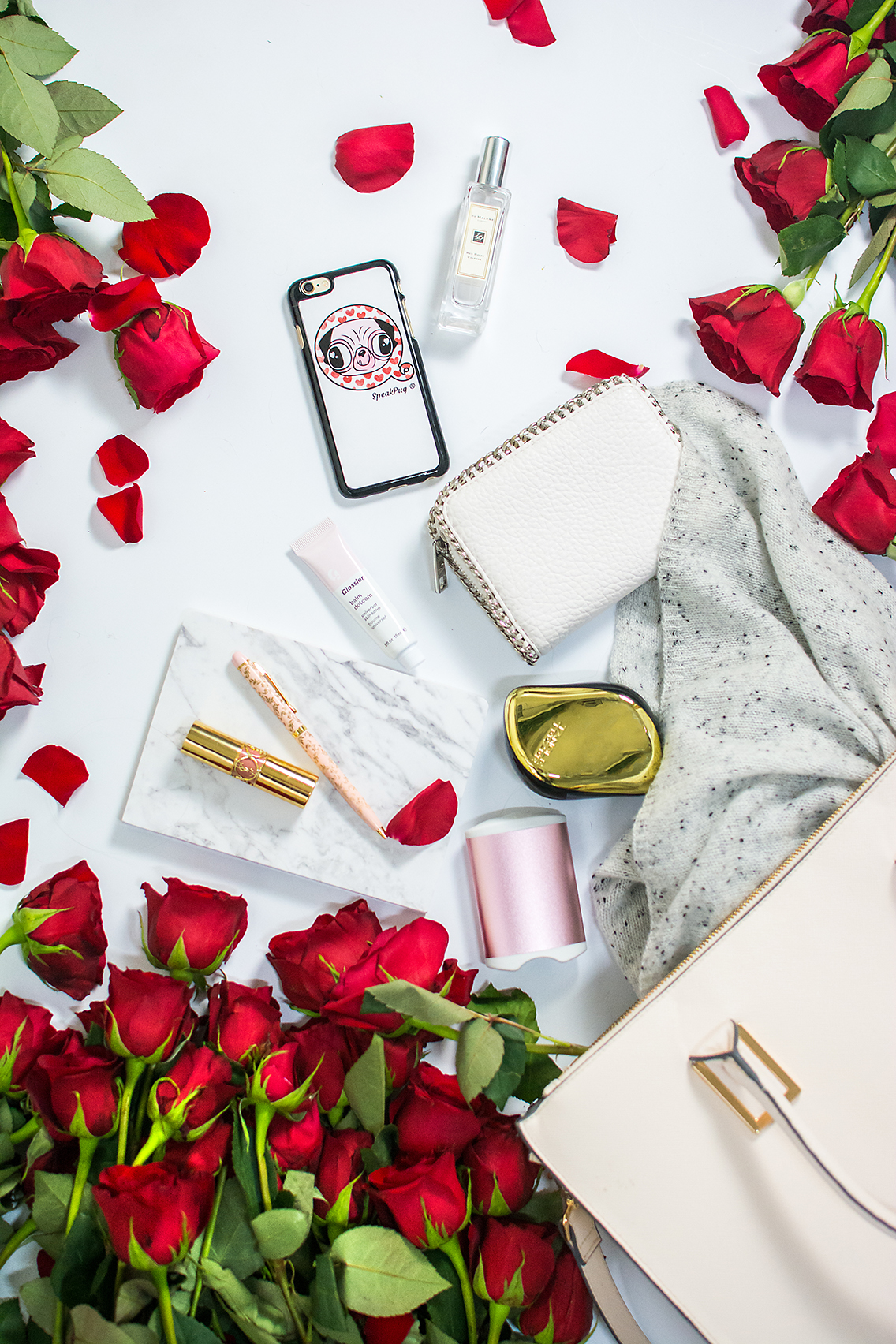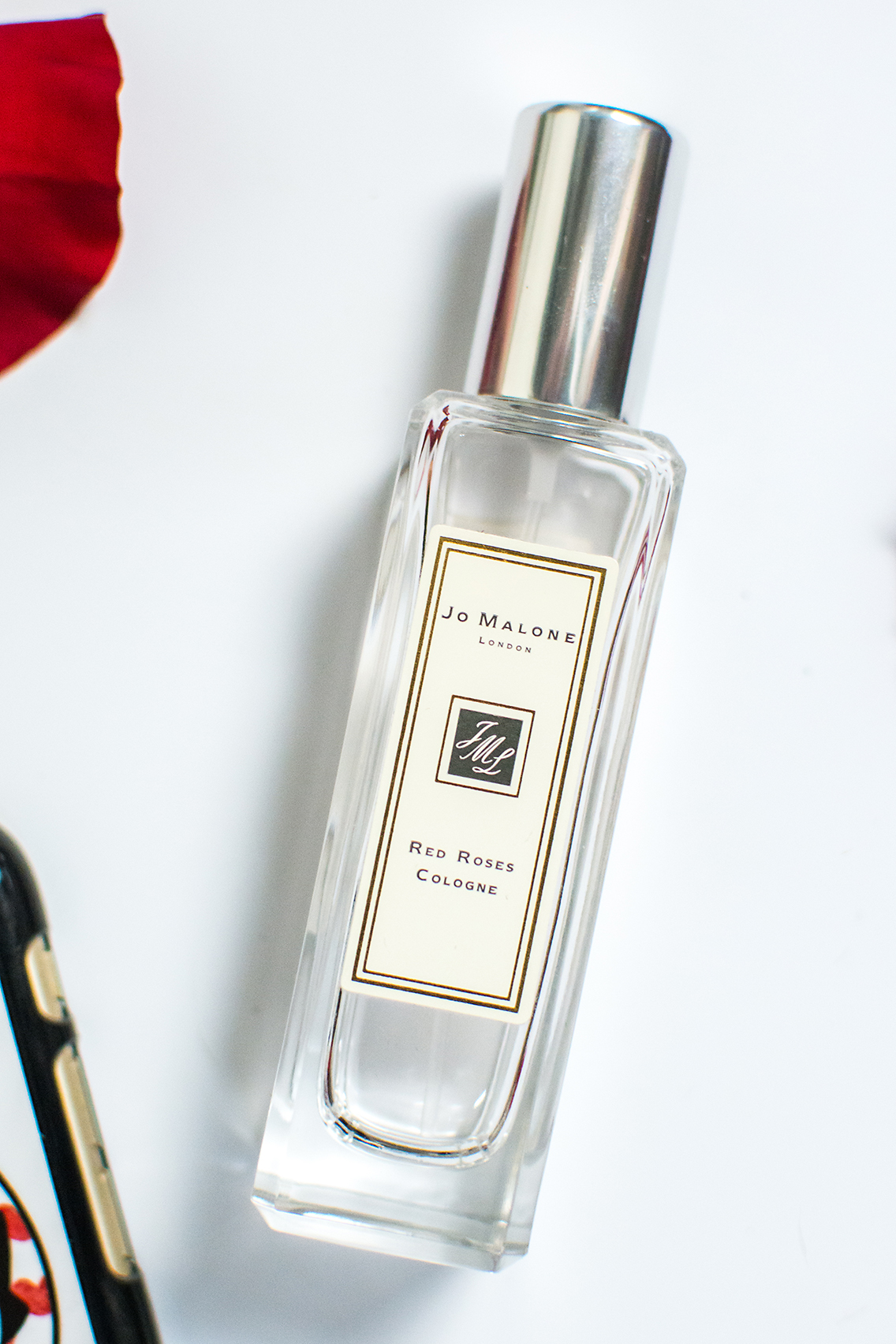 Jo Malone Red Roses Cologne
What can I say? I'm hopelessly addicted and obsessed with Jo Malone fragrances. No scents ever feel so unique, so magical, so GENUINE. I ALWAYS have at least one bottle in my bag at all times.
And when it comes to winter fragrances, nothing perks me up quite like Jo Malone's Red Roses cologne. A blend of SEVEN different roses, this is undoubtedly the strongest and most complex rose fragrance I've owned. It feels so fresh and summery. So pure. So intoxicating.
One spritz of this (possibly layered with Wood Sage & Sea Salt for some masculinity) and I can almost forget it's winter. Almost…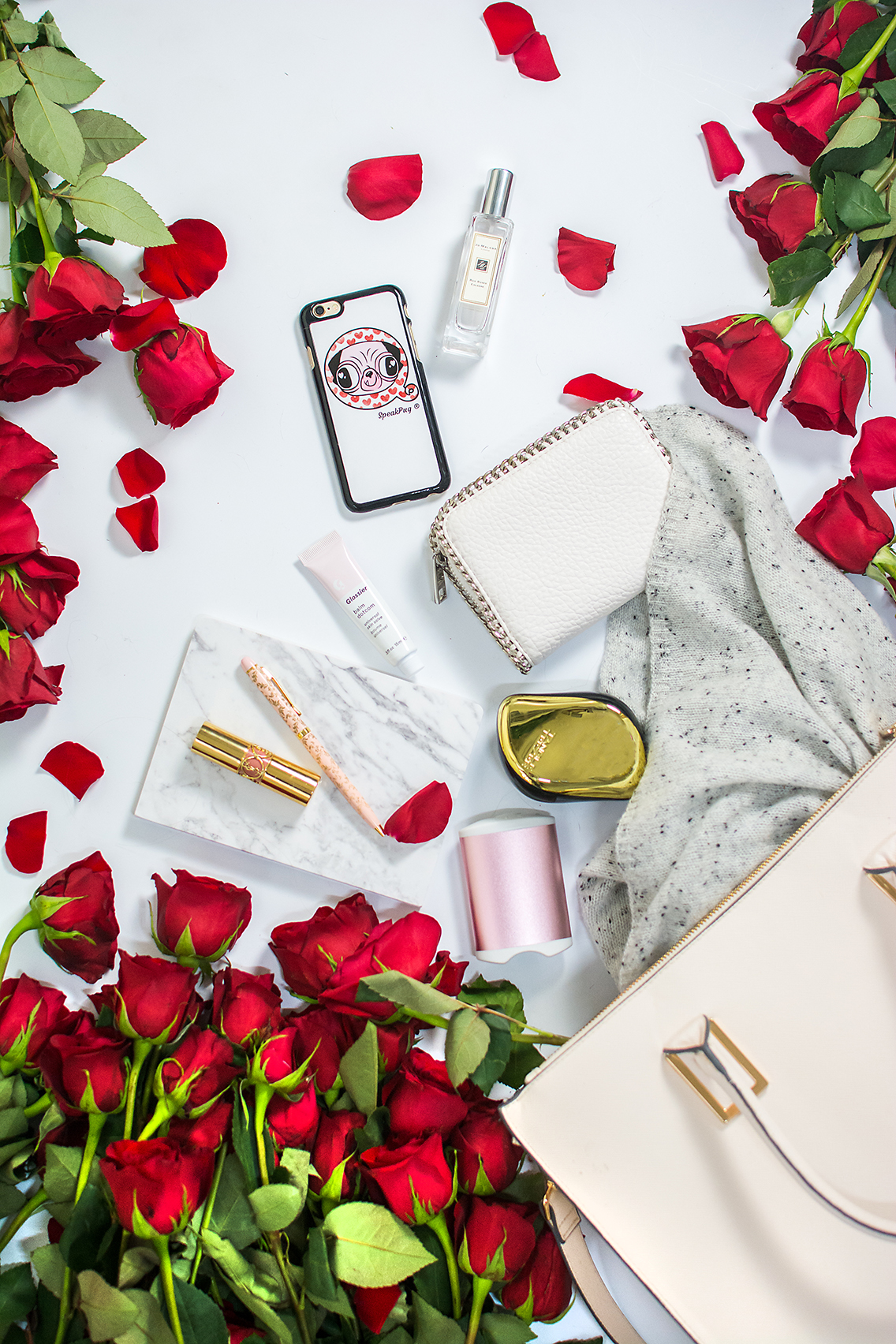 What essentials do you rely on in winter?