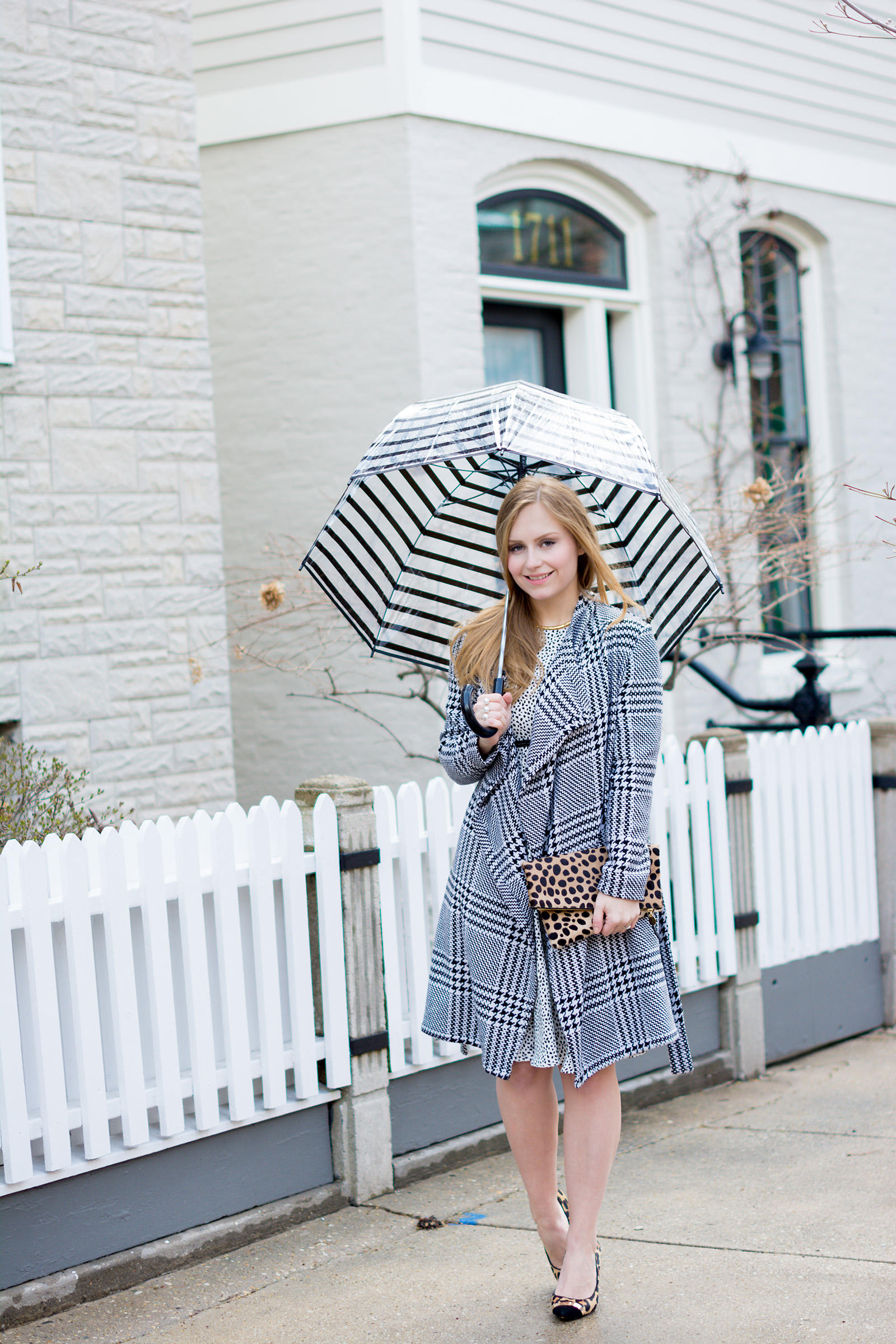 "The way I see it, if you want the rainbow, you gotta put up with the rain."
SHOP THE LOOK:
Coat – Insight (similar: 1 / 2 / 3) || Dress – H&M (in stores now, similar) || Clutch – Clare V. (borrowed from Heidi) || Pumps – Dune London (similar: 1 / 2) || Umbrella – Urban Outfitters || Jewelry – J. Crew & Noir || Nails – Christian Louboutin in 'Just Nothing'
Photos courtesy of blogger Heidi
Few springs have been as frustrating this one. Somedays it almost feels like summer, others are so cold the ground is covered in ice. And we've had snow MULTIPLE times in the past week… and yet the weekend is looking like it'll be 60 degree weather again.
Honestly!!
How's a human to stay sane? I've never had to try and stuff so many coats into my closet at once. I've literally had to be prepared for more moody weather swings this year than I ever have in the past. Puffy winter coats, parkas, trench coats, wool cardigans… I've reached for them all in the past few weeks!
And I feel ridiculous for complaining about the weather yet again given the fact that our winter this year has been the mildest on record (and nothing like last year's #Chiberia). But I can't stand it. Even my spring wardrobe essentials can't seem to save me from this wardrobe nightmare weather.
BUT during this turbulent month, I HAVE been embracing the opportunity to sport some really fun umbrellas. How can you not feel at least a little happier under a charming, graphic-printed umbrella?
When the weather gets rough, you have to turn to the little things — even if it's something as silly as a striped umbrella — for your sanity and salvation.
How do you cope with wonky spring weather?