"These boots are made for walking… And that's just what they'll do… One of these days these boots… Are gonna walk all over you
Are you ready, boots?
Start walking"
— "These Boots Are Made For Walkin'" Lyrics by Lee Hazlewood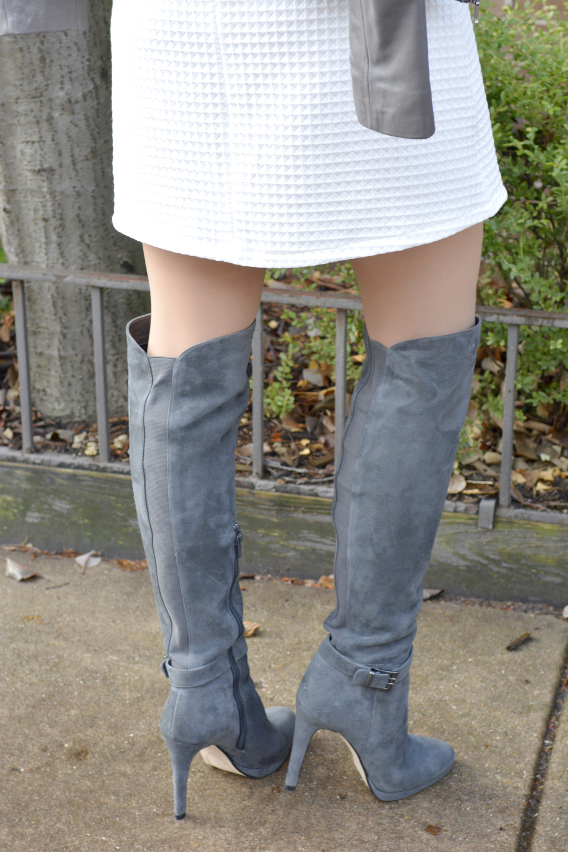 Dress – Asos (seen first on The Londoner, available here)
Jacket – Hinge 'Quilted' Leather (similar here and here)
Boots – Dune London 'Shaper' Over-the-Knee in Gray (here)
Necklace – Zara (as seen on Kate Middleton, similar here and here)
Forefinger Ring – Tiffany & Co Paloma Picasso (here)
Earrings – Tiffany & Co Pearl Studs (here)
Nails – Deborah Lippmann 'Amazing Grace' (here)
Photos Courtesy of Katharine
I've been hunting forever for a killer pair (read: chic and versatile) of over-the-knee boots to take me through winter and spring this year. My requirements were 1) that they actually cover my knees (you'd be surprised how many didn't, even on my petite legs!), 2) they had at least a 3″ heel (again, those petite legs can use all the length they can get) and 3) that they weren't black (I have so many black boots)! You wouldn't believe how hard that made my search!
So when I finally found this Dune London pair (ON SALE on Black Friday no less) I knew I had found "the pair" I'd been searching for. From the moment I zipped these on the song "These Boots Are Made for Walkin'" began to play incessantly in my head. Don't you just love a boot that inspires its own soundtrack? Anytime I wear these now I feel like dancing around with Nancy Sinatra like this:
I guess that's the magic of a great pair of boots!