Of all the wardrobe investments I make, I devote decidedly more money to my handbag collection than anything else.
Why?
Because of all the closet investments you CAN make, I feel like a high-quality handbag is the one you're likely to reap the benefits of the longest.

And I obsess over my bags. My Alexander McQueen Heroine Satchel and Victoria Beckham Liberty Tote are both classics but with modern twists — a combination I find particularly intoxicating in handbag designs. And I take good care of my investments because I expect them to last so long. I waterproof my bags, clean them regularly, and do my best not to abuse them mercilessly.
If there's one truth I've found when it comes to closet investments, it's this: be good to your wardrobe and it will be good to you.
But almost all of my investment bags are totes and satchels! For many months I felt a gaping hole in my collection — I knew I needed a small-ish, high-quality crossbody bag to compliment my busy lifestyle (especially to wear for evening events and while traveling). And thus my search began…
Crossbody bags are easily one of the most practical handbags you can own. I mean, who doesn't love having the option to go hand-free when they need to? Especially for someone like me who shoots with my phone and my camera so much. It always felt like such an oversight that I'd never invested in such a practical, useful piece!
Then it happened.
Anna bought a mini Chloé Drew Bag for her trip to NYFW last September. And after shooting it dozens of times in the weeks and months that followed (1 / 2), my obsession with the Drew bag's simple silhouette and luxurious practicality was solidified. The more I saw that bag, the more I thought about it.
So despite the fact that this bag is EVERYWHERE already and has been trending for quite a while now, I had to invest in one of my own. I just know it's the sort of IT bag I'll be happy to have long after it's trendiness has faded.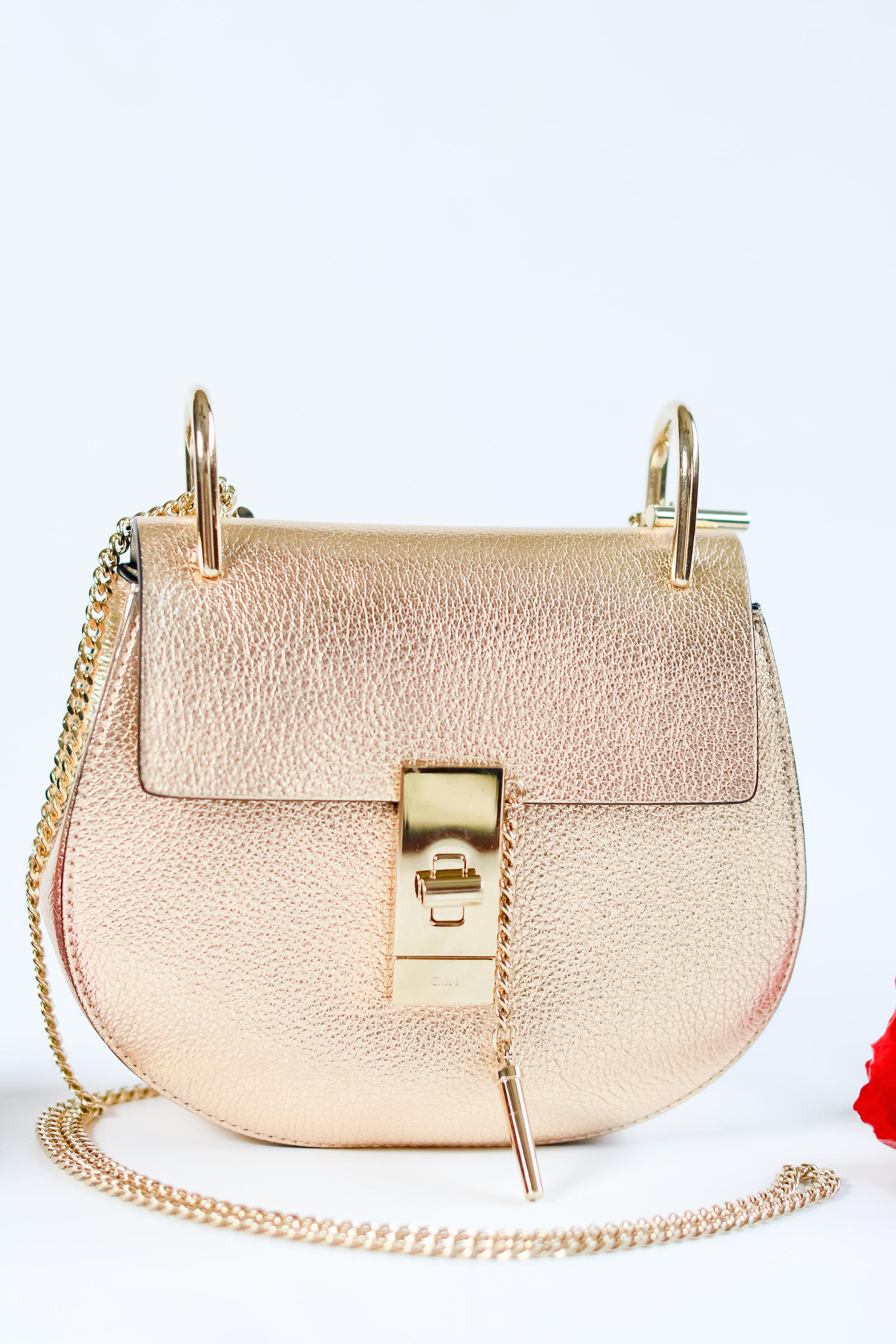 I mean just look at it!
It's such a timeless saddlebag shape with minimal branding and ridiculously high-quality finishes. I'm struggling to think of any style this bag wouldn't compliment.
And it's been the hallmark of the beloved French label since it's introduction in Fall/Winter 2014. It's THE bag that gave Chloé it's it-bag edge back and just seeing this stunning bag in person will tell you why it's popularity has sky-rocketed in just two short years.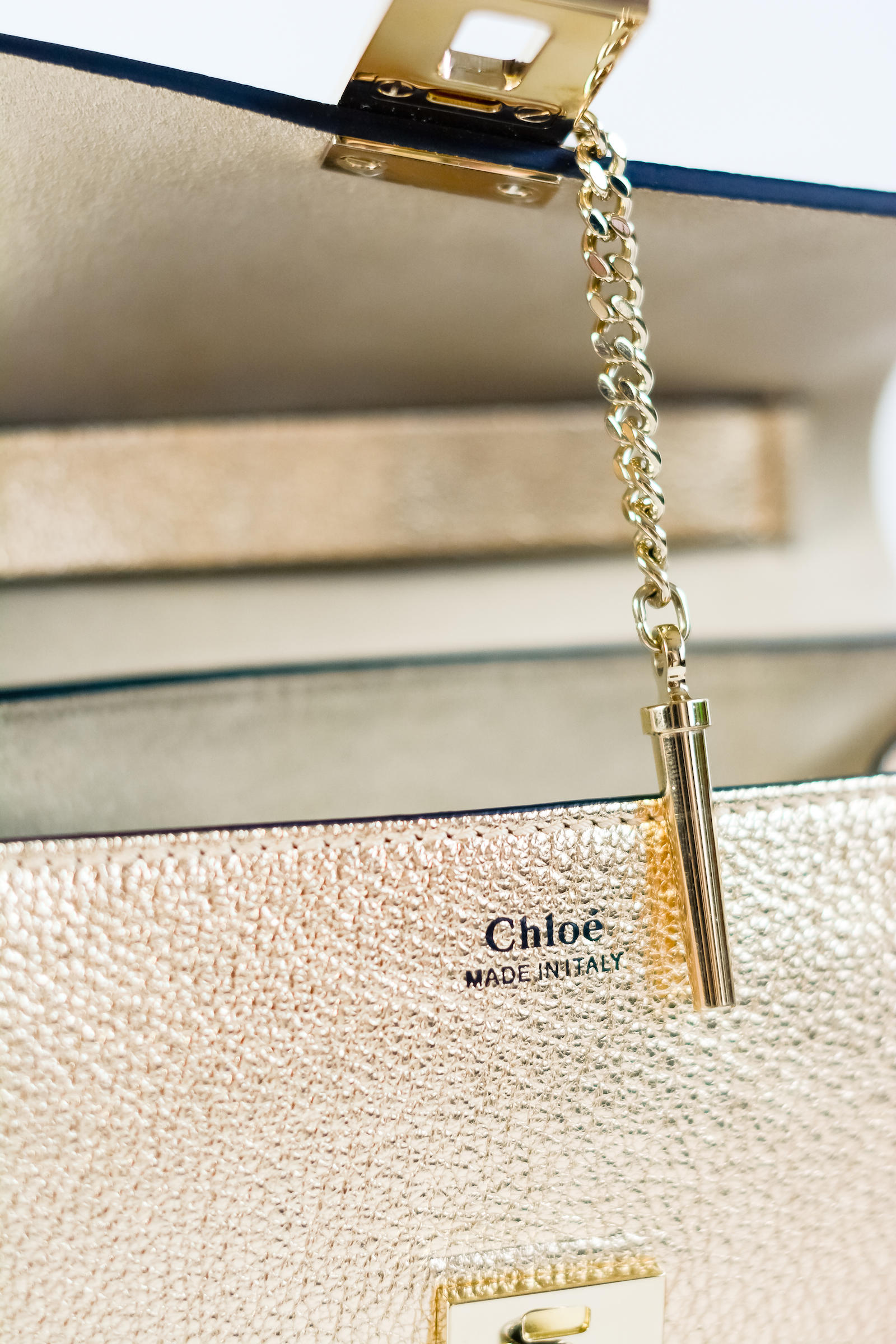 This bag is easily the most identifiable crossbody bag on the market.
It's the definition of simplistic luxury WITHOUT any enormous logos. And, despite only having one discreet brand label, more people have stopped me in the street to ask "is that the Chloé Drew bag?" than any other designer piece I own.
By now, it's quite obvious — this bag has ascended into LEGEND!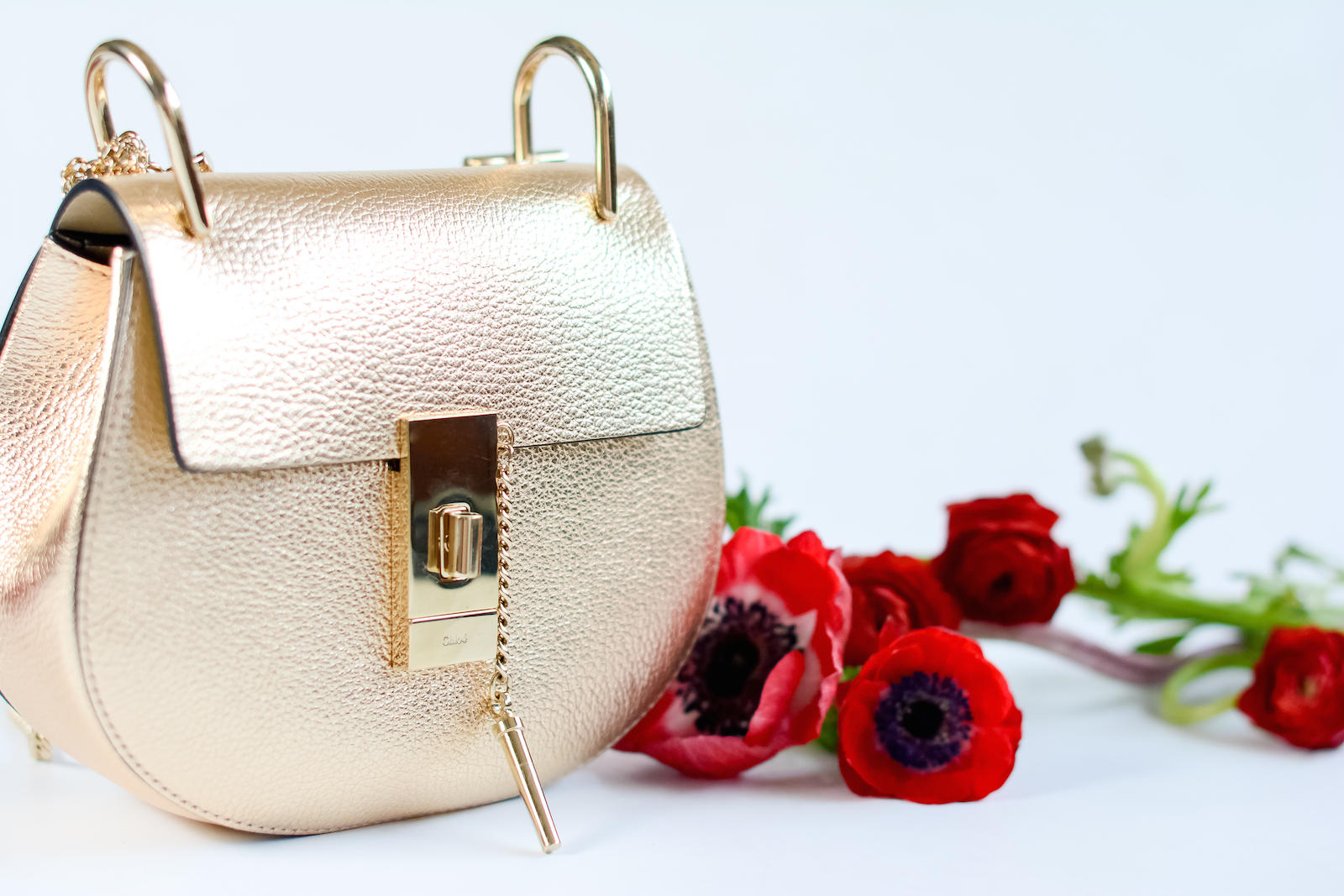 It's been seen everywhere, in a multitude of incarnations, remixed in every color and print you can imagine.
When I finally saved enough to buy mine, I was shocked at all of the options — some remixing suede and leather together, others with unique color-blocking combinations (like Anna's!), and yet others still in unique prints.
But when I saw this beautiful gilded gold version, I could not stop thinking about it! I even added it to my Christmas list back in December. The gold finish just felt so eternally magical to me — almost like the bag was more jewelry than accessory.
It's the sort of bag you'd expect a goddess to carry!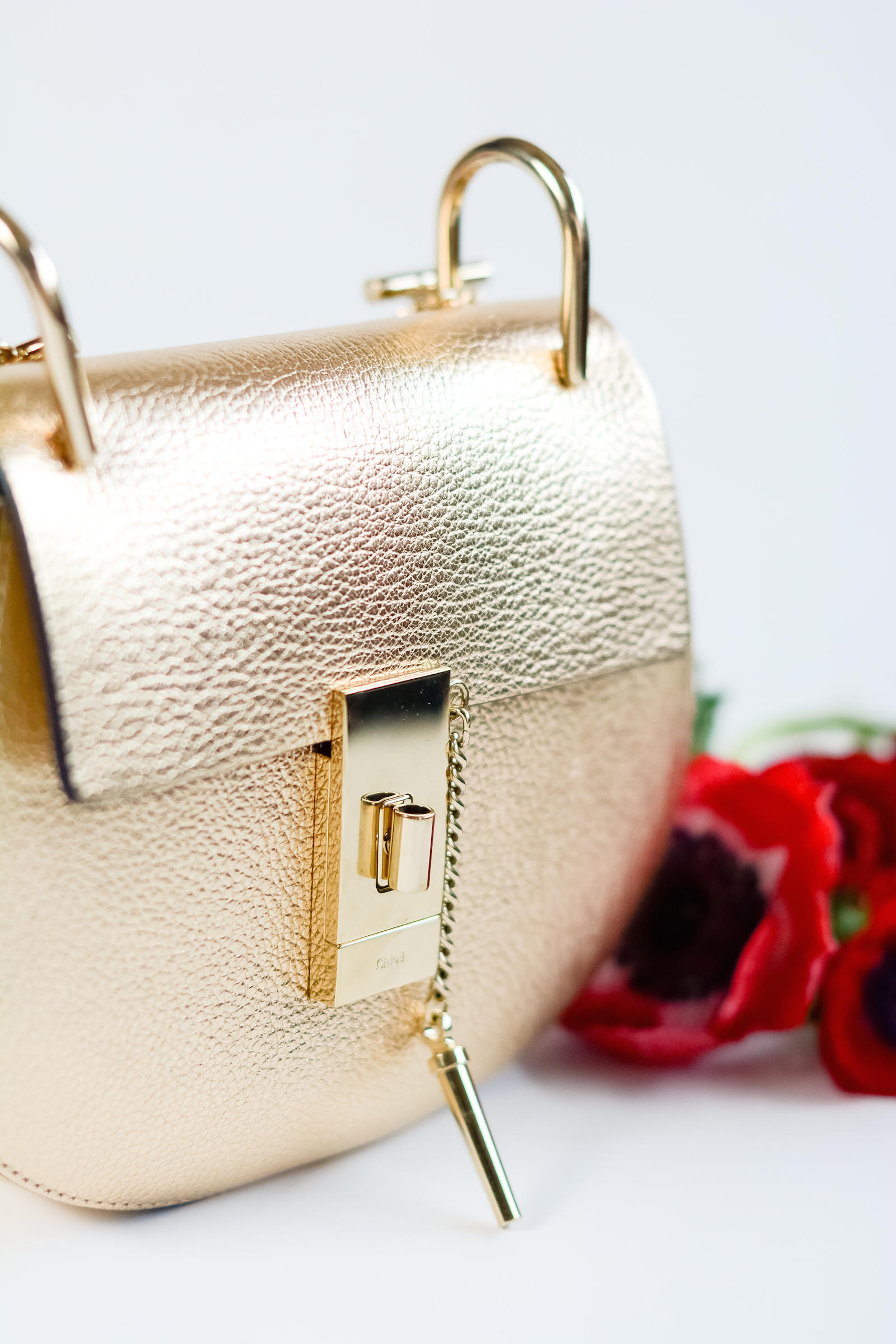 And now that I am lucky enough to call this Chloé Drew bag my own, I love it EVEN MORE.
Just look at the finishes!
It's a piece of utter magnificence. Well, at least in my humble opinion.
And despite its "mini" size, it's still large enough to fit all my absolute essentials: wallet, phone, keys, and a tube of lipstick. As far as the mini bag trend goes, this bag is FAR more functional than almost any others I have seen (a lot of them aren't even large enough to fit a regular iPhone 6… um, seriously!?).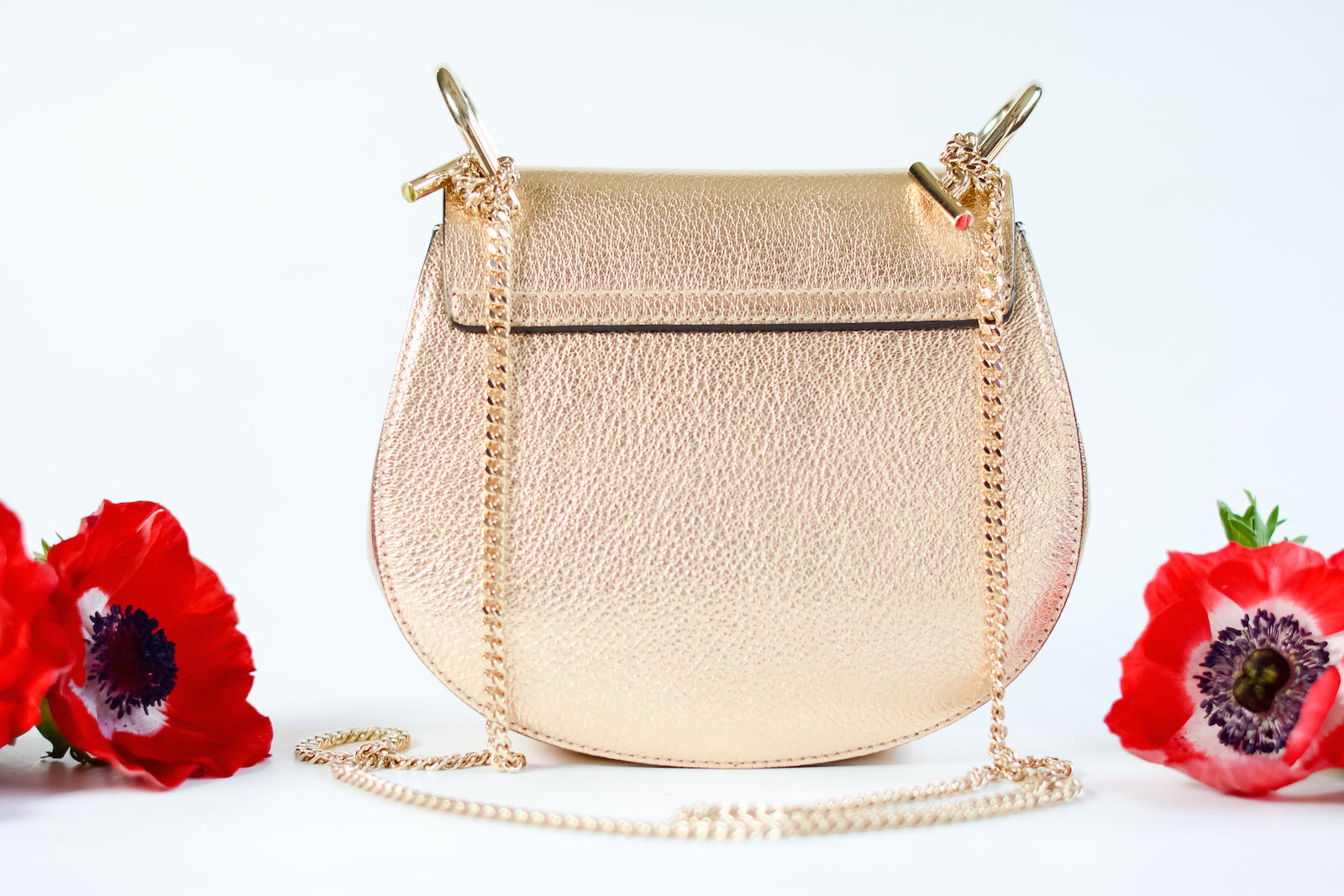 Before I bought the bag I worried about how uncomfortable the chain would be to wear around all-day. But luckily the flat-link design is anything but uncomfortable! It's heavy and substantial but smooth on the shoulder and wide enough not to dig into you, even if you're wearing something strapless.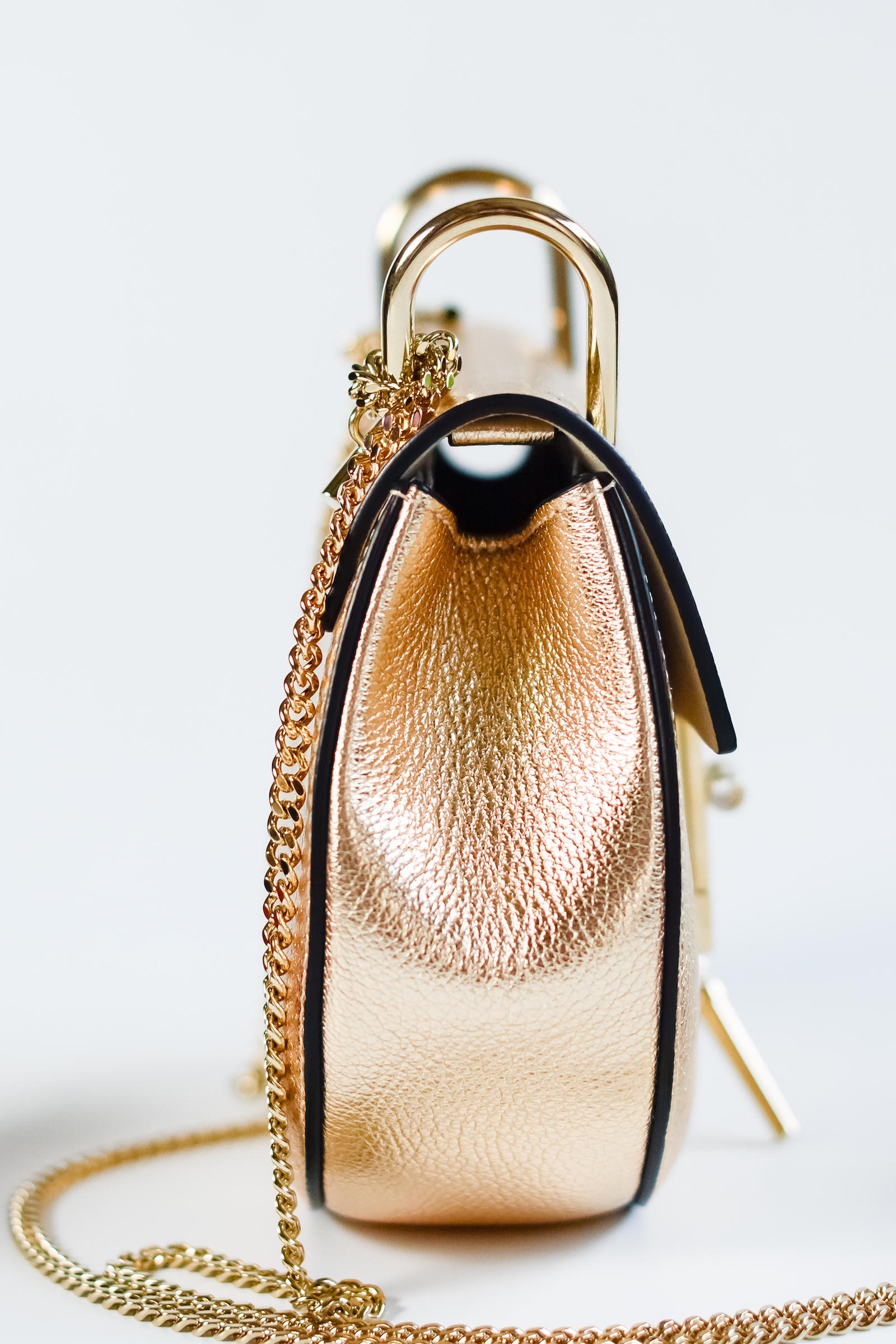 And truthfully all of the details on this bag are magnificent — everything from the soft, creamy suede interior to the pebbled exterior leather finish to the gilded gold locking mechanism feels like true luxury.
And that's one reason why I bought it in the first place. When I make closet investments, I like to not only think about what I'm aesthetically drawn to RIGHT NOW, but also 5 years from now, 10 years from now, and, in the case of an investment as luxurious as this bag, 50 years from now.
Sure, it's nearly impossible to predict how your tastes will change over your lifetime. I'm not suggesting that I'm clairvoyant enough to successfully predict my future fashion evolution.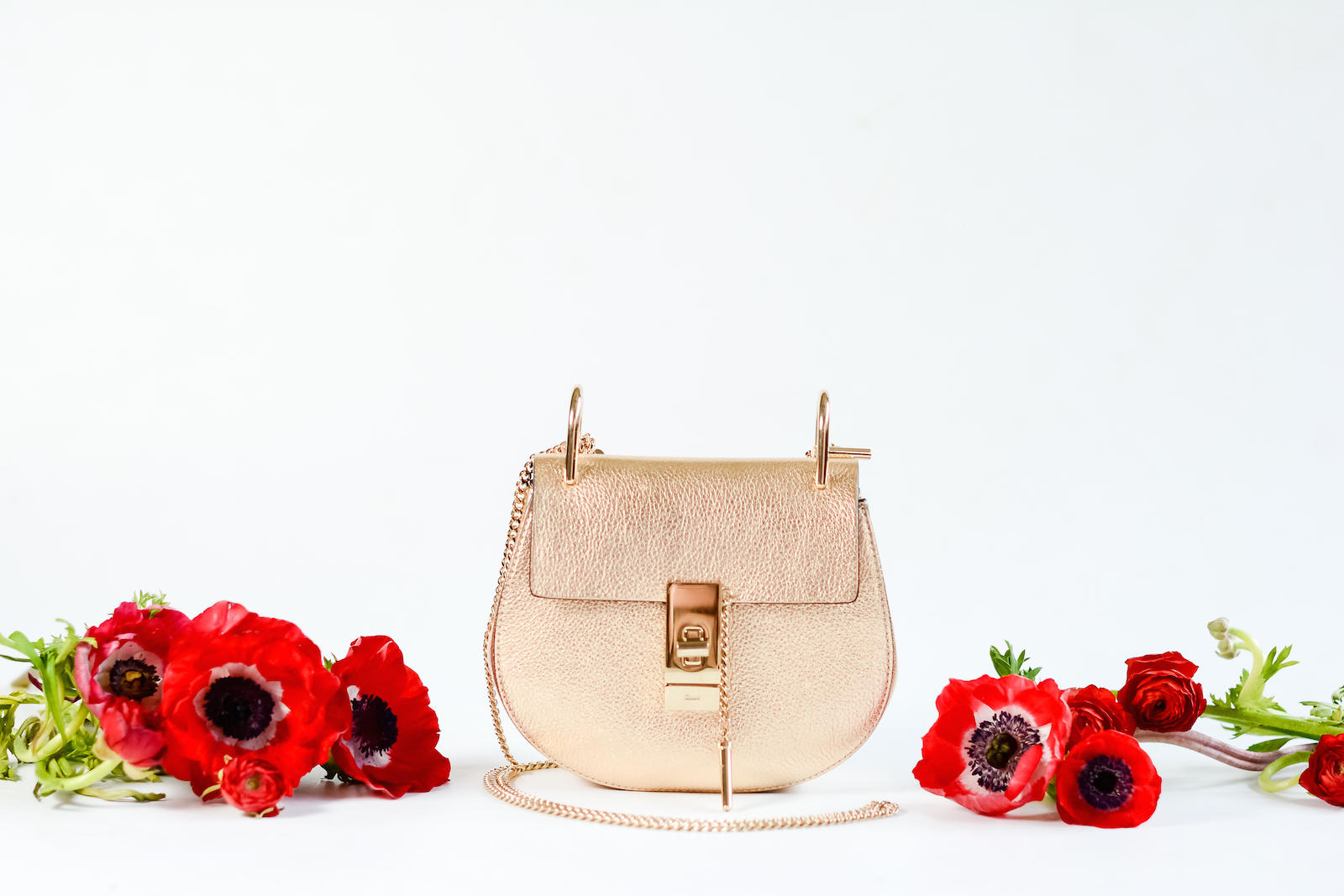 But I know what elements I like in investment pieces and what ones I don't. And when it comes to luxury handbags, I'm always drawn to the simplest shapes with modest or non-existent logos, that have clean practical finishes I can waterproof. And I can think of no bag that defines these qualities for me better than this Chloé Drew.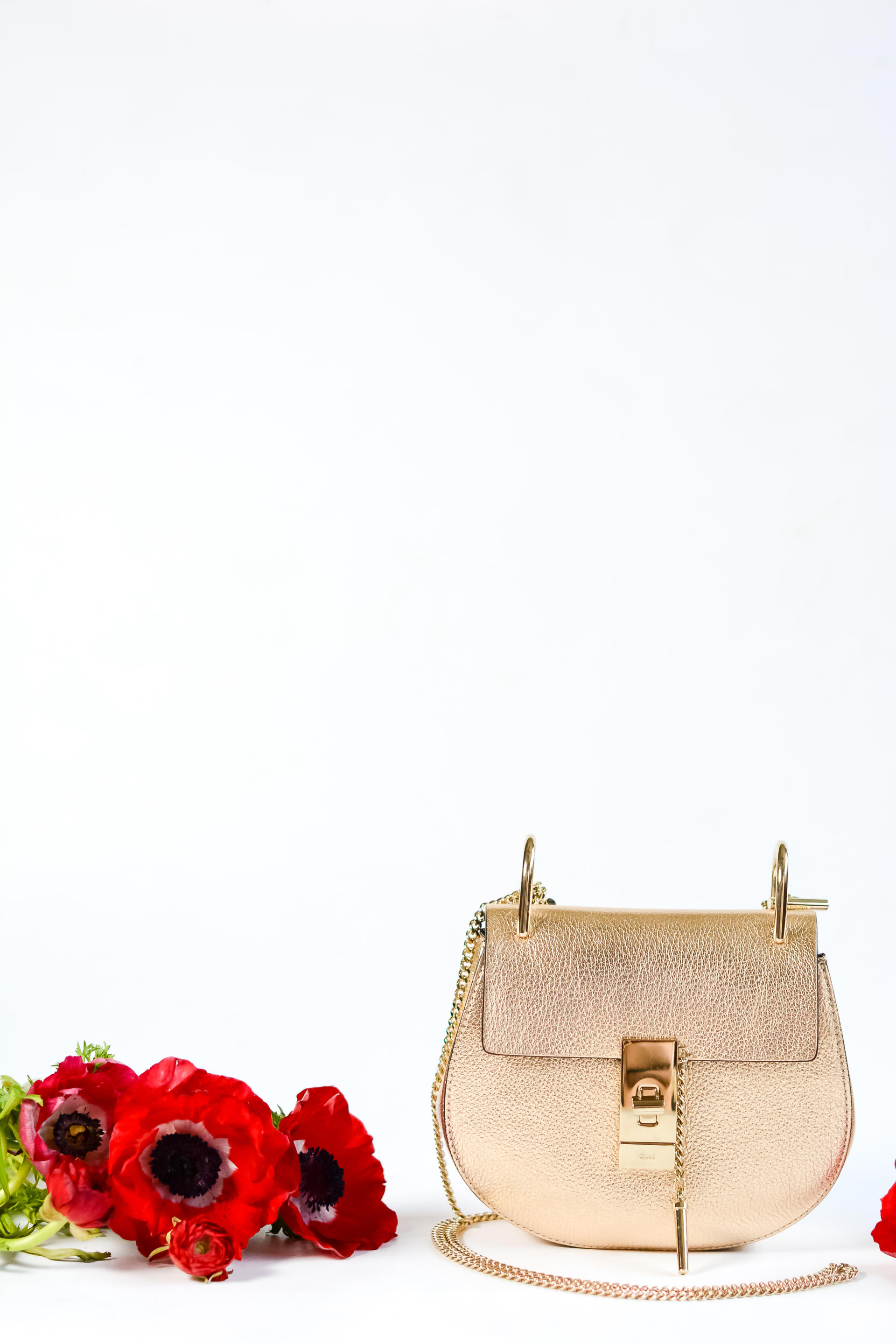 What elements and designs do you look for when you're investing in a handbag (at ANY price point!)?