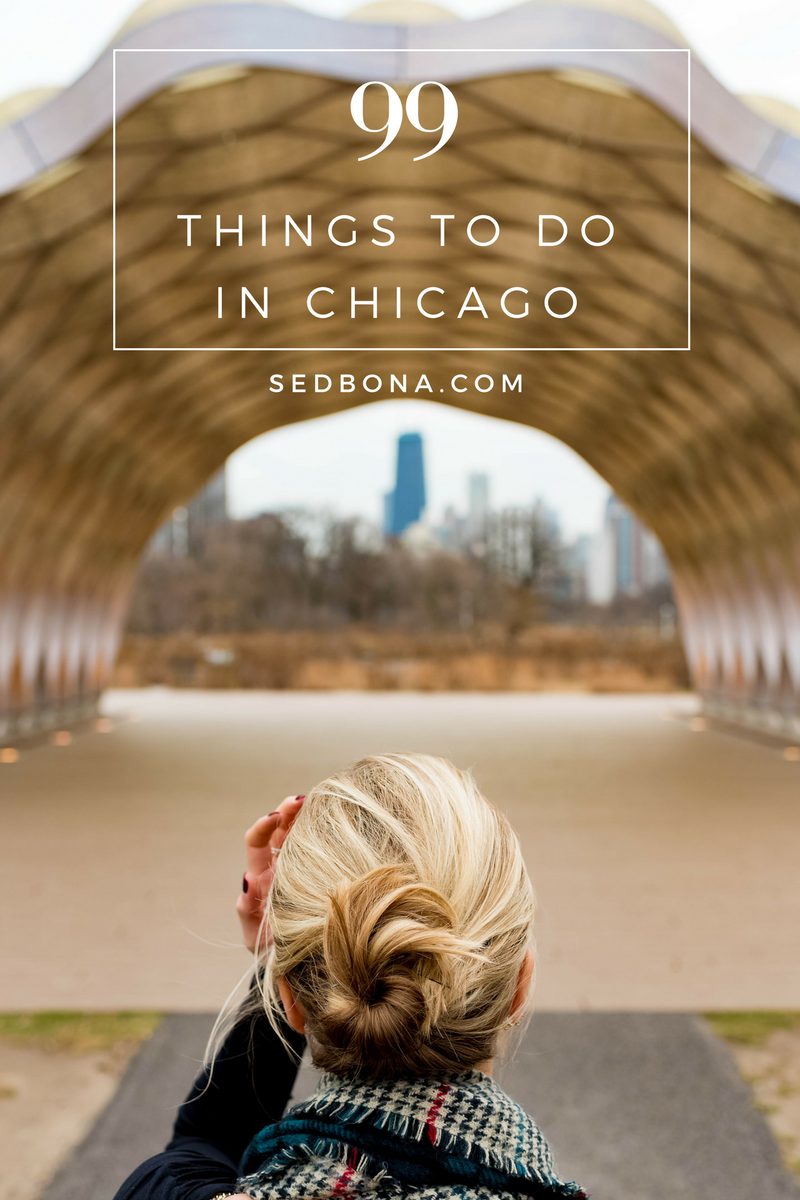 Oh Chicago.
Sweet home, Chicago.
How do I love thee?
You go by many names (Windy City, Second City, Chi-town, the Heart of America, "my kind of town").
And you have many facets.
You're never the same city from year to year.
And despite your notorious reputation, you prove time and time again that you are one of the world's best cities to have FUN in.
Oh Chicago, I love you. For all your ups and downs.
And I'll always be proud to call you home.
99 Things To Do in Chicago
---
1. Walk Through the Cloud Gate
2. Have a Beer at Wrigley Field
3. Walk the 606
4. Watch the Sunrise Over Lake Michigan
5. Visit the Miniature Thorne Rooms at The Art Institute
6. See 'Sue' the T-Rex at the Field Museum
7. Have a Burger at Au Cheval
8. Take a #shoefie at the Skydeck
9. Walk the new Chicago Riverwalk in Summer (or Winter)
10. Have Cocktails on the 96th Floor of the John Hancock
11. Shoot in front of the Flamingo Rum Club (one of My Favorite Shooting Locations in Chicago)
12. See an Opera at the Lyric Opera (even better if it's Opening Night!)
13. Have Drinks By the Fireplace at RL
14. Try the Crab Cakes at Gibson's
15. Watch the Chicago River Turn Green for St. Patrick's Day
16. Visit the University of Chicago Library
17. Have a Coffee at Sawada
18. Do Dim Sum in Chinatown
19. Walk to the Lighthouse at North Avenue Beach
20. Have Pizza Pot Pies at Chicago Pizza & Oven Grinder Co.
21. See a Performance at Second City
22. Eat Authentic Greek Food in Greektown (Greek Islands is my favorite!)
23. Try An Old-Fashioned Doughnut from Doughnut Vault
24. Wander the Green City Market in Summer
25. Hunt for Your Perfect Dream House among the Beautiful Mansions of the Gold Coast
26. Make Your Own Tornado at the Museum of Science & Industry
27. Visit the Fairy Castle at the Museum of Science & Industry too
28. Try Afternoon Tea at The Allis
29. Have Drinks on the J. Parker Rooftop
30. Visit the Museum of Contemporary Art
31. Get A Massage At The Peninsula (or Stay the Night)
32. Take the 'El' Through the Loop
33. Wander the Garfield Park Conservatory
34. Wander the Christkindl Market At Christmas
35. See the Flamingo
36. See the Stars at the Adler Planetarium
37. Try the Scrambled Eggs at 3 Arts Club Cafe
38. Shoot at the Marina Towers
39. Get Rosé Slushies at Expat
40. Spend at Afternoon Wandering the West Loop
41. Have Drinks at The Gage
42. See Buckingham Fountain
43. Visit the Tribune Tower
44. Drive Out to the Morton Arboretum
45. Get an Angel Food Muffin at Beatrix
46. Attend a Concert at Ravinia
47. Visit the Lion's Den at the Lincoln Park Zoo (it's always free admission!)
48. Slurp Oysters at Publican
49. Listen to Jazz at The Green Mill
50. Attend Lollapalooza At Least Once
51. Eat Sushi at Kai-Zan
52. Try Garrett Popcorn (if you're feeling touristy)
53. Spend a Sunday at the Shedd Aquarium
54. Shoot a Photo at Lincoln Park's Honeycomb
55. Get a Rainbow Cone at Rainbow Cone
56. Ride the Ferris Wheel at Navy Pier
57. Have Tiki Drinks at Lost Lake
58. See A Concert at Soldier Field (I saw Beyoncé last year and it was ahhhhmazing)
59. Visit the Chicago History Museum
60. Boat Ride Down the Chicago River
61. Do Brunch at Mindy's Hot Chocolate
62. Explore Unique Cocktails at The Violet Hour (Then Get Tacos Across the Street at Big Star)
63. Brave the Crowds on Michigan Avenue (My 7 Favorite Stops)
64. Have at Least One Meal at avec
65. See the Tiffany Domes at the Chicago Cultural Center
66. Roast Marshmallows at Promontory Point
67. Try a Chicago-Style Hot Dog
68. Shop at American Science & Surplus
69. Order Tacos at Antique Taco
70. See a Play at the Shakespeare Theater
71. Have a Late-Night Binge Meal at Portillo's
72. Take a Chicago Architecture River Cruise
73. Get the Prohibition Sauce at Twin Anchors
74. See a Show at the Chicago Theatre
75. Try the Gobi Manchurian at Rangoli
76. Have a Drink at Cindy's
77. Get Authentic Asian Groceries at Joong Boo Market
78. Have a Picnic in Humboldt Park
79. Get a Cookie at Summer House Santa Monica
80. Kiss at the Obama Kissing Rock
81. Have Dinner at Parachute
82. Order Hash at Southport Grocery & Cafe
83. Visit the Confederate Mass Grave (the largest mass grave in the Western Hemisphere)
84. Shop at Brown Elephant Resale
85. See a Concert at Millennium Park
86. Walk the Chicago Lakefront Trail by the Shedd Aquarium
87. Read a Book at the Harold Washington Library
88. Have an Innovative Ice Cream at Jeni's
89. Attend the Old Town Art Fair
90. Ice Skate in Front of the Cloud Gate in Winter
91. Visit a Frank Lloyd Wright House
92. See the Bulls Play At the United Center
93. Have Drinks on a Rooftop in Summer (See My Favorites in My Chicago Travel Guide)
94. Ride the Carousel at the Lincoln Park Zoo
95. Visit the Museum of Contemporary Photography
96. Head to Devon Avenue for Indian Thali Plates
97. Do Brunch at Oyster Bah
98. Order Mashed Potato Pizza at Piece Pizza
99. Watch a Firework Show at Navy Pier