Summer has finally arrived here in the Windy City…
Not!
This last weekend was in the low-60s with dreary rain and storms. #weatherfail
The good news is despite the fact that it may not FEEL like summer here in Chicago, there's a spot of summer always available in Lincoln Park. Actually an entire "house".
Yup, I'm talking about Summer House!
A spot to remind us of warm sunshine and laid-back California lifestyles.
I've told you before about my love of Summer House — a refuge from the frost in winter, a sunny spot to lounge in summer, this place really is my go-to year-round!
Yes!
Summer House is ALWAYS a good idea.
So when Starr asked me to come try some of their newest menu offerings for lunch, I couldn't say yes fast enough.
But then again, I always say yes to lunch with Starr — we have so much fun shooting and trying different foods together!
Any good lunch really ought to start off with cocktails though, don't you think?
Day drinking is practically de rigueur in Lincoln Park after all!
This is the Bonfire: tequila, grapefruit, spice, honey and peychaud's. Delightfully light and fruity and oh-so-drinkable.
But nothing compared to my absolute favorite cocktail on Summer House's menu (not to mention the girliest): the Palm Fizz! A delightfully bubbly blend of aromatized wine, apples, lemons and prosecco garnished with the freshest rosemary this drink is practically juice (and just about as easy to slurp).
Just be careful! Two or three of these and you'll be hit with the strong realization that this concoction is FAR more potent than any juice.
On our last visit I warned you about this devilishly delicious little appetizer of fresh Burrata. Handmade daily by Paolo Protti and served with tomato jam, arugula and a side of toasted bread for spreadinnnnnnnnnnnnn', this appetizer is one of my favorites in the ENTIRE city.
Fresh, creamy and cooling on a hot day, nothing beats this ball of fancy fromage!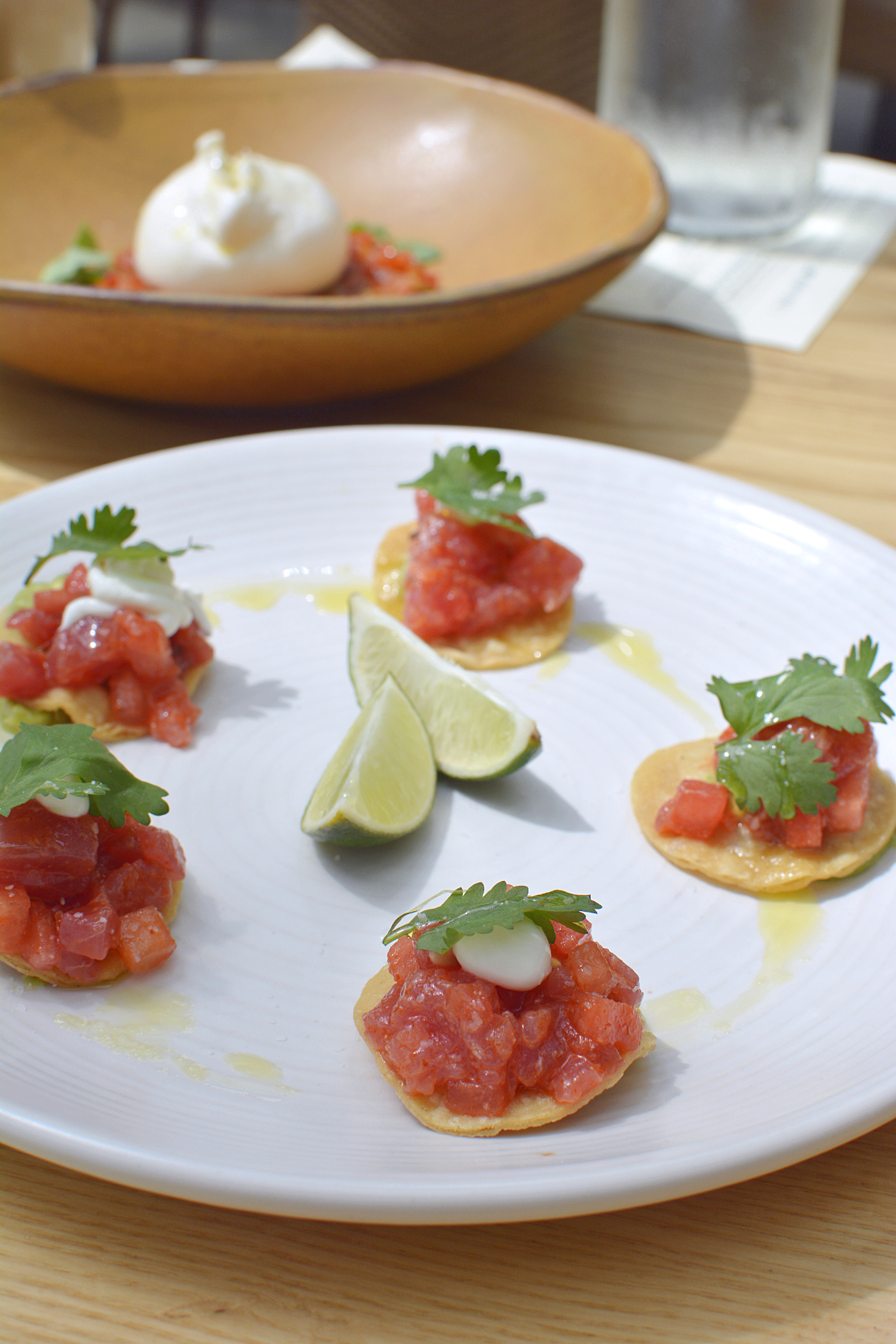 But until this visit, I'd never been introduced to these sexy little appetizers.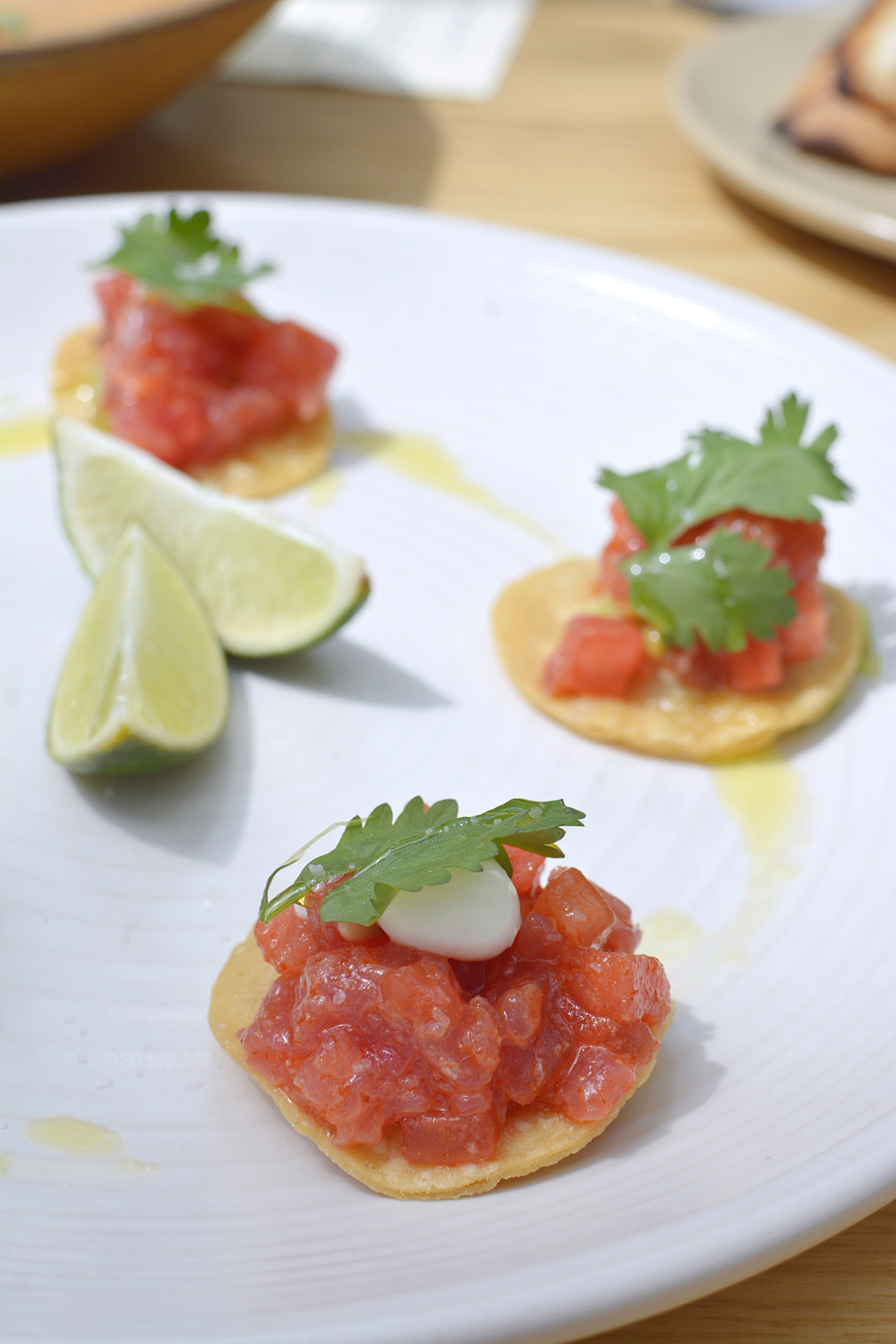 THESE are Summer House's Ahi Tuna Tostadas. Flavored with watermelon, thai chili, avocado, crema, cilantro and lime all on a corn tortilla, these nibbles pack a serious seafood PUNCH!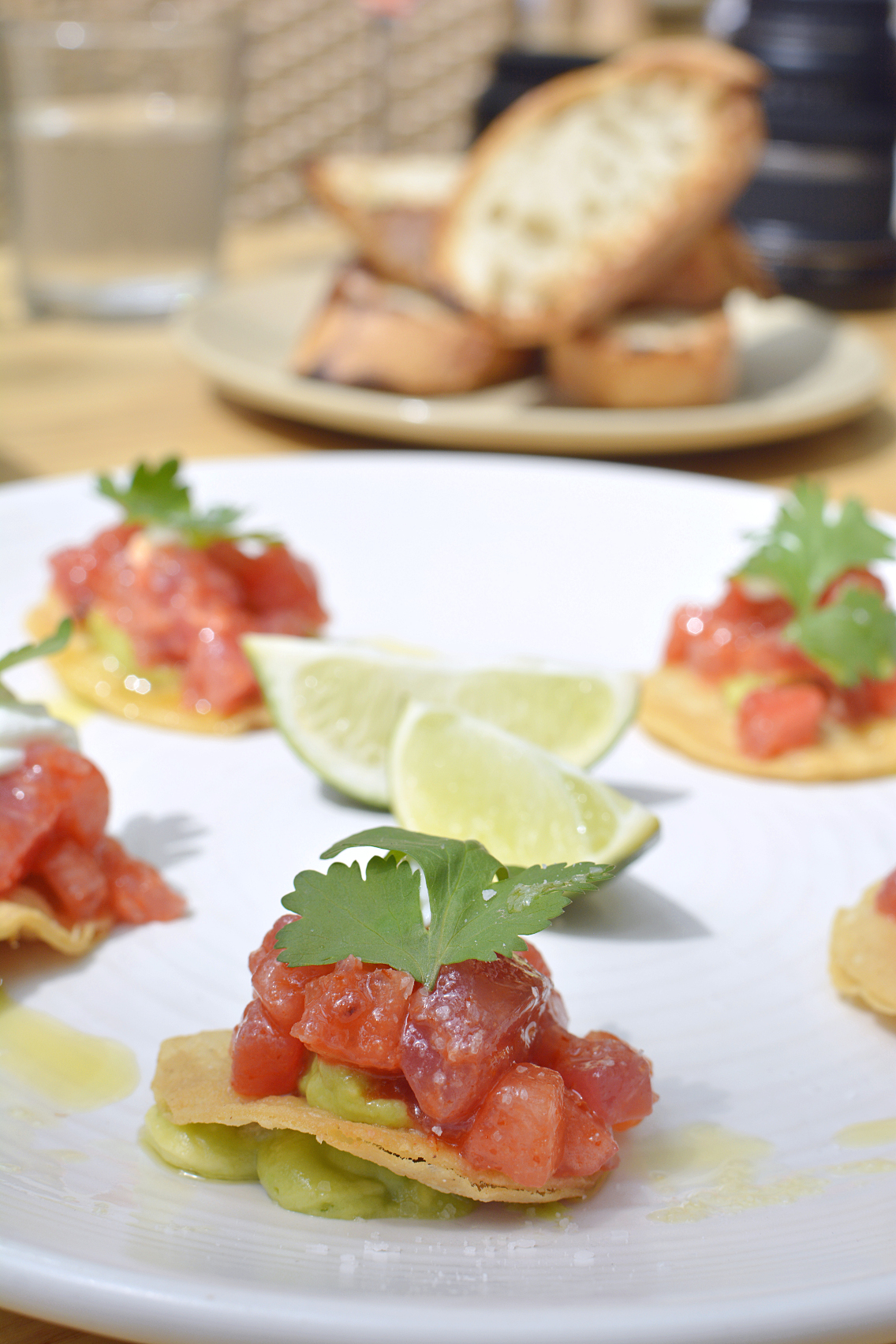 Now I'm suffering from appetizer indecision. Burrata or Ahi Tuna Tostadas? I think I'll take both!
Each and every time.

Next came our entrées! I ordered one of Summer House's newest pasta specials, the Asparagus & Mushroom Orecchiette. 

Heavenly pasta, asparagus and mushrooms (being MushroomStew on Instagram, you had to know I'd love this) all swimming in brown butter, parmesan brodo and herbs. This dish is one of the heaviest I've had at Summer House and yet it still manages to feel light (for a pasta dish) and flavorful without being over-seasoned. A delicious change from what I usually order at lunch and perfect for this unseasonably chilly weather we've been experiencing lately.
You know I can resist roasted cauliflower (have you made my favorite recipe yet?) and indulged in this healthy side topped with jalapeno pesto and parmesan.

Starr ordered another of Summer House's newest menu editions: the Avocado Toast. Poached eggs, hass avocados, scallion marscapone all perched atop more housemade toast. 

I mean, how sexy is this #eggporn?
And after Rachel's epic poached egg break at Presidio, you may have correctly suspected that my new favorite thing to shoot is action-shots of this satisfying experience.

"What happens when you tell an egg a joke?"
"It cracks up!"

But I warned you on our last visit that nothing, I repeat NOTHING, compares to the dessert porn paradise that is Summer House's cookie counter. This is their notorious Chocolate Chunk Cookie (I love the Sea Salt Chocolate Chip version so much I even recreated it in my own kitchen).
Decadent, chocolate-y and with the perfect cookie texture of crunch 'n chew. 10/10!
The Apple Oatmeal cookie was surprisingly delicious too! Don't let its bare appearance fool you — this is, as Starr points out, an apple pie in cookie form. Real, soft apple chunks, cinnamon and nutmeg all folded into a soft oatmeal cookie.  Delicious and comforting, like all oatmeal cookies should be!
But our waiter wanted to introduce us to just one more of Summer House's newest menu editions — this luxurious S'mores bar!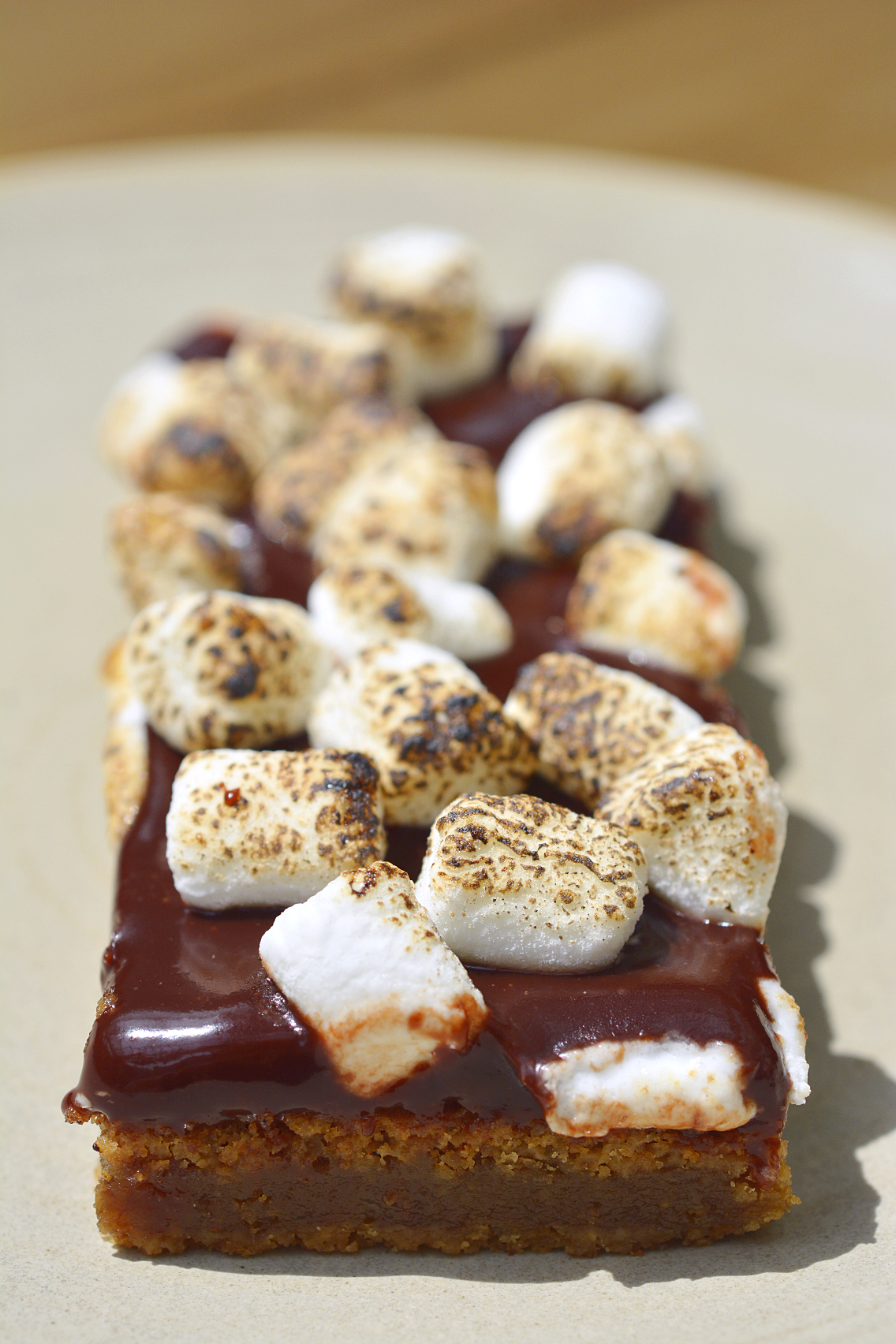 A rich bed of graham cracker doused in melted chocolate, sprinkled with little marshmallows and then TORCHED.
It's the flavors of summer camp all grown up!
If you're looking for a little spot full of California-inspired fare, bright sunshine, delicious cocktails and PLENTY of options to satisfy even the most intense sweet-tooth, then look no further than Summer House!
Disclosure: I received a complimentary meal to facilitate this post. Review and all opinions are my own.