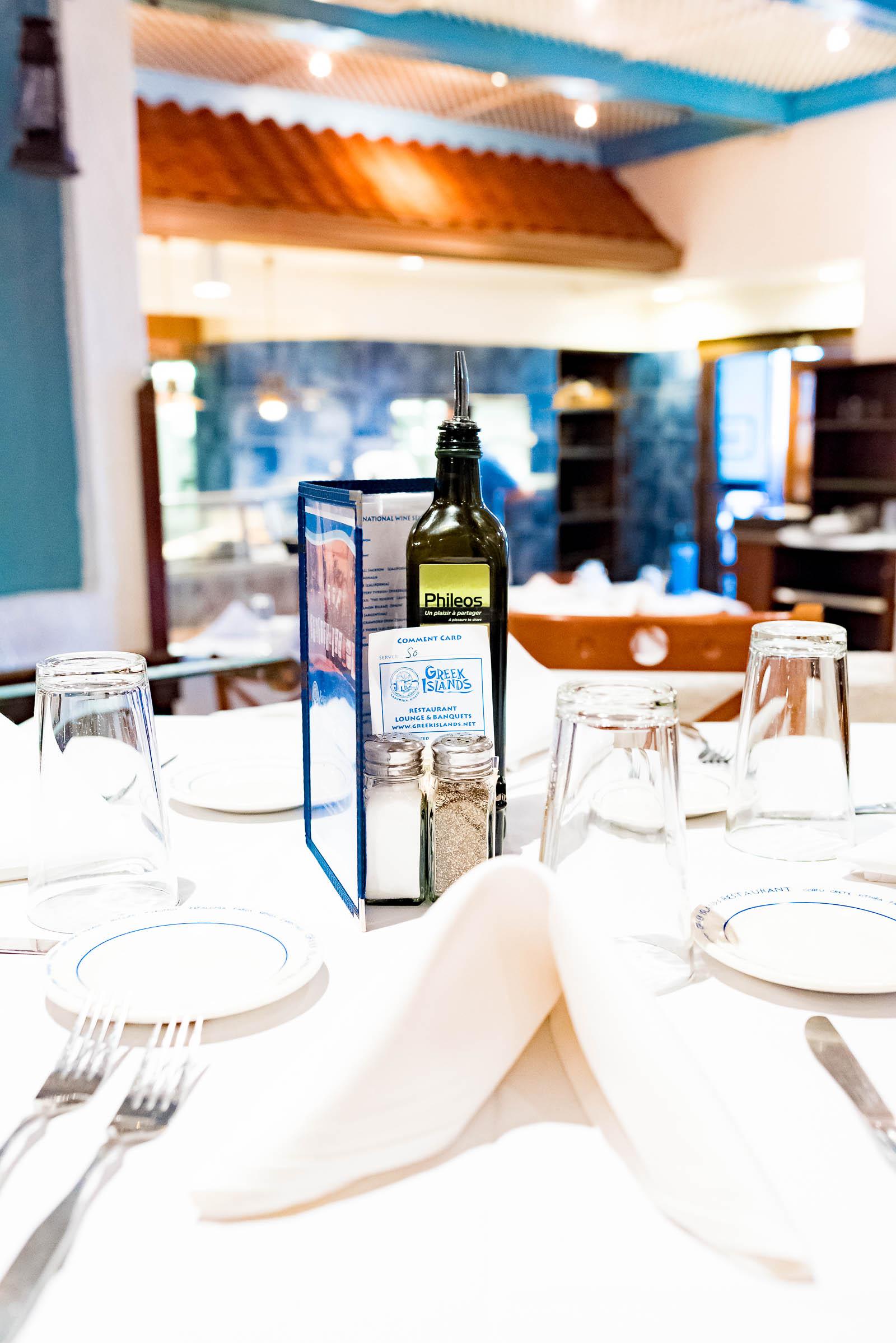 Most Chicagoans raised in the Windy City are brought up on a few key family-owned restaurants.
Everyone's family has their own favorites but family-run WAS Chicago's restaurant scene and almost every family has "their spot".
Some go to Twin Anchors for the Prohibition BBQ sauce.
Some go to Lou Malnati's for the deep dish pizzas (the one time of year native Chicagoans have them).
Some go to Italian Village to slurp minestrone in the dark, romantic interior.
But my family ALWAYS went to Greek Islands.
Chicago has long been known to have some of the best Greek food in the world outside of Greece. We have a large, thriving Greek population in Chicago (fun fact: my husband's family is Greek) and an entire section of the city devoted to Greek food (Greektown!).
And Greek Islands is the BEST restaurant in Greektown.
And one of my absolute favorites in all of Chicago.
And, after being a regular patron for almost 30 years now, I'm finally getting to share it with you today too!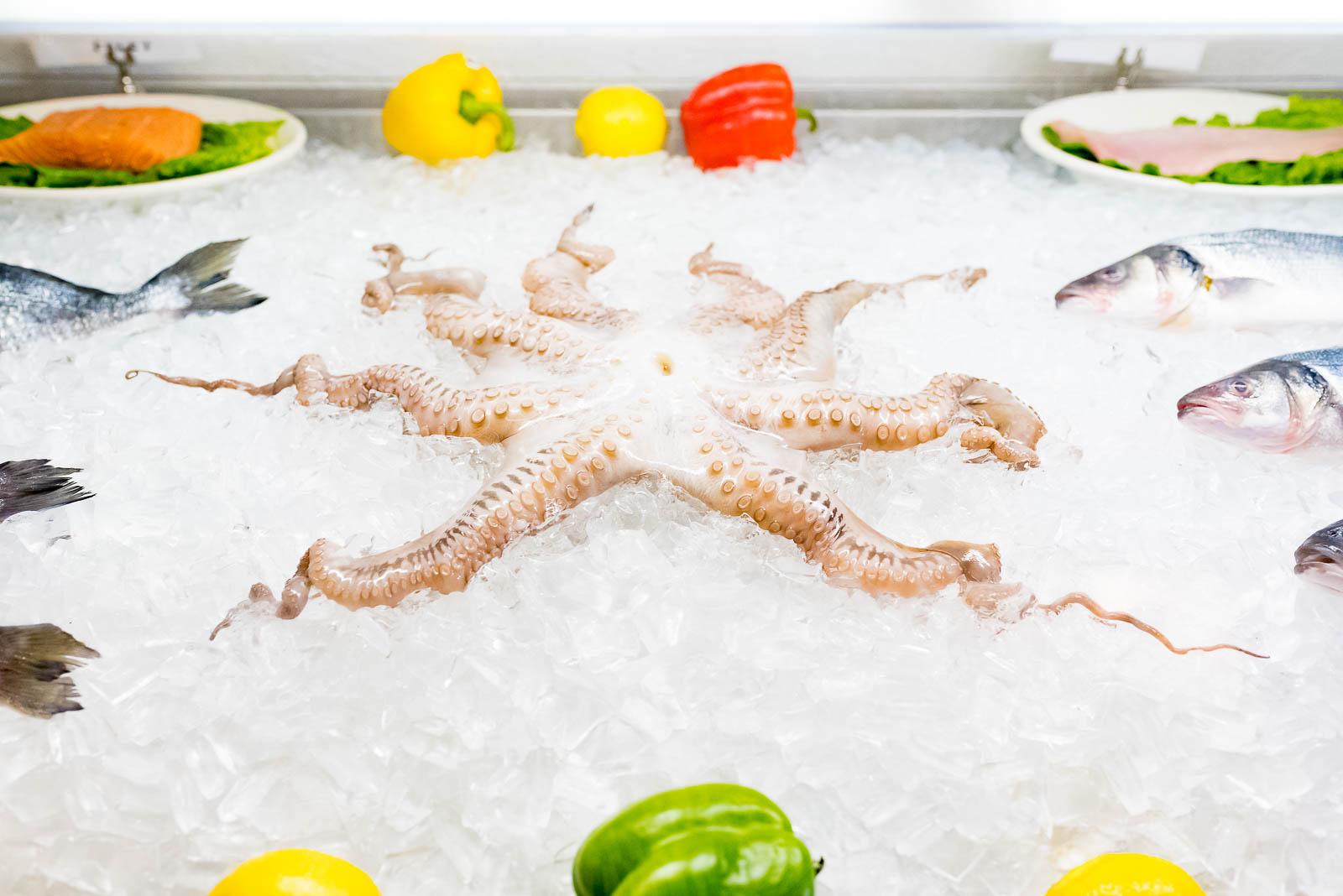 Greek Islands is certainly an homage to authentic Greek food (especially with their chilled display of fresh seafood greeting you right at the front desk).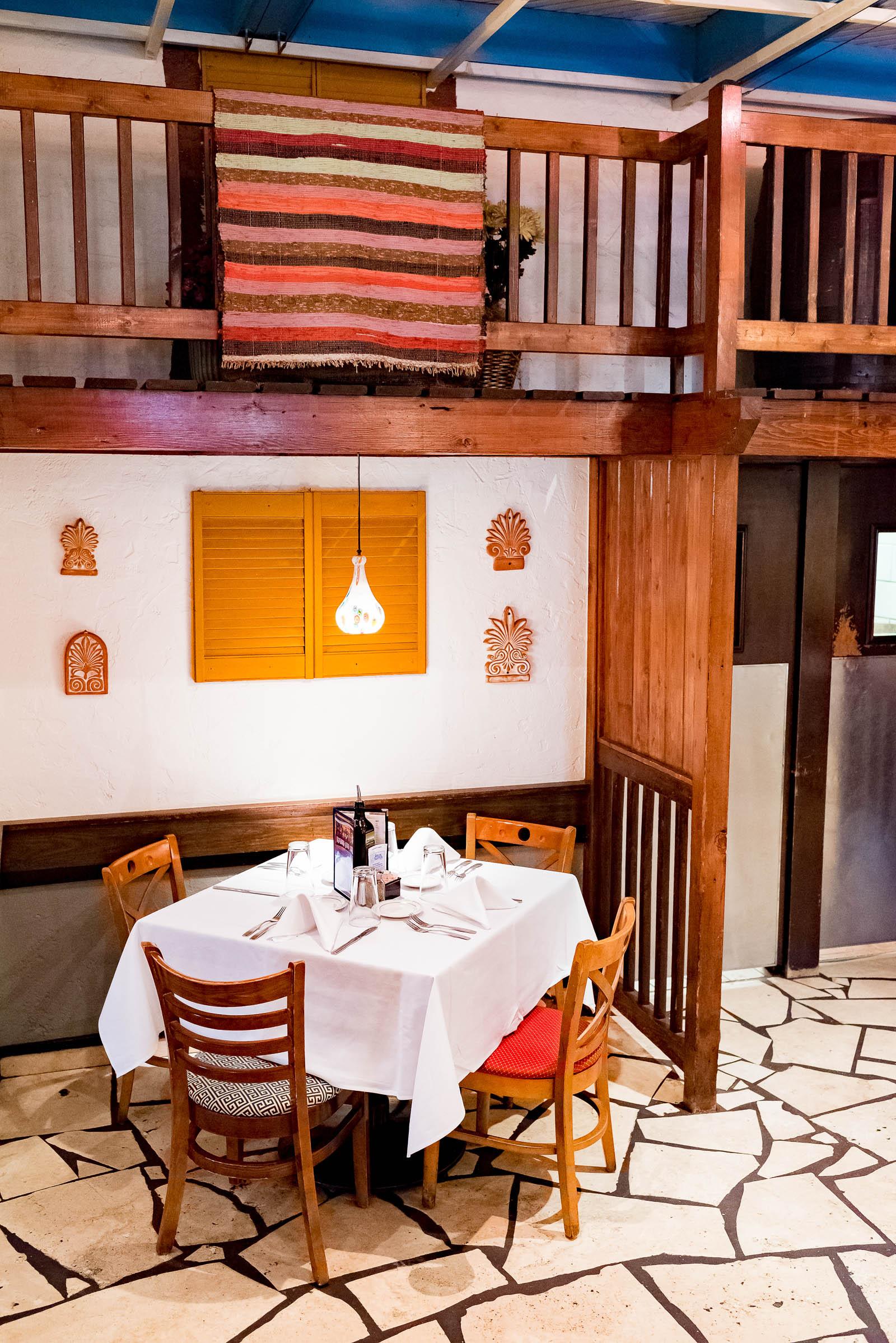 The restaurant itself is designed to FEEL like you're actually in the Greek Islands having dinner.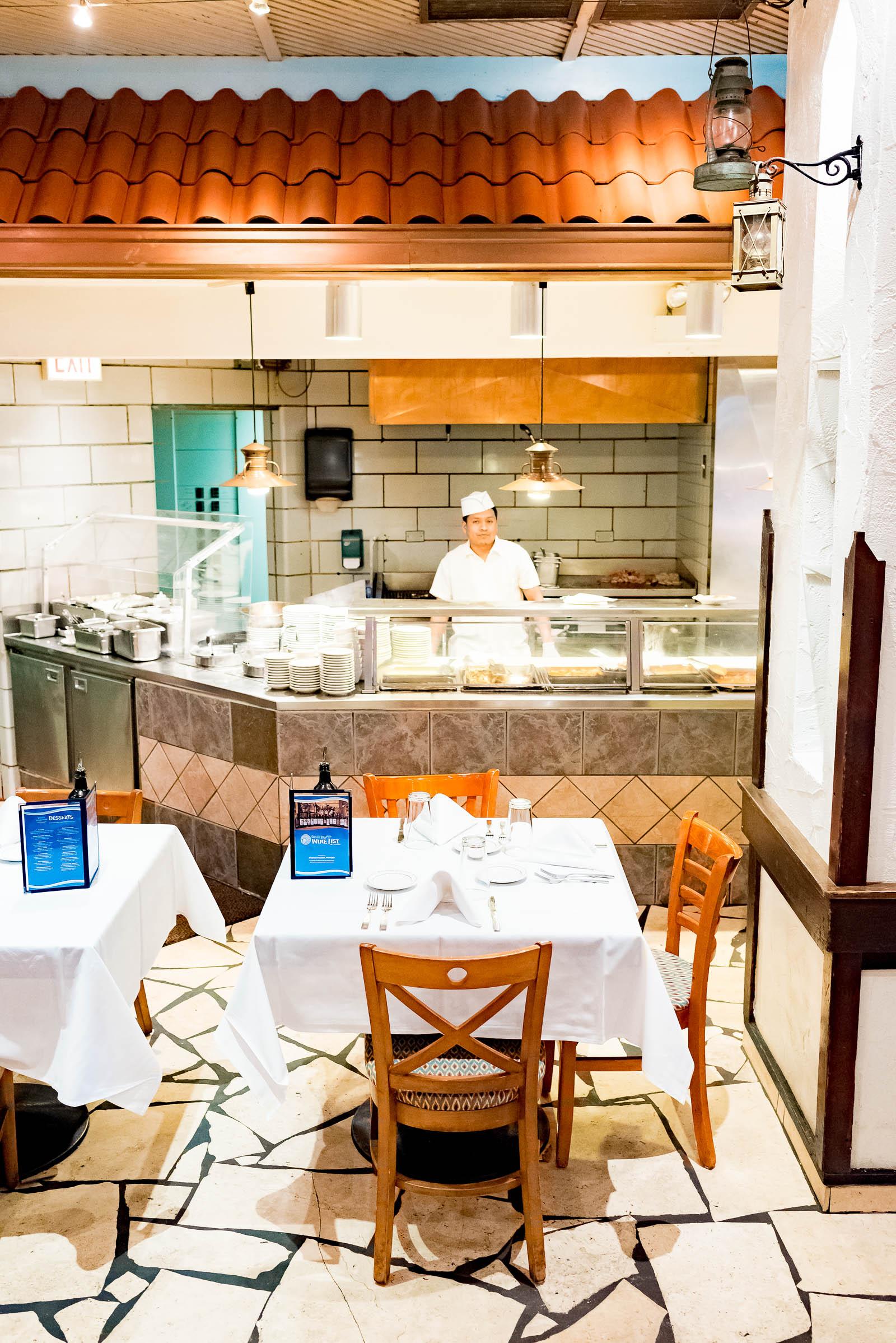 There are even village rooftops above the open kitchen area!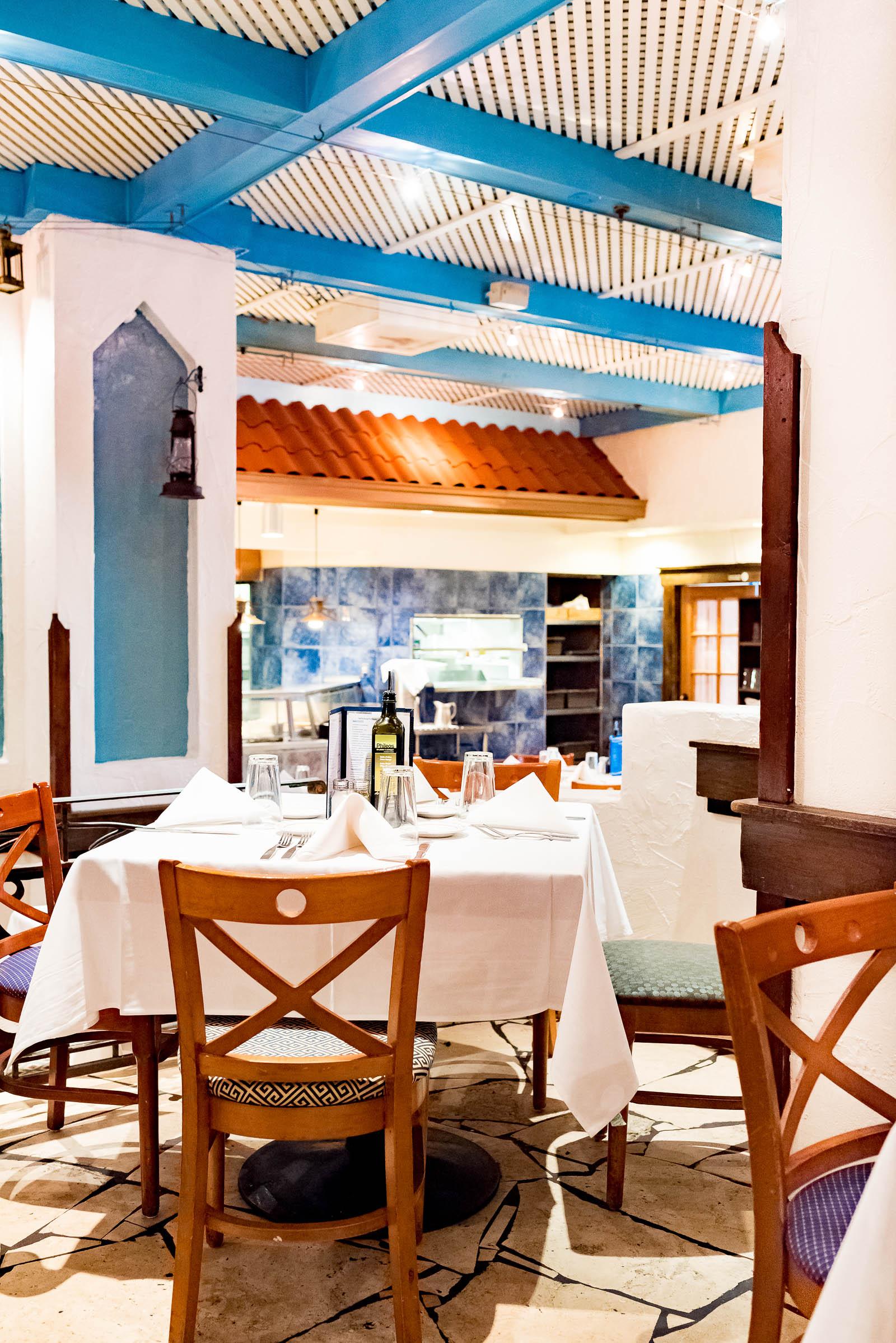 And a very Santorini-esque aesthetic of bright blues and whites.
There are several dining rooms you can eat in but I always love this bright white room just to the right from the host table.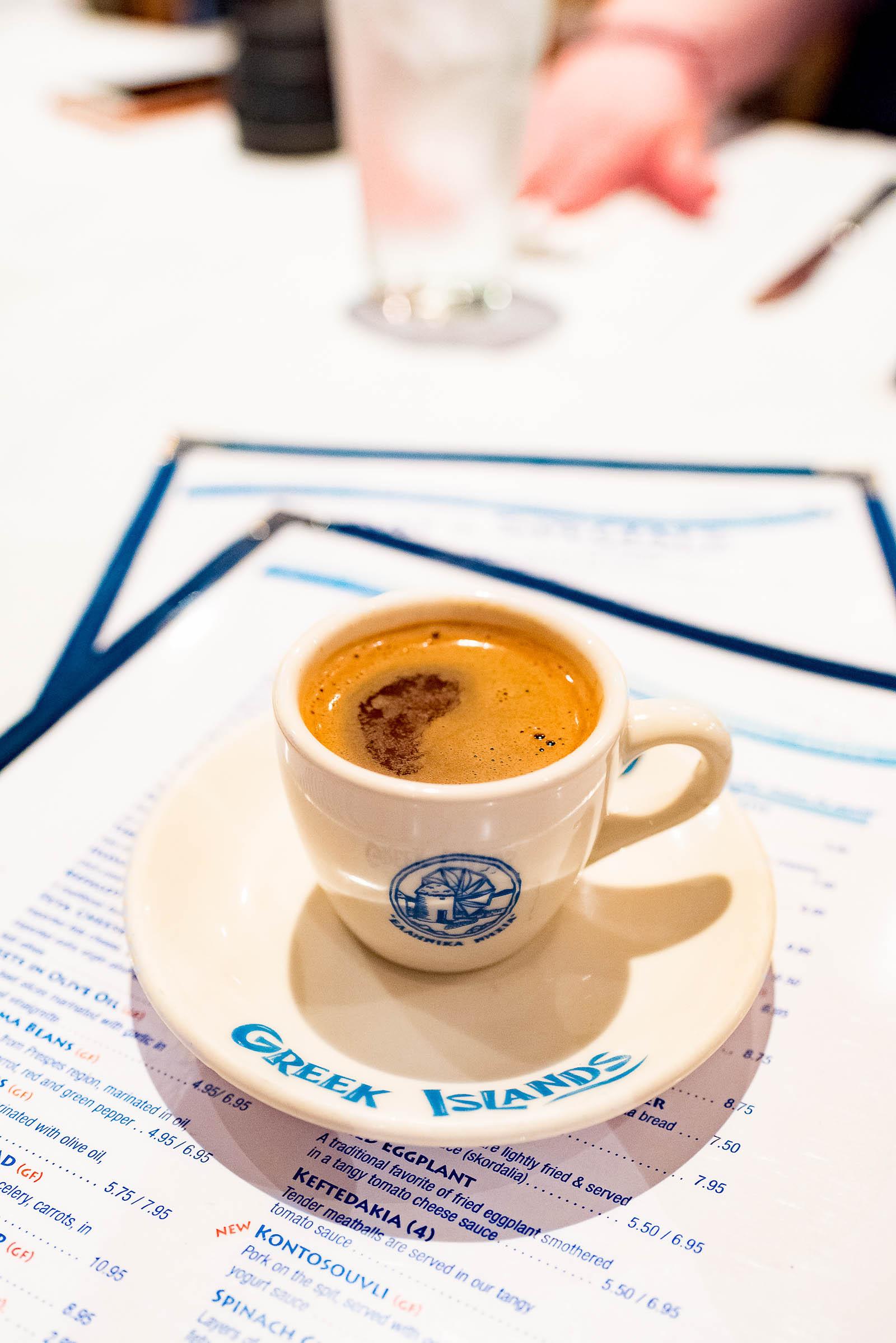 After sitting down the first thing you'll want to do is order drinks.
I always start with an order of Greek Coffee.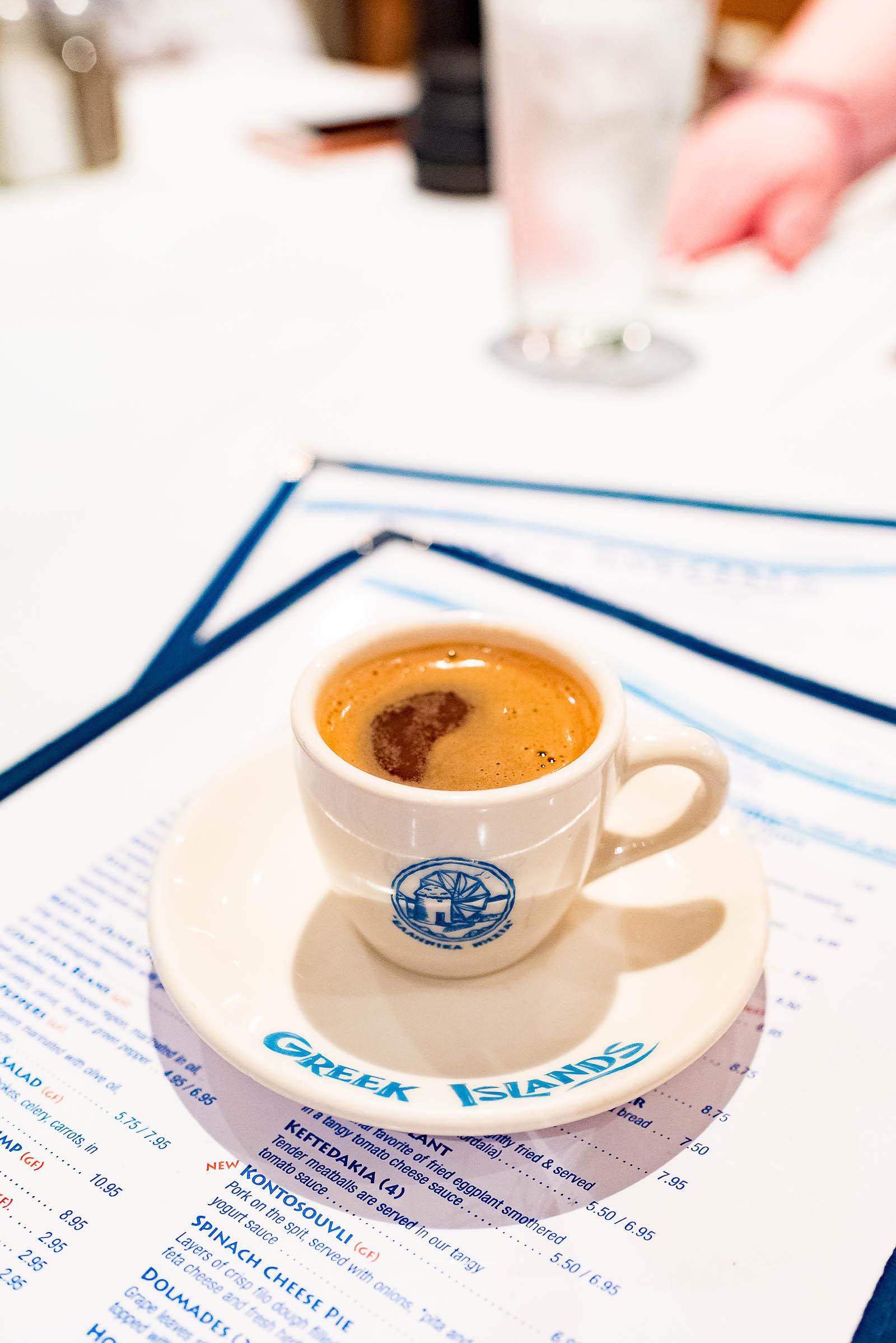 Essentially a VERY strong coffee, Greek Coffee is similar in size and flavor to an espresso. And is a positively delicious JOLT to start your meal with.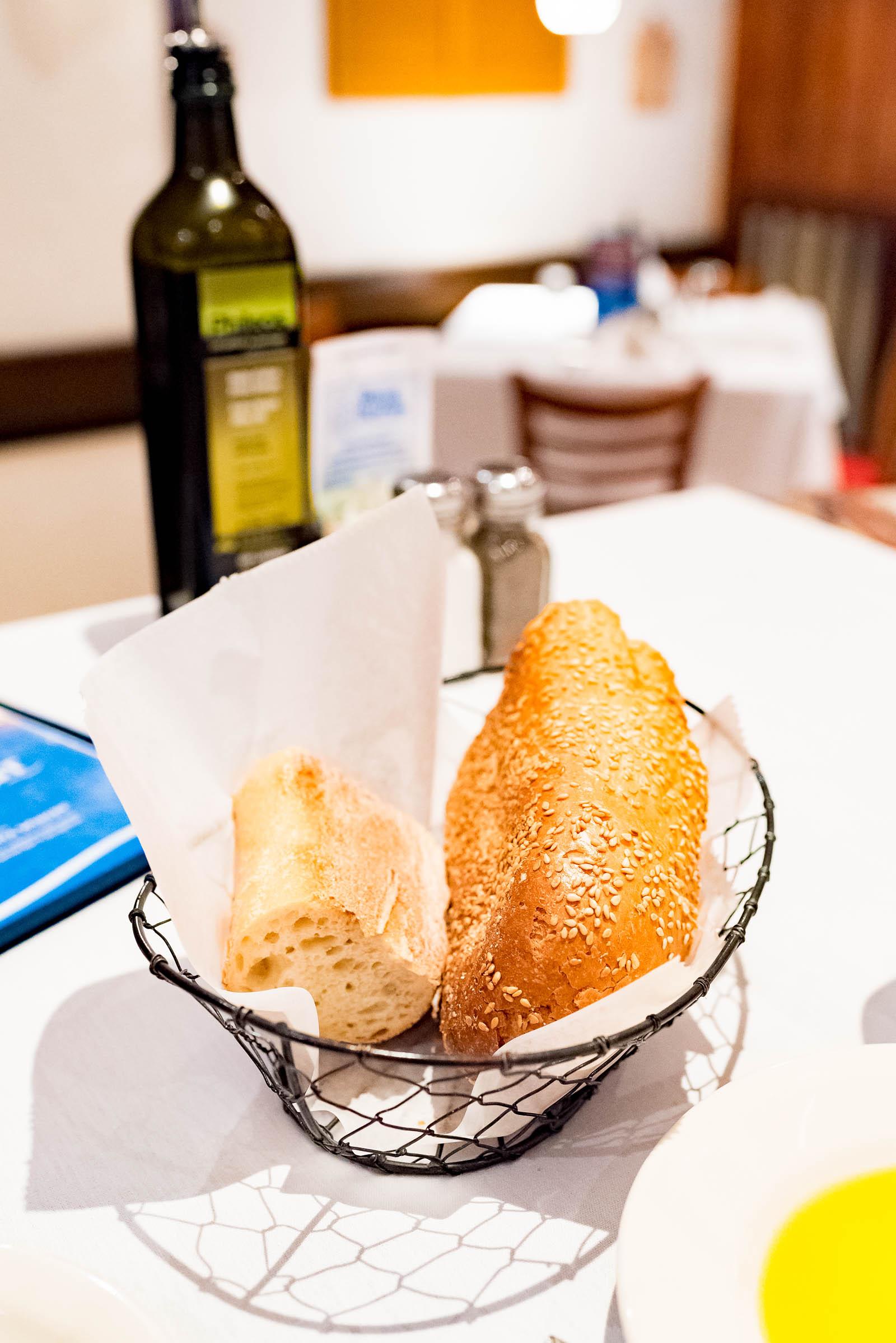 I also highly recommend always starting out by dipping some of their house bread in Greek olive oil while you peruse the menu.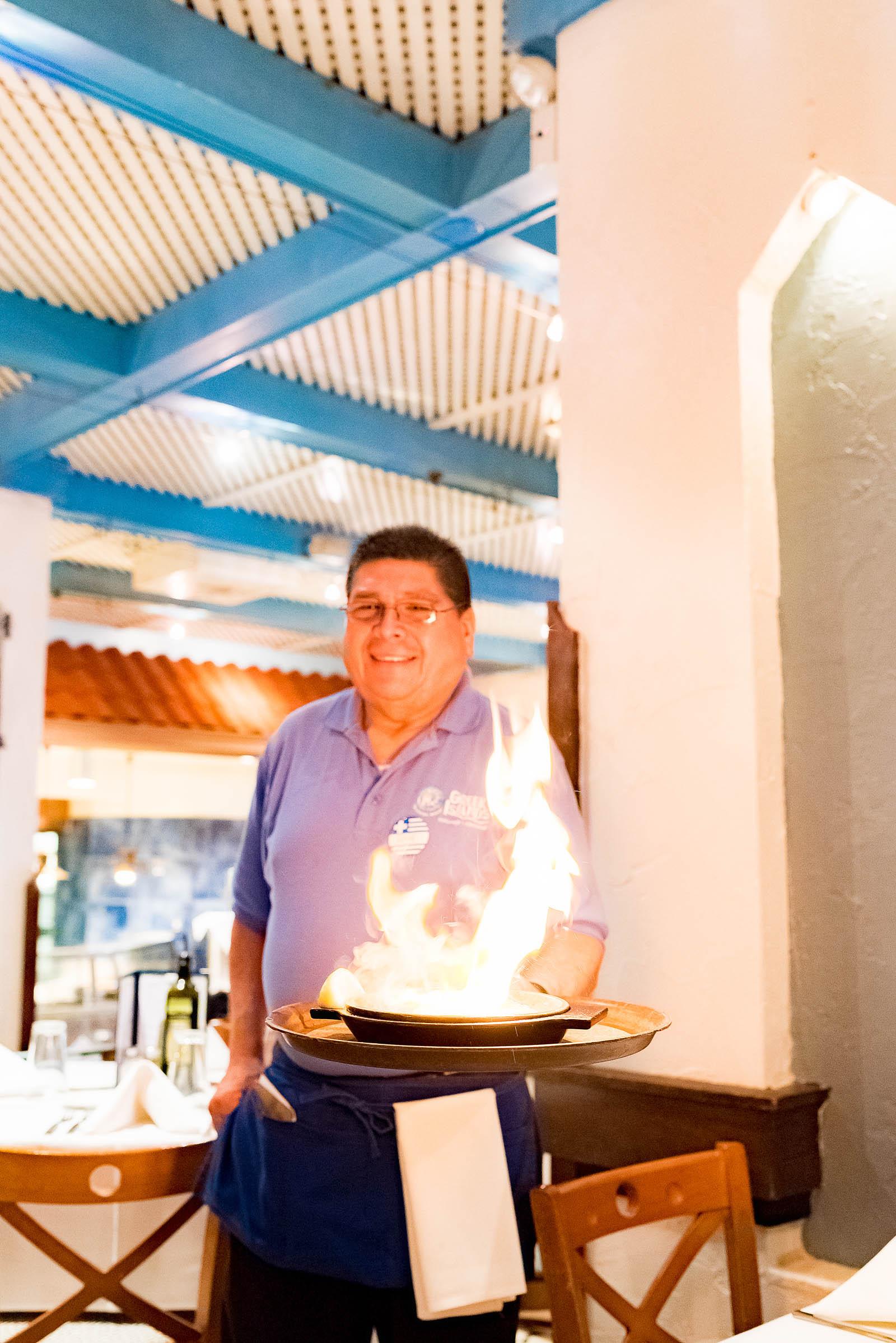 No matter what you're ordering for your meal, you MUST start out with the Saganaki appetizer. Unless hot, gooey cheese on a sizzle plate isn't your thing.
This is the dish Greek Islands is probably most know for and it's easy to see why.
As children my sister and I would BEG to come to Greek Islands for our birthdays every year just so we could have a flaming dish of saganaki.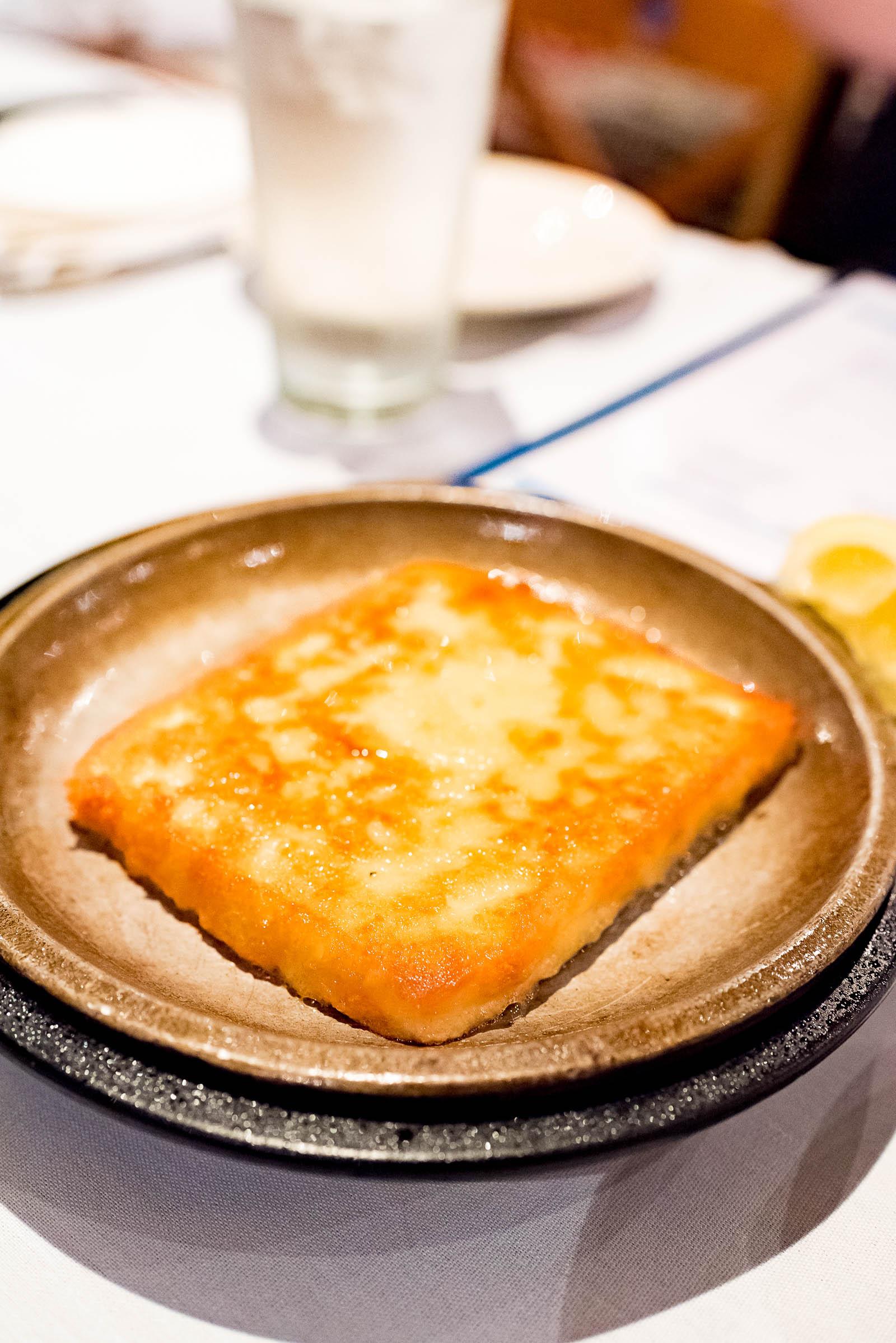 Essentially saganaki is a greek cheese flambeed tableside, served in a sizzle plate and meant to be consumed at record speed, a feat my sister and I never struggled with.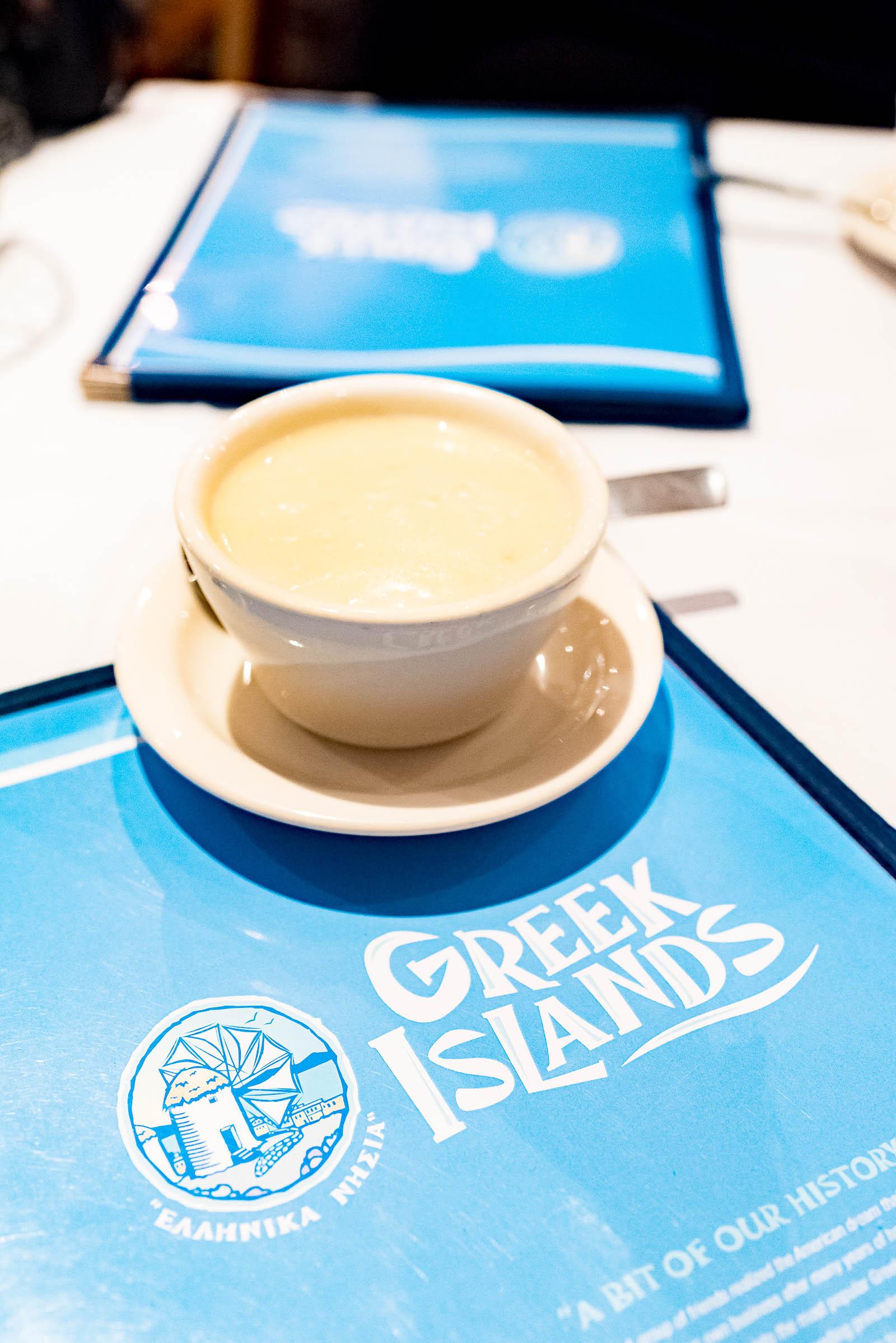 Another appetizer I almost always start my meal with is Avgolemono, an incredibly popular Greek soup of chicken mixed with rice in a creamy, lemon base. It's heavenly and especially warming during the cold winter months.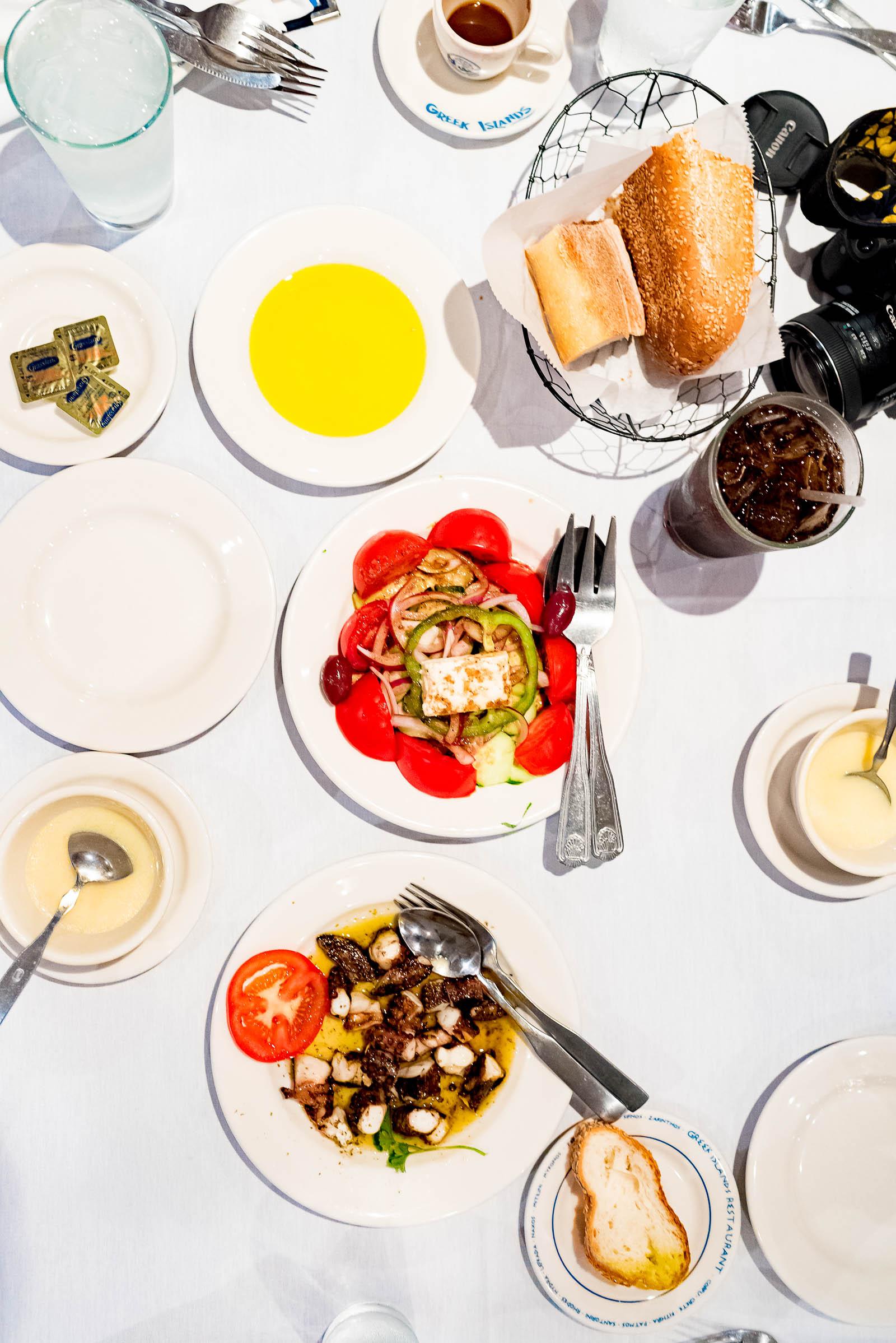 But there are an array of other delicious appetizers that shouldn't be overlooked either (can you tell I often come here and eat ONLY a meal of appetizers?).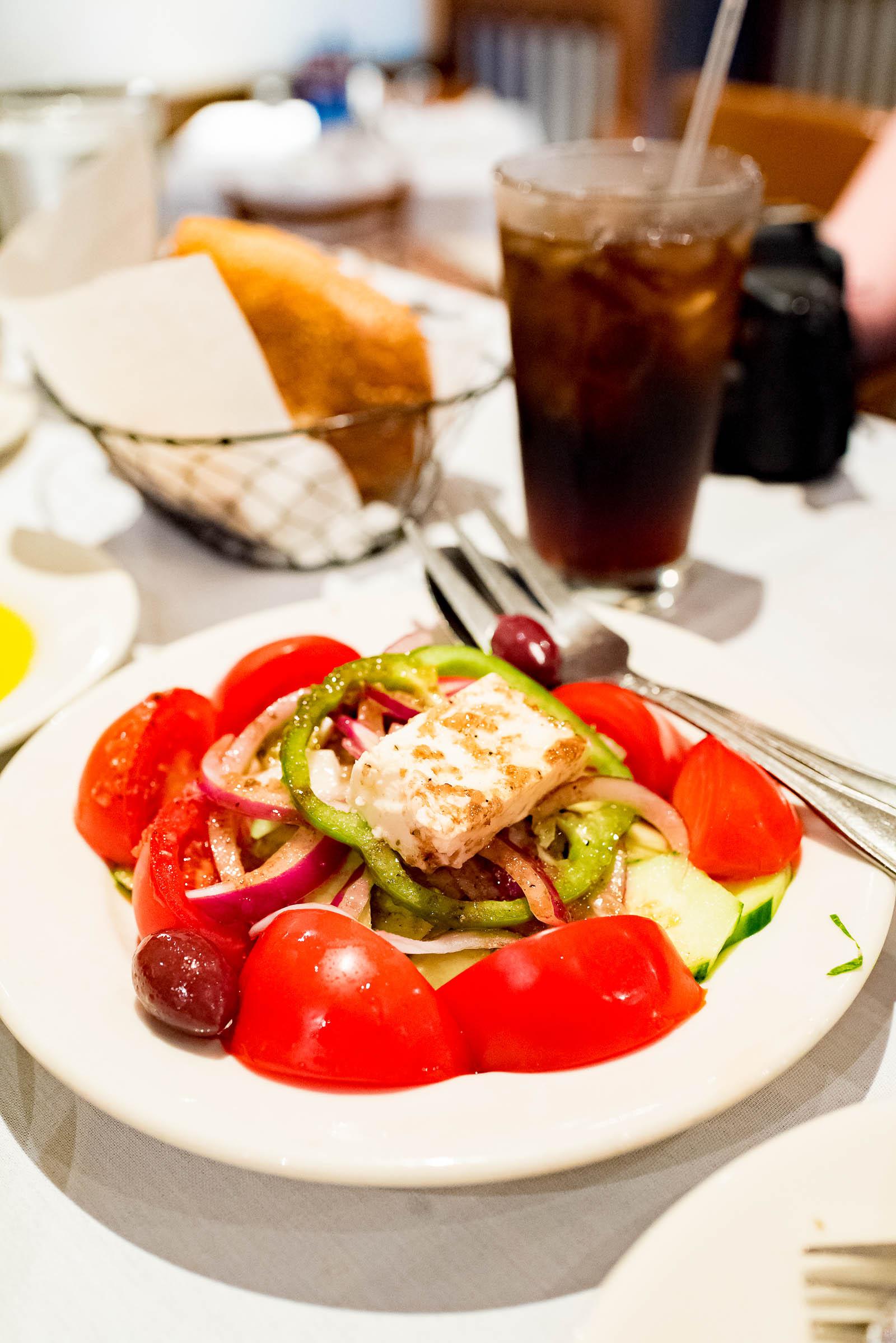 Like this beautiful Horiatiki "Village" Salad of tomatoes, onion, feta cheese, cucumbers, Greek olives, and peppers.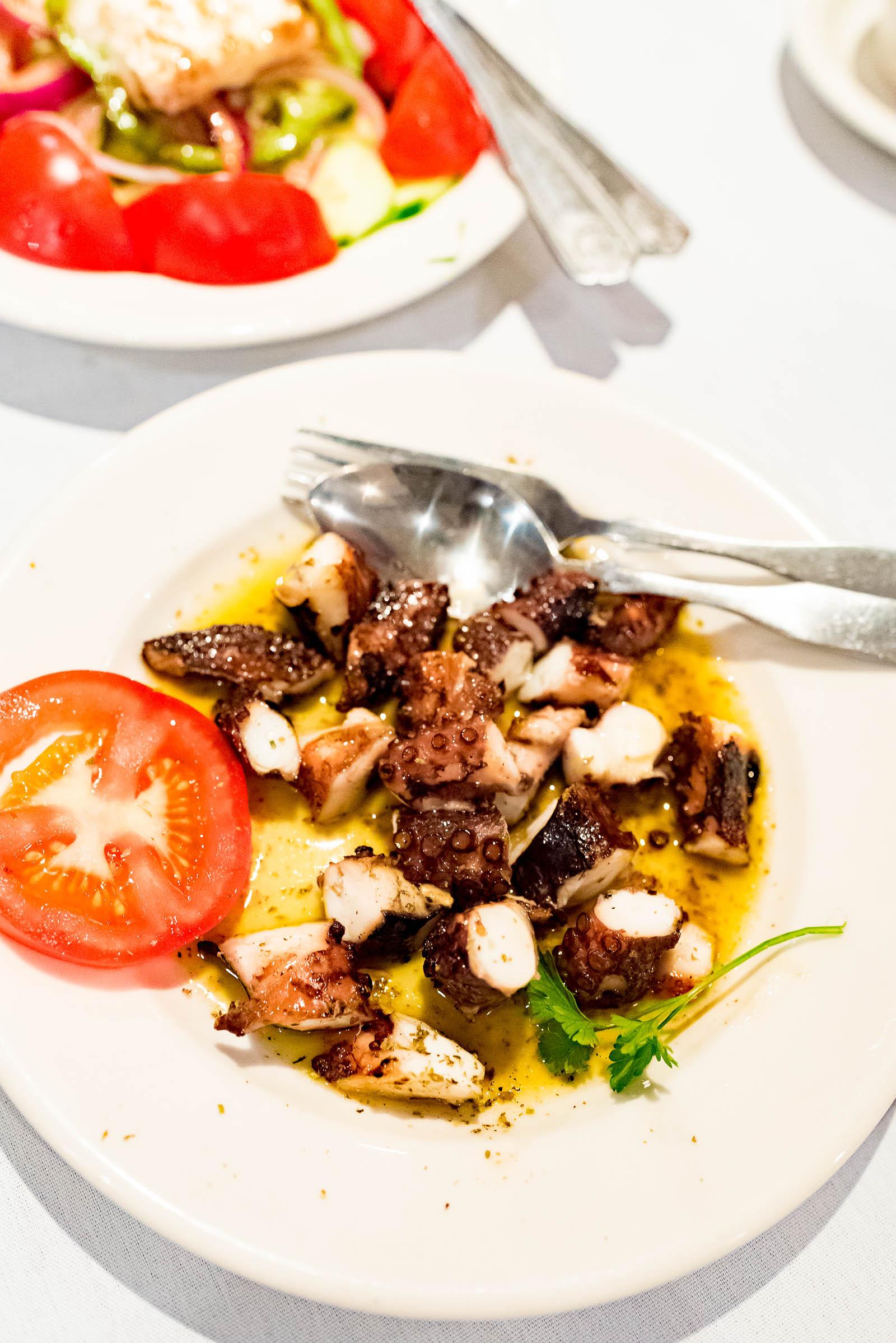 Or, my personal favorite and the appetizer I most frequently turn into an entrée, the Char-Broiled Octopus.
I'm not typically a HUGE fan of octopus but I'd embarrass myself if I admitted how many plates of this appetizer I've consumed in my lifetime. The olive oil lemon sauce just makes the grilled octopus sing.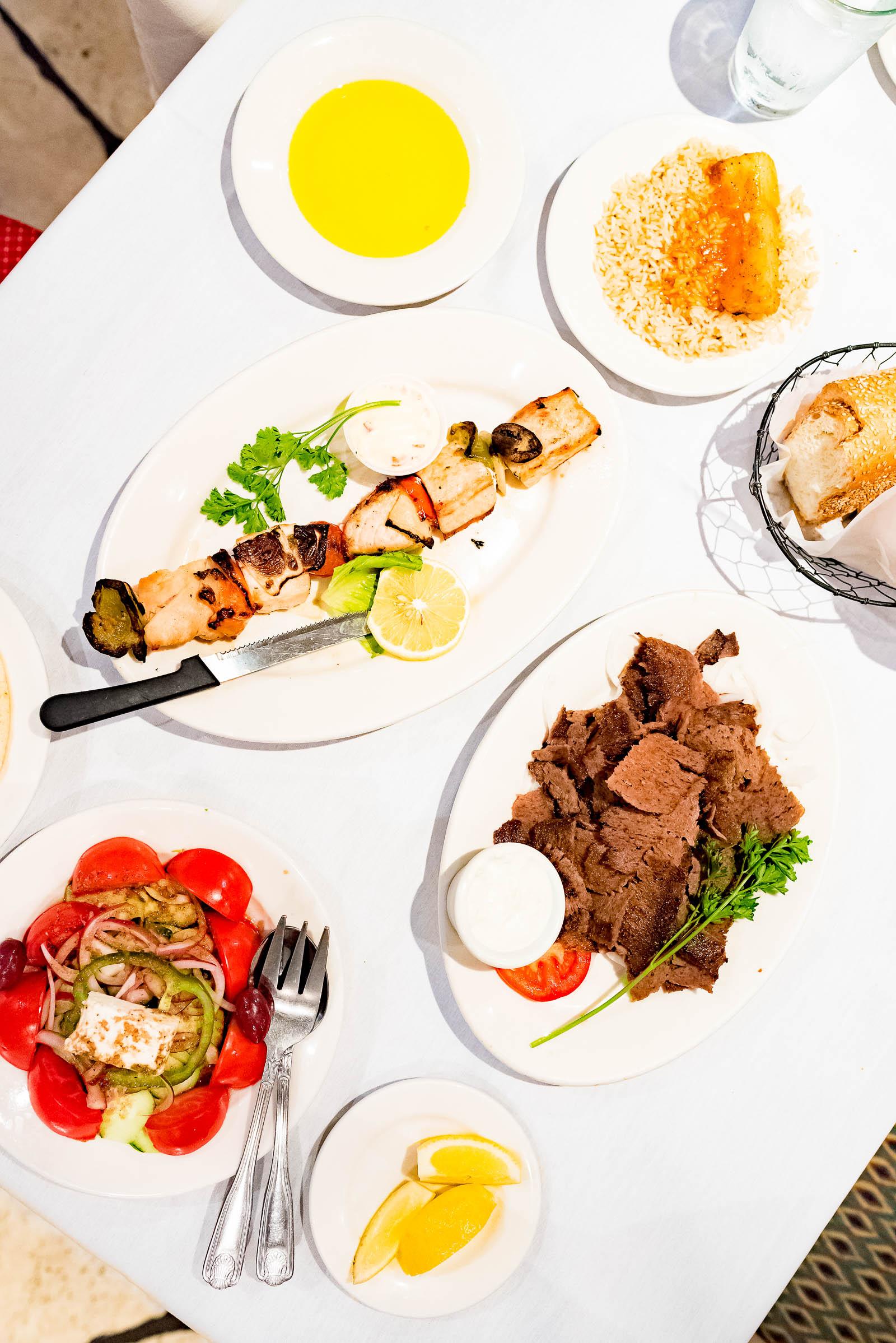 But as much as I love the appetizers, the entrées at Greek Islands are certainly worth ordering too.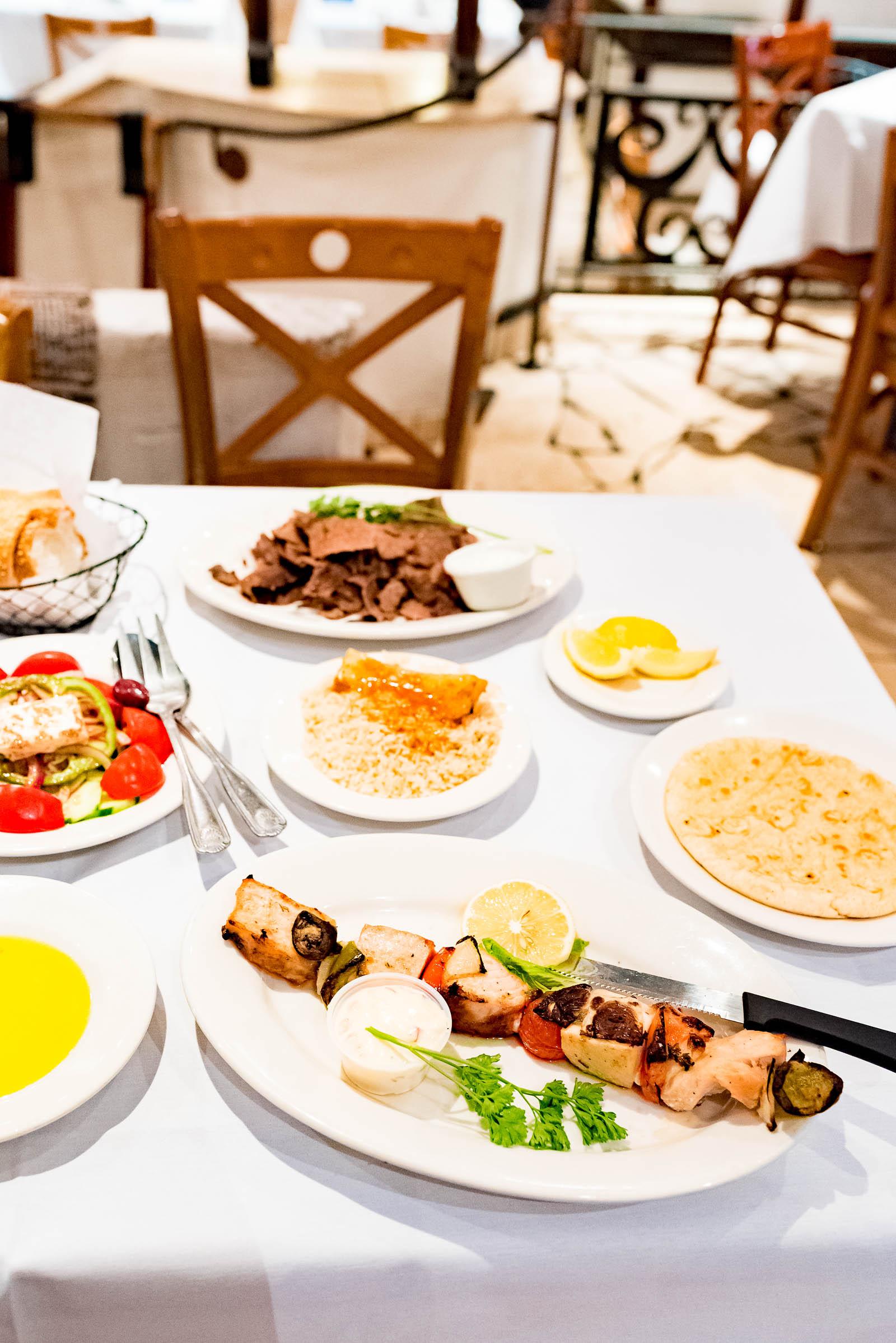 The Greek Island's menu is absolutely huge and ranges from traditional Greek dishes like Mousaka to kebabs of all varieties.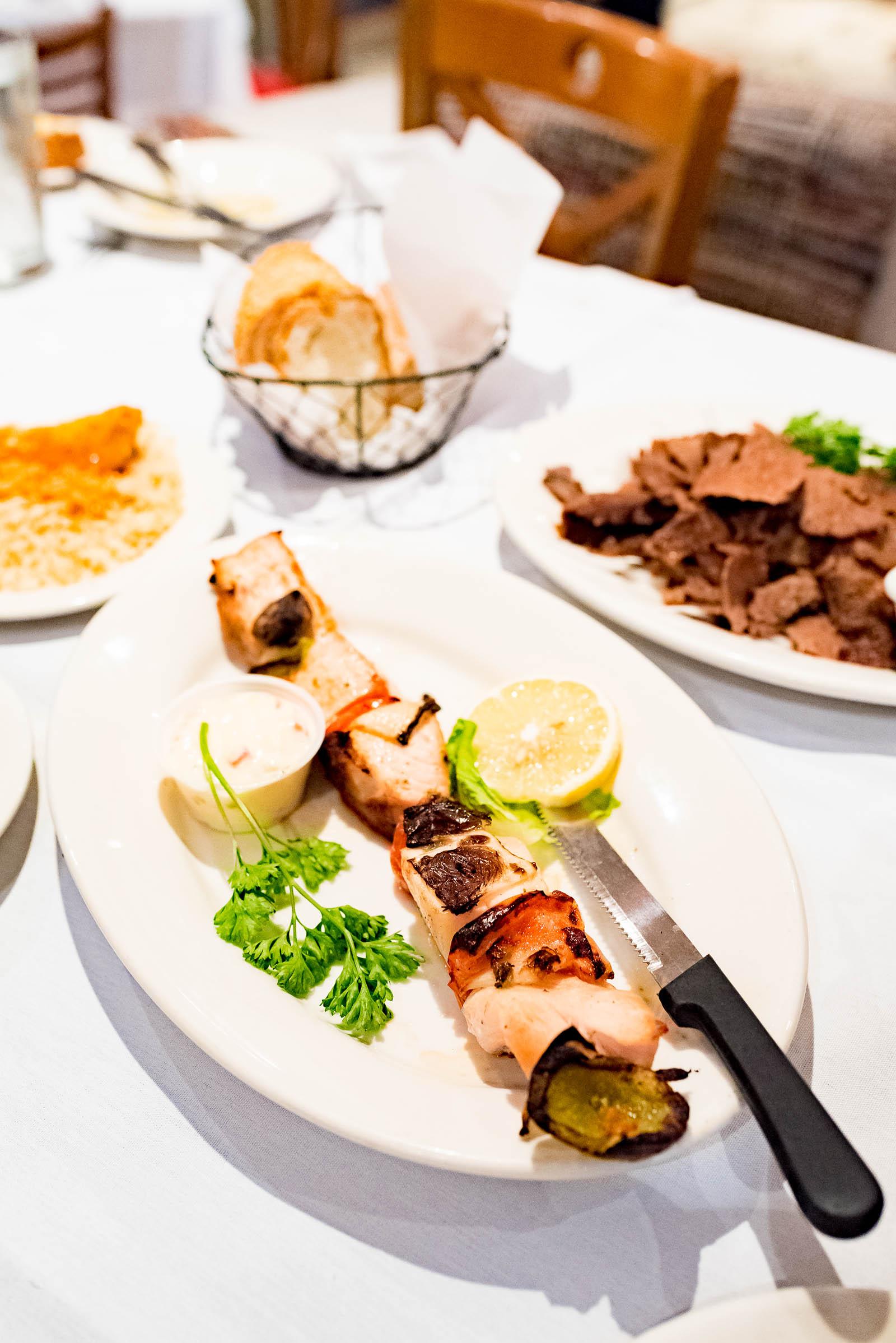 My favorite order, when it's available, is the Mahi Mahi Kebabs which are grilled beautifully,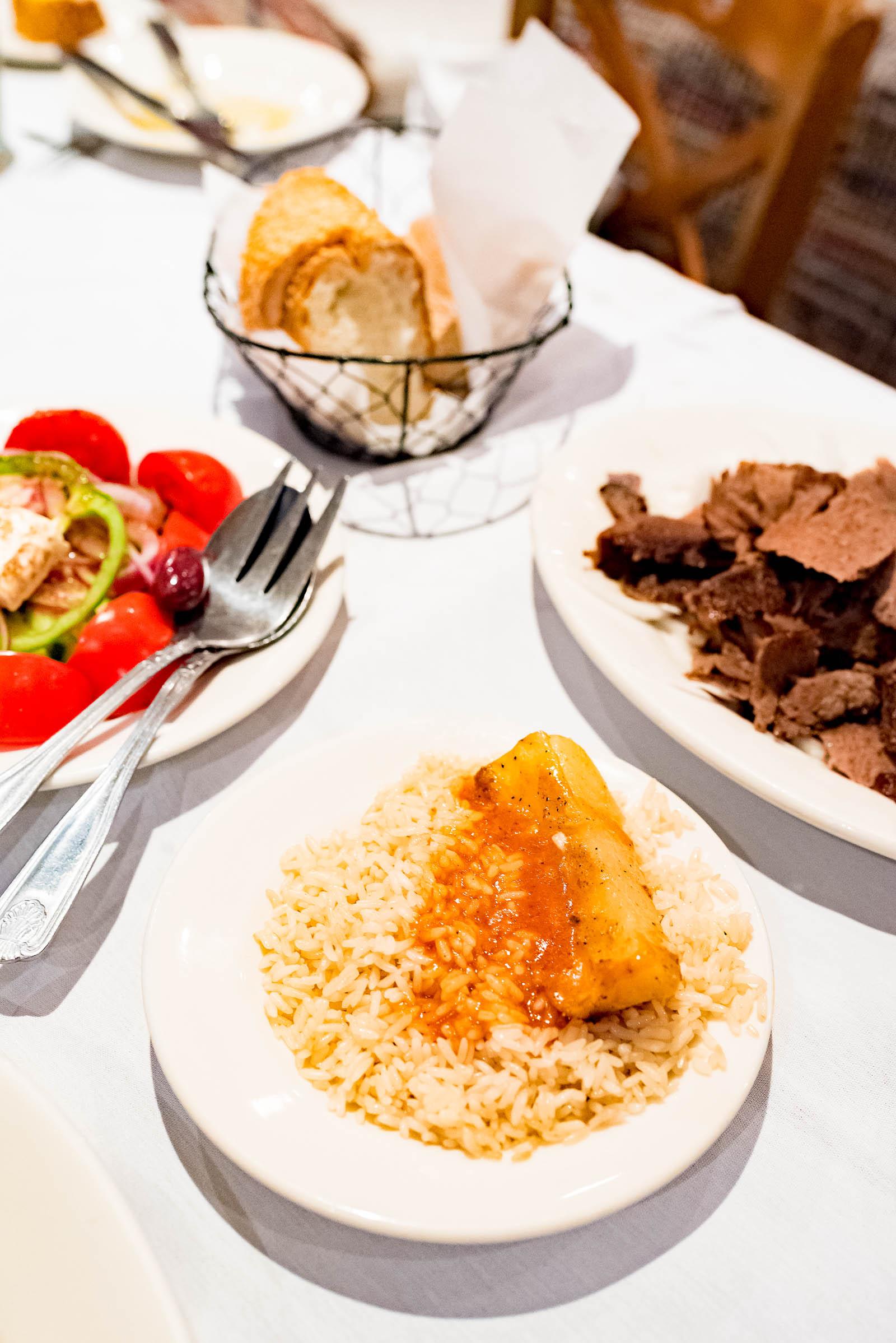 and served with a side of rice and potatoes.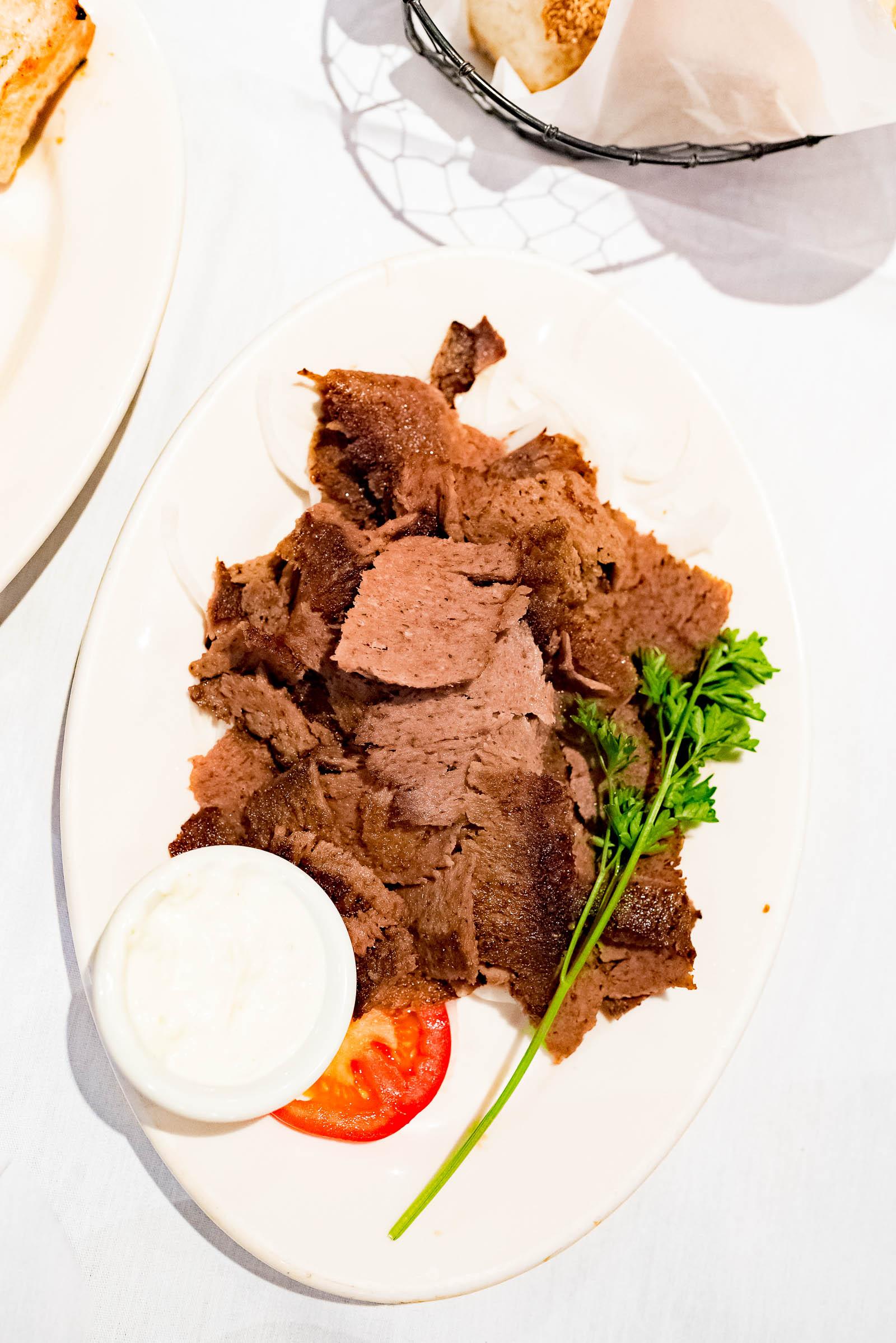 One of their most popular entrées though has to be their Housemade Gyros.
Slices of ground beef and lamb are seasoned with herb and spices and slow roasted in the traditional Greek fashion.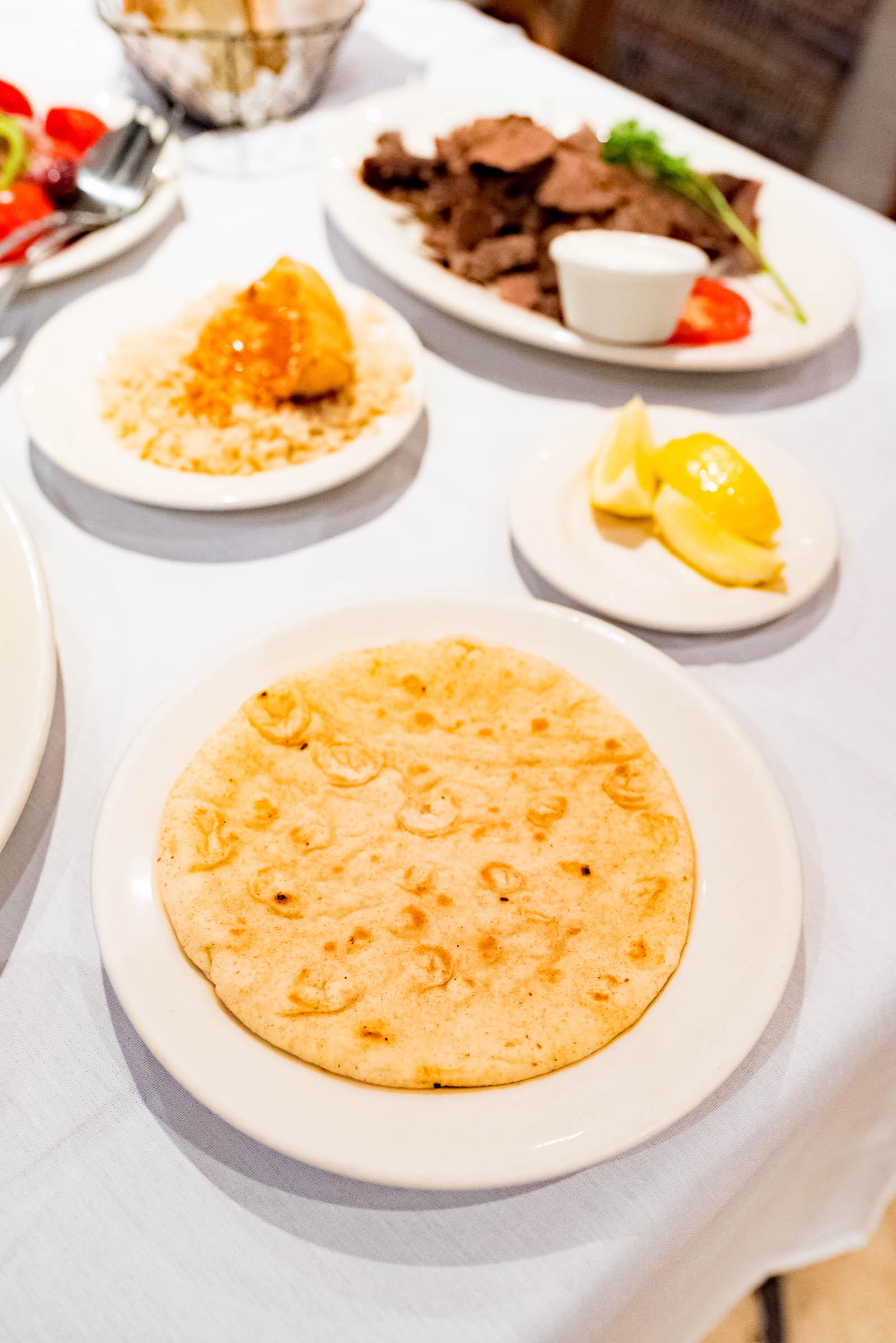 And served with a fresh pita on the side.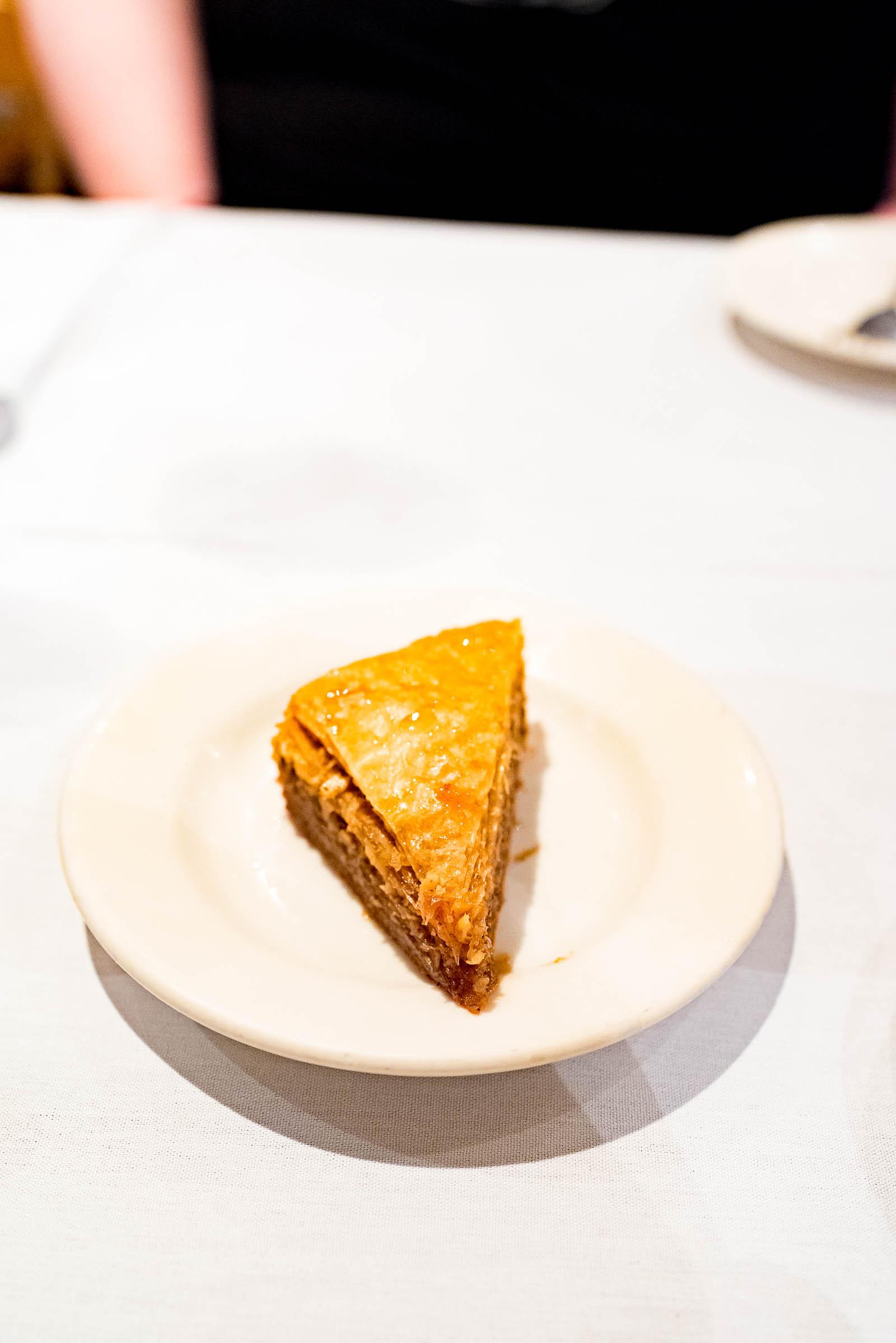 If you can manage to save room for dessert, the Greek Island's baklava is as delicious as it is flaky.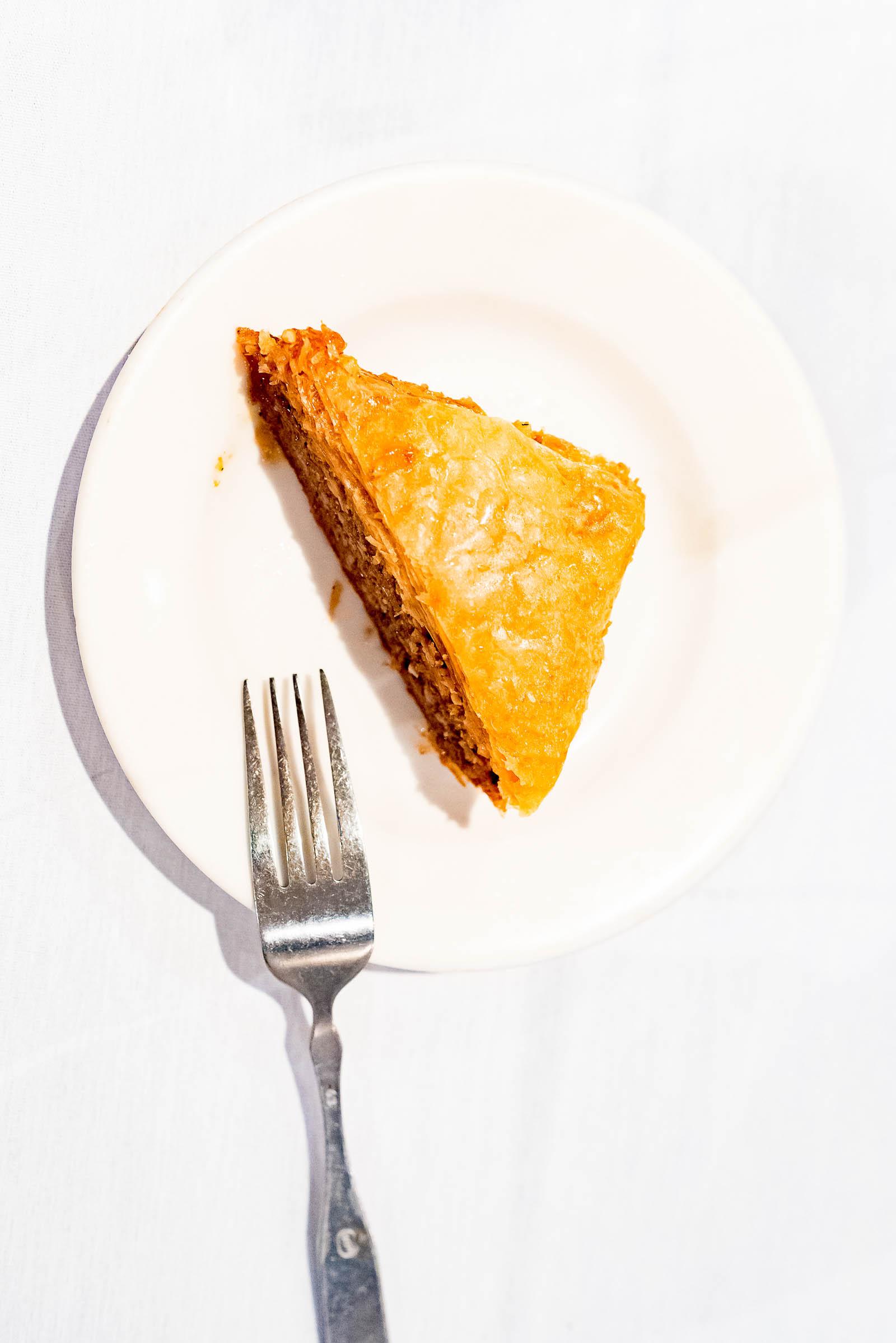 And the syrupy goodness is always my favorite way to end a meal at Greek Islands.
For decades now my family has patronized Greek Islands, going there for all sorts of life celebrations like birthdays and graduations. It's one of our absolute favorite spots and the one we can always agree on when it comes to where we go for dinner.
I may be getting sentimental, but it'll always be — to me — one of the best meals you can get in all of Chicago.
Disclosure: I received a complimentary meal to facilitate this post. Review and all opinions are ALWAYS my own.