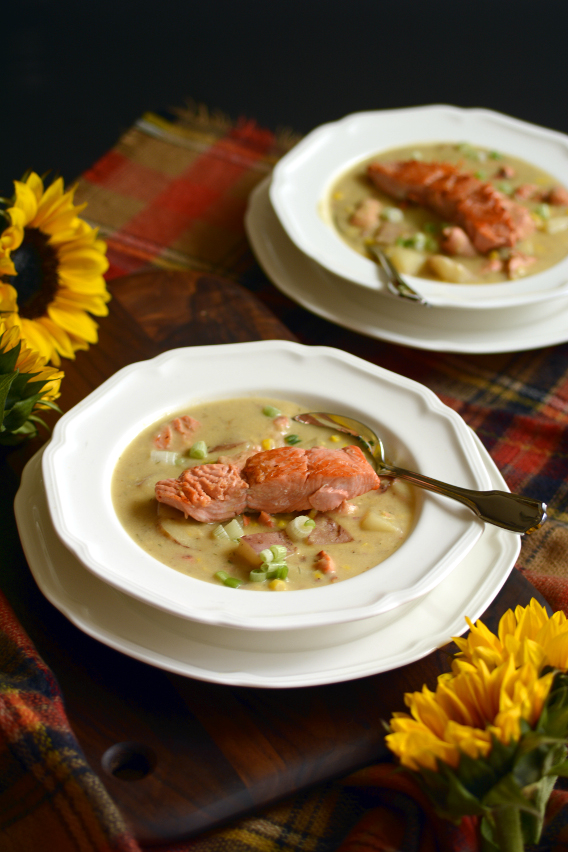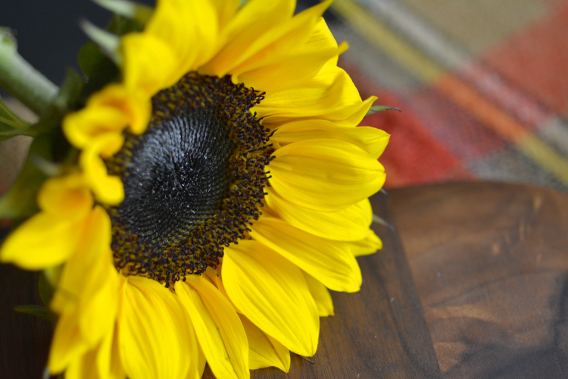 I promised to share a recipe for Salmon Chowder after falling madly and deeply in love with it on our trip to Alaska and I am finally making good on my claim today!
Salmon Chowder — a type of hearty stew, nearly identical to clam chowder but made with pan-fried salmon instead — is the absolute perfect autumn soup. The gorgeous buttery salmon flavor is complimented with a creamy potato & corn base that feels like it was just made for a blustery day (of which they have MANY in Alaska).
Traditionally salmon chowder does not include corn but this recipe takes advantage of all the abundant ears available here in the Midwest in autumn (hence the name). I recommend that you try to use the freshest ingredients possible to truly capture the flavor of fall.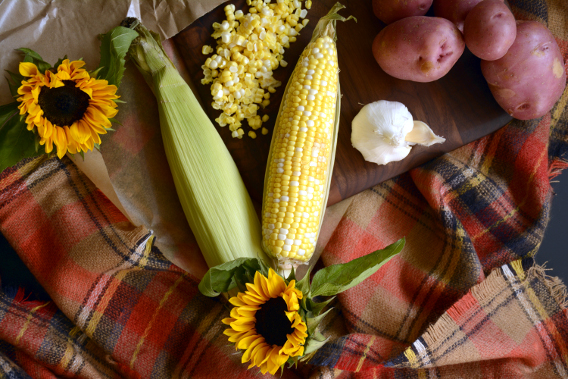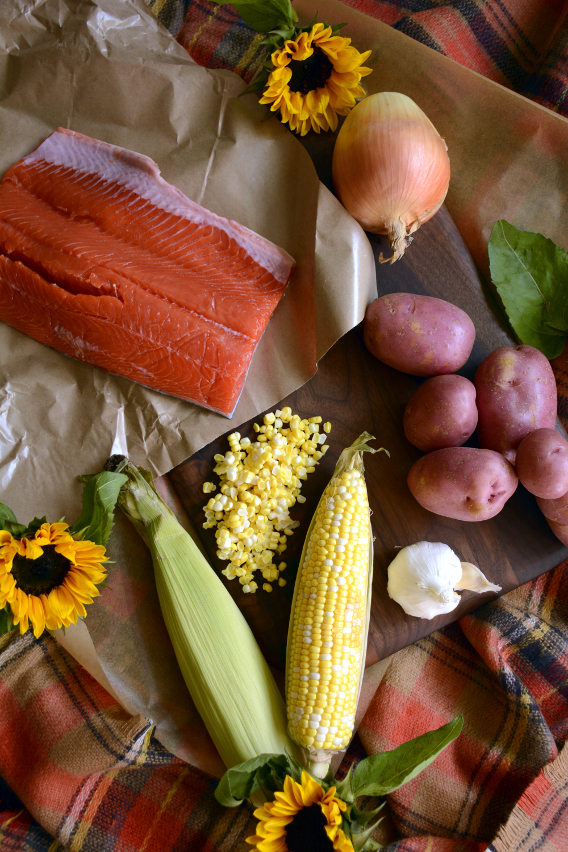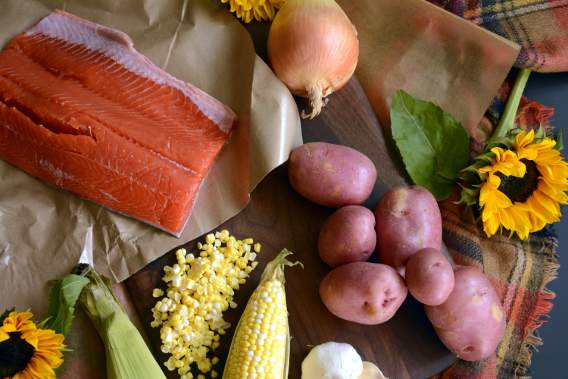 Autumn Salmon Chowder
(Adapted from this brilliant recipe). Makes 6-8 servings.
2 Pounds Wild Salmon Fillets (skinned)
6 Cups Stock of Choice*
2 Pounds Red Potatoes, Diced**
4 Cups Fresh Corn Kernels (roughly 8 Ears)
1 Cup Half-and-Half
2 Tbsp Unsalted Butter
2 Tbsp Olive Oil
2 Garlic Cloves, Diced Finely
1/2 Small Onion, Diced
3 Tbsp Fresh Dill, Chopped
Thin-Sliced Scallions (for garnish)
Salt & Pepper
Over medium-high heat, warm the olive oil in a large stockpot or dutch oven (I used this). Add the garlic and sauté until fragrant, about one minute. Add onions and continue sautéing for a few minutes until they have softened. Turn the heat up to high and add your stock. Once the stock is simmering vigorously, turn the heat back down to medium and add your potatoes. Partially cover and allow to simmer until the potatoes are cooked through, about 15 minutes.
While your potatoes are cooking, grab your salmon fillet and skin it (if required). Be vigilant about pulling out any bones! Then dice up the salmon into 1-inch chunks, reserving a few slender fillets for presentation later (cut as many fillets as guests you are serving, one per person). Melt the butter in a large saucepan over medium heat. Once your pan is hot (hold your hand over it and it should feel nice and toasty), add your diced salmon and sauté until the outside turns opaque and slightly golden. You may need to do this in batches, depending on the size of your saucepan. Drain and remove cooked salmon and set aside (I set mine in a bowl lined with paper towels) then repeat the process by adding more butter to the pan (if necessary) and frying the salmon fillets. Drain and set aside. When working with fish, use a slotted spatula or fish spatula like this for easier handling.
In a blender (I used my Magic Bullet) purée one cup of corn kernels with the half-and-half and some of the cooked potatoes from your stock pot. Blend until smooth and thick, adding more potatoes if necessary. Add the purée mixture to the stockpot along with the rest of the corn kernels and bring to a slight simmer again. Gently simmer for a few more minutes then add the chopped dill and salmon chunks (reserve the sautéed fillets for serving). Season to taste with salt and pepper and allow the ingredients to simmer for an additional 2 minutes until the salmon is completely cooked through.
To serve, ladle chowder into individual bowls. Sprinkle with scallions or other garnish of choice (bacon also works well) and sea salt flakes. Then carefully place a single salmon fillet in the center of each bowl of chowder. Serve hot.
Serve with crusty bread, if desired. Leftovers will keep in a refrigerated air-tight container for about a week.
*Use your favorite stock. H and I love mushroom stock so that's what I used in this recipe. It may sound like a bizarre choice for salmon chowder but the meaty-mushroom flavor from the broth complimented the rich, buttery salmon perfectly. Vegetable, chicken and seafood stocks would all work wonderfully too.
**Yukon Gold Potatoes can also be used, as in the original recipe.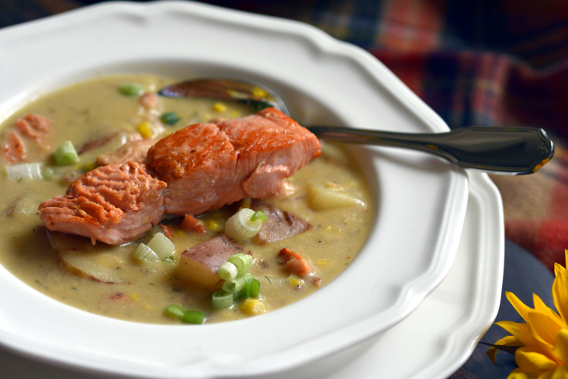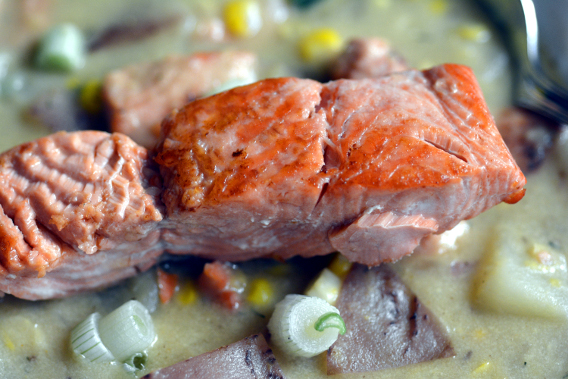 Don't you just want to lick the screen? I really can't get over how addicted I am to this recipe!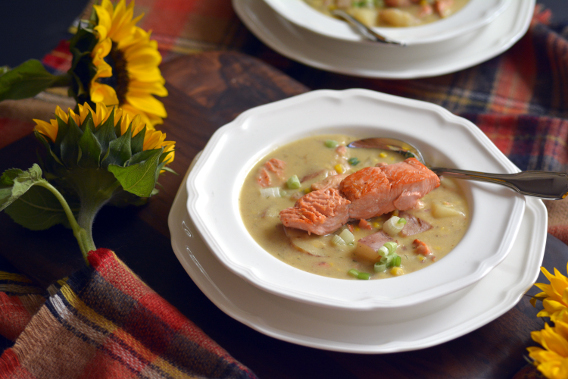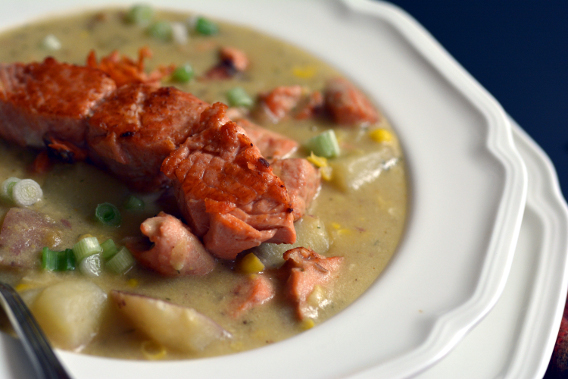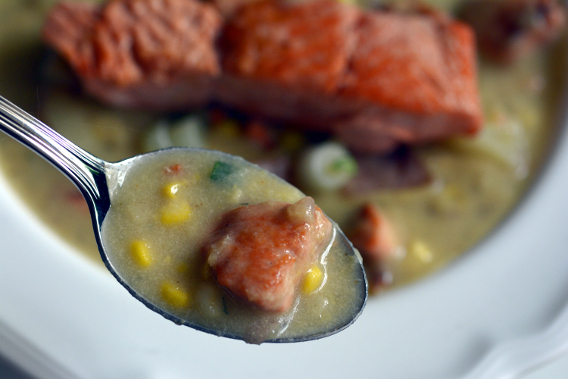 Be sure to tag your salmon chowder photos with #sedbona!