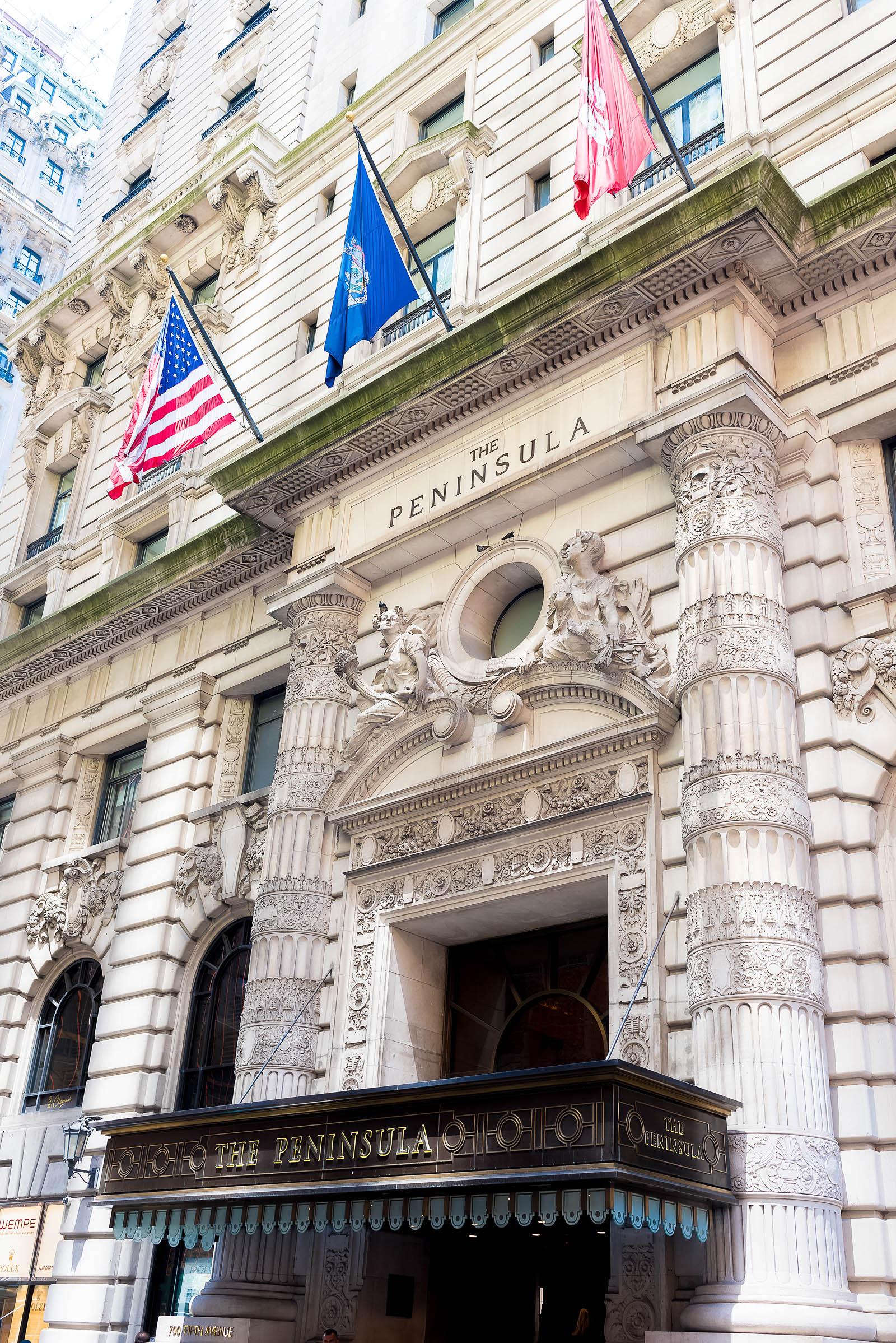 Most of you know by now how much I adore the Peninsula Hotel in Chicago. It's long been a family tradition of mine to do afternoon tea at the Peninsula's Lobby at Christmas and other important events throughout the year.
So when I found myself in NYC last month with three close girlfriends, I couldn't resist the opportunity to try afternoon tea at the Peninsula NYC. For investigative purposes, obviously.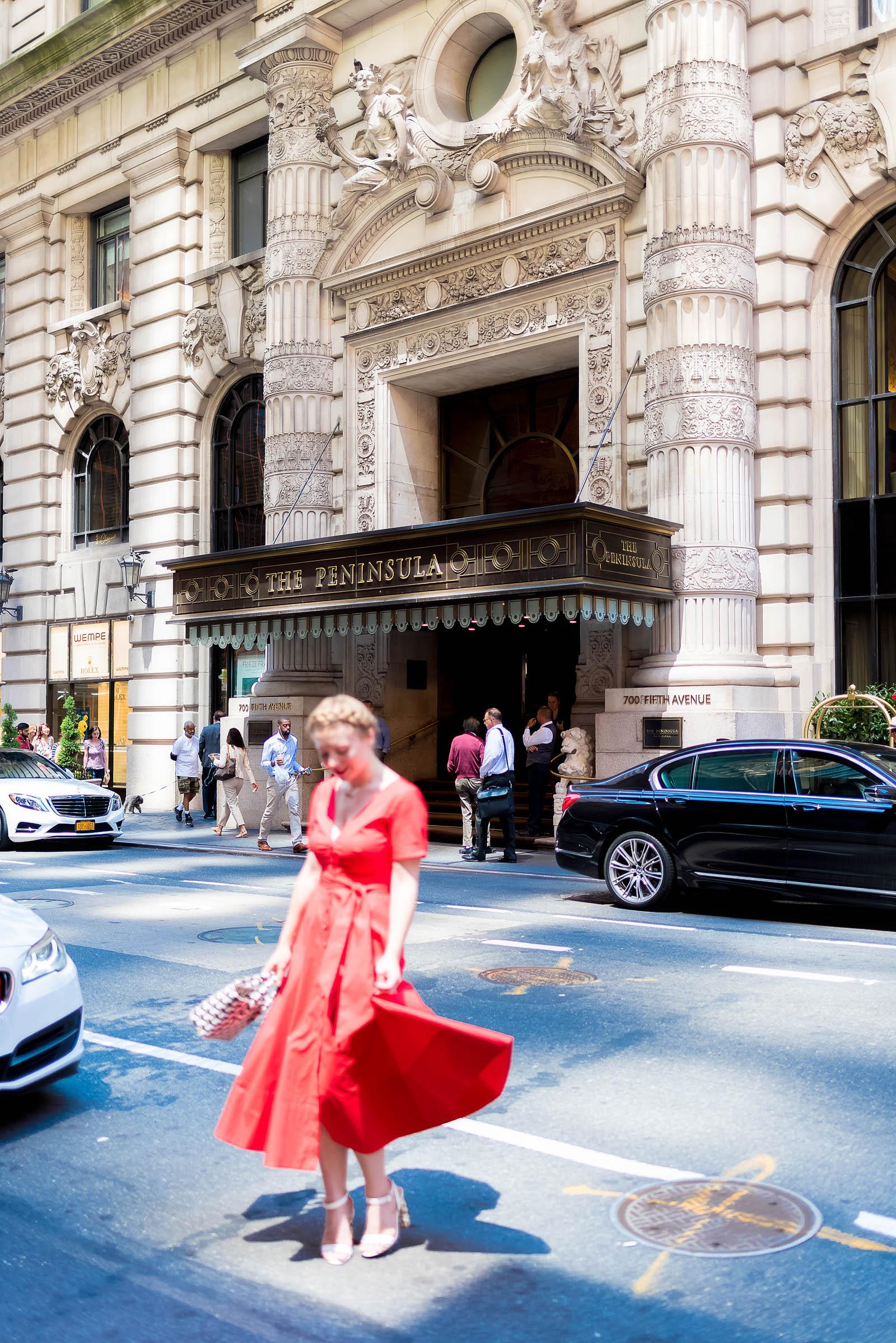 The Peninsula NYC is located on 55th just off 5th Avenue in Midtown. Just a hop skip and a jump away from all sorts of great spots like the MoMA, Times Square, and Central Park where I shot my outfit before afternoon tea!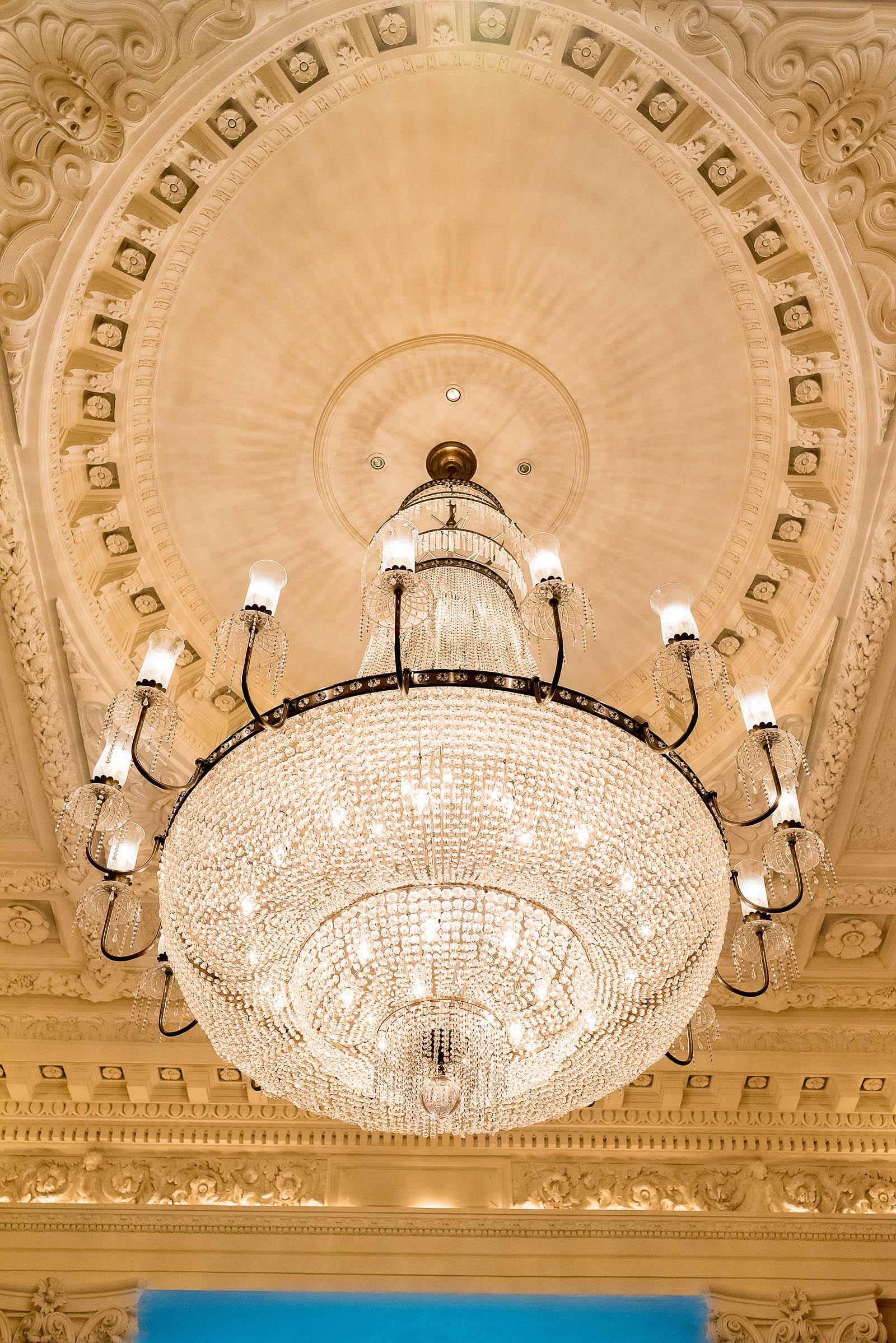 Walking inside is a breath-taking experience in itself thanks to this magnificent lobby chandelier and ceiling!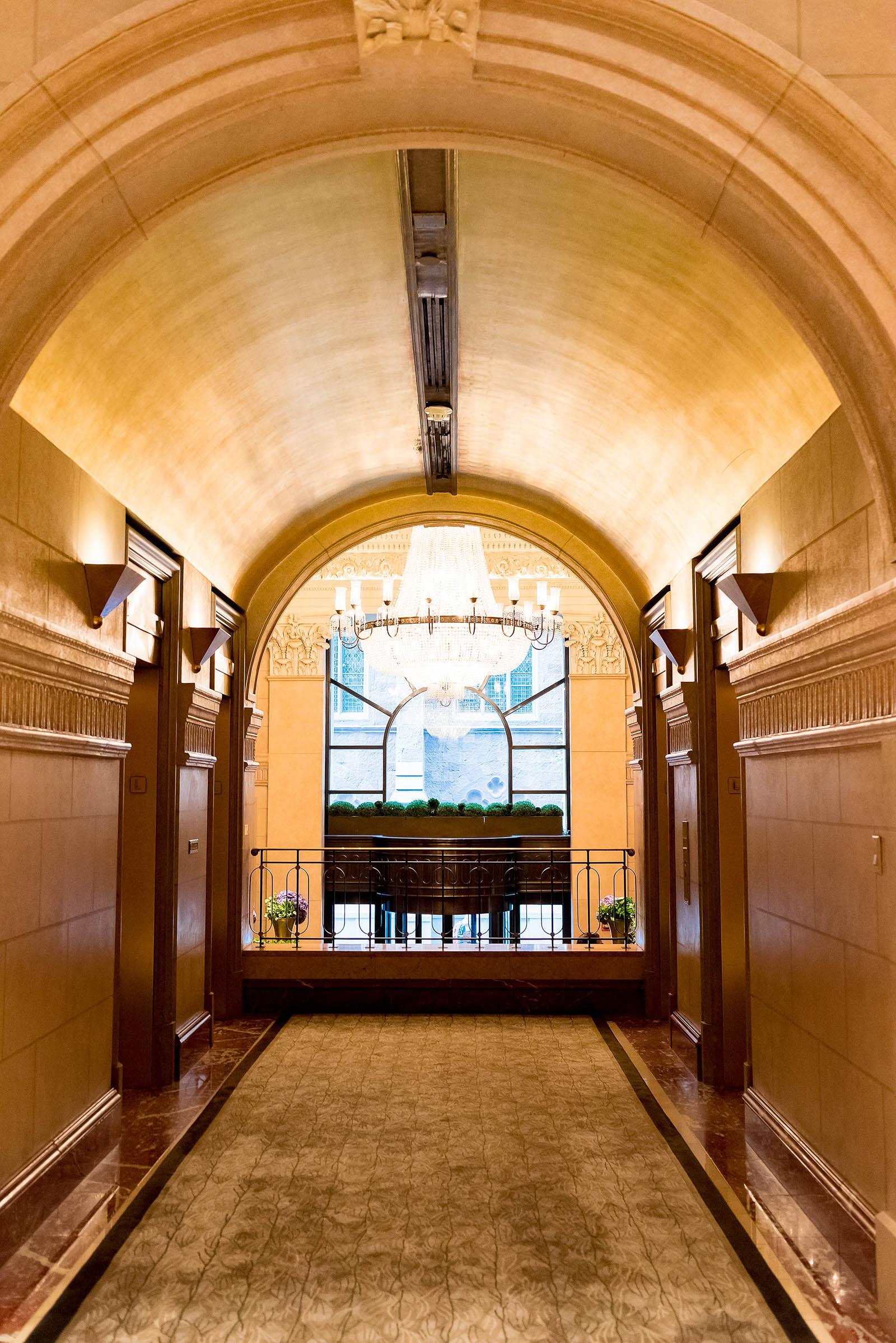 The hotel itself feels like an appropriate mixture of new and old New York. The first floors feel very old-school NYC but the rooftops? Very new-school NYC. It's a great balance and one that feels like it reflects NYC as a whole too.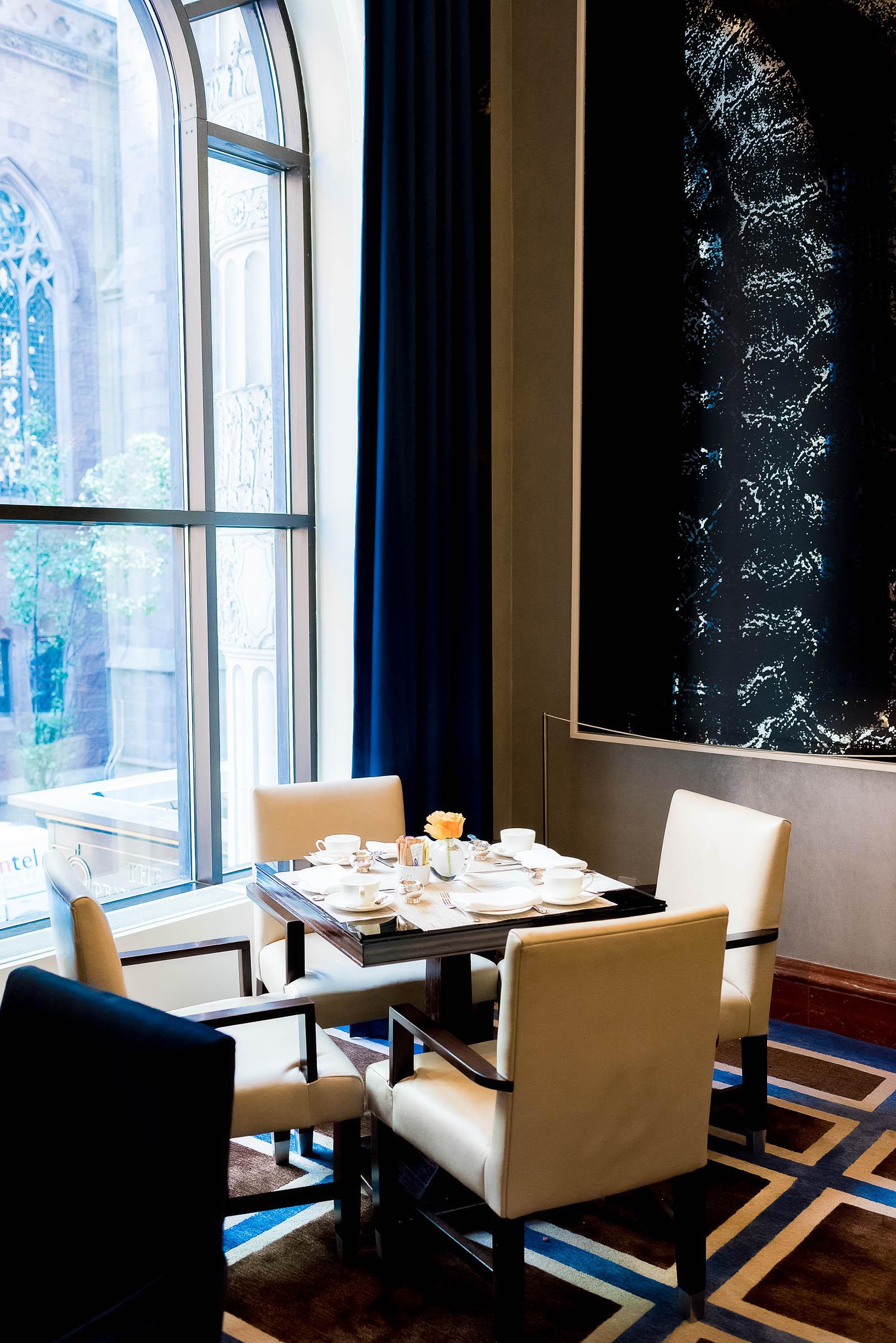 We arrived promptly at 2 pm for the start of our tea service, managing to get one of the coveted tables by the windows.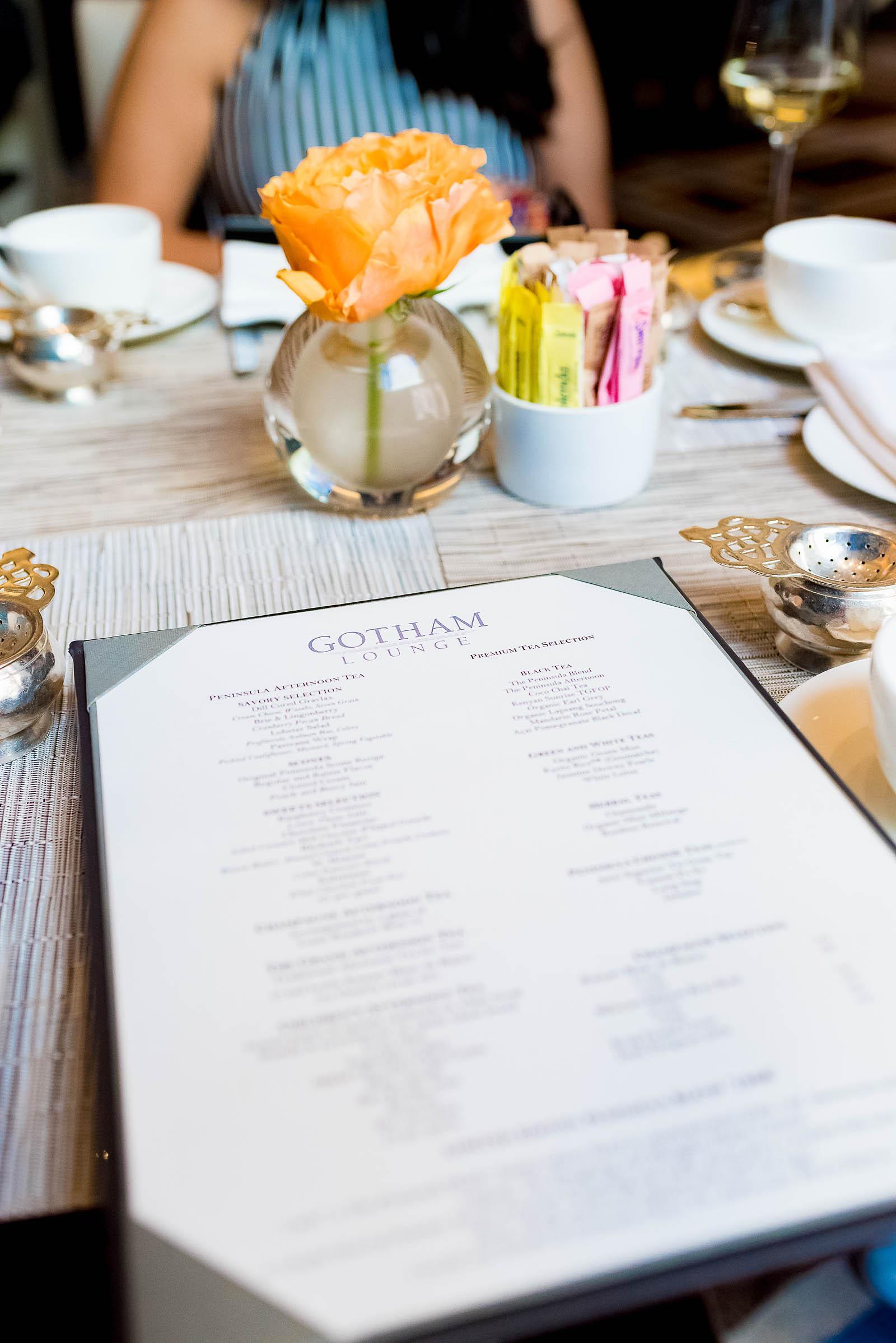 Afternoon Tea is served in the Gotham Lounge which is dark, swanky space overlooking the entrance to the hotel.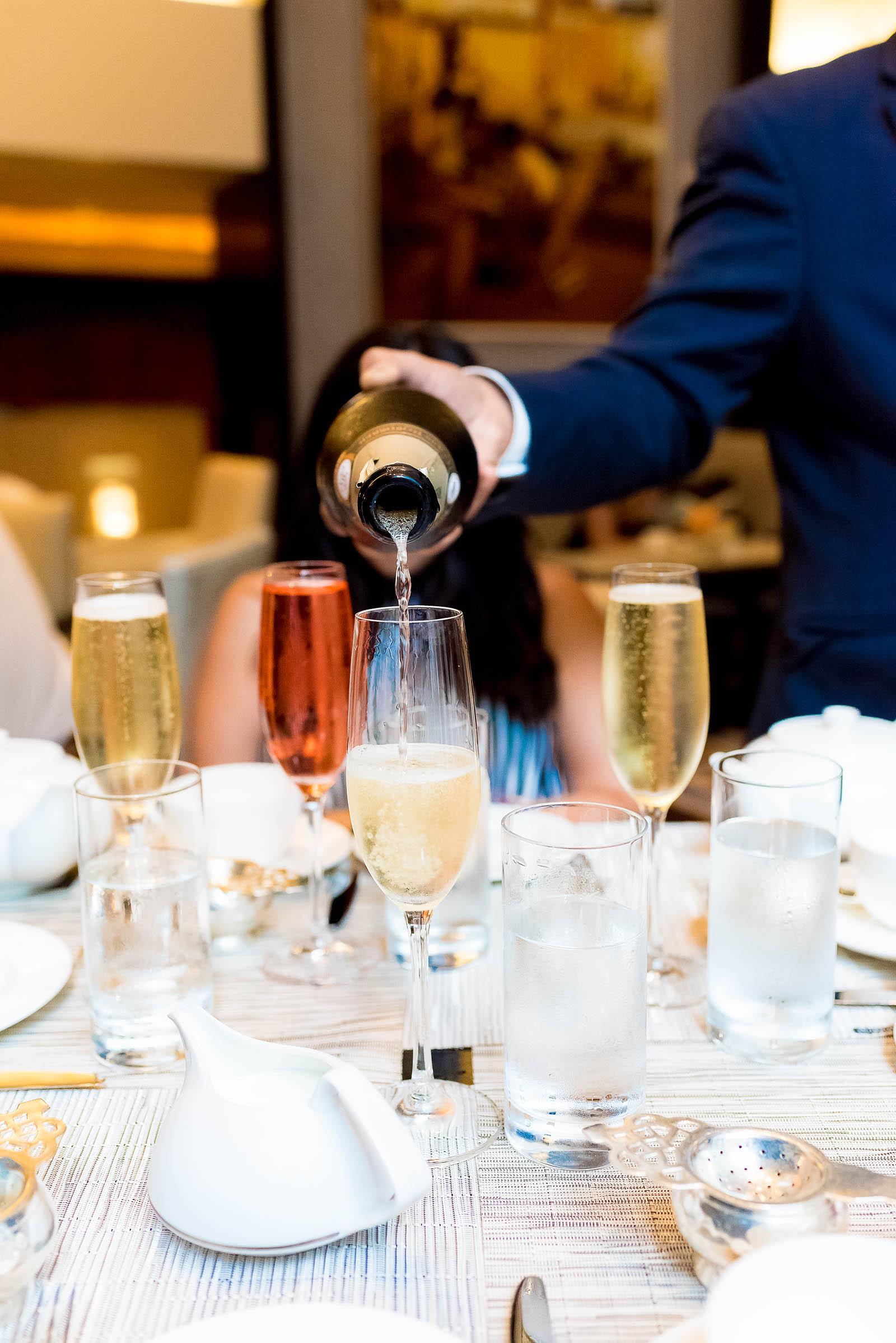 Much like the afternoon tea service at the Chicago Peninsula, the NYC Peninsula's menu makes ordering a breeze.
You have to make three choices:
1. The Type of Food (i.e. traditional, vegetarian, gluten-free, etc)
2. What Tea to Drink (I tend to gravitate to the Earl Grey and the Jasmine Pearls myself)
3. Whether to Add Champagne (for some this may be a question but for me it's always a requirement)
Everything else is taken care of for you. The best part of any Peninsula experience is certainly the level of luxury and the impressive attention to detail they put into everything.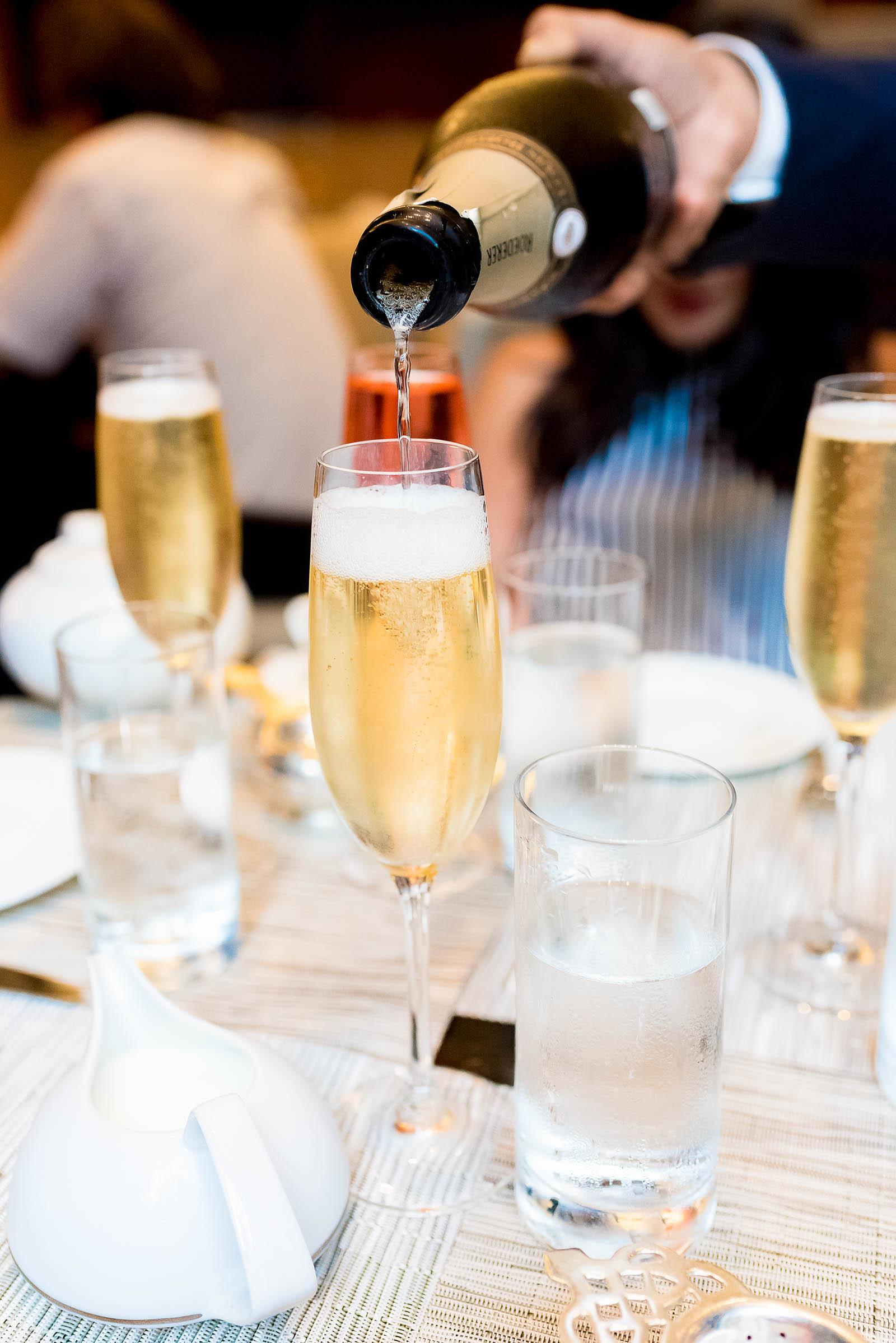 You'll be pampered from the very moment they pour the Louis Roederer Brut into your glass!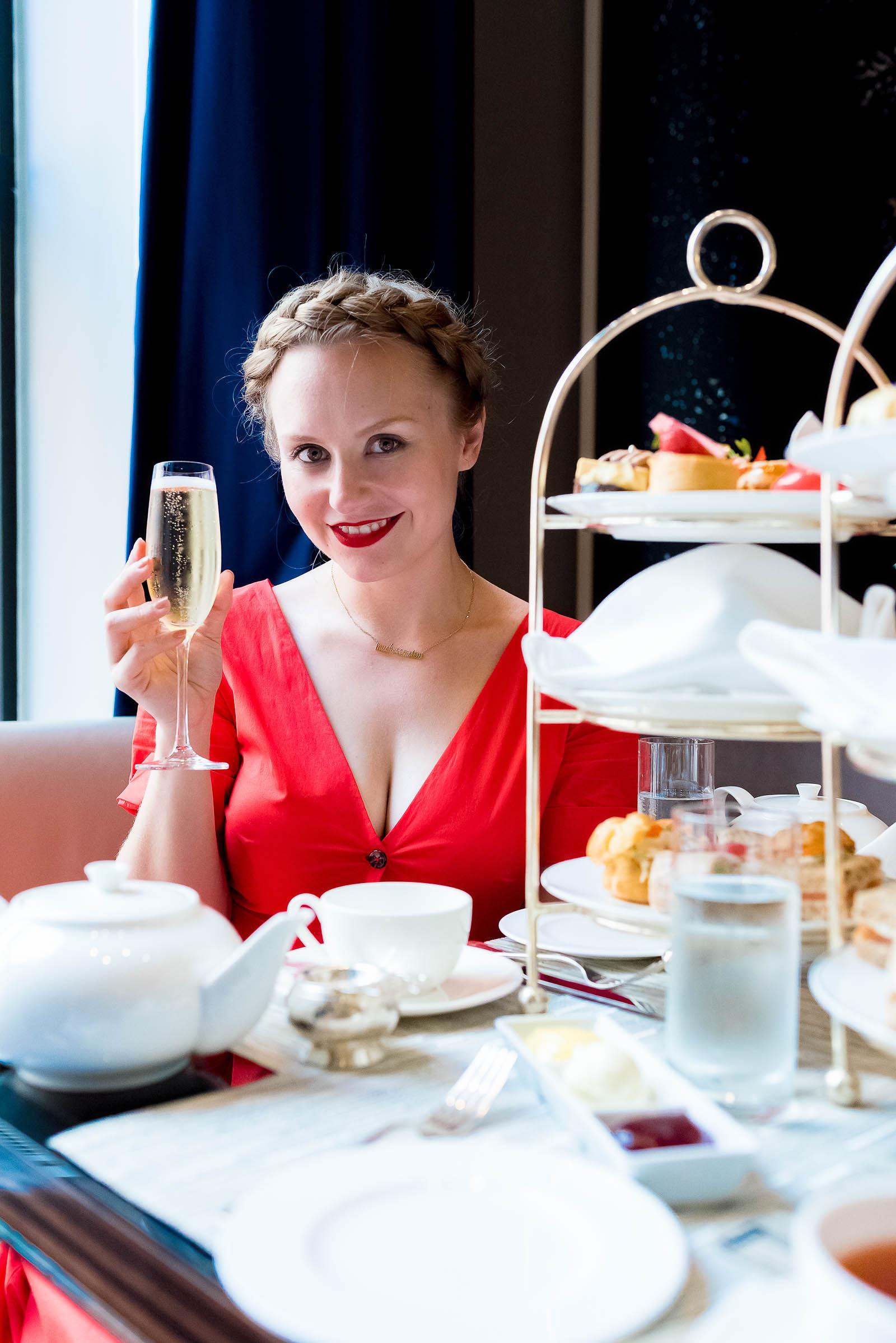 CHEERS!
But as we were attending afternoon tea, the most important component of our meal was — obviously — the tea.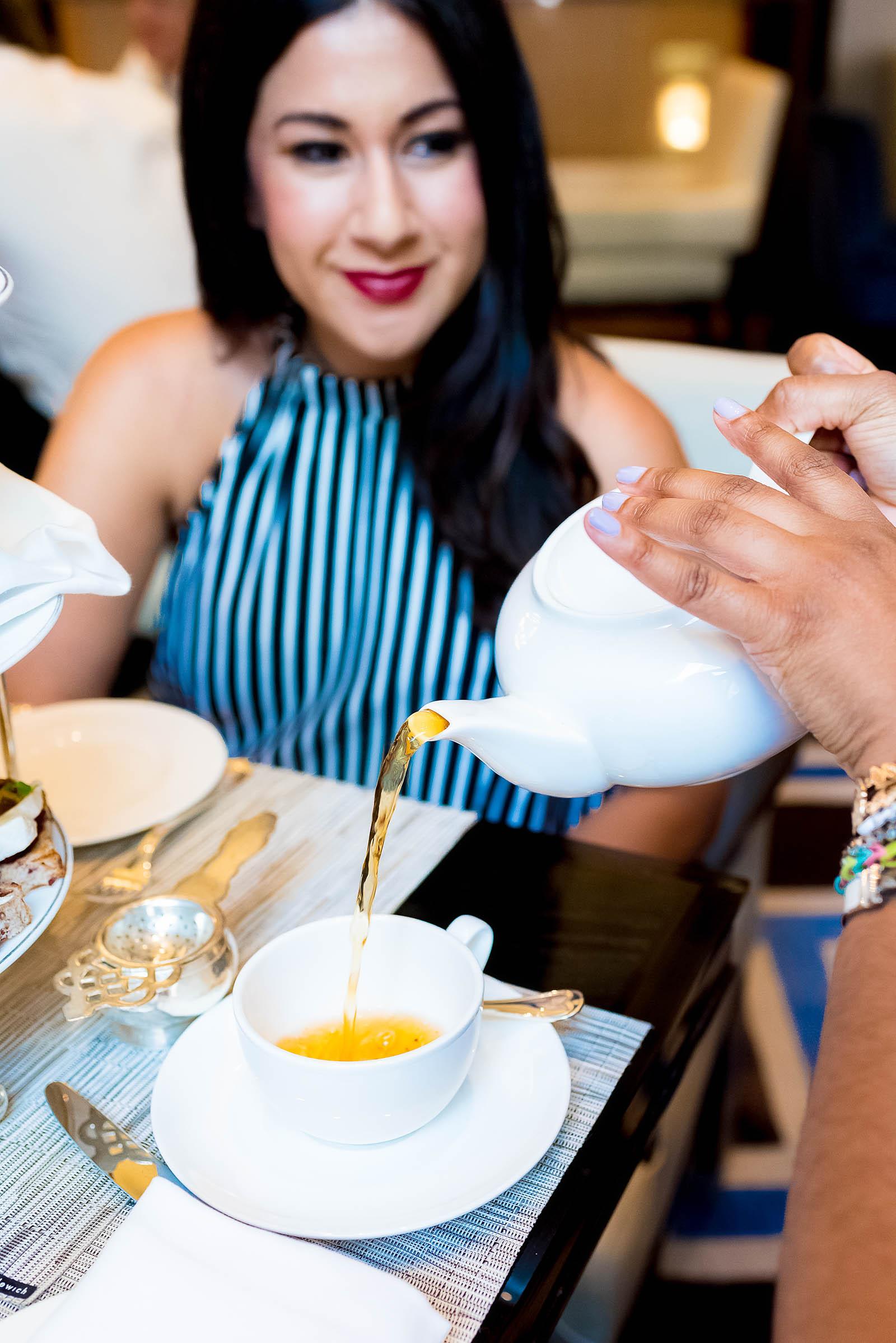 A good afternoon tea needs to be bright, vibrant, and high-quality. It should awaken the senses just enough to whet the palate for the miniature feast that awaits.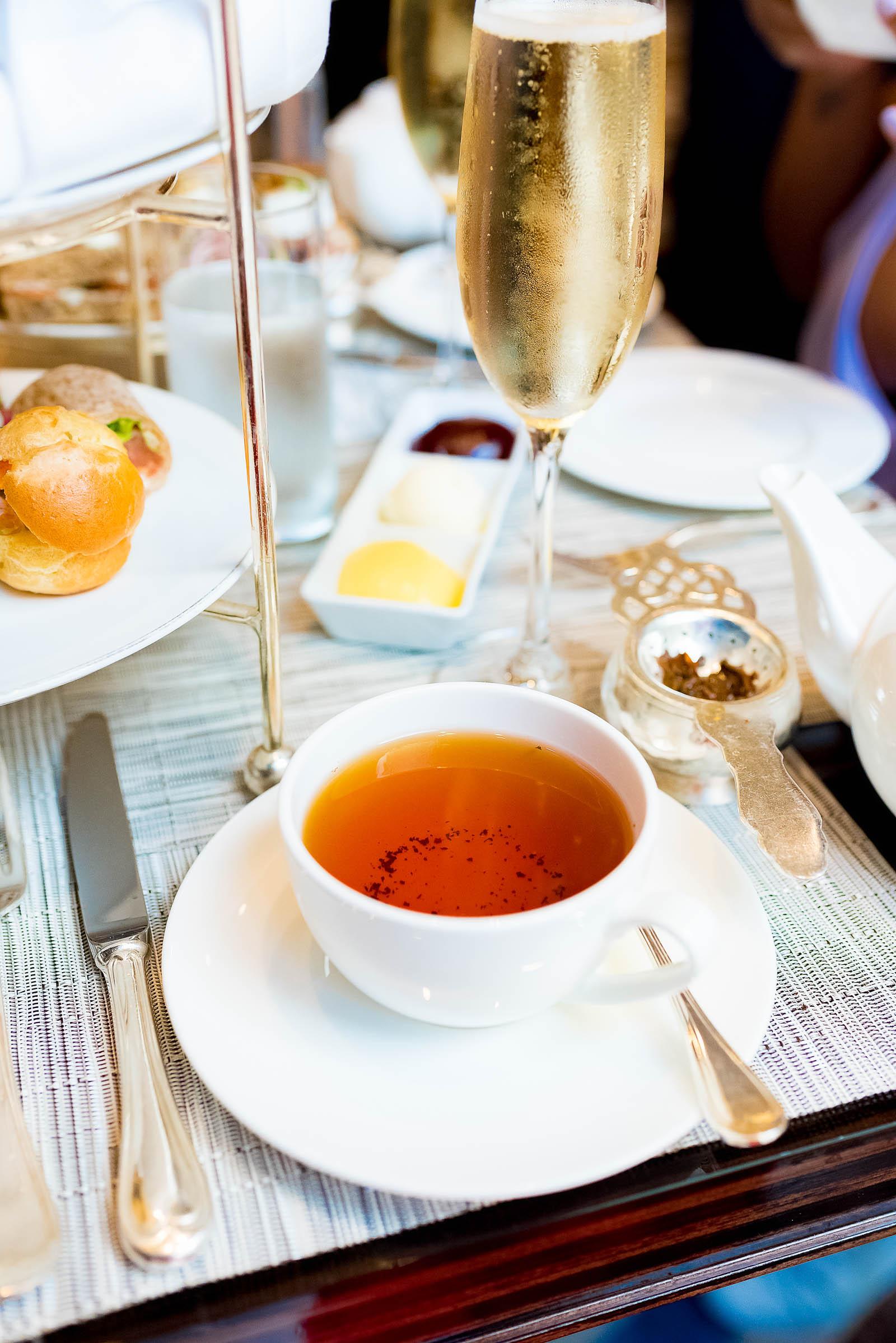 For me, the Peninsula's Jasmine Pearls always do that best. And the beautiful floral fragrance is so enlivening!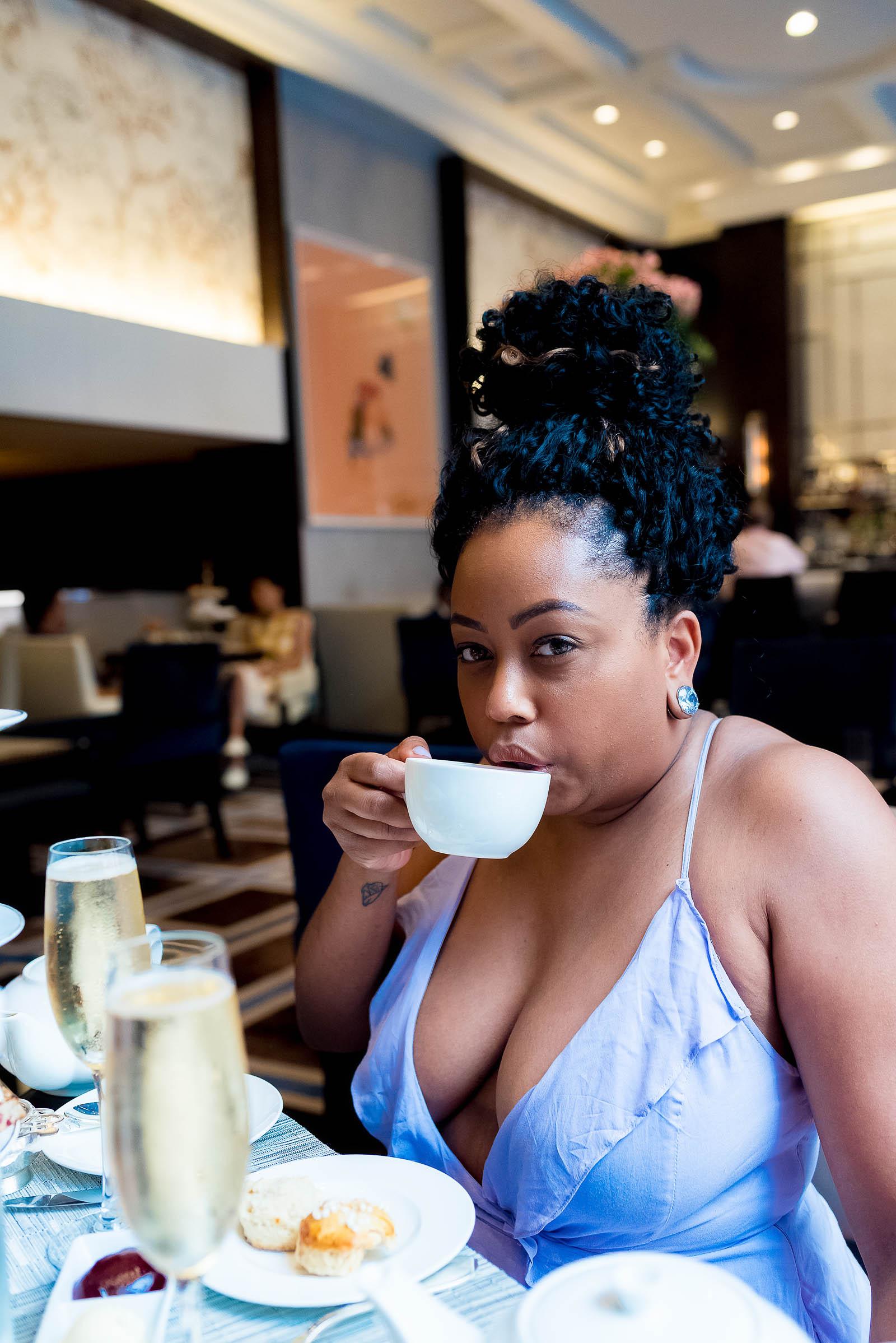 We proceeded to all sip our teas as daintily as possible, Michelle being the sexiest in the group,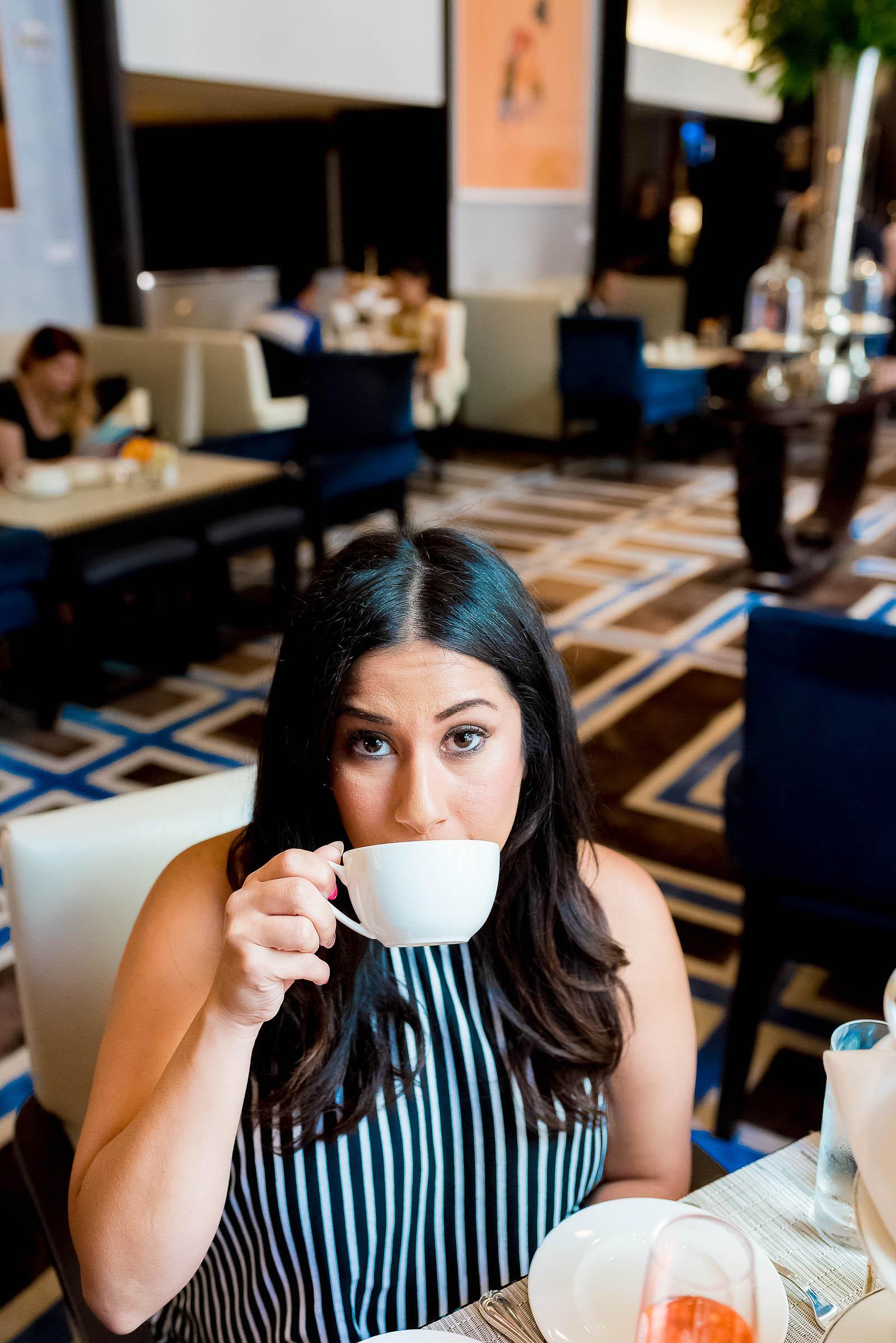 V being the most beautiful with her newly pregnant glow (don't worry, her champagne flute was filled with a raspberry mocktail!),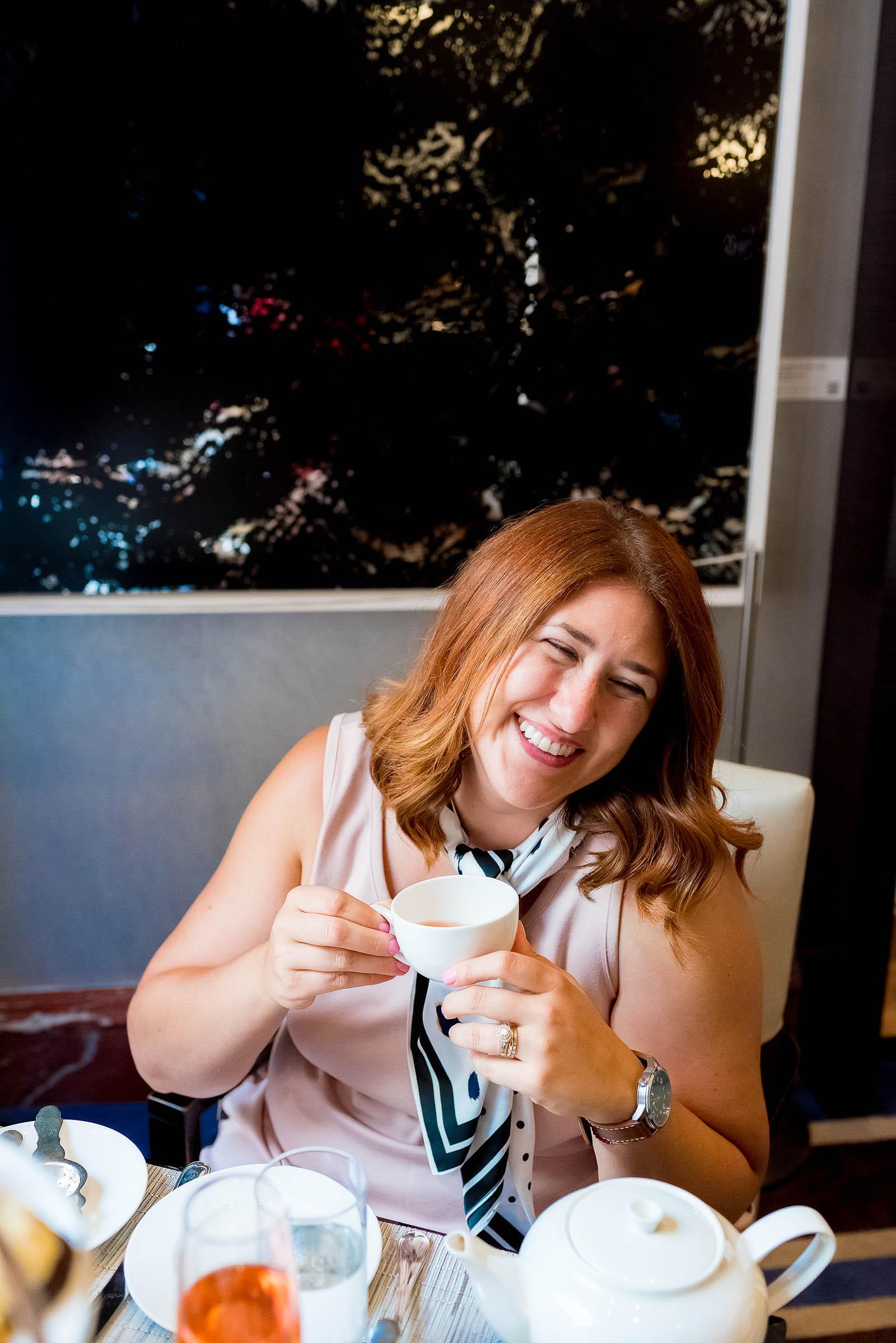 and Jill and I were naturally the goofball of the group (I swear she and I always not burst into loud laughter whenever we get together, it's the very best way to tell you've found a good and true friend, don't you think?).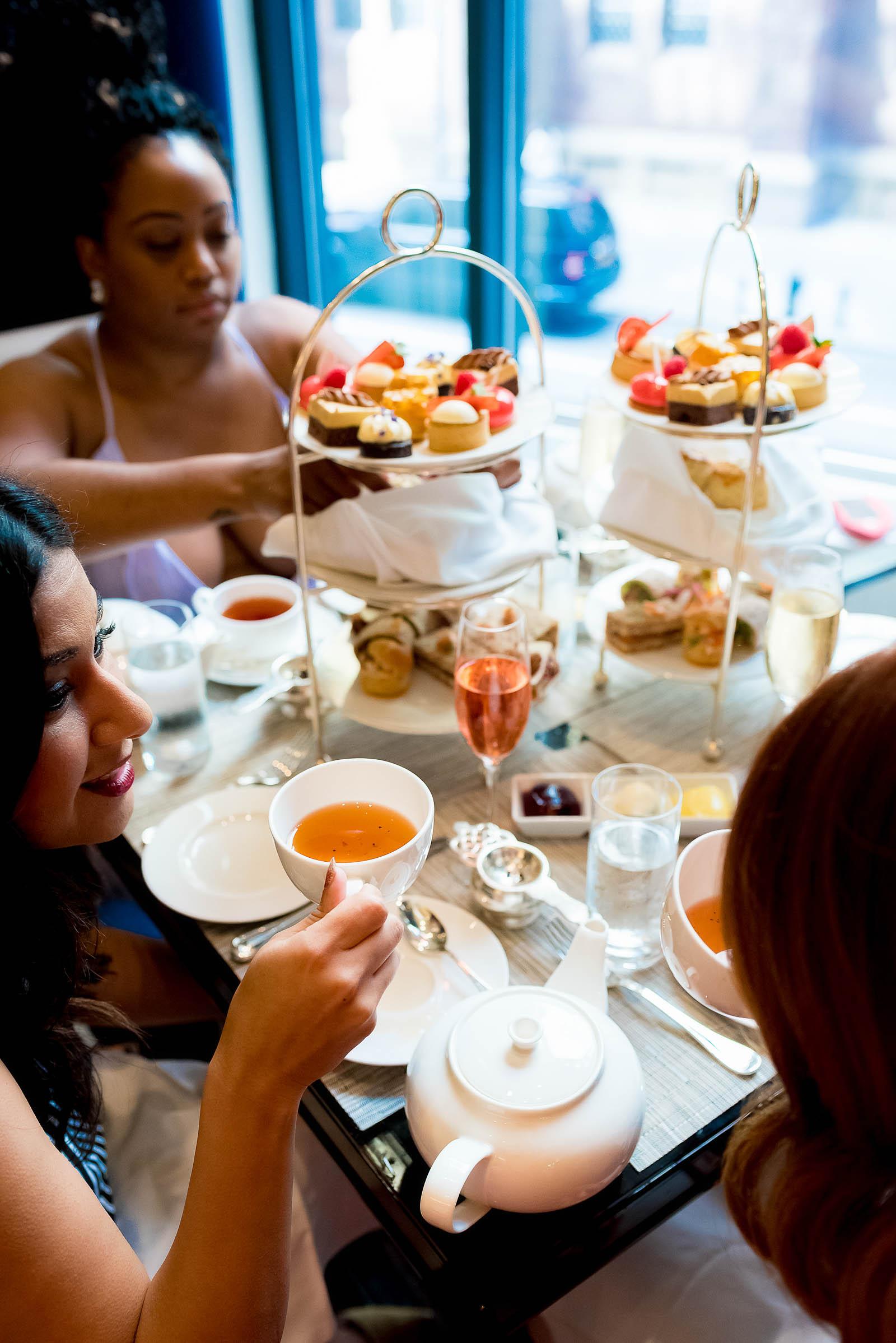 It was the perfect setting for such a fun girl's trip to NYC!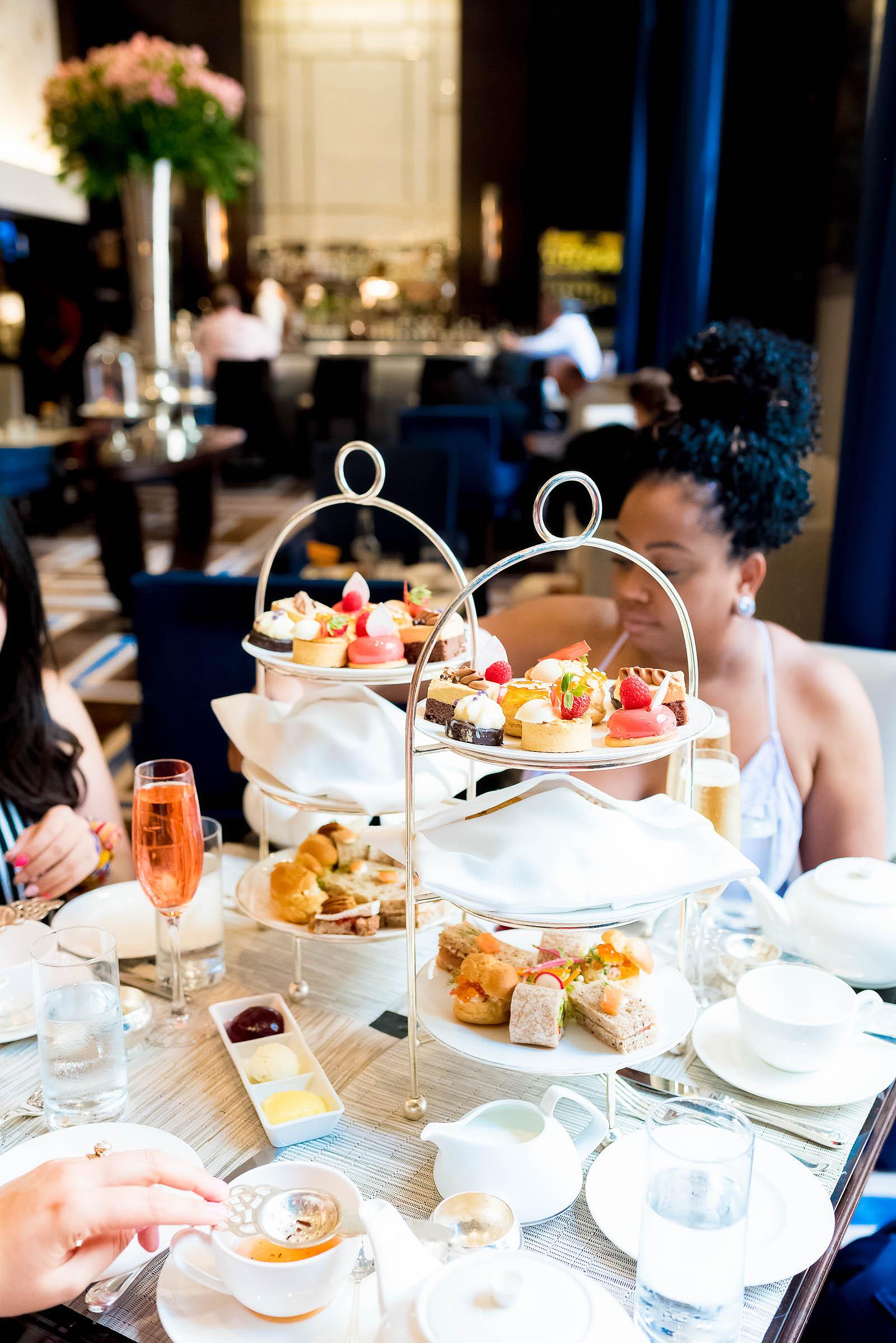 But while the tea and champagne were delightful, the afternoon tea nibbles are positively drool-worthy. Care to dive in?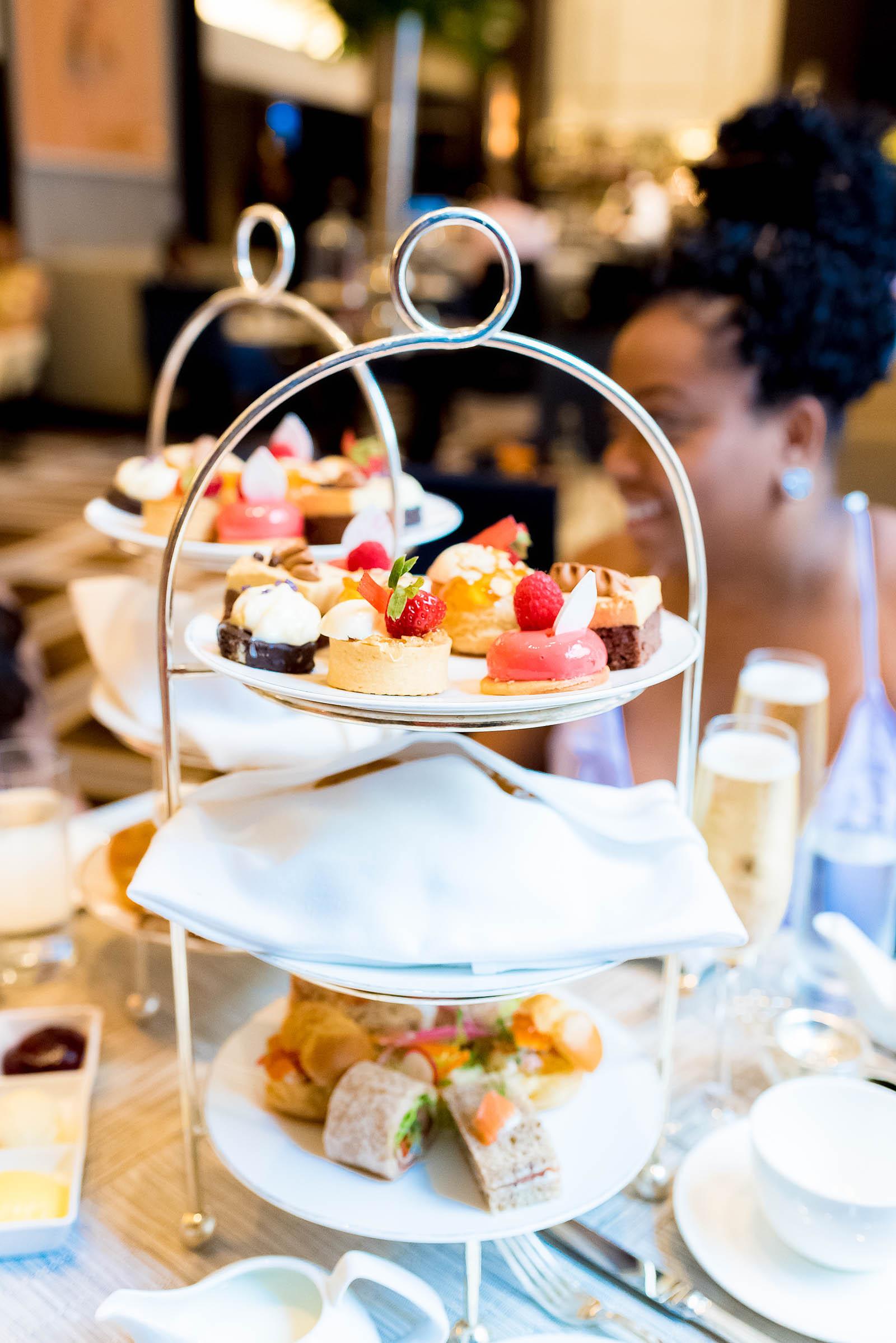 The Peninsula's tea service is traditional in its offerings: savory sandwiches on the bottom tier, warm scones on the middle tier, and all the pastries and desserts floating above on the top-tier.
Generally I start with the warm scones since they pair so well with tea and jam. These are the Peninsula's house recipe scones in original and raisin flavors served with clotted cream and peach and berry jam.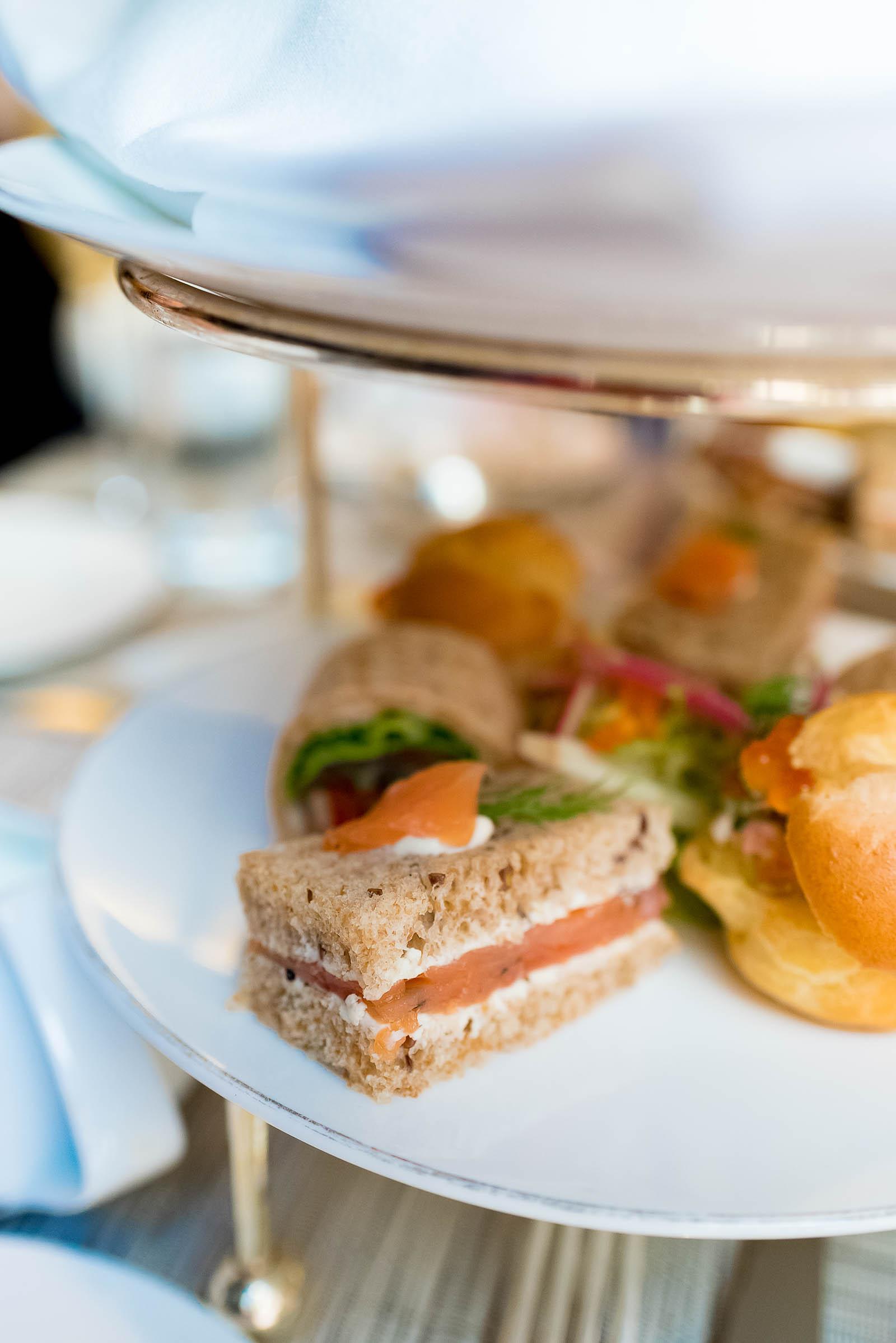 Then we moved on to the savories like this dill curated gravlax with cream cheese and wasabi on seven grain.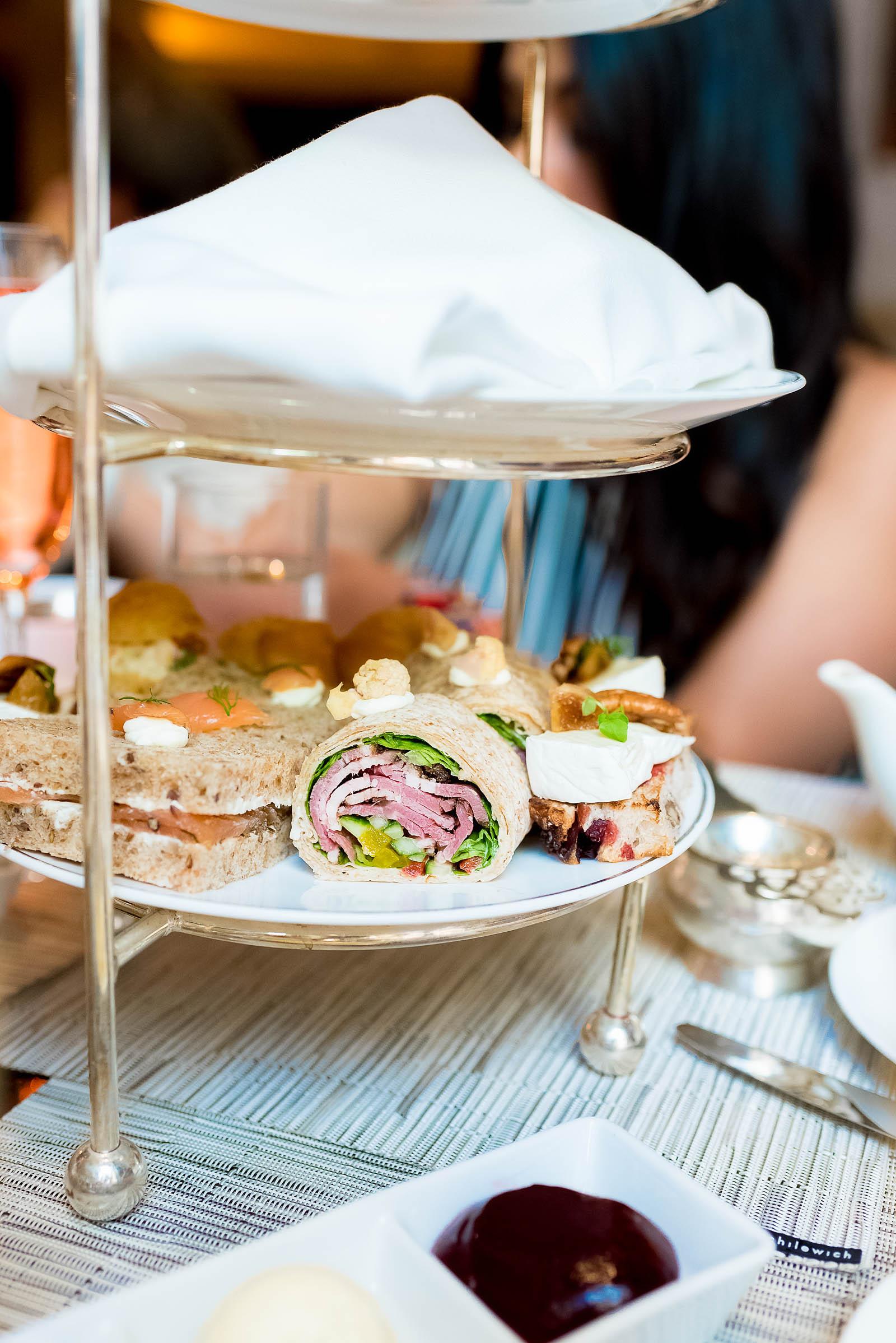 And this pastrami wrap with pickled cauliflower, mustard, and spring vegetable.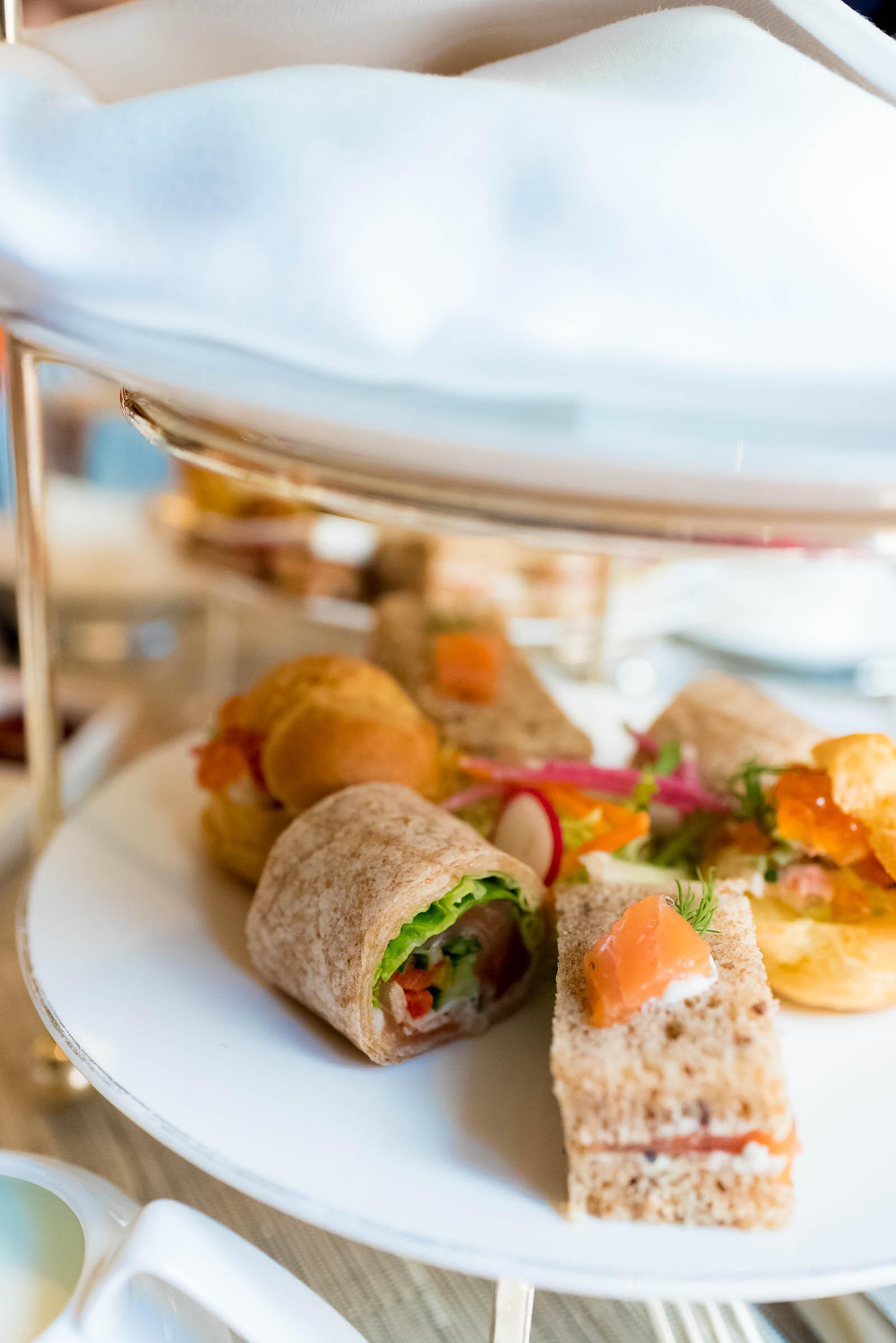 We also sampled a turkey wrap and a delicious Lobster salad with salmon roe and celery on profiterole which I apparently did not get a photo of… probably because I was too busy stuffing it into my mouth…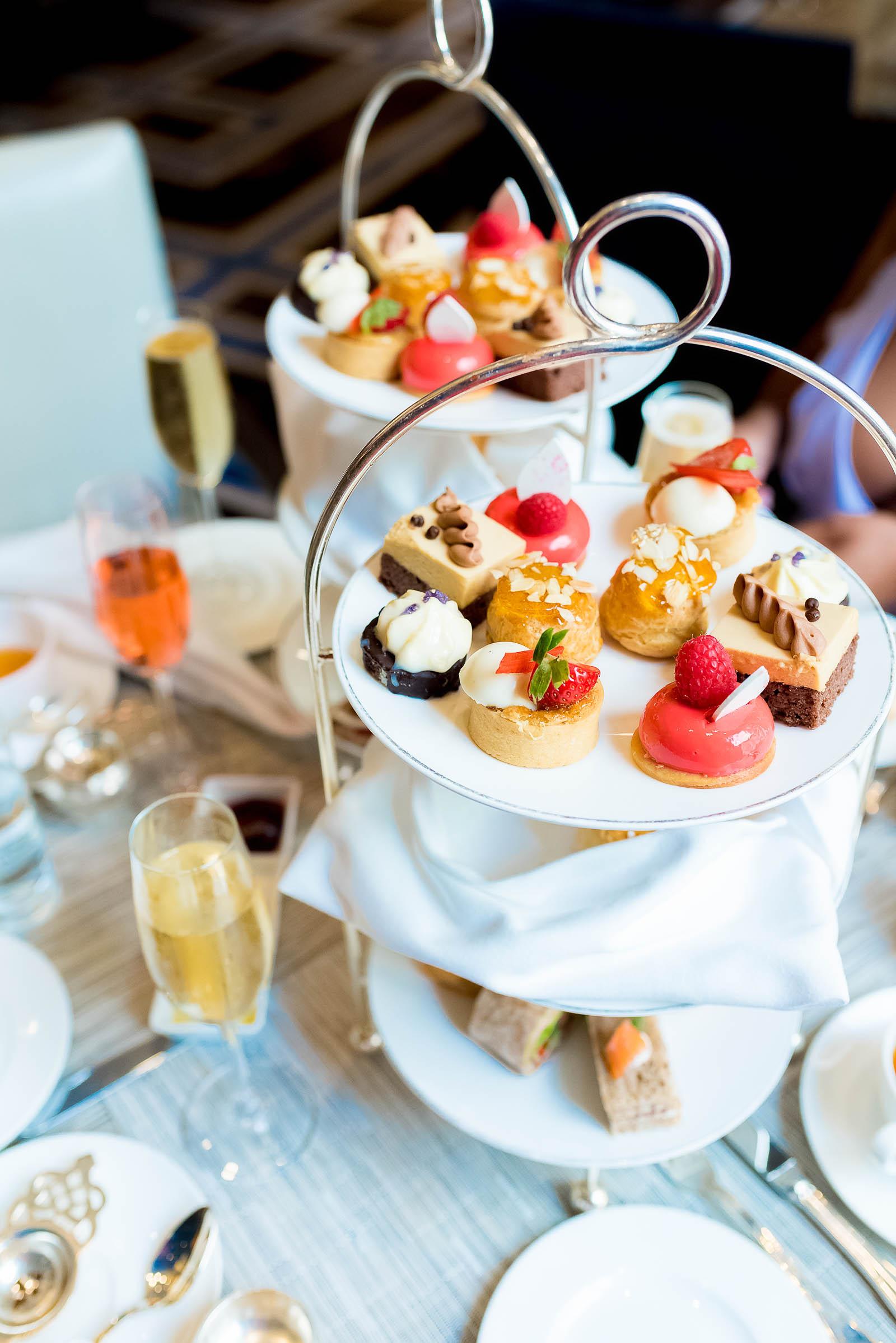 But always save room for the best tier in afternoon tea services… the desserts!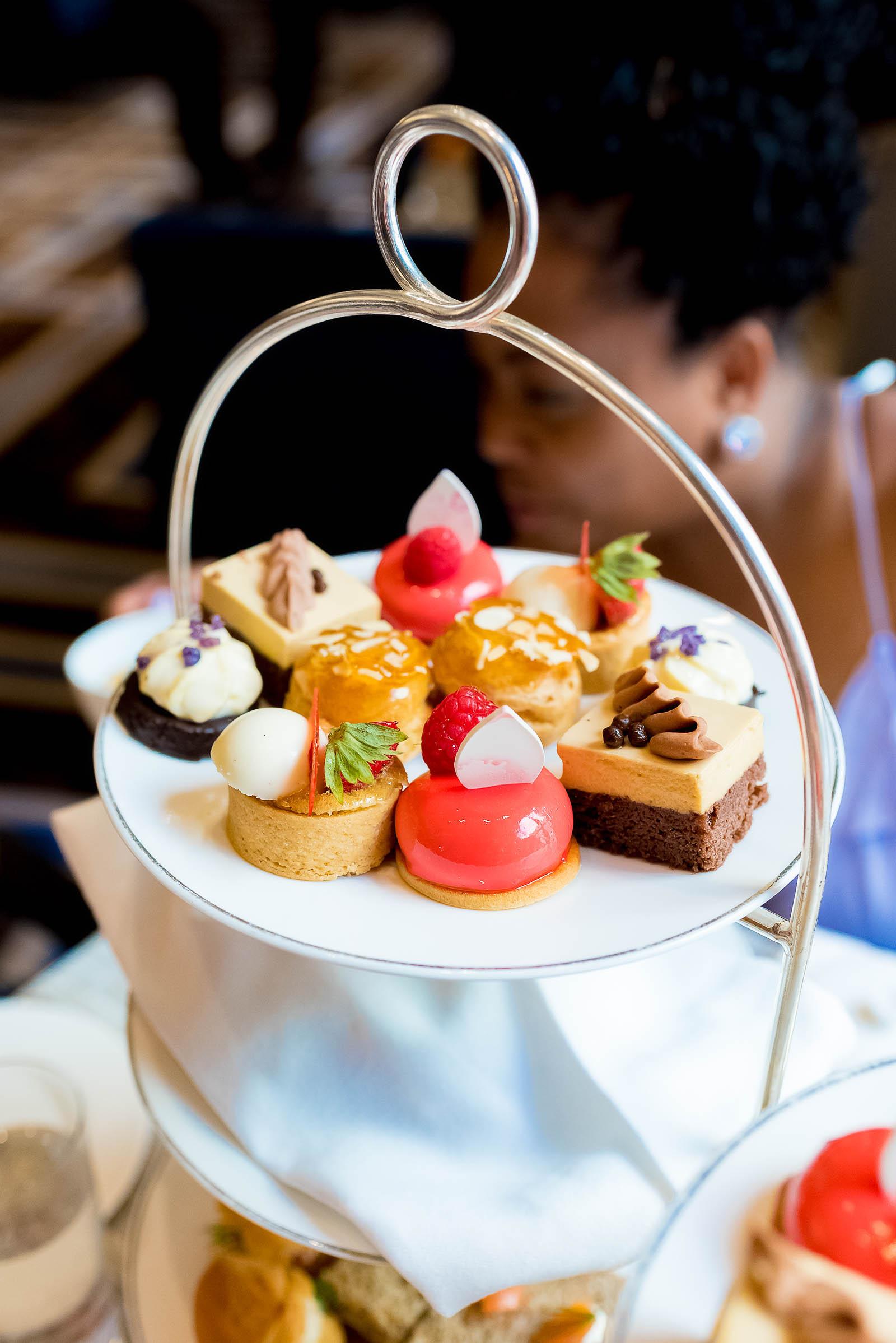 The Peninsula NYC, just like the Peninsula Chicago, has a masterful selection.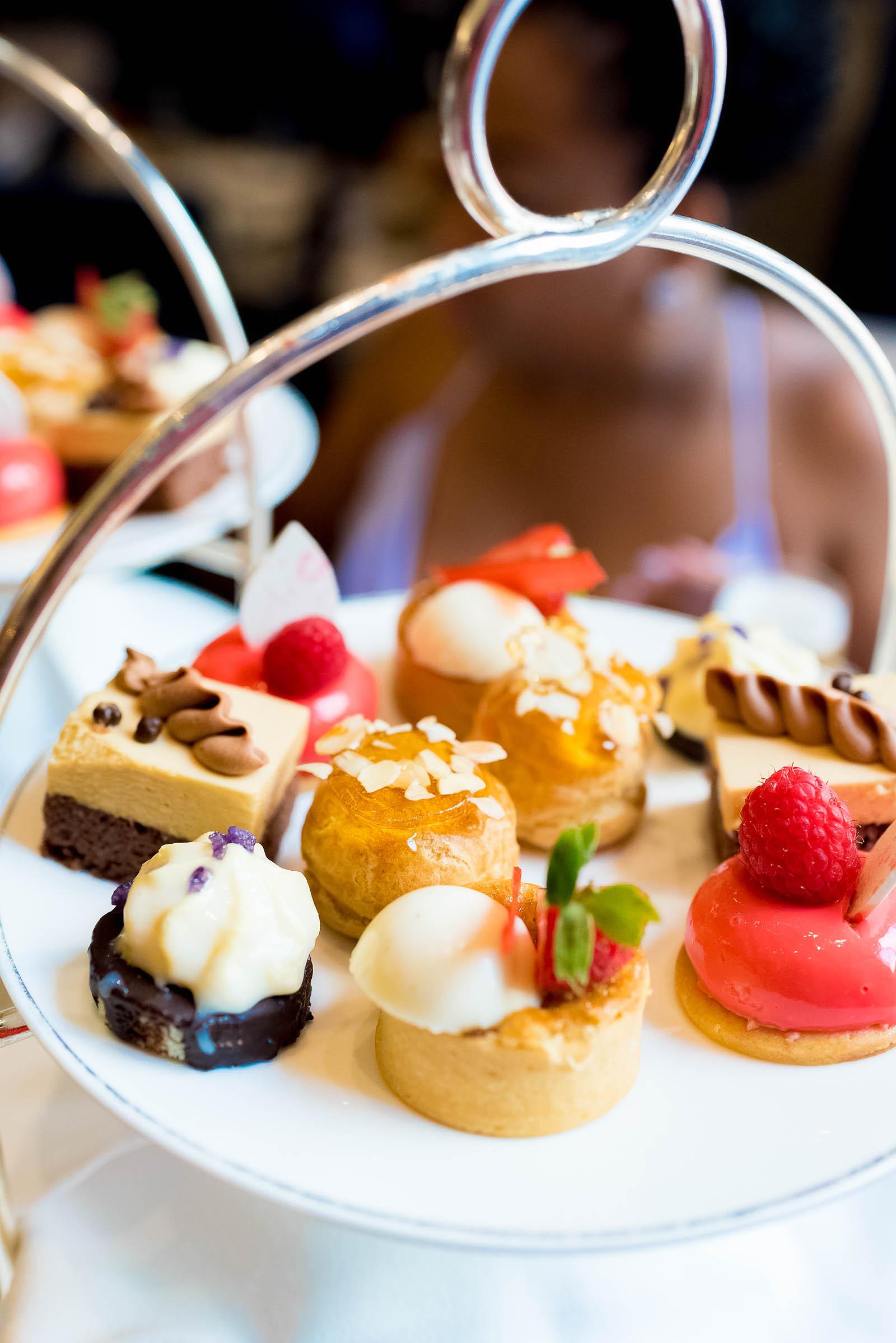 Our options included Raspberry cremeux, Chocolate financier, Rhubarb Tart, St. Honoré, and Kalamansi.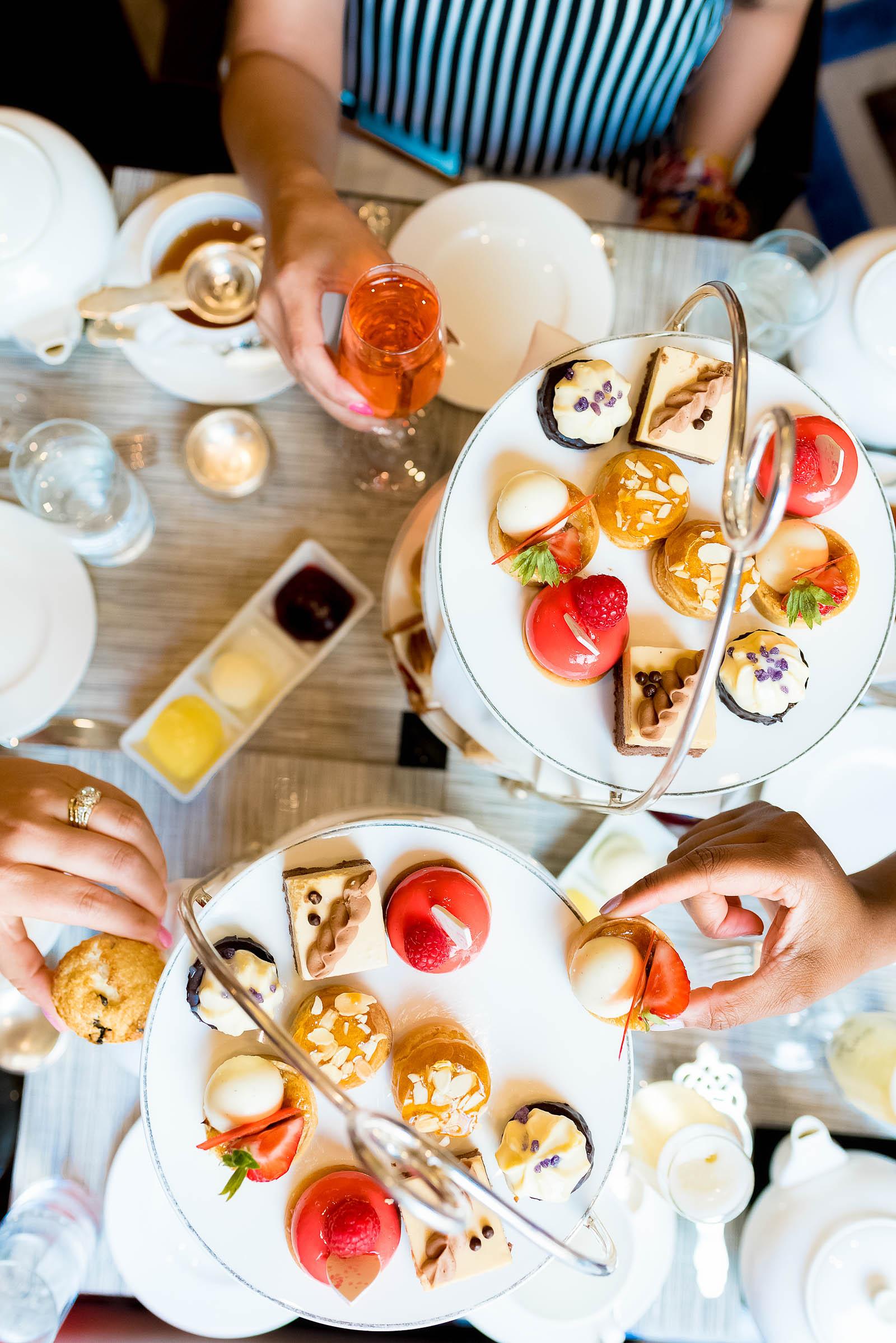 Which would you choose?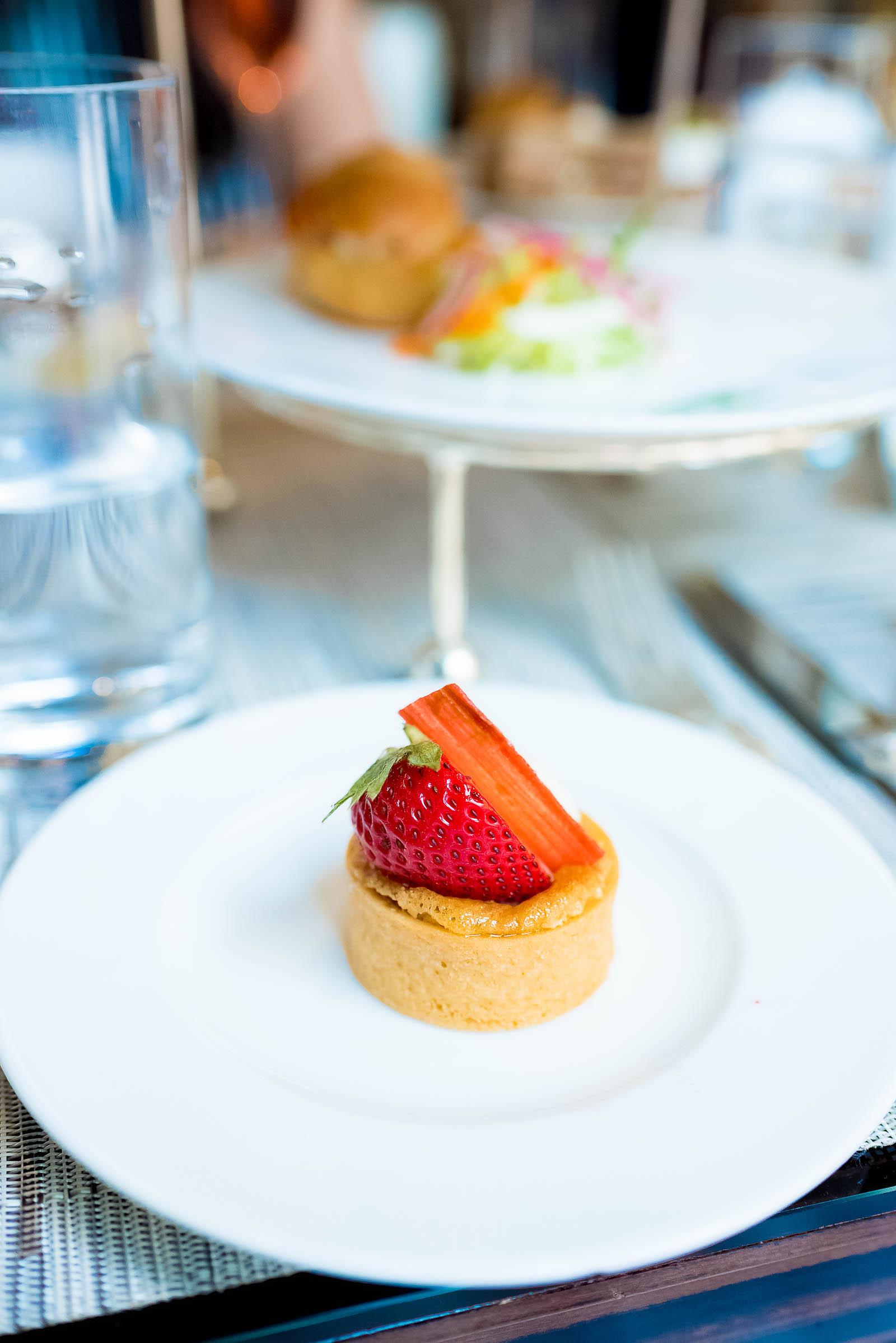 My favorite ended up being this marvelous rhubarb tart (the pastry was baked to perfection!).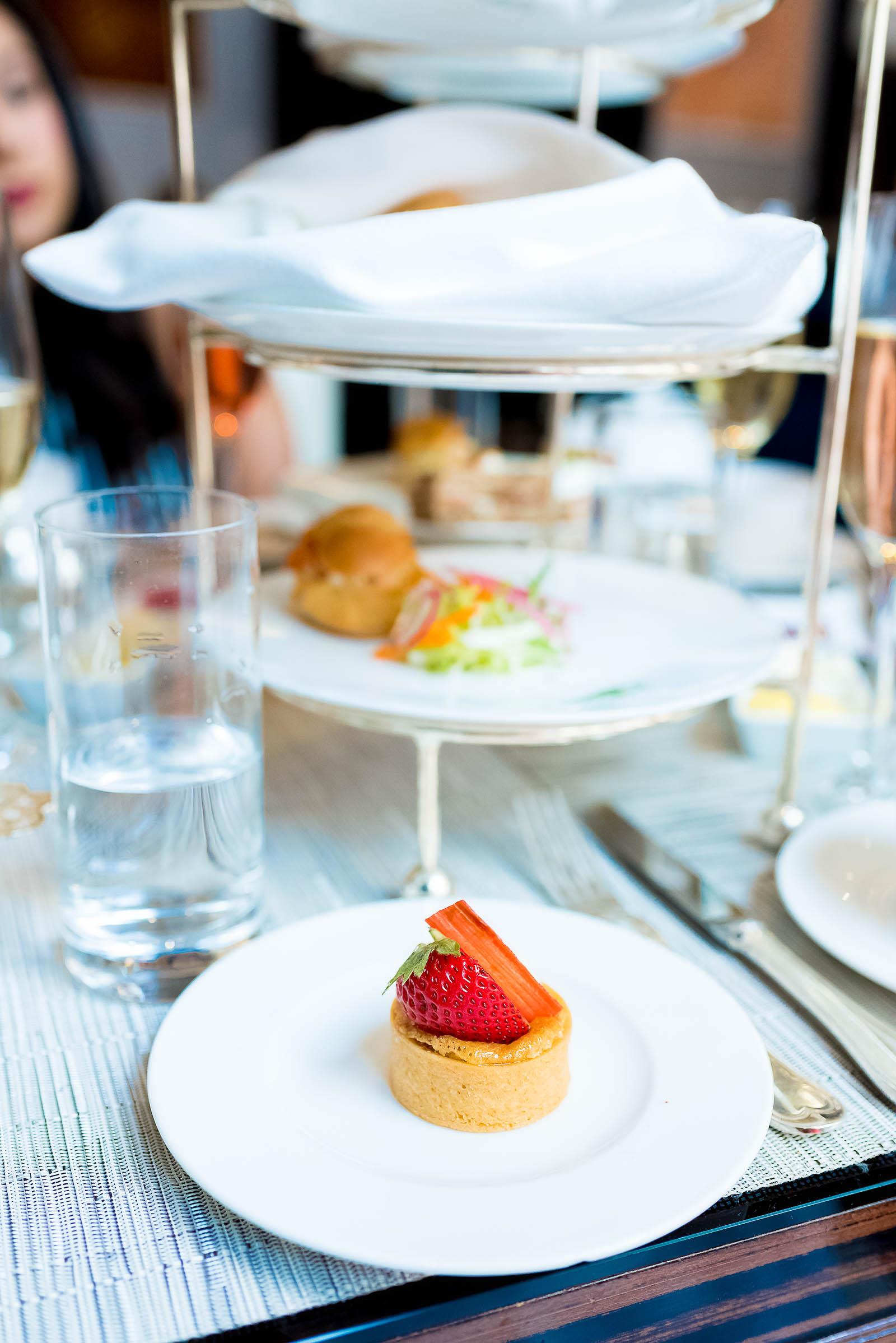 And it proved to be a marvelous way to end our lovely meal.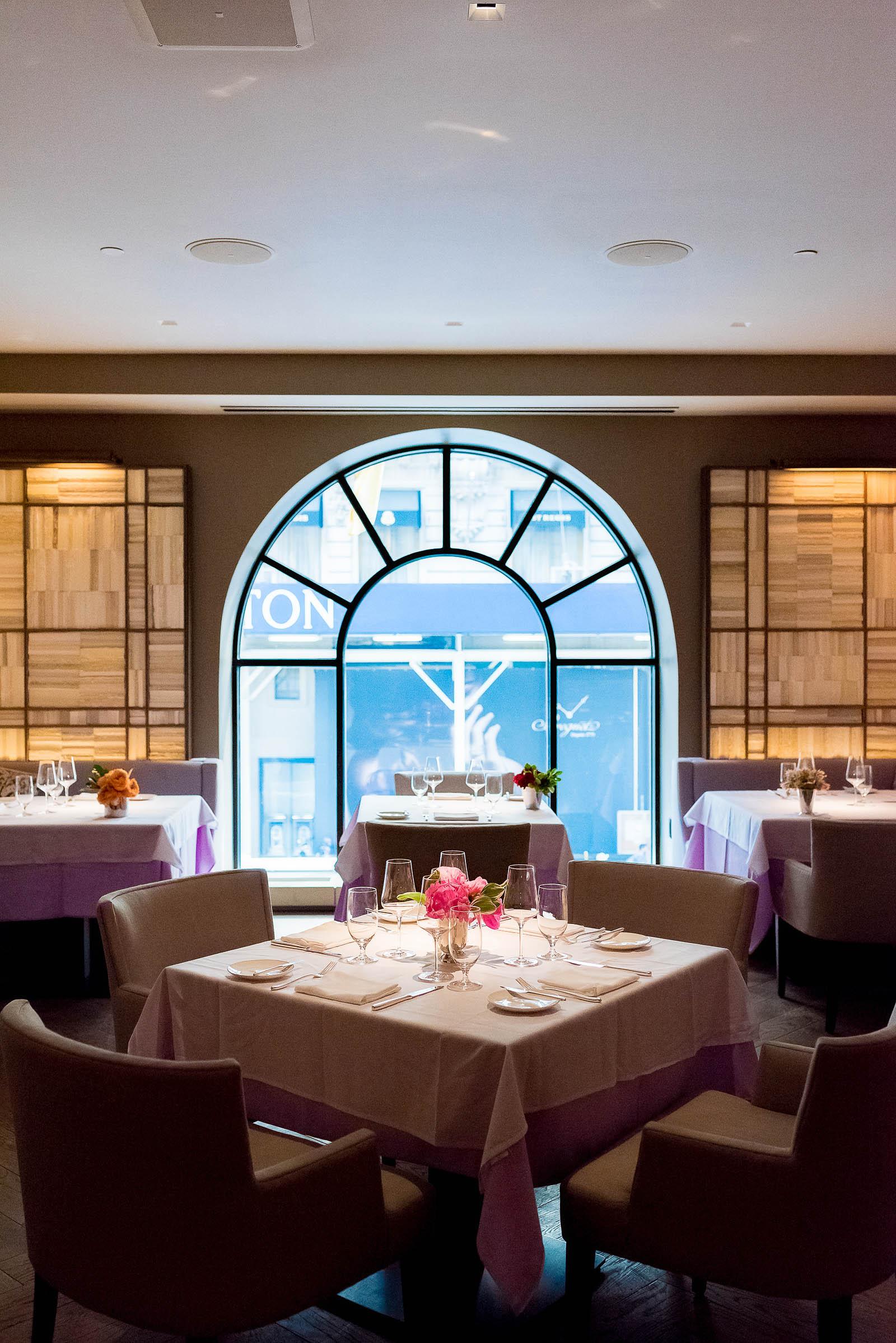 After our service, the amazing team at the Peninsula was kind enough to give us a tour of the hotel space too. Our first stop was the magnificent Clement Restaurant overlooking 5th Avenue which is rumored to have quite a spectacular dinner menu.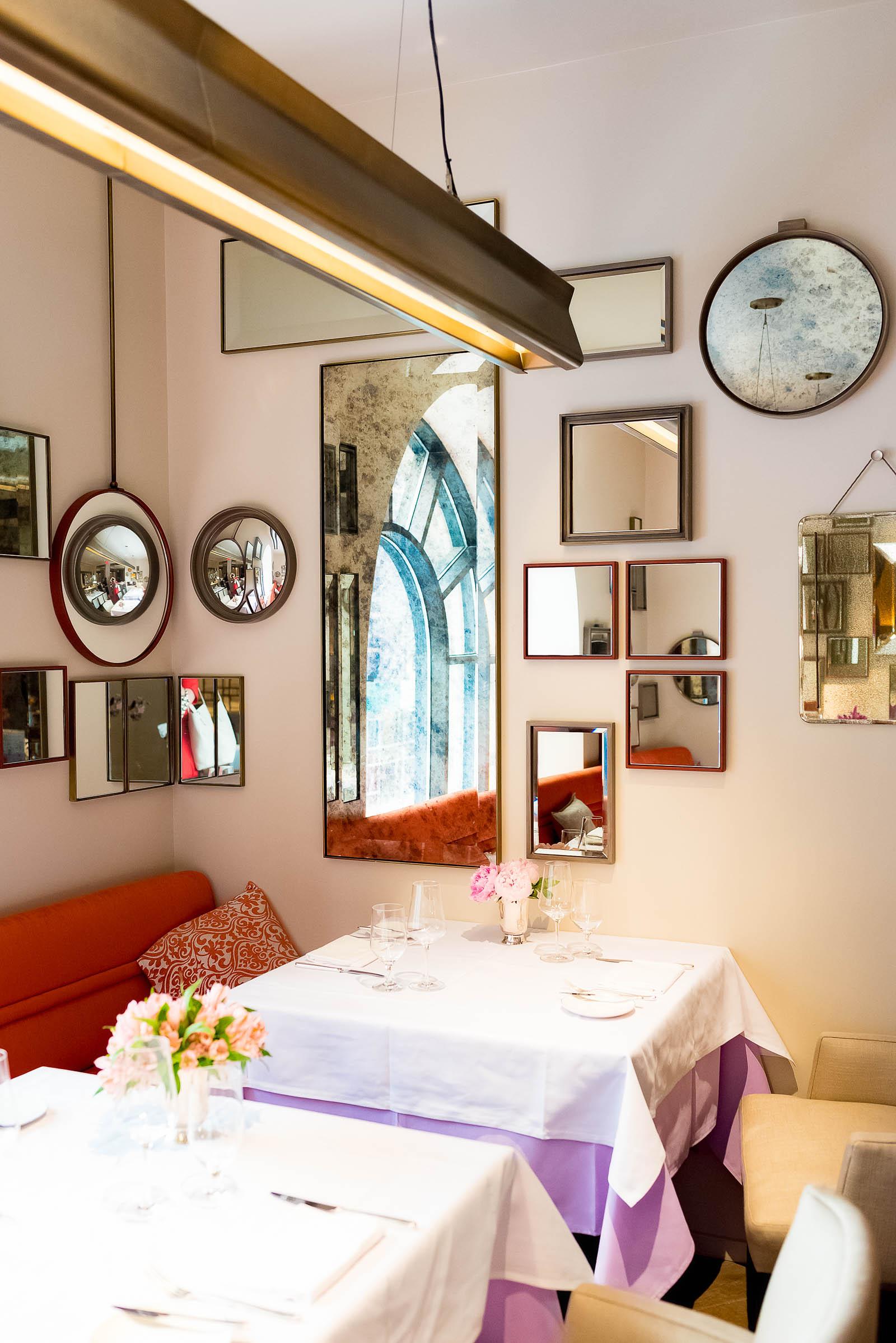 Personally I fell in love with the decor — especially this glimmering wall of antique mirrors!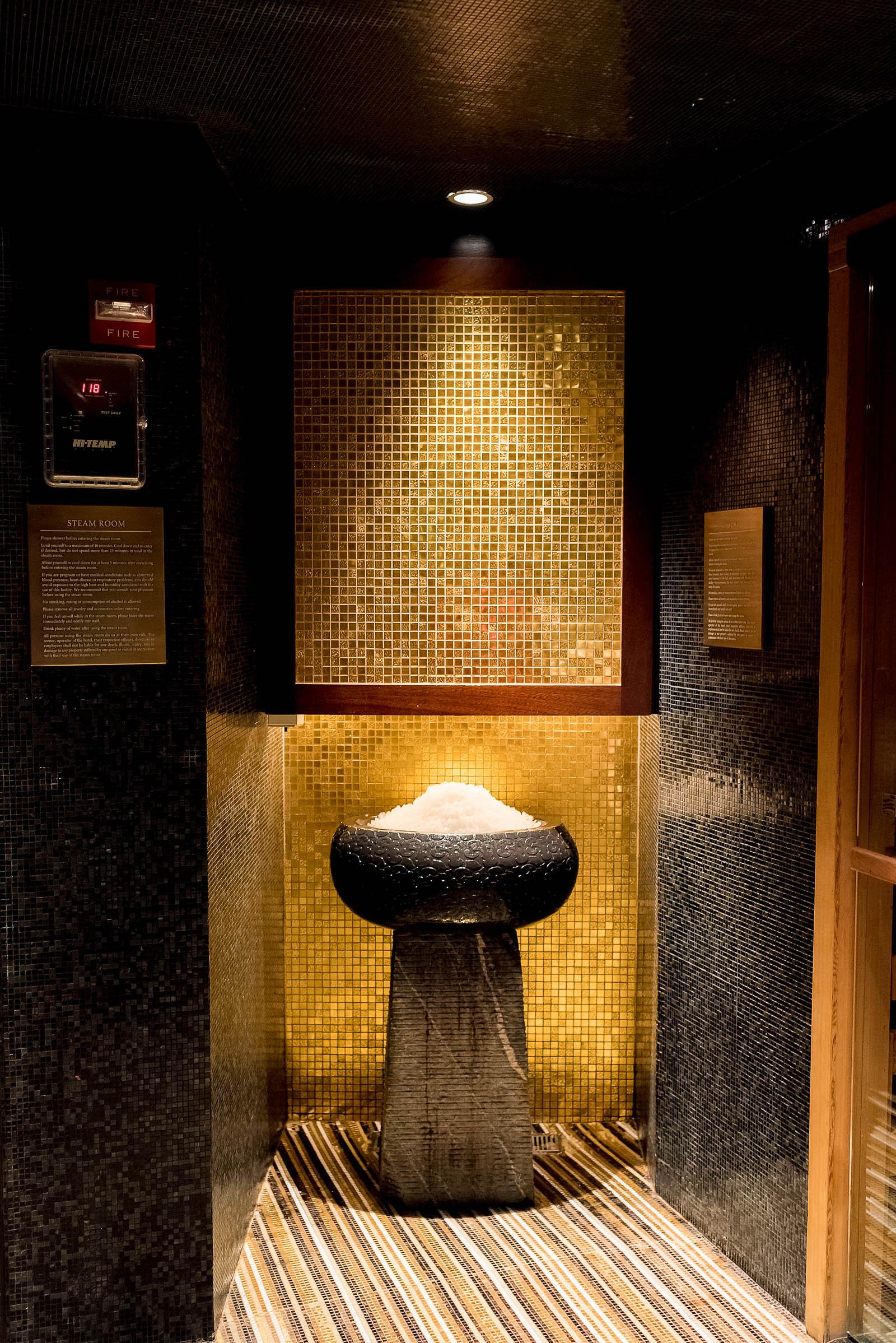 Then we made our way up to the 21st floor to explore the stunning spa with steam rooms, saunas, and…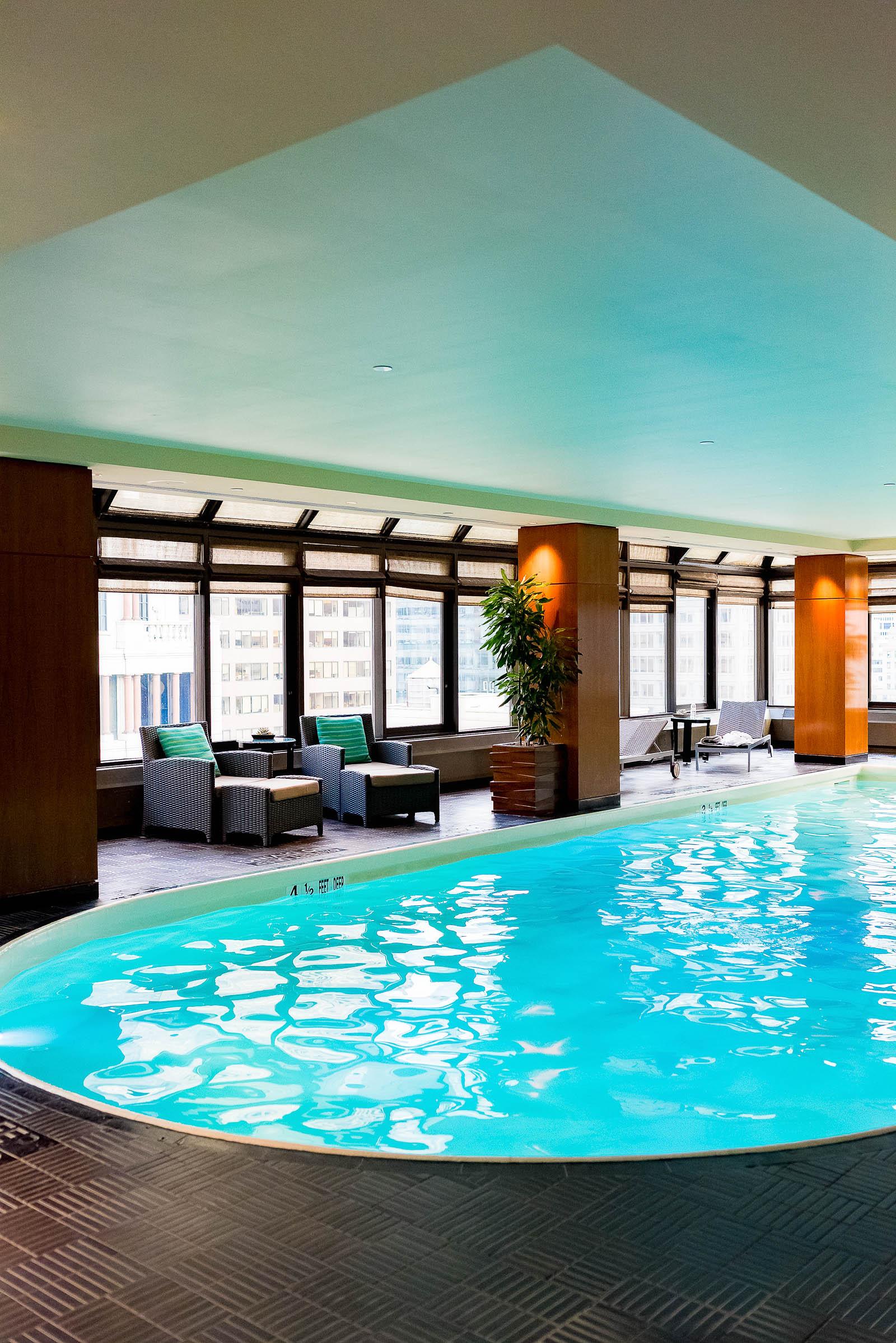 one gorgeous pool too! Knowing how I love the pool at the Peninsula in Chicago, I was thrilled to get to see the NYC pool which has a completely different but very calming and comforting vibe.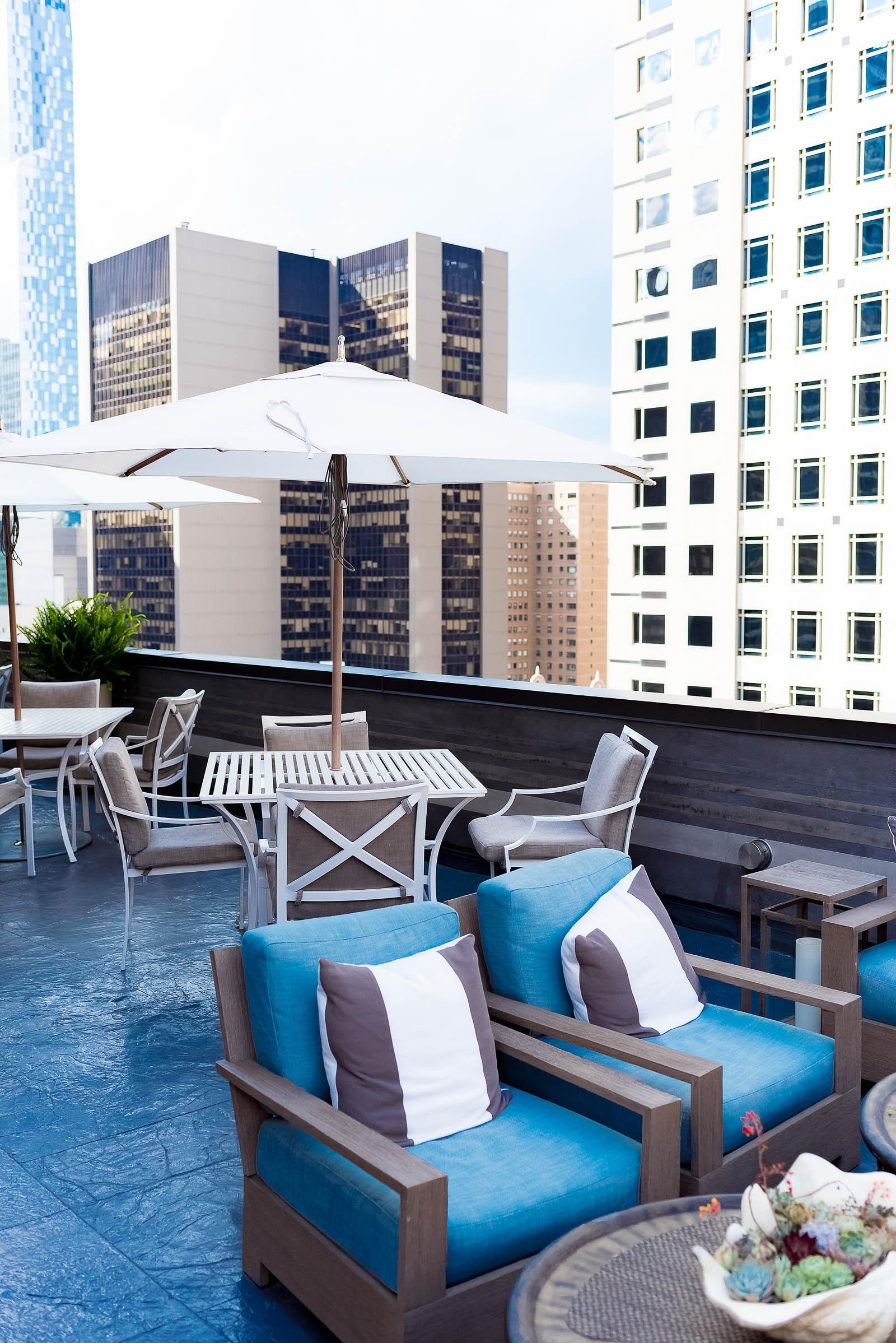 Just outside the pool you'll discover the Peninsula's beautiful sun deck which is substantially larger than the sun deck in Chicago and covers almost three sides of the hotel in length!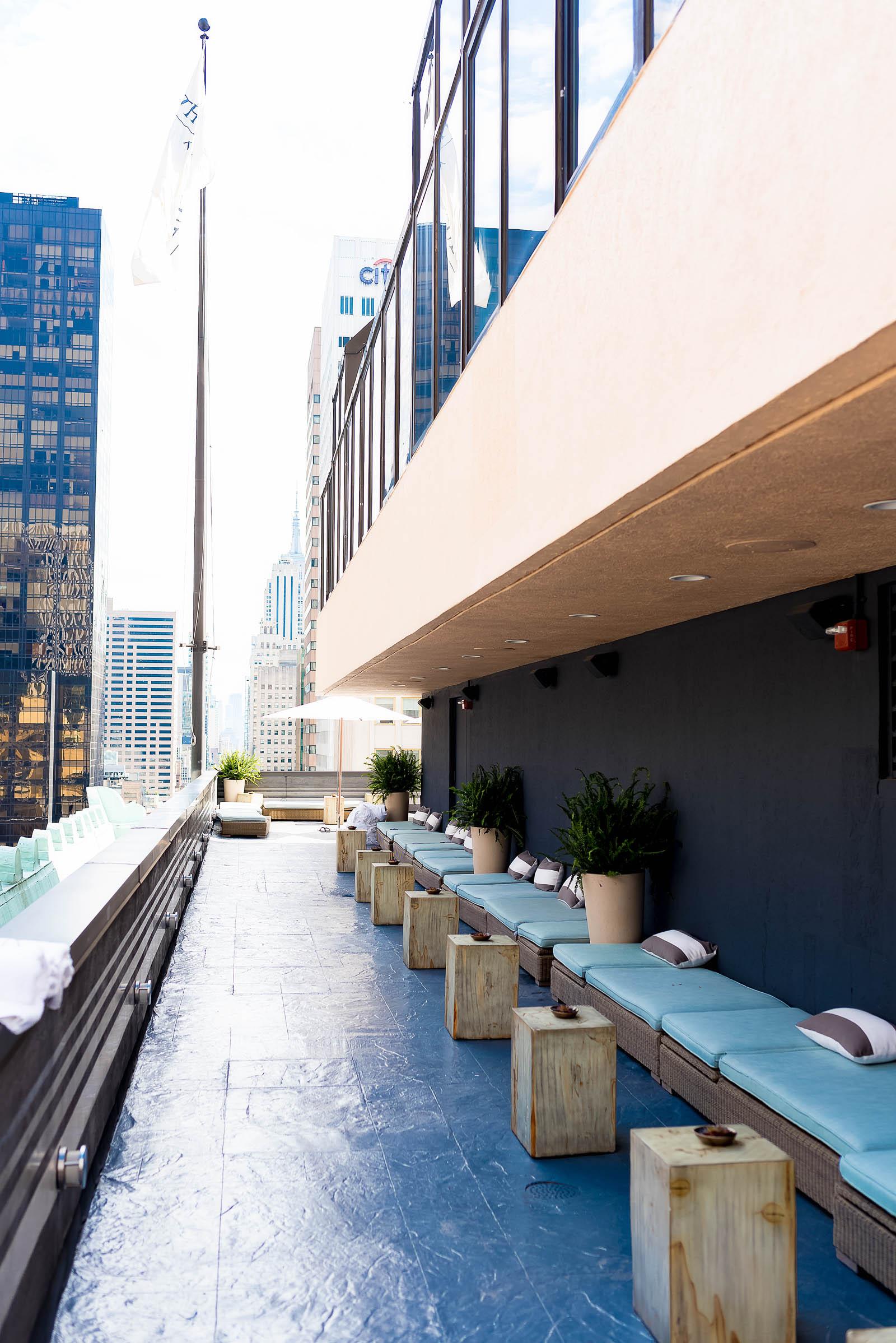 Isn't it huge? I could easily see bringing my laptop up here to work for a whole day.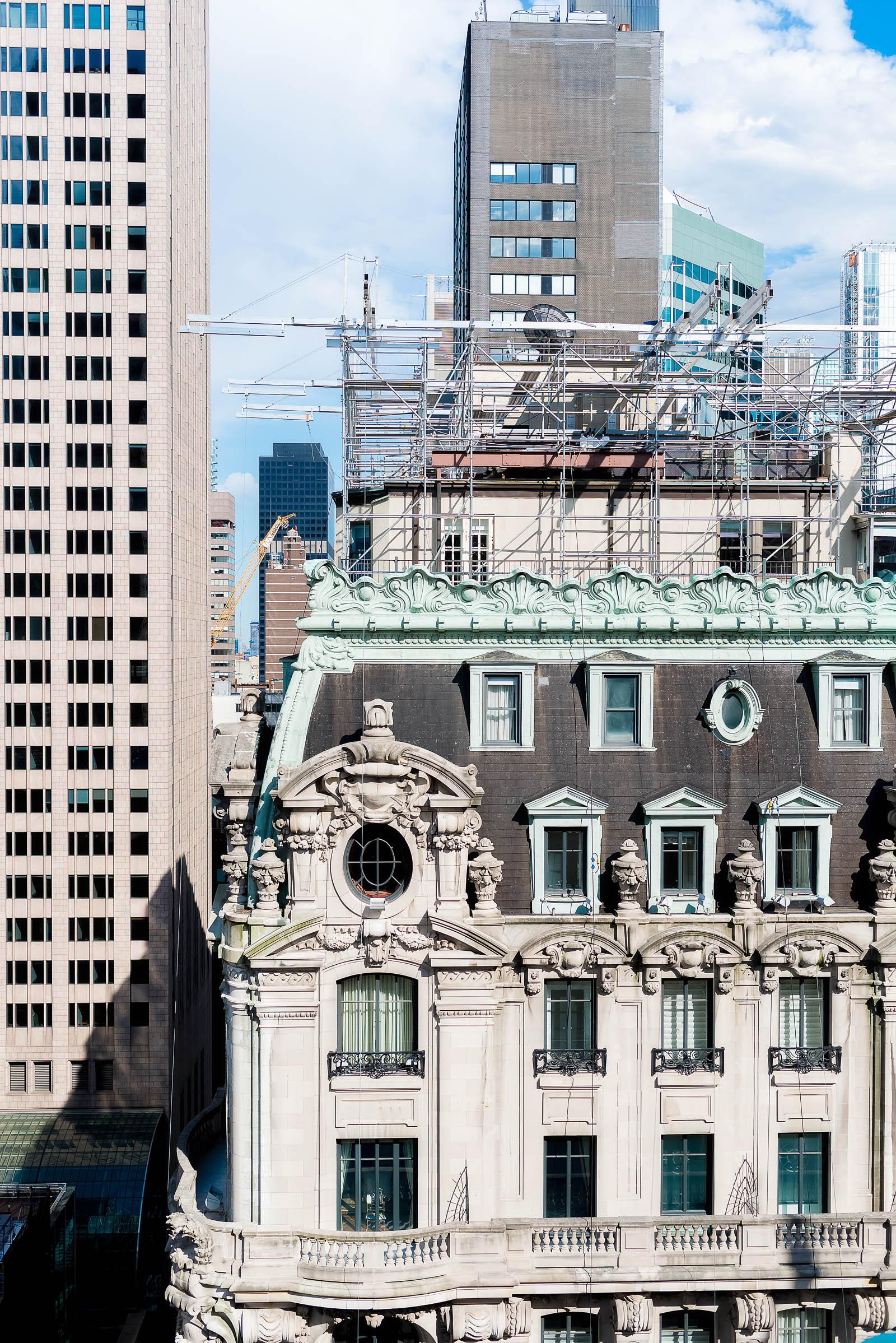 The views are pretty hard to beat — this is straight east,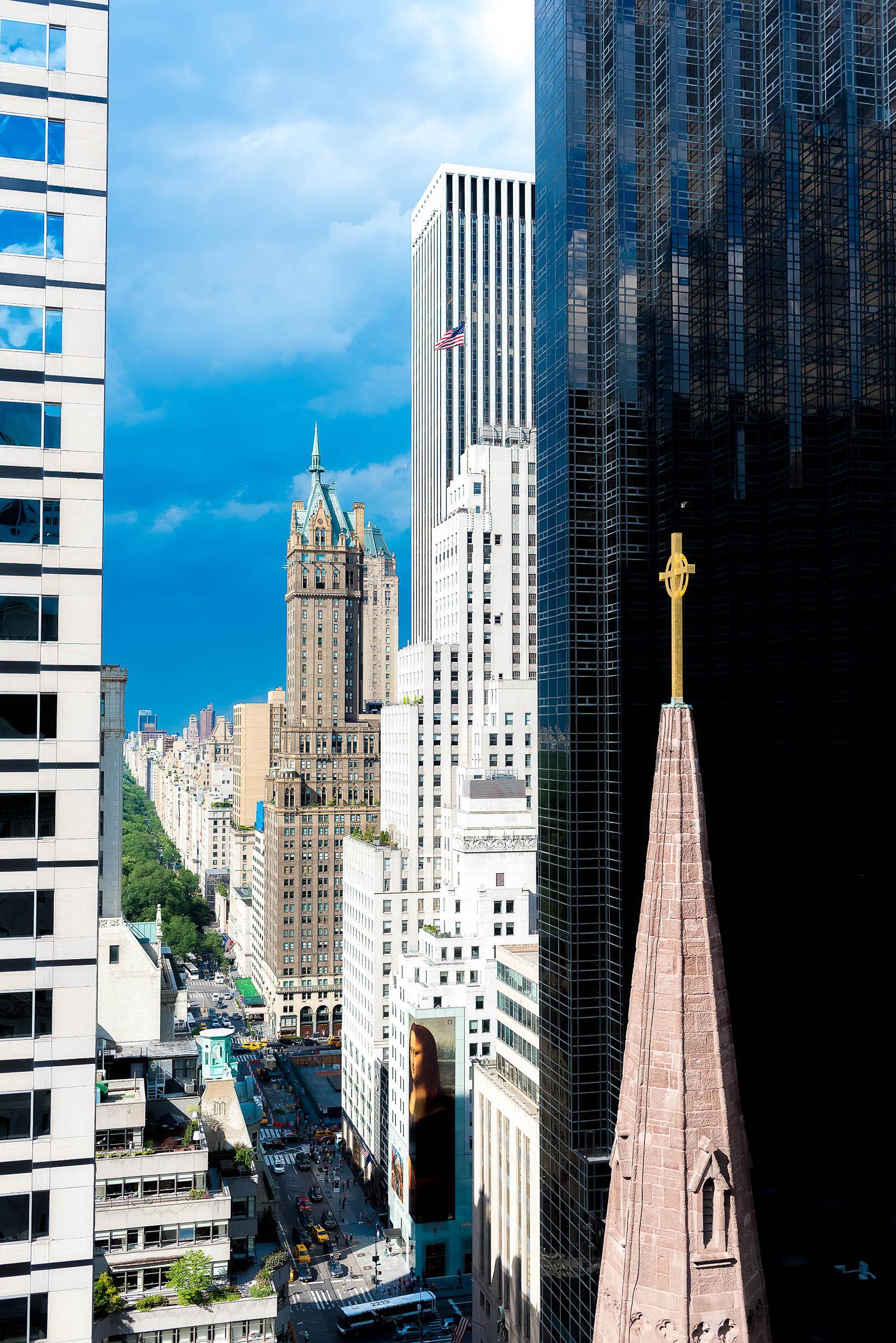 and north-east (see the southeast corner of Central Park?),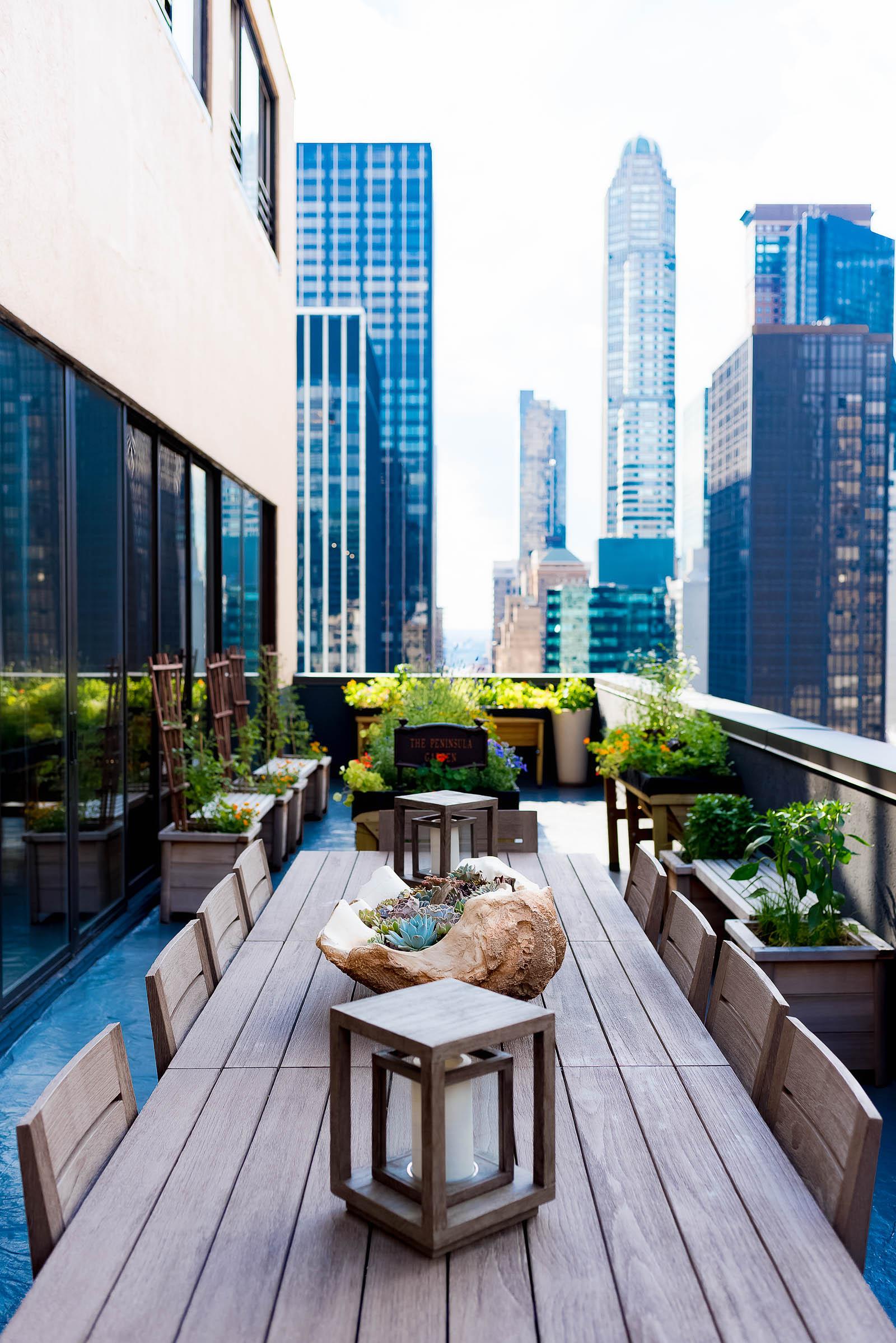 as well as straight west where we found a very lush little garden.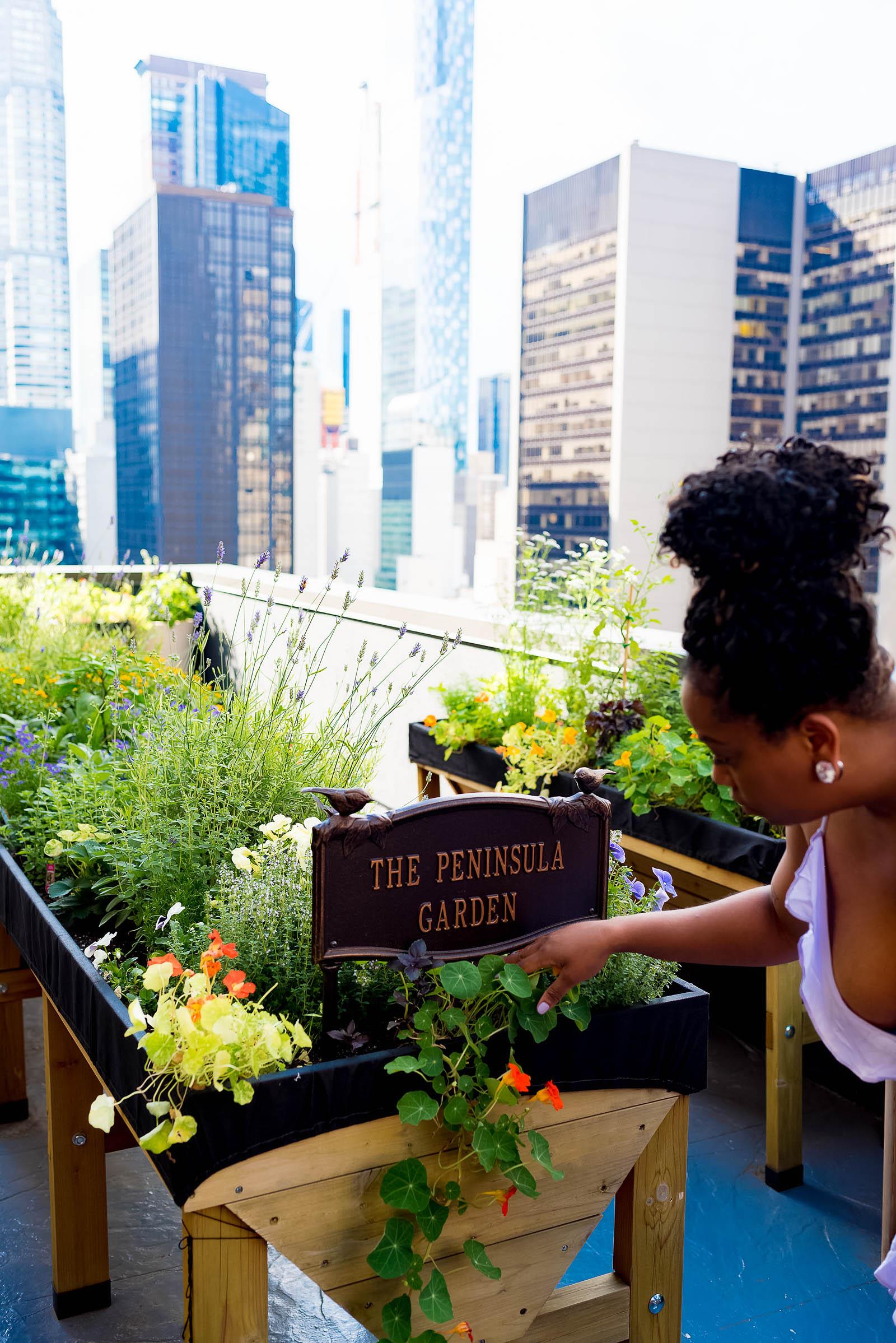 Soaring above Midtown you'll find the Peninsula's lovely herb garden where many of the herbs used in various dishes are grown.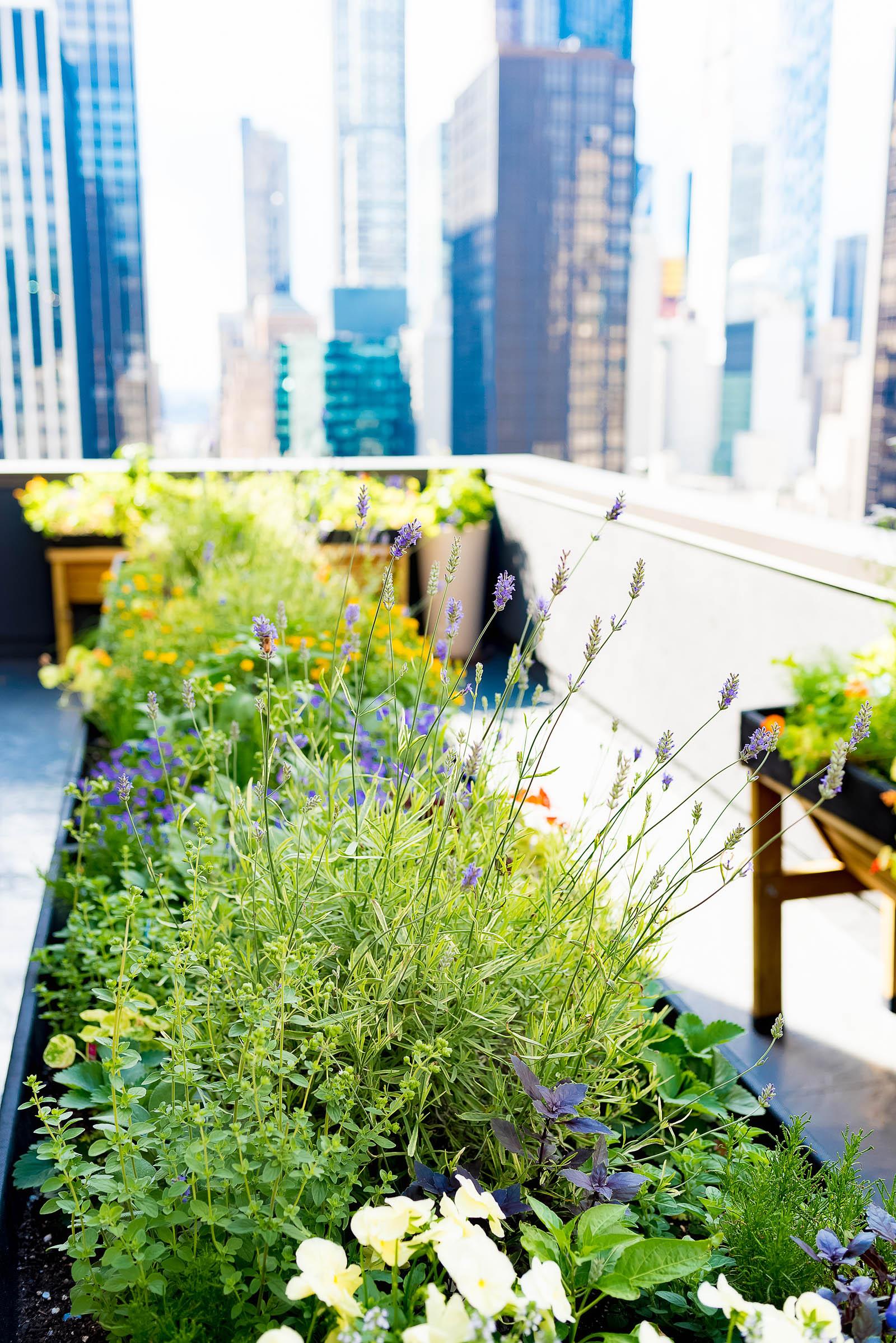 What a clever idea!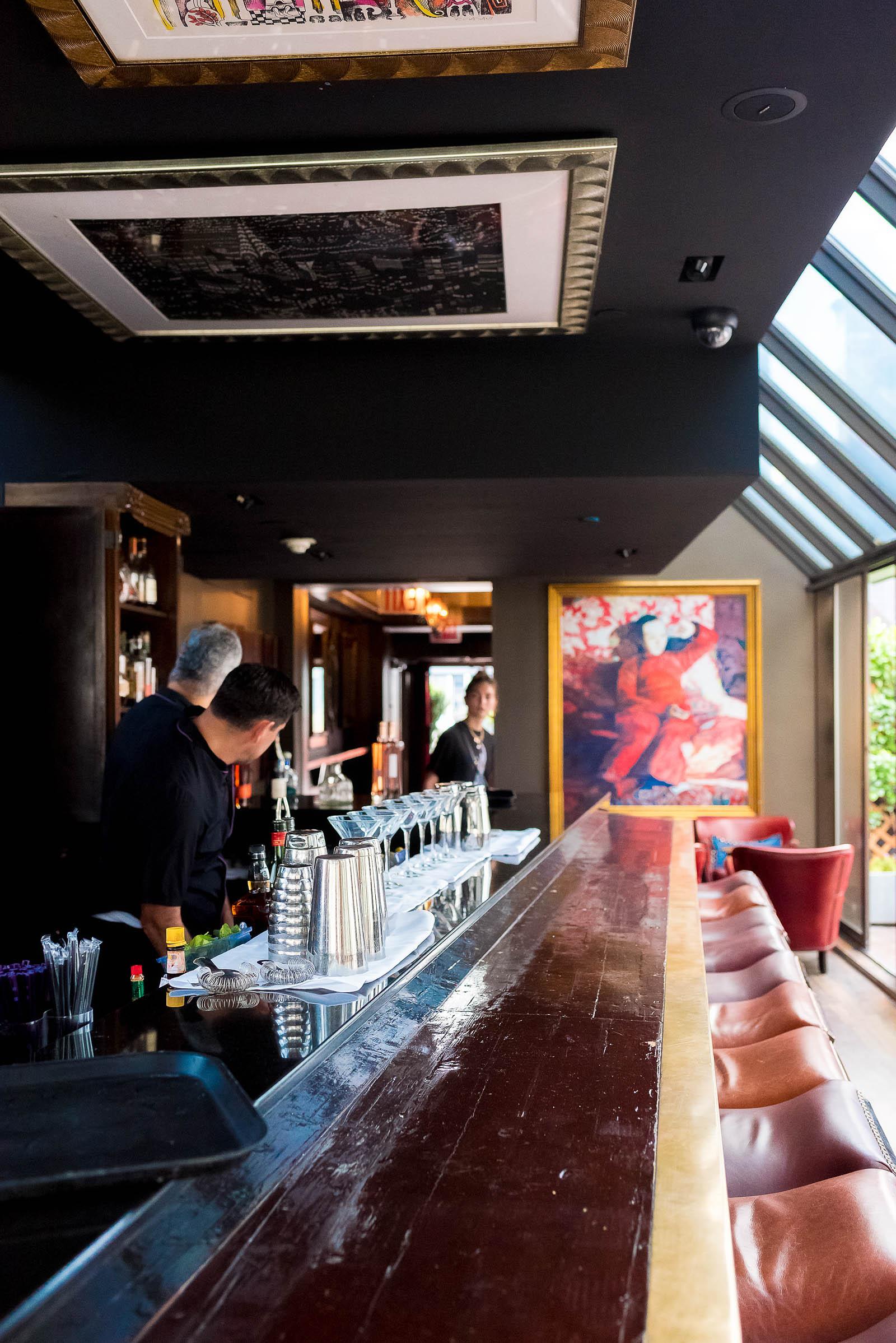 From the garden we proceeded up to the 23rd floor where we explored the Peninsula's rooftop bar Salon de Ning.
It's a moody space with a slight oriental feel,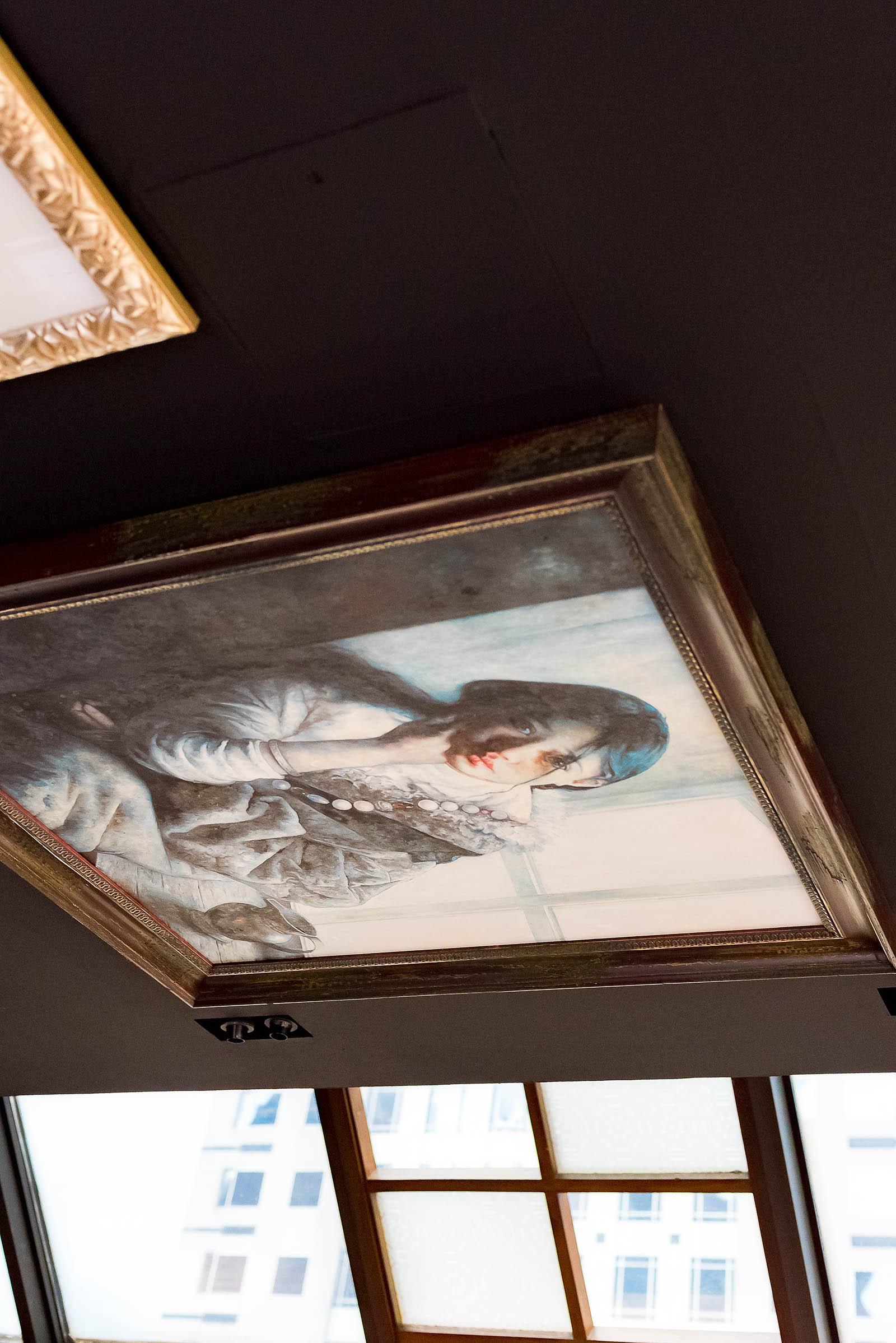 and plenty of unique art pieces affixed directly to the ceiling for effect.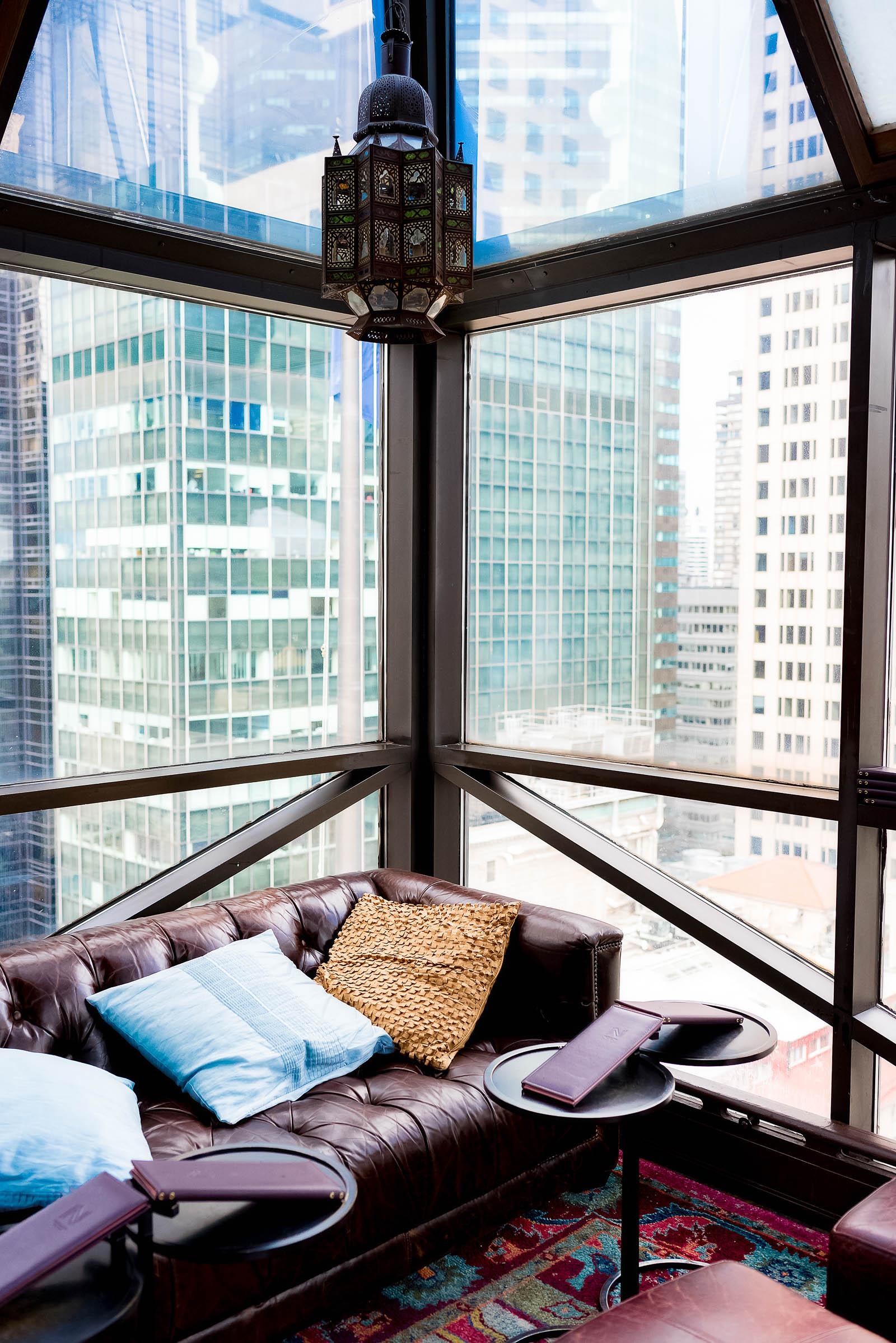 There are also some bohemian elements to the space that give it a swanky yet cozy vibe.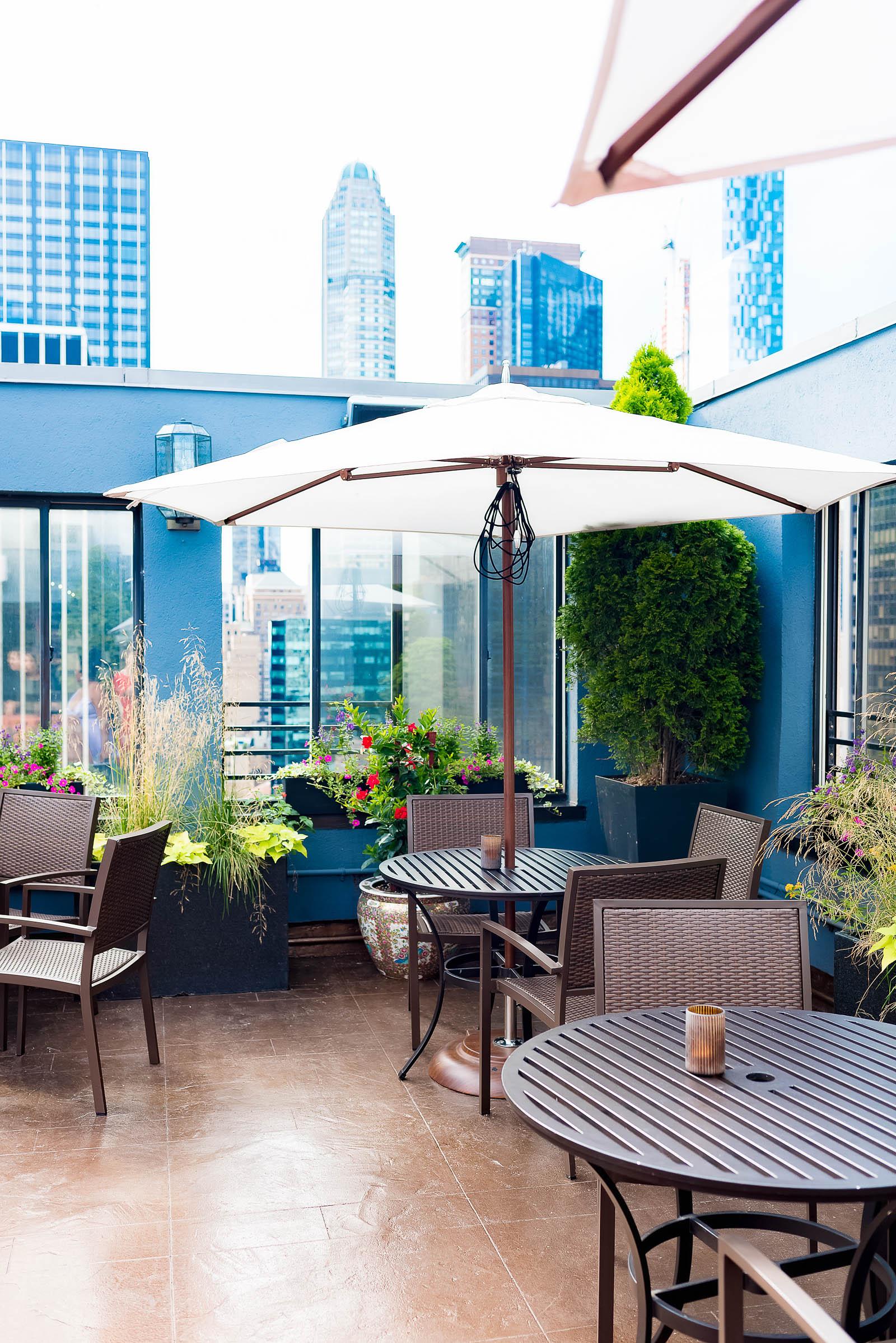 There's also yet another outdoor space that's very beautiful too.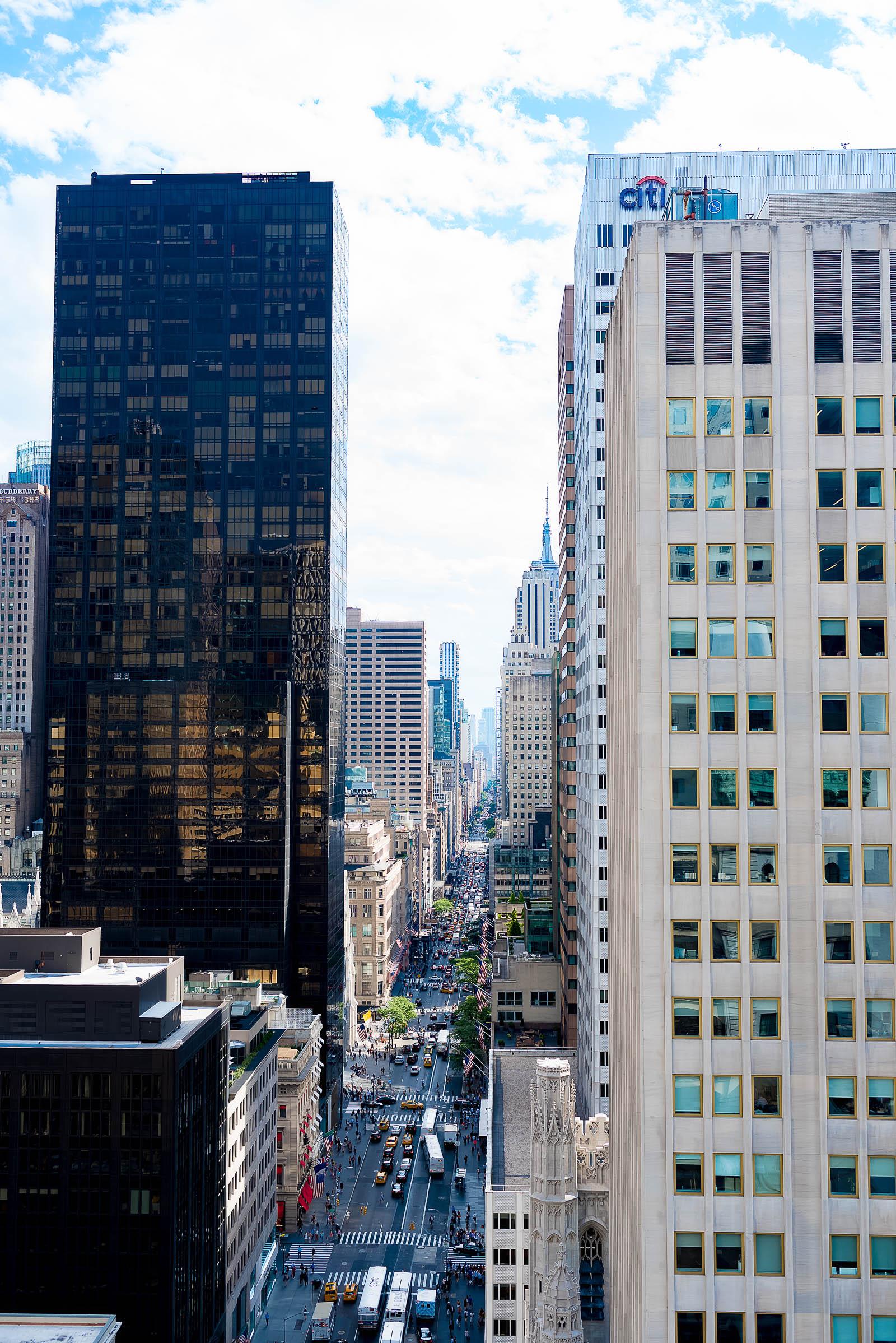 And which has a spectacular view south down 5th Avenue!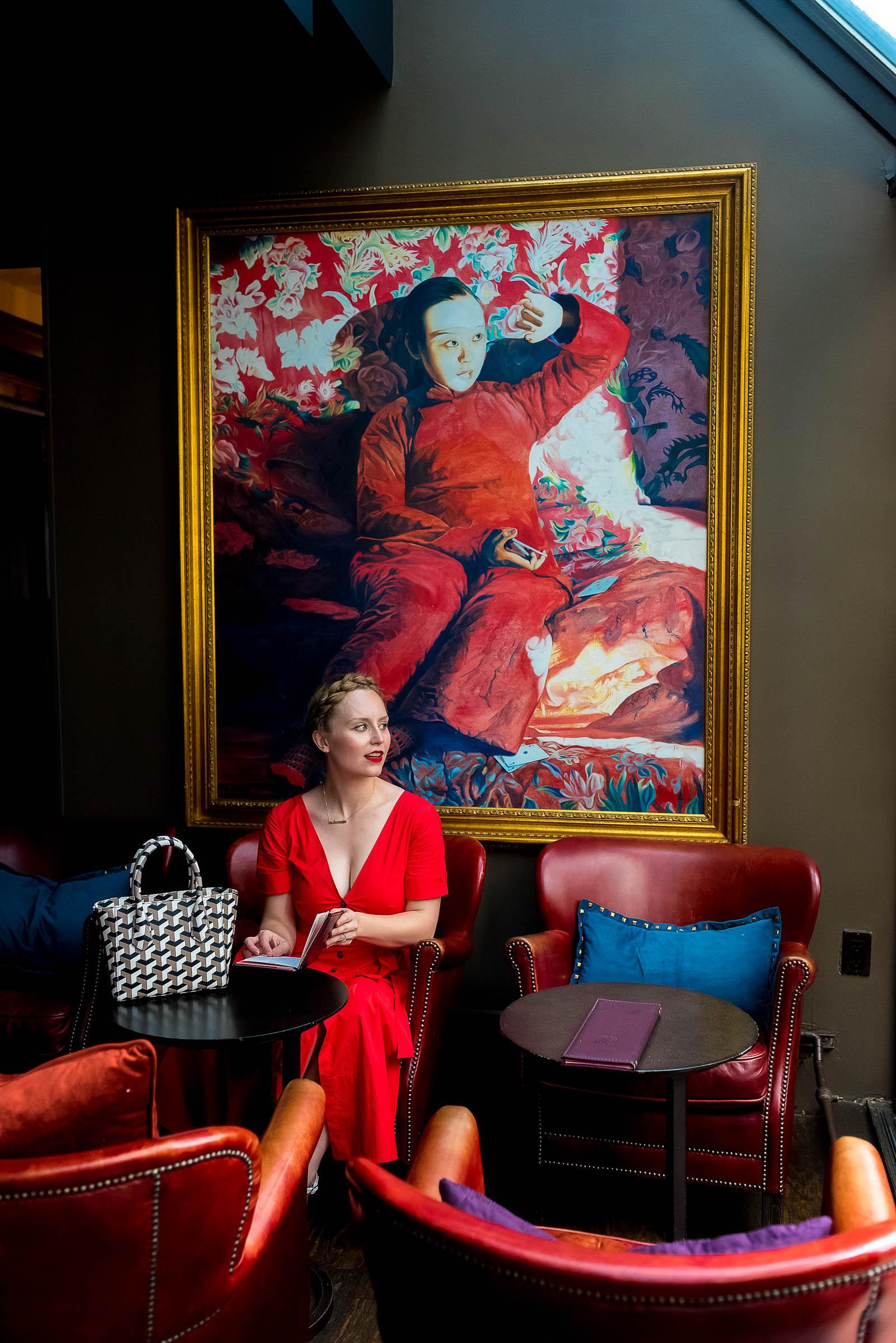 As to be expected with any Peninsula hotel, the NYC Peninsula is a luxurious treat to visit, whether you're stopping at one of their many bars for a drink, at the Gotham Lounge for afternoon tea, or the glorious spa for a much-needed massage.
You won't regret your visit.
Disclosure: We received a complimentary meal to facilitate this post. Review and all opinions are ALWAYS my own.