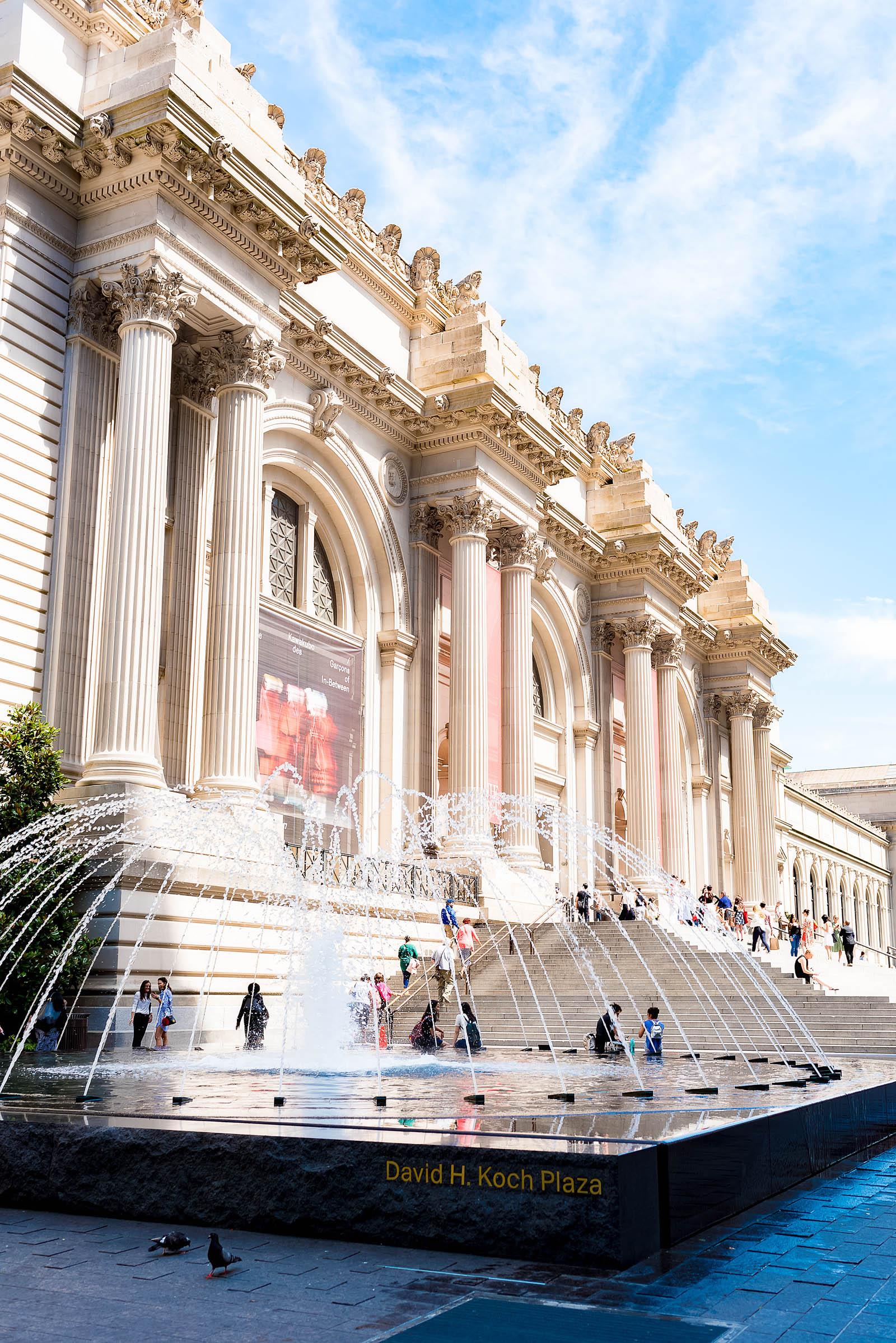 Are you ready for today's post?
Because its HUGE!
And jammed full of some of the best museum inspiration I've yet found!
As a great lover of both history AND art, I've spent countless hours of my life wandering through museums.
Some understand this, some don't…
But for those who DO, museums are and always will be a place of solace and inspiration — temples to the indomitable creativity of the human spirit. And visiting a great museum has always been one of the best ways to boost your own creativity.
Growing up in Chicago, I've been lucky to have so many extraordinary museums at my finger tips (the Art Institute is consistently rated one of the best in the world). But besides the Louvre and the British Museum, my experience with famous museums outside of Chicago is quite limited.
But my "must visit" list of museums is HUGE! And this summer I finally ticked one of the most important visits off that list.
The Metropolitan Museum of Art.
The Met.
The iconic NYC museum housing everything from dreamy impressionist paintings to medieval armor to an entire Egyptian temple.
It's easily one of the best things I did all summer, if not all year!
Care to step inside with me?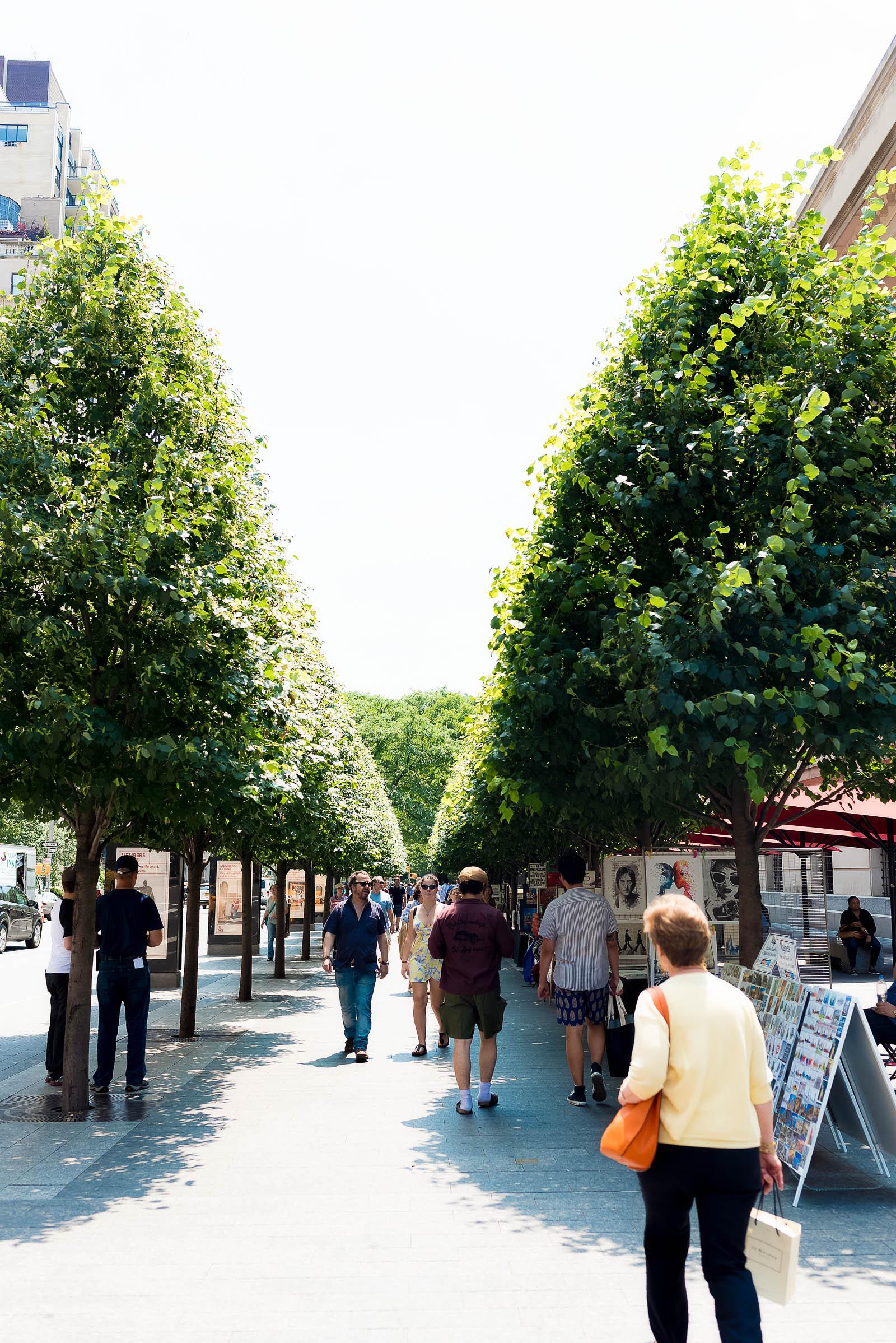 Tucked into Central Park in the Upper East Side of NYC surrounded by gardens,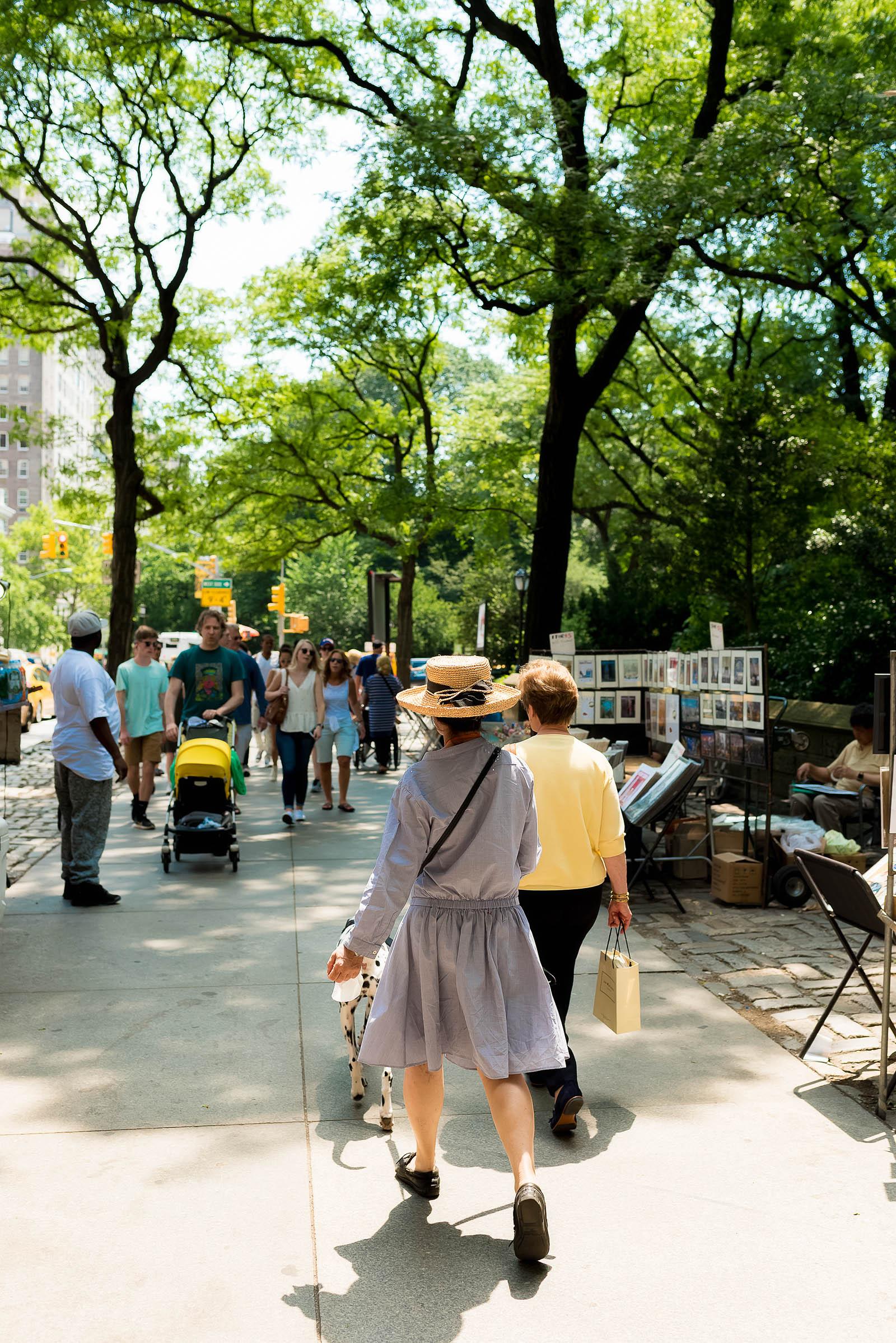 and some very chic residents.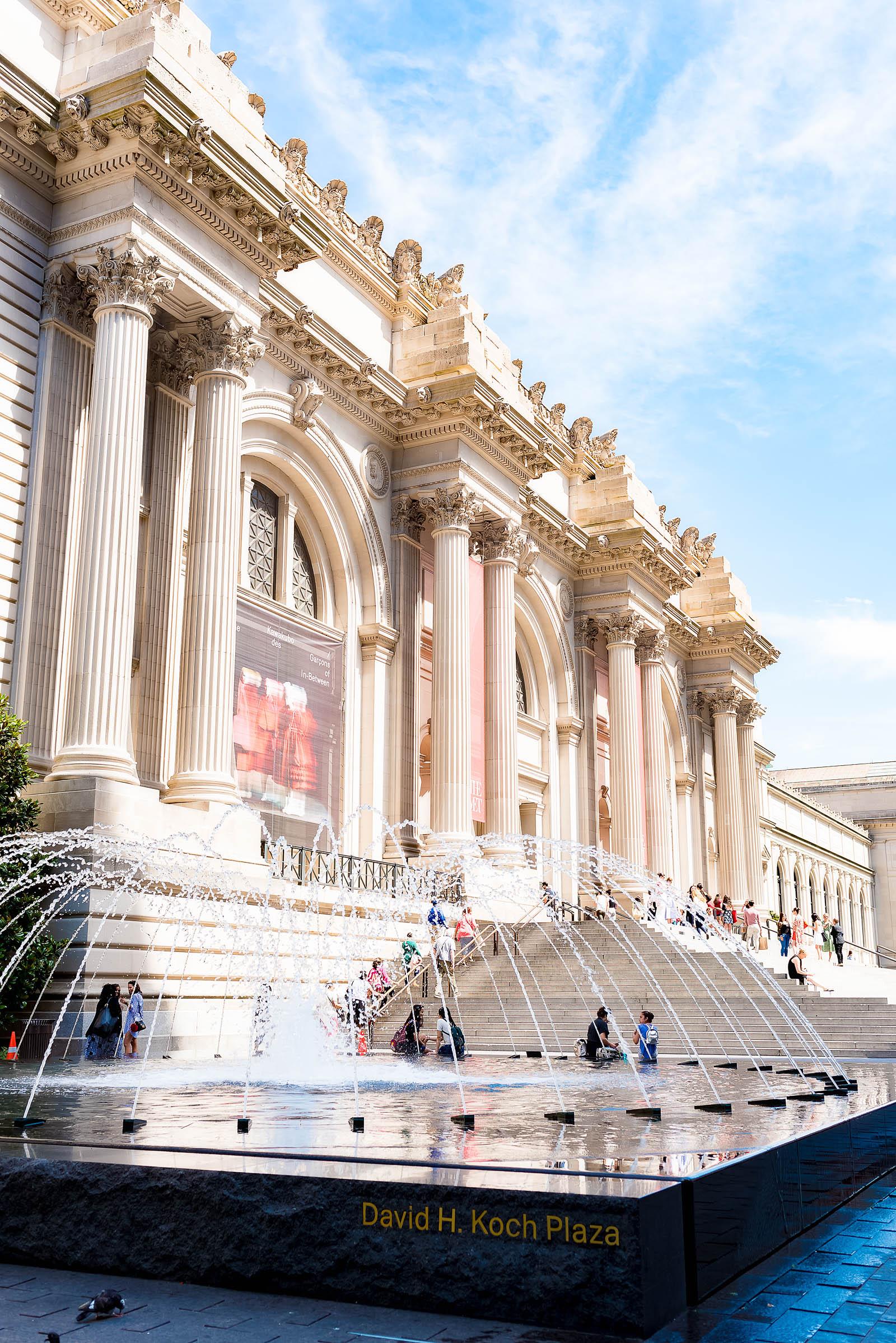 You'll find the Met.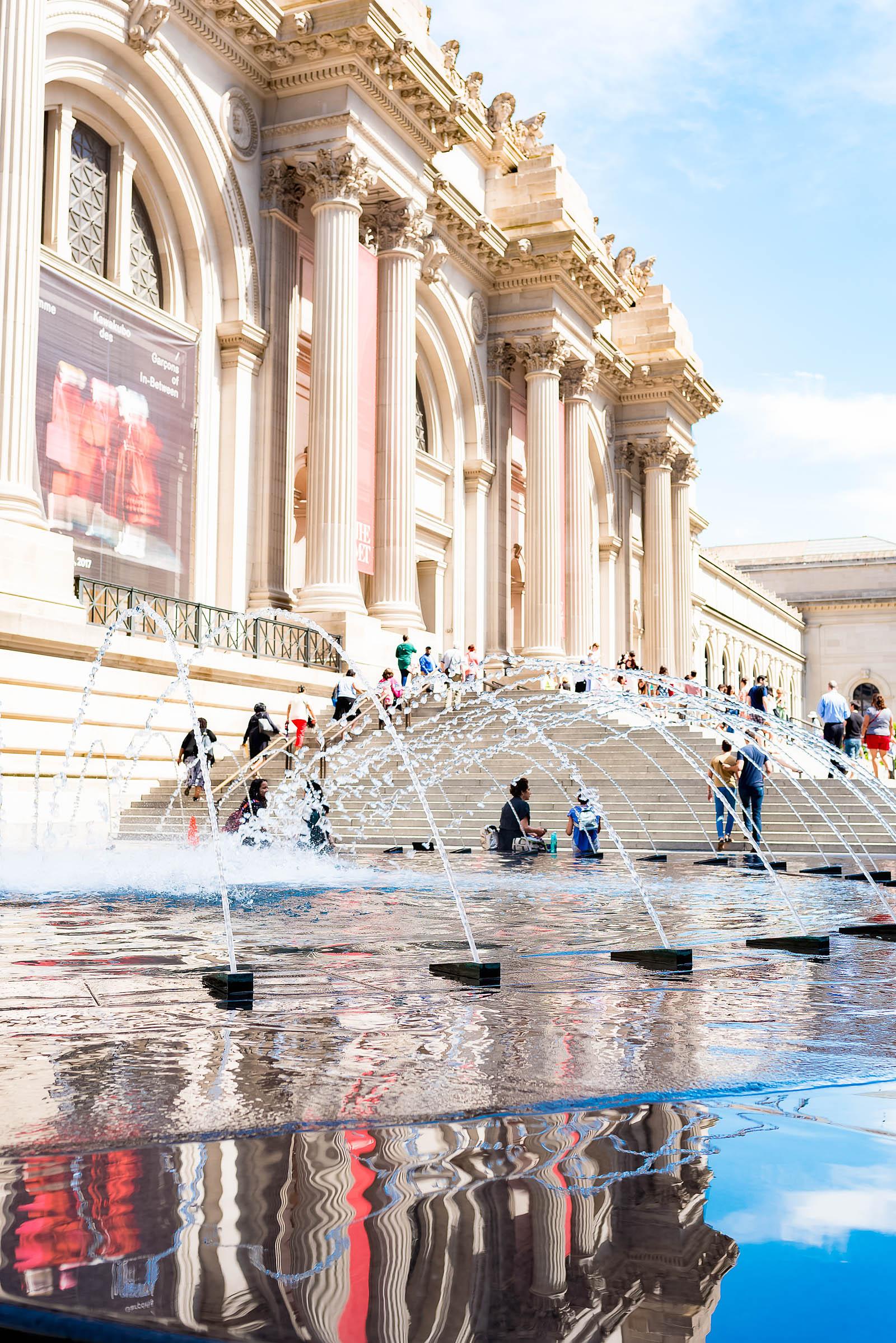 It's impossible to miss with it's enormous, European façade and impressive fountains!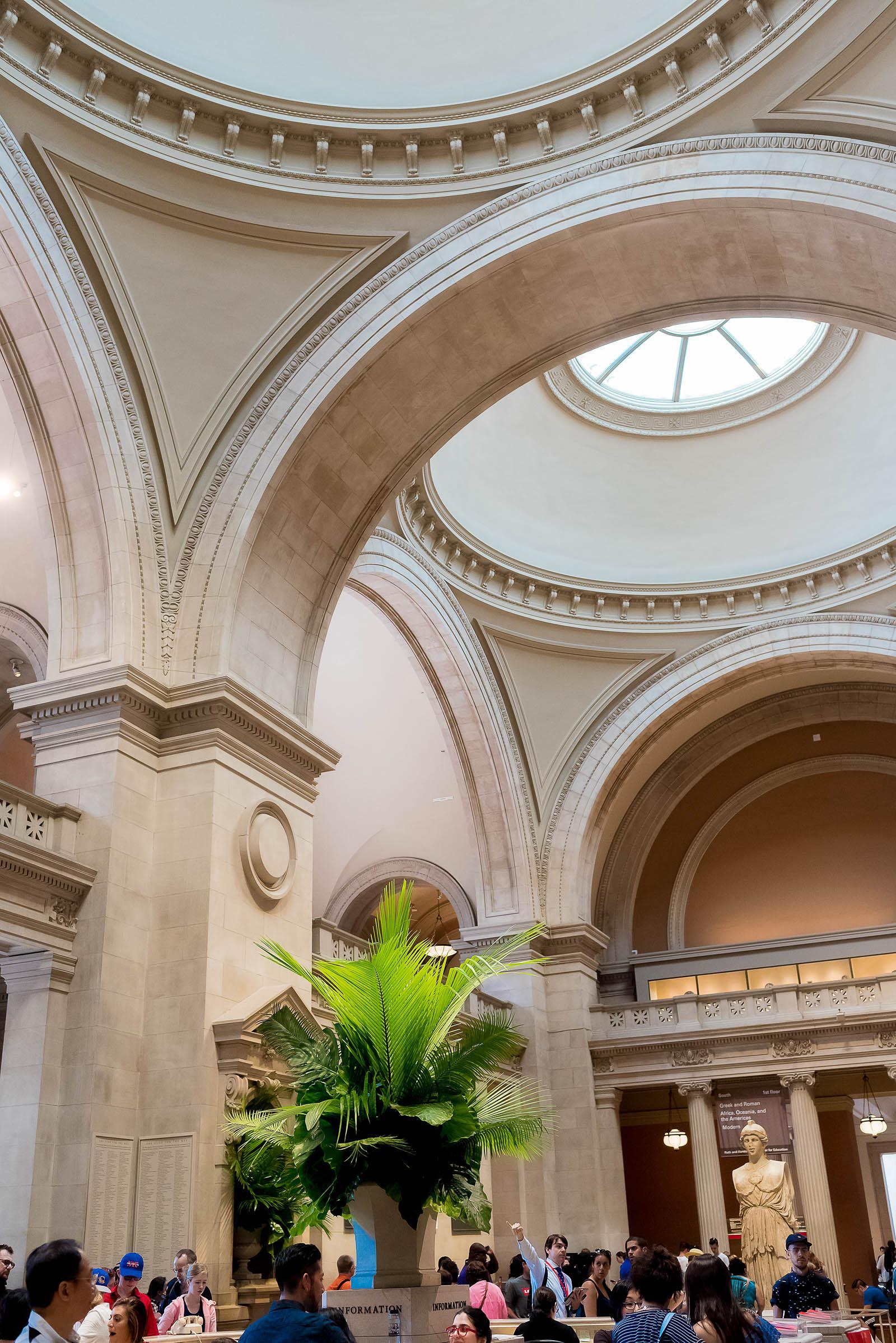 First step into The Great Hall to pick up your tickets.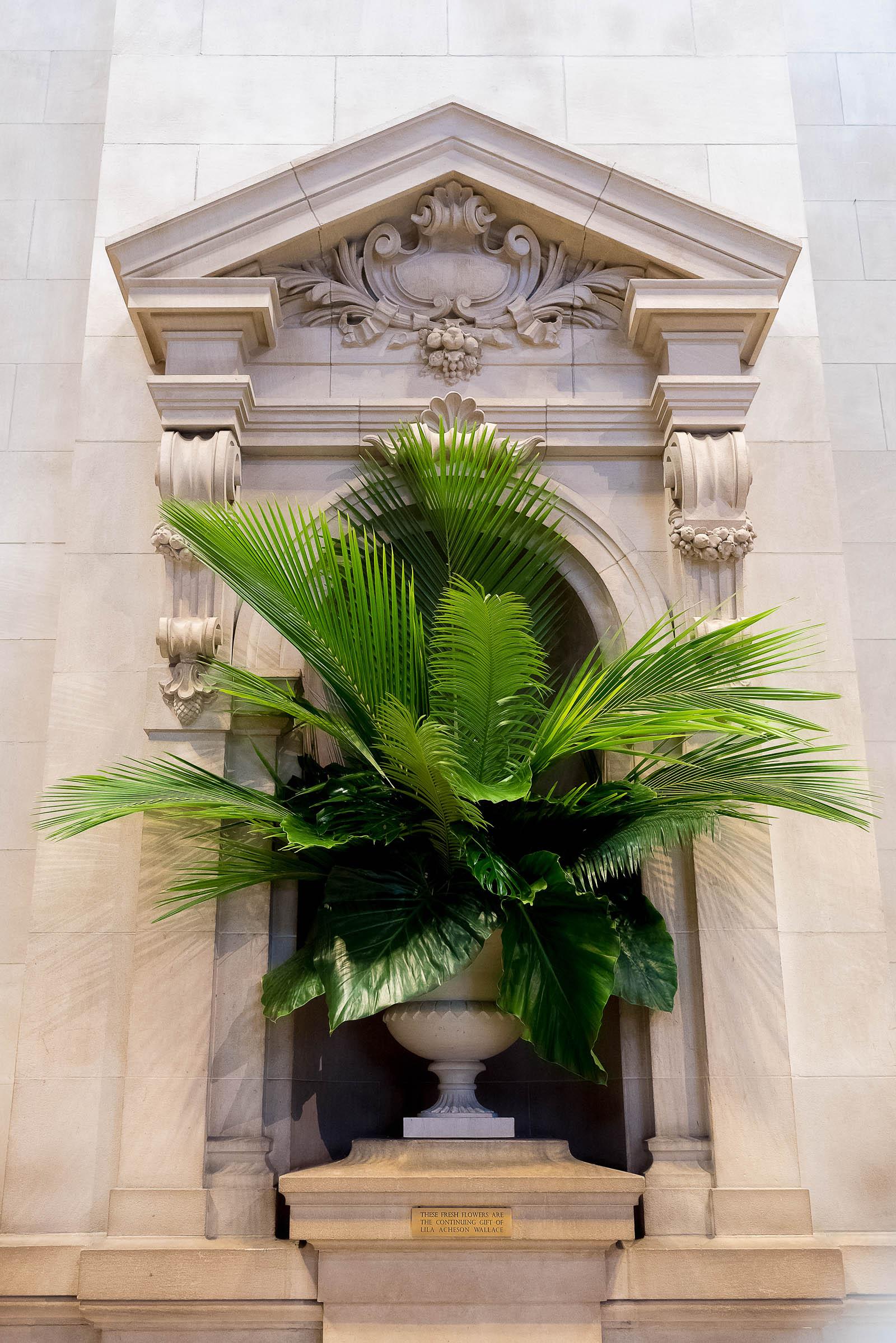 The Met issues tickets on a 'choose what you pay' basis. I highly recommend paying as much for your ticket as you can afford — every little bit helps when it comes to preserving culture and the arts for future generations!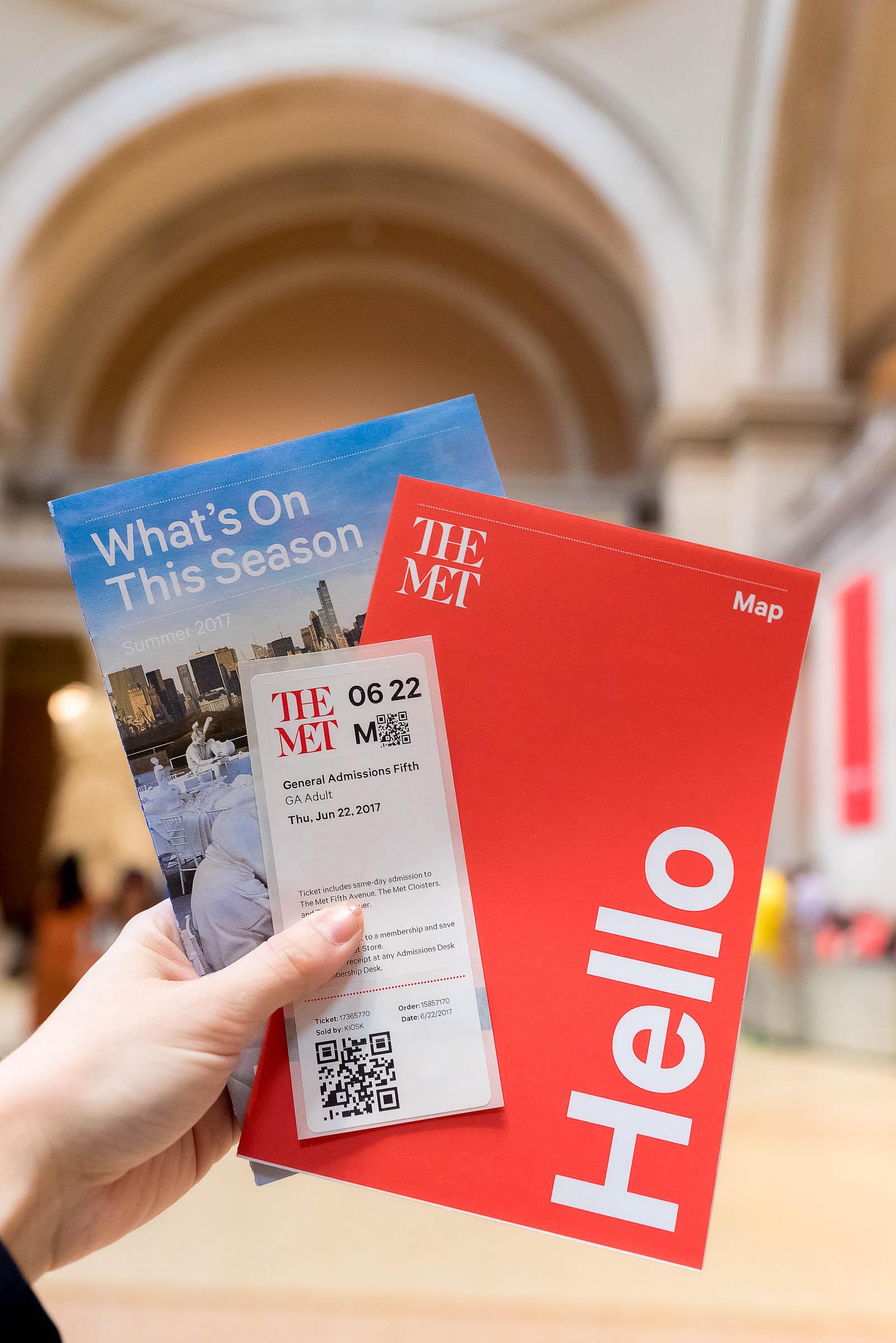 Then grab a map and you're ready!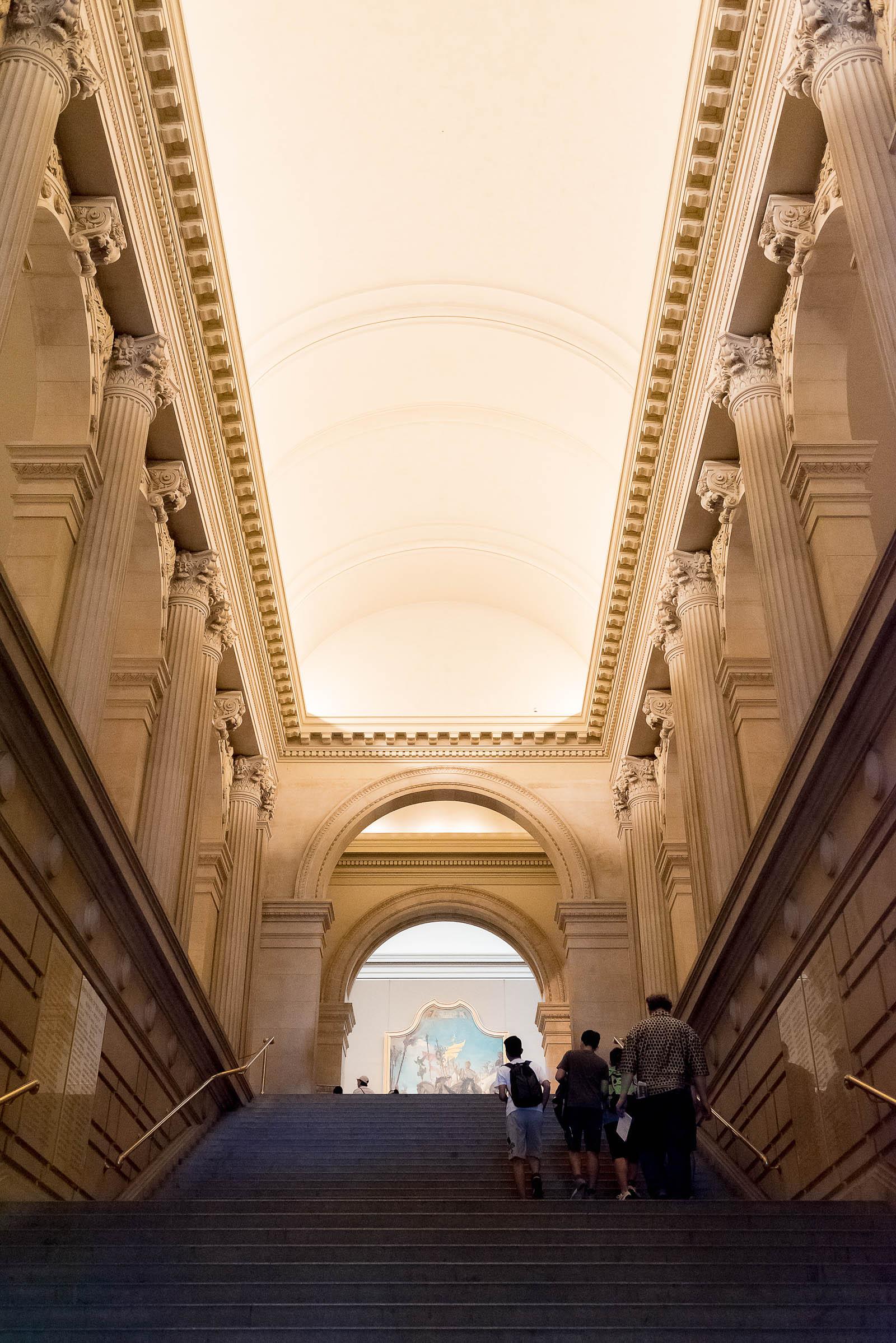 Slowly take your first steps up the Met's famous staircase… pausing for a moment to appreciate just how many famous people have ascended that staircase.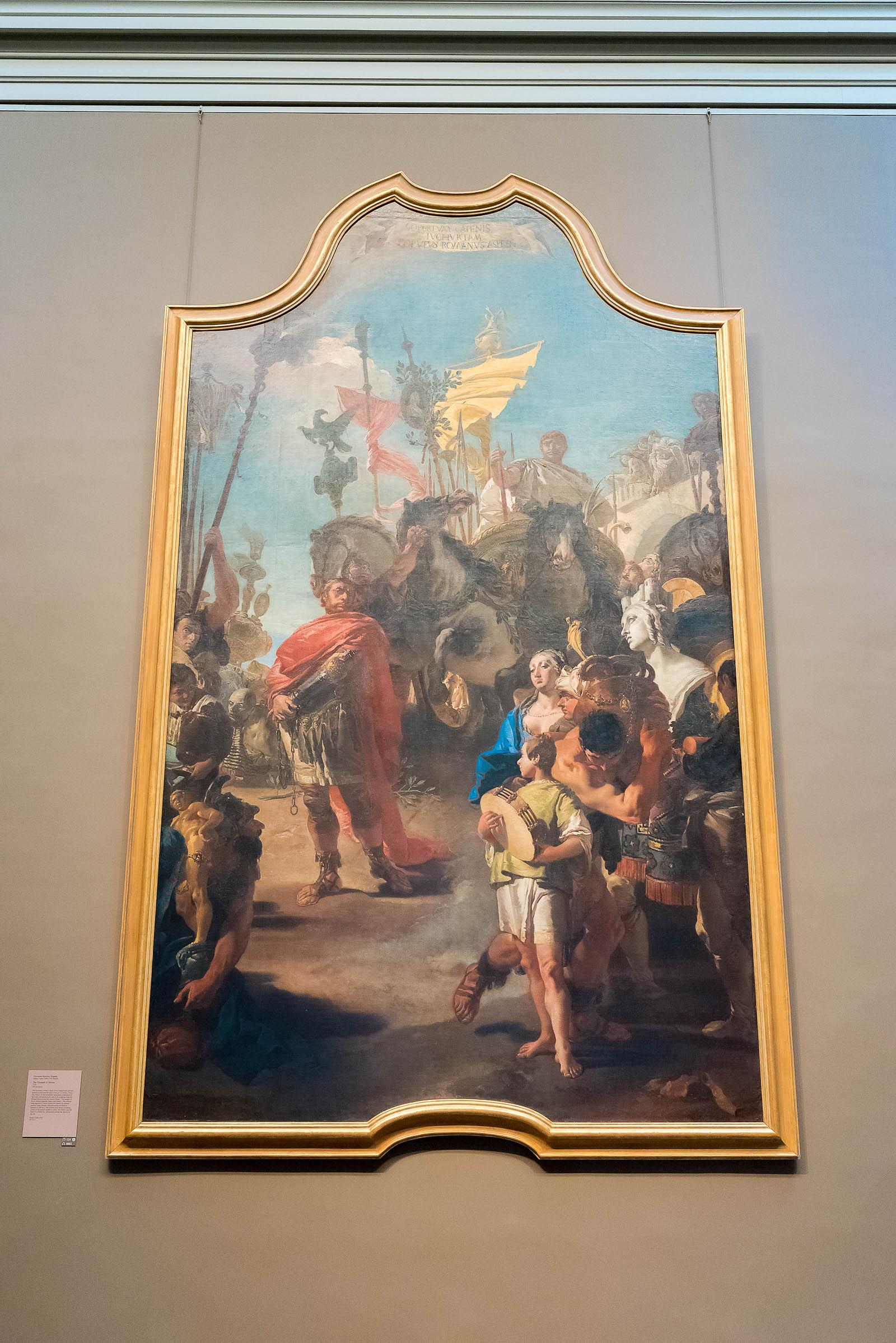 Then begin your explorations!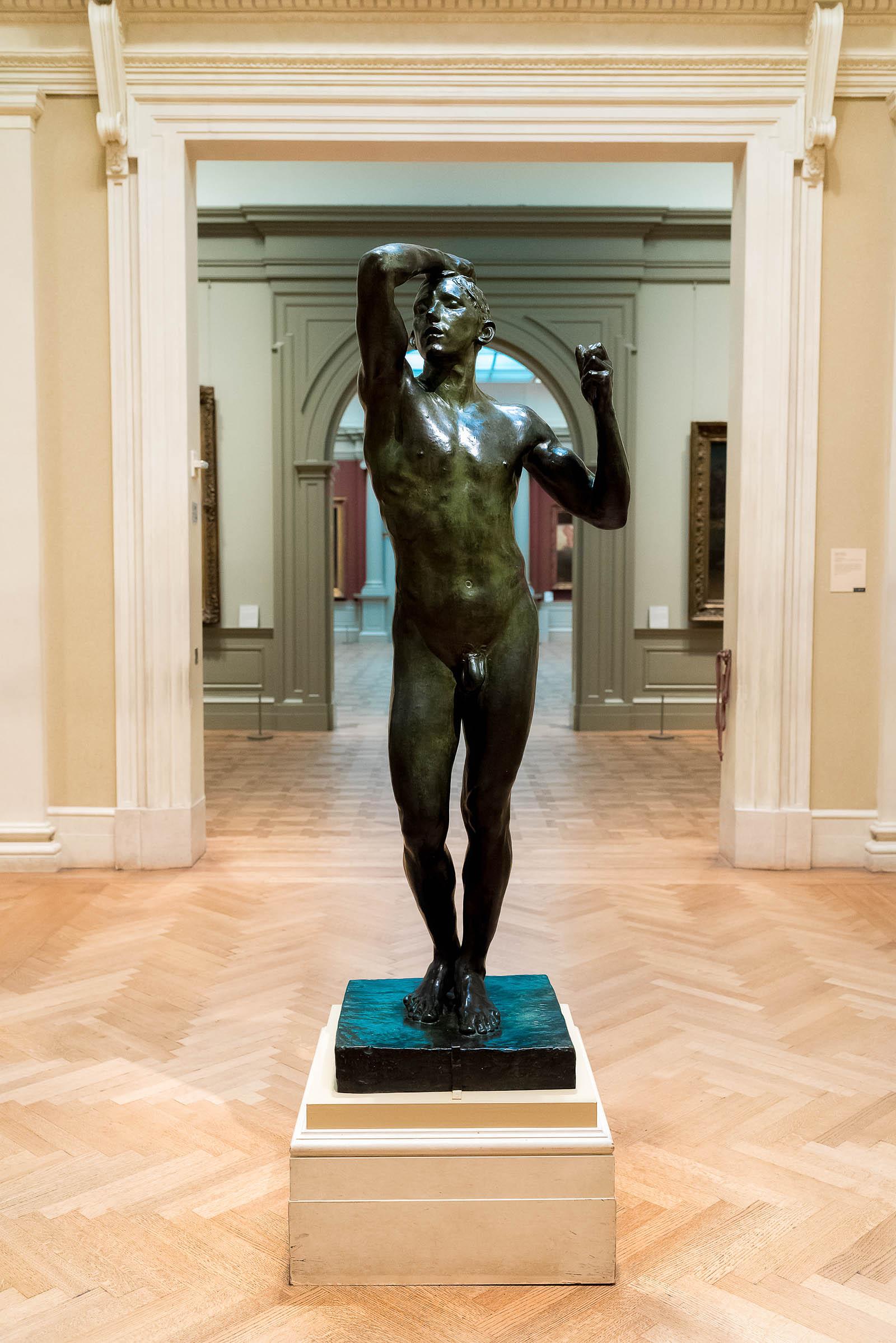 Now the Met Museum is ENORMOUS.
Actually that's an understatement — it's the biggest museum I've been to, aside from the Louvre!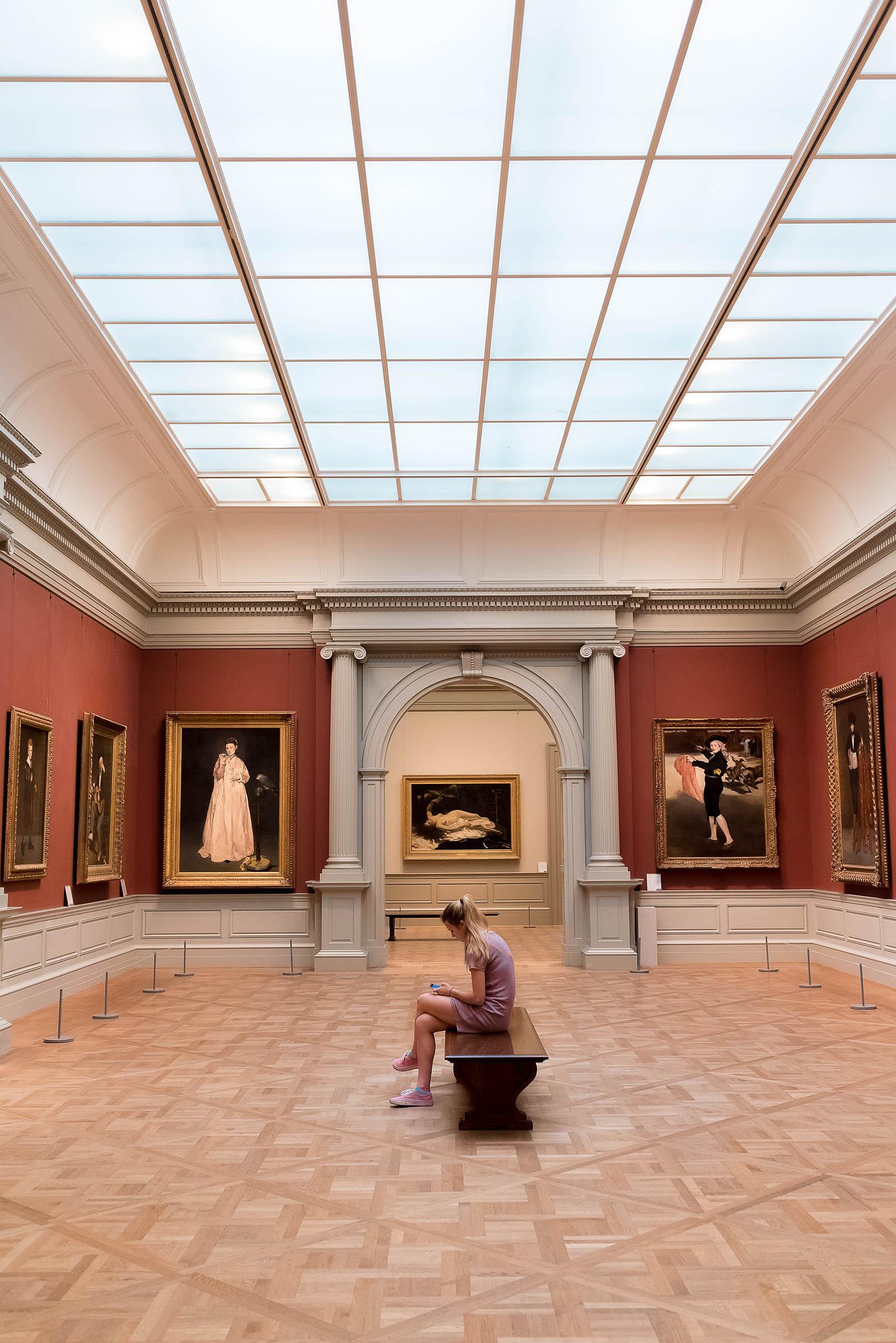 And I'm not dare going to try to condense this amazing place into one single blog post.
Or try to dare document ALL that you can actually see at this museum… because it would take me MONTHS to write and because it really is the sort of place you just need to see for yourself.
There really is magic around every corner…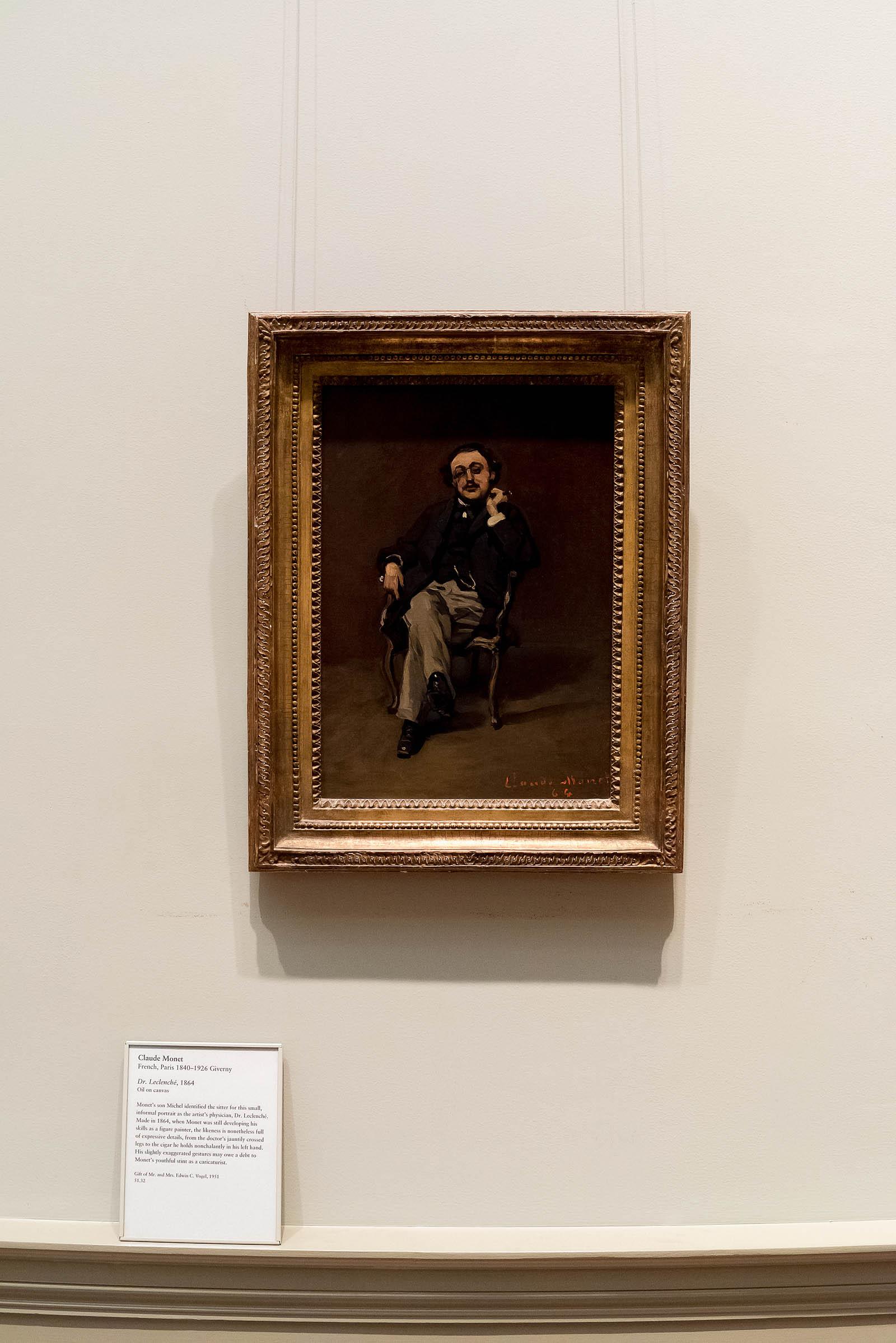 Everything from Monet's,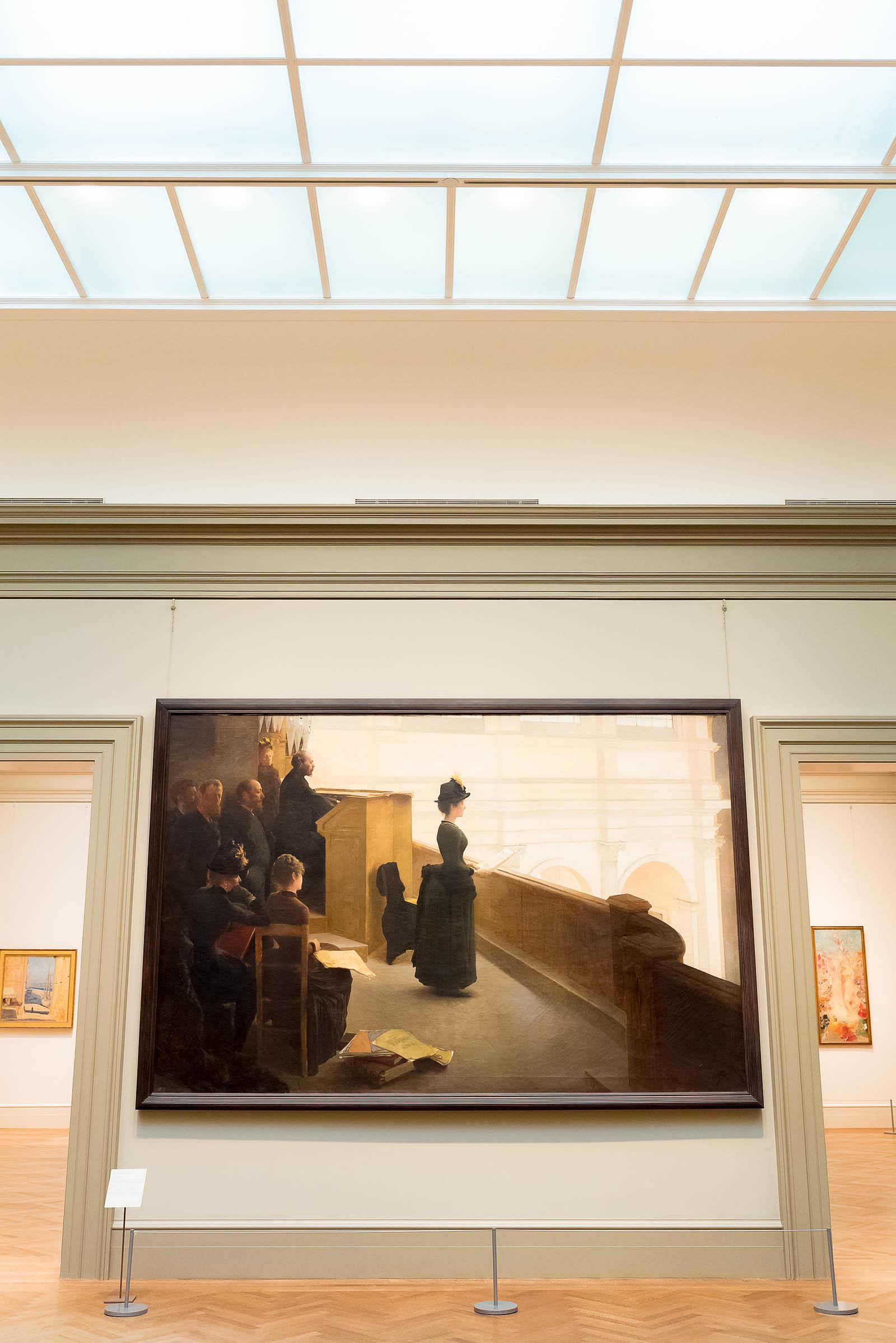 to The Paris Salon,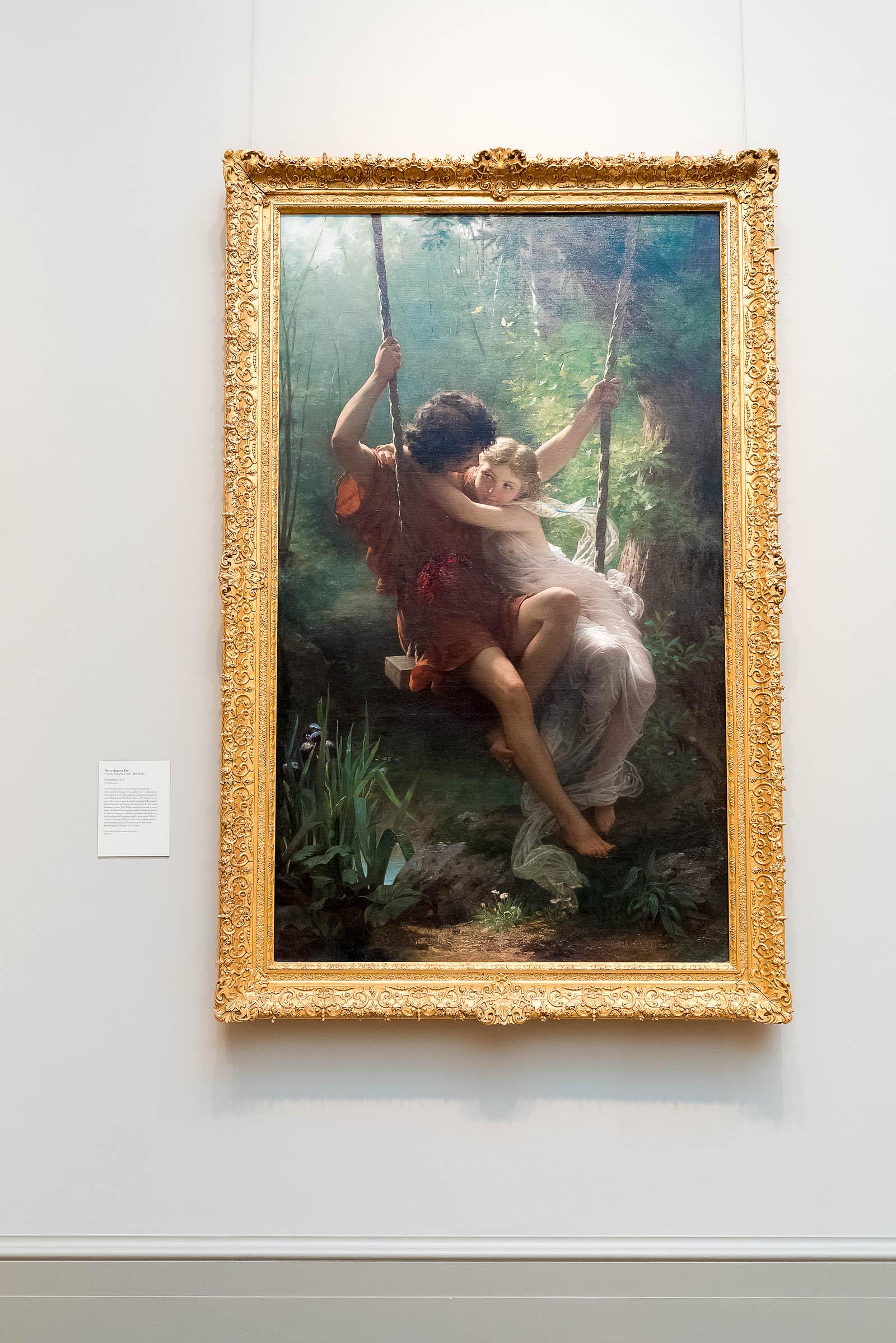 to Pierre-Auguste Cot,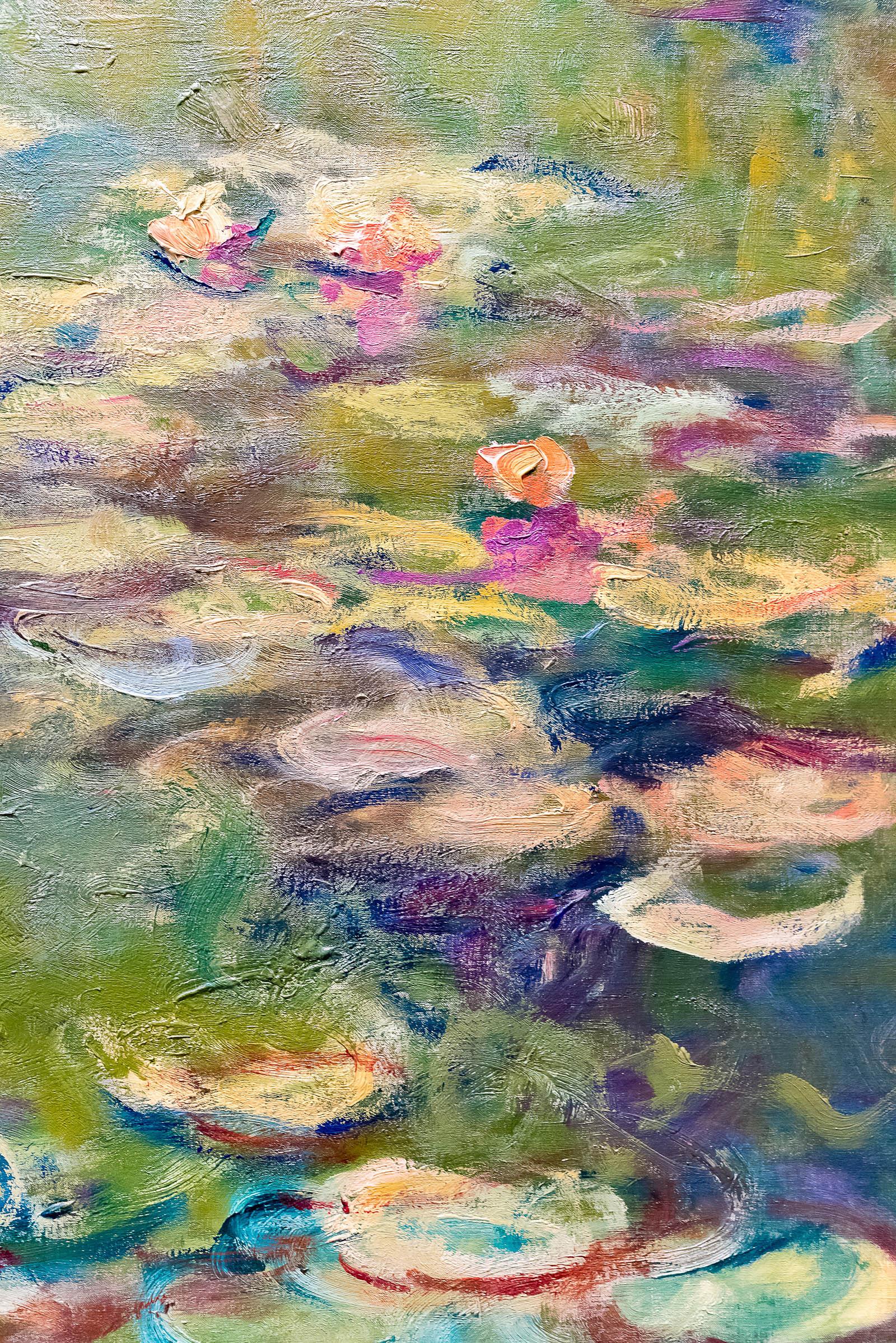 back to Monet again.
(How incredible are these brush strokes? And how incredible is it that I was allowed to get close enough to shoot such amazing detail?)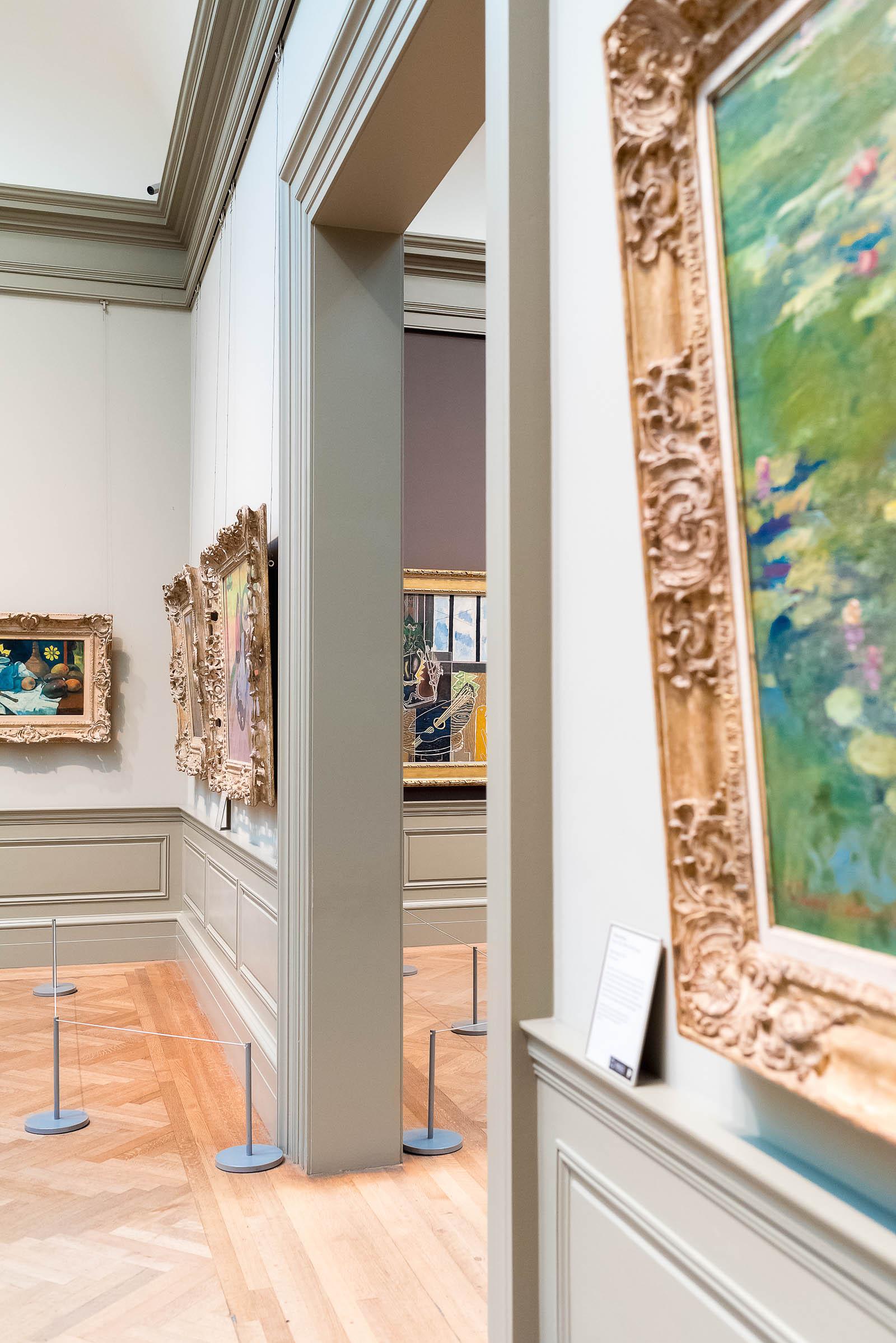 So much excitement around every corner. As a huge fan of Monet in particular, I was pleasantly surprised to see how many famous Monet's called the Met home.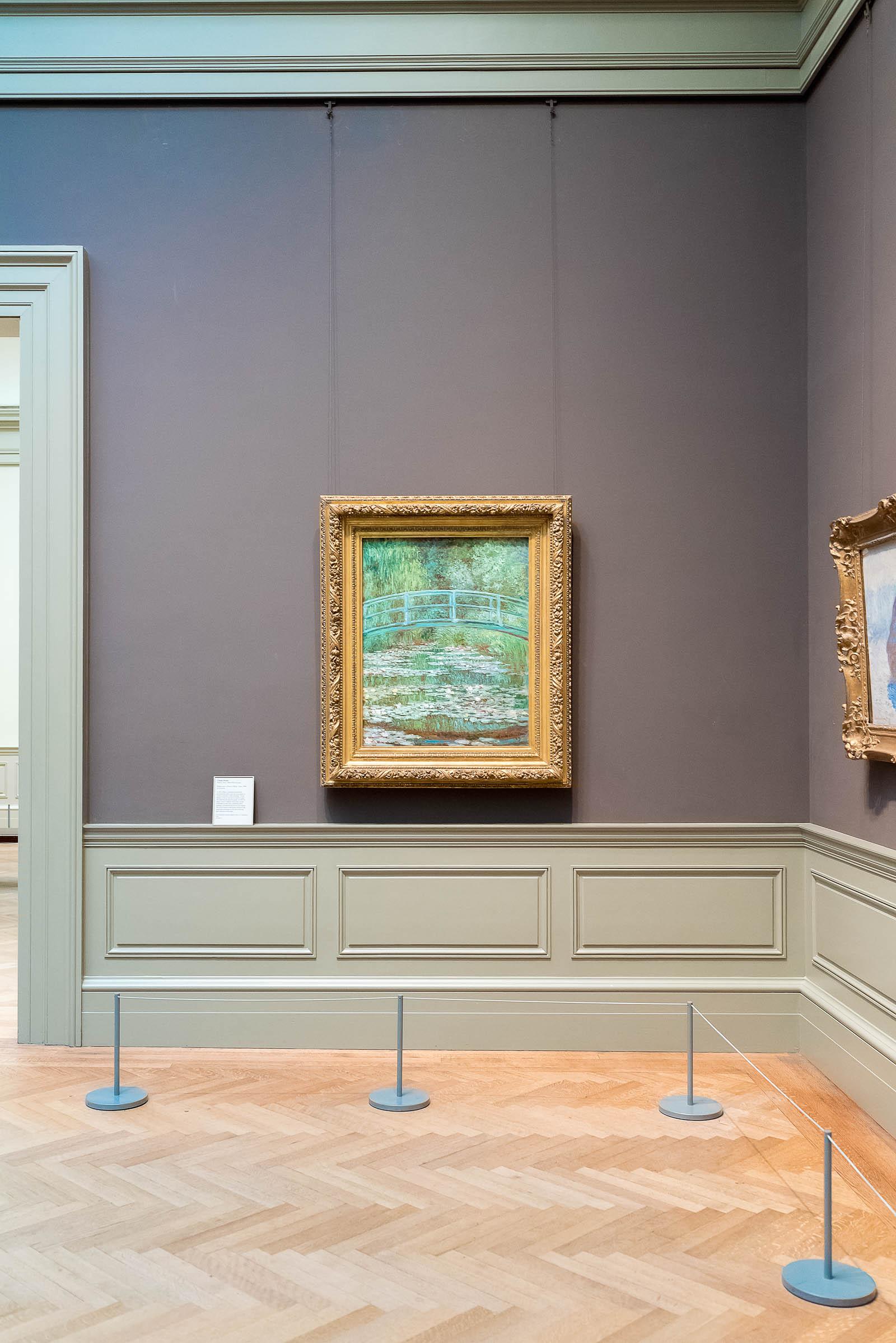 Like this well-known piece,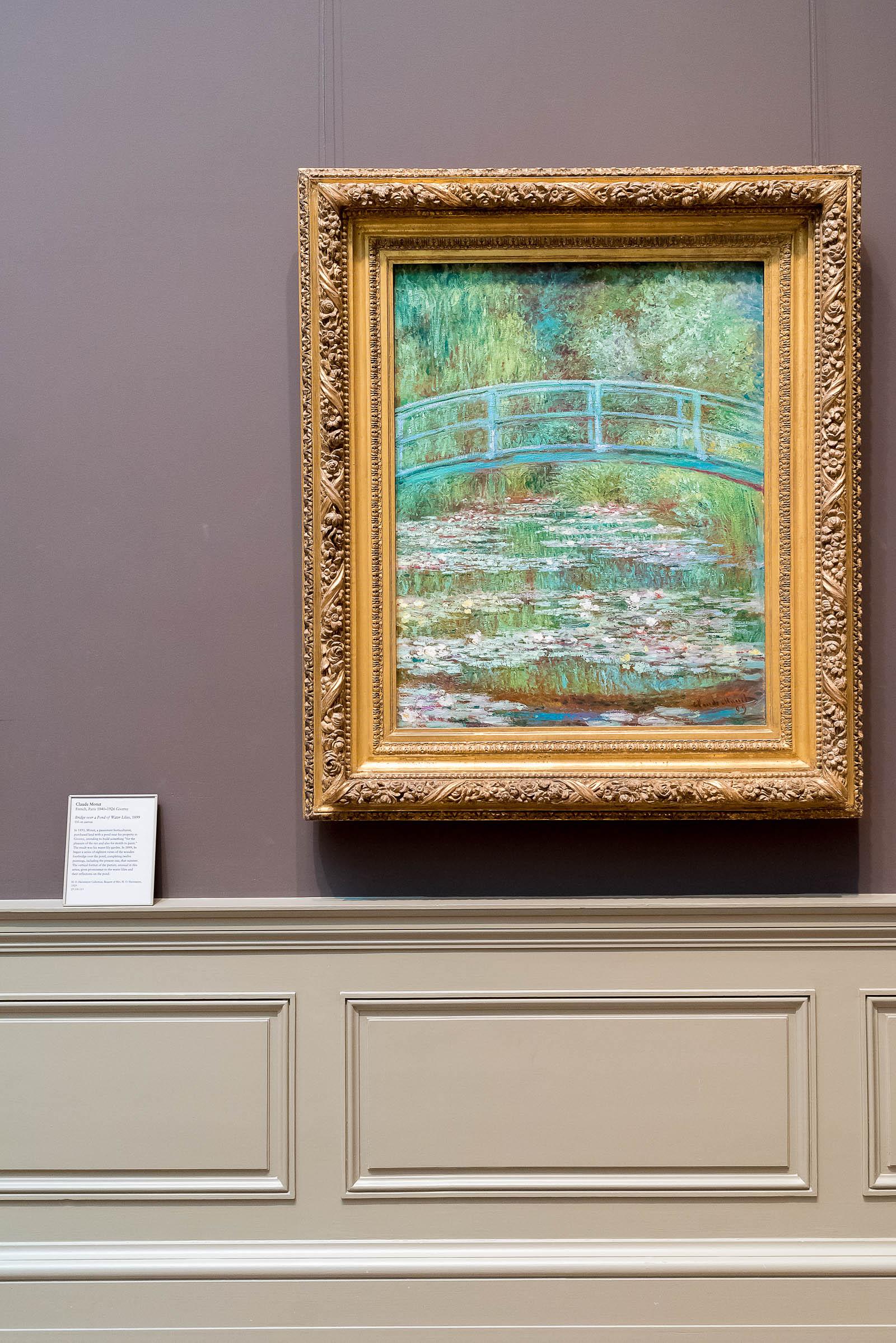 of his famous garden bridge,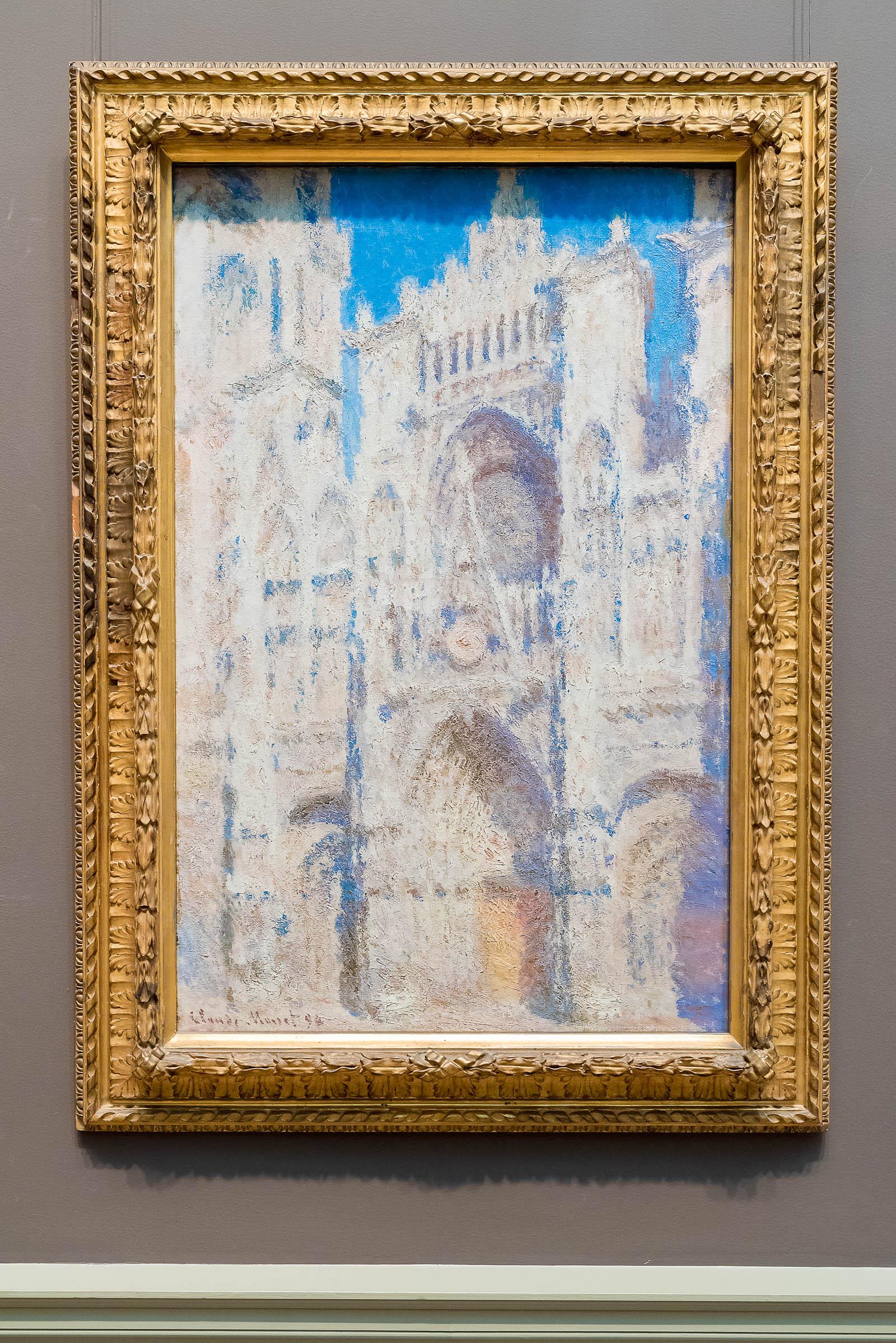 or this one.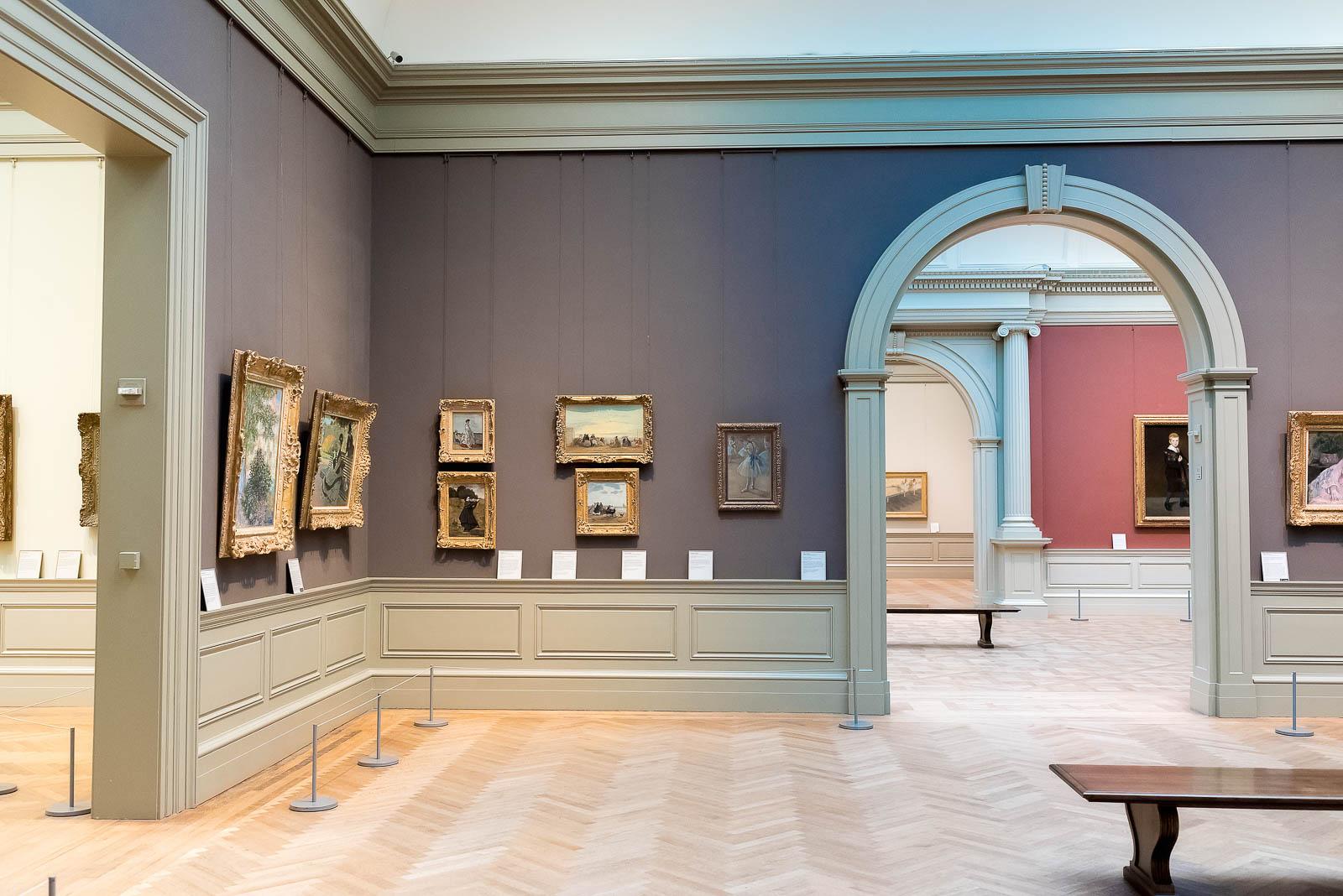 Continue wandering and you may just find…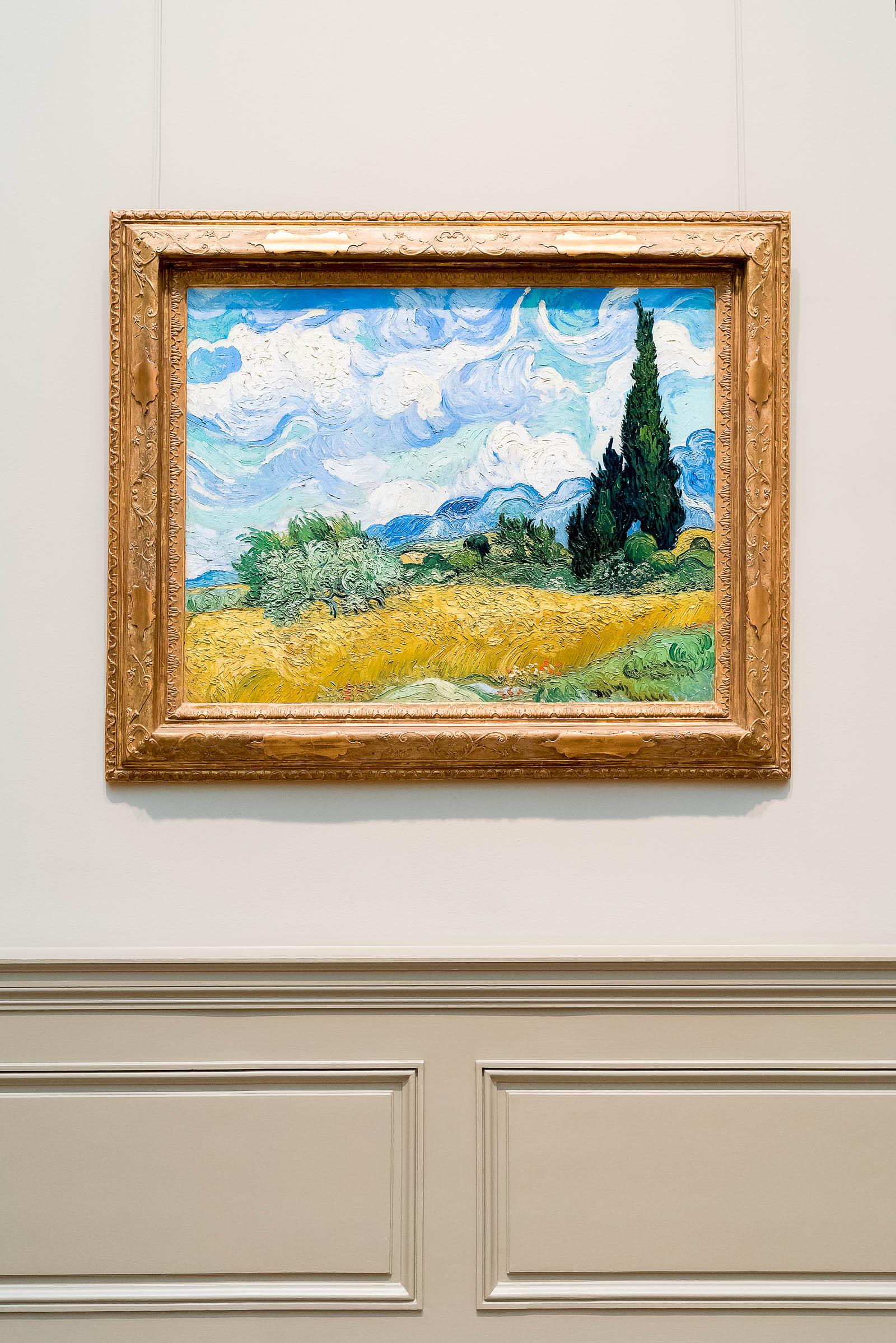 a Van Gogh or two as well. After visiting the Van Gogh Museum in Amsterdam back in August, I've been especially loving his work and was so pleasantly surprised to see several of his most famous pieces at the Met.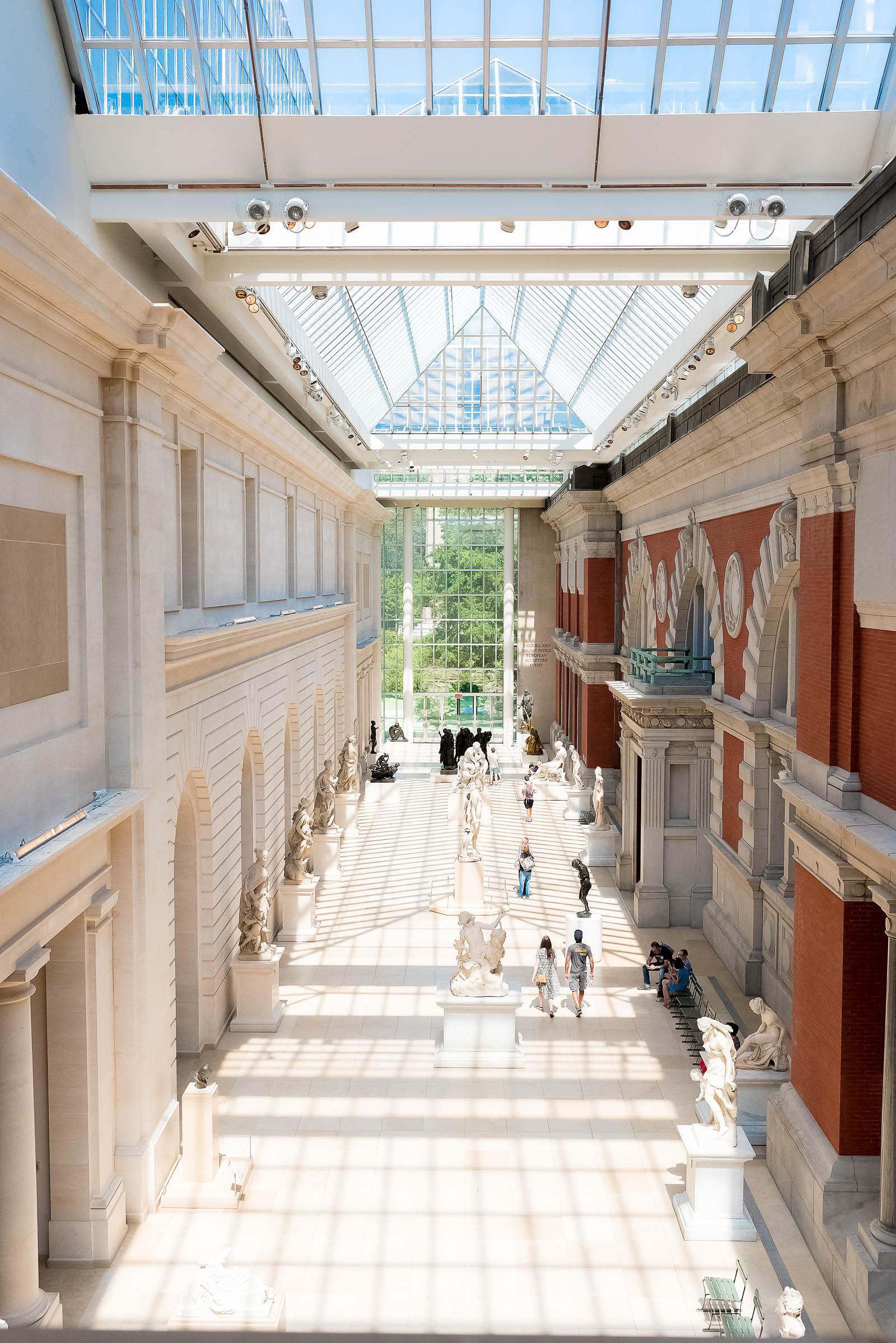 Walking along the upper floors you'll also get a sneak peek at what awaits you below…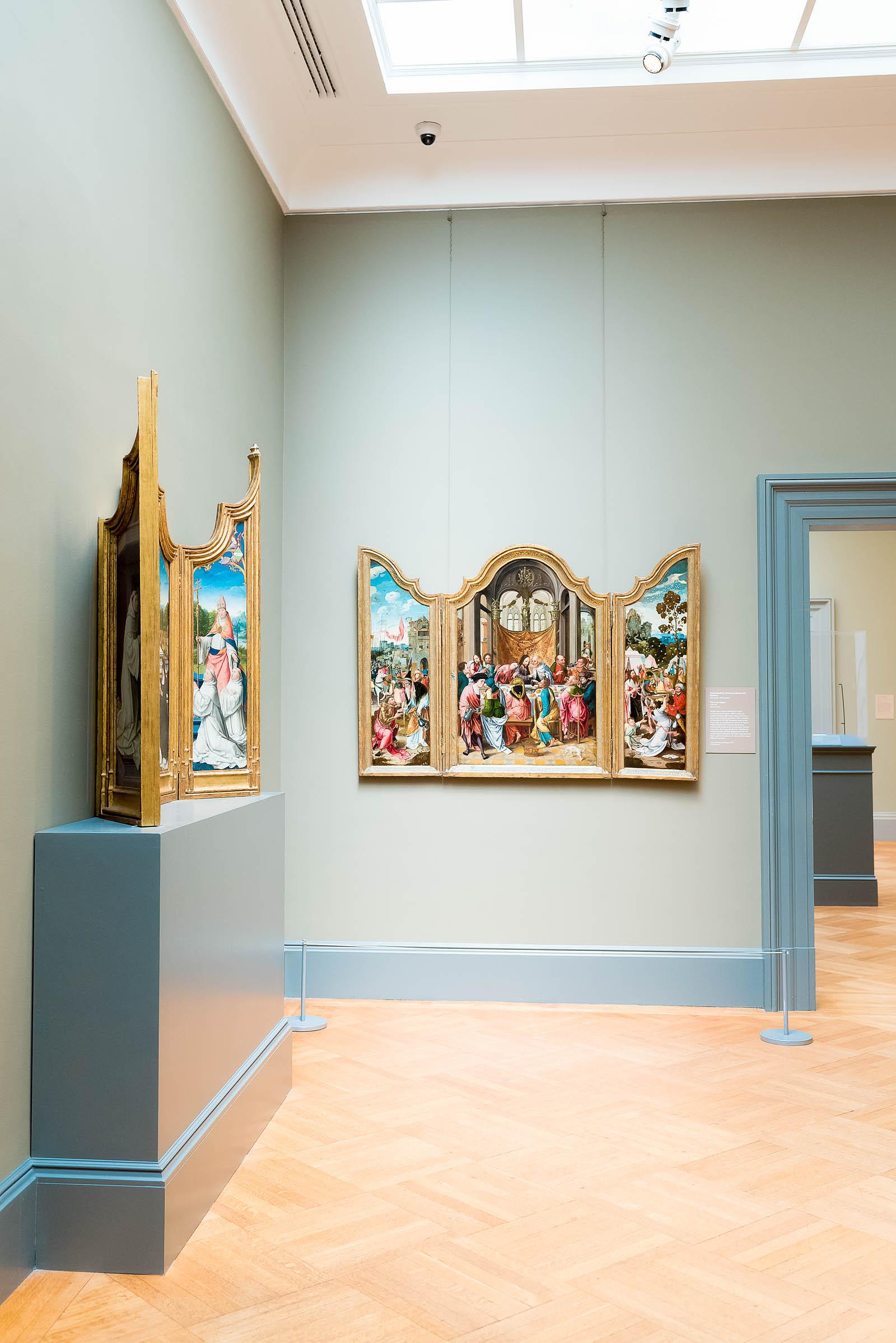 After you've finished wandering the many rooms of European paintings,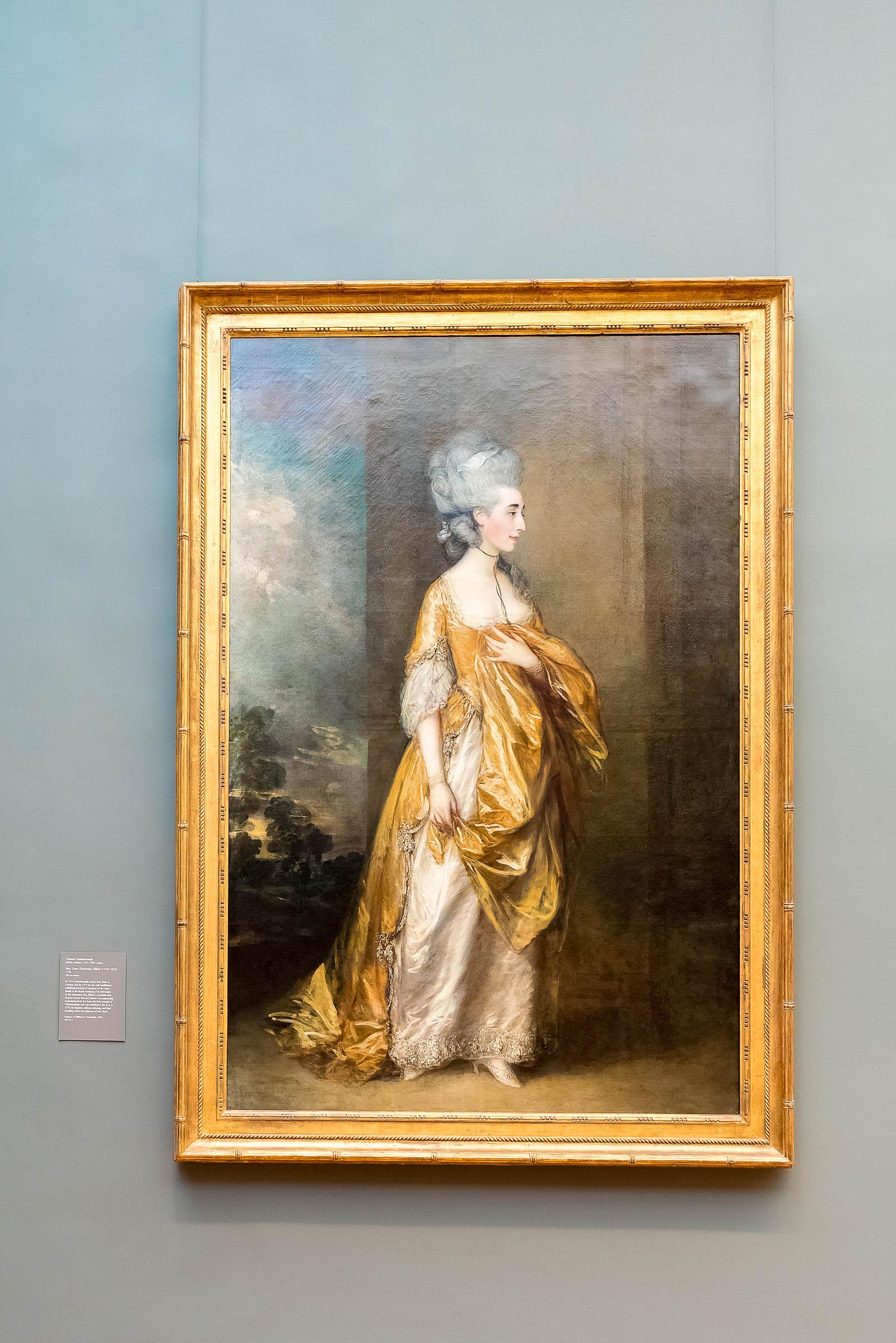 which are all exquisitely preserved,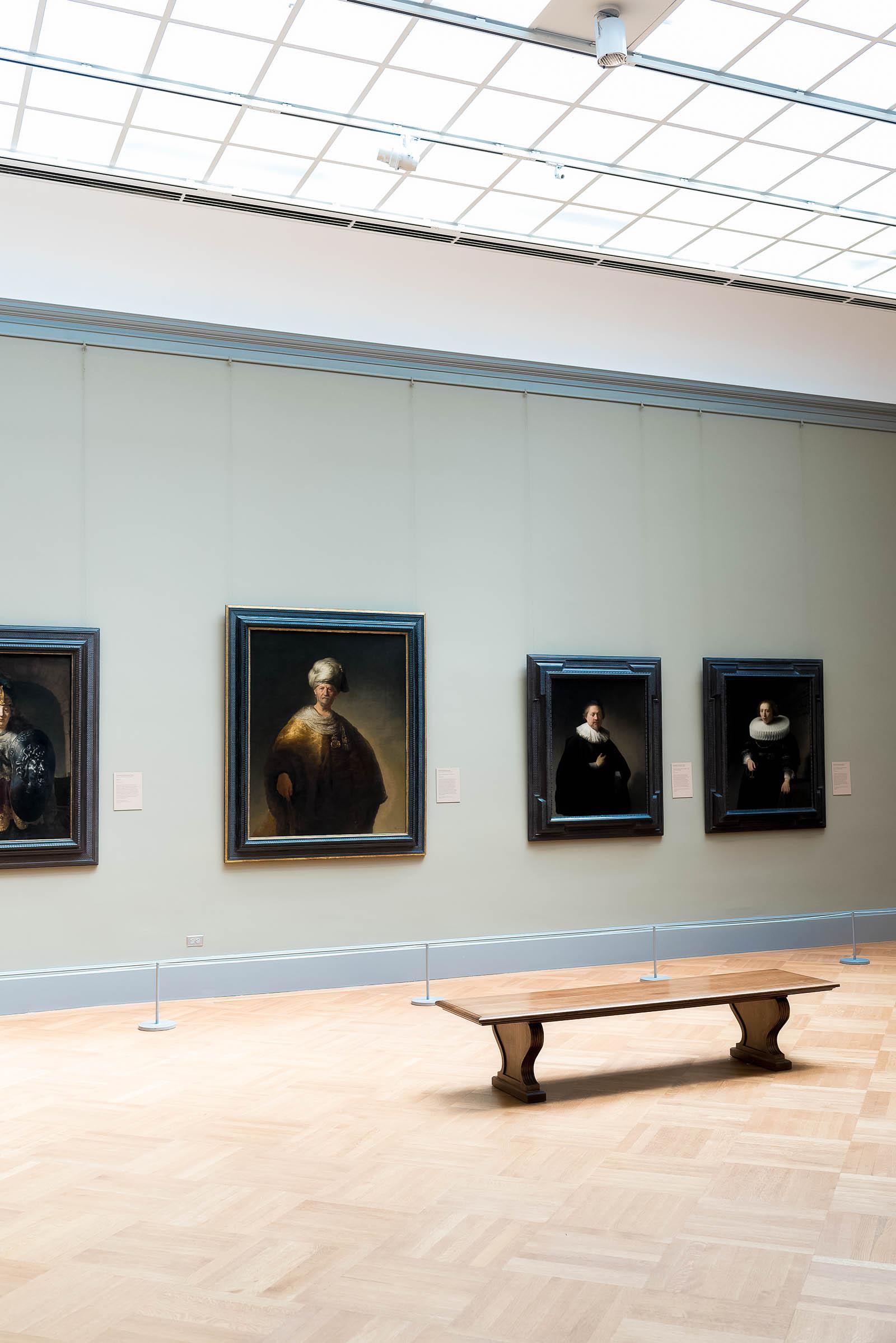 and beautifully presented in the Met's many well-lit galleries, of course.
I was most surprised (since I didn't do any research on the Met's paintings beforehand), to find a few Vermeer's as well.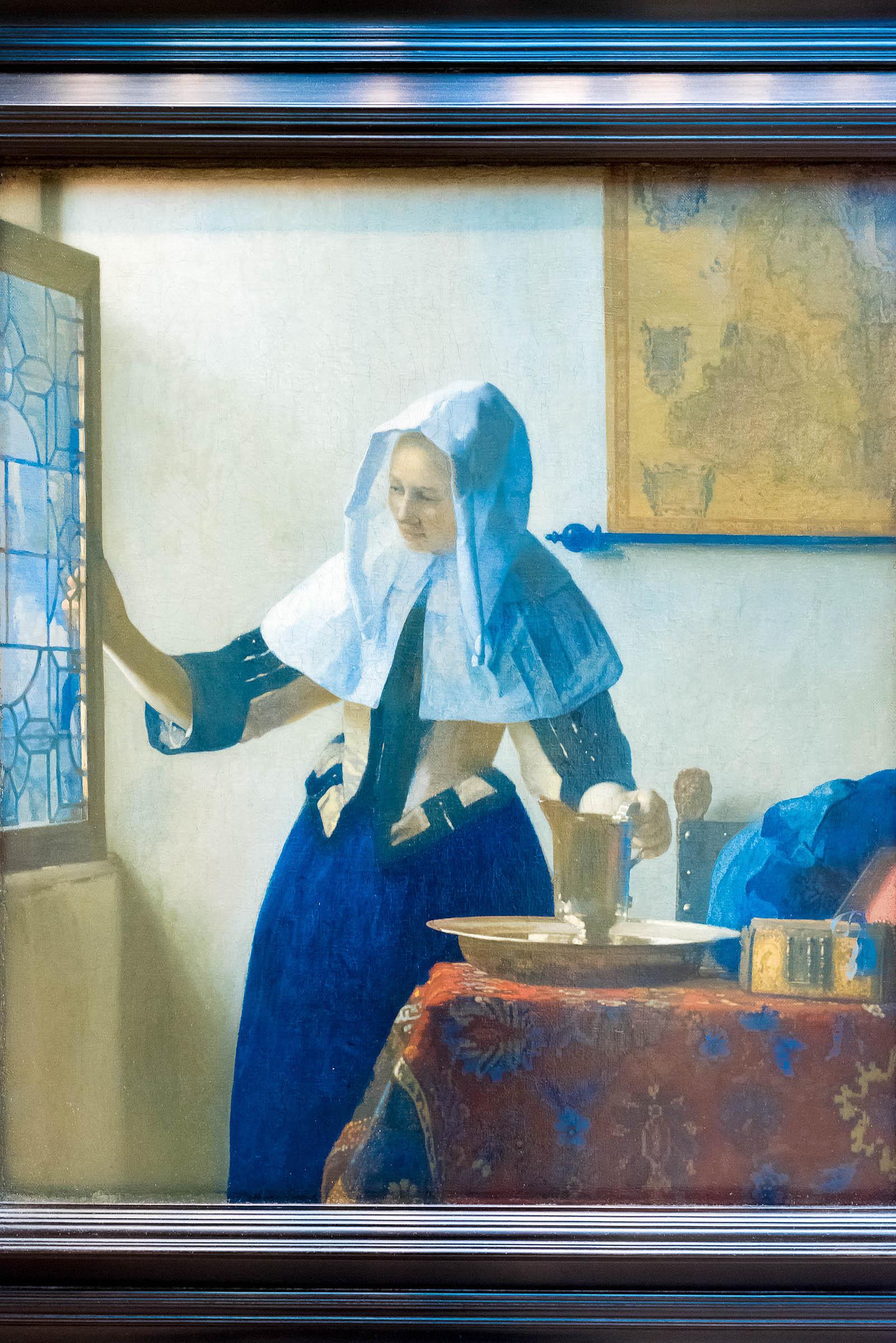 I love Vermeer and seeing his 'Girl with a Pearl Earring' in The Hague this summer was one of the coolest things I've yet checked off my bucket list. And since there are only 36 known paintings by Vermeer in the world, the Met's collection of 5 of them is quite impressive.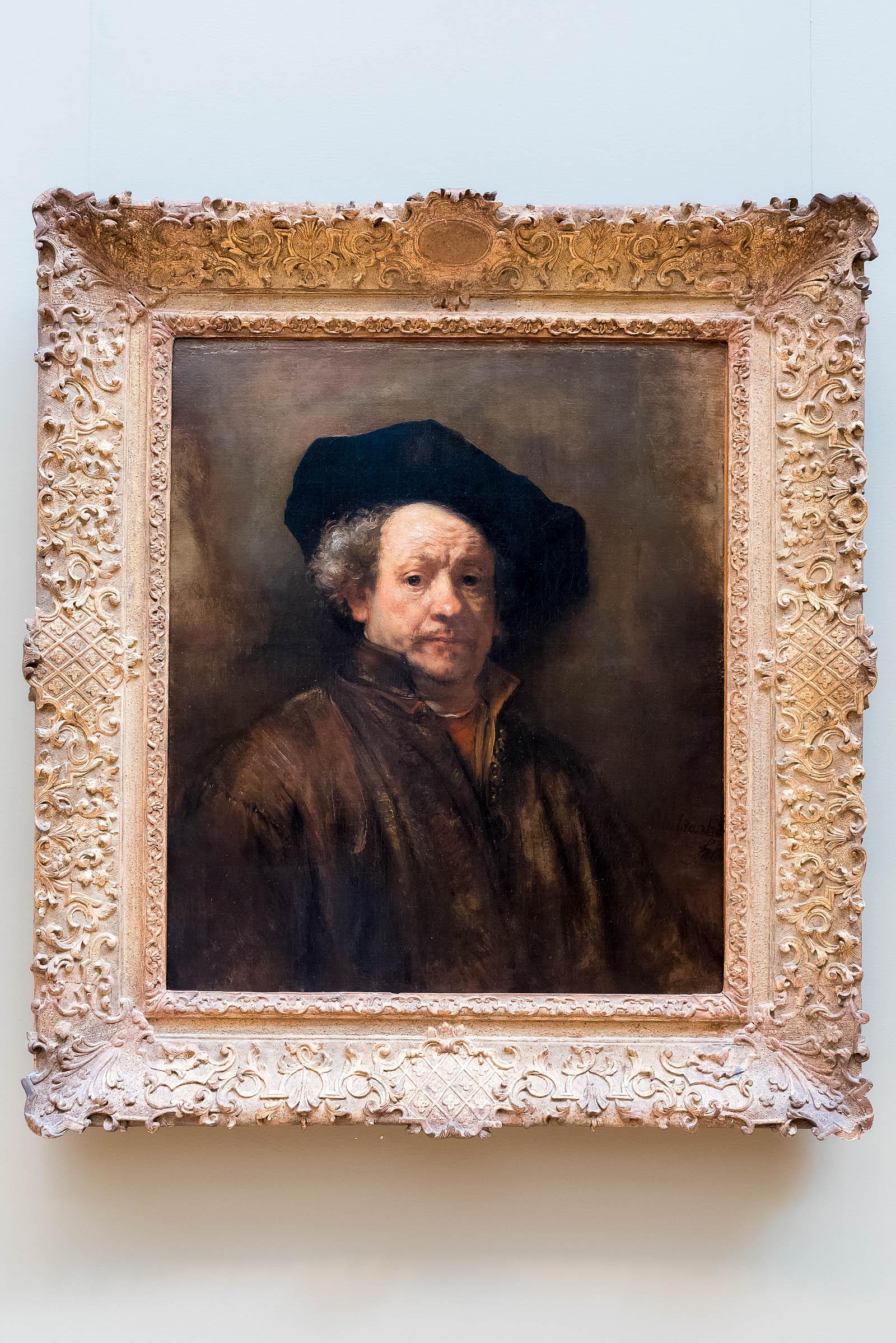 As is their collection of paintings from another famous Dutch painter, Rembrandt van Rijn.
I remember studying this particular self portrait extensively in art history in college so seeing it in person was yet another welcome surprise at the Met.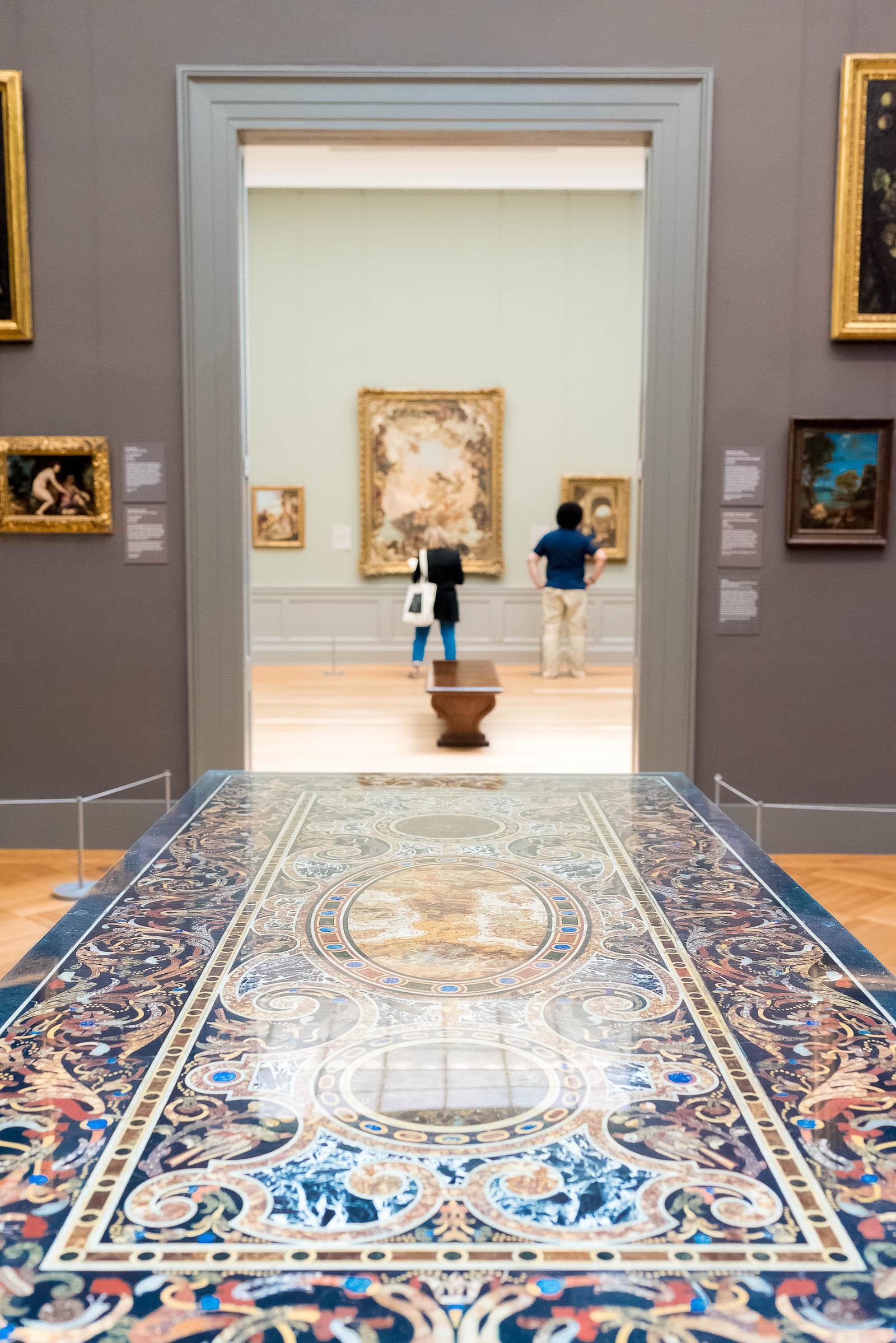 But each and every room has its surprises.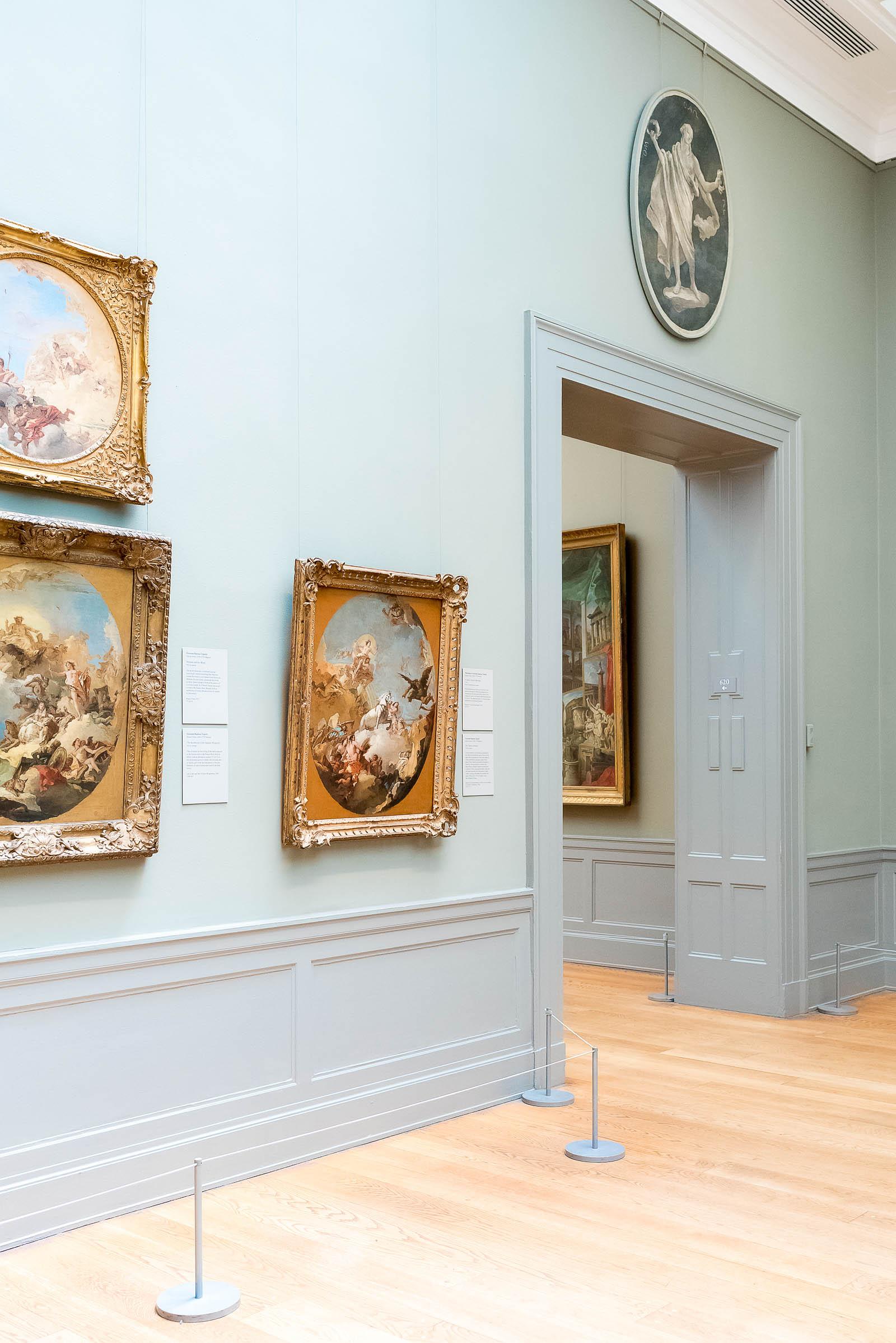 And its secrets.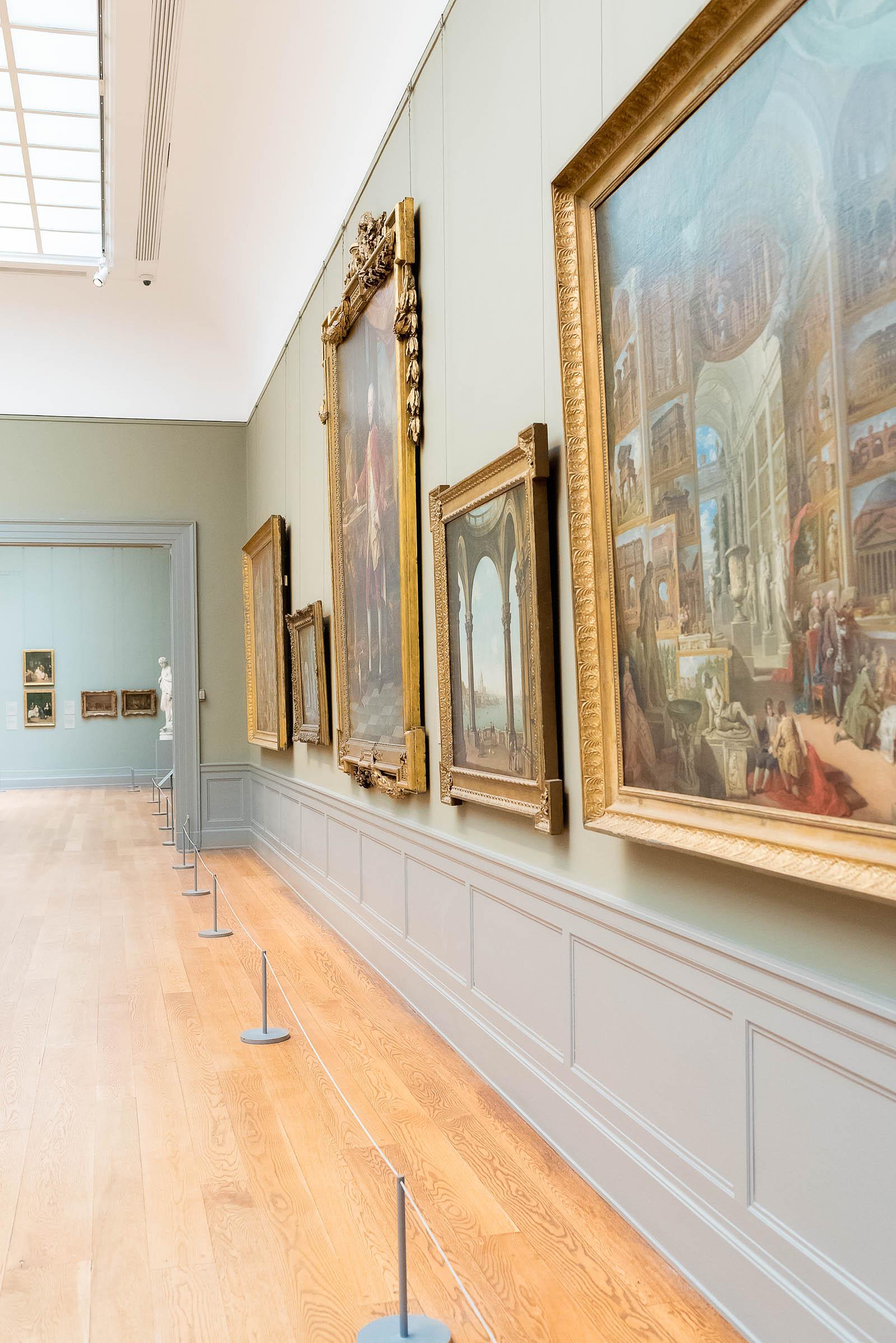 I swear I could have wandered those galleries for days and not seen every painting.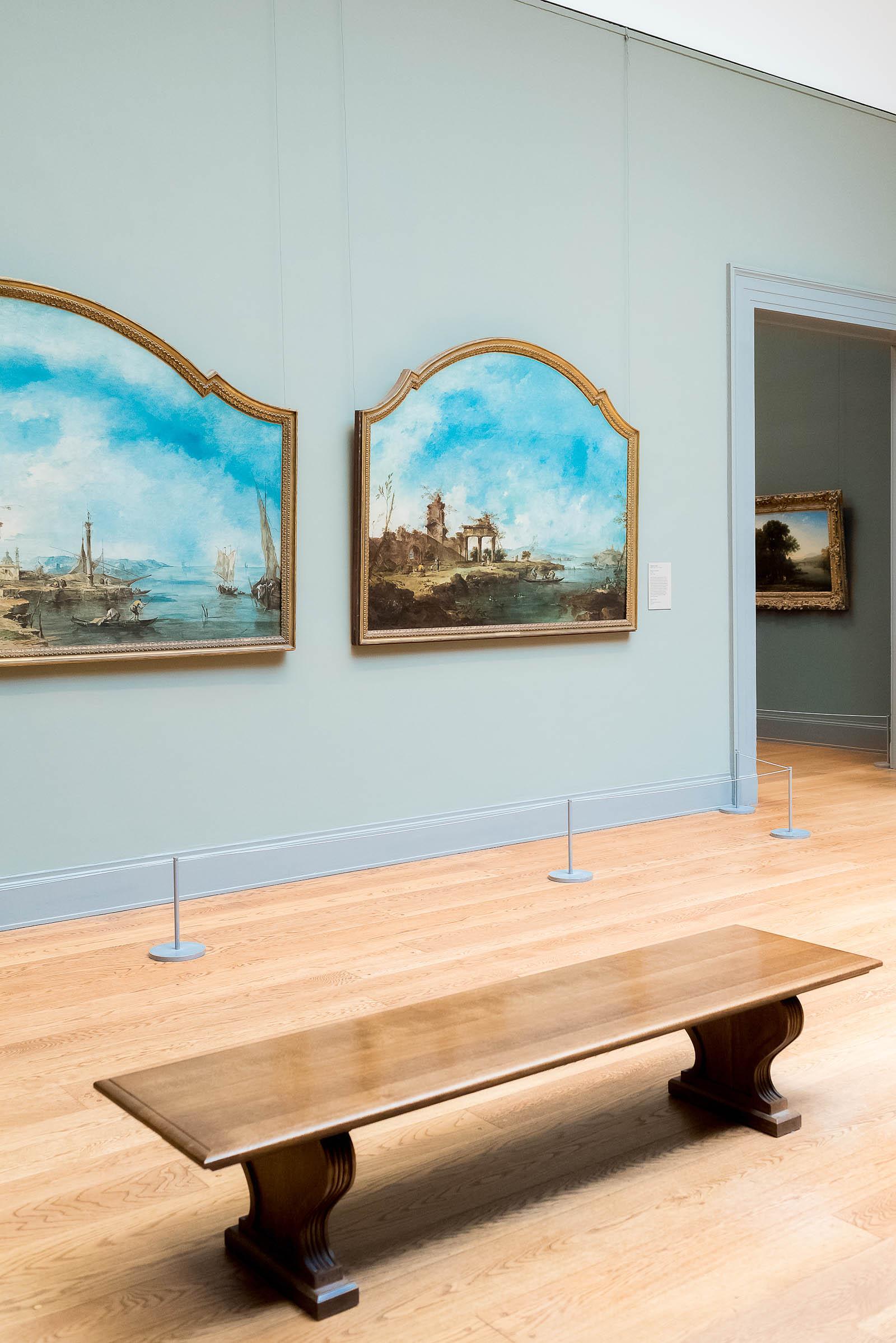 It's truly incredible when you think about the VOLUME of art stored at the Met.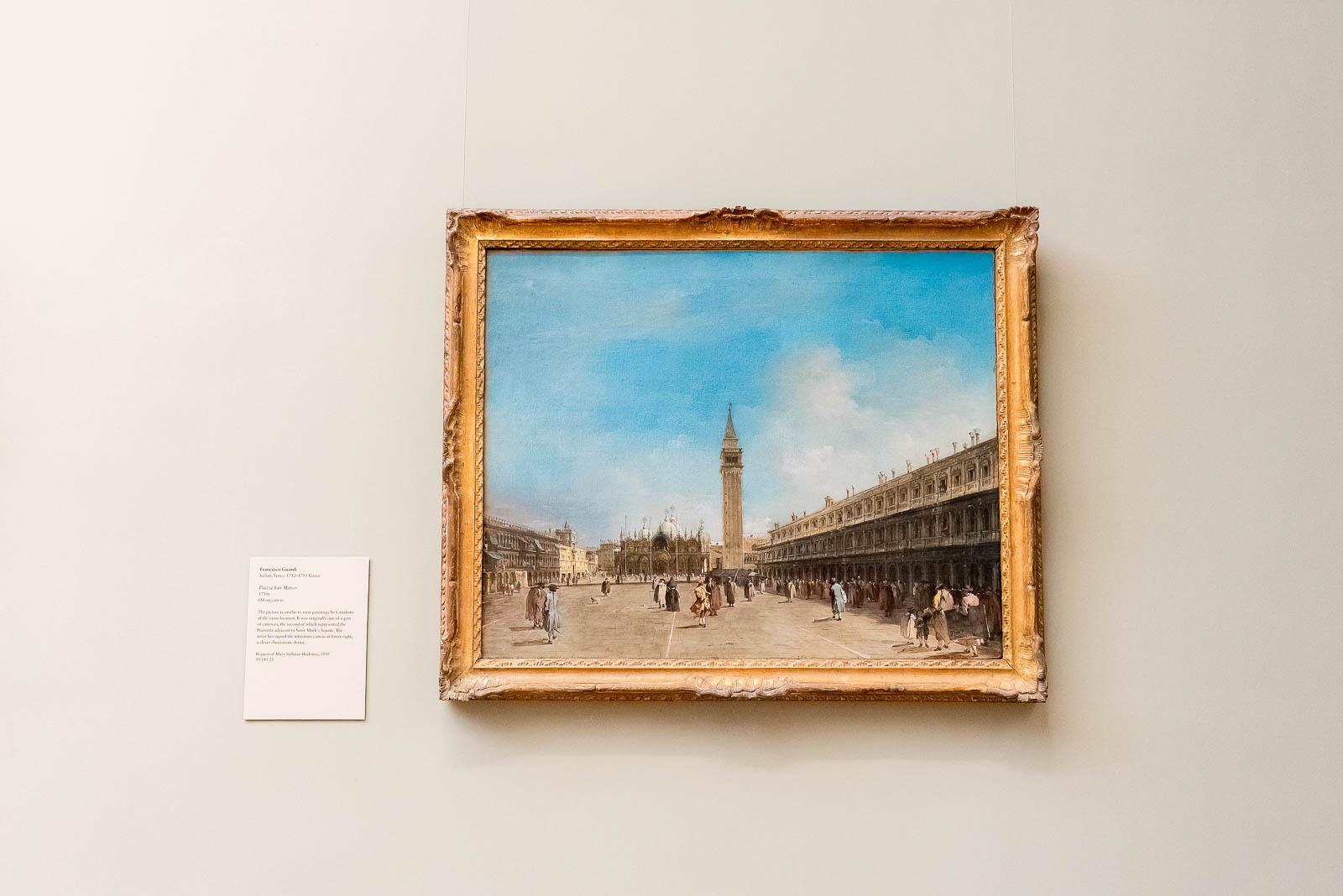 And the diversity.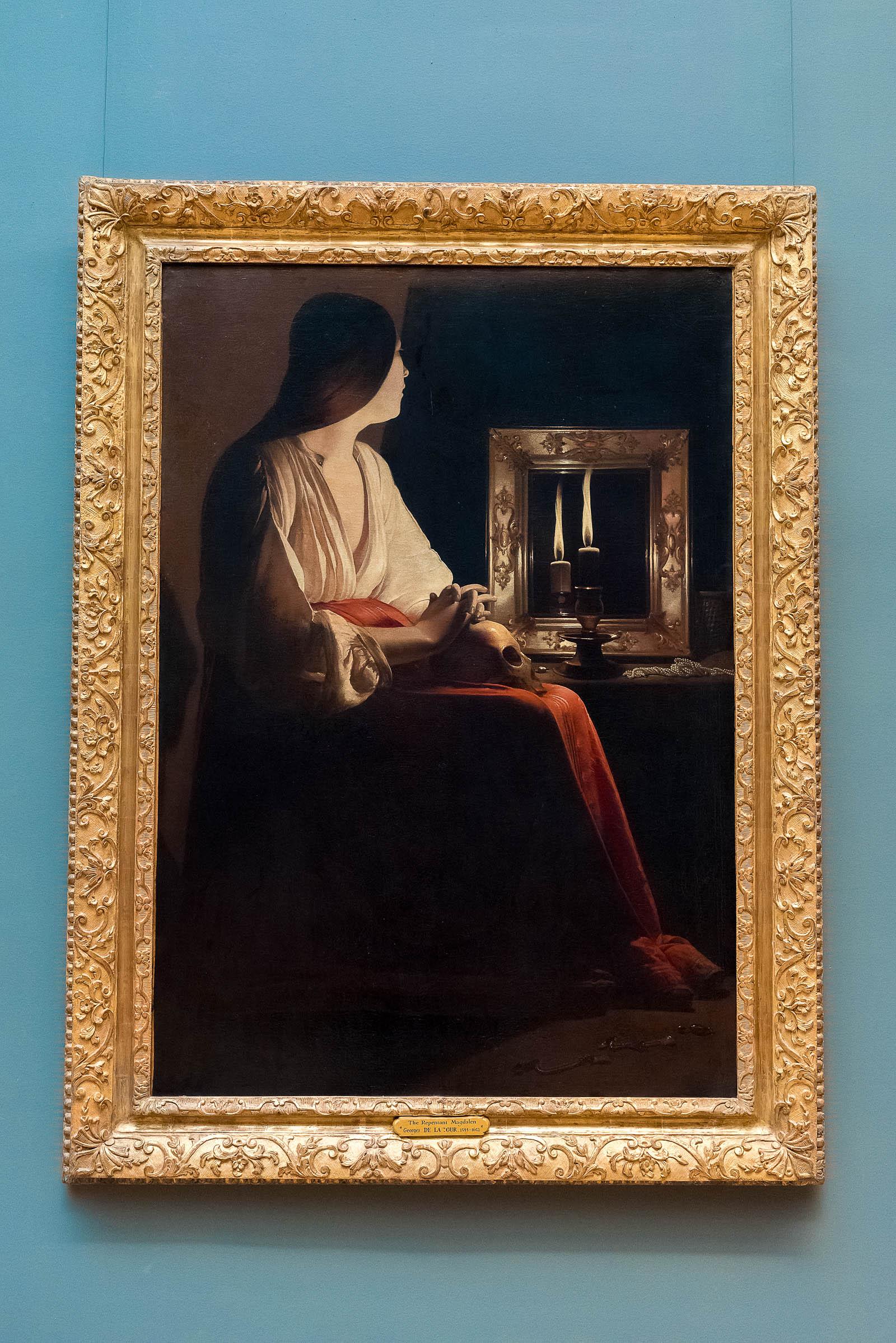 I remember studying this painting, George de la Tour's 'The Penitent Magdalen", in art history too!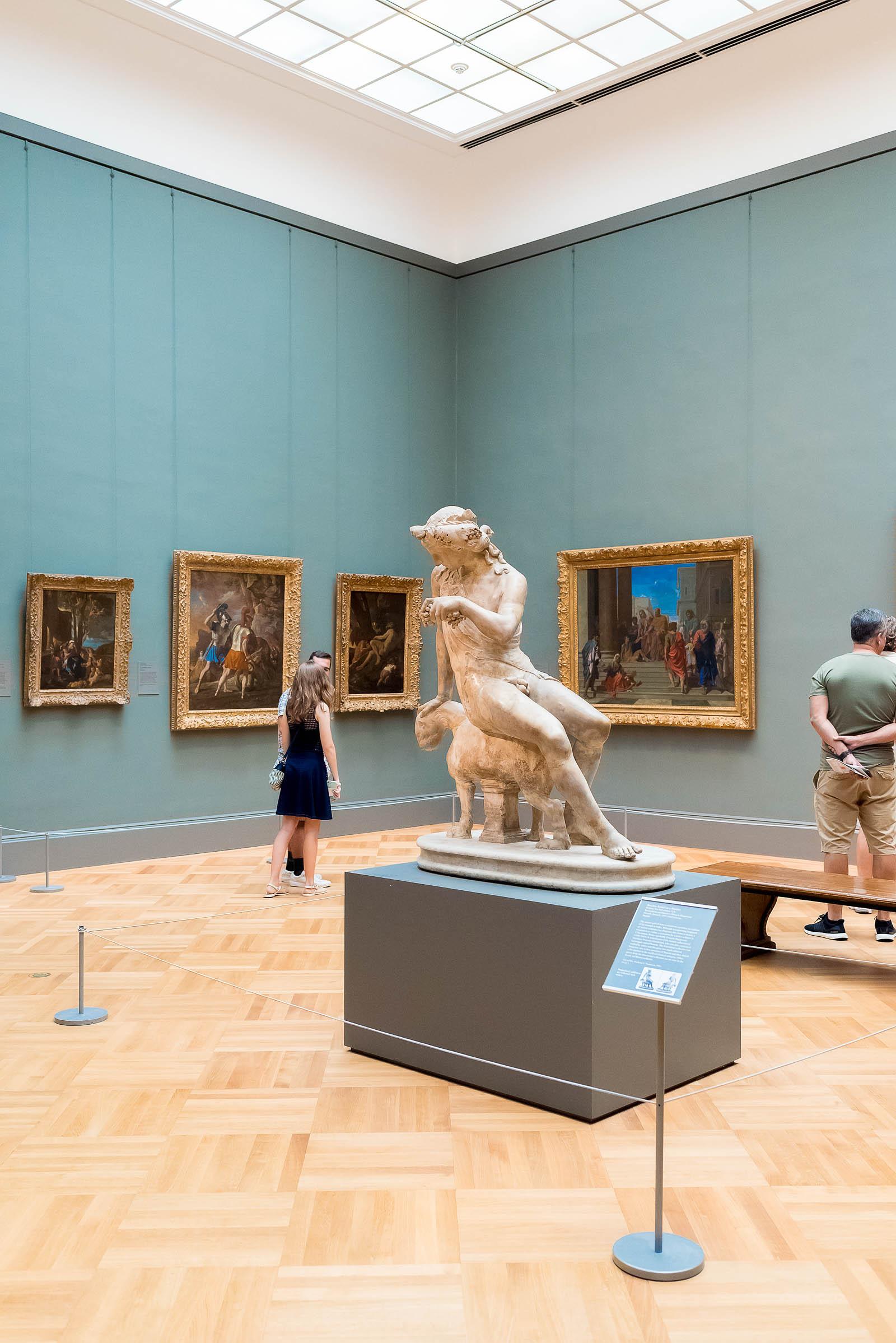 If I had to pick a favorite section of the Met it would certainly be the European Art section if only because it's the largest collection.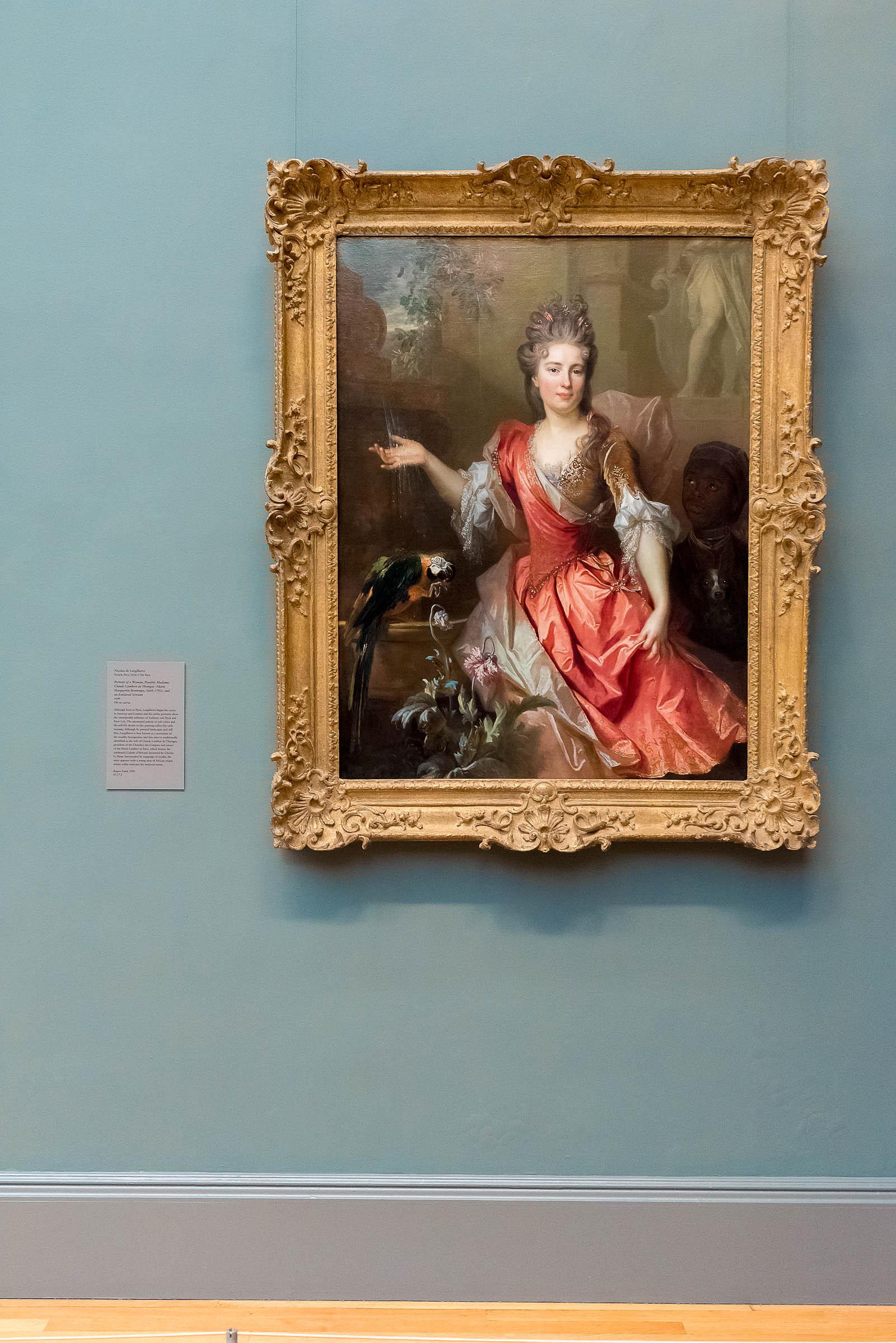 The portraits (and especially the fashion IN the portraits) being my absolute favorite part.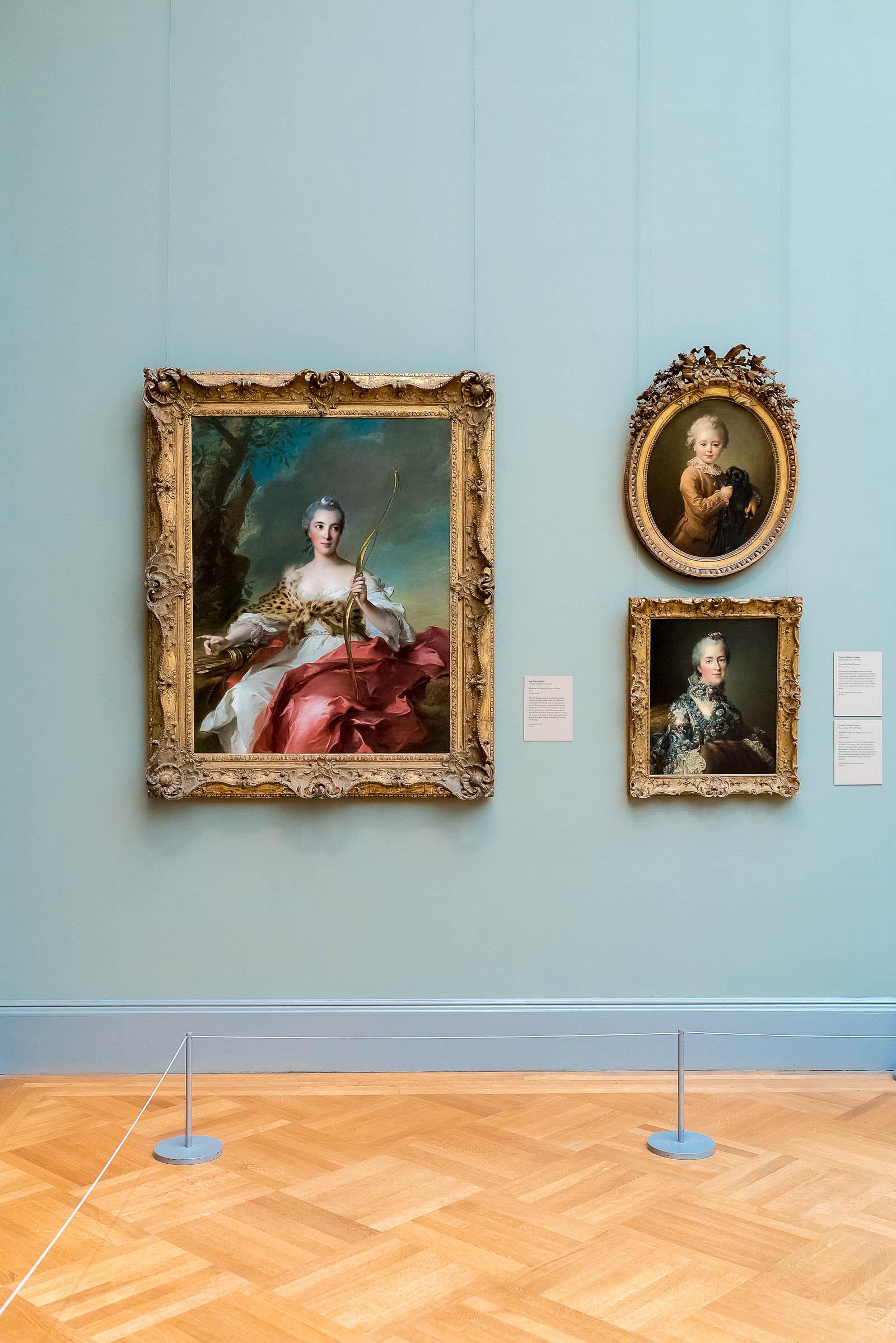 Each is so different and unique!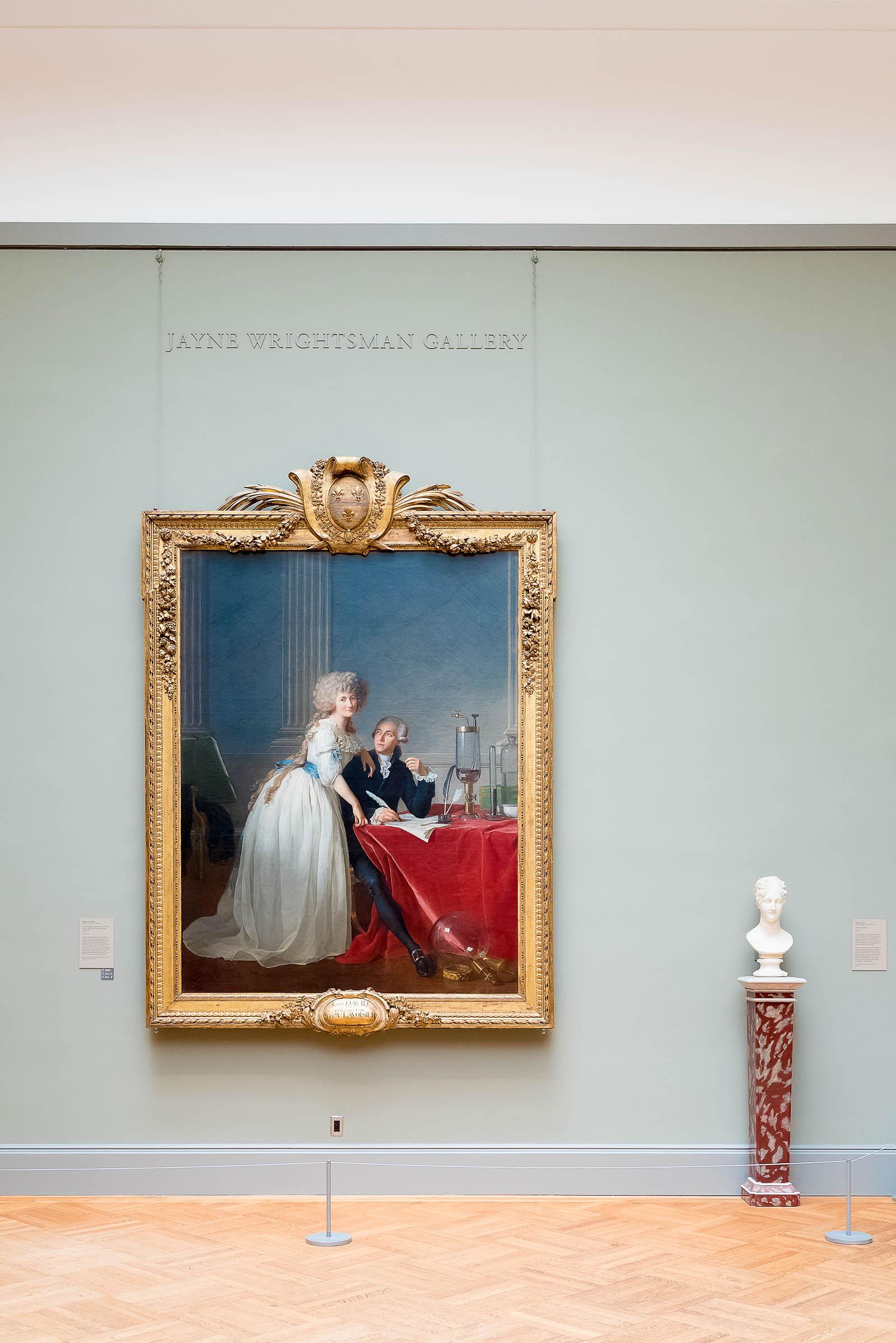 All mingled in with sculptures from the same period.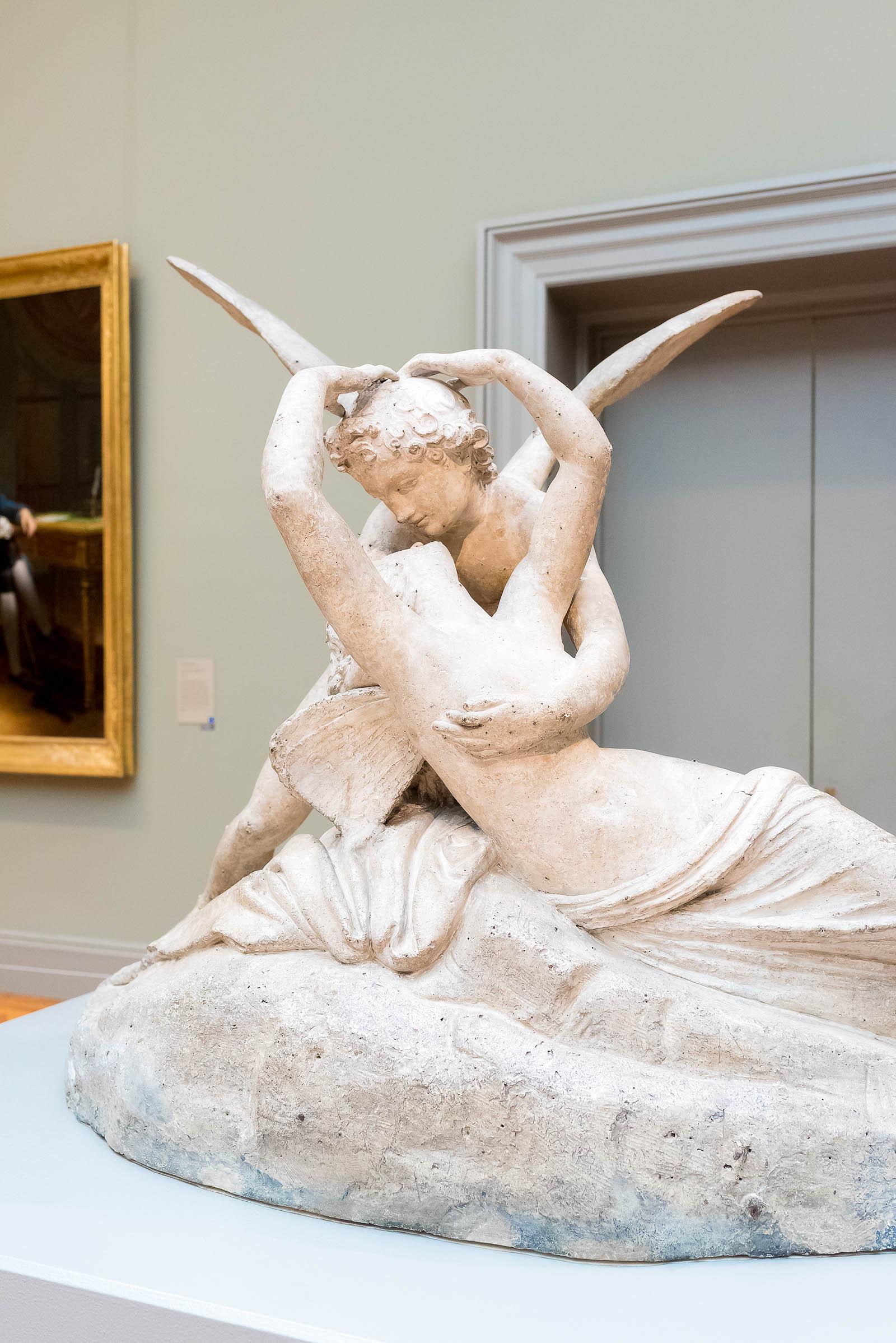 Including a rather famous sculpture inspired by the one at The Louvre!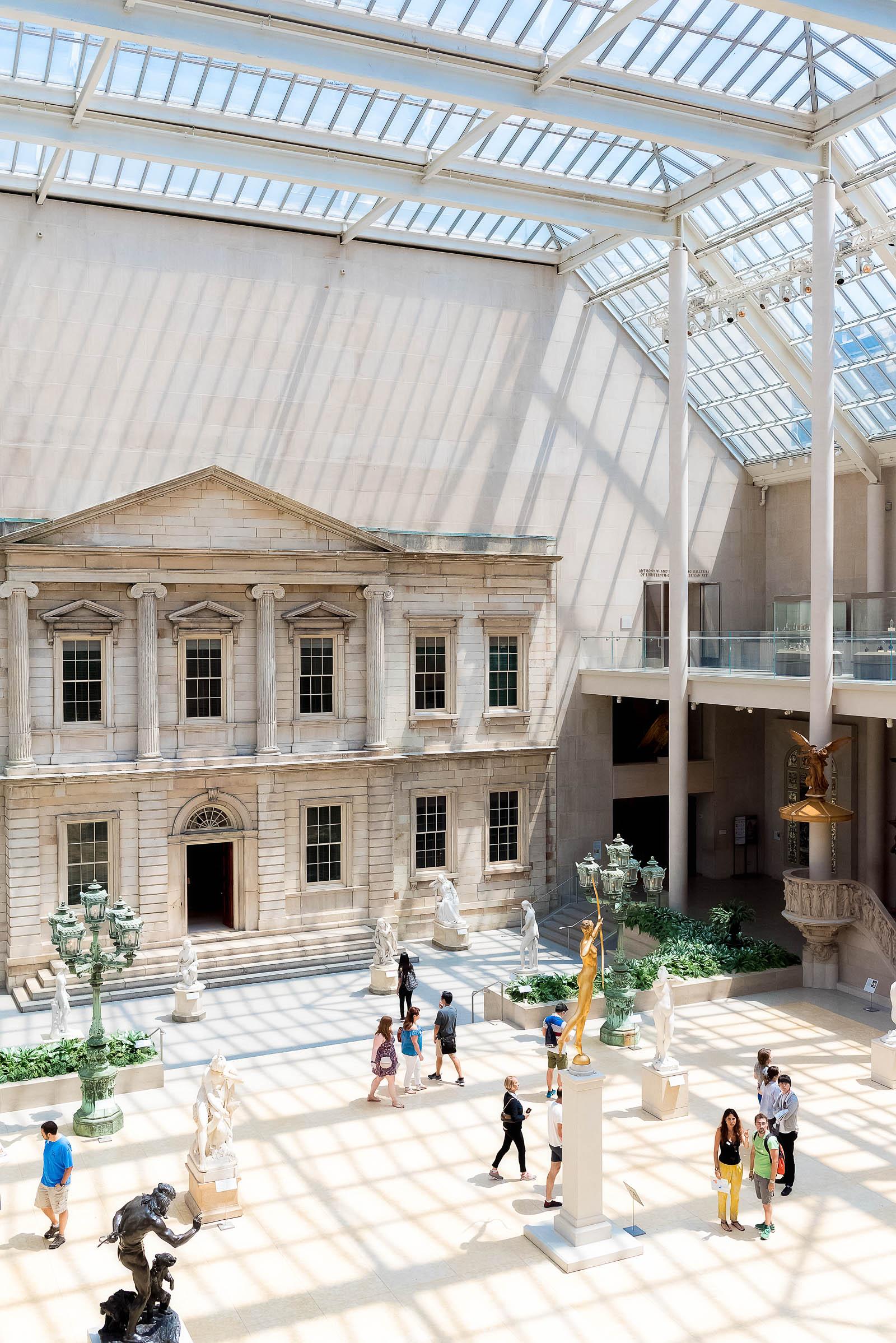 After wandering the European galleries, make your way towards the American Wing i.e. Charles Engelhard Court.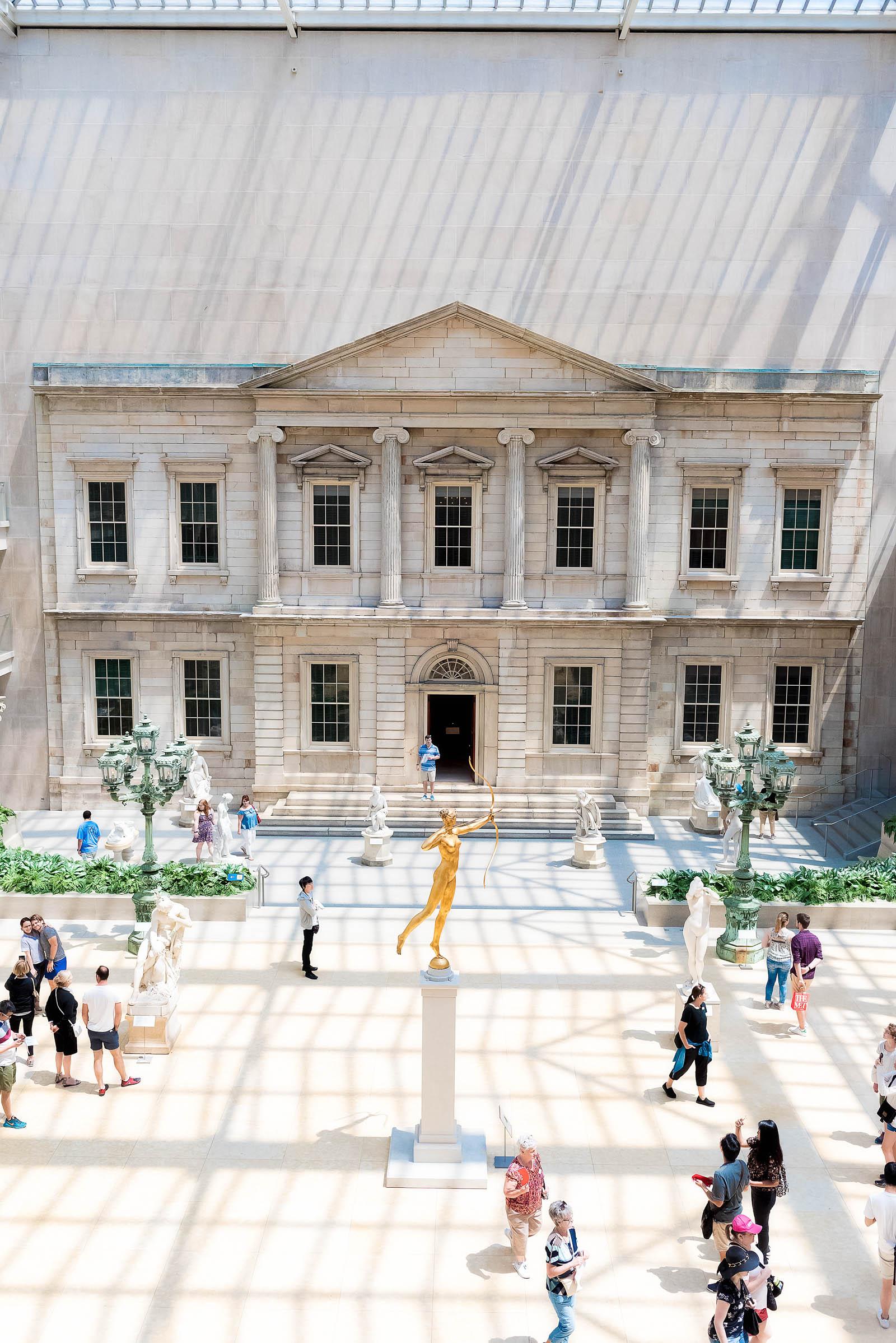 There you'll find the impressive façade of the Branch Bank of the United States (originally located on Wall Street) in the incredible glass-encased wing.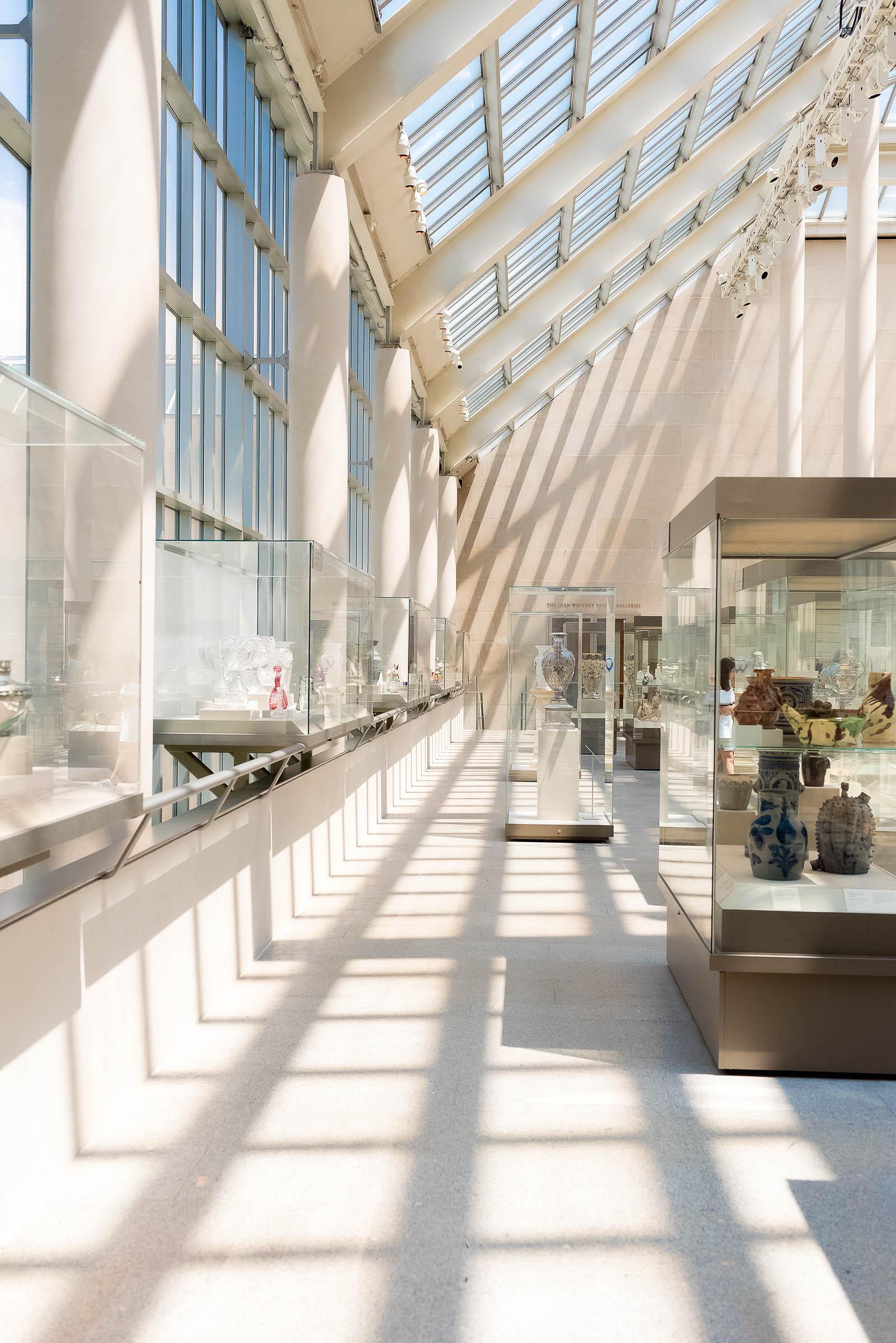 I could have shot this room for a lifetime — it felt like the gallery was a piece of art unto itself.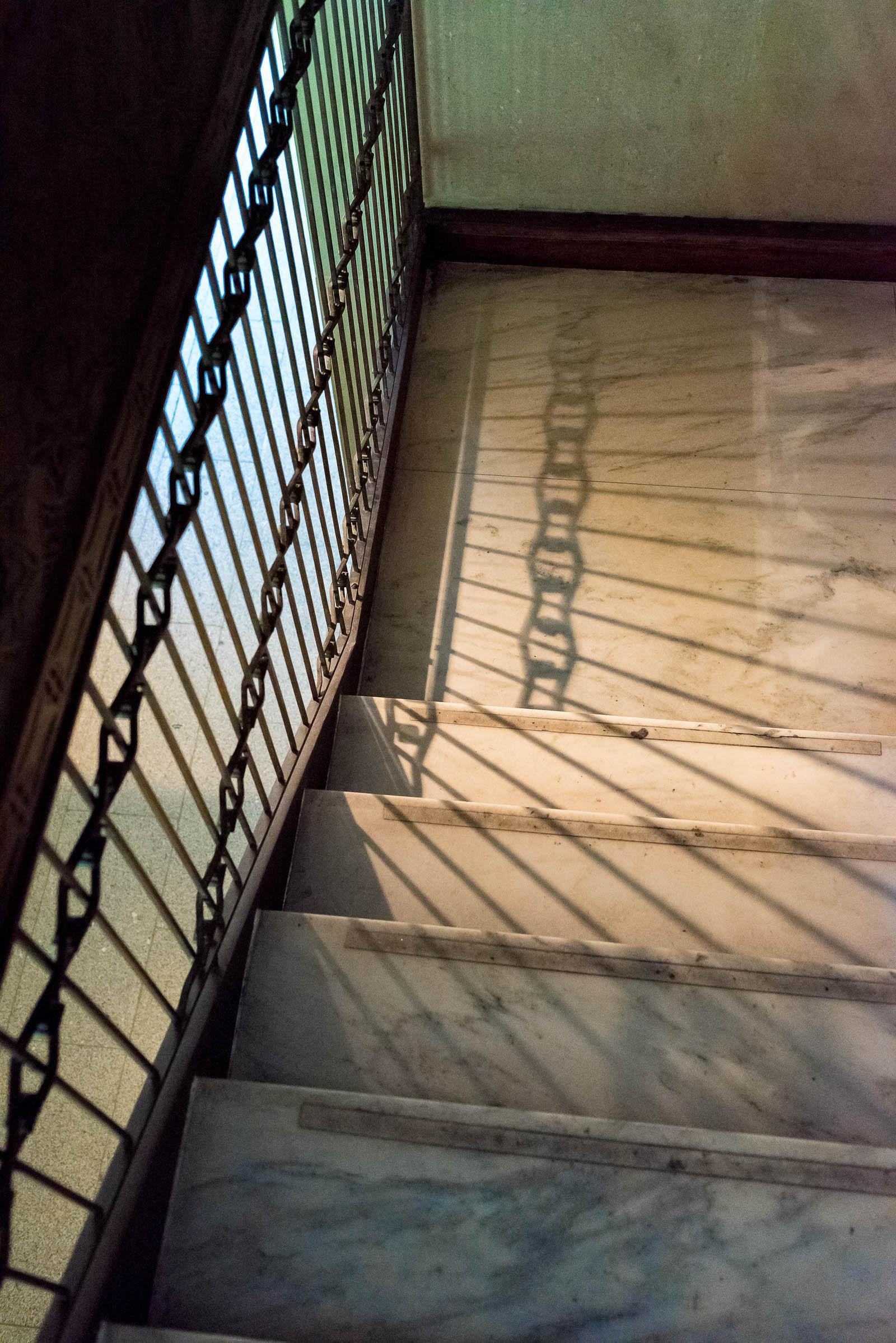 But make your way downstairs to explore the atrium further.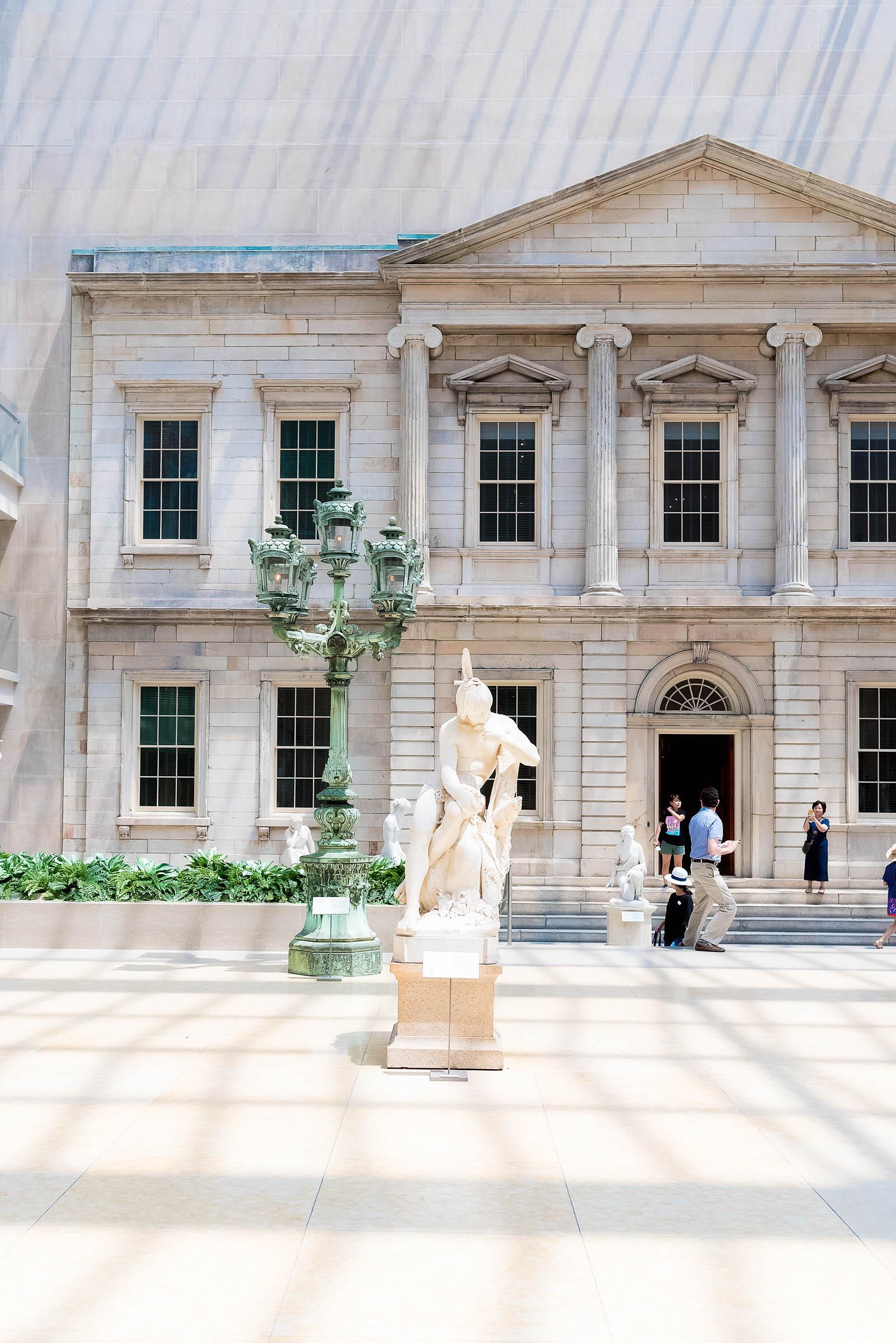 There are so many impressive neoclassical sculptures,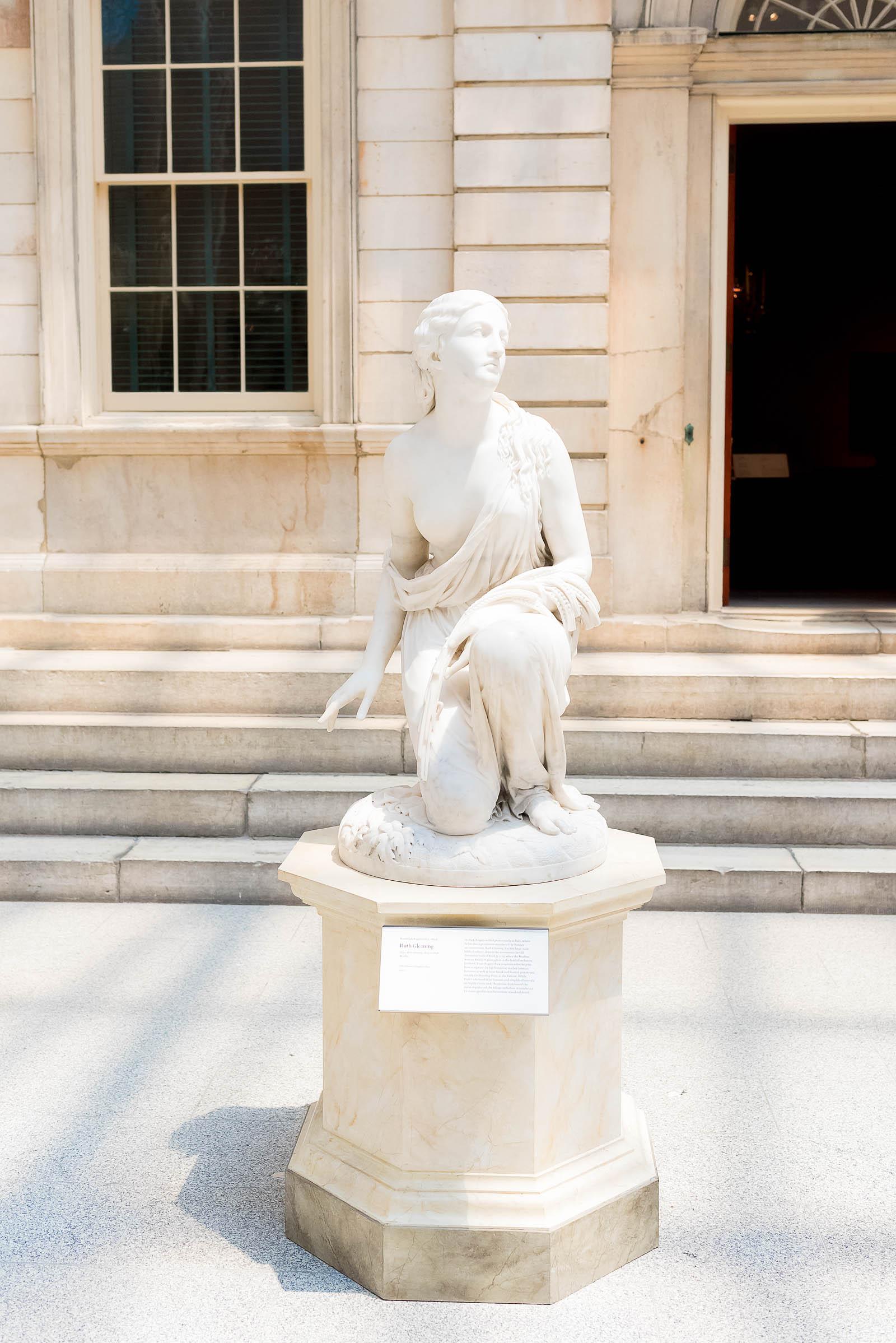 of all shapes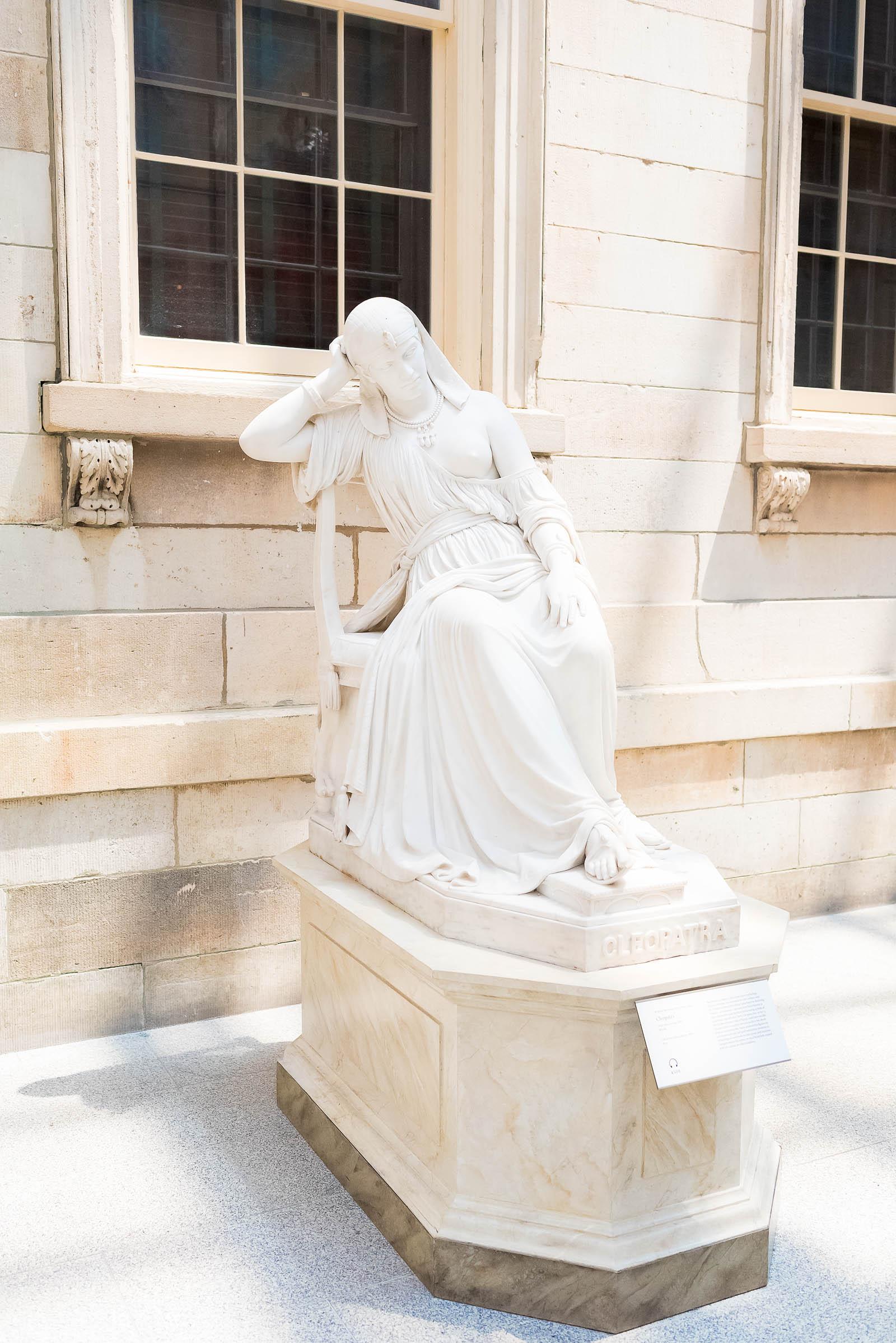 and sizes,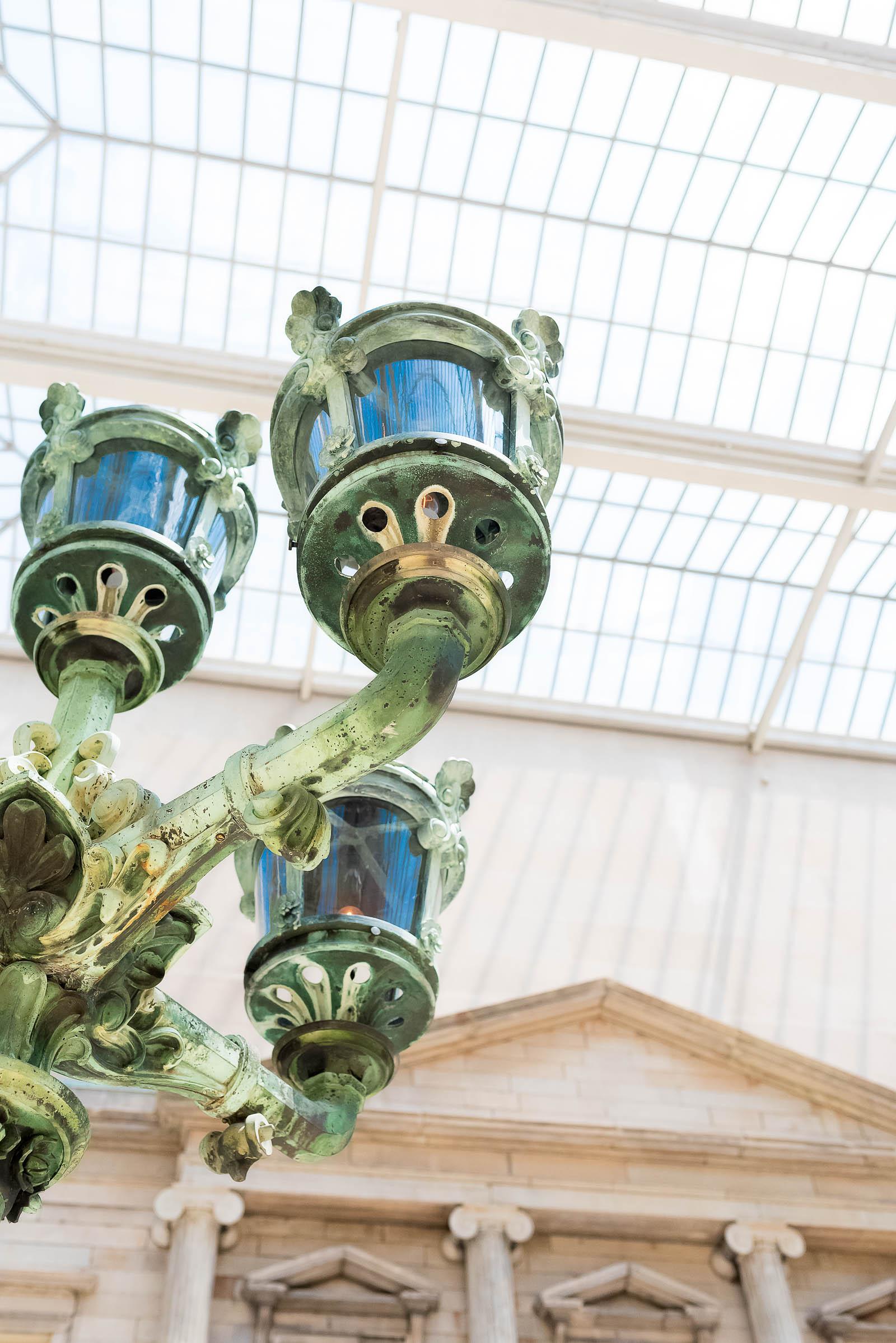 and some Parisienne lamps,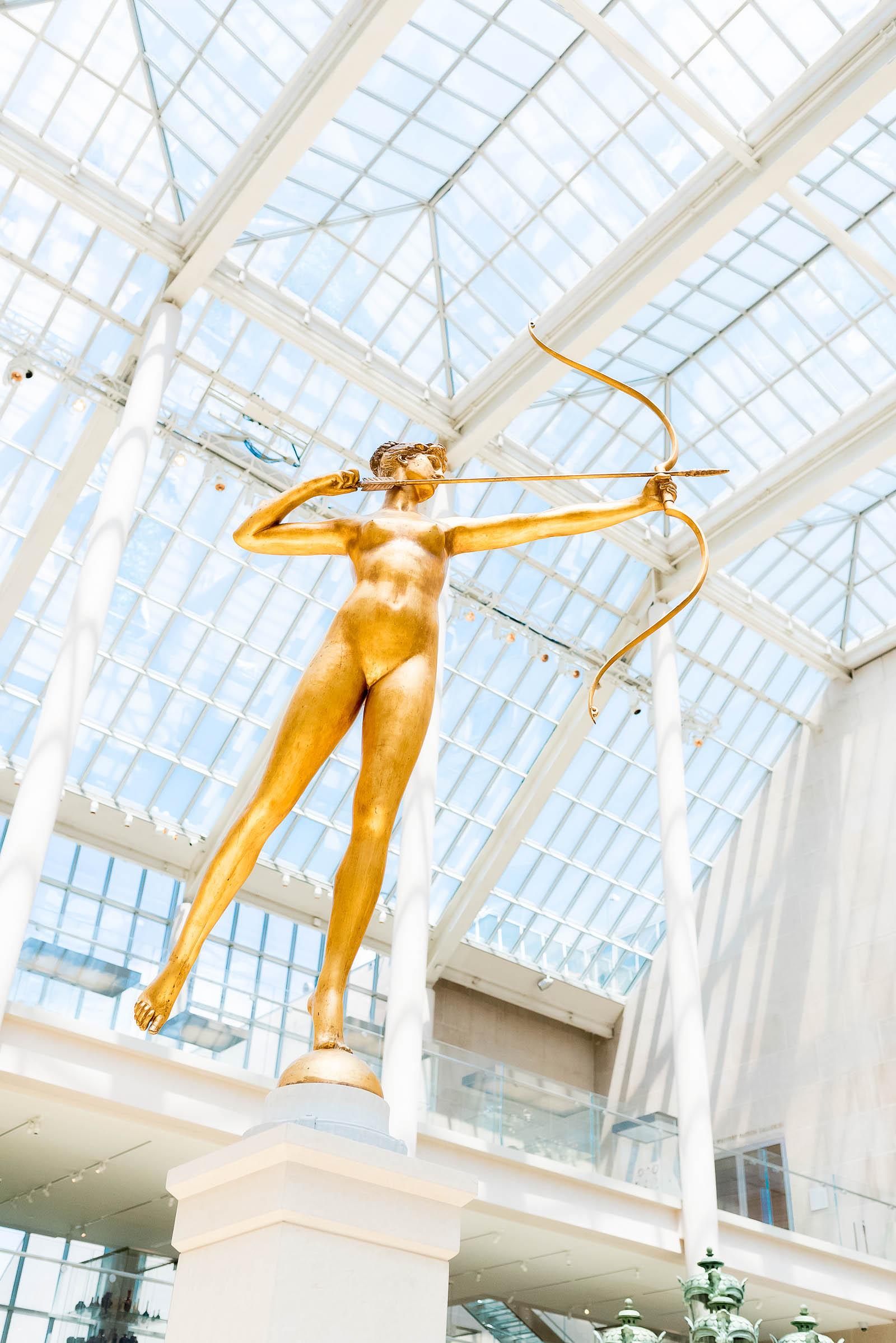 all surrounding this gilded Diana sculpture in the center of the atrium.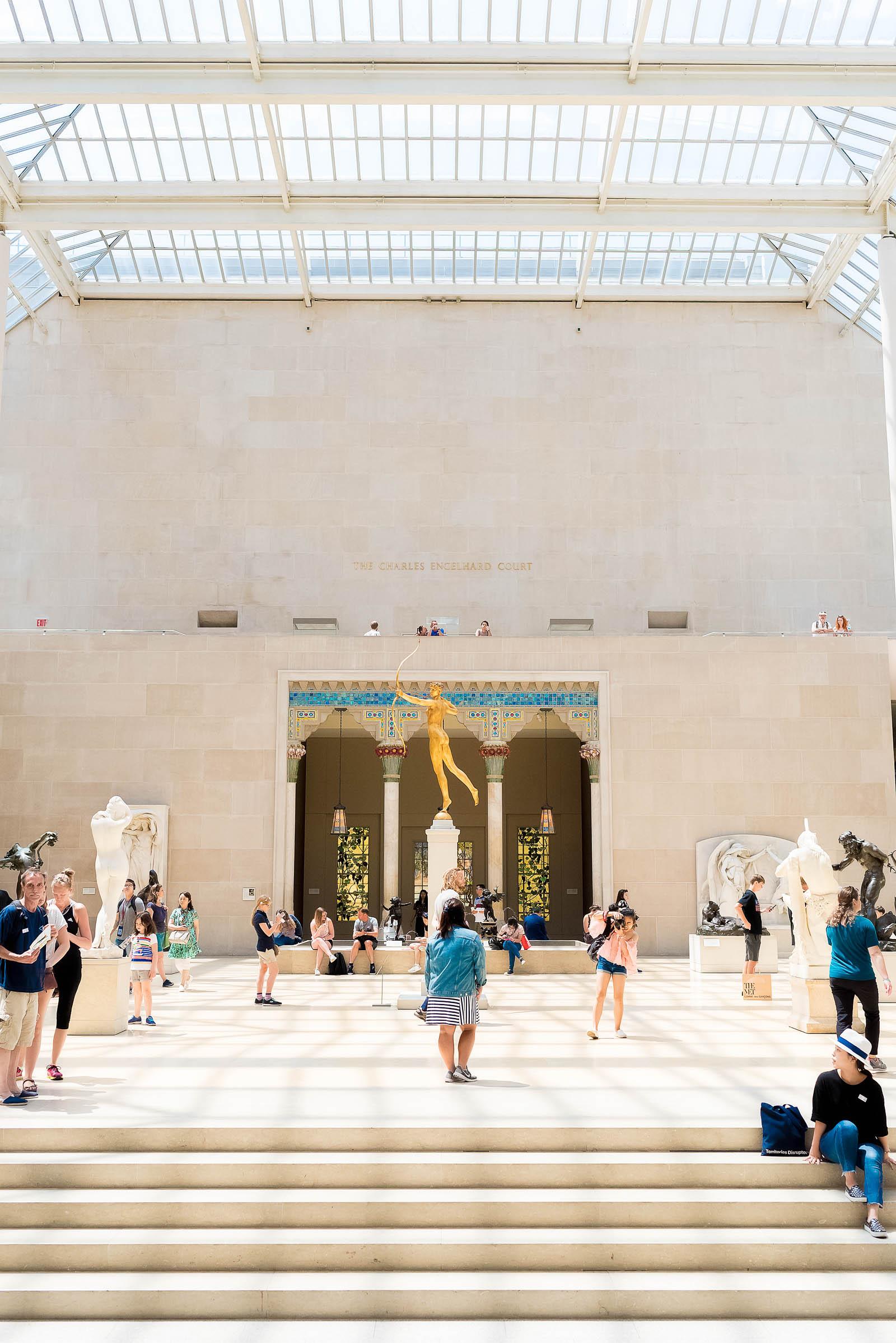 It really is one of the most incredible places to step into!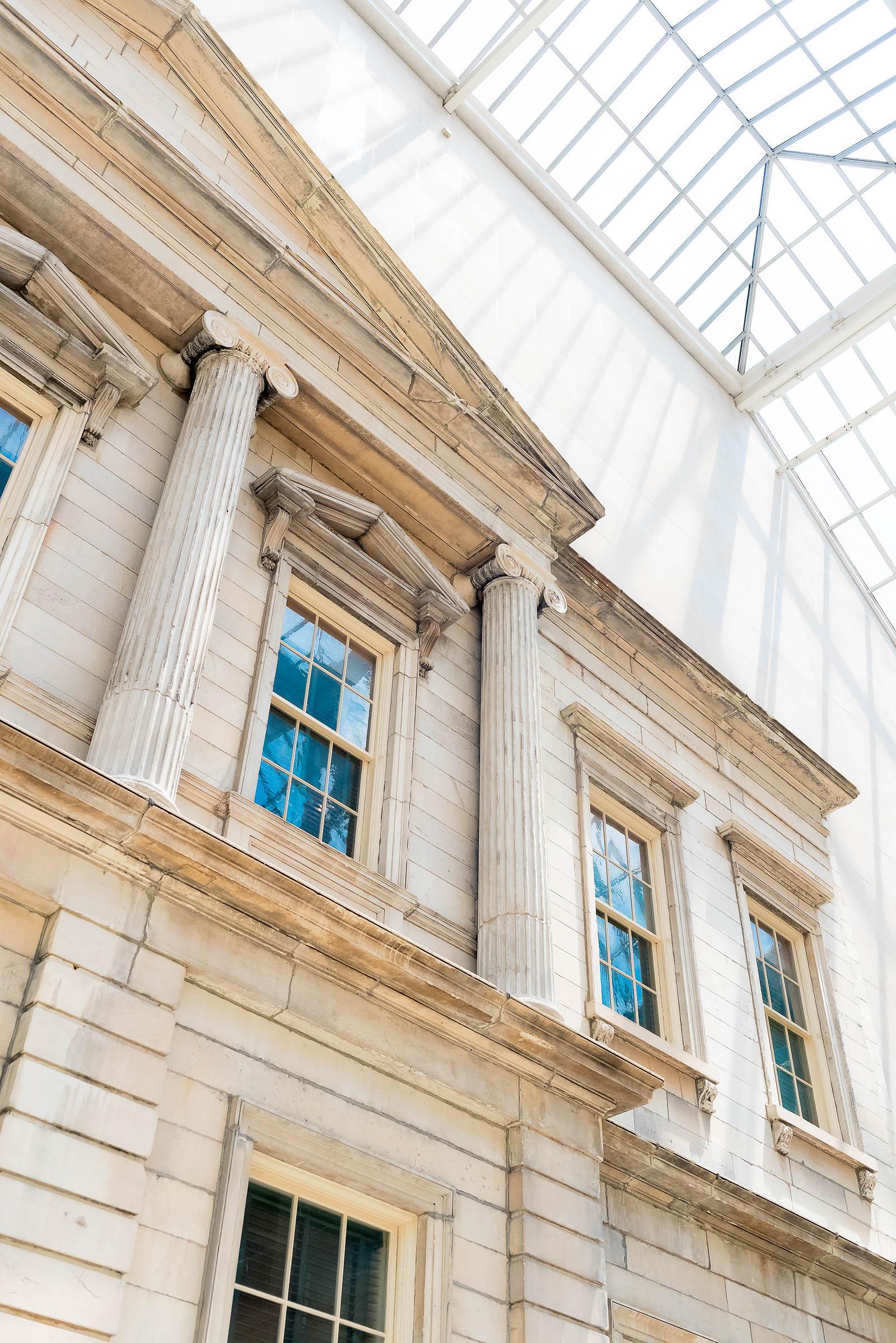 But there are secrets INSIDE the bank building too…
Dozens of rooms of historical antiquities await, all displaying different eras in history.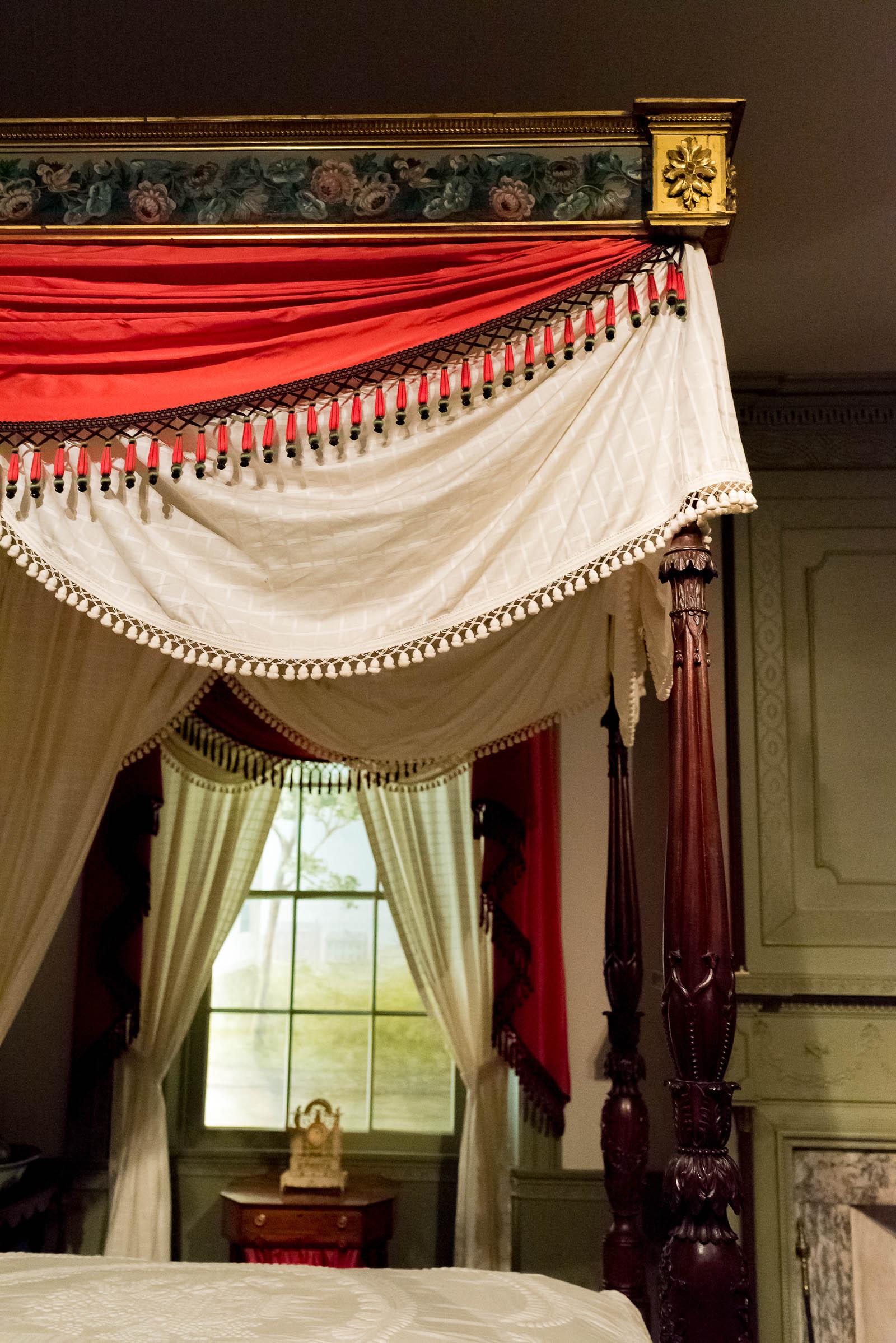 As well as some impressive canopy beds,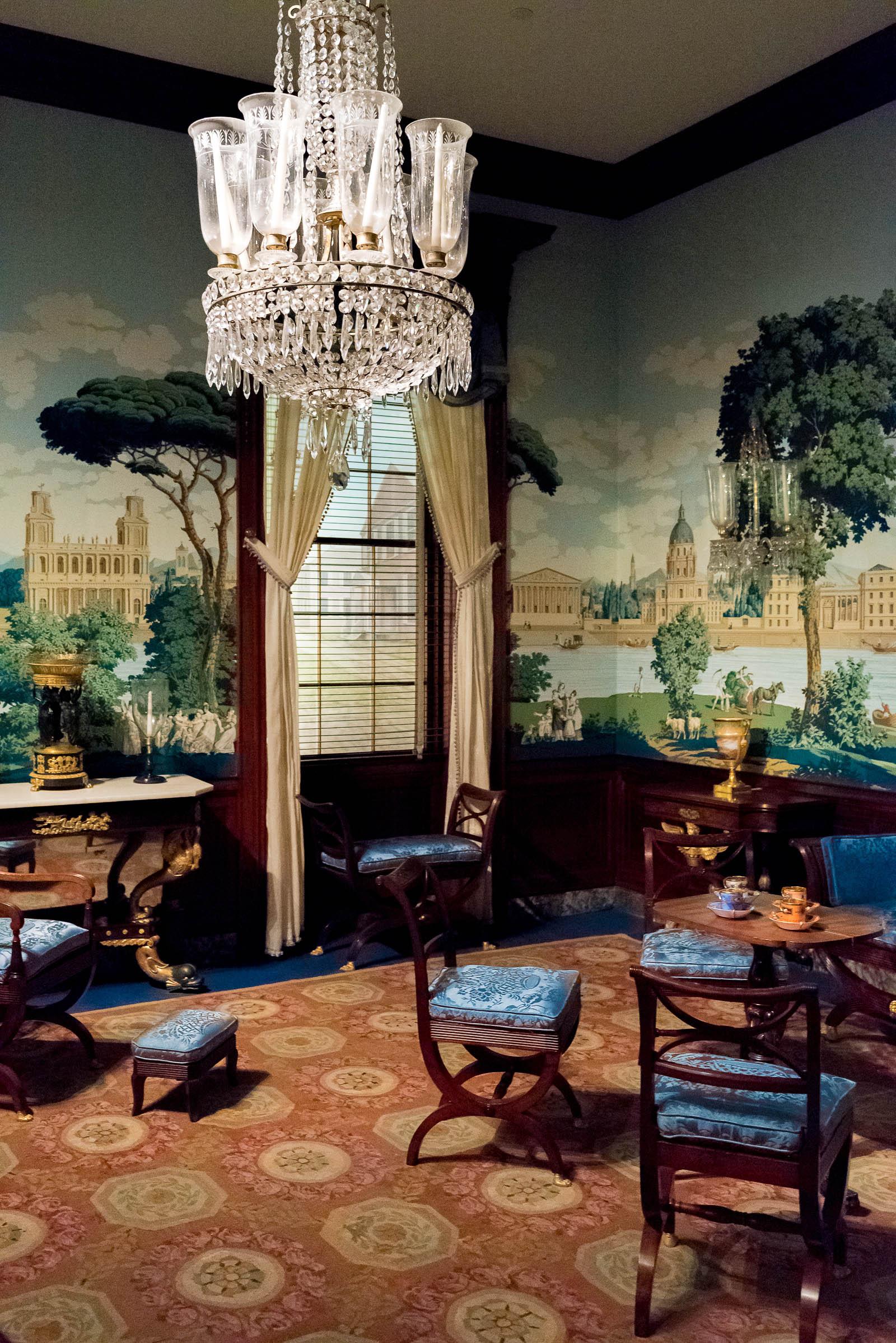 some beautiful wallpapers,
and some serious historical furniture porn.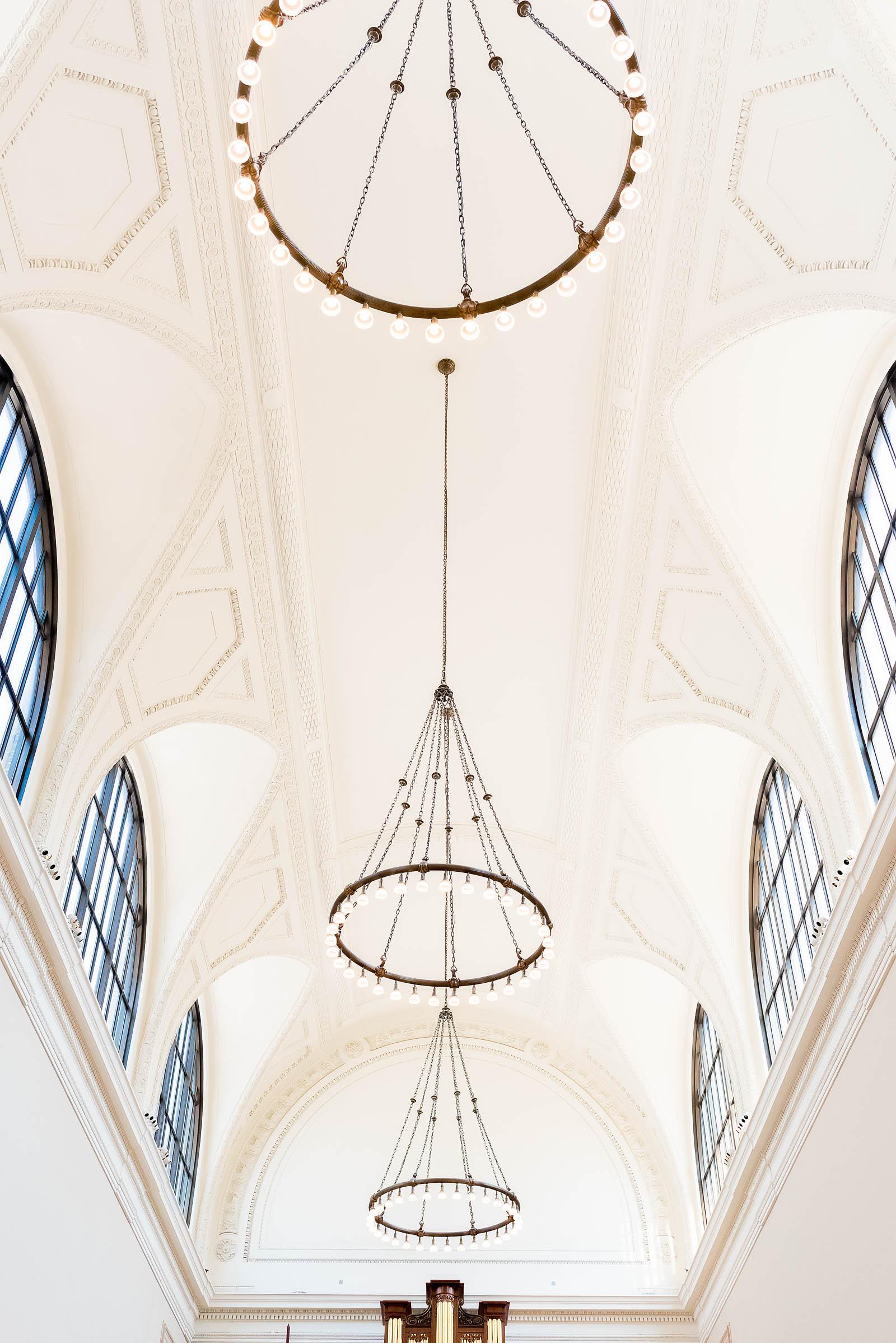 Take a right and you'll find yourself in the imposing Arms & Armour Hall.
With plenty of armour-decked knights guarding the entrance,
as well as the Met's impressive medieval collection in the Cloisters.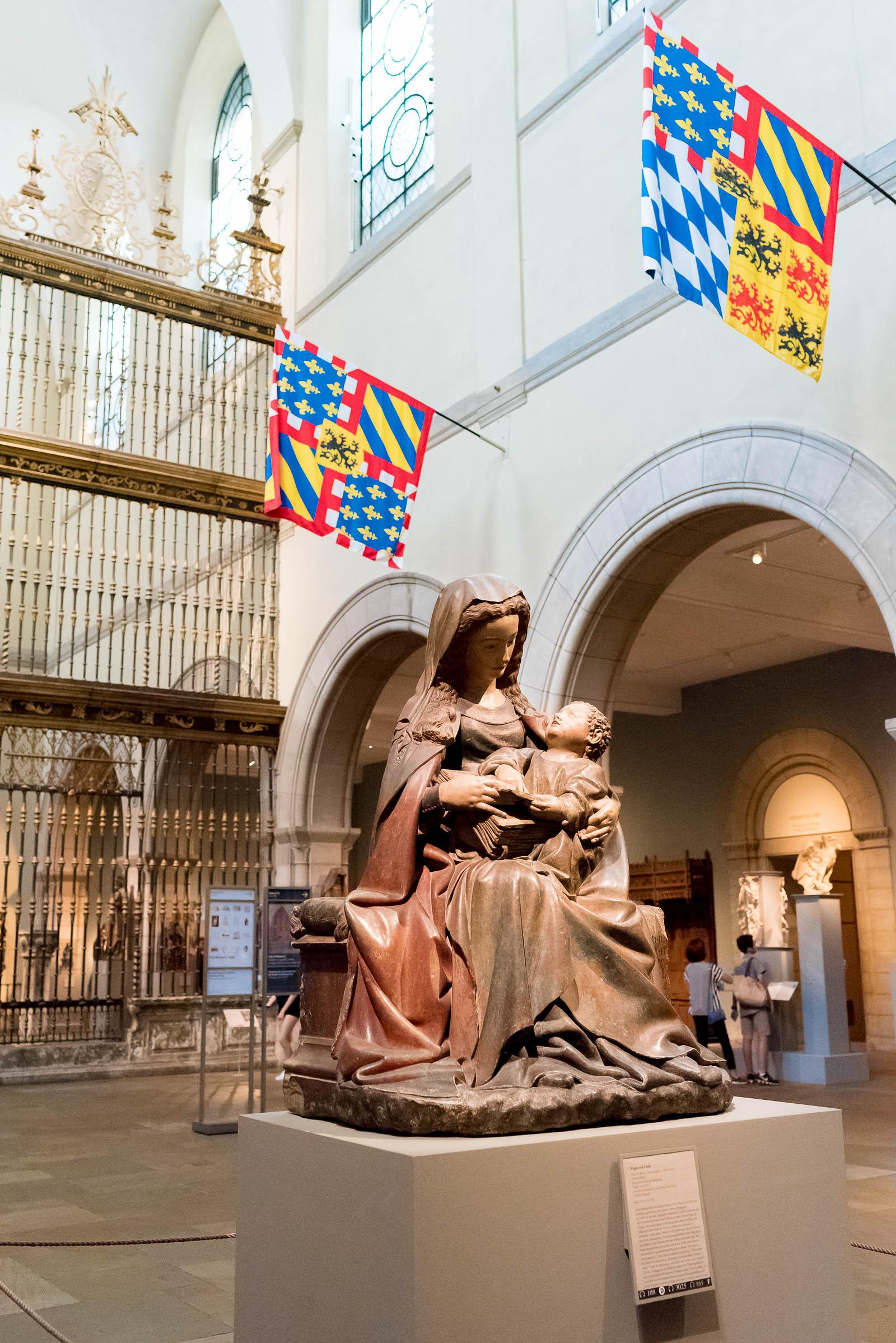 Which is quite extensive, to say the least!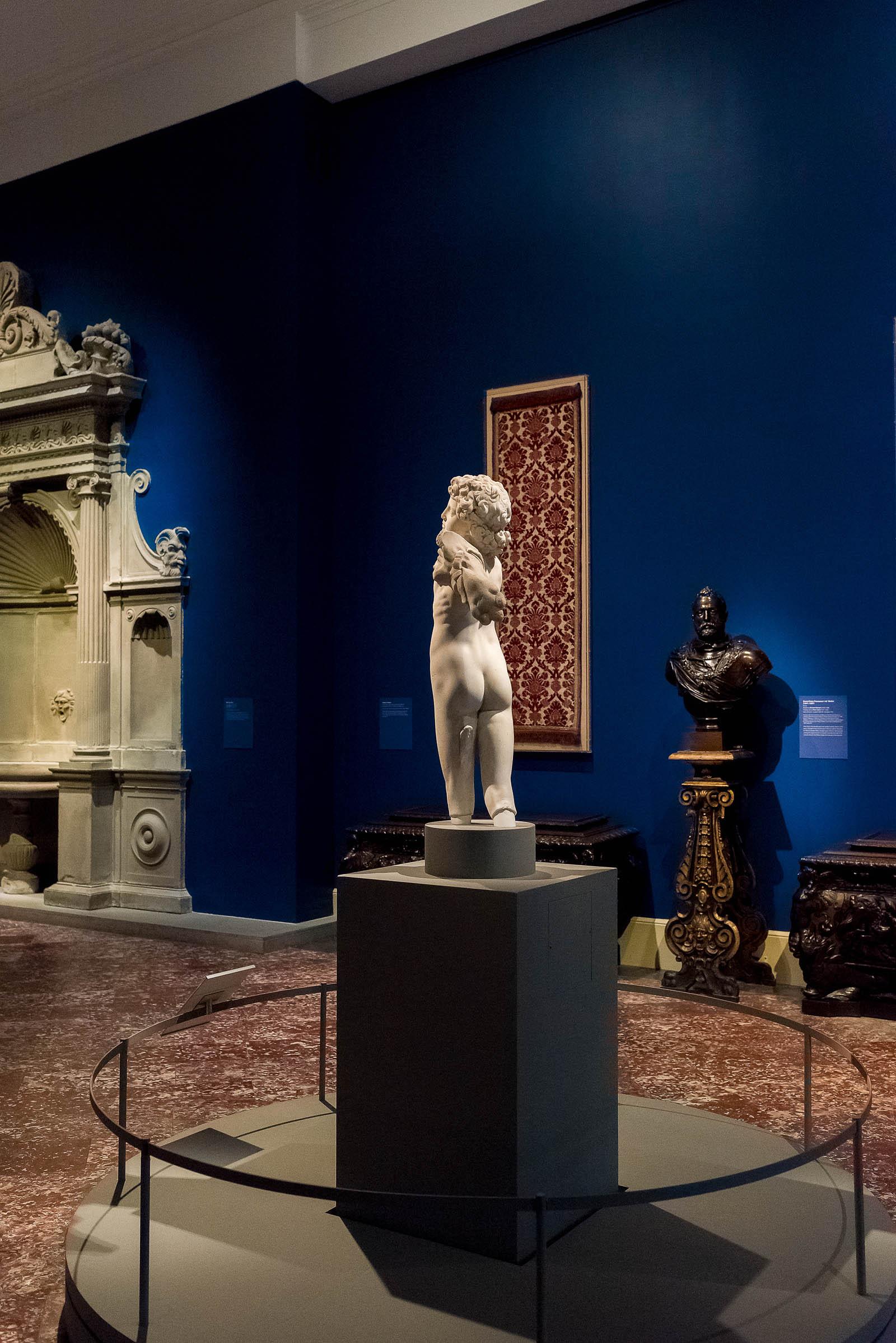 Continue wandering and you'll find more historically decorated rooms.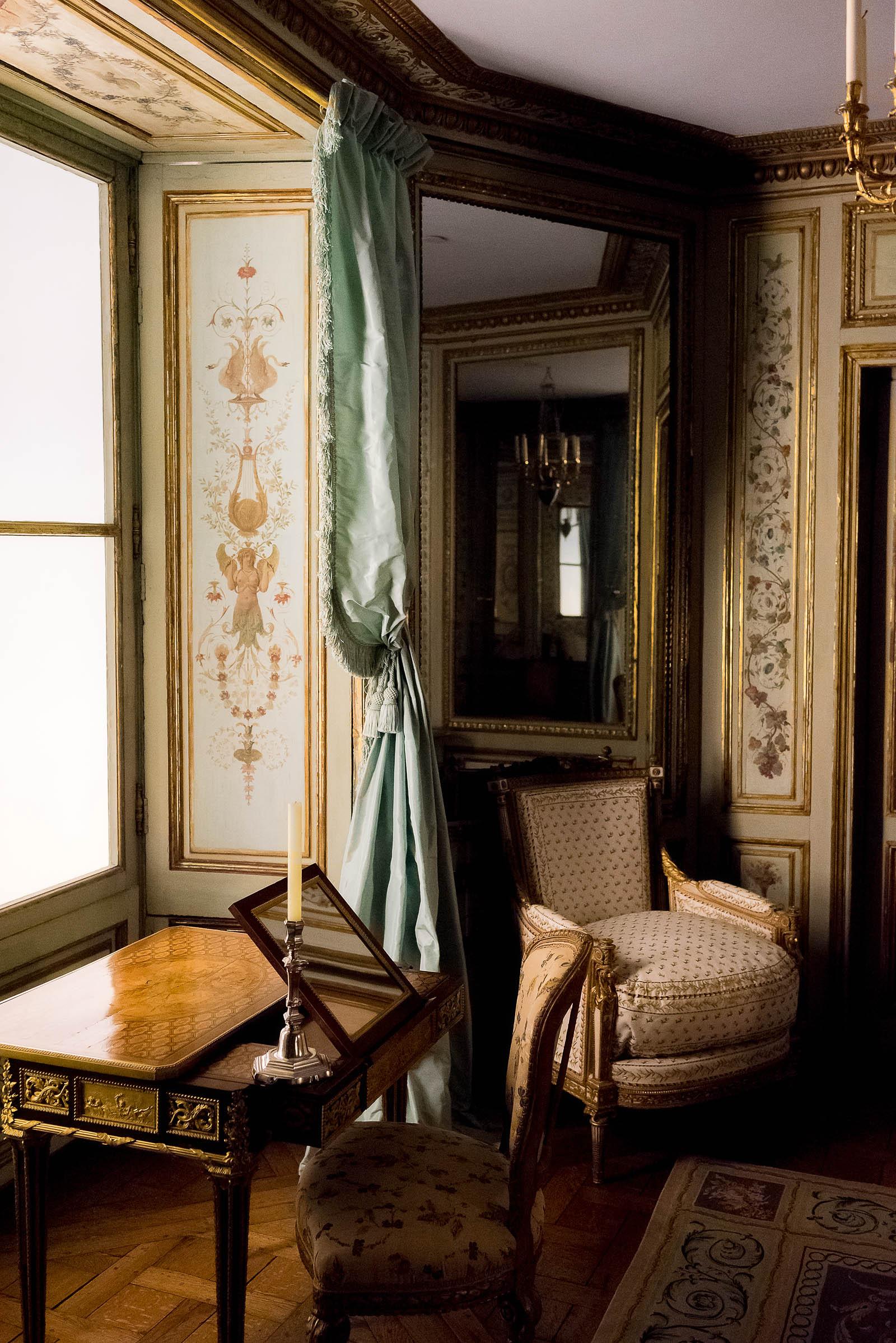 Some with jaw-dropping furniture,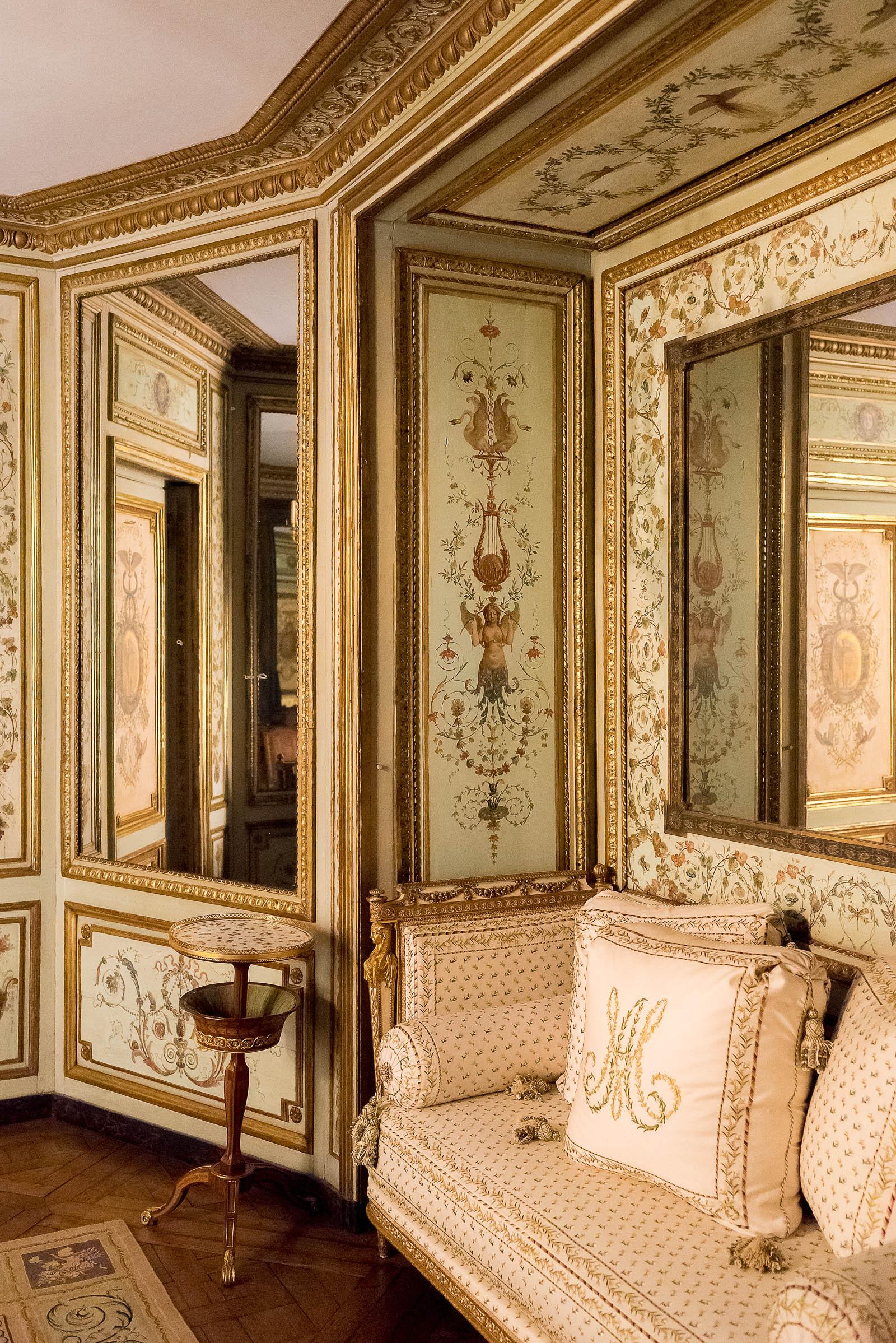 insane detailing,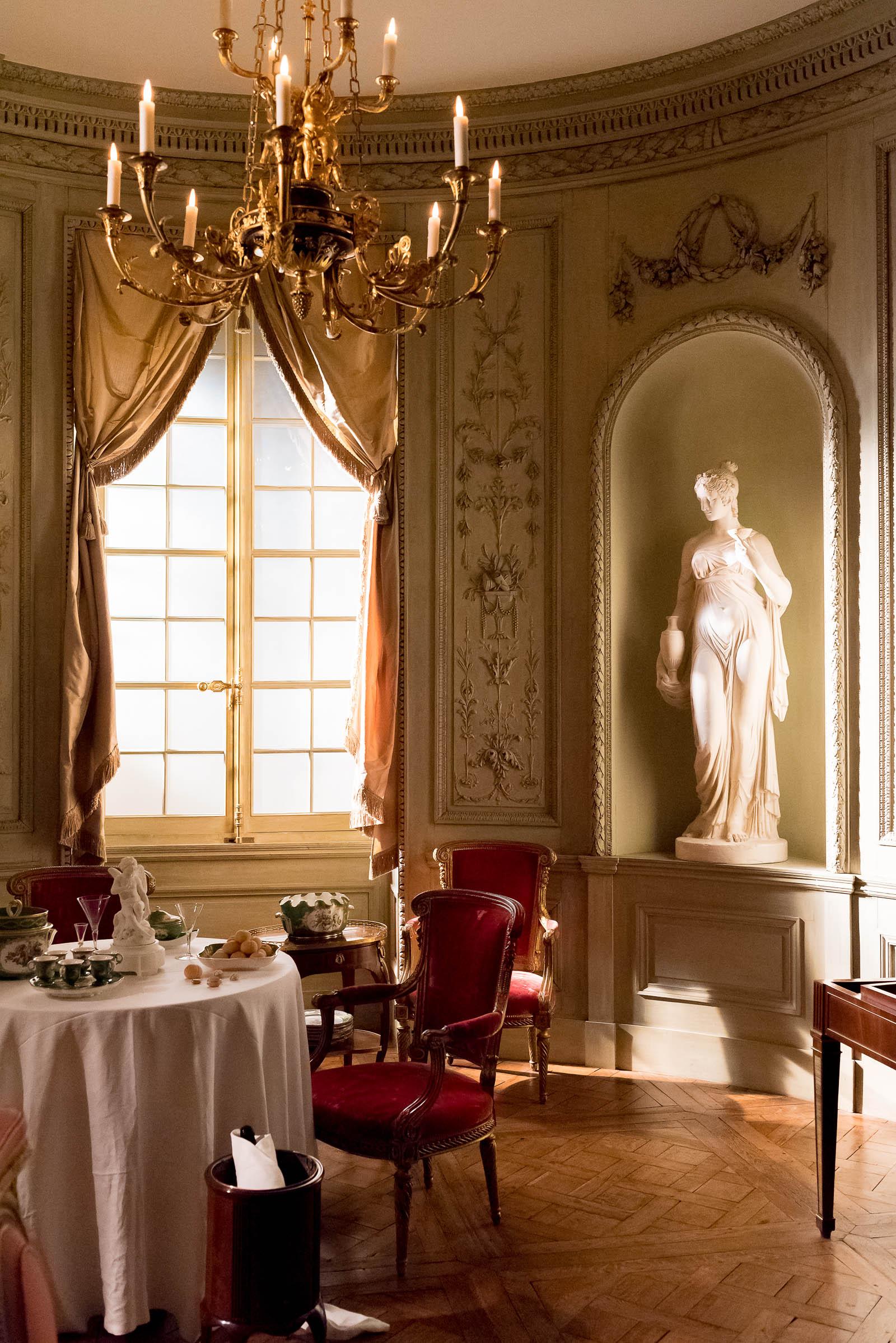 and truly beautiful pieces of art and sculpture too.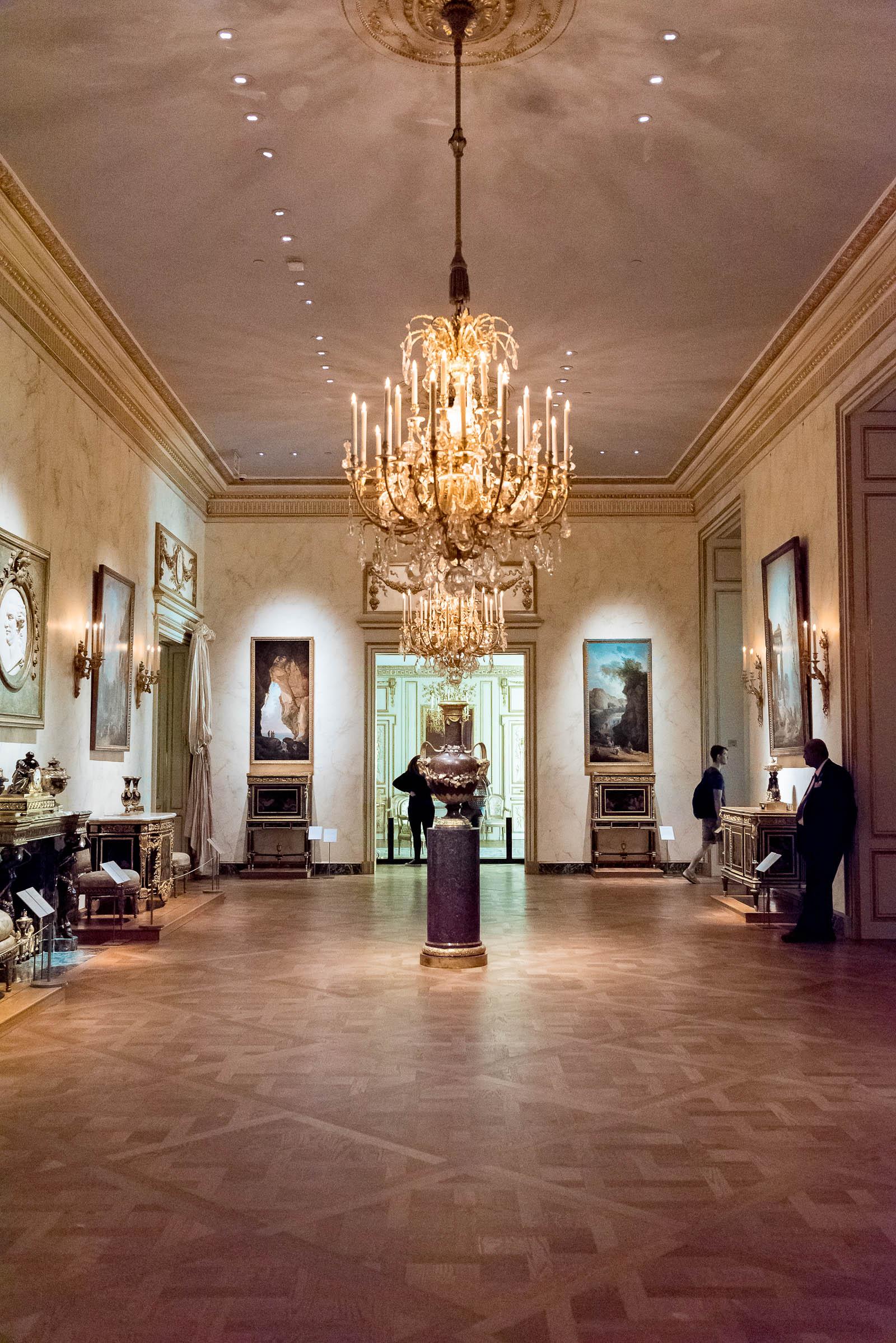 Even the halls with individual pieces of furniture feel historical,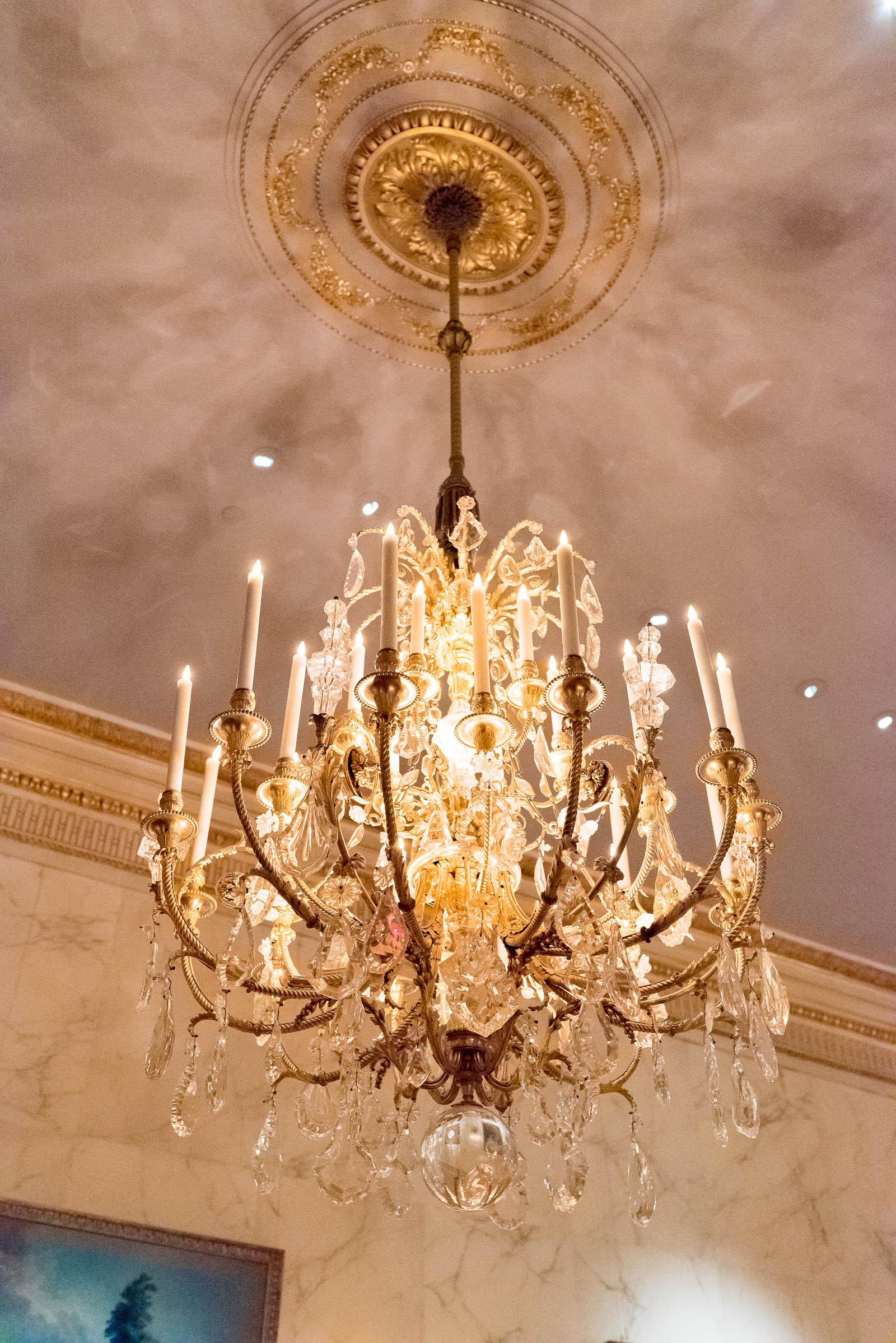 especially with their glittering chandeliers!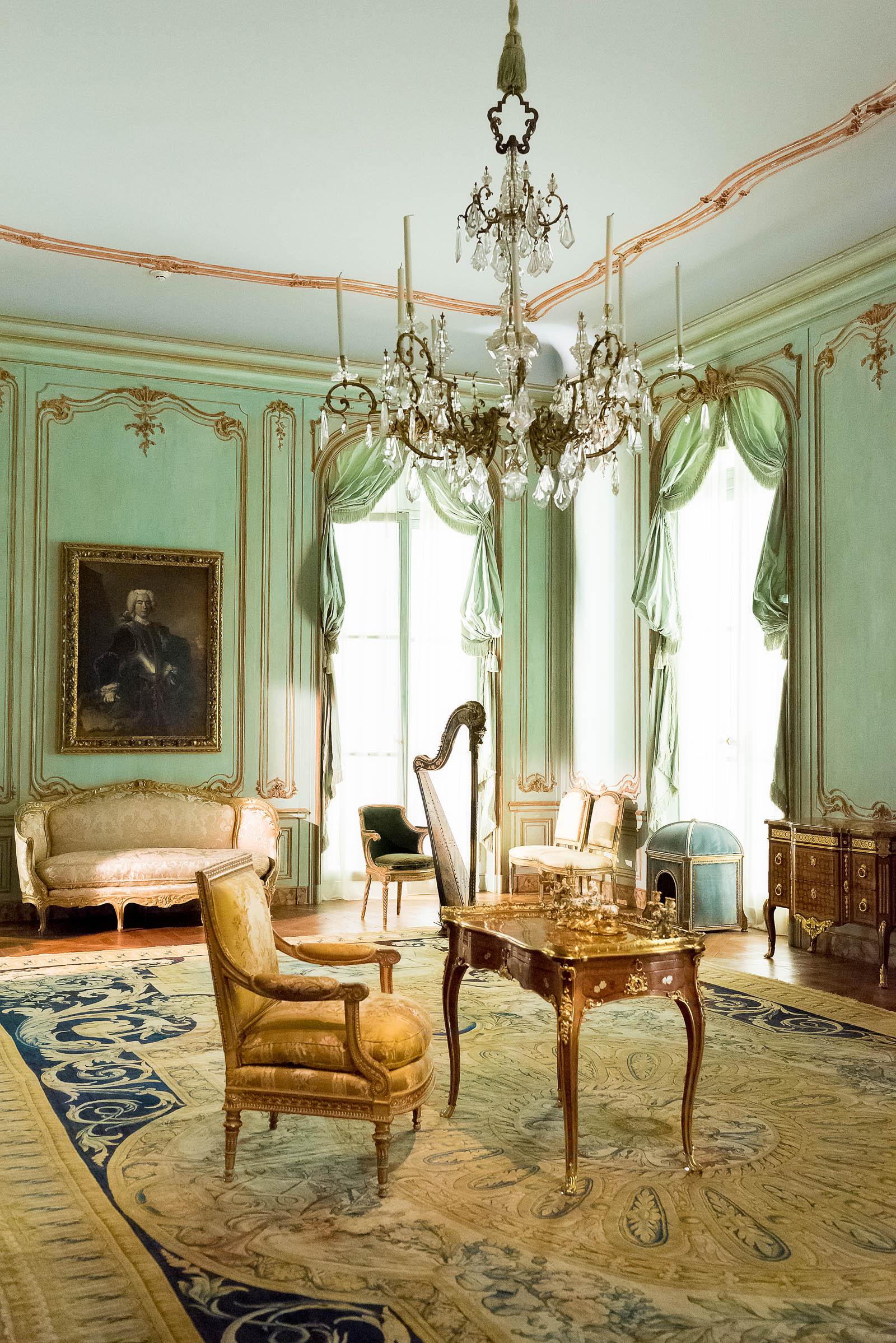 This mint colored room ended up being my absolute favorite.
Anyone know where I can find a rug like this one?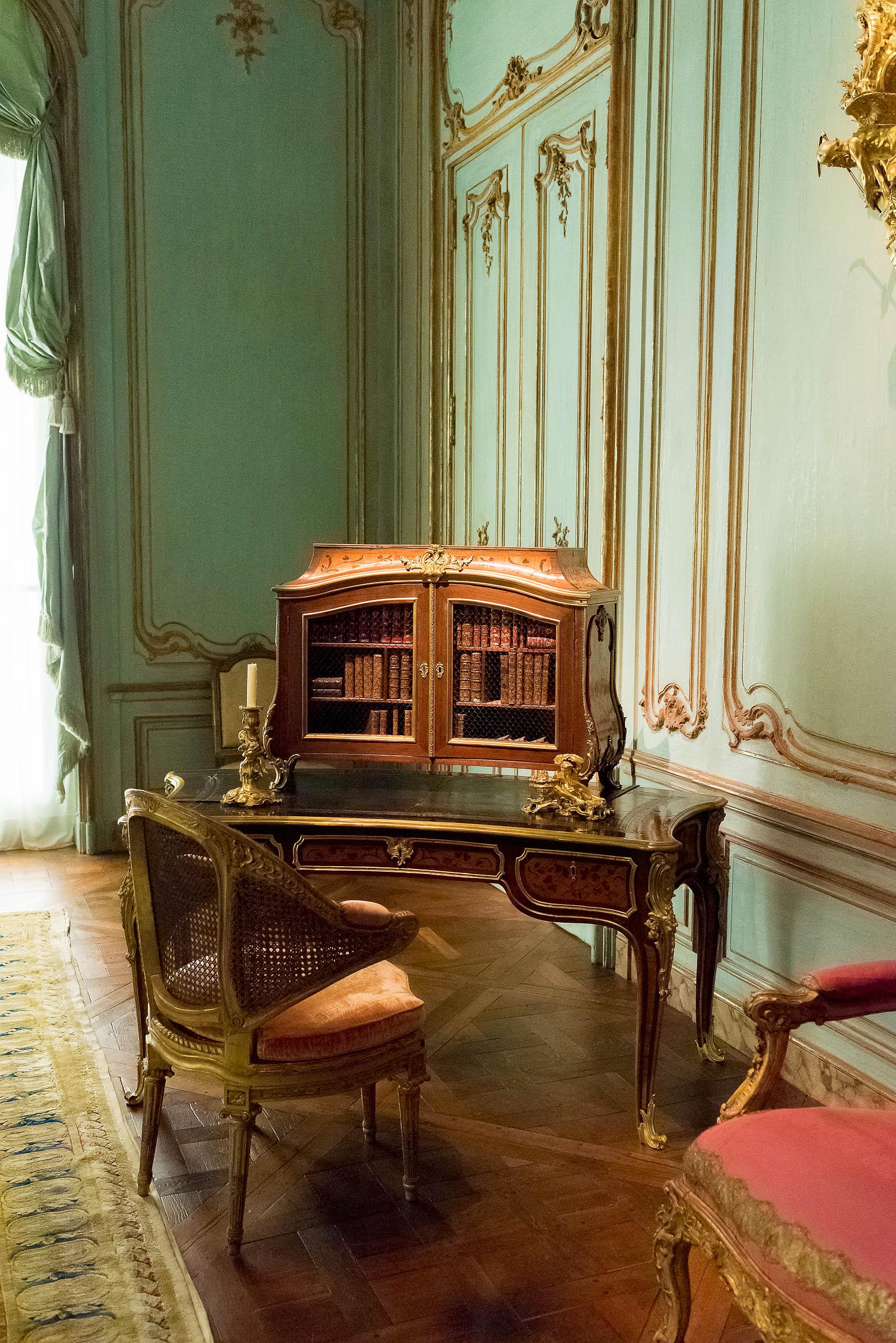 And a desk like this one while we're at it?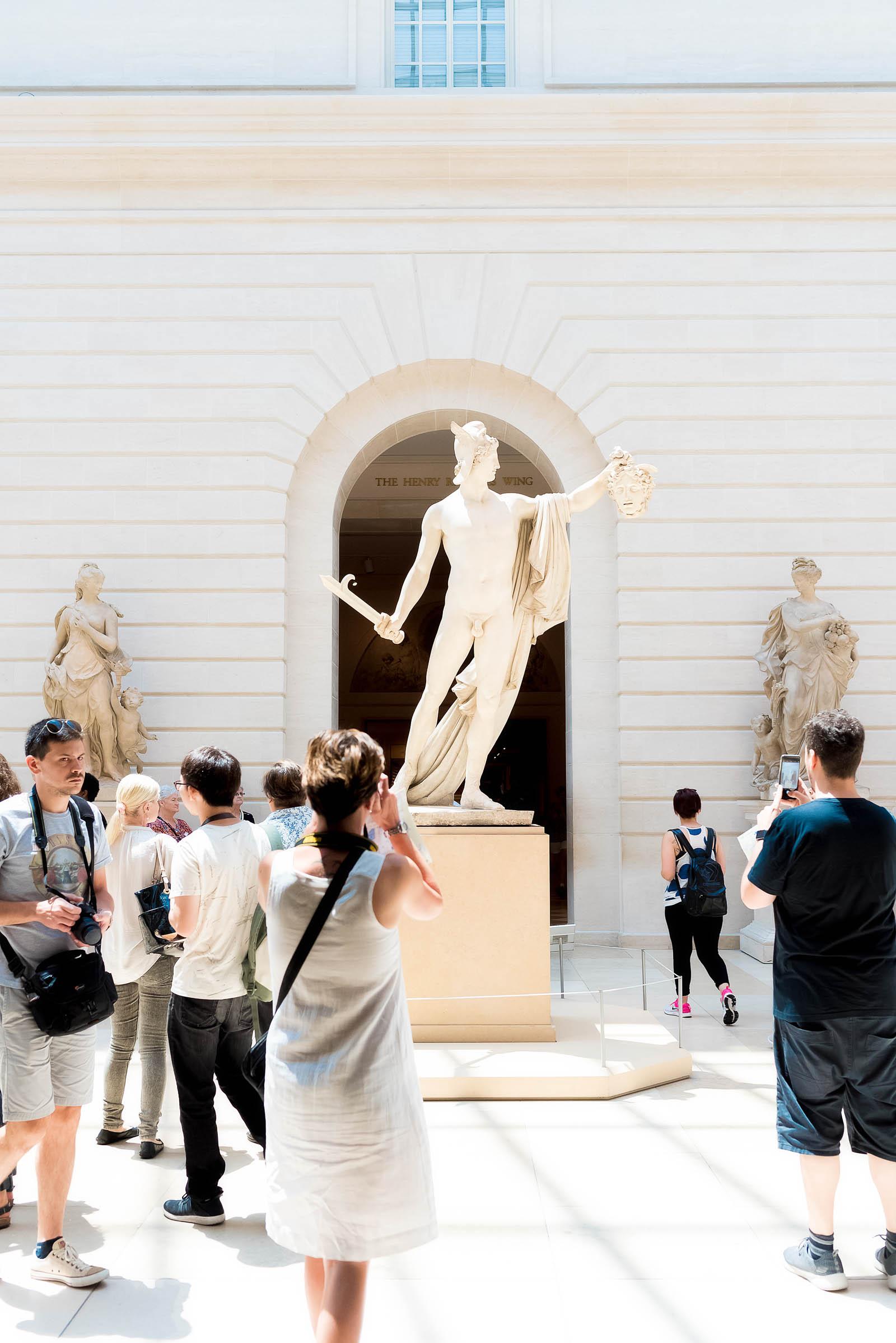 But eventually you'll find your way here.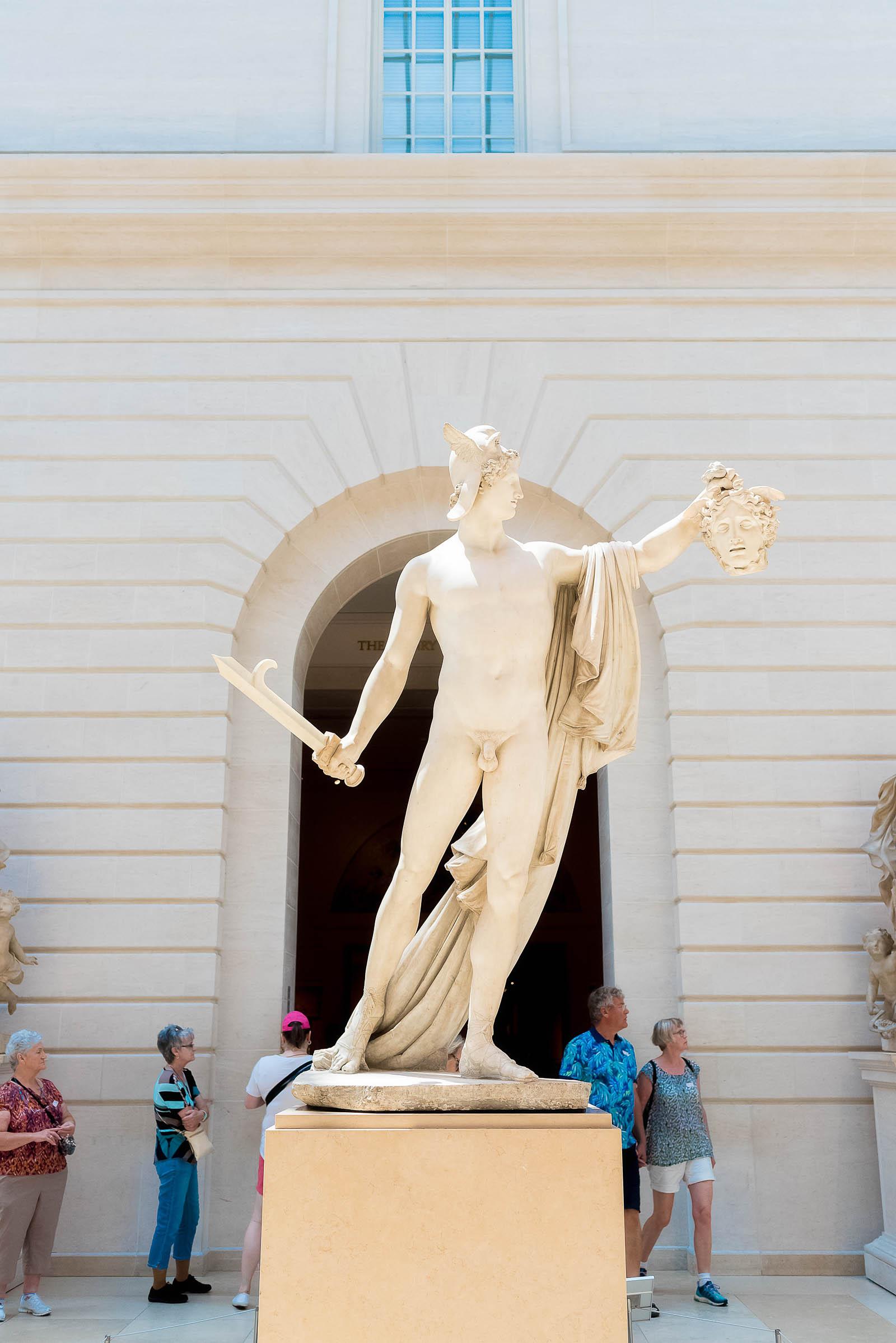 The European Sculpture Hall to rival all others.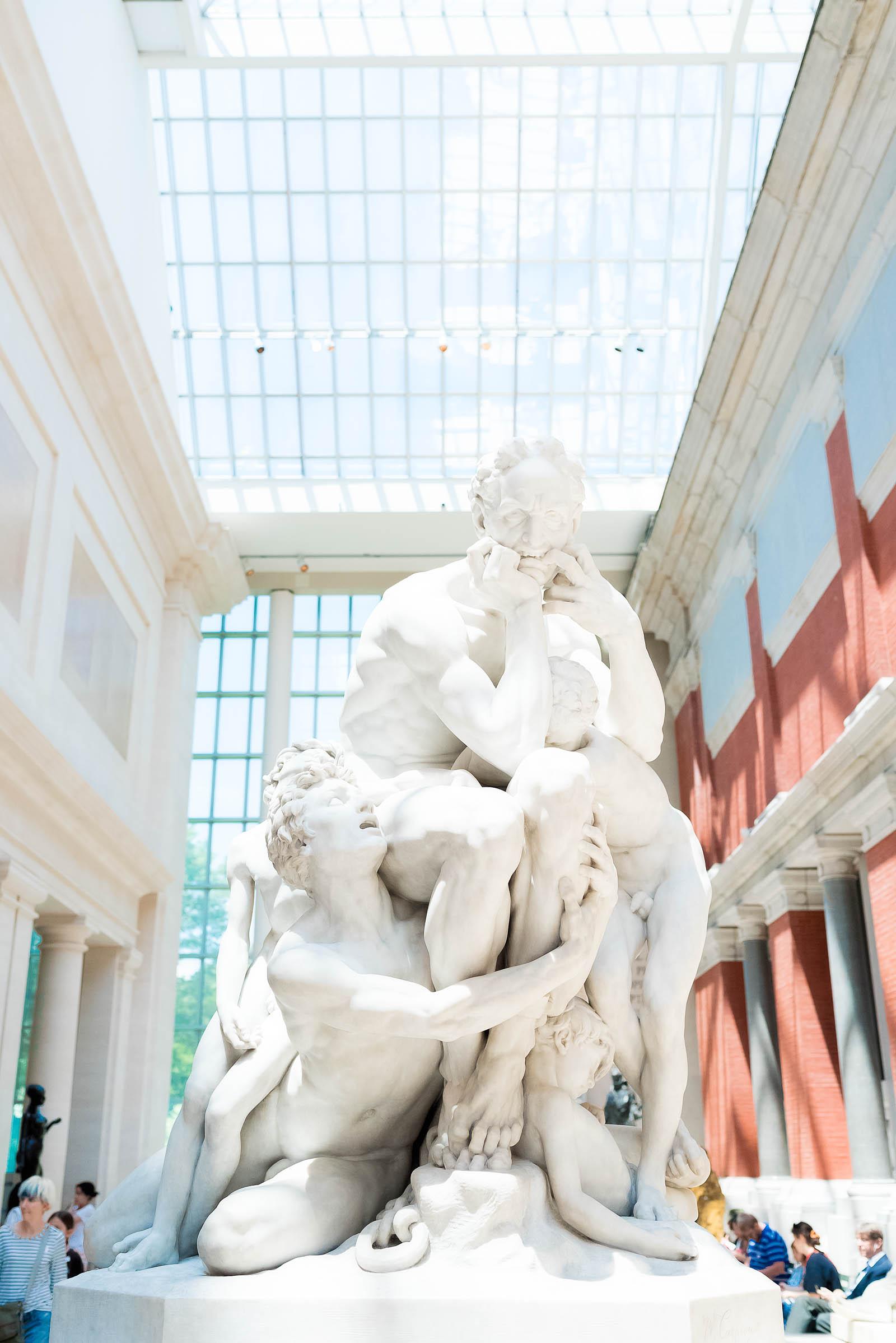 It's a magnificent, sun-drenched space,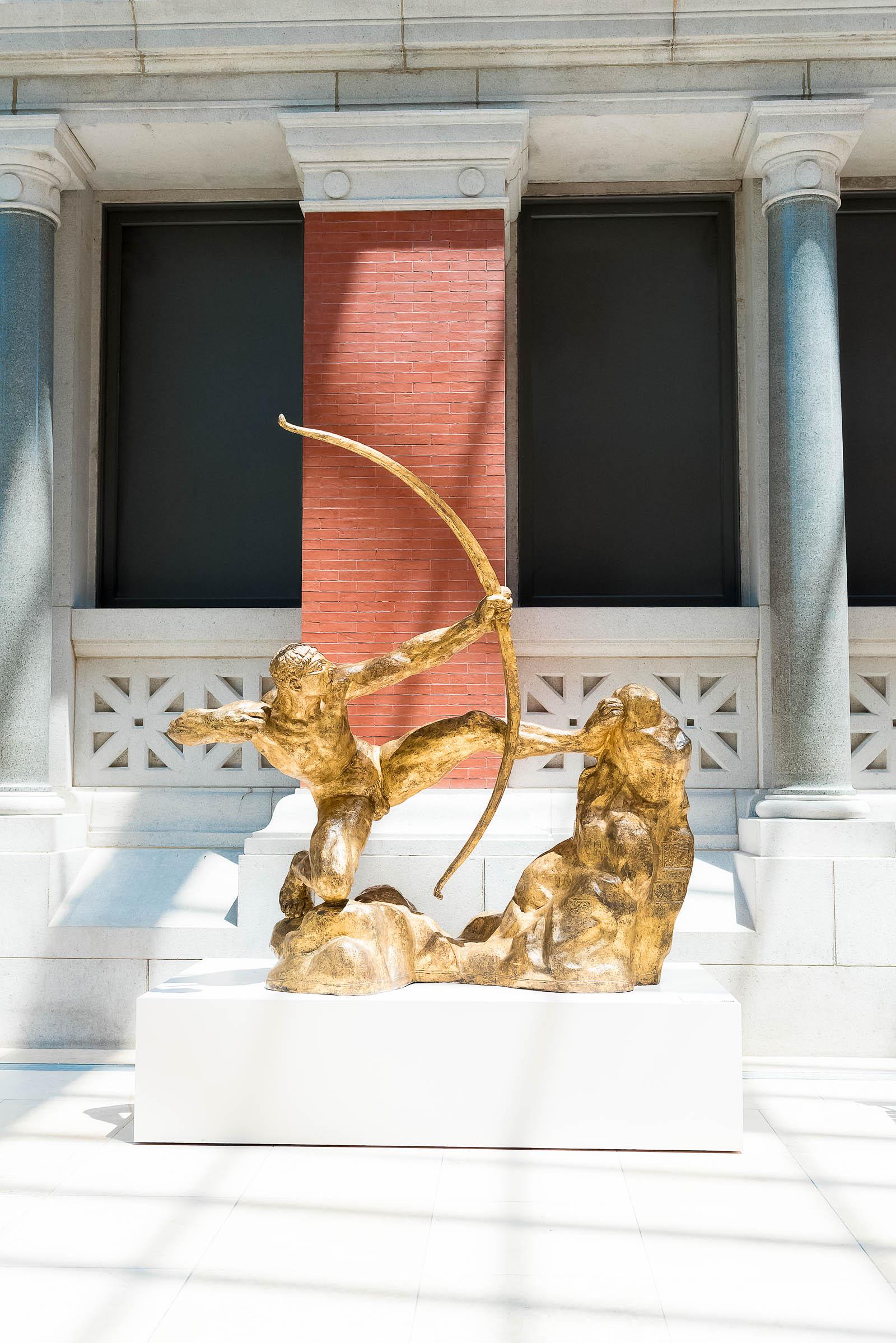 with all sorts of sculptures,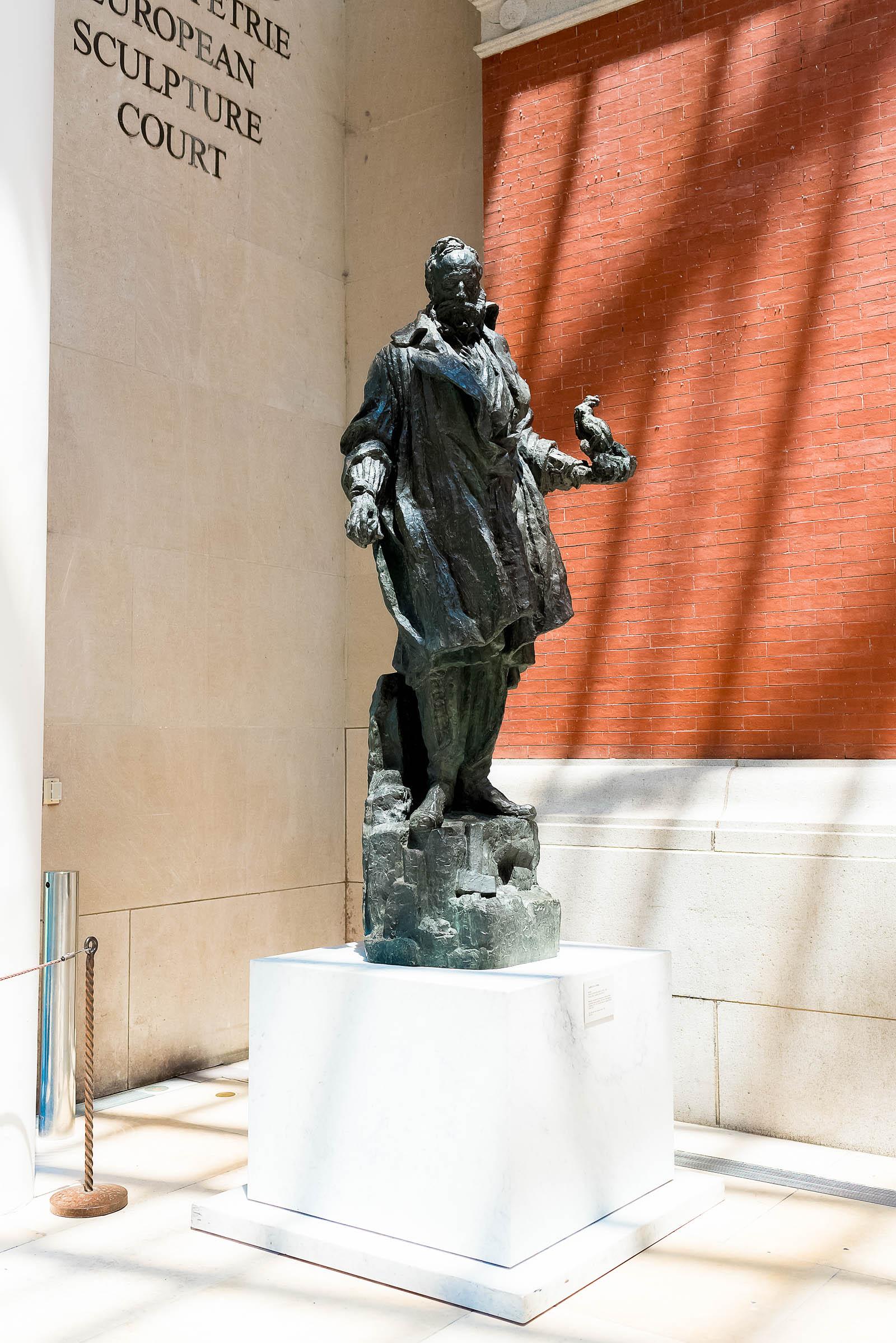 in all colors,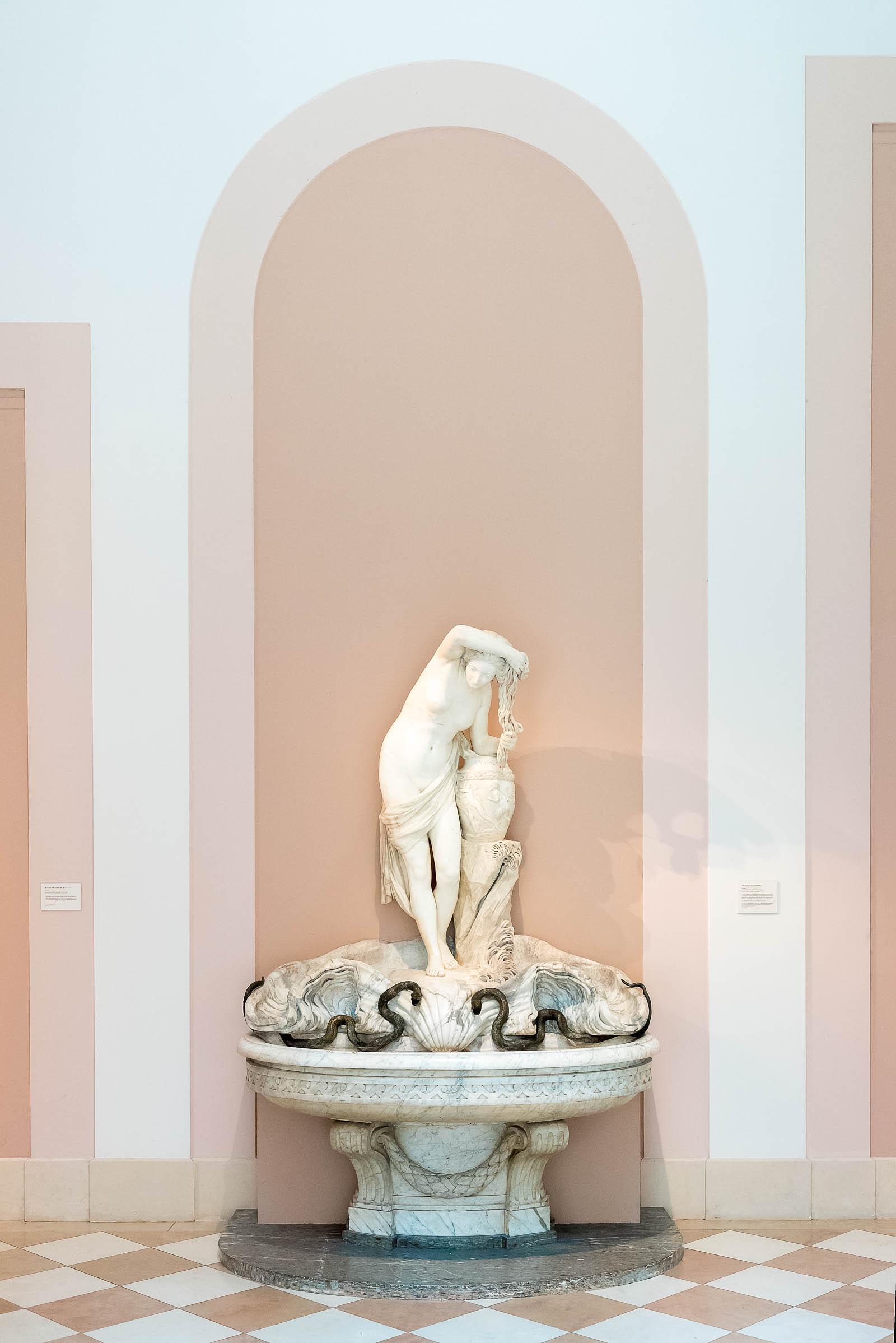 and guises.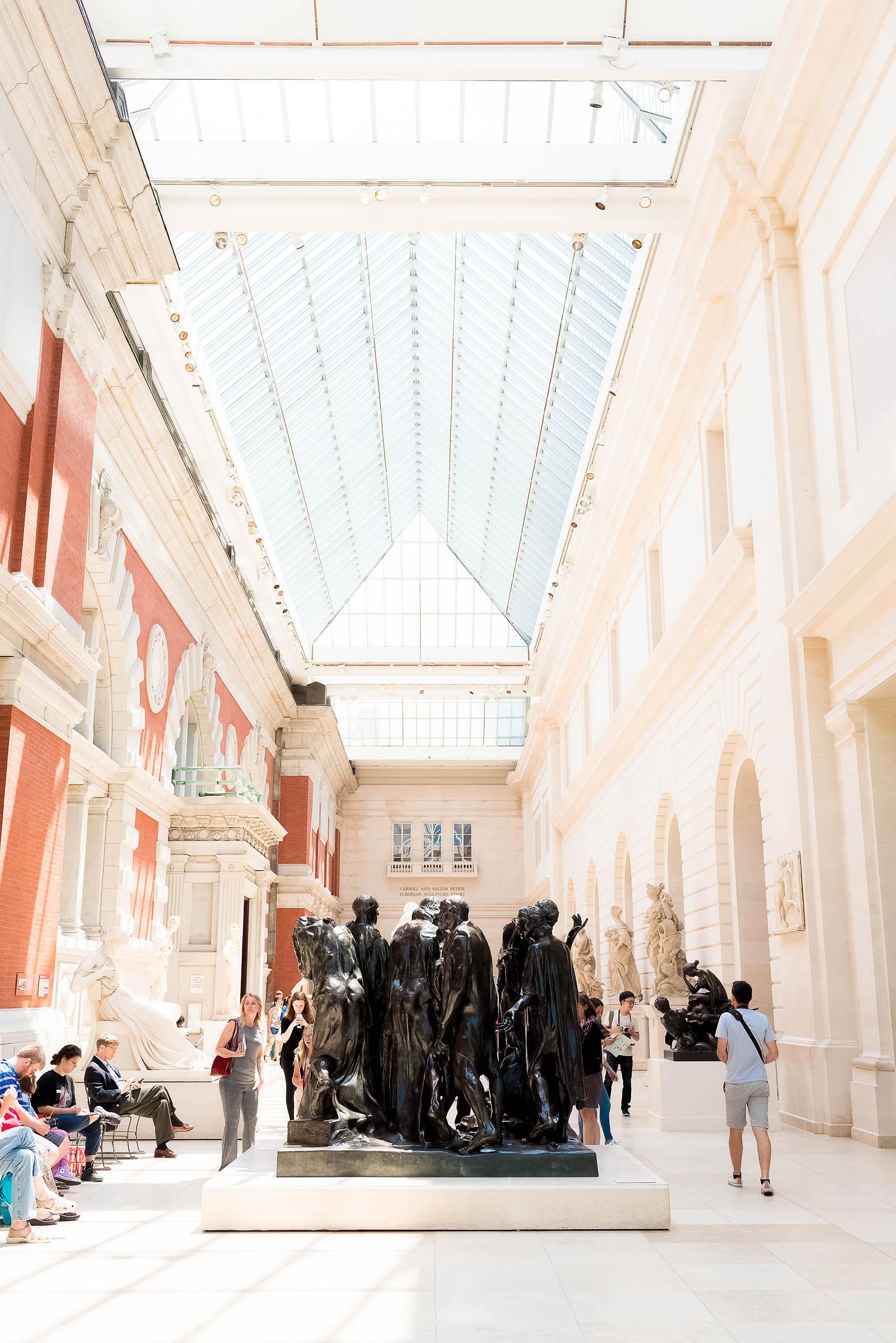 It makes for one truly breath-taking space! It would probably have been my favorite part of the Met if it hadn't been everyone else's favorite part too, if you get what I mean!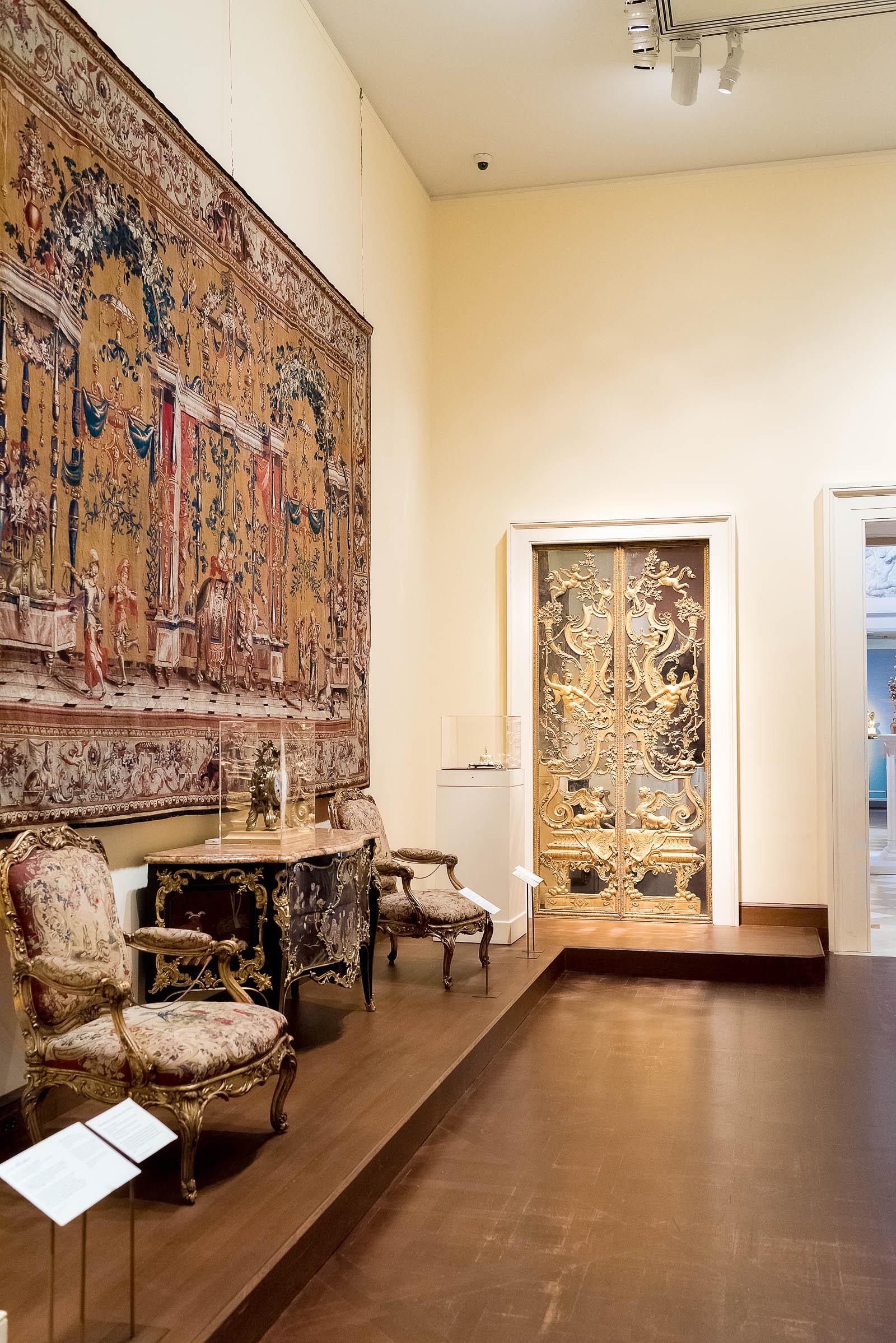 Continue wandering and you'll find more impressive European decor.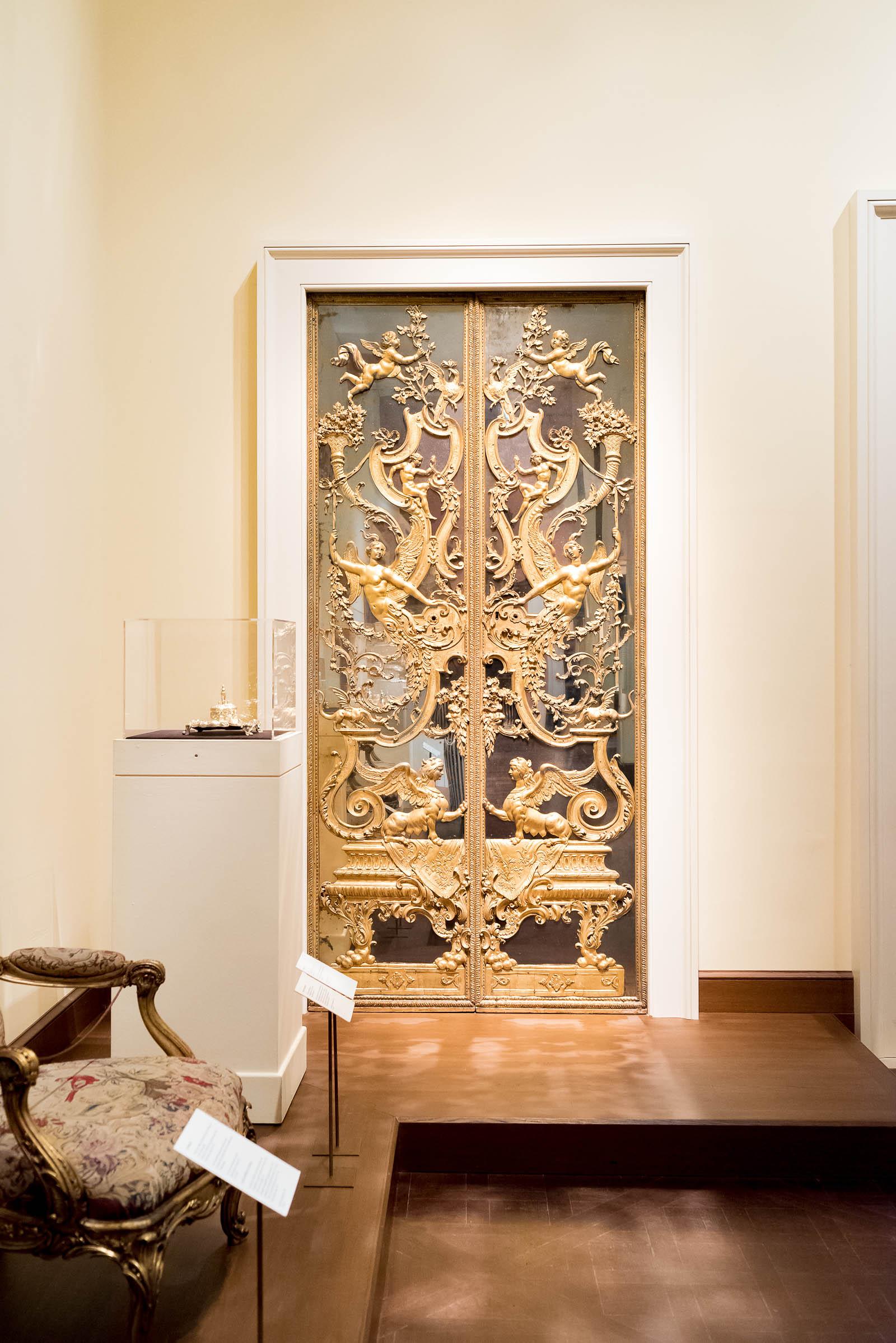 Like this gilded doorway (just a casual entrance, nbd),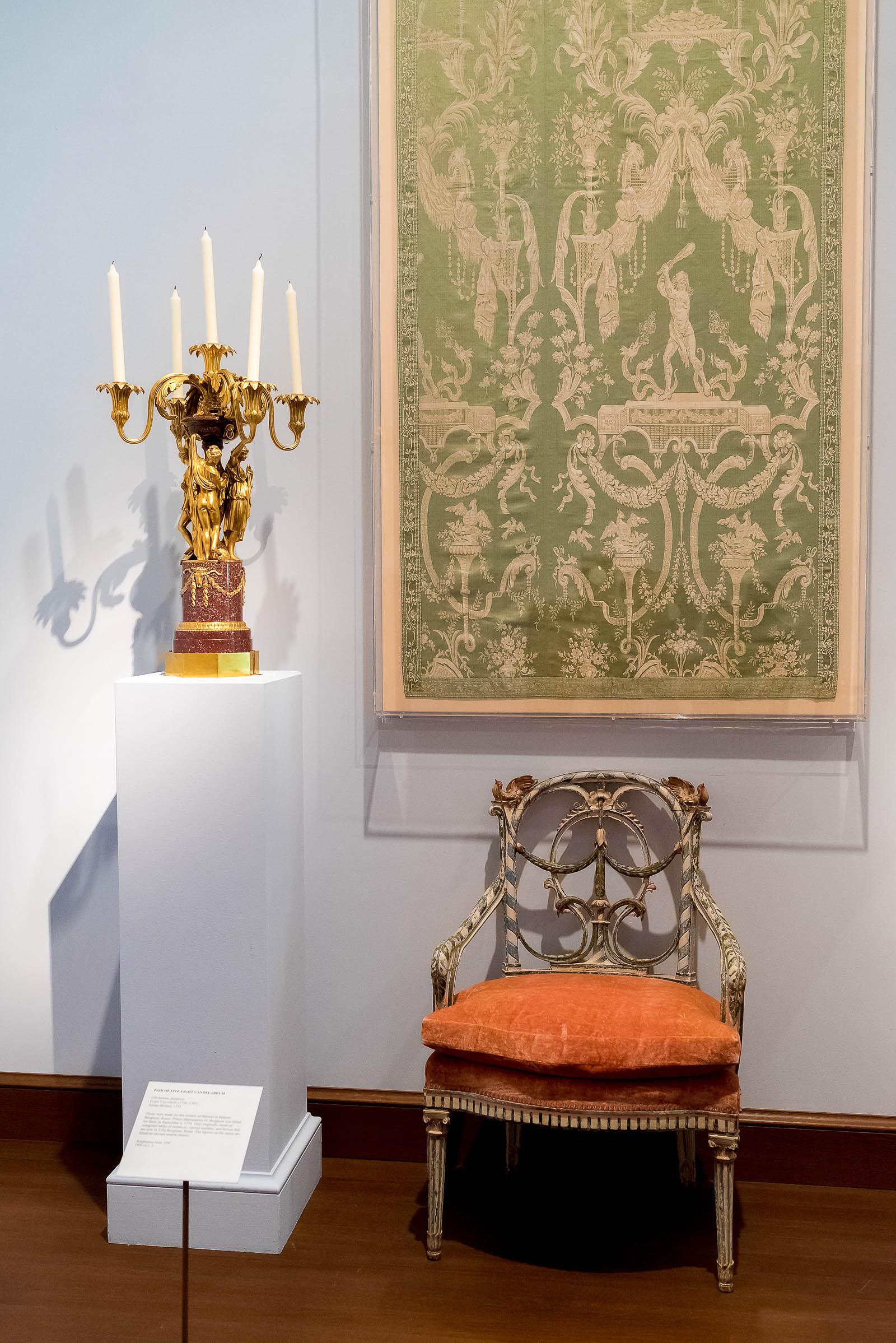 or this insane candelabra (Lumière!!).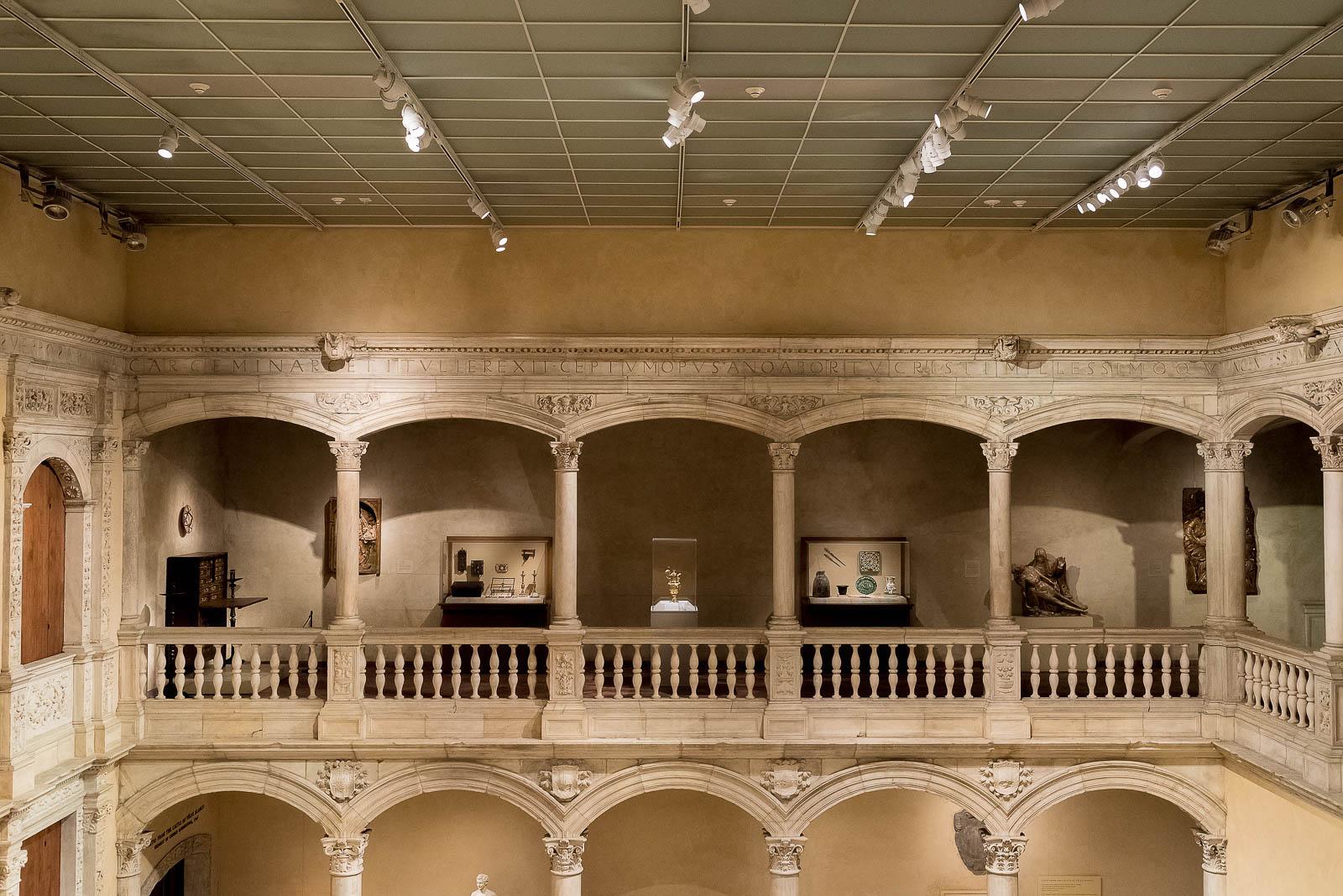 Keep wandering and you'll eventually come across this room,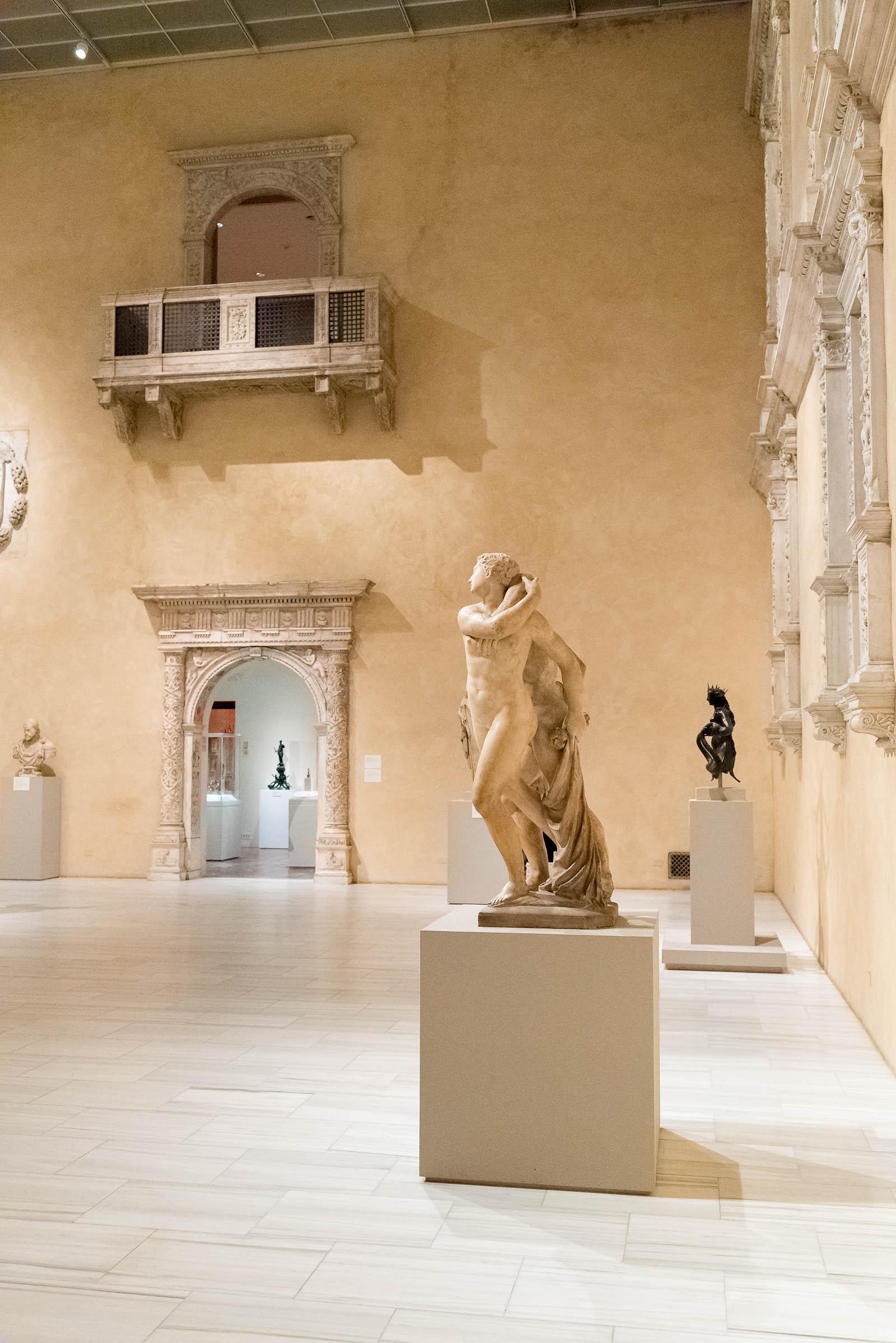 housing all sorts of Greek and Roman Art,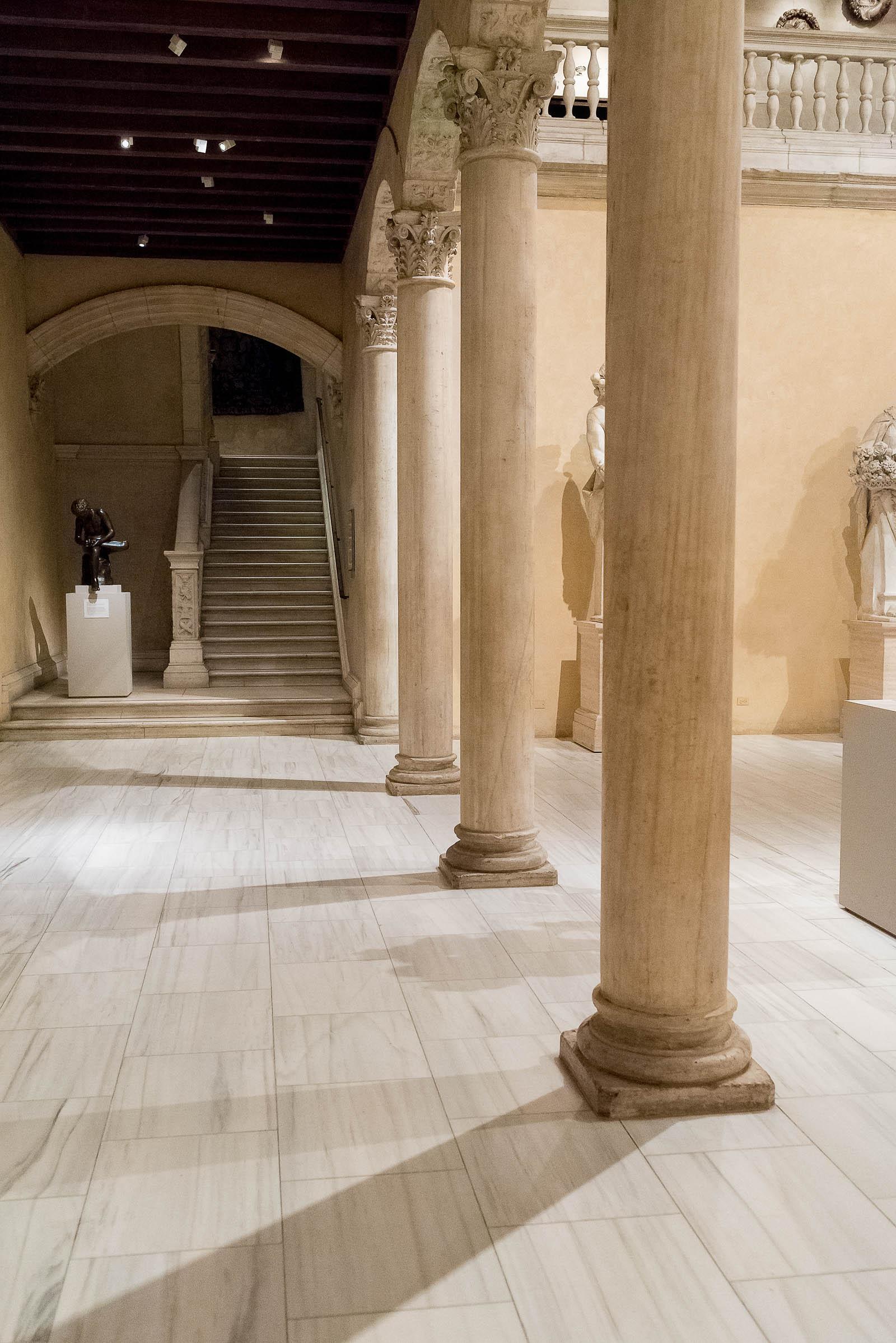 as well as fragments from the Temple of Artemis at Sardis, including these beautiful columns.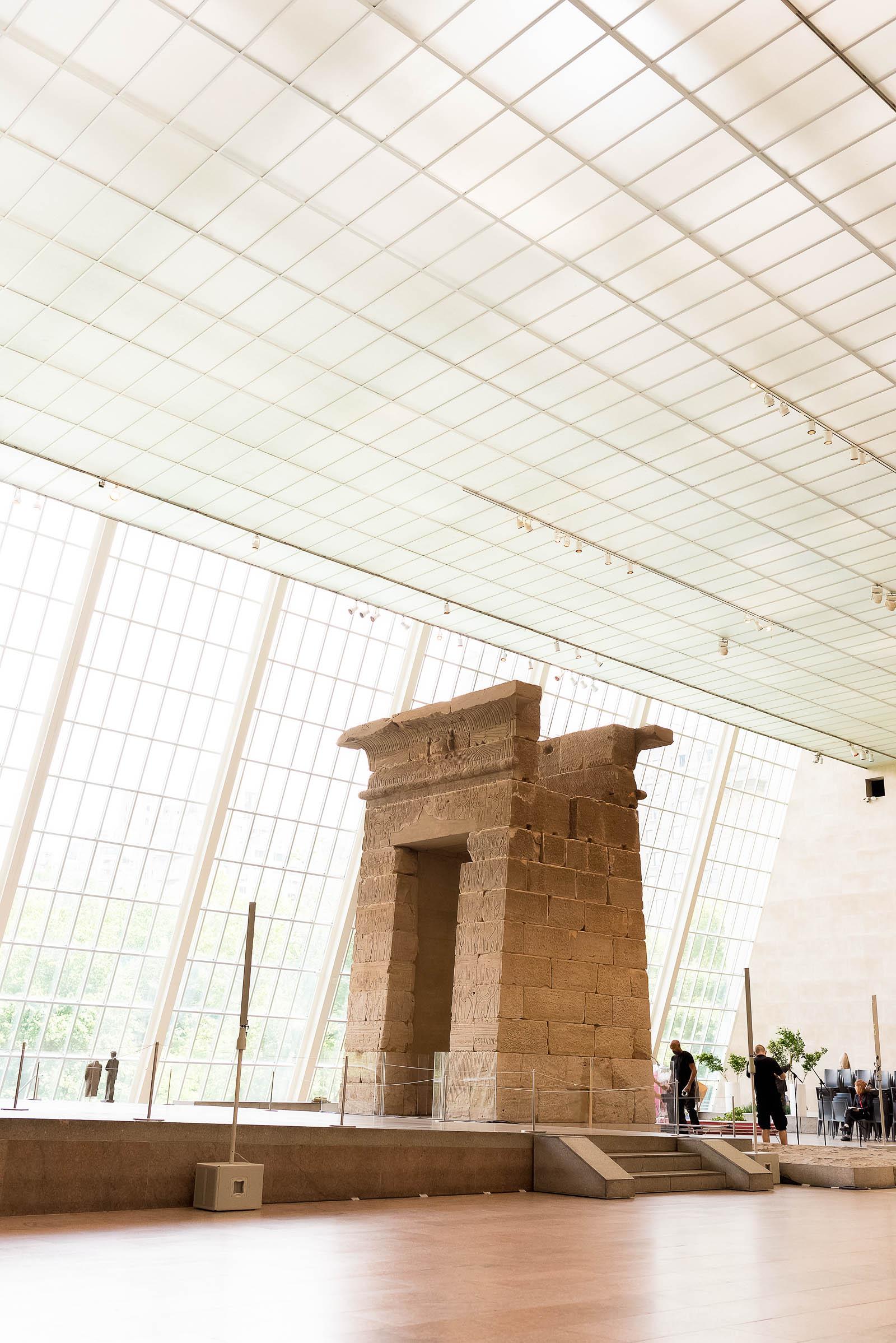 But if you're into ancient history, I've saved the very best for last!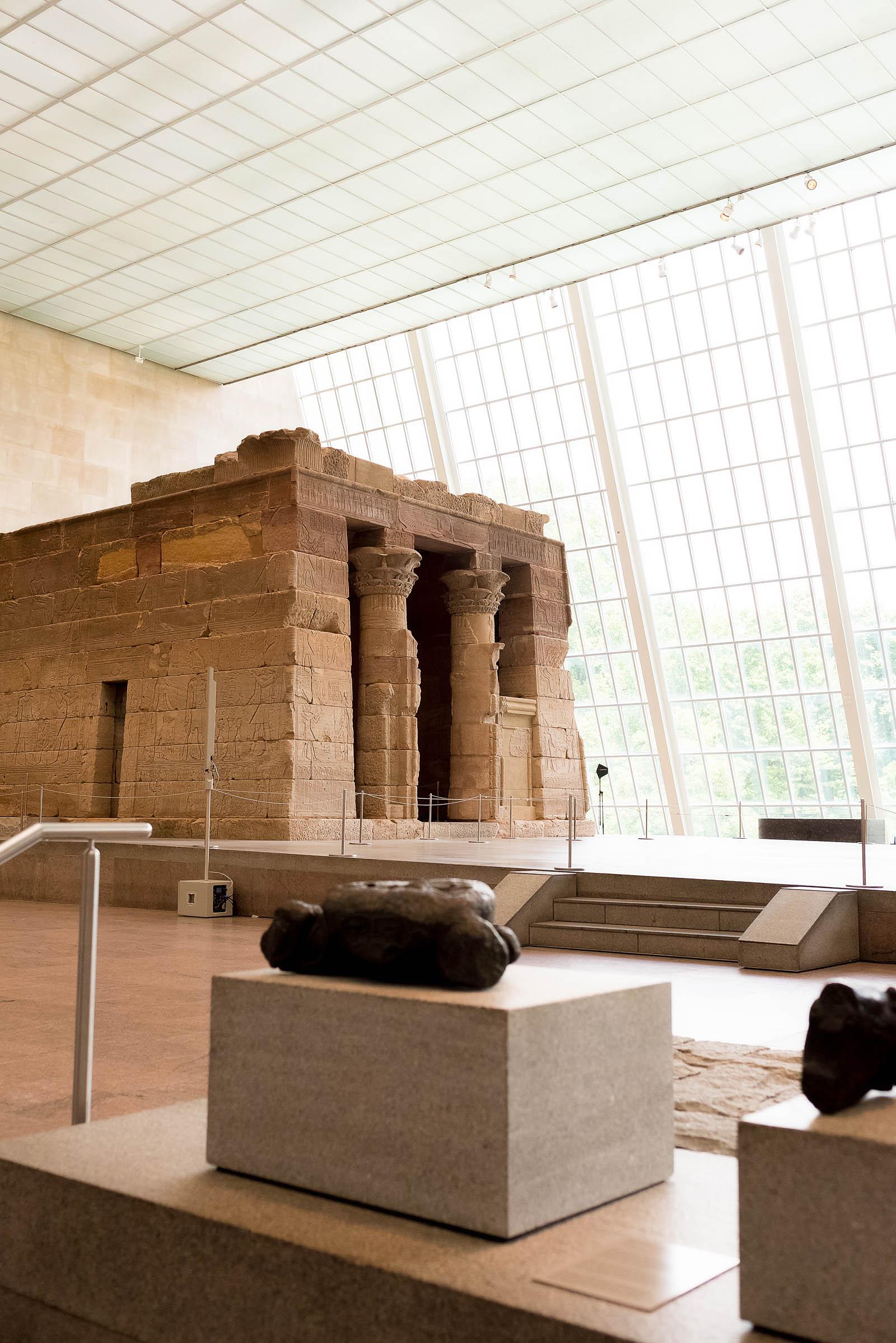 An entire Egyptian Temple has been rebuilt in the Sackler Wing!
This is the The Temple of Dendur, built around 15 B.C. It's an incredible building to see for yourself and to walk around — a little slice of Ancient Egypt in NYC!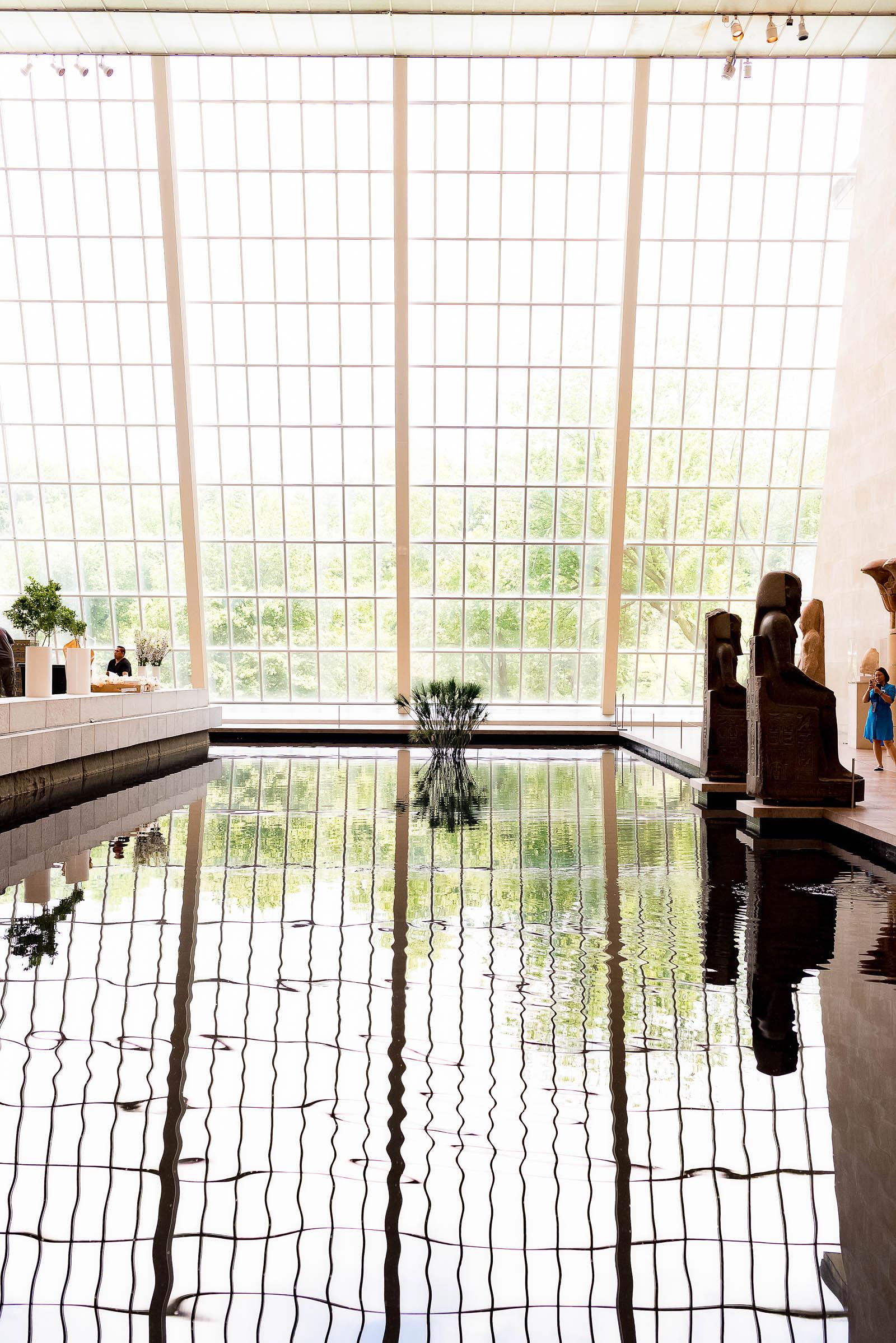 The Temple even gets it own pond,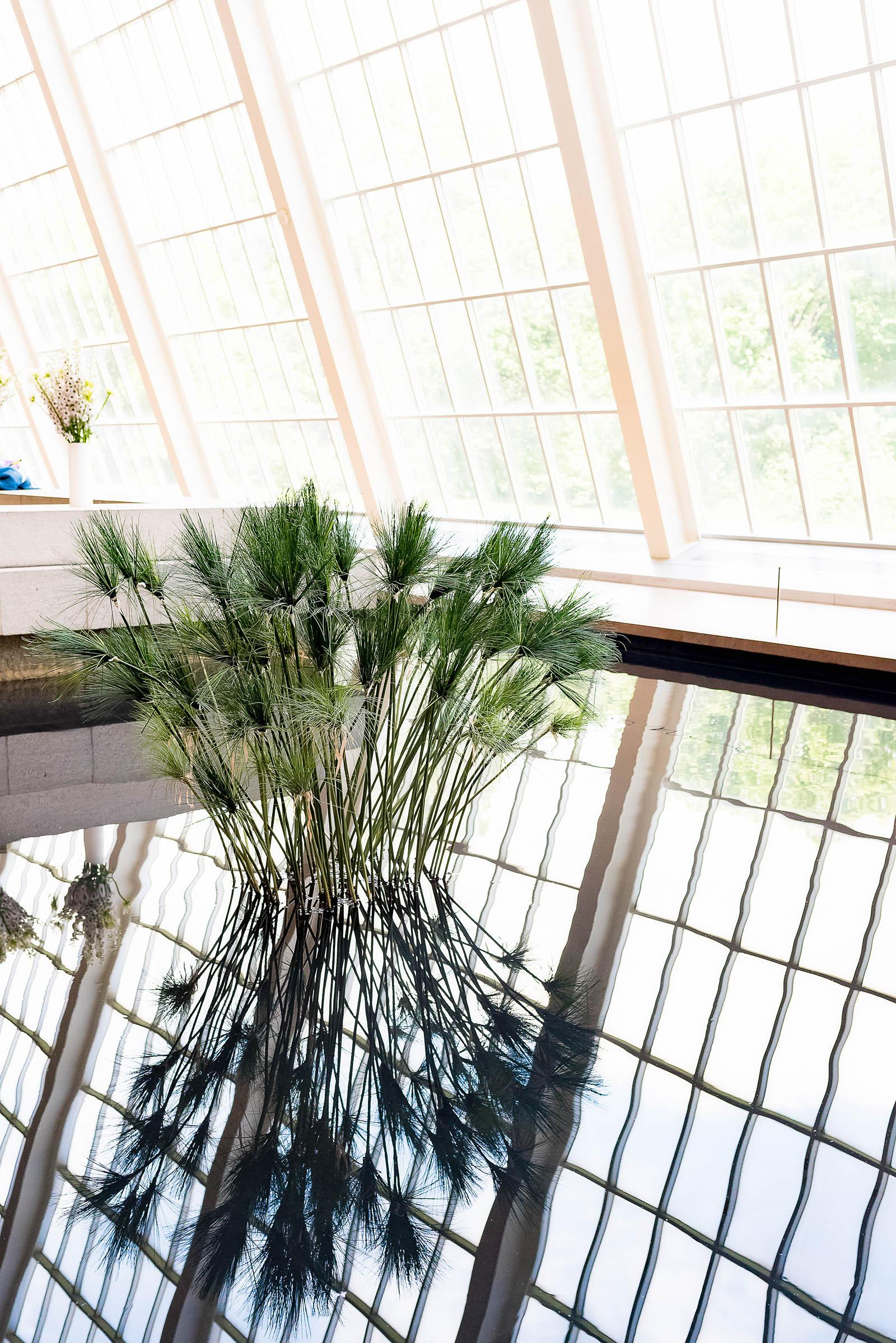 with papyrus plants!
Sadly they were setting up the temple for an event so I didn't get all the shots I wanted but that just gives you another reason to go and actually see the temple for yourself!
After my explorations, I stopped at the Petrie Court Cafe near the European Sculpture Hall for a little lunch.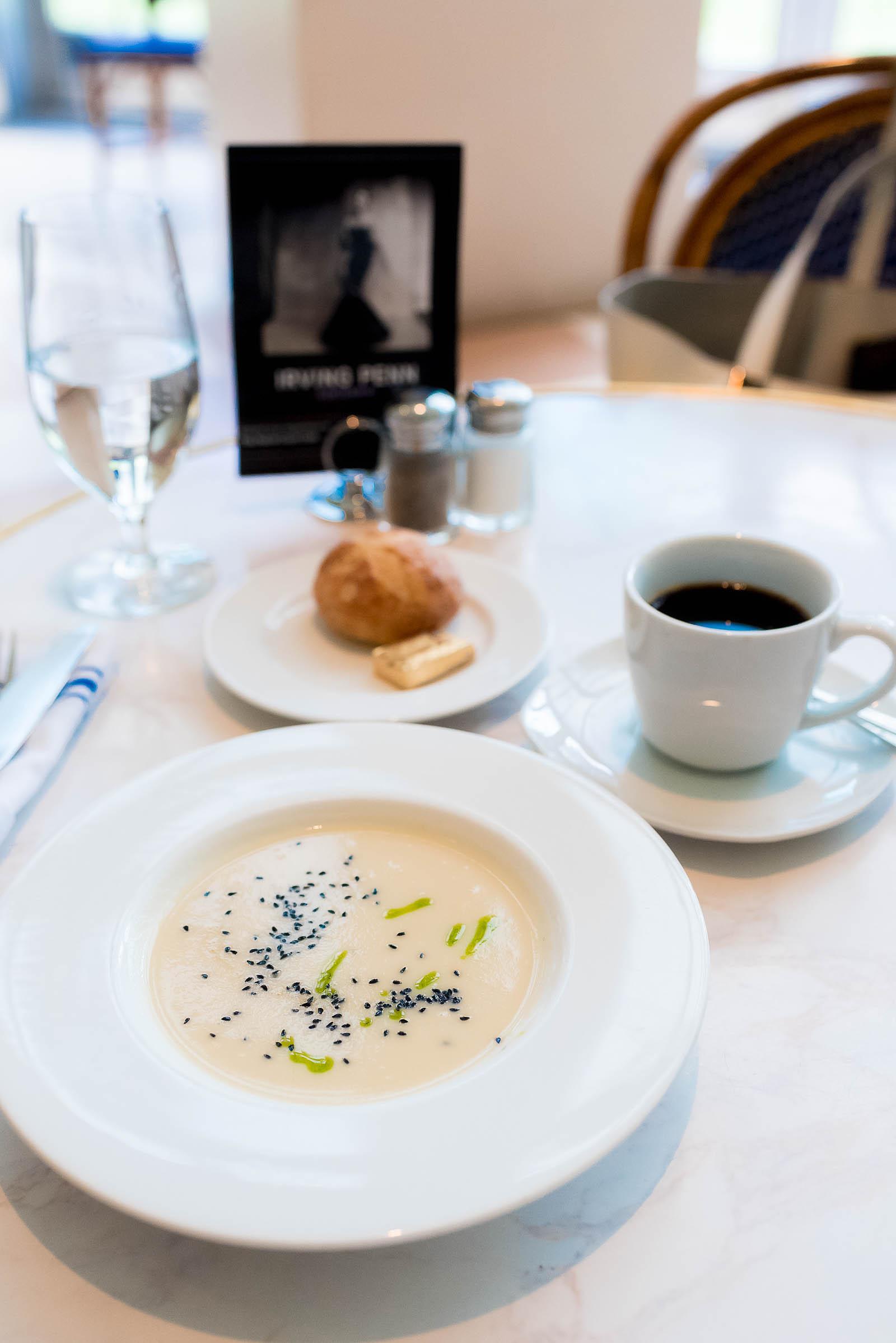 I had very little expectations for my food, considering that I'd been eating some pretty amazing dishes on my trip and you NEVER know what to expect when it comes to museum restaurants.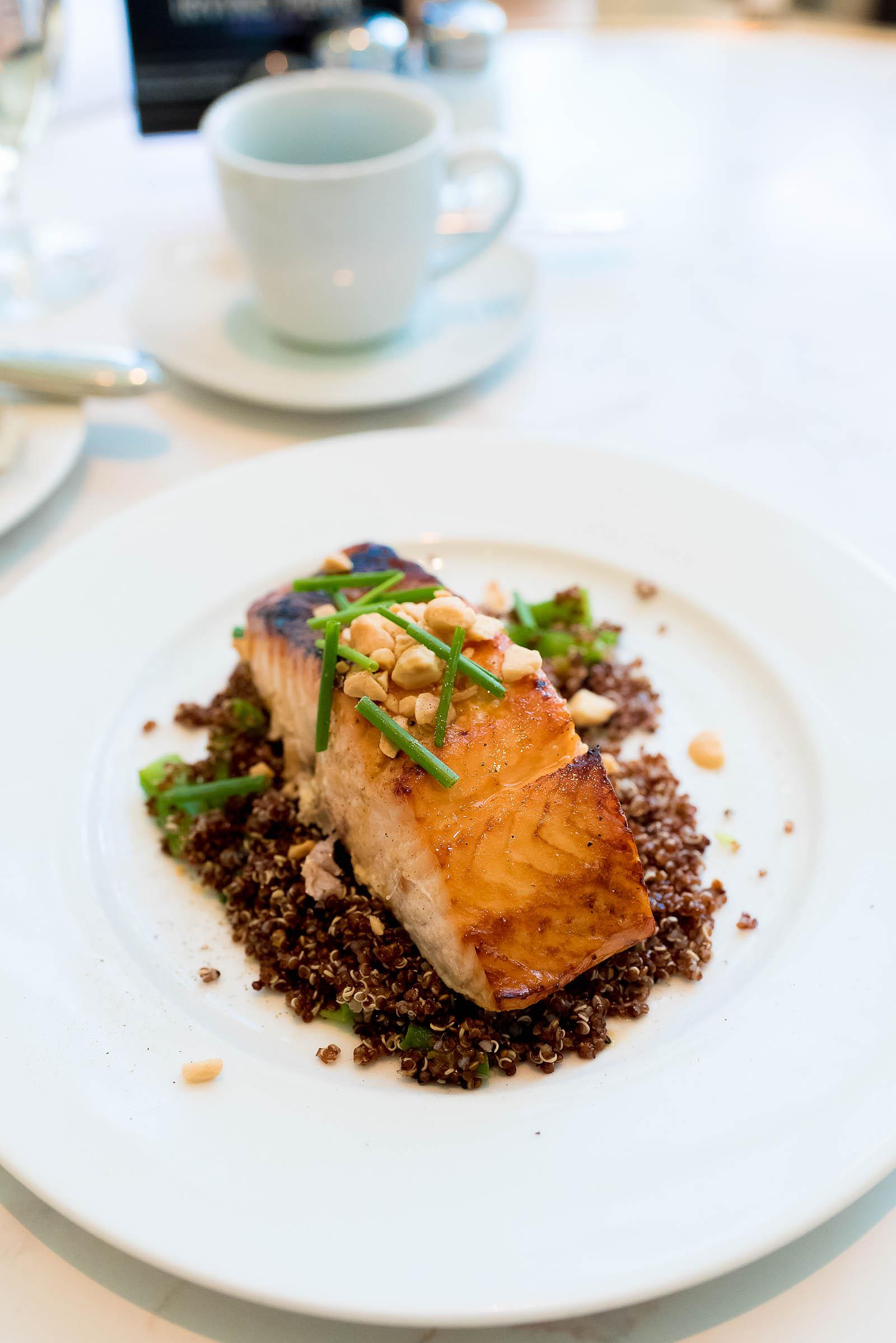 But my creamy potato soup and lovely seared salmon actually surprised me. Neither is the sort of dish I'm going to be raving about in a food round-up, to be sure. But both were shockingly palatable and easily some of the best museum food I've ever had.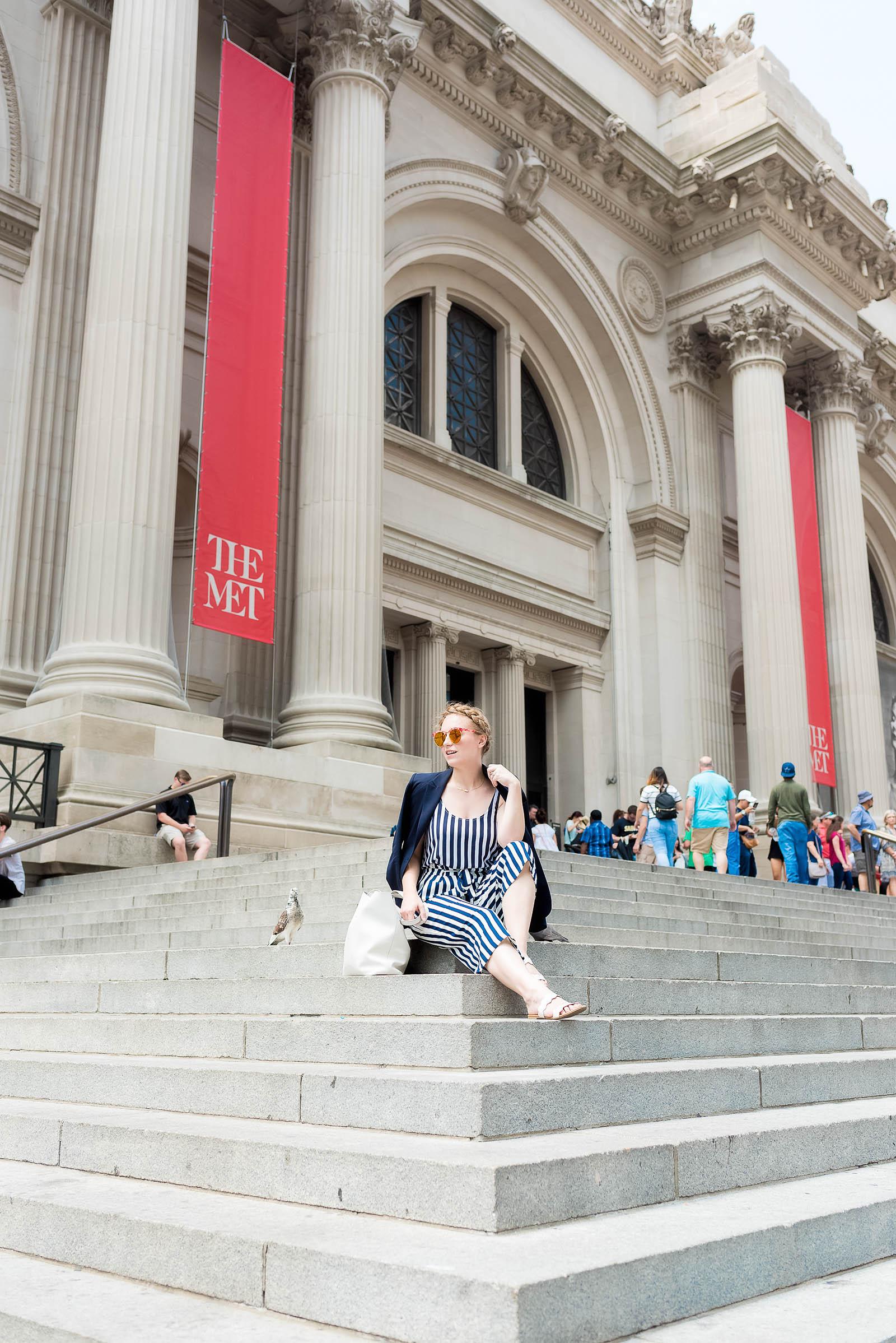 All-in-all my first trip to the Met was a smashing success!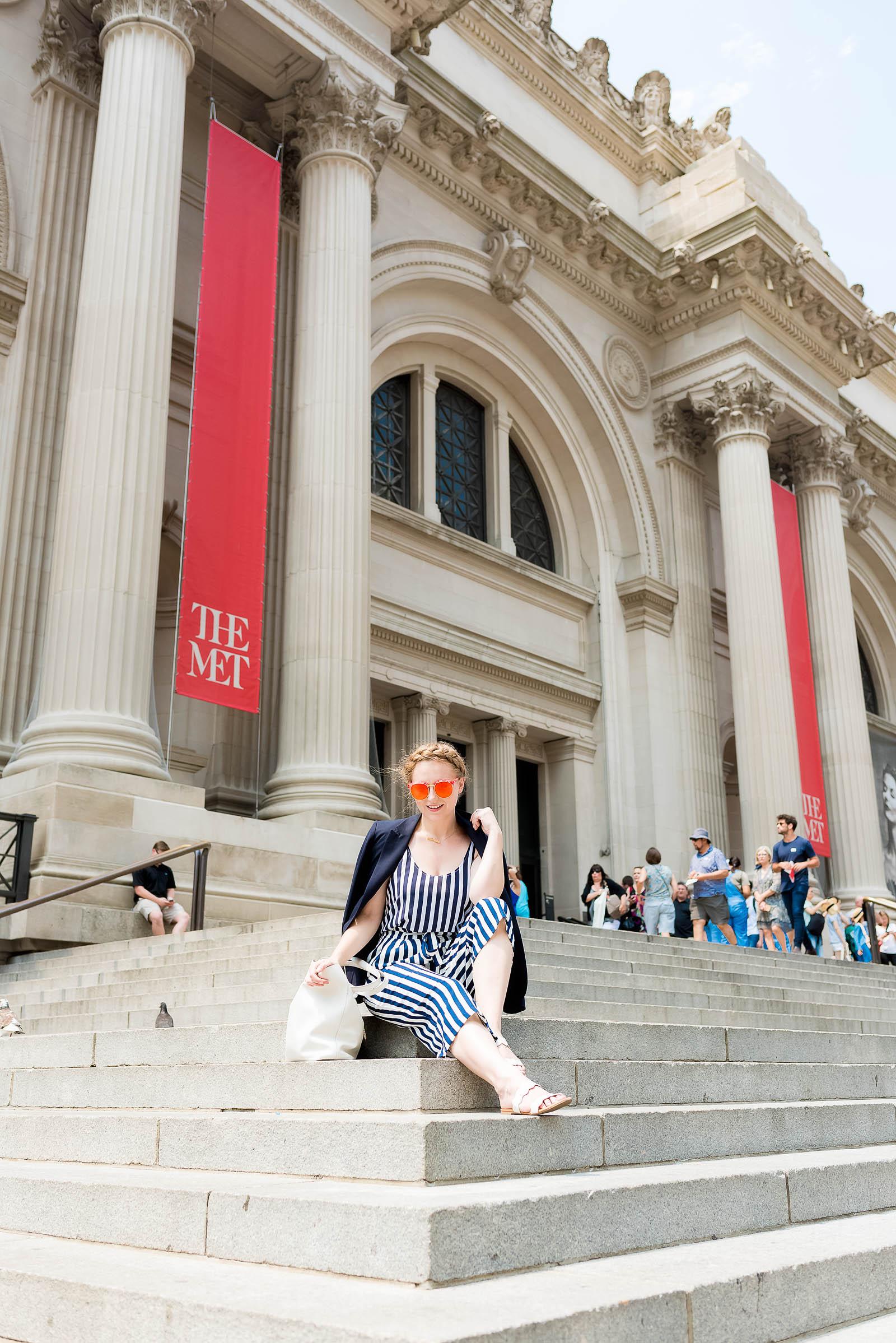 Sure I didn't see HALF of what I wanted to see. But that only gives me an excellent reason to return to explore more!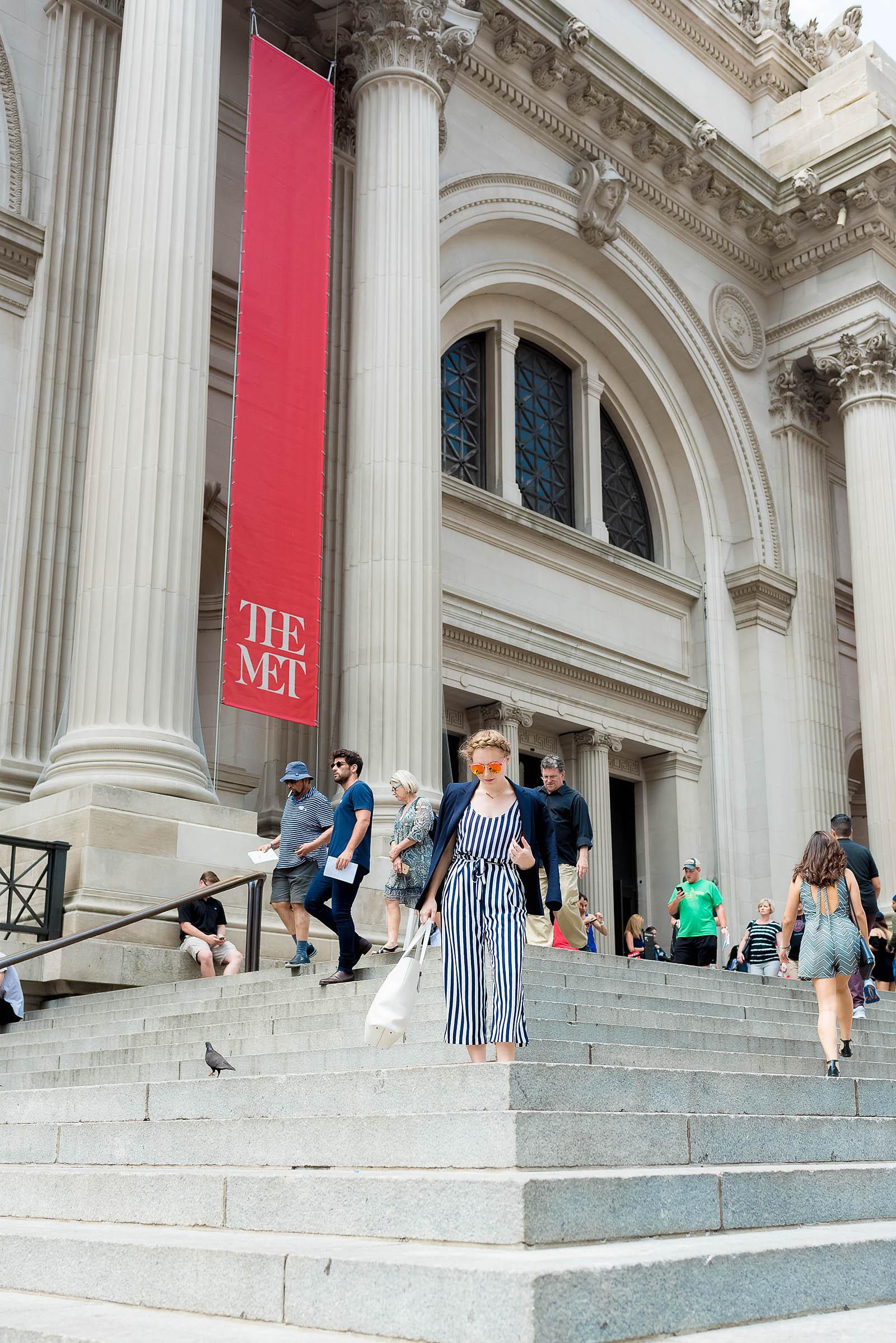 SHOP THE LOOK:
Blazer – Theory || Tank – c/o AG Jeans || Culottes – Zara (similar) || Bag – c/o Everlane || Sandals – SheIn || Sunglasses – Gentle Monster || Necklace – Etsy
Have you ever been to the Met? Which were your favorite parts?