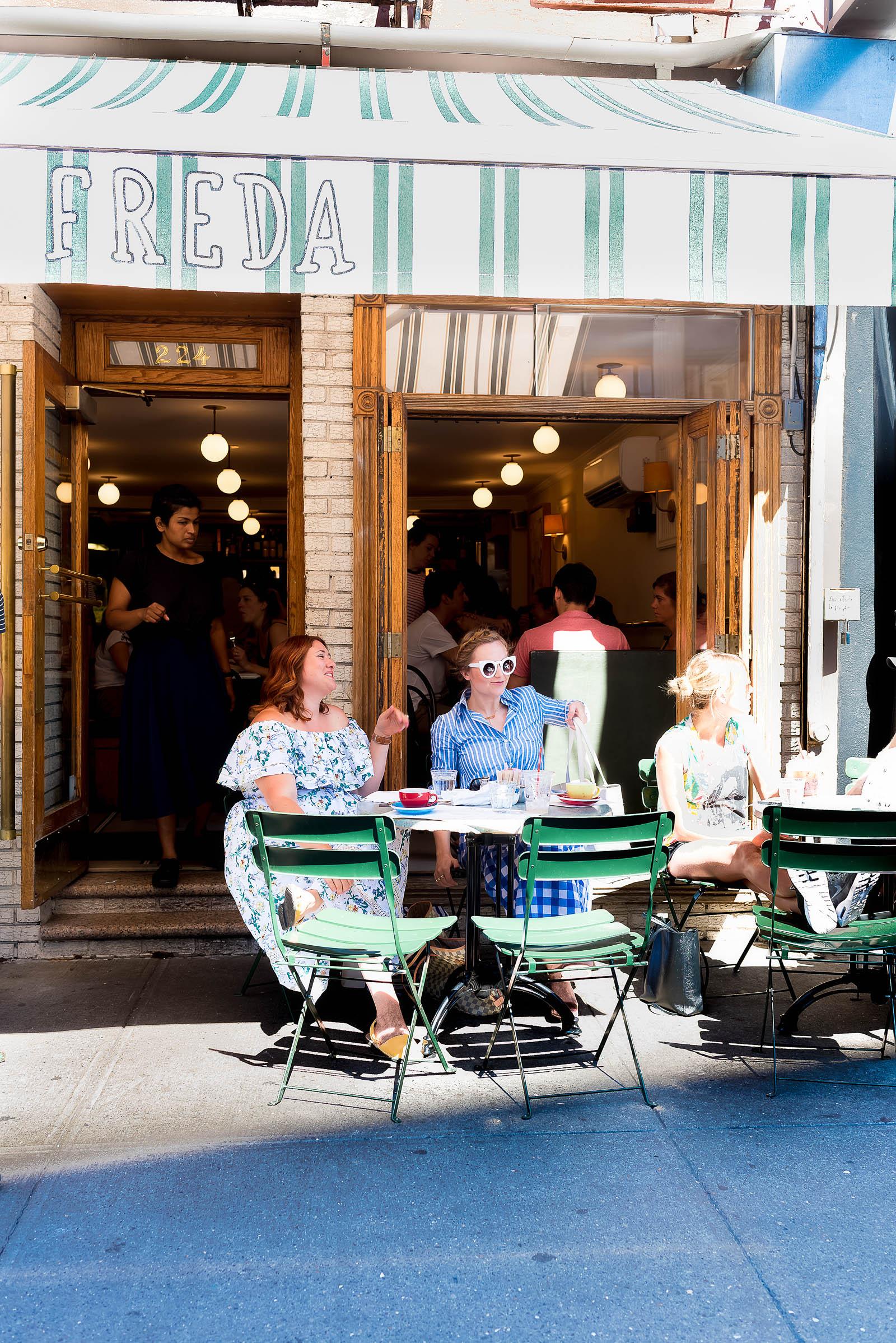 Every now and then you meet a restaurant that you fall madly, deeply, and unconditionally in love with.
Every now and then you find a restaurant that instantly becomes one of your all-time favorites.
Like Jack's Wife Freda in NYC.
Which just so happens to combine two things I love more than life itself in this world: Brunch and Mediterranean Food.
The combination is my own personal nirvana. And I don't think I've ever had a restaurant execute the combination to such perfection quite like Jack's Wife Freda.
So on a hot, sticky summer day (with my hair in one of my no-fail humid hair styles), I met up with my girlfriends Jill and V for a very Instagram-worthy brunch in Soho.
But we really had no idea just how much deliciousness was in store for us when we first sat down…
We managed to snag a table outside which made for the perfect spot to people watch from while we perused the menu.
From the moment I looked at the menu I started to get very excited. Any place that allows me to order a Pimm's Cup any time of the day is bound to win me over (remember all the Pimm's Cups we drank in London last year?).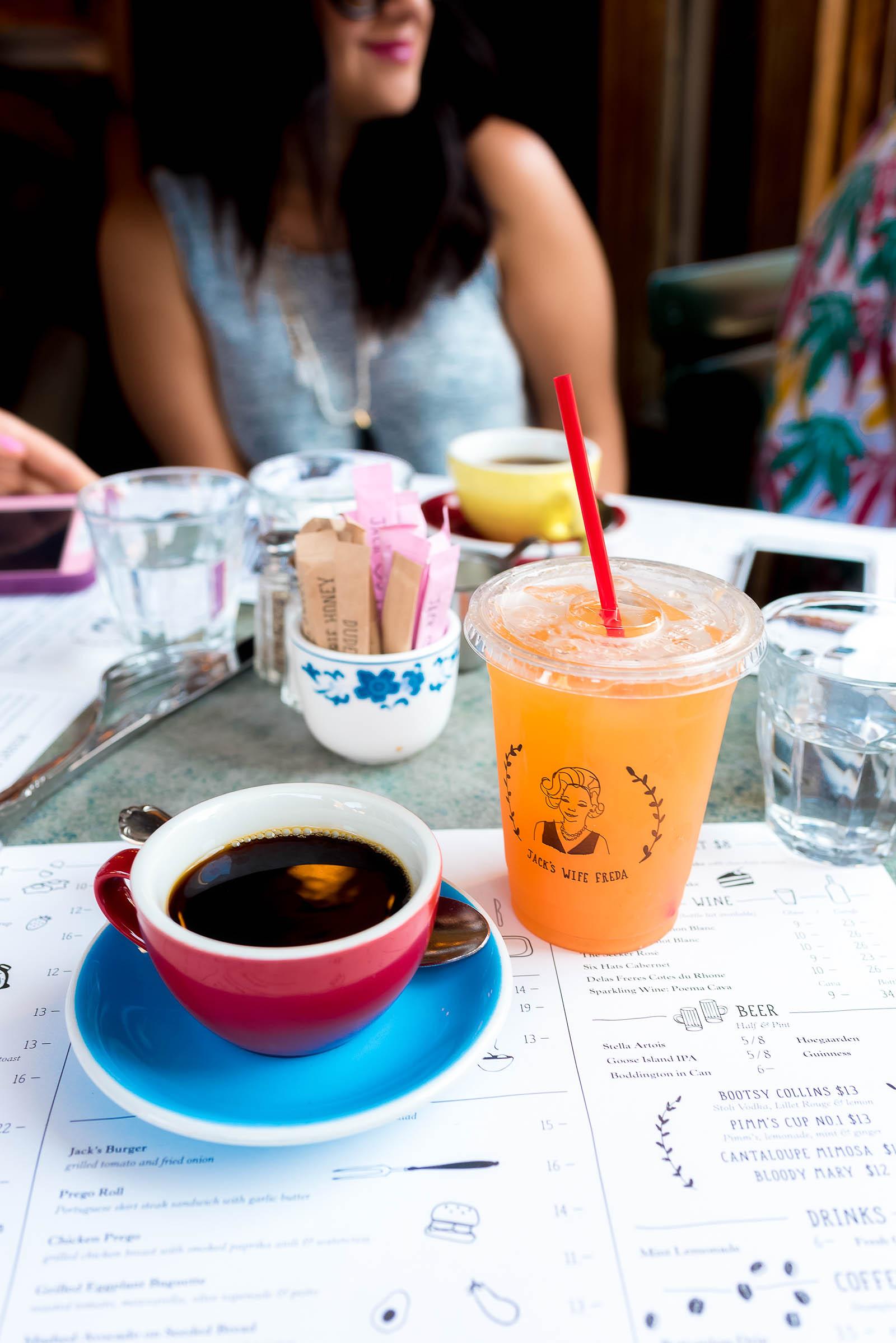 But actually I started out with two less intense drink options: coffee AND fresh cantaloupe juice.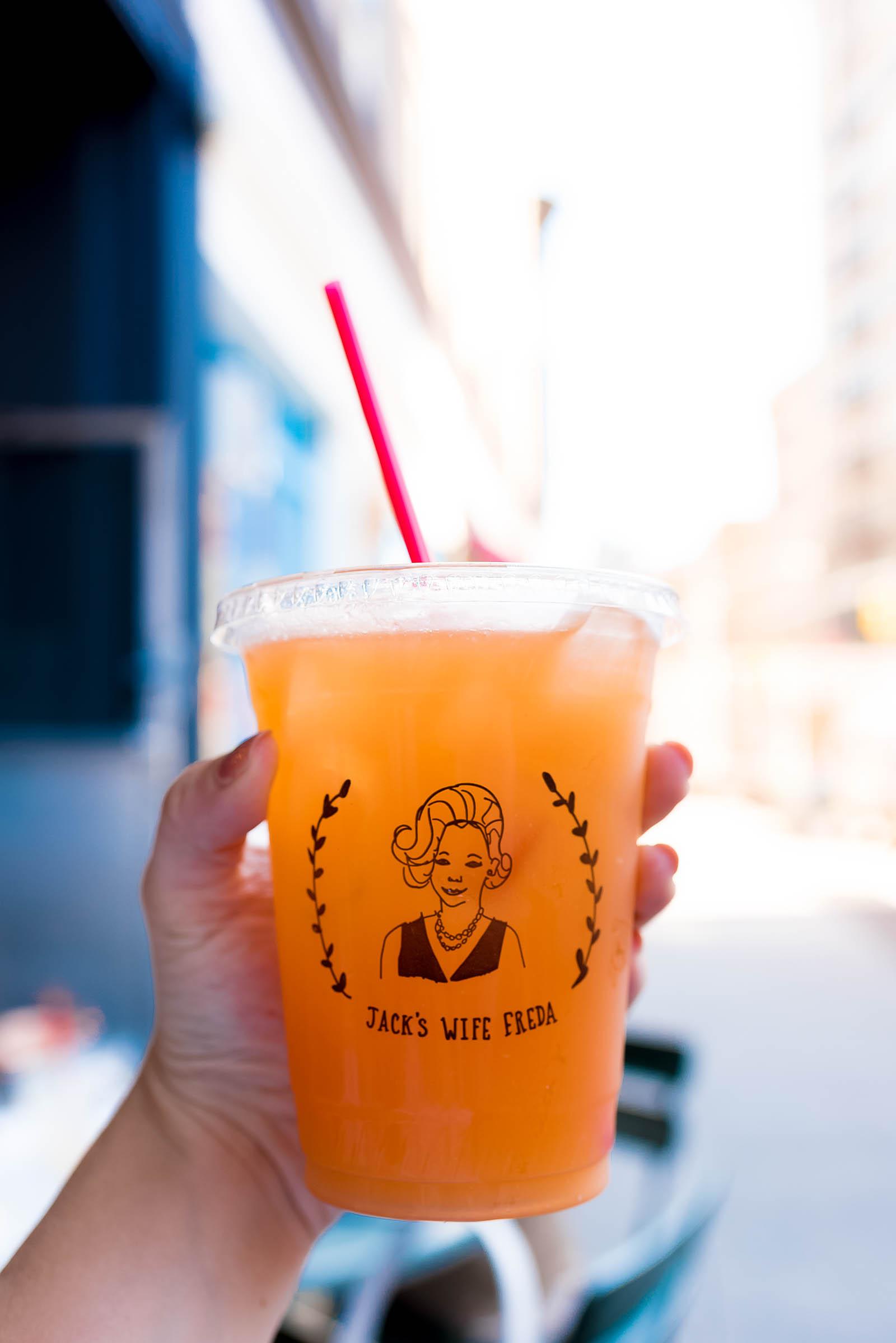 Much like the fresh watermelon juice I had a few days earlier at Egg Shop, the cantaloupe juice at Jack's Wife Freda was positively delicious. So fresh and cooling in the summer heat (and I loved that I could take an extra one with me to go when we left to explore Soho after our meal).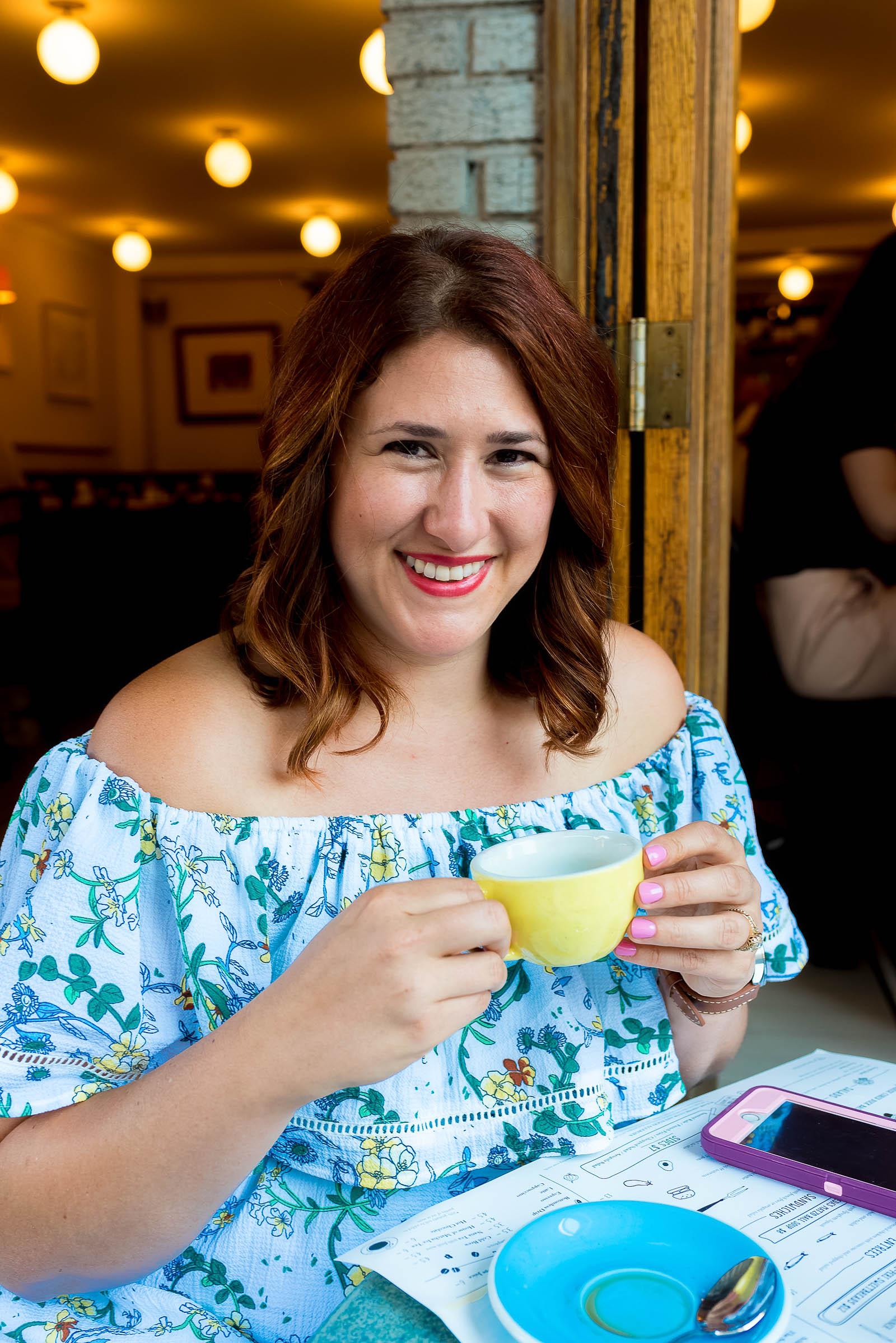 We had no idea what to expect when we arrived at Jack's Wife Freda but the delicious coffee and juice had us quite excited!
This was Jill and I's first reunion after her move to Salt Lake City in November 2015 and I chose the spot primarily because of how much she and I go crazy over Greek food (our date spot in Chicago is ALWAYS Greek Islands).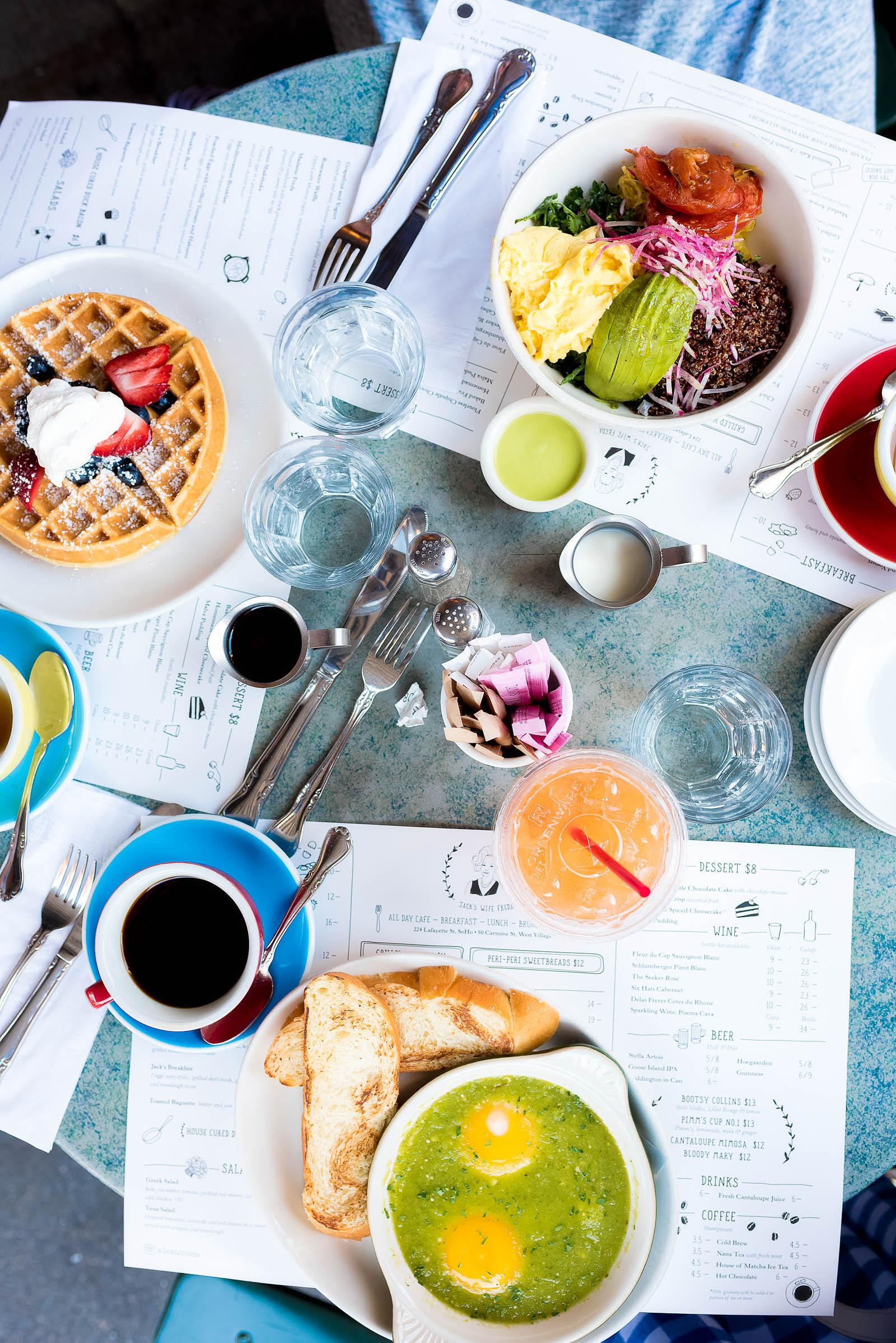 But from the moment this spread arrived at our table, we decided our "spot" in NYC was Jack's Wife Freda.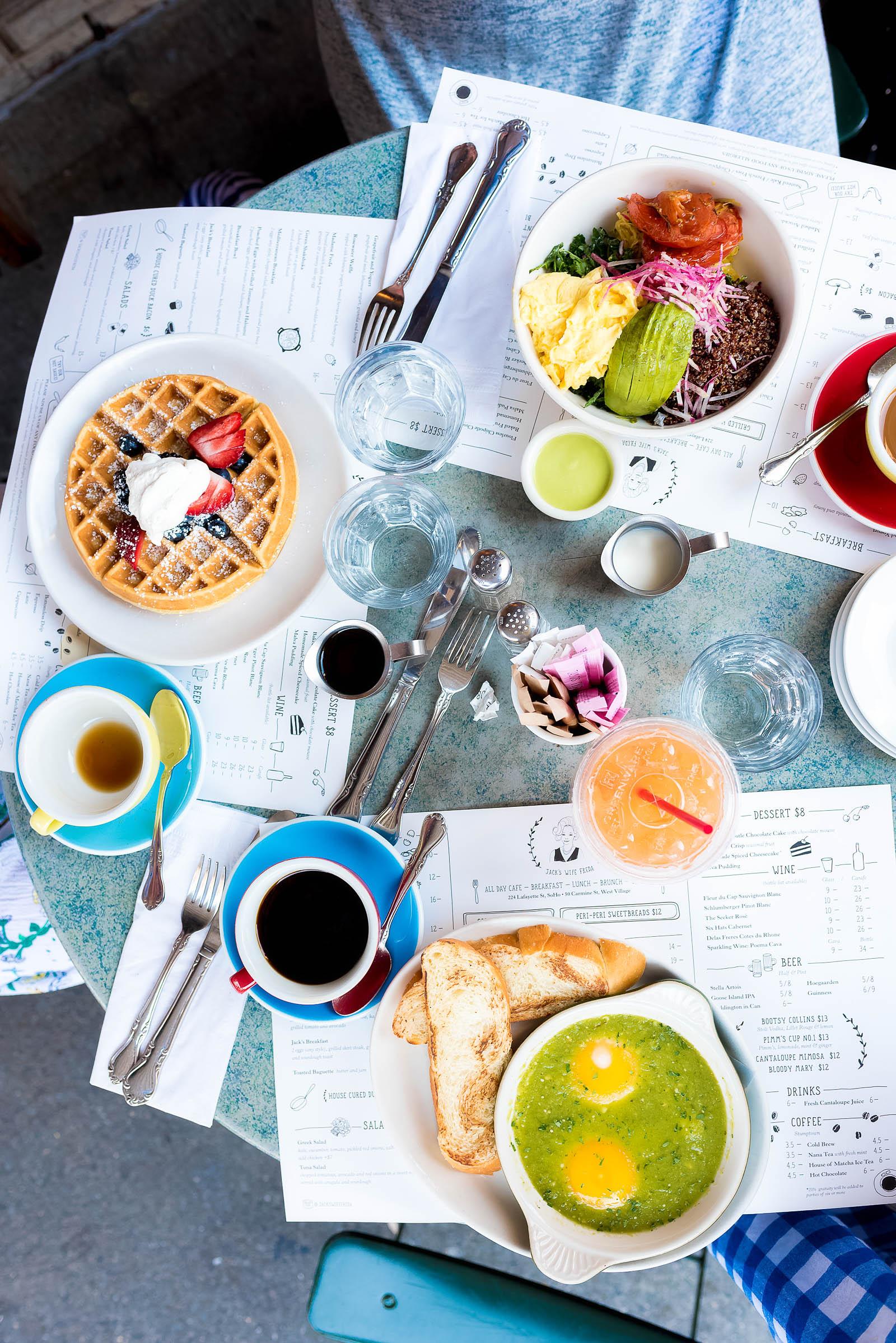 I mean just look at this brunch spread! It's like heaven on a patio table!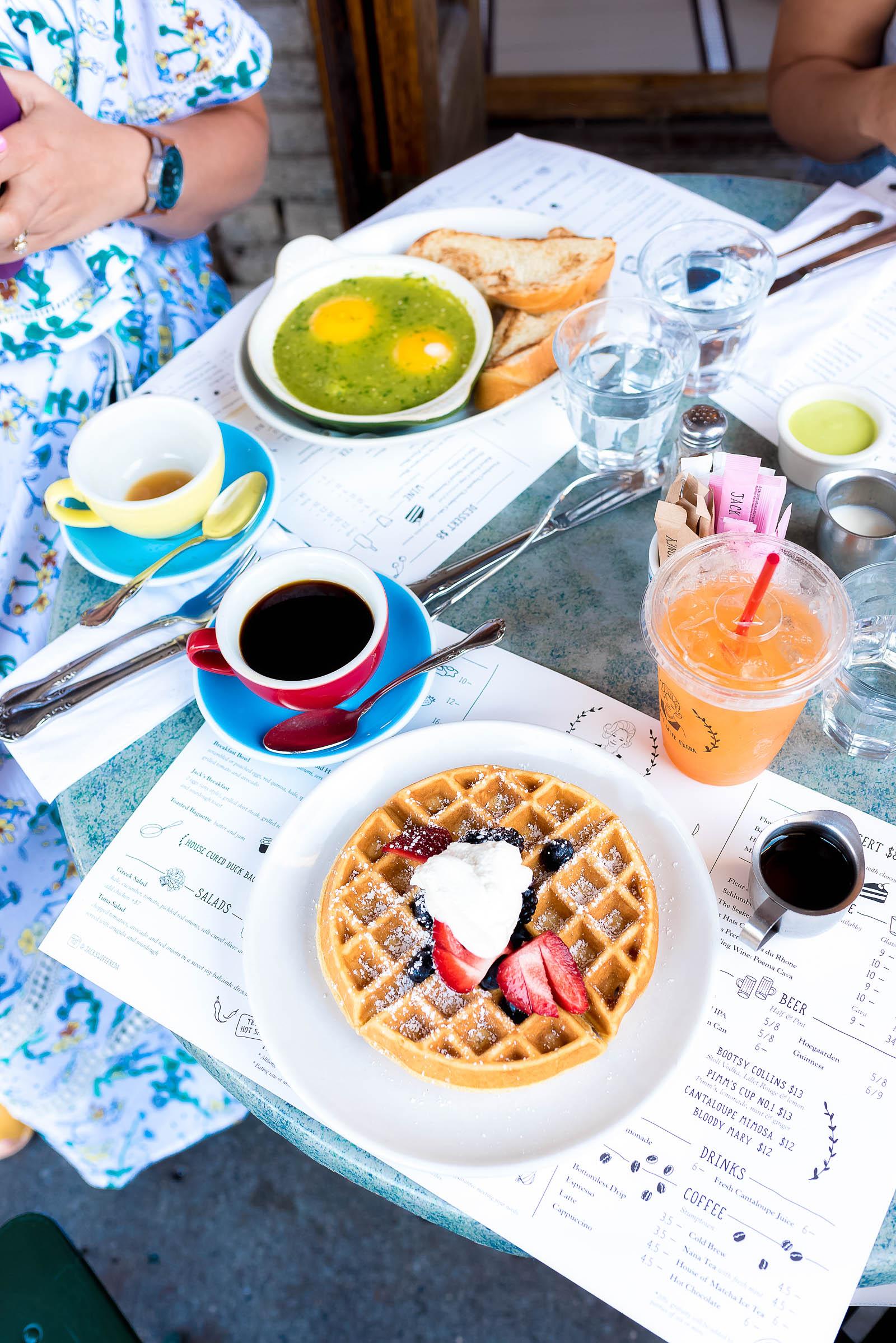 First up was this sweet beauty…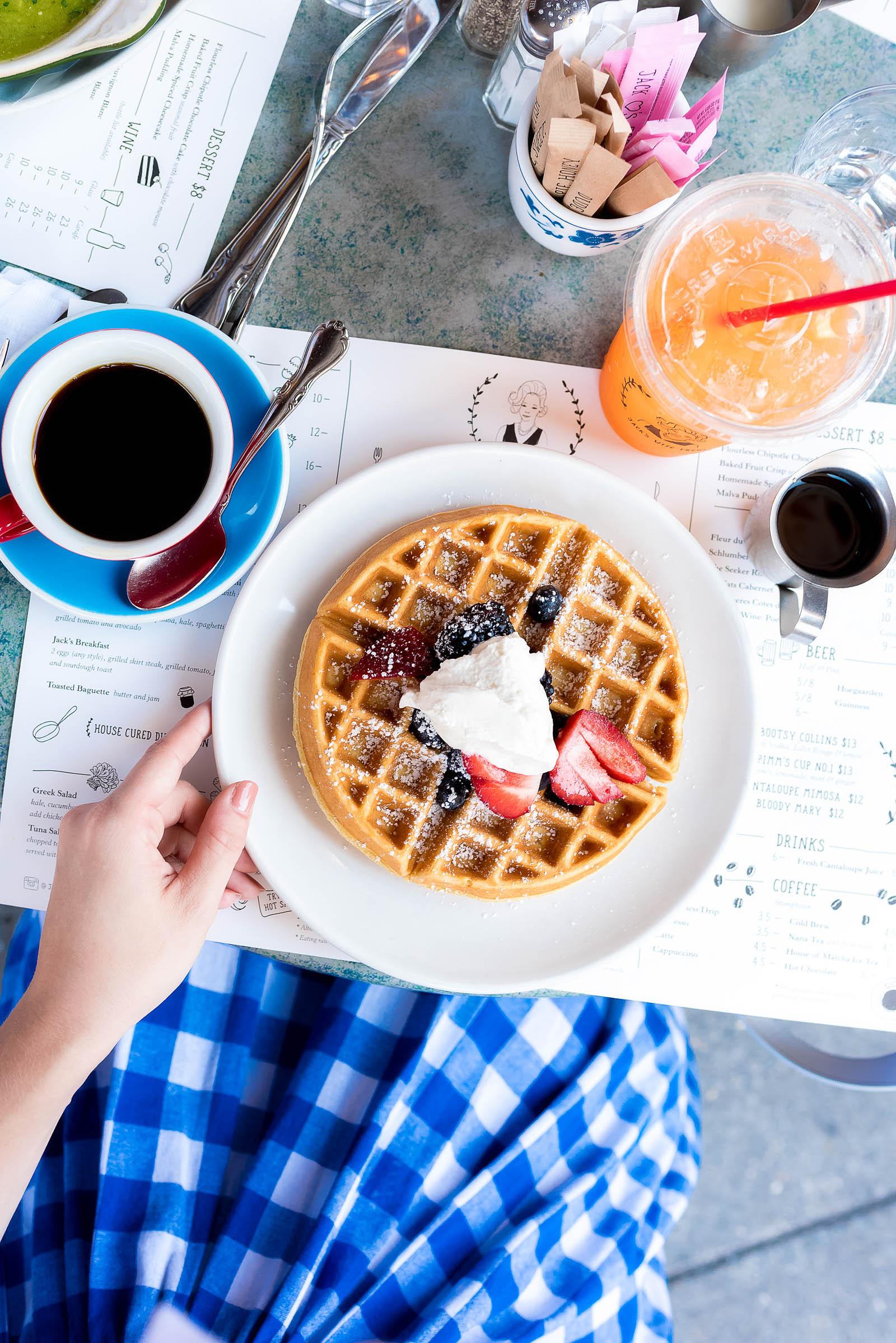 A Rosewater Waffle topped with Lebanese yoghurt, mixed berries, and honey syrup.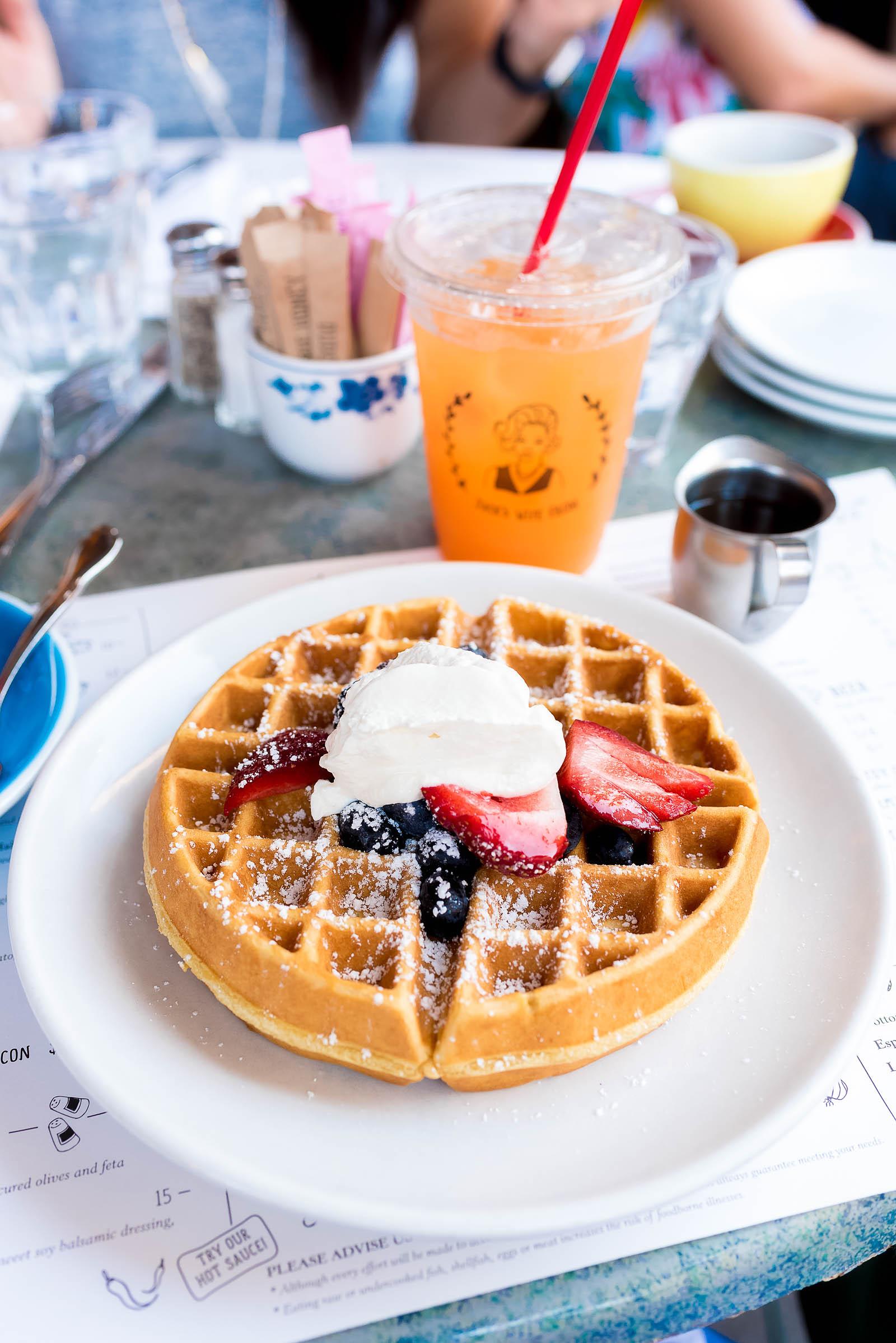 Which was sweet, tangy, and beautifully Instagram-worthy all at the same time!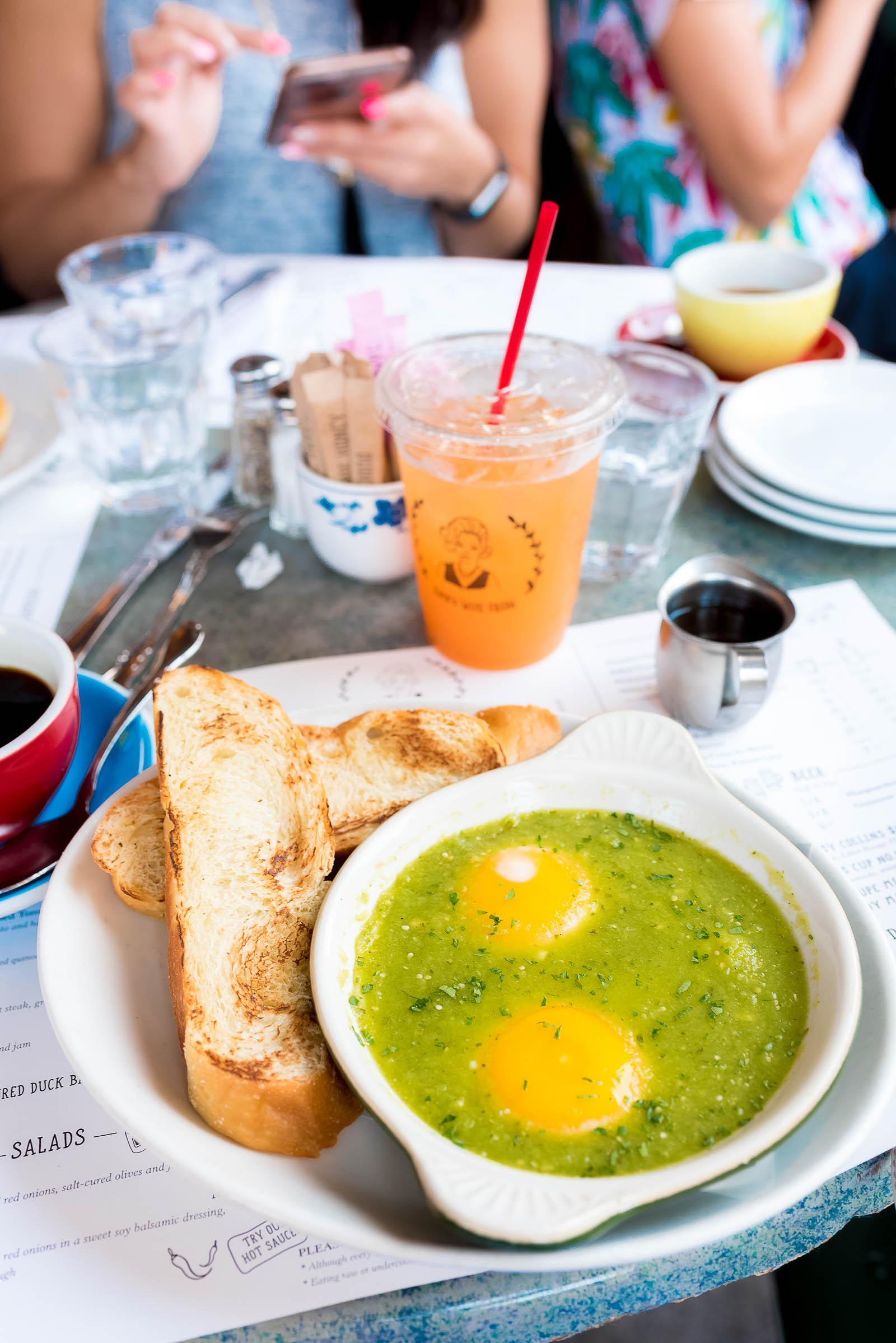 Then we come to this beautiful dish (which — at first — reminded me of my beloved Divorced Eggs back in Yucatán, Mexico).
This is Jack's Wife Freda's Green Shakshuka of two baked eggs in a green tomatillo shakshuka sauce served with challah toast.
Otherwise known as THE reason I bought the Jack's Wife Freda cookbook the moment I came home from NYC.
These eggs were positively delicious!
I'm a sucker for shakshuka anything regardless AND I also love green tomatillo salsa more than life. But this dish marks the first time these two loves met in one dish for me and man do I have to tell you what a pivotal, orgasmic experience it was.
Suddenly all shakshukas that have followed have felt like a sad echo of this dish. There's just something about the tangy, tart, tomatillo flavoring that works so well in a shakshuka sauce.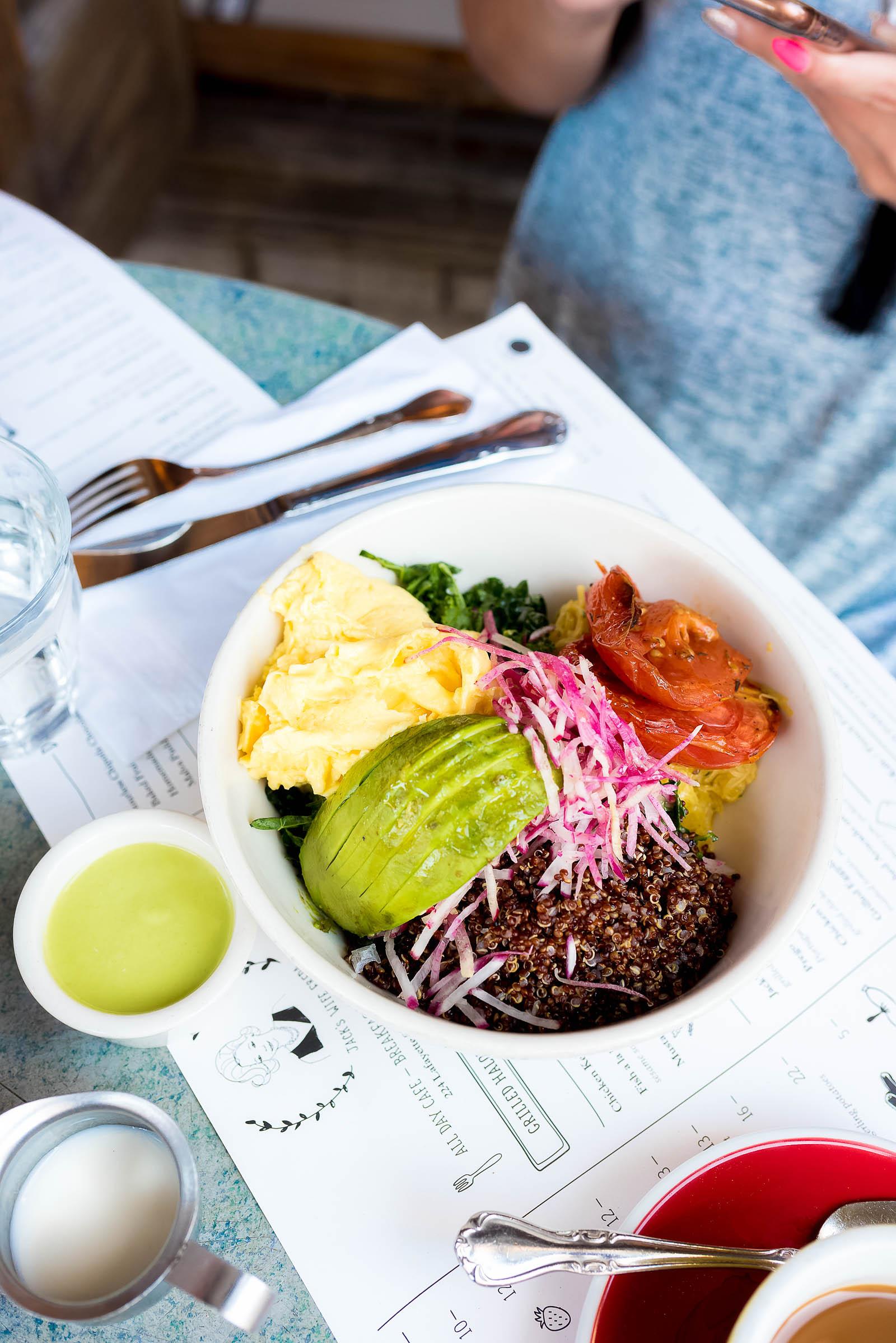 We also tried this epic Breakfast Bowl of scrambled eggs, red quinoa, kale, spaghetti squash, grilled tomato, and avocado.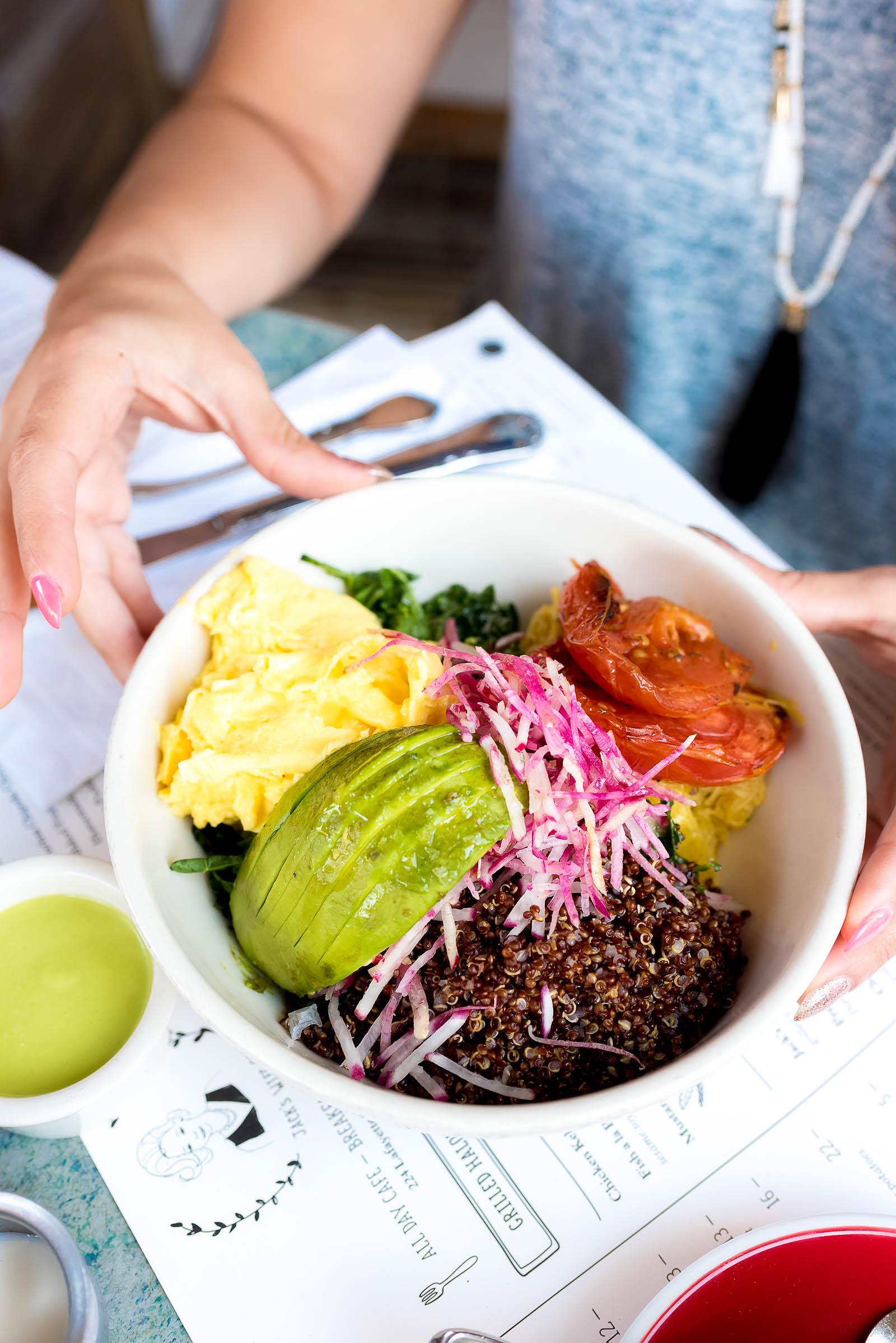 Which we may or may not have fought over it was so good! Jill's even been recreating this bowl in her own kitchen in Salt Lake City, she loved it that much.
I think it's safe to say Jack's Wife Freda WOWed us. Many people told me to check it out while I was in NYC but there's a huge difference from wanting to check out a restaurant and actually stepping into the delicious haven that is Jack's Wife Freda.
You have to know when I'm back in NYC next month I'll be back here for breakfast, lunch, and — undoubtedly — dinner.
Because I can already tell that this is a restaurant love-affair made to LAST.
Care to produce some of these swoon-worthy dishes for yourself? I cannot recommend Jack's Wife Freda's cookbook enough. It's filled with practical tips (like a charmingly illustrated guide to poaching an egg), beautiful sketches, and — of course — killer recipes. Grab your own copy if you're looking to infuse a little NYC Mediterranean chic into your brunch routine:
(Not sponsored… I just LOVE Jack's Wife Freda THAT much)