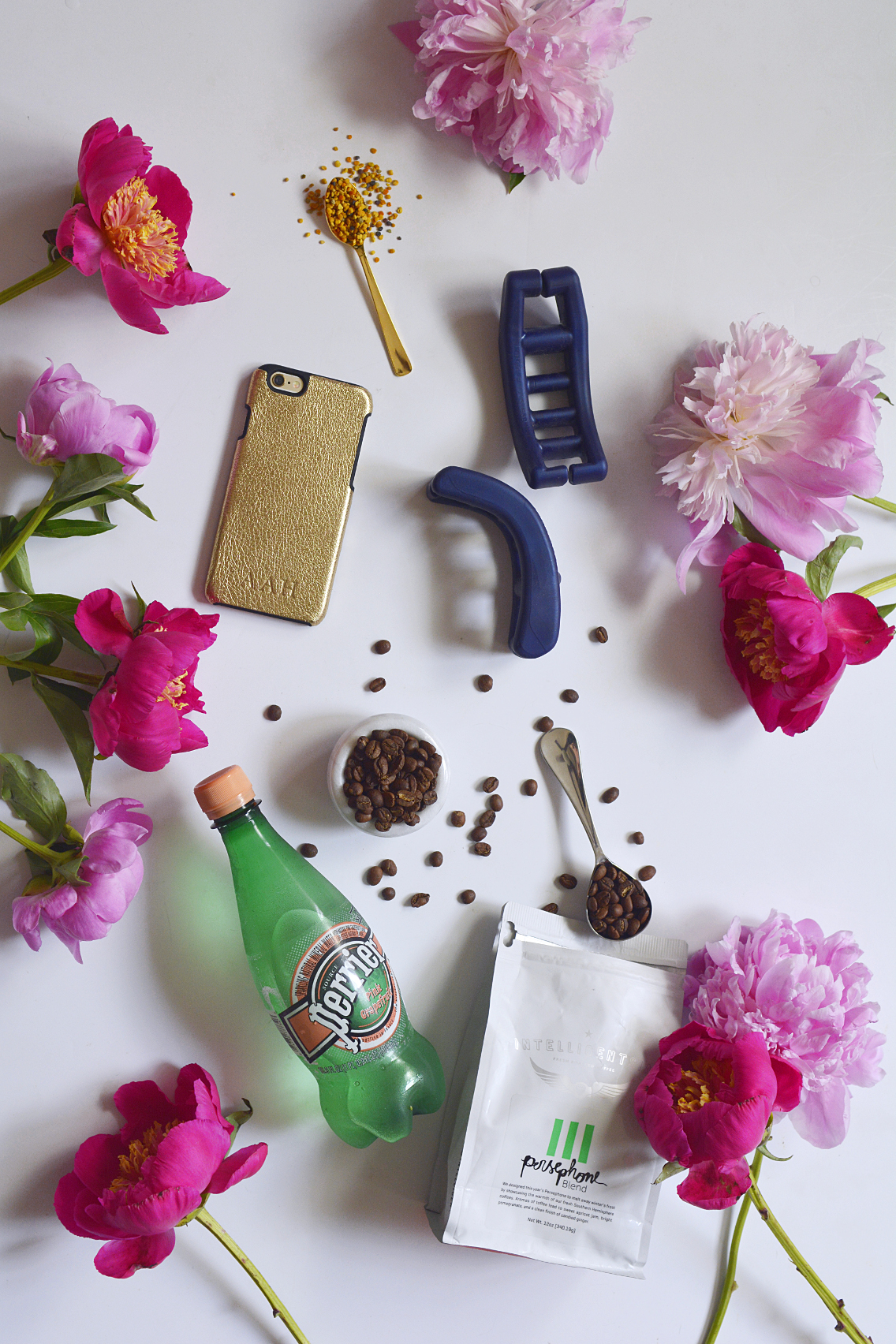 Ah, daily essentials.
We all have them, don't we?
Those crucial, indispensable things that allow us to function as the best version of ourselves. For some that means a morning coffee run, for others it means a tube of Burt's Bees lip balm or a pack of Altoids.
We all have our requisite articles, the things we turn to time and time again. My essentials have drastically evolved over the years as my needs and lifestyle have changed — as I'm sure yours have! But for the last year or so my daily routine has remained relatively unchanged and today I wanted to share a few of the things that charge me up everyday.
After reading last spring that Victoria Beckham takes a spoonful of bee pollen each day for nutrients and energy, I had to give it a try. I mean — anything that helps VB fly around the world curating her fashion label all while juggling one of the world's hottest husbands and four adorable children has to be good, right? Now I'm always wary of whether or not I'm experiencing a placebo effect when it comes to healthy trends — did I want this to work well for me so much that I fooled myself into experiencing the promised results? But the reality is, I don't actually care whether or not this is a placebo effect. I love taking my bee pollen everyday!
It's a natural energy booster, is considered one of the world's most nutritious superfoods, doesn't taste nearly as terrible as I expected, and seems to have also improved my skin's texture and tone. I've been taking it religiously for almost seven months now and have never had more energy (despite ongoing bouts of insomnia). For the price I'd certainly recommend giving it a try — if you're scared of the flavor, sprinkle the pollen on your morning oatmeal or in your coffee to add a subtle honey taste.
Gigi New York Hard-Shell Case in Gold
I've already told you what an essential my iPhone is for me — I am hilariously addicted to Instagram after all! But after breaking my iPhone last month I knew I had to invest in a nicer leather case (if only because the plastic ones can be so slippery). When I saw this classic gold case (with the option to monogram), I couldn't resist. So far I've been really happy with this case — it takes brutality well and is soft to hold but not slick enough to slip out of my hand like my old case. And it compliments my monogram tote… win win!
YogaToes Toe Separators (also love these)
Weird, I know. But hear me out… Nothing counter-acts the pain of wearing heels all day than a relaxing stint in bed with these babies! I used them in high school when I played varsity tennis and badminton to alleviate the pain of wearing tight sneakers for hours. Now I use them to help relax my feet after marathon-rounds of wearing pumps and as a preventive measure against bunions. When I'm at long events (especially those requiring cocktail attire), I often find myself counting down the minutes until I can pull these on at home. They just feel soooooo good.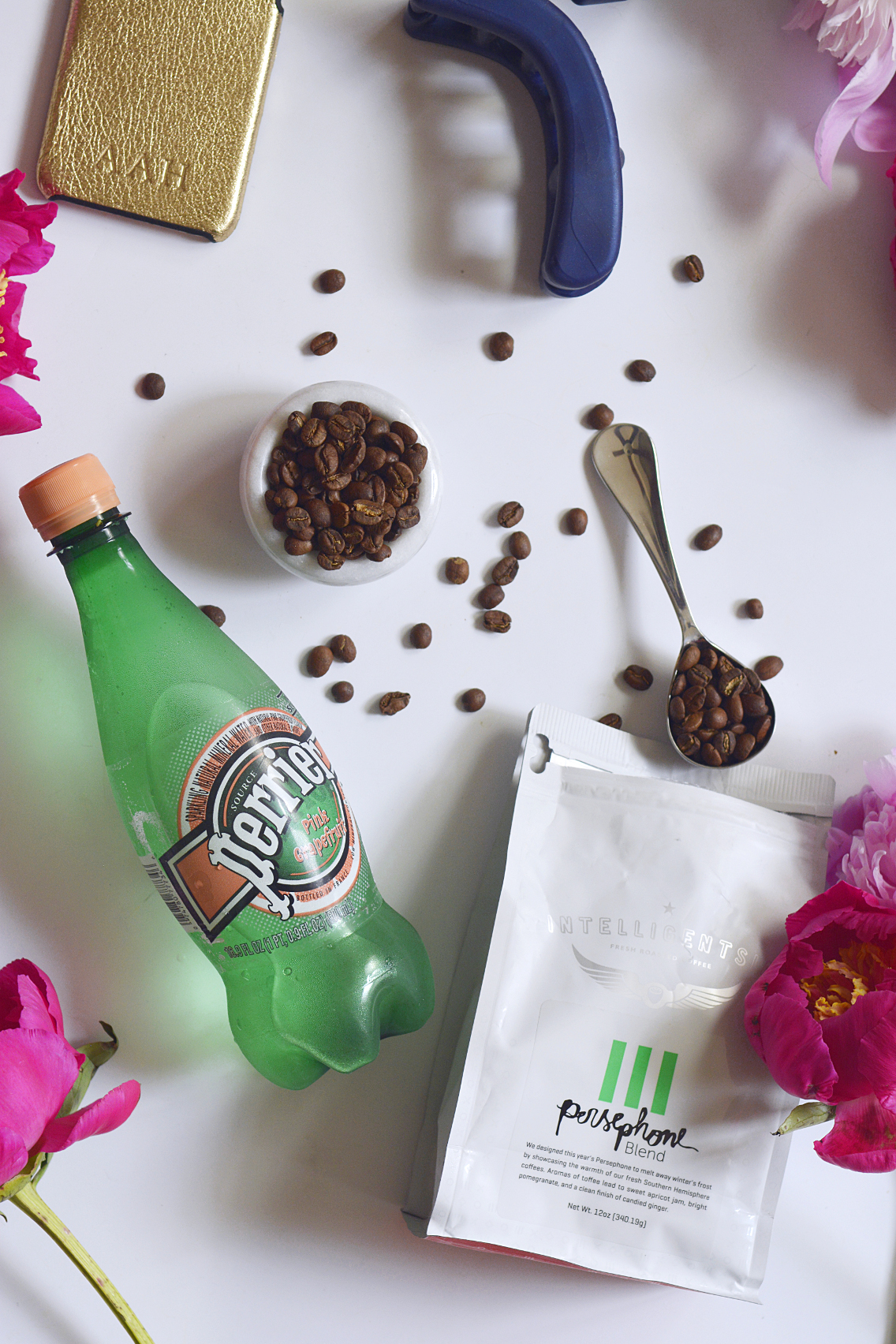 Perrier Sparkling Water in Pink Grapefruit
I often say it: pink grapefruit perrier single-handedly cured my sugar-addiction. Until this flavor I tolerated sparkling water but never enjoyed it. But I love grapefruit (my first Sed Bona recipe was Grapefruit Brûlée) and gave this a try one day. I've been addicted ever since — I even have this on subscription delivery from Amazon! Anytime I feel a sugar craving coming on (which is pretty much all the time) I force myself to drink a bottle of this first. POOF! Sugar craving gone. I swear it works like magic for me! There must be something about the fruit flavor (with no sugar or calories) and the bubbles that settles my stomach and my blood sugar. Whatever it is, I love it and feel so much healthier turning to this when a craving hits.
Despite my daily dose of bee pollen, my addiction to coffee is unyielding. I drink it with no frills, just a good stout grind served black. Here in Chicago we have Intelligentsia which sells some of the most interesting flavor blends (which I then brew at home in my Chemex, or booze-up into French Coffee). But one of the most incredible blends they do is their seasonal spring "Persephone". Notes of sweet apricot jam, bright pomegranate and candied ginger all marry together into one of the most beautifully rich, roasty coffees I've ever had. But because it's seasonal, you can only get it for a few months out of the year so naturally I've stockpiled several bags of it. If you're here in Chicago run, don't walk, to go snag a bag of this seasonal blend before it's gone! But either way, nothing starts my day like a piping hot mug of GOOD coffee.
Now tell me, what are a few of your daily essentials?