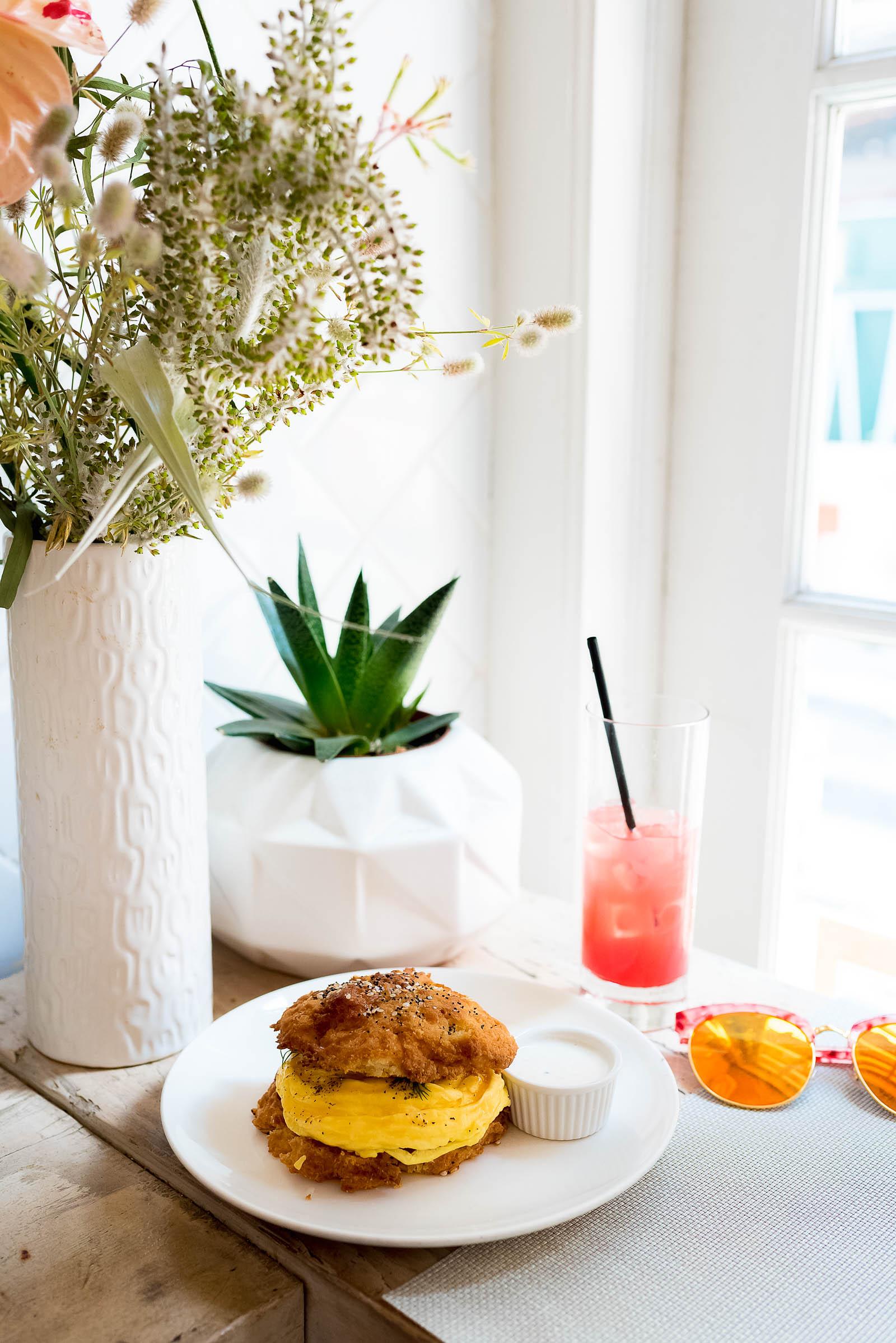 New York is one of the most incredible, mind-blowing, interesting, and amazing places you'll ever find.
Home to some of the best restaurants in the entire world.
And because Hubby has been commuting there for work most weeks since April, I've had the chance to travel with him and try SO many amazing dishes across the Big Apple.
And it's finally time for me to share my favorites (thus far, that is!).
The best dishes I've yet tried on my adventures in NYC. The most delicious bites, morsels, sips, and gulps I've yet found in the City That Never Sleeps…
NYC || The Best Things I've Eaten in 2017
Unicorn sundaes do exist. They exist in a magical little ice cream shop in the heart of Chinatown. But this matcha flavored-sundae with red bean curd filling was the true game-changer for me! Not surprising considering how much I love matcha desserts.
Taiyaki is considered a cliché foodie paradise in NYC but one that is WELL-WORTH your visit regardless. This sundae is ridiculously delicious but even if matcha isn't your thing, there are so many flavors to choose from like strawberry, vanilla, chocolate and all sorts of toppings like mochi, sprinkles, oreos, or wafers.
Each presented in this adorable fish-shaped waffle which is completely delicious AND Instagram-worthy.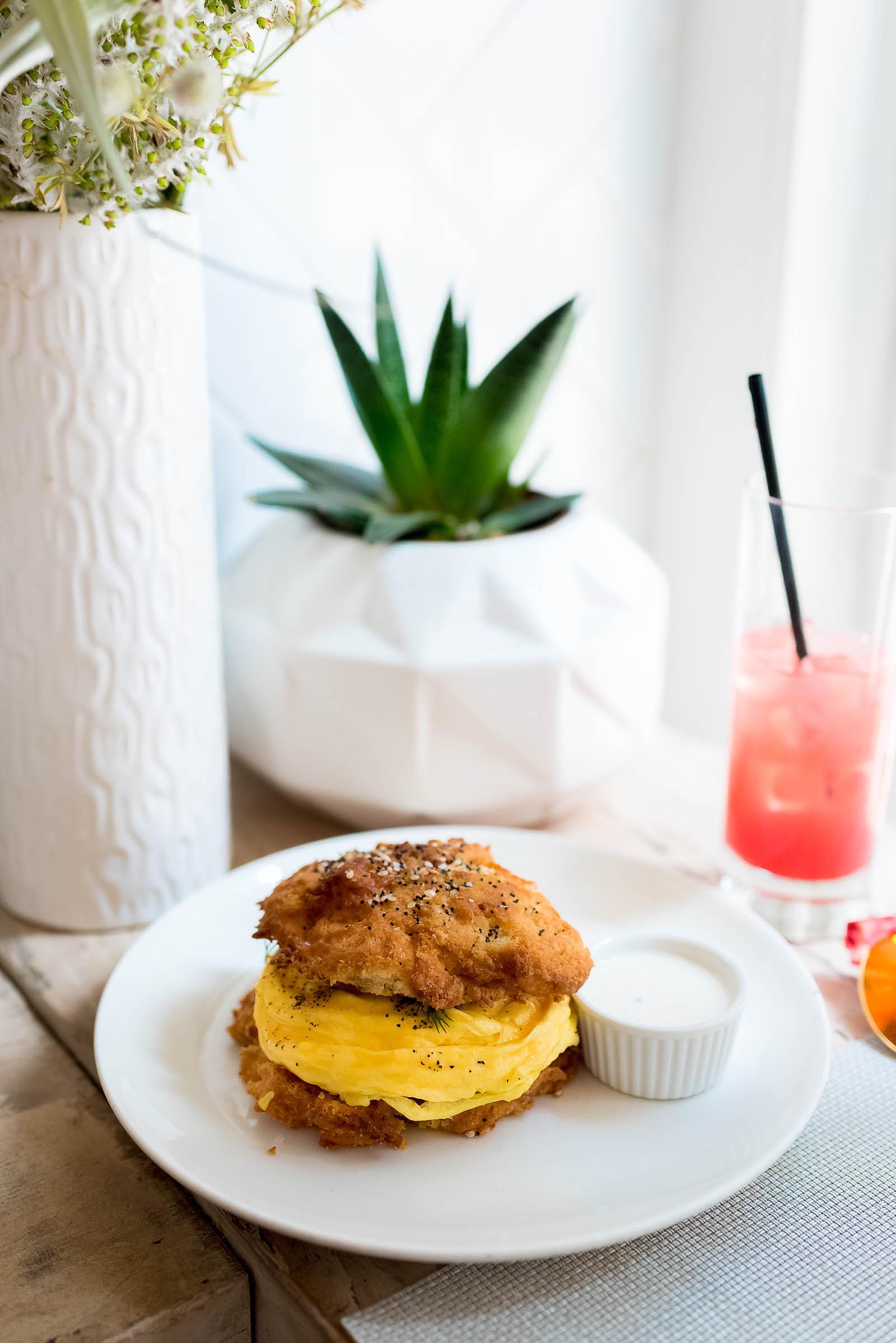 This SANDWICH.
Mmmm, it makes my mouth water just thinking about it.
I wrote a whole blog post on this legendary breakfast spot after my visit this summer because it really WAS legendary. Scrambled eggs piled on fresh smoked salmon with roma tomatoes, fresh dill and horseradish cream all stacked onto an everything biscuit.
If bagels and lox are your thing, try this innovative, obsession-worthy sandwich. Just be prepared to wait for a table if you head to their tiny original location in Soho!
#3 on this list is technically a side dish.
Though you'd need a whole army to attack this amazing thin sliced and fried potato masterpiece.
I ordered it one afternoon in this swanky spot in The Beekman as my whole lunch with a glass of wine. It. was. heavenly.
The garlic aioli with wild thyme is the sort of sauce you just want to SWIM in. And the thin texture of all those potatoes stacked on top of one another and deep-fried is a thing of beauty.
I love me some good breakfast food. And ANY time I see shakshuka on a menu, I HAVE to order it. It's easily one of my favorite foods of all time.
The best one I've yet found in NYC? This Green Shakshuka from Jack's Wife Freda. Made in a zingy tomatillo salsa instead of the more traditional tomato sauce, this dish reminds me so much of the divorced eggs I fell in love with in Mexico in April. And at $12, it's easily one of the cheapest "trendy" sit-down meals you can find on this list!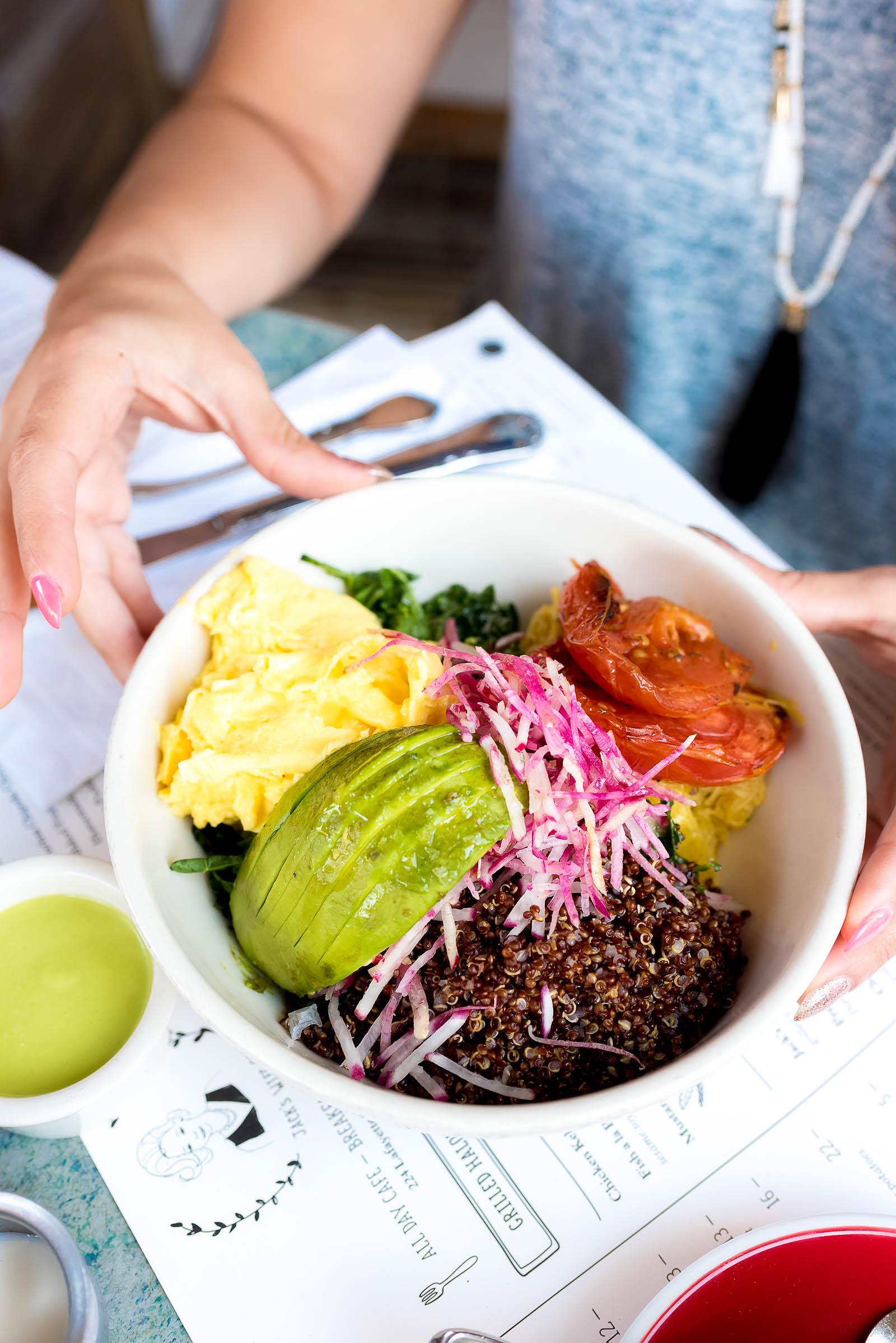 It's hard to narrow down my favorite dishes from Jack's Wife Freda since each was as delicious as the next. But if I had to choose a second dish for this list, it'd have to be this innovative breakfast bowl.
Scrambled Eggs piled onto red quinoa, spaghetti squash, kale, grilled tomato, and avocado all mingling into one bowl of pure deliciousness.
My girlfriend Jill and I were so obsessed with the fresh flavors in this bowl that we both immediately made our own versions as soon as we made it back home!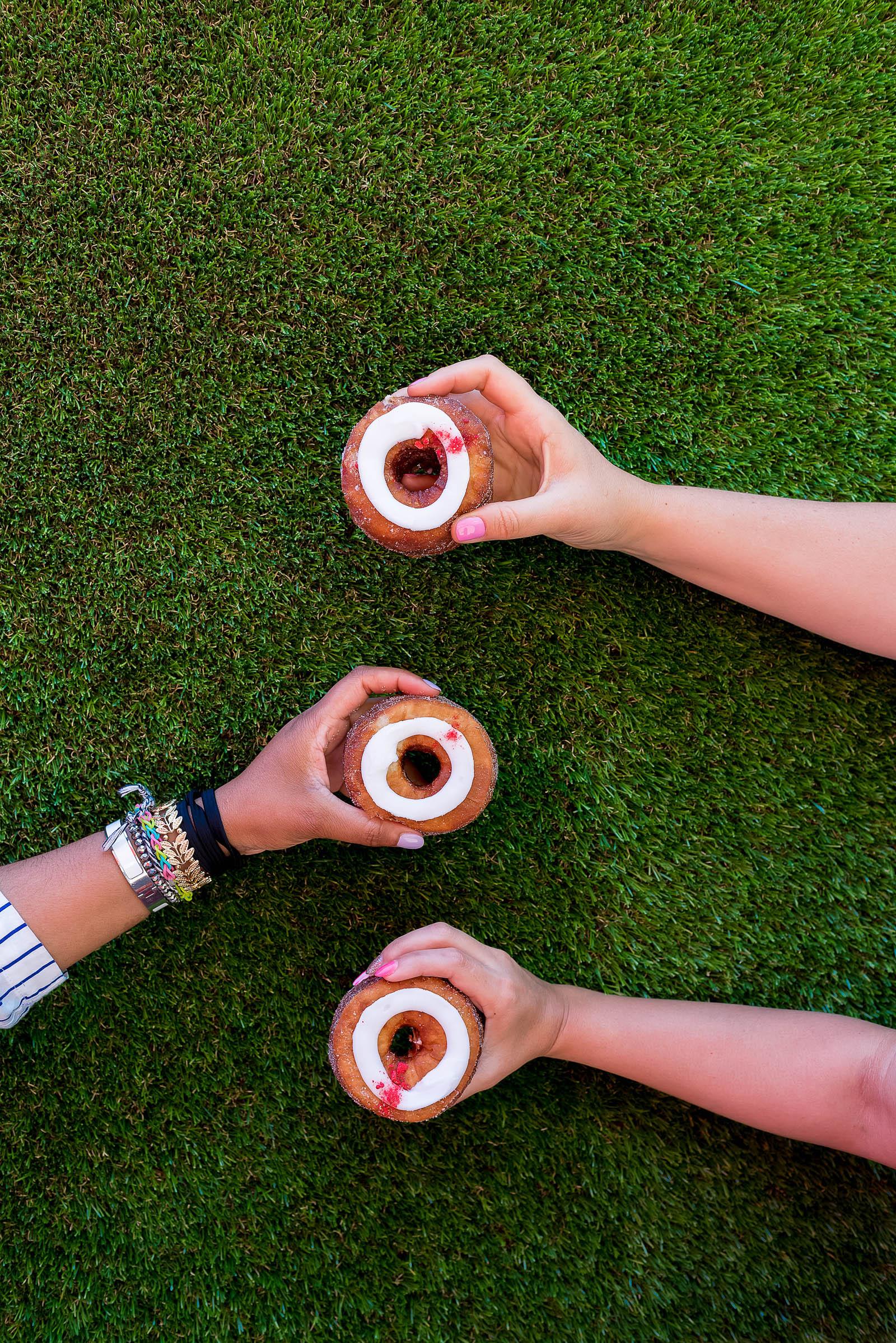 Years ago, on my first trip to NYC in over a decade, I went on a quest for my first Dominique Ansel cronut.
Loving donuts AND croissants the way I do, I just couldn't resist the urge to try this delicious hybrid pastry.
(As in I woke up early enough to be in line for one by 7 am in the morning…)
And let me tell you it was worth every minute of that wait. So much so that I devoted an entire blog post to my cronut quest and swore to myself I'd get another the next time I was in NYC.
So this past summer when I knew in advance I was going to be in NYC, I preordered my cronuts (to save me the trouble of waking up early). While they were still delicious, I was surprised by them too. Compared to two years earlier, the cronuts felt smaller and less texturally beautiful. However that said they were STILL one of the best pastries I've had in NYC and certainly deserve a spot on this list. Especially because I didn't end up picking up my cronuts until later in the afternoon which undoubtedly affected the freshness of them and lugging them around NYC in the summer heat can't have helped either.
You have to bet that next time I'm in NYC, I'll still be going and grabbing one of these! You know… for research purposes obviously.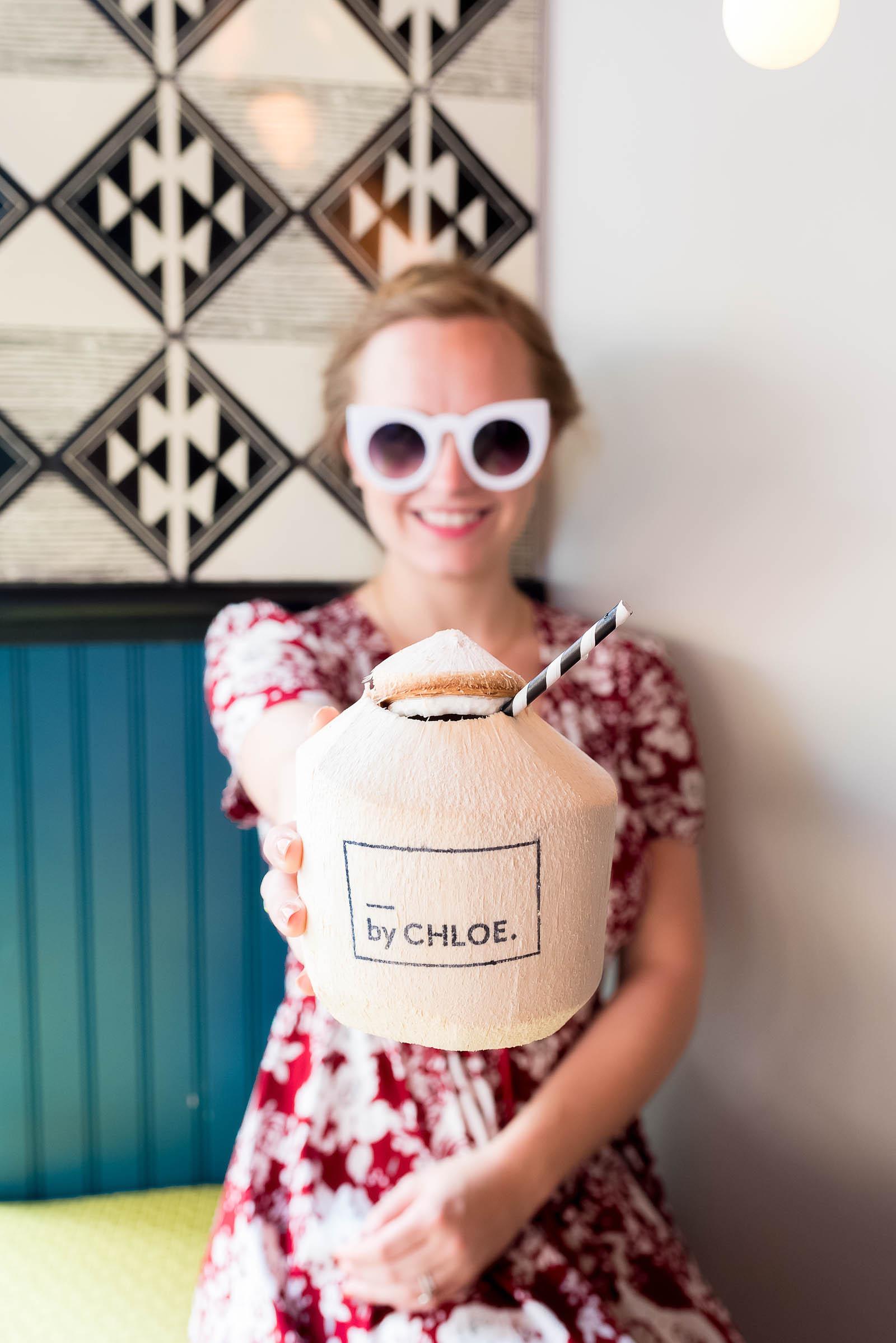 by Chloe has been one of my favorite NYC spots since 2015. It's vibrant, fresh, and totally vegan (but don't let that turn you off!). Everything I've had there from the avocado toast to veggie burger to the Caesar Salad deserves a mention on this list but nothing so much as the fresh coconuts they serve during the hot months.
When you next find yourself in NYC in desperate need of delicious hydration, stop in for one of these. One single sip is fresh, pure nirvana!
(Spy details of this outfit in this post — shot only a half an hour later in Soho!)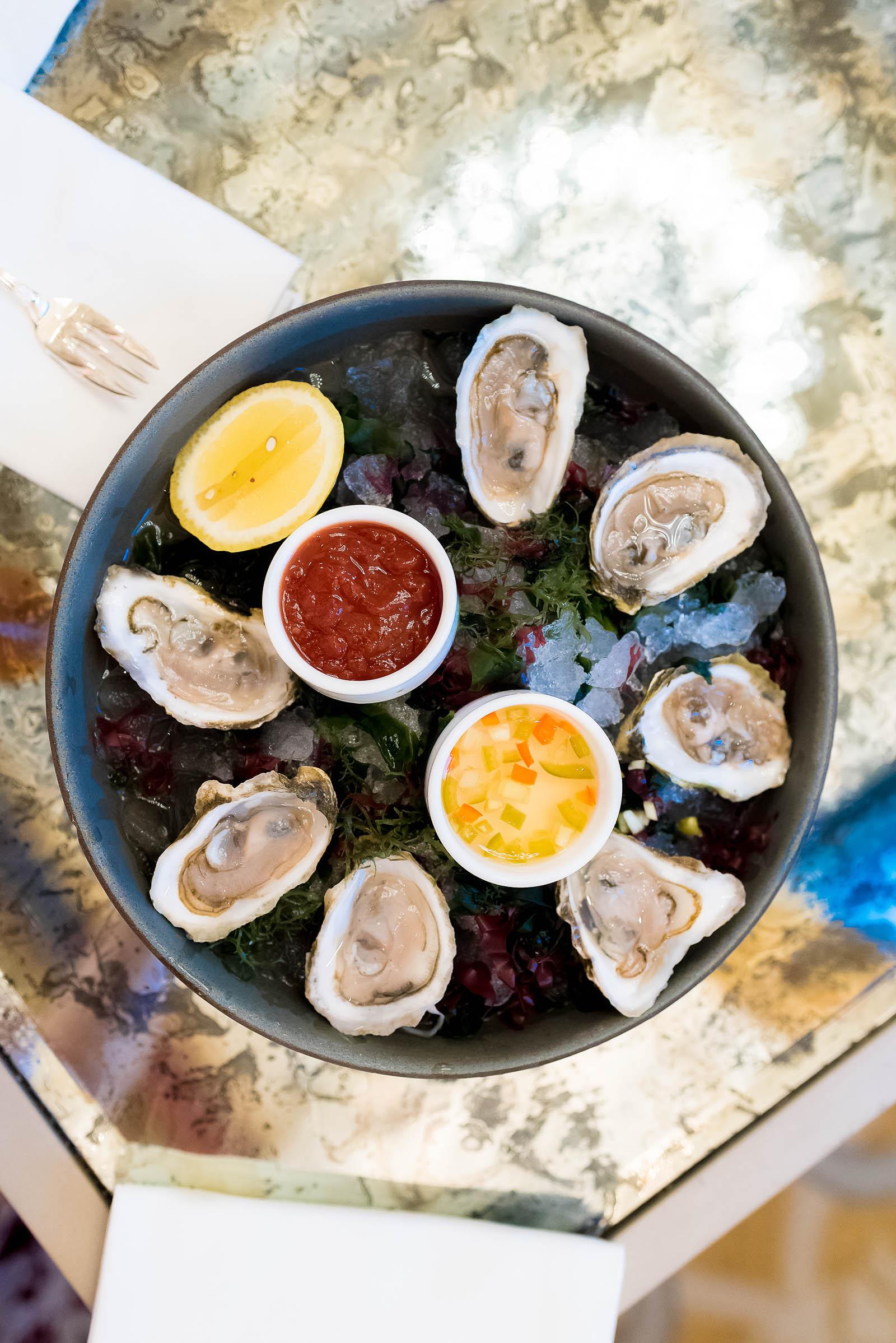 Sure it's touristy and a little cliché but the Champagne Bar at the iconic Plaza Hotel is so elegant I don't mind. Especially after I slurp a few of their exceptionally dressed oysters underneath their many chandeliers while enjoying some of the city's best people-watching!
How can you resist such a marvelous combination?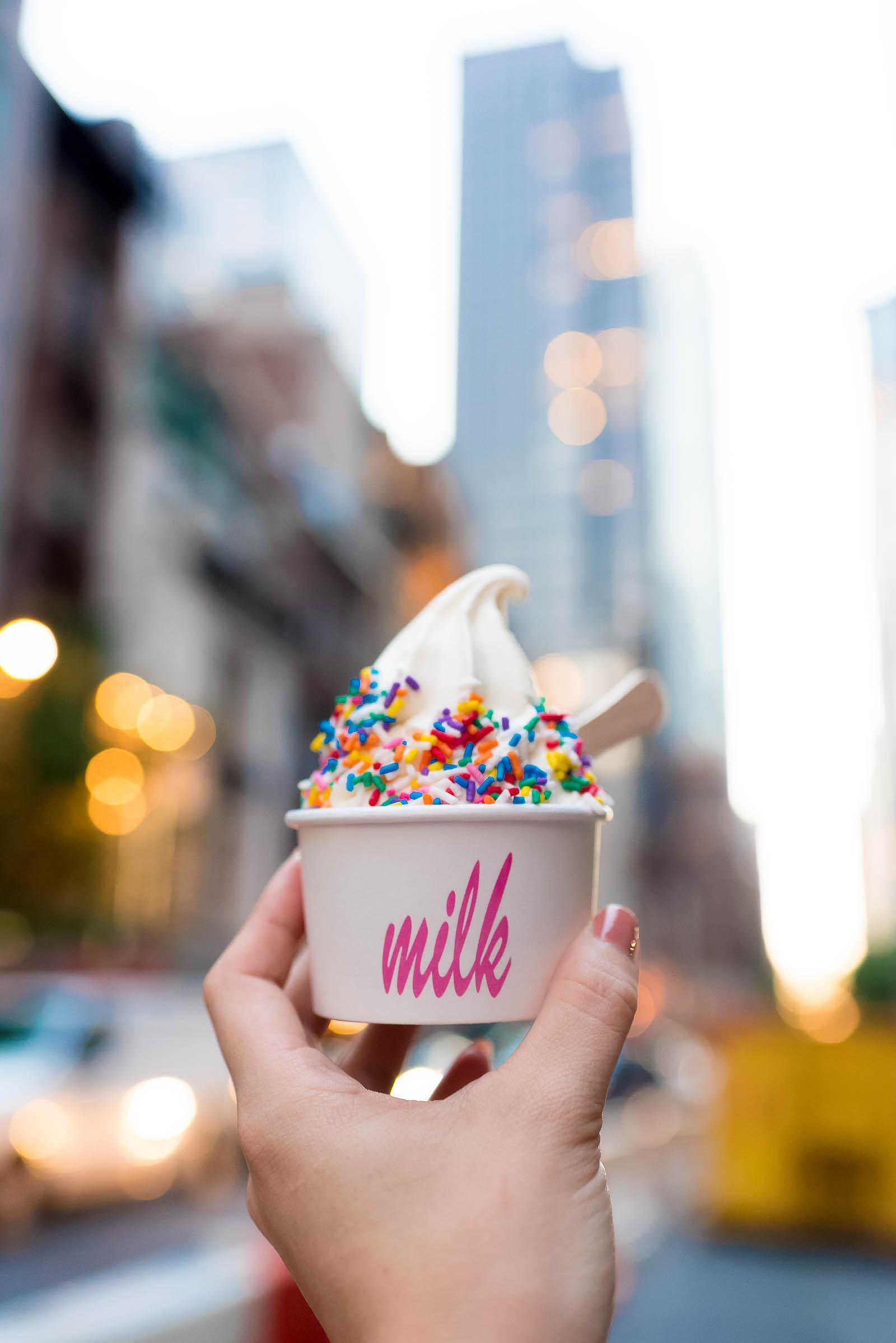 Regardless of the flavor — whether it be cereal milk ice cream or birthday cake — Momofuku Milk Bar has some seriously delicious soft serve. Go easy on the toppings and let the silky deliciousness of this soft serve speak for itself.
It's so good even Hubby can't resist going with me after a tiring day of work!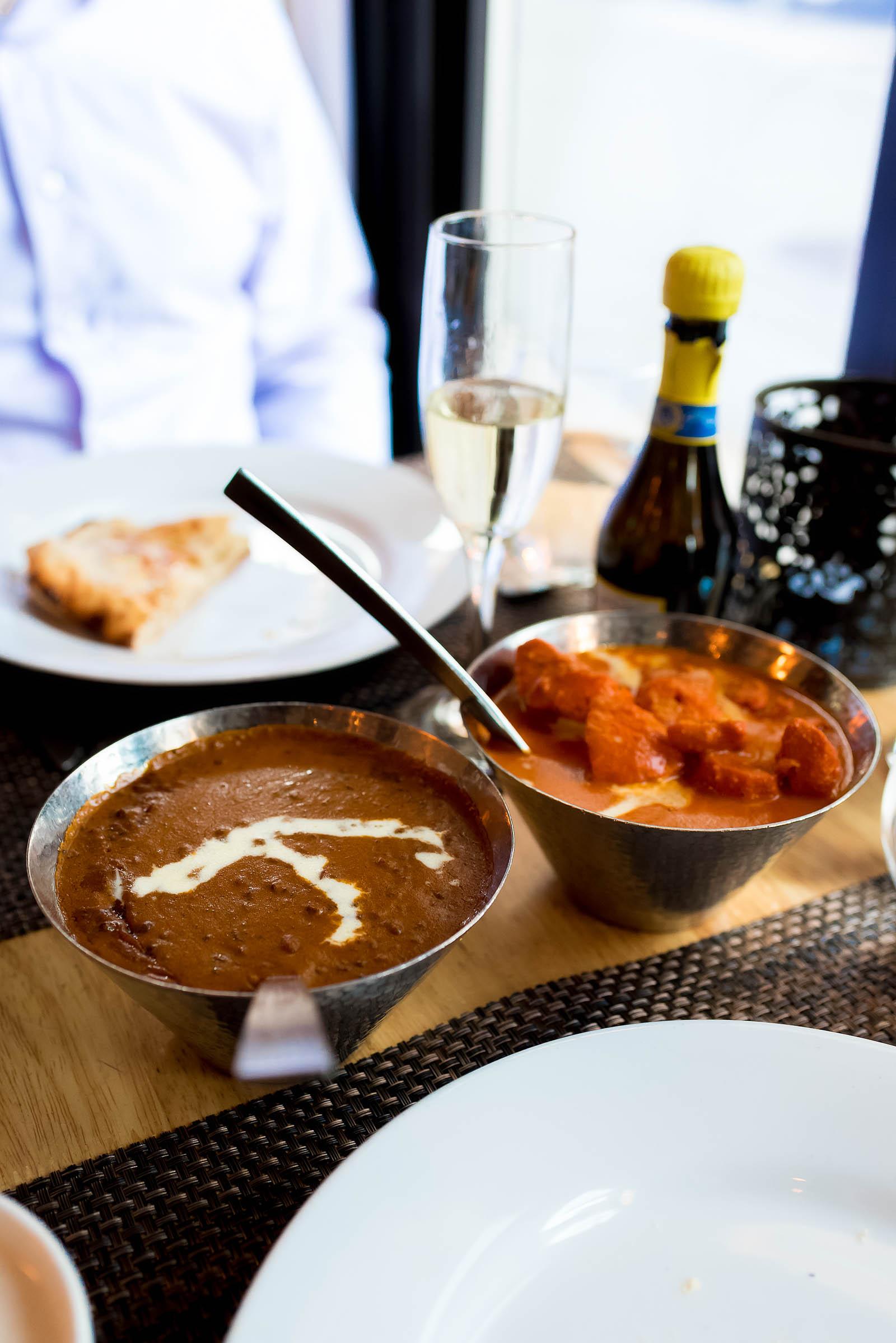 When I lived in India in college, I hit up the Moti Mahal in New Delhi more times than I can count. It was easily one of the best meals you could find in the entire city.
So when I found out their only U.S. location was in NYC just steps from Hubby's office, I pretty much screamed in excitement.
Because this is the type of Indian food you scream over. It's delicious, ridiculously authentic (at least from what I ate in my four months in India) and all served in a no-frills little spot that smells like heaven on earth as you walk in.
Order the Daal Makhani (or the Chicken Makhani like Hubby does) with some fresh naan and close your eyes as you slip into what has to be one of the most delicious food comas in all of NYC.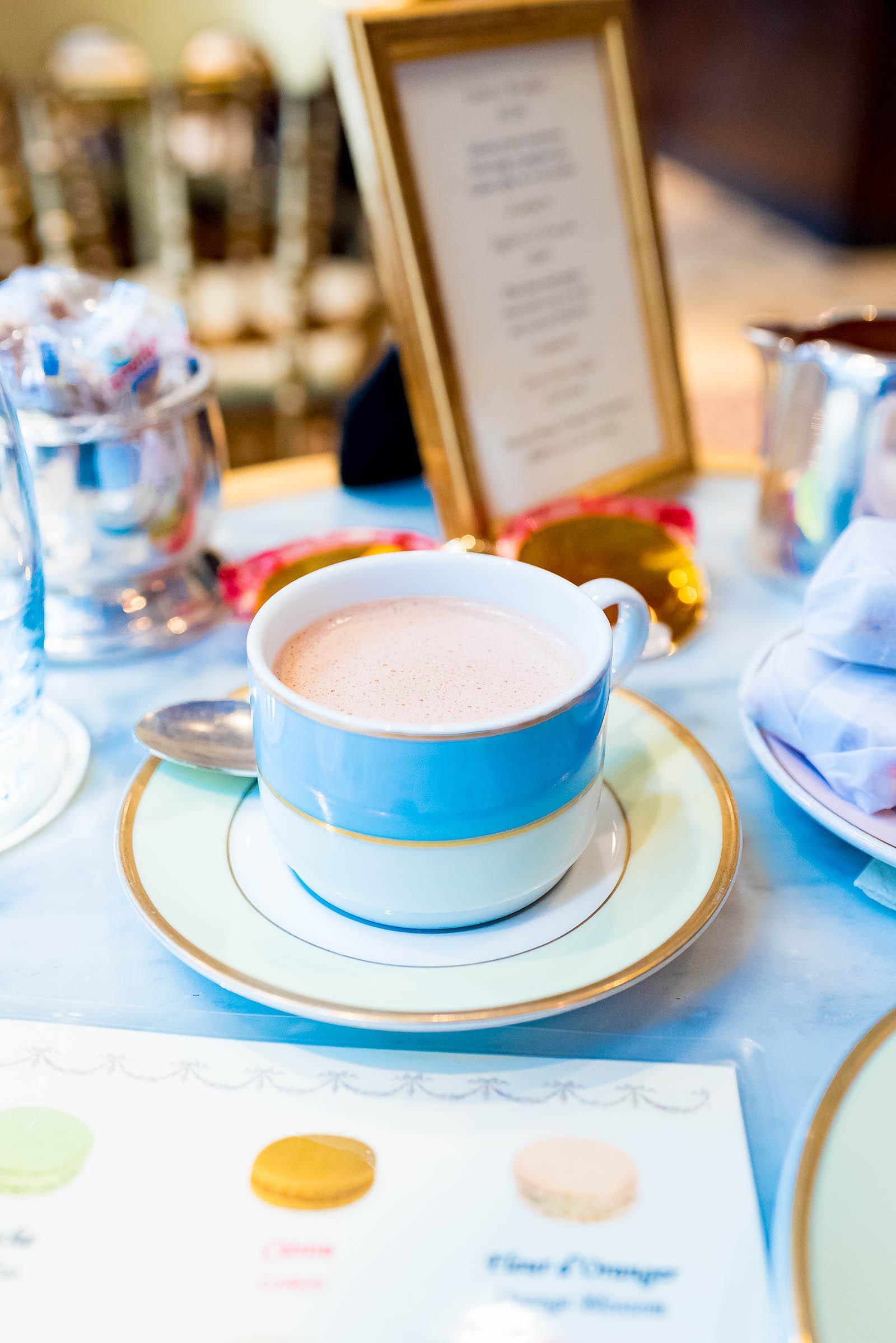 This iconic french patisserie has two outposts in NYC both of which serve this incredible hot chocolate.
It's velvety, not-too-sweet, and just chocolate-y enough to make you forget ever ordering coffee there…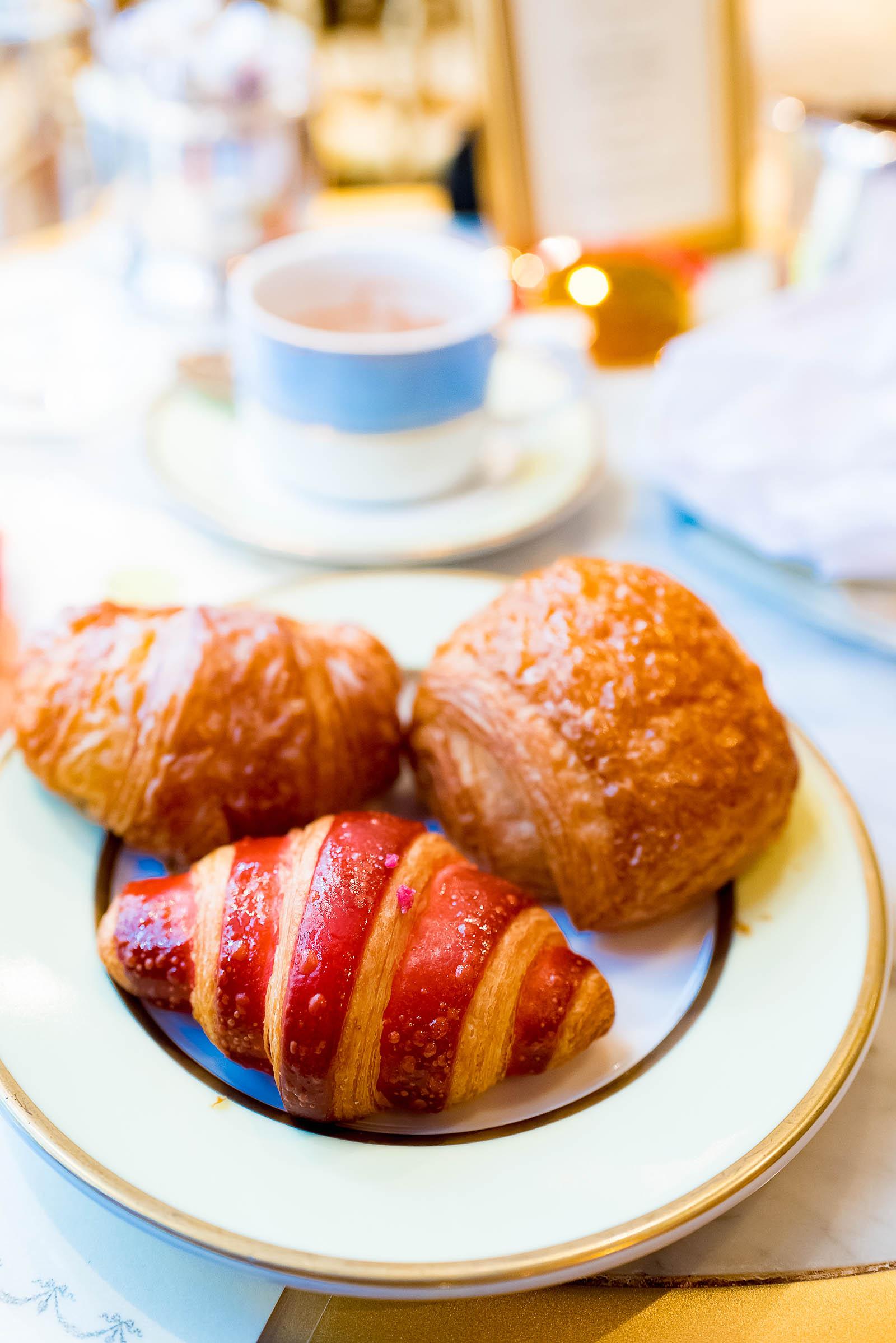 And while you're at Laudrée for a hot chocolate, pair it with one of their incredible raspberry croissants as well. The beautiful pink glaze alone makes it one of the most Instagram-worthy pastries I've yet had in NYC.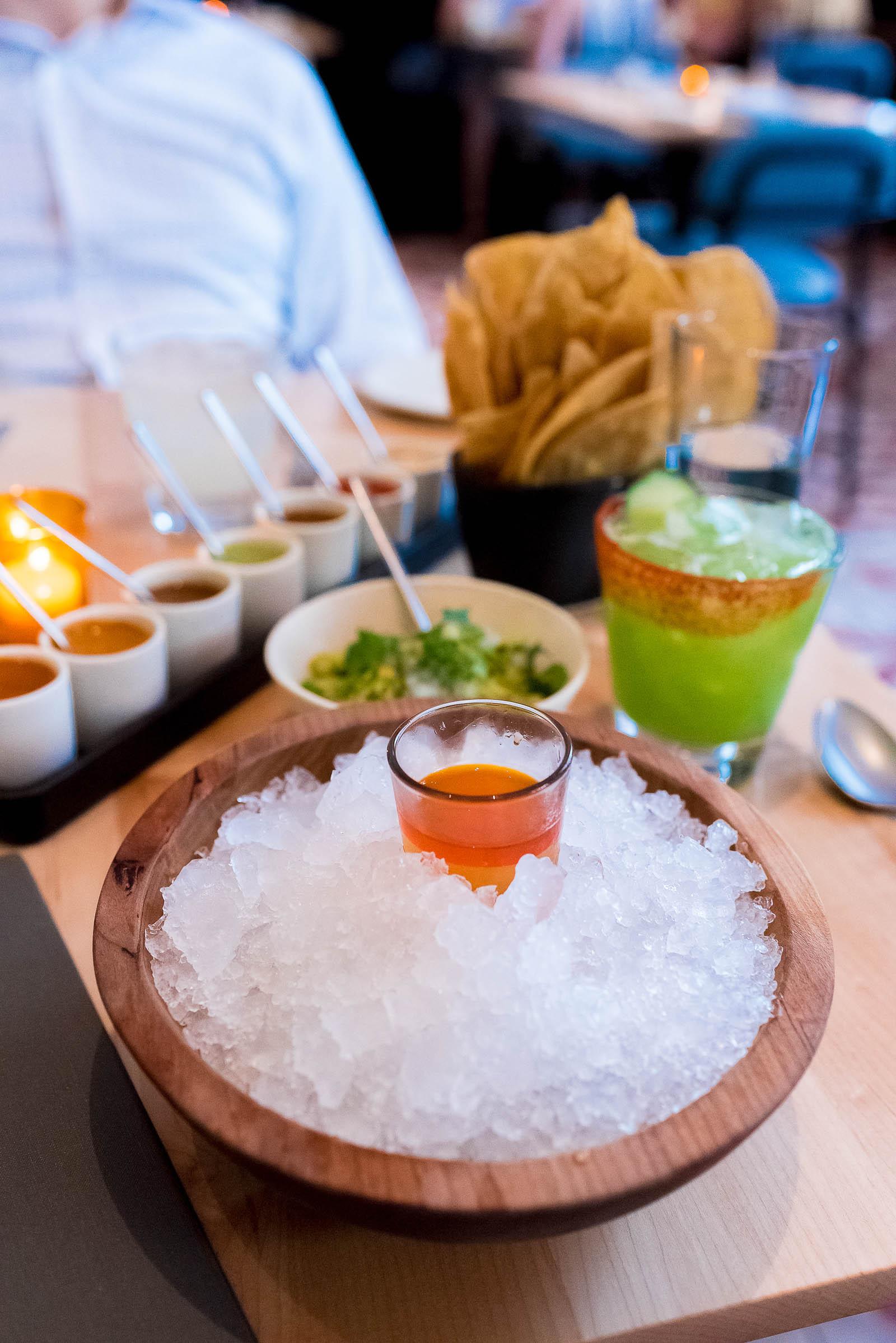 From the moment Hubby and I stepped into this Midtown eatery, we knew we were in for something special. The smells alone had us drooling before we'd even sat down.
And EVERYTHING — absolutely everything — we ate deserves a place on this list. We had some of the best margaritas, salsas, roasted shrimps, and salads I've ever had in my entire life here in one. single. meal.
But if I had to name the best bite… the most flavorful, wow-worthy, scrumptious thing I had at this foodie paradise, it would undoubtedly have to be this Oyster Shooter with Campechana Water and Ketchup Oil.
Zingy, briny, and shockingly flavorful. This is the sort of shooter you don't just order one of…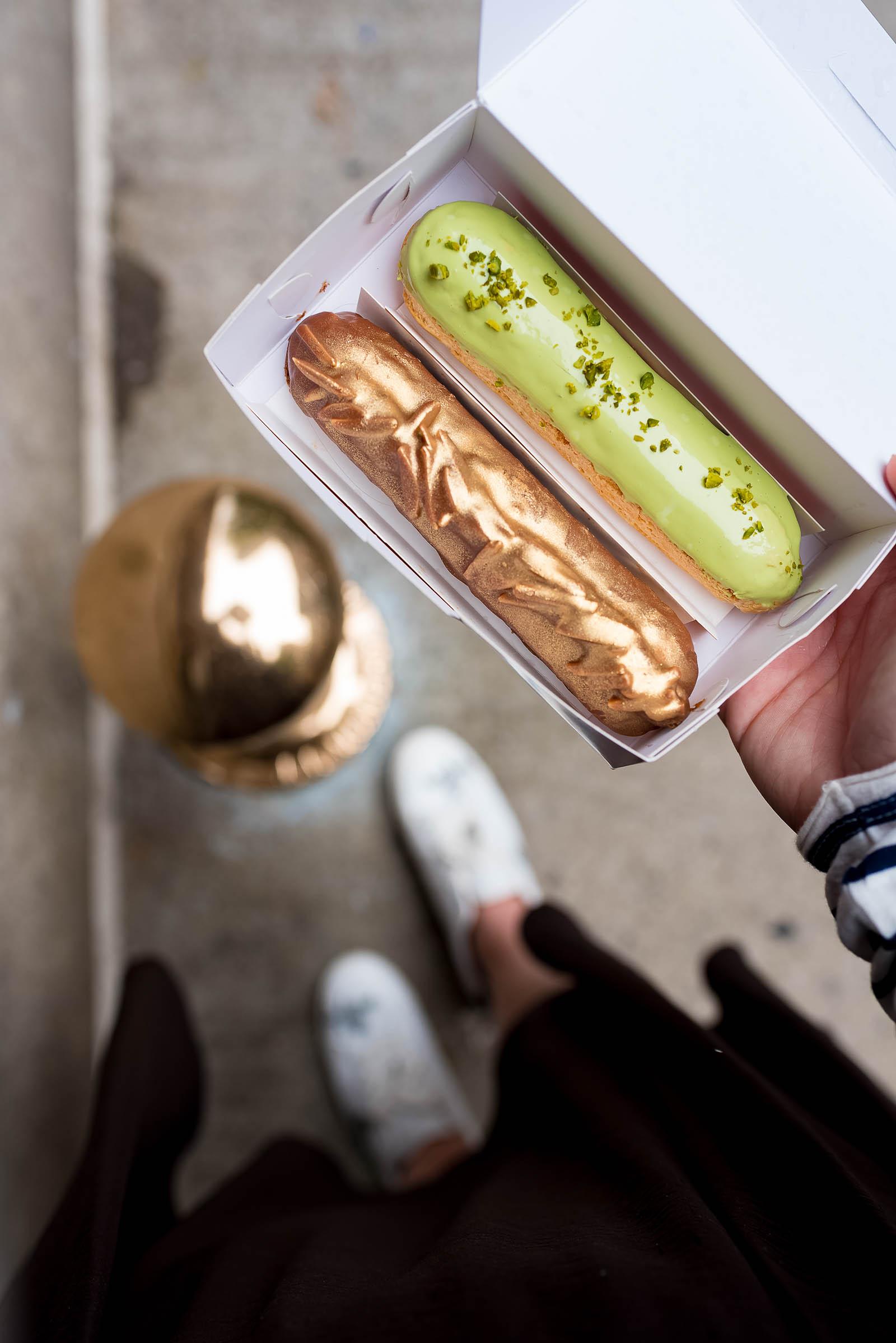 I'll admit it took me quite a while to come around to éclairs but now that I have, I seek out good ones wherever I go.
And after some extended research I learned that the very best were located in Midtown East at this delicious little spot of pastry perfections. Each time I've gone and gotten new flavors and have yet to be disappointed.
These morsels are… in a word…
Heavenly.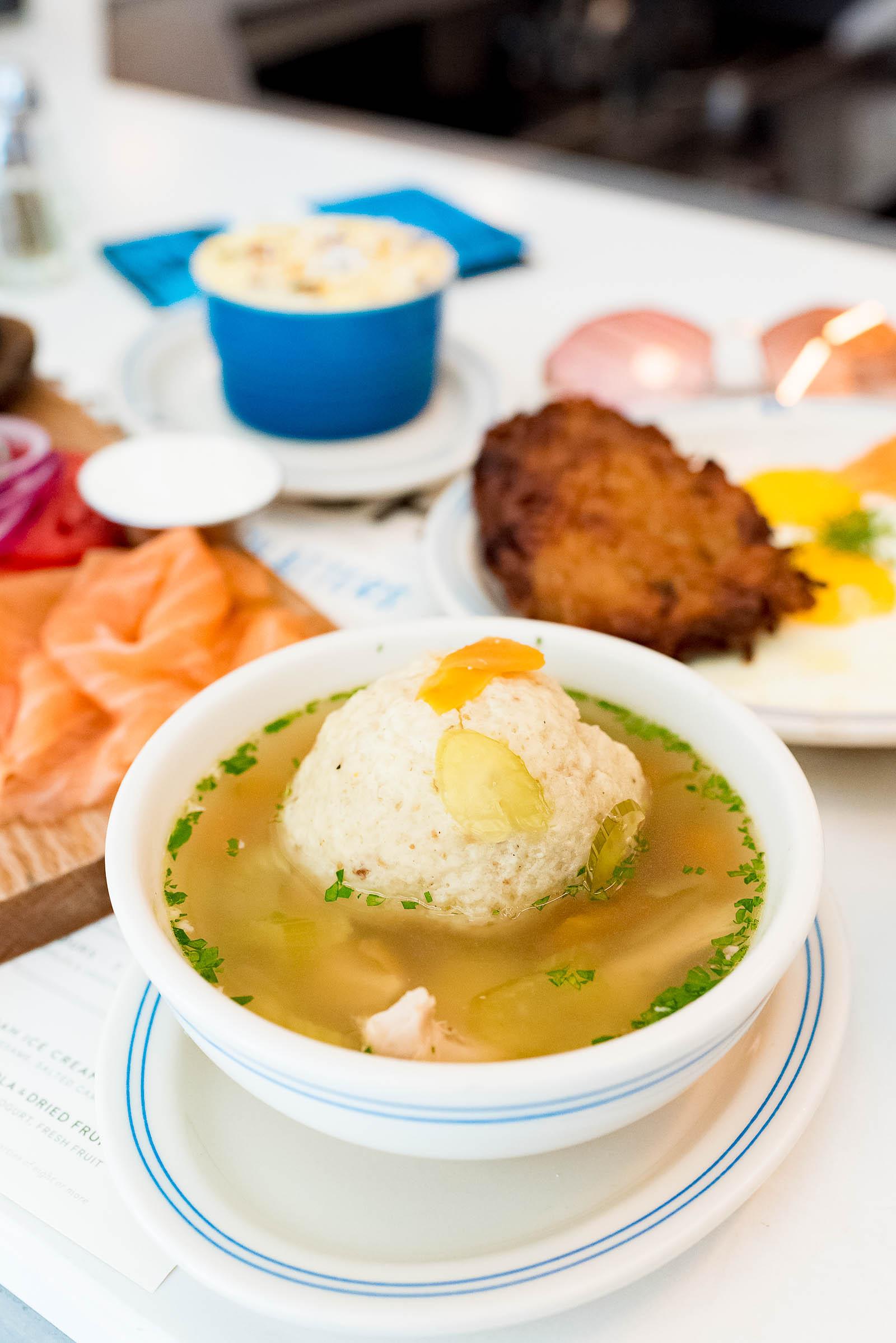 Can you believe I'd never had Matzo Ball Soup before this year?
Now that I've tried it, I can't believe it either!
This is one of the most delicious bowls of comfort you can ever sip and slurp your way through. The broth is beautifully balanced with the vegetables and the matzo ball itself was such a perfect complement to it!
Next time I'm in NYC during winter, you have to know I'll be ordering a HUGE bowl of this iconic Jewish comfort food.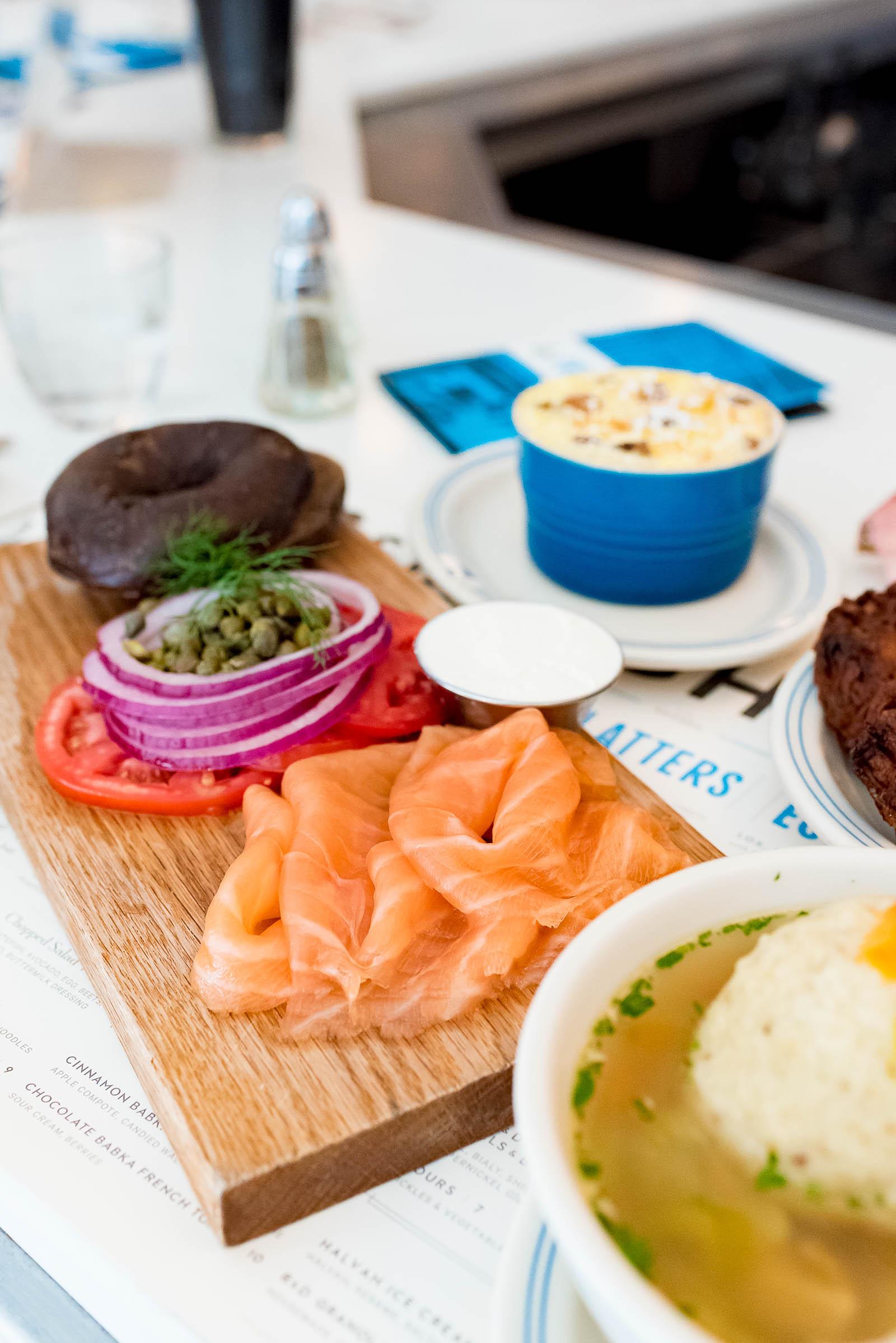 And speaking of iconic Jewish comfort food, I'd be remiss if I didn't include at least one bagel & lox here.
And my current favorite is — of course — at Russ & Daughters. This legendary little spot produces some of the silkiest, most sin-worthy smoked salmon I've ever had the pleasure of eating. And their pumpernickel bagel is a true thing of NYC beauty.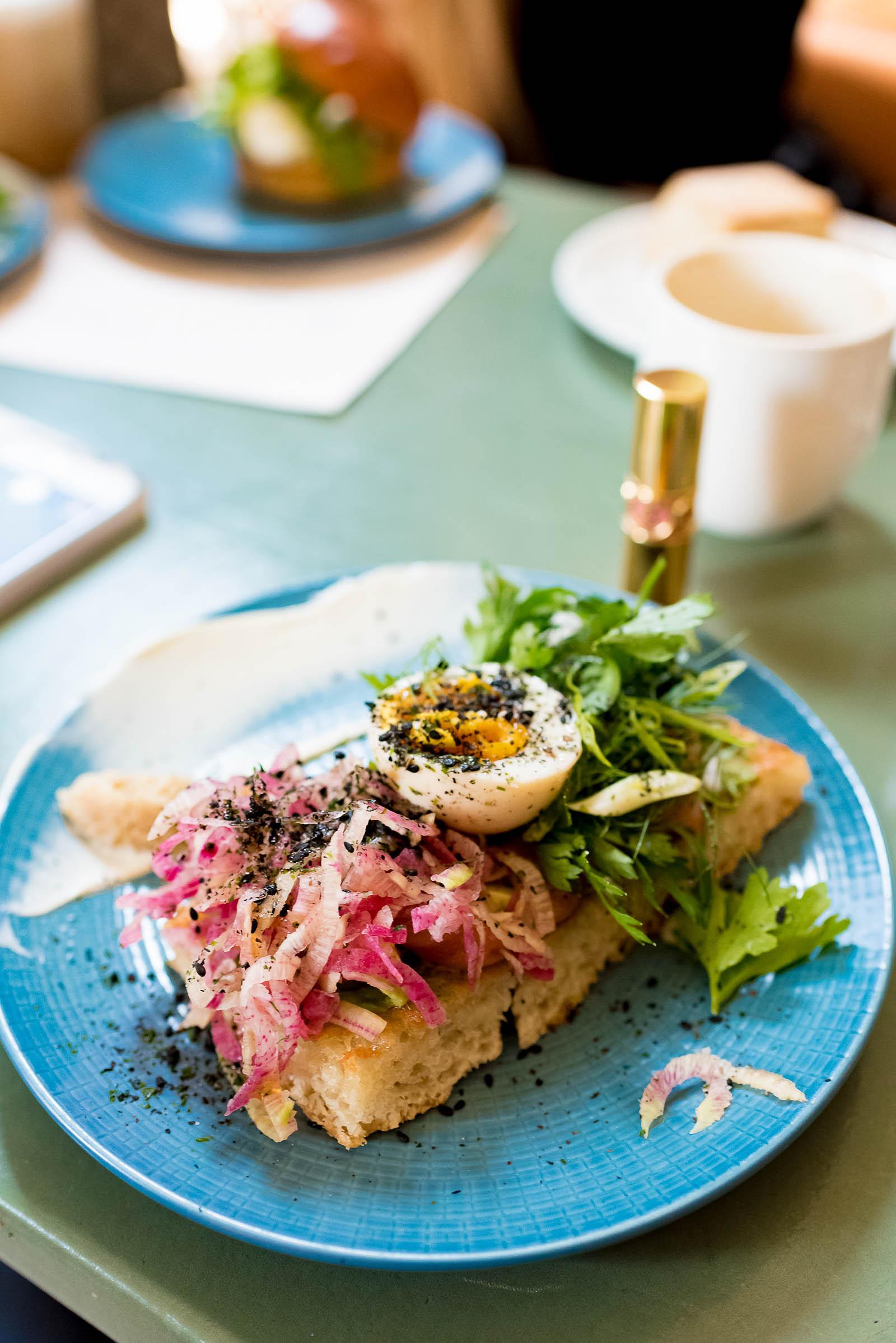 Recommended by one of Ali's close friends while we were in NYC for Fashion Week, the entire brunch at de Maria in Nolita was note-worthy. I wrote a whole post about it after all!
But this avocado toast was the serious game-changer for me.
Incredibly fresh and not overly seasoned, this toast combined briny, sour, salty, and creamy flavors into one heavenly brunch bite. And one I'll certainly be coming back for on my next visit!
Now it's your turn! What are some of your favorite dishes in NYC? I'm always on the hunt for new favorites!