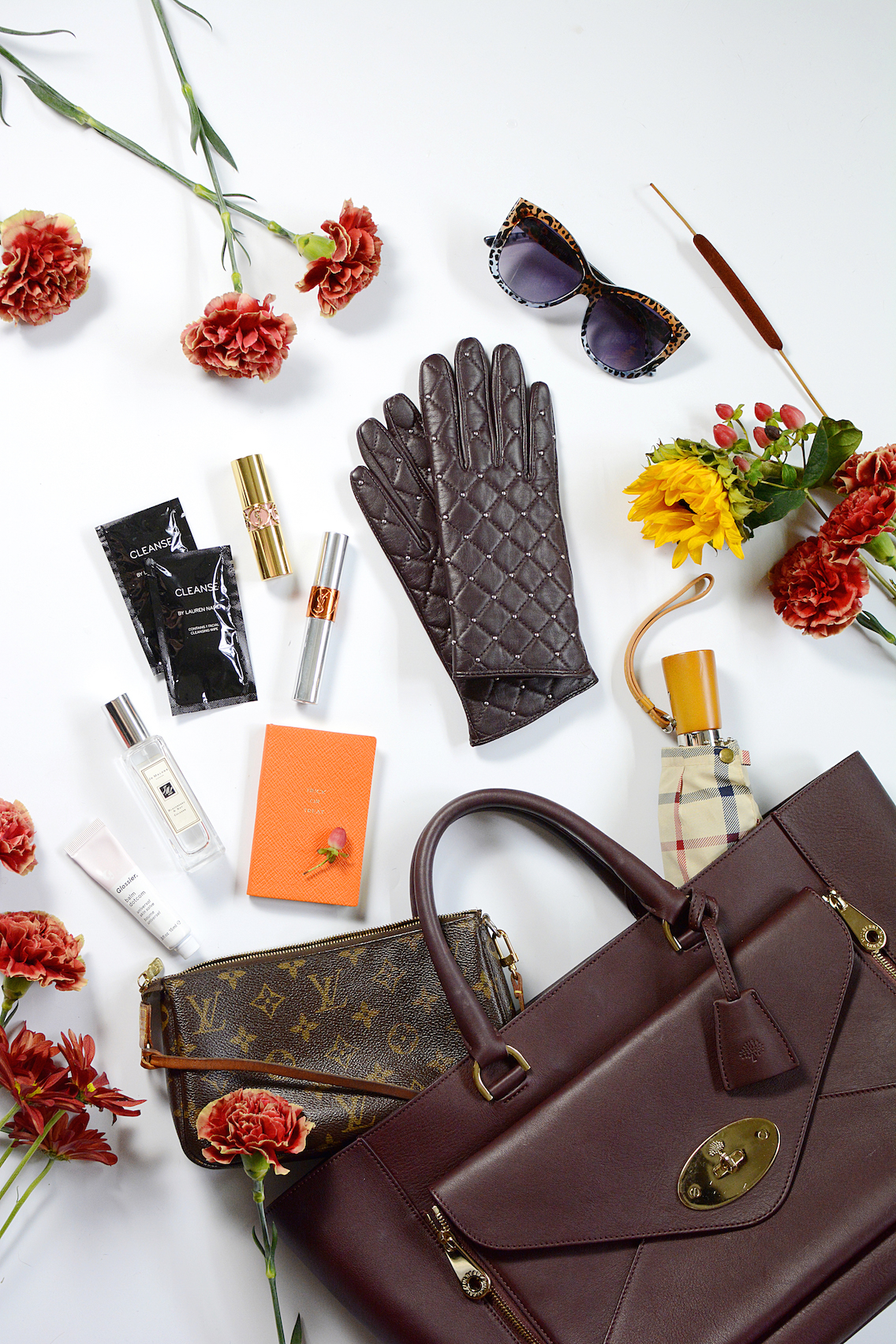 Every quarter I find myself rotating my purses and daily essentials to meet my seasonal needs. And as the temperatures drop in fall, my easy spring and summer essentials are replaced with a complicated array of products designed to fortify me against the changing elements.
In autumn my lips chap, my fingers get cold, and rain comes frequently without warning (almost always directly followed by a brutal sunshine). Here are the items I rely on to keep me sane once the weather turns mutinous!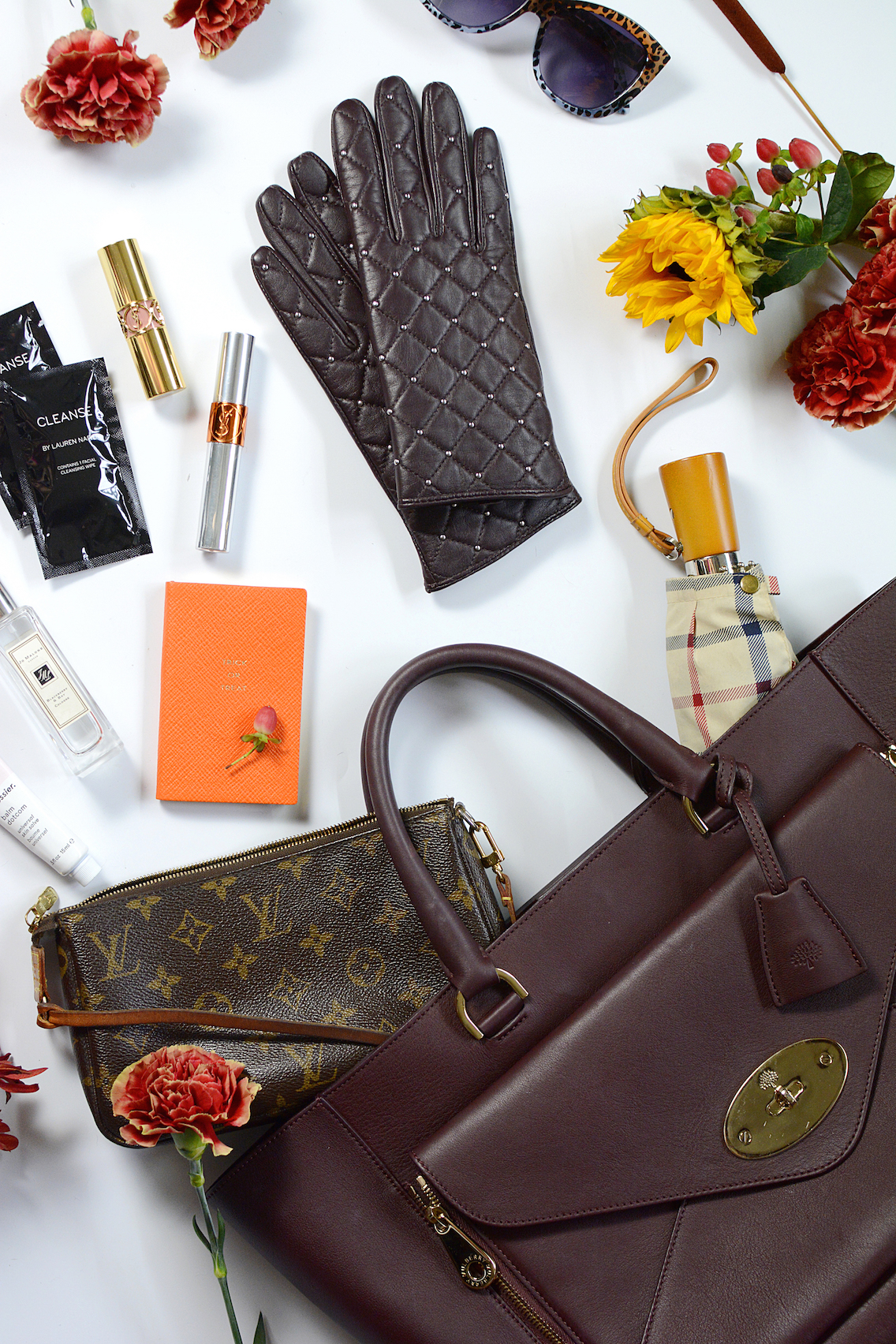 Mulberry 'Willow' Tote in Oxblood Leather (here)
My go-to tote for everything these days (case in point: 1 / 2 / 3 / 4). This is undoubtedly the most versatile handbag I've ever owned (not to mention the most expensive wardrobe investment I've made to date). The price was hard to swallow at first but now I don't know how I survived before this bag. The front envelope pouch can zip off the main tote to act as a chic clutch too, essentially making this two bags in one! And there's really nothing like Mulberry's craftsmanship — the interior is lined in a rich suede that is so beautifully luxe. And unlike many other designer totes, this one has small metal feet to protect it when you set it on the ground (a plus for me since I'm constantly setting my bag down to take photographs).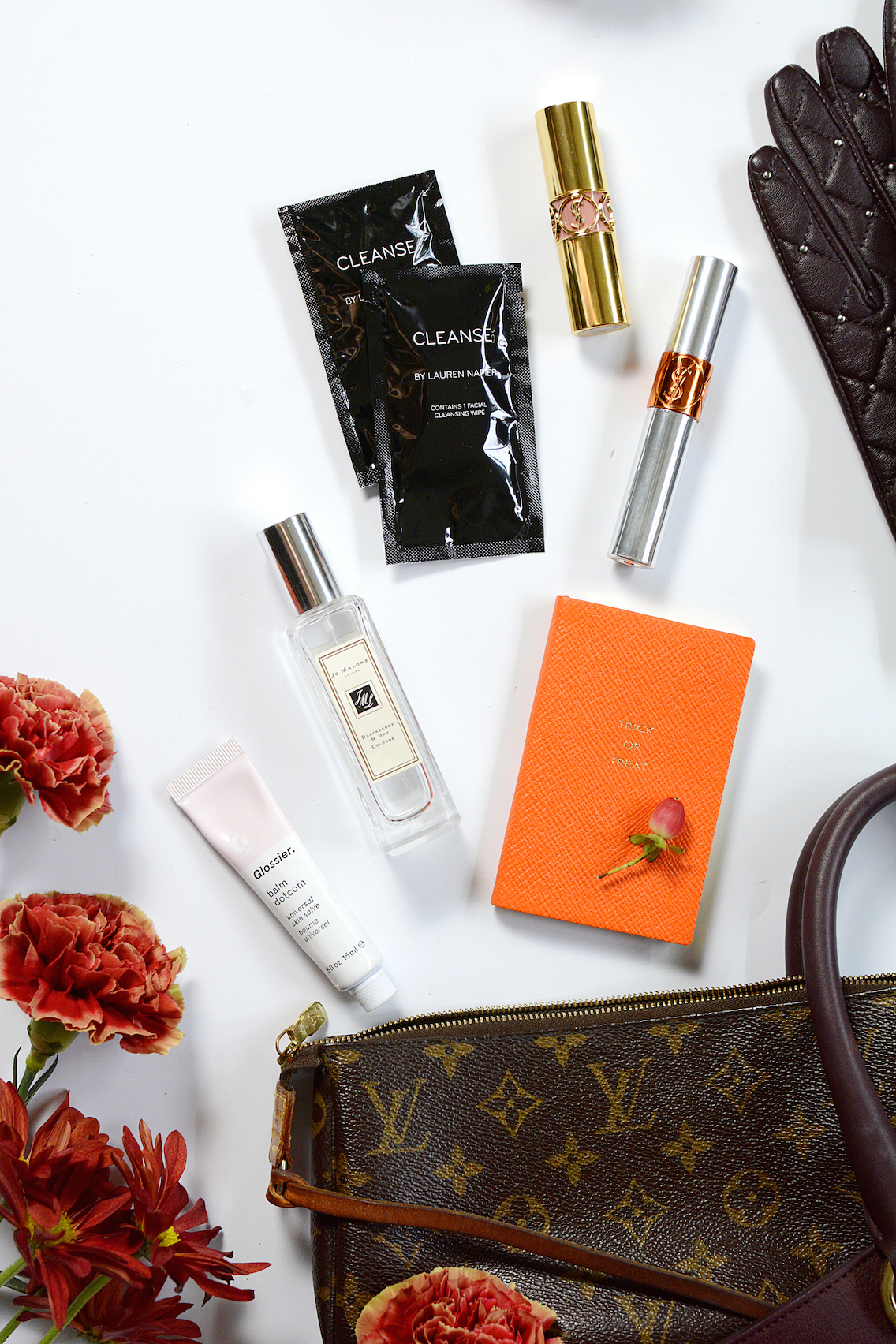 Inside I carry around this Louis Vuitton Pouchette as a make-up pouch to corral my small items and to protect my bag from any spills. Inside I carry quite a few essentials: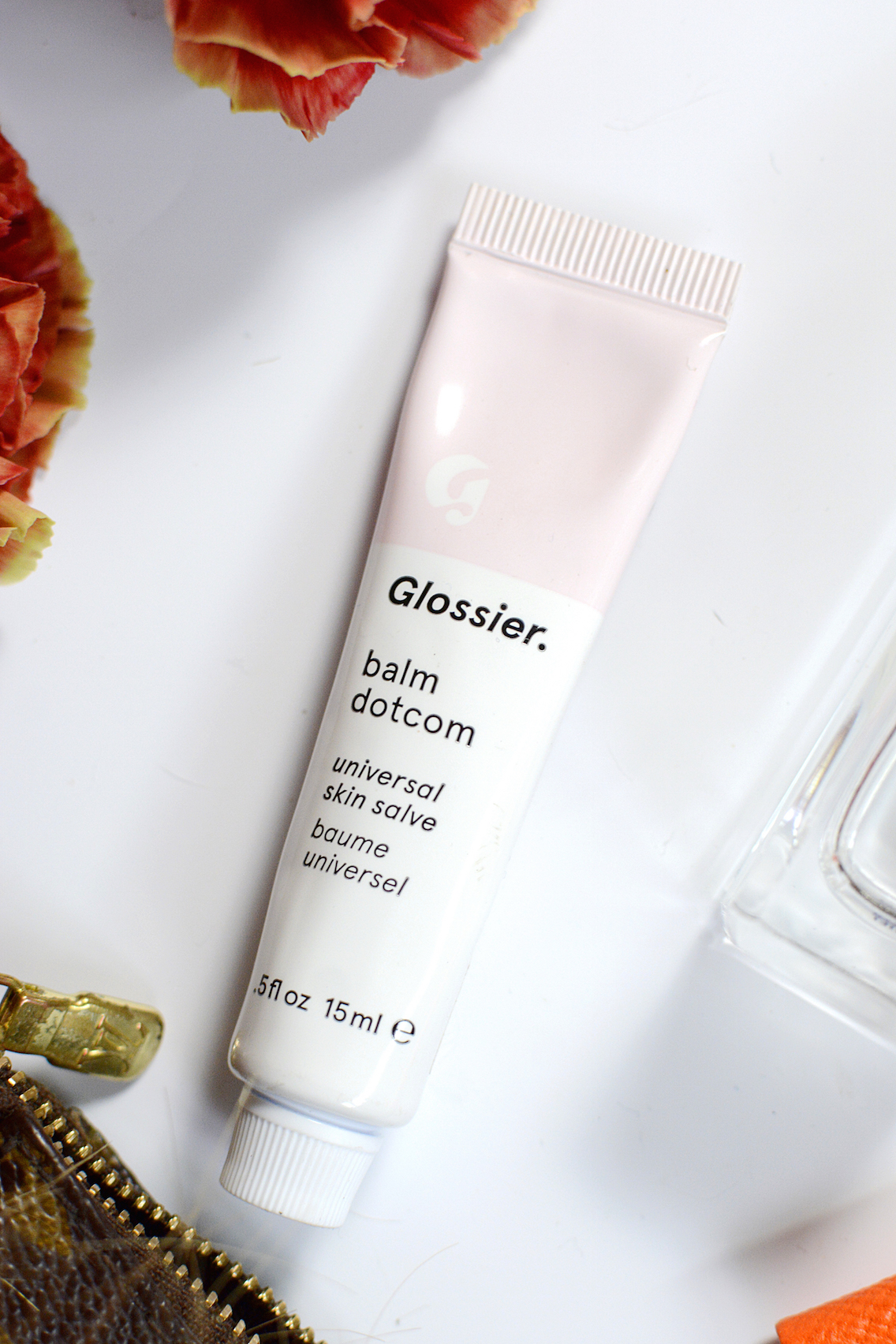 Glossier Balm DotCom (here)
The ULTIMATE lip balm. I still use and love Dr. Lipp too, but this silky salve has become my new go-to. The consistency is smooth without being sticky and moisturizes for hours. I rub it on my ever-dry cuticles and elbows too on particularly dry days. It helps lip colors go on smoother all while protecting my lips from the harsh winds that have plagued us this October. I also love that your buy it in packs of three — I've stashed one in my purse, one in my nightstand, and one in my car and now have lip balm whenever I need it!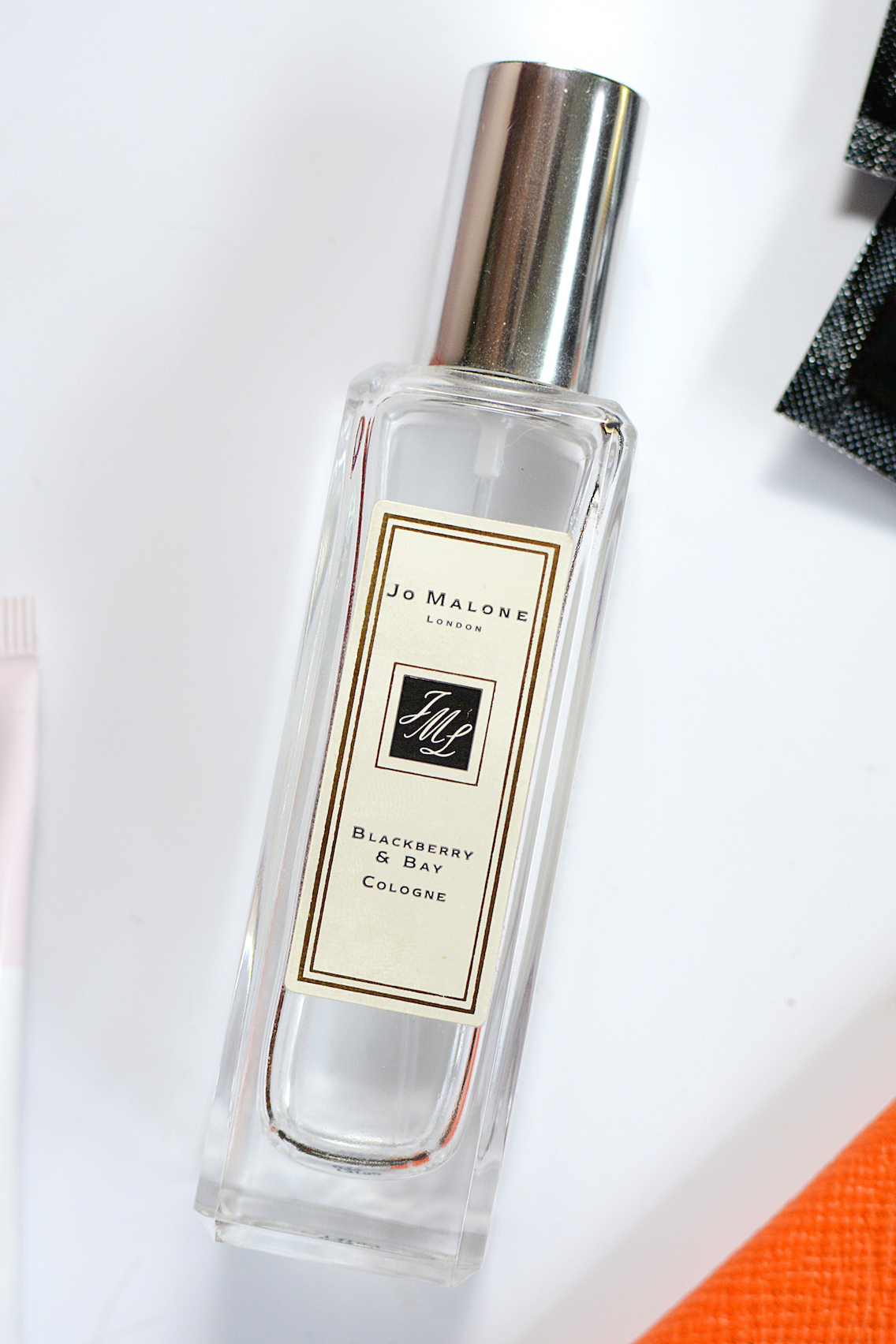 Jo Malone Blackberry & Bay Cologne (obsessed, available here)
I love Jo Malone colognes all year round but in fall, I find myself reaching for this rich, fruity, herby blend the most. It's another one of those haunting fragrances that proves to be far more complex as it dries down than it smells when you first apply it. It also combines well with a few of my other favorite JM colognes so I can mix up the scent a bit each day to suit my mood. And WOW is this scent a compliment-magnet — I get stopped in the street all the time by passers-by wanting to know what I'm wearing. When I tell them it's Jo Malone, they're always shocked that it isn't some obscure French scent!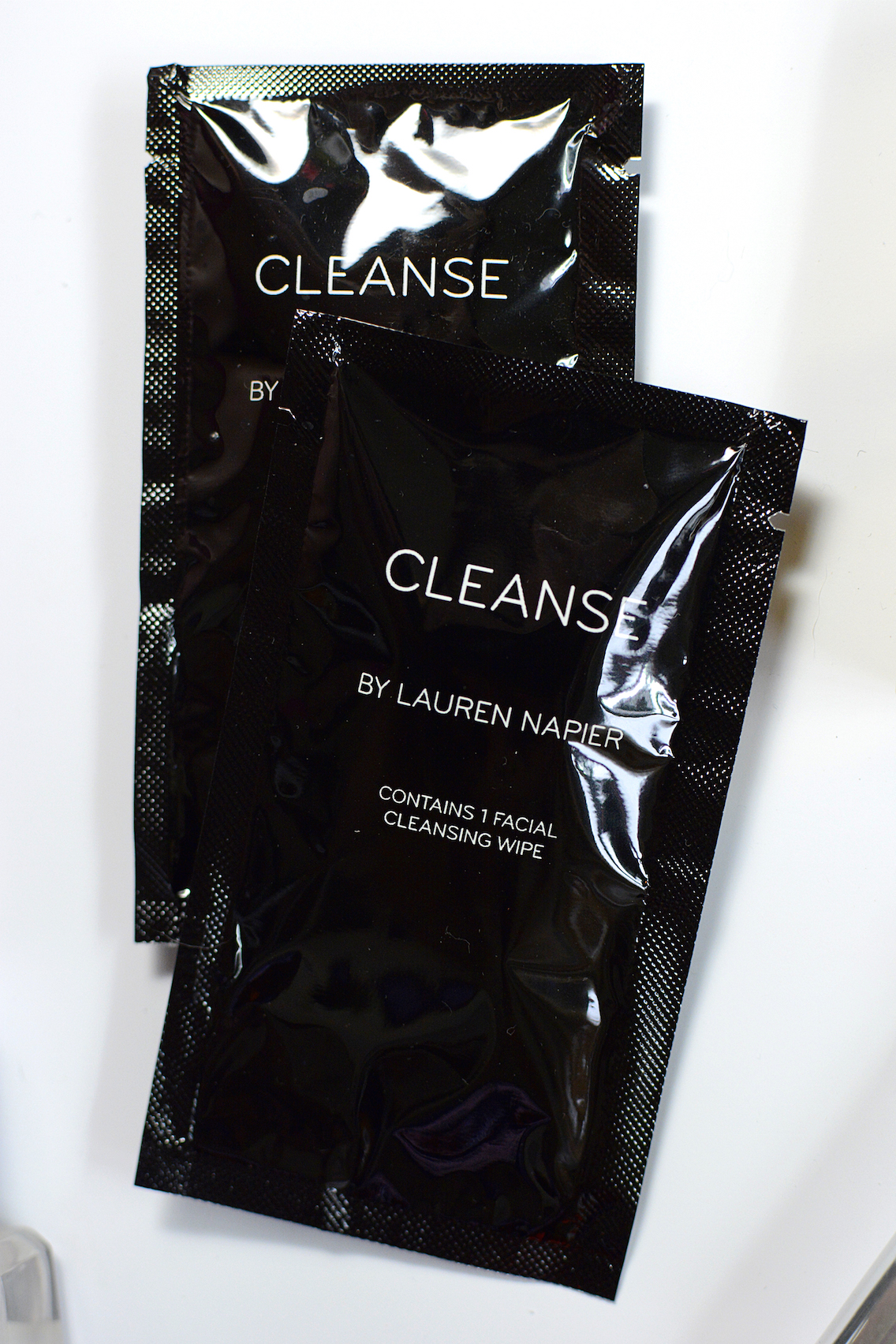 Cleanse by Lauren Napier (here)
How did I ever live without these? These are without a doubt the best pre-packaged facial wipes I've found and believe me when I say, I've tried them all. As much as I hate to admit it, I'm terribly lazy about removing my make-up at night (despite the fact that my adult-acne proves I SHOULD). I always stash a few of these in bed next to me for those times when I think "oh, crap, I forgot to wash my face" but lately I've been carrying them around with me as well. They're great for post-workout sweatiness and for freshening up after a flight or a long day. And the formula doesn't dry out or irritate my seriously finicky skin — #win!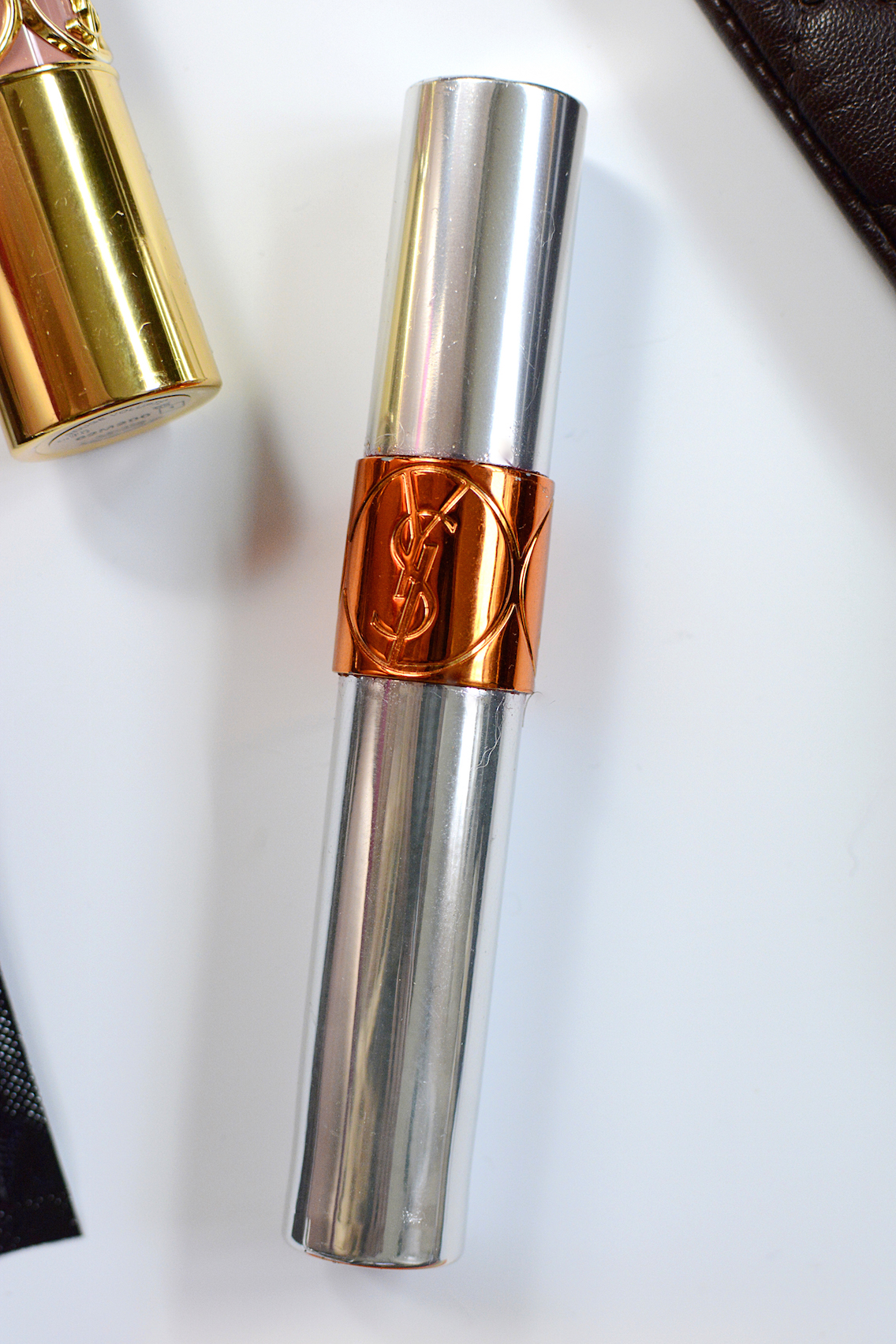 Yves Saint Laurent 'Volupté' Tint-in-Oil in No. 7 'Crush Me Orange' (here)
I gushed about this amazing formula in my summer bag post and I'm still religiously using it this fall. As I said in August, "this 'tint-in-oil' is an amazing formula that looks so beautiful on. Don't let the bright orange color out of the tube fool you — once on, this lip tint mellows to a beautiful pink berry stain with a glossy finish. The tint stays on for hours (even through marathon rounds of dessert) and the gloss is luxurious without looking juvenile. It's a sophisticated upgrade to my gloss collection that also moisturizes your lips too!"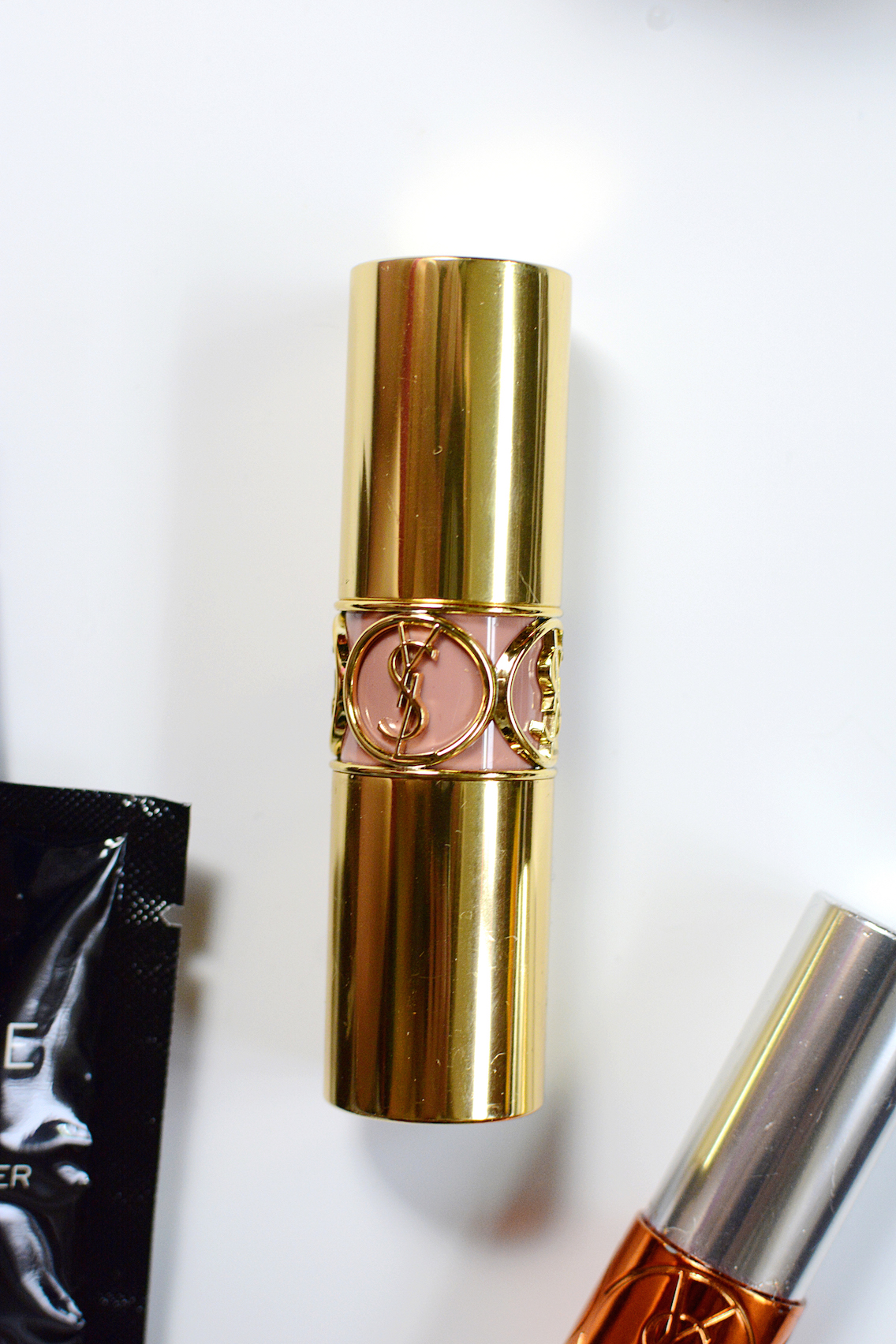 YSL Beauty Rouge Volupté in No. 01 'Nude Beige' (here)
The ultimate nude lipstick. As a pale girl (#ProudtobePale), I have always pined for the perfect nude lipcolor. But after years of disappointment and chaulky formulas that make me look more ghostly than chic, I simply gave up on ever finding one. Thankfully after falling madly in love with the 'Tint in Oil' I mentioned above this summer, I got curious about more of YSL's lip options and found myself at the Sephora counter playing around with colors last month. When I saw this hue I loved it in the tube but prepared myself for the heart-break of hating how it looked on. But one swipe of this magically flattering hue and I'm absolutely addicted. I've already bought a second tube in case I ever lose this one. I've worn it non-stop since (case in point: 1 / 2 / 3) and especially appreciate how the creamy formula isn't prone to settling into lip cracks like so many other nudes. And so far I haven't seen a single girl try this shade and not look stunning in it — it's one of those universal colors that's great to have on hand when you want to look polished yet casual.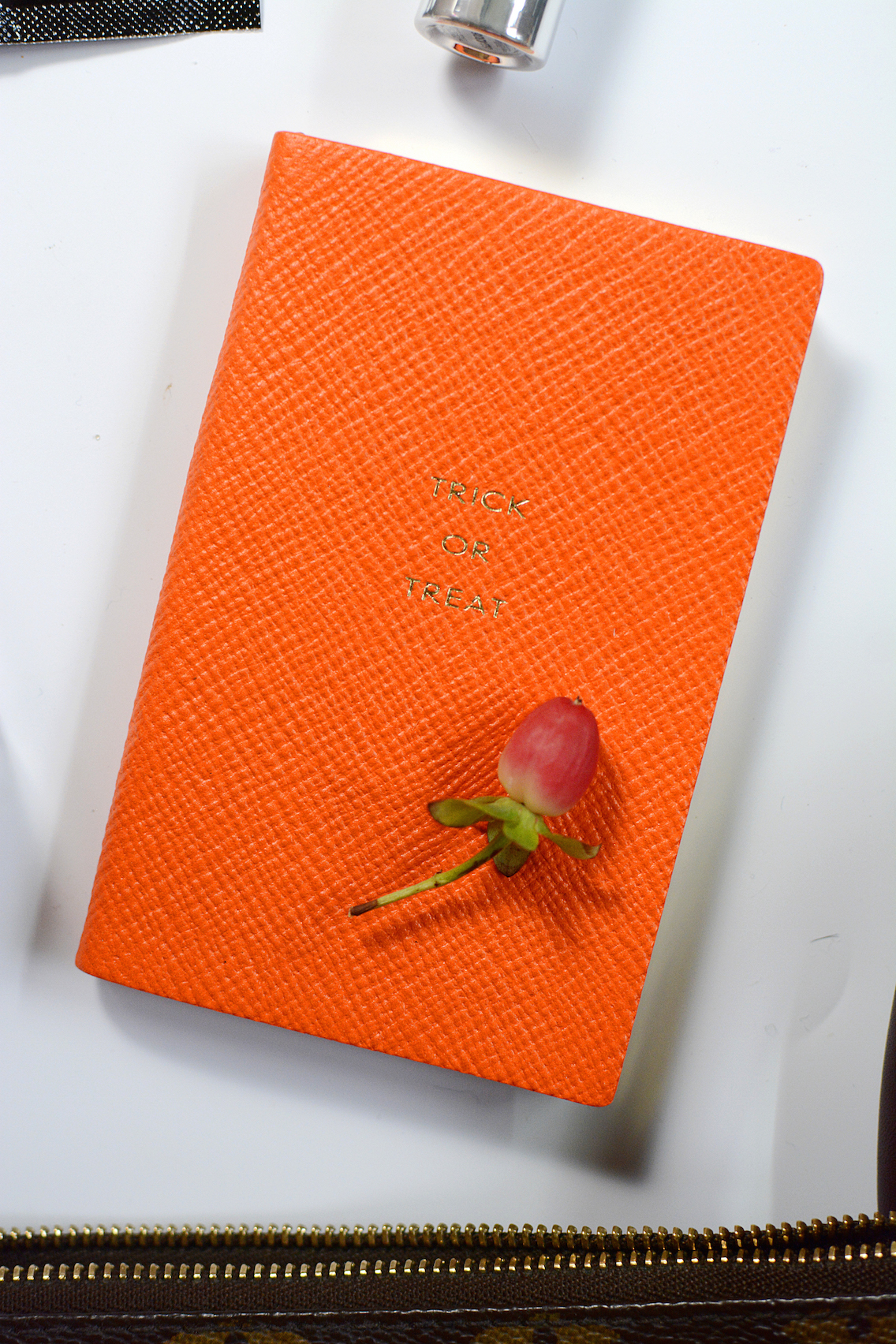 Smythson 'Trick or Treat' Notebook (similar options)
Yes, we live in the digital age. And my poor Hubby is always encouraging me to organize myself electronically. But I can't give up my notebooks, especially Smythson's adorably chic and festive ones. There's something about the motor memory I create when I jot things down that I simply don't get when I type on a screen. And without a doubt I get my best ideas and most exciting brainstorms when I'm sitting down with a giant cup of coffee (especially a French Coffee) and an open notebook in front of me. Besides, this tricky notebook is an understated but fun way to embrace the spookiest time of year!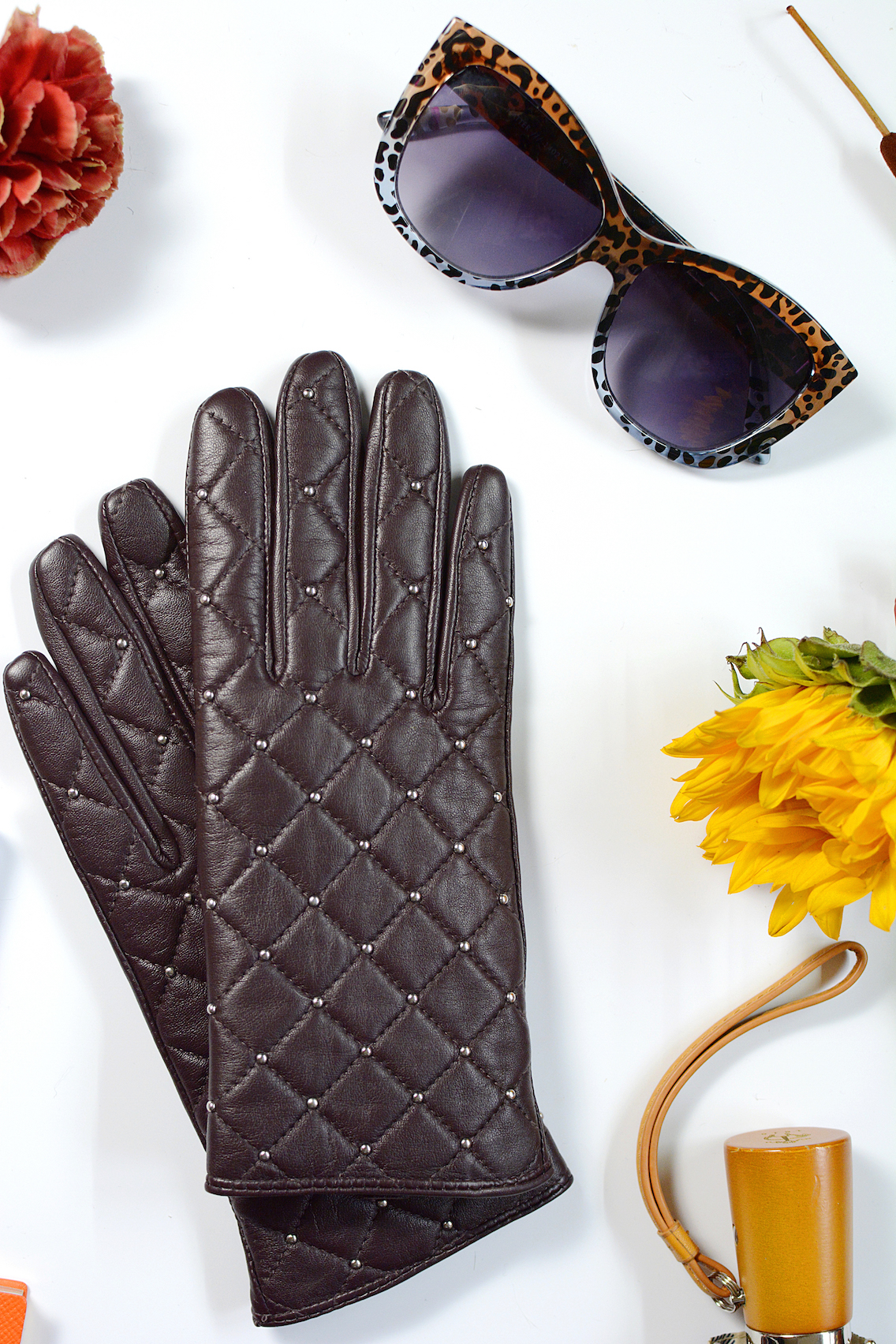 Le Specs Sunglasses (similar)
I love Le Specs. They make incredibly stylish sunglasses for a fraction of the price of most other brands all while lasting just as long. Their silhouettes and colors each season are always spot-on and I especially appreciate how comfortable their designs are considering how naturally wide my face is (many of my sunglasses are made for men!). This leopard pair is such a fun, textural pattern but still neutral enough to work with most outfits.
Sandro Aldora Studded Quilted Gloves in Merlot (here)
I almost always carry my camera with me — I'm a firm believer that shooting everyday makes you a better photographer. But once the temperatures drop in October, I'm suddenly reminded how important a sturdy pair of gloves is. I love this Sandro pair because a) they're inexpensive, b) well-constructed, and c) easy to maneuver my hands in. While I wish this pair was touch-screen-friendly, it's still a great, everyday pair for chilly weather (and one of the few pairs I've found to match this Mulberry Tote).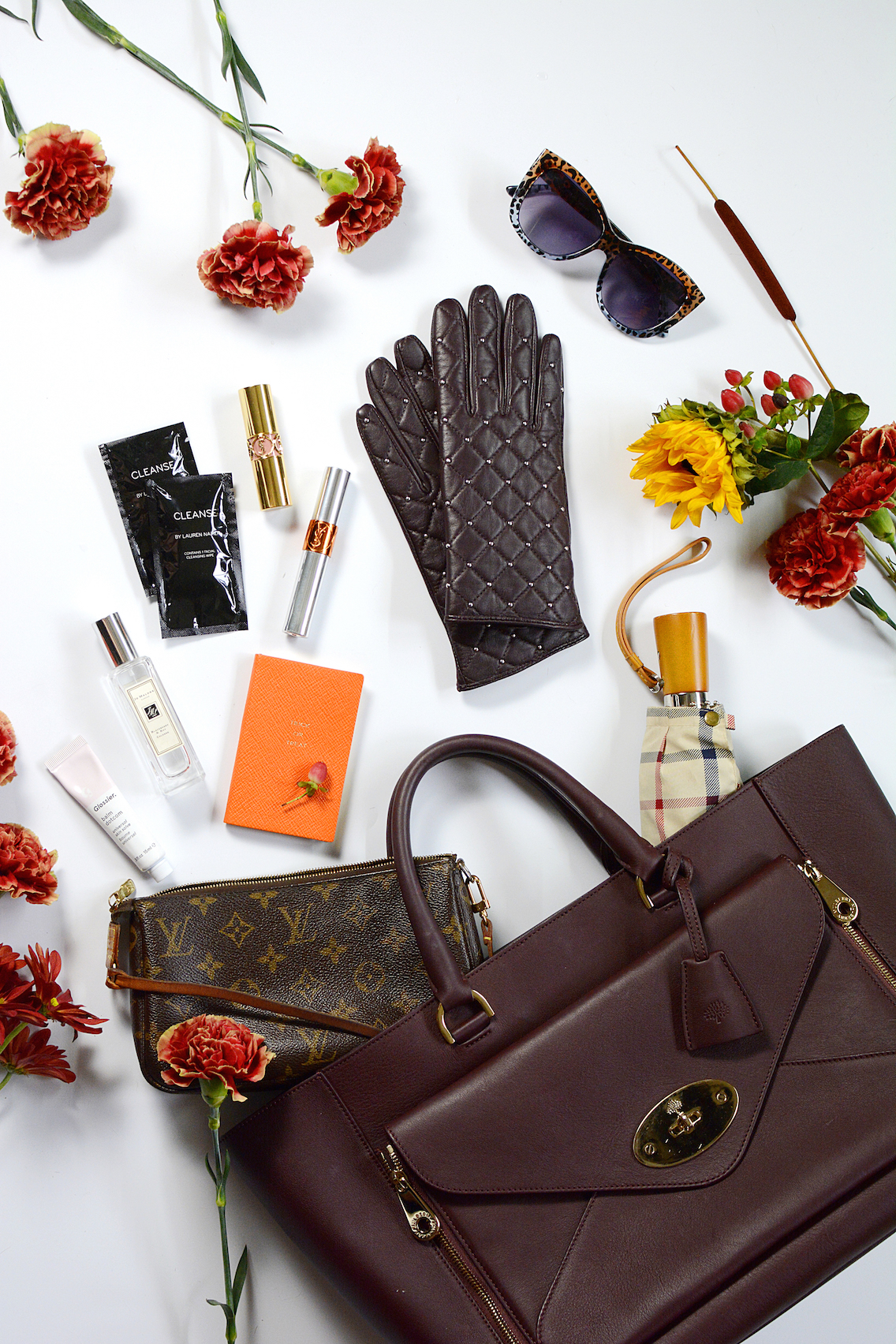 Brooks Brothers 'Tattersall' Compact Umbrella (here)
If there's one constant in Chicago Octobers, it's the certainty of rain. Rain storms come out of nowhere and with little warning (and often when my weather app promises sunshine). This little umbrella is a life-saver — it's well-made and withstands harsh winds and rain but looks chic too. The pattern is interesting but neutral enough to work with most of my outfits (and Hubby's too) and the compact size is small enough to carry with me everyday. I love it so much I bought the large version too!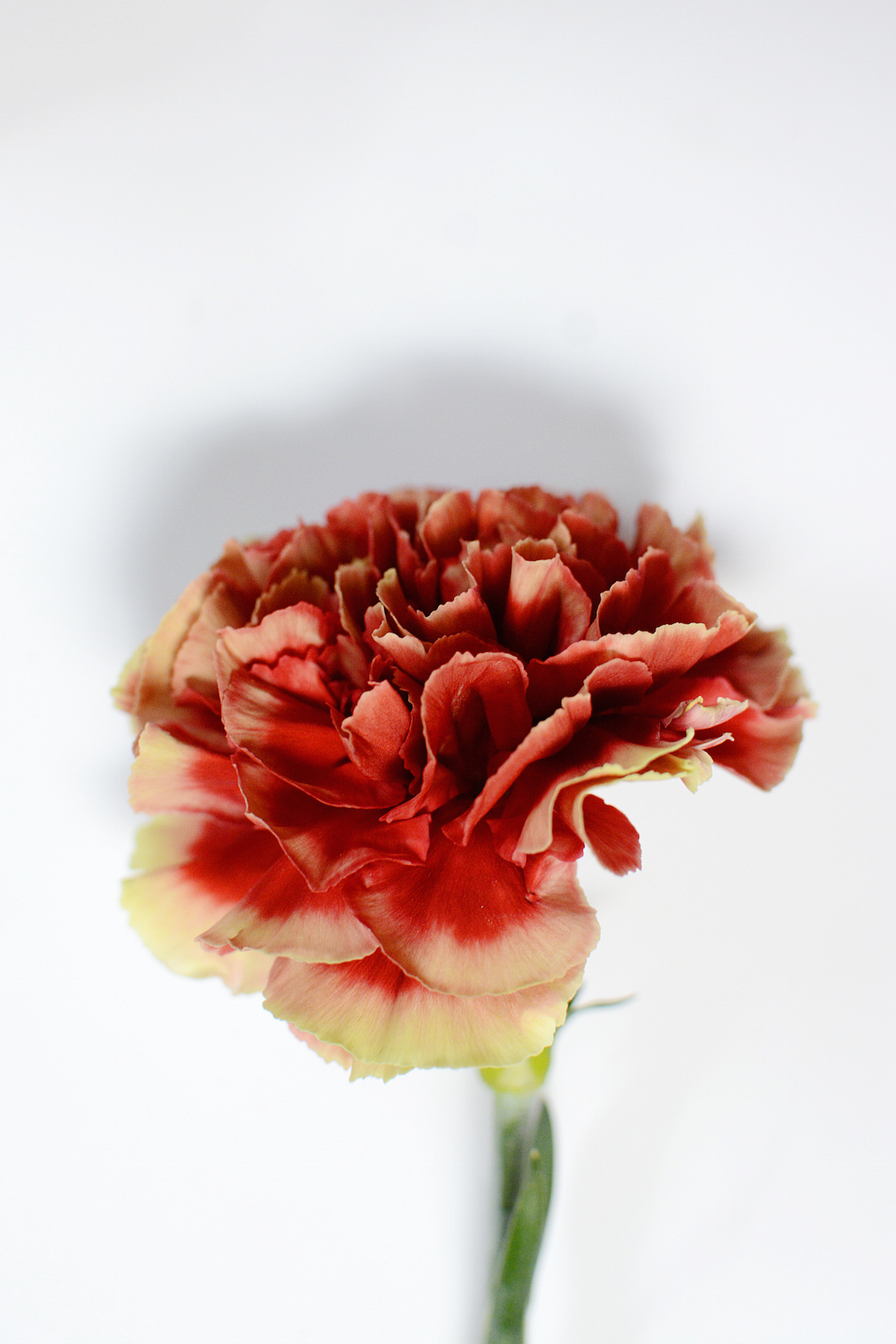 What essentials do you rely on in Autumn?