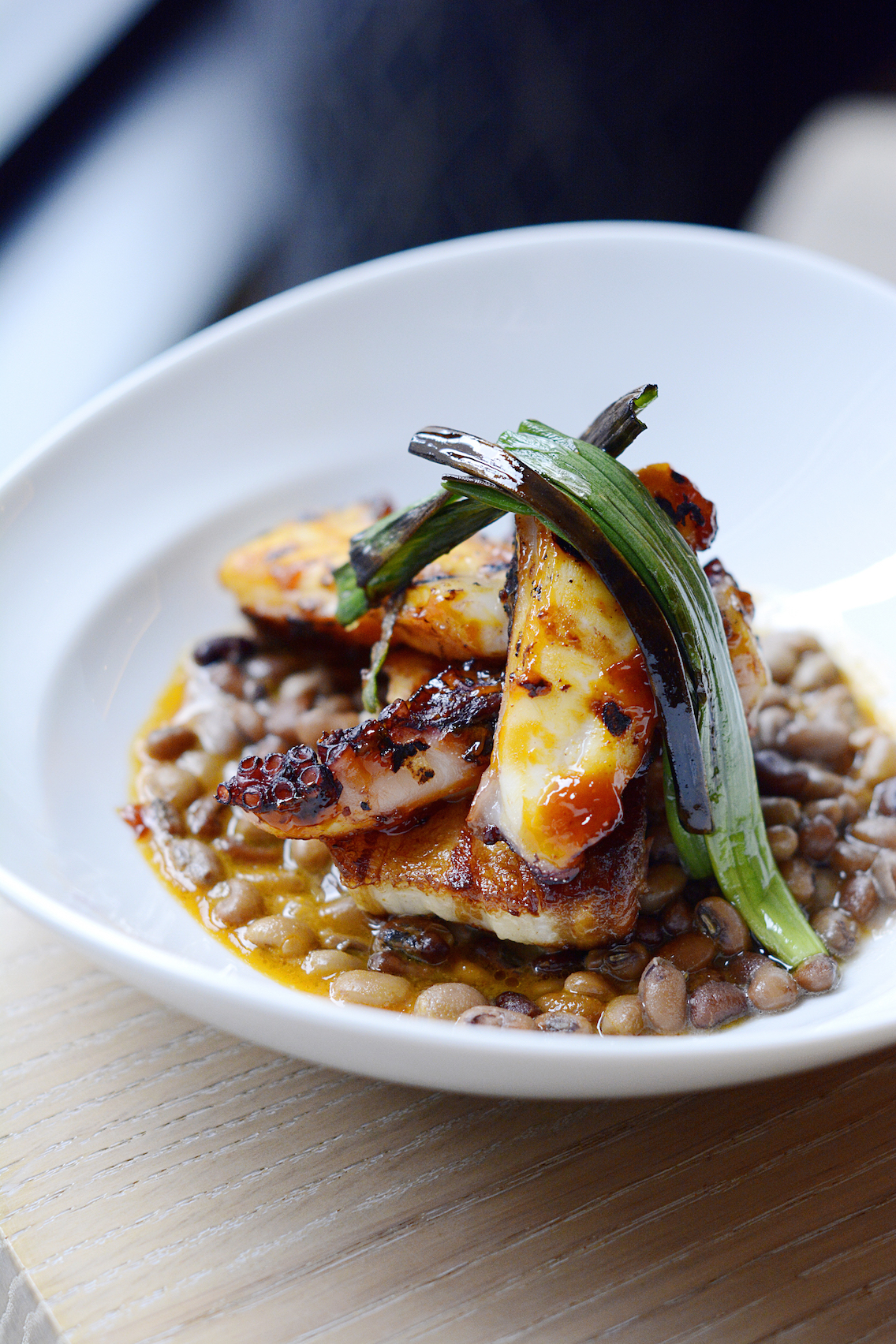 I've long been in love with the Langham Hotel — it's the ultimate luxury hotel and perfectly situated along the Chicago River just blocks from some of the best spots in Chicago.
But despite the many times I've been there to ooohhh and aaahhh over the incredible Lobby, I've never actually EATEN there — that is until Starr and I's curiosity got the best of us a few weeks ago and we found ourselves at Langham's cozy restaurant, Travelle Kitchen + Bar.
Focusing on seasonal American cuisine prepared right in front of you (thanks to the enormous glass kitchen taking center stage in the restaurant), this is the sort of spot that is serious about offering gourmet options in a relaxed atmosphere.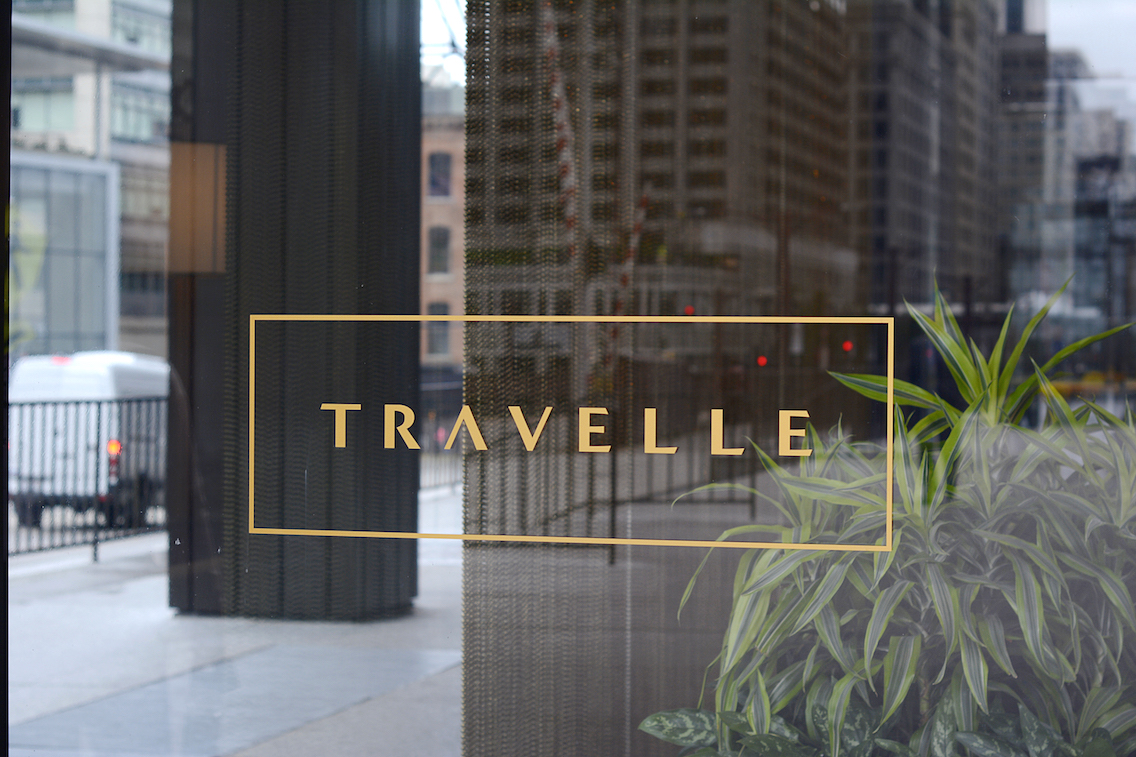 Care to take a peek inside?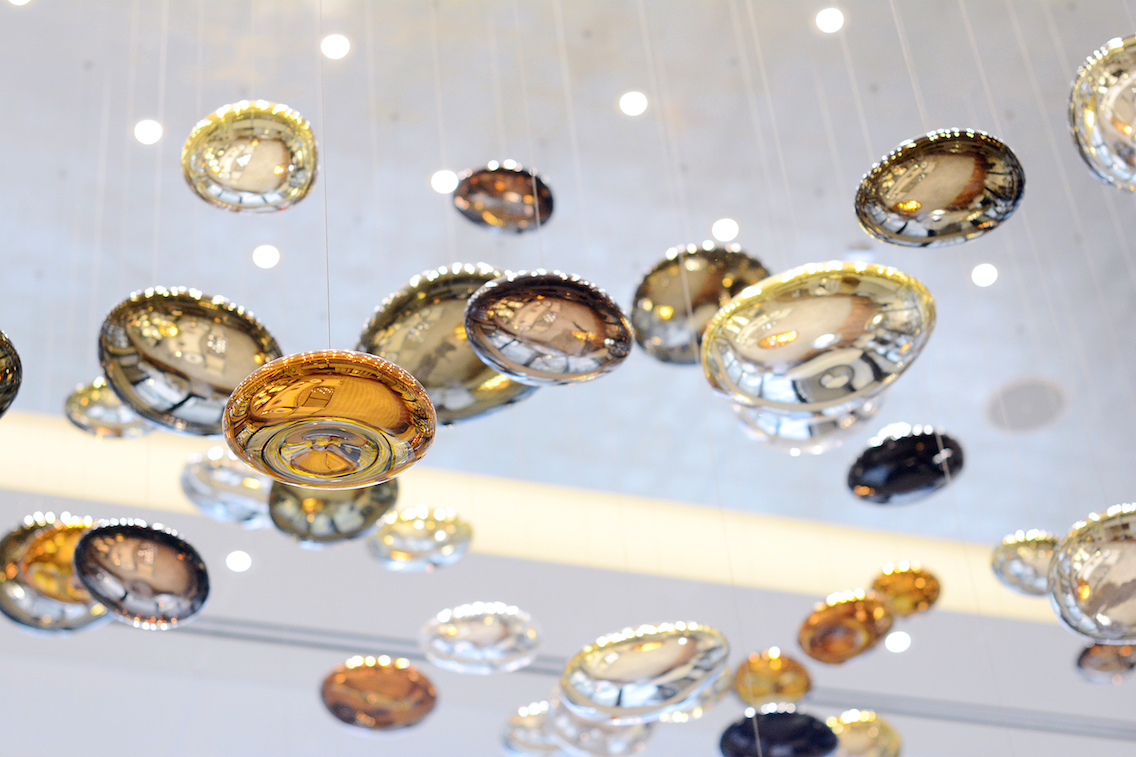 I always like to make a quick stop in the Lobby to see this gorgeous ceiling installation: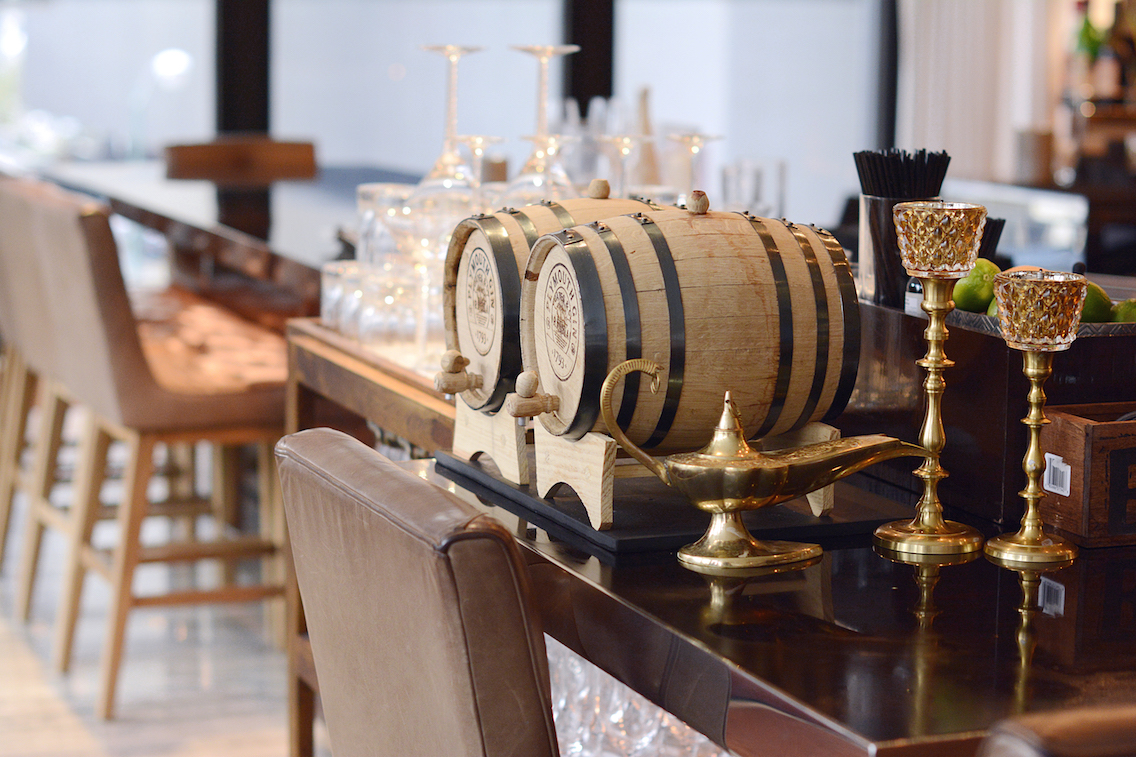 Once you've ogled the Lobby, make your way through the hall from the Lobby and you find yourself in Travelle.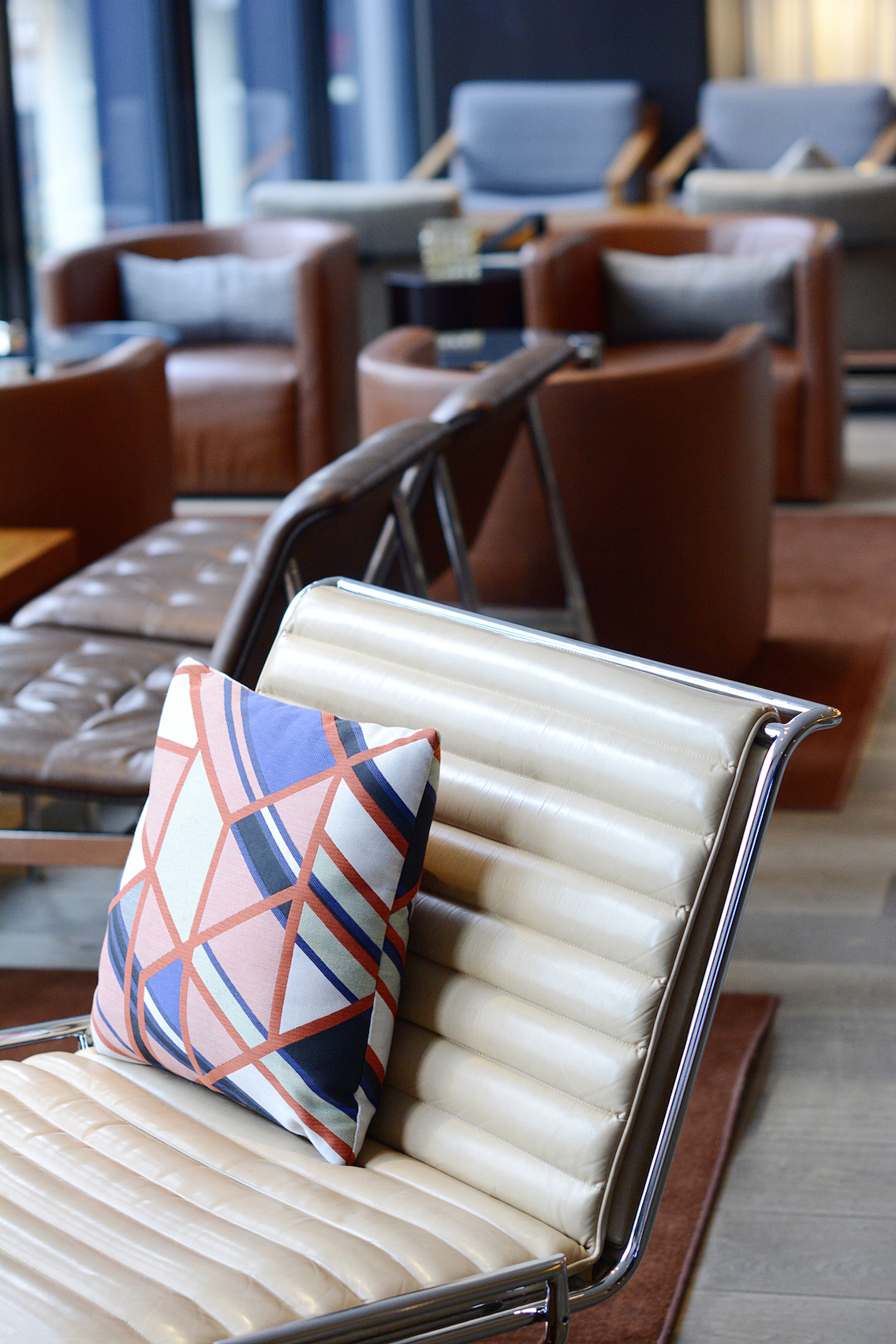 The entire restaurant and bar feels like a scene straight out of Mad Men — beautiful mid-century finishes and a KILLER view directly over the Chicago River.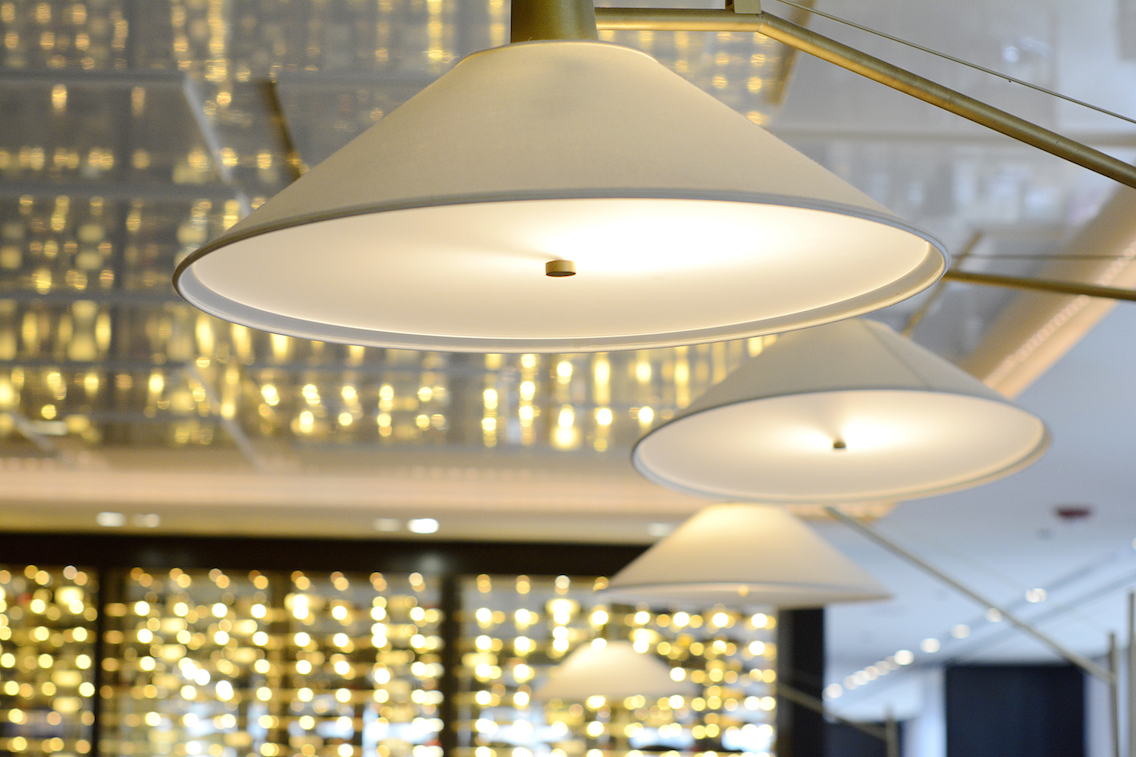 The restaurant itself feels swanky and cozy at the same time with plenty of lamps and warm lighting to keep the aesthetic from being too aloof.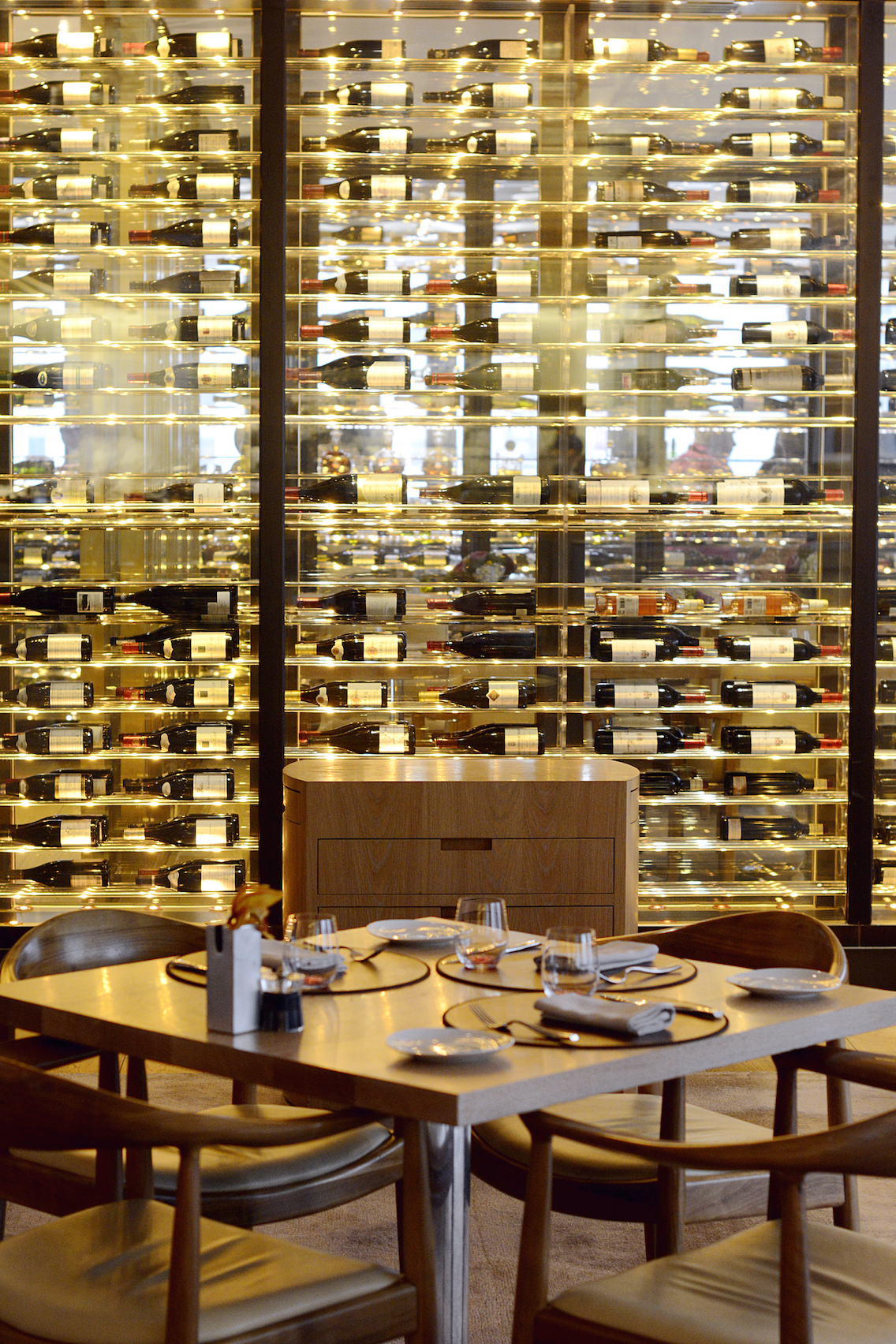 And any restaurant with a proud wall of wine is bound to win me over…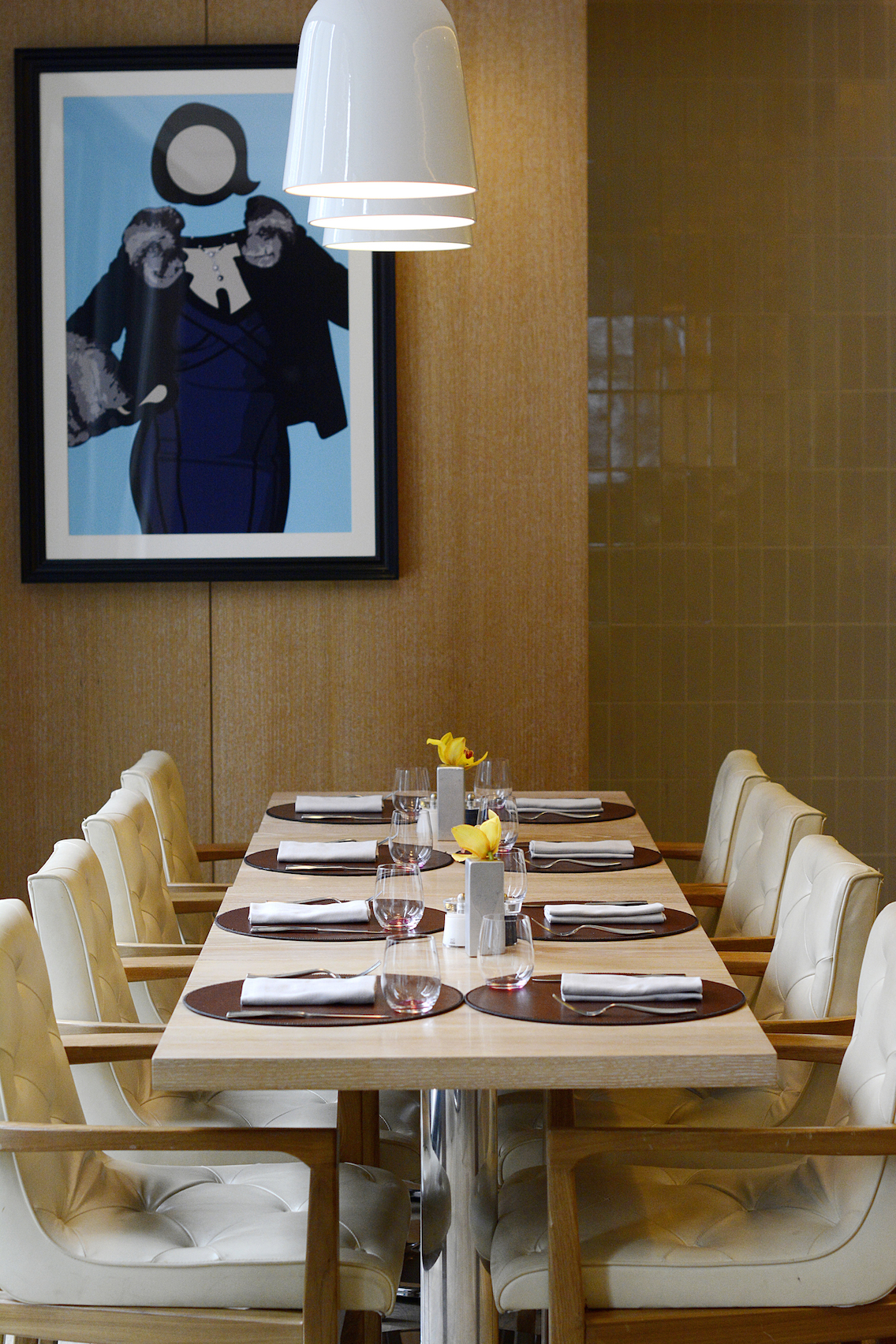 Not to mention they have some of the coziest restaurant chairs I've yet to find here in Chicago…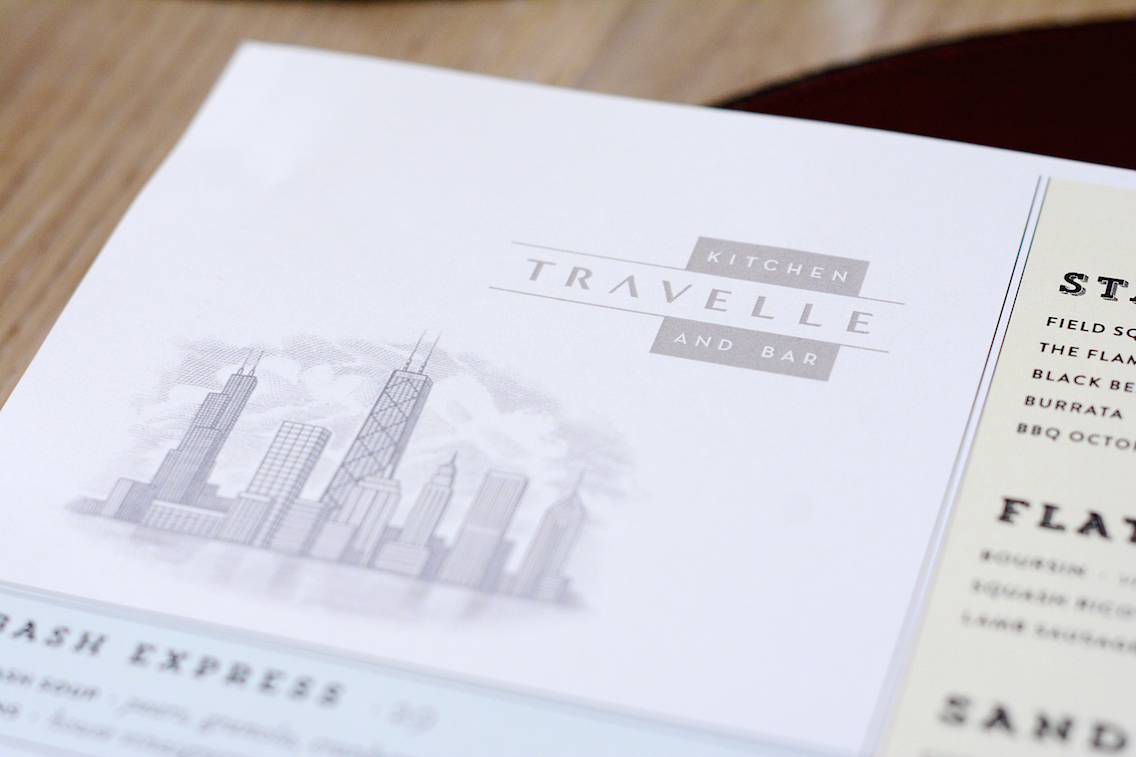 Starr and I found ourselves a comfortable spot by the windows (a must for good photos!) and perused the small but excellently edited menu of seasonal dishes.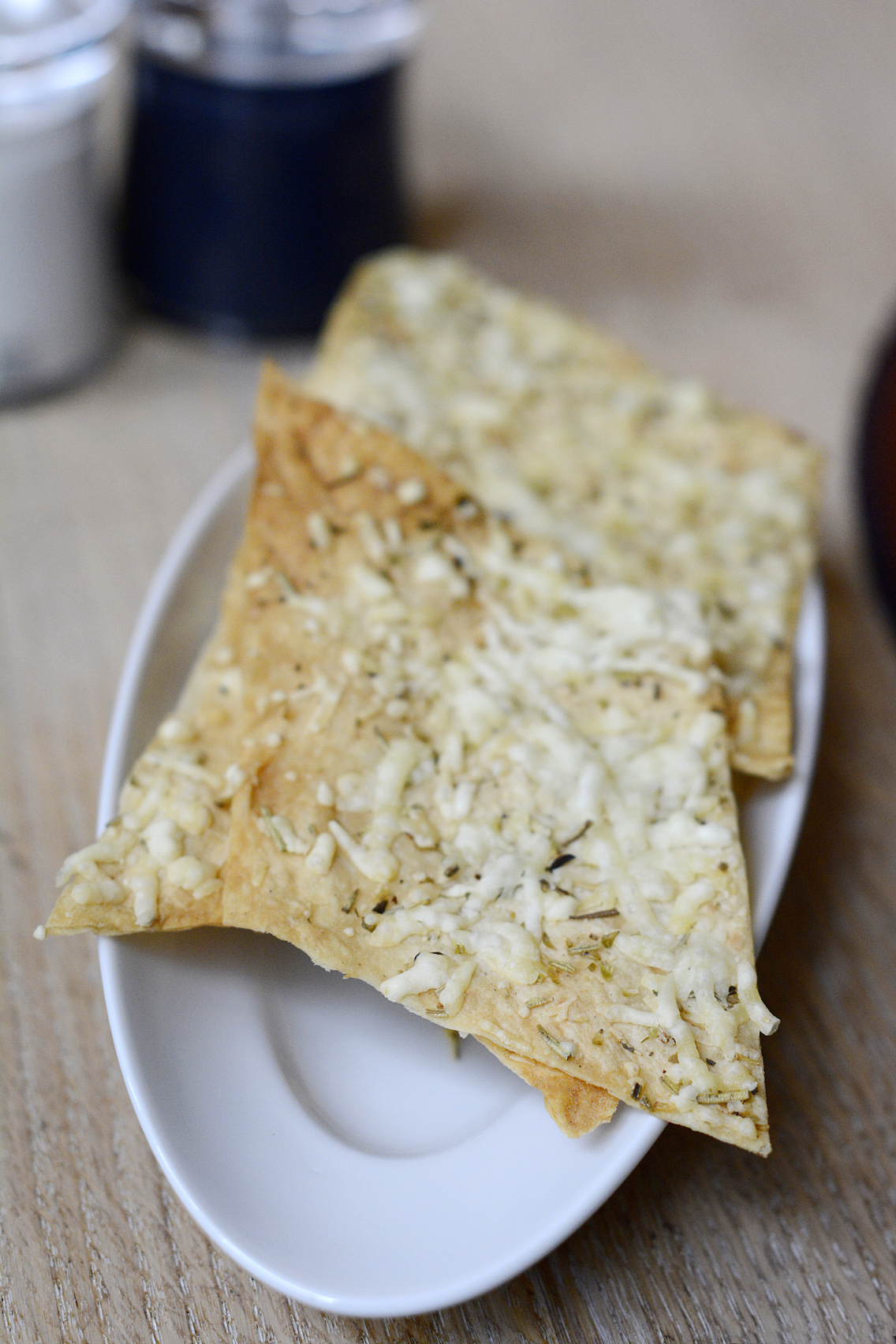 Deciding what to order was quite difficult considering how much we wanted to try THE ENTIRE MENU and the task was made even harder once these delicious crisps arrived to whet our appetites.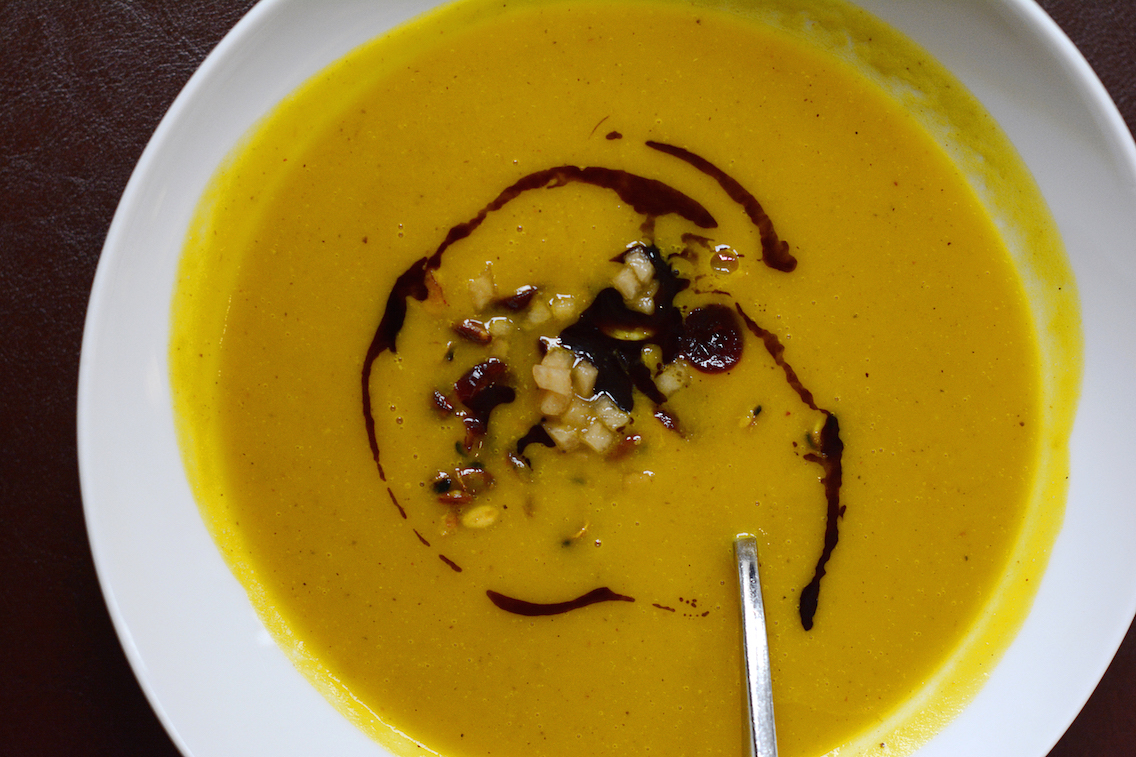 But eventually we managed to narrow down our favorites and placed our order, eager to just start eating already!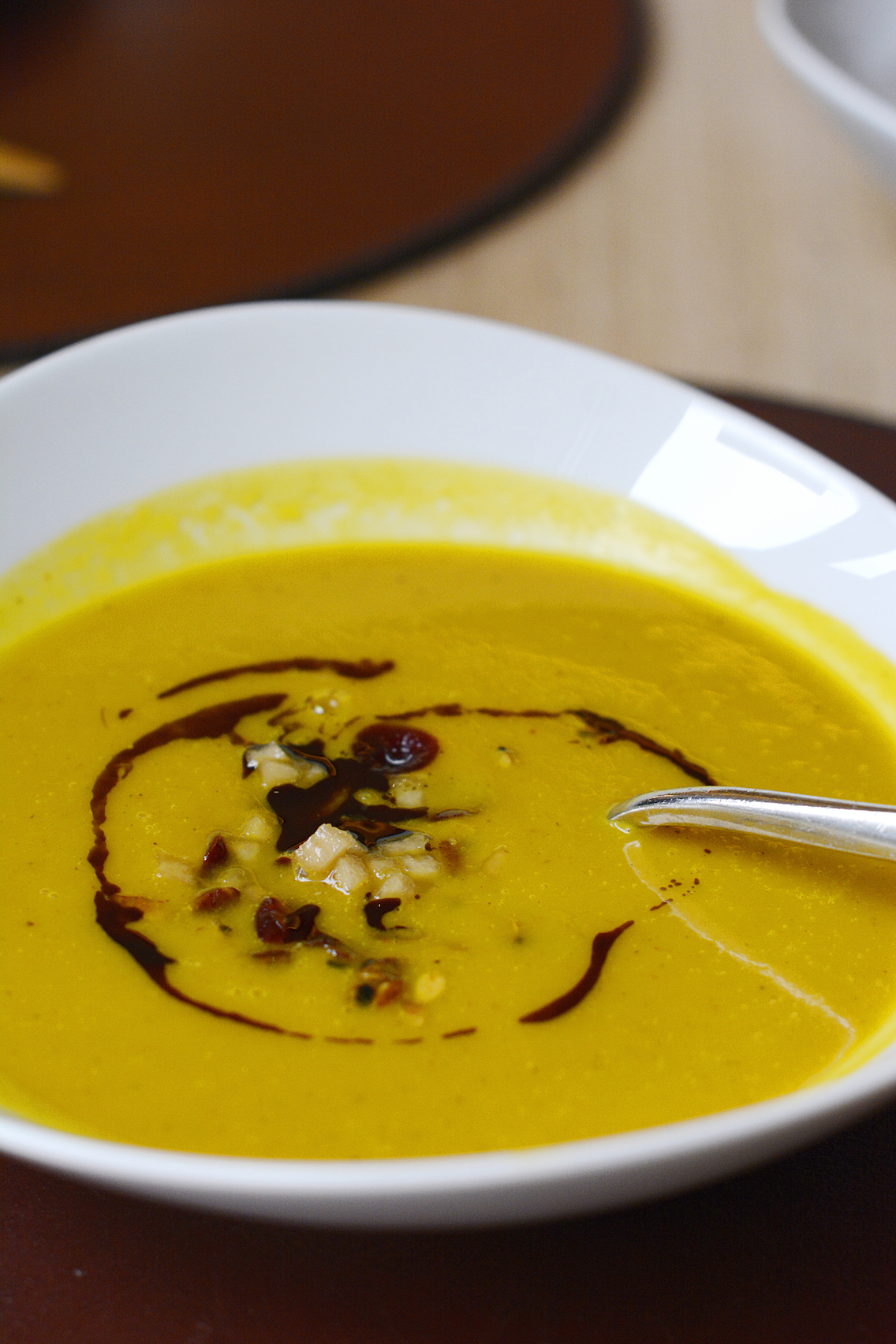 Up first — this divine bowl of Field Squash Soup with pears, granola, and cranberries.
Sweet but not overly so and with the smooth finish most squash soups strive for and yet fail at. The freshness of the squash made for a bright start to our meal, opening up our palates (and only making us hungrier).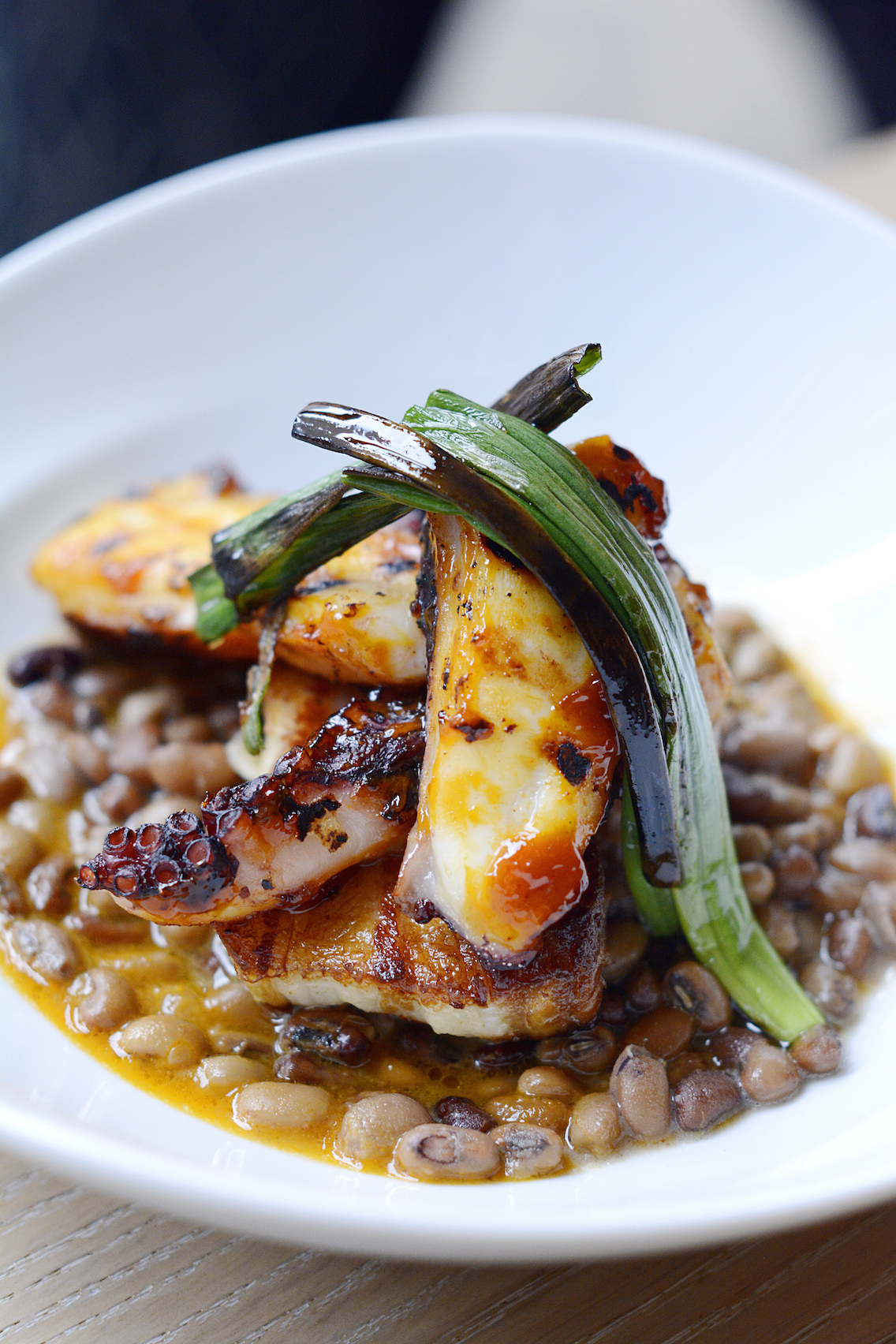 Especially once this beauty arrived!
BBQ Octopus with pork belly and sea island red peas? As far as appetizers go this dish is unique, delicious, and positively stunning to shoot! I especially appreciated how well-treated the octopus was — tender, not overly tough, and with the perfect amount of sauce to ENHANCE the octopus without overpowering it.
If you come for one single dish at Travelle, make it this octopus! You won't be sorry.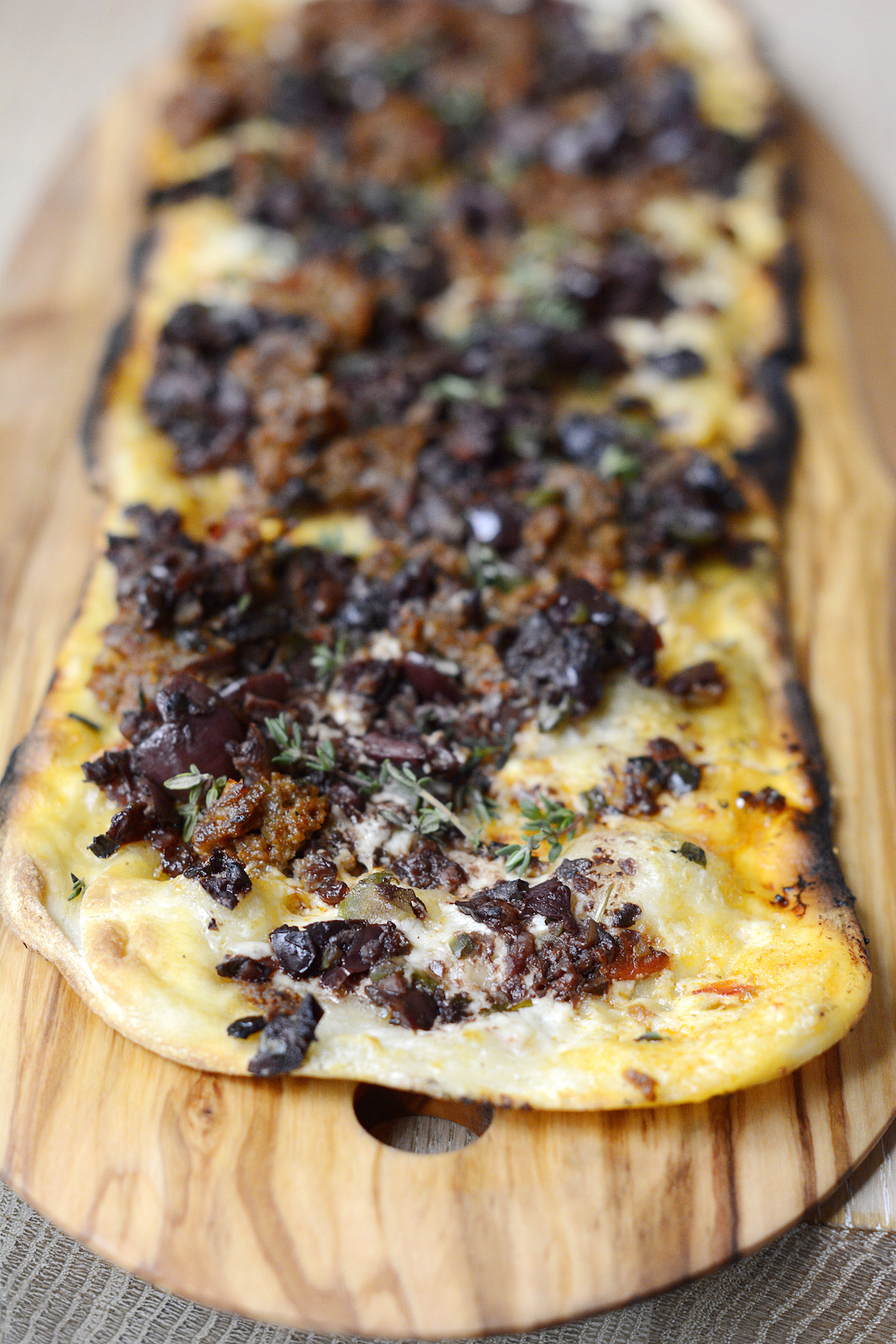 Next came Travelle's flatbreads!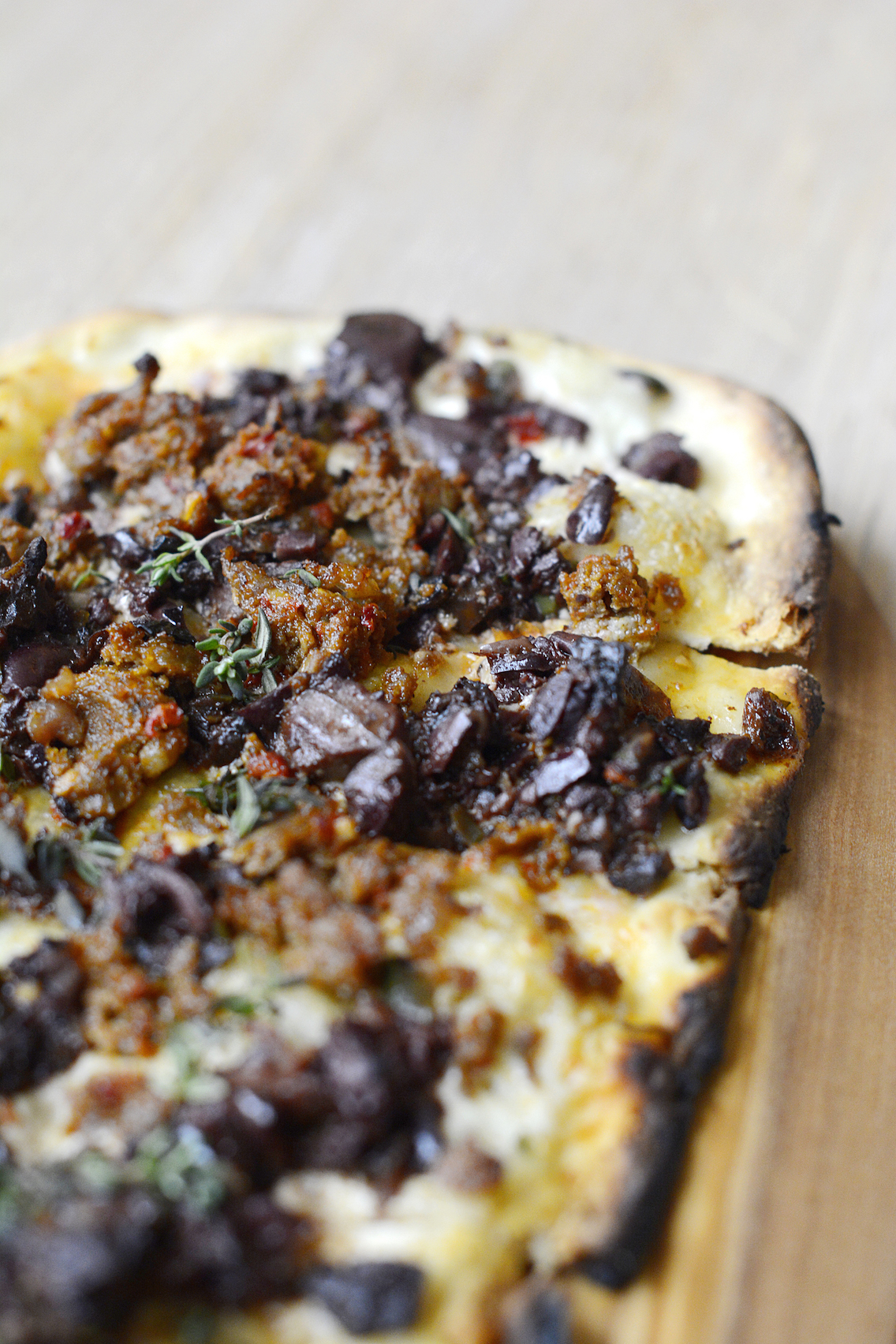 This is their popular Lamb Sausage Flatbread with olive relish and thyme. Savory and herby — exactly what you want from a fall flatbread, amiright?
But my favorite ended up being this simple but oh-so-delicious Boursin Flatbread with vinegar cippolini, kale, and beer battered crispies.
Now I love kale. Anything with kale on it is bound to win my stomach over. Which is funny considering the fact that I wouldn't touch kale until my 20s but I digress…
Somehow the crunchiness of the kale, the creaminess of the boursin, and the soft BITE from the roasted cippolini onions all come together to form one heavenly bite that feels satisfying but not heavy. Not many flatbreads can boast that!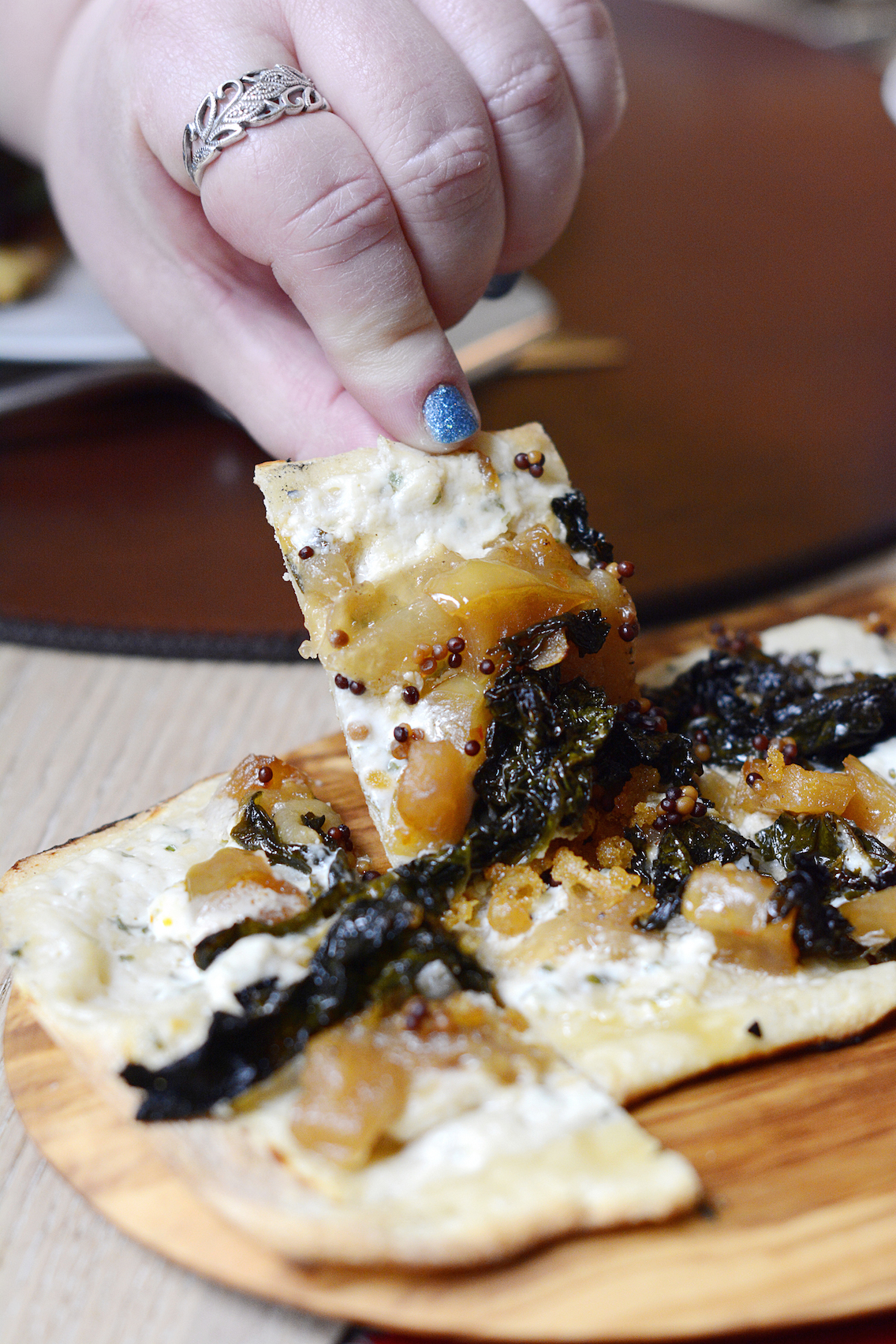 I loved it so much I almost didn't want to share with Starr (luckily she loved the lamb sausage flatbread the most so we at least didn't need to fight over who got the last slices of which).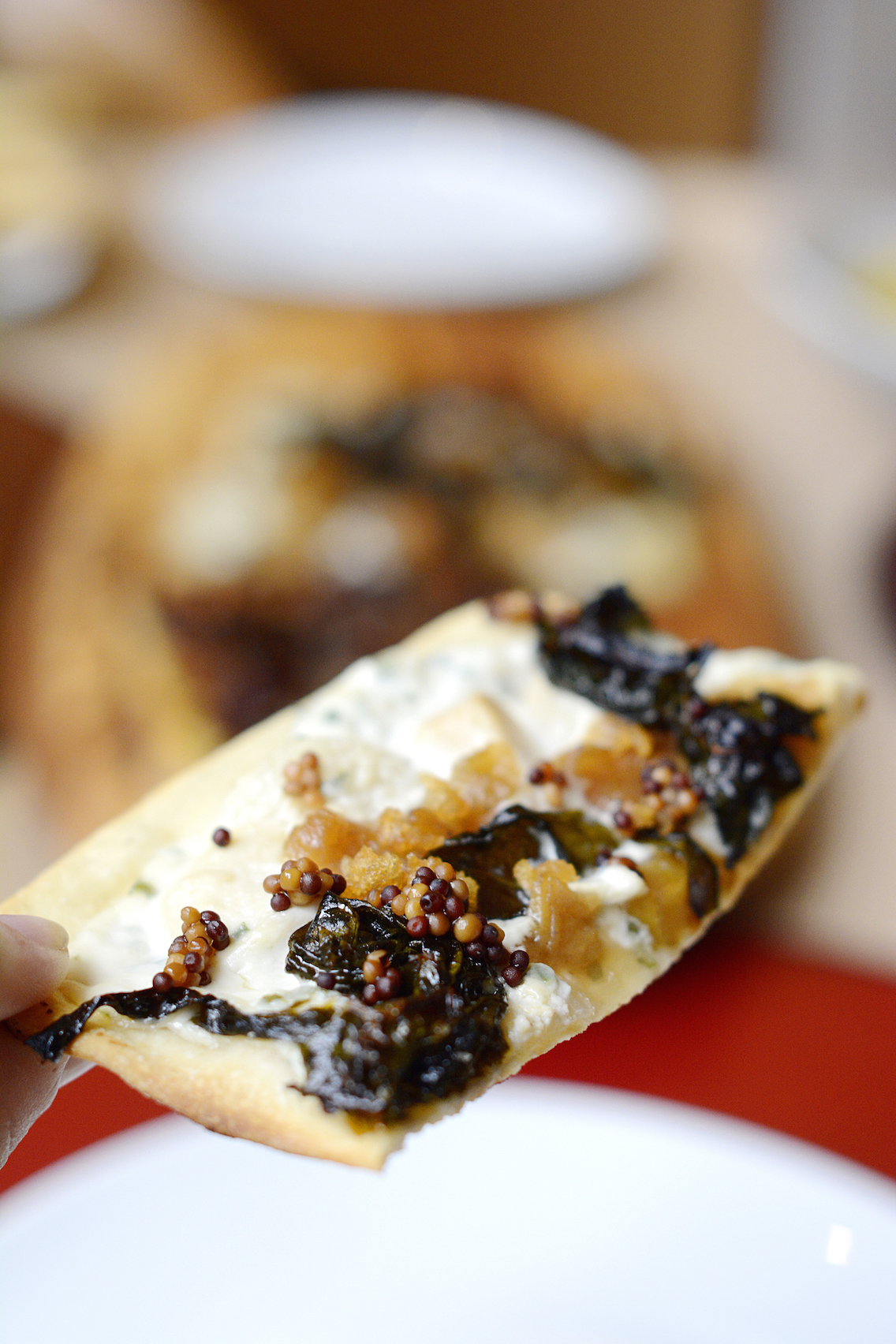 Oh, you lovely boursin flatbread you!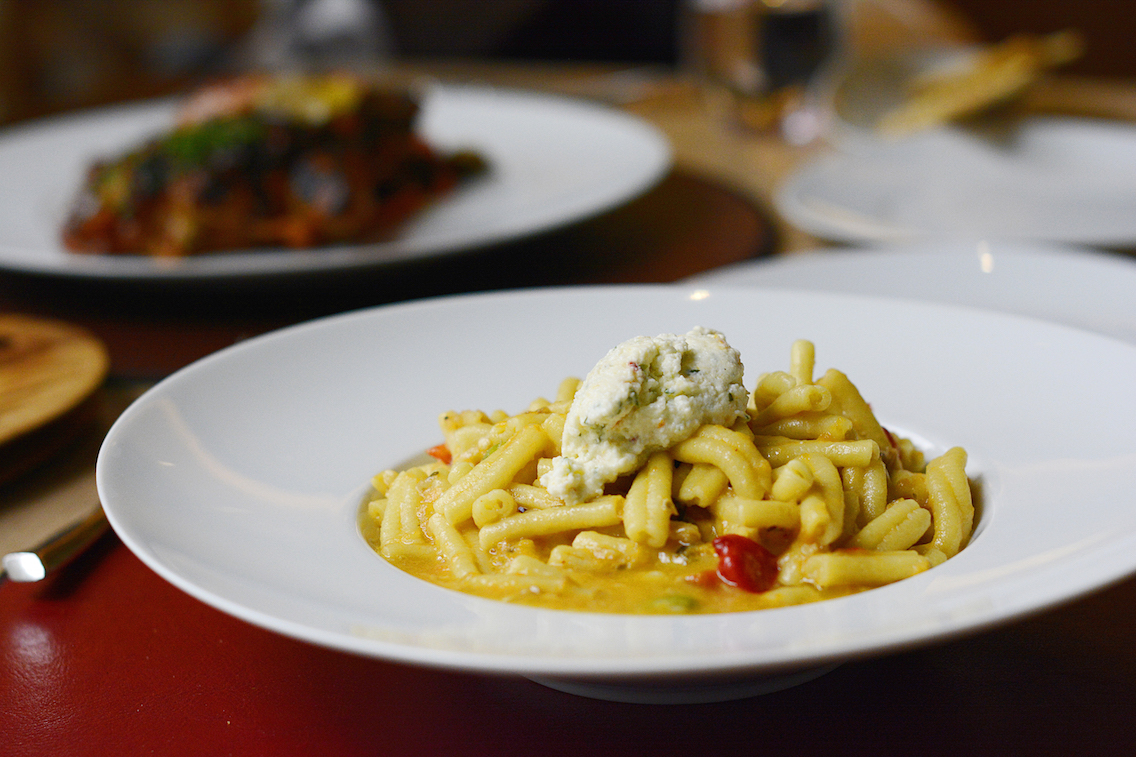 Up next came the entrées!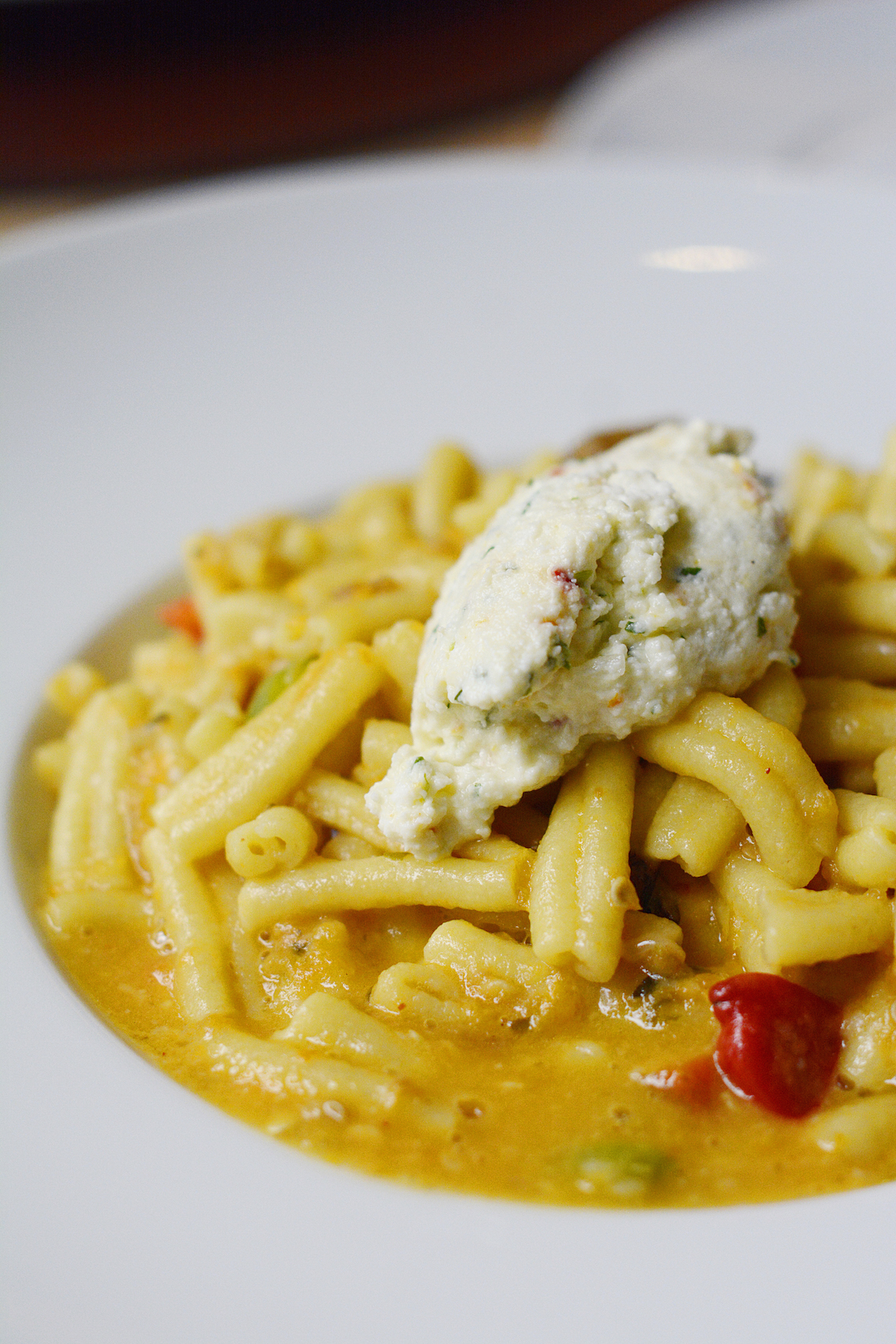 This beautiful plate is Travelle's Casareccia Pasta with yellow tomato sauce and a heaping mound of fresh ricotta.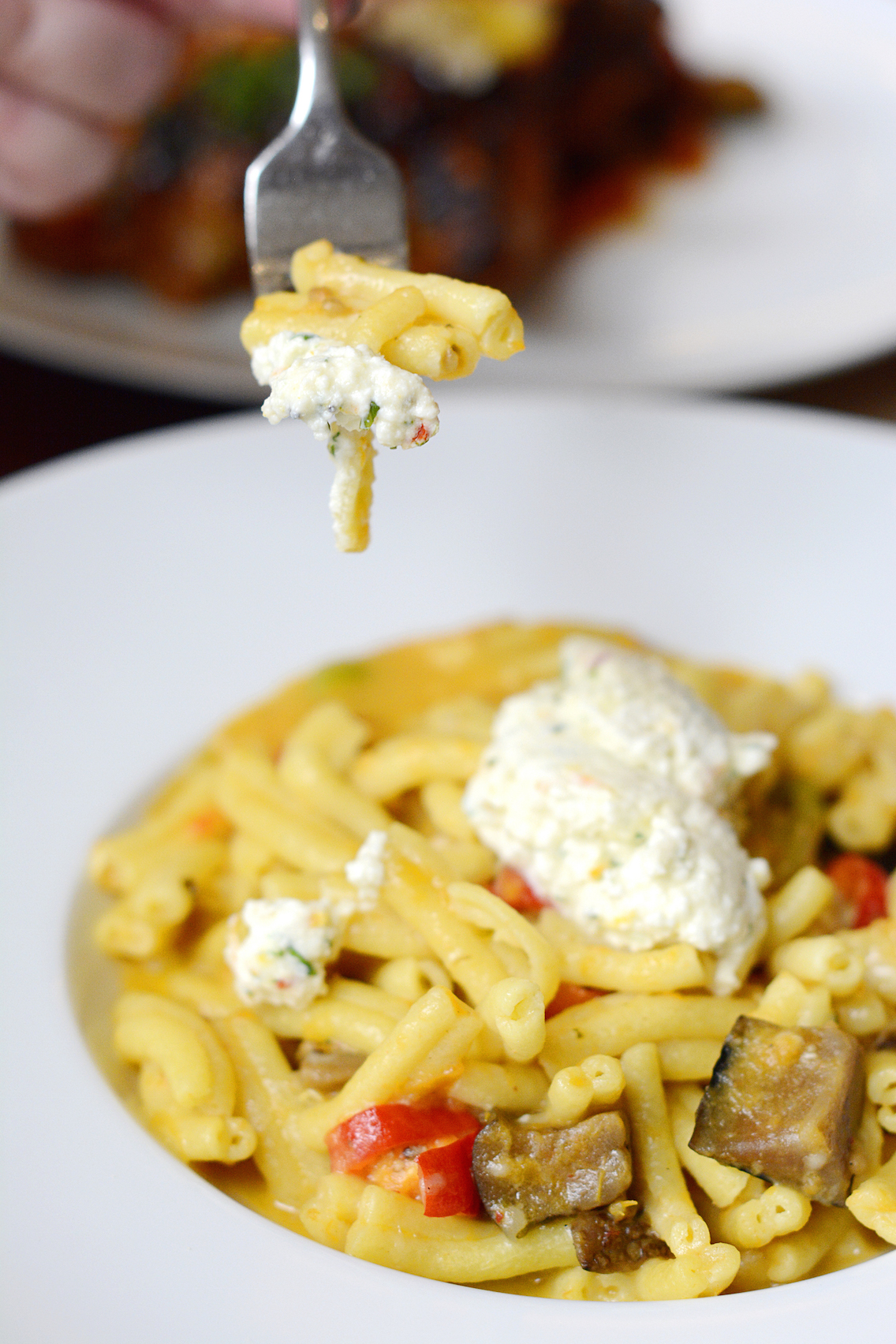 Yes, you heard me right… a HEAPING mound of fresh ricotta!
But it's the yellow tomato sauce in this dish that really won me over. Yellow tomatoes make such a sinfully delectable sauce when in season and yet almost no restaurants even think to add it to their fall menus. This rare, golden sauce is beautifully balanced with the fresh vegetables, pasta, and ricotta making you go back for bite. after. bite.
I seriously could not stop spooning up the sauce!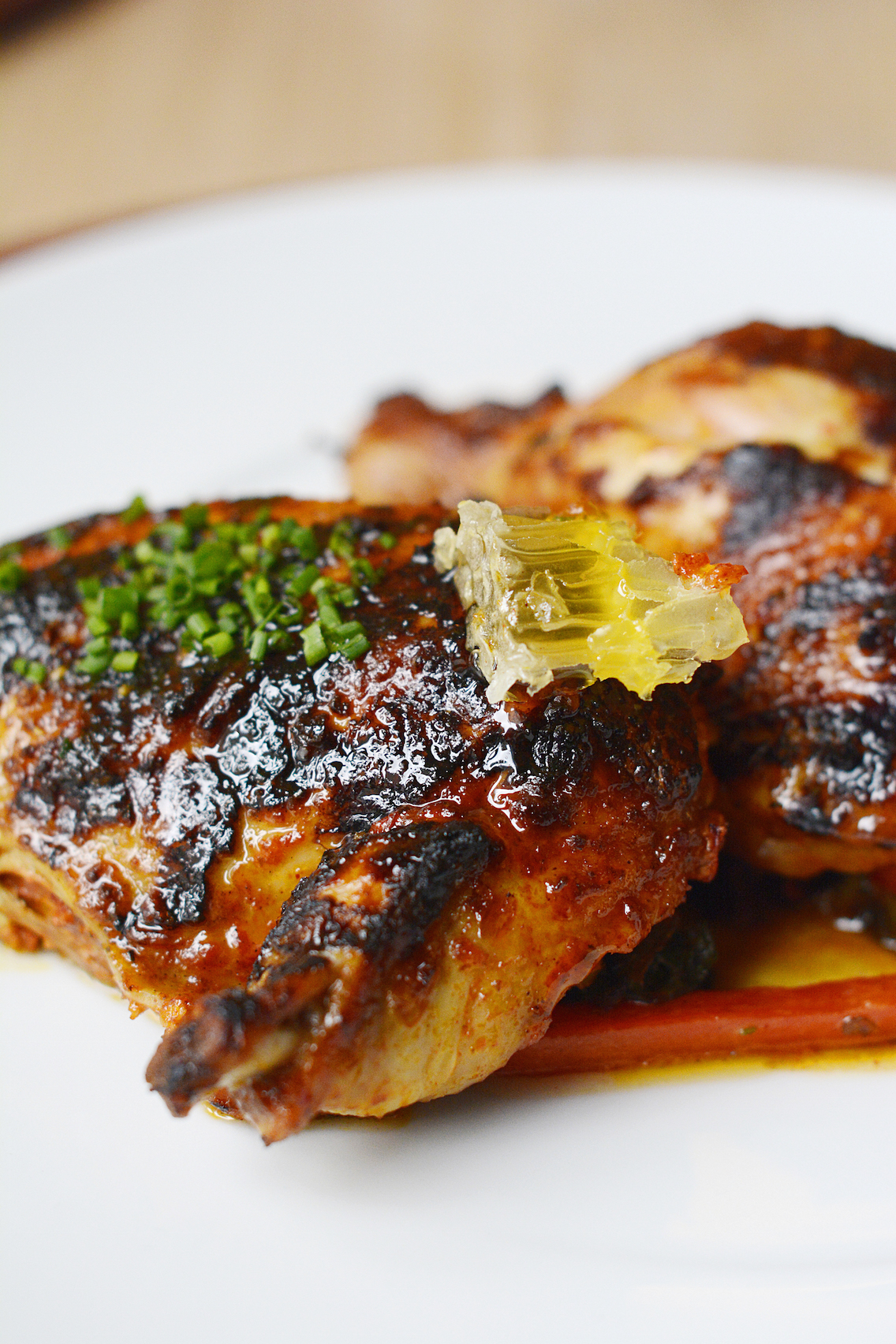 We also ordered this Spicy Half Chicken with brussels sprouts and guanciale.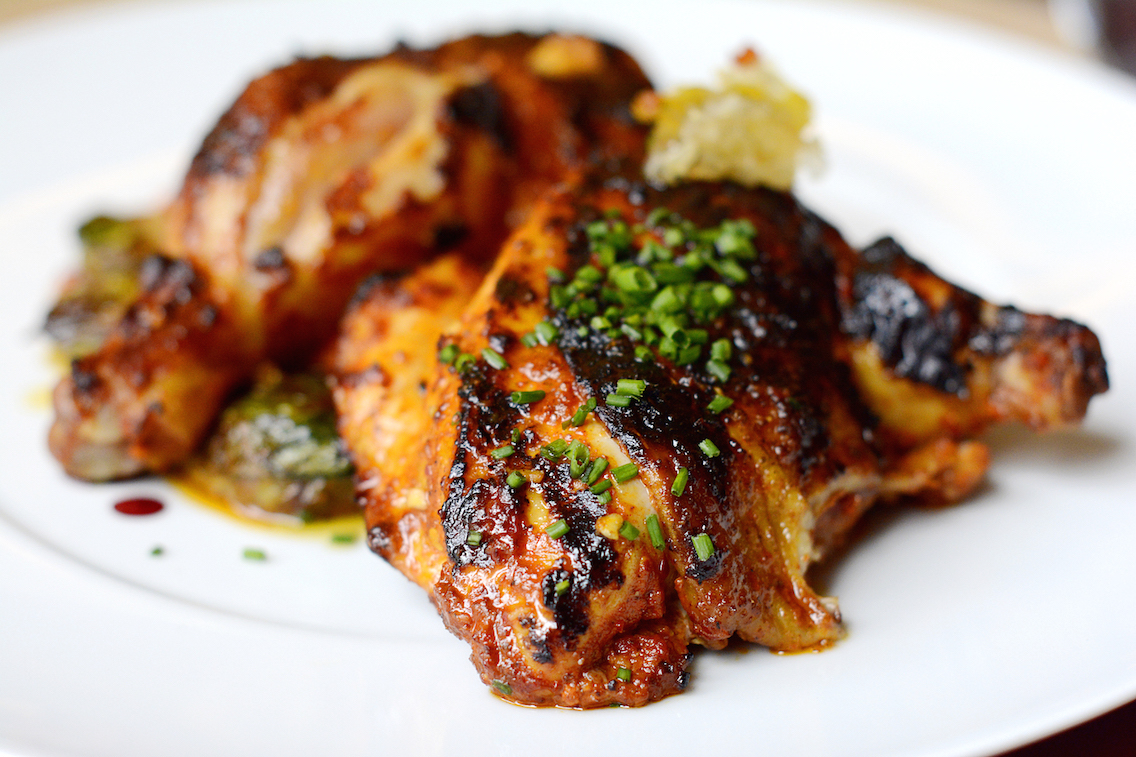 Which was exquisitely roasted,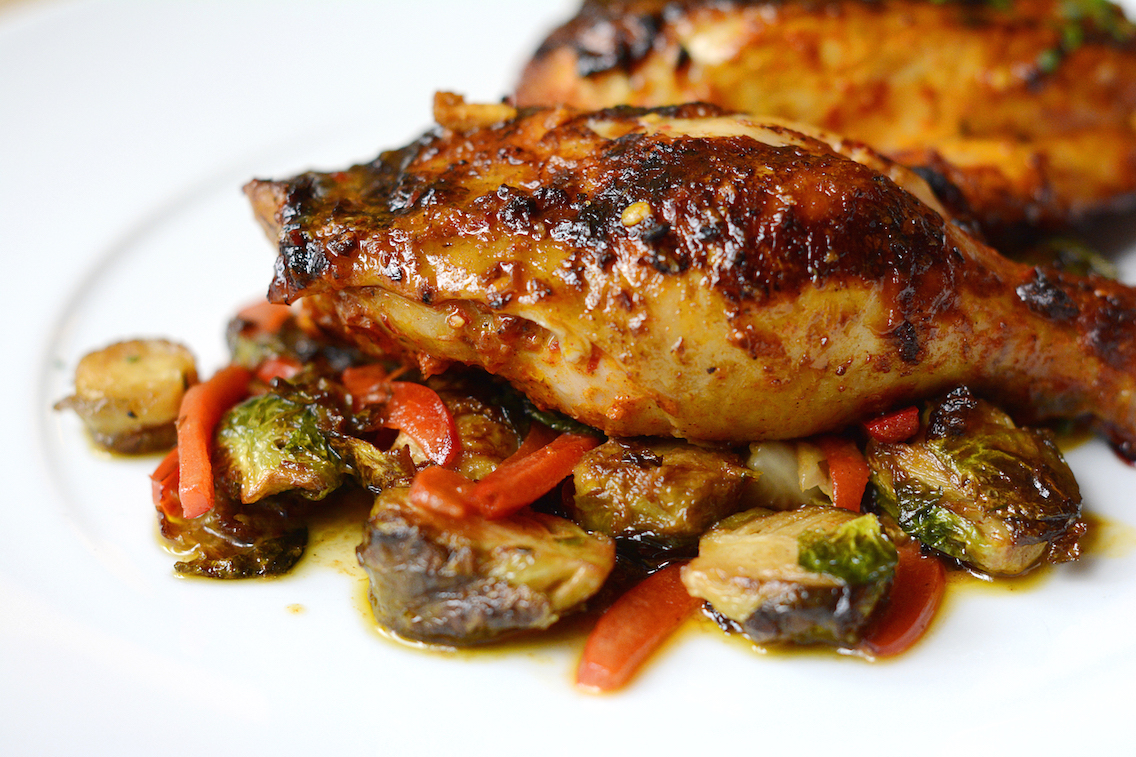 and served atop a beautiful bed of seasonal brussels sprouts.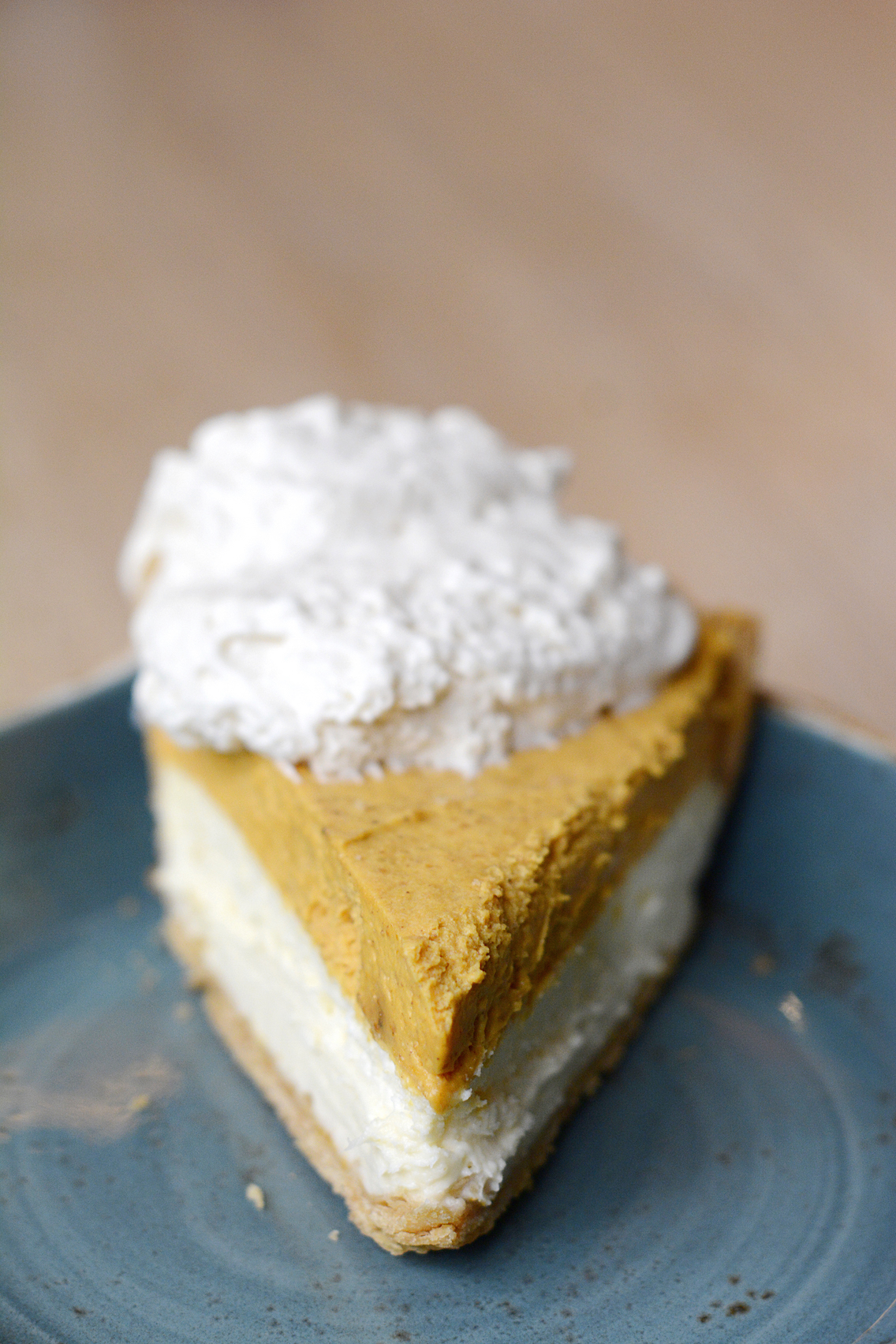 And, knowing Starr and I, you had to know we ordered a few desserts to finish off our meal, too!
This is the Pumpkin Cheesecake Pie of NY cheesecake and pumpkin pie served with cinnamon whipped cream. This is one of those divine fall desserts that feels rich, seasonally appropriate, and perhaps just a little too addicting…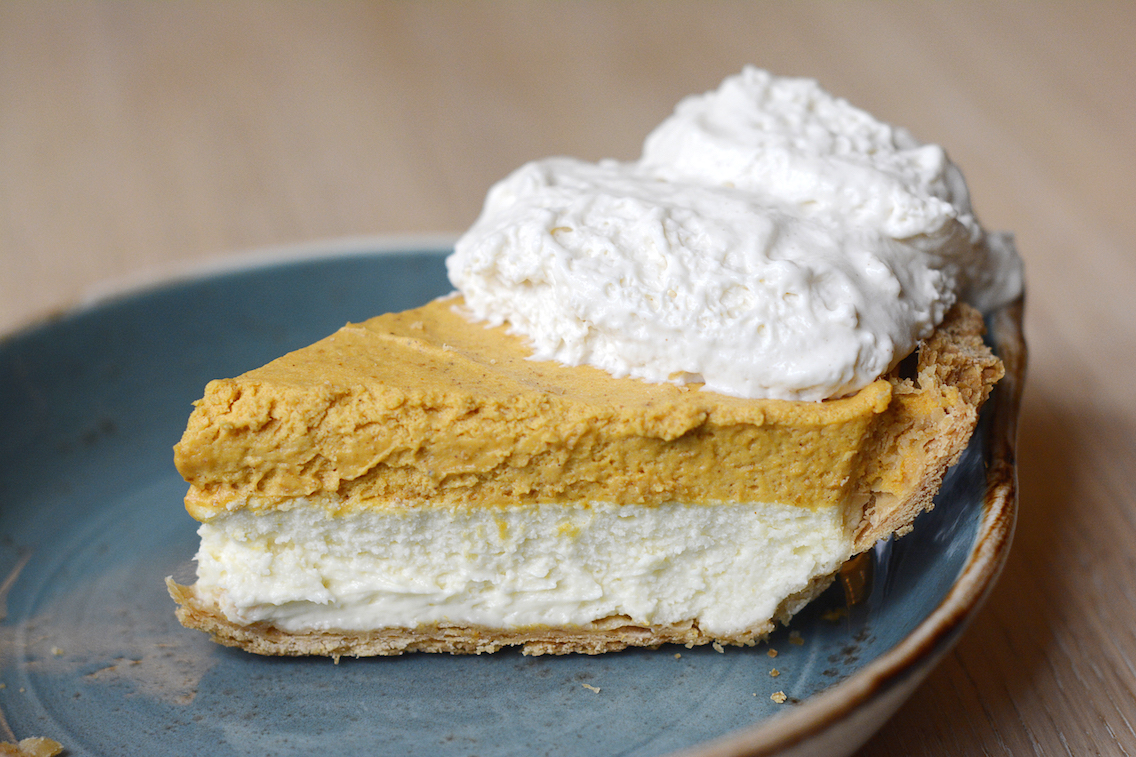 Perhaps…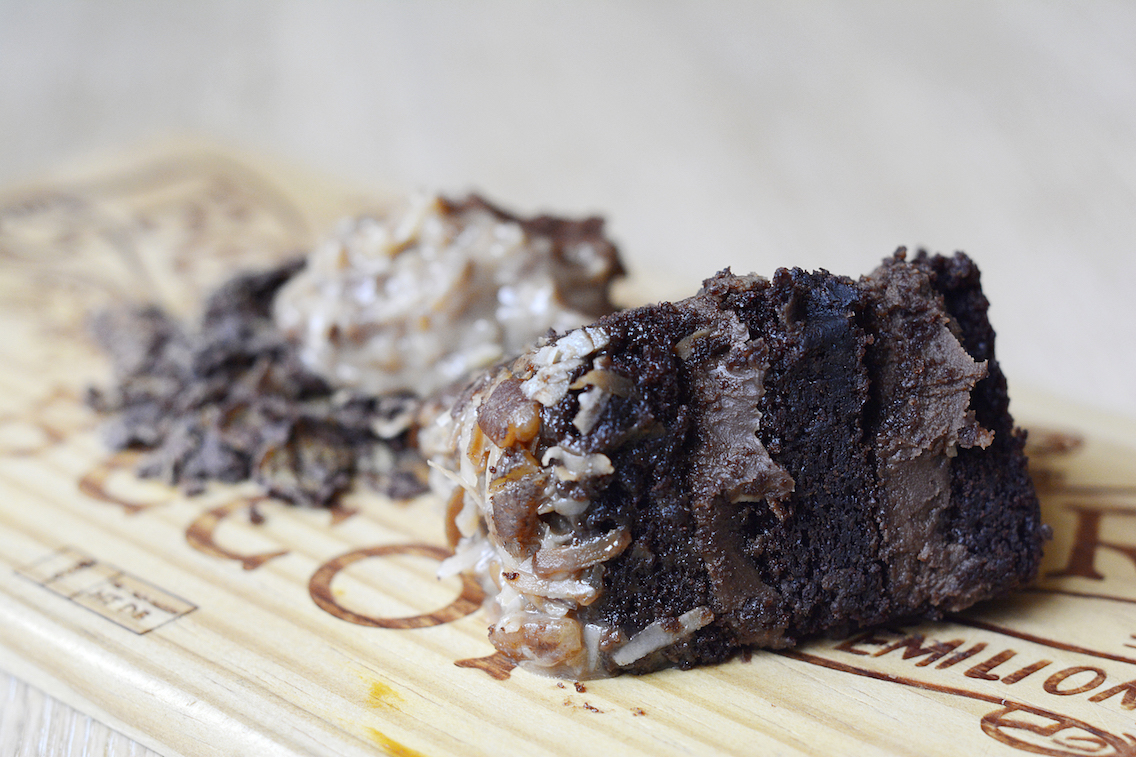 We also tried this rich, gooey slice of Chocolate Cake with corn flake crunch and brown butter coconut frosting.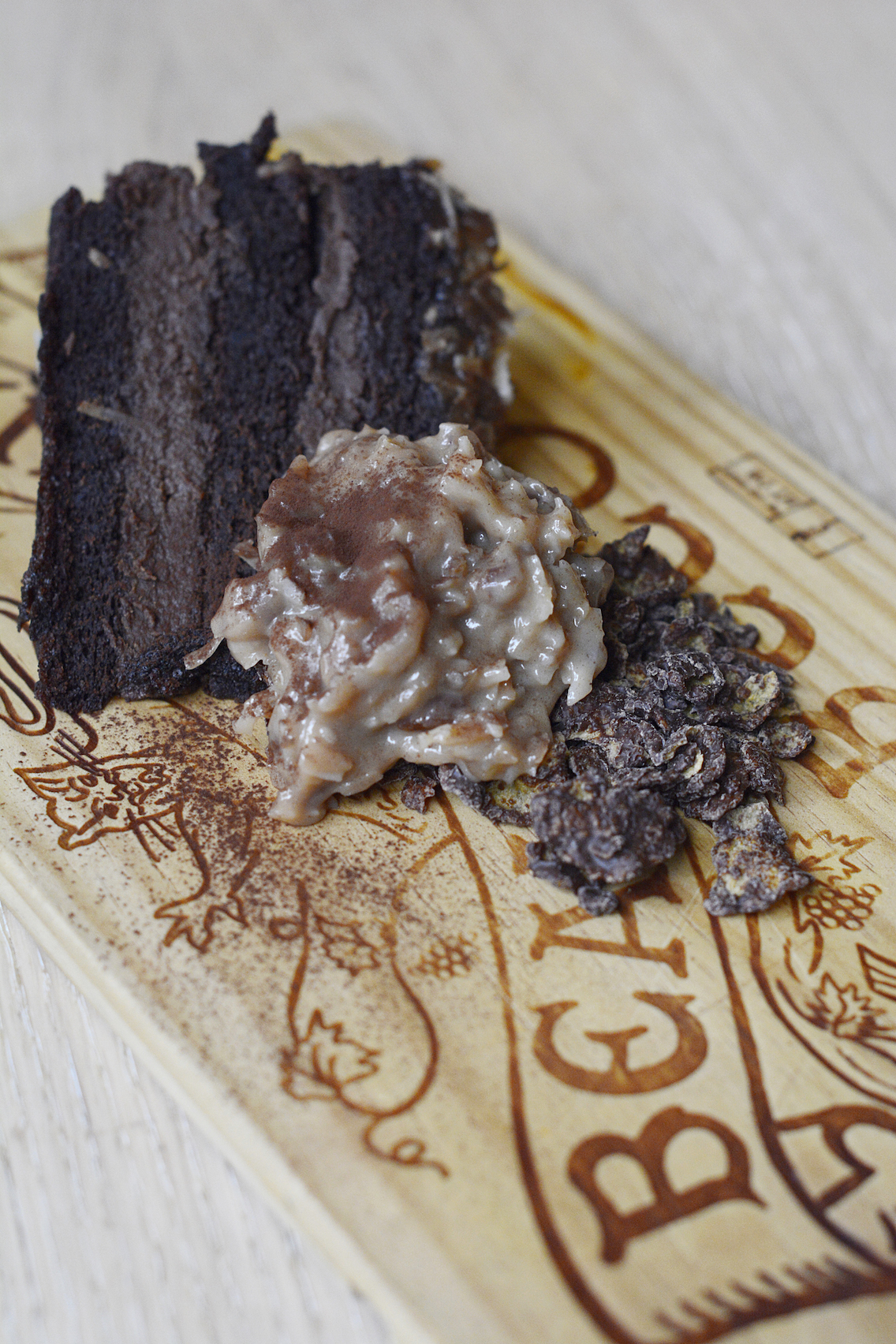 Corn flake crunch? Brown Butter Coconut Frosting? Talk about an innovative take on the traditional chocolate cake! And, perhaps, also a little too addicting…
Few restaurants can boast the casual elegance of Travelle — you may feel like you're in a swanky living room but the gourmet dishes will remind you that Travelle is all about the FOOD! Seasonally delicious food served with exquisite preparation, that is!
Disclosure: I received a complimentary meal to facilitate this post. Review and all opinions are my own.