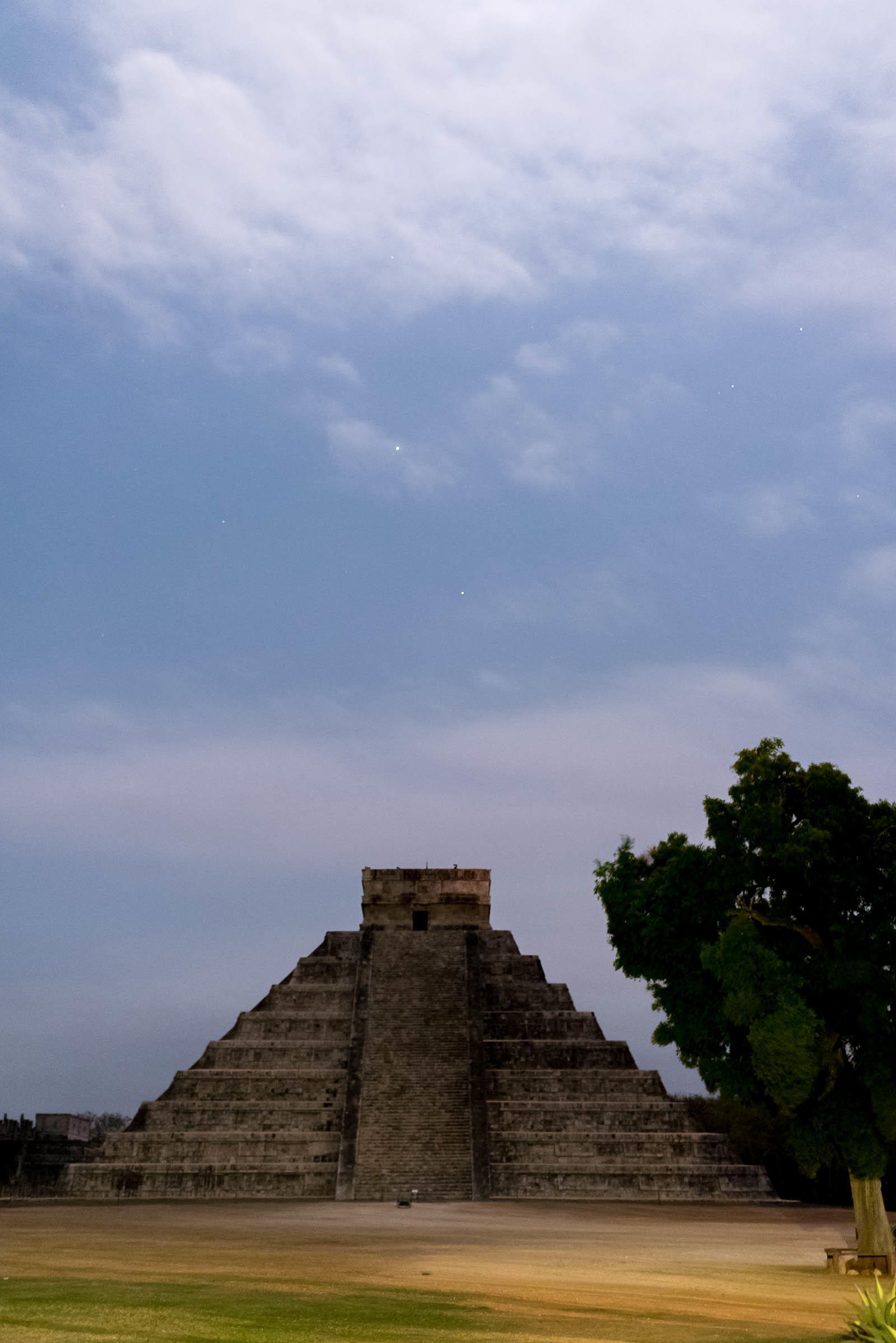 The allure and romance of the Mayan ruins in Mexico has always fascinated visitors.
But one Mayan ruin lures more people every year than most of the others combined.
More than Ek Balam (my favorite Mayan ruin in Mexico)…
More than Tulum…
One Mayan ruin site to trump all others…
One of the Mayan Civilization's most important cities and most important attractions.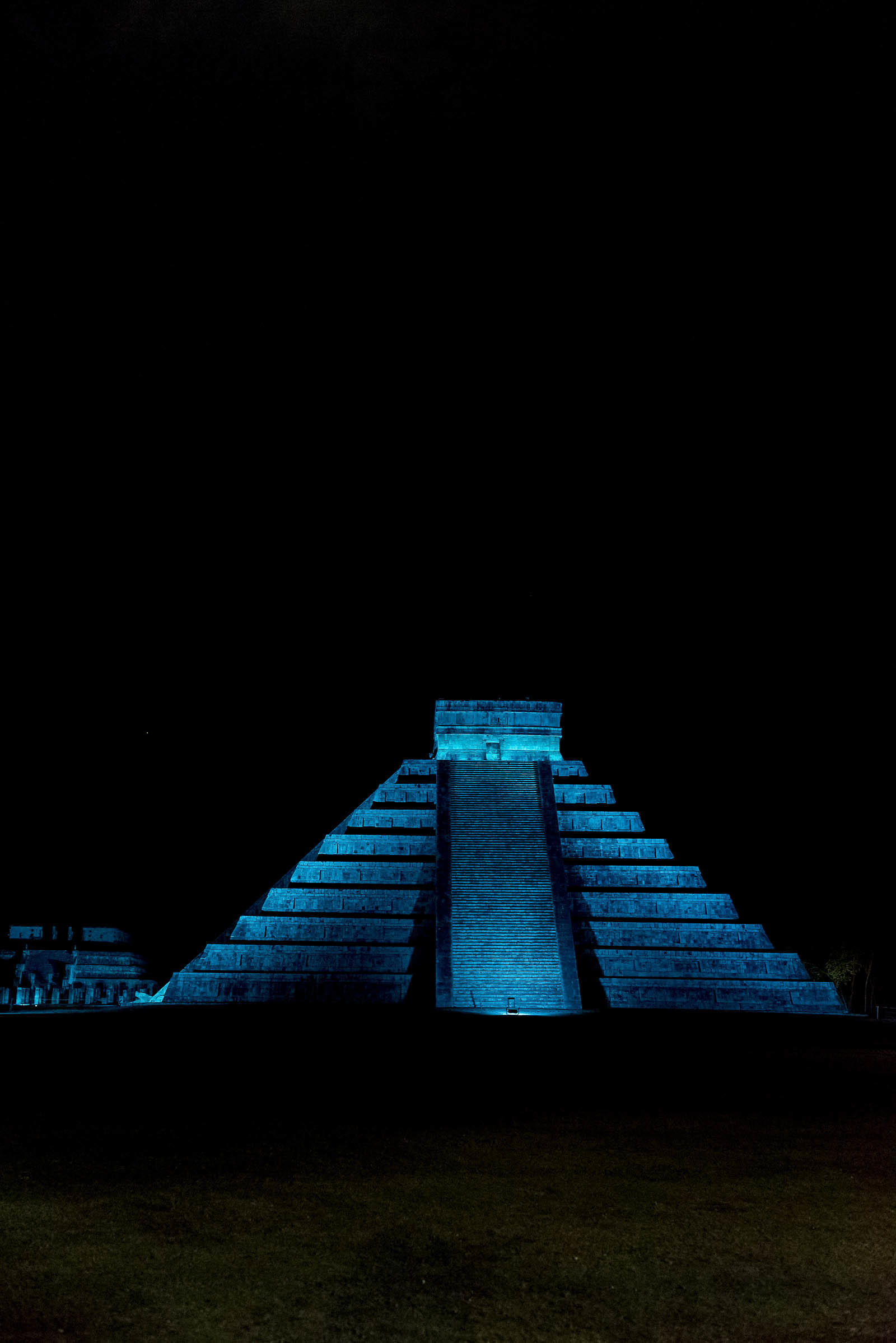 For YEARS I've had "visit Chichen Itza" on my bucket list.
I'd heard from so many people that the sheer size and detailing of the site are worth the trip (even WITH the crowds and grouchy staff). And on my last trip to Mexico, I FINALLY managed to see this world wonder for myself.
In a way I never expected…
At Night!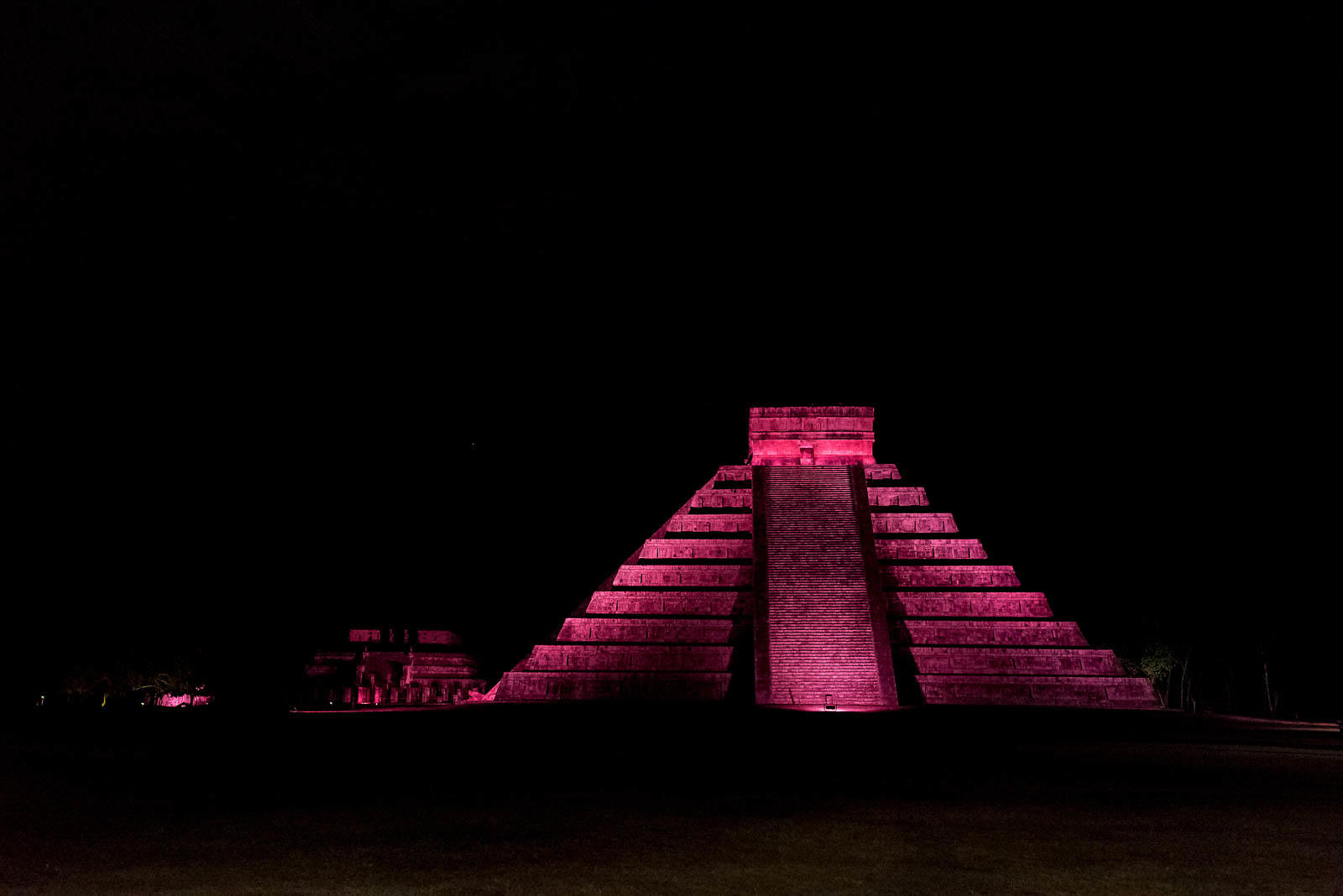 Now, if you're someone who loves to shoot and take selfies at famous spots, visit this monument during the crowded day.
It'll be busy but you'll be able to get shots of yourself and your loved ones.
But if you're someone who craves a uniquely personal experience with a world wonder without thousands of tourists jostling for photos around you, you should really go AT NIGHT.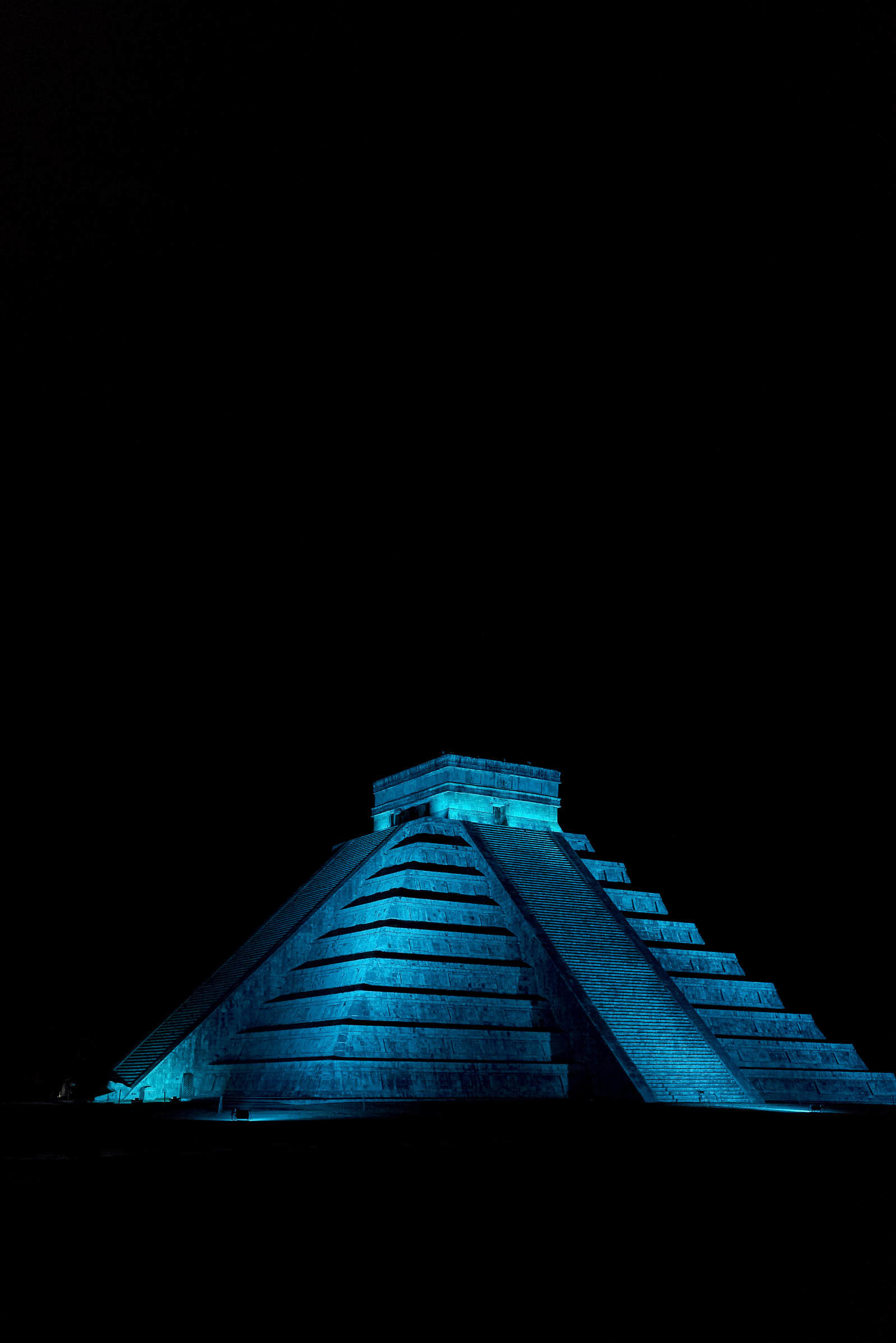 At night the ancient Mayan pyramid is light up in a dazzling array of evolving lights and colors (such a perfect post during the holiday season!).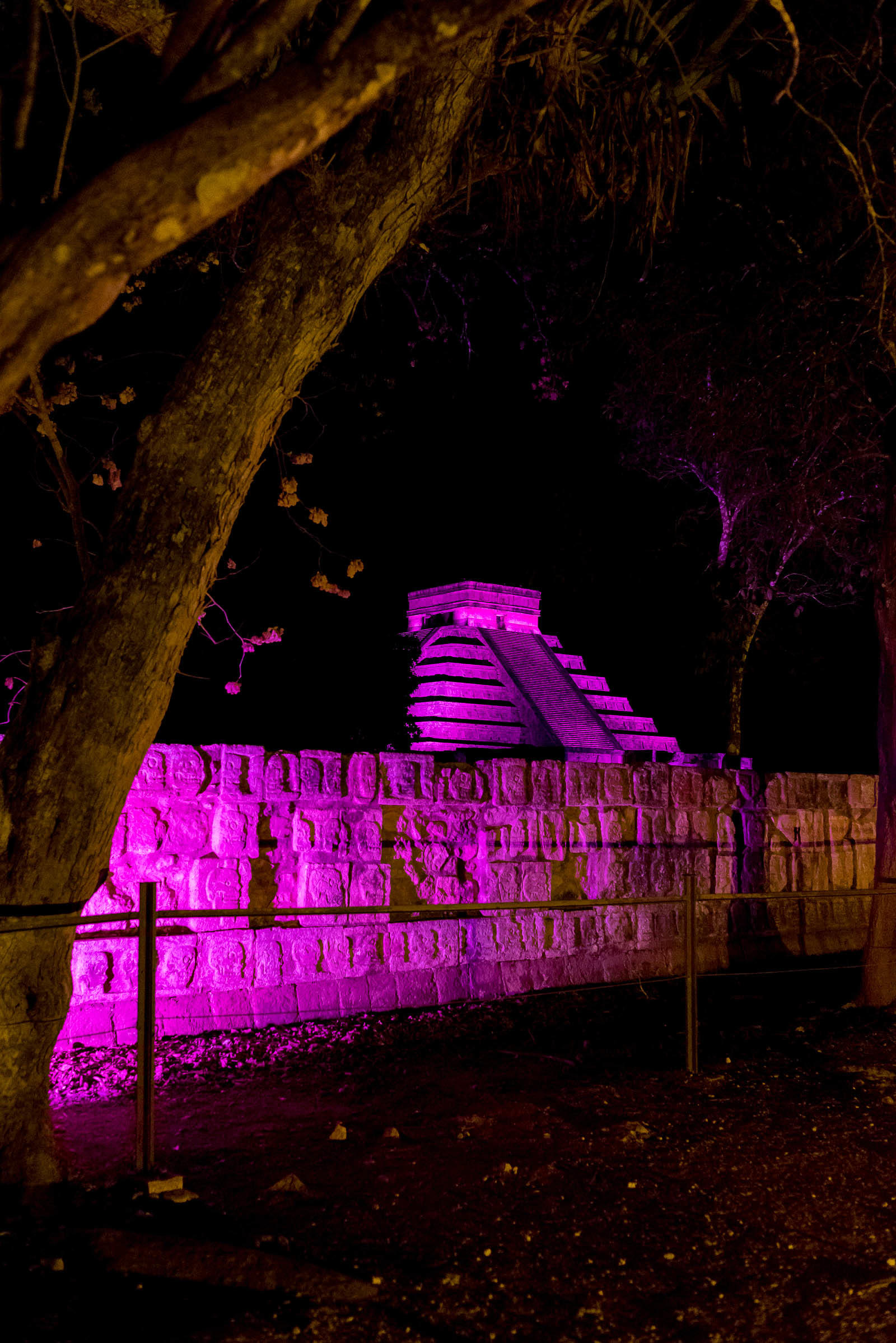 It's absolutely magnificent to see.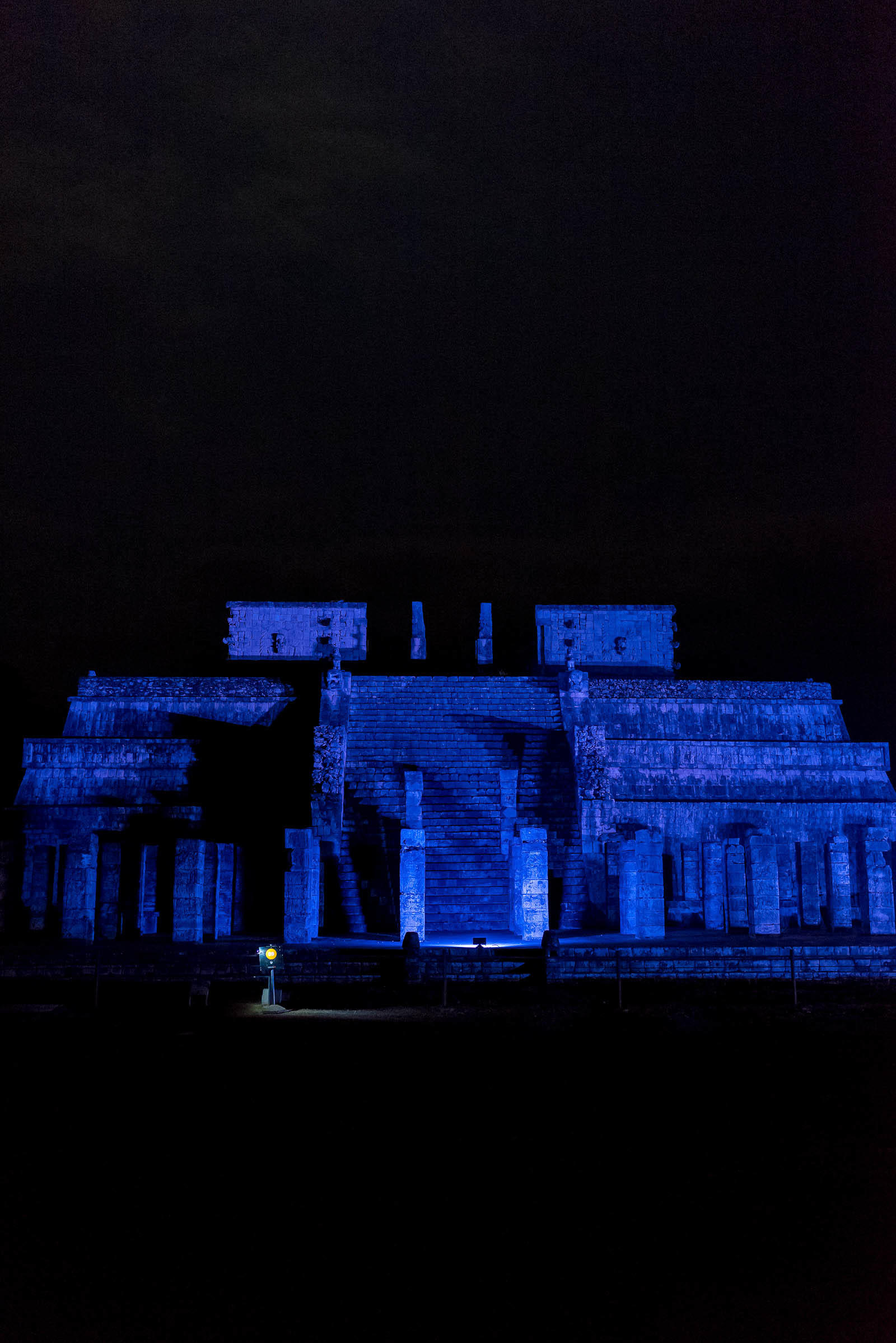 Not to mention rather eerie and spooky…
And so much fun to shoot at night.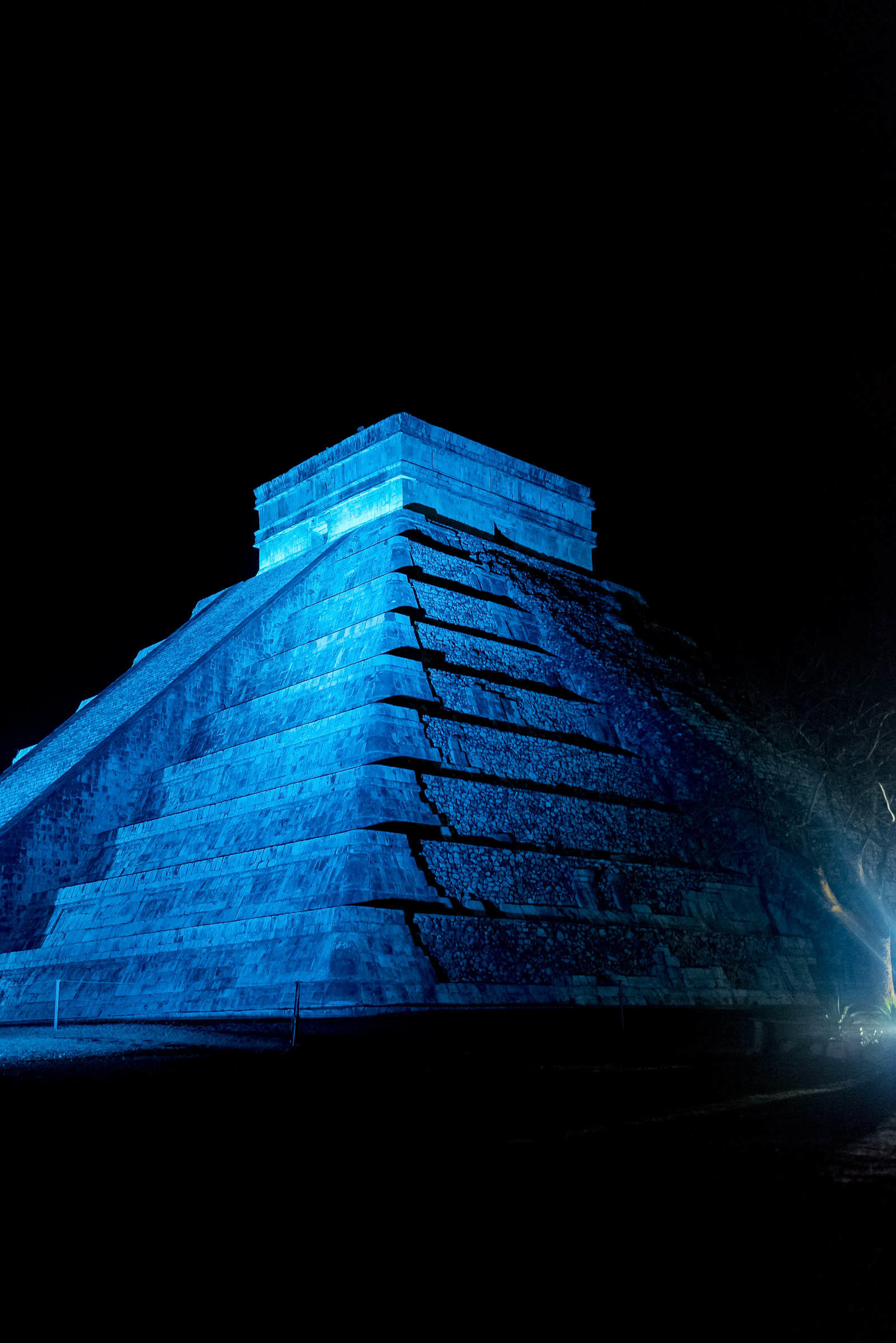 One thing to note is Chichen Itza does not allow visitors to bring in major photo equipment — tripods and drones are strictly off limits.
But if you're clever you can still get some truly breath-taking shots!
As we walked through the ground around Chichen Itza, I took advantage of anything I could to use it as a stabilizing "tripod" for my camera.
We're talking trash cans, signage, my own knee…
Anything that would help me get a long exposure (just like I did for the Northern Lights in Finland).
(HINT: my Dad used to use a bag of rice as a stabilizing tripod in a pinch and it works wonderfully for situations like this too!)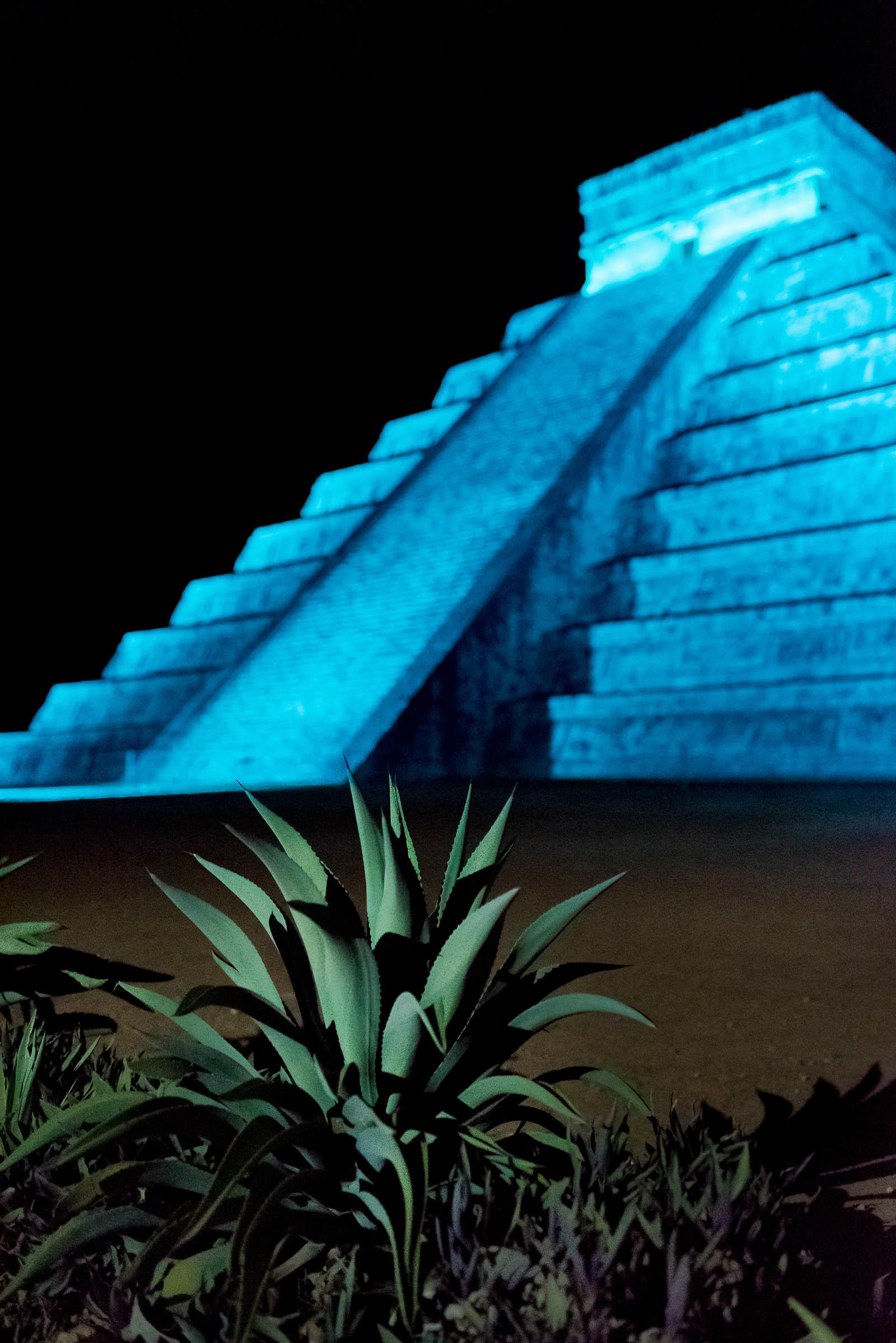 Anything that would help me get clear shots of this incredible monument. It worked really well, just be sure to hold as still as possible (don't breath) when you're shooting!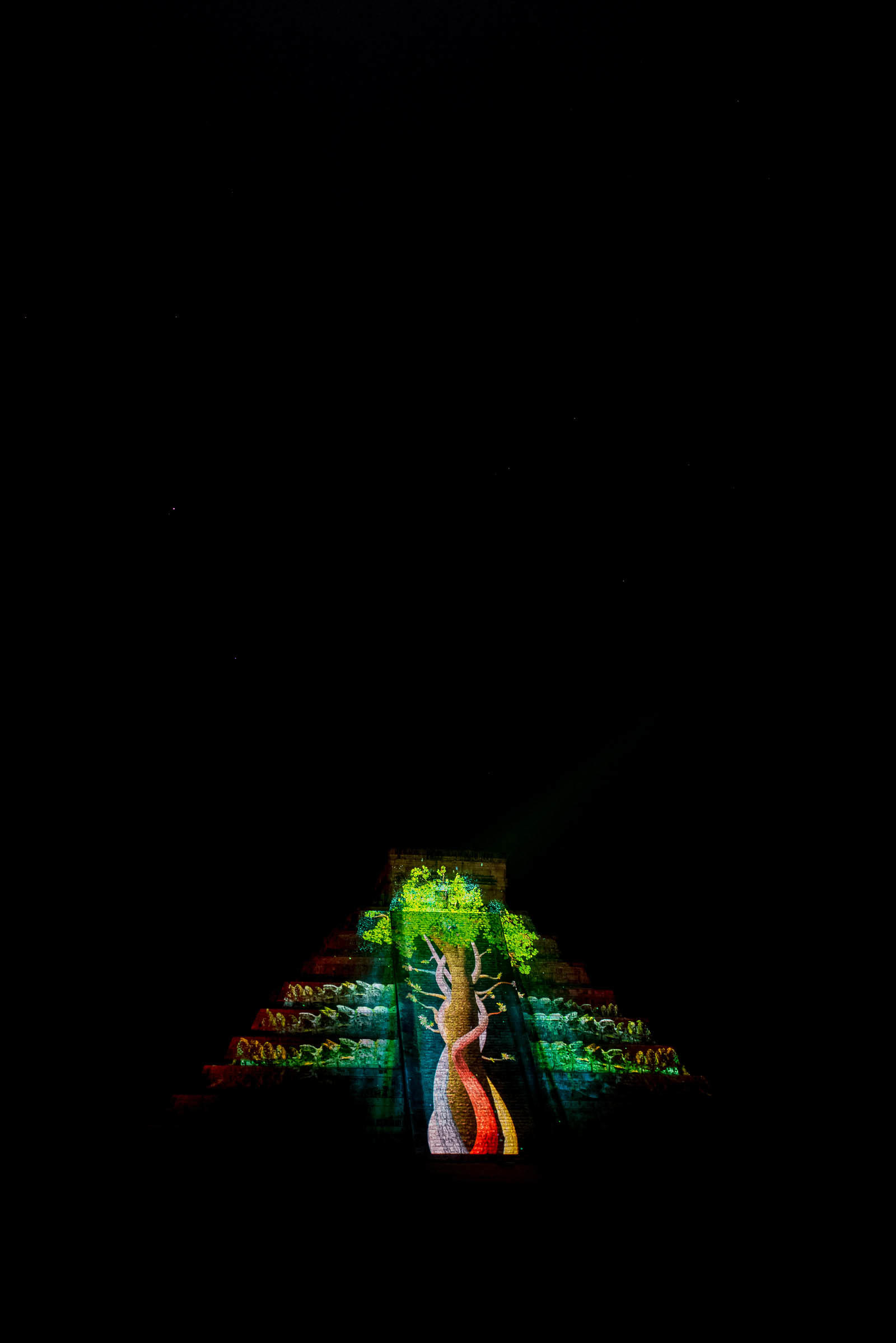 After touring the grounds, we settled into a seated theater area for the 45-minute Chichen Itza Nighttime Show.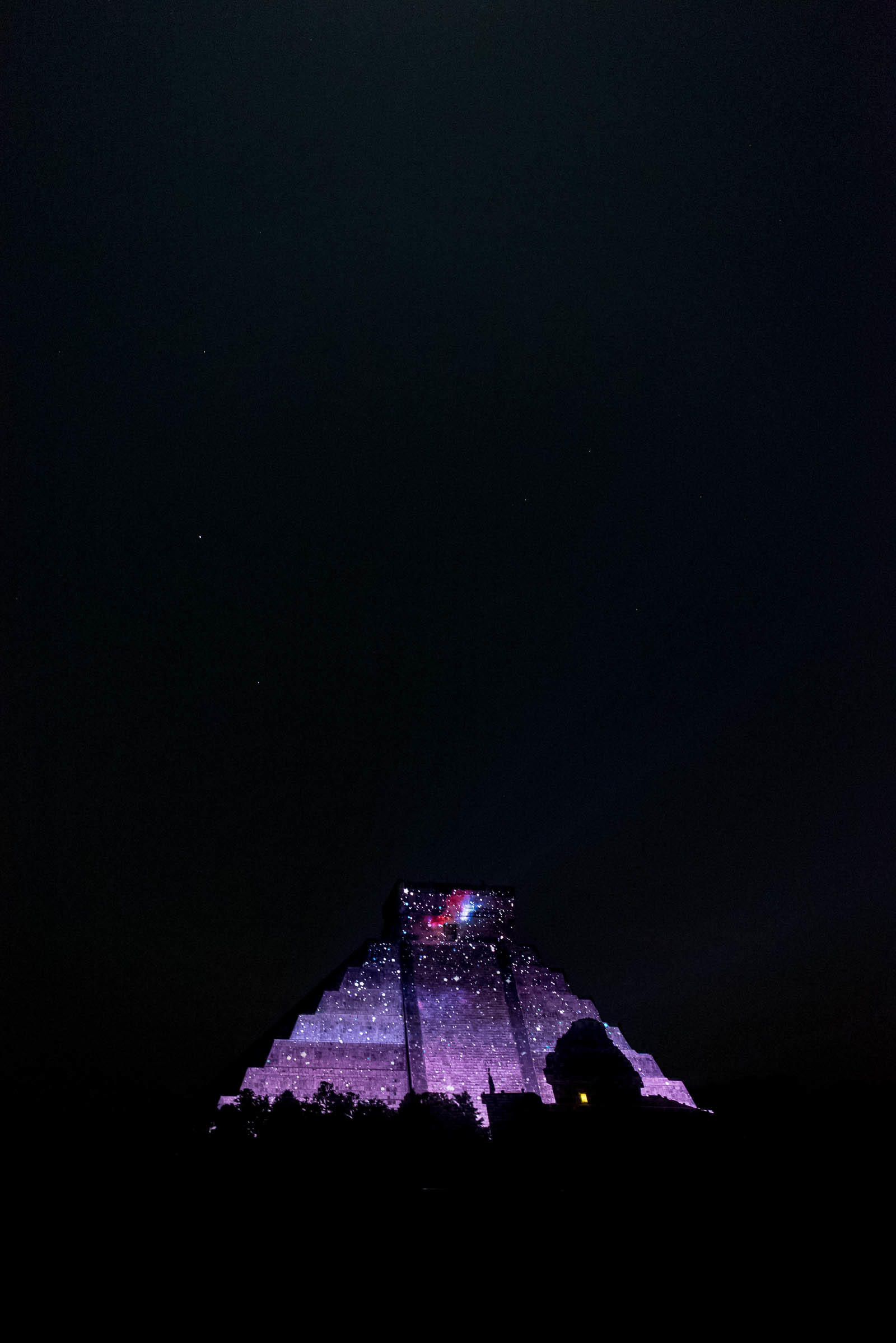 Sadly our translators did not work well but because of the striking visuals and beautiful narrative in Spanish (which we actually managed to follow at parts, despite not speaking much Spanish)…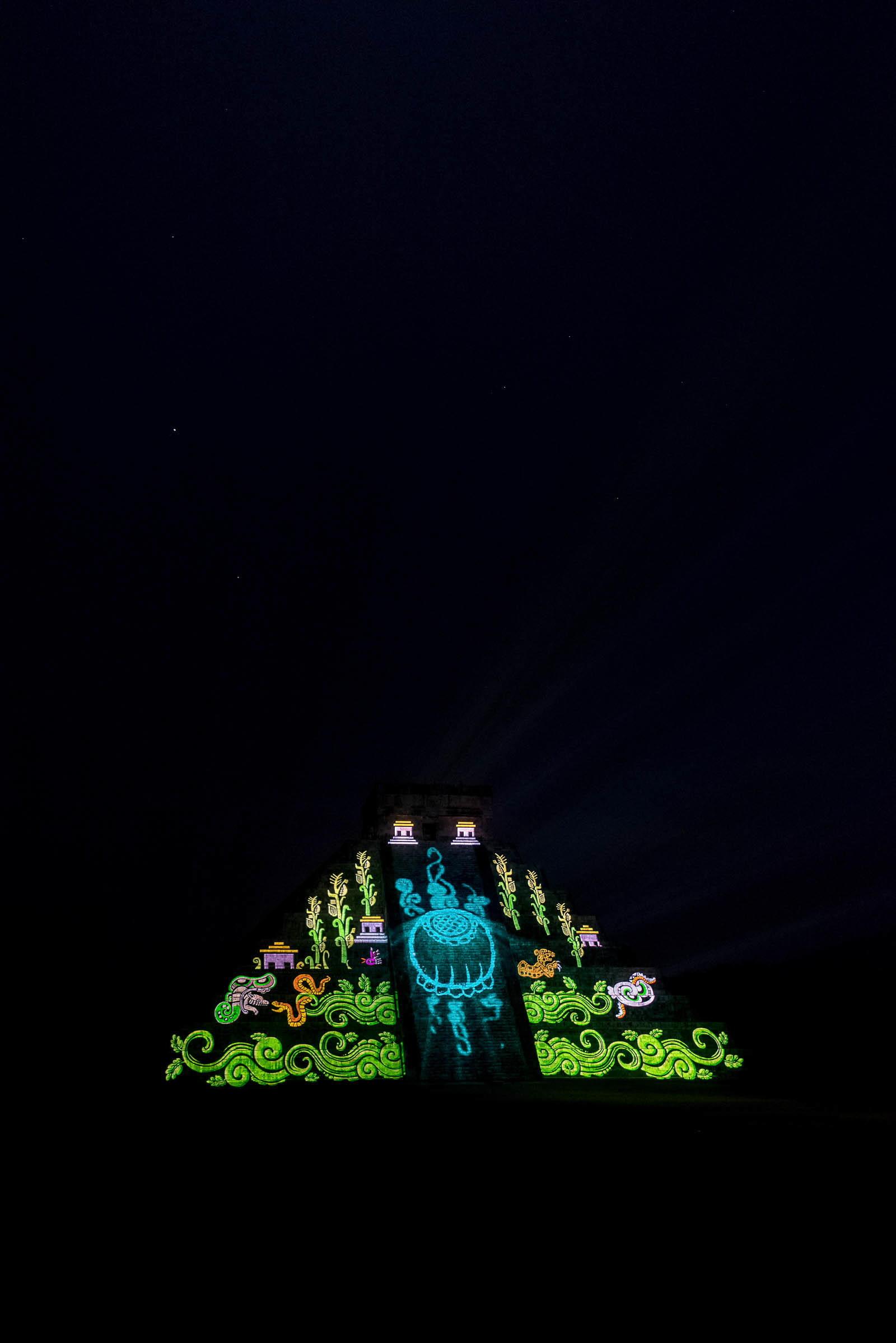 we were able to enjoy the show and appreciate the rich history of the Mayan people and Chichen Itza still.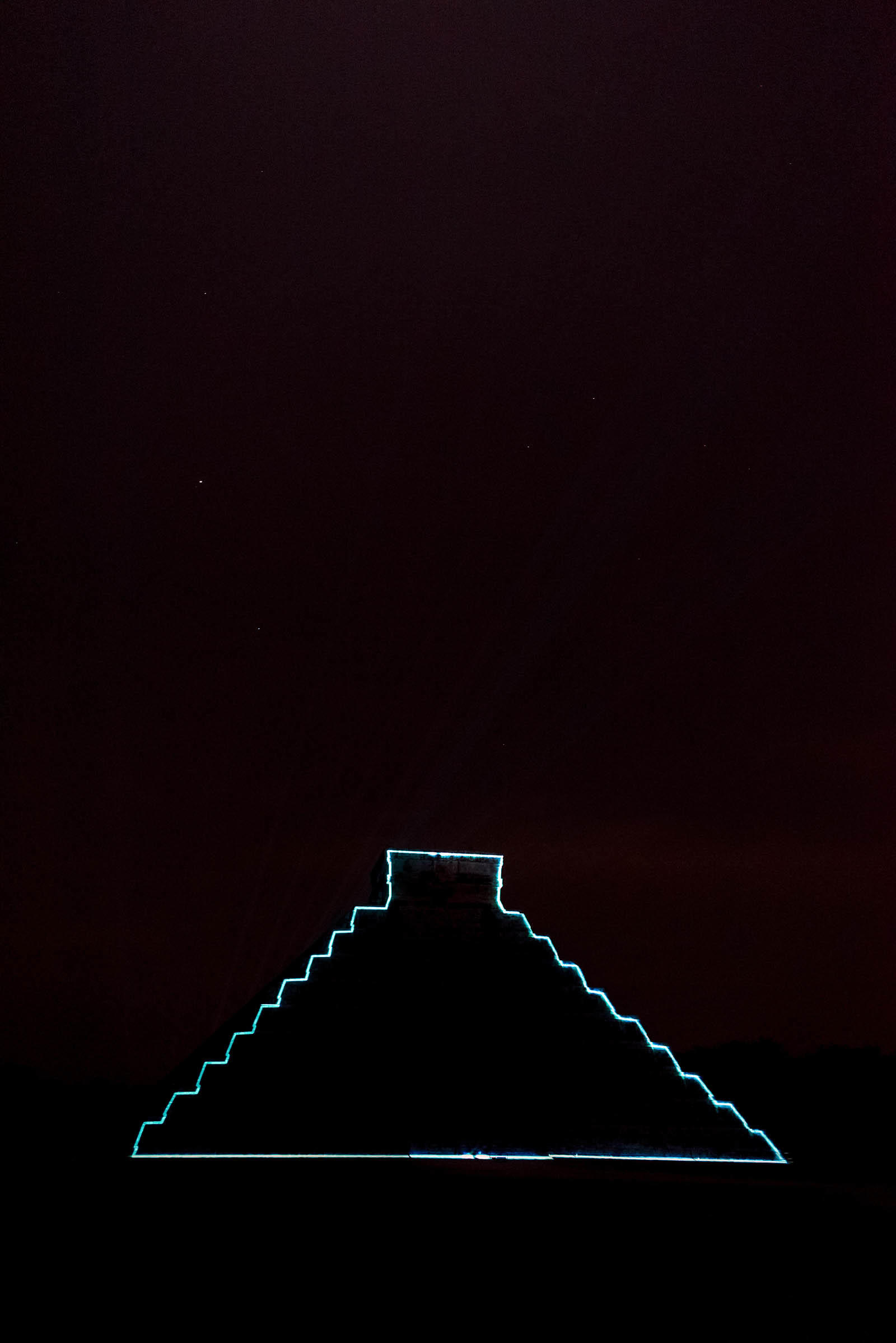 It was truly a unique experience to watch the Mayan pyramid, known as El Castillo, lit up with all sorts of beautiful imagery…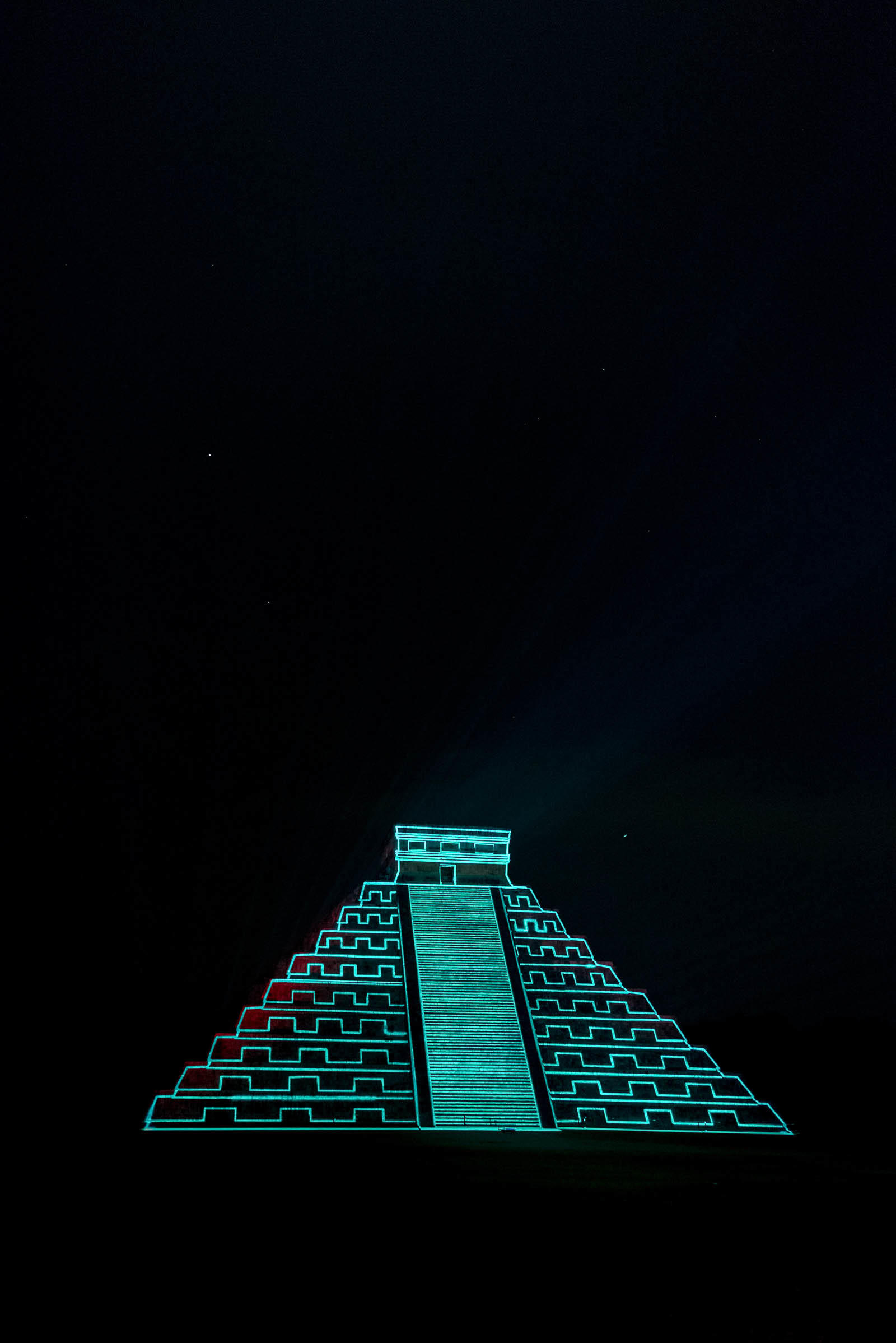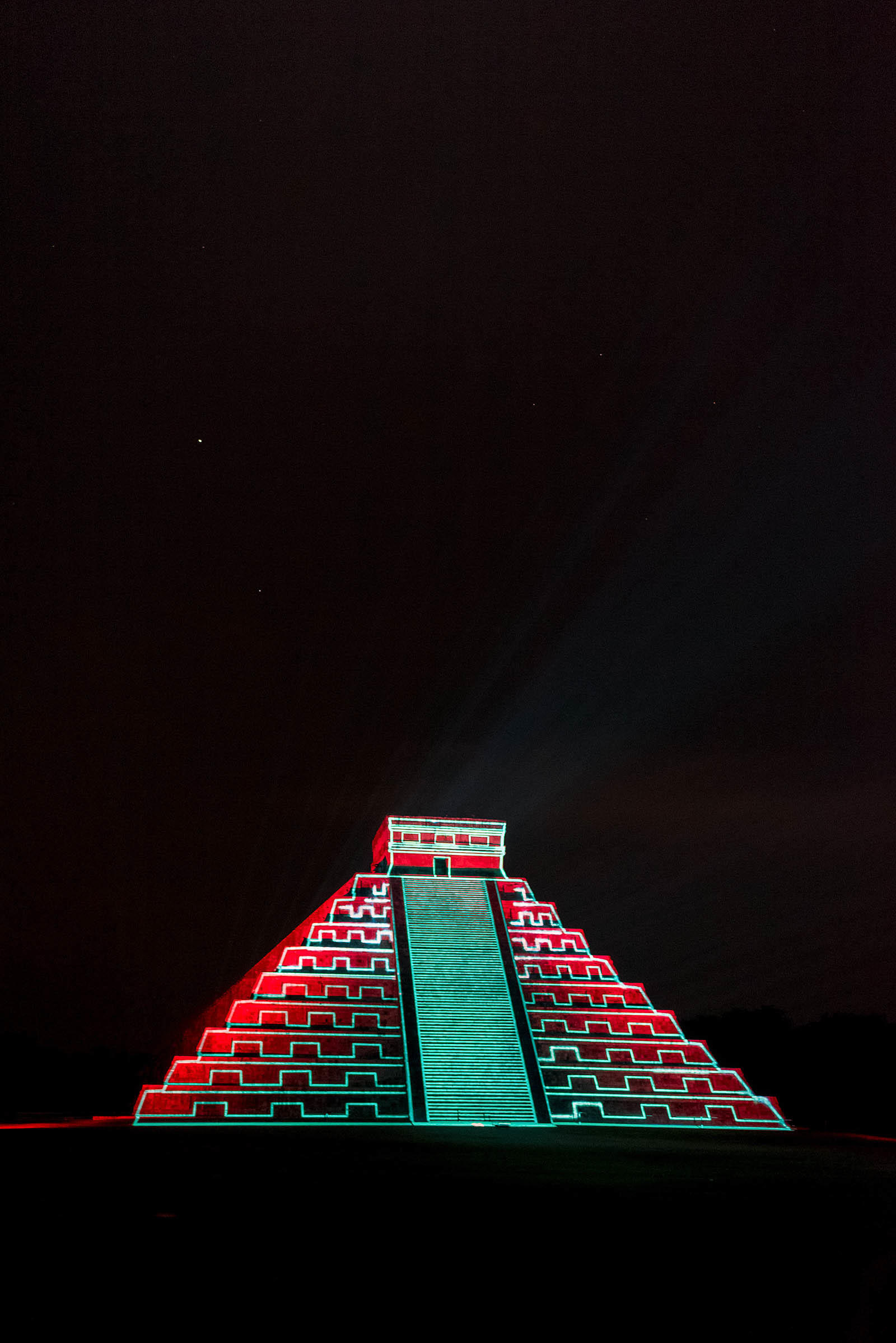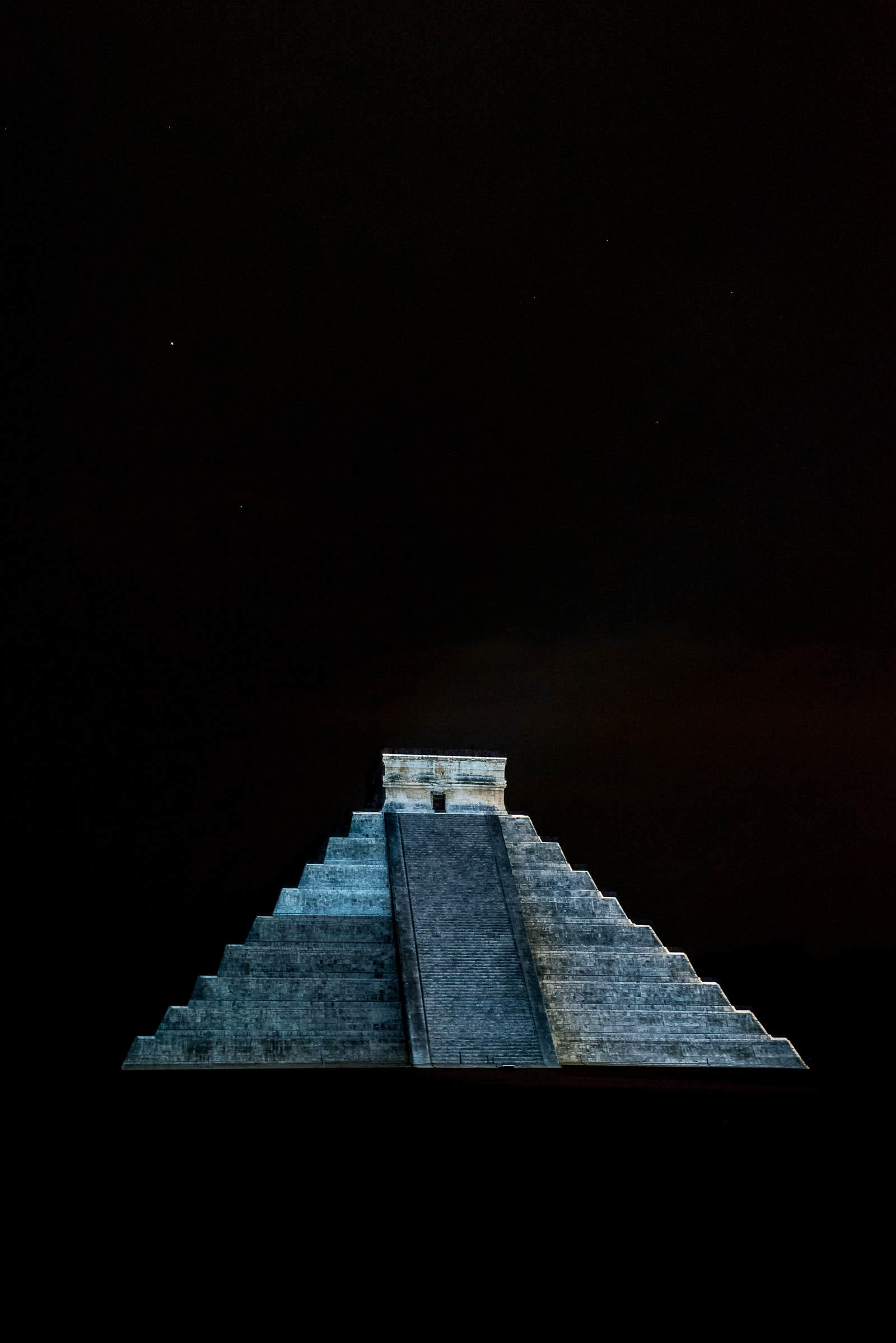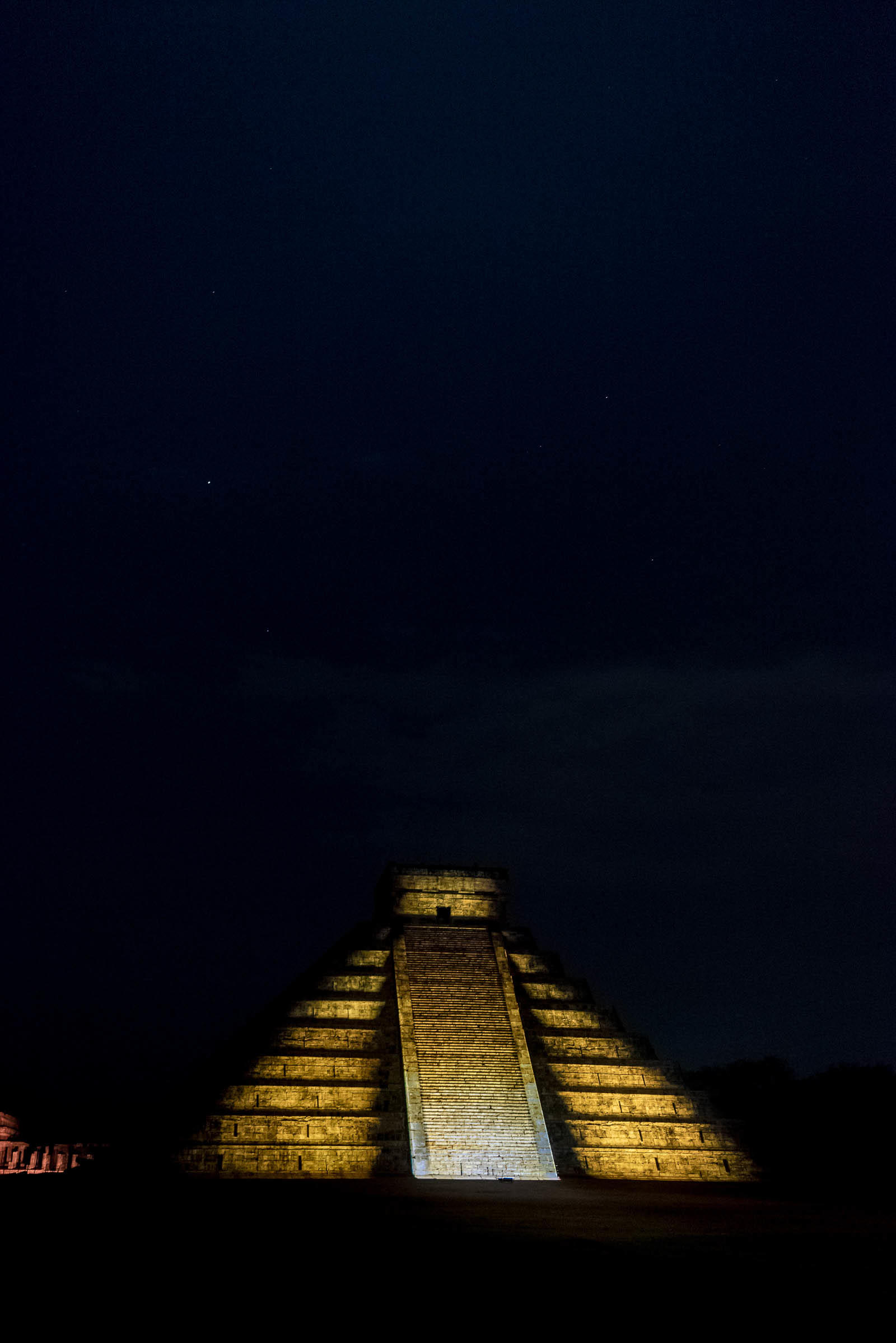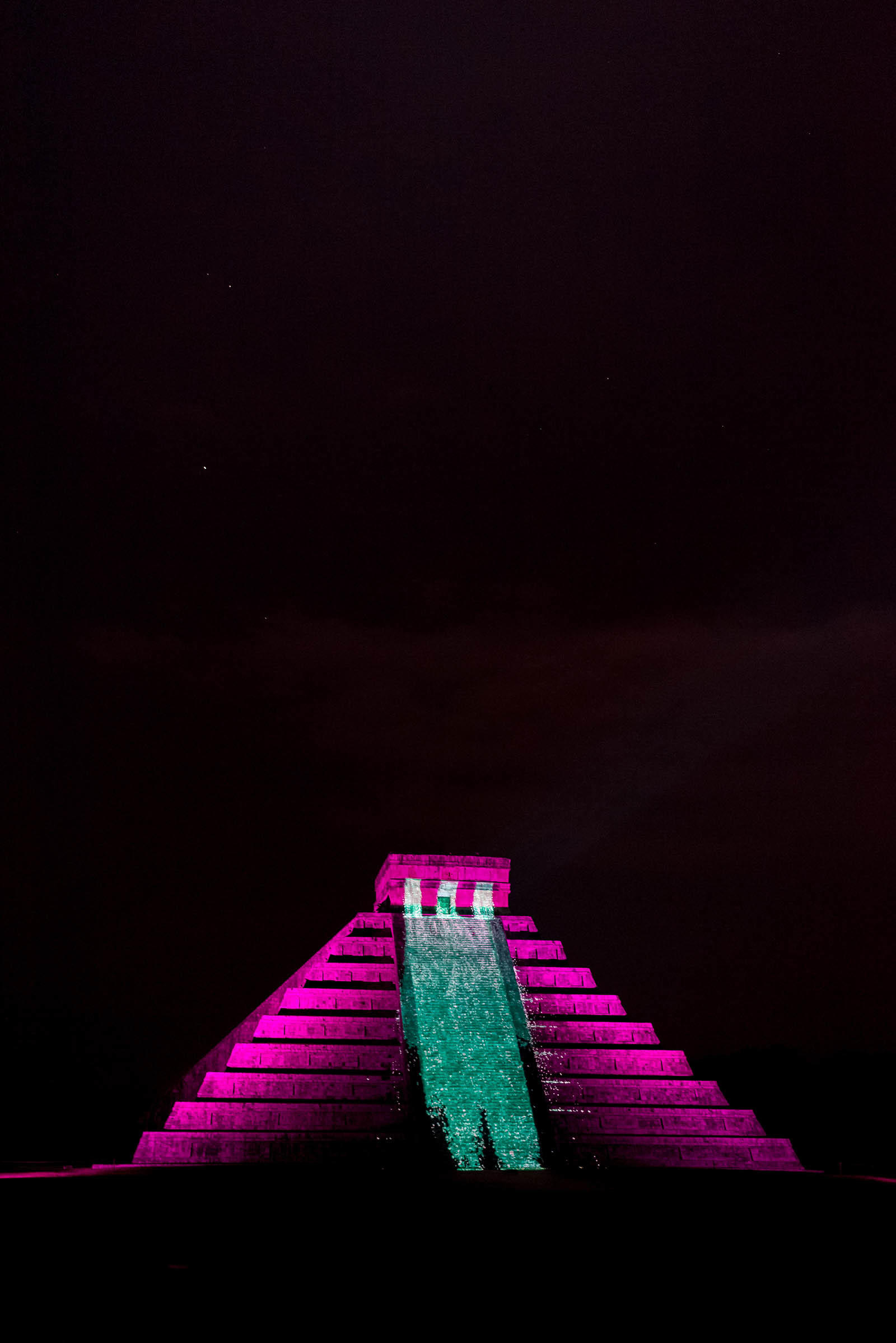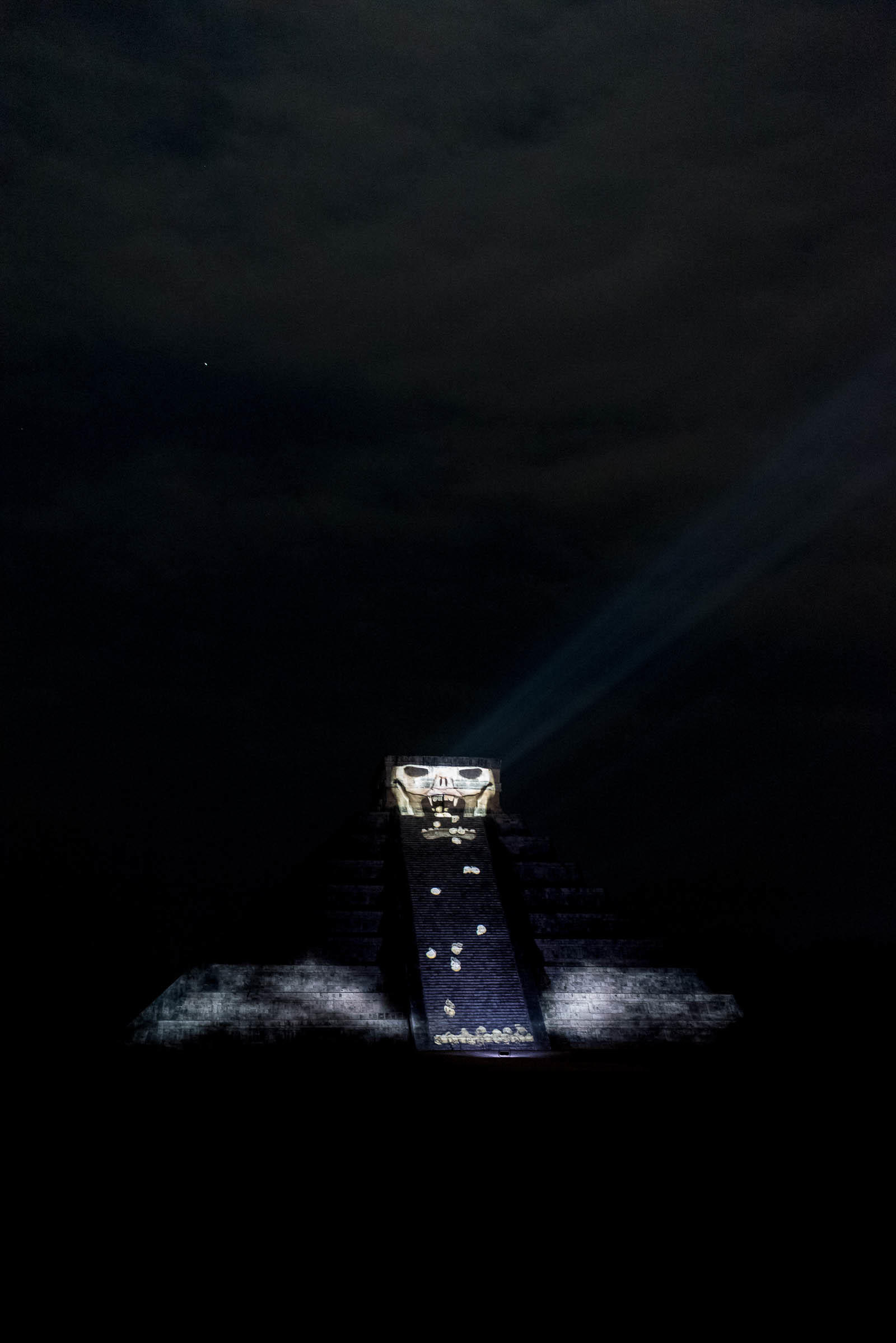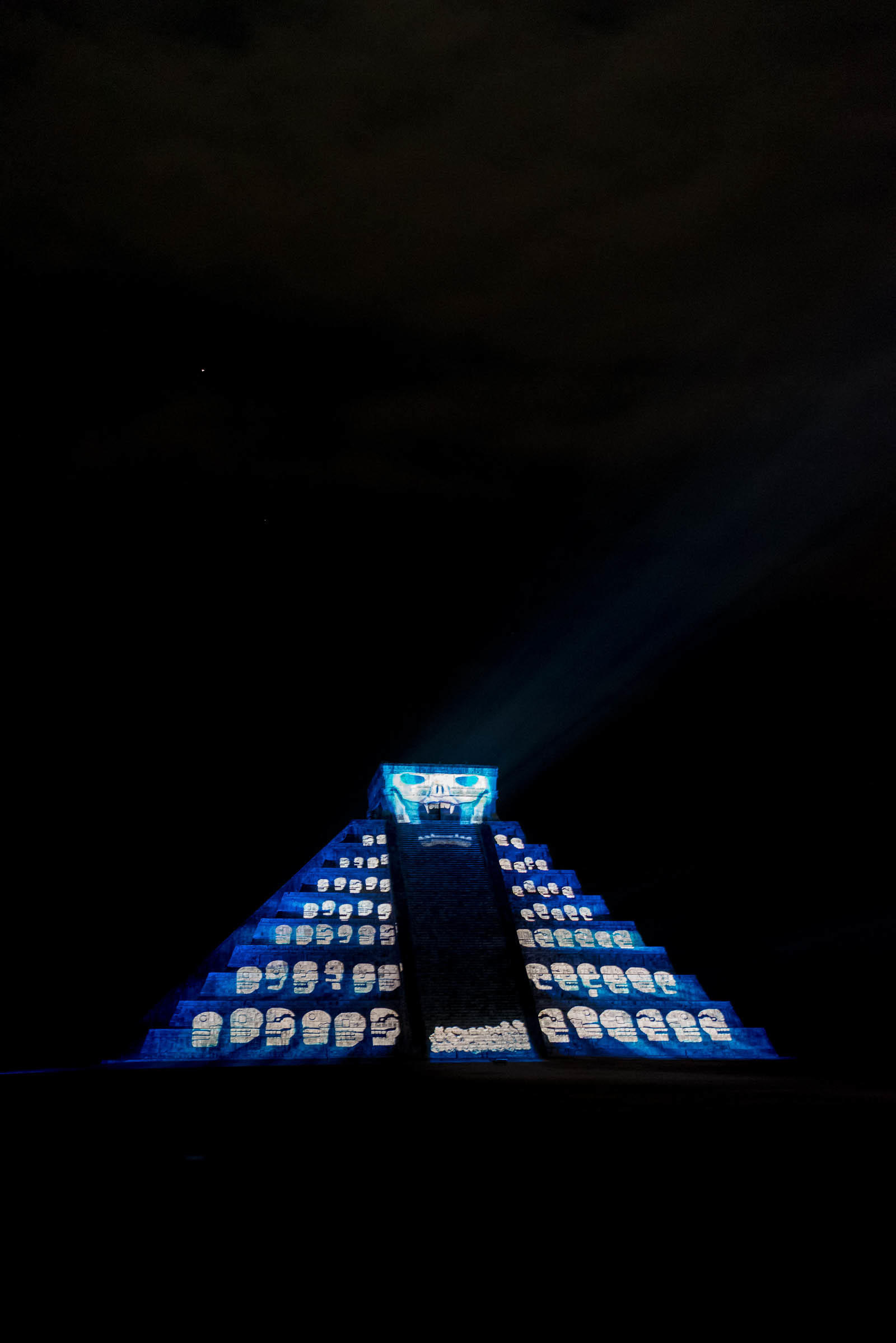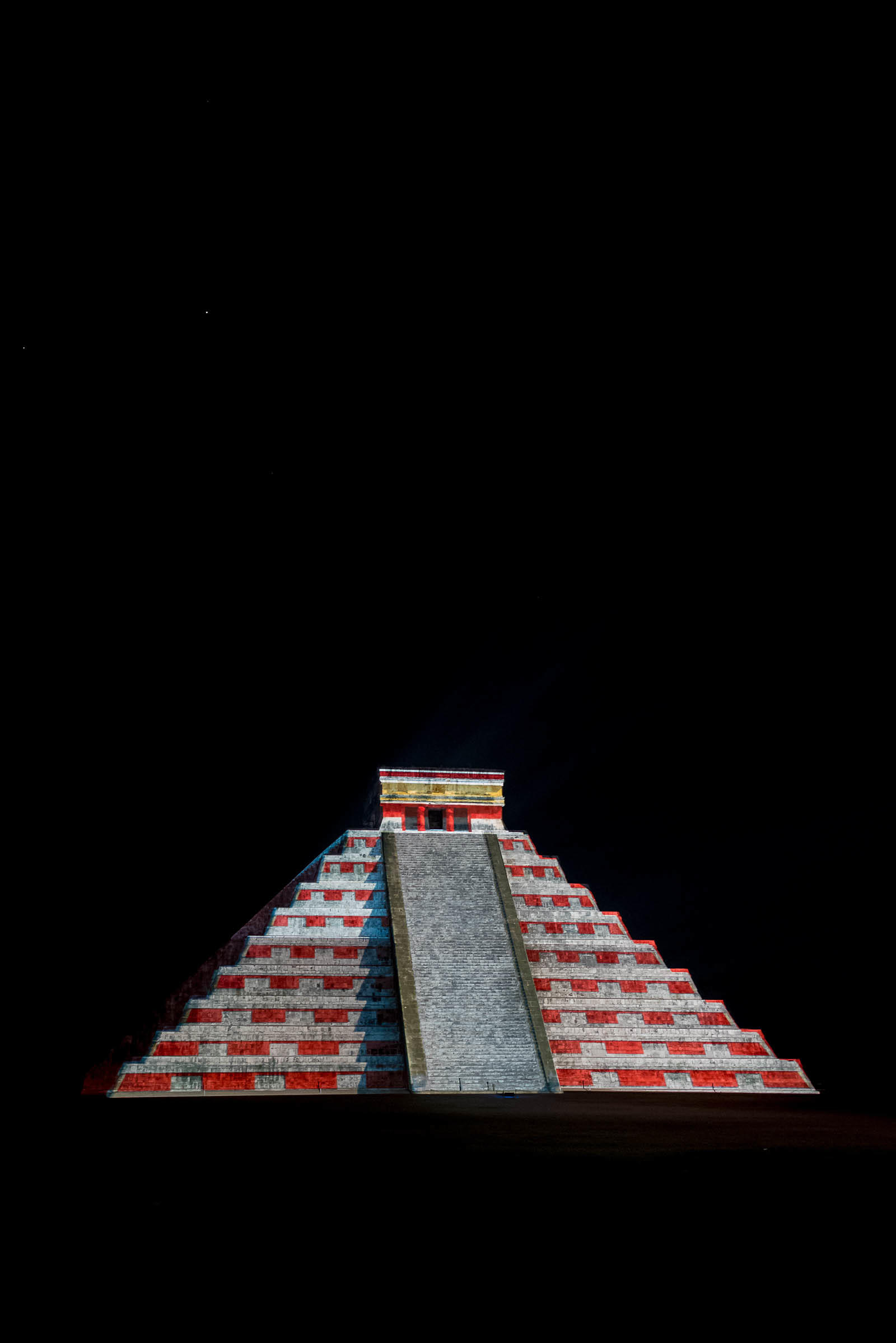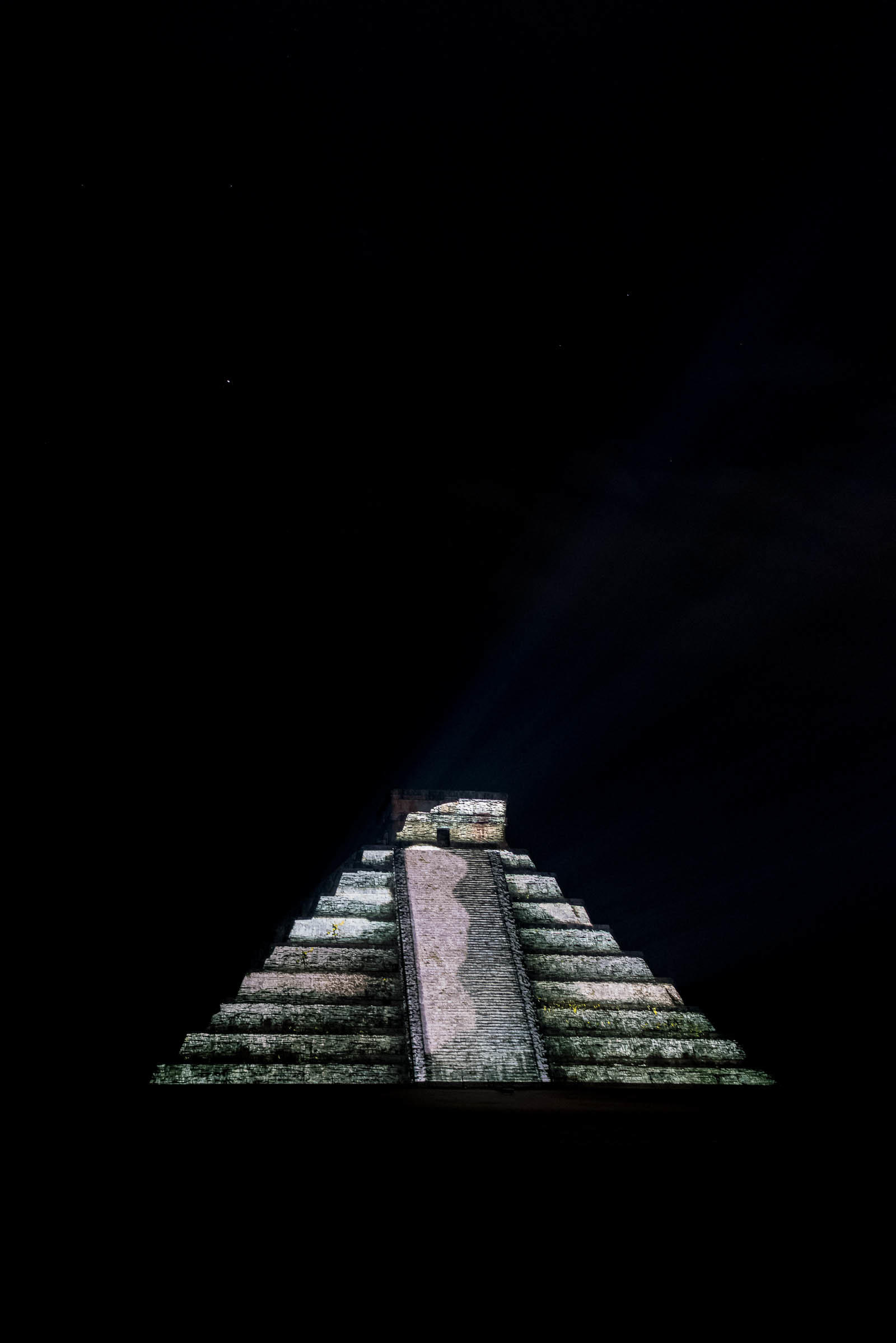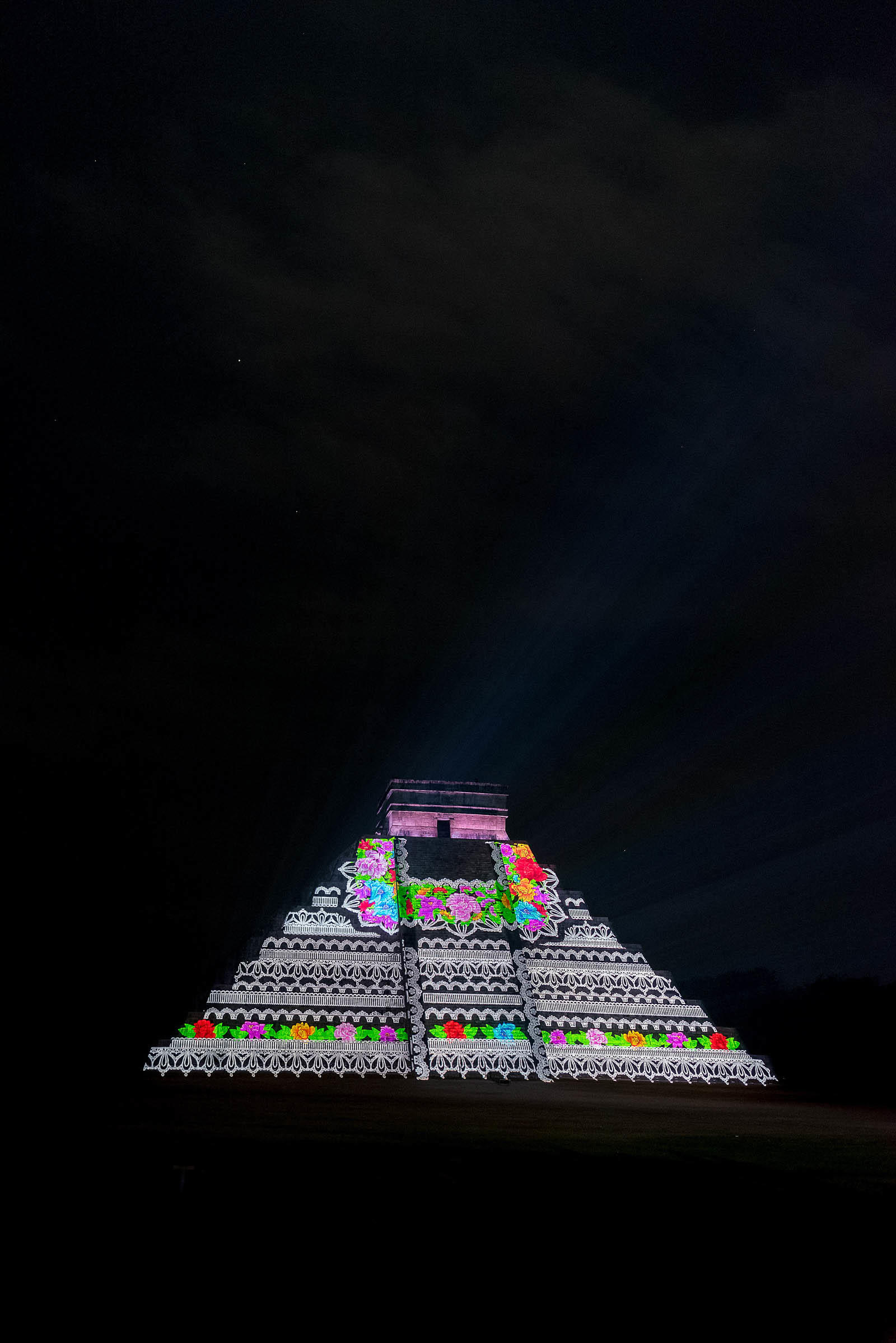 An important thing to note: Many visitors to Chichen Itza come from Cancún but the beautiful city of Mérida is actually a shorter drive to the site! Stay in a slice of historical and authentic Mexico when you're planning your trip — you'll save a bundle not paying all those extra Cancún fees too.
Buy Chichen Itza at Night Tickets HERE or go through a tour group like this one. You won't regret the trip!
Disclosure: I received a complimentary visit to Chichen Itza through the Mexican Board of Tourism to facilitate this post. Review and all opinions are ALWAYS my own.