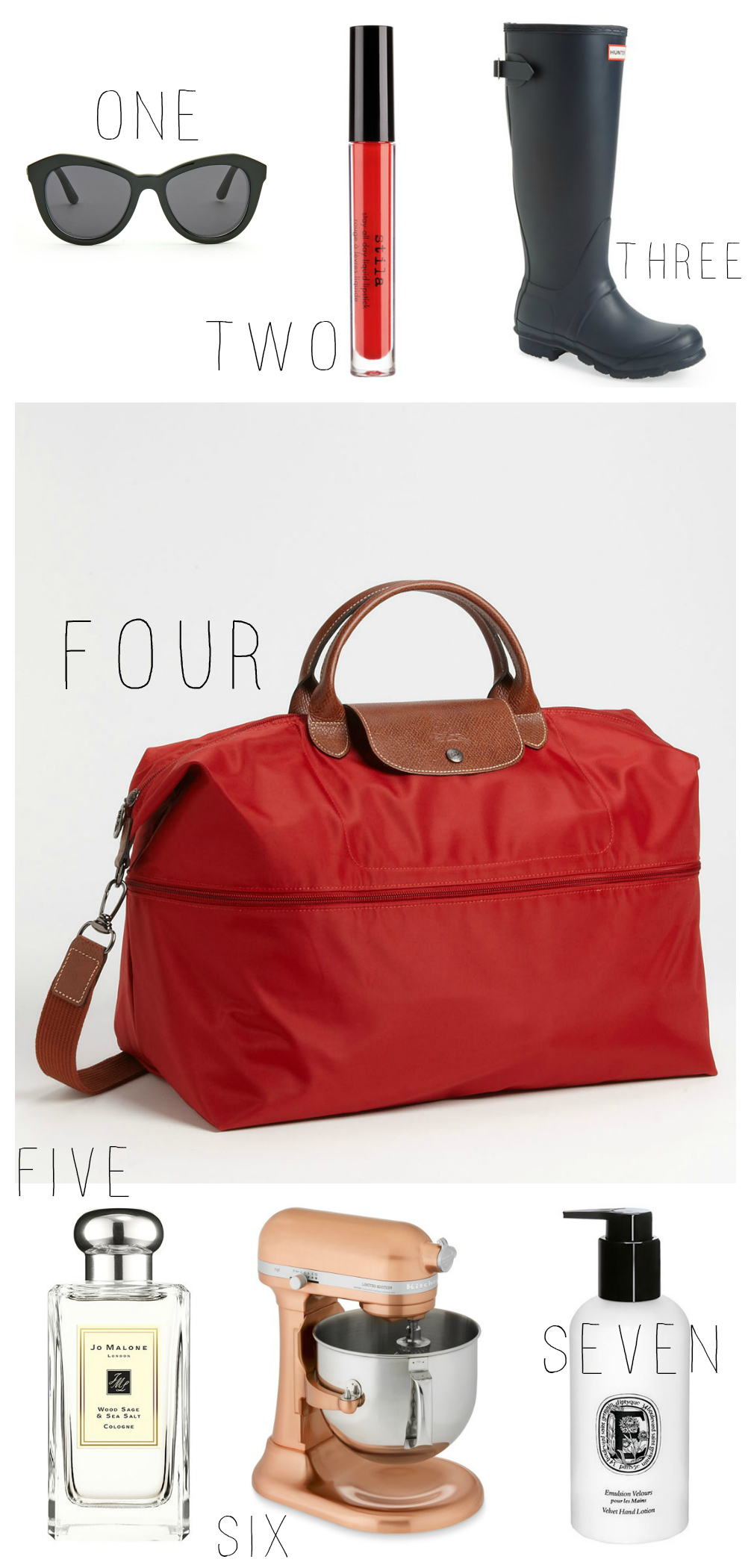 Today's gift guide is rather unorthodox since I'm sharing seven gifts I've ALREADY received but wish I'd received sooner.
Why?
To save you from that gnawing frustration you have when you get a gift so marvelous, so magnificent, and so god-damn useful that you wonder how you lived without it. You wonder "why didn't I have that last year?".
It's a frustration that only comes from a gift so perfect you wish you'd had it all your life. The kind of gift that almost makes you angry that you've been forced to live x number of years without. So today I'm sharing the seven gifts that I personally wish I'd gotten sooner in life:
Gifts I Wish I'd Gotten Sooner Gift Guide
1. Le Specs 'Peach Pit' Sunglasses ($45).
Hubby gave these to me last Christmas and I've worn them non. stop. since (evidence, in chronological order: 1 / 2 / 3 / 4 / 5). Easily the most timeless pair of sunglasses I own. And some of the most inexpensive! These black, cat-eye frames are slimming, lightweight, and classic. Mine have been brutalized more than I care to admit and still look as new as they did the day Hubby gave them to me. Of all the sunglasses I own, this is the pair I reach for the most and one pair I never want to live without again.
2. Stila Stay All-Day Liquid Lipstick in 'Beso' ($24).
Red lipstick has become a trademark of my personal style so I consider myself to be quite the connoisseur of rouge lip shades. But this one is THE ultimate red — I've eaten countless multiple-course meals (with wine pairings) without this color budging at all. It's a downright miracle for red-lipstick lovers like me who also happen to be foodies. The hue is the perfect bright red to work with my pale skin and doesn't have a strong orange or blue undertones, making it a stunning hue on just about any skin color. Without a doubt this is the lip color I reach for most and the one I buy back-up tubes of for emergencies. I wear it constantly (evidence, in chronological order: 1 / 2 / 3 / 4 / 5) and expect to for many years to come!
3. Hunter Adjustable Back Wellie Boot ($160).
In Chicago, no item in your wardrobe is more important than a good pair of rain boots — especially if they function as snow boots too. It took me years to finally cave and order a pair of these Hunters and now I wear them year-round (daily in winter). These are the BEST wellies on the market, seamlessly keeping out the rain and/or snow (you can add a fleece liner for colder days) for YEARS. This pair has an elegant matte finish and an adjustable buckle on the back as opposed to the side… a huge plus for ladies with larges calves like me (and FAR more comfortable to wear while crossing your legs). I've had mine for four years (they were life-savers on our cruise to Alaska) and fully expect to get AT LEAST another 5 years of use out of them.
4. Longchamp 'Le Pliage' Expandable Travel Bag ($255).
How did I travel before this bag? I'm honestly horrified how I got around before. This really is the ultimate travel bag — small enough to be considered a "personal item" on most airlines but with the option to expand into an enormous tote when you need more room. Which happens on basically every trip I go on… And since its from Longchamp's Le Pliage line, the tote itself is easy to wipe clean after every trip. AND it can fold into a tiny pouch when you aren't using it. AND the crossbody strap is so comfortable to use while traveling. AND its great for road trips, carrying presents, and toting around camera gear (its main function for me when I'm not traveling) too. I have one in chocolate but am now eyeing this red one too!
5. Jo Malone 'Wood Sage & Sea Salt' Cologne ($125).
Seriously the most addictive Jo Malone cologne on the market and the perfect any day go-to. I've talked many times about my love for this scent — it's gender neutral with a light but mineral fragrance that lasts forever! Do yourself a favor and get the big bottle… I didn't and kicked myself less than three weeks later. This is a great scent to start building a combining collection with since it works on almost anyone for almost any occasion. I honestly don't know what I'll do if they ever discontinue this so I've already started keeping a stockpile in our closet just in case (feel free to call me the crazy cologne lady).
6. KitchenAid Copper Stand Mixer ($949).
The most expensive kitchen appliance we own and the one we use the most. Hubby and I put this on our wedding registry years ago thinking it would only come in handy making LARGE quantities of baked goods. Many batches of sea salt chocolate chip cookies, homemade everything bagels, and family-recipe pound cakes have proven us DECIDEDLY wrong. We use this kitchenaid constantly throughout the year (and wow does it ever whip light fluffiness into butter) but my favorite time of year to use it is actually summer. My sister gave us the ice cream making attachment several years ago and we've been gorging ourselves on homemade ice cream every summer since.
7. Diptyque Velvet Hand Lotion ($42).
The truth is I have the DRIEST skin in winter. This lotion is the absolute best I've tried (and believe me, I've tried them all). Its thick but easy to massage in and literally makes your skin feel like velvet. Plus it sinks into skin in record time with no sticky residue! I used to alternate lotions and constantly buy new ones in an effort to find something that actually worked without making my skin breakout. Since finding this lotion though I haven't bought any others. Now I just have to figure out what to do with all the other bottles of lotion I have in the house that I doubt I'll be using…
Now, I'm dying to know: what gifts do you wish you'd been gifted sooner? Leave a comment below with your picks!