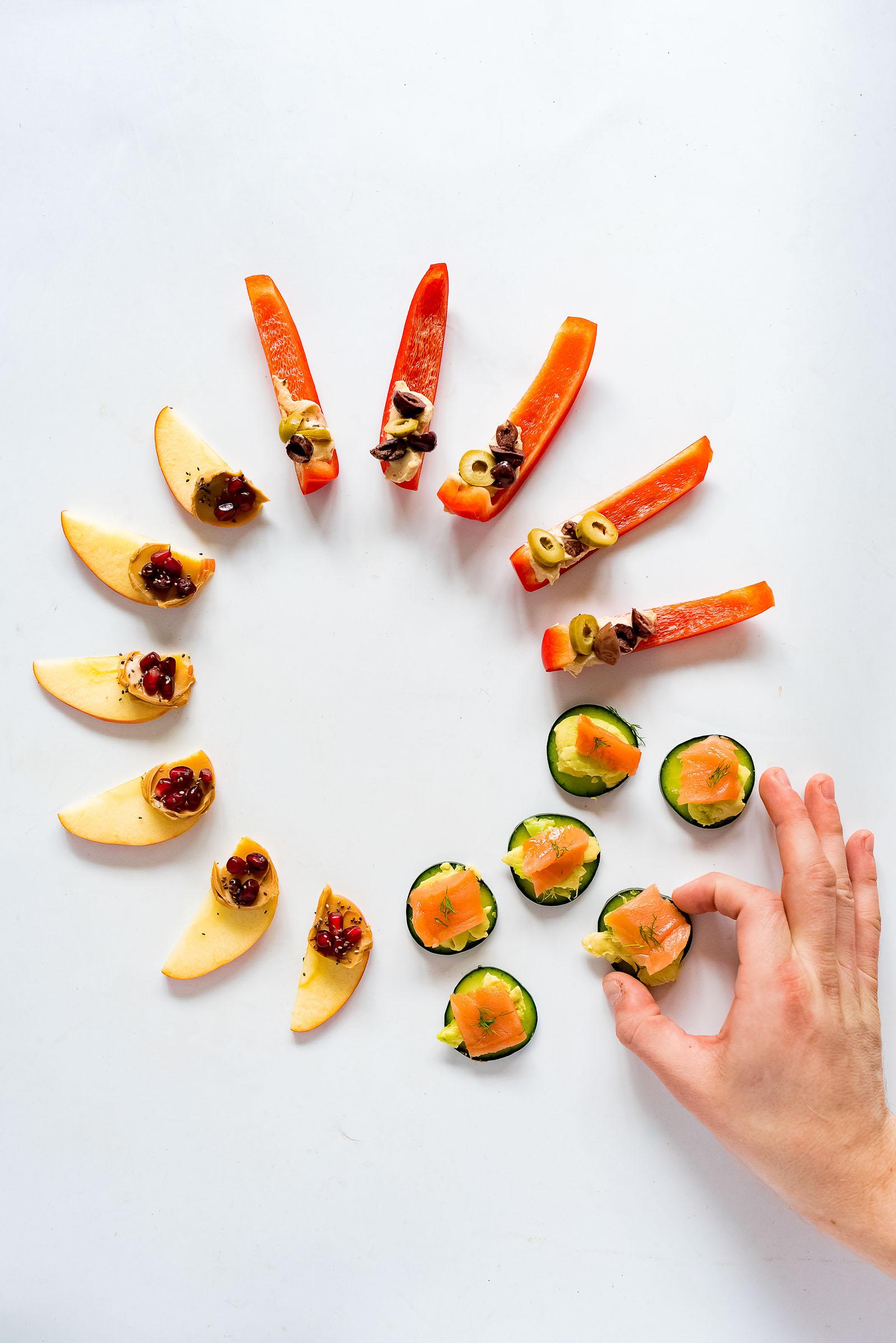 Everyone needs a few easy, healthy snacks to turn to when the craving for junk food strikes.
Especially since it's January and so many of us are looking to clean up our diets after the indulgent holidays.
Who doesn't want to feel healthy again for 2018?
So this month, in lieu of my grandmother's snowball cookies, I'm eating apples.
In place of chips & dip, I'm chomping on red pepper slices.
And instead of bagels & lox, I'm eating cucumber slices.
And yes, I know those don't SOUND like exciting swaps.
But believe me when I say these three healthy snacks feel almost as indulgent as cookies (and without requiring nearly as much effort)! They're easy to throw together and highly addictive to snack on — so addictive that I had a hard time keeping Hubby away while I shot this post.
They're THAT good.
3 Of My Favorite Easy, Healthy Snacks
---
These three snacks can cure just about any junk food craving. As long as I have all the ingredients stocked in the fridge, that is!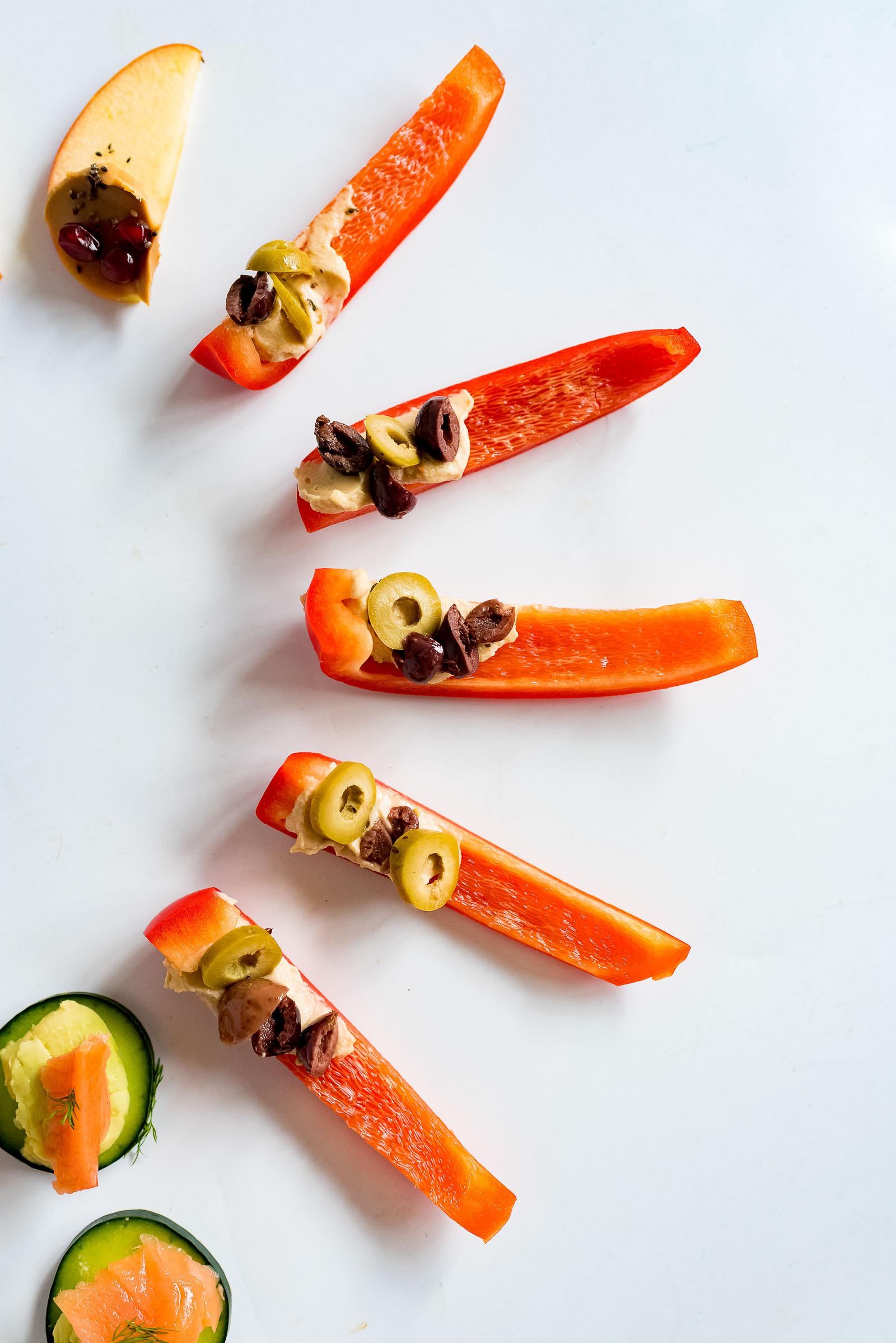 Red Pepper Slices
with Garlic Hummus & Chopped Olives
---
A delicious, protein-packed low-carb snack that's the easiest of these three snacks to put together.
Just core and slice up some bell peppers (you don't have to use red ones!), slather on some hummus (I prefer the garlic flavored), and chop up some olives to garnish on top.
Voilà!
A fresh snack ready in less than two minutes that cures my salty chips and dip craving in a heartbeat.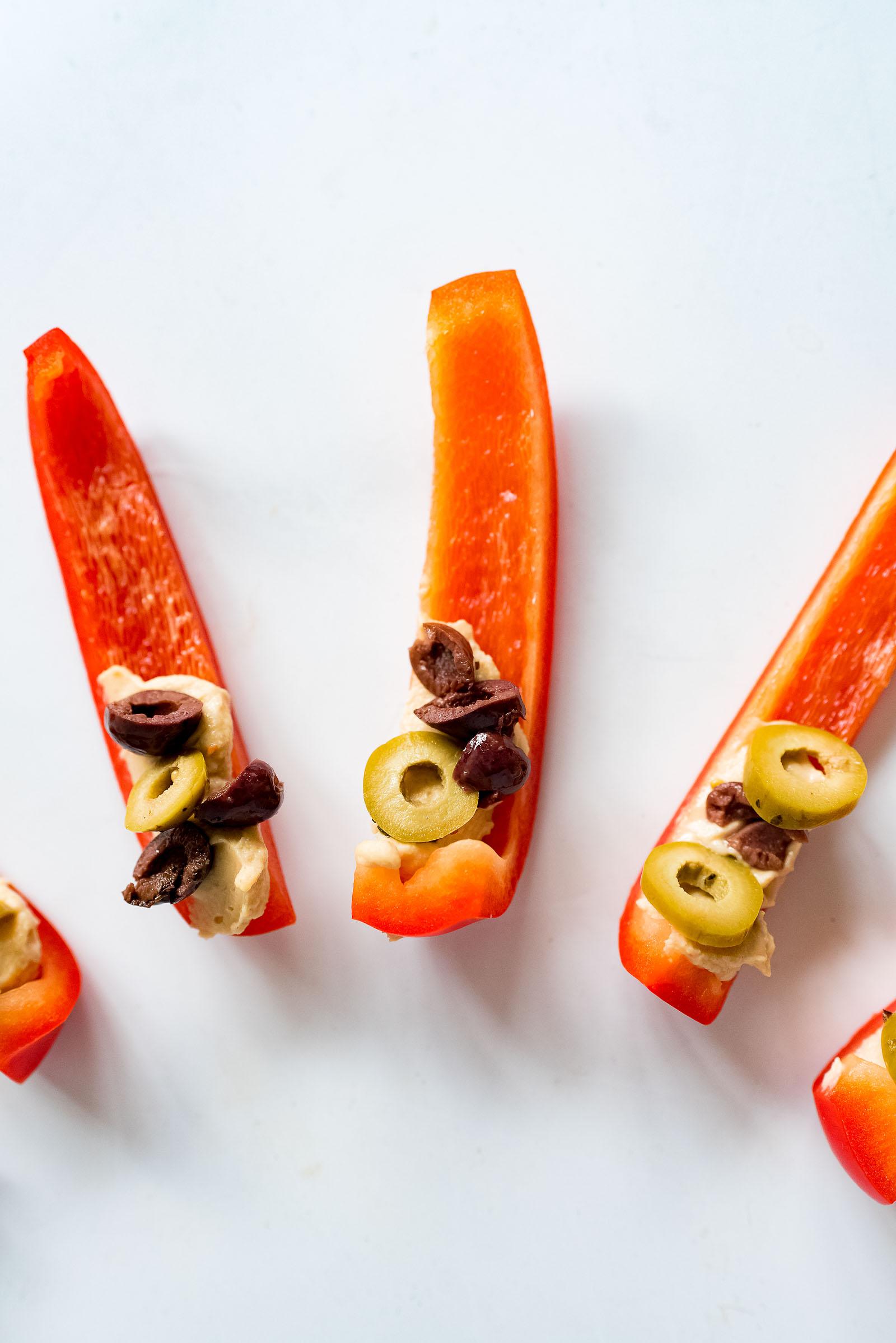 Tip:
If your grocery store has an olive bar, mix-and-match the olives you buy to change up the flavors of this snack day-to-day!
---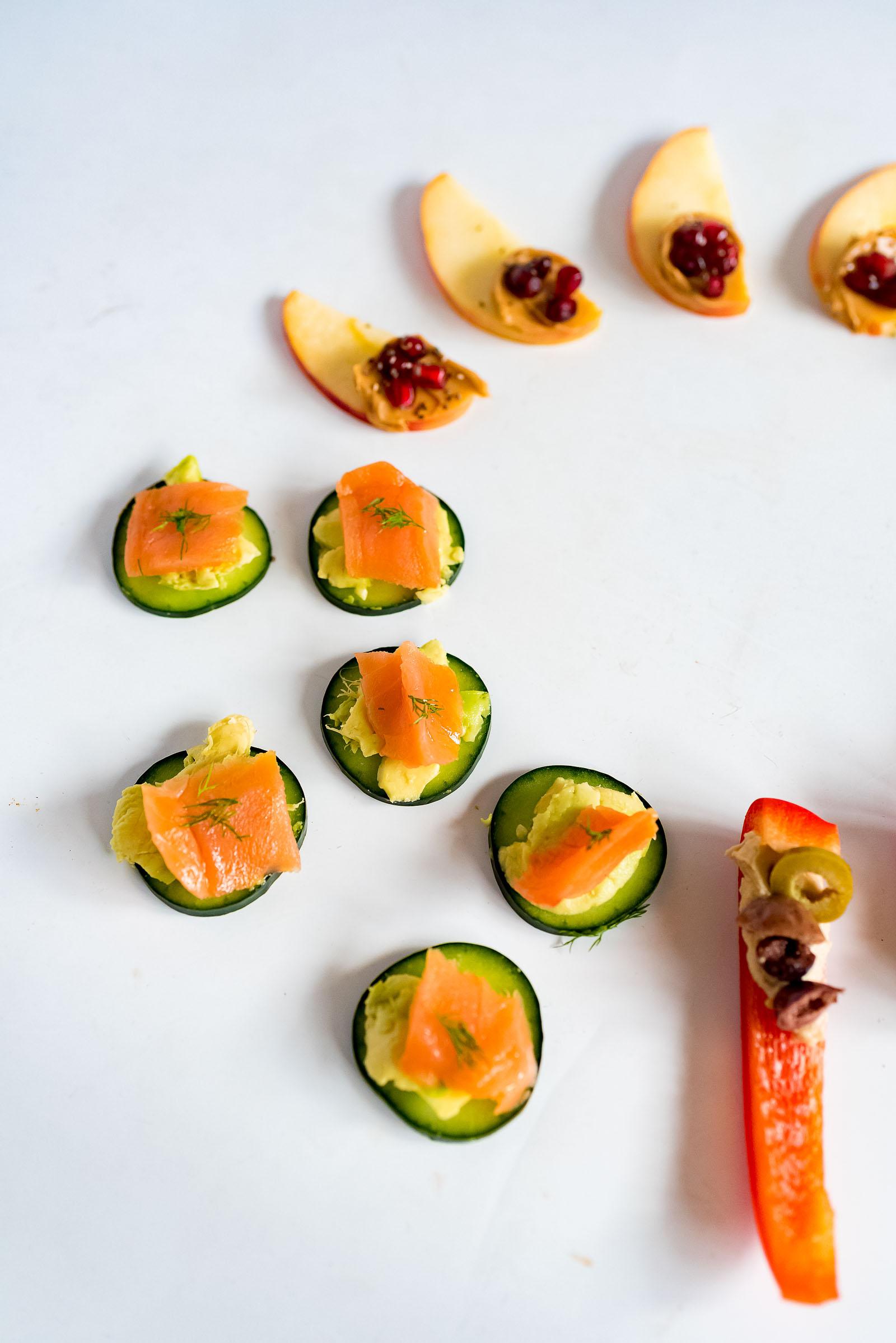 Cucumber Slices
with Smoked Salmon & Avocado
---
Cooling, protein bites covered in silky avocado and sashimi smoked salmon… oh, heaven!
First slice up a cucumber and add a tiny pinch of salt to the slices. Then cut open an avocado and spread onto each. Top with a small slice of smoked salmon and garnish with dill for a little extra flavor.
An easy protein-source snack that feels almost as indulgent as a cucumber sandwich at afternoon tea service!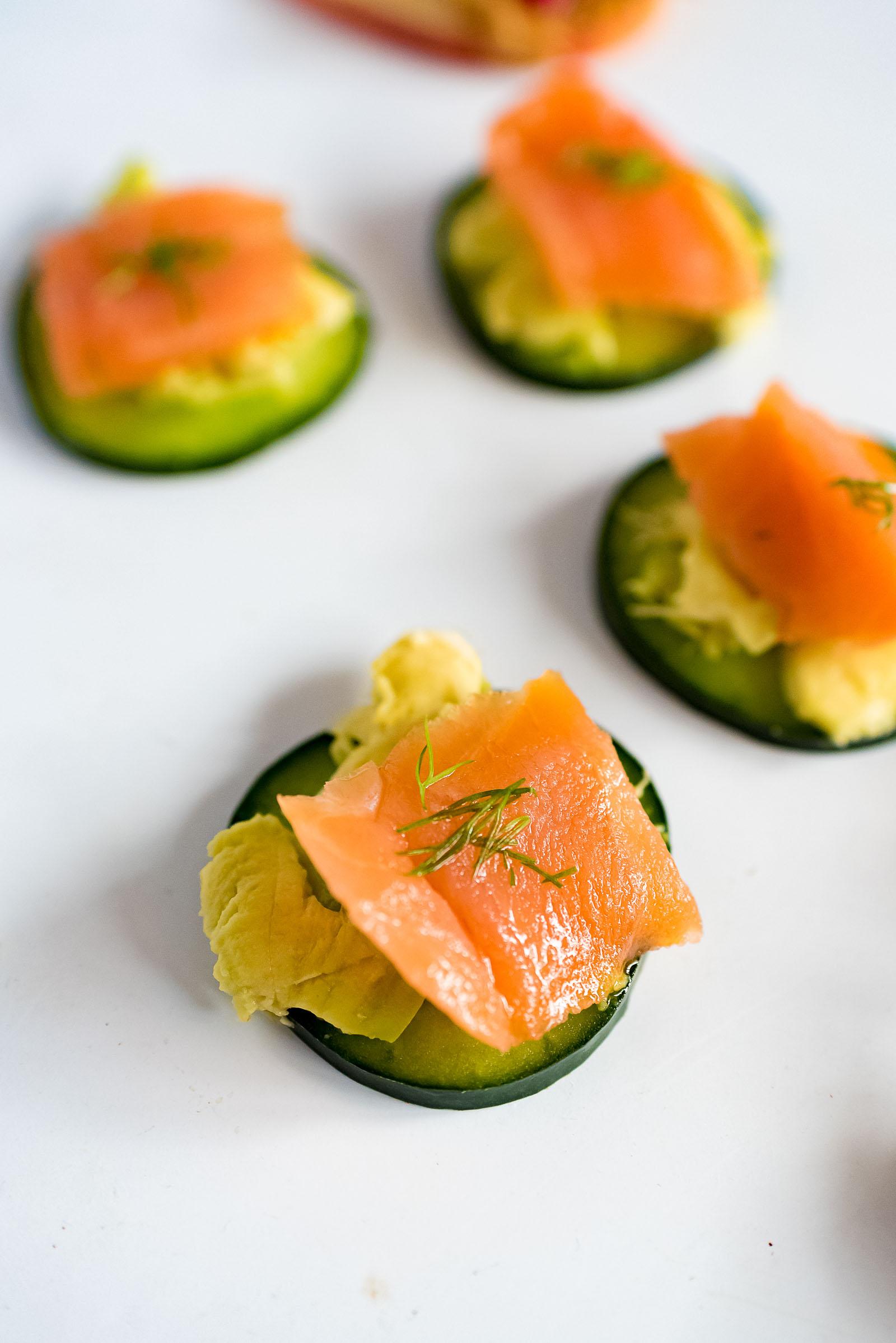 Tip:
If you live near a Whole Foods, they're recently started carrying sashimi-style smoked salmon in the seafood section, which I used in this shoot. It's positively addicting and utterly perfect on cucumber slices if you can find it.
If you don't live near a Whole Foods, never fear — this recipe works great with any type of smoked salmon. The pastrami smoked salmon at Trader Joe's is another family favorite for this recipe!
---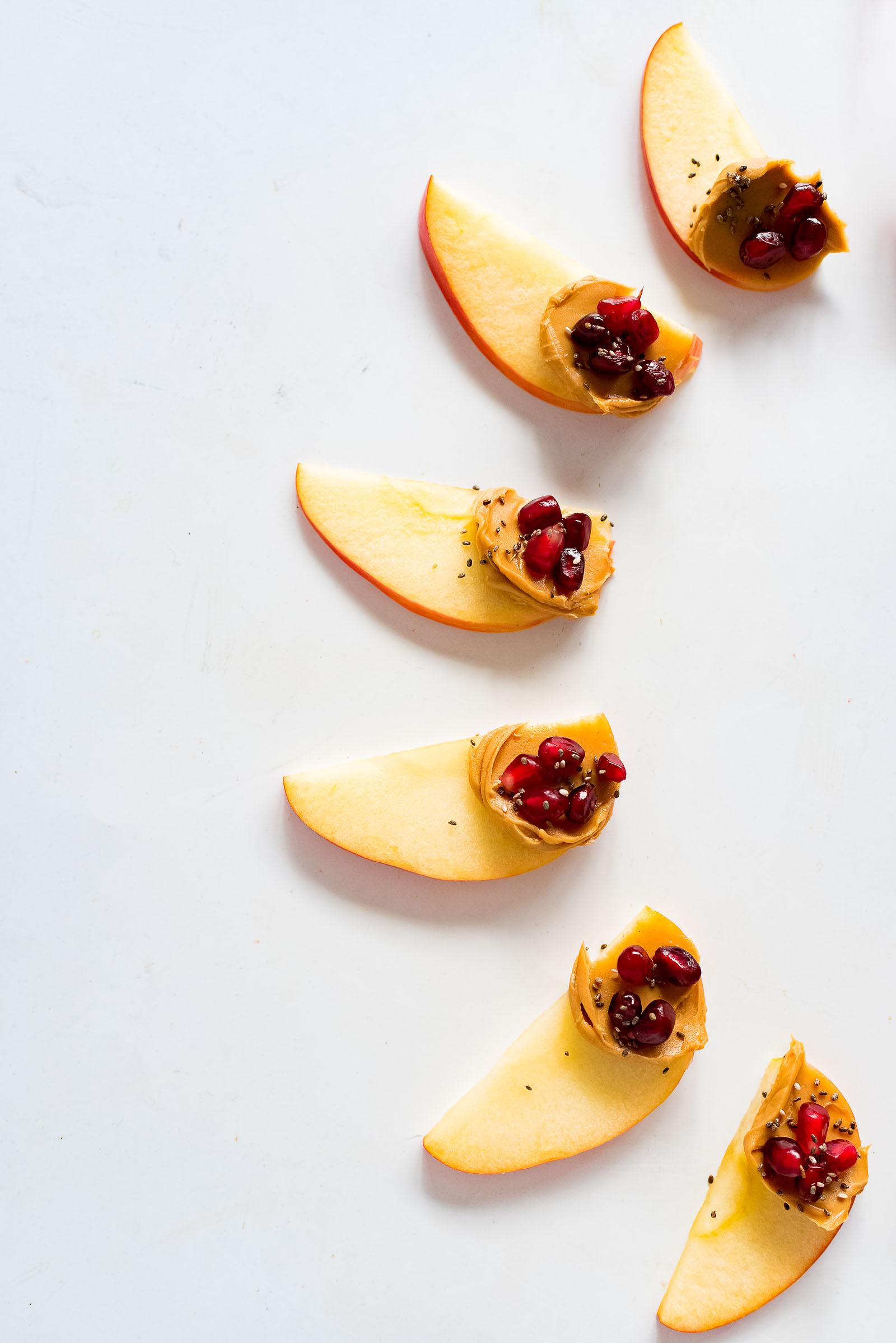 Apple Slices
with Peanut Butter, Pomegranate Seeds & Chia Seeds
---
Now, I don't know about YOU.
But for me, the WORST junk food cravings I get in January are sugar cravings.
After all the cookies, chocolates, pies, tarts, AND mugs of hot chocolate in December, January always feels like coming off some massive sugar bender.
And I come down hard. It's all I can do to stop myself from baking a pound cake most days…
So these apple slices have become my saviors.
Just slice up a fresh apple, slather it in peanut butter/almond butter/sunflower butter, dot it with a few pomegranate seeds (I find these in the refrigerated produce section of my grocery), and sprinkle with chia seeds for an added energy boost.
You get the same zing you do from more sugary things but without the inevitable, unhealthy crash a few hours later. AND you can eat an entire plateful without feeling completely ashamed.
Major snack win!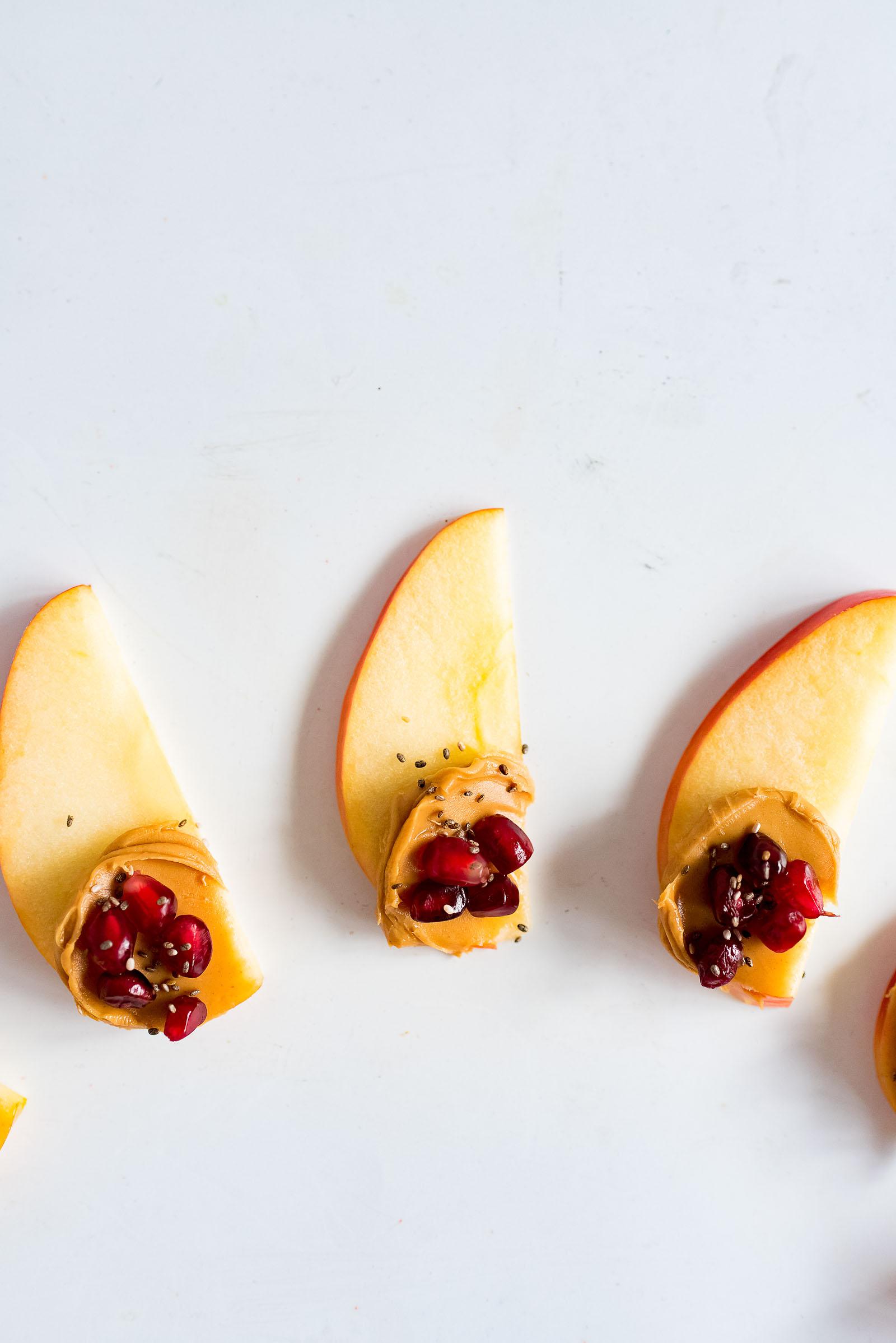 Tip:
If you can't find pomegranate seeds, any fresh berry works. We've used chopped raspberries, blueberries, or even grapes all to delicious results!
---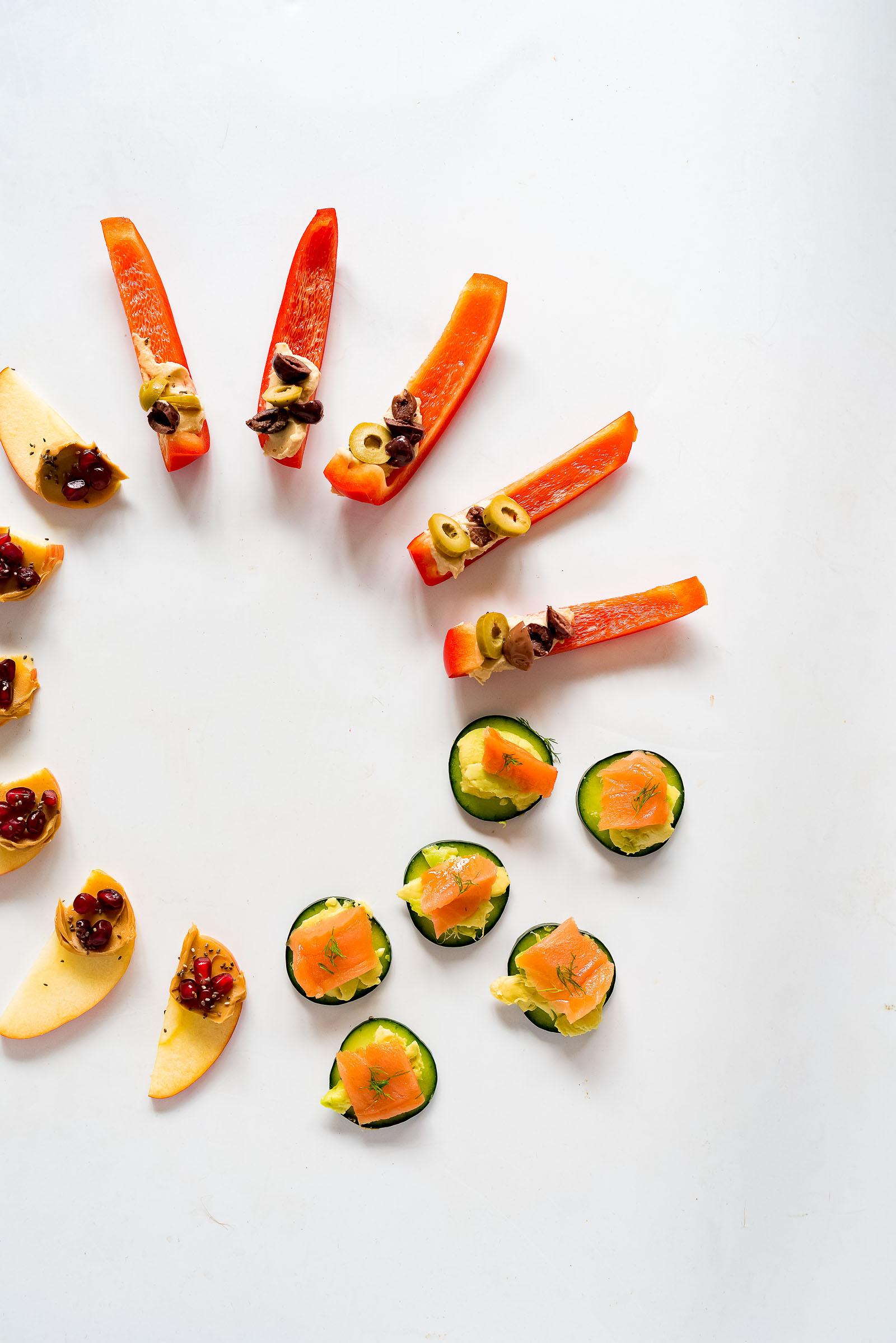 What are some of your favorite healthy snacks?