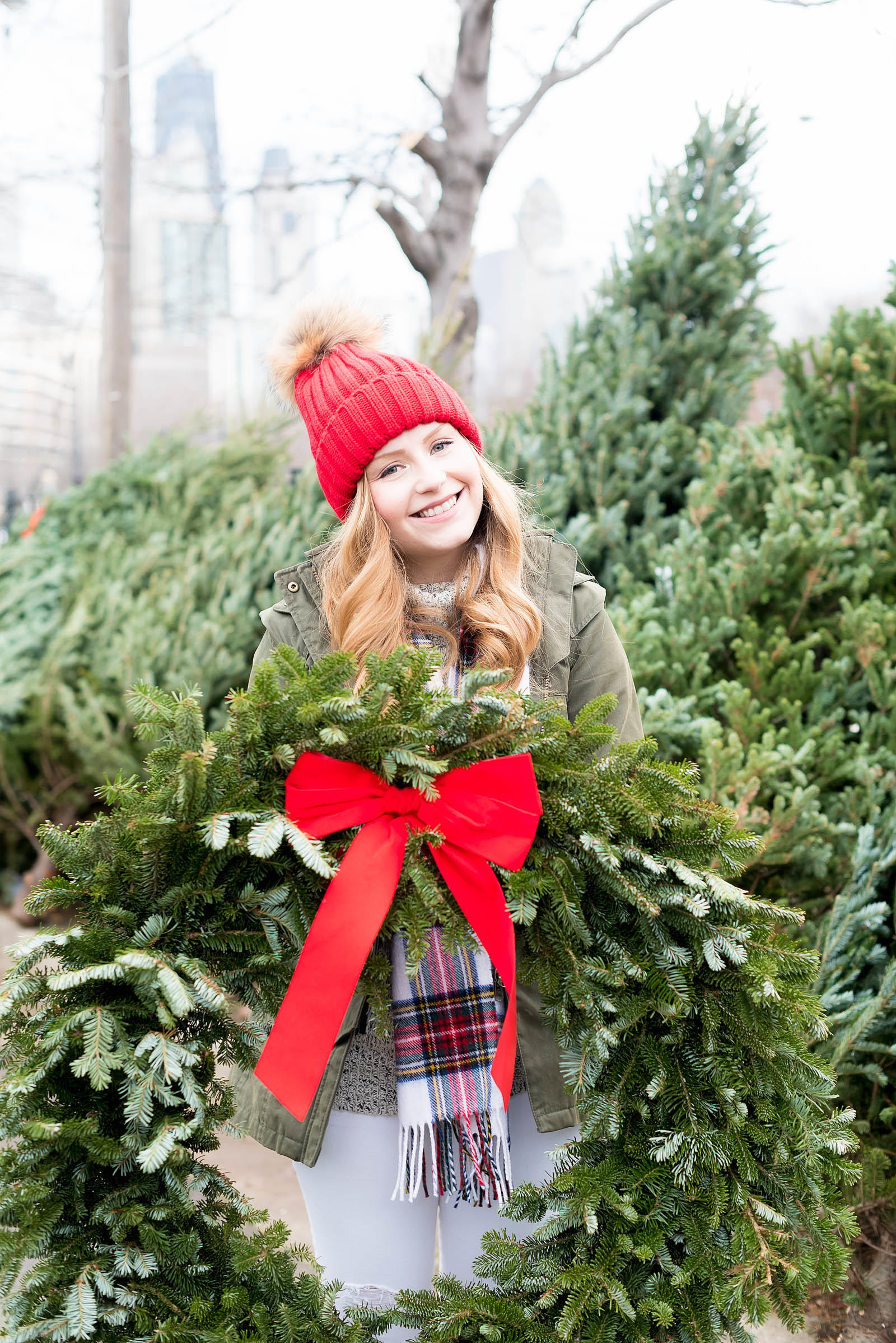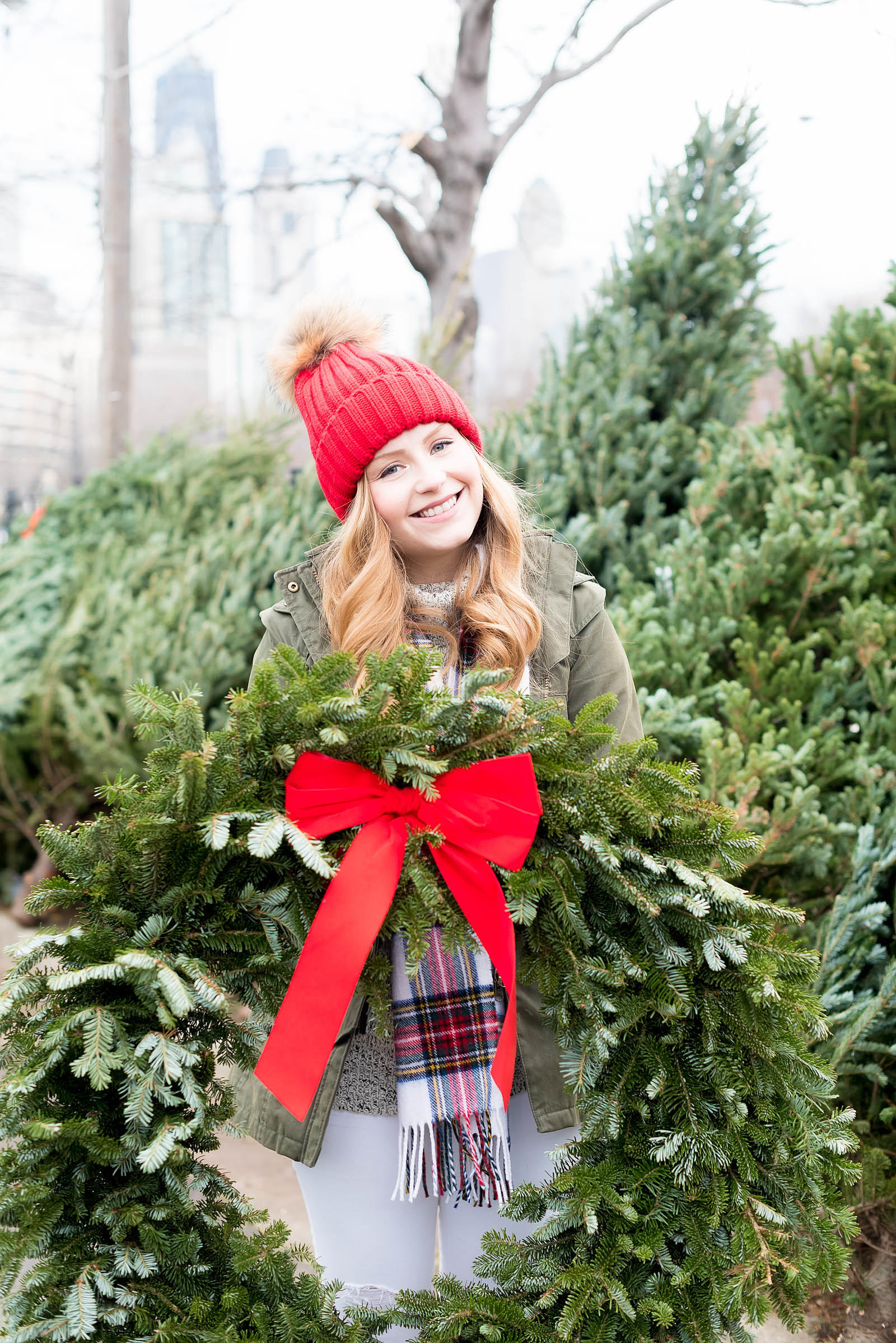 When I think about the most magical times of year here in Chicago, my heart can't help but think of the Christmas season.
Maybe it's because I'm a native…
I grew up with Chicago's Christmas traditions, munching on fresh German potato pancakes at the Christkindl Market or getting to see the Nutcracker from box seats every December for most of my life.
Maybe it's because Chicago REALLY knows how to decorate for the holidays…
One glimpse down the twinkling lights of Michigan Avenue can truly take your breath away. That is if the frigid December temps haven't already…
Or…
Maybe it's just because EVERYTHING about the Christmas season, especially when it comes to celebrating it in my home town, fills me with such hope and happiness.
It's impossible to feel blue, even after the month I've had, surrounded by the Chicago Christmas Season! And, with as rough of a year as it's been for everyone I've talked to, I can't help but feel like we could all use a much-needed festive happiness boost in our lives.
So without further ado…
My Favorite Ways to Celebrate
Christmas in Chicago
1. Afternoon Tea
Nothing warms the soul in December quite like the beautiful, elegant ritual of afternoon tea. A hot pot of fresh tea (and a merry glass of pink bubbly), mingled with the lovely sound of carolers, will put you right in the holiday spirit. Especially after a day of braving the holiday shopping frenzy!
There are DOZENS of delicious options to choose from here in Chicago. For the past five years at least I've attended the Peninsula's holiday afternoon tea service — it never disappoints. Especially when you combine it with some ice skating by their beautiful private rink after! Other delicious options include the Langham's Wedgwood Wonderland Tea (the ORIGINAL afternoon tea experience hosted in one of the most beautiful hotel lobbys) or a more casual afternoon tea at the Allis (the best budget-friendly tea I've found in Chicago).
2. Visit the Waldorf Tree
Chicago hosts many grand Christmas Trees over the holiday season but the swanky, luxurious tree in the Waldorf Astoria courtyard is the one I always make a point to go and see. Last month I was lucky enough to attend their Christmas Tree Lighting ceremony for this year's tree. It's even more magnificent than the beautifully textured multi-tree sculpture I shot at last Christmas.
And now I'm itching to go back to get a few holiday shots in this year too!
3. See the Nutcracker
My family and I don't go every year but every few years it's nice to celebrate Christmas in such a beautiful, traditional way. No musical score puts me in a more festive mood than Tchaikovsky's traditional masterpiece. And here in Chicago the Joffrey Ballet does a spectacular rendition overflowing with gorgeous costumes, beautiful scenery, and plenty of Russian-Era Christmas romance.
This year the Joffrey Ballet is doing a new version of the Nutcracker with a very Chicago-esque narrative. I haven't gone to see it yet but I've heard spectacular things — I can't wait to see how they've modernized this Christmas tradition!
4. Drink Mulled Wine at the Christkindl Market
My favorite Christmas tradition of them all!
My father used to travel to Germany frequently when my sister and I were young. And he'd tell us amazing stories about their Christmas markets — if you've never experienced a German Christmas Market, you've been sorely missing out! And luckily, 21 years ago, Chicago began bringing this charming German tradition to the Midwest with the annual Christkindl Market!
This is where you go to find everything from rare imported German gingerbread to beer cheese soup, ornaments of all shapes and sizes to bratwursts. It's a comforting Christmas tradition that everyone can enjoy. And it's BEST enjoyed with a piping hot mug of spiced mulled wine.
Their mulled wine is so good that it inspired my father and I to make our own at home every Christmas too!
Don't forget to try the potato pancakes (almost as good as my Mom's), the fresh bavarian pretzels, and the sparkly stollen slices while you're there too. And — if you want to start a fun tradition — pick out one beautiful ornament to take home with you (if you're an ornament addict like me!). My father started this holiday tradition for my sister and I years ago and to this day I still don't feel like it's really the Christmas season until I've, ahem, (drunkenly) tried to pick out a Christmas ornament. A word to the wise: the more mulled wine you drink, the bigger the ornament you'll end up taking home…
Take it from someone who's made that mistake before…
5. Decorations at the Allis
I love the Allis space in Soho House so much. The cozy, boho-chic atmosphere is fabulous no matter the time of year but especially around the holidays.
Like everything else they do, the Allis does their Christmas decorations a little differently than most. Often the decorations are very natural and classic — gold ribbons, fresh boughs of evergreen, and plenty of candles all around. It's so refreshing to find a space that decorates in such a timeless way and I always love snagging a cozy spot next to one of their trees with a hearty bowl of soup for lunch. Of all the hotels that decorate for the holidays, the Allis is always worth a stop over to see, even if you aren't staying for afternoon tea or their yummy brunch.
6. Visit a Christmas Tree Farm
Does anyone else find city Christmas tree farms to be as charming as I do? I just love visiting the little one that sets up on an empty lot in our neighborhood each year.
Since the dogs can't be trusted with a real tree in the house (they drink the water, eat the needles, try to pee on it… NO THANK YOU!), Hubby and I always make a point to buy a large fresh wreath for our front door instead. We're able to have that beautiful pine smell lingering without worrying about rushing the dogs to yet another emergency vet visit (I'm looking at you, Johnny-Derp!).
This year I managed to find this magnificent one for only $35! And every now-and-then when I want the house to smell extra merry, I snip off a few of the branches and boil them in water with cranberries, orange slices, fresh cloves, and pomegranate seeds for a quick-and-easy holiday hot-pot!
7. Watch Christmas Vacation
When it comes to holiday movie classics, it's hard not to immediately think of Christmas Vacation — but especially for us Chicagoans. This cult-favorite is my husband's family's favorite Christmas movie (my family's favorite is The Ref — absolutely hilarious!) and I just love watching it snuggled on the couch with some cocoa.
It's really not Christmas until you hear:
"Merry Christmas. Merry Christmas. Kiss my ass. Kiss his ass. Kiss your ass. Happy Chanukah."
Avoid the Michigan Avenue crowds all-together AND still get a generous helping of Chicago Christmas cheer with this laugh-out-loud comedy. Go on, you know you want to start a Christmas tradition watching this in a classy butt-flap onesie every year!