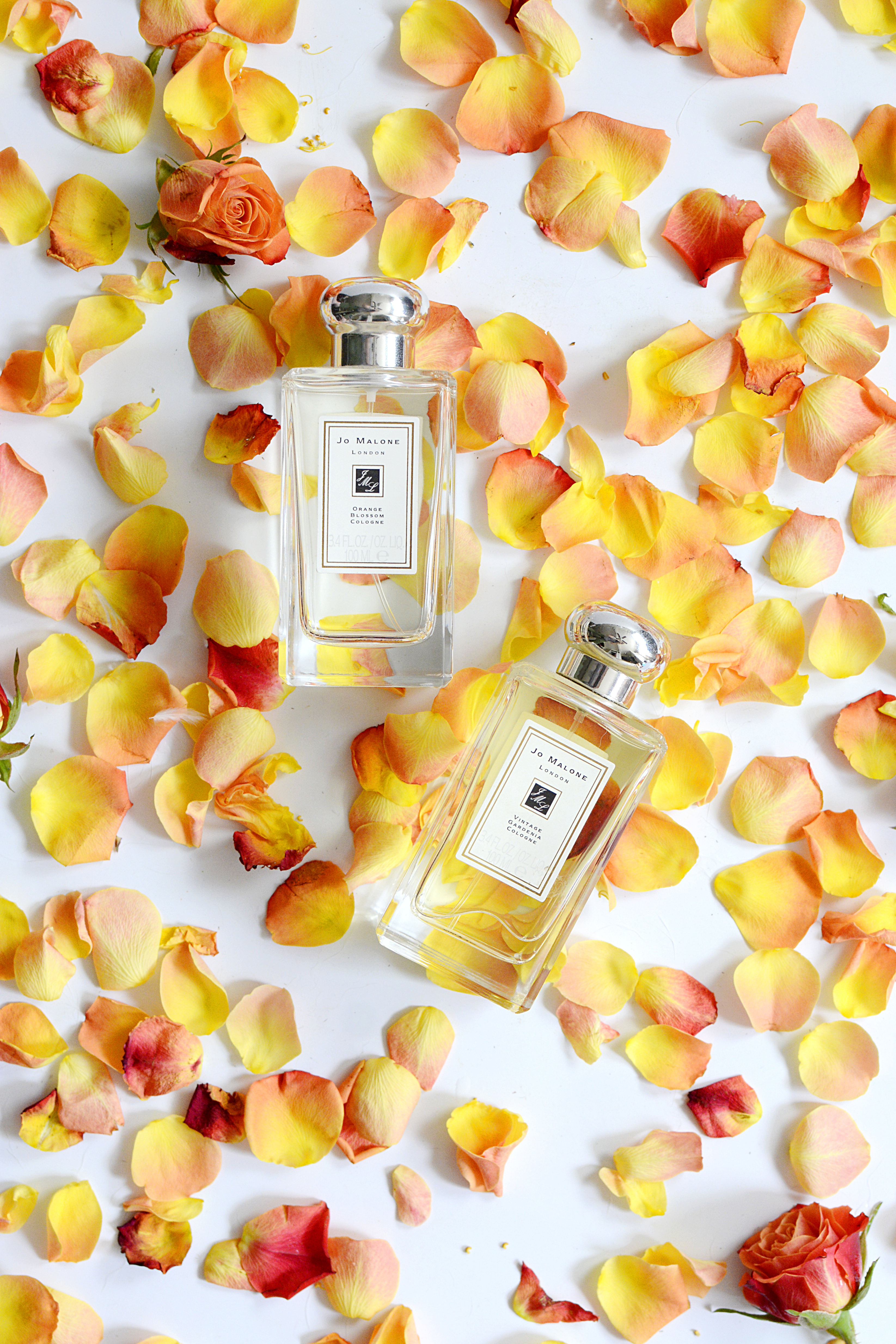 I adore Jo Malone cologne.
To long-time Sed Bona readers this declaration comes as no surprise — I've frequently shared my obsession with Jo Malone cologne (and their limited edition Rock the Ages collection).
But recently I've realized just how much others must adore Jo Malone cologne too. In the last two months my original post has become my most popular post to date!
And why shouldn't it be? Jo Malone encourages each of us to get innovative and creative with our scents, mixing and matching colognes in order to craft a fragrance to suit our moods.
It's a fun hobby of mine — I feel like a fragrance chemist every morning as I mix-and-match different colognes to make something new!
But for some, the process of mixing colognes might be intimidating and confusing so today I'm sharing some of my favorite combinations for those of you who may not know where to begin.
My Favorite Jo Malone Combinations:
Jo Malone Orange Blossom + Vintage Gardenia (retired)
This combination is one I've talked about before and with good reason: it's my signature scent!
As I've said before, "I just worship this combination.
It's mesmerizingly intoxicating and yet still feminine and elegant.
Not suffocating but still dramatic.
No combination feels more empowering or really makes me feel like ME than this duo. The first moment I wore it, I knew definitively that I had found my signature scent. Sadly, I'm on my last splendid bottle of Vintage Gardenia and will no doubt have a funeral for it once I've depleted it. Isn't it always the story that once you find something absolutely perfect for you, it gets discontinued?"
And while I know my last bottle of Vintage Gardenia won't last forever, I still cross my fingers that I'll be able to find a proper replacement beforehand! No scent has ever entranced me quite like this combination!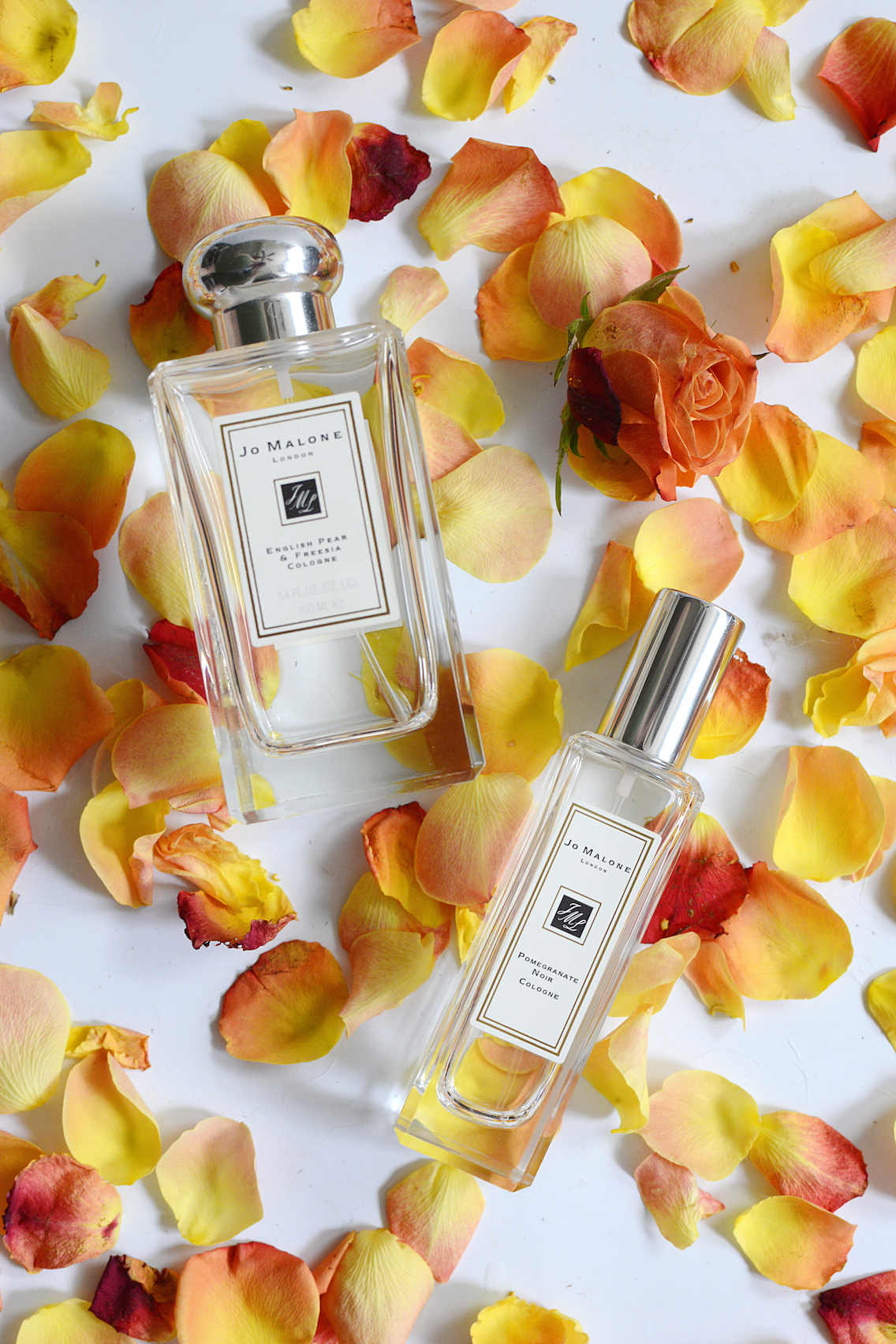 Jo Malone English Pear & Freesia + Pomegranate Noir
The juicy, fruity scents of pear and pomegranate mixed with strong florals notes. This is one energizing and engaging floral combination!
The spicy vibrancy in Pomegranate Noir keeps this blend from feeling too "fruity" and not sophisticated enough. It's the sort of fragrance that you can wear all year round since the heaviness has depth in the summer heat while the fruity floral notes keep this from being boring in winter.
This is a great combination to begin with since both colognes stand equally beautifully on their own (and just happen to be two of Jo Malone's best-selling fragrances).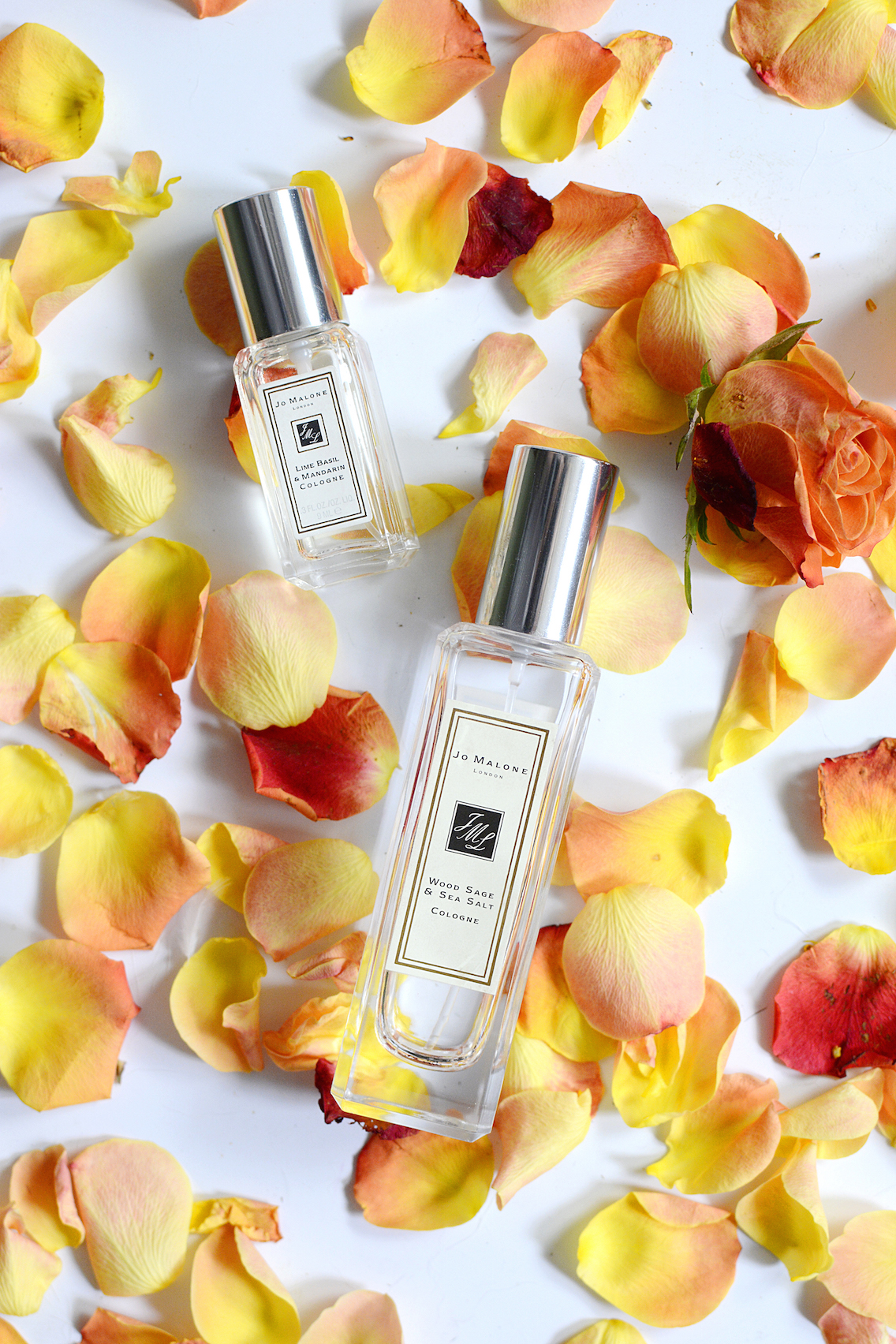 Jo Malone Lime Basil & Mandarin + Wood Sage & Sea Salt
This combination is a little more unorthodox but no less brilliant!
I've told you about my love for Wood Sage & Sea Salt time and time and time again because it's one of the most unique scents I've ever fallen in love with. Surprisingly engaging, it evokes the British coast with a salty, mineral clarity that feels almost haunting.
So obviously I've mixed it with every Jo Malone cologne I own in order to test it out. After some experimentation I've discovered that this combination is my absolute favorite! The Lime Basil & Mandarin has a vibrant, zesty quality that livens up the Sea Salt and makes me feel energized. It's still a surprisingly gender neutral combination (Hubby smells divine in this mixture) and one of those scents that just somehow suits those days when you aren't sure what to wear.
Empowering without being overly feminine.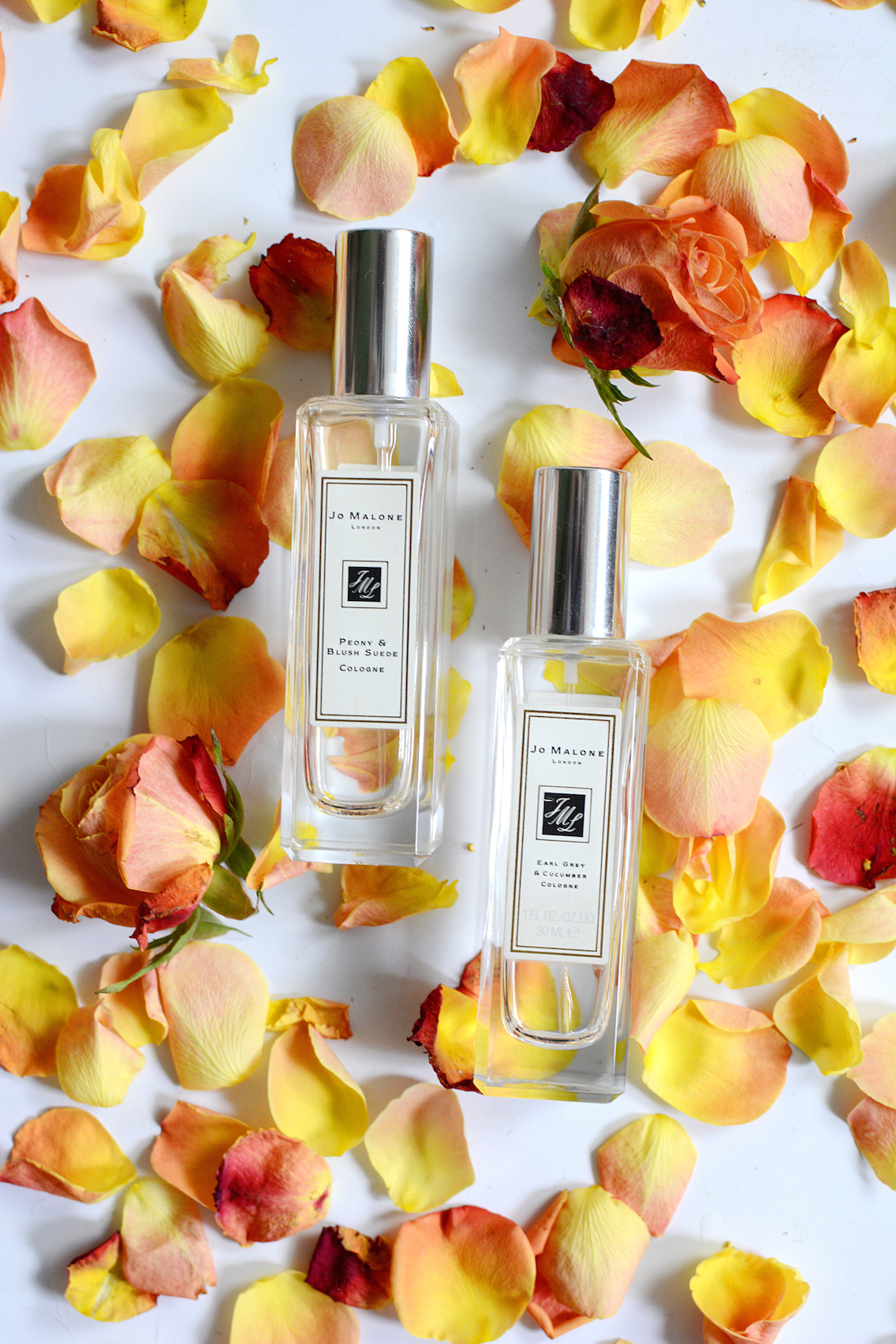 Jo Malone Peony & Blush Suede + Earl Grey & Cucumber
Hubby actually discovered this combination for me (I think he may actually enjoy mixing colognes more than I do!) and it's quickly become one of my all-time favorites.
Think of this combination as modern afternoon tea encapsulated into a fragrance.
The zesty bergamot notes from the Earl Grey are tempered with the floral peony, the earthy leather, and fresh cucumber in a way that feels modern yet elegant. This combination is powerful without being suffocating — the scent notes are light enough not offend but distinctive enough to leave a strong impression. And the blush suede leather notes are feminine enough to prevent this combination from being overly masculine.
I almost always wear this combination to afternoon tea at The Allis!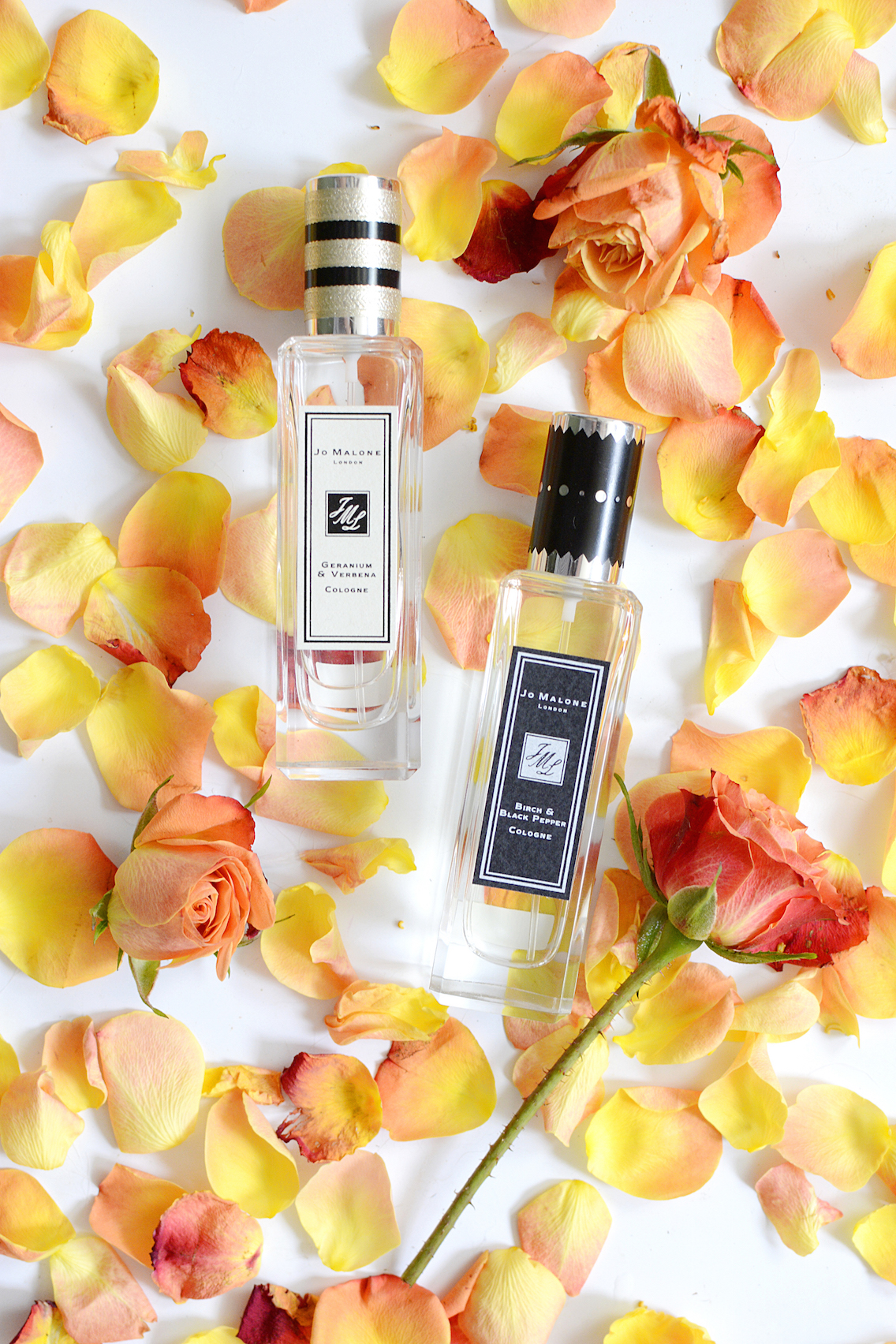 Jo Malone Geranium & Verbena + Birch & Black Pepper
Both colognes are from Jo Malone's limited edition Rock the Ages collection so I feel a little guilty writing about how much I love it seeing as one of the scents is already sold out.
But wow is this a beautiful combination!
It's distinctive — Geranium & Verbena is a scent based on England's Edwardian era and evokes a gender-neutral herbiness reminiscent of a refined garden while Birch & Black Pepper is based on England's unique modern era with all of it's spicy and woody juxtapositions.
The combination is the earthiest on this list (and another gender neutral option) and feels so invigorating on — just like you've returned from a brisk walk outside. But with a modern edge thanks to the black pepper notes.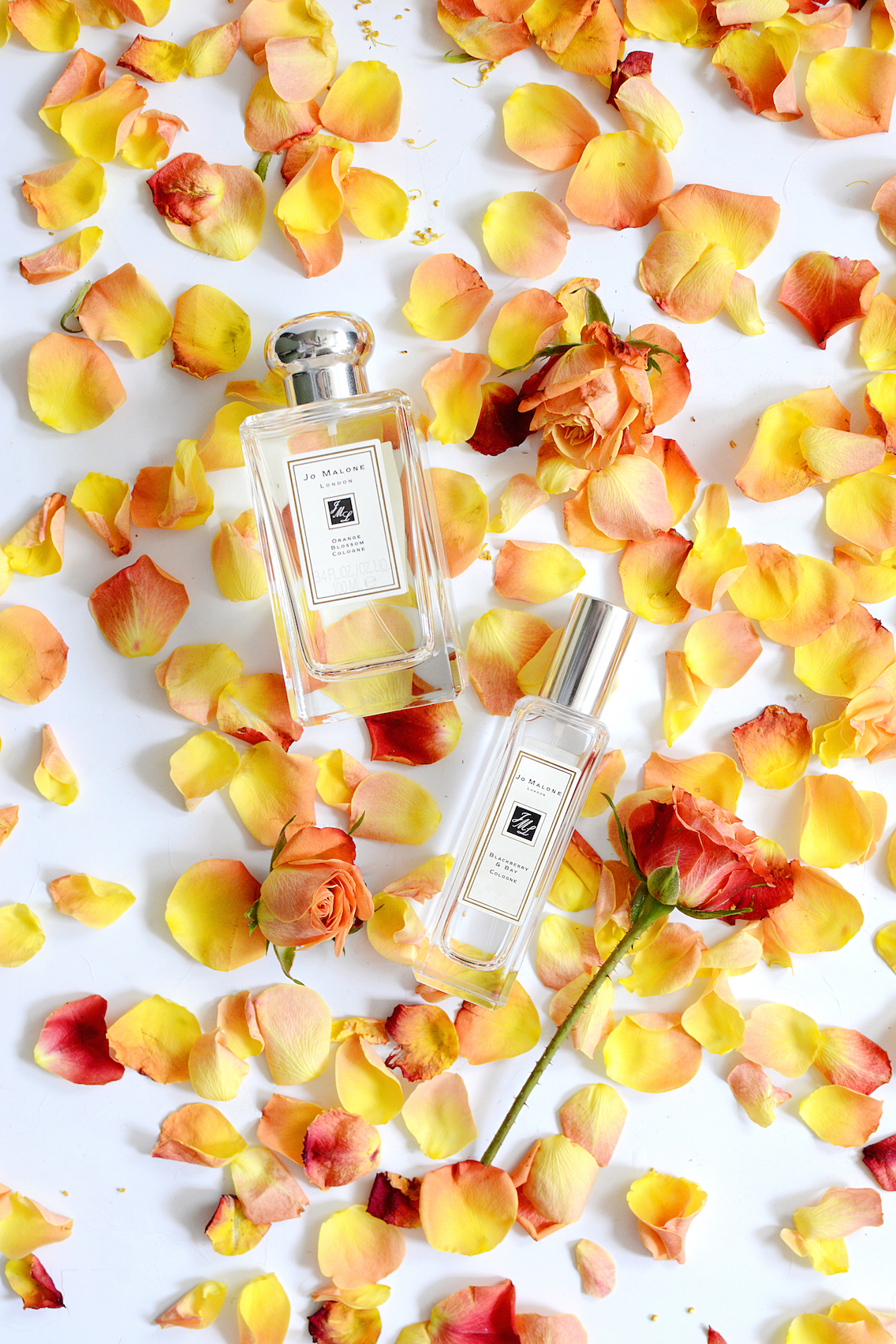 Jo Malone Orange Blossom + Blackberry & Bay
This combination is an autumn play on my signature scent.
It's fruity and floral but with a spicy depth from the bay leaves that feels so appropriate as the weather turns colder. It's moodier and more intricate in its balance too making it far more intriguing than other fruit + floral combinations I've tried. It's a timeless scent for those wanting something more interesting and less cliché being French in nature but heavier in spirit.
This is another great combination to start out with as both colognes are addictive enough on their own but mix beautifully into an entire new scent when layered.
Have you tried combining fragrances before? What are some of your favorite discoveries?