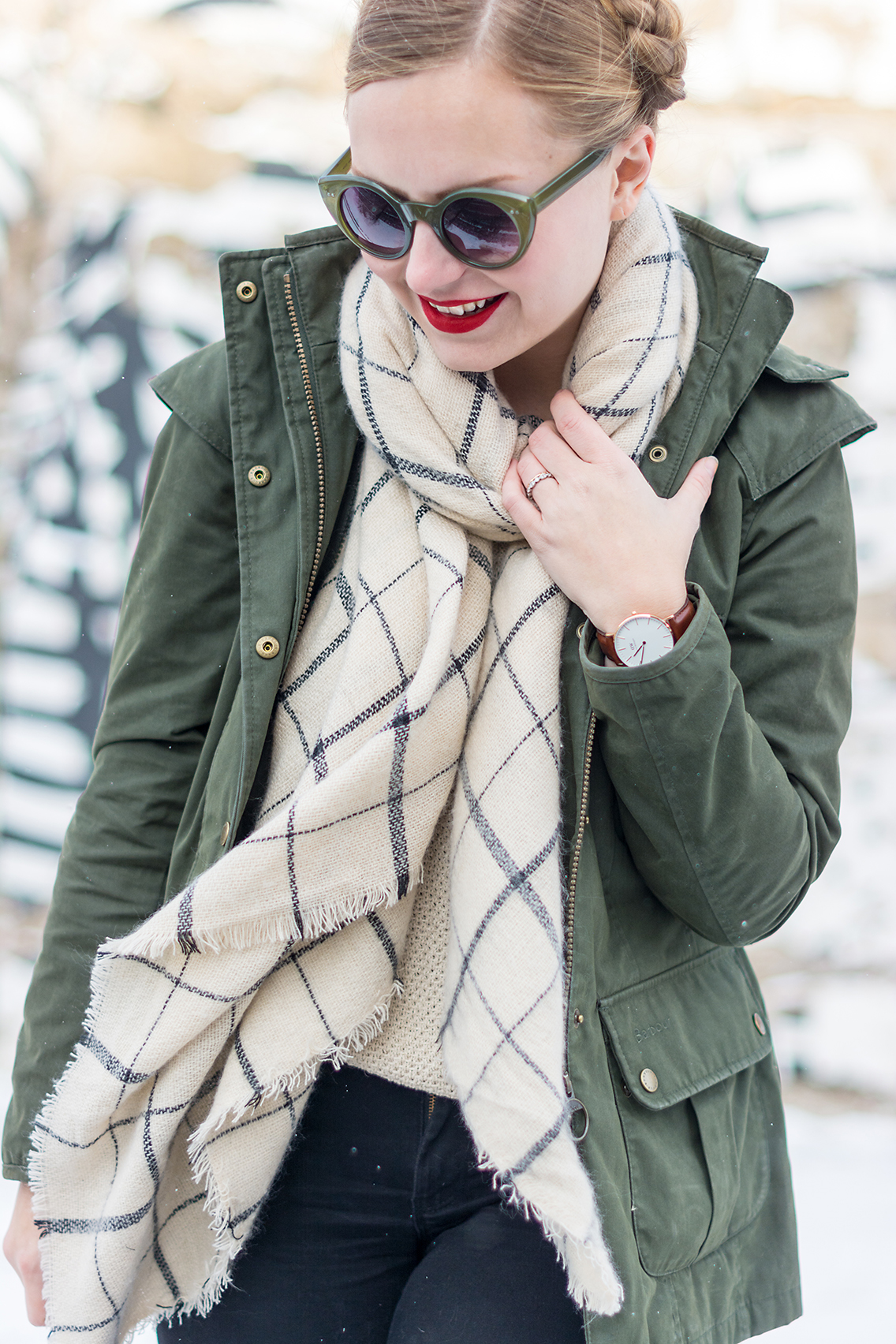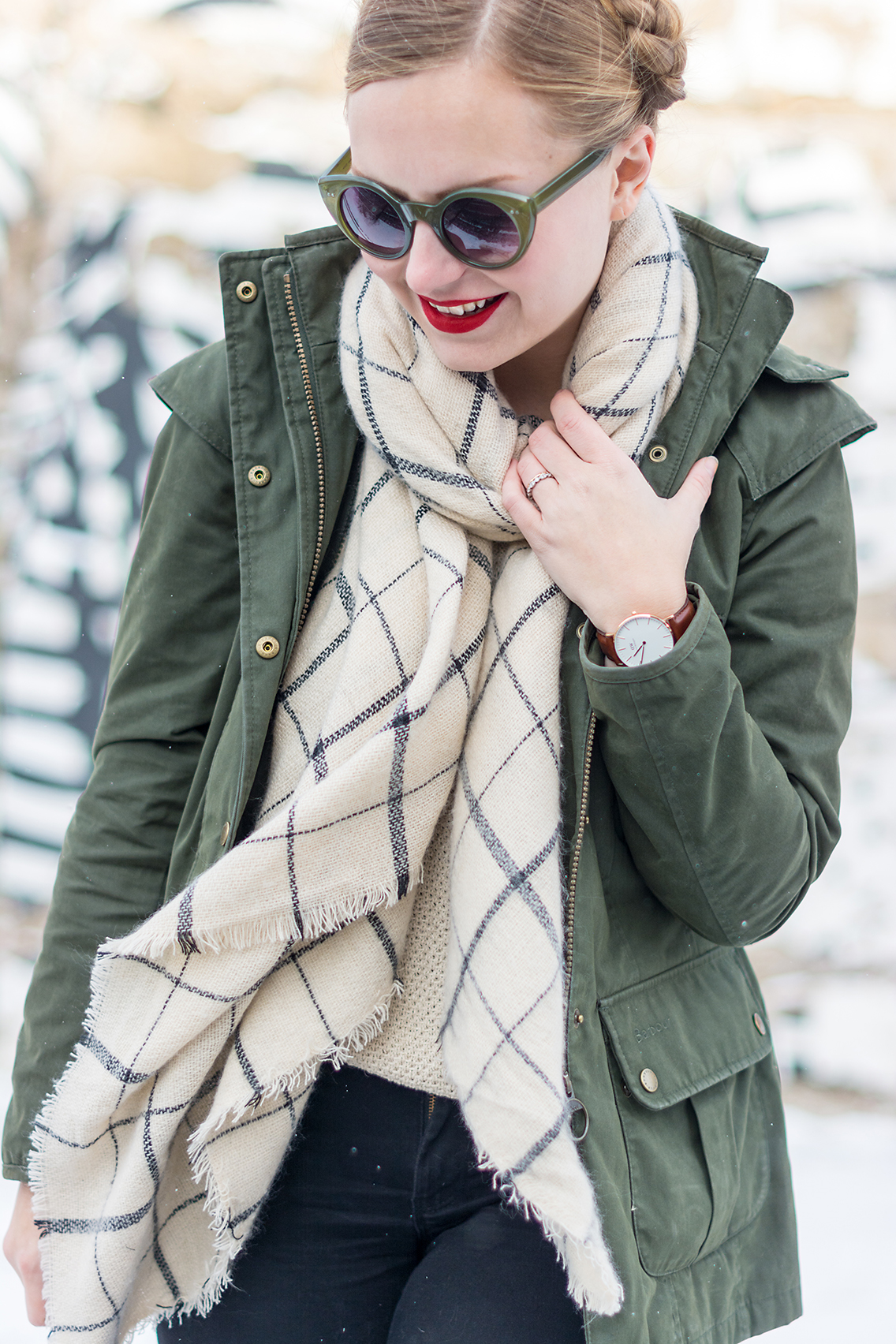 Ohhh, winter.
The season 90% of us dread each and every year.
The season we love to hate.
And it's not just because of the cold. It's really more because of the inconveniences the cold causes. Suddenly you have to layer on A LOT of clothing on just to run a 10 minute errand. Suddenly you find yourself knee-deep in fresh snow (and wearing the same waterproof boots for three. months. straight). Suddenly you find yourself emphatically thanking the person who invented texting gloves and USB hand warmers. Because sometimes the cold is SO bad, you find yourself wondering if your fingers really might fall off.
Winter is an especially tough season to dress for. Layers are your savior, allowing you to seamlessly move between 10 degrees outside to 70 degrees inside without losing your mind. And proper, warming accessories make SUCH a difference especially if they come in fun colors to help break up the winter doldrums.
So don't get down this winter season — rise to the wardrobe challenge and prove that chilly really can mean chic too.
---
15 Winter Wardrobe Essentials
1. Down Coat
All girls who move to the Midwest try to resist buying a down-filled coat. Because, let's face it, nothing says "I give up" stylistically more than an arctic-looking puffy coat. Those poor girls say "I can do winter without a puffer coat" proudly. And then the next winter, you ALWAYS see them in their own puffer complete with plenty of excuses as to why they now have one ("it was on sale!").
And it's not hard to understand why. A puffer coat is essentially the wardrobe equivalent of a duvet blanket, enrobing you in a marvelous marshmallow-esque embrace that can keep you warm through weeks of arctic weather. Invest in one nice puffer coat and wear it each and every winter proudly, knowing that no matter what happens, you won't — at least — be the poor sucker who inevitably gets pneumonia from their poor outerwear choices. If you can, I always recommend finding one with knit cuffs at the wrists and neck which conform to your body more to prevent gusts of wind from getting into your coat.
2. Waterproof Boots
The ultimate all-weather transition footwear. There's nothing like the incredibly chilly experience of getting stuck in the snow with the wrong footwear.
And, for better or worse, much of Chicago is covered in snow throughout the winter. Which means I LIVE in my waterproof boots from January to April. I have a shorter pair to throw on when I'm in a hurry and multiple pairs of tall wellington boots in various colors so I won't get bored. I even have a pair of fur-lined wellies (which are SO warm in the snow).
I recommend finding at least one classic, clean pair you can dress up or down so you aren't inevitably ruining your beautiful suede boots every time you want to look chic IN the snow.
3. Statement Fur
The easiest way to look chic in winter! One great leopard spotted coat and you can easily go from work to play, day to night without a wardrobe change.
Fur coats (go for faux fur whenever possible!) are a great, warm way to make a statement during chilly months. And they last you FOREVER. This leopard coat of mine is actually my grandmother's piece that HER grandmother bought her in the 60's! And yet it's still just as chic and lovely now as it was back then (it was featured in Stylewatch Magazine in November!).
Pick a statement fur piece that's a classic silhouette but in a fun color or print. It'll standout against the sea of black-on-black most people wear during winter.
4. Texting Gloves
Winter Wardrobe Fact: Frozen fingers are not chic.
And thawing your fingers inside every building you can? Embarrassing. But if you're a typical modern on-the-go you're probably texting and emailing from your phone all the time. And winter isn't going to change that, no matter HOW cold it gets outside.
So invest in a cute pair of leather texting gloves so you can email without abandon and text without the fear of frost-bitten fingers. Your fingers will thank you AND you'll look 10x more chic than the poor girl next to you trying to chicken peck on her phone with red, raw fingers.
5. Wool Coat
While I tend to live in my down coat most of the winter (it's just too cold for anything else), when I want to look professional and polished, I always opt for a wool coat.
Wool coats are a perfect, tailored way to complete any outfit. Find one with a good weight (though not too heavy to wear when layered with chunky sweaters) and in a beautiful hue that'll be flattering and easy to throw on in a rush. And after winter is over, always remember to take your wool coat to the dry cleaners to have it properly cleaned before going into storage during the warmer months. Then it'll last you DECADES!
6. Fleece-Lined Leggings
My biggest winter wardrobe secret. I wear these fleece-lined leggings under pretty much everything. Maxi dresses, loose jeans, shorter skirts with boots, you name it, I've probably layered these leggings under it.
What can I say? I'm a Midwesterner — I'm PRACTICAL about winter. The more layers you have, the happier you'll be. So find a great, slimming pair of fleece-lined leggings (or maybe even two!) and wear them under everything. While all your friends are frozen to the core, you'll at least be comfortable. Plus they increase the size of your wardrobe by morphing all that clothing not usually worn in winter (like this summer maxi dress) into cold-weather appropriate looks. Win-Win!
7. Sunglasses (Good Ones)
Ever heard of albedo? Well, it's the technical term for the harsh glare that you get when you look at snow, even on a cloudy day.
If you're like me and you already have light-sensitive eyes then winter can actually be harder on your retinas than summer. Some days the glare can get so bad just driving 20 minutes gives me a 3-hour-long headache!
Not cool. Or chic.
Enter polarized sunglasses… the winter eye savior.
Polarized sunglasses and other very dark shades help combat the endless winter glare in a way that's stylish and practical. Find a few fun pairs to mix-and-match with your winter coats and you'll have an easy formula for a comfortable, chic look no matter the occasion.
8. Turtleneck
The ultimate winter layering piece! Layer on a turtleneck and watch as it instantly adds extra style to any look.
I just love a good turtleneck in winter. They're super practical being warm and form-fitting so they can easily fit under just about anything you're wearing. Without adding massive bulk!
I especially love layering turtlenecks under summer dresses to make them winter-appropriate. Buy a few in various colors (or even a striped one!) and watch as you wear them time and time and time again.
9. Over-the-Knee Boots
Okay, okay. I admit it. Over-the-Knee boots are my wardrobe essential in spring, fall, AND winter.
And I offer absolutely no excuse because over-the-knee boots are as practical and chic as they come, turning skirts and dresses into winter ones almost as successfully as fleece-lined leggings. Invest in a pair in a neutral hue you can mix and match with most of your coats and watch as you NEVER take them off.
I mean, how can you say no to a pair of slimming boots that act like a warm pair of leather pants? Especially after weeks of wearing ONLY pants (hello, January).
10. Leather Pants
My wear-with-everything winter pant neutral. Leather pants go with anything and everything. And they're usually thicker than denim keeping you chic when you have the chills.
And they're ridiculously edgy and fun to wear instead of basic jeans or simple leggings.
I have a variety of pairs at various price points and love them all but have certainly found that the more expensive the leather pants, the warmer they are. Go for real leather if you can afford it if you want a neutral pant that'll REALLY keep you warm all winter long.
11. Warm Shawl
A layering piece that works indoors and outdoors? Yes, please!
Warm shawls are such a great thing to have laying around in winter. Throw it on before you head out to dinner, the museum, the bar, or the movies and keep it on over your shoulders in case you get cold indoors.
I love having a big scarf to snuggle into whenever I get chilly indoors — sometimes the cold weather just sinks into your bones and you don't want to be the only person sitting in their down coat at their desk…
12. Knit Hat
Much of our body's heat escapes through our heads so I always like to hold the heat in with a chic knit winter hat.
Find a fun and fabulous one to wear time and time again (no one cares if you wear the same hat for a week straight!). Right now there are some especially cute and colorful options to choose from — I remember just a few short years ago you couldn't find a fashionable knit hat to save your life!
Find one that works well with a lot of your outerwear (or one that matches a scarf for a more complete look) and your ears will never freeze in winter again. PLUS it helps disguise your hair on those days when you just did not have time. to. shower.
13. One Luxurious Cashmere Sweater
It took me forever to invest in my first cashmere sweater but I've been quite the purist since, becoming very particular about my cashmere investments and slowly investing in these soft basics over the past few years.
For those days when you could really use a pick-me-up from the winter blues, nothing makes me feel happier than a soft cashmere sweater to snuggle into. My favorites are hands-down from Equipment — their cashmere sweaters hold up 5x better than J. Crew's for about the same price!
Just be sure to invest in a sweater brush so you can properly care for your cashmere too.
14. Sweater Dress
A no-brainer for a dress-lover like me in the winter months. Sweater dresses are so cozy to wear and yet can be incredibly chic, despite their bulk.
Sweater dresses are the perfect layering piece for girls who love to dress up, even in the dead of winter. Find a few in neutral hues or even one in a statement print and watch as it becomes an outfit even before you add accessories in.
Pair this with some fleece-lined leggings, fur-lined wellies, or over-the-knee boots and you can even stand being in a dress in negative temperatures!
15. Cheap Chunky Sweaters
(Post Coming Soon!)
Preferably a few in various colors and silhouettes. Preferably chunky so you stay warm. And preferably cheap as only the most perfect among us can manage to keep a chunky knit looking new after a year or two.
Don't fight with reality.
And don't invest in an expensive chunky knit unless a) you're willing to go to great lengths to preserve it, b) you have the shelf space to store it folded, and c) you do not have dogs who like to burrow their nails into sweaters then dash off for fun (I'm looking at YOU, Apollo!).
Then you won't inevitably become heart-broken when you only get one winter's wear out of your sweater…
What winter wardrobe essentials do you rely on every year?
And be sure to explore my wardrobe essentials for SPRING, SUMMER, and FALL, too!