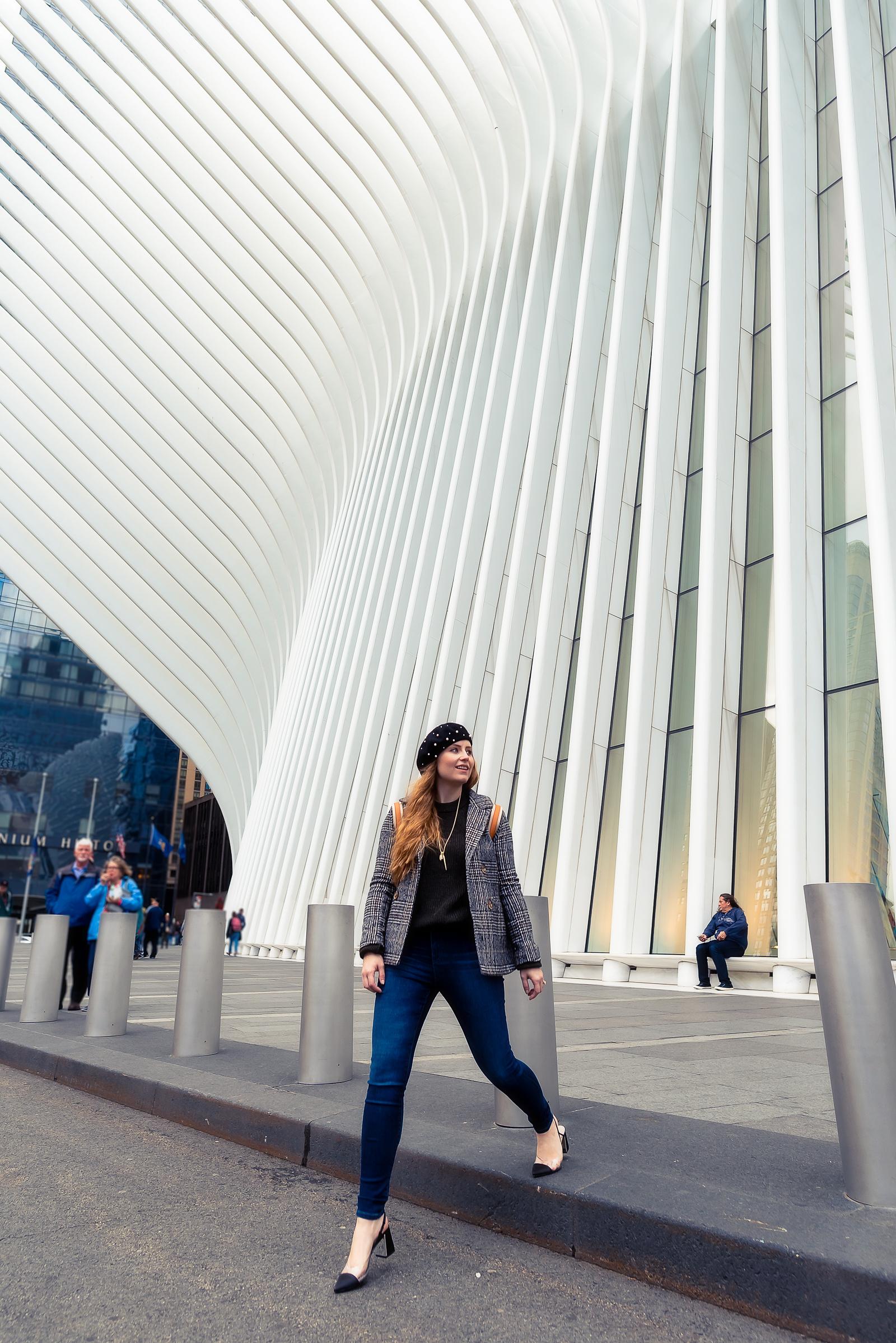 "Male and female represent the two sides of the great radical dualism. But in fact they are perpetually passing into one another. Fluid hardens to solid, solid rushes to fluid. There is no wholly masculine man, no purely feminine woman."
— Margaret Fuller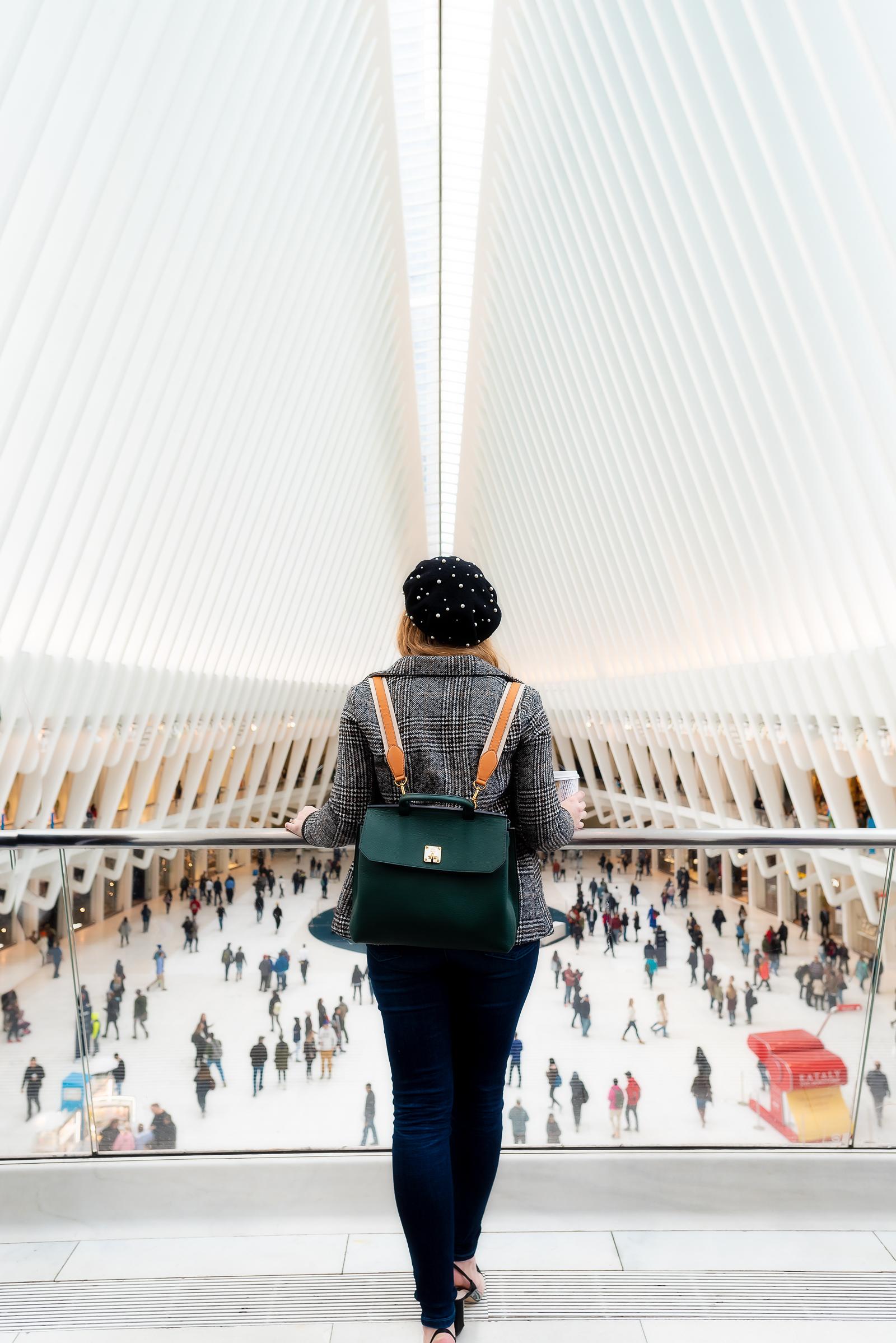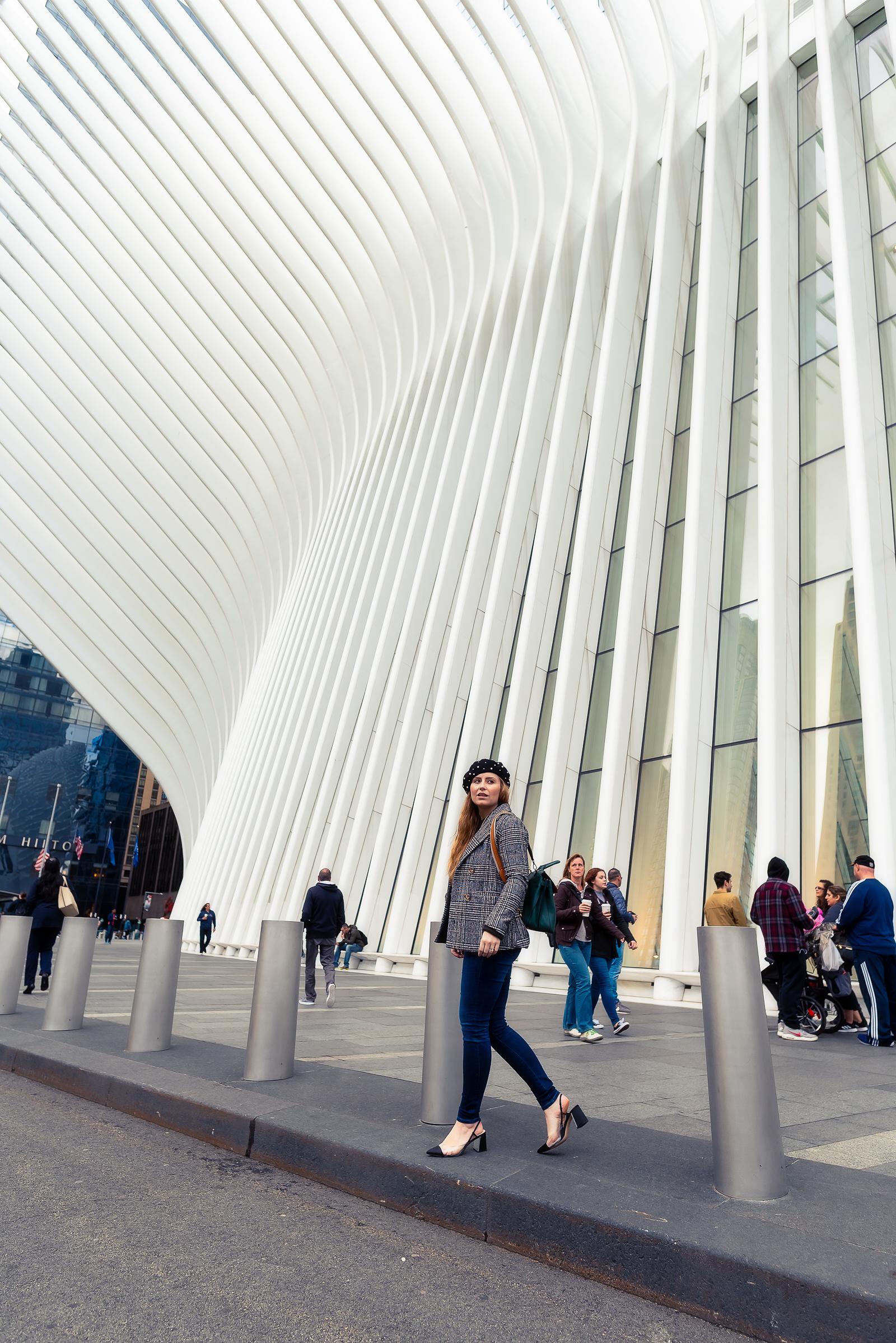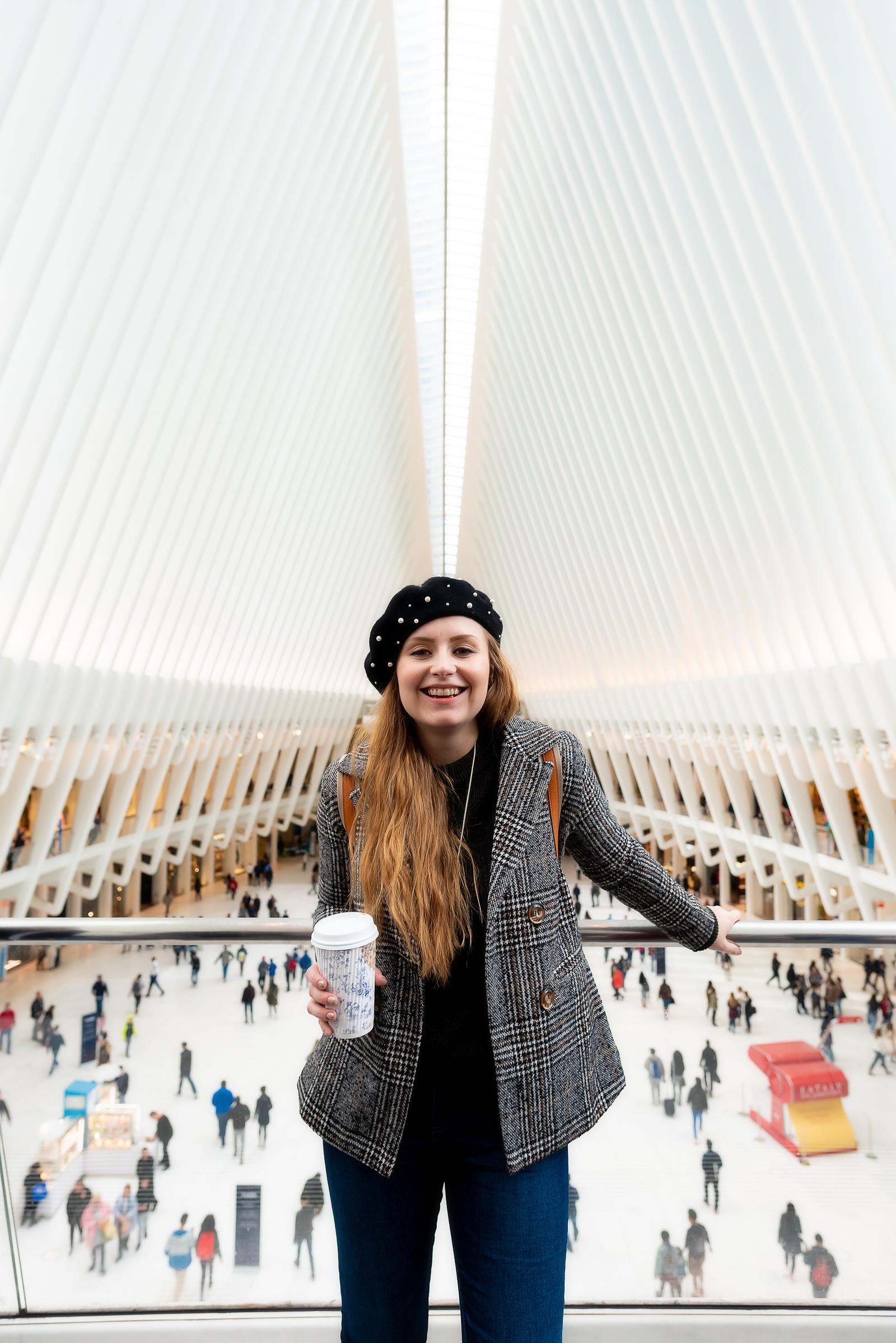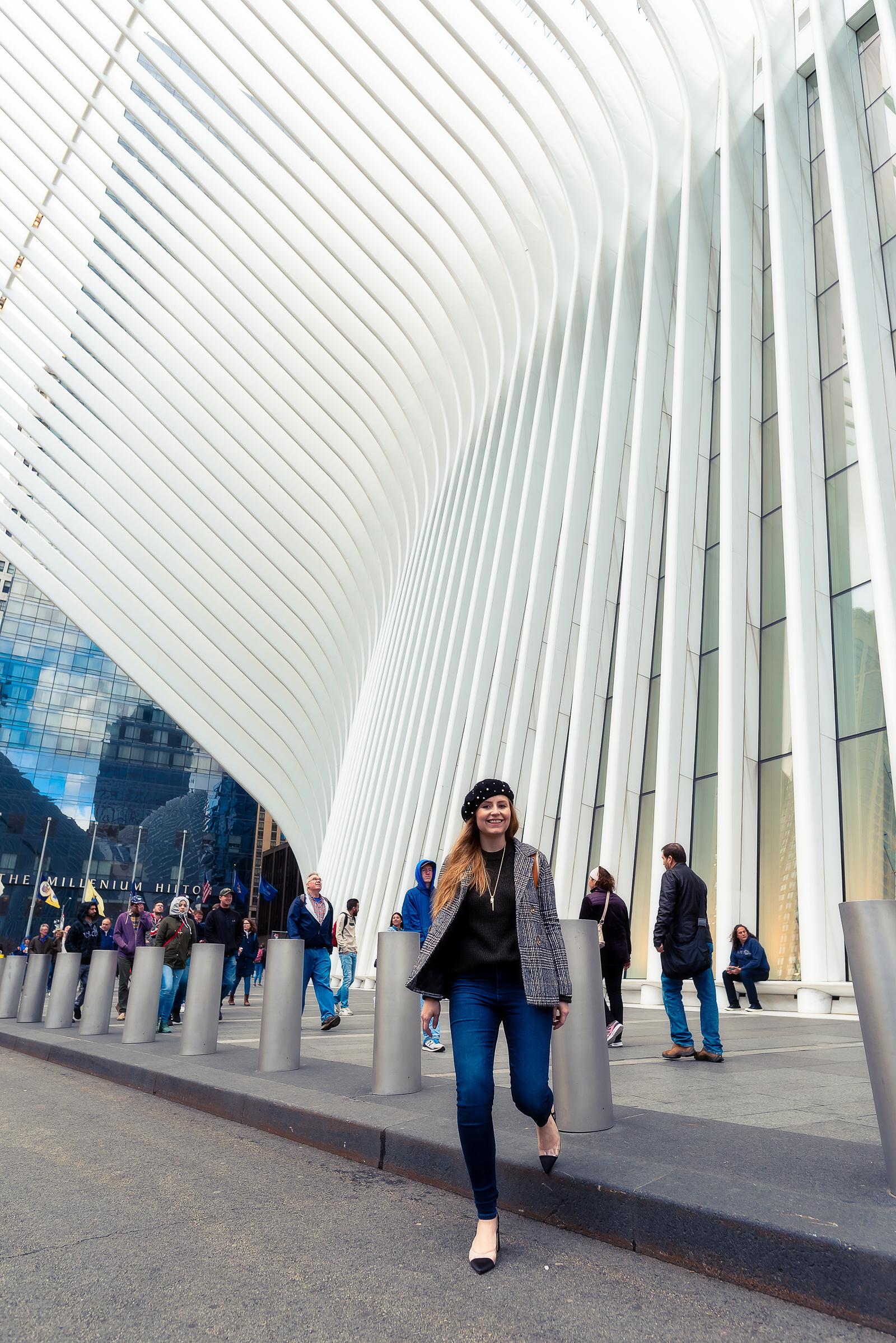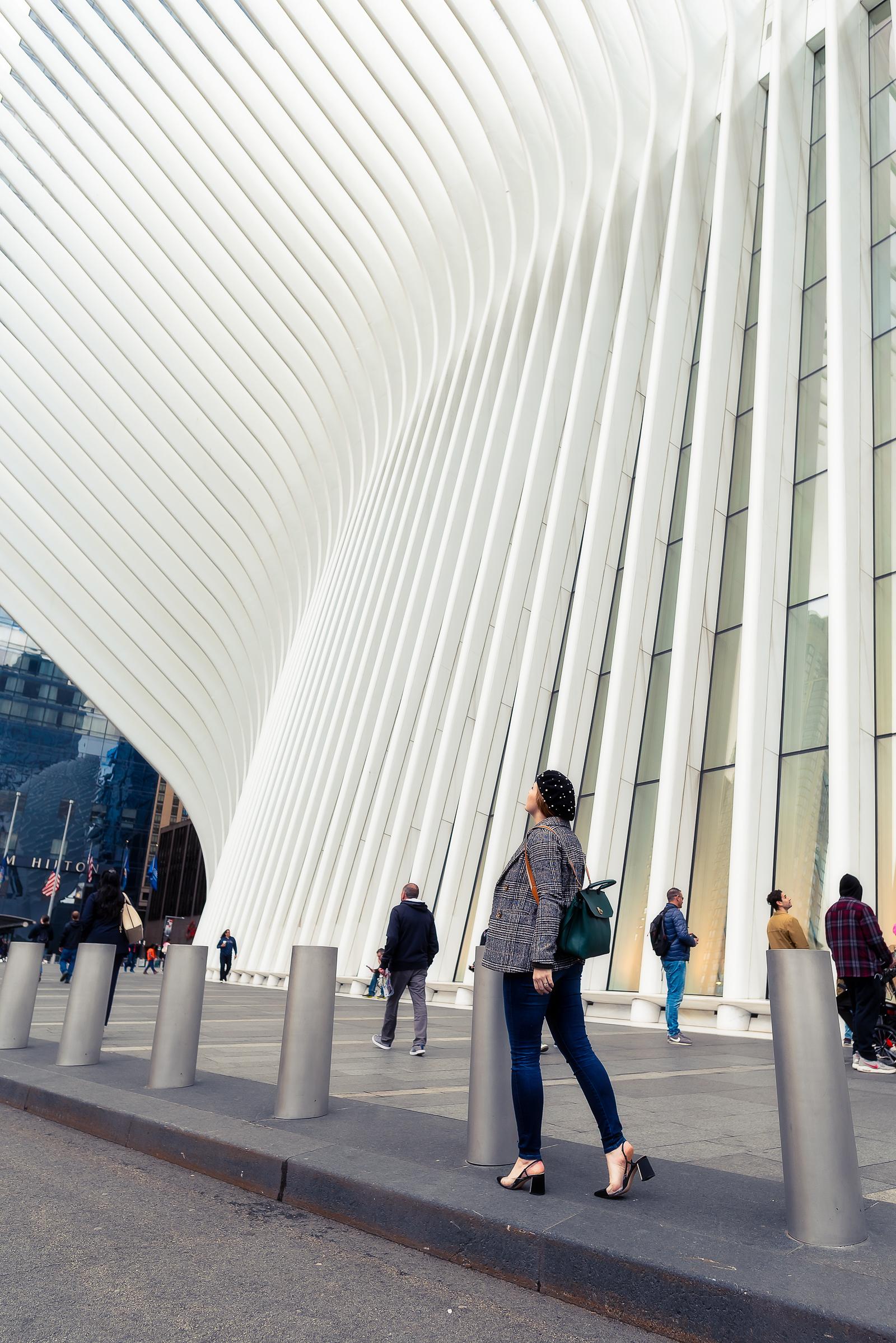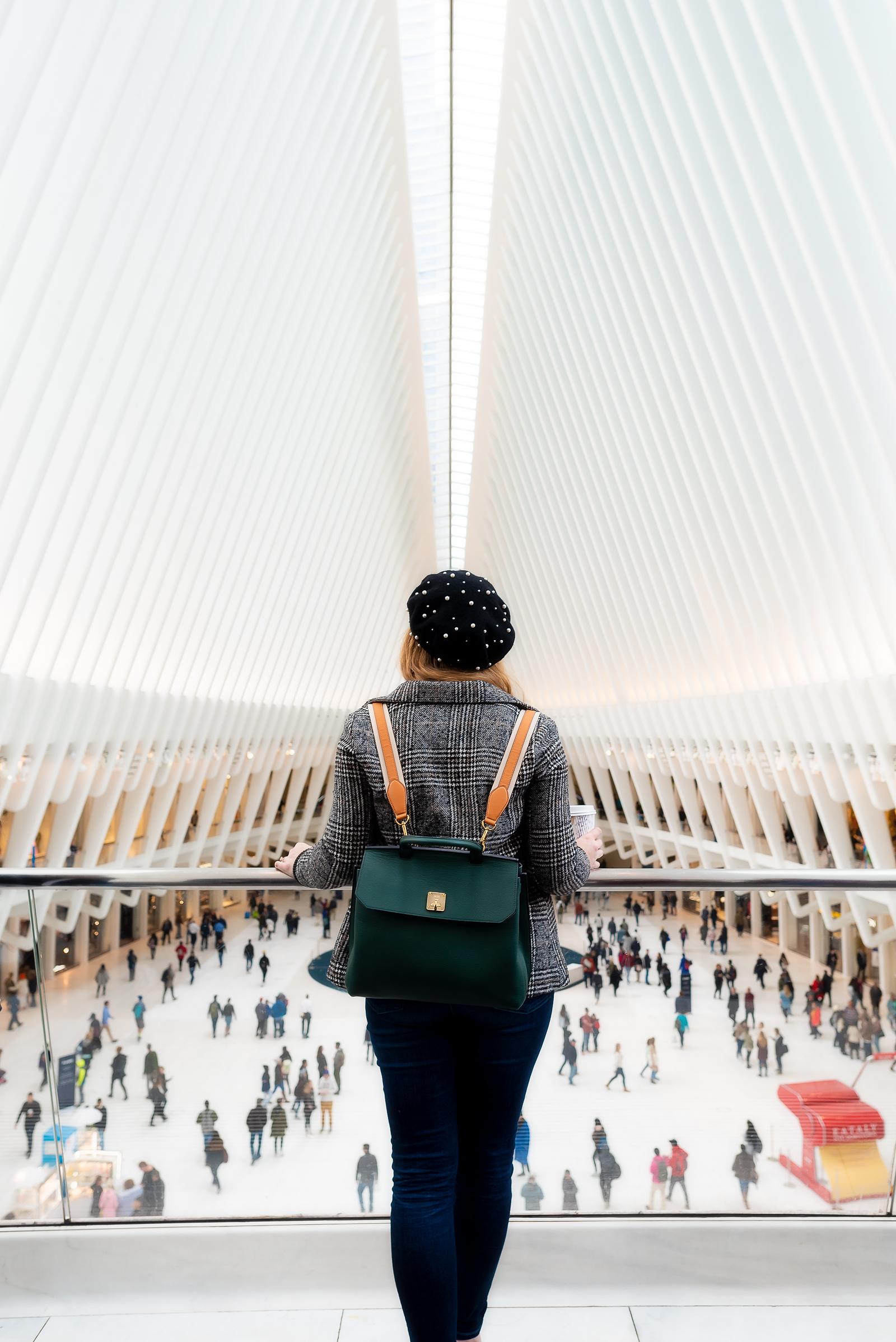 SHOP THE LOOK:
Blazer – c/o SheIn || Sweater – H&M || Jeans – c/o AG Jeans || Backpack – MCM (sold out in green but still available in blue) || Pumps – Zara || Beret – Zara (similar for $6) || Necklace – c/o Kendra Scott
Photos courtesy of my sister Emily
Have you ever shopped the men's sweater section before?
Or any men's clothing section for that matter?
I find most women generally respond "no". And who's to blame them? The women's section is usually larger, brighter, more obvious… and, ahem, designed for women.
But I can't help feeling like most women are missing out on at least 40% of their wardrobe options when they ignore the men's section entirely. I certainly was…
Take the sweater I'm wearing in today's post as an example. I picked it up at H&M without realizing it was a men's sweater.
"Wow, I love how long this sweater is."
"Ohhhh, so soft. And the exact dark green color I've been looking for."
I bought it without even realizing I'd bought a men's sweater… it was just the right sweater for ME.
I wore it ALL over NYC for our girl's trip in October. Then to practically every family gathering from Thanksgiving to New Years. Then through the brutal frost of Chiberia last month. It's been my go-to fall and winter staple.
And now, a few months later, I'm OBSESSED with shopping the men's sweater section. So many great, inexpensive, neutral, and well-tailored finds!
I'm converted. And can you blame me?
Women's sweaters can be tricky. Brands love to slap on impractical details like embellishments that will fall off after 4 wears, large bows across the back which make sitting perpetually uncomfortable (these sweaters are cute but seriously how impractical, right?), bows up the sleeves that will invariably get pilled every time you put on your jacket, etc.
I'm tired of it. I just want a great sweater that won't give me trouble, pilling, shrinkage, or details that belong more in kindergarten than real life.
And truthfully, I think you'll agree with me if you give it a try. I believe most women could benefit from a trip to the men's clothing section and here's why:
1. Longer-Cut Torsos
Men's torsos tend to be longer so their clothing is generally cut longer: a godsend for those of us women with long torsos or who love longer length sweaters and struggle to find the right length in the women's section.
I'm actually petite with a long torso so I've found men's sweaters to be just perfect to accommodate my curves and rather awkward body proportions. That said, I find most women complain about their sweaters being too short (unless they're a crop length, a too-short sweater will inevitably make you look shorter AND wider… that's just basic optics) so the longer torso in a men's sweater is the perfect solution!
2. Great Selection of Neutrals
While I love the range of colors you can find in the women's sweaters section… one range is almost always smaller than it needs to be: the neutrals.
And while I love a wild colored sweater as much as the next girl, when it comes to the sweaters I reach for time and time again, they're always my neutral ones.
My navy, nude, tan, black, and white sweaters all get worn twice as often as my red, orange, or purple ones. And when it comes to finding options in those neutral colors, I can almost always find 3x the variety in the men's section than I do in the women's.
3. Smaller sizes stay in stock longer… and even go on sale!
Women's sizing is relatively predictable — you can expect the smalls and mediums to sell out first, rarely making it to the sales rack. And what does make it to the sales rack is often the worst color or cut sweaters in only extreme sizes like XXL or XXXS (!!!).
It's so frustrating to constantly wait for a sweater you love to go on sale only to find it's completely sold out in your size!
The men's sweater section works in the opposite way the women's section does with sizes like XL selling out first. What does that mean for you?
It means that small men's sweater in the perfect neutral white will probably go on sale soon. And for a solid discount too!
Keep your eyes out for deals over the next few weeks especially — as the winter season comes to a close (THANK GOODNESS!), many shops will be putting the bulk of their men's sweater sections on sale entirely!
4. Raglan Sleeves
Unless you have very skinny or sloped shoulders, raglan sleeves are probably the most universally flattering sleeve silhouette you'll find. Not only does the cut allow for a larger range of motion than a traditional sleeve (great for photographers like me who need to move in their clothes) but it's also a lot easier to find in the men's section.
Raglan sleeves are especially flattering for large busted women like me or those who want a smooth, slimming effect around the shoulders.
(Don't know what a raglan sleeve is? Originating in the Napoleonic Era, they often grace trench coats and military uniforms , even baseball shirts. You can read a short history here if you're curious.)
Here are some of my favorite finds from the men's sweater section to get you started: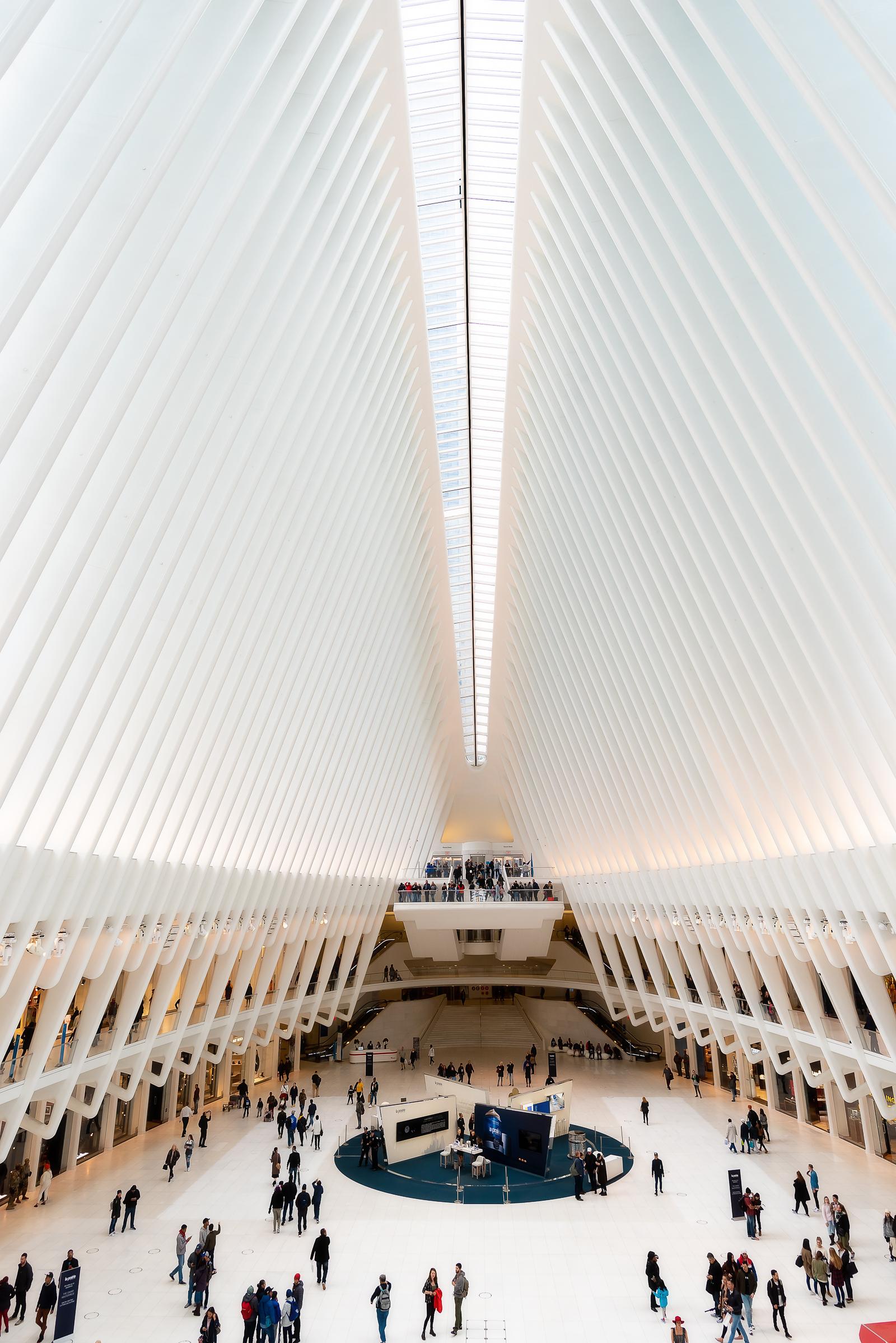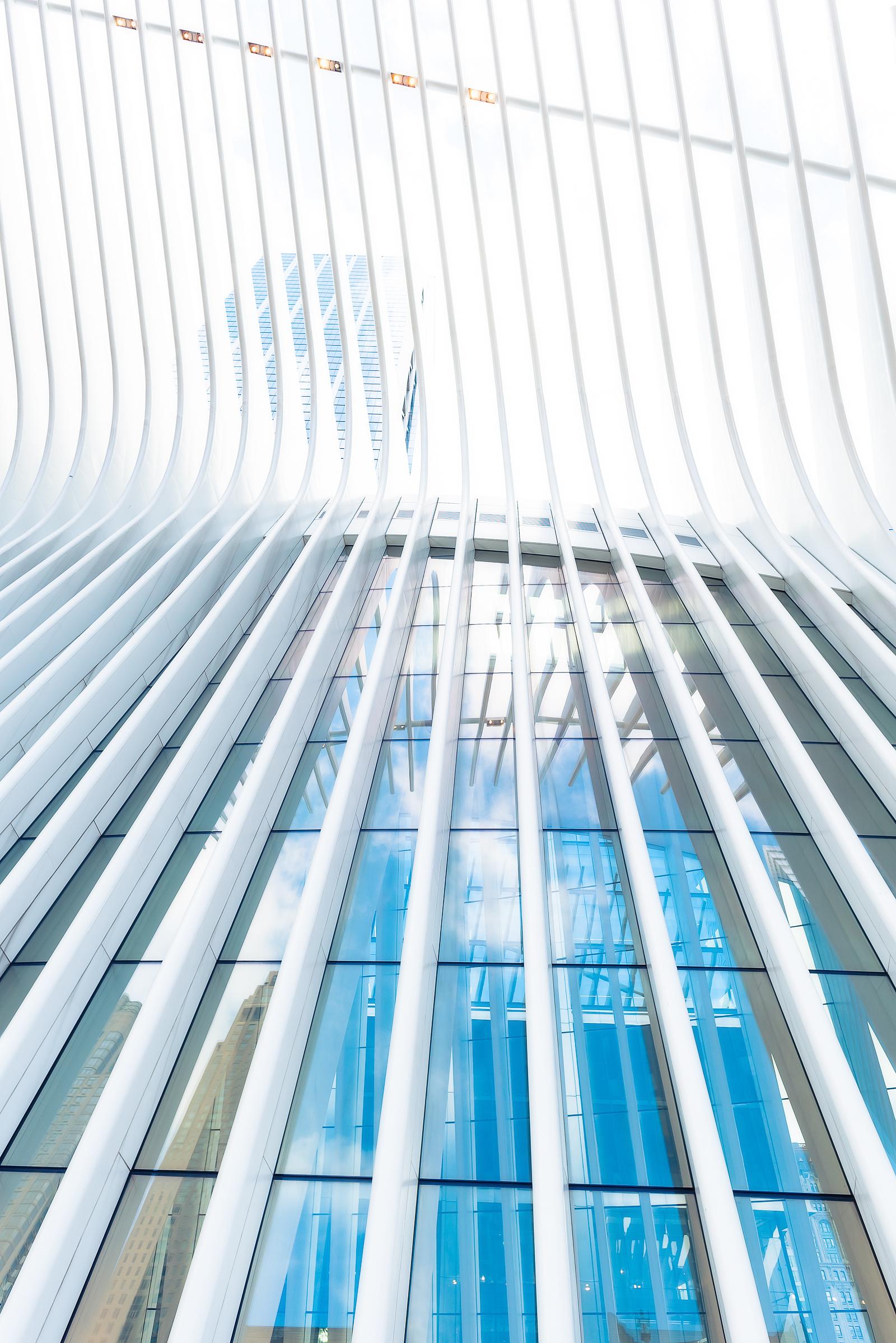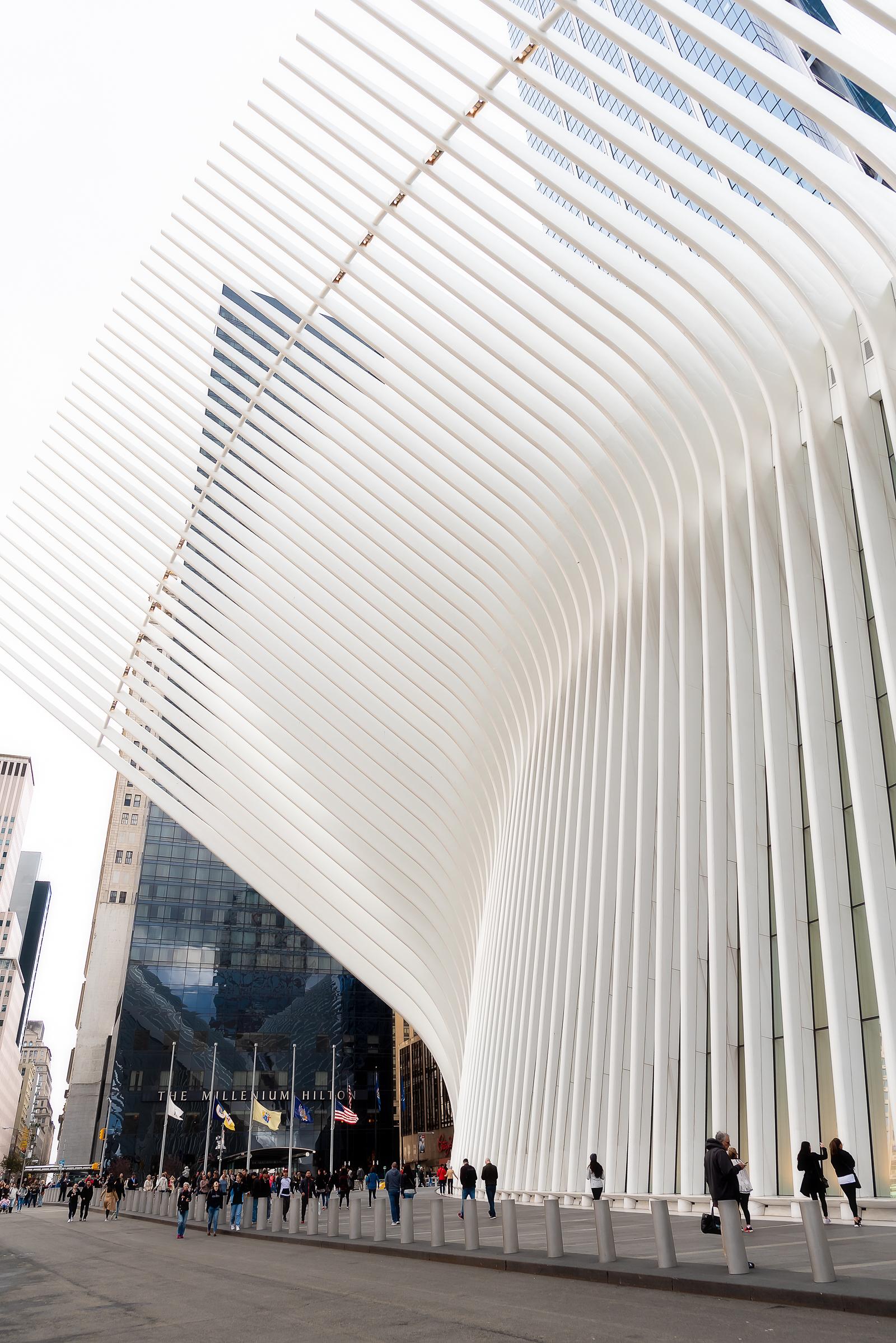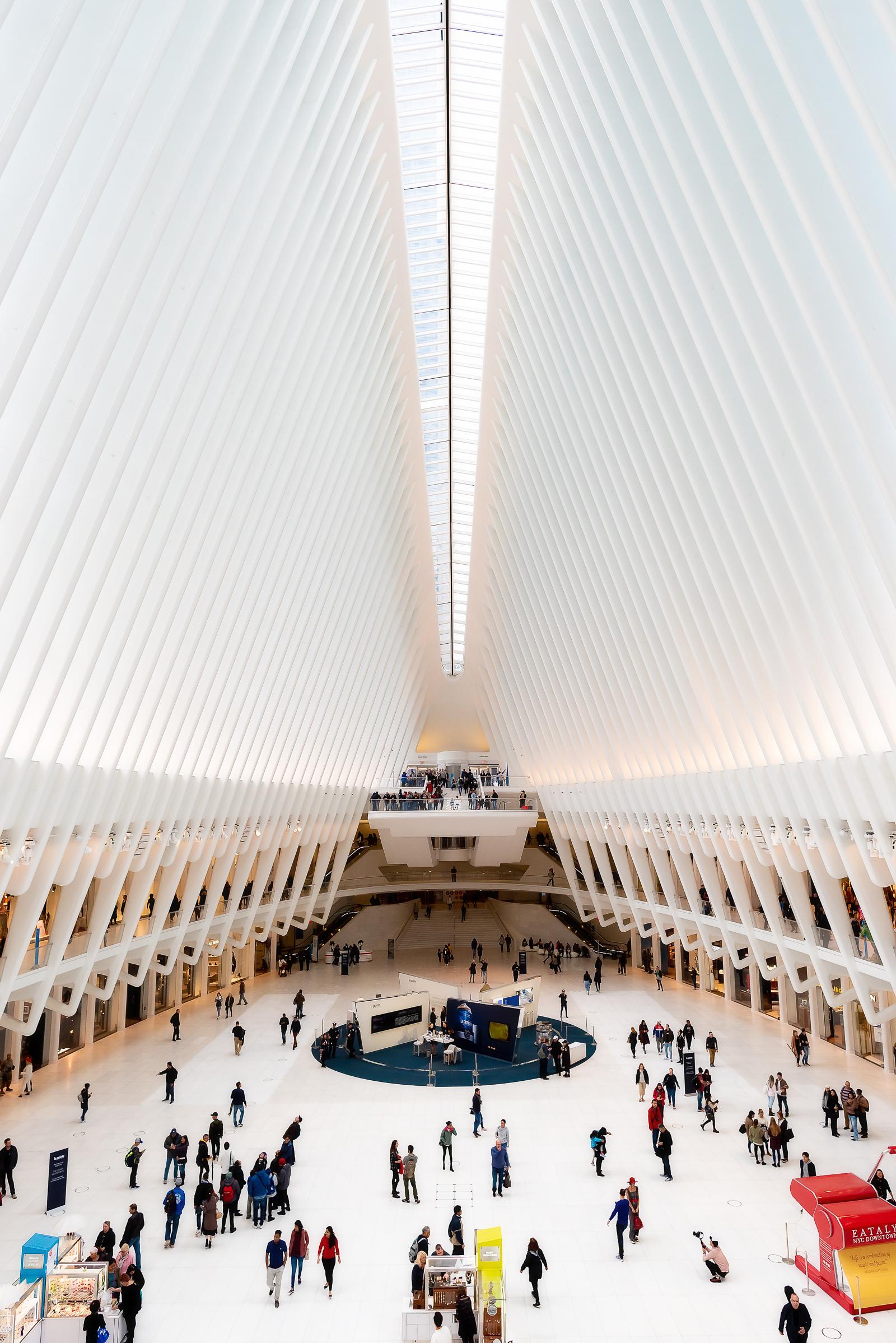 And here are a few more shots from our trip to the Oculus where we shot this look.
Curious about more great places to visit in NYC? Everything can be found in my NYC Travel Guide!