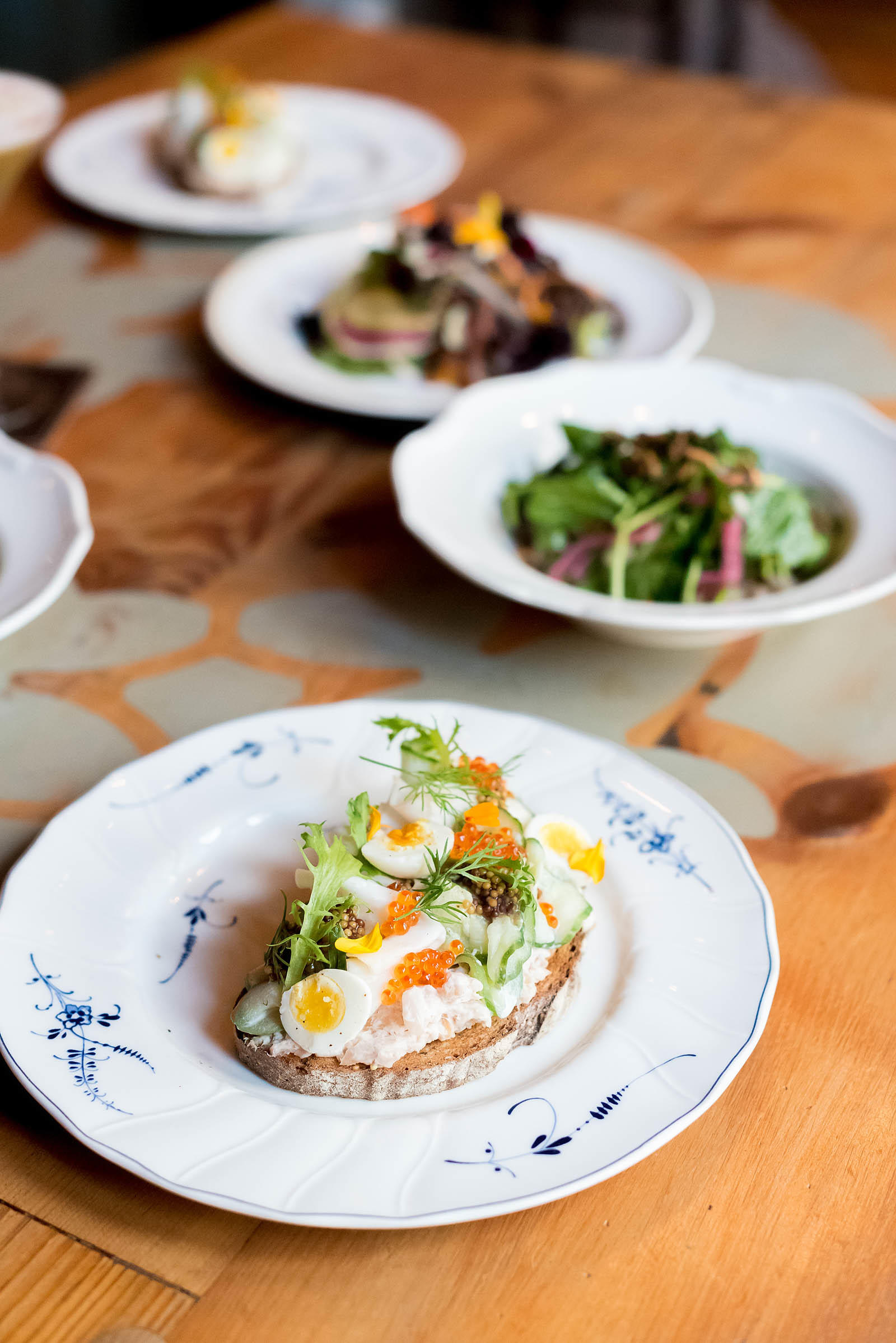 With half of my family being 100% Polish, I've always had a DEEP love for bohemian cuisine. I was raised on Czech and Polish dishes — give me a giant bowl of sauerkraut and watch as I face dive into it without abandon. Oh, and don't even get me started on how much I love pierogi…
So for the past two years I've been getting my very necessary bohemian food fix from one, super swanky River North spot: Bohemian House, affectionately referred to as Boho.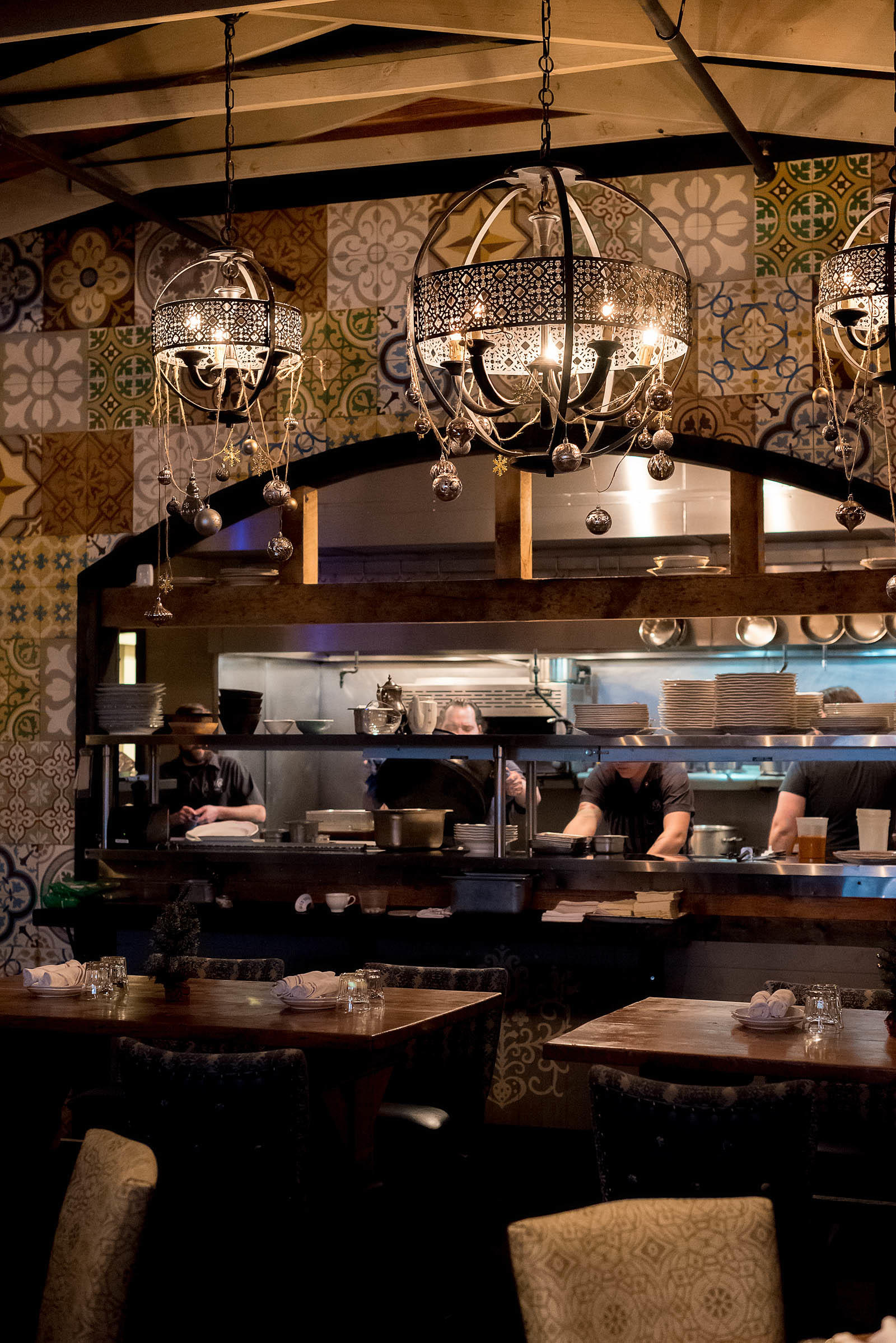 This certainly isn't my first time sharing Boho with you — I've long been obsessed with their chic, nouveau take on the traditional Eastern European foods I've been raised on.
And it probably won't be the last because if you know anything about me you know when I love something, I really love something.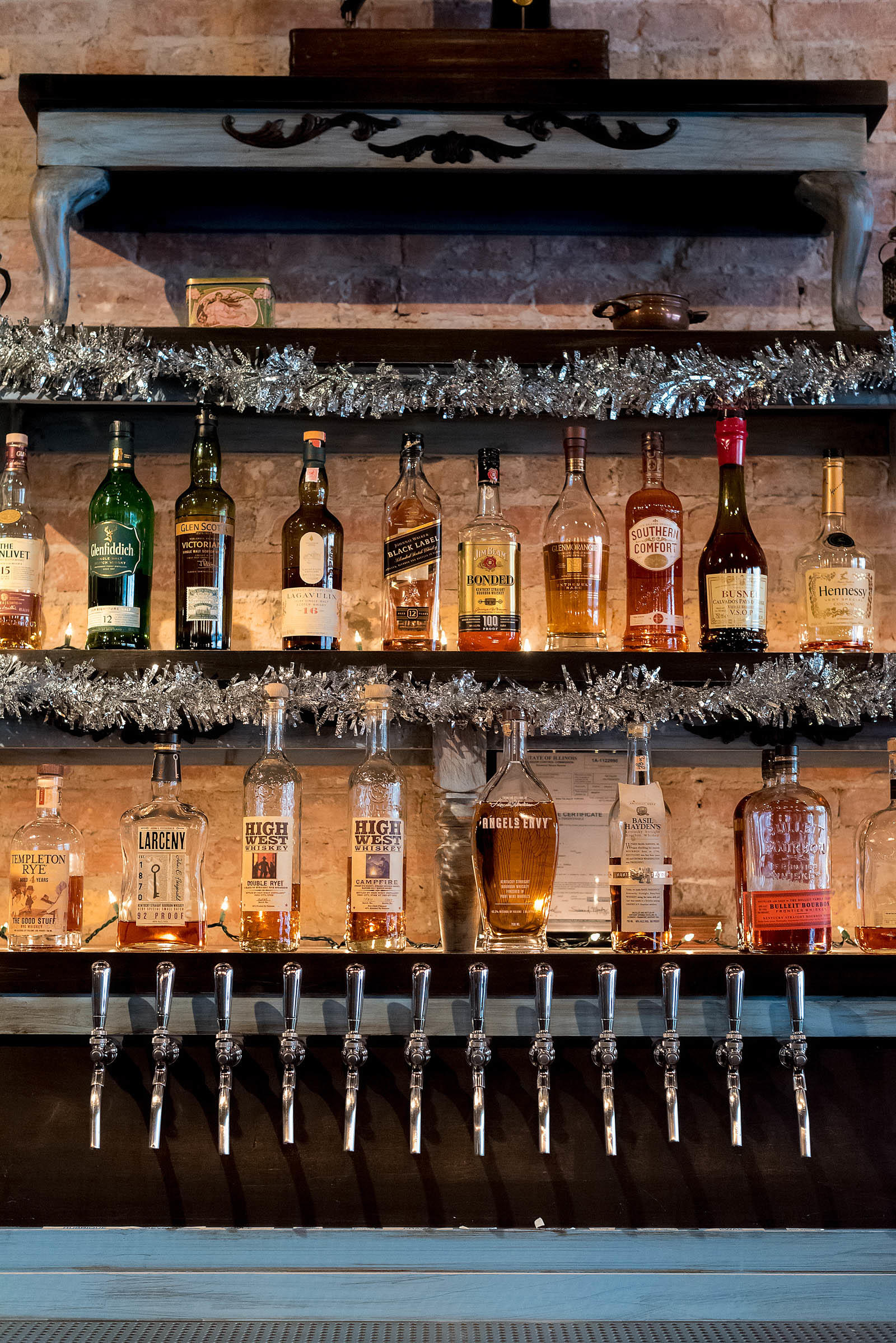 Boho just so happens to be one of my absolute favorite spaces in all of Chicago too.
It's dark, moody space is dominated by a massive room-long bar and plenty of old-world vintage touches.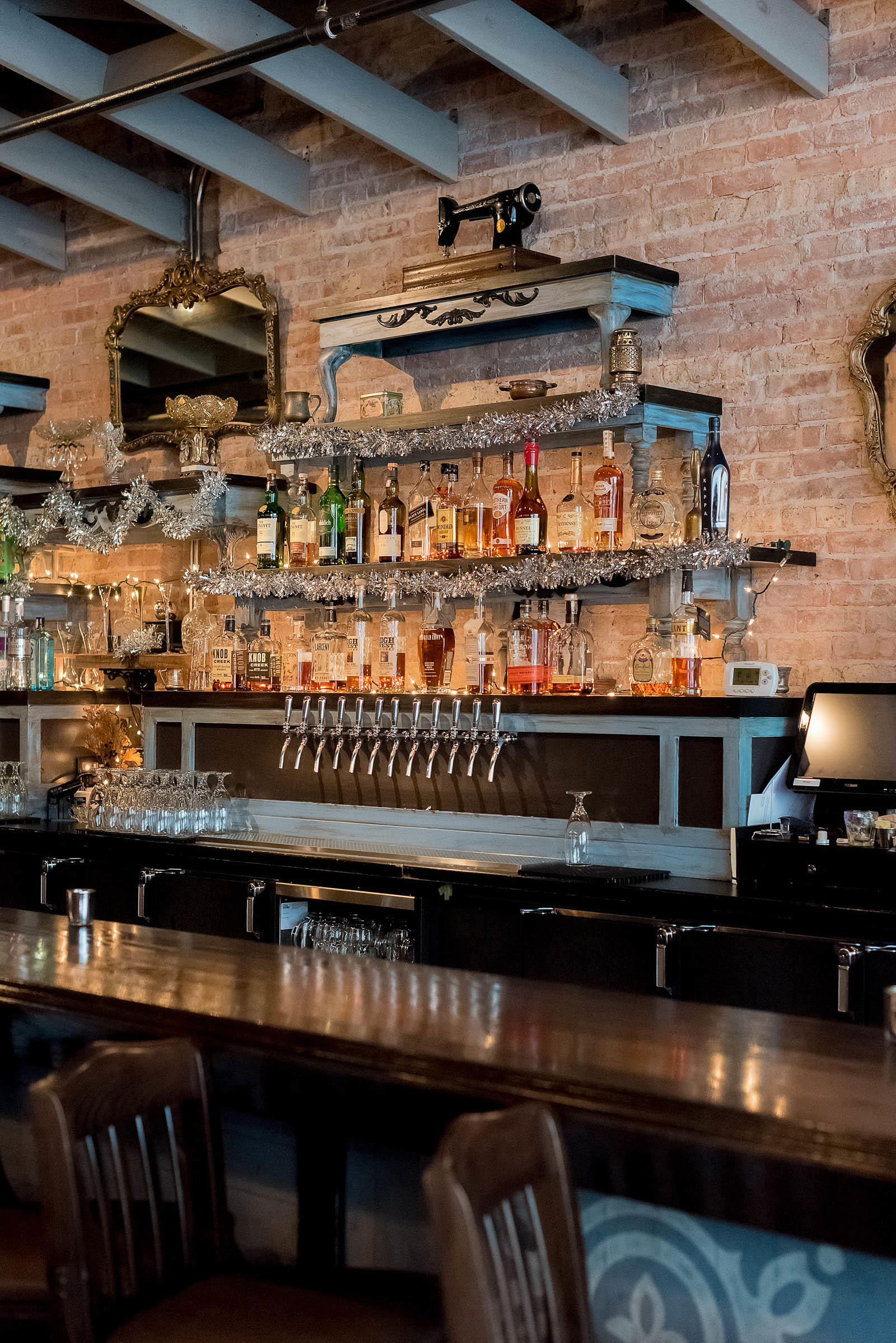 See the sewing machines above the bar?

(And they do adorable decor during the holiday season!)Boho's recently launched a new lunch and brunch menu and to kick it off hosted a media luncheon last month to allow us foodies to try some of the new dishes. I made sure to bring along my good friend Anna since we always have so much fun shooting together and it only seemed fitting since she came along on my last Boho shoot over a year and a half ago too.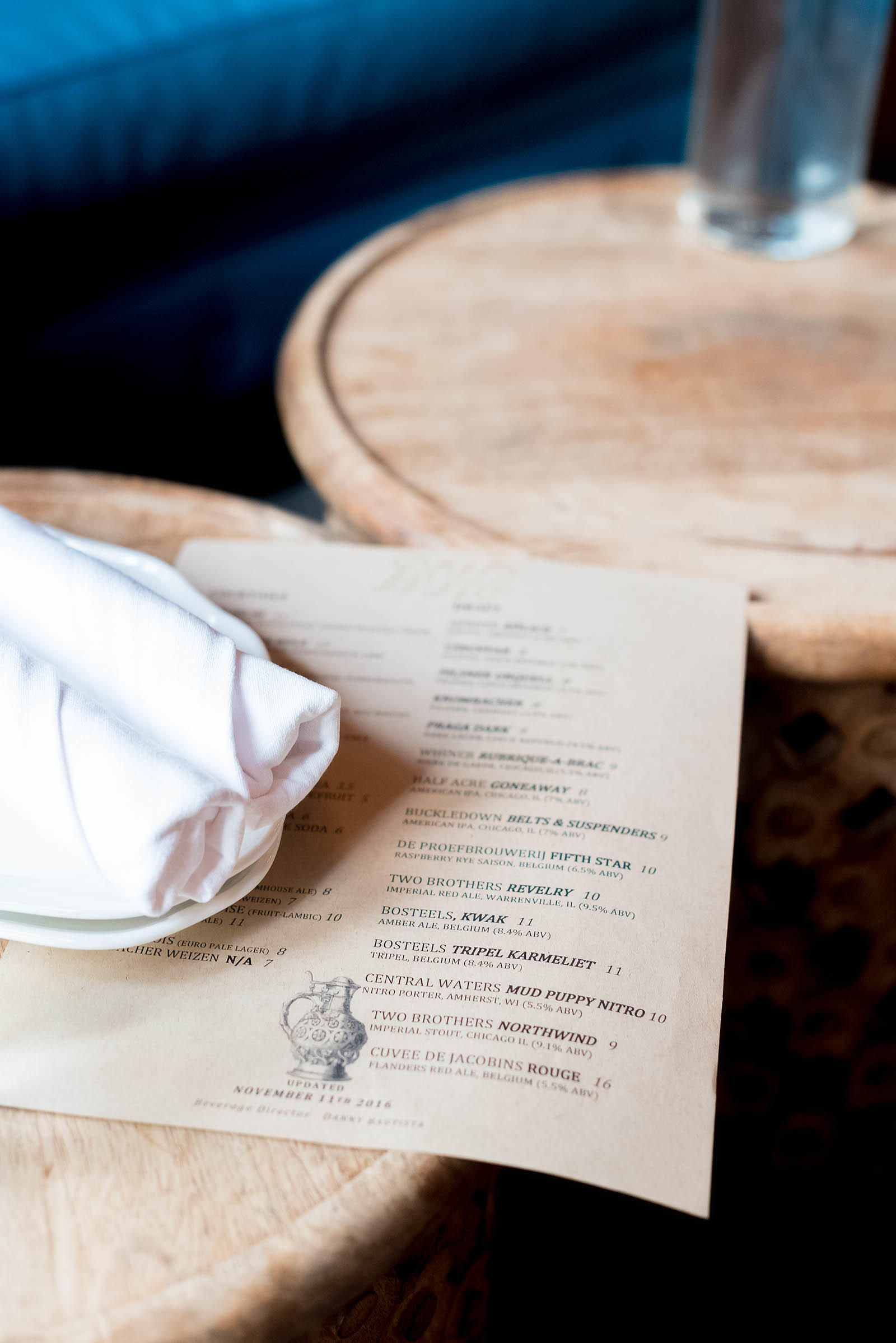 One of the first things you need to know about Boho is that they have a truly scrumptious cocktail menu — it's unique, thorough, AND exciting.
Not to mention photogenic.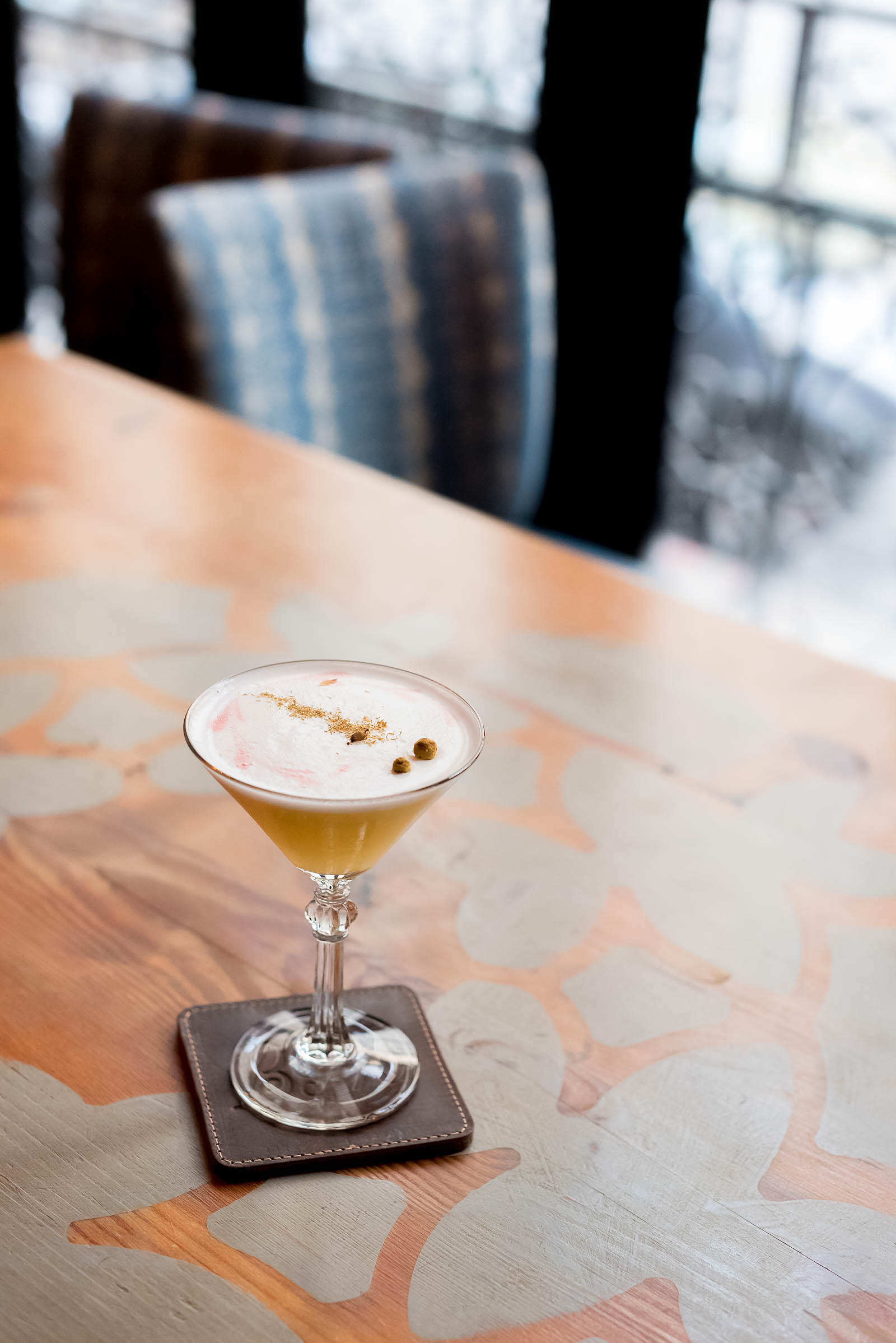 Boho is always rotating their cocktails seasonally but I've yet to meet one of their concoctions which didn't meet with my approval.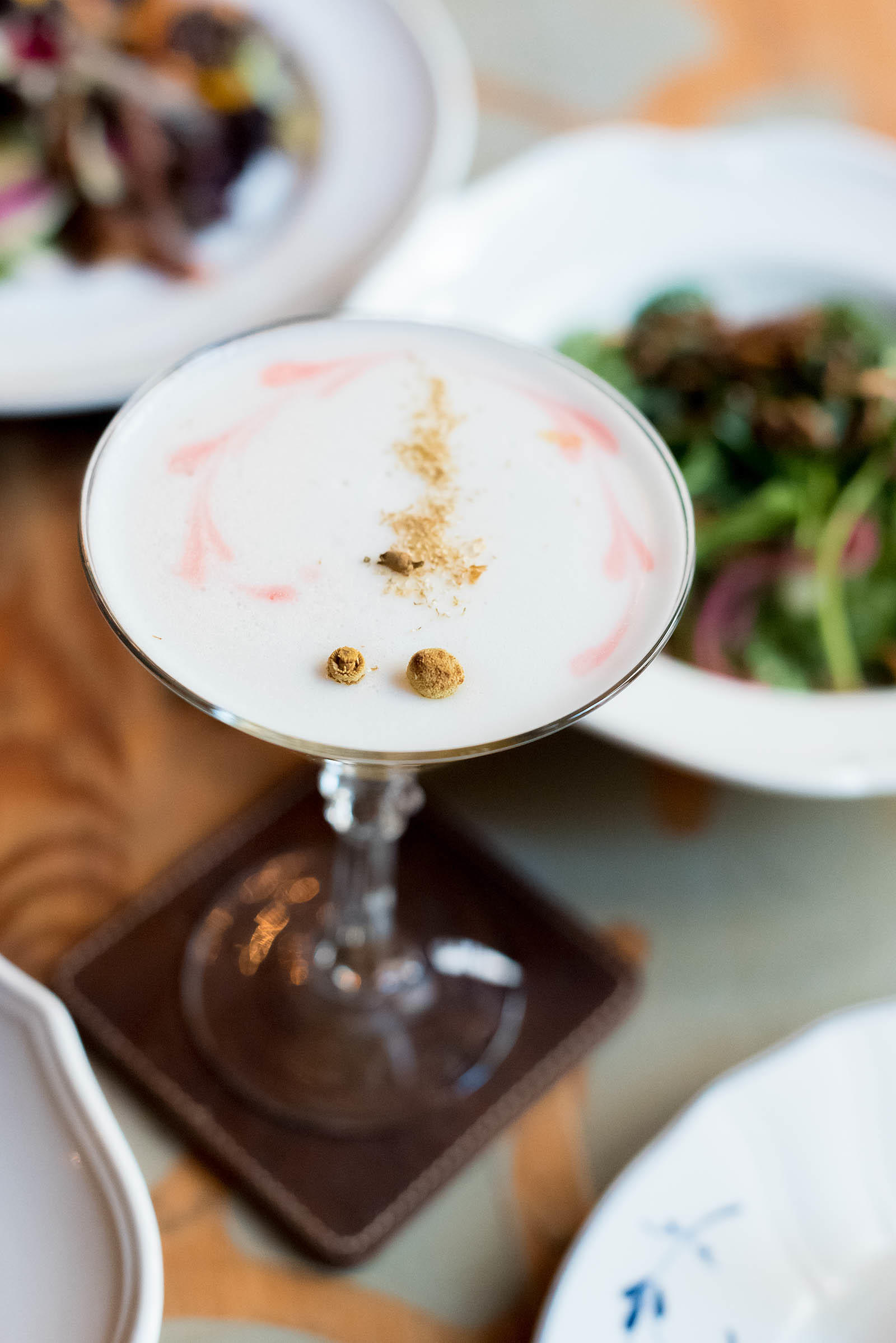 Some even manage to step into the realm of cocktail art, wouldn't you agree?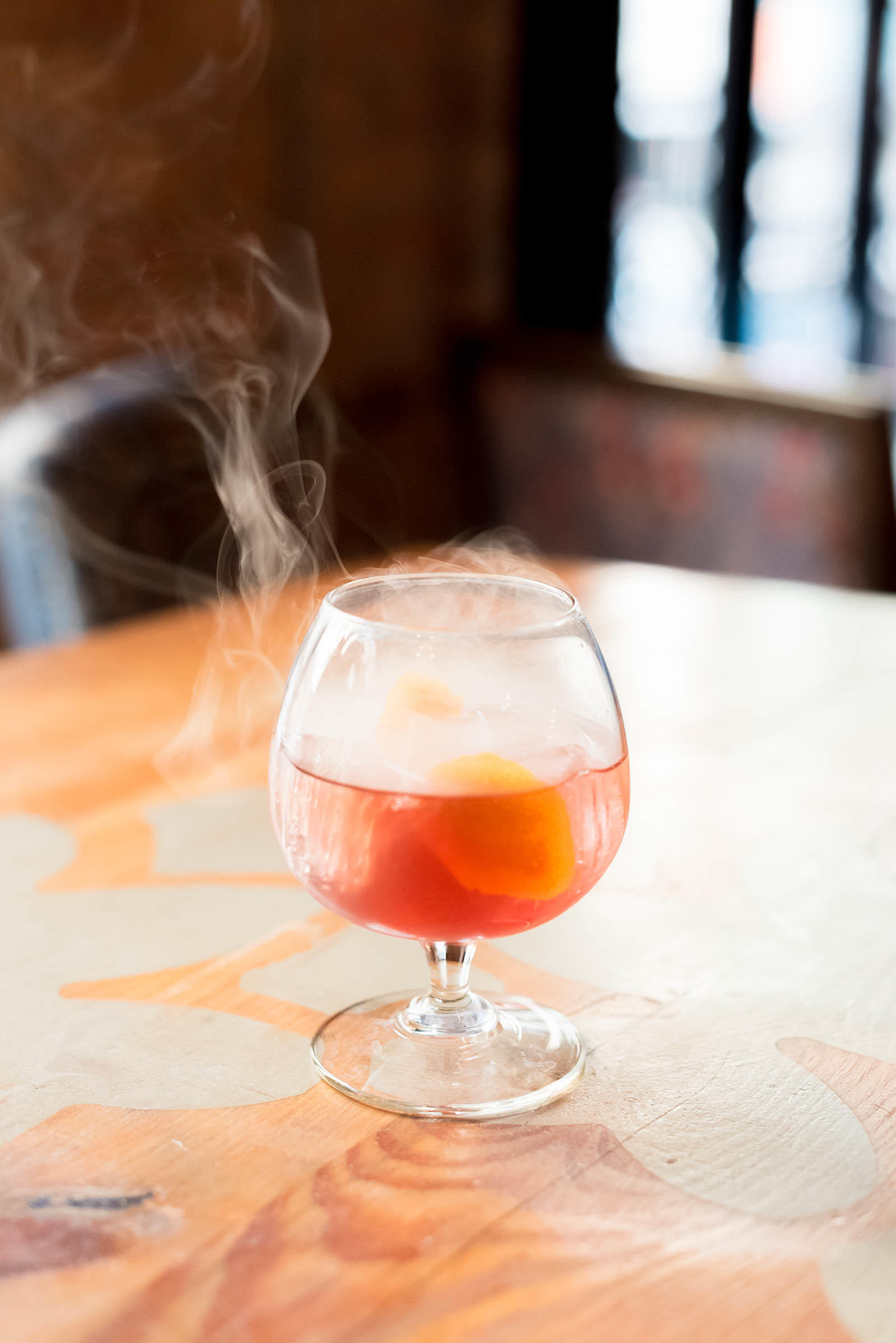 Especially this lovely smoking number…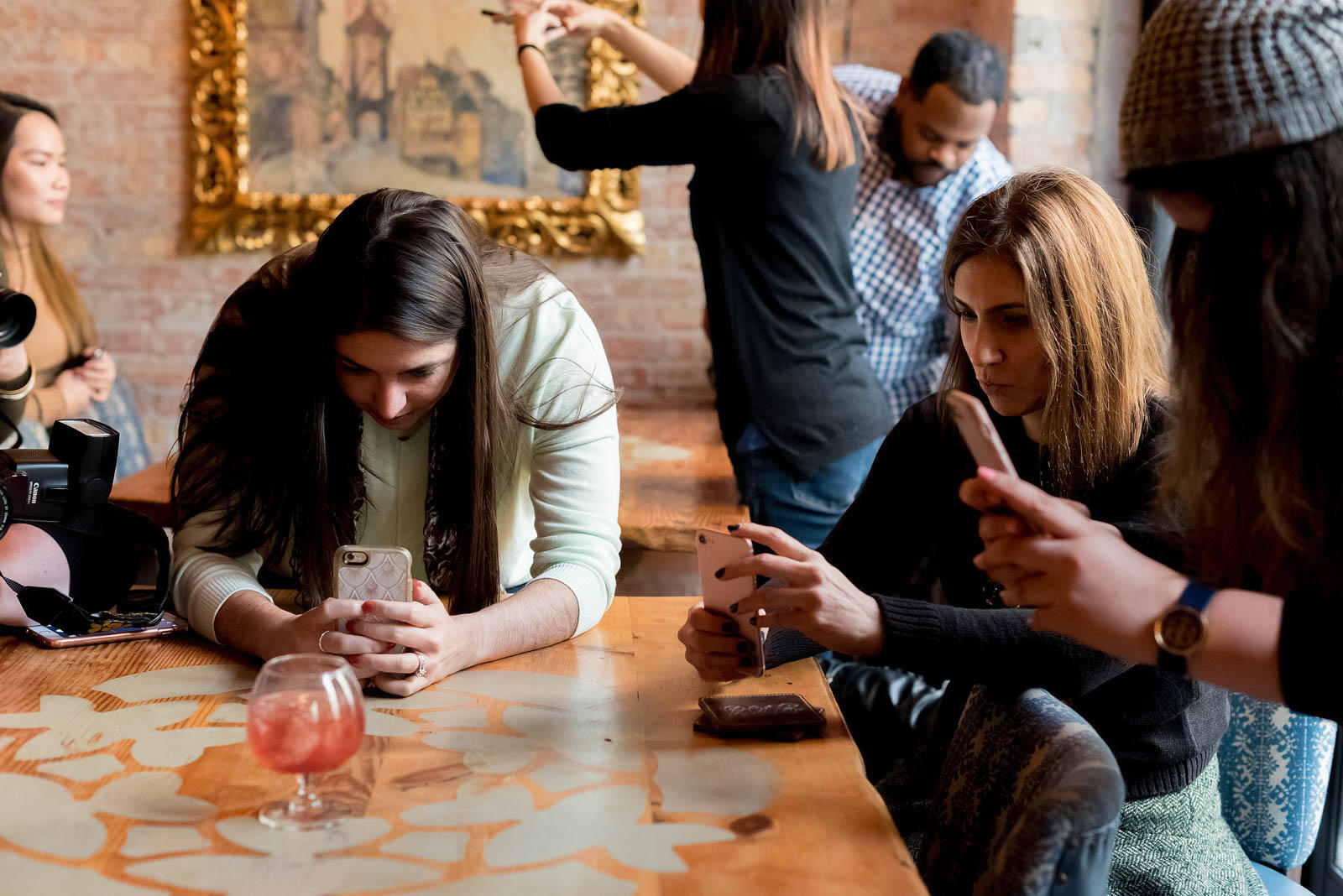 Which we all scrambled to get a shot of before the smoke disappeared (hey, don't judge — I promise you us foodies KNOW how ridiculous we look when we shoot AND we still think it's 100% worth it! Because it so is).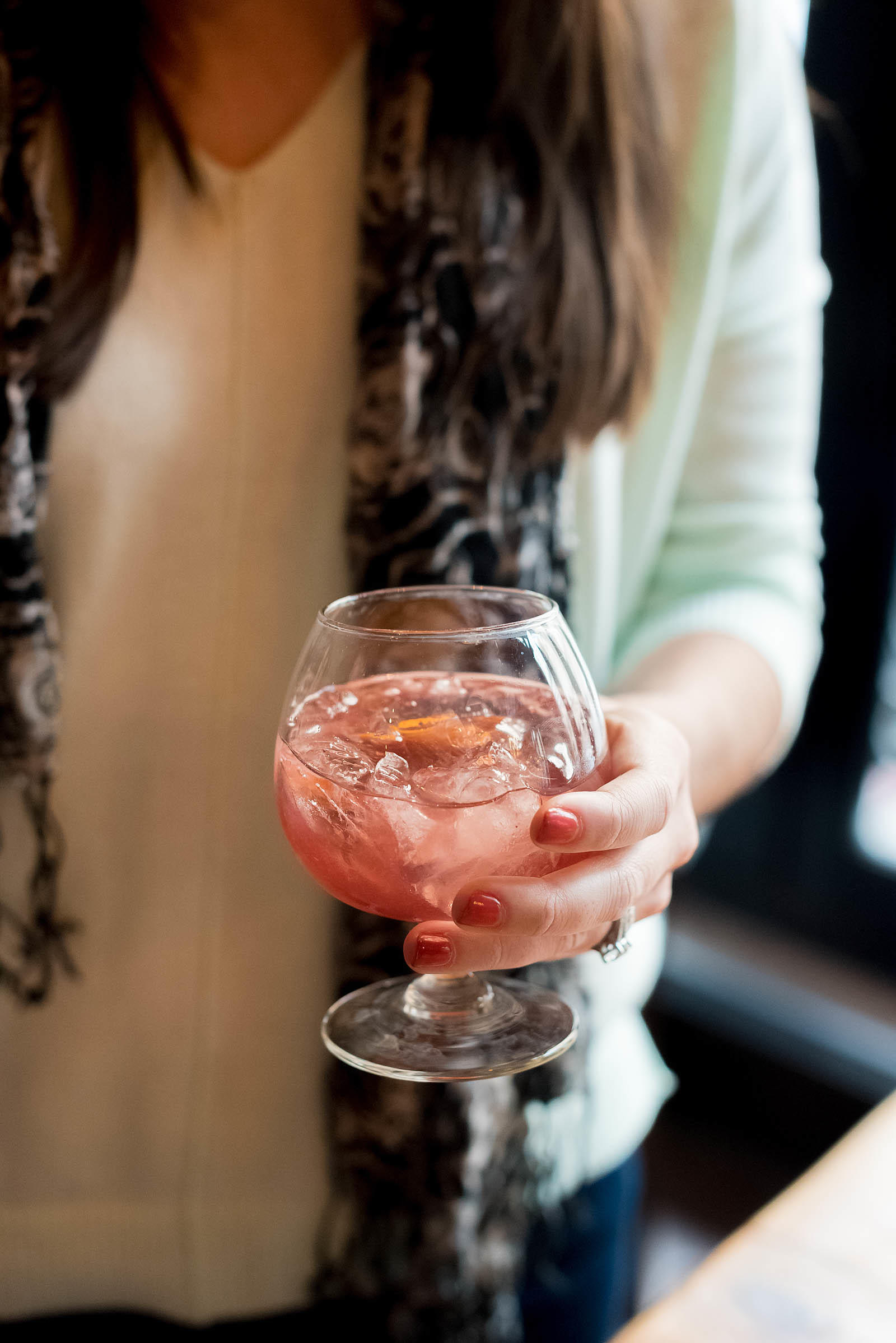 Besides, we always get to drink the cocktails after we're done shooting them — that's the BEST part.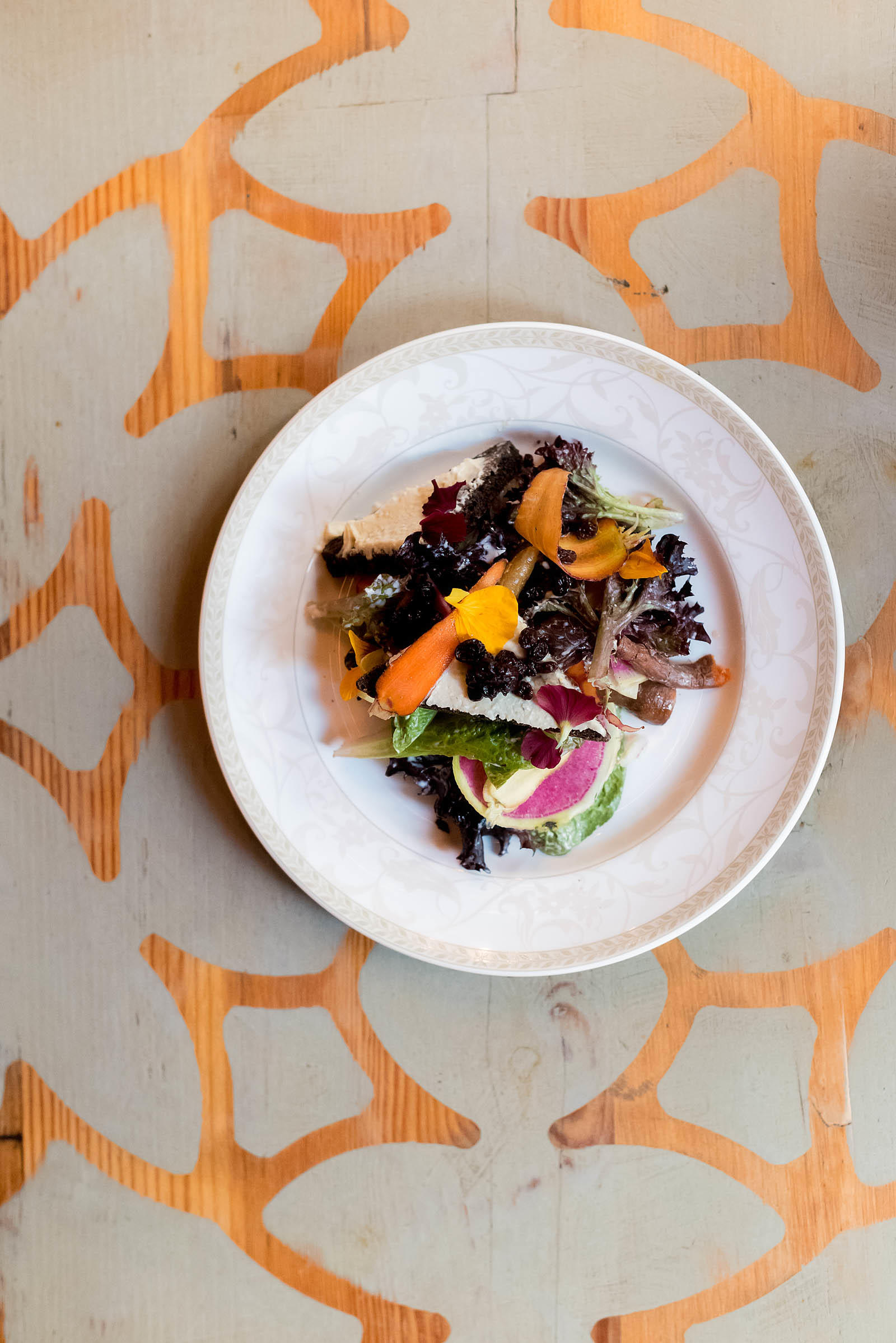 The first dish we tried was this lovely Fall Greens Salad.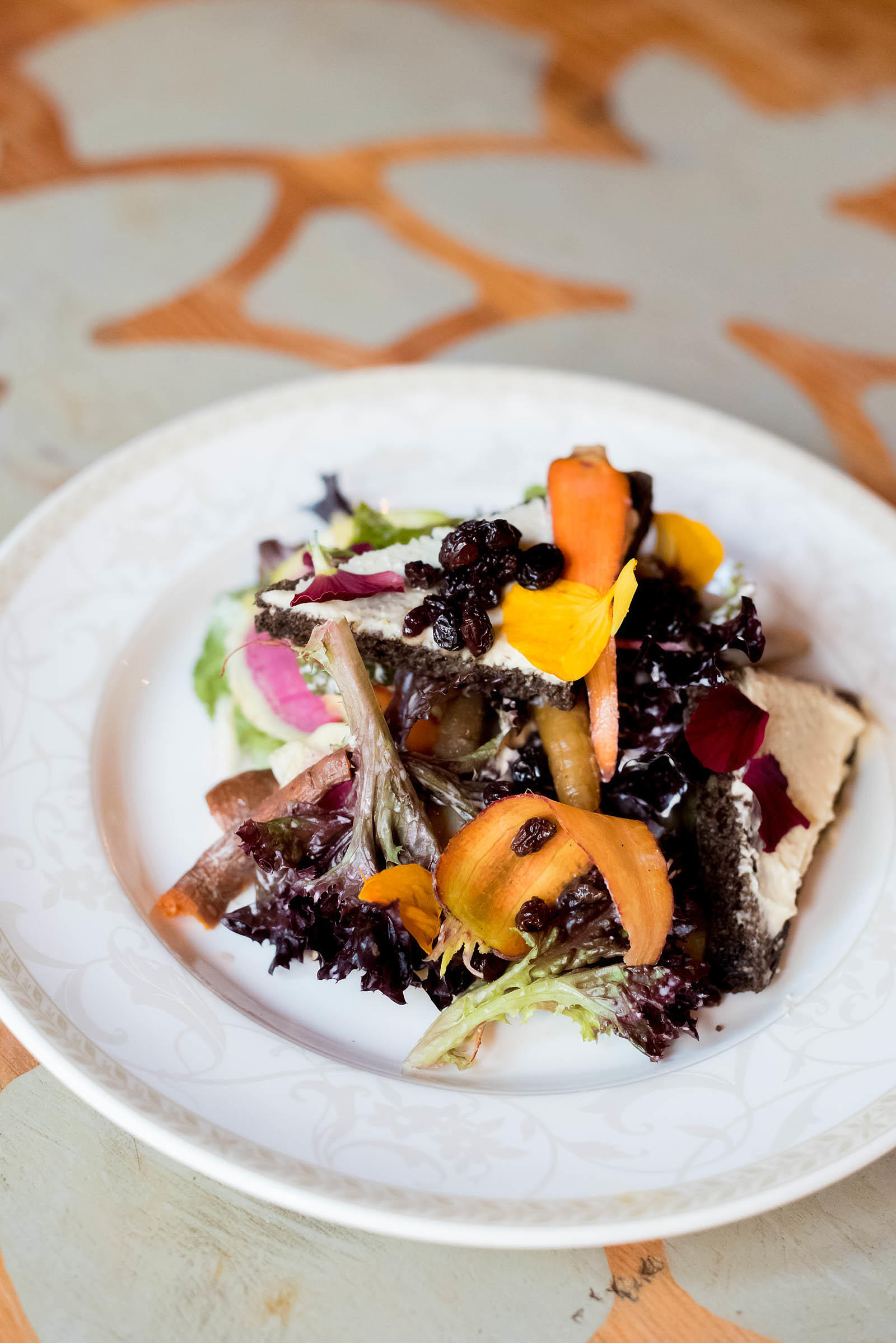 Composed of young carrots, radish, black currants, cambazola, and pumpernickel toast points with garlic dressing.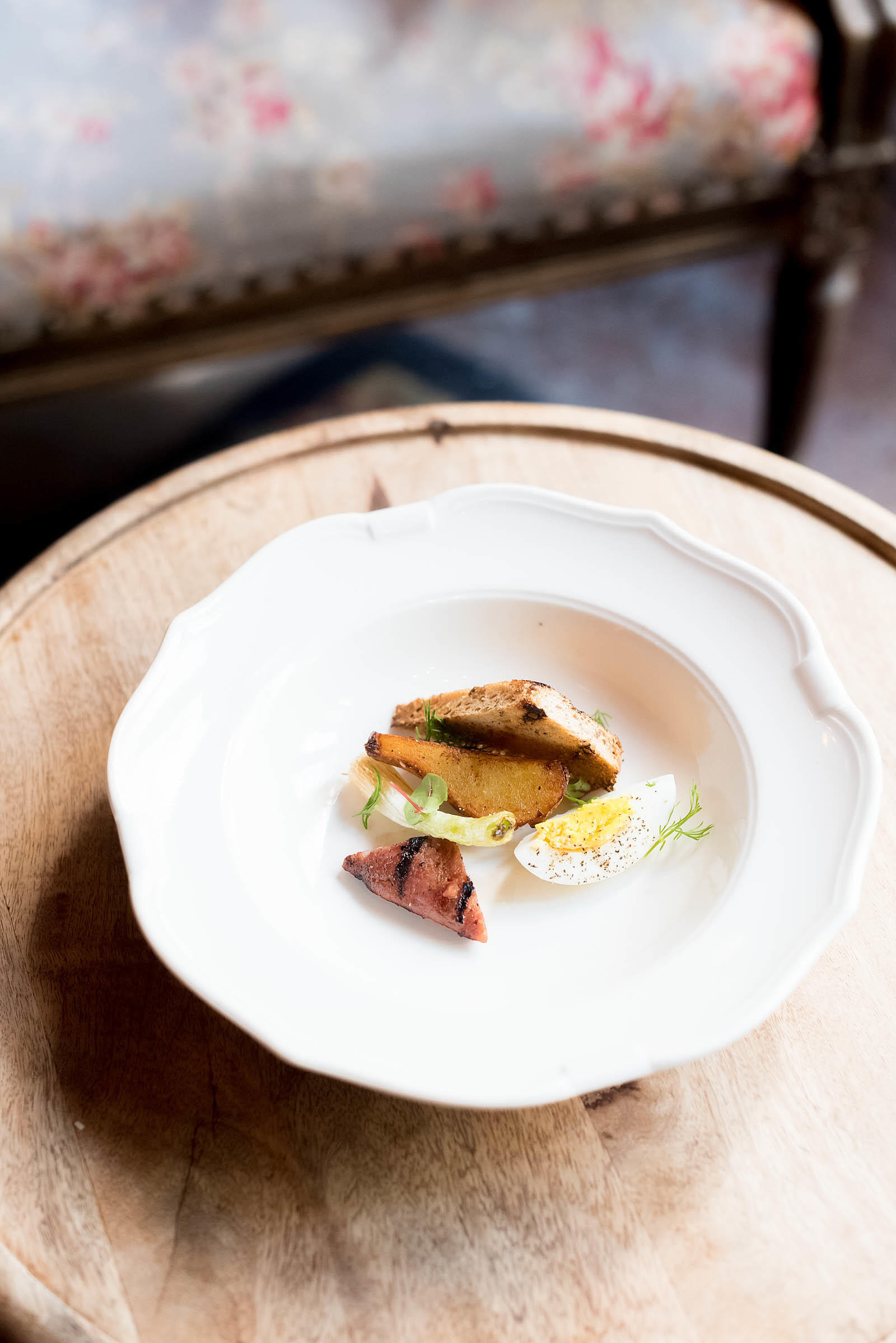 Then came this very unassuming bowl of garnishes.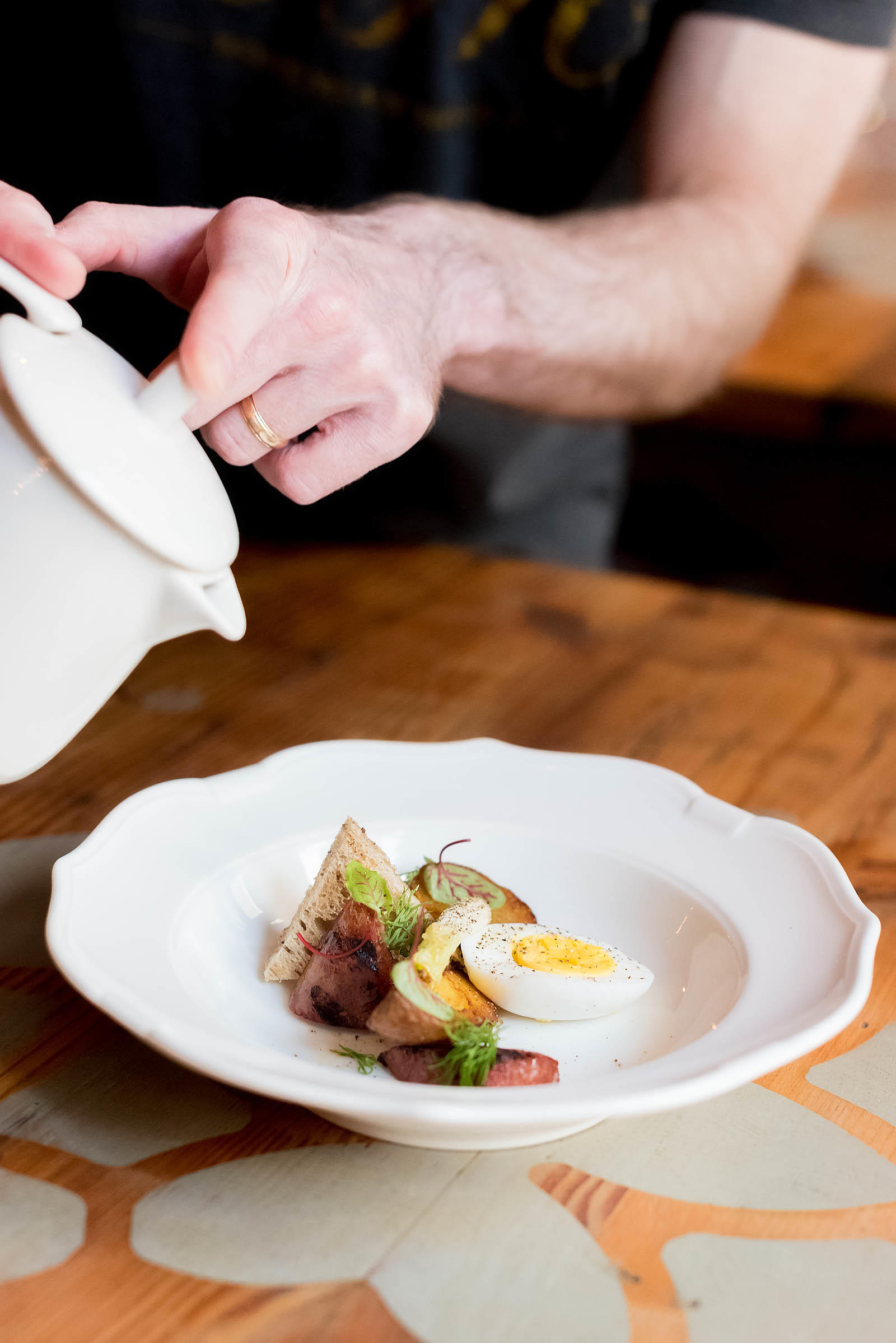 Which Polish Rye Soup is poured over.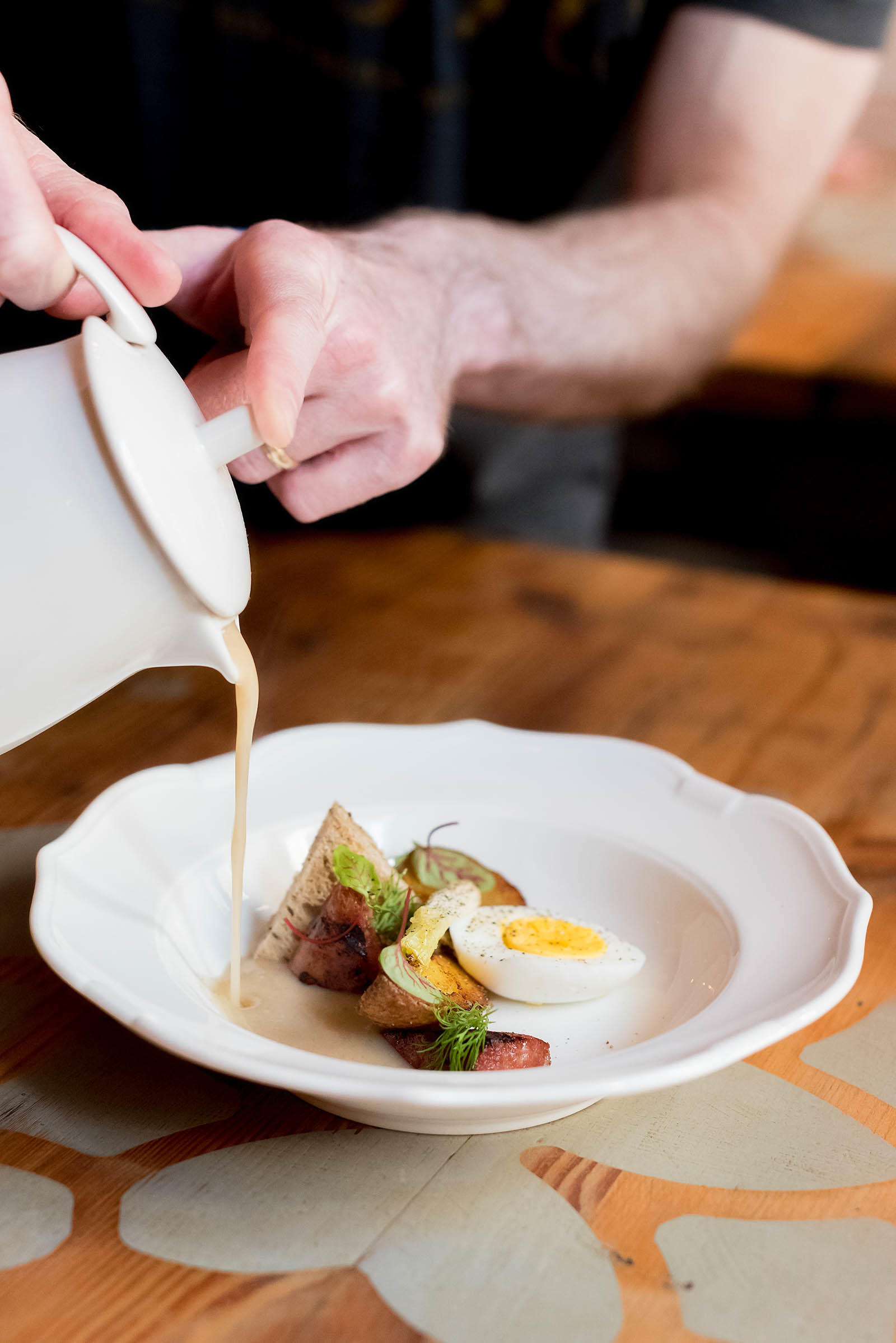 Slowly, for effect of course.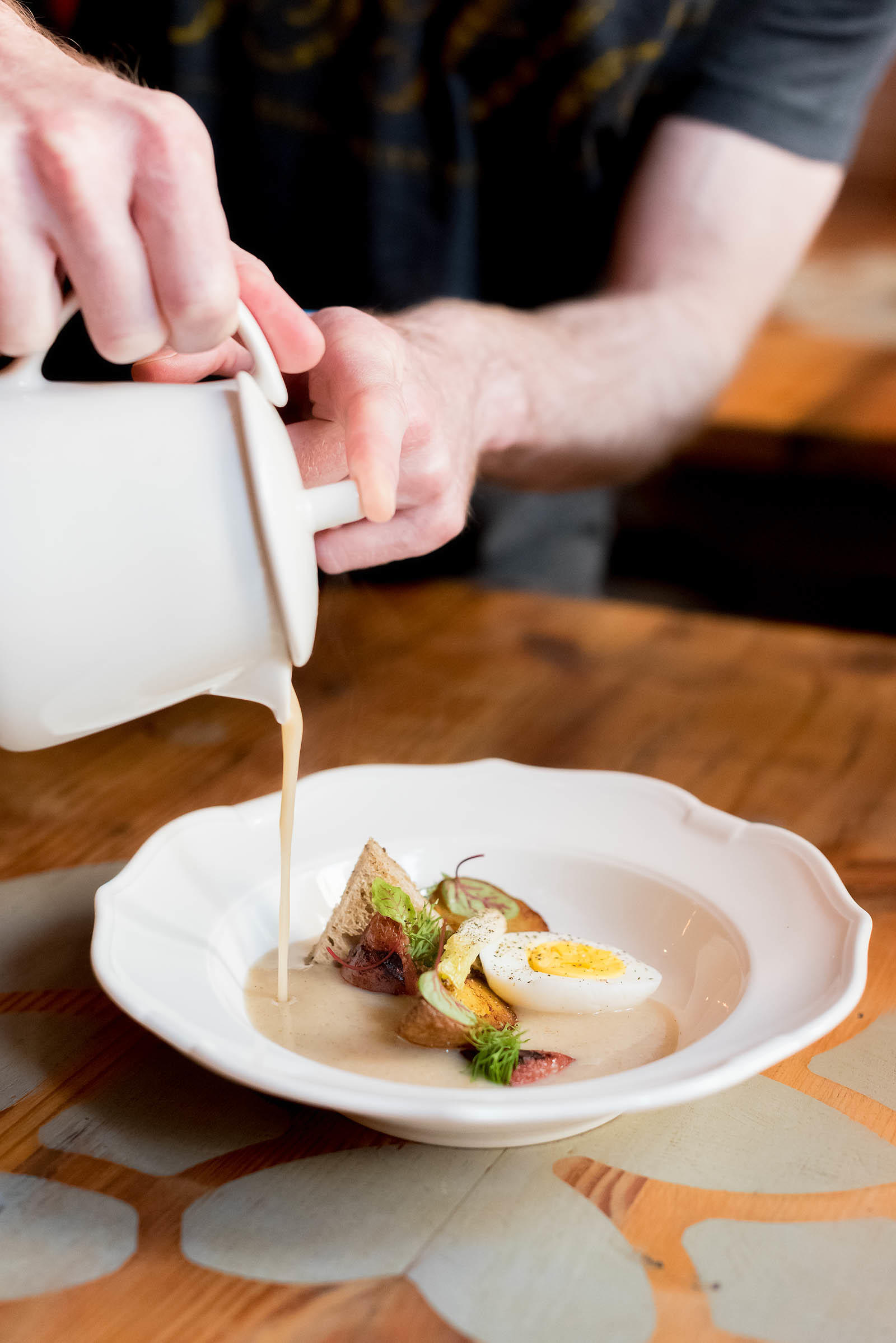 Have you ever tried Polish Rye Soup before? It's HAS to be one of the world's most delicious comfort foods. Especially if you love the flavors in rye bread itself.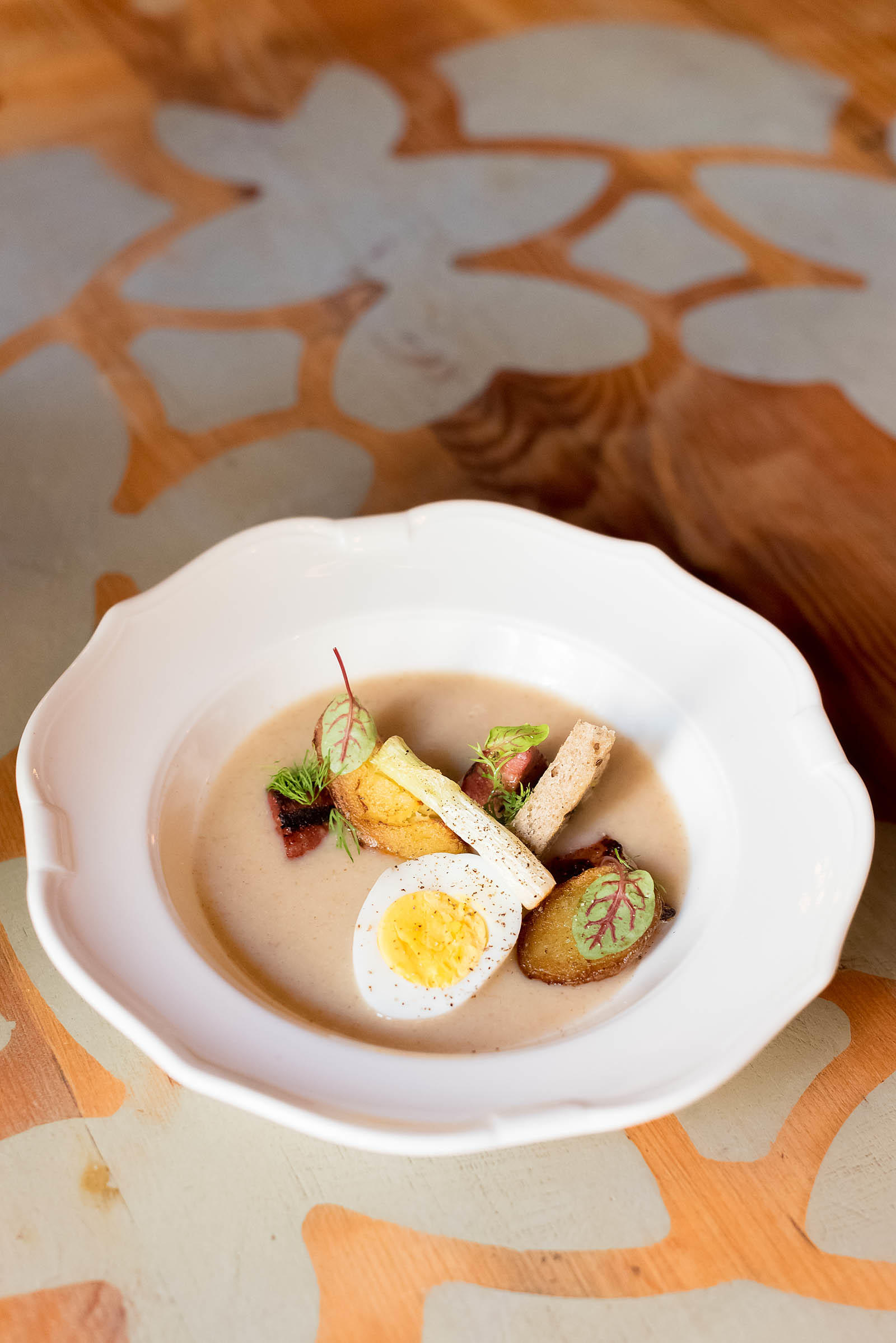 And it makes the perfect stick-to-your-bones meal for a chilly winter's day!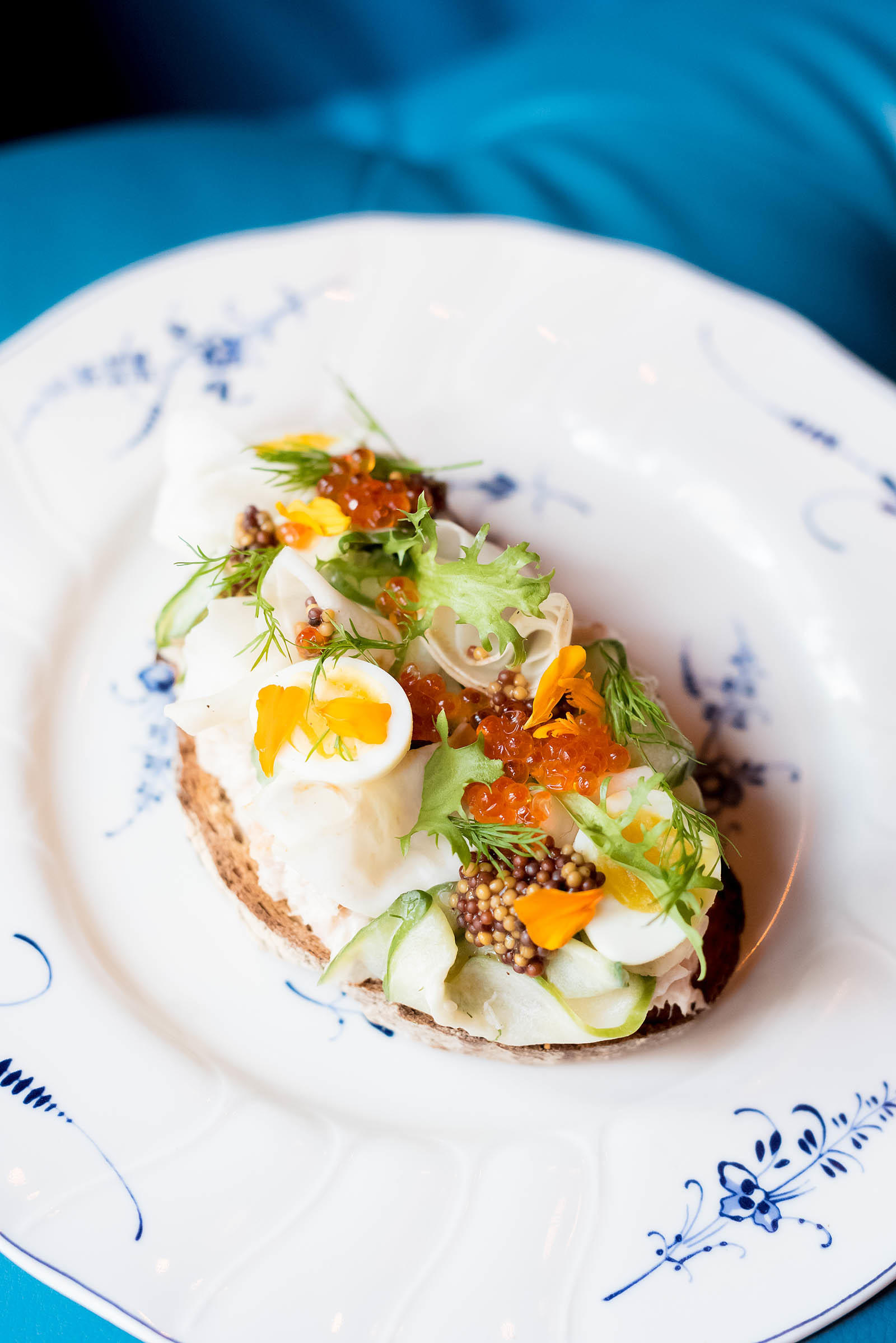 But the next dish ended up being my favorite of the entire meal — a dish so delicious, I listed it as one of the best things I ate in 2016. Because it really was.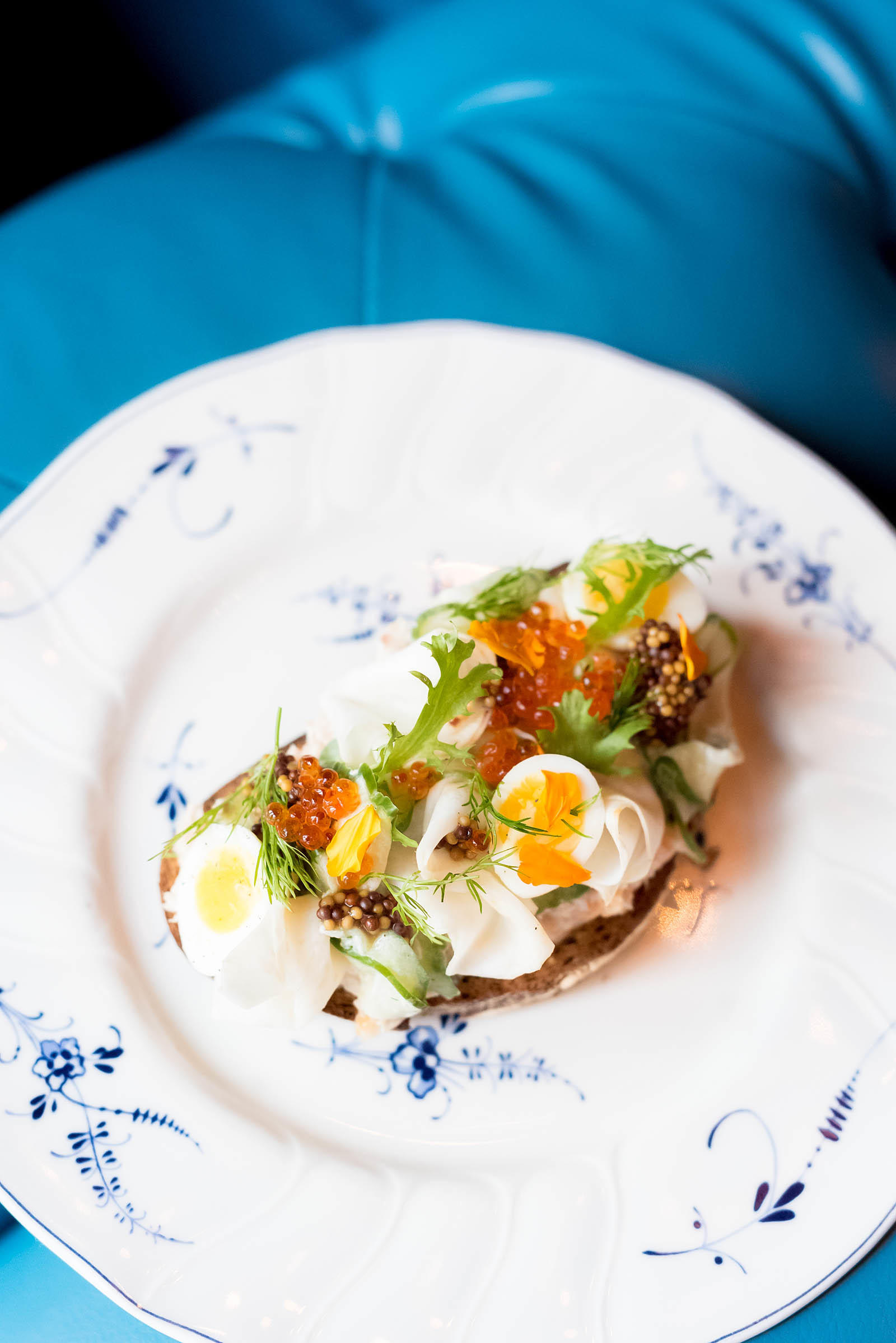 Available only for brunch (though I wish they had it every day), this is Boho's Smoked Trout Toast.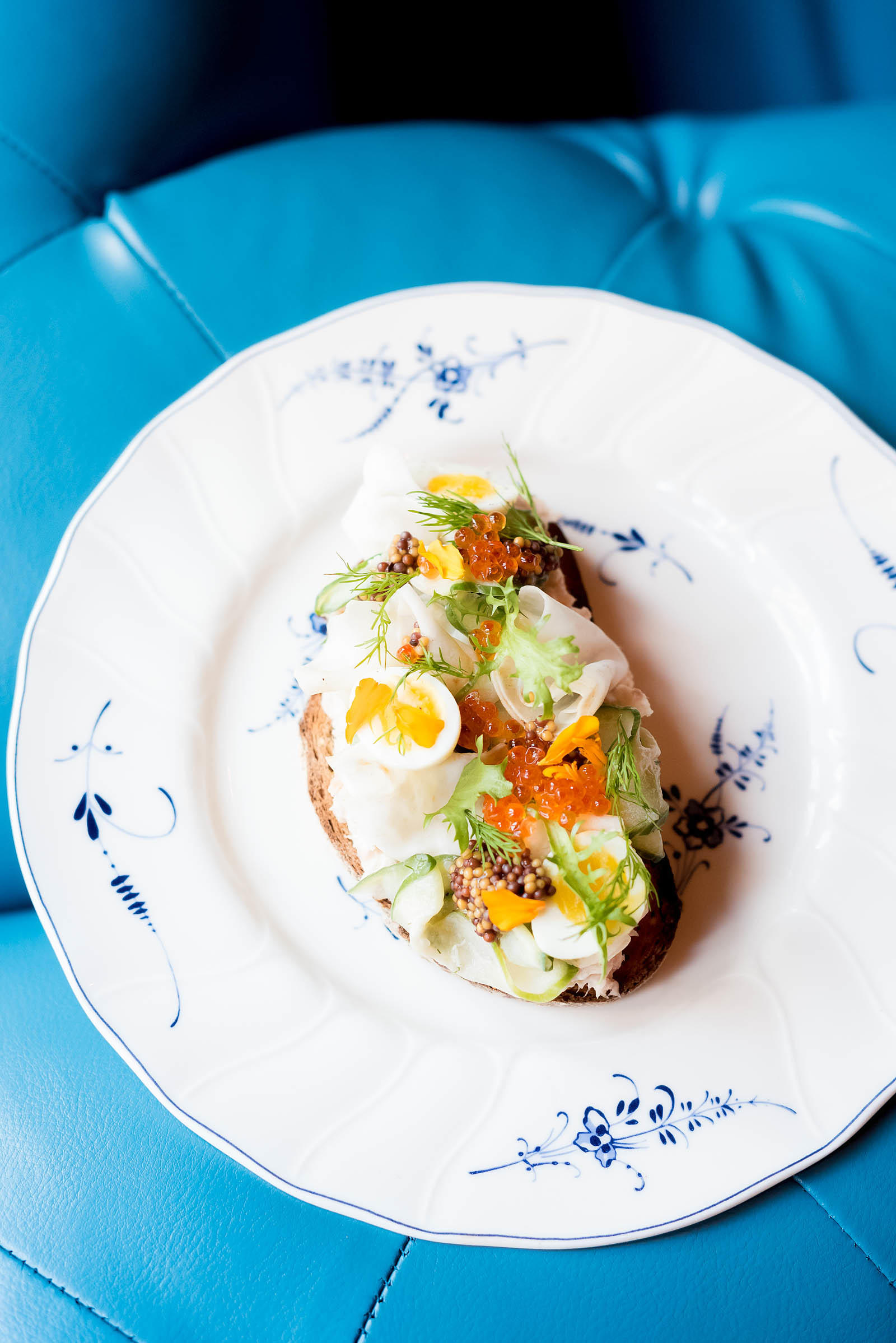 Crisp whole grain toast topped with a creamy mixture of smoked trout, cucumber mizeria salad, quail egg, and trout roe may sound bizarre but I promise it's one of the most flavorful and texturally exciting dishes I've had in a long time.
And it's absolutely beautiful to shoot (especially perched on Boho's signature blue couches!).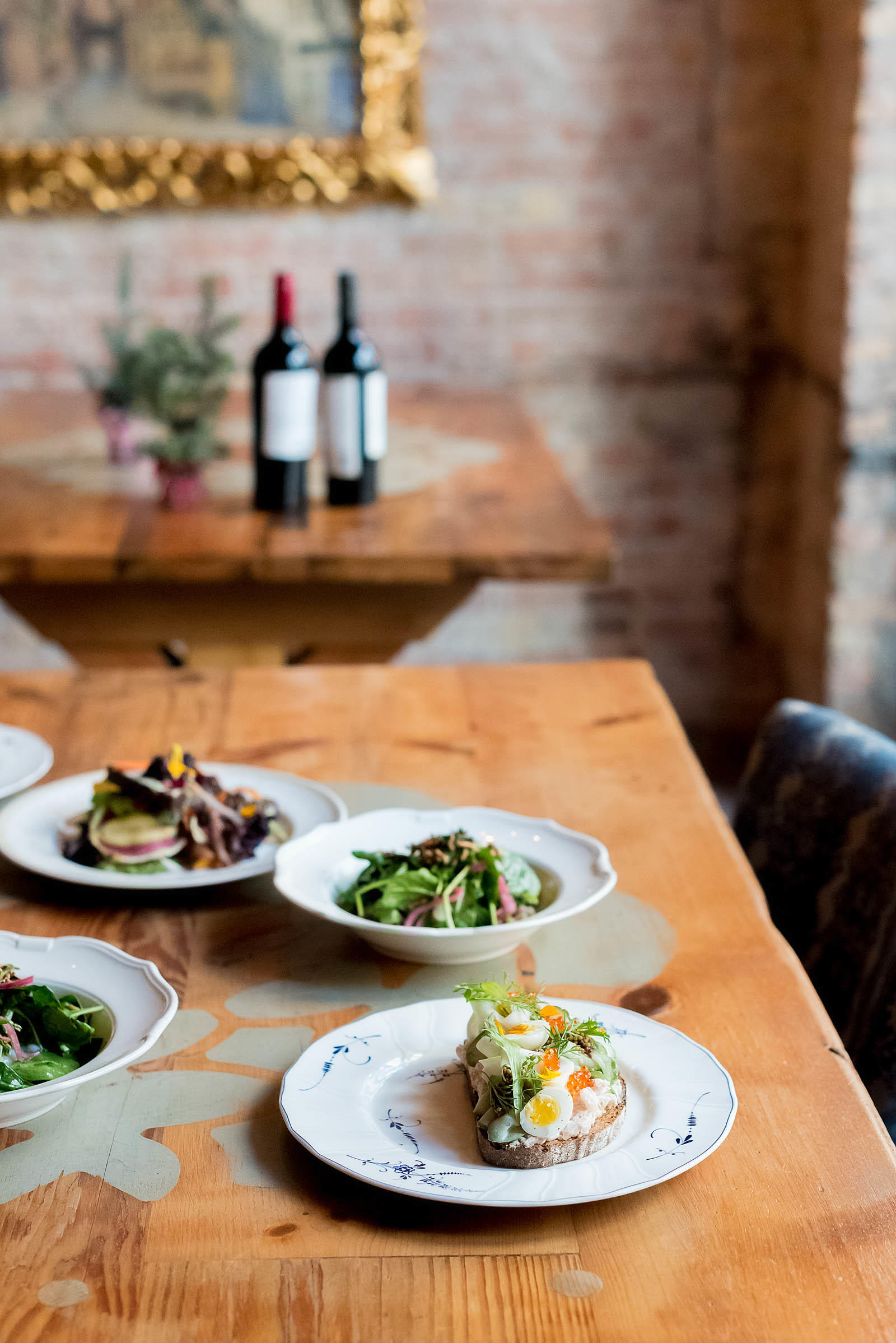 Oh my mouth is watering just thinking about it!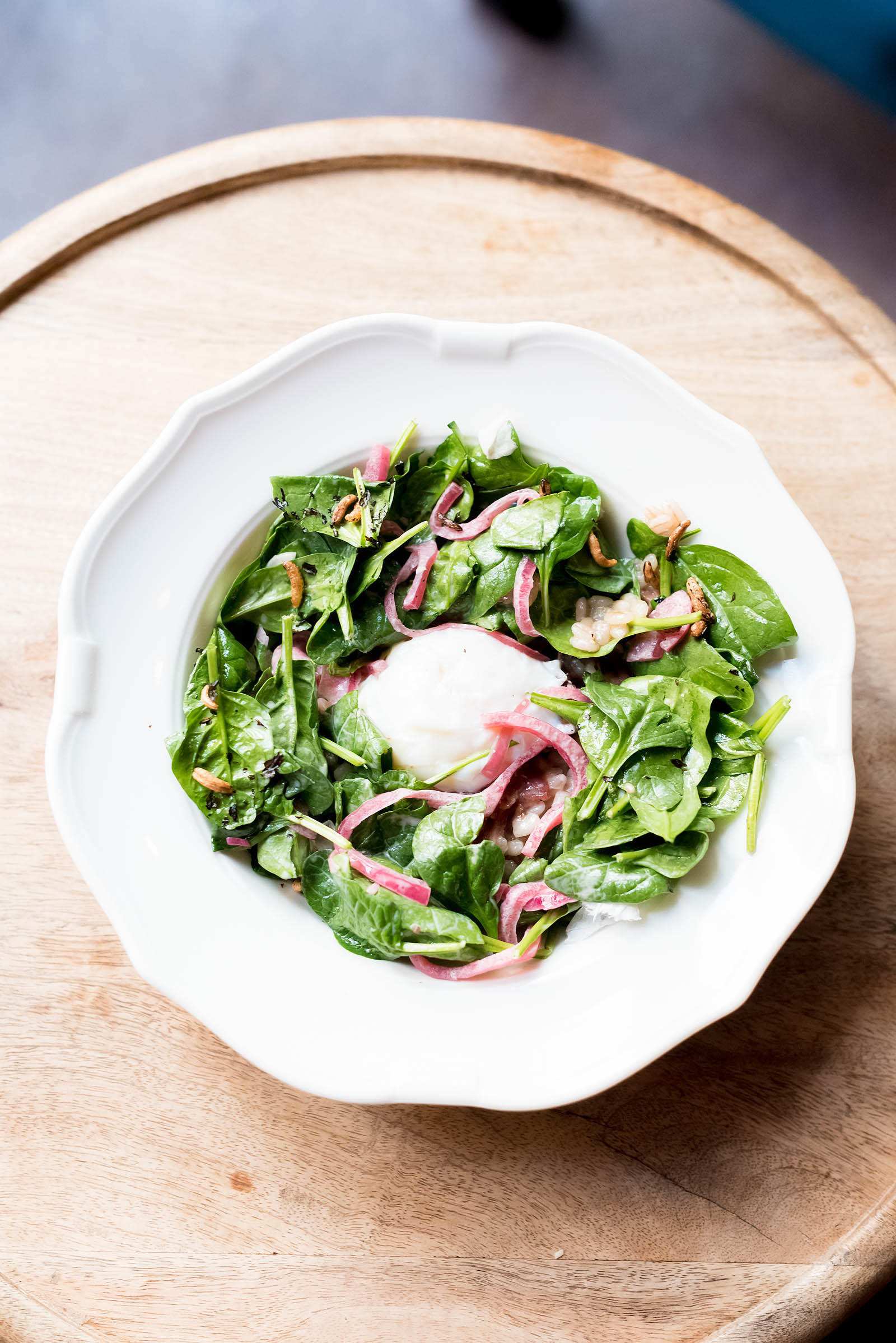 Our next dish ended up being the most surprising one though…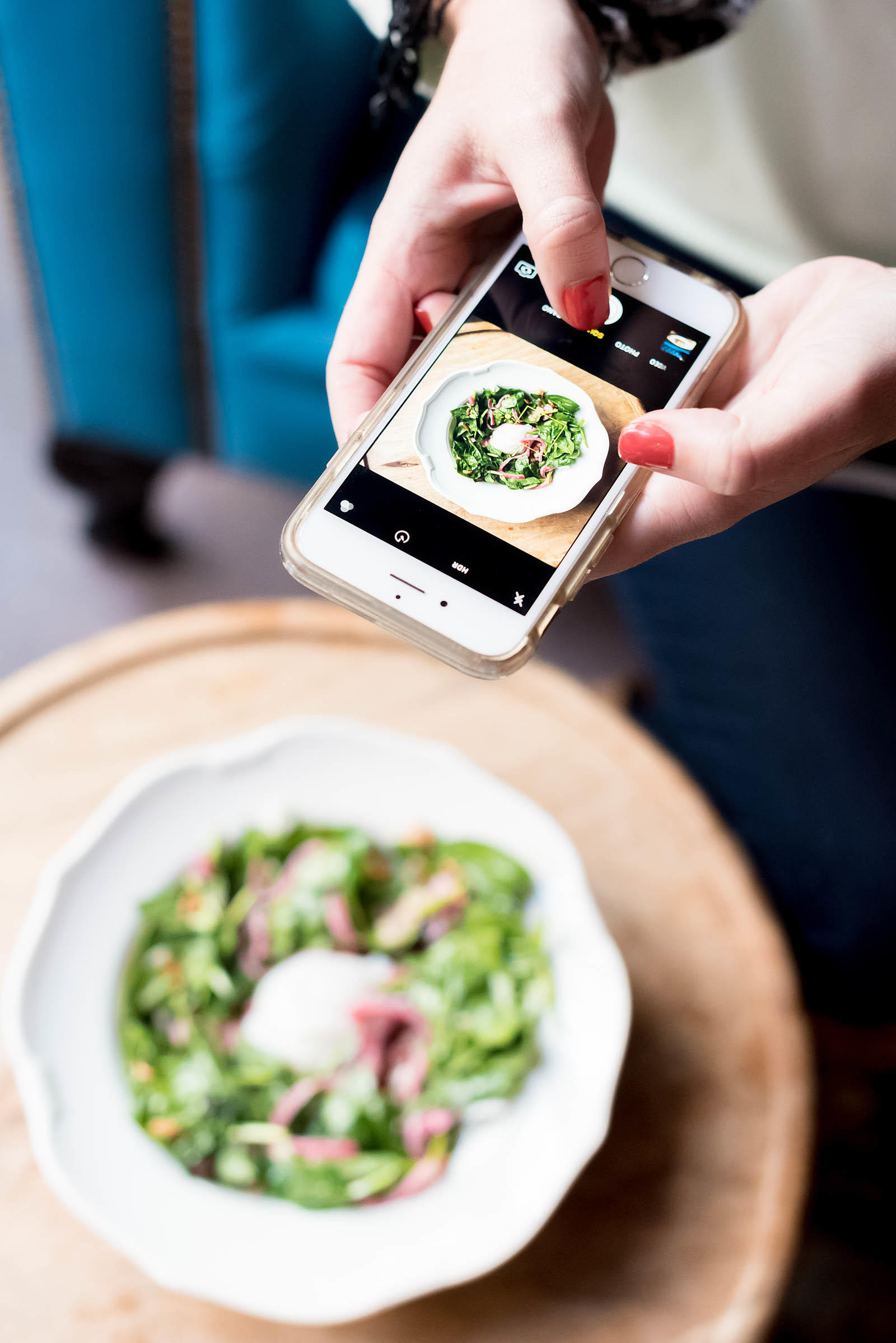 This is Boho's Warm Barley Salad with Poached Egg, Spinach, and Ham Hock in Truffle Dressing.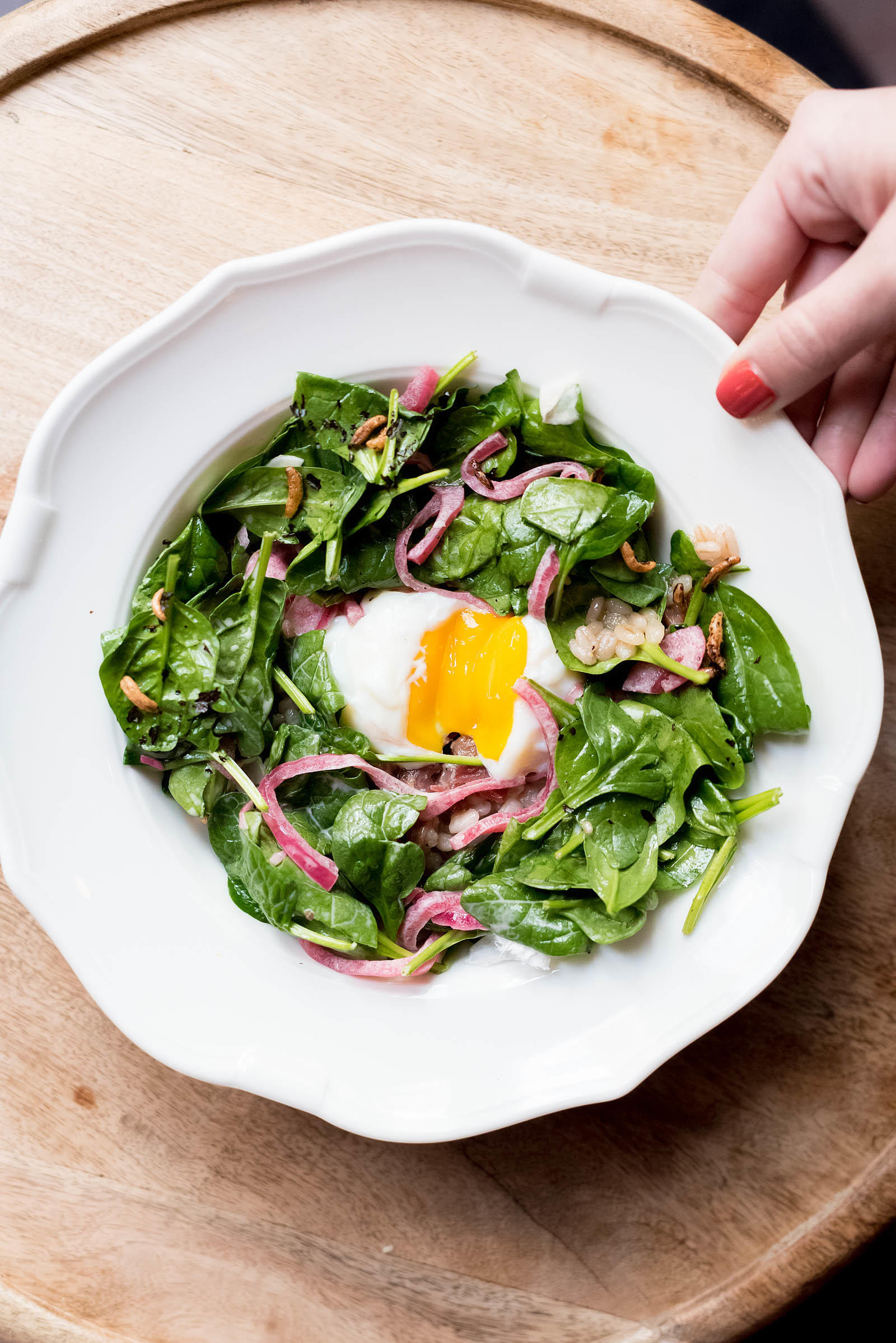 This has to be one of the most luxuriously comforting salads I've ever had the pleasure of trying (then again you know I'm a sucker for all things truffle).
Just the smell alone was intoxicating… which probably isn't what you want to hear about a salad but believe me when I say the richness in this one will surprise you.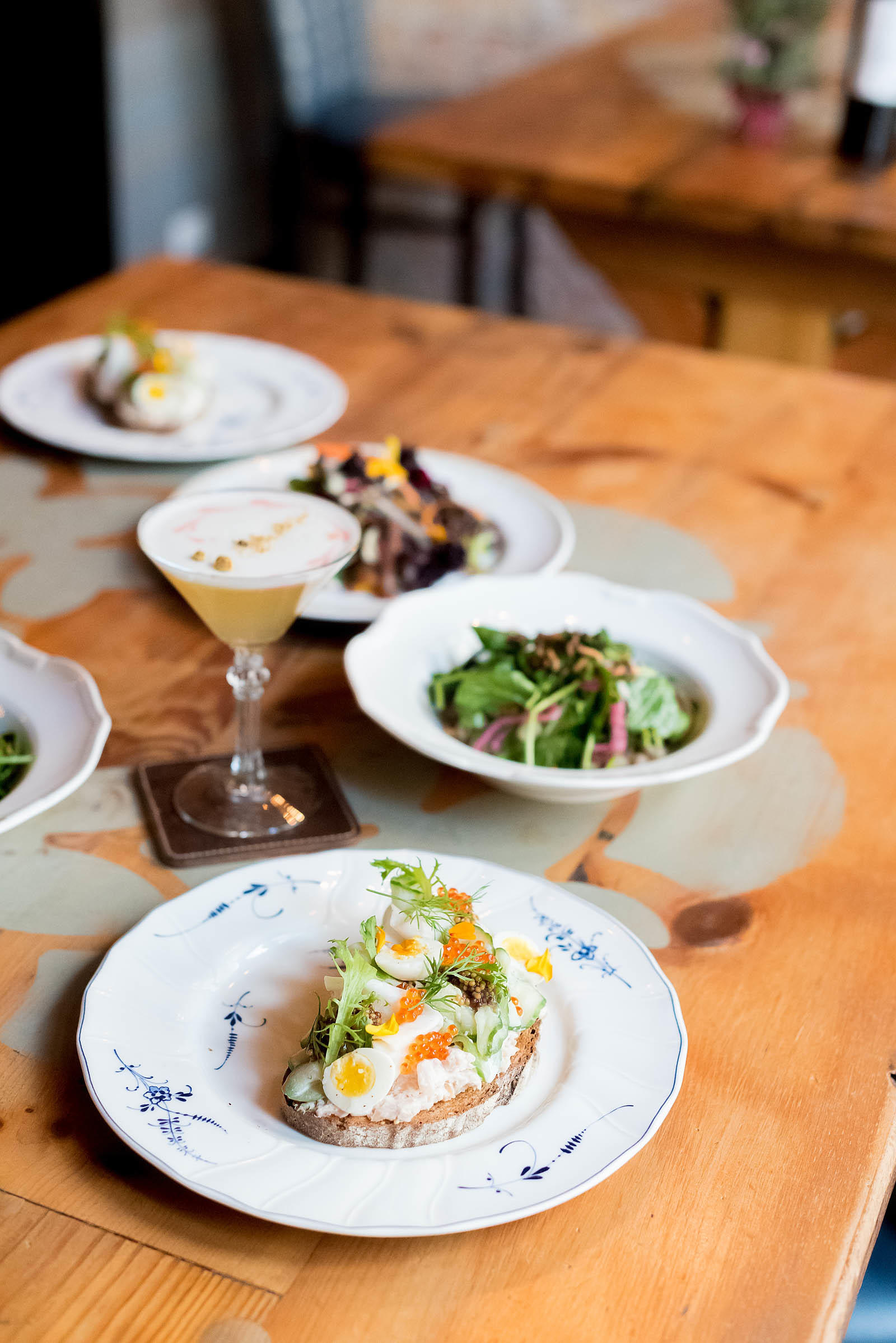 Together all the dishes made quite the feast!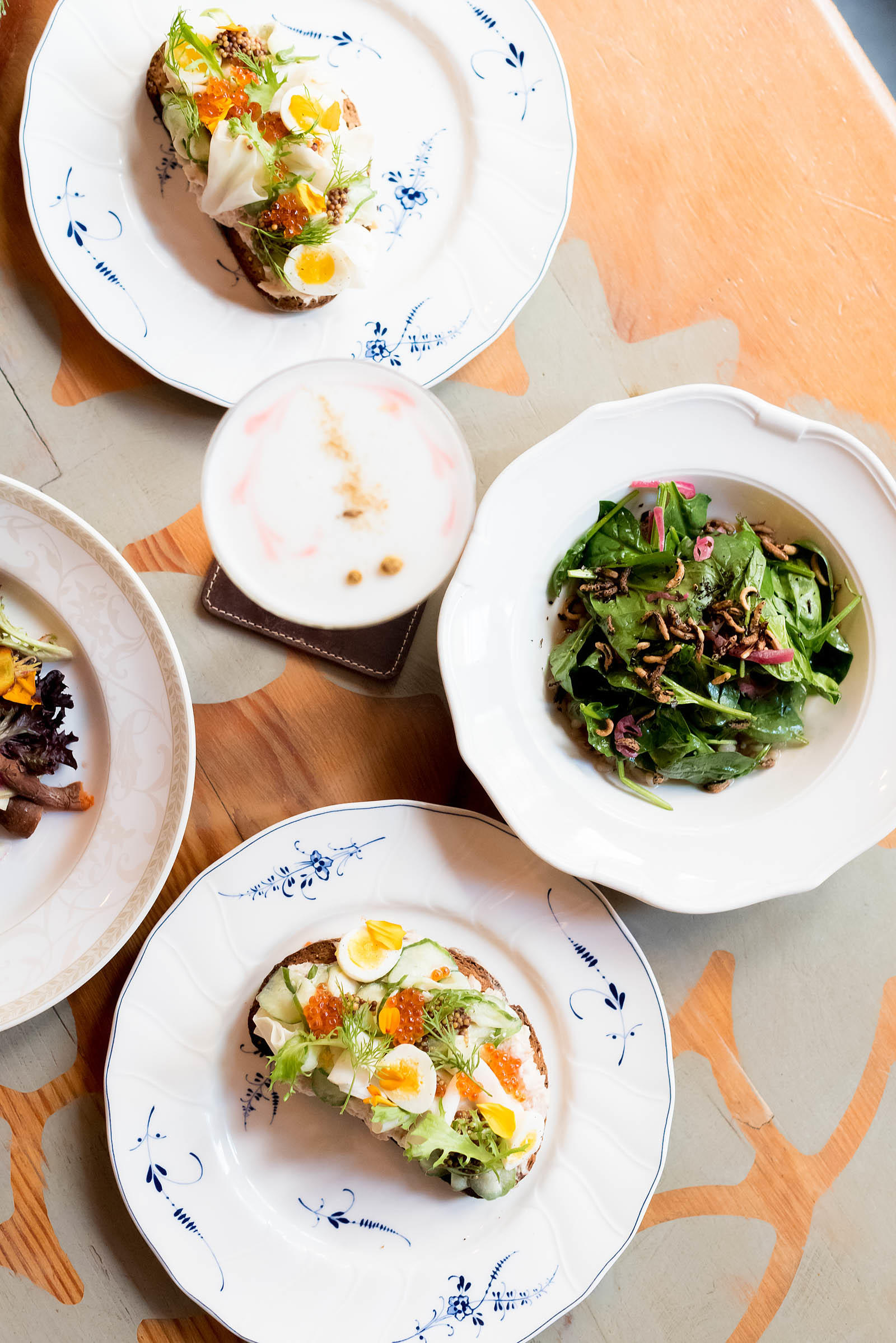 Bohemian food often gets a bad reputation for being heavy with unnecessary carbs and LOTS of bread. Which for the most part is very warranted.
But somehow Boho has managed to take these traditional dishes and evolve them for the more health-conscious modern palate leaving you feeling satisfied not over-stuffed.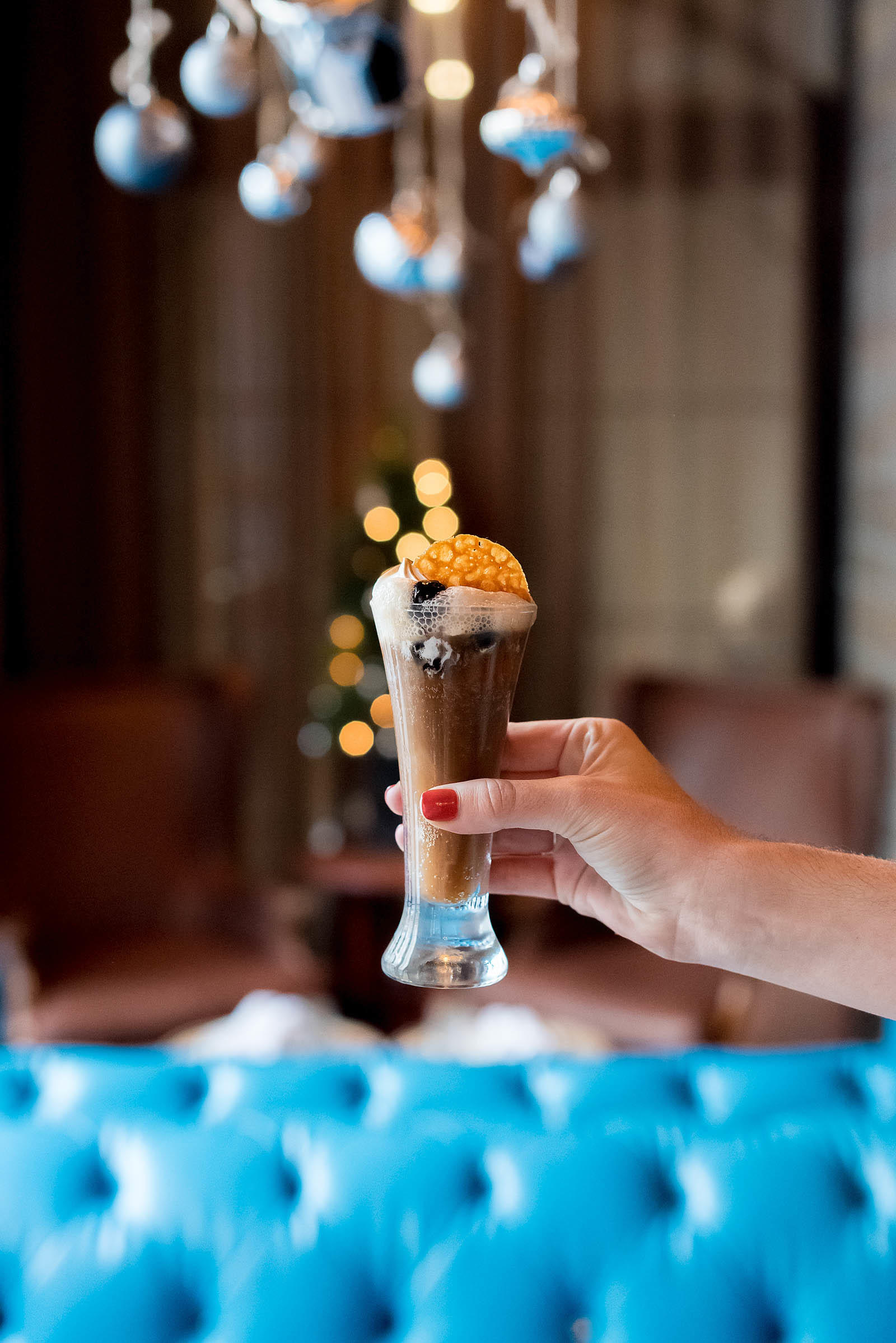 Which leaves room for the most important part of the meal — dessert!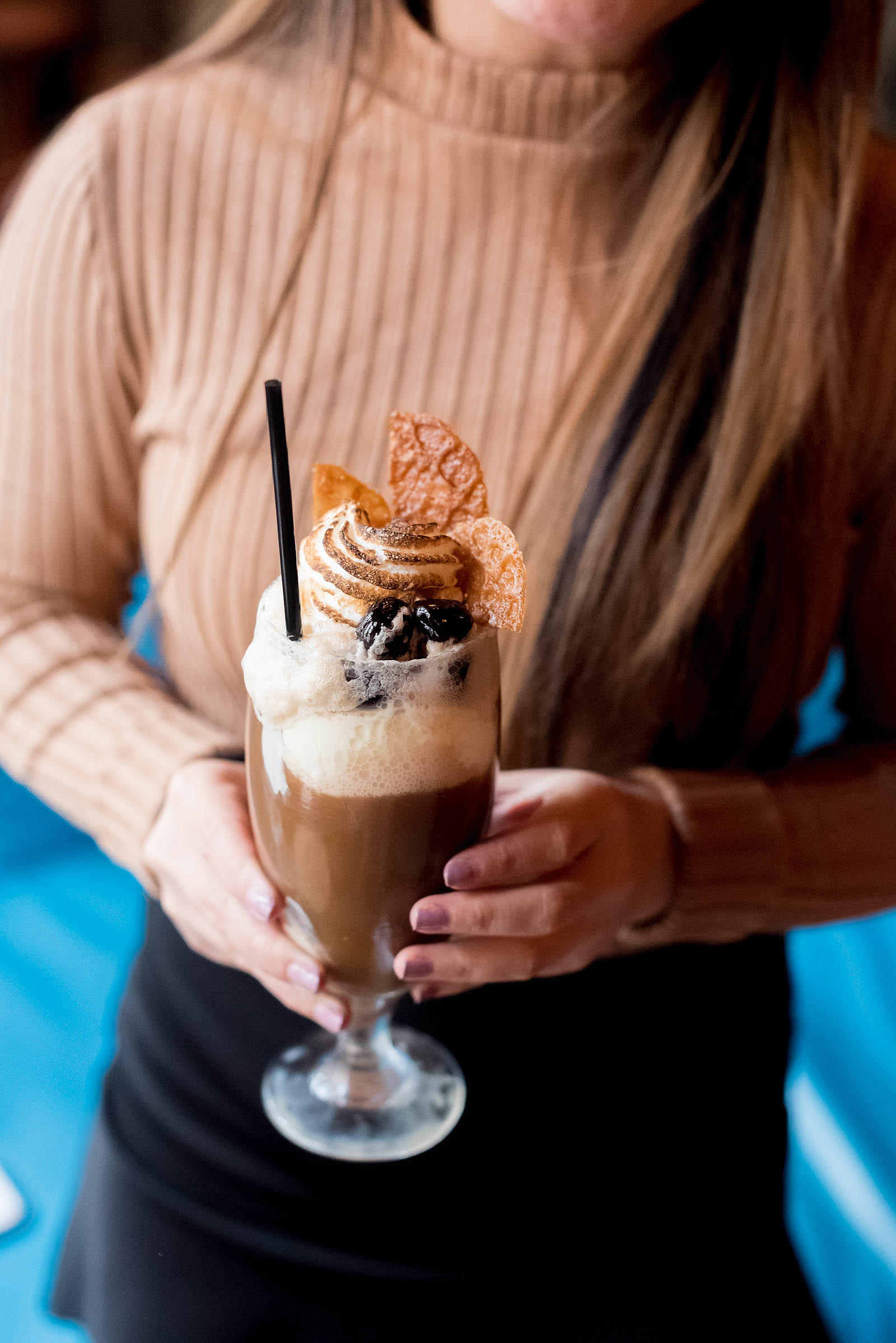 More particularly this sinful BoHo Float featuring creme fraiche ice cream, toasted almond meringue, honey lace, birch, and luxardo cherries. It's seriously addicting and such a nouveau take on the traditional root beer float!
So when you find yourself craving true comfort food in Chicago, look no further than Boho for delicious innovative takes on approachable bohemian cuisine. Especially during the bone-chilling days of deep, deep winter.
You might just spot me in a dark corner lapping up the last of my rye soup while you're there…
Disclosure: I received a complimentary meal to facilitate this post. Review and all opinions are my own.