For the last several months Hubby and I have been heavily debating moving away from Chicago. We've both had job offers in bigger cities on the coasts and have been weighing the pros and cons of moving like it's our job (pun intended!).
But let me preface this by saying we are FAR from a decision at this point.
As two adults who've ONLY ever lived in Chicago, moving away would be incredibly bittersweet — I'd welcome the new opportunities and challenges but I LOVE Chicago and I know leaving would create a permanent hole in my heart.
I mean just the thought of being without Doughnut Vault doughnuts gives me the shakes…
And that's where the idea for today's post came from.
As I've been weighing what I love about Chicago and what I'd want from a new "home town", I've come to realize that my home city really is quite unique. So today I'm sharing all I love about calling The Second City home (and a few things I don't love)…
10 Things I Love About Living in Chicago (& A Few I Hate)
1. The Restaurants
Chicago has one of the country's best food scenes. You'll find Ethiopian, Danish, Korean, Vegan, and Old-School BBQ Joints all on the same street. You have some of the world's best chefs doing some of the newest and most exciting culinary innovations here. And you have some of the country's best-rated restaurants too.
When it comes to true foodie meccas in the U.S., Chicago is easily in the top three, if not number ONE.
2. The Price
This goes hand-in-hand with #1 — Chicago is a huge, multi-cultural whirlwind of a city that you can enjoy for 30% less than you would in NYC or LA. Living expenses, food expenses, and travel all are significantly cheaper here than most other cities of our size.
Hubby and I have been able to save a HUGE portion of our income each and every year (vital when you're both self-employed like we are) because we can keep our living expenses low.
And the more money you save, the more money you have for travel and other little life luxuries like Céline bags…
3. Summer
Summer is Chicago's party season!
You'd better believe us hearty Midwesterners know how to party after a long winter.
And we really do.
We break out of our winter cocoons in STYLE. Patios and rooftops open all over the city, and countless boats dot Lake Michigan and the River. The whole city is covered in blooms… it's just magical. Especially if you can enjoy it with a glass of rosé in your hand!
4. The People
Midwesterners have a well-earned reputation for being nice, kind folk.
And in this case we certainly live up to the rumors. It's funny how many Midwesterners I've met outside of the Midwest while traveling — like we have some sort of Midwesterner radar for one another. Usually they're the people apologizing to the person who just walked right into them…
And at home, the people are just as amazing. Hubby and I have lived on the same street for nine years and know all our neighbors well. We've had many instances where houses on our street were being "cased" and "profiled" (even the cops have had to be involved) and it's always been such a comfort to know how much we all look for our neighbors. That could be specific to my street but I really love my neighbors — I can't imagine ever living in a city this large and finding so much "community" anywhere else.
5. The Architecture
Frank Lloyd Wright.
The Cloud Gate.
Chicago is full of some of the world's coolest and most interesting architecture. I never tire of it — each and every summer Hubby and I take at least one architectural boat tour just to remind ourselves what a beautiful city we live in.
6. The Neighborhoods
Chicago is a city of neighborhoods, each so distinctive and different from the next.
Each with their own identity and vibe.
You can walk just a few blocks and quickly feel like you're in a completely different city (this is especially true of my favorite neighborhood Old Town). Exploring all of the neighborhoods would truly take a lifetime — there are so many secrets to discover!
7. How The Air Often Smells Like Chocolate
Thank you for single-handedly making Chicago the most delicious city to live in.
Thanks to this Fulton Market chocolate factory, Chicago frequently and fiercely smells of chocolate at least three days a week.
Native Chicagoans know this smell well. Some of my earliest memories are driving into Chicago and smelling the chocolate as a sugar-obsessed kid.
It was intoxicating.
And the smell drifts for MILES. I can't tell you how many mornings I wake up to the smell of chocolate in the air.
What other cities can you say that about? The air LITERALLY smells like chocolate in Chicago.
8. The Travel Ease
I'm talking non-stop flights almost anywhere in the world. Chicago has long been one of the country's busiest travel and airport hubs meaning you can just about anywhere you want in two flights. And, since we're in the Midwest, that's a really GOOD thing.
With two airports to choose from and an amazing array of carriers, you certainly have the world at your fingertips living here — something I would struggle with more living on the West Coast (when London is no longer an easy 6 hour flight from home…).
9. The Public Spaces & Ample Greenery
Chicago is known for its amazing public parks (Lincoln Park has long been a famous spot) and incredible public art pieces.
When I worked in the Loop I enjoyed seeing Cadler's Flamingo every day on my way to the office. And I could shoot the Cloud Gate every day for the rest of my life and die happy.
We have just enough wildlife here to help you escape the "city" vibe sometimes too. Most mornings I wake up to birds loudly chirping outside my window, not sirens. It makes for a great mix of natural and urban.
10. The Museums
We have some of the best and most beautiful museums in the world in Chicago. And I don't say that lightly.
The Art Institute.
The Field Museum.
The Museum of Science and Industry.
Each one is incredibly unique and filled with treasures and history from around the world. And while I do love The Met in NYC just as much, I know being without the Art Institute in particular would be really painful.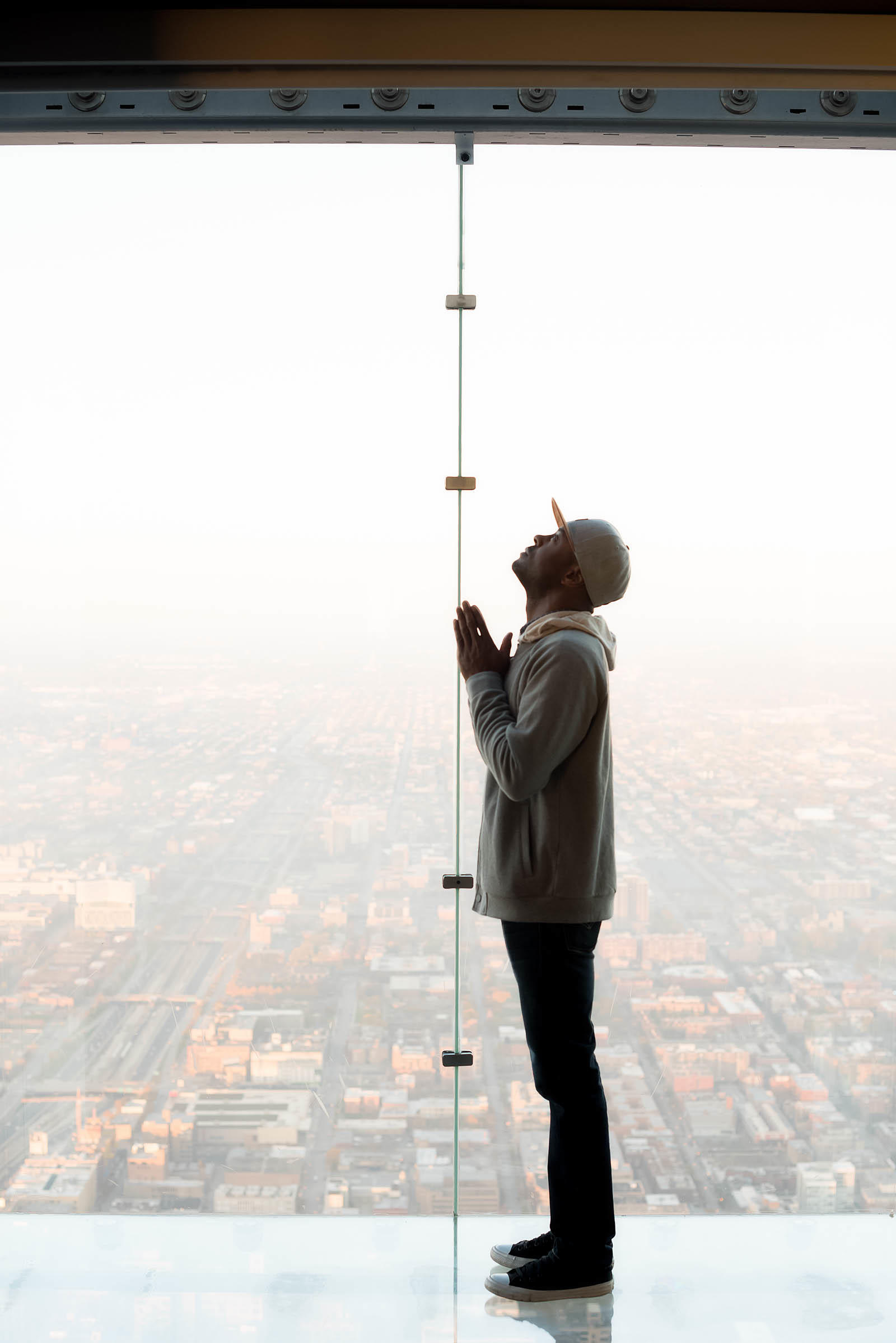 A Few Things I Hate About Living in Chicago
1. The Crime
Crime in Chicago is a very polarizing topic. I have friends who never see any crime and don't understand what the fuss is. But crime is prevalent around the city and it's absolutely something to take seriously. Just last month Hubby and I caught two guys casing our house pretending to deliver packages. Luckily we were able to give the police our video camera footage of their faces.
I would never say the crime makes Chicago unlivable for me — but it's certainly the sort of city that you always want to keep a sharp eye out. And always be mindful of the times you go out — late at night and early in the mornings are when most crimes in Chicago are committed so be safe!
2. The Traffic
Oh the traffic.
While I don't think we rival notorious L.A. or N.Y.C. with our traffic jams, they're still enough of an ordeal that they deserve a place on this list.
A commute to my mother's house in the suburbs can take me anywhere from 35 minutes to 2 and a half hours. And sometimes there really is no rhyme or reason for it.
You learn to adapt and mold your life around planning for the traffic though. I'm almost always early to events because I always budget double travel time when it comes to my Ubers.
3. The Style
While I love the Midwest dearly, I'll have to admit that we are not the most stylish city in the country.
Not even close…
This is still very much the land of unflattering fleece pullovers and technical wear. And it does make sense — in a place where weather is extreme year-round, it's practical to choose practical clothing.
And don't get me wrong, I wear my Croc sandals proudly (though in fairness you really can't tell they're Crocs).
But Chicago isn't where you'll be picking up street style inspiration very much — head to NYC for that and expect to see a lot of pajamas and athleisure at brunch!
4. Winters
Ok, even though I look forward to winter every year… by about the third week of snow and subzero temperatures I'm OVER it.
Our winters get so cold that usually for two weeks in January it's too dangerous to actually take our dogs outside for a walk… yikes. And the amount of snow we usually get is no joke though for the past two years we've hardly had any.
I won't lie. Each and every February, Hubby and I ask each other WHY we live in such a cold climate.
Heading to Chicago soon? Be sure to bookmark my 99 Things To Do in Chicago list too!